Here we share our gallery of barn door living room ideas for a variety of room layouts and interior design styles.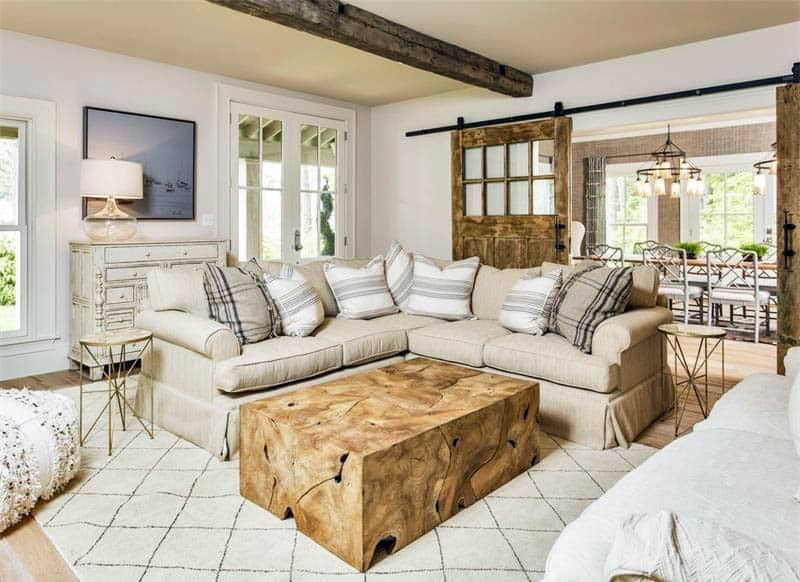 Barn doors are back in style! But instead of seeing them in actual barns, we've begun to see them re-purposed and installed indoors. A barn door would be an instant conversation piece in your living room. They add a rustic look to any space, and gives it a warm and homey feel. The raw, utilitarian appeal of the barn doors definitely gives lots of personality to it, and makes it an instant focal point when placed in any room.
The country style living room in the picture above definitely looks great with the addition of a double barn door that opens to the dining area. It uses a re-purposed French door with glass viewing window and was antique-finished to complete the rustic vibe. It's a definite stand out against the white walls of the room.
How to Decorate with Sliding Barn Doors
Can any door be a sliding barn door? This depends what aspect of barn doors you want – if you like the rustic appeal of the barn door, and the door you want to use is plain and modern-looking, you might have to change its finish to match your aesthetic goal.
However, if the exposed sliding rail of the barn door is the only important aspect of it you want, then any door can be virtually converted into a barn door.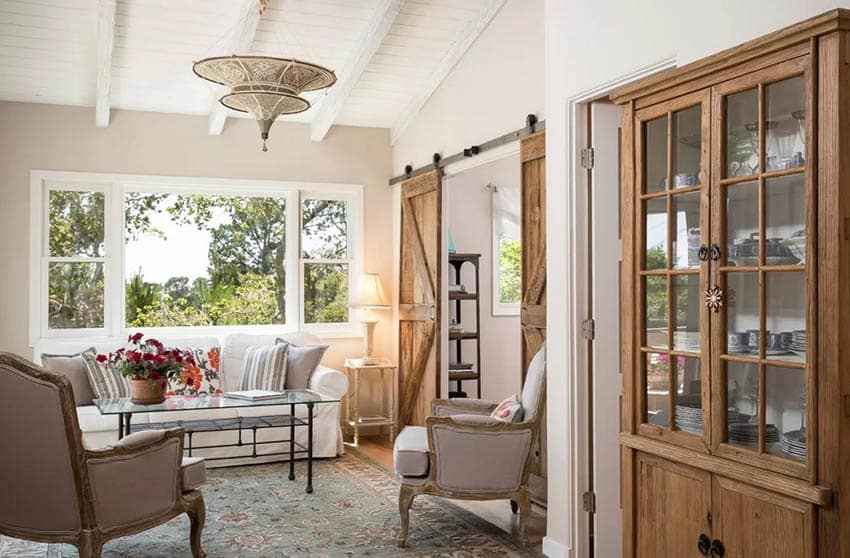 This cottage style living room features small double barn doors with classic crossbuck detail and a weathered finish that completes the look. It definitely matches perfectly with the classic style furniture pieces of the room and gives it a more laid-back vibe.
A re-purposed door would definitely be the best choice for most barn door installations, especially those that is made of solid wood and looks a bit weathered or worn-out. You might have one in your storage or backyard, or you might be able to cop one in a flea market or second-hand stores.
If it is re-purposed or flea-market-bought, then you might have to adjust its measurements according to the opening you will apply it on. A distressed or reclaimed bar door can be used to add a vintage touch to any room. This style can be used for farmhouse style designs, to modern or anything in between.
Make sure you leave a few inches to fully overlap the opening when it's closed. You can then purchase barn door style sliding hardware in any hardware stores or even online – you will want to check if the maximum weight capacity of the sliding barn door hardware you purchase is appropriate for your door. Otherwise, you can easily buy ready-made sliding barn doors with its matching hardware as a set.
We explore a variety of ways to decorate and share barn door living room ideas in the images below.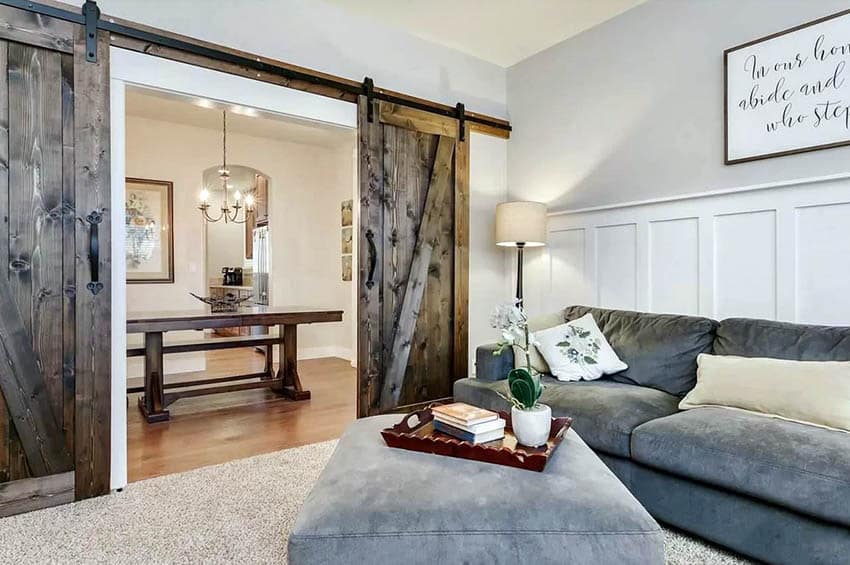 If the dry wall you're installing your barn door to doesn't have enough support, you can add a solid piece of wood to reinforce the header where the rail will be installed.
This is another gorgeous classic style barn door with a darker wood finish to match the dark color of the dining table in the other room. The living room with wainscoting in white and light gray wall paint provides a crisp contrast to the dark wood accents.
Barn Door Opening Measurements
Smaller barn doors are typically 36 inches wide and 80 inches high, and can go up to 42 inches by 96 inches high. These are, of course the typical barn door sizes appropriate for indoor use, and would probably be around the size you need for most interior door applications.
These sizes can be easily bought ready-made, but if you need a bigger or smaller size, you might need to have a custom door or a resized old door to cut to your size.
The track of barn doors are typically 72 inches to 84 inches for single doors, but can be longer if you're using barn doors. Do keep that in mind as you need enough space for the track when installing barn doors.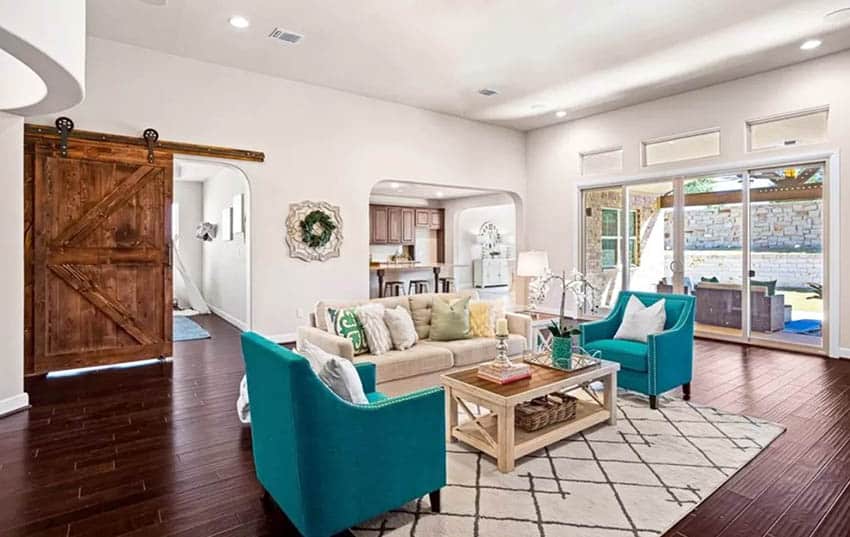 This living room uses a wide barn door with more rustic style hardware. A big door means it's heavier, so a bottom roller guide was also installed for a smoother slide.
Sliding Barn Door Cost
If you have an existing door you can use, or have found something from the flea market, the cost of the barn door hardware on average is between $30 to $100, depending on its material, size and weight capacity.
If you're buying a ready-made set, it would cost $300 up to $1000, but if the door is made from vinyl or pine or any cheaper material, price can start at around $200. The price would definitely vary depending on the material and the size of your barn door.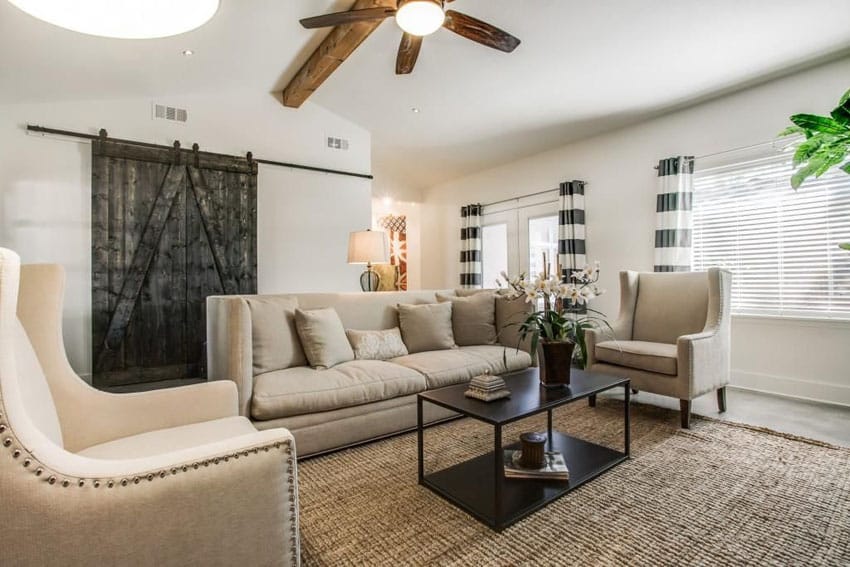 Barn doors can also be low-key – this example has been stained in ebony, giving it an almost black color to match the coffee table in this living room. The darker color enables it to blend with the rest of the architectural features of the space.
Rustic Sliding Barn Door Living Room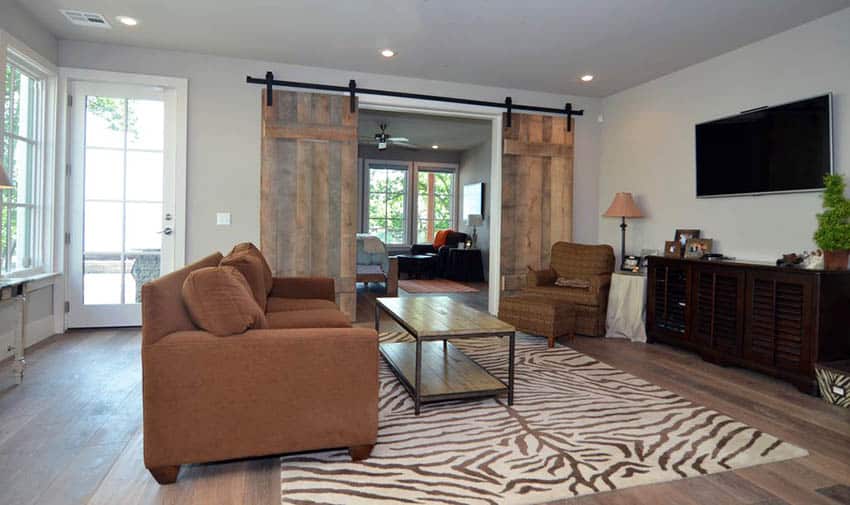 A great idea for re-purposing your extra lumber pieces is to turn them into a barn door. The lumber pieces were parallel-joined and has a horizontal piece to help hold them together. It has a raw, unfinished surface for a more utilitarian look perfect for this casual living area.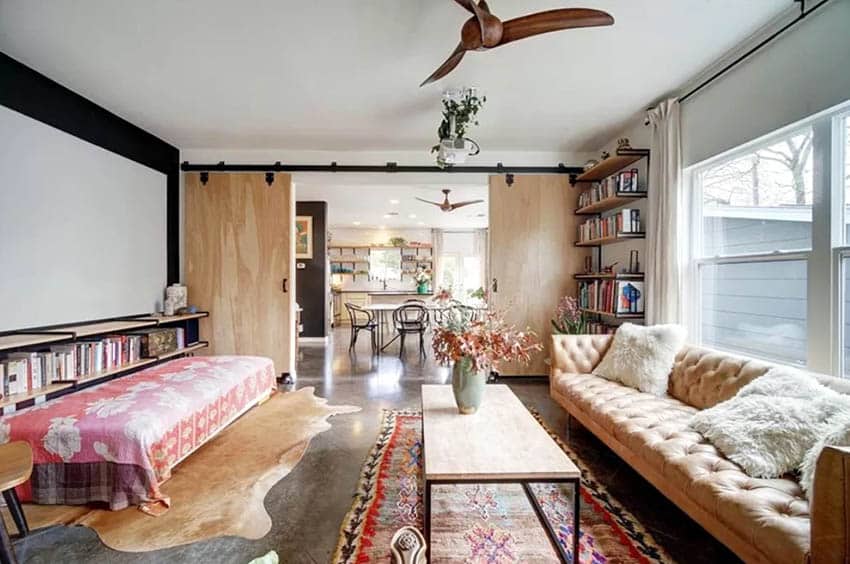 Two large pieces of solid maple was used to make this gorgeous barn door. Because it uses a large, solid piece of maple, it has a more contemporary look that perfectly matches the aesthetic of this living room.
Reclaimed Wood Sliding Barn Door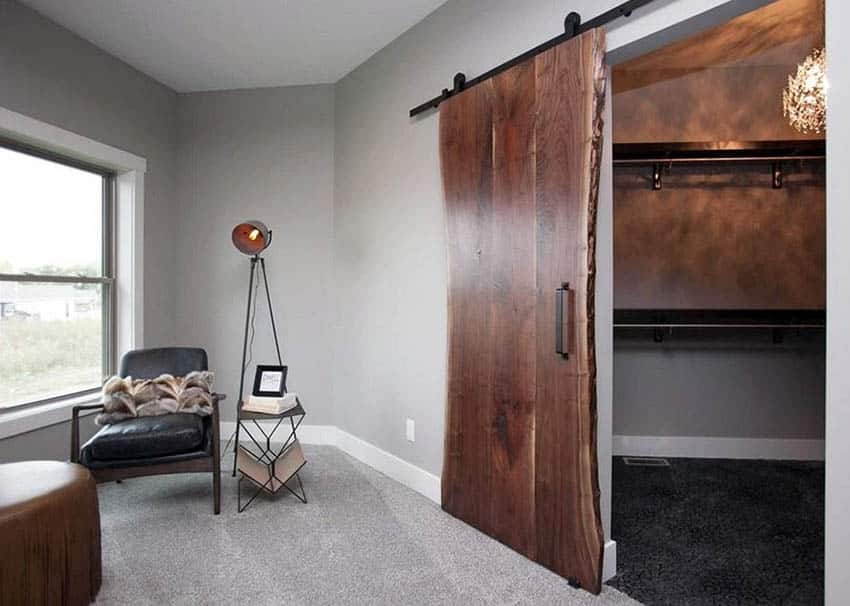 This is another great idea on how to use your extra solid wood pieces hanging around in the workshop – rework it into a barn door! This door keeps the live edge of the wood intact for a more natural look. It perfectly complements the Scandinavian style of the living room.
Distressed Sliding Barn Doors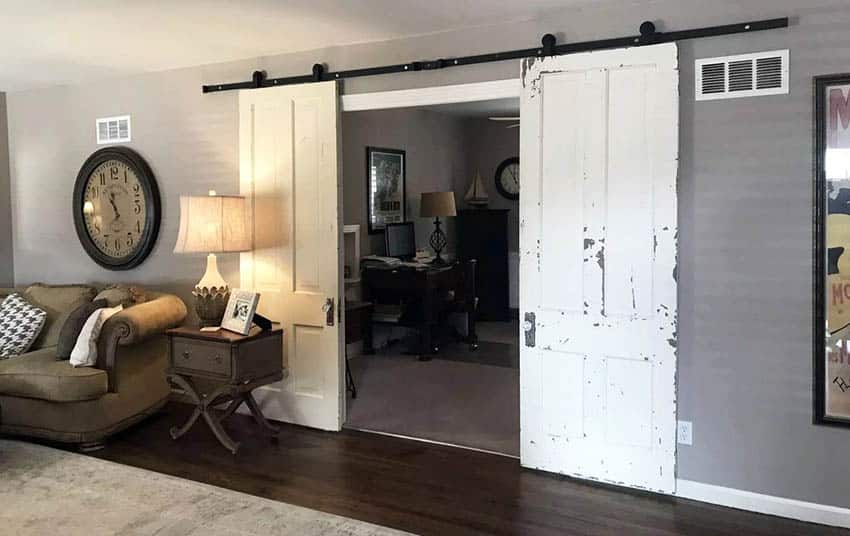 Old doors – which might have been natural distressed, or otherwise manually distressed – can also be used as a barn door. This is a normal white-pained door with a distressed finish that uses a black barn door sliding hardware.
Contemporary Sliding Barn Door in Living Room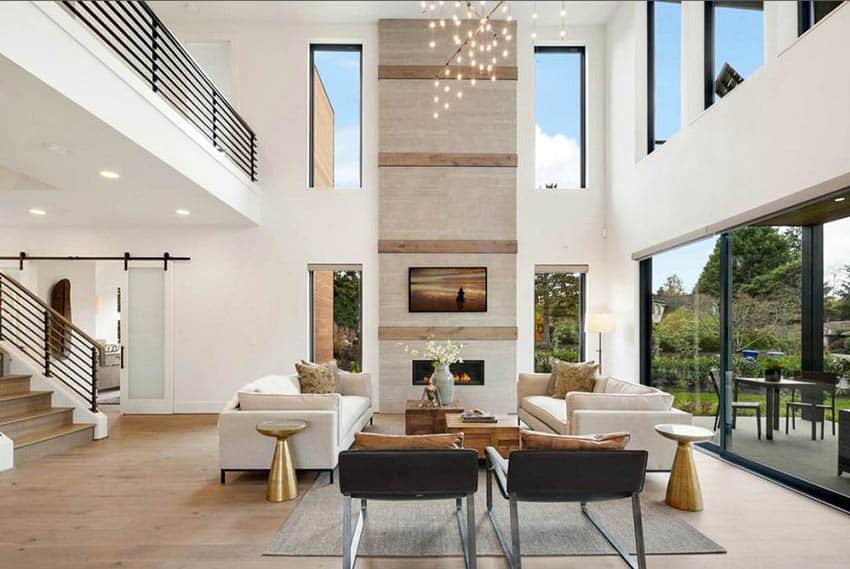 If you want a more contemporary look to match your interiors, you can use normal wood-framed glass doors to install with your barn door hardware. This modern living room uses a white wood-framed glass door with a black barn door hardware to match the door and window frame color.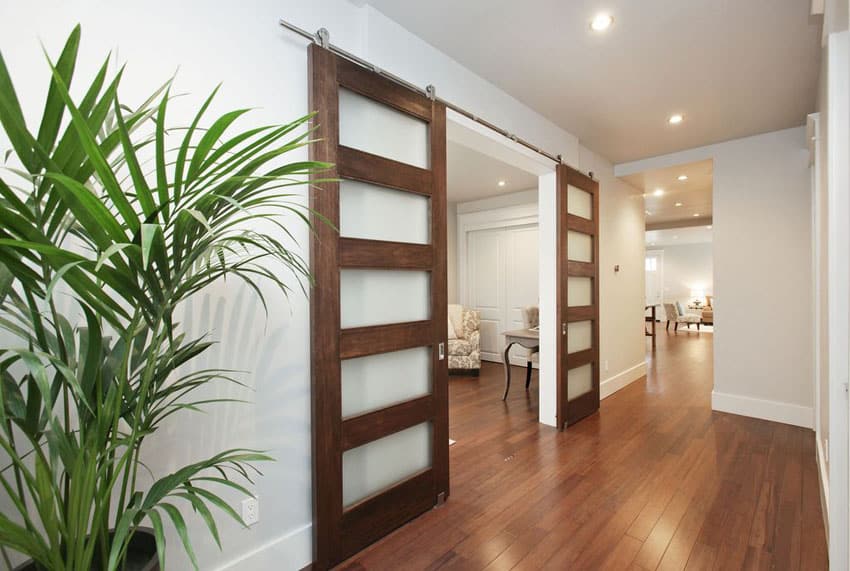 Aside from using wood-framed glass doors, you can also use barn door hardware in brushed stainless steel finish for a more modern look.
Modern Glass Sliding Barn Door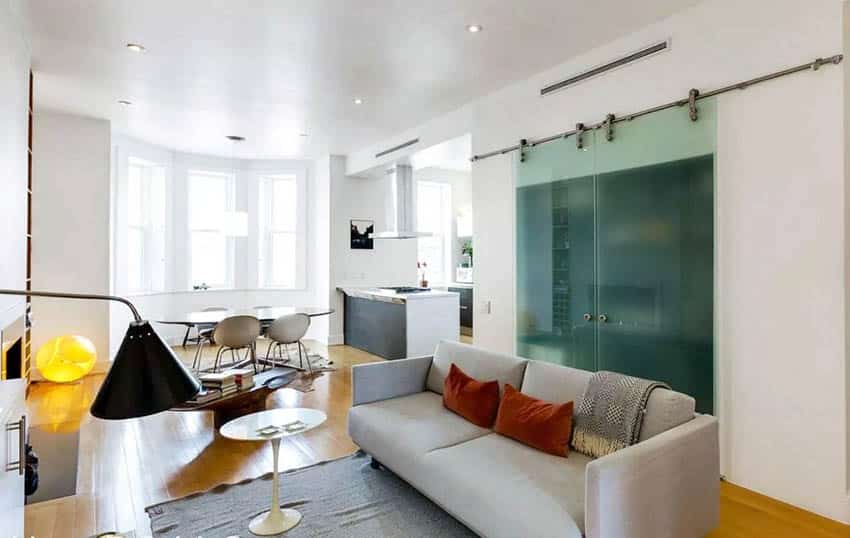 If you want an even more minimalist modern look, you can purchase frame-less glass barn doors which uses tempered glass fixed on brushed stainless steel barn door hardware. Make sure your hardware comes with a damper/buffer, especially for double doors to avoid accidental glass breakage.
Contemporary Glass Sliding Barn Door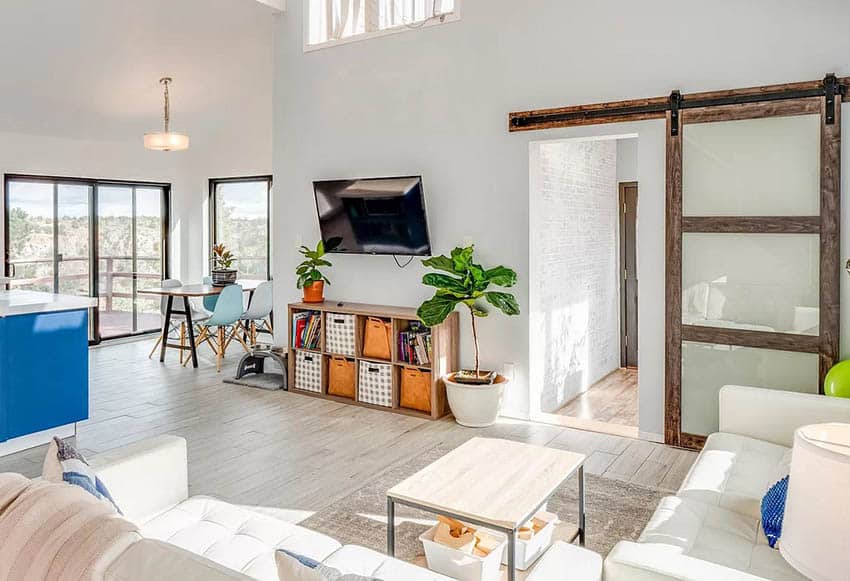 Mixing a bit of the old and new this contemporary sliding door features both wood and frosted glass to help create separation and privacy.
Sliding Barn Doors from Living Room to Bedroom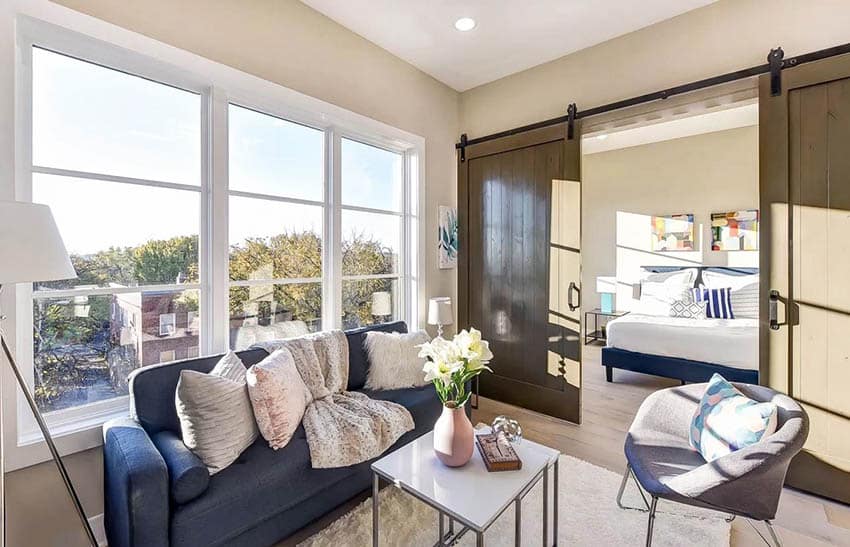 Double barn doors is a nice way to separate the bedroom from the living room, especially in apartment spaces. The large openings provided by double barn doors enables you to open up the space when needed, and close it completely when in need of more privacy.
Entertainment Center with Sliding Barn Doors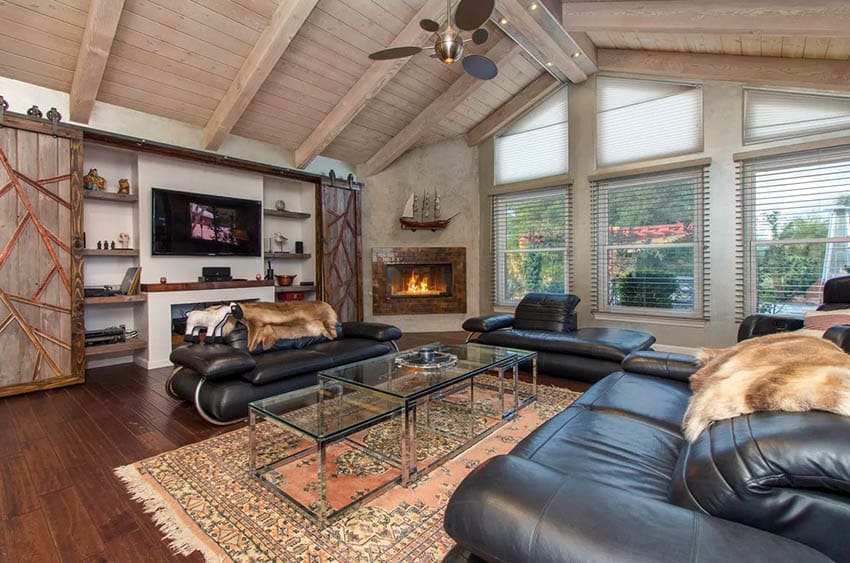 Aside from using as door openings, barn doors are also nice to use as a door to conceal your recessed entertainment center. This barn door was specifically design to conceal only the TV area at the center, so that it just looks like a door with shelves on the sides.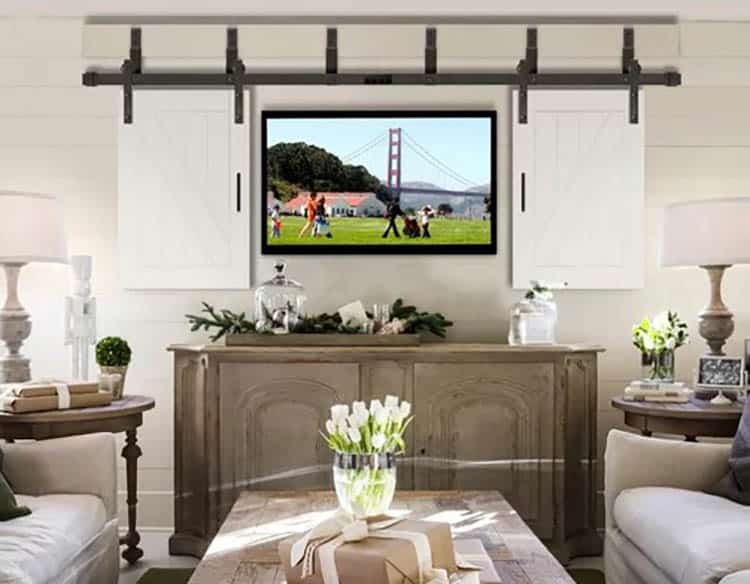 These mini sliding barn doors work perfectly to conceal a wall mounted television to add style to this living room design.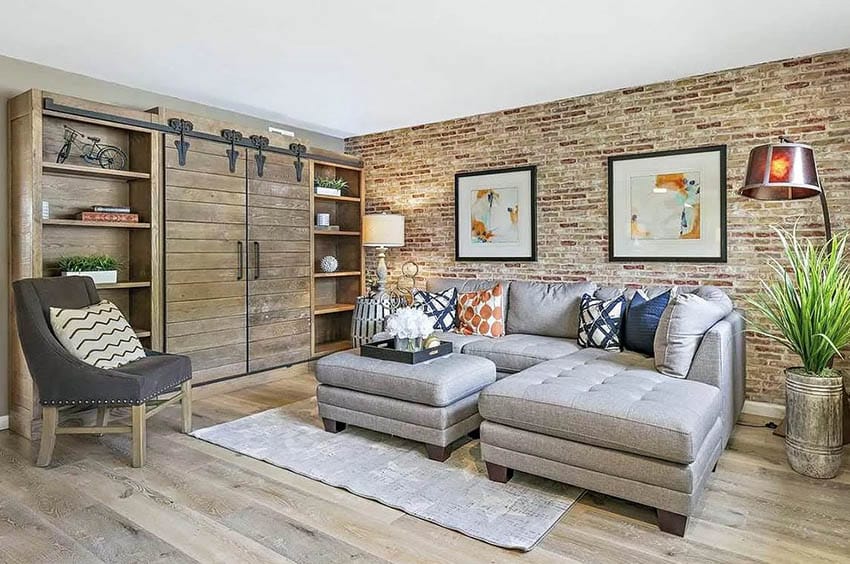 Another example of a rustic sliding barn door entertainment center. This design features ornate wrought iron hardware with decorative support brackets.
Shiplap Sliding Barn Doors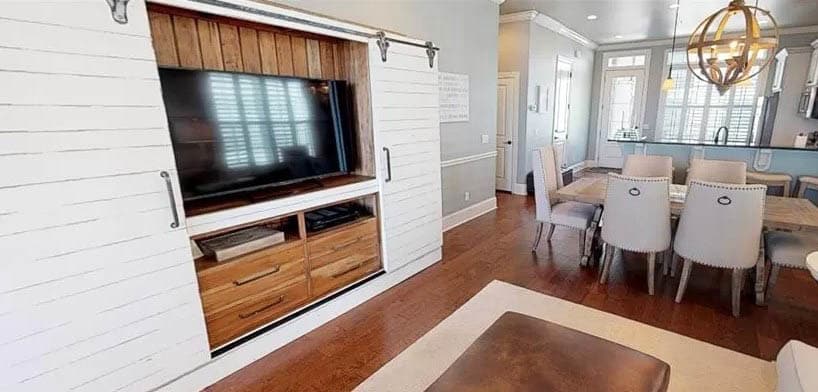 If you have shorter lumber pieces lying around, you can also turn them into a shiplap style barn door. This example shows a white-painted shiplap door installed to conceal the entertainment center.
Sliding Barn Door for Living Room Bathroom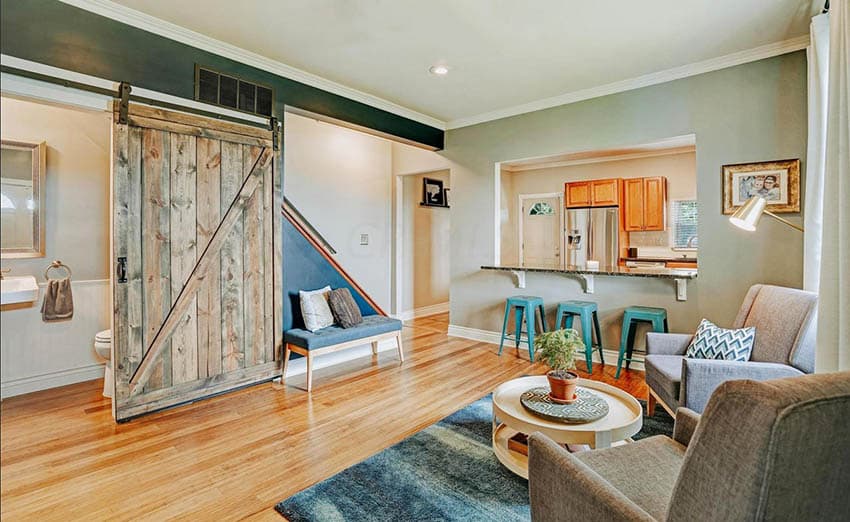 Barn doors is also a nice way to conceal small bathrooms or powder rooms. This small powder room under the stairs is directly across a small living/seating area, so the use of barn door make's it a nice accent piece to the space.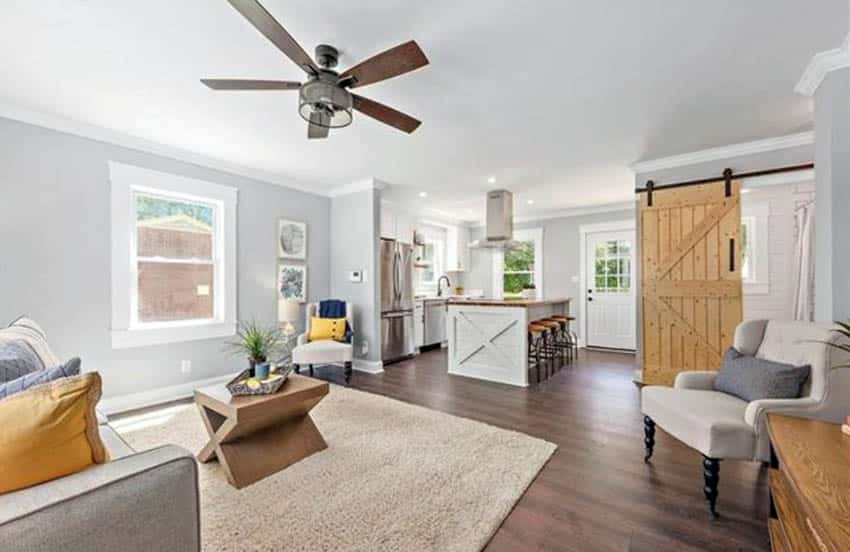 This is a nice Pine barn door used as a bathroom door for this small apartment space. The light color of the pine wood nicely complements the light color scheme of the space.
Custom Sliding Barn Door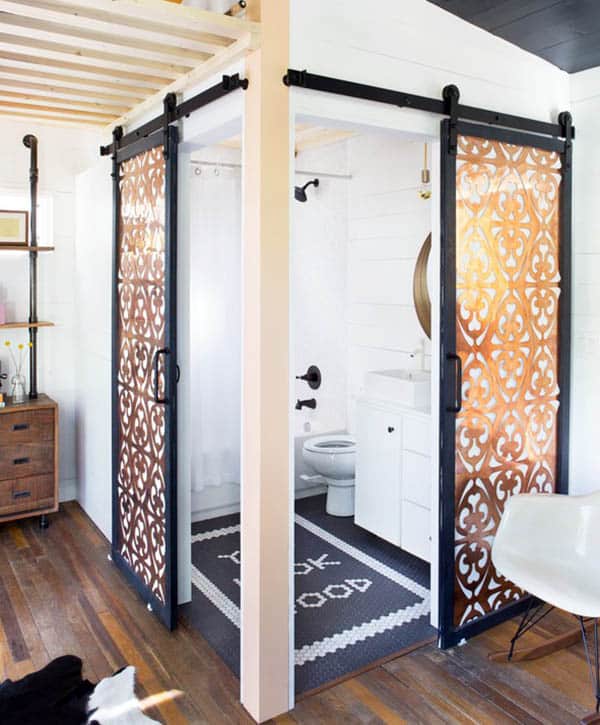 This is a unique corner application of a custom metal-framed barn door. This allows you access to the small bathroom on two sides, and makes it feel less claustrophobic because of the two openings.
Sliding Barn Doors to Laundry Room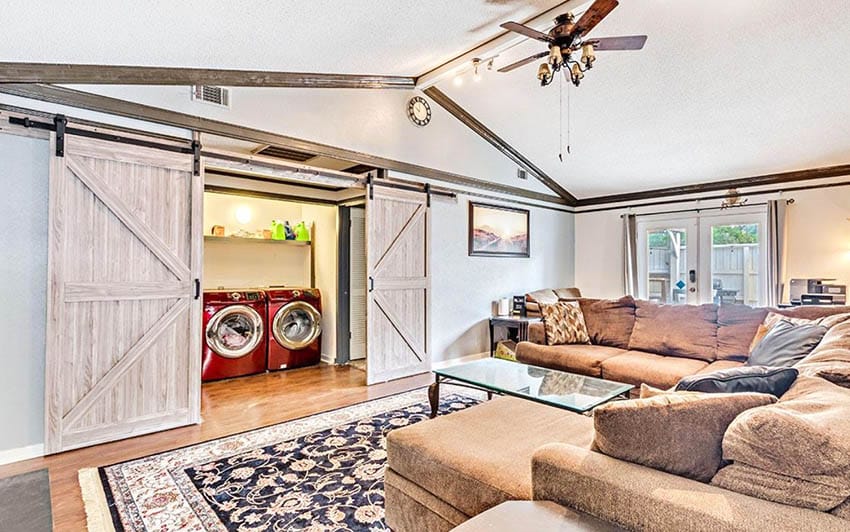 Having a barn door conceal your laundry area is a smart way to hide a usually messy area. The large double doors allows you to have more space when it's open, but conveniently hides it when not in use so that you can lounge in the living room more comfortably without thinking about the laundry you have yet to do.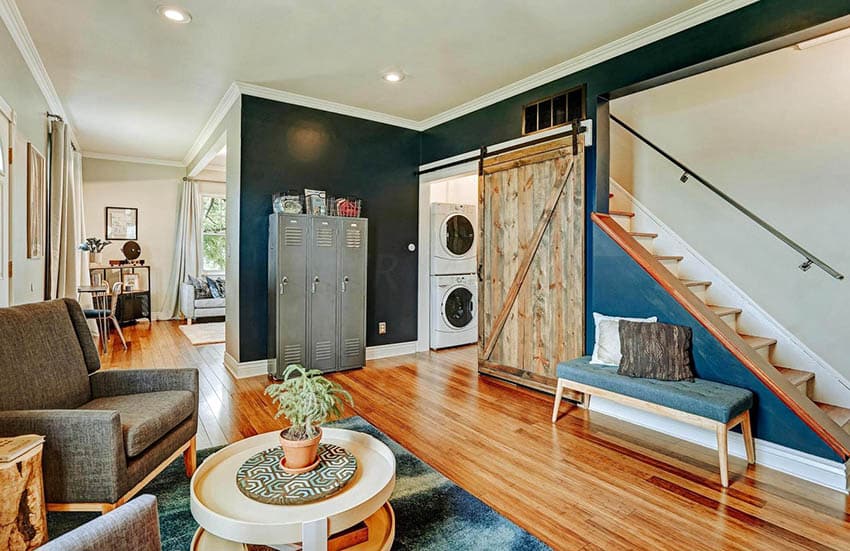 This laundry room uses one large barn door to conceal the small laundry area under the stairs.
Sliding Barn Door to Home Bar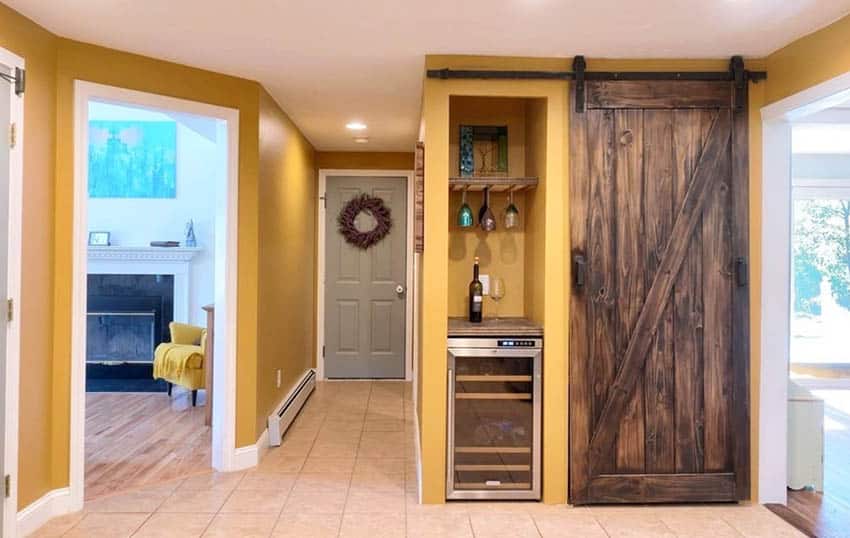 Aside from using it to conceal laundry areas and entertainment centers, you can also use barn doors to conceal a bar area or a small recessed pantry storage. It double's as a door and an accent piece, so it's a win-win!
Dark Sliding Barn Door in Living Room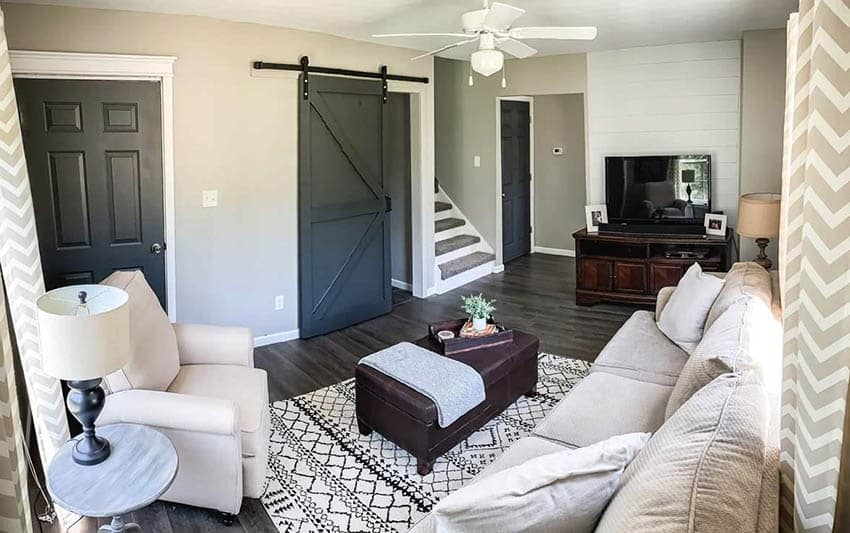 If you don't want your barn door to stand out too much, it would be a nice idea to use a finish or color that matches the other doors in the space. In this case, the doors were painted in gunmetal gray so the barn door color was matched to keep it low-key.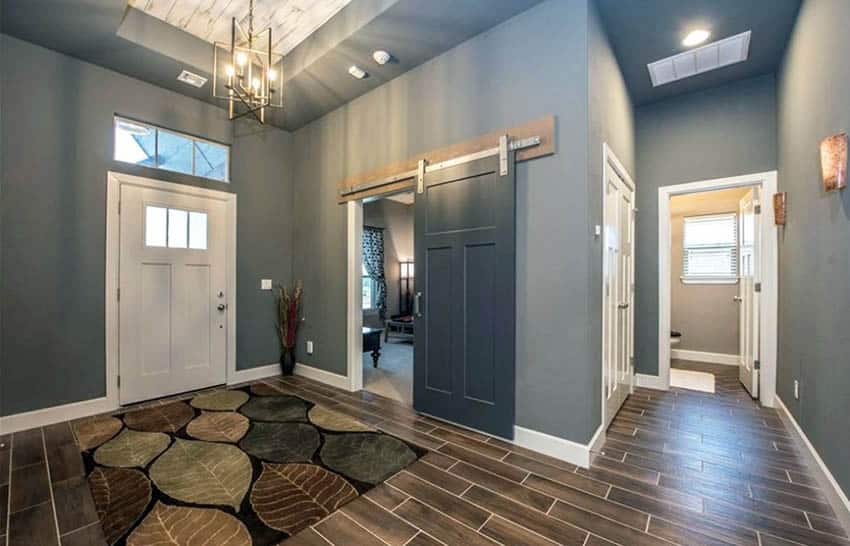 Painting the sliding barn door a darker shade of gray than the base wall paint gives this room a contemporary style.
Red Sliding Barn Door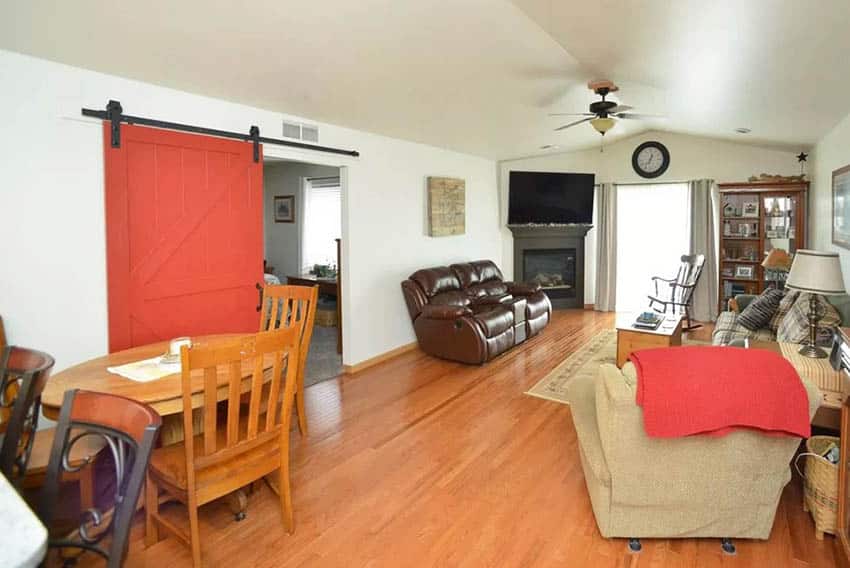 If you would really like to make a statement and add a pop of color, you can paint your barn door with a bold color of your choice!
White Sliding Barn Doors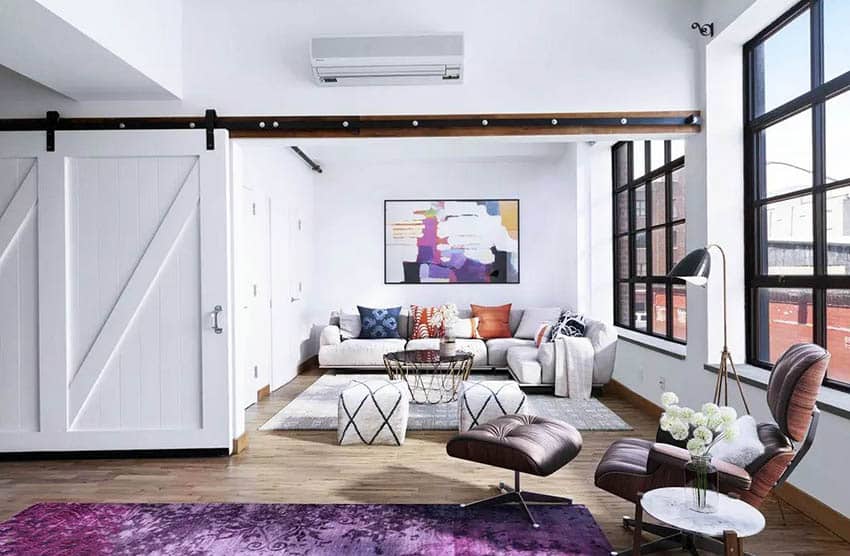 White barn doors is a safe choice as they will definitely look good whatever interior style you have. This apartment is using a special white double-wide barn door to divide the living area from the other parts of the unit.
Visit this link for more sliding door ideas for your home.