Here we share our farmhouse wall colors design guide including the recommended shades for traditional and modern farmhouses, and the ideal paint brands to consider.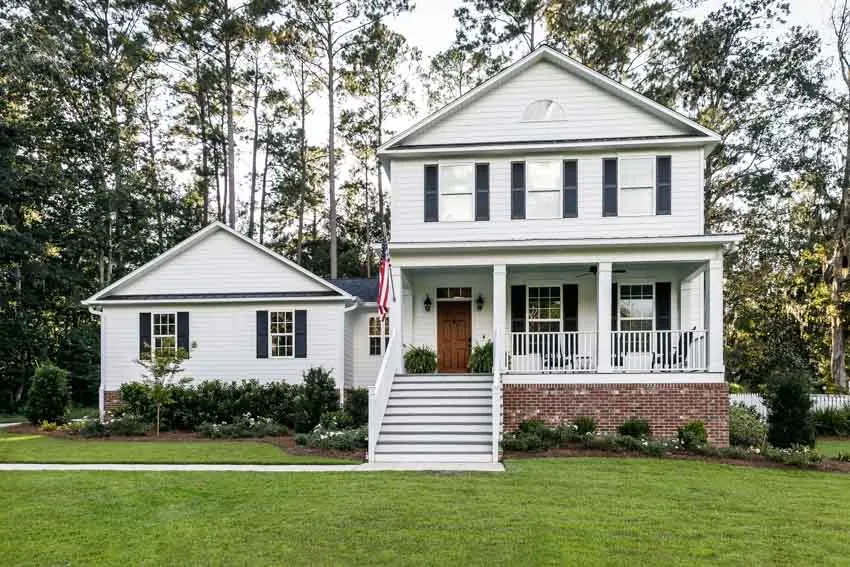 Farmhouse style has always been a classic staple across all home designs. Think of oak cabinets, shiplap walls, sliding barn doors, and vintage light fixtures. Typically, wide porch skirts around the farmhouse for afternoon tea, too.
Together, these elements create a warm and cozy feeling. But sometimes, farmhouses can be perceived as outdated.
There are many ways to spice up the look of your farmhouse. One that comes to mind is applying a splash of wall paint, an easy and inexpensive solution to updating your farmhouse.
What Are Typical Farmhouse Colors?
Farmhouses typically use neutral colors from white to beige and grays. Neutral colors have always been a straightforward choice as they allow you to add bolder decors or accent walls for a touch of character.
Below are some of the classic farmhouse colors you can find.
White And Off-white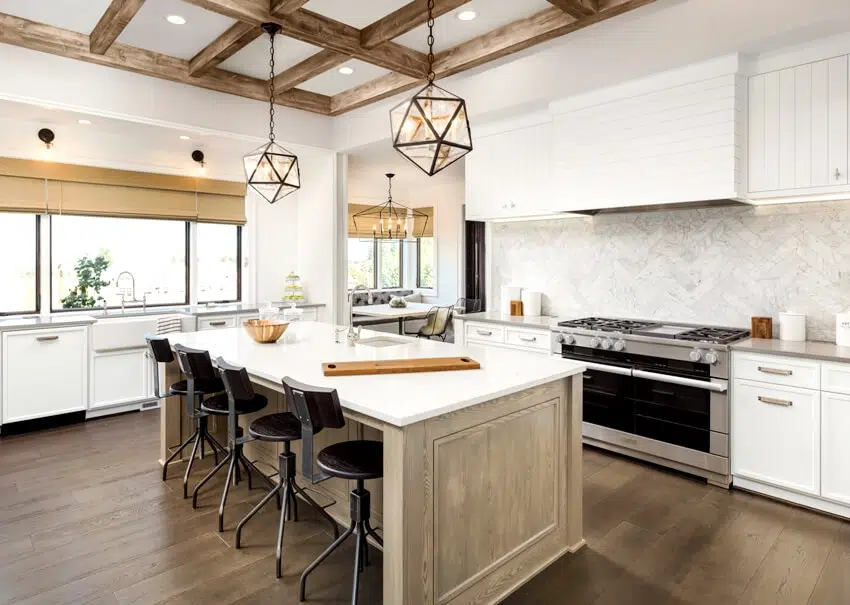 White is a timeless color that gives a clean and fresh look to your home. It also attracts more light, thus making your house appear more spacious and inviting.
White can also help create a stronger contrast to highlight any decors, vibrant types of furniture, or bold-colored architectural details of your house. If you prefer a slightly softer white, you can opt for cream, ivory, or vanilla white paints.
Beige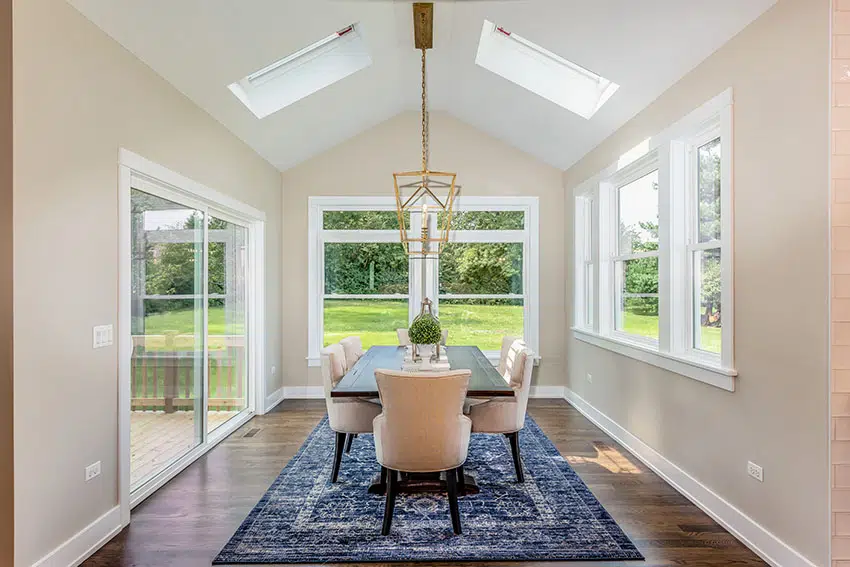 Beige is a soft color that instantly brings warmth to your space. It also blends into the background, making it a friendly wall color.
Think sand, taupe, and tan hues. Keep in mind that varying undertones may react differently to light as well. Read more about colors that go with beige here.

Gray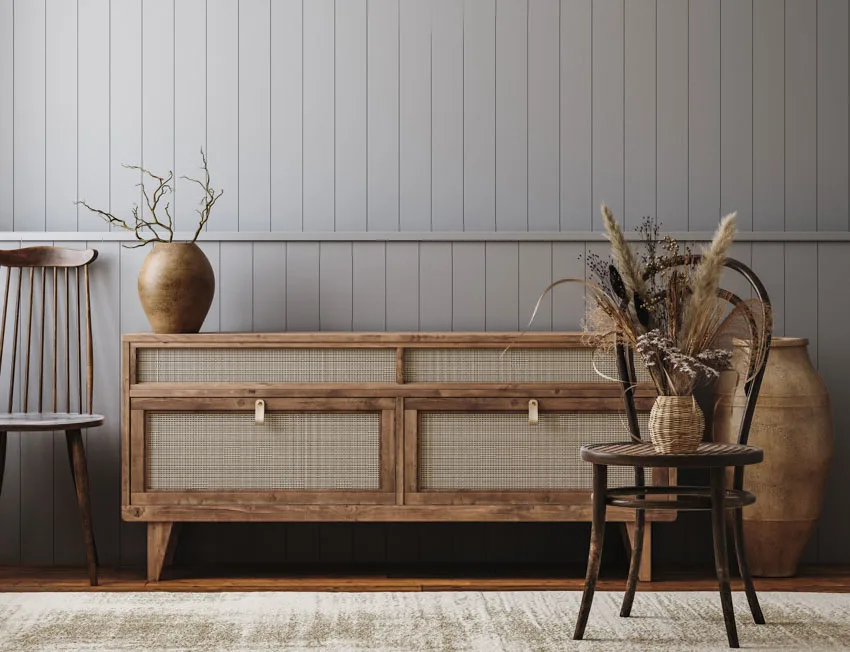 Gray is a popular color often used to highlight architectural features outdoors and breaks soft and bright colors indoors.
A warm gray has an orange or brown undertone, which can create a warmer feel. A cool gray has a blue or green undertone, which can evoke an icy interior. See more ideas for colors that match with gray walls on this page.

TIP: Choose the shade of gray that will balance your color scheme.
Modern Farmhouse Wall Colors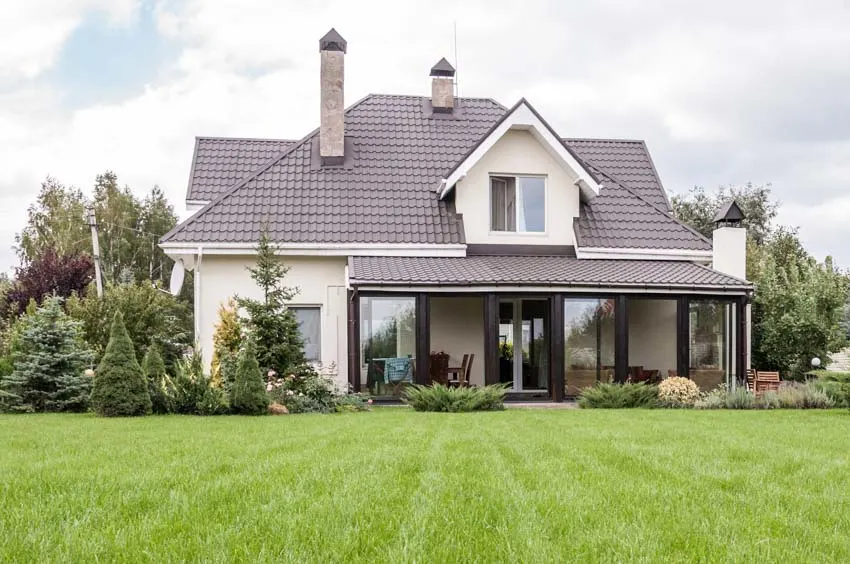 Injecting a more contemporary look to your farmhouse may translate into adding pops of colors to your scheme.
While modern farmhouses also use white and beige, below are some colors that will add drama to your exteriors and interiors.
Black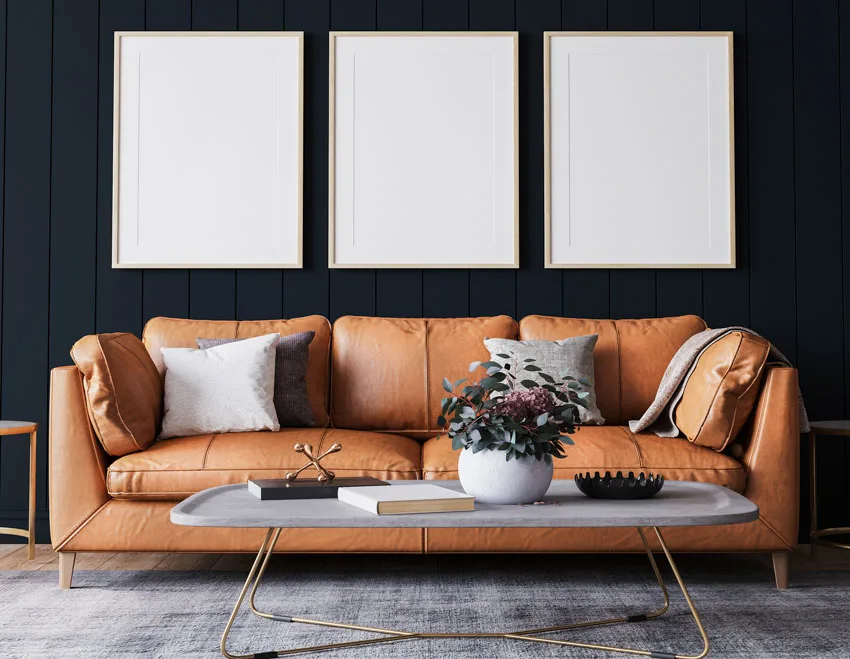 Bold and dark, a black-painted farmhouse can be an attention-grabber to onlookers.
Black walls also create a crisp contrast against light-colored window frames and doors. Not to mention, the color exudes elegance that brings a luxurious feel to your home.
A black-painted house also absorbs 20 percent more heat than light colors. If you live in a chilly place, this is a great and inexpensive hack to insulate heat.
Dark Gray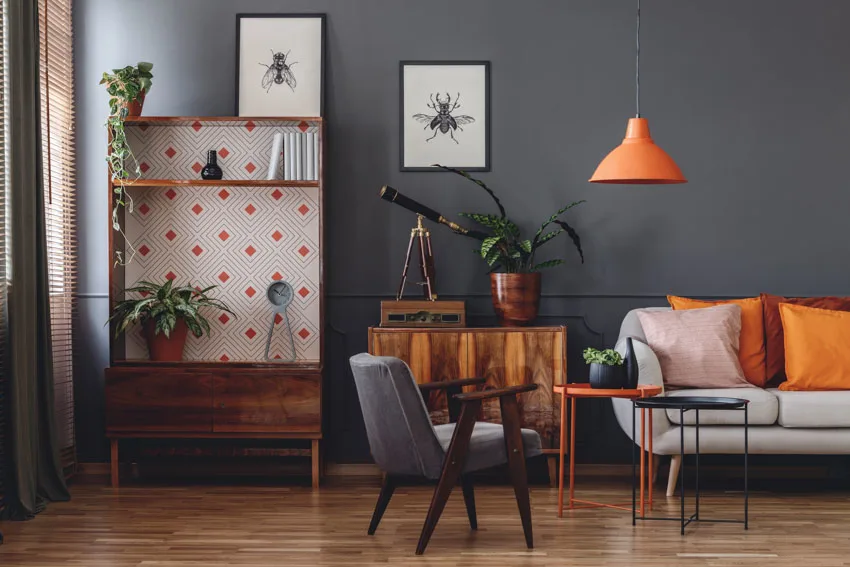 If you are not a fan of black, you can opt for a softer option, like dark gray paint instead.
Dark gray can also make a powerful statement, although more subtle than black, allowing your house to stand out in your neighborhood. Charcoal gray and pebble gray are popular choices for this color.
Blue, Green, And Pastels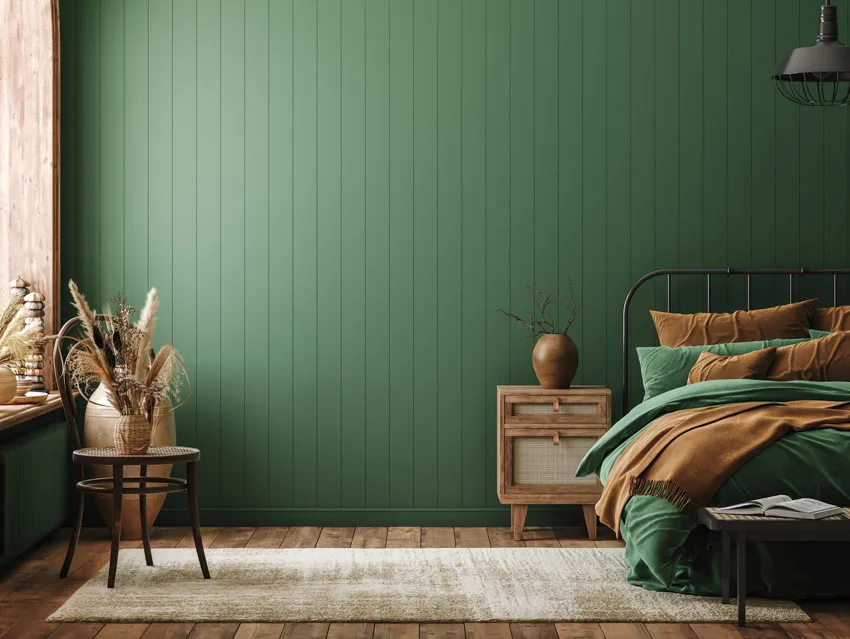 Bring your farmhouse kitchen, bathroom, or living room to life with a splash of bold blue or green. Think emerald green, dark olive, navy blue, and Prussian blue.
When used strategically, these can break the monotonous color scheme in a room and create a focal point.
Finally, pastel colors can bridge your light hues to darker hues. Pastels also add softness and feminine touch to your space.
Farmhouse Paint Ideas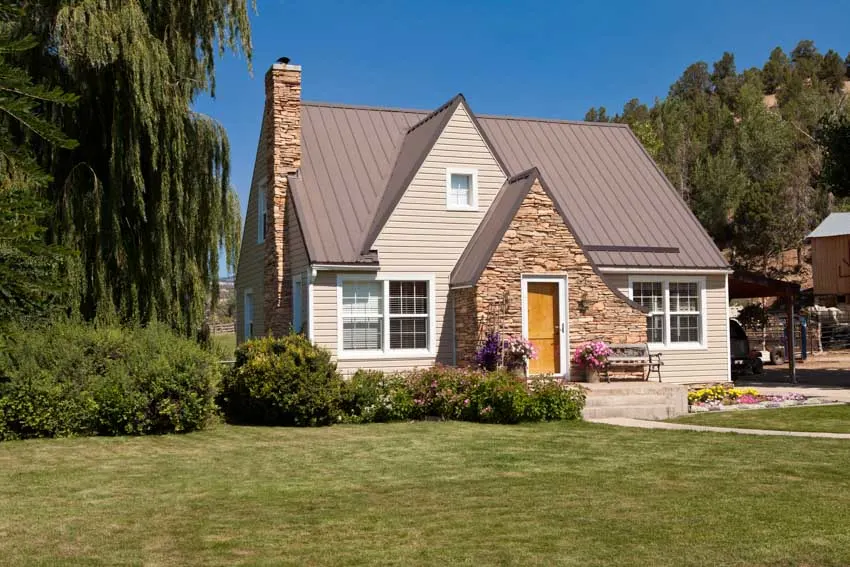 Walking into a paint shop can be an overwhelming experience, especially with thousands of colors to choose from.
While there are no strict rules when painting walls, below are three farmhouse paint ideas to guide you.
Match Neutral Base With Vibrant or Bold Colors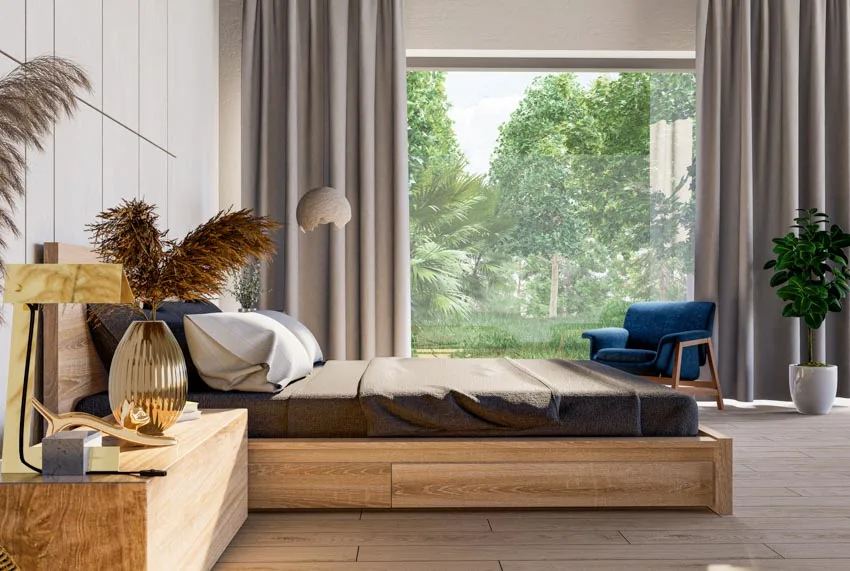 You can be judged as playing it safe or boring when you select neutral colors. However, neutral colors provide an excellent base that can leave you more room for styling up your space.
While white or beige walls may seem plain, offset the neutrality with a pop of vibrant decors or bold-colored furniture. Dark gray walls also work well with red or yellow doors.
Decide Between Color Contrast and Color Harmony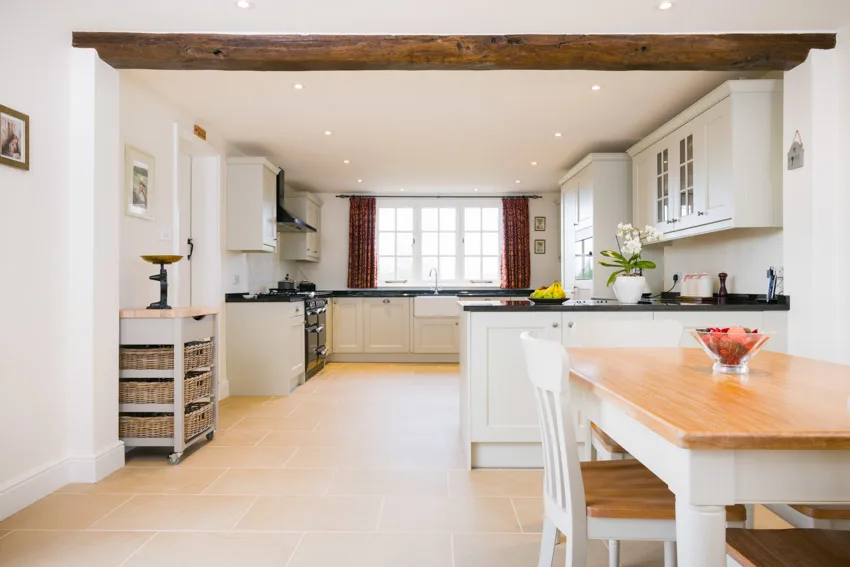 Painting a wall is not a one-and-done task. The thought process involved when choosing the right color can be more complex than what you expect.
Consider the colors that you already have or planning to bring into your space. You can have a harmonious or contrasting color scheme.
As previously mentioned, darker colors work best if you're in a sunlight-filled location. Lighter colors are brilliant in brightening up your space. Match your paint to the mood that you want your place to evoke as well.
TIP: Consider color blocking. Make the best of both worlds when you mix light and dark paints on your wall.
Think Long Term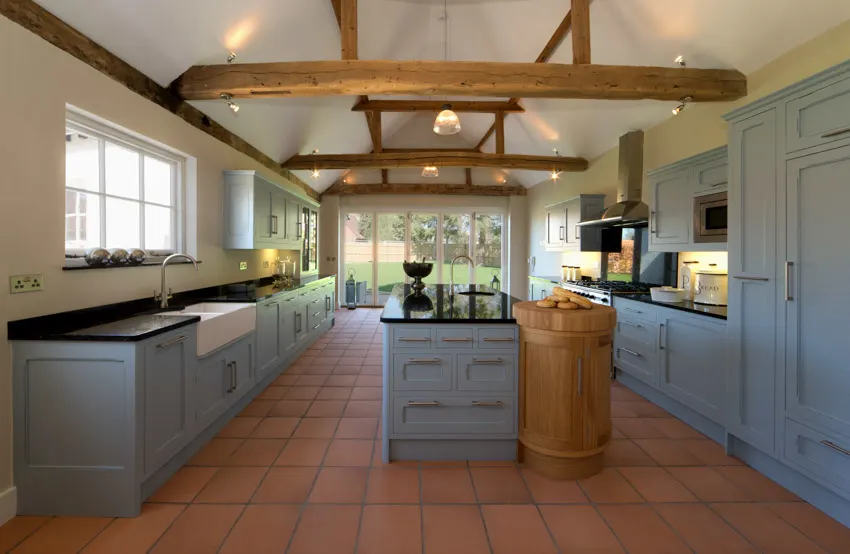 The truth of the matter is, painting a wall is a long-term commitment. While it is tempting to copy trendy interior and exterior paints, it is best to assess what such decisions will entail in the long run.
For example, darker colors fade faster than lighter colors. Thus, re-painting after a few years is key to keeping your bold-colored home looking pristine.
Finally, purchase high quality paint to ensure that you don't need as many coats and it is longer lasting.

Best Farmhouse Paint Colors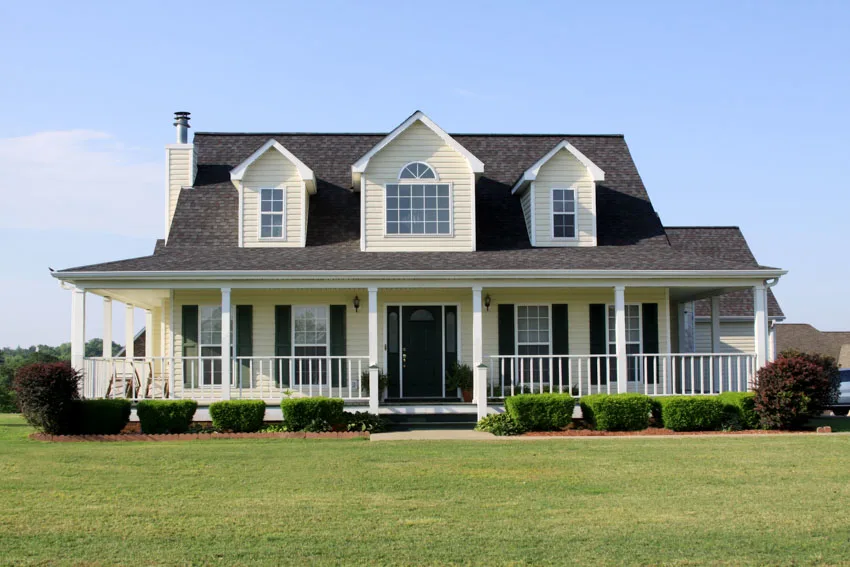 Here we share the best paint colors for farmhouses.
Alabaster White (SW 7008) by Sherwin Williams Hailed as the Color of the Year in 2016, Alabaster White is a softer white with slightly gray and beige undertones.
It also scores high in Light Reflectance Value (LRV) at 82, which means walls painted in Alabaster white reflect light in a room
Agreeable Gray (SW7029) by Sherwin Williams Is it white or gray? Well, Sherwin Williams calls it Agreeable Gray. Because of its fair LRV rating, this paint color can play tricks with your eyes when applied in a room with plenty of natural light. It falls under greige (gray + beige) colors and can create a soothing effect.
Waterloo (SW9141) by Sherwin Williams
If you like to incorporate a slightly muted dark blue into your farmhouse, you can opt for Waterloo. This color adds depth to your walls and creates a more cozy feeling despite its subtle yet bold hue.
Sunken Pool (S440-1) by Behr This light aquatic blue shade can make your farmhouse look refreshing and inviting. You can color-block Sunken Pool with white or have your trims painted white. Sunken Pool tends to give a softer yet classic farmhouse look.
Revere Pewter (HC-172) by Benjamin Moore Revere Pewter is greige with an LVR of 55. This color hits a perfect balance between gray and beige, making it the perfect backdrop to match any colors you want to bring in.
By comparison to the builder's beige, Revere Pewter also adds a more modern and sophisticated look.
See more related content in our article about modern farmhouse bedroom ideas on this page.