Welcome to our gallery of homes with modern farmhouse design including interior & exterior ideas you can use.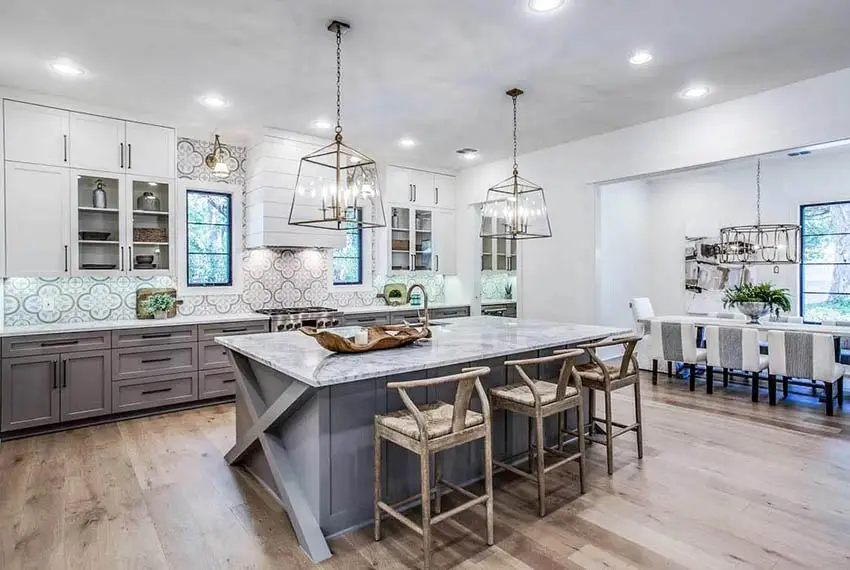 Have you ever desired a little rustic, a little bit Scandinavian and some highlight touches of Shabby Chic in your house? Do you fantasize patches of reclaimed wood, rugged white walls, and some authentic vintage lighting? Well, Modern Farmhouse design has the answers to it all.
Not incredibly old, the modern farmhouse style came into the limelight in 2015 and ever since then, it has been applauded for its trendy and dynamic impact on the homeowners. This eclectic style has been revived from a traditional farmhouse design with an increased appreciation of subtlety and timelessness.
Modern Farmhouse design draws tremendous inspiration from industrial, classic and traditional styles that are known to exist independently and tends to incorporate some of the striking minimalist and contemporary features of the era.
The core of this style lies in an open, spacious floor plan with highly reflective surfaces to create a light and fragile environment. Clean and crisp lines, warm woods and neutral accents unzip the modern farmhouse look into a fresh, welcoming and a positive realm.
Modern Farmhouse Style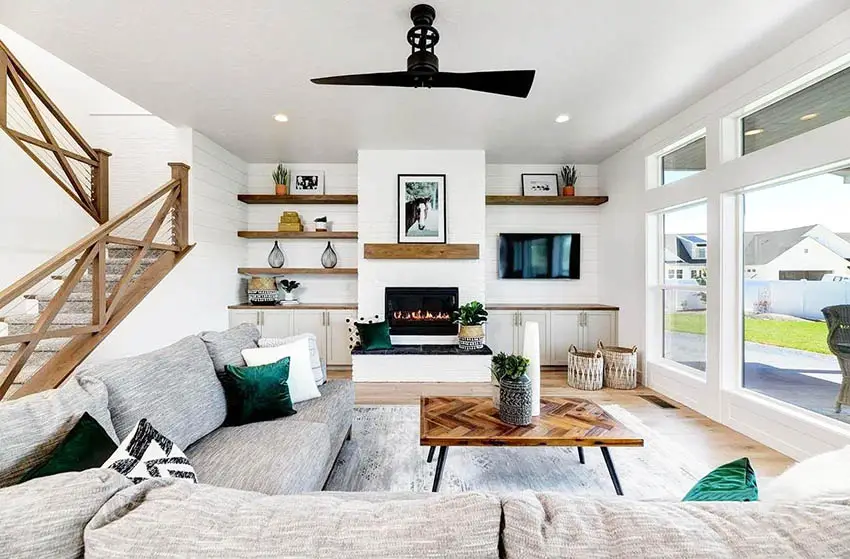 Centered around comfort and deep-rooted in rustic charm with striking minimalism, this style offers a wide array of design elements specialized for all the spaces in a house.
Let's have a look at these mesmerizing features that could be observed in modern farmhouse decor and make you feel awe-inspired by their natural look.
• Wide plank floors
• Vintage accessories
• Comfortable furniture
• Natural hues
• Reclaimed wood
• Pine accessories
• Wrought-iron elements
• Apron sinks
• Traditional fabrics
• Excessive natural light
• Rustic wood accents
How to Get the Look?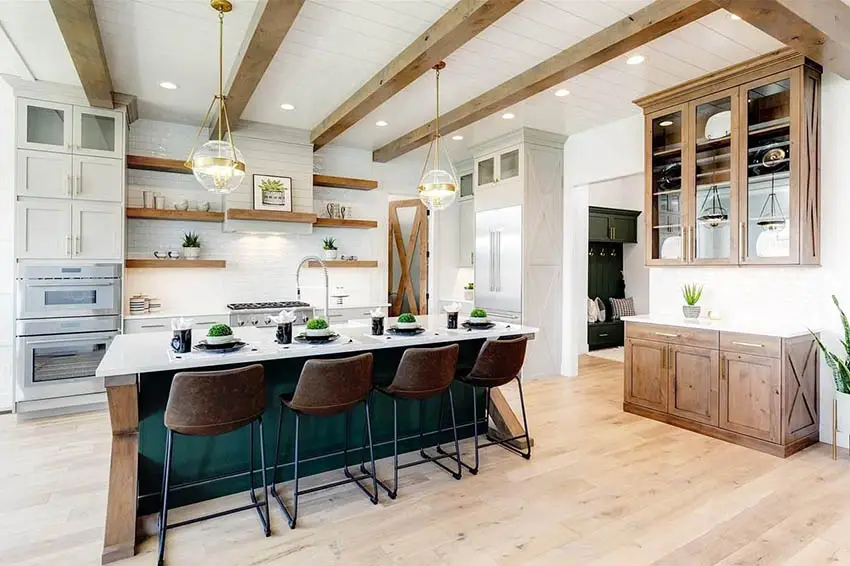 Revamping your home into a modern farmhouse style and blending it with present contemporary, modern, or transitional style might seem daunting but could be achieved easily. Just a few add-on touches, a little décor and a bit makeover might alter the look of your house to a perfect dream farmhouse look.
Defined by warmth and natural textures, a layer of wood in the furniture or calm fabrics on the furnishings could be a thrilling start to a modern farmhouse look. Traditional homes might need to remove cluttered accessories, jazzy colored furnishings and patterns to give a clean and sorted look.
Acquiring a natural style by adding textures for a rustic feel plays a significant role. For instance, staggered wood logs could play as a focal point in the house and give an identity to the space.
Painting the rooms with neutral color palettes and avoiding multi-colored tints and contrasts or adding wood in the furniture or structure could give a vintage and antique feel to your space that well defines a modern farmhouse look.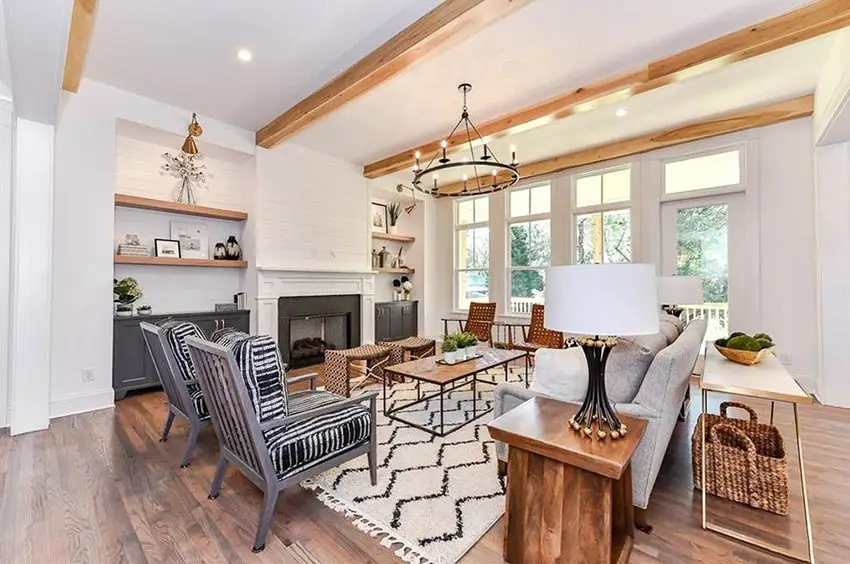 It is no surprise that this style requires a cozy environment; Adding indoor plants, excessive cushions and a warm, spacious hue will embrace the feel and make your space versatile and timeless leading to the guests' admiring the house and stealing an eye.
Due to the modernization in this style, there are a few dont's from the traditional elements that are to be noted; Barn doors may seem to be the most eye-catchy element of farmhouse design, however this costly trend may fade away over time.
Vintage signs and art objects define authenticity, but over-utilization may cause the space to turn into "country". Similarly, saxophones, bicycles and mason jars may seem to add the "over" factor and end up annulling the sophistication of the space.
Exterior Design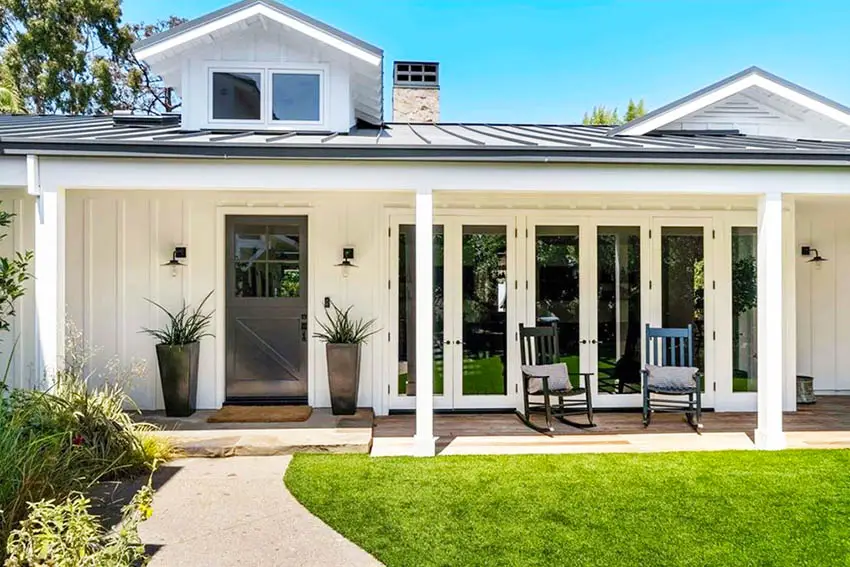 Modern Farmhouse Style is more than a mere design style. It ranges from accessories to furniture to interiors and even the building exteriors. With such a broad spectrum, this design style proves to be a feeling that homeowners look forward to inculcating in their spaces.
This design style requires an amalgamation of the exteriors' modern and traditional elements to give the homes a perfect rustic yet fabulous touch.
For all those looking to remodel the house to give a "farmhouse" look or the ones with a completely new ground-up structure, several distinctive elements must be noted.
Color Palette
Draw inspiration from the Scandinavian style and wash the walls with beige, grey, white or an off-white. Lighter hues account for lively and delicate experiences that further enlighten the space and makes them look bigger. You could even leave the walls unfinished with a rugged white plaster or paint on it.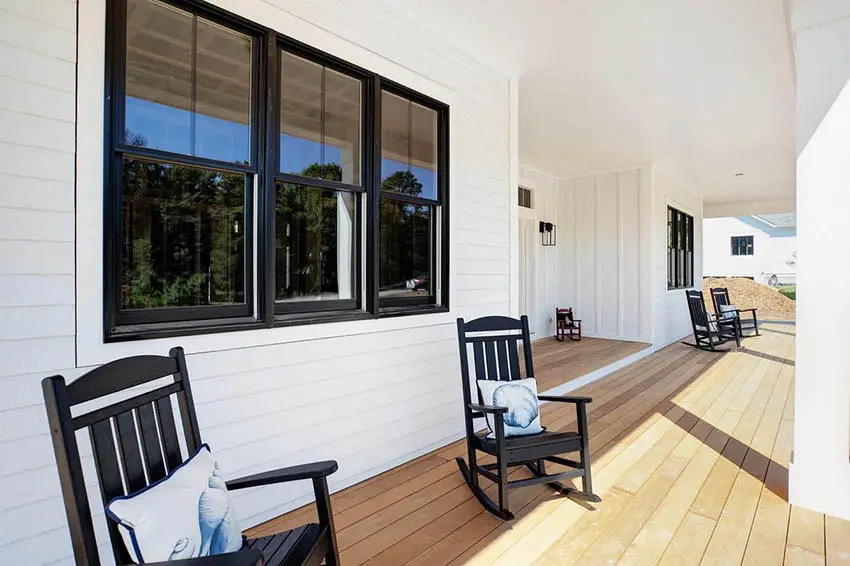 Covered Porch
Traditional farmhouses were famous for outdoor living which is why the feature has been revived in the modern designs. The culture of inside yet outside experience and enjoying the property and its surroundings has been limelight for the farmhouses.
These covered porches allow the homeowners to enjoy the rainy weather while sipping on their evening tea. Covered patios are often used for backyard areas.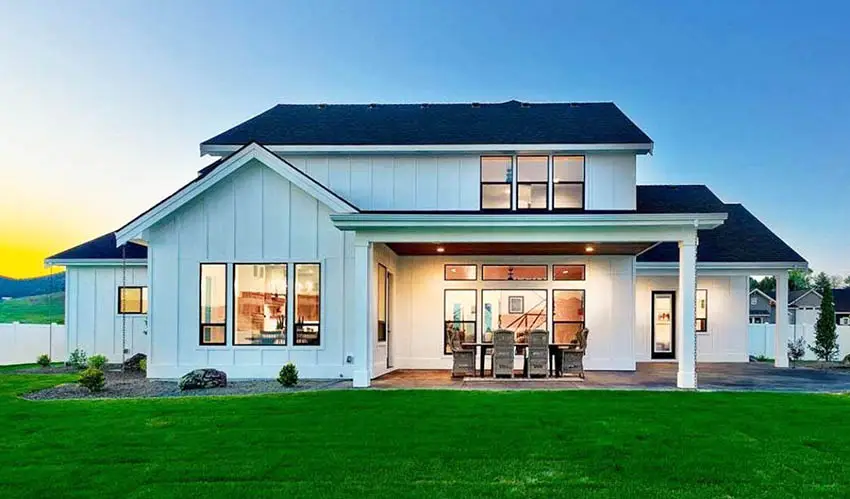 Massive Openings
Highly inspired by the nature, massive openings are majorly preached by the homeowners to get an inside-out feel. In traditional farmhouses, the windows were purposely designed to be larger to keep an eye on the outside. However, reviving in the modern typology, these windows also let in plenty of sunlight to enlighten the indoors.
Barn-Style Exterior Lighting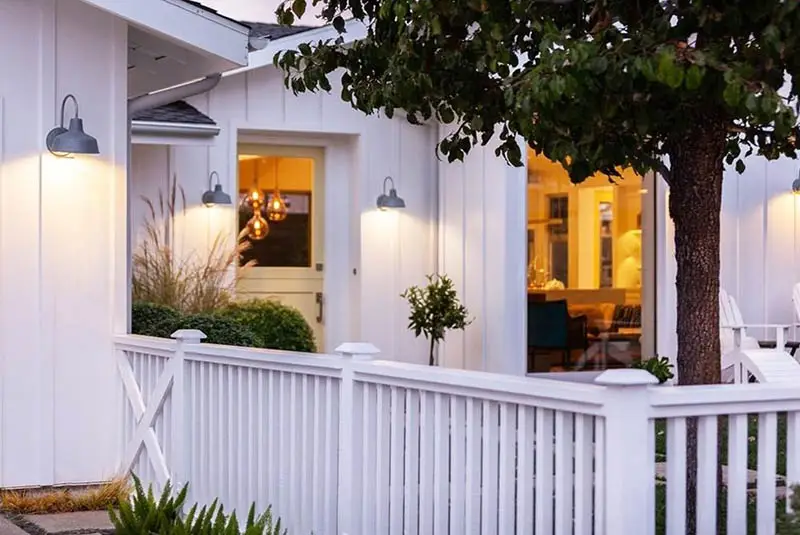 Barn style torch lights are used in the exteriors to light up the façade. These products are built in molded wrought iron or caged glass to give a rustic look to even the slightest.
Gables
Multiple sloped gables in a house are highly identical to a modern farmhouse style. Mostly used in black or grey, this hallmark adds the authentic touch to the house.
Interior Designs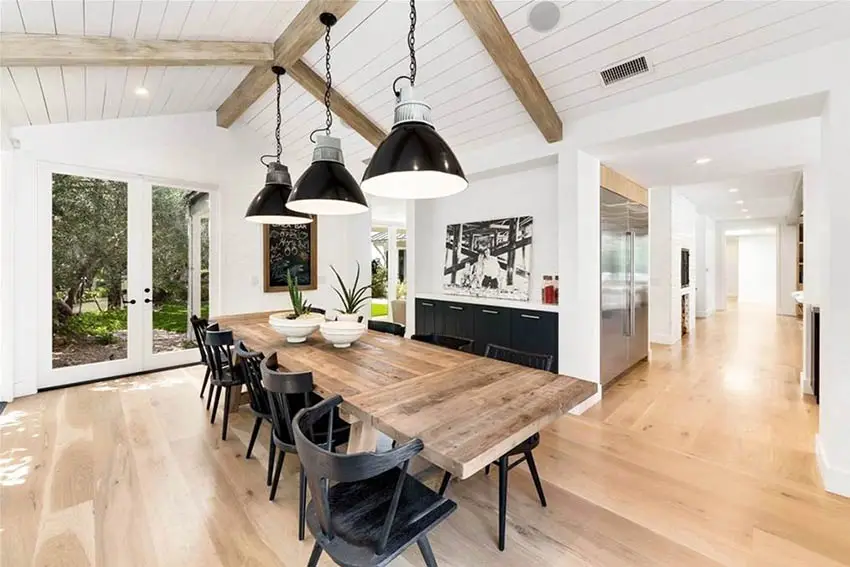 Modern farmhouse interior design is all about a low-key mixture of country aura and a soothing minimalistic theme. It revolves around the comfort factor in defining the style and building up the natural aura for the homeowners.
A strong vibrancy and enthusiasm can be felt in the farmhouse interiors that enhance our moods and blends us in various farmhouse lifestyles.
'Wabi-Sabi' is a term that fits in with this design style; The juxtaposition of the era's minimalism and yet the country design; 'New and yet the old' is glorified precisely in their design elements.
It celebrates the not-so-perfect style by using distressed wooden beams, unfinished rugged brick or concrete walls, exposed metal furniture and industrial lights.
To simplify the feel, let's look at some of the key features for modern farmhouse interiors.
Woodwork
When paired with light, airy walls, the rustic woodwork tends to give the space a natural and industrial look.
You could treat the wood with special varnishes or stains to maintain them from time to time for a much authentic look. Tongue and grove wood flooring, wood open beams and shiplap ceilings are all popular features in modern farmhouse homes.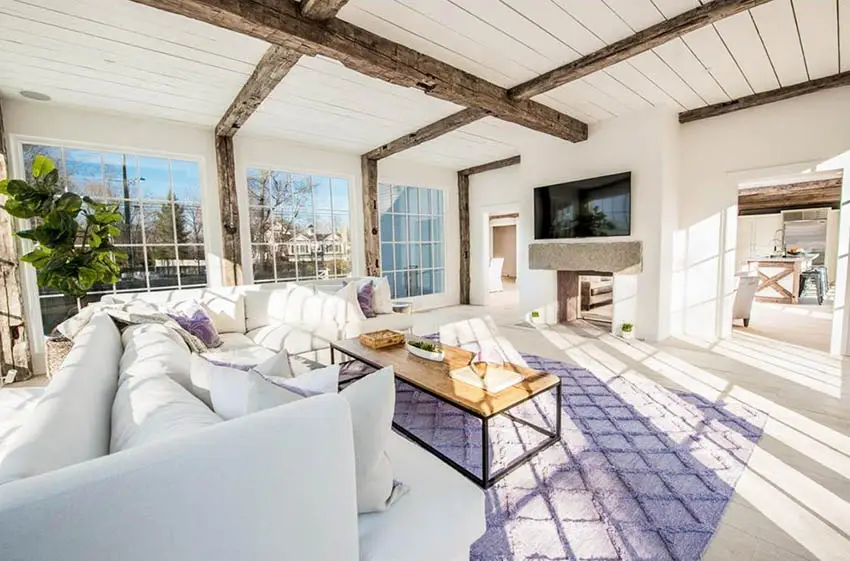 Pale Off White Walls
Pale off-white or beige walls are constructed to complement the hardwood flooring. Walls are not characterized to be fancy, multi-color painted or wallpaper designed, instead just naturally white-washed.
Spacious Kitchens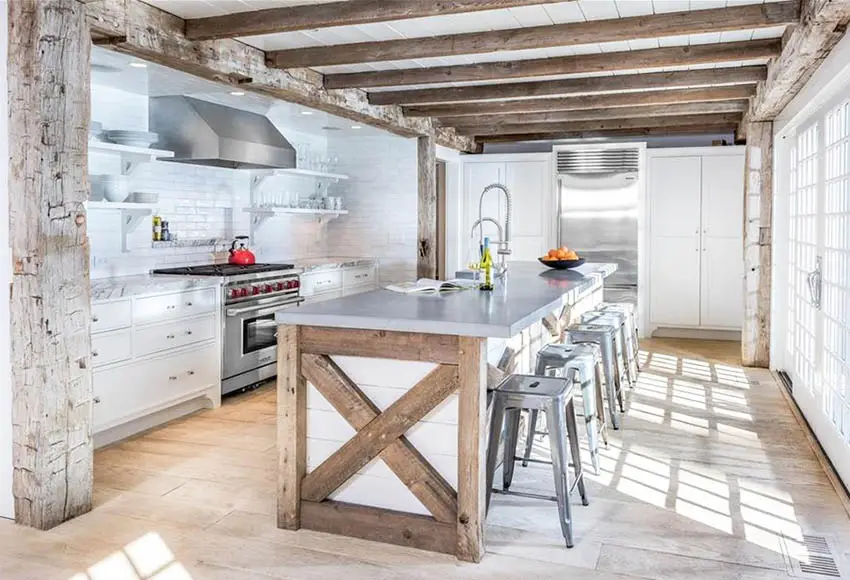 Kitchens are the heart of our homes. However, the sizes should be comparatively larger and flexible. Traditional farmhouse kitchens held larger kitchens due to cooking for larger groups of farmers and armies.
These have been revived to give a modern classic touch in the eclectic fashion. Wooden countertops and island elements are the key factors to be implemented with a mixture of glass cabinets and wooden shelves.
Natural Fibers
Avoid the artificial by bringing the nature in. Natural wood, cotton, hemp and linen are appropriate materials to be used that will synchronize with the interiors and add on to the farmhouse beauty of the house.
Materials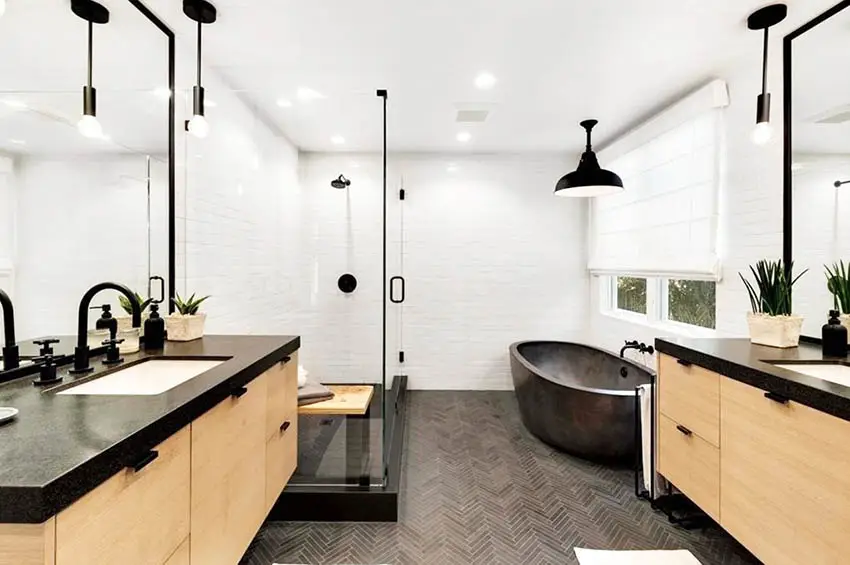 Sophistication is the key to modern farmhouse design. Using high matte finish and avoiding glossy materials would authenticate your space to a natural farmhouse look and set a casual and comfortable environment. Introduce exposed material walls and industrial decor items in the space with sleek, straight lines and minimal cluttering.
Explore the Eclectic
Modern farmhouse design is a product of blending modern with traditional whilst keeping rustic touch onboard.
Collaborate the old with new to give the space authenticity and a vibrant touch. This design style perfectly amalgamates the distressed wooden beams with modern stainless steel to provide a vintage product. See our article on faux wood beams to see how you can implement this style in your own home.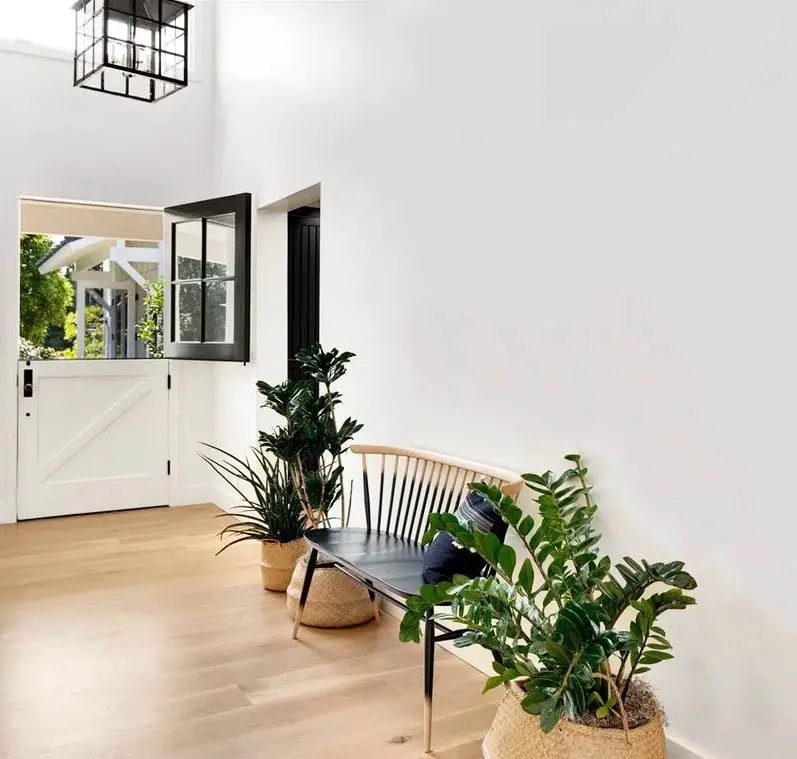 Modern farmhouse with traditional style Dutch door
Play with Contrasts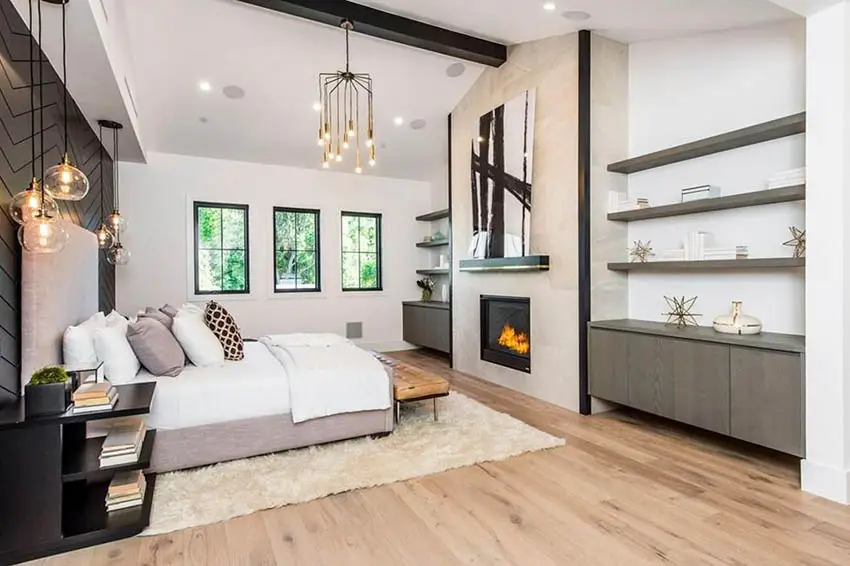 Master bedroom with vaulted ceiling
Avoiding flashy colors to simplify the interiors in a more subtle-contrasting way can polish your space with a modern farmhouse look.
This style evokes low-key luxury, authenticity in materials, relaxed style aura and natural finishes within the indoors. A slight contrast of shades of whites, greys and blacks are observed with tints of burnt orange and earthy tones.
Even though the words, "Modern" and "Farmhouse" may seem contradictory together, the duo never misses out to be placed on the design headlines. Chip and Joanna Gaines elevated the true perspective of the design style that earned popularity early during its evolution.
This eclectic approach towards multiple design styles leads to the commemoration of reviving the authentic traditional farmhouse style with a modernist approach to usher the space. This style is more of a lifestyle than the design itself.
It is a feeling that many homeowners contemplated for generations and not only altered their personalities but also rejuvenated the glory of its existence.
For more related designs see our gallery of farmhouse kitchen cabinet ideas here.