See our gallery of shutter colors for brick house designs including tips for choosing the best shutter colors and paint choices for red, brown, red-orange, and tan brick houses.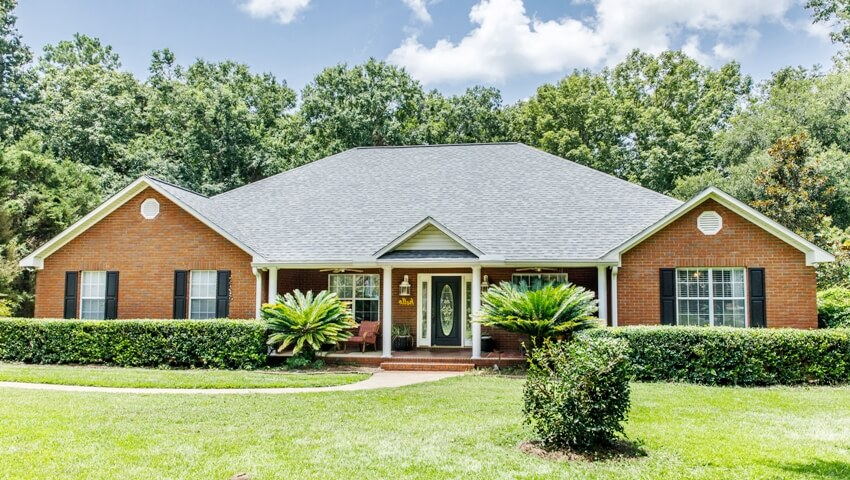 Brick homes have this rich and rustic appeal that look inviting and offer a cozy curb appeal. Shutters are usually used along a brick house and in choosing one, you will need to match their colors respectively. You can go for the traditional Colonial red brick home with white shutters or you can modernize that look based on your preference and personality.
Shutters function as a protective element of the home. They are usually attached to the hinges of the doors and windows against weather elements like heavy rain, ice, snow, and even flying debris during storms.
Shutters were popular in the past because windows back then didn't have tight seals. Tempering and insulated glass were also not an option since they weren't invented yet. With their existence today, the majority of the shutters in brick homes are used for aesthetics rather than function.
Shutter Color For Red Brick House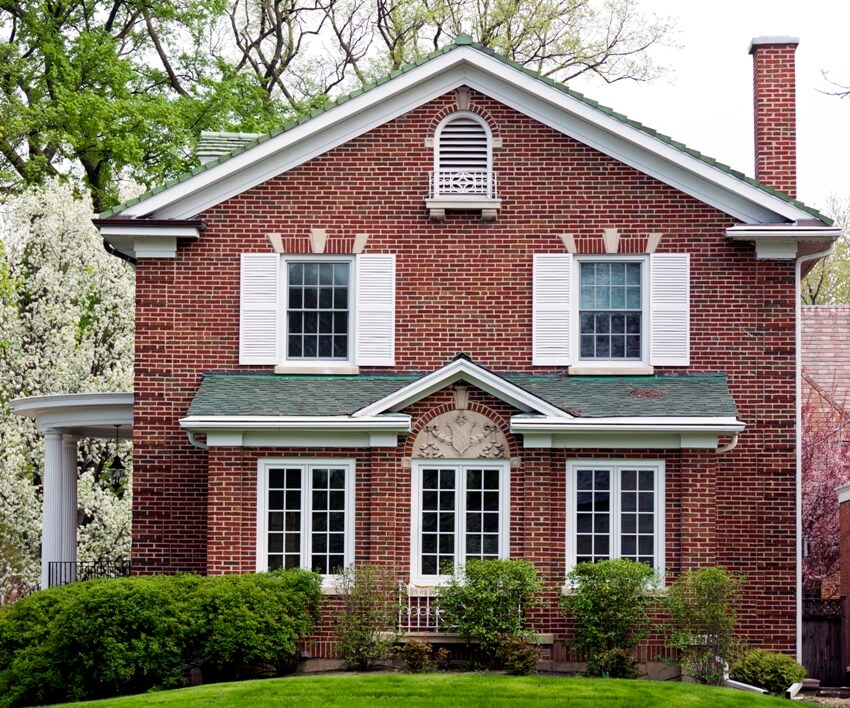 Bricks usually come in the color red and this became the classic look with brick homes. With this kind of brick home, what shutter colors can look and match it?
Picking the shutter color for your red brick home requires choosing colors and shades that complement the red brick. Before you even pick a specific color for your shutters, make sure you know well the overall tone of your red bricks.
This includes the different shades and colors in each brick, as well as its texture and the possible color changes from one brick to another.
Here are some colors that will surely look good with your red brick home:
• Black Shutter – This is the classic pair of red bricks for old-fashioned homes that make each color stand out from the other. They are perfect to be paired with white trims and frames.
• Gray Shutter – The color gray color looks stunning when coupled with red bricks. The shutters will offer a nice contrast with the red bricks without looking too dark. It offers a softer look than black but still provides a strong contrast that makes both colors stand out.
• White Shutter – This color is another popular choice to match with red bricks. Pure white shutters look clean and crisp when placed together with red bricks.
And when it comes to the color white, it is easy to match with other colors primarily because it serves as an empty canvas you can paint anything into. Red bricks will stand out when paired with white shutters and a wooden front door will complete this ensemble.
• Green Shutter – The colors green and red are complementary colors and they go together naturally. This is why green shutters will look good with red bricks since the green color adds freshness to the warmth of the red bricks.
A green hue also adds tranquility and a welcoming feel to it. But make sure you stick with the classic green shades or muted ones so that they will not look overwhelming.
Shutter Paint Colors For Red Brick House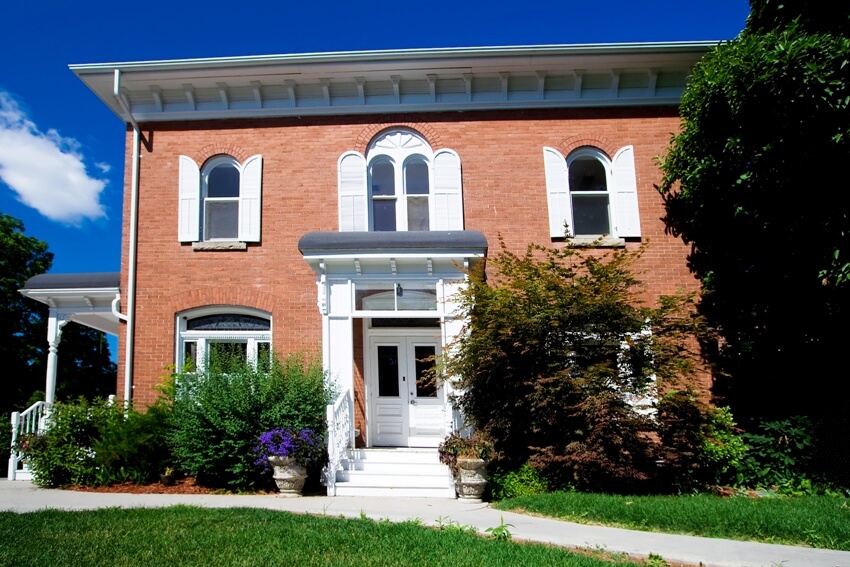 When choosing specific paint colors for the shutter of your red brick home, there are many things you need to consider. To start off, here are tips you can take into account before getting into the actual choosing part:
• Take into account the texture of the bricks since rough textures tend to look darker.
• Choose to paint the house siding with the same color as the grout.
• When you paint the shutters, remember that paint colors may be 5 to 10 times lighter and you will need to consider the paint's undertones to truly maximize its use.
• White vinyl windows will look good with white trim color so you may want to consider that.
• Make sure to always test your paint before applying them.
• Dark colors tend to fade quicker than lighter ones so take that into account in choosing your paint.
Now that you can follow these simple steps, the next thing to do is to choose a paint color for your shutter. Here are some options to explore.
White Shutter
White is a popular option for a reason and that's because the color can easily be paired with other colors. Red bricks already have drama and adding more to that will make them look overwhelming, which is why white is a good option to consider. White provides a nice contrast and it is a safe choice anywhere you look.
Despite being a classic, there are many undertones to consider. Here are some white paints you can take into account.

Clean and Classic White – Benjamin Moore White Dove (OC-17)

Crowd-pleasing Off-white – Benjamin Moore Ballet White (OC-9)

Warm White – Benjamin Moore Swiss Coffee (OC-45)

Greige White – Sherwin-Williams Westhighland White (7566)

Off-white – Sherwin-Williams Alabaster (SW 7008)

Very Light Greige – Sherwin Williams Shoji White (SW 7042)
If you happen to have a white brick house you can find more information about the best shutter colors for a white house here.
Black Shutter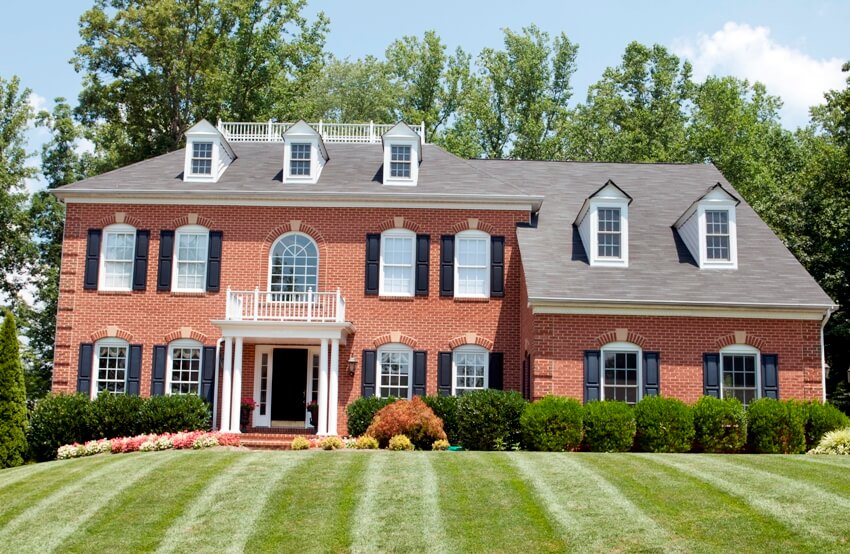 It's all about the drama when black shutters are paired with red bricks. And just like how white shutters and red bricks are a classic combination, the same way is said about black shutters and red bricks.
It's also difficult to go wrong with black since all colors can look good with it. Here are great paint colors you can check out.

Clean Black – Benjamin Moore Soot (2129-20)

Lighter Black with Violet Undertone – Benjamin Moore Raccoon Fur (2126-20)

Deep Luxurious Black – Benjamin Moore Onyx (2133-10)

True Black – Sherwin-Williams Tricorn Black (SW 6258)
Earthy/Neutral Colors Shutter
Another consideration you can choose for the color of your shutters is neutral and earthy colors. Considering you will be decorating the exterior of your home, going for these colors will be a good choice since they will also be able to match the look outdoors.
Check out the following paints in neutral colors:

Warm Beige – Sherwin-Williams Intricate Ivory (SW 6350)

Warm Greige – Sherwin-Williams Jogging Path (SW 7638)

Yellowish-tan – Sherwin-Williams Wook Skein (SW 6148)

Sage – Sherwin-Williams Sheraton Sage (SW 0014)

Dark Teal – Sherwin-Williams Maxi Teal (SW 6769)

Blue-green – Sherwin-Williams Sea Salt (SW 6204)
If the color of your house is off-white or cream you can find more information about the best shutter colors for a cream house here.
Gray & Blue Shutter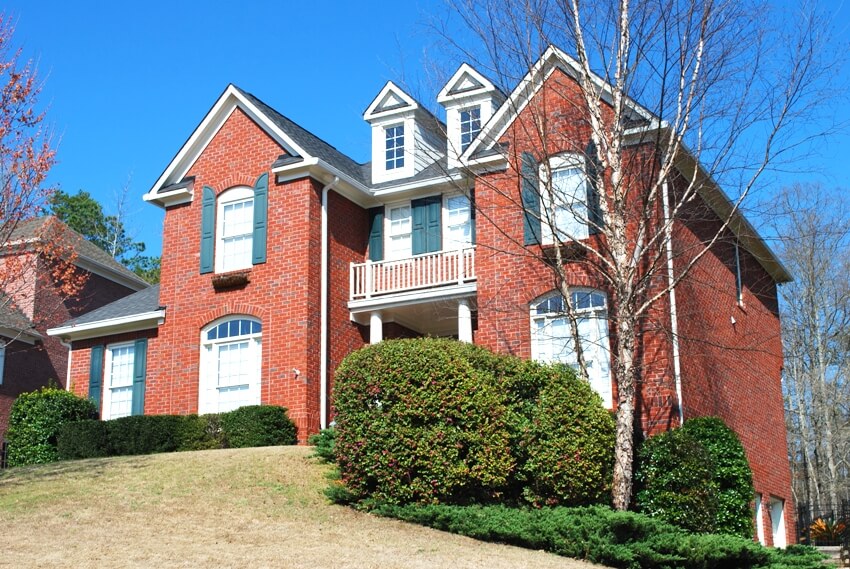 Gray and blue are cool and tranquil colors that can balance the warmth of red bricks. And the red bricks energize the coolness of gray/blue shutters.
You just need to choose the right shade of gray and blue to match your red bricks. And here are excellent paint colors in gray and blue you can start with.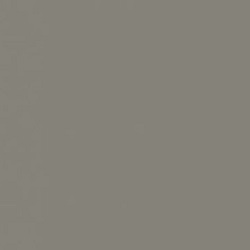 Gray With Brownish-violet Undertone – Benjamin Moore Chelsea Gray (HC-168)

Nostalgic Weathered Barn Hue – Benjamin Moore Barnwood (CSP-115)
Grayish Blue-green – Benjamin Moore Tranquil Blue (2051-50)

Prussian Blue – Benjamin Moore Williamsburg Wythe Blue (CW-590)

Faded Cerulean Blue – Benjamin Moore Buckland Blue (HC-151)

Deep Charcoal Blue – Sherwin-Williams Cyberspace (SW 7076)

True Gray With Deep Blue Undertones – Sherwin-Williams Gray Screen (SW 7071)
Front Door And Shutter Colors For Brick House
When choosing the colors for your brick home's front door and shutter, you must consider the color of the bricks of your home. If you're not yet sure what color to choose for your bricks, it can be pretty difficult to decide which color you can use among all the colors to consider. To help you make a decision, here are tips for choosing.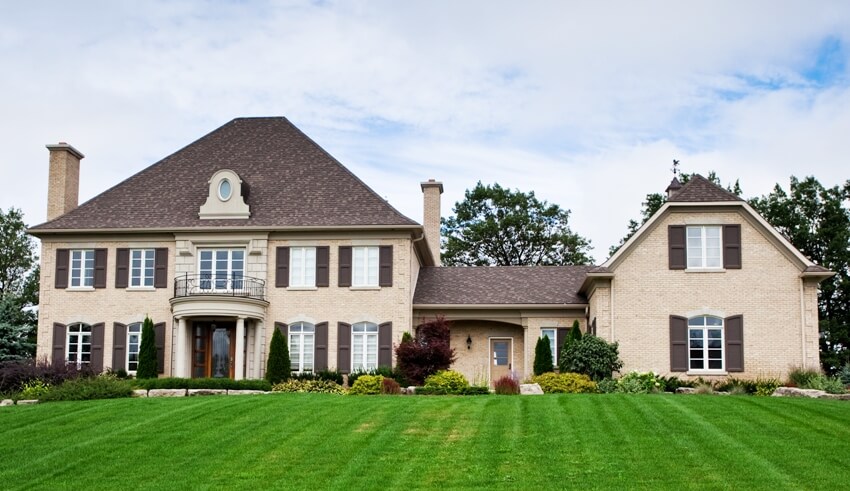 1. Choose colors from nature – When you consider colors for your front door and shutters, you don't need to look too far. Consider the ones found in nature like dark browns, earthy greens, and blues. Whatever color your bricks may be, these colors are guaranteed to match the aesthetics outdoors so you won't have any issue with that.
2. Play safe by choosing neutral colors – Whatever color your brick house may be, neutral colors are guaranteed to look good with them. Choosing a livable neutral palette for your shutters will go nicely with your brick home, whether you're going for taupe, brown, or gray.
3. Test the front door colors you are considering – Before making a final decision, test the colors in person and apply the paint on the front door or shutters to really see what the paint looks like. Making a decision based on a photo online will be a bad move and you need to actually be able to see it with your own eyes when applied to your home.
4. Get some inspiration in your neighborhood – If you don't know where to start in deciding what color to use for your shutters and front door, explore your neighborhood and look for brick homes. Check what colors they use and consider if those colors can also look great in your own brick home.
While red bricks are standard and common, brick homes can also come in colors white, brown, gray, and orange. And the colors you can choose for your shutters and front door can be those that are complementary to your chosen brick color.
Shutter Colors For Brown Brick House
Brown is a standard color for many homes because of its association with wood – one of the most common construction materials that homeowners prefer to use. It's not surprising for brick homes to also have this brown color. If you want something rustic and classic but not bold and dramatic, you may prefer a brown brick home to a red one.
Once you chose a brown brick house, the next move is to choose a flattering color you can use for your shutters and even your front doors. Since brown is a neutral color and it can get pretty tamed, you might need something popping to add texture to your home. You can also consider exterior paint with high-gloss lacquer to make this possible.
If you're looking for some paint colors to consider and look good with your brown brick home, here are some selections worth checking out.

Classic Red – Benjamin Moore Ruby Red (2001-10)

Dark Gray – Behr Beluga (770F-7)
Dark Green – Benjamin Moore Hunter Green (2041-10)

Dark Green Cyan – Valspar Black Evergreen (5009-1)
Shutter Colors For Tan Brick House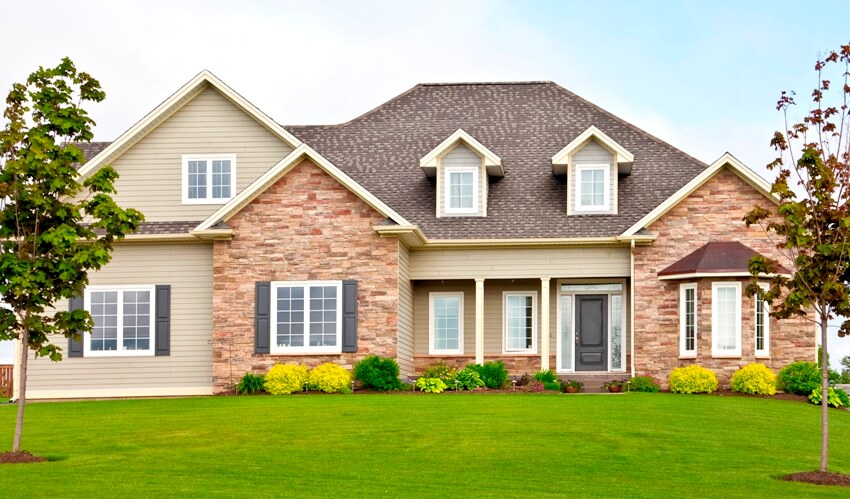 If your brick home is a shade lighter than brown and falls more on tan, it is still a neutral color and so can easily be paired with other colors. This means choosing the color of your shutters will not be a difficult task.
One thing you can do is to go for a lighter or darker color to show a bit of a contrast. Depending on how light or dark your tan brick home is, you can adjust the color of your shutter accordingly. Here are some incredible options to get you started.

Light Blue – Benjamin Moore Breath of Fresh Air (806)

Mint Green – Sherwin-Williams Mint Condition (SW 6743)

Charcoal Gray – Benjamin Moore Kendall Charcoal (HC-166)
What Color Goes With Red-orange Brick House
Going for something bolder and more dramatic than the classic red bricks, you can always go for its red-orange version. While red-orange bricks look popping and exciting, you will need some calming colors to balance this warm color palette.
Some of the colors and paint options that can look great with red-orange bricks are the following: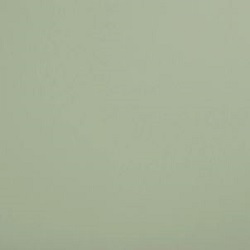 Light Sage – Clare Money Moves

Blue-green – Farrow & Ball Chappell Green (FB 83)

Off-White – Sherwin-Williams High Reflective White (SW 7757)
Another road you can take with red-orange bricks is to match them with dark contrasting hues. Red-orange is a loud and bright color and pairing it with a darker color can balance both. Some of the color choices worth considering are the following:

Hunter Green – Benjamin Moore Hunter Green (2041-10)

Gunmetal Gray – Glidden Gunmetal Gray (PPG1033-6)

Chocolate Brown – Benjamin Moore Mink (2112-10)

Deep Burgundy Red – Sherwin-Williams Burgundy (SW 6300)
Best Shutter Color For Brick House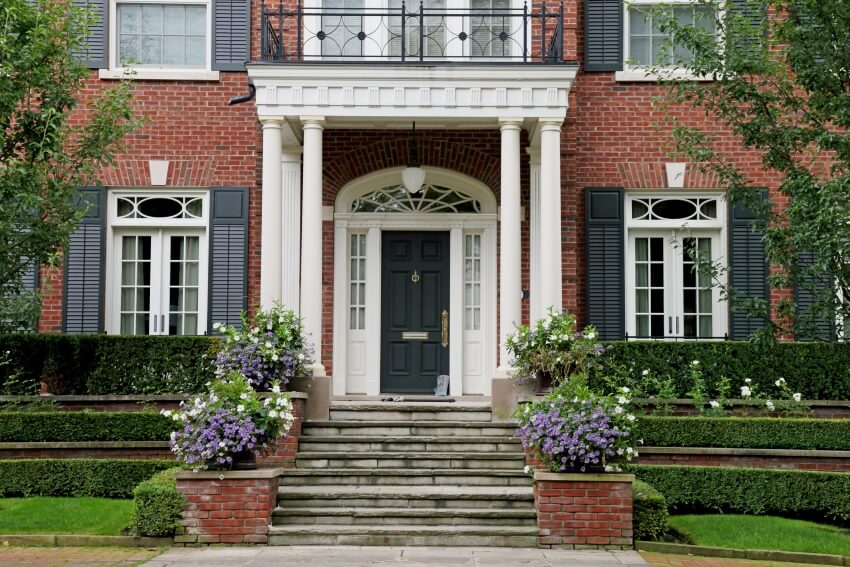 Pointing to the best shutter color you can choose for your brick home is not as easy as just choosing one among all the many choices and calling it the best. There are several factors worth considering.
Your preference is one of the strongest factors to take into account. What vibe and aesthetics are you going for with your brick home?
If you're going for the classic look, red and brown bricks can be great options for you. You can even go as far as red-orange bricks if you want the classic look but also want drama in it.
With brown, red, and red-orange bricks, the colors for shutters, windows, and the front door need to have a cooling and calming effect. This is the reason why muted to dark colors are worth considering. And here are some combinations that would look good together:
• Cool Gray Or Hunter Green – When it comes to red brick homes, green is a good consideration for shutters since red and green are complementary colors. The warmth of red bricks is balanced out by the cool shade of green. The same effect also goes with cool gray.

Cool Gray – Sherwin-Willaims Ellie Gray (SW 7650)

Hunter Green – Sherwin-Williams Dard Hunter Green (SW 0041)
• Sage Green & Taupe – If you prefer a more subtle green to balance out your red bricks, sage green is an incredible option, and adding taupe in the mix can make it even perfect.
Sage Green – Farrow & Ball Green Smoke (No. 47)

Taupe – Benjamin Moore Sparrow (AF-720)
• Forest Green & Black – For something louder and more popping, dark colors like black and forest green are perfect for red bricks.

Forest Green – Benjamin Moore Forest Green (2047-10)

Black – Farrow & Ball Off-black (No. 57)
How To Choose Shutter Color For Brick House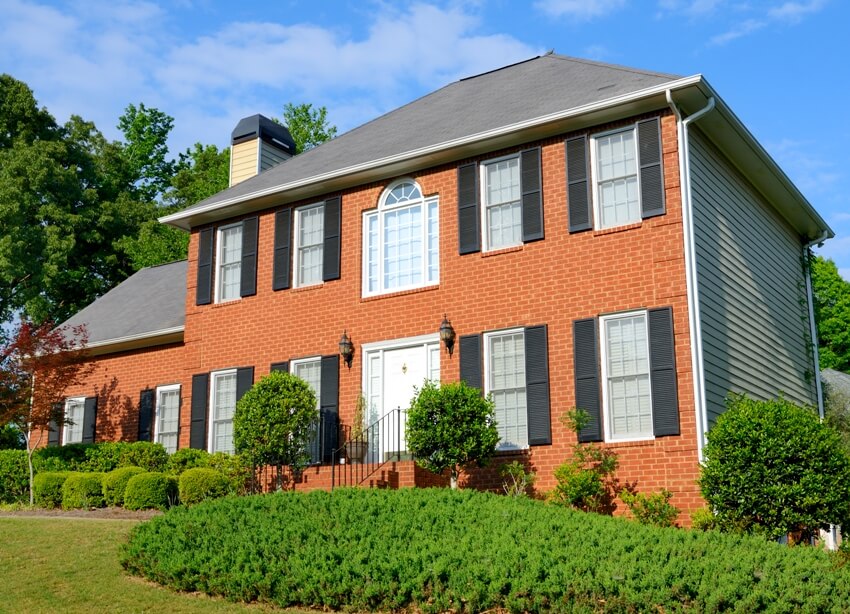 Choosing the right shutter color for your brick house takes patience and enough knowledge about complementary color schemes. It can be incredibly overwhelming if you don't know where to start. To help guide you, here are simple steps you can follow when choosing a shutter color for your brick home.
1. Consider the color of your bricks – You need to choose colors that are complementary or balance the color of your bricks.
2. Bear in mind the vibe/style you're going for – Whether you're choosing the classic red bricks and black shutters or you're going minimalist, the style you want to produce will affect the colors you can choose to imitate that style.
3. Choose 3 color options to choose from – With many colors you can explore, choose the best 3 you have so far and compare them with each other until you settle on just 1.
4. Get the paint for the color you've chosen – Make sure not to settle with online shopping and see the color of the paint in person by testing it and applying it to your brick home
Tips for Choosing Shutters Colors for a Brick House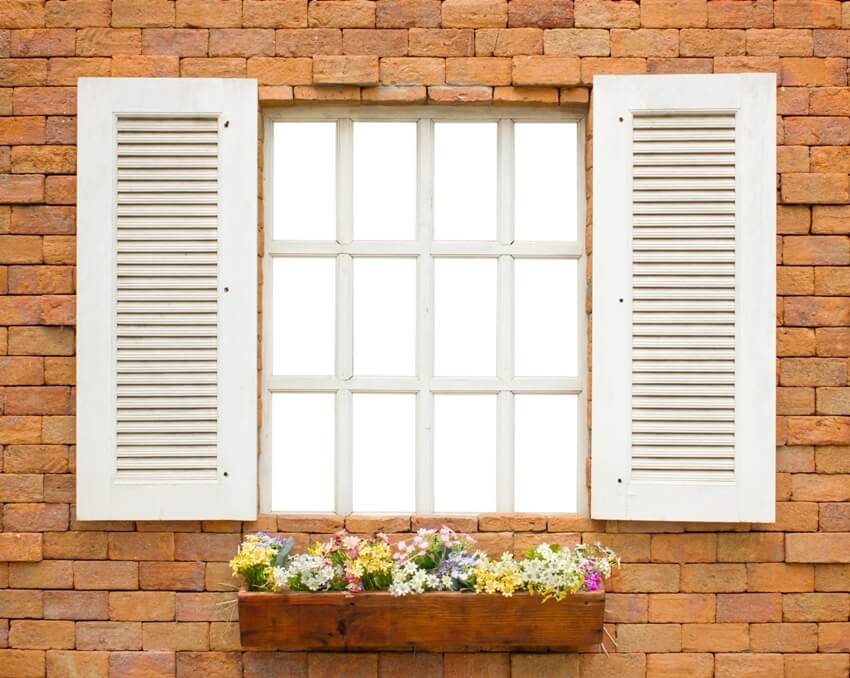 Here are some helpful tips you can use with your shutter choice.
• Create contrast using your shutters and allow them to act as trim pieces to help your home stand out.
• Avoid using shutters with the same color as the bricks (You can go either very dark or very light for your shutters).
• Use shutters that are at least one value away from the color of your brick.
• Place the shutter against the brick before you install it and see how it will look from afar to be sure you made the right choice.
Whatever color of brick home you have, it is important to match it with the appropriate colored shutters to have a stunning color combination for your home's exterior. Let's explore all the possible options you have to help you decide.
What did you think about our shutter colors for brick house picks? Is there any color you think we missed? Let us know in the comments section located below. For more content like this, visit our guide to the types of house shutters.