Here we explore a variety of living room bar ideas and everything you need to create the perfect spot for entertaining, and enjoyment.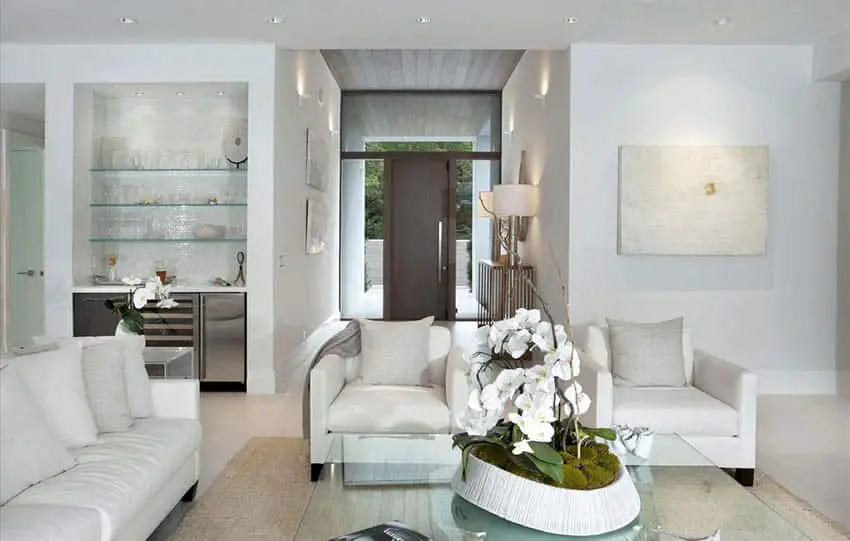 There is no doubt that having your very own bar at home can help in terms of recreation and relaxation, whether it may be for one's personal use after a long tiring day at work, or for bonding with family and for entertaining friends. They prove to be practical additions to the home, while at the same time increasing the aesthetic appeal of the home.
For those who have the luxury of space, a bar may be set up as a different part of the home. But for those dealing with residences where space is at a premium, one of the best options to explore is a living room bar.
Below we give you an overview of the basics of designing a living room bar along with some options that you can explore for your home. Here are some living room bar ideas to help you get started.
What makes a living room bar different from a home bar? A living room bar is simply a bar that is part of a living room. Instead of having a whole room of the house dedicated to this purpose, living room bars may either be a nook or corner in a living room, a type of furniture that is either freestanding or built in such as a bar cabinet or bar cart.
A custom home bar, on the other hand, is more of a full setup, which is designated as another room or area in the house such as the basement, which is used for preparing drinks and casual entertaining. The typical setup of a home bar includes a bar counter, some storage, and a prep counter.
Living room bars are sometimes portable and allow for mobility, however, they can also be built in depending on the size of the space. Home bar designs are typically fixed because of their setup.
So in totality, living room bars are much smaller in size than home bars. They are more compact but provides the same basic essentials that you need for personal drinking or for entertaining friends.
Home Bar Design for Living Spaces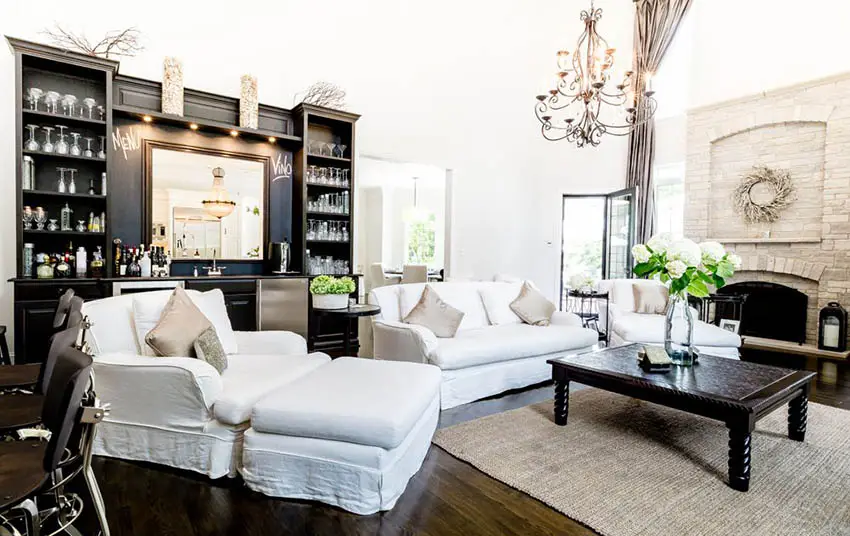 Just like any part of your house, a living room bar requires planning. Aside from the added aesthetics, a living room bar must also be fully functional and efficient. Before setting up your very own living room bar at home, make sure to take the following factors into consideration:
Size of the room – The size of your living room is critical when it comes to planning your very own living, or finished basement bar because it will greatly help you in the direction that you need to take – whether you need to stick with a furniture type living room bar, or you can accommodate a larger built in bar.
Of course, if you are dealing with a limited amount of space, you can consider more compact options such as a freestanding or built in bar cabinet, a bar cart, or a compact bar. But if you have a larger space, you can consider a more complete setup.
Function of your living room bar – Before any design project starts, one of the major factors that need to be considered is the function of the space, because this will also help you decide on other elements of the design such as the layout (if necessary), the materials, finishes, furniture , and accessories that you will be needing to complete the project.
Along with the size of the room, determine how you plan on using your living room bar, the features that you want to include with it and how often will it be used.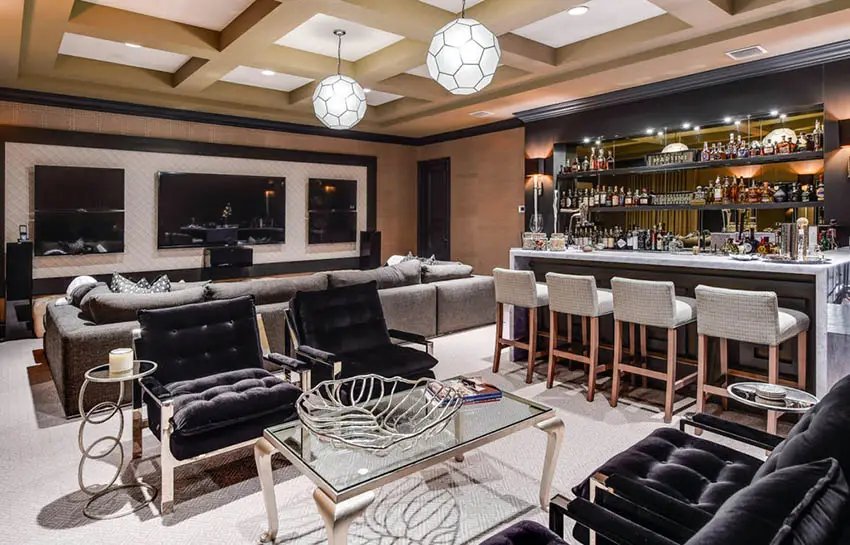 Do you want it fixed or mobile? – As mentioned, a living room bar may either be fixed or mobile. If you want a bar that is completely movable and can be transported anywhere within the living room, then a mini bar cart is your best bet, especially for small spaces.
The area of the living room where you want to put your home bar – The area where you decide to put your living room bar must be determined in relation to the existing furniture in the space and the living room itself.
If planning to push through with a bar cart, you can place it as a side table for the sofa, a divider in the space, or you can display it in a corner as part of your living room decor.
For fixed living room bars, choose a part of the living room where the bar will not interfere with the traffic flow and the layout of the space. This may either be a nook, a wall niche or even a concealed wall (for hidden living room bars).
The prevailing style of the home – Unless you plan on going eclectic and want a living room bar that is completely different from the overall look of your home, the prevailing style of your home is another important consideration for designing living room bars.
Ideally, your indoor bar must blend in harmoniously with the theme and style of your interiors, whether it may be traditional, transitional, contemporary, or modern. You can use different style guides in order to come up with a cohesive design for your living room bar.
Bar Furniture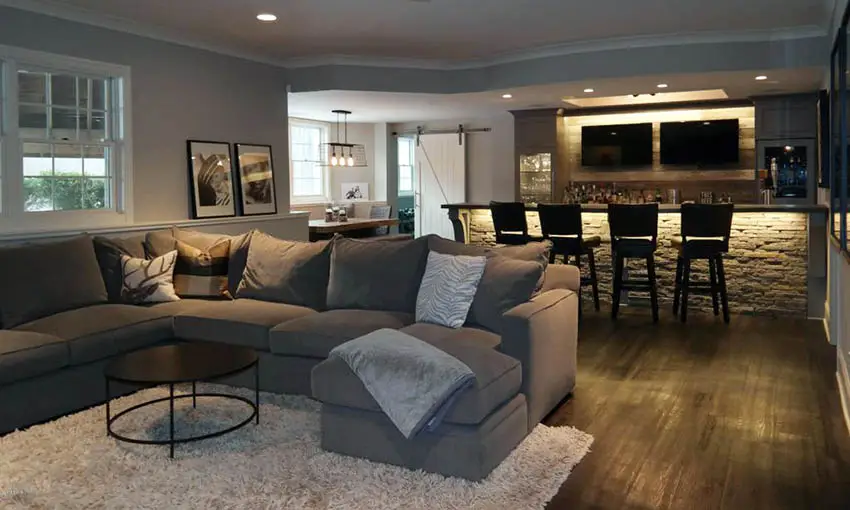 Living room bar furniture comes in different materials and sizes, but in general, it can be divided into two categories: fixed or built in bar furniture and freestanding bar furniture.With a primary living room, you may want to be more conservative with the style than with a basement bar that is not in the heart of the home layout.

Here are some common types of living room bar furniture:
Bar Cabinets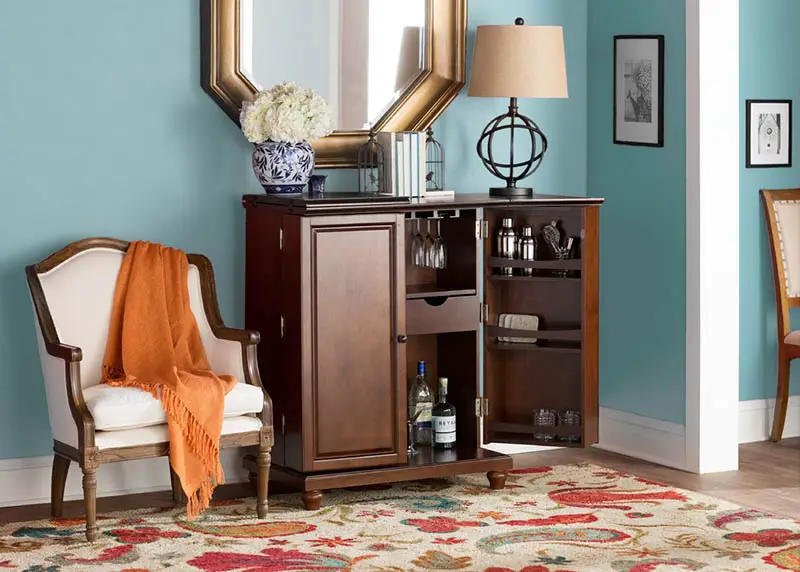 A freestanding bar is basically a ready made type of furniture that is used to store liquor and other essential equipment used for bartending and serving drinks within the home. A freestanding bar is one of the options you can explore if you have limited space in your home but still want a place for drinks.
One of the most popular forms of a freestanding bar furniture is a bar cabinets. Freestanding bar cabinets are somewhat like a marriage of an armoire, closet, or bookshelf but instead of storing clothes or books, they are typically designed to keep liquor and hold in some bar equipment.
A standard bar cabinet usually has an overhead storage on top of the unit, then at the bottom are some base cabinets, the middle part is open and serves as a prep area.
Bar cabinets and other freestanding bar furniture are readily available in most stores and offer convenience and portability.
Bar Carts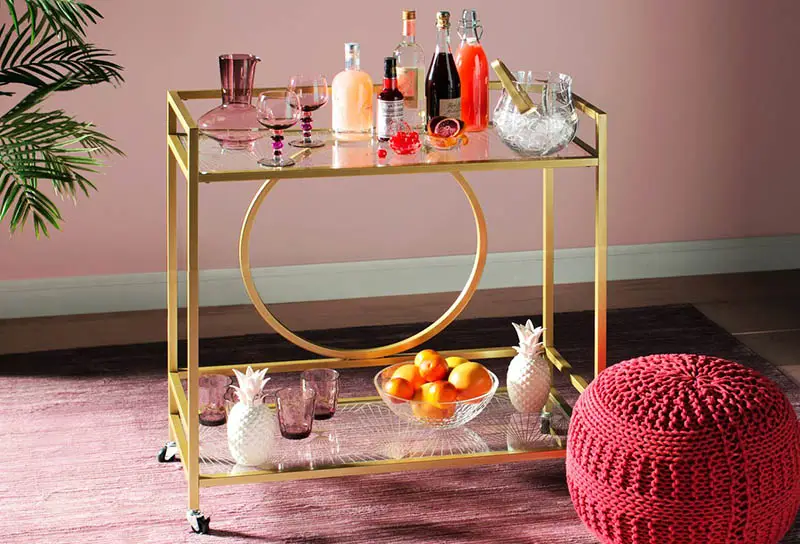 (Rolling bar cart with Art Deco design)
There is nothing more convenient than having a compact size home bar right within your reach. Reminiscent of sophisticated cocktail parties and Old Hollywood glamour, bar carts have always been an object of elegance as they render a touch of vintage flair to living room spaces.
The original bar cart was popularized during the Victorian era. With the real intent to serve as a tea trolley, bar carts started to gain their ground in the 1950's where they used to hold liquors for guests during daily cocktail hours. From then on, bar carts have been considered as the best design alternative to anyone who wants to have a readily accessible, mobile bar at home.
A bar cart typically has multiple levels of storage, enough for holding essentials such as glassware, alcohol, and snacks. It also has handles that allow for easy maneuvering and wheels or casters for maximum mobility.
The best advantage that bar carts present is that it stashes away easily when not in use, but it is always ready to roll when needed. Bar carts can be easily tucked into small corners, under kitchen islands, between sofas, in pantries, kitchens, or small nooks. It is also mobile, which means it can be transferred from one area of the house to another, or wherever you want it to be.
Bar carts are readily available in different materials and designs, so no matter what the prevailing style of your home may be, there is always a bar cart to match your decor. It is also readily available in most furniture suppliers, while some even offer it online for a reasonable price.
Portable Cart Setup Tips for a Bar

• Stick to a style when choosing your bar cart – Depending on the style of your home, choose a wooden bar cart for country chic inspired homes, use glass bar carts for a modern flair, while if you love the mid century design,opt for wood and glass designs.
The accessories that you put in your bar cart also matter, so make sure that you stick with a theme as you set up one in your living room. Vintage bar carts, for example, will require vintage glassware, tools and accessories. Bar carts for modern living rooms, on the other hand, call for more sleek designs and ultra stylish accessories.

•Stock up on essentials – Of course, it is not enough to pick up a bar cart that meets the style of your living room decor, you will also need to stock up on bar essentials such as liquor, tools, and serving ware. A few things that you need to set up on your very own living room bar cart are barware and utensils, glassware, and alcohol. Here is our very own cheat sheet for a well stocked bar cart: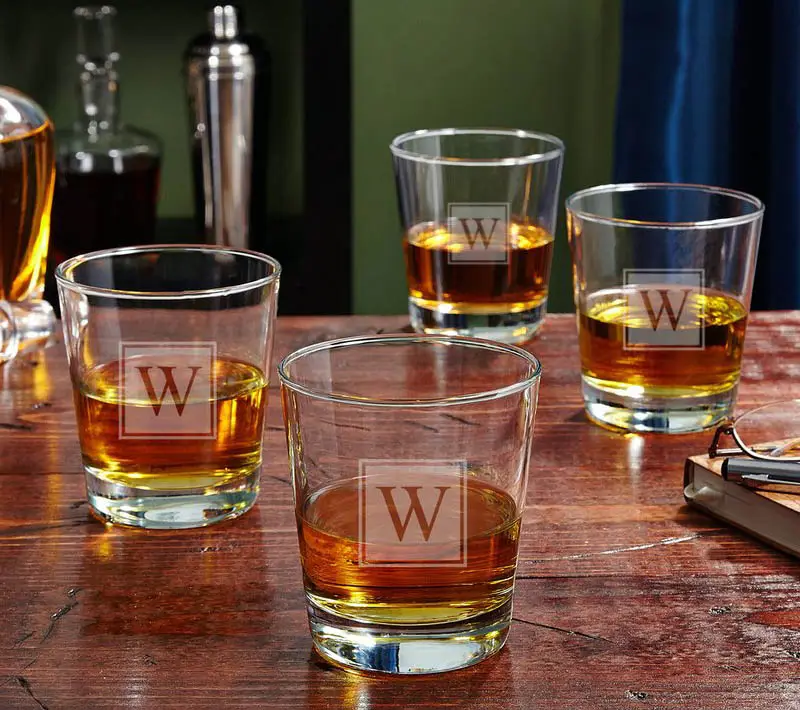 (Personalized whisky glasses)
Barware – Barware includes basic tools and utensils for preparing drinks such as shaker, strainer, jigger ,muddler, bar spoon, measuring tools, cutting board, knives, cocktail sticks, wine opener, bottle opener, corkscrew, an ice bucket, tongs, and wine bucket. You can keep this in the middle or bottom shelf of your bar cart.
Glassware – Several types of glassware or serveware are essential in serving different types of drinks. It is best to keep at least 2 pieces of the following basic glassware on your bar cart for occasional drinking.
These basic glassware include high balls, stemware, tall glass, and shot glasses. If you are very particular about serving ware, you can also buy other miscellaneous types of glassware such as beer mugs, old-fashioned glasses, champagne flutes, snifter glasses, red or white wine glasses, and decanters.
Since a bar cart typically has limited space, you can keep them instead in your kitchen for storage and then pull them out from storage as needed.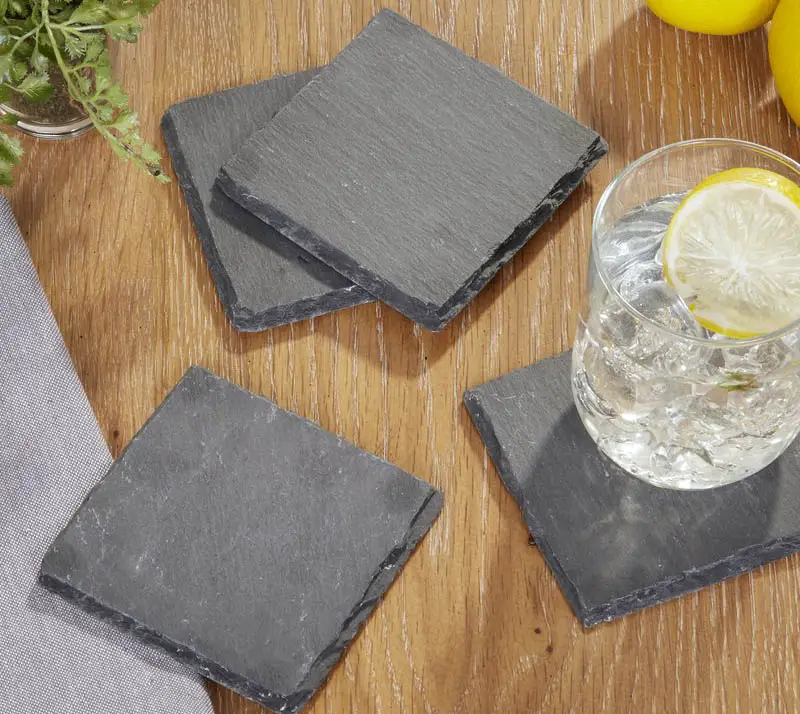 (Slate drink coasters)
Coasters – You may find coasters boring or even unnecessary, but once you find out their simple use and the design choices that are available in the market, you'll probably realize how important they are in bar carts.
Coasters protect your table from getting moisture from filled glasses and they help in more ways than you can imagine, especially if you are dealing with a wooden table. Water and liquids can easily leave nasty marks on wooden surfaces which can sometimes lead to permanent damage if not addressed appropriately.
In addition to their use, coasters also bring in a fresh set of decor to your bar cart. Different stores, brands, and home designers sell coasters in creative prints, shapes, patterns , and designs that can practically match any style of living room. So when furnishing your living room bar cart, make sure to include a trusty set of fun coasters to your shopping list.
Basic alcohol – There are a few alcohols that you need to keep your living room bar cart running such as gin, rum, tequila, vodka, and whiskey. You can keep this on the top shelf of your bar cart.
Additional liquor – It is never too bad to get a little extra stock of this liquor so you can have more options for beverages. These extra credit boozes are vermouth, Campari, and orange liqueur.
Wine bar – For those who are wine aficionados a portable cart can be set up as a living room wine bar to showcase some of your favorite bottles while entertaining.
Mixers – Mixers are necessary if you love to prepare cocktails. Stock up on juices, sodas, tonic water, and bitters.
•Decor and accessories – Consider adding a touch of decor to your bar cart in order to make them exciting. Accessories like small flower vases, an interesting metal sculpture or any type of decoration add an extra punch to living room bar carts, making them come to life.
Accessories also prevent your bar cart from looking too drab, so make sure to feature some tasteful pieces which match the overall style of your living room.
An added bonus of bar carts. Not only are bar carts good for holding liquor but they also offer flexibility in terms of other functions.
Other reasons that make bar carts an interesting addition to your living room are that they can be used as a functional side table, a stylish storage space, or a mini media center. Basically, anything, as long as you let your creativity run wild.
Wet Bars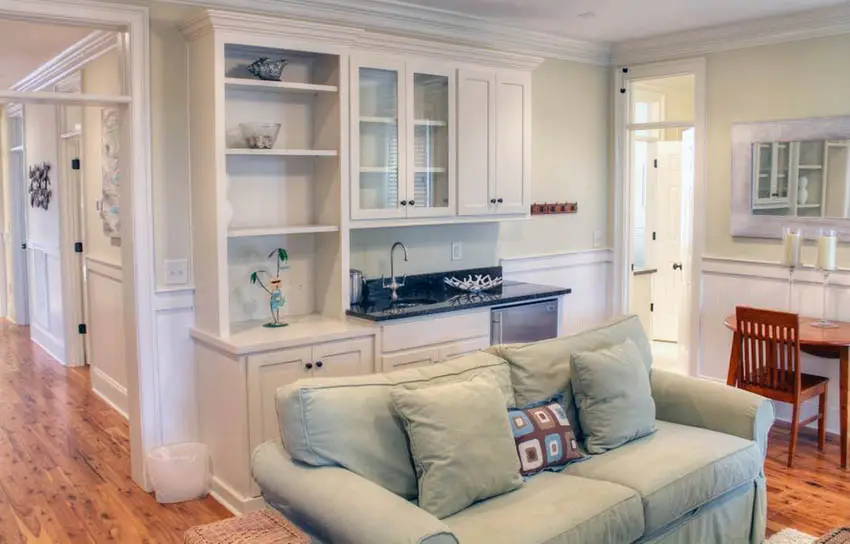 Although most living room bars are typically a piece of furniture, cabinet, or cart which is often set up in the living room, some homeowners still prefer to go with a full bar, especially if their space permits them to do so. For homes that have the luxury of space, a built in bar counter with cabinets is one of the options that can be explored.
A home bar, in general typically consists of a bar counter, some storage , and a work counter – kind of like a mini kitchen, but instead of setting it up as a separate space in the home, it can be situated in a nook or corner of a living room.
In planning a built in bar counter for a living room, the same factors for creating a home bar apply, but the most important consideration is the size of the space. Obviously, the size of the space will help you determine the overall layout and design.
You can choose to go with a built in bar counter, wherein your guests can sit and relax while enjoying drinks from the designated bartender, or go with a built in working counter where you can prepare or store your drinks. A full home bar, will include both.
Typically, a built in work counter for a bar is the same height as any standard kitchen counter. Its main function is to serve as an area for preparing beverages and light snacks. The bar counter, on the other hand, is usually raised at a higher level, functioning as a serving surface for drinks and casual dining.
Some general considerations in designing built in living room bar counter and a built in work counter are the materials, the size of the space, and the budget.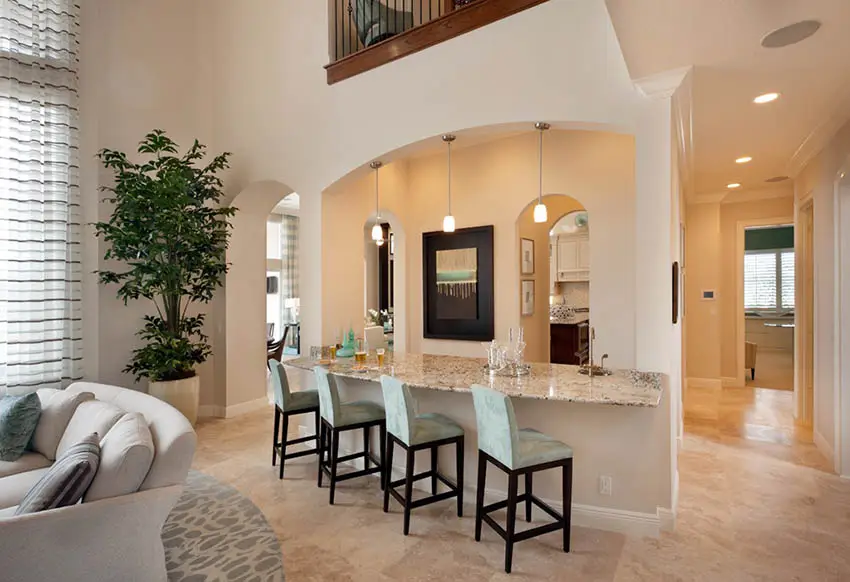 When choosing the materials for your built in living room bar counter, make sure to choose a countertop material that won't scratch nor succumb to the wear and tear of everyday use. It must also be impervious to liquids and other staining agents.
When designing a built in bar for your living room, make sure to integrate it in the space and make it look like a part of the furniture. For those who wish to keep their living room bar tucked away out of sight, an existing cabinet may be used to create a hidden bar area in order to keep it discreet and relaxed.
Another good way to design a built in living room bar is to conceal it and contain it within a wall. Furnish a simple tall cabinet with a bar fridge, an appliance garage, and some glass storage then finish it off with some swing doors or a sliding door that can be easily closed or opened, so that your built in living room bar can be hidden away when not in use.
Home Bar Stools & Seating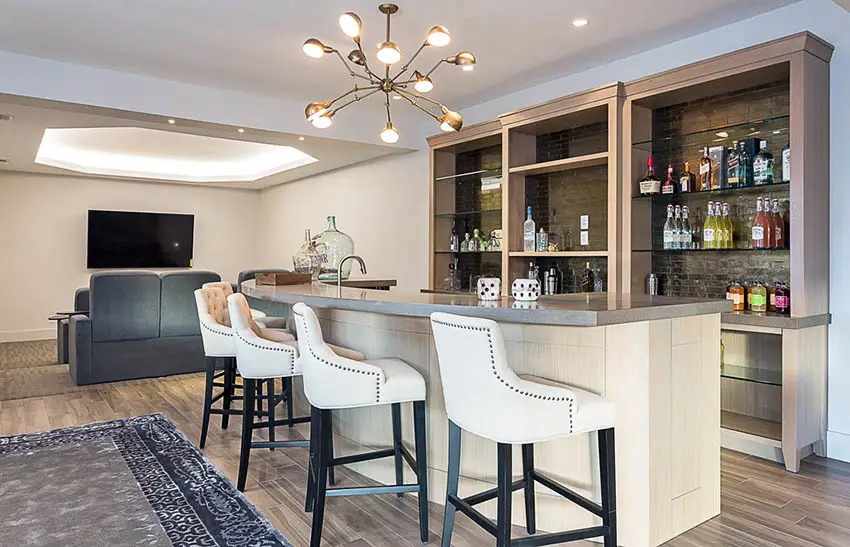 Bar carts and bar cabinets typically complement the existing living room furniture in a home, so when it comes to serving and entertaining, the guests typically sit on the couches or sofas. But for homes with built in living room bar counters which allow for casual dining and entertaining, bar seating is required.
Seating areas are essential facets of built in living room bar counters because they allow for personal dining or entertainment, while alternatively functioning as a place for bonding with family or entertaining friends. Typically, built in bar counters require at least two to four pieces of bar stools, depending on the length of the counter and the size of the space.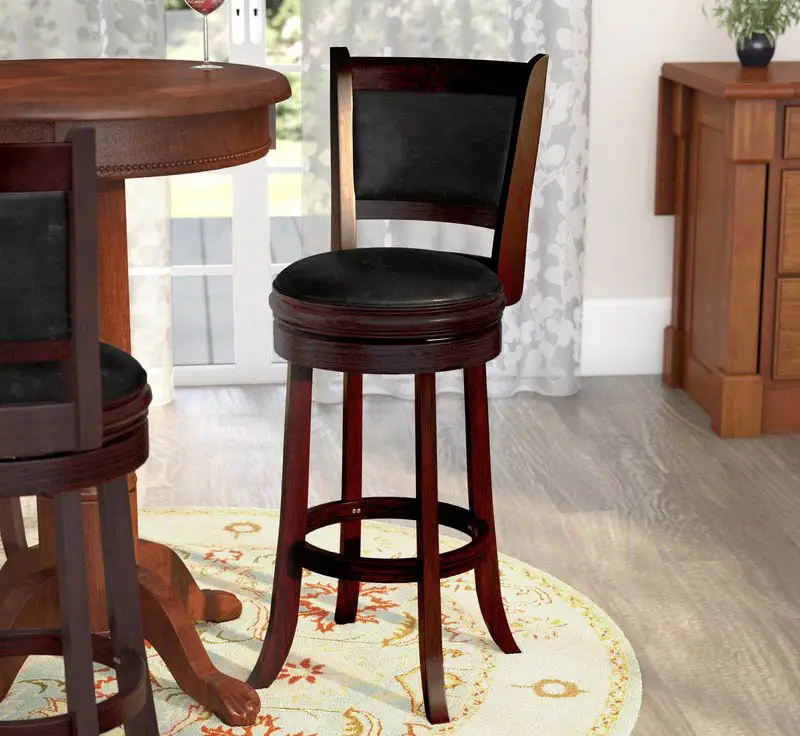 (Wood swivel bar stools)
Bar stools are higher than regular dining chairs and provide a comfortable seating area that is proportional to the tall height of a bar counter. The most significant factor to consider when choosing the right bar stool for a built in bar counter is the chair's height.
The correct bar chair height is very critical because if the bar stool is too high, then you'll have to slouch making it less comfortable to enjoy your drink, while if your bar stool is too short, it will be hard to reach the bar, which also results to a less enjoyable time in the living room bar.
Not only does a bar stool provide comfort and ease in terms of use, but it also helps to keep your seating furniture well balanced and proportional to the height of your bar counter, making it more aesthetically pleasing and attractive.
When shopping for the right bar stools to complement your living room bar, make sure to test them out before purchasing. The right bar stool will provide enough room for your legs to relax while giving you enough space to move freely and comfortably without bumping into the counters.
So it is also ideal to bring in a note of your built in bar counter's measurements so you can compare it with seating options. To give you a simple guide on measurements, the total height of your built in living room bar counter must have at least a 10 inch difference from the total height of the bar stool.
This ten inch difference provides enough room for the legs to move and rest conveniently.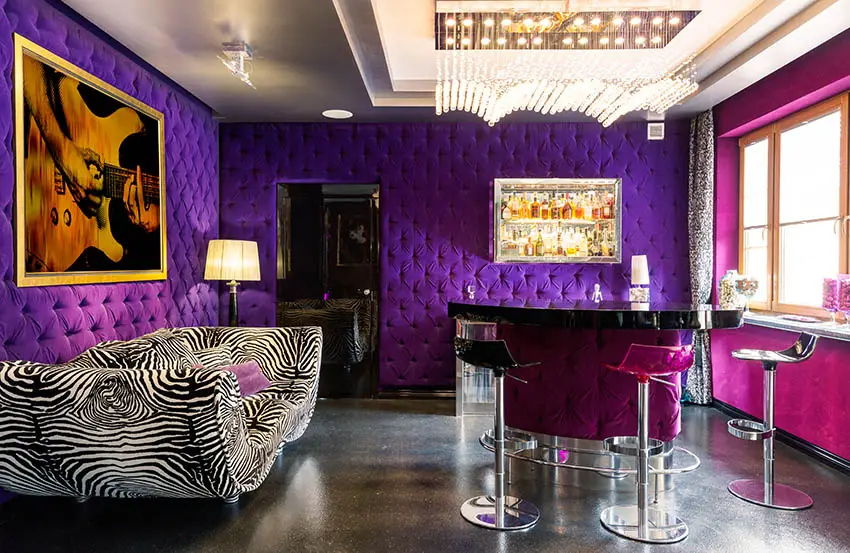 Typically, bar stools have an average height of 30 inches, but it can range from 30 to 36 inches from the ground. These standard heights are perfect for built in living room bar counter that are 40 to 46 inches in height.
For the number of bar stools that will comfortably fit in your built in living room bar counter, the main consideration will be the total length of your counter. Each person would require at least 2 feet or 24 inches of adequate space in order get in and out of the seats comfortably or to eat and drink without bumping into the next person.
With that in mind, you can take the total length of the built in bar counter, divide it by 2 feet or 24 inches, then the resulting number is the amount of bar stools you can accommodate in the space.
For example, a built in living room bar counter that is 4 feet in length can comfortably accommodate 2 seating furniture, while a 6 feet in length built in living room bar counter can fit 3 bar stools, and so on and so forth.
Bar seating stools are available in different types of materials which allow for more options in decorating. Bar stools and bar seating may either be made up of natural materials like wood, woven fibers and synthetic materials like metals or fiberglass.
Some also have upholstered or cushioned seats which provide more comfort. Each type of these materials has their own positive and negative features so it is best to do a little research first before purchasing to ensure that you get the best quality that can last for years.
The design of your bar stool for your built in living room bar counter will depend greatly on the look and style you want to achieve and the overall decor of your home.
In addition to the appropriate measurements and materials, also take into consideration other factors such as comfort and functionality in choosing the right bar furniture for your living room bar.
Bar Essentials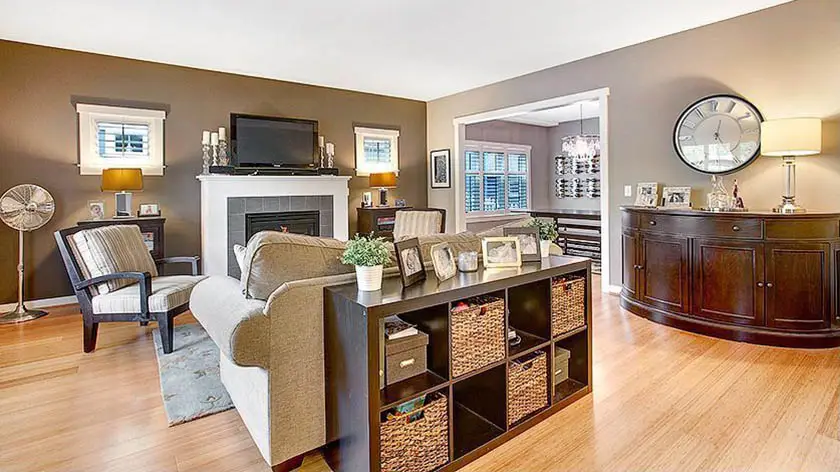 Storage – Storage is a key facet of living room bars. In fact, most living room bars are just free standing storage furniture. Storage cabinets are essential not only for storing beers, wines and other bottled drinks, but also for keeping utensils, glassware, and other accessories in living room bars.
To fully optimize living room bar storage, make sure to set specific places for each type of item because it allows you to easily look for what you need. In addition, most living room bar items like alcohol or wine have different storage requirements. Liquor, for example, requires dry cabinets and must be kept out of direct sunlight and in a cool place.
When designing your living room bar, put emphasis on storage as it will make the space look less cluttered. If going with a freestanding bar cabinet, opt for those that have a combination of different types of storage such as shelves, drawer units, and cabinet doors to obtain optimum storage capacity.
You can also include organizers and metal wire baskets inside your cabinet systems to keep bar accessories properly sorted.
On the other hand, if you are using a built in living room bar, design your bar storage with maximum efficiency. Incorporating clever storage solutions like a pullout shelf also allows you to maximize every inch of space that is available.
If possible, use glass inserts for the cabinet doors so that you can showcase your glassware, while at the same time, finding everything that you need easily. Alternatively, hanging wine glass racks can also be used for fast and easy access.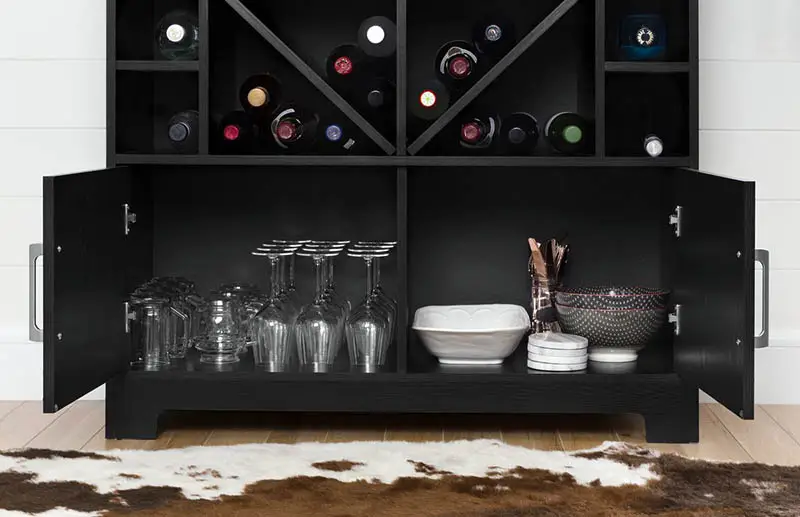 (Wine bar storage cabinet)
Also make sure to put into consideration every single piece of item that you intend to store in your living room bar – that includes all the glassware, barware and even the alcohol. As mentioned, each type of alcohol may have different storage requirements. Some may need cold storage, some require dry storage.
The sizes of the bottles are also equally important. For example, if you are a wine drinker, select cabinetry that has an area deep enough to accommodate wine bottles that are placed on their sides.
For other alcoholic beverages that do not require refrigeration, opt for pullouts and slotted cabinets with individual compartments as they work well in holding individual liquor bottles. You may also want to allot a prat of the storage for a mini pantry as they come in handy for storing snack items and other dry ingredients for your living room bar.
If your budget permits, you can also opt for customized bar furniture and cabinetry. Custom made bar furniture and cabinetry allows for modification based on your specific needs and requirements, so you can be sure that your bar cabinet fits in your living room space perfectly. Every factor of the space is precisely measured and every design requirement accounted for.
For built in living room bar cabinets, make sure to look for a custom cabinet maker, while for freestanding living room bar cabinets, scout for a custom furniture maker. However, if dealing with a more limited budget, do not be afraid to explore other options for storage and cabinetry, such as prefab cabinets.
Alternatively, you can also get creative by repurposing old furniture such as dressers, closets and armoires and turn them into an attractive living room bar cabinet.
Decor – Whether your living room bar is a small mobile cart, a freestanding cabinet or a built in counter, bar decor is an essential part of its overall design. Bar decor are considered to be equally important as other bar furniture because they help complete the look, while providing a fresh visual element to the space.
Bar decor includes accessories and other special features that range from a simple potted plant, a statement piece of glassware,framed wall art knickknacks, collectibles and other memorabilia. For built in living room bars, hanging glass racks can be used to add an extra flair.
When it comes to choosing the right living room bar decor it is important to keep in mind that your decor will help set the tone for home entertaining, while at the same time it will affect the overall ambiance and mood of your living room in general.
Essentially, the decor of your bar area must blend with the rest of the home, so it is also important to keep in mind a theme that you want to follow. For example, if you are a devotee of mid century design, opt for vintage accessories that will complement your classic home bar.
Lighting fixtures are also essential to the mood and character of your bar setup. Choose recessed lighting on dimmer switches to control the atmosphere and amount of brightness in the area. The ability to turn down the lighting for a romantic occasion or up for a party will enhance the enjoyment of the lounge area.
Living room bar decors also depend on your personal taste in style, so get creative and explore the wide variety of options that are available in the market.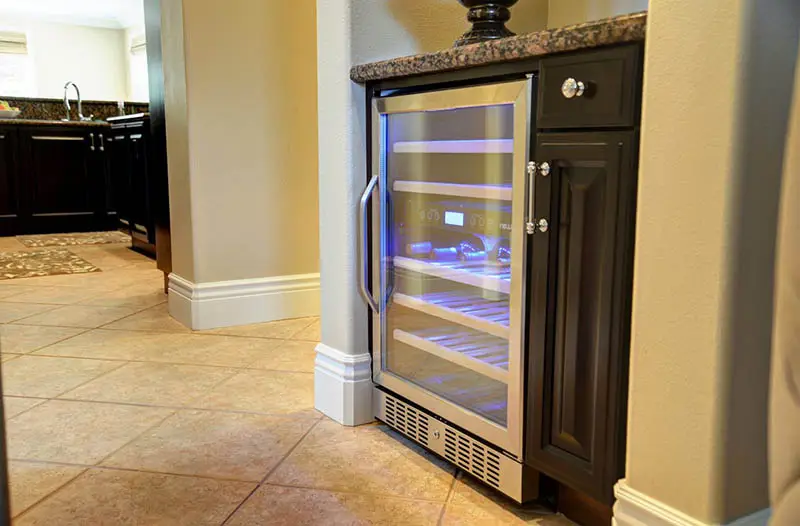 (Wine refrigerator with granite countertop)
Appliances – Appliances are considered to be living room bar essentials only if you have a built in bar counter with storage units, or in other words, a "full bar". For obvious reasons, a bar cart will not be able to accommodate this luxury because of its limited space.
The two most basic appliances that built in living room bars typically include are small cold storage like bar refrigerators and wine chillers, but if the space allows small appliances like a blender or coffee maker may be placed on top of the counters.
While some homeowners who have full sized living room bars sometimes include a stove for preparing snacks, a microwave, or even a full sized refrigerator. Appliances for recreation such as a TV may also be included for added entertainment.
As mentioned, the main consideration for choosing appliances for a living room bar is the size of the space. This also correlates to the function and type of living room bar that a home has, whether it may be built in bar counter or a freestanding bar cabinet.
For those with limited living room bar spaces, many manufacturers offer bar appliances in a variety of sizes, including compact options that perfectly fit even in small layouts. The standard measurements for bar refrigerators are typically 20 inches height by 17 inches width and 18.50 inches depth.
Wine coolers on the other hand have different capacities and the smallest ones can hold at least 6 bottles. These compact appliances can be incorporated into the base of cabinetry or on top of the counters.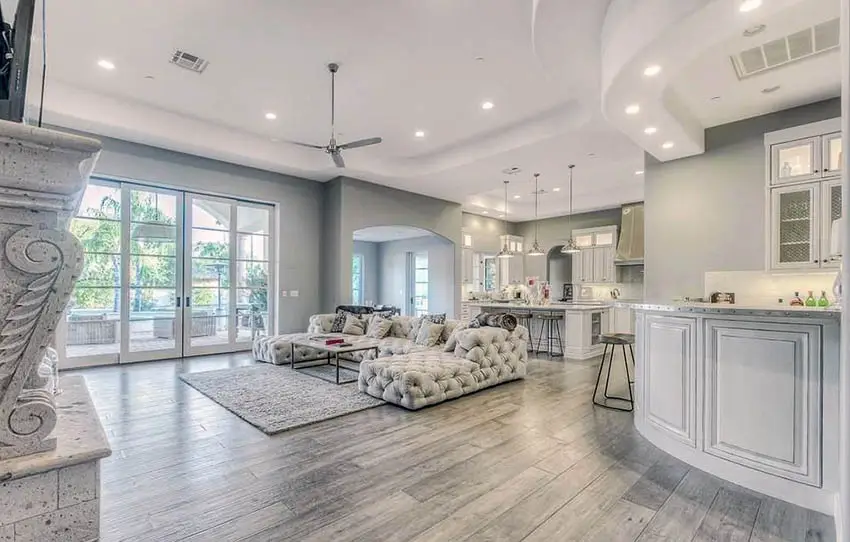 Bar Accessories – After deciding on the type of your living room bar and once you have set it up using the design essentials, it is now time to stock up on your bar accessories. Bar accessories pertain to the basic items and kitchen tools that you need to store in your living room bar to keep it running.
These are the utensils and glasswares that you need in preparing drinks Some examples of living room bar accessories include glassware, barware or bartending equipment and of course, the alcohol. All these little accessories help with the service and presentation of the drinks for a party or event.

Glassware – Glassware vary in shape and sizes, and each one of its type serve different purposes in terms of serving drinks. In order to meet all of your living room bar needs, it is best to keep a variety of the basic glasswares on hand.
The most used glassware for different occasions include a short glass, tall glass, and a stem, so you need to stock up on them. For everyday use or for occasional cocktail hours, at least six to eight pieces of each type can be a good start, but if you plan on keeping only a small bar cart, three of each piece will be fine.
If your storage permits and you love hosting parties or invite a lot of people into your home, invest in eight to twelve pieces of each of these types of glasses. Other miscellaneous types of glassware which can be handy for a living room home bar are high balls, tumblers, beer glasses, mugs, shot glasses and a pitcher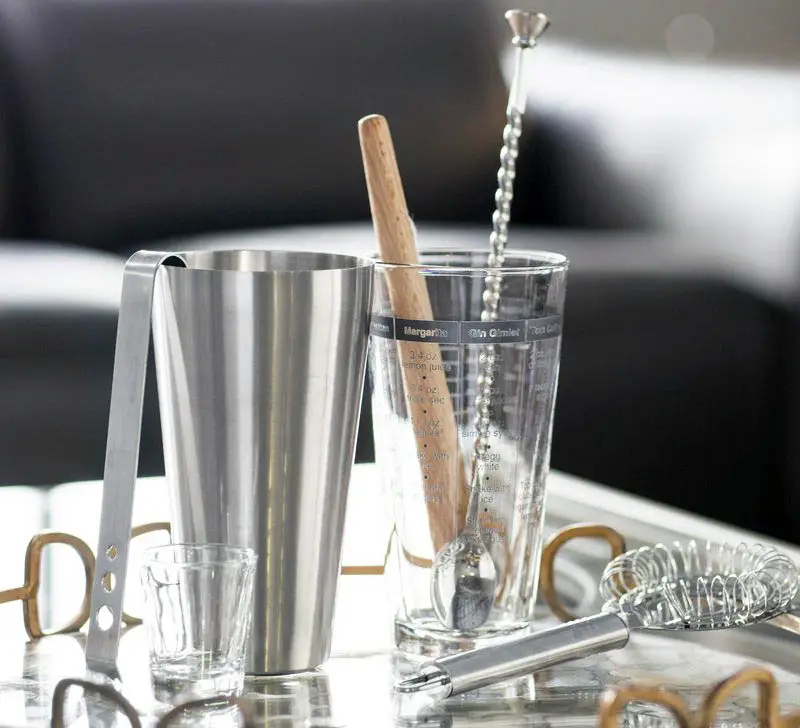 (Home bar mixing set)
Barware and bartending equipment – Mixing up a few of your favorite drinks during cocktail hour would require proper utensils and some basic bartending equipment. Stock up on utensils like spoons, knives, lemon zesters, corkscrews, and wine openers.
Also keep ice cube trays, ice bags, strainers, jiggers, cocktail shakers, muddler, and measuring tools within easy reach. Not only do they help you prepare beverages more easily but it also makes you feel like a pro when serving your guests some drinks.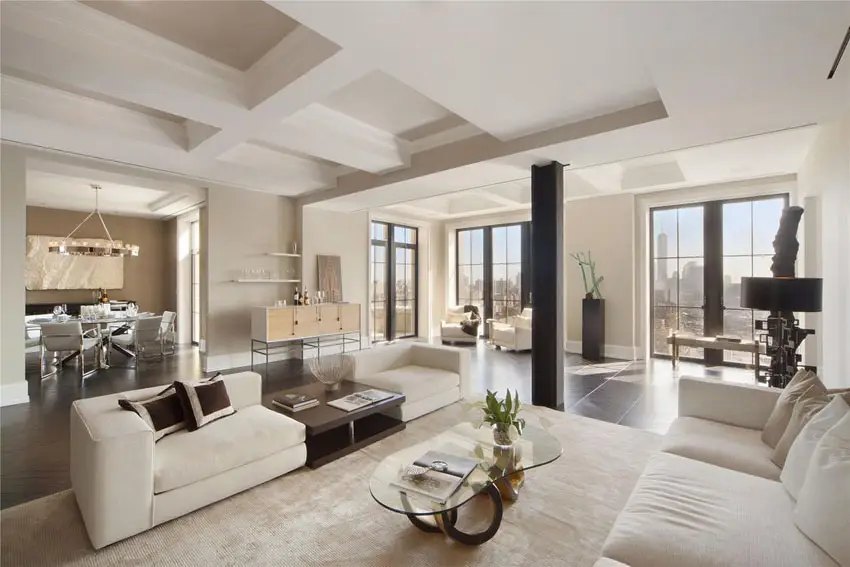 Alcohol – No home bar is complete without the booze. A well stocked living room bar keeps essential liquors and a few basic drinks at hand. For most homeowners, beer and wine are their basic essentials, however, stocking up on several types of liquor gives a wide range of choices when it comes to mixing drinks.
Alcohol selections that may be added to your living room bar are gin, tequila, rum, vodka, whiskey, bourbon and cognac. But if you plan on making a few classic cocktails, make sure to include some base spirits and a few mixers in your stocks.
Some popular choices for mixers include tonic, club soda, ginger ale, and cola. Alternatively you can also include non alcoholic drinks like soda to your storage so you can serve a wider variety of guests.
You do not need to buy everything mentioned above, as mentioned, a few basic essentials will be enough. Also, keep in mind that each of these alcohol need specific storage requirements, so it is best to have both cold and dry storage to meet all the possible needs.