Here we share how to arrange two sofas in the living room including different sofa layouts and color combinations for your living room interior design.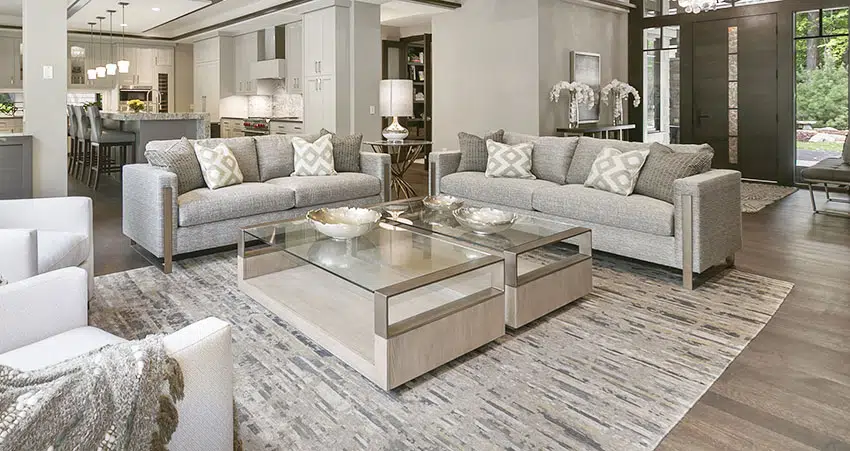 The living room is the first place your visitors will see when they enter your house. How you arrange your couch certainly affects the feel in your living room. A living room usually has a sofa and a few chairs and their positioning can have a big impact on the space.

Putting two sofas in the living room together gives you more seating for visitors. This article explores the different ways to utilize your living room space if you have two couches to position.
Two Couches in the Living Room Ideas
Think about the layout when you want to use two sofas in your living room. But before you decide on the arrangement, you also need to consider how much space you have and how the living room is often used.
If you love entertaining guests and having lots of conversation, the sofa arrangement is different than when you love watching movies.
Two Sofas in L Shape
Arranging two couches in L shape or the right angle gives your living room a cozy and casual feel. It also feels inviting and warm because it gives you more opportunity to get closer while providing enough space, so you don't feel claustrophobic.
This layout works best if you have a bigger living room space. This type of arrangement won't work in a small living room because it might look more cramped.
Two Sofas Facing Each Other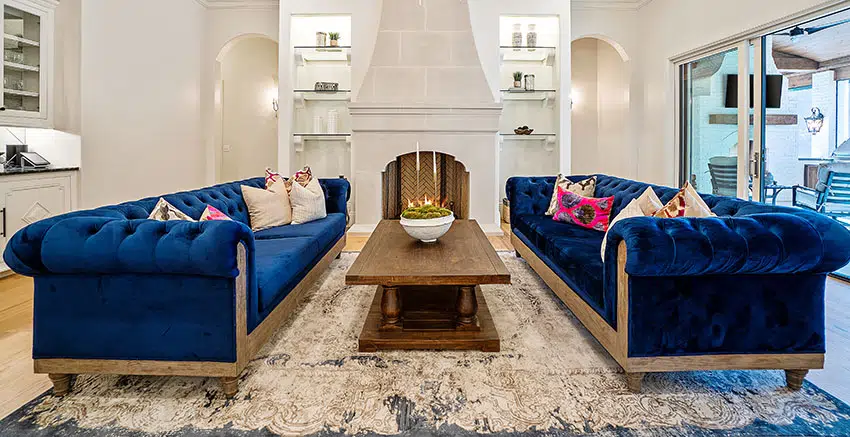 This type of arrangement encourages intimacy because people have to face each other. It is a good layout if you always have guests and use your living room to entertain or socialize with people.
Like the L-shaped layout, this layout works well with big space or a large open floor plan. It also works well if you have a rectangular or square-shaped living room.
That's because the couches provide symmetry in the space. It will also look great if you have a narrow living room. All you need to do is squeeze them closer to each other to save space.
Wide Angle Sofa Layout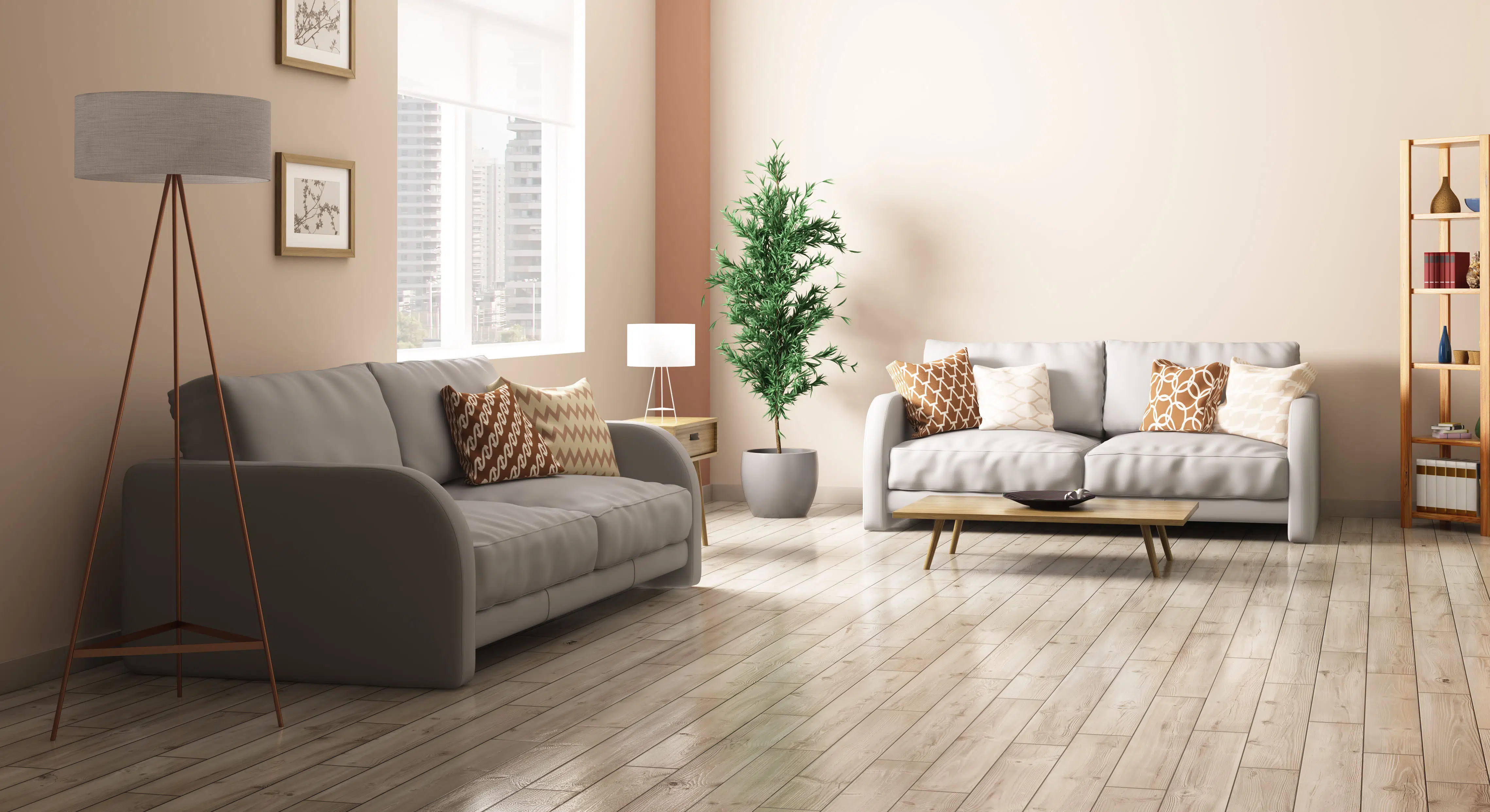 If you have a big living room and love to host parties, this arrangement is perfect. The wide-angle layout separates your sofas far apart from each other at different angles, depending on your preference. The wide space provides the perfect setting for parties and casual lounging.
This layout works well with large and open-concept living room space. It is also a good layout if your room is irregularly shaped.
And because this arrangement is very open, you can add accent chairs, recliners, or extra furnishings into the mix.
Two Different Couches in Living Room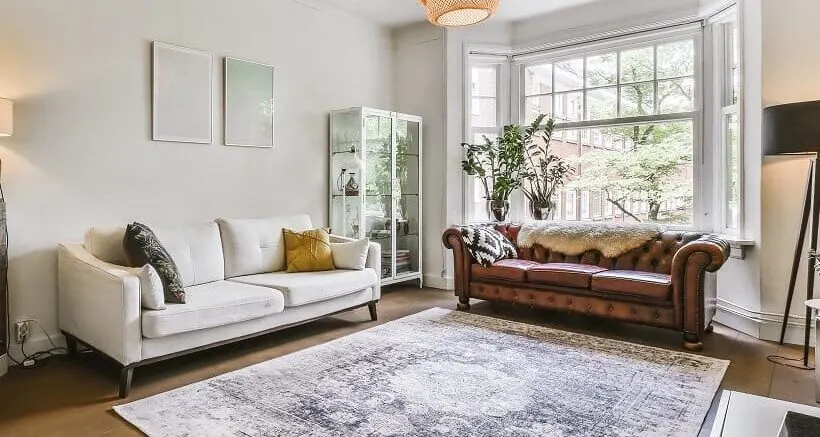 Aside from the arrangement, you also need to consider the sofa design, color combination, and fabric. Do you want identical couches, or do you want different sofas?
If you want to incorporate two different couches, use sofas with different fabrics. For example, if you choose a leather sofa, complementing it with a microfiber couch provides a unique contrast. Read more about sofa fabrics here.

Another consideration is the color combination. Don't just choose any color but make sure they are as cohesive as your arrangement. Here is a list of color combinations that will definitely stand out.
• Aqua and light blue
• Brown and teal
• Tan and brown
• Dark brown and white
• Gray and dark blue
• Mushroom, red, and tan
• Charcoal gray and green
• Red, brown, and white
How to Arrange Two Sofas in a Small Living Room
Whether you have a small or large living room space, you can still put two sofas together and get away with it. Here are a few ideas for you:
Use a Sectional and a Bench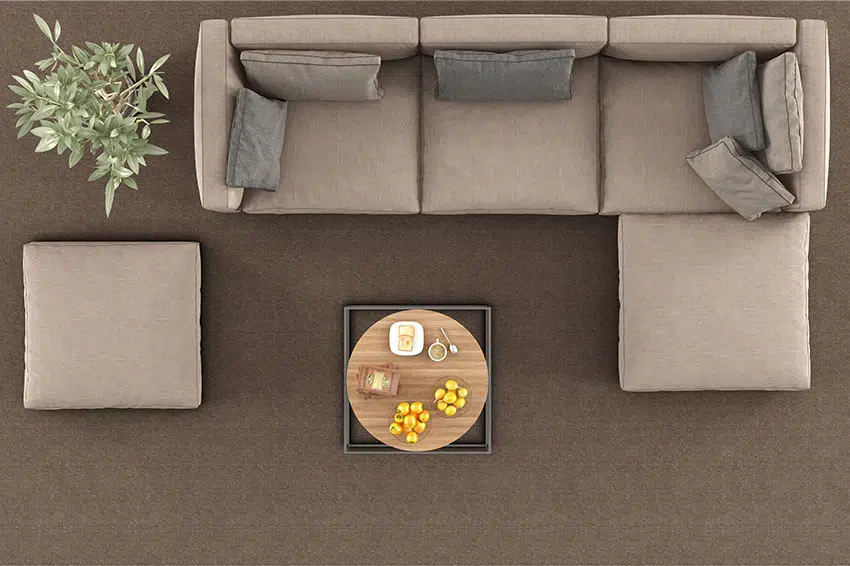 Instead of using coordinated love seats, merge a sectional and a bench. Place them opposite each other to create a sense of balance and geometry.
Go Diagonal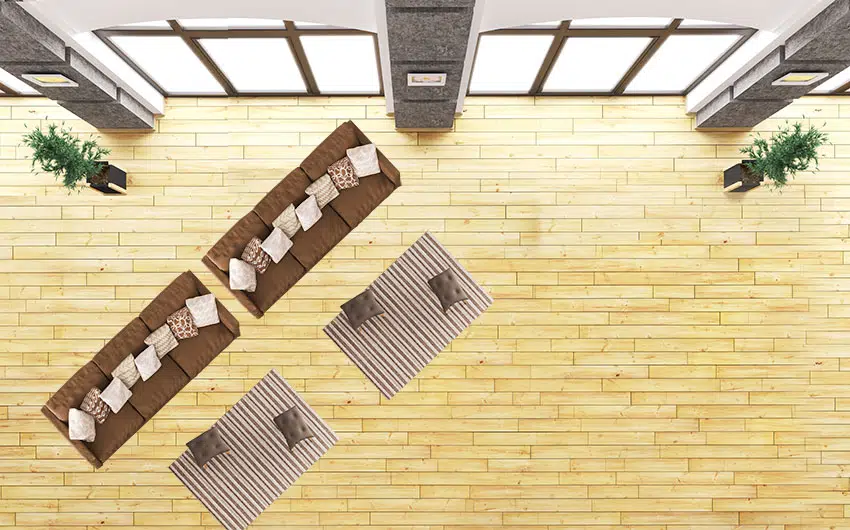 Opt for something quirky by arranging your sofas diagonally. Place the couches at an angle to each other facing the TV set. This layout gives the room more circulation while giving you ample space to relax.
Group in a Triangle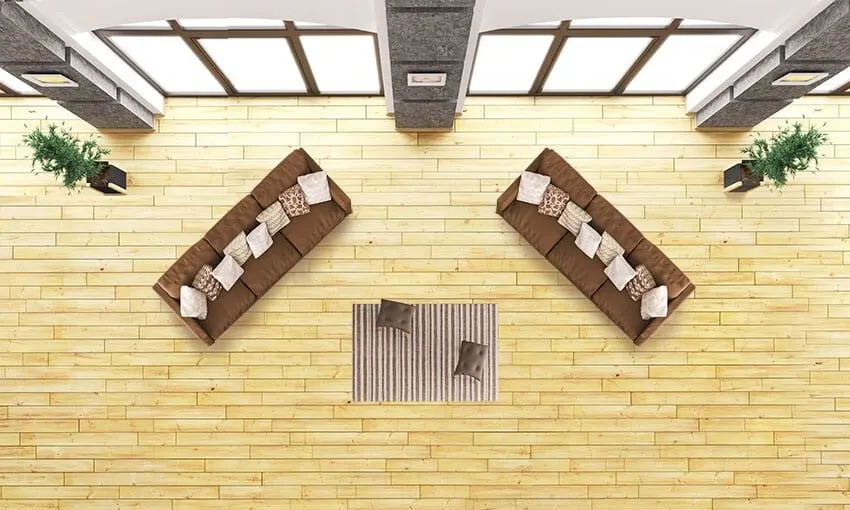 If you have a semi-open floor plan, arranging your couches in a triangular layout gives you a more flexible movement in your living room. Use this arrangement for informal and formal settings.
Put Them Next to Each Other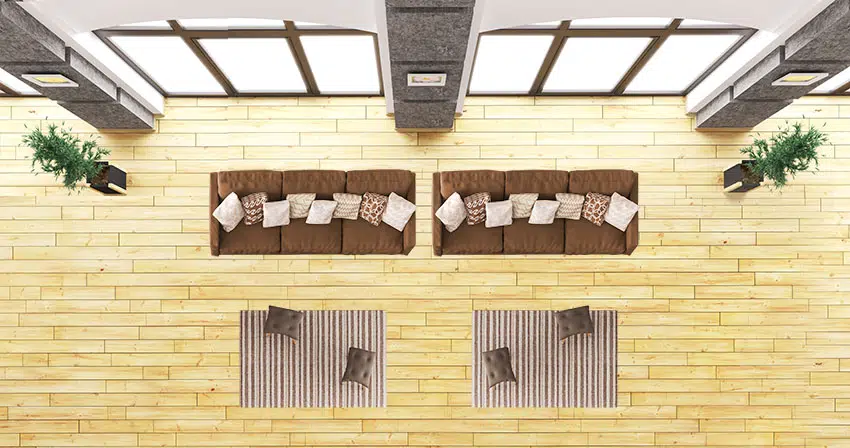 This layout works well with rectangular and elongated living rooms. Place two sofas next to each other. Add a sofa and accent chairs for added drama. This layout works best for a home theater and not for family interactions.
Spread Out the Sofas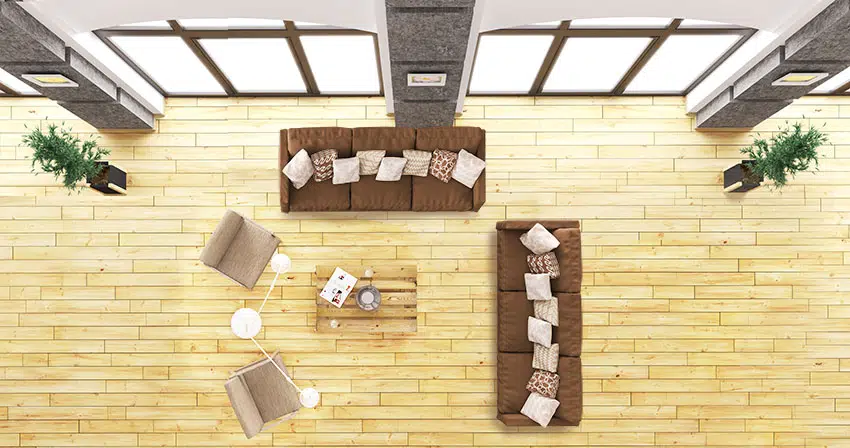 Use this layout if you have an open-concept plan or irregular-sized rooms. Create a welcoming and friendly ambiance using this layout. Adding recliners and armchairs in the mix can utilize the unused corners.
Rule of Thirds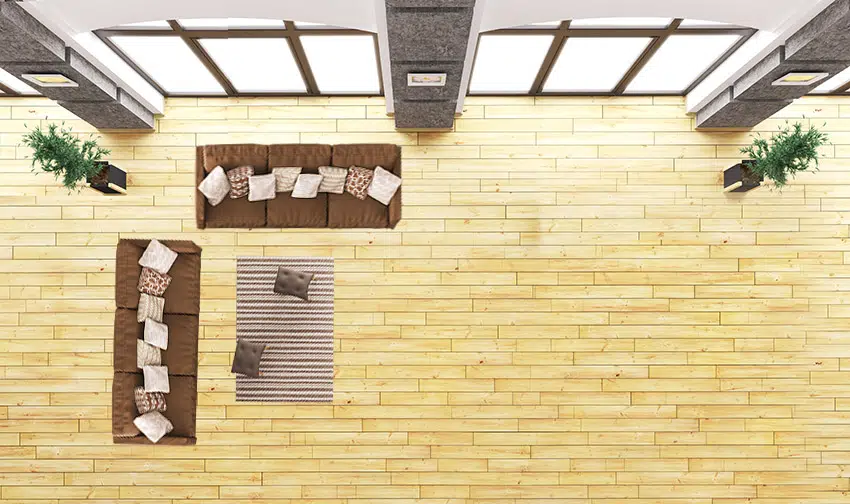 If you want to combine space for lounging and formal living, combine an armchair, loveseat, and a sectional sofa in your living room. This layout can create a cohesive experience between family and friends.
Instead of using coordinated love seats, merge a sectional and a bench. Place them opposite each other to create a sense of balance and geometry.
Sofa Symmetry and Mirroring Tips
Most living rooms go for the traditional arrangement of having one sofa as the focal point. However, if you have the space and the budget, mirroring two couches definitely changes the game.
For one, this technique provides balance and symmetry to your interior. It also allows you to be more creative and playful in arranging other interior design elements, such as accent furniture, art pieces, and many more. Make the two couches your focal point, and feel free to experiment with your arrangement.
If you have a fireplace, centering your couches around it will create beautiful symmetry. Mirroring both your sofas also encourages intimacy because it encourages people to face and talk with each other. Add two love seats or armchairs.
If you have a big room, mirroring two couches makes you and your guests the focal point in your living room. Do you like to entertain many guests? Pepper the room with several small seating arrangements. But if you love small groups, two mirrored couches are your best bet. ,
How Much Space for Two Sofas Facing Each Other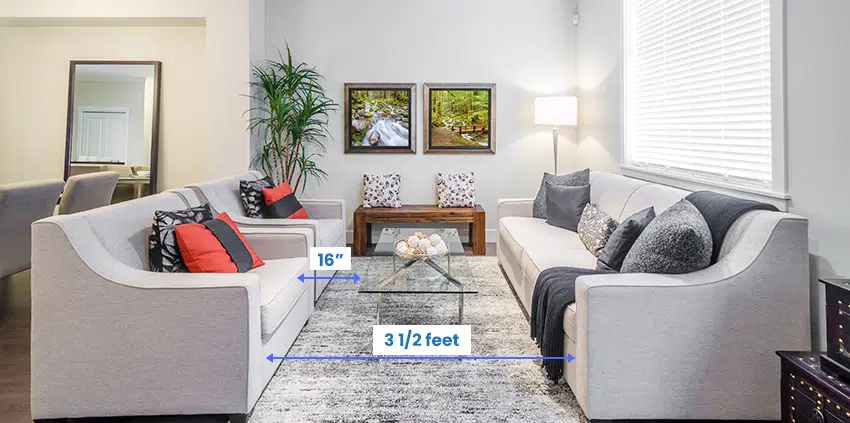 If you want to add another couch in the living room or re-arrange it, you always have to consider the space. And if you like to put two sofas facing each other, place them 3 ½ feet apart.
If there's a coffee table, there should be at least a 16-inch space from the couch to allow enough legroom. Also, the coffee table should be around 4 inches of the sofa's height. Choose an end table with the same height as the sofa's arm or the chairs next to them.
More so, place the front legs of your sofa or chair on small area rugs. Also, leave a one-inch space between the back of the couch and the wall to avoid damaging both.
Using Two Couches Back to Back
If you have a large room, placing two couches back to back gives the room a more intimate feel. It also divides the room into two distinct seating areas. If you have a closely-spaced back-to-back arrangement, leave a two to three-inch space between them to avoid looking overcrowded.
You can also create a pathway between the sofas by leaving a three-foot space between them. Placing a table between them makes the room more appealing. If you have limited space, use a narrow console table in between.
For larger and more spacious rooms, add a round pedestal or large rectangular pieces to utilize the space.
Remember that you don't have to use identical couches for a back-to-back layout if you want a pathway between them. But if the space is just a few inches apart, use sofas with the same length and back height.
Using Two Sofas Instead of a Sectional
Which is better — putting two sofas or a sectional in your living room? There's a longstanding debate going on among interior designers about this topic. Both choices are good, and each has its pros and cons.
While sectionals can save you more space, it is too close for comfort when entertaining different guests. Using two couches gives you more opportunities to experiment with your living room layout and design.
That's because you can move the sofas around and re-arrange your room, giving it a fresh feel if you want to. Two couches also work well in both small and large spaces.
Two Sections in Living Room
Creating sections in your living room — whether it's a large or small space — keeps things organized and utilizes every inch of space you have. Use several furniture pieces to divide your living room space. One of them is using two sofas.
For example, arranging two sofas in an L-shaped arrangement can separate your living room from your dining room even without using shelves or dividers. Or you can place the couches behind the dining table to set the spaces apart.
What is the Best Layout for Two Sofas
When it comes to the best layout using two sofas, it is a matter of preference and the available space you have. If you have a bigger space, placing two couches at a wide-angle and placing accent pieces strategically across the room might work. Placing two sofas face to face will give your living room a more intimate feel.
Here are a few more layout ideas when using two sofas:
Place the Sofas in the Same Direction
If you have an irregular-shaped room or open concept floor plan, orienting your couches in the same direction is a good idea. It gives the room a fun and comfortable vibe, making you feel relaxed.
Try adding a recliner in the corner so you can sit in comfort while watching TV or sipping your favorite wine.
Form a Rectangular Space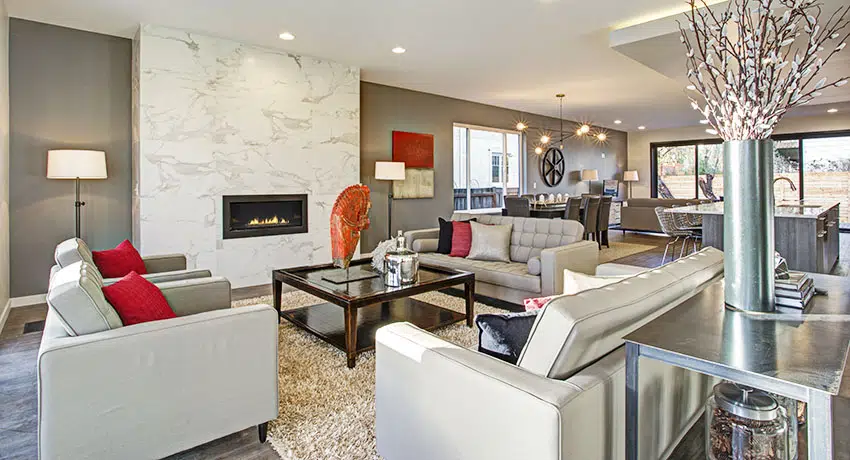 A rectangular space arrangement works well if you have a loveseat and a sectional. Arrange the couches at an angle that forms a rectangle and place a coffee table at the center. This arrangement also provides an intimate setting when entertaining guests, but not too close for comfort.
Place the Sofas Near the Wall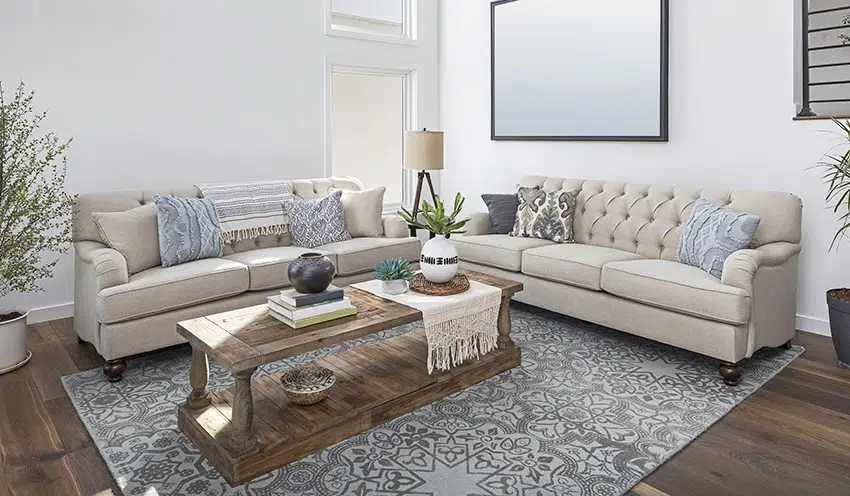 This arrangement gives you more space to move around. It's perfect if you have pets or kids at home. Sofas against the wall also helps to make your room appear larger.
Conclusion
Using two sofas in your living room helps you unleash your creativity because of the design options they offer you. Give one of our suggestions a try and give your living room a fresh look.
Visit our two different sofas in living room for more related content.