Here we share indoor stair railing design ideas for inspiration.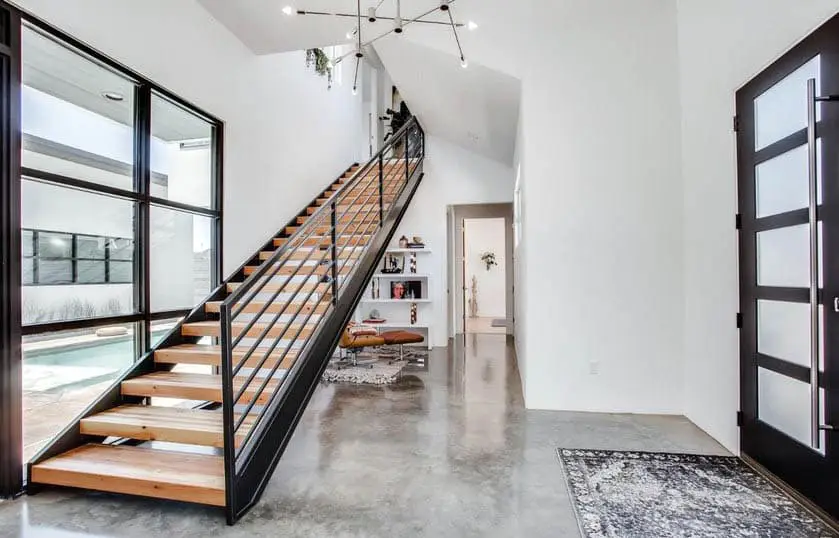 For homes that have more than one level, stairs are important to make the house accessible. Just because they serve a specific function, however, doesn't mean that they aren't an important design feature in the home.
Stair railing, in particular, comes with many options of materials and designs that you can use to set the tone for you house. As a staircase is one of the first things a guest or family sees when entering the home via the foyer it makes perfect sense that the stair railing makes a great impression. Below, we are going to share our stair railing ideas and interior design guide to help you understand and choose from the best options.
Railing Height for Stairs
When it comes to measuring your stair railing, you should take a look at the building codes for stair rails. While many of your home projects such as simple paint jobs or changing the flooring don't concern building codes, jobs like installing stair railing or plumbing do. So, here's a quick guide to help you get started.
The first thing that needs to be defined here, though, is stair railing versus stair guards. Simple stair railing has to do with the railing that works on an incline that you might hold onto to help go up and down the stairs safely. Stair guards or guard railing, on the other hand, is usually installed on flat flooring such as a landing.
As far as height, the handrail should be 34 to 38 inches high. This measurement is from the stair nosing to the railing. The stair nosing is the typically defined as the front of the stair step or tread on the edge of the step.
The railing shouldn't protrude from the wall more than 4 ½ inches. This is important because you don't want your railing to take up space in the walking path of your stair railing. This can prove to be a safety hazard, especially in instances when someone is carrying items with them up and down the stairs.
However, the stair railing should be no less than 1 ½ inches from the wall either. This number comes from the fact that you have to make sure that someone using the stairs could run their hand up the railing the entire way. Once again, this is to ensure safety on the stairway. While it isn't a part of building code, most homeowners choose to place handrail brackets in such a position that they get in the way of hand movement on the railing.
If you have railings on either side of your stairs, you should make sure they are no closer than 27 inches apart. This, much like the conditions for railing distance from the walls, is to ensure that the stairway does not become too narrow for safety. The minimum railing distance if you have one railing and an opposite wall sits at 31 ½ inches.
Finally, the guard railing height has a minimum of 36 inches. This measurement is to ensure that people on the landing of the stairs don't fall and injure themselves. If the landing on your stairs is more than 30 inches off the ground, a guardrail must be installed.
Types of Indoor Railings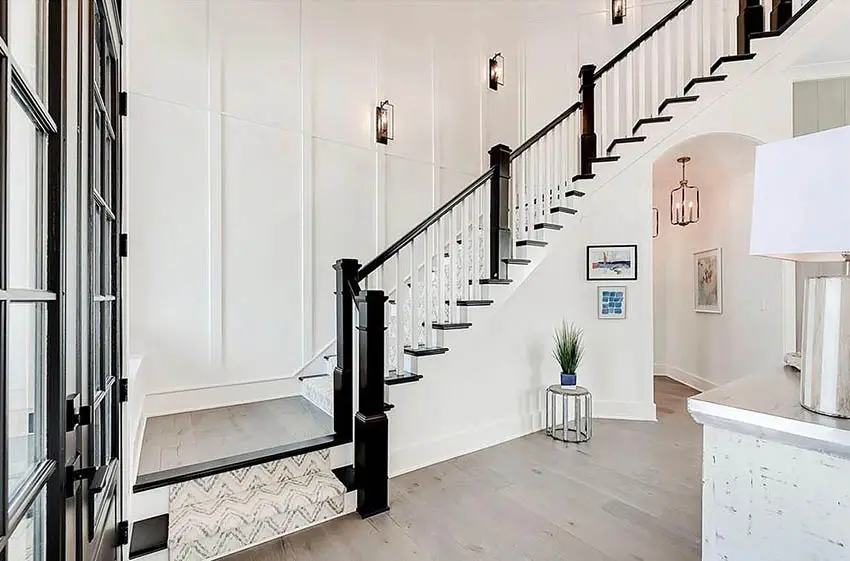 When referring to types of stair railings, many people are referring to the style of the railing. Often, style choices are influenced by the types of stairs you have – such as traditional or spiral – and the material used for the railing.
Wood is a classic choice for railing but the market has expanded over the years to include materials such as glass and different metals. Below we will take a deeper look into each of these materials.
Metal Railing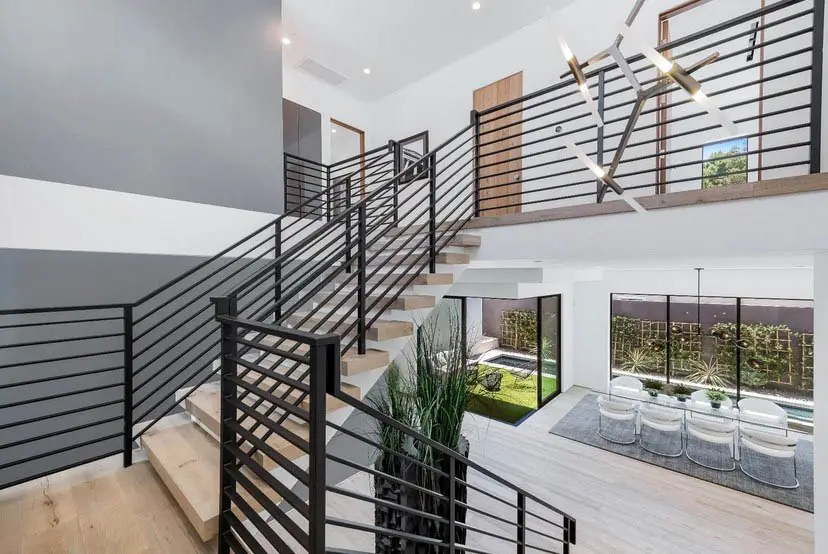 Metal stair railing has become a popular choice but metal in and of itself is not very specific since several types of metals might be used.
The first option you have is wrought iron railing. These are a popular option as wrought iron is often used in ornate designs. The price paid for that is literal – wrought iron is more expensive than stainless steel or cable stair railing. You can depend on wrought iron to stay well-kept throughout the years, though, since wrought iron is often coated to keep our dirt and moisture.
The next option is stainless steel railing. This is popular because it is one of the most inexpensive types of metal stair railing. Despite it's relatively lower price, stainless steel is still strong and stylish.
Black powder coated aluminum stair railings is another cost effective option that looks stylish in the home. Aluminum railings also come in bronze color or a champagne silver to match just about any interior style.
Cable stair railing is another commercially leaned upon option thanks to its durability. This type of railing is characterized by its horizontal "cables" instead of vertical posts like traditional stair railings.
Wood Railing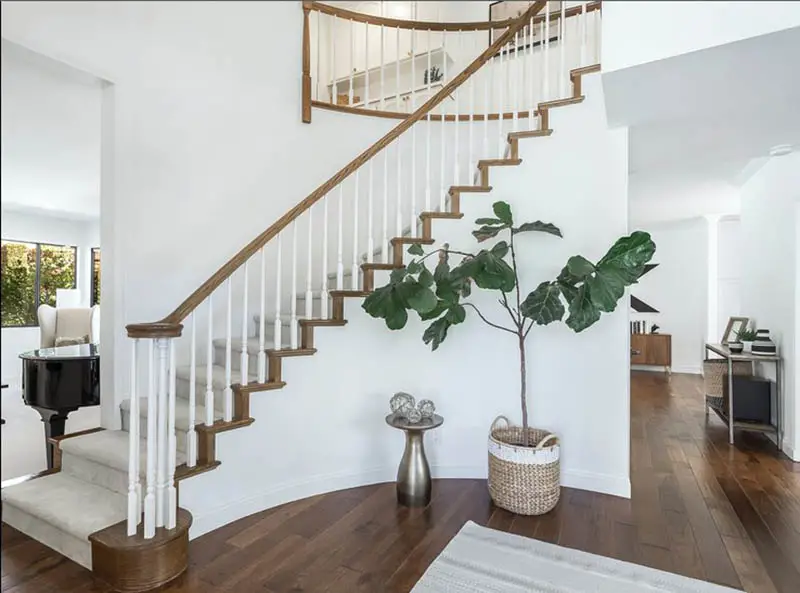 Wood stair railings are one of the most popular types of railings. They are typically associated with a regal, traditional look as in many libraries and historical homes. Because of this, wood stair railings are often used in government buildings and homes that want a higher-end design.
It is important to note, though, that wood railings don't have to be ornate in their styling. If you would prefer a simple wood railing, they can be made without excessive detail or superfluous design. The material they are made of is usually what sets a regal tone, not a complicated design.
As far as the materials used in wood stair railing, oak and cedar are most popular. Behind that, teak and mahogany are popular substitutes. Wood railing can be painted to achieve a different look. for instance painting wood a darker color can match a more contemporary design while white will be more traditional.
Glass Railing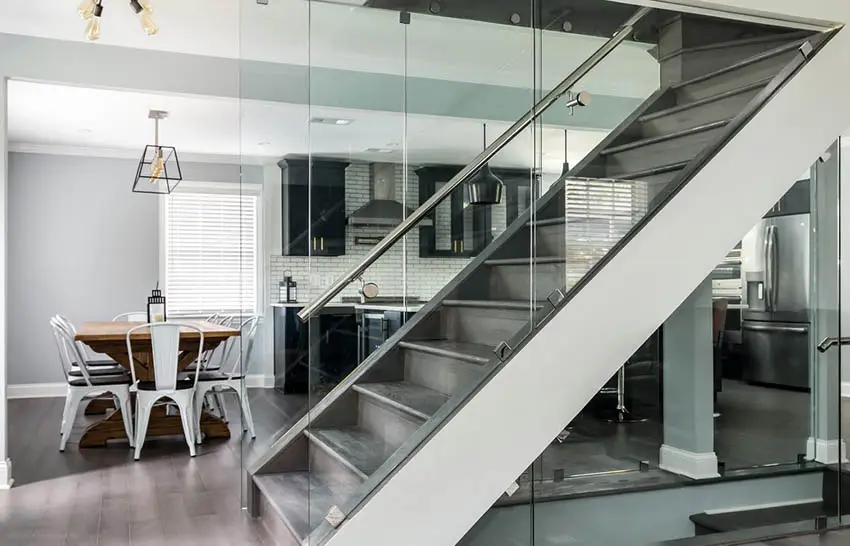 A newer idea for indoor stair railing design is glass railing. This type of railing is a little different than other types. Instead of being made with vertical posts of glass like you might see with wood or metal railings, glass railings are usually made with panes of glass to serve as a partition.
They typically have regular hand rails made from metal or wood. These can be useful for those with small children to help prevent accidents.
These are an interesting choice because they are often used to give the appearance of there being no railing while still providing the same safety features of other materials. The major drawback to this type of railing, though, is the cost.
Spiral Railing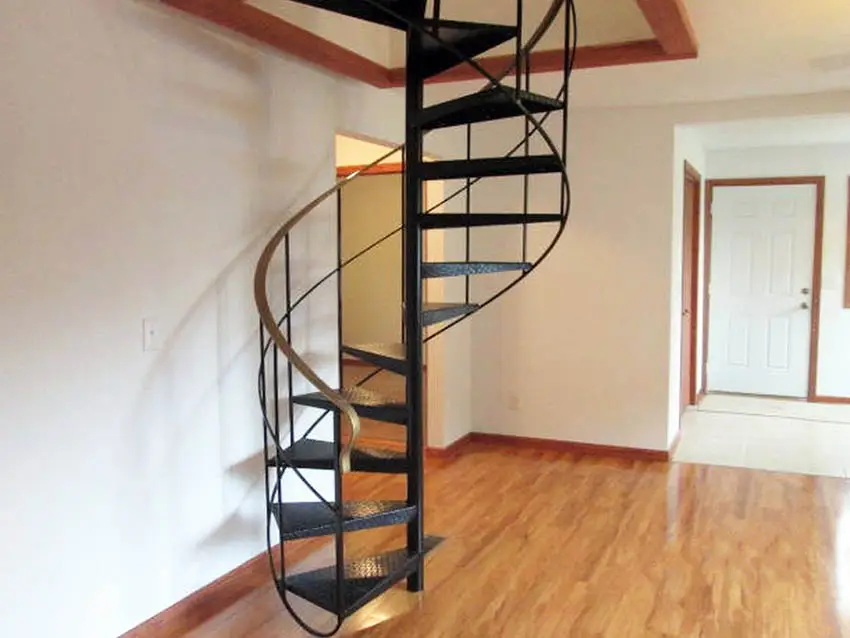 A unique option for indoor stair railing design can sometimes depend on the stairs themselves. Spiral staircases, for example, are a particularly distinct. Pretty much any design that can be used on a standard staircase can be used on a spiral staircase although the labor for installation may common at a higher cost.
Spiral staircases are frequently used in tight spaces that would not accommodate a normal staircase. They can be purchased as a kit.
Railing Designs
Modern stair railing follows the same prospects of other pieces of modern design. It is focused on a sleek, minimalist design. These types of railings usually aren't very ornate and they don't take up any more room than they absolutely need to.
Contemporary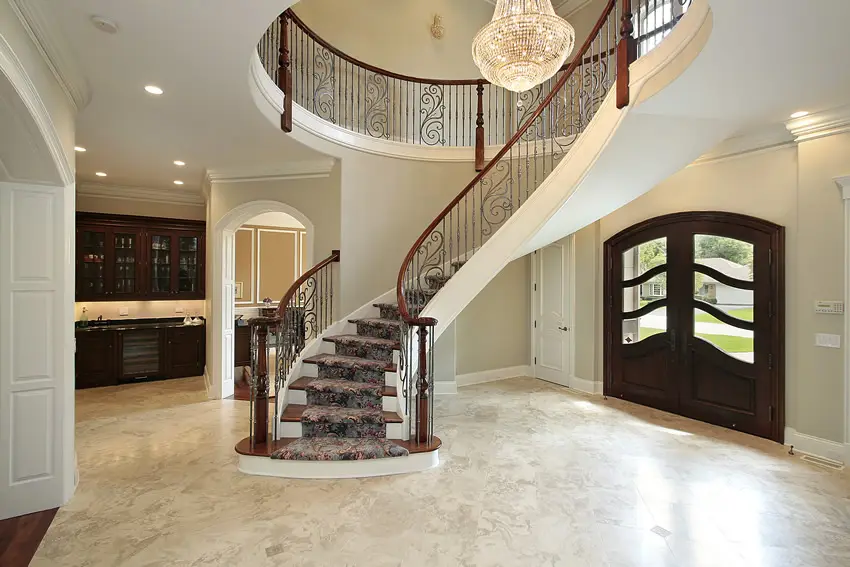 While contemporary design sounds very similar as modern design by the definition of their names, there is a key difference. Modern design is more focused on sharp, defined corners whereas contemporary design uses softer, more rounded edges.
In other words, a stair railing that curves into the wall rather than ends at a 90-degree angle would be a more contemporary design.
This home's foyer with staircase has a wrought iron staircase railing with wood hand rails.
Modern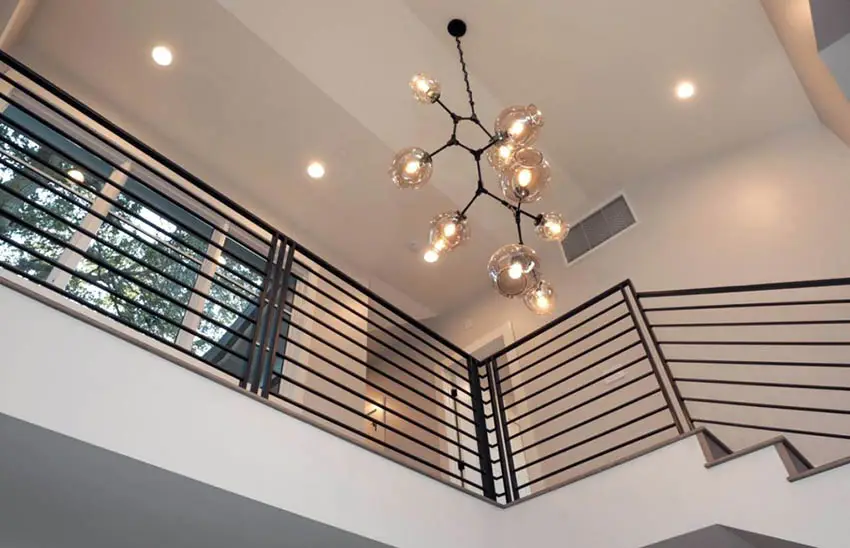 With modern design there's plenty of clean straight lines to make a big statement.
Rustic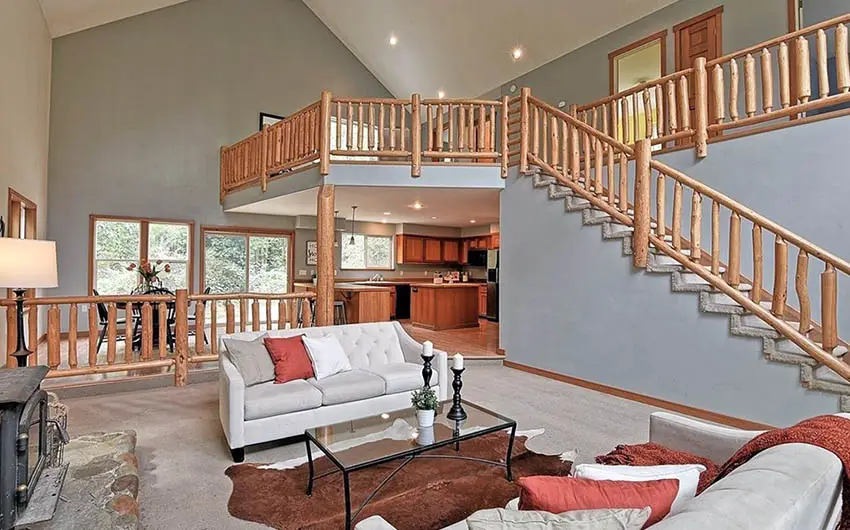 Rustic design is focused more on using the natural beauty of the world around you instead of leaning toward an industrialized design. So, if you wanted a rustic style home, you would probably lean toward wood instead of a metal or glass railing.
Craftsman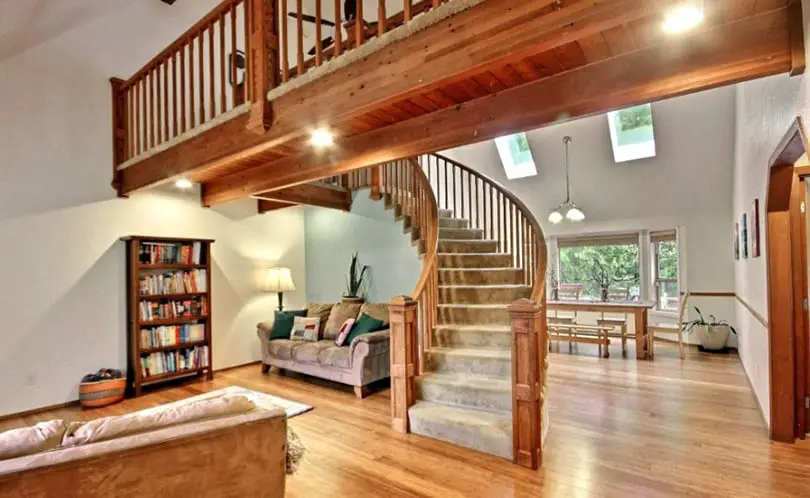 One form of traditional design is the craftsman style, which encourages the use of hand crafted woodwork and details.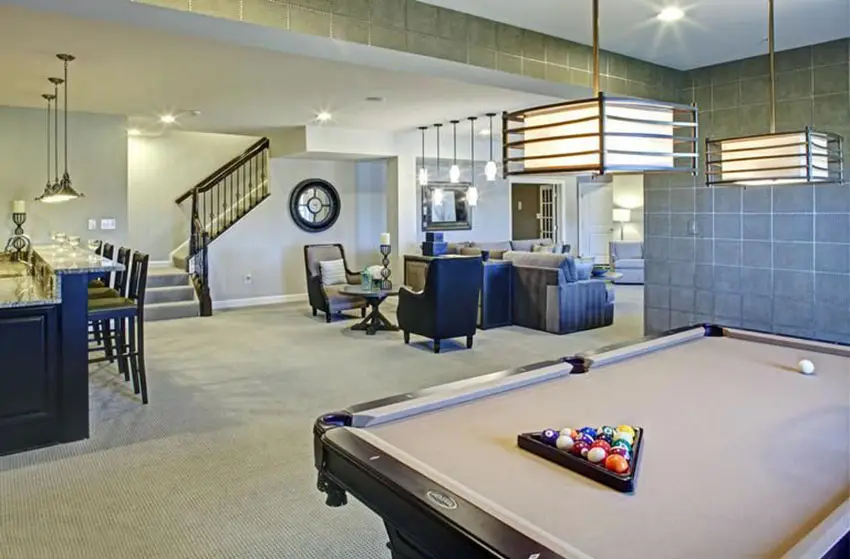 When you are installing railing in a basement, you should consider the function of your basement. If your basement is refurnished for regular occupation, you should look into railing like you would use anywhere else in your home. If it is simply for storage, you can use a simple, inexpensive railing.
Many people choose a railing that is pre-made by a manufacturer; this isn't your only choice. You can also work with a contractor to create a custom railing that complements your home specifically. In doing so, it's important to note that you will be accepting an extra cost.
How Much Does It Cost to Replace a Stair Railing?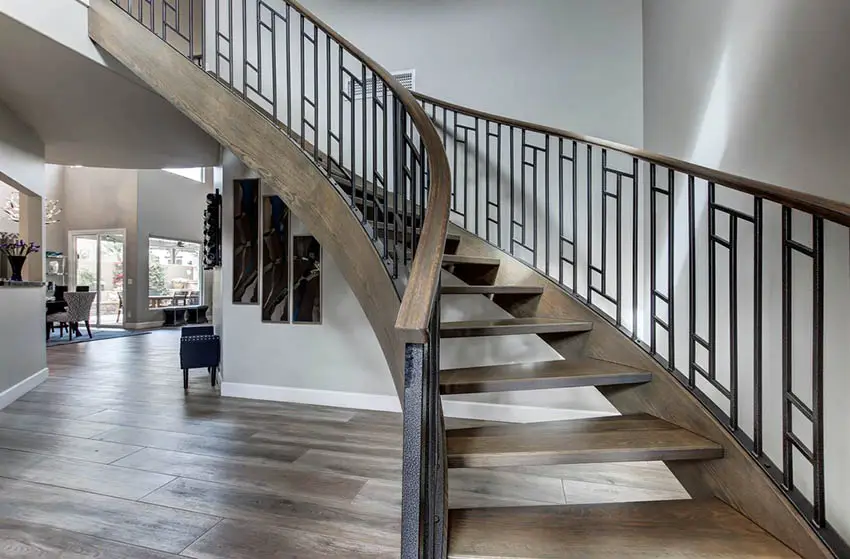 When you decide that you want to replace your stair railing, you will need to know how much of an investment this is. Typically, the cost of installation is paid per hour and installation takes about a day of work. The average cost of labor is situated from $60 to $100 an hour.
The cost of labor can differ depending on the rate of the company you work with and how difficult the installation is. As expected, more manually difficult installations will cost more.
The rest of the cost of replacing a stair railing is dependent on what material you use and how much of it you need for the railing. A wood stair railing is on the lower scale of costs with the cost of 50 feet of material being as low as $750.
Glass railing is the most expensive choice for stair railing with the same amount of material being up to $42,500 at its highest cost.
Railing Kits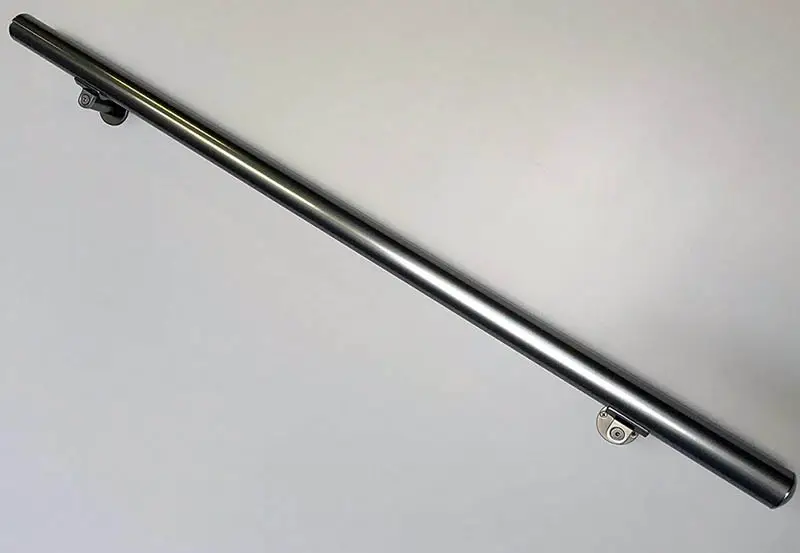 See this stair railing kit at Amazon
If you are interested in DIY stair railing, you might want to consider a stair railing kit. These are particularly good for homeowners who are interested in installing their own stair railings but aren't interested in or don't know how to build your own from scratch. Each kit comes with everything you need to install and instructions. We will take a look at some simple instructions to install stair railing below.
Railing Installation
When you want to install stair railing, the first thing you will need is measuring tape. This is, of course, because you want the stair railing to run the length of the stairs. The best way to do this is to hook the tape measure at the bottom of the stairs and measure the distance following up the steps.
Since railing doesn't usually stop and begin exactly at the end of the stairs. It is best to add 6 inches to your measurement so you have a 3-inch buffer at each end of your stairs.
You will also need a stud finder. This is because to hold your railing up, you will need to install handrail brackets. These handrail brackets should be, at most, 48 inches apart but you can usually find a specific recommendation on the hardware you are using. Make sure to mark where you find these studs.
Next, you will want to find the bracket height. To do this, you will want to lean the railing upside down up the stair. This way, you can line the railing up with the stud marks. Then, you can use a carpenter's square to make sure you line up the screw holes on the bottom of the railing correctly.
Be sure to measure the length the bracket and mark that many inches below the handrail height so once you screw it in, you'll have the height you desire. If you use single-hole brackets, you will have an easier time installing them.
When you are ready to put the railing on the wall, it's important to make sure that everything lines up correctly. A good way to do this is to take each area you marked earlier and highlight it by using plenty of tape. This gives you a clear indicator to ensure that your measurements match up the way you need them to.
From here, you can start to drill the railing into the wall. Of course, this is only a basic guideline. If you are looking to install a customized railing, for instance, the process might differ. Your best bet is to double check with any manufacturer's notes that might come with your stair railing before you get started.
How Many Stairs Before a Handrail Is Required?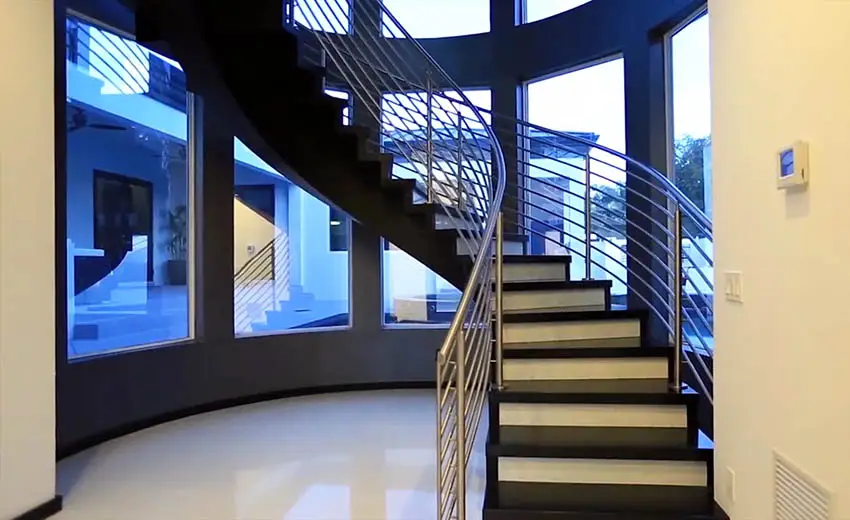 A handrail is required when you are working with a staircase with four risers or more. It's important to note that this say four "risers" not four "steps." This is crucial because it means you need to count the level of the next floor as a step.
As a general rule of thumb hand rails should be between 34" and 38" inches. To get this measurement, you can measure from the edge of the stair straight up to the rail. Measuring further in toward the step may provide an improper result.
The stair rail should also project no more than 4 ½ inches from the wall that it is mounted on. The minimum distance a rail should have for clearance between the rail and wall is 1 ½ inches to provide adequate room for holding the railing.
Furthermore the minimum distance between two railings should be no less than 27 inches. This provides adequate room for a person to climb the stairs while carrying items without hindrance. If your staircase only has one outside rail and a wall on the other side the minimum distance should be no less than 31 ½ inches.
For outdoor landings, balconies, porches or decks it's necessary to have a minimum height of 36" inches for guardrails when a drop off is more than 30" inches in height. For exterior decks or landings with less than 30" of height it is up to the builders discretion as whether or not to build railings. However, it is advisable that guardrails are added to avoid potential injury.
Painting Stair Rails
The first thing you should do when you are painting indoor stair railing is to put primer on it and let it dry. Then, you should sand the railing down to ensure a smooth surface for the paint. Make sure to clean the dust from sanding before you paint.
Once you start painting, you should be as thorough as painting anything else and just as careful – using drop cloths and taping any exposed surfaces to prevent messes and getting paint where you don't want it.
For more information read about how to stain stair railing without sanding here.