Welcome to our gallery of wine closet ideas including traditional cellars, under the stairs, wine racks and in the kitchen designs.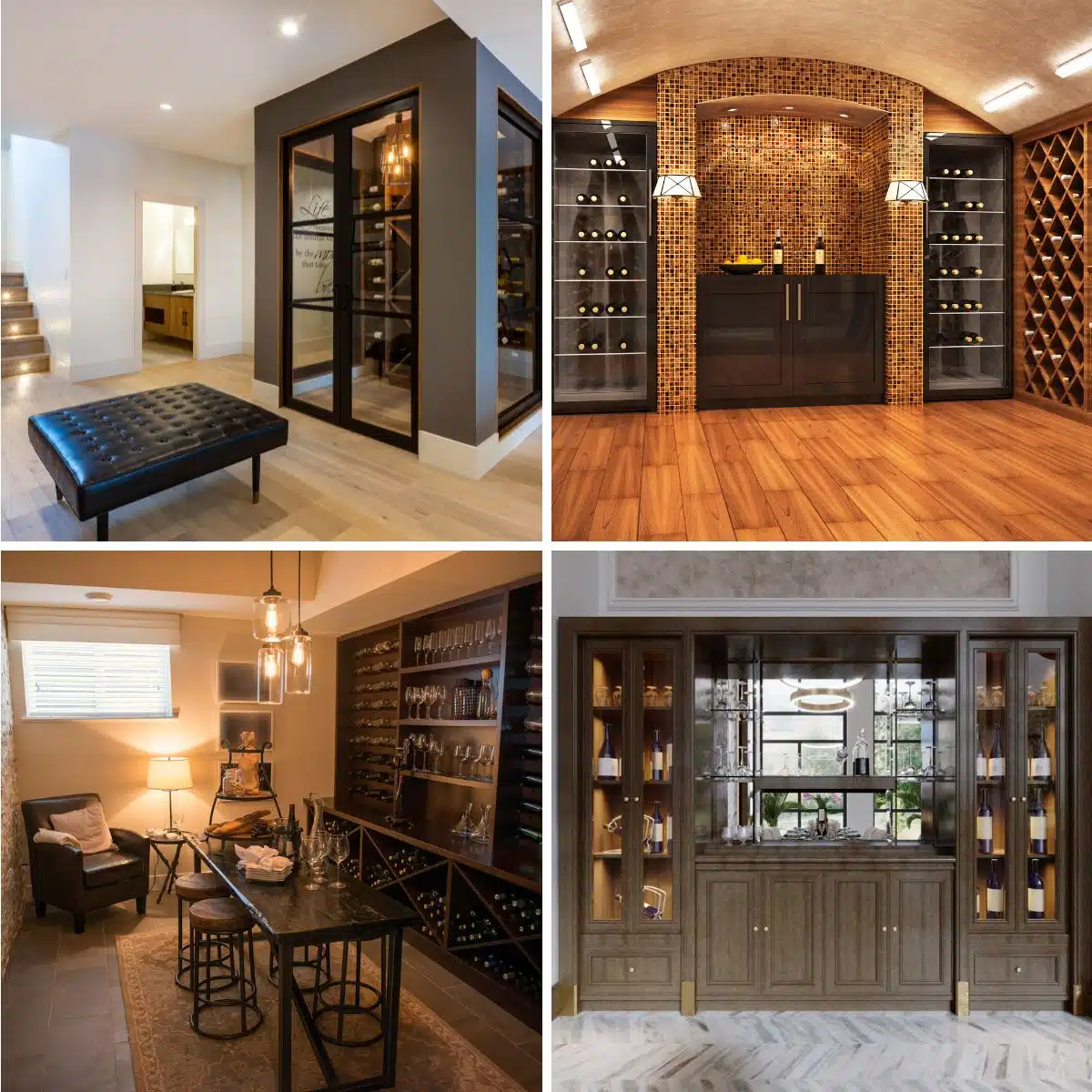 A wine closet is a small room with built in storage for this kind of liquor. They are defined as a cellar that includes less than 500 bottles of wine. This liquor can be kept in both barrels and bottles, occasionally in plastic containers, carboys, etc. These storage options should be temperature controlled or be built underground to avoid large temperature changes.
They can be either passive or active with their cooling. Active cooling requires advanced insulation and cooling systems. Active cooling is important in particularly dry climates, as humidity is (debatably) necessary for the ideal wine aging. Passive cooling do not require anything other than an average room, they just should be located underground, and in a dark humid area.
These storage options can house 1 to 500 bottles and should be at least 25 square feet in size. When looking at about 1500 bottles, it will need to be at least 100 square feet. Anything exceeding a need of 500 square feet should not be stored in a home location. Situations that large should seek professional storage.
Wine Closet Features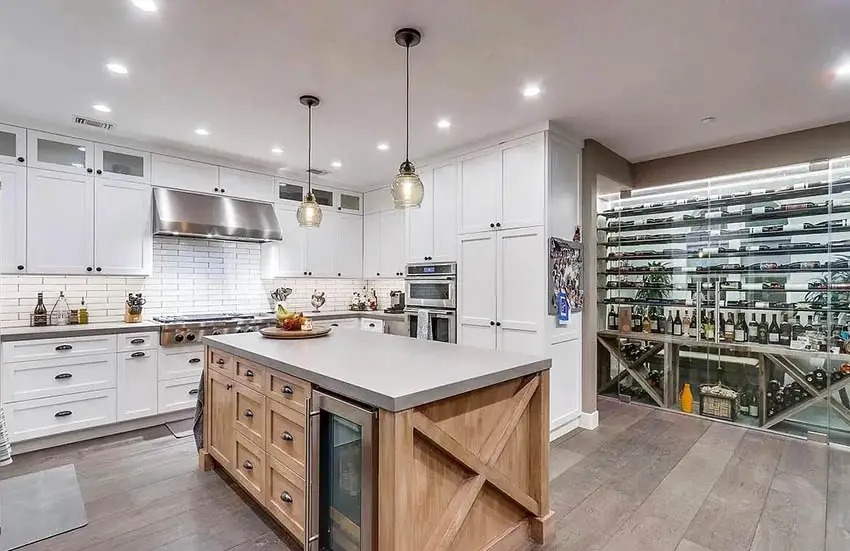 These storage solutions have a variety of different features that can be included in the design. Some of them are as follows.
Storage racks: Storage racks are essential. There are custom racks that can be designed around the storage of these bottles.
Environment Control: Between ideal temperature and humidity levels, incorporating these environmental controls makes for the best ability to store this type of liquor.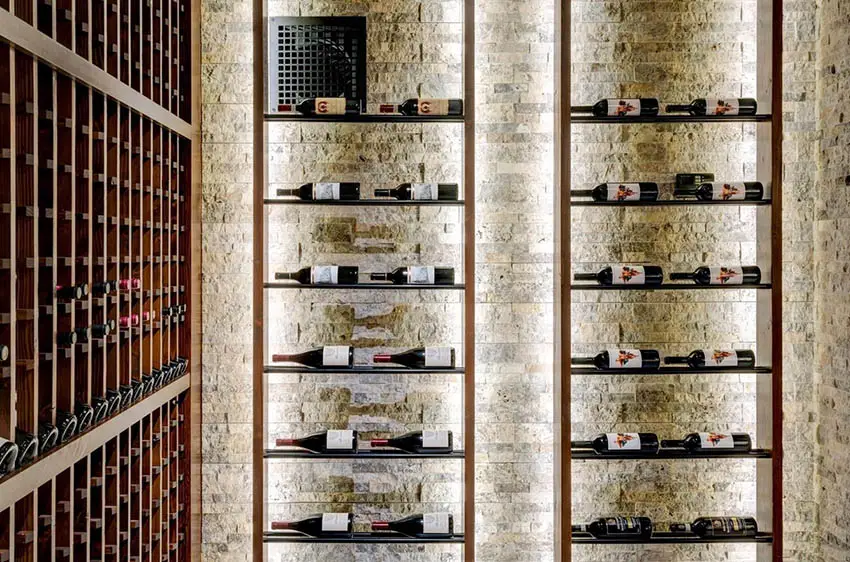 Lighting: Lighting can be helpful for ambiance as well as being able to correctly read the labels on the bottles.
Decorative doors and accessories: Again, with the ambiance, these closets have a sort of mental standard that they are held up to and including decorative doors and accessories is part of that.
Having certain vintage bottles is often a major talking point when having guests, therefore there is often a chance that a host would bring one down to show off their best bottles. This is when decorative doors and accessories are used to allow creativity and add personal touches to these ideas
Wine Closet Cost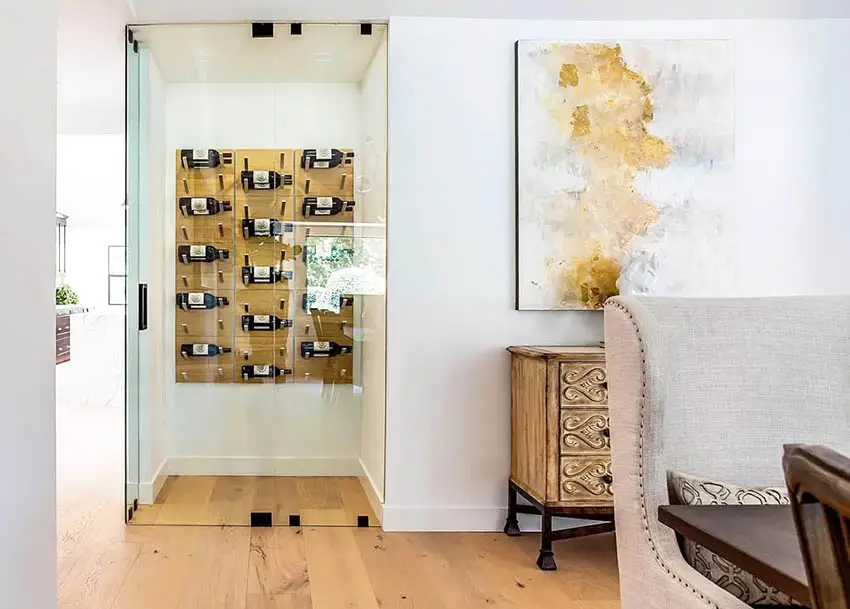 The cost can vary based on a number of factors, some of them are listed below.
Location/Size: Being classified as a wine closet it alludes to it being a smaller room and holding under 500 bottles, putting it at about 30 square feet. This puts it on the lower side of the price range, unless the location needs a ton of work. If it is just an average room at about 30 square feet, it should cost about $1000 to update anything for the location, size and shape of the room.
Storage: Looking into the shelving and the racks required to create a functional space is very important. Storage shelves or cabinets can run from $300 to $600 per square foot. Getting the racking system to properly displace and hold bottles, if that is the type of liquor you are storing, can be an extra $10 per bottle.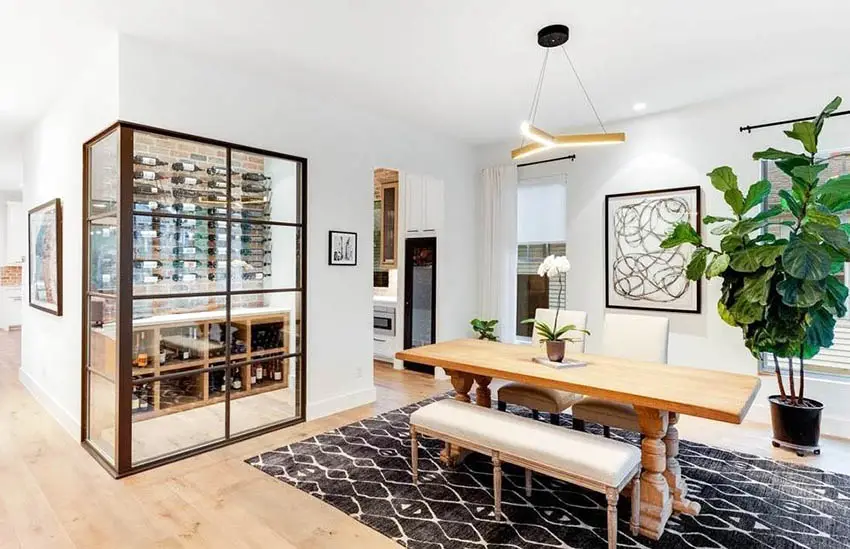 Refrigeration/Cooling: Refrigeration and cooling of these areas are not a requirement but can be a great addition to this kind of storage. They typically run about $1500 to add, on the lower scale, with a small room to cool.
Temperature/Humidity Control: Again temperature and humidity control is not a requirement if placed in the correct location, but sometimes it is beneficial for the ideal storage areas. This type of system, on the low end for a smaller room, can set you back about $250.
Finishes: Finishes can be anything from flooring, painting, extra casework, doors, lighting, décor, etc. Personally I would give a hefty budget of about $6,000 to the project, as flooring can get expensive on its own, and spicing up the room can take the esthetic from a storage closet to a true wine closet.
Overall, it is a good estimate to have about $15,000 to play with when creating these spaces, in addition to the new expensive bottles you will be adding to the cart once the room is complete. These prices are easily flexible based on the space you choose to use and the amenities that it already possesses.
Wine Cellar vs Wine Closet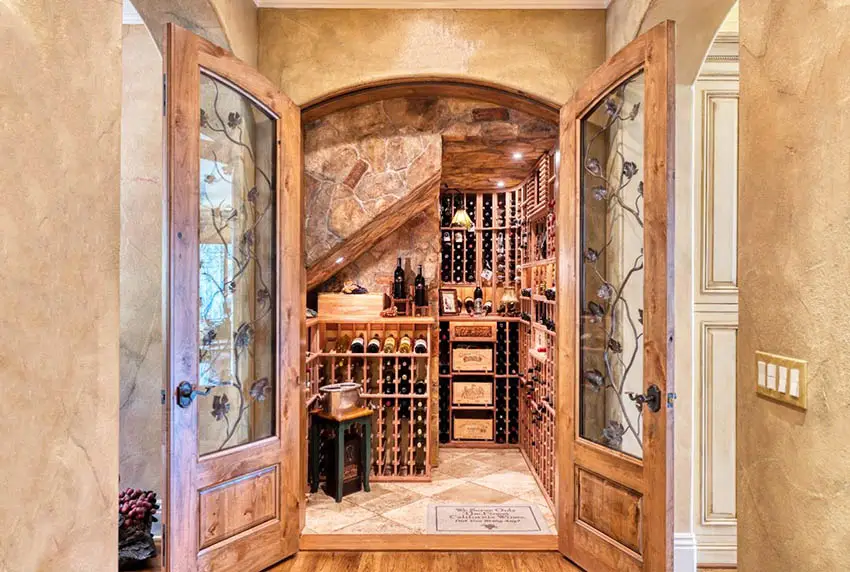 Cellars hold pretty much the same concept as closets. The biggest difference is that a cellar is larger than 500 bottles while closets are under 500.
Cellars often include wine-tasting spots or separate areas for lounging or entertaining guests. These have much larger budgets as well.
Closet Wine Rack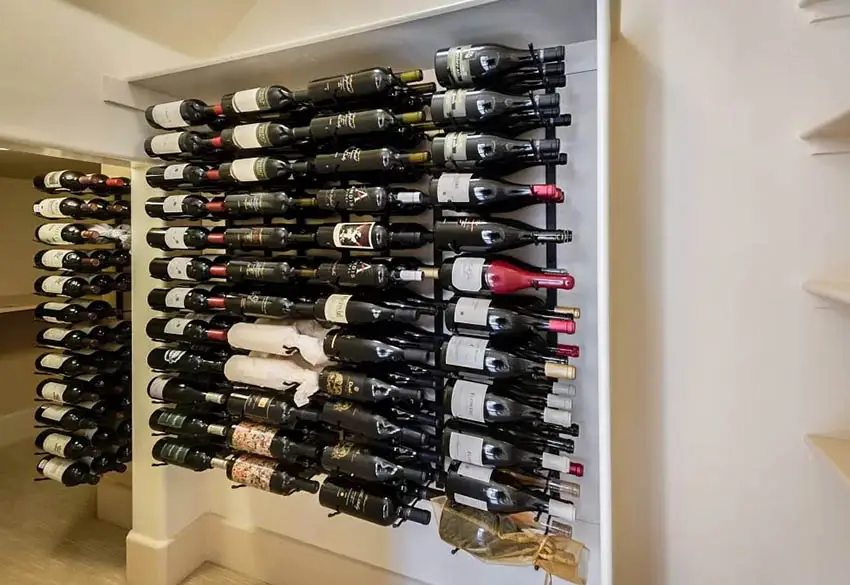 Racks are especially important when it comes to red wines, as they are not typically cooled. These racks can be made out of a variety of finishes, and just need to be able to fit as many bottles as you have. A rack containing 16 bottles is usually about 20 inches wide and about 11 inches deep.
Wine Closet Under Stairs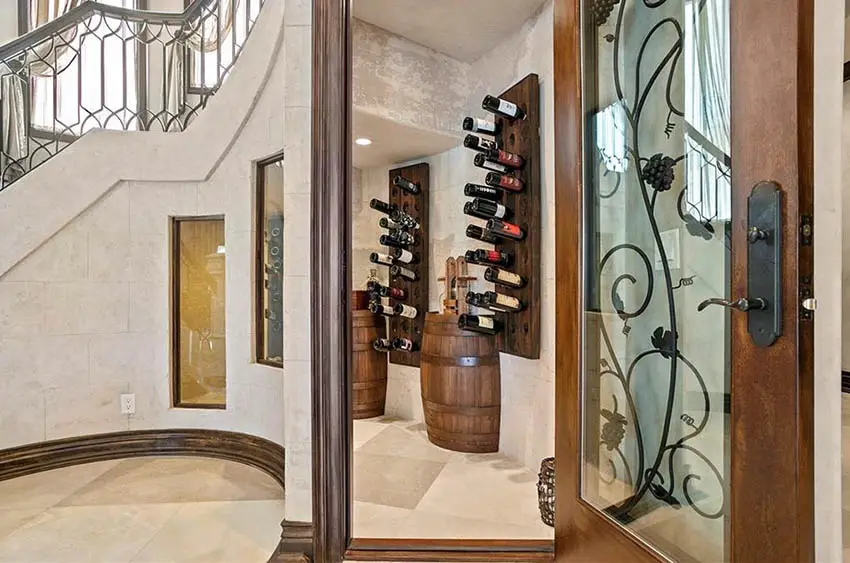 One of the most commonly thought-of locations is an unused area under a staircase. This has depth and could be a great use of space.
Unfortunately, there are a few downsides to an under stairs design. The temperature under the stairs fluctuates very frequently, and people walk over the stairs, creating potential for the bottles to shake.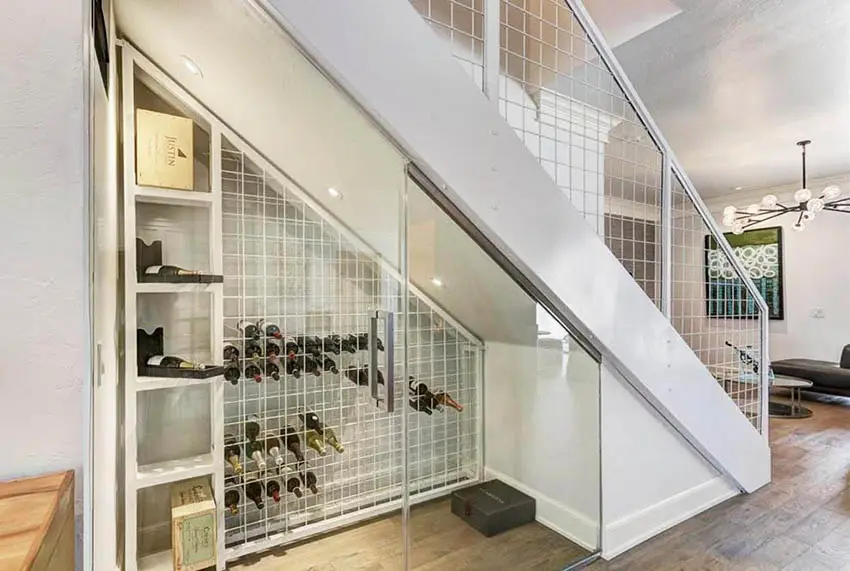 Additionally, this could be less cost effective than anticipated due to the need for all the shelves and racks to be custom built, as each staircase is a different size and shape.
Wine Closet in the Kitchen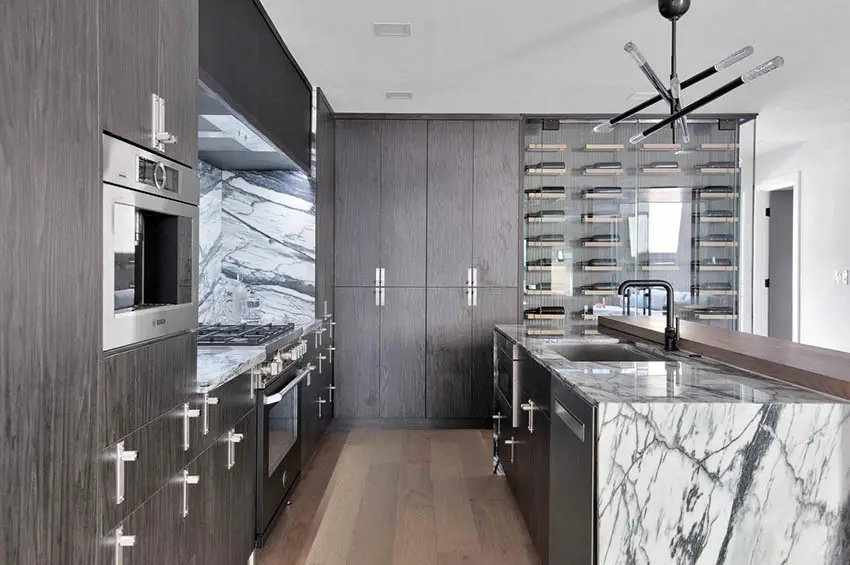 Another popular spot is in an outer part of the kitchen. This is helpful when limited space or budgeting is available as it creates a closet near a place to entertain. This is taking one of the perks of a cellar and using it in a creative way. Additionally, it is close by when you are drinking or cooking with wine.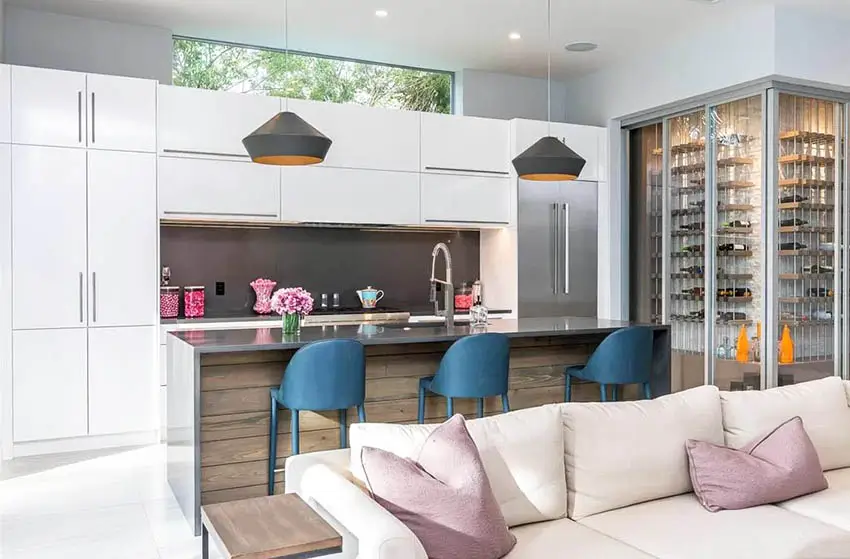 This open concept kitchen with modern design has a corner storage within easy distance of the living room.
Wine Closet in Living Room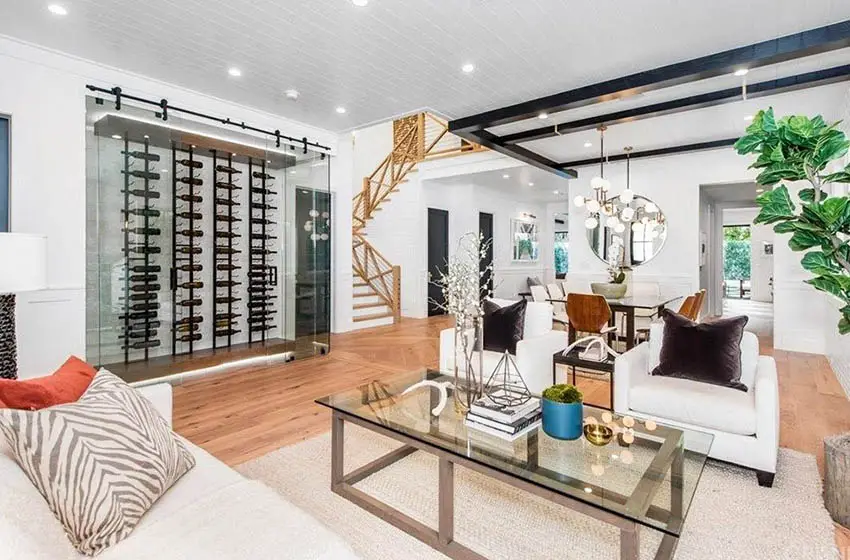 For those who love to entertain and have an impressive wine collection, a display in the living room can be a sought after feature. – interior designer Savannah.
Most ideas in this space have back lighting and down-lights to illuminate the space and give it a warm ambiance.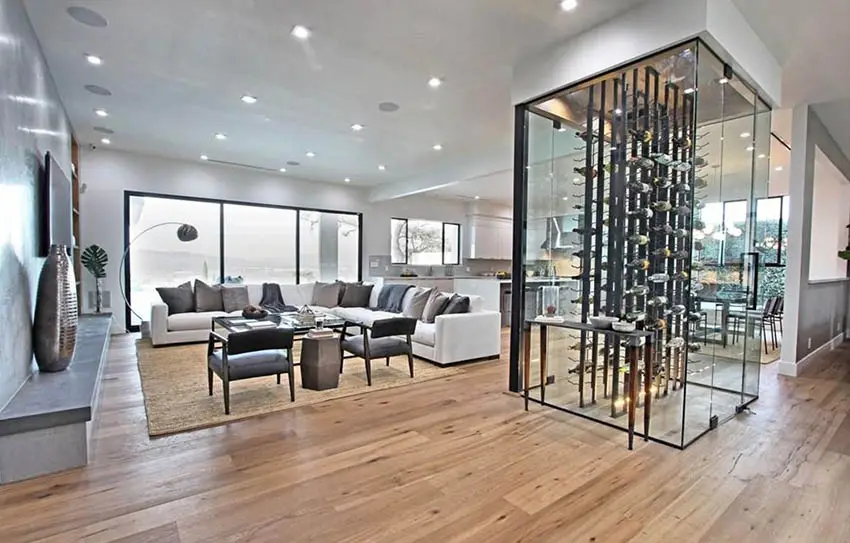 A modern living room with a glass-enclosed storage focal point.
Can I Put a Wine Refrigerator in a Closet?
Yes! You can put a wine fridge in a closet. This can take away the need to refrigerate the entire space itself. Using a separate refrigerator can give a place for the special bottles that require cooling, while any others can be stored outside of the refrigeration unit.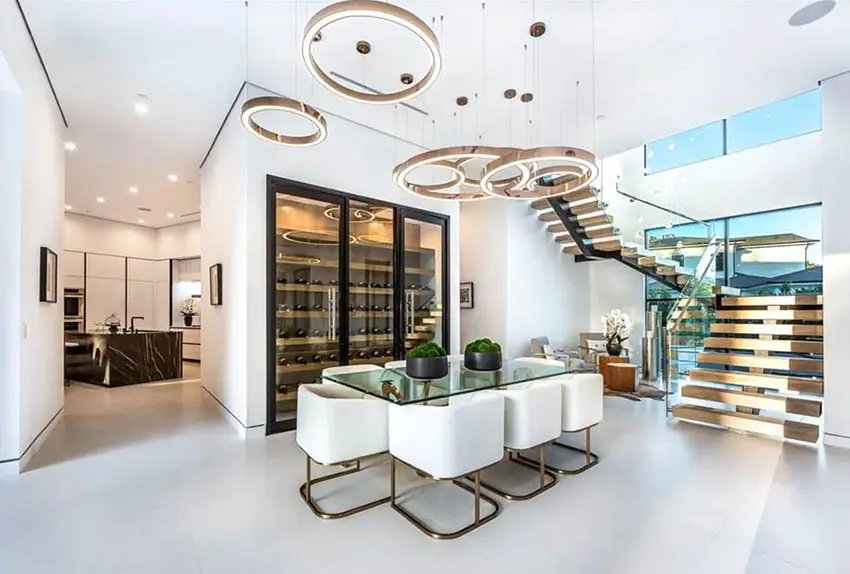 This modern dining room design with ring chandeliers makes the perfect place to display a large wine collection within easy reach when needed.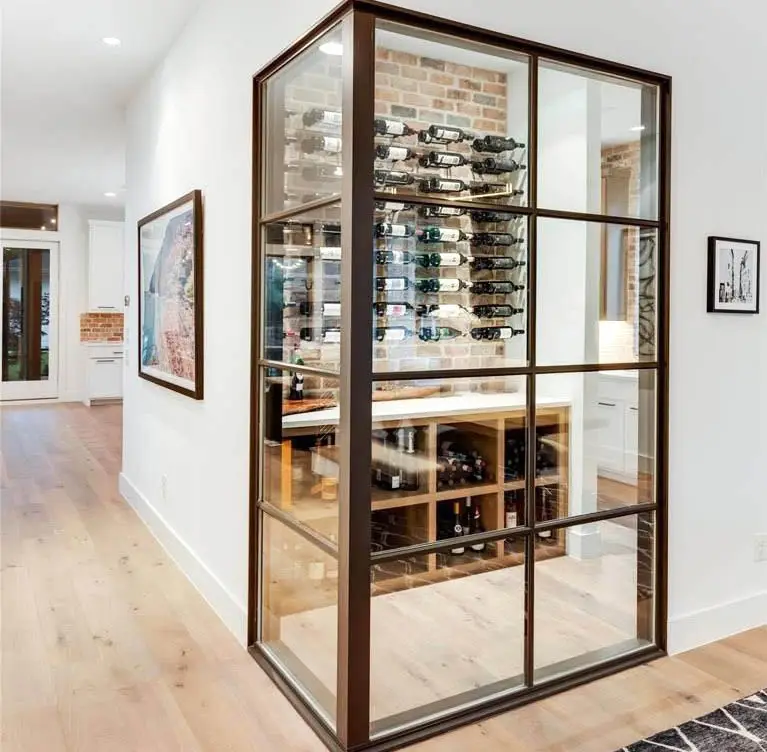 Picture window closet in hallway with brick wall, rack and storage.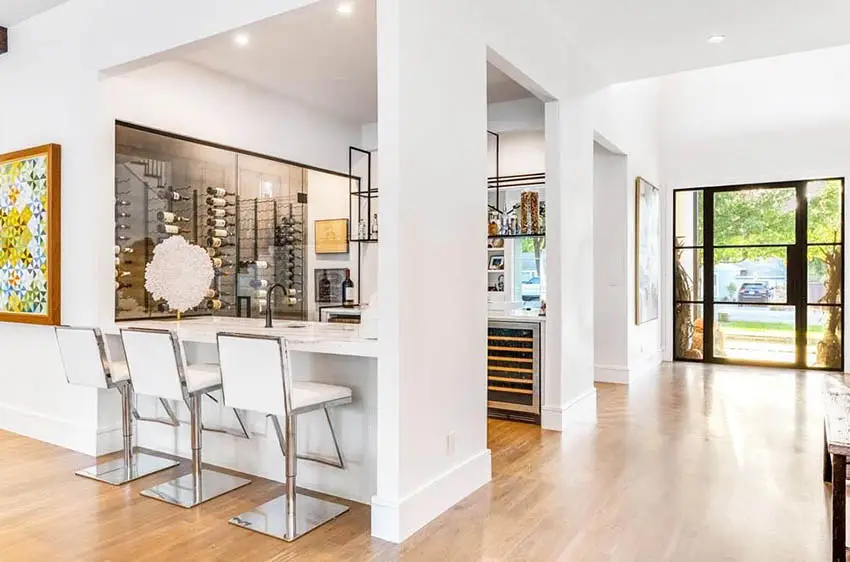 This modern home wet bar features a closet, marble countertop, and refrigerator.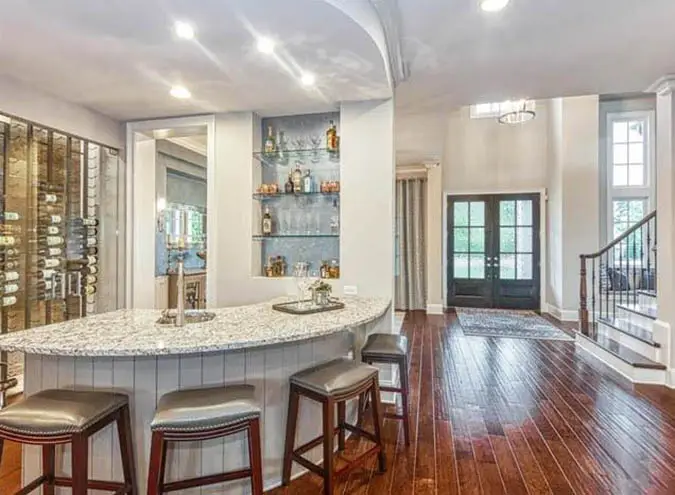 Home bar with circular countertop island and closet.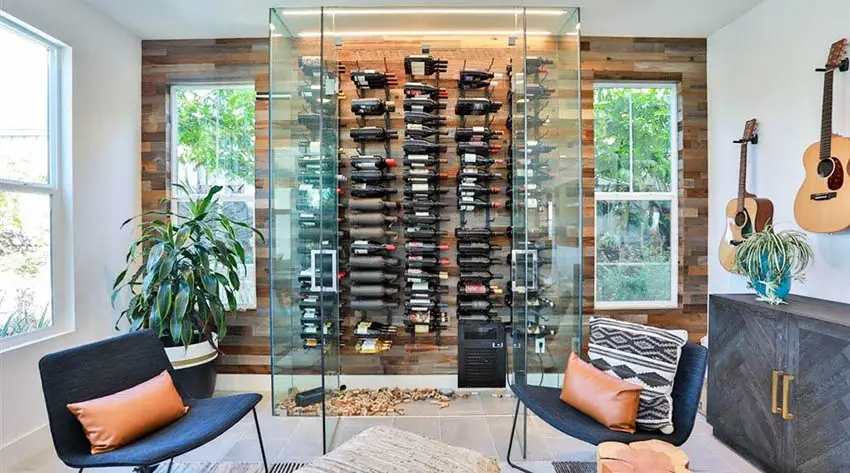 This stylish man cave design with closet and accent wall makes a great spot for relaxing and entertaining guests.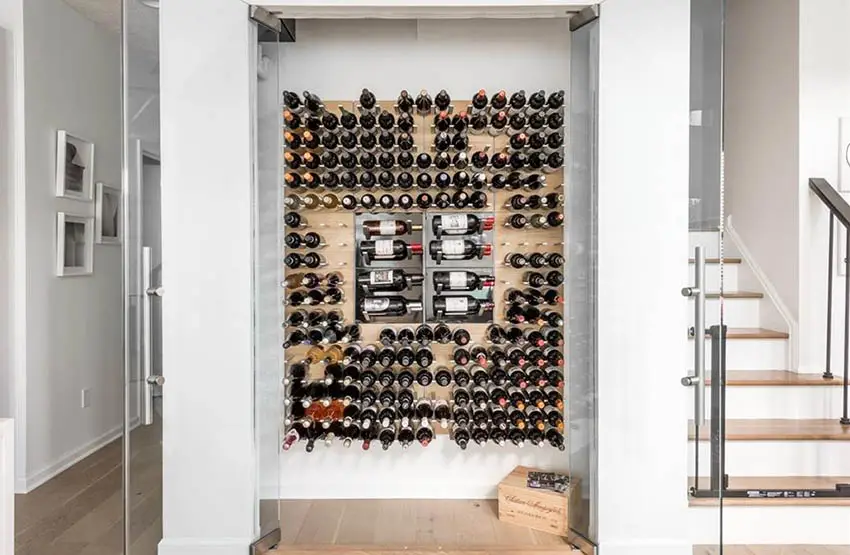 With pivoting glass doors, this storage design under the stairs creates an interesting conversation piece near the entry to the home.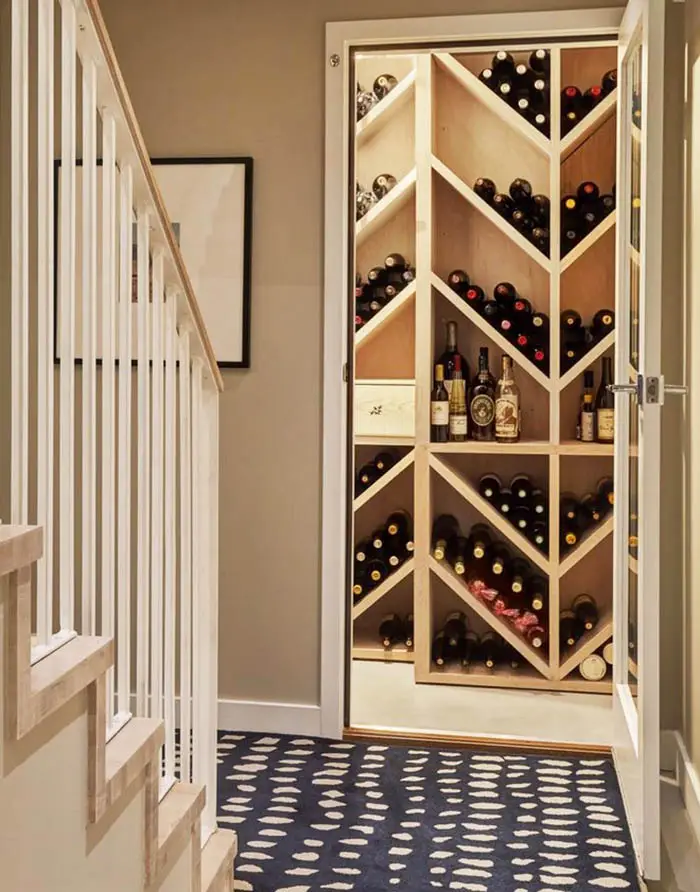 Racks can be slanted for proper wine storage and sorting the different types.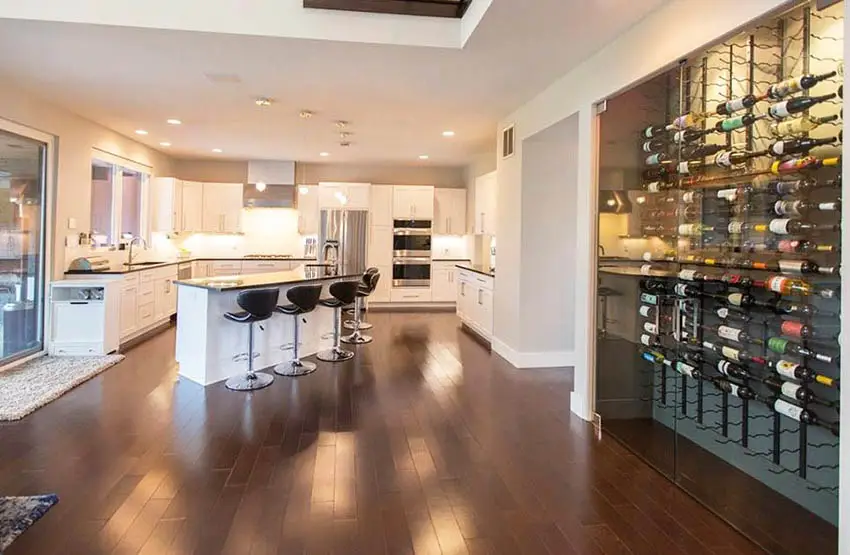 This large storage option is displayed prominently right off the kitchen area.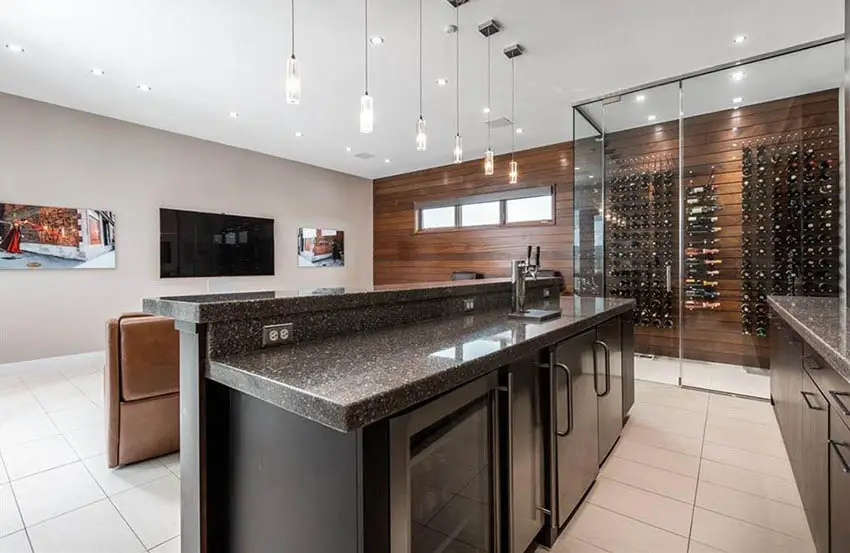 Kitchen with wood accent wall, dark cabinetry, pendant lighting, and glass storage. These ideas often use elements such as lighting and accent walls to help create drama and visual interest for the design.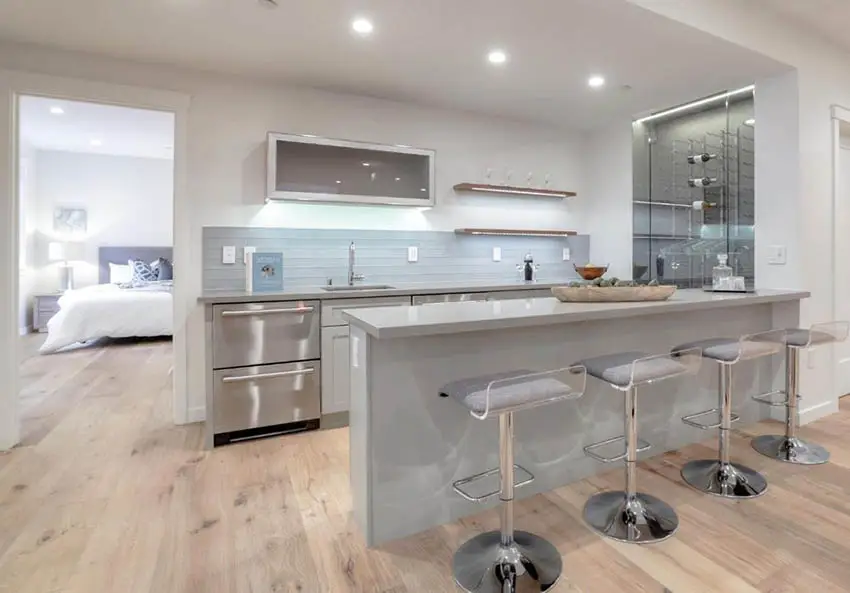 This modern kitchen has a closet with recessed and linear lighting, gray cabinetry with no upper cabinets, and a dining peninsula.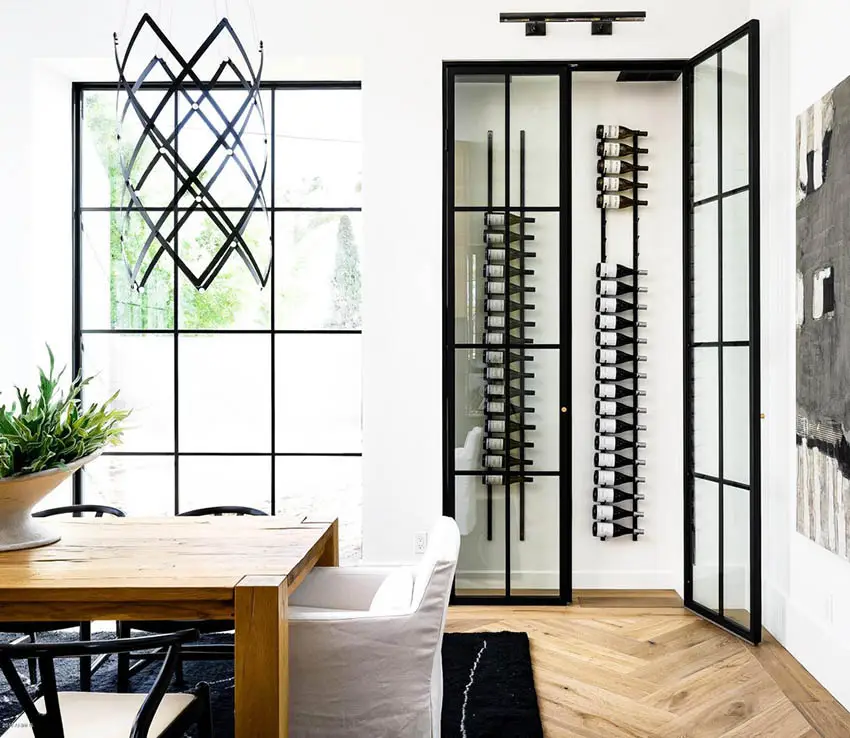 Contemporary dining room with closet with black framed glass doors.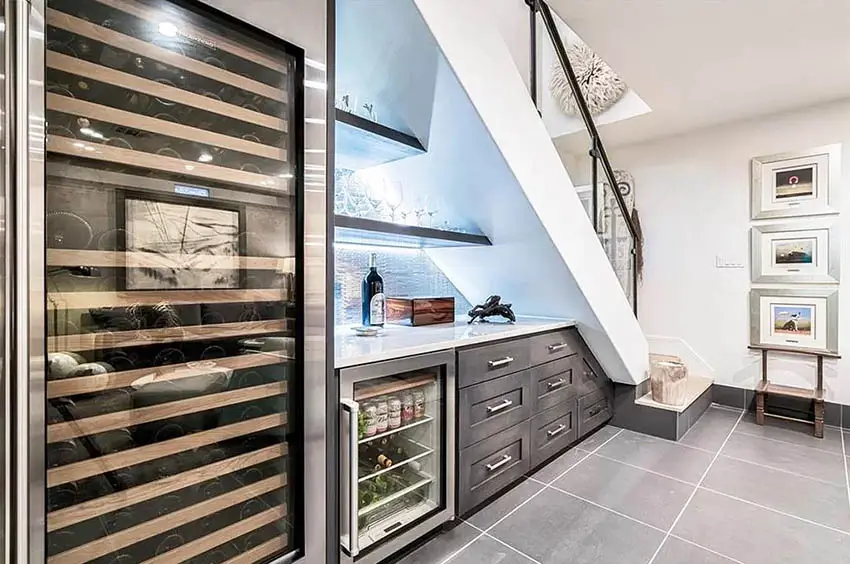 This interior design showcases a custom home bar under the stairs complete with a large wine refrigerator.