Here we share our bookmatched porcelain slabs gallery including designs, benefits, cost, differences from marble, and where to buy a bookmatched porcelain slab.

Bookmatched porcelain tiles are the result of having multiple marble surfaces matched together. This results in an adjoining surface that mirrors each other and gives the appearance of an open book. This is where the name bookmatching came from.
How this effect is achieved is by getting a block of marble cut into slabs. This is very similar to a loaf of bread being cut into individual slices. Once the slabs have been cut, they are then systematically numbered.
One side of a slab is polished while the other is left unpolished. They are then laid side to side, one side polished and one side unpolished. These slabs are laid out end to end and this continues on and on with no break in the pattern. This is for natural marble. The swirls, designs, and patterns are naturally occurring and usually can't be controlled.
This creates an effect of a mirror image appearance. It can look both traditional and contemporary at the same time but either way, it looks gorgeous and stunning all the same. This appeals to people who appreciate beauty and symmetry.
What Is A Bookmatched Porcelain Slab?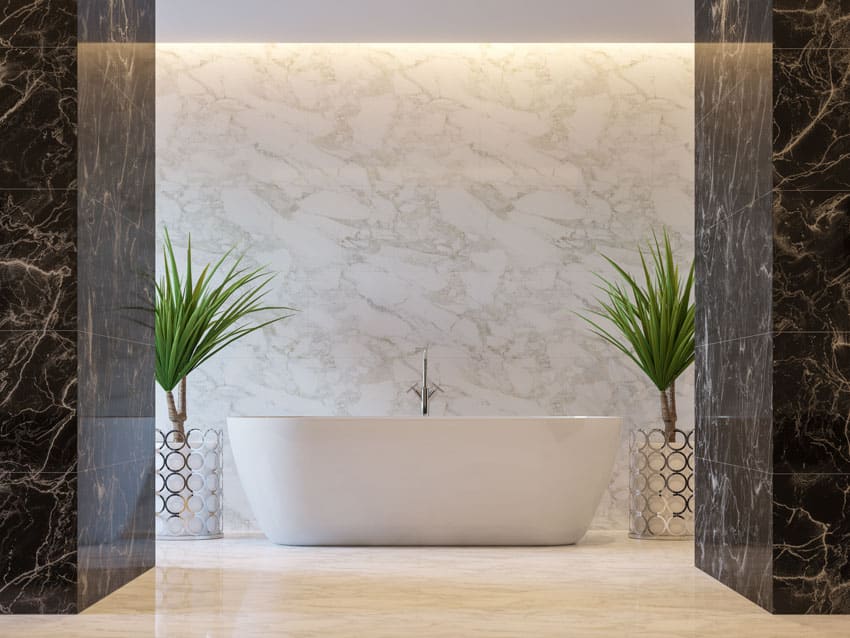 Porcelain can be found all over the home but it also conveniently and practically come in tiles. Porcelain slabs come in sizes that are much larger, typically at sizes of 10 by 5 feet or so. They are also oftentimes custom ordered despite the large sizes they come in. they are typically 6 to 12mm thick.
And although they are much thicker than your typical tiles, they are still far thinner and lighter compared to traditional natural stone tiles. They are artisanal in nature but their overall production is more high-tech and automated.
A bookmatched porcelain slab looks just the same as with a bookmatched marble slab, only a bit more different. The case is a little more different with bookmatched porcelain tiles. They look just the same but the difference is that there's a little bit more control and deliberateness in the patterns and the swirls.
The veining and the colors can be as intense or as subtle as the manufacturers want it to be and you will always have the power of choice. What these tiles create are visually gorgeous patterns that are symmetrical. They can be applied both for your interiors as well as your exteriors.
This effect of having the appearance of natural stone is presented neatly and deliberately in the porcelain tiles. There's so much more intensity because there's control in how the veining and the patterns are laid out as a result.
The compositions can be quite unique and ultimately, the sky's the limit when it comes to the designs that can be produced. You're bound to find a color, design, and veining pattern that works just perfectly with the design aesthetic you have in mind for the specific types of rooms in a house.
What Do Bookmatched Porcelain Slabs Resemble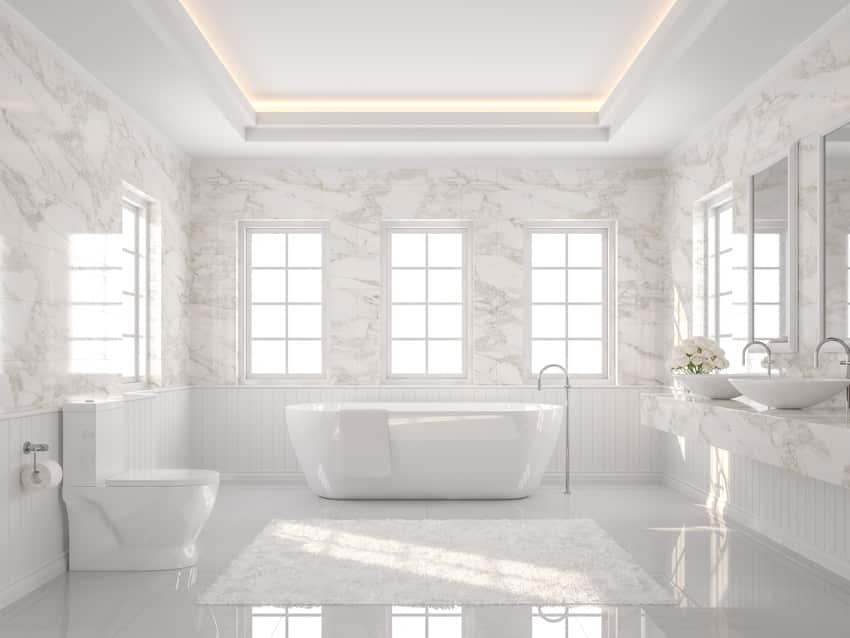 Bookmatched porcelain slabs installed in all of the right places can easily be the focal point of any space you're designing in your home. If you're ever curious what they look like, they resemble marble slabs that look like an open book, hence the name "bookmatched".
These bookmatched porcelain slabs offer all of the beauty and visual appeal of marble slabs symmetrically juxtaposed side by side but at the same time, they have all of the functionality and durability that porcelain times are famous for.
They offer seamless wall designs but at the same time, they can also be applied on floors or literally any flat surface that you can possibly think of. They look clean and seamless and some would even say that they resemble the look of a butterfly's wings, depending on how the veining or patterns are laid out.
Ultimately, the porcelain slabs look like a mirror image of each other. Aside from marble, depending on the design, they may also closely resemble any type of natural stone that the manufacturers would like to make them look like.
These porcelain slabs can come in various sizes, colors, or even texture of the surfaces. This creates a look that's very dramatic and with a very high impact. Bookmatched marble slabs usually fetch very high prices but bookmatched porcelain slabs can get the job done just the same but with far less cost.
This lower price tag appeals to most homeowners and they can resemble the appearance of marble, onyx, or any other type of natural stone out there. They can also turn out to be far more practical as the surfaces that they have to require far less maintenance and they are also far easier to clean.
Benefits of Bookmatched Porcelain Slabs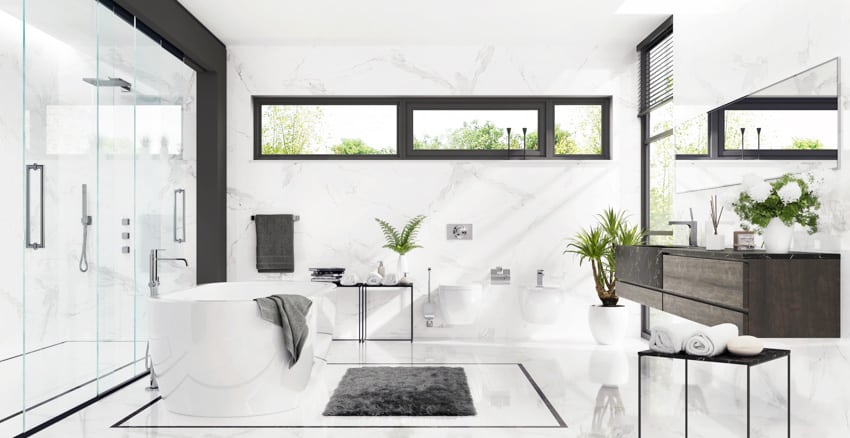 Lower costs: Porcelain slabs are cheaper compared to natural stone slabs. They cost less but they deliver more or less the same look and effect. See more pictures of porcelain tile that looks like marble here.

Fewer seams and joints: Bookmatched porcelain slabs are ideal if you want to create a luxurious look that's seamless and with very few seams and joints.

Less grout used: During the installation, since the slabs are fairly heavy and are laid side by side, there's less need for grout. This means that the installation wouldn't be as messy and the end result would end up being far more appealing.
Easy installation: Since the installation for bookmatched porcelain slabs wouldn't require any more than an adhesive along with some epoxy or cement grout for the minimal seams; it can make it very easy and convenient. This should be done by professionals though and isn't recommended to be done as a DIY project.
Easy maintenance: Porcelain is a material that's very difficult to damage. At the same time, it's also very easy to maintain and keep clean. There is also no ongoing maintenance such as sealing required because porcelain slab is a material that's non-porous and extremely dense.
Heat resistant: Porcelain slabs are fired from very high temperatures. Any other temperatures they will be exposed to in the home environment will be much lower.
This makes your bookmatched porcelain slabs extremely heat resistant. They can at times be even good enough for those in need of durable types of kitchen countertops, if you so choose.
Resists staining: Porcelain is a material that isn't porous and is much denser compared to the others. They're quite ideal for residential applications as this makes them quite resistant to stains coming from spills, messes, or even food items.
Does not easily wear or scratch: Durability is one of the highest selling points of porcelain slabs. They're extremely durable and you never have to worry about getting them exposed to wear and tear or even sharp objects.
Can easily be installed on existing surfaces: Since most bookmatched porcelain tiles come in large-format sizes, this usually means that they can easily be installed over existing surfaces from counters to flooring to walls and so much more. They're great for all sorts of applications and installations. See examples of porcelain kitchen countertops here.

Unlimited designs: The sky's the limit when it comes to the designs you can get with bookmatched porcelain slabs. They can come in geometric patterns, marble-like swirls, solid colors, in wood appearance, in stone appearance, in concrete appearance, and so much more.
How Much Are Porcelain Slabs?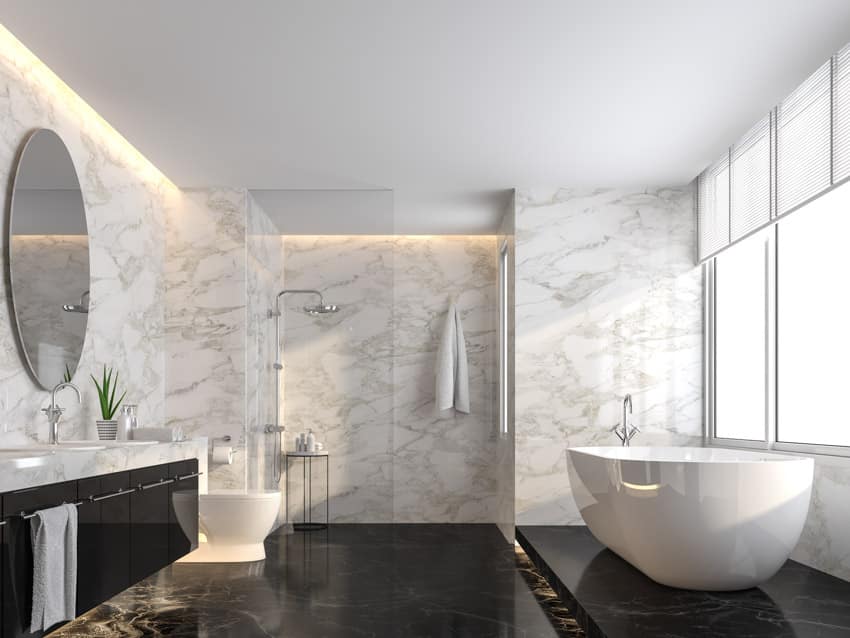 If the cost of porcelain slabs is a concern for you, it shouldn't be. They are reasonably priced. For the main materials, a porcelain slab can cost $8 to $12 per square foot. Marble, on the other hand, ranges from $10 to $25 per square foot depending on the size, thickness, and quality.
Is Porcelain Cheaper Than Marble?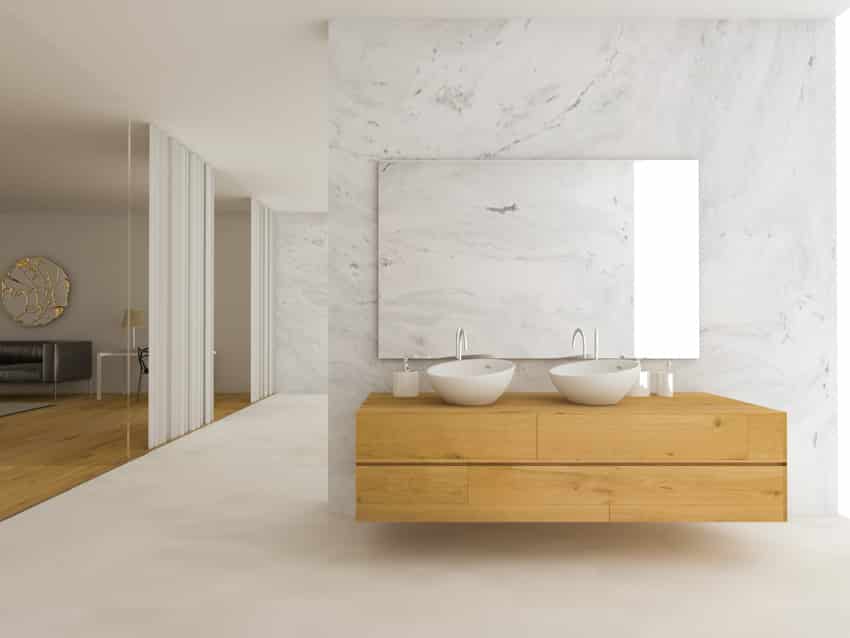 Porcelain is definitely cheaper than bookmatched marble. However, if the case is with customized marble tiles, you can expect the price tag to be so much higher and the price difference to be so much more significant.
Porcelain is definitely less expensive. If you want to get the same look for less, porcelain is a much better choice than marble as far as cost efficiency is concerned.
What Size Do Porcelain Slabs Come In?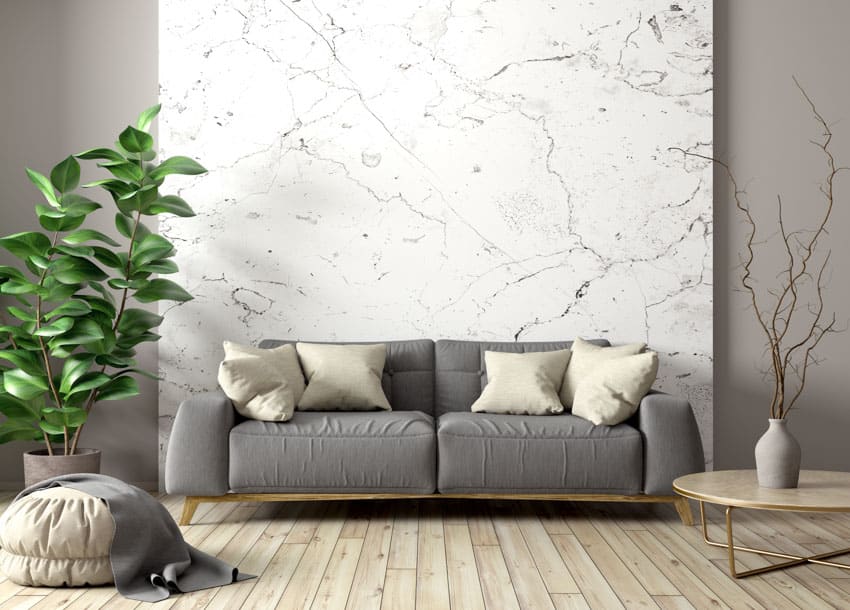 Porcelain slabs are usually most popular in large-format sizes. They usually have a thickness ranging from 6mm to 12mm. As for the shapes, they are oftentimes rectangular and can range from 10 feet by 3 feet to 10 feet by five feet.
This is possible with technological advancements and with better technology and automation in the manufacturing process of said material.
Where To Buy Porcelain Slabs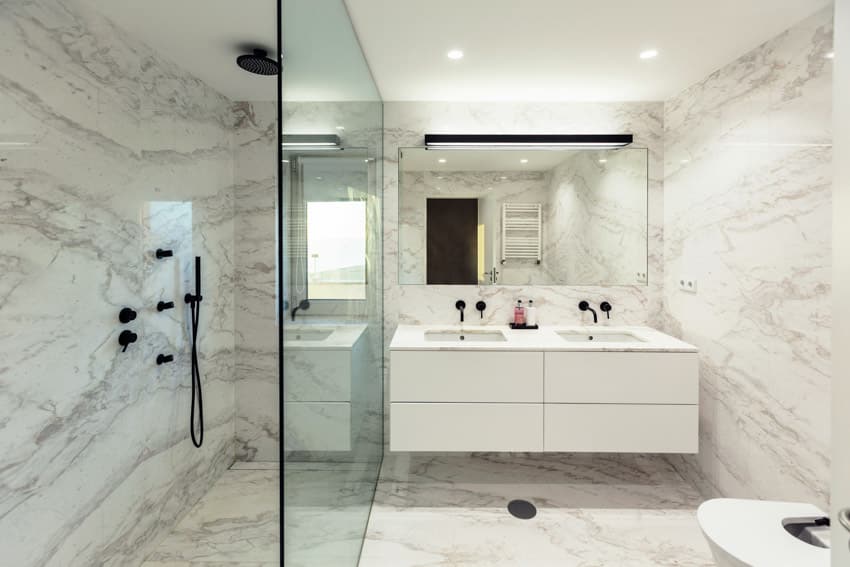 Home improvement stores and tile manufacturers' stores are usually the best places for you to get your porcelain slabs from in the US. Wherever or whichever is closer to you, there's a wide variety of bookmatched porcelain slabs for you to choose from. Here are some of the best places for you to consider:
Ann Sacks: This is the ultimate destination if you happen to be looking around for bookmatched porcelain slabs that go beyond the typical. The company started back in the 80s in Oregon and remained mostly in the Pacific Northwest area for several years.
Ann Sacks has slowly spread out all across the United States over the years though and now they have locations in most of the metro areas. If you live in the big city or close by, there's bound to be an Ann Sacks outlet you can visit.
Susan Jablon: This tile maker is based in Binghamton in New York. They have been in business since the 00s and have had a strong reputation in the designer tile industry.
Their specialty is mostly mosaic glass tiles but they offer up a wide variety of porcelain slabs as well. They also offer options to get materials shipped out and you can shop them from an online catalog.
Arizona Tile: If you want to go for something that's beyond the usual and want to go for unique choices, Arizona Tile is a good choice to buy your porcelain slabs from. Their stores are primarily in the Western United States and they offer a wide range of bookmatched porcelain slabs for you to choose from.
Florida Tile Inc.: Interestingly, Florida Tile Inc. isn't actually located in Florida, despite its name. its main headquarters are in Lexington, Kentucky but its distribution and manufacturing are based in Lawrenceburg. They've been around for over half a century and they're considered as a household name in all sorts of tiles, including bookmatched porcelain tiles.
Pave Tile, Wood & Stone, Inc.: This company offers the most unique tiles as well as stone and porcelain slabs. This company was established in Massachusetts back in the 00s and has since specialized in importing artisanal tiles from Italy, France, Belgium, and Spain.
Hakatai: Hakatai is a distributor and importer primarily of glass tiles and other imported tiles but they also offer stone and porcelain slabs. If you are looking for hard-to-find designs, this happens to be their specialty. They also offer carbon-free and green shipping so if you are environmentally conscious or aware, this can be an attraction as well.
Clayhaus Ceramics: This company was first established in the Oregon area. Their brand is that of a very hands-on and personalized approach. Although they're considered as a fairly small tile studio, Clayhaus Ceramics offers a massive selection of bookmatched porcelain tiles in all sorts of colors, patterns, and designs.
Bedrosians Tile & Stone: Bedrosians Tile & Stone is both a distributor and manufacturer or high quality tiles and stone slabs for over half a century in the West Coast area. They have physical stores in over half a dozen states as well as patrons from all over the globe. Their main attraction is their user-friendly online store.
Modwalls: Modwalls is a company that's a true force to be reckoned with in the artisanal tile industry and a great store to consider when you happen to shop around for high-quality bookmatched porcelain tiles.
Modwalls doesn't have a physical store and its presence is purely online. This company is based in California and specializes in unique and unusual designs.
Bisazza: This is an Italian company that's based in Vicenza, Italy but it has since spread out into flagship stores all over the globe, including in the United States.
If you want to shop around for high-quality and unique bookmatched porcelain slabs, this company is worth consulting as they have internationally renowned designers.
See more related content in our article about bookmatched quartz slabs on this page.