This gallery of the types of balloon shades showcases what they are, different panel styles, materials, hardware, best width, and how to hang a balloon shade.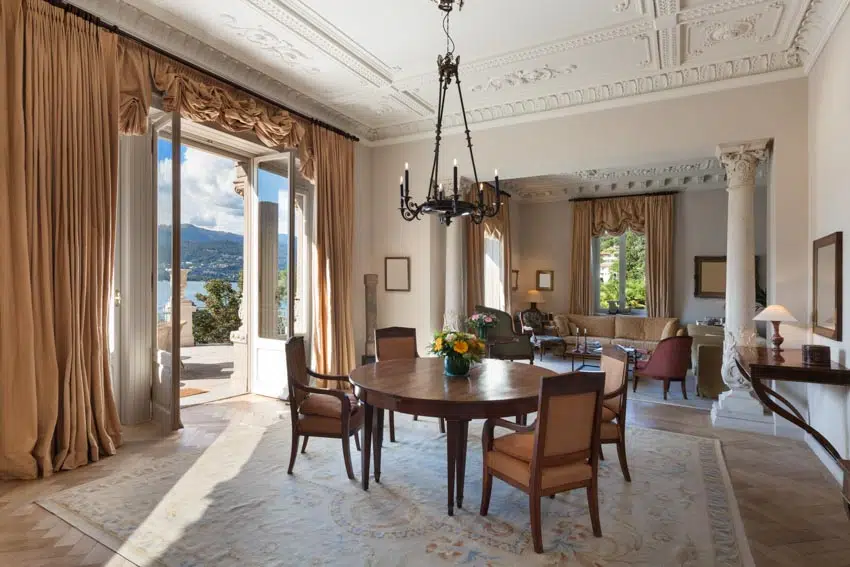 The best thing about designing your home is the creative freedom that comes with it. Every decision is on you and seeing the entire style manifest in front of you is incredibly fulfilling. And it is the best opportunity to integrate your individuality and personality into your home, specifically its interior decor.
Window treatment is one of the ways to spruce up and customize your interior decor and balloon window shades are excellent options to explore.
These shades are unique and whimsical yet they are designs that date way back in time and are usually installed in a formal setting. And they are popular because of their distinct texture and softness, on top of how decorative they can be.
One thing you need to ensure is that the shade you choose can seamlessly blend into your home's existing interior. And exploring what balloon window shade is and the different types you can skim through is a good first step to take.
What Are Balloon Shade Curtains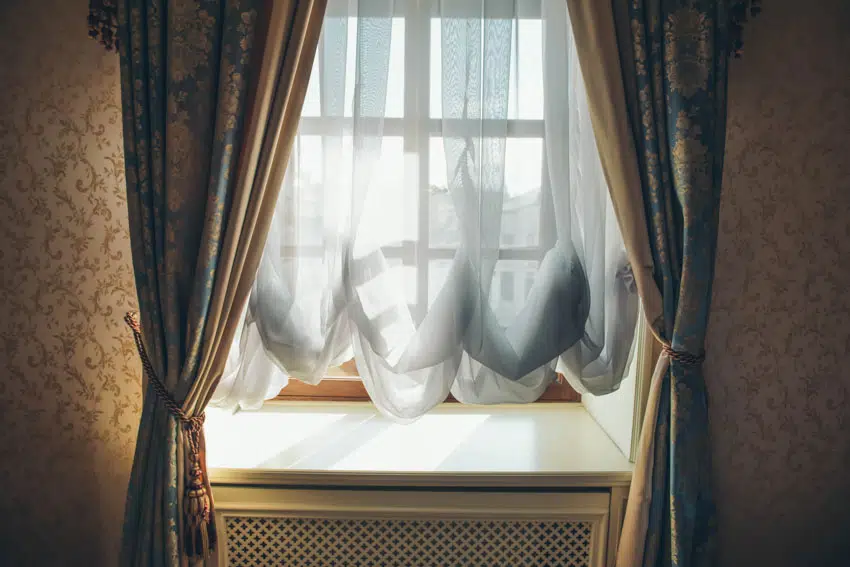 A balloon window shade is a window treatment that involves a fabric that can be pulled up and down using a lifting mechanism or cord. While it may sound similar to blinds, it is different in a way that blinds involve slats while shades involve a solid piece of material. Both can be functional and decorative at the same time though.
Here are some of the benefits you get from using balloon shades:

• Serves as a tool to adjust the light that can come inside the room
• Offer a form of privacy to your space
• Adds aesthetic value to your home without taking up much space and costing you too much
• Ideal for intimate and romantic setups
• Enhances the room's elegance, especially in the bedrooms
• Can be used in a variety of areas (not just for windows), including kitchens and door transoms
The downside with balloon shades though is that despite the benefits and functions they play, they require regular maintenance that includes folding, straightening, and fluffing.
Balloon shades are popular for their softness and elegance with their poufs that can come in transparent or deep colors in soft fabrics.
Some of the soft fabrics that can be used for balloon shade curtains include linen, cotton, sheers, and silk. And they can also come in a variety of colors, patterns, and textures.
These shade types of curtains have puffy festoons and inverted pleats that balloon and billow at the bottom, giving a different twist to the aesthetics of the room. Making a statement is also possible with balloon window curtains.
You need to know the type of balloon window shade to install to create the effect and ambiance you're going for. Exploring the different balloon shades you can consider is the best next step.
Balloon Window Shade Types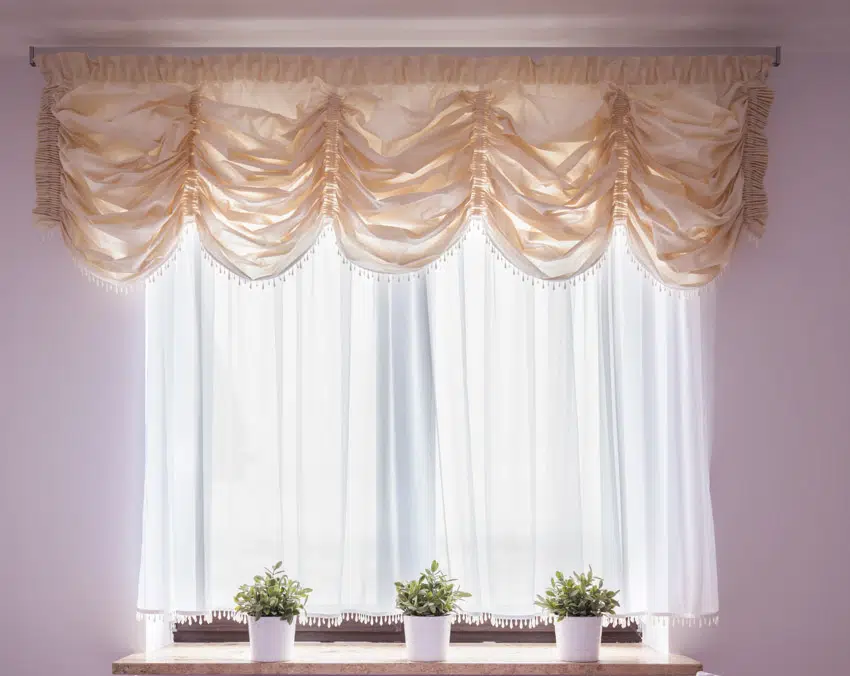 Choosing the ideal type of balloon window shade is vital in creating the right ambiance you want the room to have and for the element to contribute to. Different types of window shades can have varied sizes, styles, patterns, weights, textures, and colors.
Before you choose among your many options, measure the area where you will install the curtains, whether it's the bedroom window or a door between the living room and kitchen. And another consideration you need to take into account is how often you plan to adjust the light using the shades.
If it's an area that needs to constantly have light coming inside the room, you need to choose a type that can easily be adjusted like the Roman shades or other roller options. If it's more of a decorative window shade, stylish tie-up shades or balloon shades may be better considerations.
Balloon Roman Shades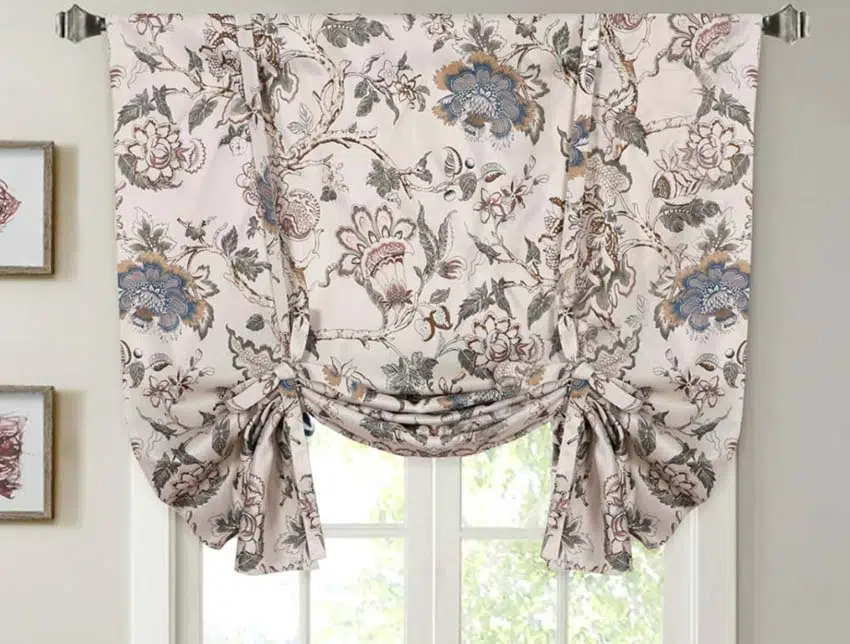 See this balloon roman shade set at Amazon [sponsored link]
A balloon Roman shade is a classic style that features a durable and versatile fabric. When these types of window shades are closed, they hand down flat. They then turn into a group of deep and horizontal pleats when they are open.
This is made possible through the attached cord that lifts the fabric and creates the pleats. The cords run through the rings installed on the back of the shade to gather the fabric into romantic billowy poufs when pulled open.
Roman shades are popular for their crisp shades and in order to achieve them, the fabric needs to be durable enough to form them. The trick is to choose a complementary fabric capable of creating the pleats in a sturdy yet stylish way.
Heavy fabrics are mostly preferred for these functions. You can create a specific look, from French, country, and Tuscan to Hollywood glamour by choosing the right fabric.
These pleats are exactly why these shades are also commonly known as Roman blinds. And it is because of their features that they have become popular and sought-after since, besides the basic function of blocking out the sun, their aesthetics is also an excellent addition to the home's interior.
They come in both as a full-window length shade and valance. And with many patterns and colors to choose from, you have the freedom to blend the shades to the current style of your room and home.
Balloon Shade Valance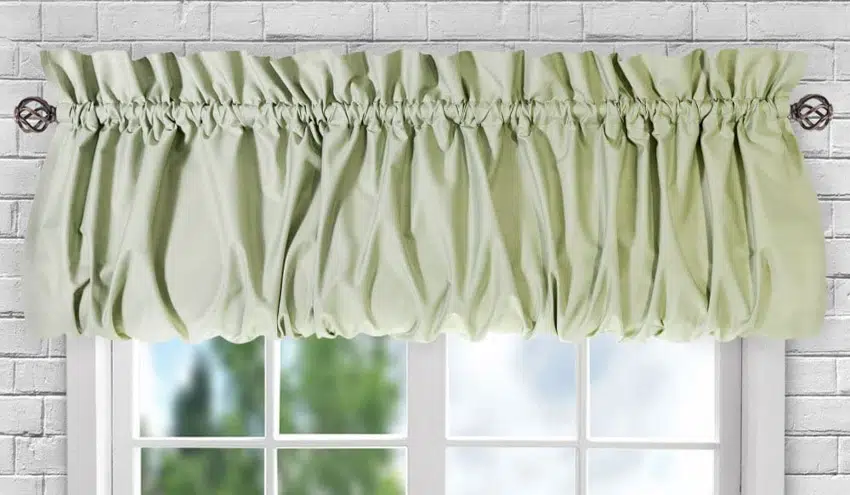 See this balloon shade valance at Amazon [sponsored link]
Ideal for formal and decorative shades, balloon shade valances are popular window treatments that involve a voluminous fabric installed in distinct and beautiful poufs at the top of the window.
This type has the folds stacked at the bottom of the valance because of the needed volume. A balloon shade valance can either be gathered or pleated and you need to know which one you can install at home.
• Gathered: Consists of wide poufs by gathering the valance in parts on the curtain rod it's installed in. The trick is to be long enough to create poufs and having more length will create more pronounced poufs. Fringes are aesthetic additions to your valance's poufs and you can use them to embellish this type of shade.
• Pleated: Features modern, clean, and tailored pleats that may not be as romantic as a gathered balloon valance but it's aesthetically pleasing and can work wonderfully for contemporary or transitional rooms.
This look is accomplished by forming inverted box pleats with the fabric. Compared to gathered balloon valance, this type has flat poufs and so can be prominently displayed and stand out
Rod Pocket Balloon Shade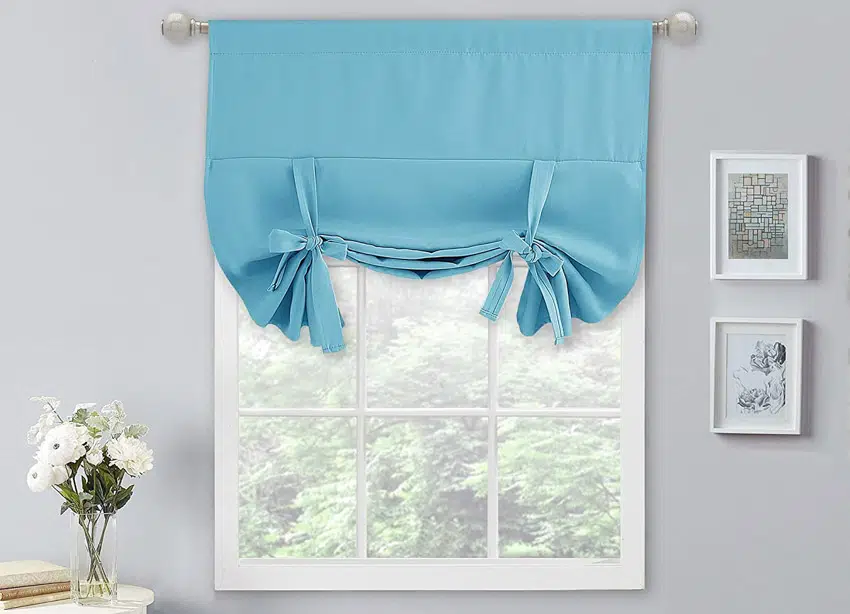 See this rod pocket balloon shade at Amazon [sponsored link]
A rod pocket balloon shade is one of the most common types of a balloon window shade. This type has a casing or sewn-in pocket where the rod pocket is easily placed and concealed in. Some of these shades are designed to fold over on the top part, where the rod will be hidden.
If you're thinking of choosing this type of balloon window shades, here are the benefits you can get from them:

• Easy and seamless installation: With its built-in pocket, it is ideal for rooms with a curtain rod that's already mounted on the wall. You just have to slide the rod over the pocket and won't need extra equipment for its installation.
• Cost-effective: They are considered more affordable compared to other thicker balloon window shades. Depending on the fabric you choose though, the prices can go up or down.
• Aesthetically pleasing: Rod pocket balloon shade looks wonderful in casual style, which is the reason why many homeowners prefer this type.
One drawback with rod pocket balloon shade is that it's not designed to be constantly opened or closed so this may not be a good option if you need something for a window that you open or close often.
Custom Made Balloon Shades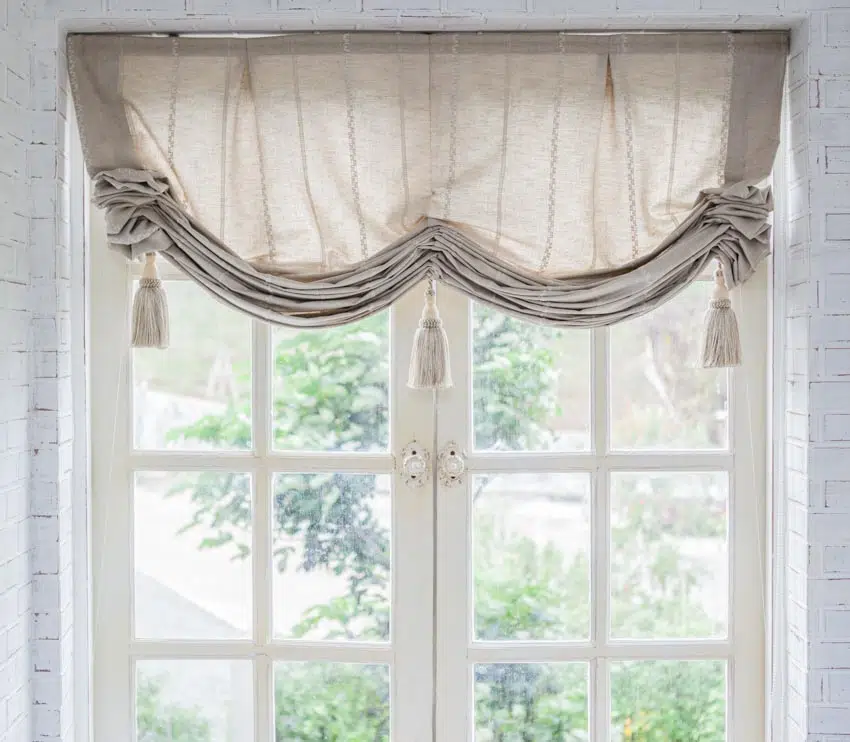 Custom-made balloon shades are not that difficult to create, especially if you already have a design and look in mind. You have the flexibility to choose whatever fabric you deem can create the aesthetics and function you're going for.
There are different ways that you can gather and loop the fabric to create the style you plan to integrate into your home. This is the best thing about custom balloon shades in the first place.
If you have the time and the experience, you can DIY whatever design you want to have or you can hire an expert to do it for you.
Room Darkening Balloon Shades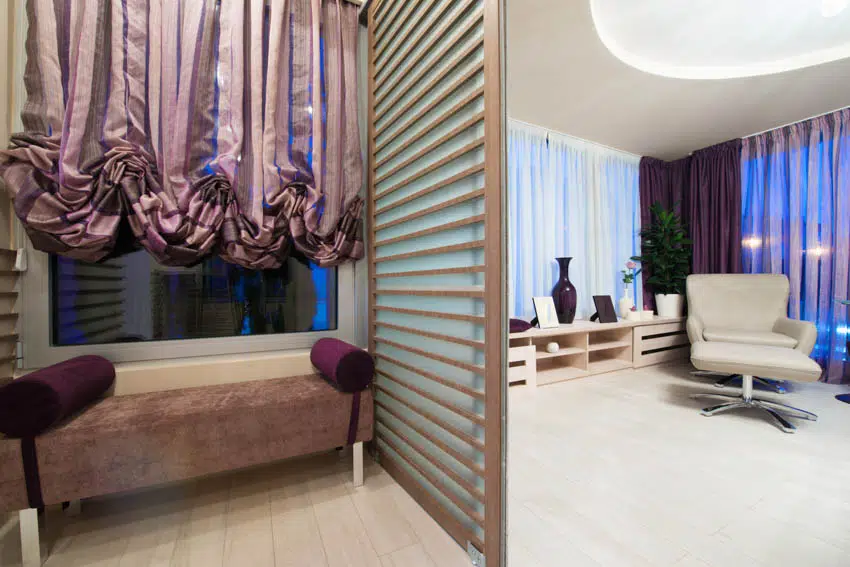 Room darkening balloon shades normally come in fabrics with dark colors in order to create the effect that these shades are meant to do.
Since the main function of this type of balloon shade is to keep light from entering the room, these shades tend to come in heavy and dark fabrics.
This is because they are not meant to be opened and closed. It doesn't mean that it can't deliver stunning aesthetics though so if you choose this type, make sure you look for one that offers a beautiful view too. Read more about blackout curtains vs shades for more on this topic.

Sheer Balloon Roman Shades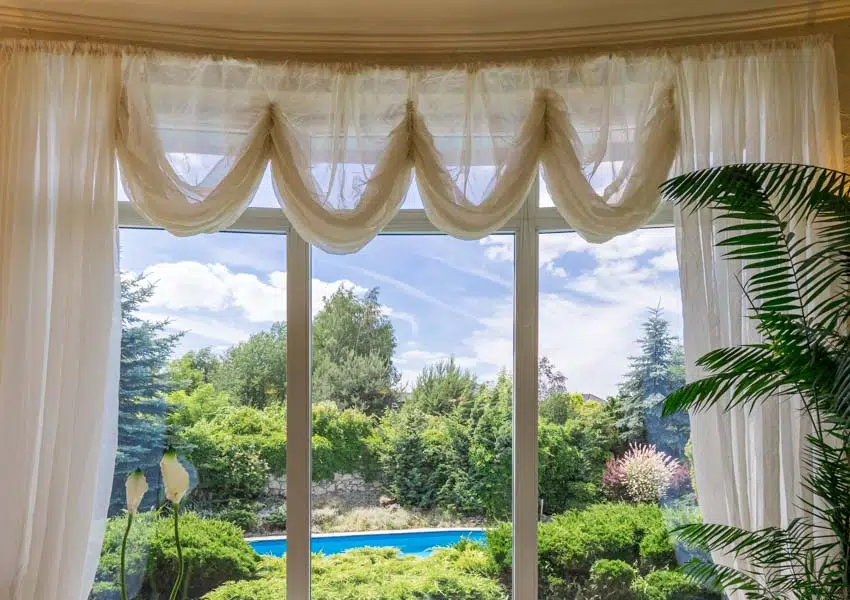 A sheer balloon Roman shade is the opposite of a room darkening balloon shade. It is made from airy, lightweight, and soft sheer material that can easily allow light to come through while making sure that your privacy is protected.
Sheer window treatments can come in a variety of colors, which means that these colors can beautifully reflect inside the room when the light is reflected.
They are usually mounted under the main panels and can be paired with other window treatments like valances. The sheer balloon Roman shades will fall elegantly from the panels and can add aesthetic value to the room.
Pleated Balloon Shade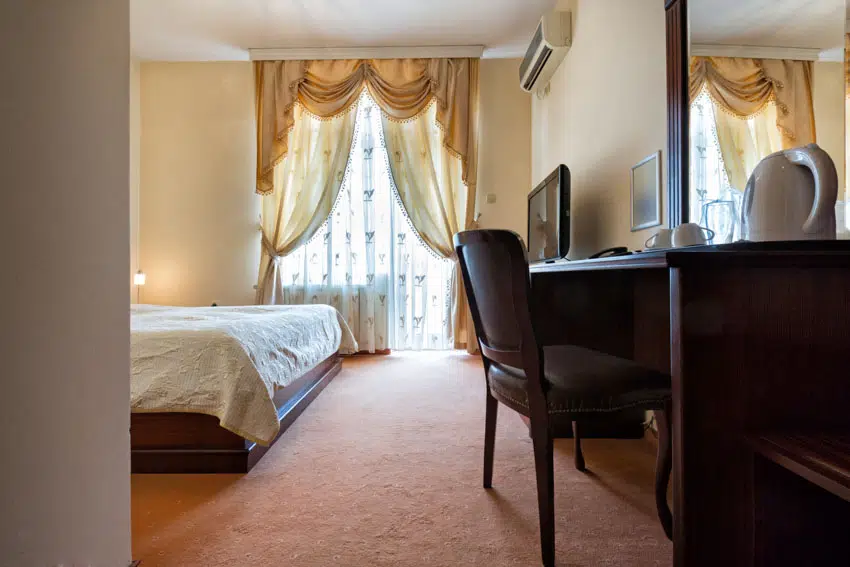 Pleated balloon shades feature aesthetics that falls in the middle of casual and practical types of window blinds and elegant and romantic drapery. Mostly voluminous, these shades are tailored and can be made from linen, cotton, silk, and sheers.
While it may come in different fabrics, printed plaids will not work with this type of balloon window shade. These shades are usually lined to form the pleats, except for sheer balloon shades and those made from silk. Silk shades need to always be interlinked to form the effect wanted from it.
Tie Up Balloon Shades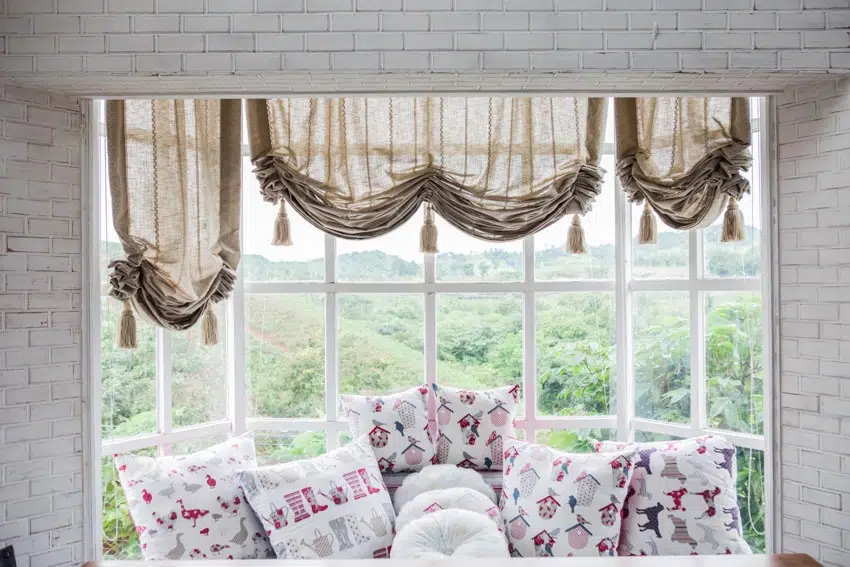 Ideal for a unique look and DIY options, tie-up balloon shades are popularly known as stagecoach style because of their aesthetics that are similar to a theater's stage completed with ties or attached ribbons that give them the graceful drape.
The fabric hangs elegantly flat from a rod but it can manually be lifted by hand to adjust it to the desired height.
The thing with tie-up shades though is that you would need to manually roll and unroll the shades to adjust them and tie the ribbon. You can also DIY this type of balloon window shade since it is simple yet looks stylish and glamorous.
Balloon Shade Materials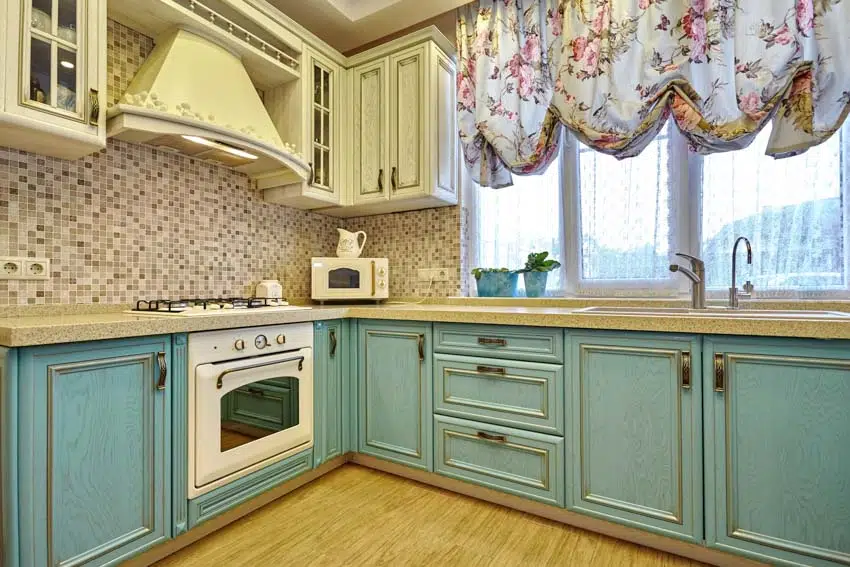 If you choose to DIY your balloon window shade, you need to be familiar with the materials to work with, particularly the fabric you use.
With a variety of lengths and colors, here are specific fabrics and when they are commonly used and popular:
• Lace, satin, and velvet: Ideal if you want to introduce elegance and luxury to the room.
• Heavy brocade fabrics: Best to be used as room-darkening balloon shades where the fabric is expected to stay put and their weight will be an advantage. They are mostly used in formal setups and homes.
• Lighter brocade fabrics: Ideal for rooms where you will need to adjust your shades to let the light inside every now and then. Sheer, cotton, and gingham are some of the light fabrics you can use.
Balloon Shade Hardware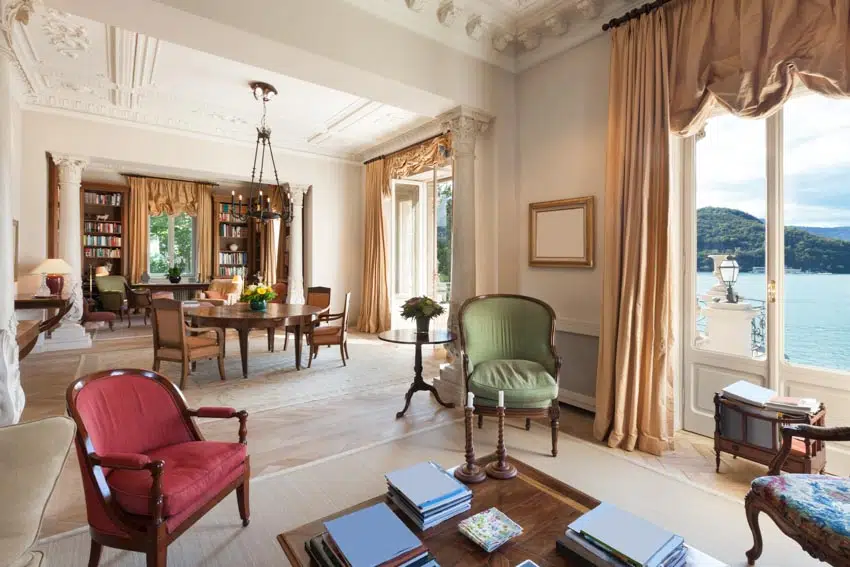 More than just fabrics to choose from, you also need to be aware of balloon shade hardware, including rings and cords that can be seen at the back of the shade (visible with sheer or lace fabrics).
Depending on the type of balloon window shade, the cords can run all over the back of the fabric to create the illusion you want your shade to have. Some shades make use of a welt or a decorative cord, which can be easily camouflaged lightly on the gaps at the top of the window.
How Wide Should Balloon Curtains Be?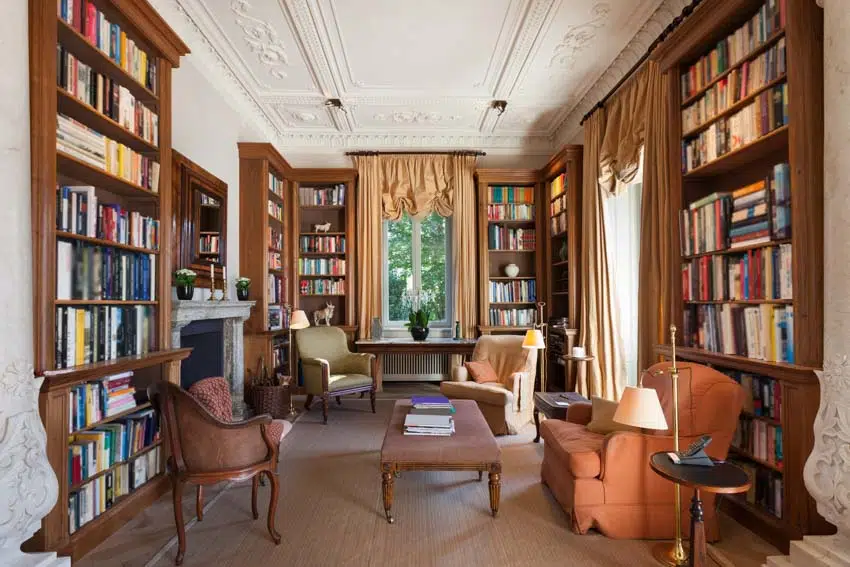 The width of your balloon curtains is dependent on where you will install them and the size of your windows. Measure the width of your window first by considering both ends of the mounting board to get this measurement.
Now that you have the width of your window, multiply it to 2 or 2 and a half for your curtains, and then add 3 more inches to consider a facing strip.
For the seam, make sure to add 1 inch to each side of the curtain. It is important to add these inches for allowances in the fabric.
How To Hang Balloon Shade Curtains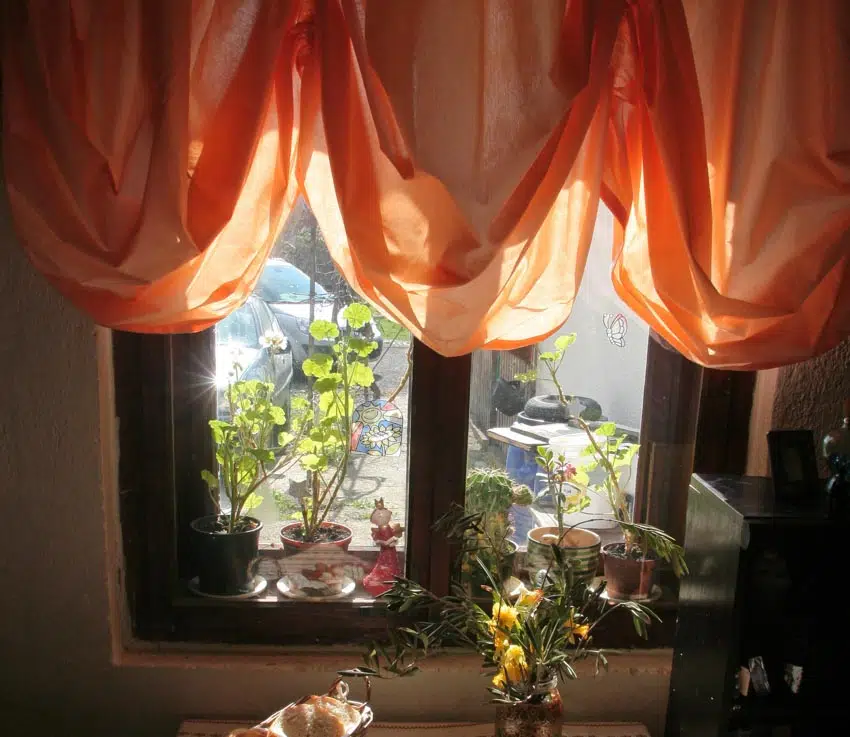 Hanging your balloon shade curtains can be easily accomplished but it's important to properly hang them to appreciate the entire effect.
Here are the simple steps to follow to help you along the way.
1. Lay your balloon curtain face down on the floor or the bed flat on the surface. Make sure that the rings are faced up.
2. Integrate the shade's hardware while it is face down, which can come in the form of one of the following:
• Balloon curtain frame
• Bungee cords
• Ropes/strings
• Strong paper clips
3. Slowly inflate your balloon window shade.
4. Install your window shade and depending on the type of shade you have, you can either insert the rings to a curtain rod or you can attach the paper clips onto the rope one at a time. (More paper clips will be needed if you install the shade higher from the ground so that it won't look sloppy and sag down.)
5. Make sure that there are no gaps between your balloon shade through your string and secure it to be more stable. Hang them at eye level and use small bungee cords for weight and tie one end of the shade and then finish it up with the other end.
6. Slowly release the bungee cord to take up the tensions in your balloon shade and finally hang your balloon window shade.
See more related content in our article about how high to hang curtains on this page.