In this guide to throw blanket dimensions, you'll see standard measurements for different bed types, oversized & crochet style sizes , and how to choose throws.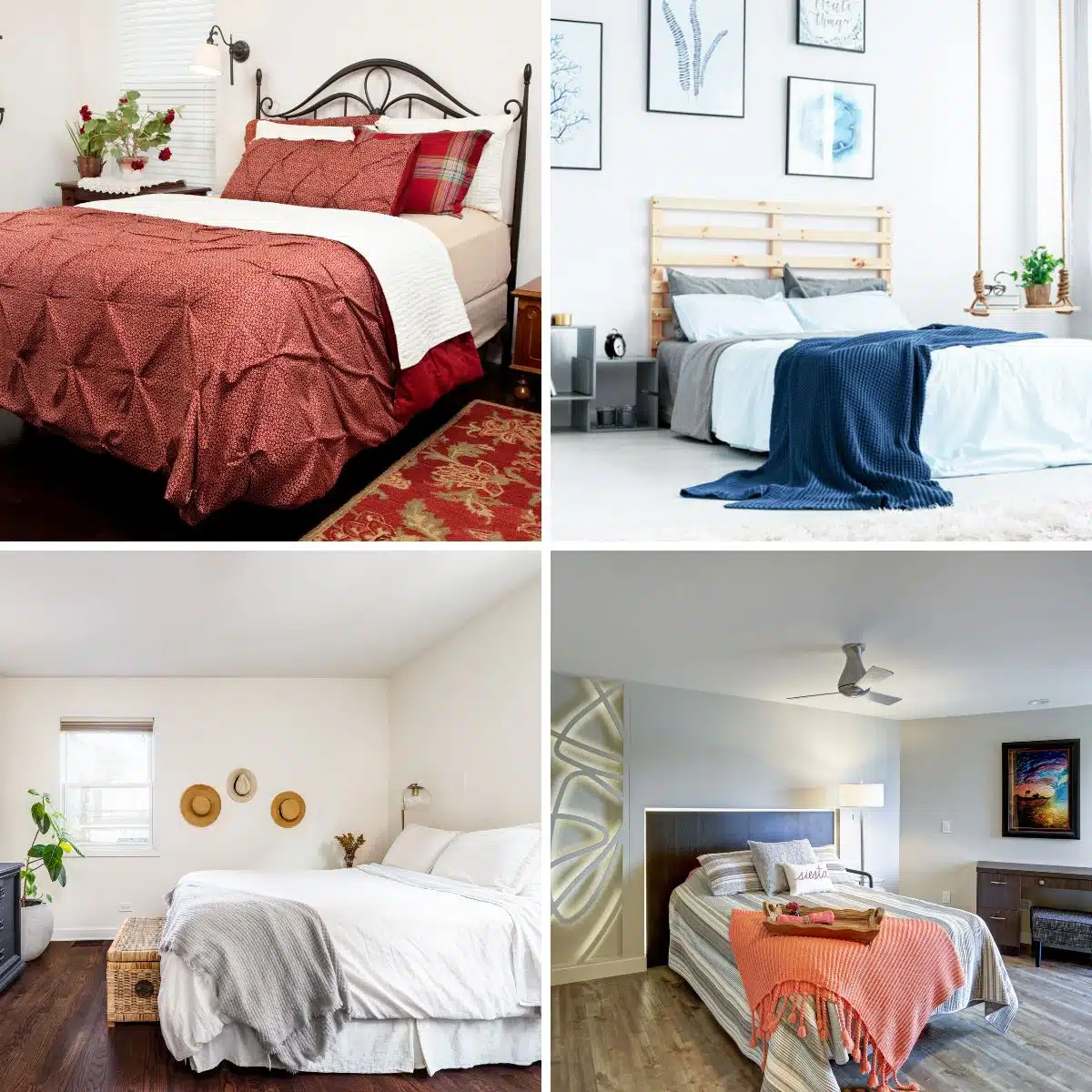 One of the most straightforward and effortless ways to add a design element and depth to any interior is by adding a versatile throw blanket, whether slinging one on the back of a sofa or placing one on top of your duvet.
Some confuse throws with afghans or regular bedding blankets, but they differ in many ways, including function and materials. Throws are mainly there for comfort and style. Think of it as accessories for your beds and sofas made from various textiles like faux fur, wool, velvet, cashmere, and many other colors that will pop in your interior.
Standard Throw Blanket Size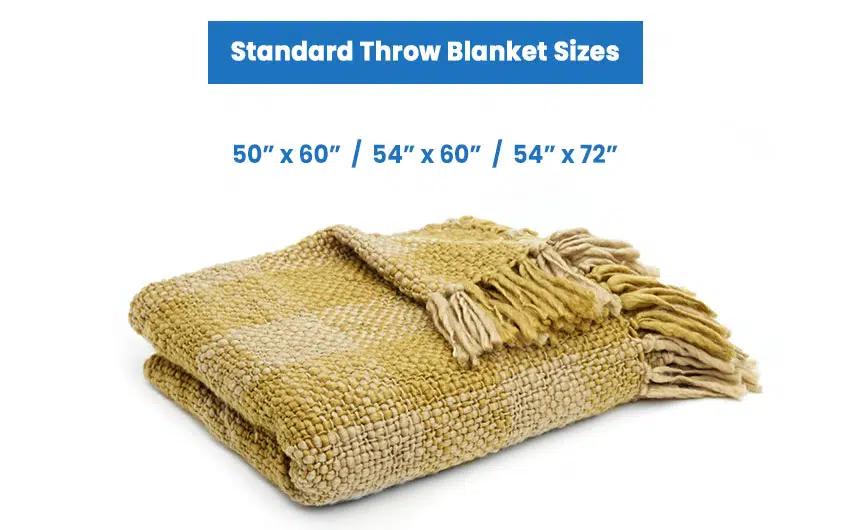 Aside from differing functions and materials, a throw blanket will be noticeably smaller than regular bed blankets. Most types of blankets will hang over the sides of the bed, while throws, on the other hand, will be more compact and not hang down on beds.
Throws are blankets sized for individual use and measure roughly 52 " x 60 ", although the exact size can vary based on the manufacturer. – Soft Goods Guidebook for Interiors, Stephanie Sickler
Many throw blankets will come in a standard or regular size at 50 by 60 inches or 127 by 152 centimeters.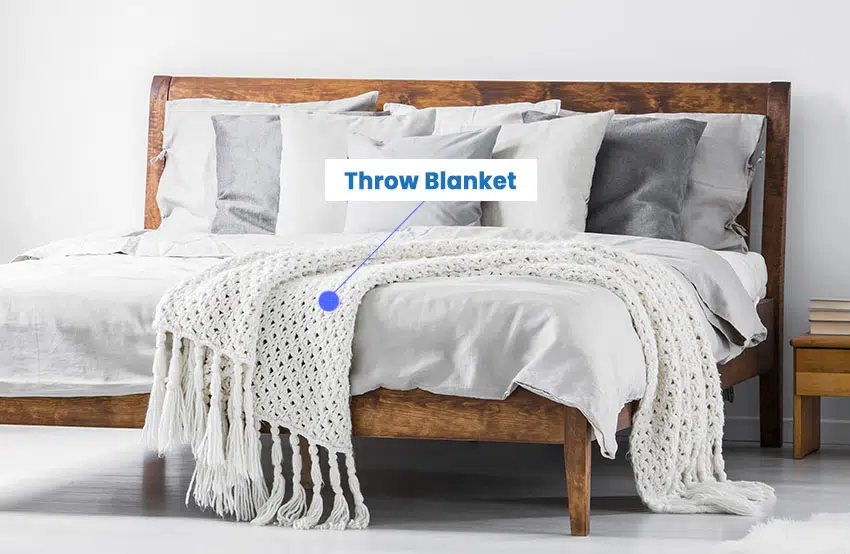 Some stores will also offer standard throw blanket sizes at 54 by 60 inches or 137 by 152 centimeters and longer ones at 54 by 72 inches or approximately 137 by 183 centimeters.
King Size Throw Dimensions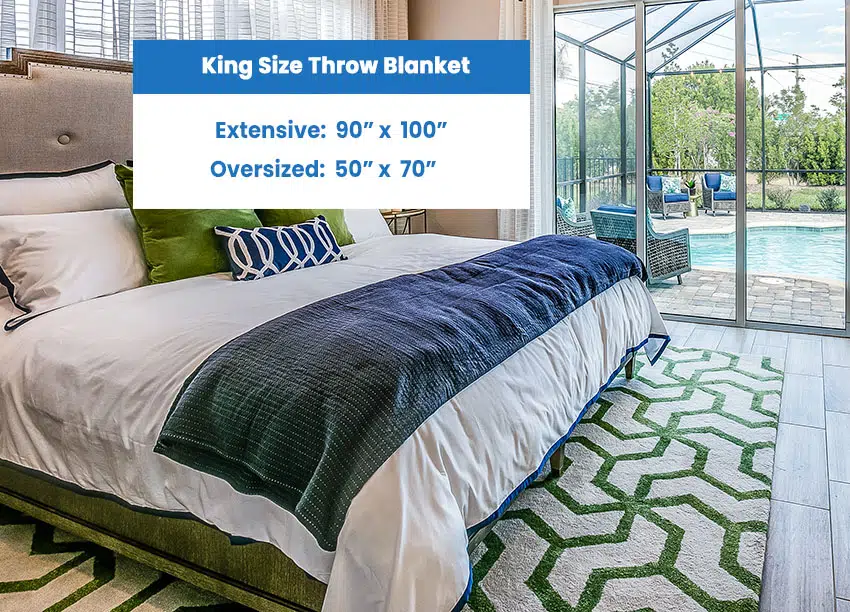 A king-sized bed is 108 by 100 inches or 274 by 254 centimeters, and finding throws to use for this size is rare but not hard. If a homeowner wants to use throws for this bed size, using the most extensive one is in order.
There are large throw blankets for this bed size with a width of 90 inches or 229 centimeters and a length of 100 inches or 254 centimeters. Most of these oversized throws will be found in specialty stores, and some can use the textile and color of their choice by having it made custom.
If you want a fix that you can easily acquire, using an oversized throw blanket at 50 by 70 inches and putting it on the foot of a bed will provide warmth and design elements to any room.
Queen Throw Size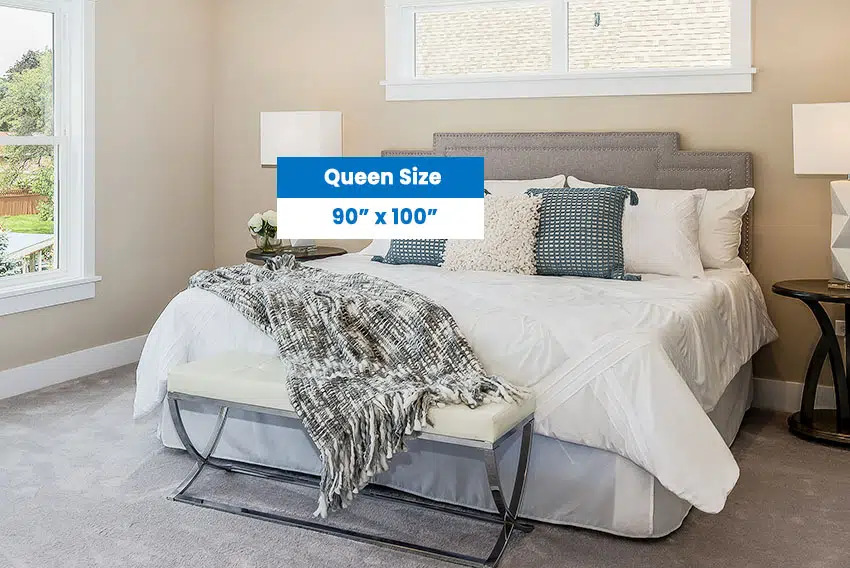 If you want to cover the entire extent of a queen-sized bed fully, you will need a throw blanket that is 90 by 100 inches or about 229 by 254 centimeters.
Like the throws for a king-sized bed, these bigger ones will be harder to look for, so the only possible option to buy bigger ones is to have them made custom or purchased from a specialty store.
What you can use as an alternative are oversized throws with dimensions of 50 by 70 inches or 127 by 178 centimeters, and put them on the foot of the bed.
Full Sized Throw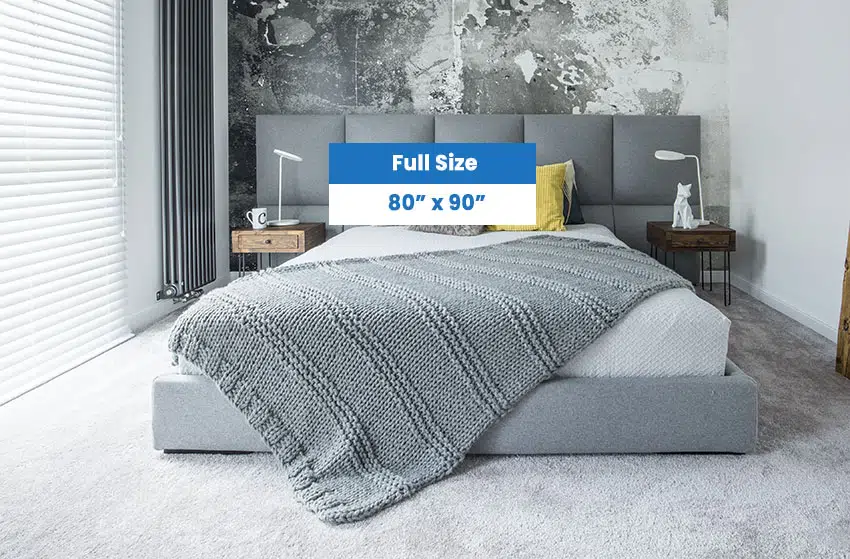 Throw blankets to cover the full extent of a full-sized bed should have a dimension of 80 by 90 inches or 203 by 229 centimeters. Sadly, there are still no throws widely manufactured and available in this size, but you can always have it custom-made to ensure that the covering will span the entire length of your bed.
Oversized throws are your best bet for a full-sized bed, and they will have a dimension of 50 by 70 inches or 127 by 178 centimeters.
Twin Throw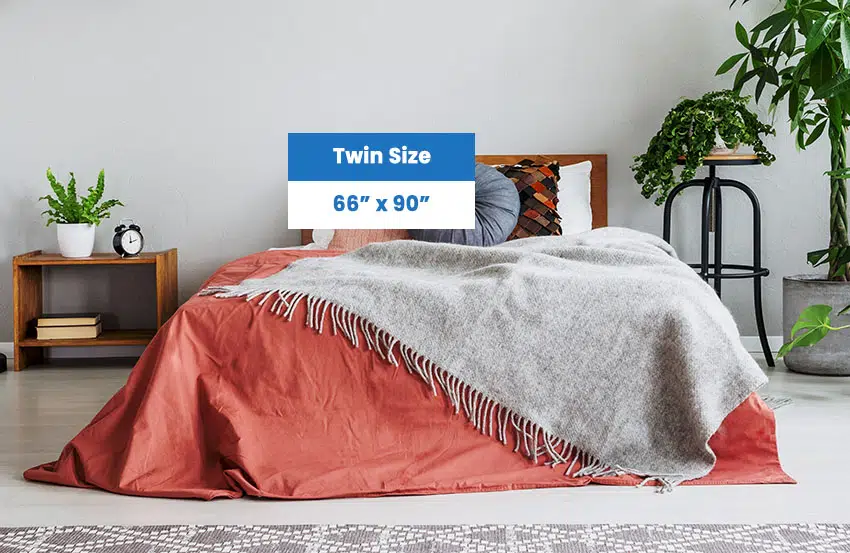 A twin bed will have dimensions of 66 by 90 inches or approximately 168 by 229 centimeters, so if you are planning to decorate your bed covering with an accessory blanket, then choosing one close to this size is the way to go.
Your best bet for a twin bed is a throw blanket with a width of 50 inches or 127 centimeters and a length of 70 inches or 178 centimeters. Put them on the foot of your bed for easy access during nap time!
Oversized Throw
If the standard throws that measure 50 by 60 inches or about 127 by 152 centimeters are too small for your needs, there are oversized styles that would look great on sofas and beds, no matter how small or big they are. A large throw blanket has a size of 50 by 70 inches or 127 by 178 centimeters.
This is the best choice for people looking to use throws for more extensive beds. Simply put it on the foot of any bed sizes, from king to twin, and it will make the bed look striking and cozy.
Crochet Throw Sizing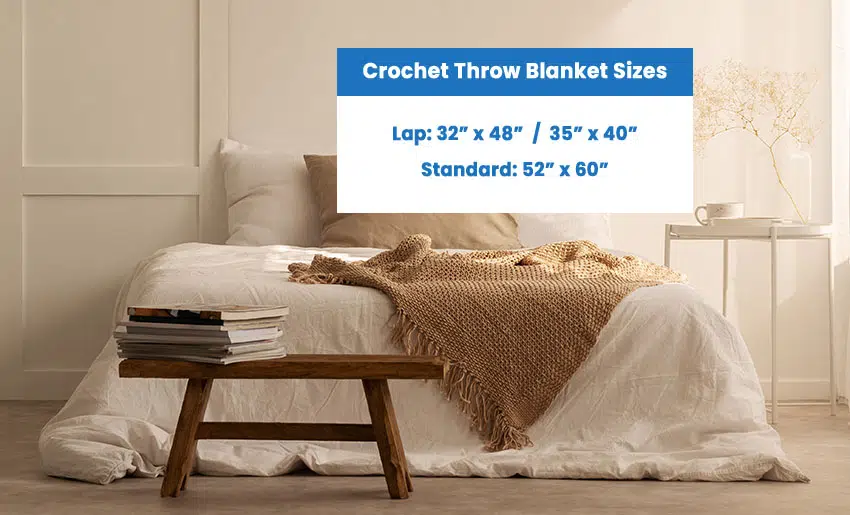 The ultimate throw blanket you can use to keep you warm, especially during wintertime, is a crochet style. These throws are great for sipping hot chocolate on the sofa or cuddling while reading a book in your bed.
There are two sizes available for crochet throws, and the first one is called "lap," with a size of 32 by 48 inches or 81 by 122 centimeters. You can also get a slightly wider one at 35 by 40 inches or 89 by 102 centimeters.
The standard crochet throw blanket will have a dimension of 52 by 60 inches or about 132 by 152 centimeters.
What Is A Good Size For A Throw?
The best size to fit any need are oversized throws measuring 50 by 70 inches.
It will work excellent for sofas and smaller beds, but it will also add a layer of comfort and design to more oversized beds.
How To Choose A Throw Blanket Size?
Function and style are the most significant factors when deciding what throws are most appropriate for your home. Are you using it as a solely decorative piece? Then, go for the standard size.
But, if you want to utilize the covering, especially for colder days and nights, your best bet is to opt for an oversized blanket slightly longer than the standard throws.
If you are choosing throws for your sofa, choosing a larger one will be good for snuggling with others or more easily wrapping yourself up.
What Material Is Best For a Throw?
Regarding the best material for a throw blanket, cotton is at the top of our list. Cotton is a natural fiber that is comfortable any time of year, hypoallergenic, and can be easily thrown in the washer when it gets dirty.
However, selecting the right material may come down to your individual needs and personal preferences. Here are a few of the most popular options available and their benefits.
| Blanket Material | Advantages |
| --- | --- |
| Cotton | Breathable, good for those with allergies, versatile for all seasons, and machine washable. |
| Wool | Warm, insulating, moisture-wicking, and fire-resistant. |
| Cashmere | Soft and luxurious, warmer than wool, comfy feel. |
| Fleece | Lightweight, warm, quick to dry, and inexpensive. |
| Chenille | Velvet-like feel with a soft and shiny look |
| Microfiber | It is very soft, hypoallergenic, easy to care for, and provides heat retention. |
| Faux Fur | Stylish decor piece, soft, warm, and animal-friendly. |
| Bamboo | Eco-friendly, soft, breathable, and antibacterial. |
| Silk | Cool feel, hypoallergenic, and luxurious. |
---
Did you find the answer to your questions about how big a throw should be? Leave a comment below and let us know of any information we might have missed. Visit our bed sheet sizes guide for more related content.