This gallery of Statuario marble designs includes what it is, different types, countertop finishes, prices, cleaning tips, and comparison to other Italian marble styles.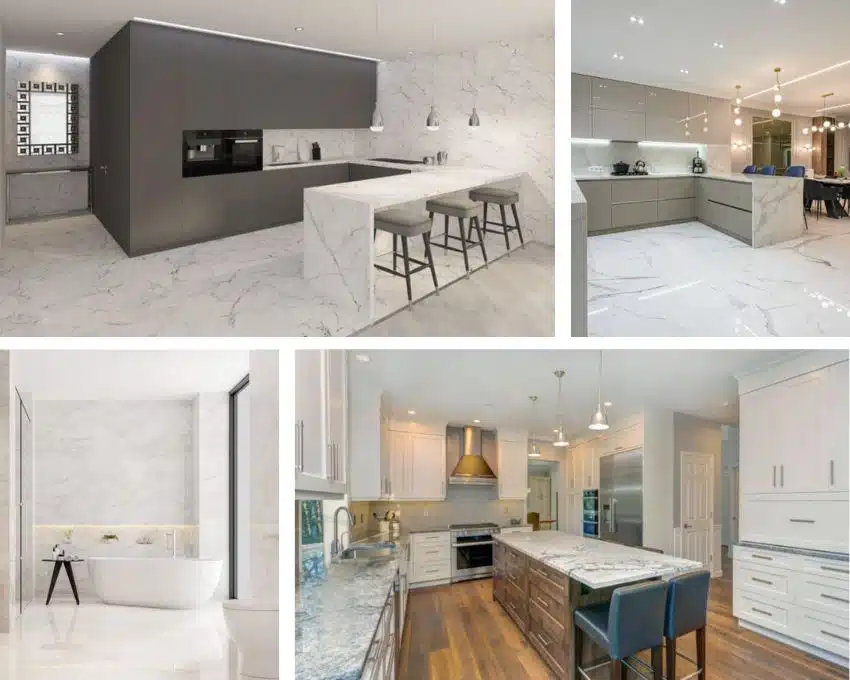 Marble has been employed in architectural projects for centuries and is valued for its attractiveness and diversity as it provides a unique and classic style that can be matched to any aesthetic.
Statuario marble is one such exceptional marble, which is arguably considered to be the finest type of marble in the world. Statuario marble mountain quarries are found above Carrara in Italy and have scarce production and high demand. Because of its scarcity, this marble is even more difficult to come by.
This type of marble is the embodiment of grace and class and has been a favorite option in interior design. Architects, contractors, designers, engineers, luxury builders, and end-users frequently inquire about it. In this article, we will cover the features of this type of marble, as well as its most typical architectural applications.
What Is Statuario Marble?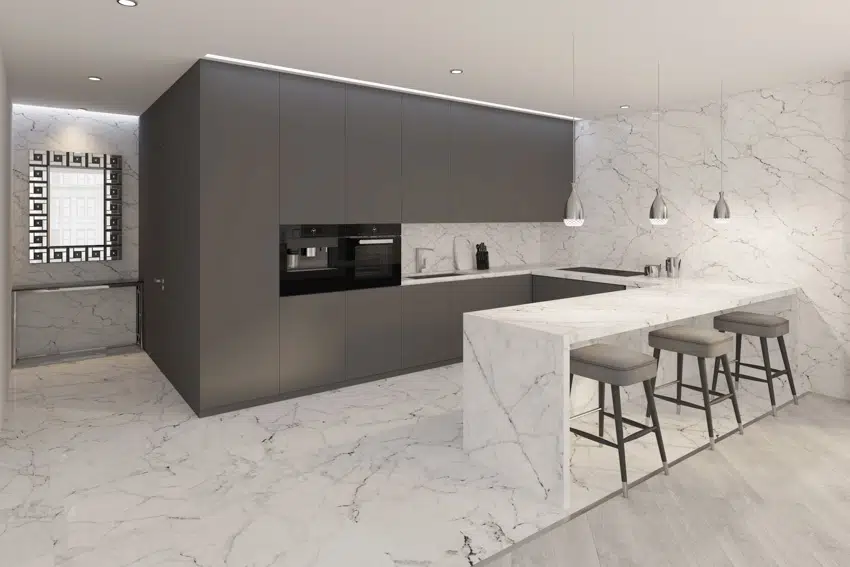 Statuario marble is distinguished by its dazzling white natural marble, lovely grayish specks, and rich, dramatic patterns. It is often regarded as the whitest marble in the world. It frequently has significant gray veining everywhere, resulting in distinctive and stunning patterns.
This marble, as aforementioned, originally came from the mountain quarries of Statuario, which is found in Carrara, Italy. Its high demand makes it a remarkable statement in any house, mansion, hotel, health center, as well as private or commercial buildings.
Moreover, this type of marble is one of the planet's most valuable marbles. In fact, only a few materials can rival its flawless shine and very compacted structure.
The whitest, purest, most perfect of all marbles is known as statuario marble. Excellent for carving and sculpting, this is the marble that Michaelangelo used, and Bernini, and other sublime artists of the Italian peninsula. – The Rising Tide, Mark Frutkin
Many people regard this material as preferable due to its pureness, dimensional stability, and lovely white hue. The fact that numerous structures, sculptures, and other masterpieces constructed of this marble generations ago remain today is viewed as a testament to its durability.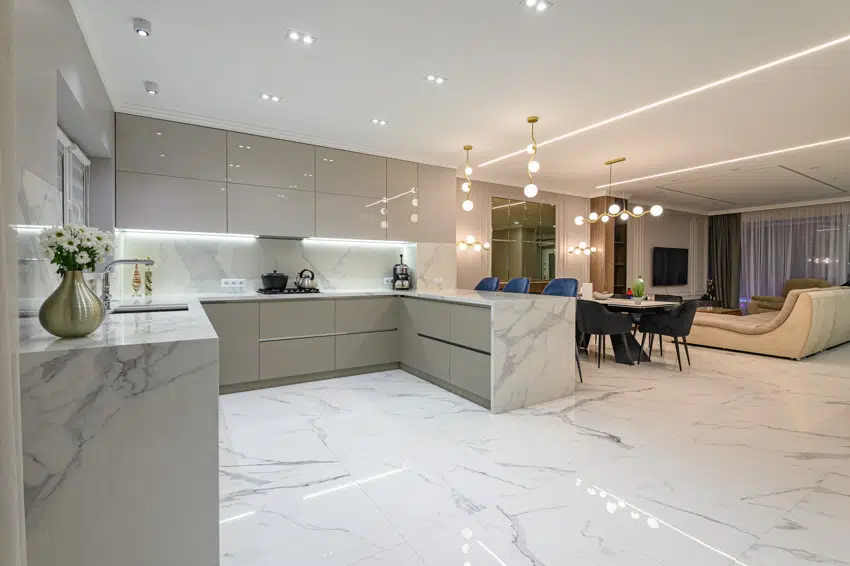 How this material was manufactured contributes to its pureness and longevity. It is composed primarily of crystalline limestone. When a sedimentary rock, which is a limestone, is exposed to high temperatures and pressure, huge crystals form and link together to produce this natural stone, which is a long-lasting metamorphic rock.
Most of the impurities contained in the stone are destroyed by the extreme heat. Large chunks of white natural stone with varying chromatic veins have been left intact. The number and kind of minerals contained in the limestone influence the color and aggressiveness of the veins. This naturally fluctuates depending on the region of the marble, making each slab distinctive.
Indeed, this material is also an excellent choice for indoor use. This type looks great in huge slab formats, such as marble kitchen countertops, book-matched backsplashes, as well as wall panels.
Types of Statuario Marble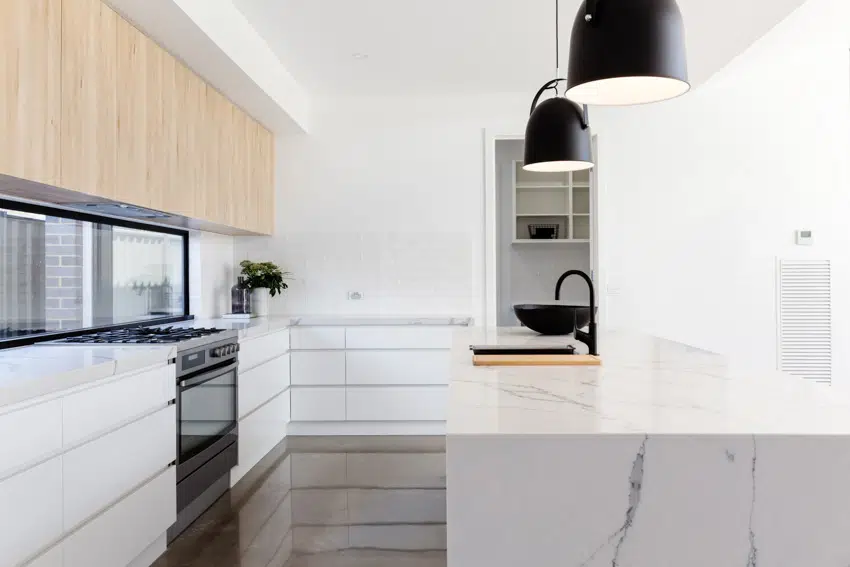 Here we share the different types of Statuario marble.
Statuario White Marble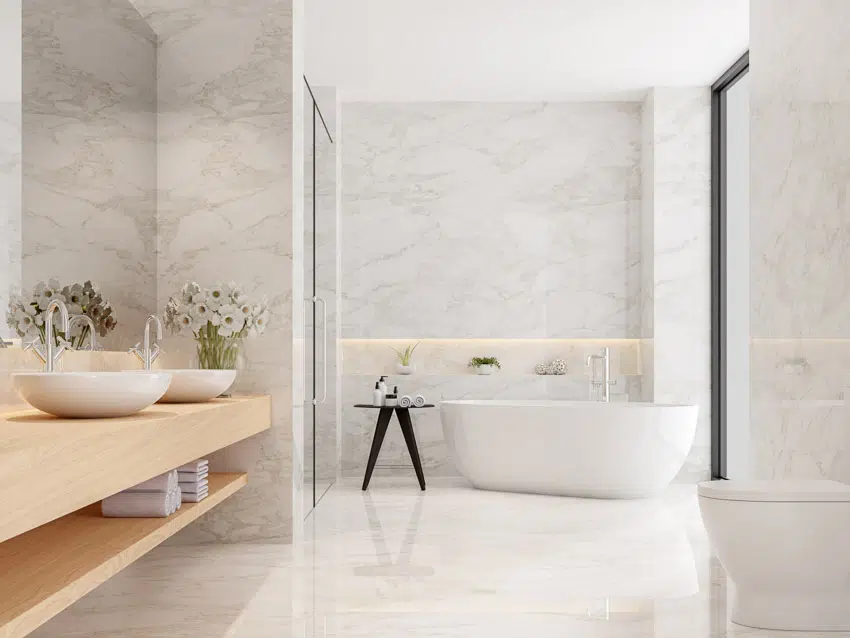 This is the most common type of Statuario marble, which features veins in varying widths and hues of gray. The white marble type has a dazzling white backdrop that is interrupted by medium-wide gray veins.
It brightens the appearance of any interior design project due to its distinct aesthetic features. This stone is commonly used in interior design developments, and its physical properties make it suited for use in places free of moisture and external conditions.
Venato Statuario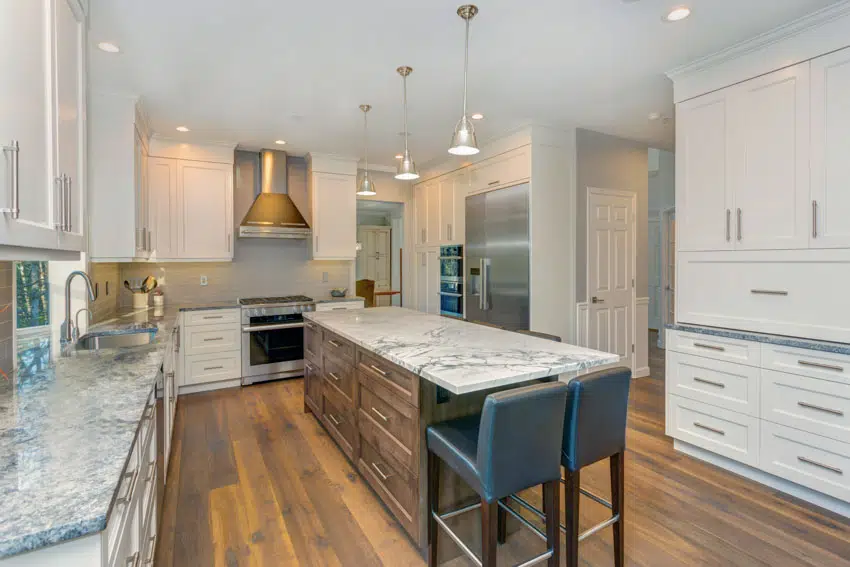 The Venato variety is a beautiful stone that is suitable for flooring purposes. This kind was quarried in Italy and polished, which implies that the surface was treated with gritty materials such as sand or steel shots to eliminate any defects and smooth up the surface.
Aside from that, the natural stone slab is ideal to be used as flooring since it has a lovely gloss and is available in white, ivory, or gentle gray.
Extra-Bianco Statuario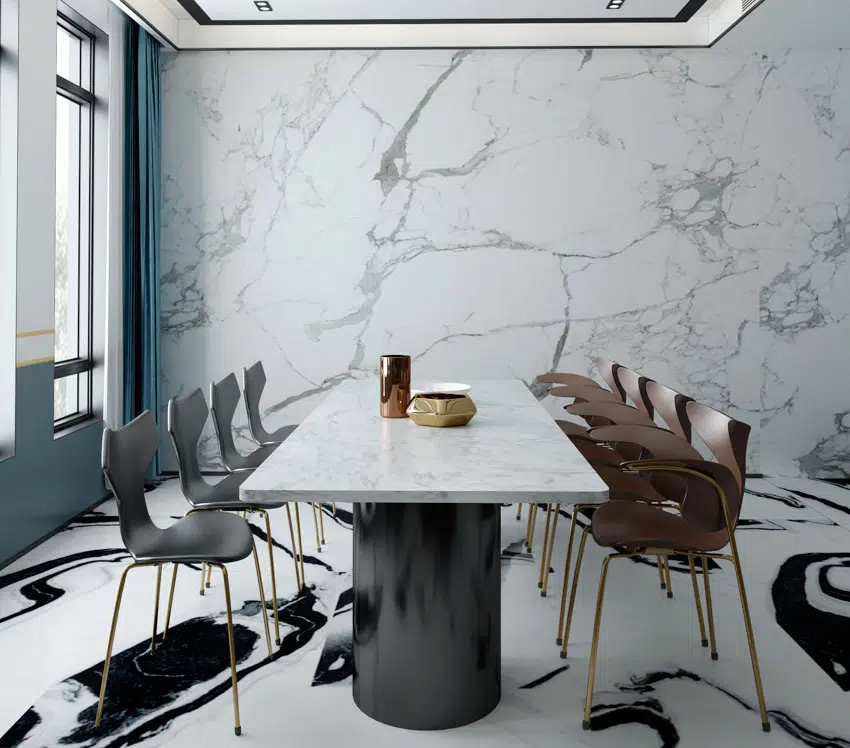 The Bianco variety is a white stone with dramatic wide sporadic blackish veins that has a rich and dominating appearance. This lovely white stone variation, like its Calacatta counterpart, functions well in big tile formats, as well as countertop panels, book backsplashes, and cladding.
This type is an excellent choice for indoor use as well. However, because of its porous nature, Extra-Bianco must not be employed outdoors.
Impact Statuario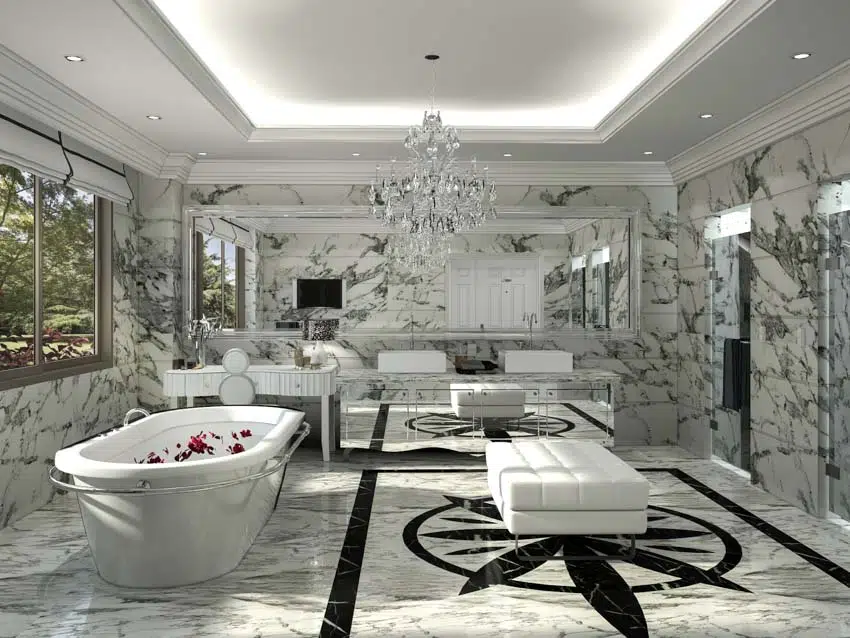 The Impact variety is ideal for heavy-duty applications such as constructing steps, slopes, and other architectural details. It has been adjusted to produce the ideal look and visible veins of the natural stones, resulting in an appealing rustic appearance that can be observed in most old European historical structures.
Antique Statuario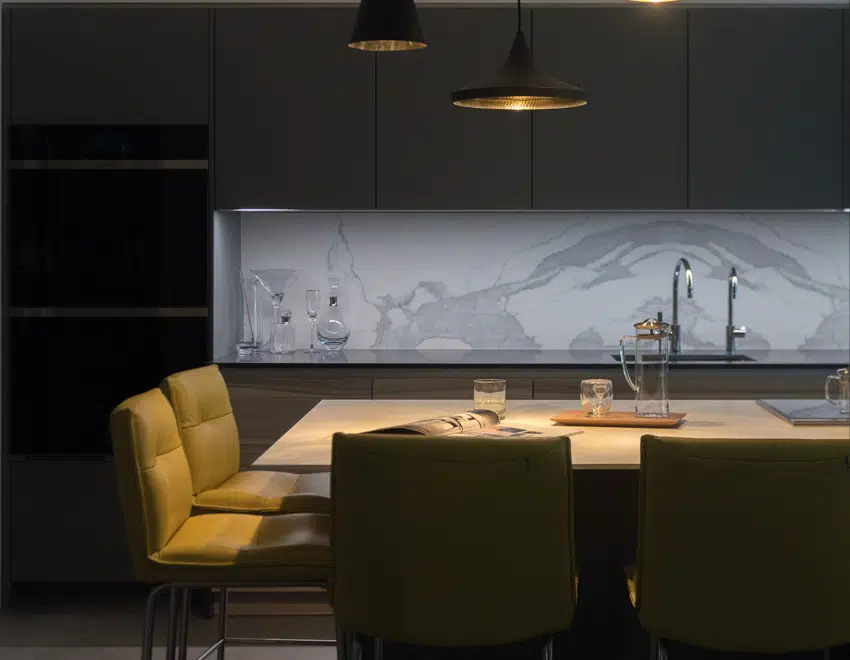 The Antique type marble slab is an instinctually polished natural stone slab with a lovely antique surface. This exhibits the stone's lines in their inherent state and has been utilized for ages as stairs, passageways, pavements, walls, as well as other architectural elements.
This type comes in a variety of styles, sizes, and finishes. The polished finish is by far the most preferred because it has a wonderful sheen to it. It comes in white, white, ivory, gray, or cream with a randomized black vein running across it. It also comes in a variety of thicknesses.
Romantic Statuario

Romantic variety marble is a natural stone that has an appealing vintage finish. This is mined in Italy and then polished, thus it has veins visible on the surface as well as a lovely gloss.
Platina Statuario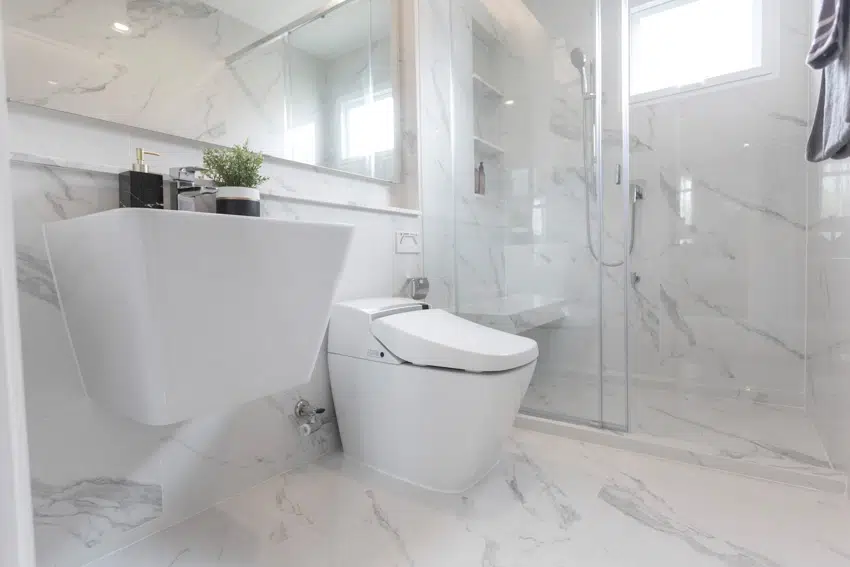 Platina variety features a pleasant gold and pinkish hue with chromatic veining combinations that are typical of this kind. Since it is less costly, it could be utilized as a substitute for Carrara or other Italian marble slabs.
Statuario Designs
Here we share the different designs for this material.
Statuario Slab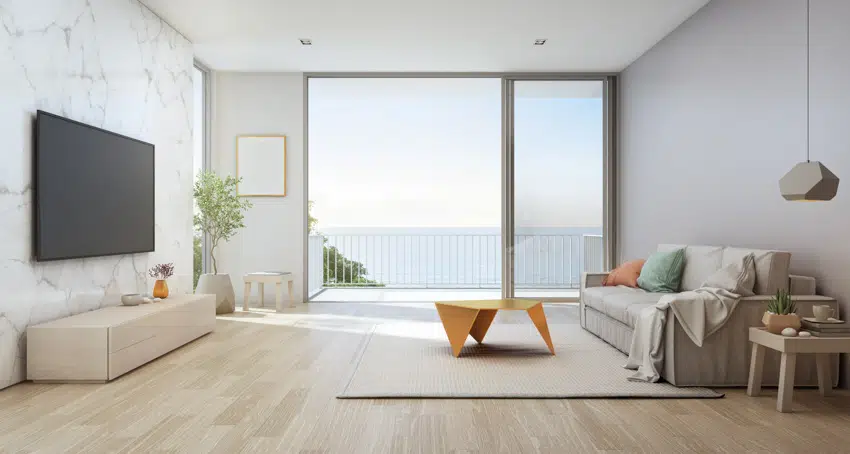 The Statuario slab is a widely known and elegant slab to use for any home or workplace construction. It is indeed a good option since it offers a wide spectrum of color tones that are not commonly found in other types of stones as well as constant veins that are great for tile work.
There are 3 finishes that are normally done on Statuario marble slabs:
Glossy Finish
This glossy finish style has a strong gloss, making it suitable for kitchens, restrooms, and other high-traffic locations. It is also water-resistant, making it excellent for damp areas such as kitchens, laundry rooms, and shower rooms.
It might be challenging to maintain the glossy sheen in some areas, but because of how prolonged this sort of slab survives, it might be a solid investment option if you foresee staying in the house for an extended period.
Matte Finish
Slabs in the matte finish are the polar antithesis of glossy, leaving a non-reflective, non-glossy finish on the floor or other substrate to which it has been put. Such slabs are great for any location that does not receive a lot of ambient light.
The matte finish is prevalent since it conveys a sense of luxury without being overpowering or ostentatious. It has an elegant appearance and is available in a variety of hues, making it a fantastic choice if you want to match the flooring to a specific décor theme.
Furthermore, the matte finish is robust and can withstand foot traffic, making it excellent for high-traffic locations like corridors or room entryways in your house. It will display scratches if not sealed, but because these slabs stay longer than glossy ones, this might not be an issue for others.
Polished Finish
Slabs that have a polished finish are the most long-lasting among the three. They last for a very long period and can withstand heavy traffic without showing signs of wear.
The sole disadvantage of this style is that it is not available in different colors, but you can easily paint over it if needed. Polished finishes provide an exquisite appearance and are very easy to maintain.
It is an excellent choice for any region of your home that receives little natural light but receives a lot of traffic, making it the finest slab option for corridors or doorways into other areas.
Moreover, the polished finish conveys a sense of grandeur without being flamboyant. This is the finish to choose from if you wish to add a great deal of flair without putting in too much effort.
Statuario Tiles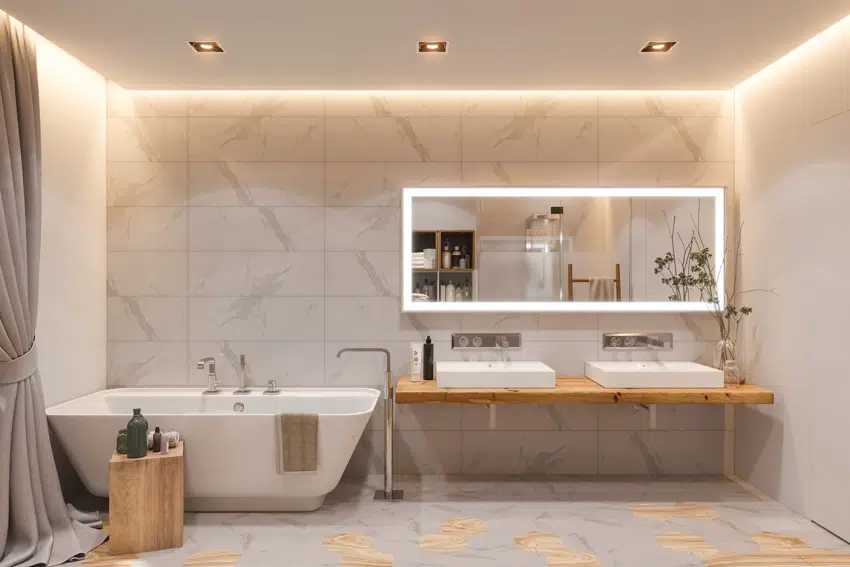 These tiles are premium-quality marble tile mined in Italy's highlands. It is made from smashed stone, slag, and other components to provide it with a distinct texture. Due to the general variances present within each tile, this natural surface does have global recognition for its splendor.
Moreover, this tile has been mined for millennia and is an ultra-durable material. These marble types of floor tiles can be utilized to create both refined or earthy surroundings for outside and indoor flooring projects.
Statuario tiles, as with most tiles, have numerous benefits. They are simple to maintain and polish, and utilizing these tiles ensures a consistent patterning.
You may even unite these marble tiles with some other tiles to create a stunning multi-color arrangement. These tiles can also be used in other areas such as the lounge room, bedroom, workplace, cafe, bar, and classroom.
Statuario Backsplash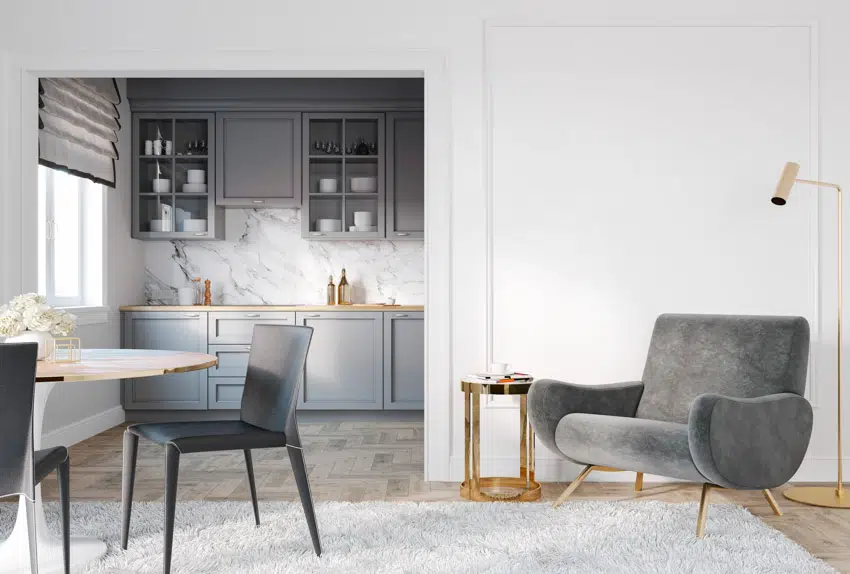 Considering its prominence, Statuario is frequently used as a central focus in any space, including backsplashes. This type of backsplash suits both traditional and contemporary kitchen design styles.
A backsplash protects the wall from food or water splatters, which can harm the drywall behind the countertop. Luckily, it is a tough surface that functions well in this situation.
Marble types of kitchen backsplash come in a variety of styles, including the tiles, part-slabs, and full-slabs. Each of these backsplashes complements practically any theme.
You can also choose between honed marble and polished marble when having this marble backsplash built. Polished natural stone does have a glass-like brilliance, whereas honed variety has been sanded to remove the luster.
Statuario Flooring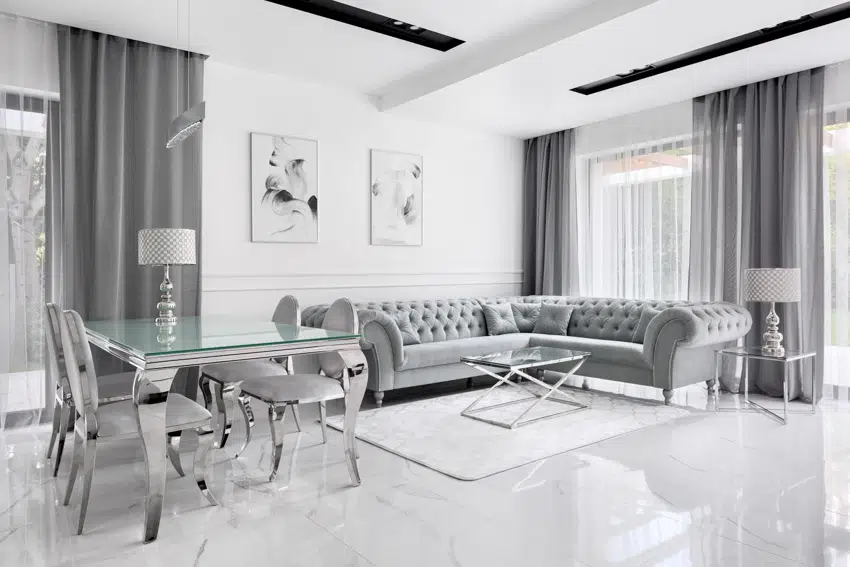 Statuario flooring is a perennially popular choice among homeowners. These natural stone floors have long been regarded as a symbol of monarchy and riches. This type of flooring can be found everywhere, from the most ancient and well-known structures to the most modern residences.
This type of marble is a gorgeous stone that acts as a stunning flooring material while also adding a touch of brilliance and luxury to its surroundings. It is suitable for use in kitchens, corridors, bedrooms, bathrooms, passageways, and even lobbies.
You can effortlessly adorn your entire house with these marble floors by adjusting the color, finish, and pattern, and nothing would feel awkward. Moreover, this flooring type can be tailored to your liking because the stone is relatively flexible and can be fashioned into any shape you like. This allows the homeowners to get creative with their design patterns and concepts.
Statuary Fireplace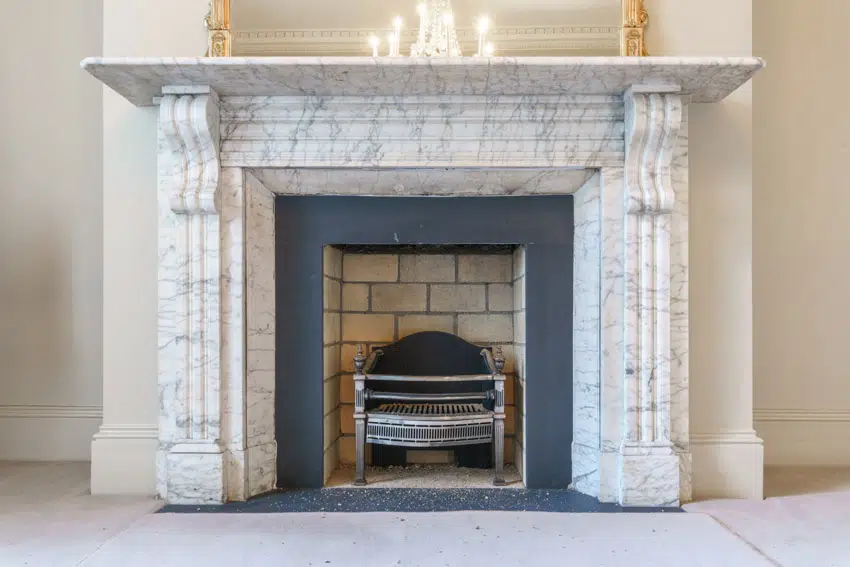 Statuario is marginally more expensive than its granite counterparts, yet many people pick it for their fireplaces for its ageless and unparalleled beauty. It is indeed an exquisite stone that has long been strongly correlated with luxury.
This material is extremely heat-resistant and can be employed with a wood, electric, or gas fireplace. This material hardly develops discoloration, cracks, stains, or chips when properly maintained. This type of marble, which is usually found in white and other lighter colors, will necessitate more cleaning than darker fireplace materials like granite.
Statuario Price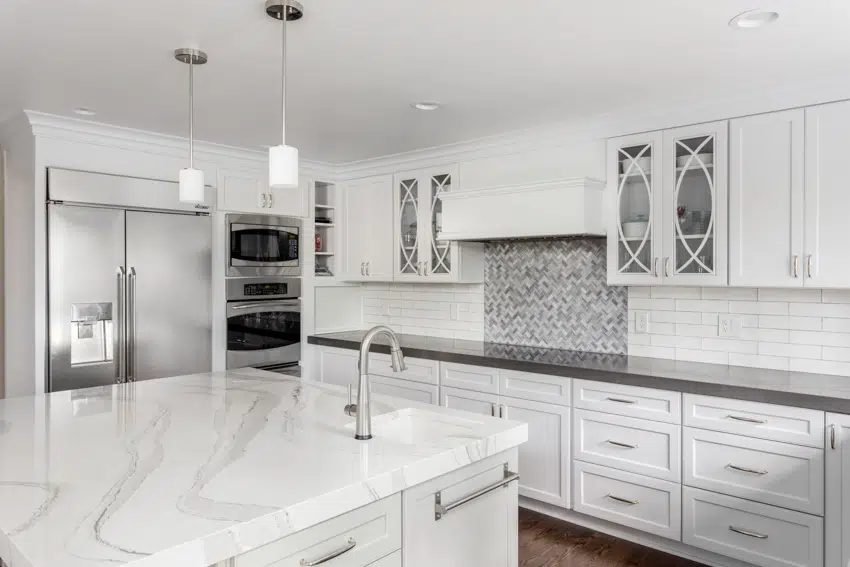 When evaluating the pricing of separate slabs of Statuario marble, several aspects must be taken into account, including the white background color, the absence of natural irregularities, and the quantity of veining.
The higher the cost, the whiter and smoother the slab is, free of natural irregularities, and the fewer the veins. Taking these characteristics into account, as well as its scarcity and overall superb quality, these marble slab cost are normally fairly pricey when compared to all other natural stone types, with a slab costing around $700 to $2000 per square meter.
However, the Statuario Venato style is often less expensive than its more expensive counterpart, with slabs ranging from $500 to $1,000 per square meter. These slabs retain a clear white background color with far fewer natural defects than Calacatta, for instance.
But the veining arrangements are significantly wilder and similar to those of many Calacatta variants, and henceforth the Statuario Venato slabs are less expensive than Statuario Bianco.
Cleaning Statuario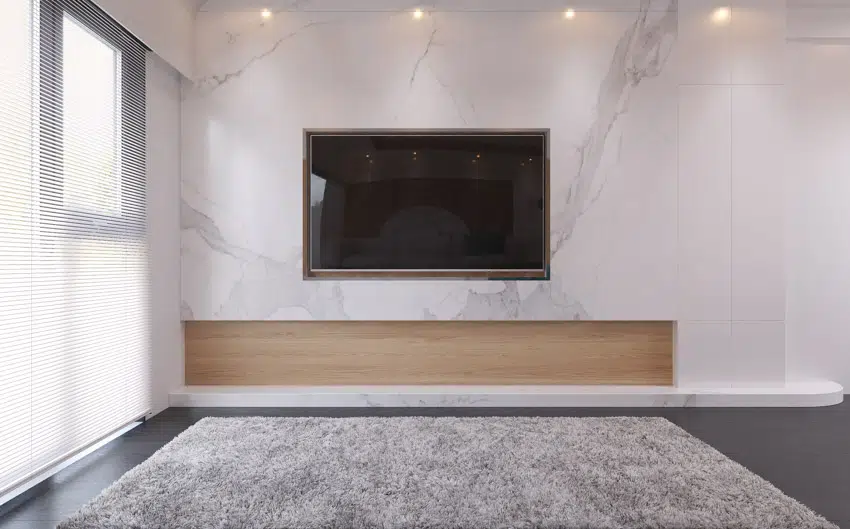 Floors made from marble must be cleaned with dust or vacuuming mop on a constant schedule, and surfaces must be wiped down with a soft cotton towel.
It is a high-end stone that must be cleaned with extreme care. On your countertops, floors, backsplashes, or fireplaces never use strong chemical compounds.
Alternatively, you should only use water and a tiny quantity of neutral, mild soap, such as dish detergent, or a stone-specific cleaning solution.
To avoid water stains, it is necessary to dry natural stone surfaces with a soft towel after washing. You must never leave stagnant water on your such surfaces.
This material as with any natural stone component, should be carefully maintained and looked for to preserve its wonderful appearance throughout time. To keep the material in good condition, it should be sealed periodically to keep it in top condition.
Polishing is also essential for its lifespan and beauty. Polishing alabaster surfaces preserve them by lowering the chance of stain penetration. This process also keeps surfaces bright and visually appealing.
Experience and specialized equipment are required for properly polishing this kind of stone. Attempting to clean marble without the proper technique might cause serious and costly harm to your surfaces. This is due to the fact that polishing the surfaces greatly or too little would be equally detrimental.
Is This Stone Flooring Porous?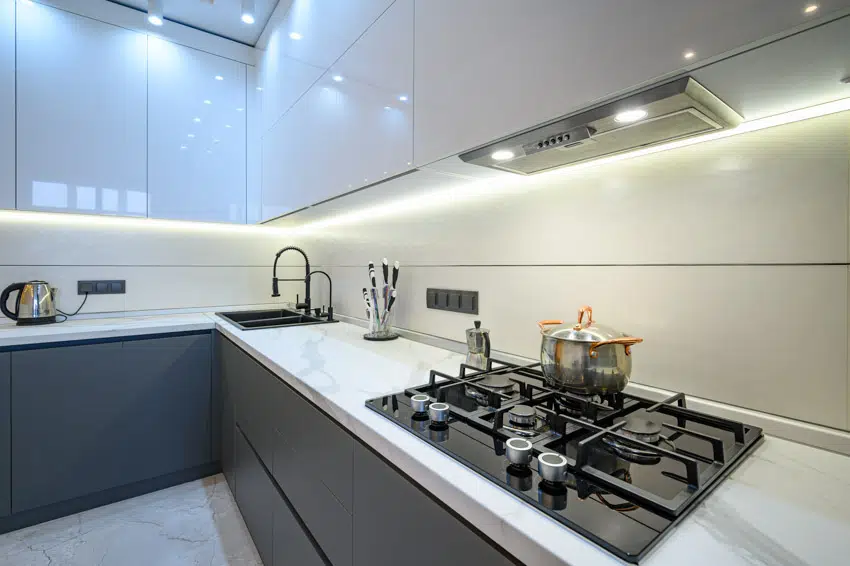 Yes, that is why Statuario is appropriate for merely indoor applications. This material has a porous nature; hence it is not advisable to be installed outdoors.
Carrara Vs Calacatta Vs Statuario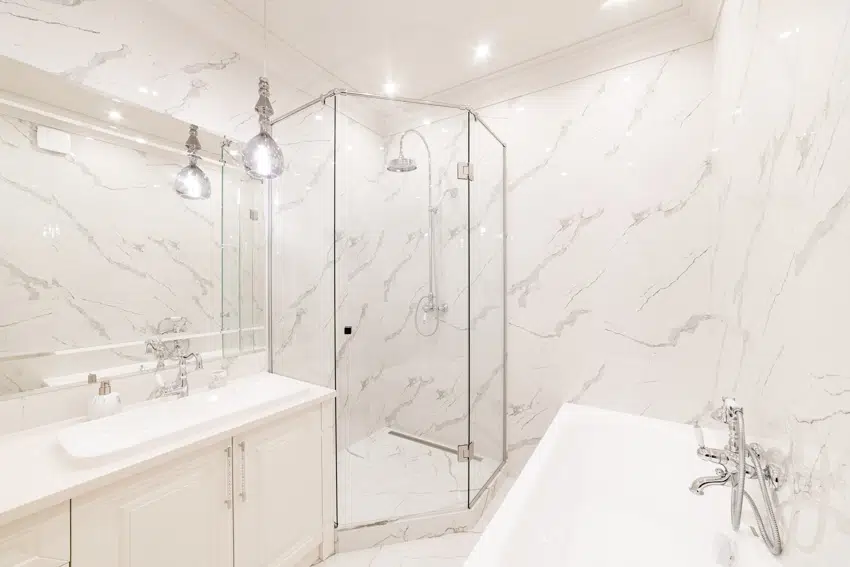 Carrara, Calacatta, and Statuario are the most well-known Italian natural stone types. Such may appear to the inexperienced eye to be the same type of white marble. Confusion is compounded by the fact that Calacatta is quarried in Carrara, Italy as well.
Although these three priceless Italian marbles may appear similar at times, there are subtle distinctions that must be noted to pick which one is best for your construction project.
Carrara has a grayish-white color that features delicate, airy veining that looks to be continuous and linear. See pictures of Carrara marble backsplash here.

Calacatta is more scarce than Carrara and is much more white than gray in color, with striking veining that leads to thick and dominant patterns. It frequently has brown or gold tints. See pictures of Calacatta marble countertops here.

Statuario is the most expensive marble variety found in Italy. It features prominent veining that ranges from gold to white in color.
Although both Calacatta and Statuario slabs can be encountered in the same sizes and with the same genuine, sharp white backdrop, there are some significant distinctions that, when combined, can make a considerable disparity between the two types. Such differences involve vein color and patterning, as well as natural irregularities.
Because no two marble compositions are similar, all three varieties of this natural stone will differ from slab to slab. Every slab is distinctive, which can lead to unique luxury kitchens and bathrooms.
As a result, it is typically recommended that when selecting white Italian marble, one should request at least three samples from the stone manufacturer in order to locate the color variation and patterning that appeals to you the most.
See more related content in our article about white marble kitchens on this page.