Learn the pros and cons of shiplap including the different benefits, and drawbacks, how to choose the right interior board type, and maintenance tips.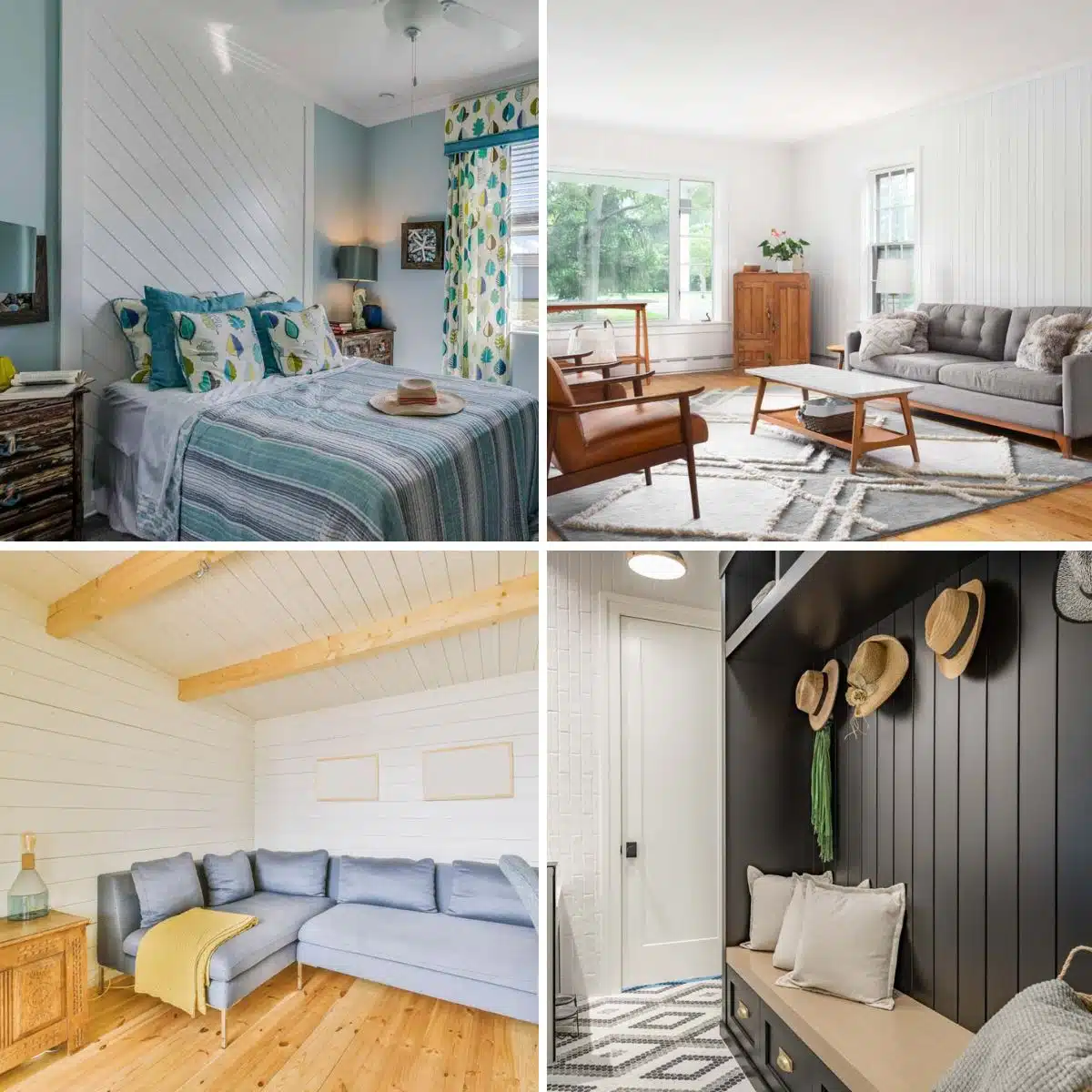 When you observe most traditional houses and even those with modern construction that exude a classic vibe, you will often notice the inclusion of shiplap – it may be used on walls, accent walls, backsplash, decks, and more.
But what makes shiplap a popular element in the world of interior design and home improvement? It's the pure, clean rustic appeal and versatility that makes it so welcoming.
These qualities, in fact, are among the main reasons why so many homeowners along with designers are falling in love with shiplap. However, shiplap is just like any design element – it's not perfect. Thus, it may have its own set of benefits and downsides. That's what we are going to tackle right now – we'll thoroughly go over the pros and cons of shiplap.
Advantages of Shiplap Board Walls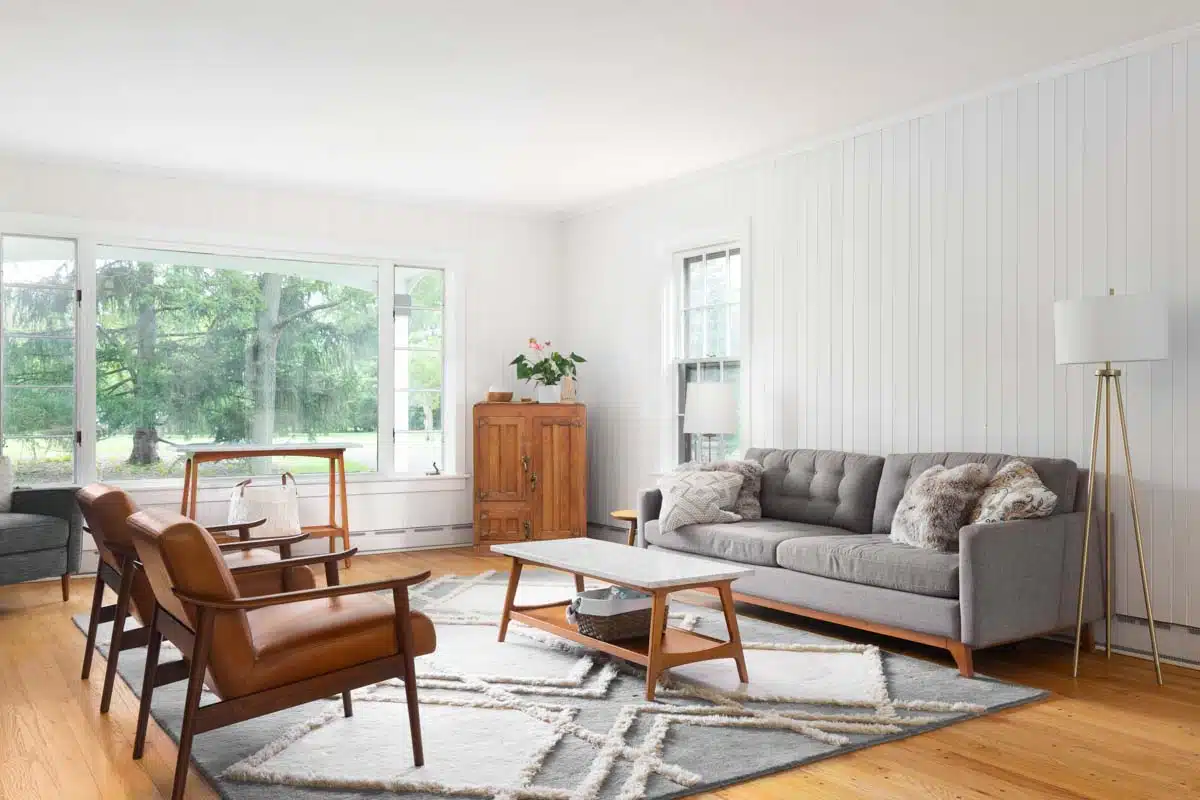 Ageless Visual Appeal: This is indeed the primary perk of using shiplap in your beloved home – those clean lines and ageless allure have always made shiplap a classic option, especially for interior and exterior designers.
Due to that stylish, aesthetically appealing appearance, the way it blends with other decor themes such as transitional, traditional, contemporary, minimalist, and rustic is so effortless and flawless.
The visual appeal of either vertical or horizontal shiplap is quite pleasing mainly because of its minimalism. Those sleek details subtly add charm to any atmosphere. That ageless quality implies that your decor won't simply go out of fashion; it will stay gorgeous at all times and seasons.
Eye-Pleasing Depth and Texture: Shiplap boards or panels, whether they are painted, stained, or left untreated, can fully supplement texture and depth to any space. However, if you want to make a certain space more well-coordinated, you can paint the shiplap boards to create a pleasant contrast of colors within the space.
The natural texture of shiplap boards or panels can add a tactile surprise to your existing walls, which can vividly display an organic, rustic vibe. And once you decide to paint it using a color that complements your existing room, those shiplap boards will act as a centerpiece, magnetically drawing your eyes to them.
Uncomplicated Installation Process: One of the influential reasons why homeowners, particularly do-it-yourselfers, like using shiplap is its uncomplicated installation procedure. The interlocking feature of most shiplap panels allows them to be easily, securely, and swiftly connected to your walls. This is, without a doubt, a dream come true for do-it-yourselfers.
The placement and arrangement of shiplap boards or panels will not be a fuss even for homeowners with just novice carpentry capabilities. Normally, shiplap boards can be snugly, and instantly fit into each other.
On the other hand, larger shiplap installations, such as a shiplap ceiling, may necessitate a higher level of expertise. This may only be the time for you to decide if you want to hire an expert to do the task.
An Ideal Imperfection Concealer: This is where shiplap boards excel – at concealing wall imperfections. The overlapping pattern of shiplap panels or boards can effectively conceal unsightly dents, cracks, or rough surfaces.
The result? A well-polished, neat appearance. If you are planning to update your walls, installing shiplap may be the way to go – this can work wonders and make your walls look brand new.
Long-Lasting and Durable: Among the most durable wall coverings homeowners can rely on is shiplap – it is a type of wall treatment that is able to endure daily wear and tear. There will be no problem installing them in high-traffic spaces such as shiplap kitchens, hallways, and living rooms. Compared to drywall, shiplap is less vulnerable to cracks and dents, especially if it is properly cared for.
Quick Cleanup: Cleaning would be a snap with shiplap. Wiping these panels using a moist microfiber towel would be effortless and will make it neat instantly. Moreover, shiplap panels or boards have smooth surfaces, which aids in making the cleaning process convenient. There is no stress wherever you install these shiplap boards, even if it is a place where spillages or splatters always happen.
Can Potentially Add Value to Your House: Once you invest in buying and installing shiplap to your beloved home, the likelihood of increasing its value will be certain. The popularity, as well as the visual attractiveness that shiplap adds to every home, is indeed a major perk for prospective homebuyers.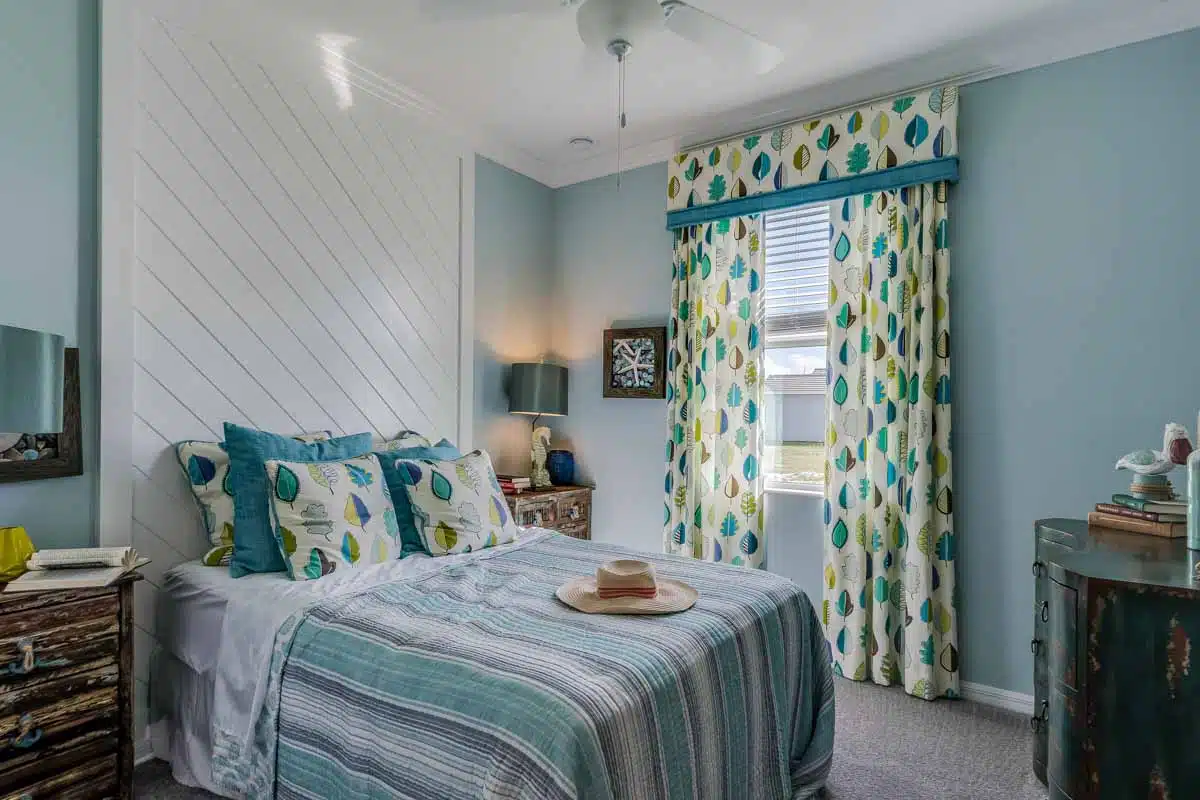 Can Act as an Eye-Catching Accent Wall: If you want to add a focal point in your fireplace area, dining room, or any private space, keep in mind that shiplap can be your buddy in terms of establishing stylish accent walls. Showcasing architectural elements would be achievable with the assistance of accent walls made out of shiplap.
Increases the Chance of Reducing Noise: Do you want to dampen the noise in your room? Installing shiplap boards on your walls may be of huge assistance.
The thick quality of these boards can aid in decreasing the transmission of sound between rooms, while the surface quality may help in absorbing and dampening the noise. This can lead to a more peaceful living space.
May be a Sustainable Wall Covering Option: Nowadays, shiplap panels that are installed within our homes (interior) are usually composed of poplar, pinewood, or MDF (Medium-Density Fiberboard).
However, the shiplap boards that are normally attached outside our homes (exterior) are normally made out of redwood, cedar, fiber cement, composite wood, or pinewood.
This just indicates that shiplap is a sustainable material that may be ideal for eco-conscious homeowners. Once you select those sustainably sourced shiplap panels or boards, you'll be able to savor the perks of having environment-friendly wall coverings.
Disadvantages of Shiplap Plank Walls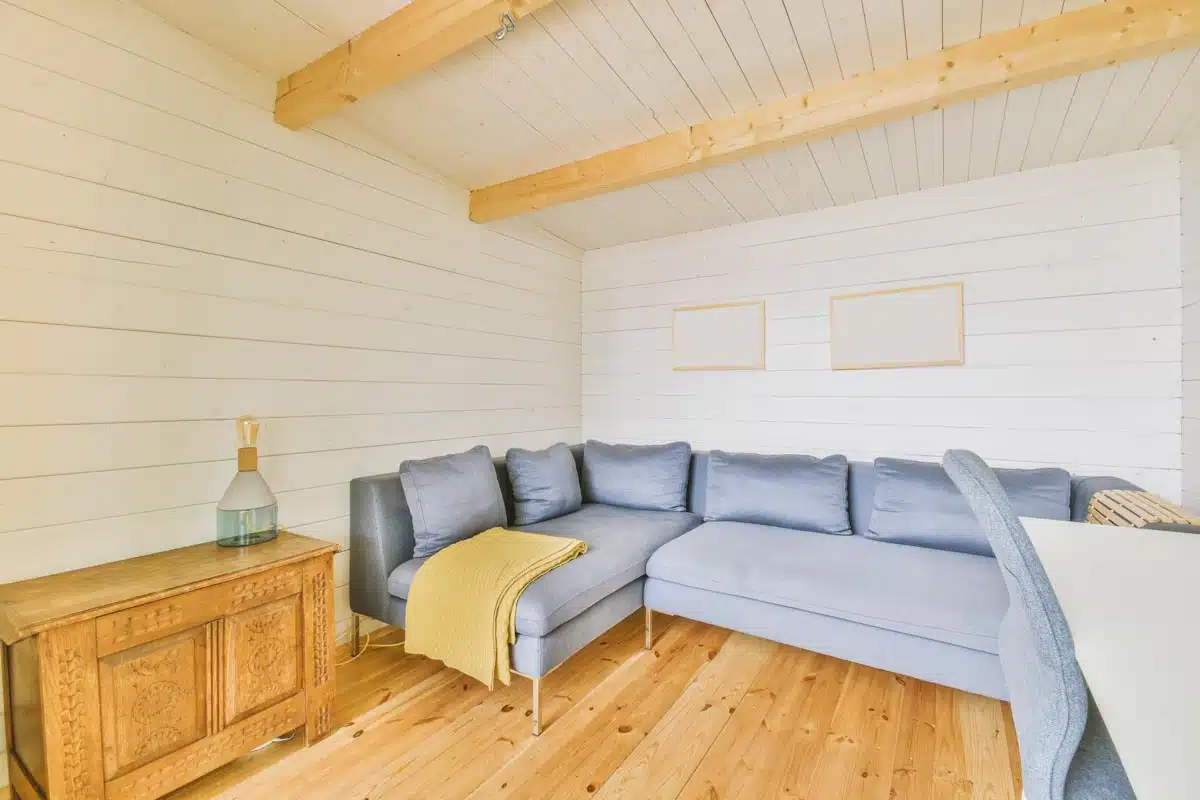 May be Susceptible to Moisture Damage: Shiplap, especially when left untreated or unsealed, may be prone to water/moisture damage. This issue normally arises for those who have installed shiplap panels in areas that are in persistent contact with moisture such as bathroom or kitchen.
Medium-density fiberboard (MDF) is an engineered composite wood product that is nonstructural and somewhat similar to particleboard. MDF is one of the most rapidly growing composite board products to enter the market in recent years. – Handbook of Green Building Design and Construction, Sam Kubba
If you are not going to seal your shiplap and give it thorough upkeep, mold and mildew may start to form. If you are going to leave the shiplap boards as they are, then you should not install them in areas with high moisture levels, unless you will seal them or give them a waterproof stain.
Relatively High Cost: Certain shiplap panels may be on the pricier side, especially when compared to regular drywall. And if you are going to hire experts to install them, the labor expenses may also add to the high cost. However, the aesthetic and durability benefits shiplap can provide may be able to justify such an investment.
May Occasionally Be Unable to Provide Enough Insulation: In cold climates, shiplap may not be able to exceed your expectations in terms of providing adequate insulation, thus it might be needed to retain more convenient indoor temperatures.
During the wintertime, shiplap boards may not be enough to supply the room with its much-needed heat. So, when installing shiplap in areas that normally deal with colder climates, installing additional insulation boards may be essential.
Slightly Time-Consuming For Getting Measurements: To maximize the usage of shiplap boards and minimize dust and water accumulation (which may damage the boards later on), you will have to put more time and effort into getting the measurements and securely fitting the shiplap boards as closely packed together as possible to avoid uneven placement and gaps.
Taking or having professionals take precise measurements and accurate fitting may be time-consuming, but this will greatly help avert costly repairs in the future.
How to Choose the Right Type of Shiplap

Choosing the most ideal type of shiplap is essential in terms of getting your design goals and preferences. One of the first things to consider is the type of finish.
Some of the most popular shiplap finishes are unfinished, prefinished, primed, reclaimed wood, textured, stained, or painted. If you're going to be painting your walls a particular paint color it's a good idea to buy primed boards that can be installed and painted without taking the added step of sanding and priming the wood.
The most common colors for shiplap are white, or natural wood tones. However, black, gray, or other bold colors are also attractive to create a stylish contemporary or modern space that makes a statement, and adds contrast to another wall color.
Going with natural wood for your wall planks can offer a charming look that's especially inviting for rustic, country, or traditional style interiors. Raw unfinished wood is often used to create farmhouse or cottage room styles with attractive results.
For instance, shiplap made of pine may give your home a neat, consistent appearance. Cedar shiplap may offer inherent preventive properties against rotting and pests, which is ideal for exterior installations, such as cedar fences.
Hardwood shiplap made from oak or walnut is much more expensive but can make up for it in the natural beauty of the wood and its durability over time. Keep in mind that the selection of wood or any material that is used to form a shiplap serves a major role in the general atmosphere of your interior or exterior space.
The style of the board profile and shiplap plank width also plays a role in the style of room you want to convey. A traditional plank is generally 6″ to 8″ wide. A wide plank board can give a modern feel and measures about 12″ wide. On the other hand, a V-groove board creates more of a shadow between planks adding to the visual interest and wall detail.
A MDF (Medium Density Fiberboard) is a budget conscious choice that is not as durable as natural wood products but can be easily painted due to its smooth surface.
When it comes to choosing materials for moisture prone areas within the home such as the bathroom, kitchen or basement it's a good idea to consider materials and finishes that can resist humidity and mold.
MDF boards are a solid choice for rooms with the potential to receive moisture, especially for areas around sinks, backsplash, showers, tubs, and toilets. Taking care to avoid gaps in the boards will also help eliminate problems and prevent leaks.
A polyurethane sealant product can help protect the board surfaces with a clear coat that acts as a moisture barrier. Tung oil is another option for wood products to help provide a water-resistant finish. A popular choice is to use exterior paint for wet areas.
Another aspect of shiplap design is the board's orientation. The primary installation techniques are horizontal to help a room feel wider, vertical to help a room feel taller, or diagonal which can add a stylish and elegant vibe to the space.
Before committing to buying materials or hiring a contractor for shiplap installation make sure you get samples and place them on the wall to get a feel for how they look.
If you plan on hiring contractors for the job, get several different bids and make sure to ask as many questions as you have to help find the most qualified company and a price that fits your needs and budget.
How to Maintain Shiplap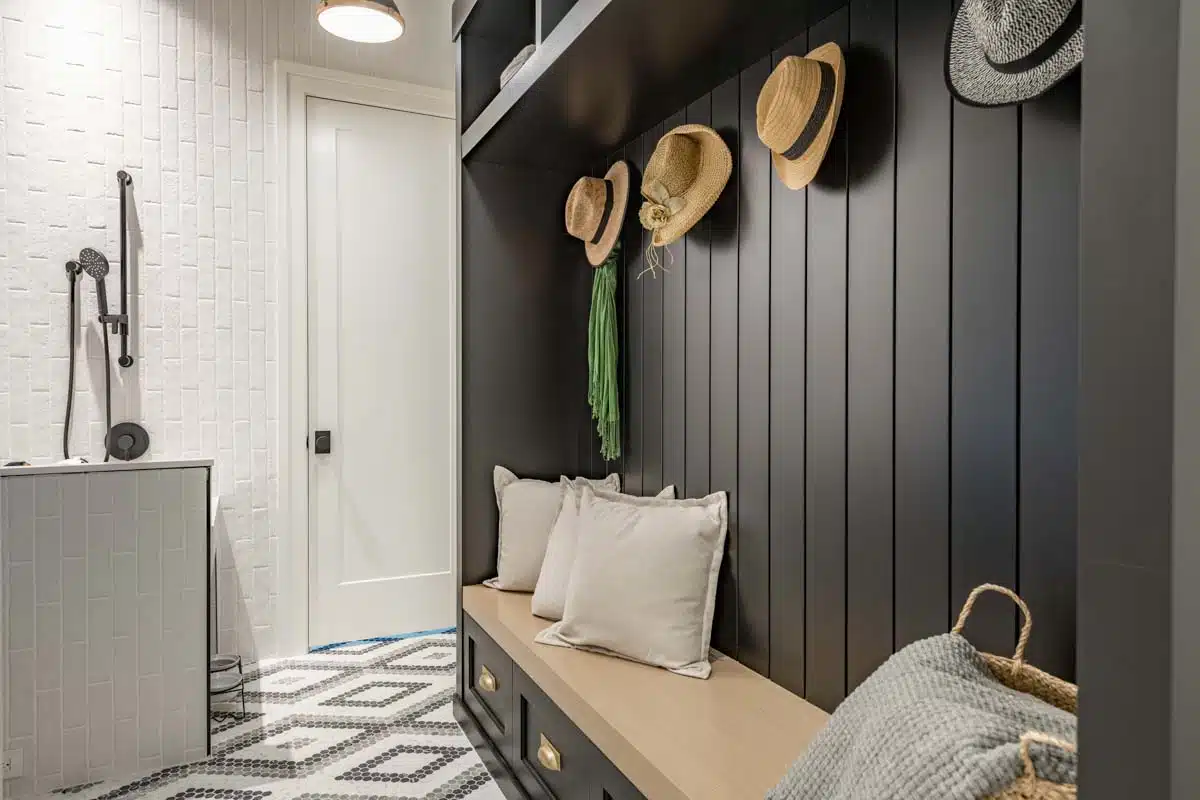 Here are some general steps on how you can maintain your shiplap and help extend its longevity:
• Regularly dust the shiplap surfaces using a soft cloth or duster. However, if there is major dust or grime buildup, you may use a slightly wet cloth with a gentle detergent to remove it effectively.
• If your shiplap is installed in high-moisture locations such as kitchens, bathrooms, or outdoors, it might be ideal to get your shiplap boards sealed using a top-grade waterproof sealant. This will make your shiplap more long-lasting and waterproof.
• Never use any chemicals that contain harsh elements. If you want to use a certain cleaning solution on your shiplap boards, you have to test it first in a small area to see if it is safe to use.
Also, when wiping or scrubbing your shiplap panels, do not use any abrasive cleaning tools as these will badly damage the surface.
• Make sure to always give your shiplap a good inspection to check if there are any potential damages – this may manifest as water stains, cracked boards, loose panels, or damaged paint. Address and repair such problems immediately. This may include sanding, staining, repainting, replacement, or reinforcing the wood panels.
Leave a comment below to share your experience with DIY wall panels or let us know if we missed any important information. See more related content in our article about the best alternatives to shiplap on this page.