These pros and cons of pedestals for washing machines share the advantages, disadvantages, types, cost, installation, and common issues.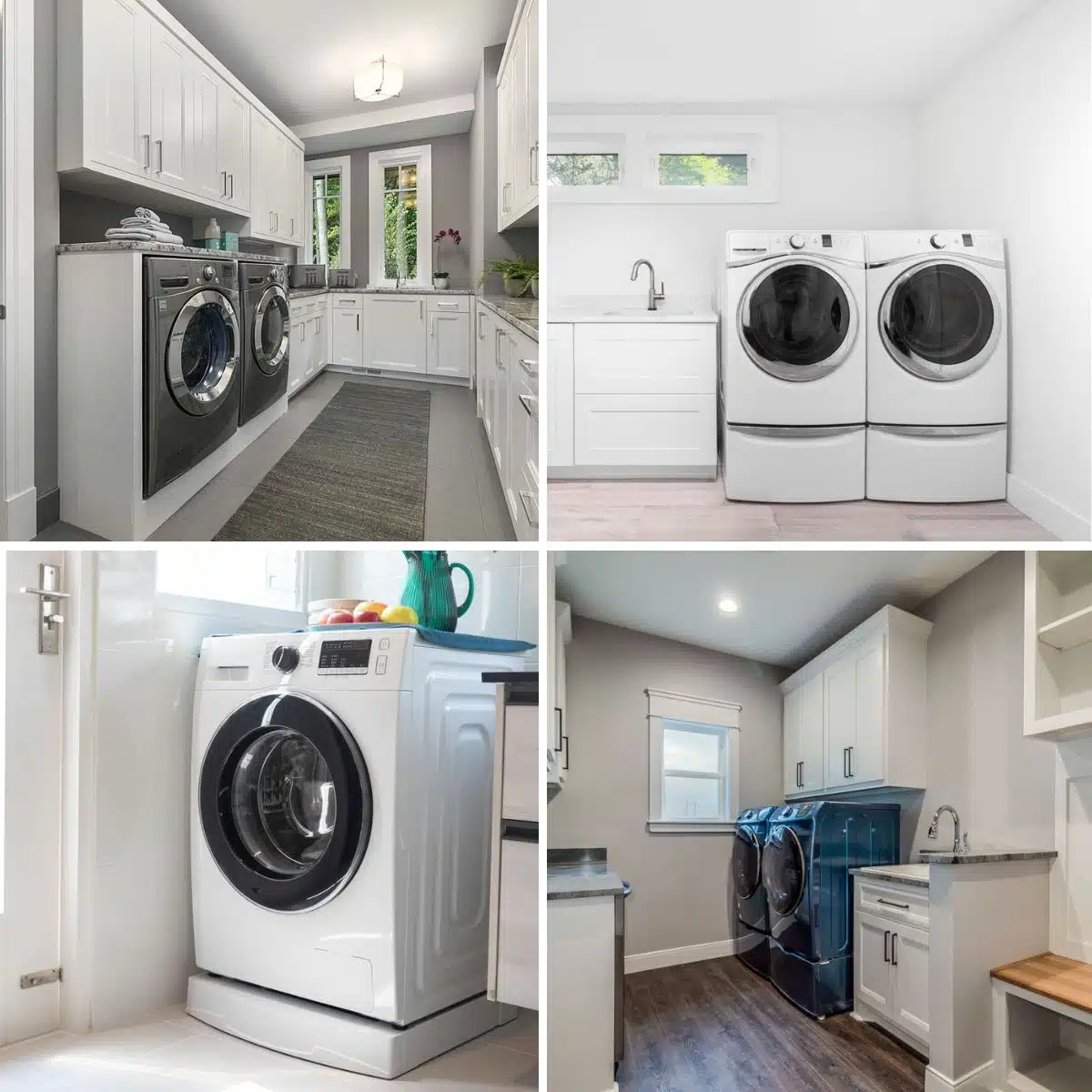 Washing machine pedestals are great additions to a laundry room, especially if you have a frontload or EU-type washing machine, as they have lower openings than the tilted drum washing machine. However, there are advantages and disadvantages to be considered before purchasing a pedestal.
Advantages of Washing Machine Pedestals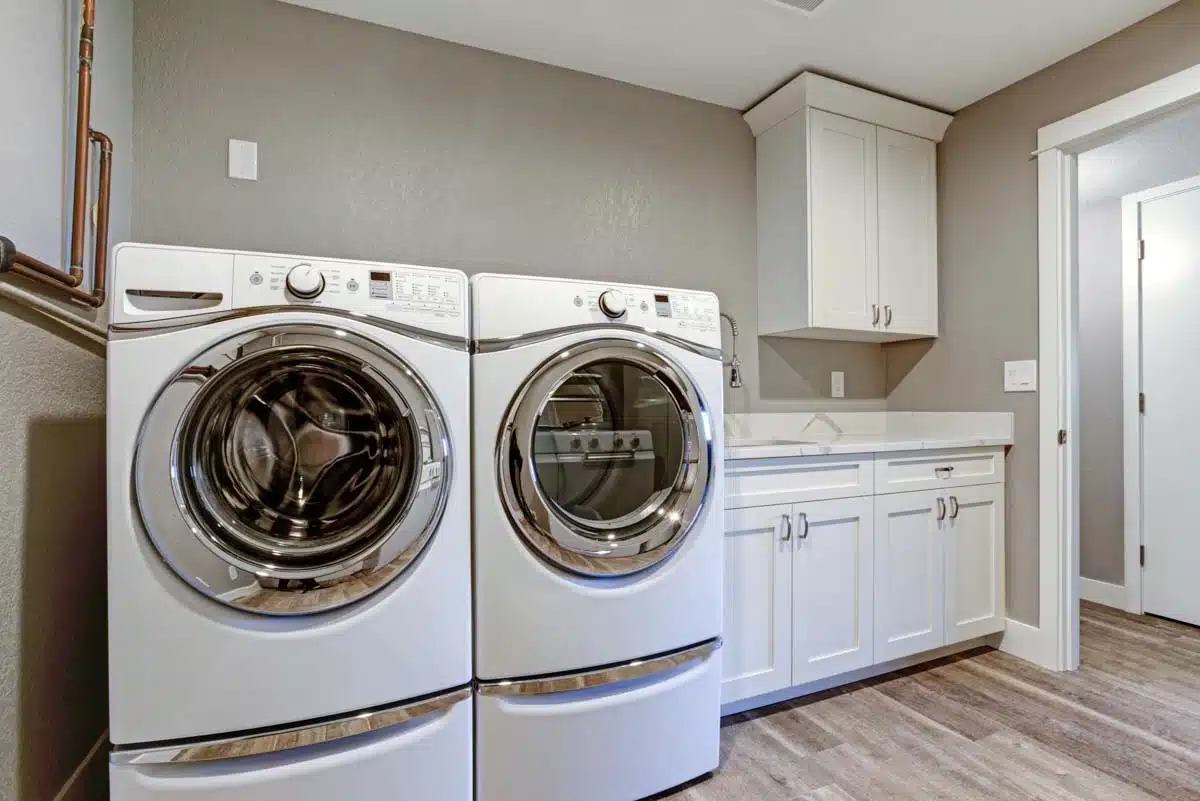 Raises the appliance to a comfortable height: Based on a study by Shigekazu Ishihara and Keiko Ishihara, the typical EU-type has a working height of around 18.7″ or 47.5 cm (measured from the floor to the center of the opening), which is less than the recommended working height of 35″ to 37″ or 89 cm to 95 cm.
A pedestal is able to add 10″ to 16″ or 25.4cm to 40.64 cm. The total working height with will total to a height of 34.7″ or 88.14 cm.
A total height that is still lower than the recommended working height but has significantly raised the opening height. As such, finding one with a higher opening height is best.
Slanted-drum machine types were more ergonomically friendly, having a 32″ or 81 cm opening (from the floor to the center of the opening).
Reduces vibration and noise: Most laundry machines give off a frequency range from 0 to 150 Hz, with most giving off 120 Hz. This low frequency (below 200 Hz) can lead to headache, nausea, and irritability.
A pedestal dampens the noise, and if there are built-in drawers, it can help provide added weight to stabilize the vibrations.
Prevents water damage to your floor: Elevating the washing machine off the floor reduces the risk of unseen water or moisture from dripping into the floor. Constant exposure to water can discolor or stain the floor and other structural damage. There are pedestals with metal frames that will easily show any visible leaking.
Easier Maintenance: Washer and dryer pedestals that have caster wheels can be easily moved when cleaning underneath or doing repairs. The caster wheels will have stoppers that can be fastened down in place. Other pedestals will have a main frame with removable drawers or hampers that will slide out when you need to clean underneath the washing machine.
If a laundry room is integrated into the design style and character of the house, it will be a more enjoyable place – the final determinant of a room's success. – More Not So Big Solutions for Your Home, Sarah Susanka
Looks More Aesthetically Pleasing: Washing areas or spaces like basement laundry rooms will usually have counters or tables where you can fold or place laundry items. The typical height of these work surfaces is 3 ft or 90 cm. A raised washing machine will keep the area more cohesive with the relatively close heights. In addition, it is easier to take out laundry and place clothes on the counter or table (or vice versa) without bending too much.
Provision for Additional Storage: The extra space below the raised pedestal can fit several drawers or a medium-sized hamper where you can store detergents, fabric softeners, towels, or other laundry essentials.
There are pedestals for washing machines with built-in storage drawers with the same material as the appliance itself, so the two components look like one vertical appliance. This leaves a neat and cleaner look.
Disadvantages of Washing Machine Pedestals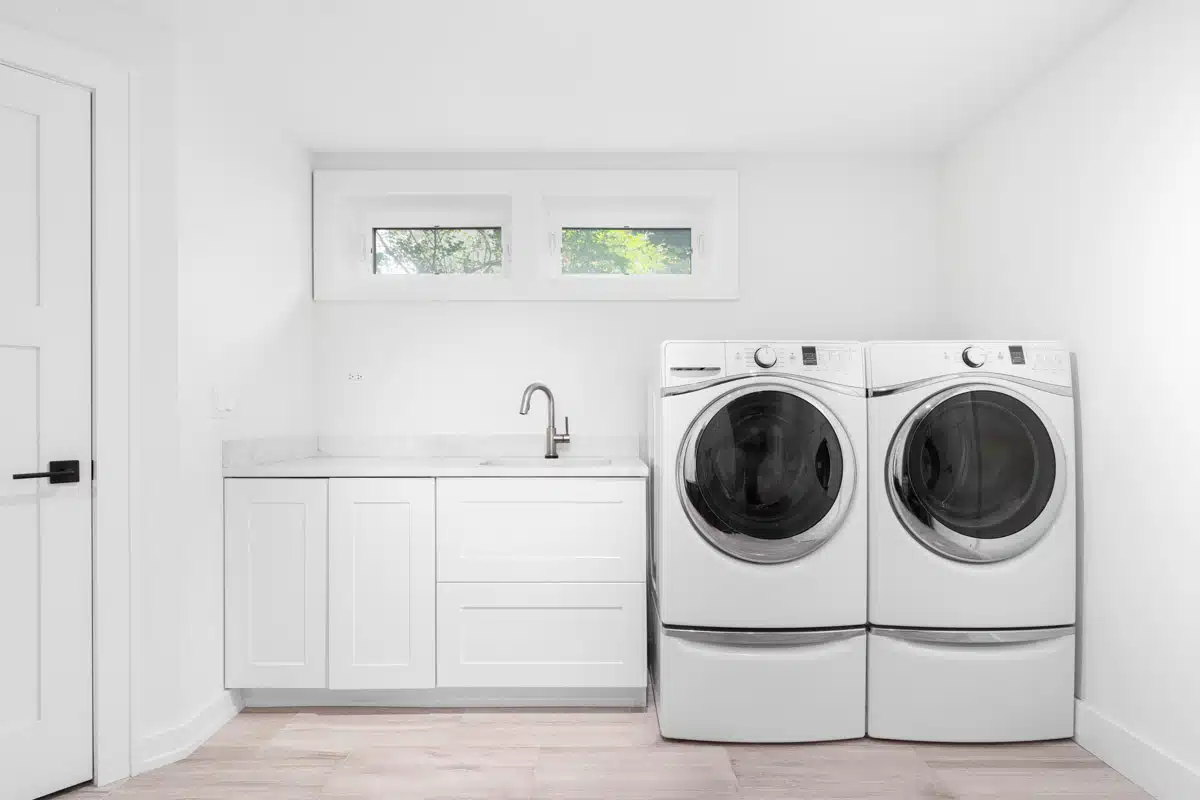 Additional Cost: The extra component will cost more, especially if you need a heavy-duty pedestal for a large washing and dryer machine. The average cost of these pedestals ranges from $50 to $150.
However, there are free plans for washing machine pedestals that you can do yourself with basic carpentry tools. A DIY washing machine pedestal made out of 2 x 4 frames, plywood, melamine shelves, and molding panels would cost less than $200.
Can Limit Users: While the added working height benefits an average adult, it may hinder people with lower statures from operating top load washing machines or dryers on a pedestal. So before opting for a washing machine pedestal, determine the average height of the people who use the washing machine most often.
Can Not Use a Pedestal to Stack a Washer and Dryer On Top of Each Other: The idea of stacking a side by side washer and dryer on top of a pedestal to save space is appealing. however, they are not designed for this purpose. This also applies to a stacked washer and dryer combined unit or using appliance risers to add height.
It may be Unsafe for a Home with Young Children: Most washing machine pedestals are made to withstand the weight of the washing machine, preventing it from giving way easily. A washing machine and pedestal combination typically have a screw connection to prevent movement between the two components.
However, a separately purchased pedestal may not have the features of securing the washing machine with the pedestal, so make sure to purchase a washing machine pedestal that can be fastened securely with the appliance.
If doing a DIY washing machine pedestal, consider having an attachment that will secure the two components and won't require much drilling or damaging the bottom of the washing machine.
Different Types of Pedestals for Washers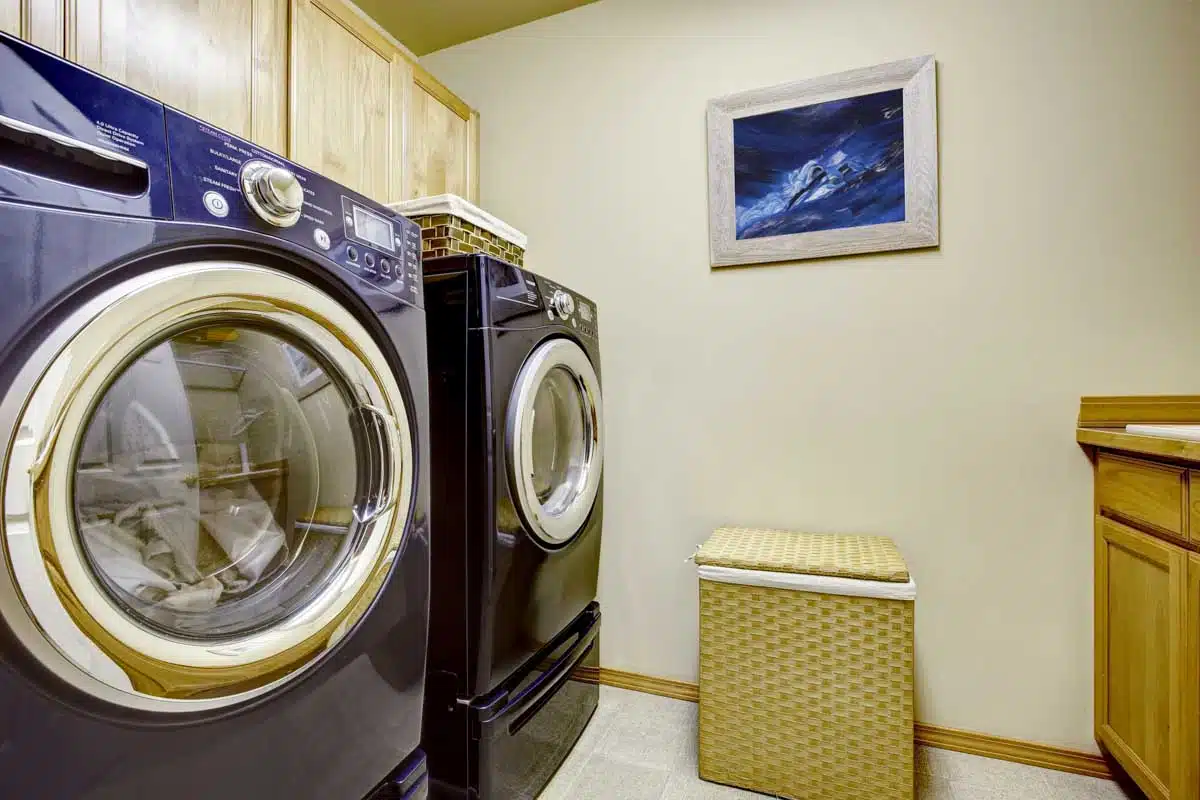 Here we share the different pedestal types for washing machines.
Basic Laundry Room Pedestals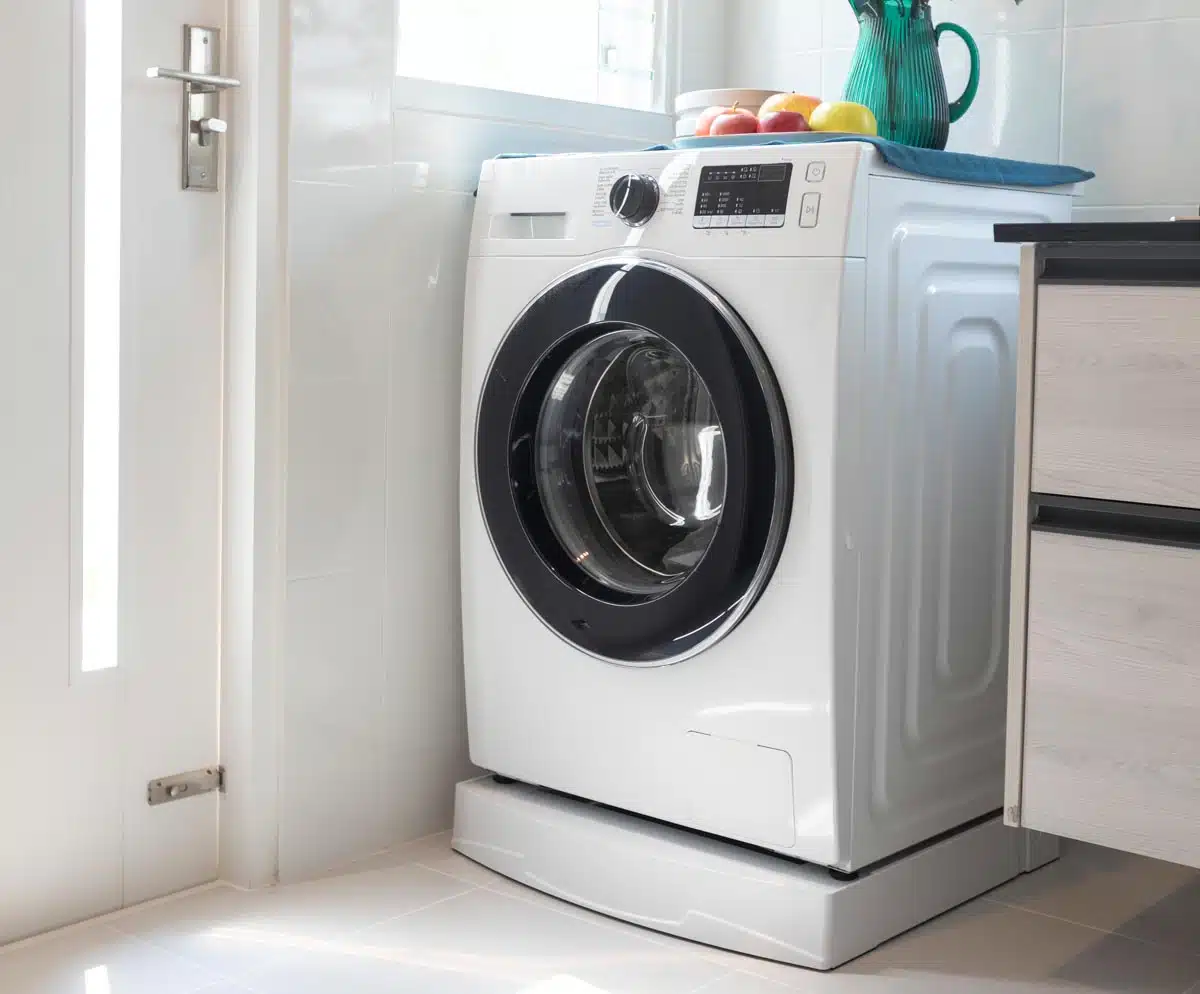 Frame Pedestals: These are pedestals with the basic square or rectangular frame to accommodate open shelving. This is a versatile type of pedestal where a hamper or container can hold laundry essentials or other items that need storage. These frame pedestals are typically made from plastic, wood, or metal, with stainless steel as the most sought material.
Drawer Pedestals: The built-in drawers can neatly slide in to keep stored items out of view. There are built-in drawers that have dividers to further organize smaller items. Pedestals that come with drawers can typically be removed for easy cleaning.
Add-on Pedestals: These are pedestals that can match a particular model or models from the same brand with matching color and material finish. Big-name companies such as LG or Samsung usually have available add-on pedestals for their washing machine and dryer products with different color variations.
Multi-purpose Pedestals: These are pedestals that can be used not only with laundry appliances but other appliances such as refrigerators, dishwashers, dryers, etc. The components usually have an adjustable mechanism to expand the pedestal's width and height to accommodate different types of standard appliances.
Other Features:
• Adjustable Height
• With Drying Rack
• On Wheels with Brake Function
• Load-Bearing Supporting Feet
• Built-in Steam Cleaners
• Integrated Ironing Boards
• Pull Out Shelves
Smart Appliance Pedestals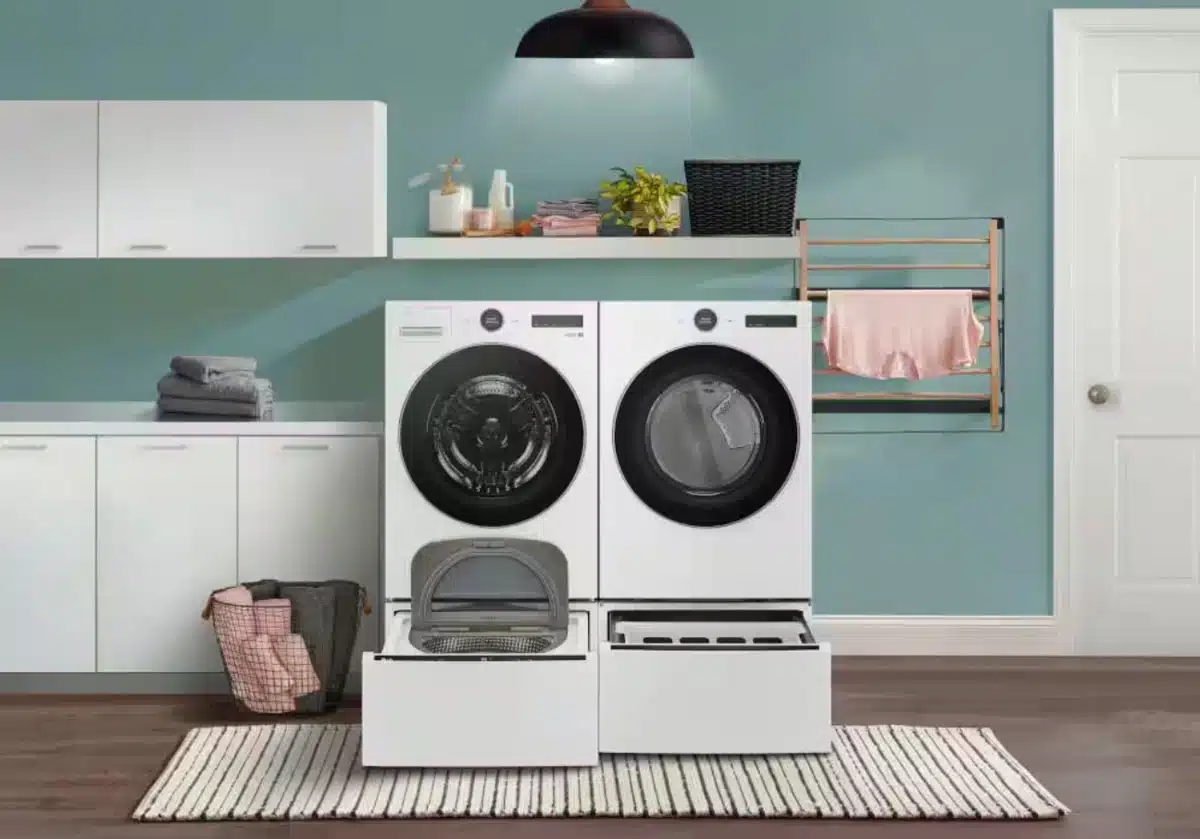 See this smart washing machine appliance pedestal at Home Depot [sponsored link]
Dual Washing Machine with Pedestals: To increase its functionality, there are pedestals that house a mini-washing machine. The smaller appliance can wash smaller items such as socks, handkerchiefs, or other intimates up to 3 pounds and typically wash 3 to 4 pieces of shirts in one load.
Smart Stations: The appliance integrates USB charging ports for devices. Other integrations may include wireless connectivity for control and monitoring. This means you can monitor your laundry even when you're not at home.
Pedestal Cost Considerations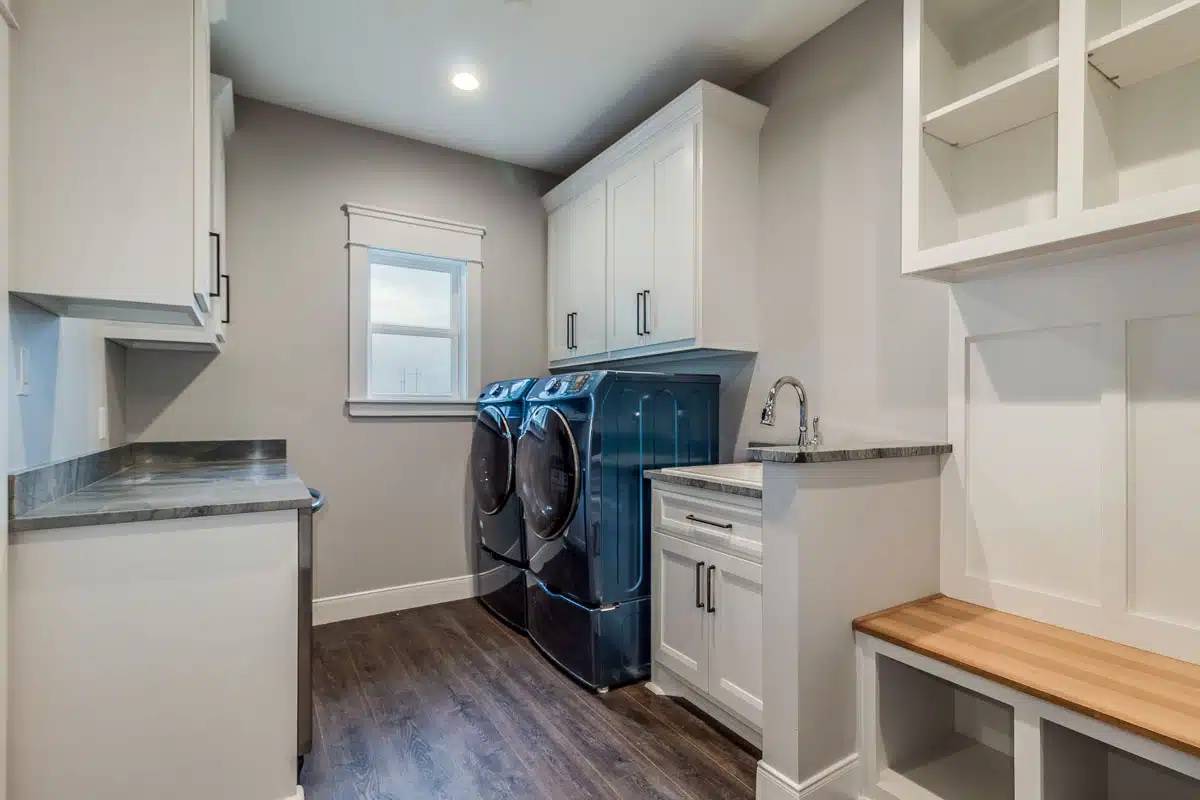 Average: The average cost for pedestals is around $50 to $150.
Basic: Frame or basic pedestals without hampers or built-in drawers usually cost $39 to $60. Multi-functional pedestals that can be reused for other appliances typically run from $39 to $150. A multifunction pedestal that can carry up to 1300 lbs. costs around $60.
Enhanced Features: With Built-in Drawers/Hampers: $180 to $300
Combination of Washing Machine and Pedestal: Large companies usually offer matching pedestals for their washing machine products, and they can cost less when bought together. The average costs would range from $1000 to $ 1500 for a basic 27-inch front load washer with a pedestal.
At the same time, a combination of washer and dryer with a pedestal is $2000 to $3000. Pedestals are useful for frontload types since these have appliances with lower openings.
Factors that can influence the cost of pedestals are:
• Size: Choose a pedestal that is wide enough to accommodate your washing machine size. A washer and dryer combination will obviously need a wider pedestal. On the other hand, a stackable washer and dryer combo may need a more durable pedestal to carry the appliances' weight.
• Load Capacity: Check the weight limit of the pedestal and consider the weight of the appliance, water, and clothing. A standard washing machine with filled water and clothing is around 322 to 485 pounds. Frontload types are usually heavier due to counterweights to maintain balance.
• Height: When selecting a pedestal, make sure its height, together with the washing machine's total height, does not block any window or shelving. There are washing machines installed underneath the stairs, so check for headroom clearance as well.
• Material, Finish, and Color: The pedestal material will ultimately determine its longevity and durability. Wood pedestals are great for small or mid-sized washers. Most wood pedestals will have added moldings or beadings to match an existing interior theme. The finish should also be waterproof, and the chosen color should complement your interior.
• Installation: While most washing pedestals are easily installed, heavier types will need assistance from two or more people. We may need assistance from the supplier's representative for the smart washing machine pedestal setting up.
Pedestal Installation Process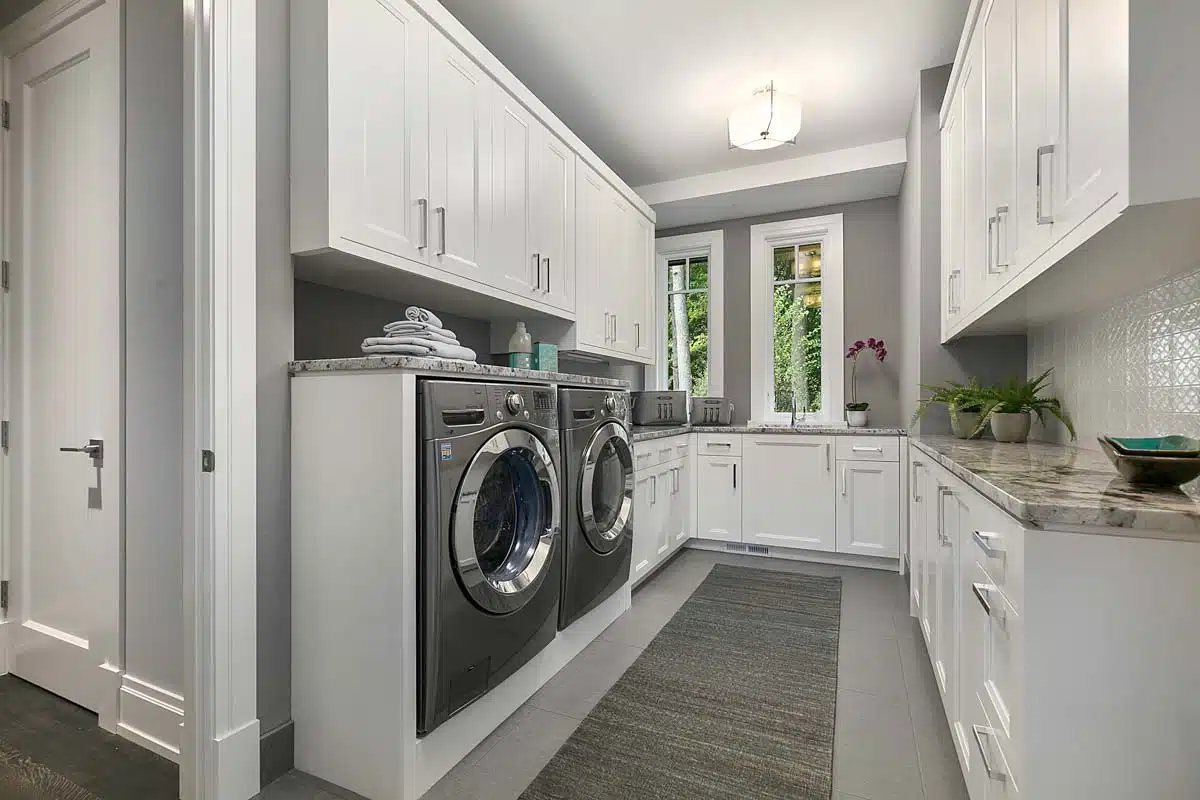 The installation process for pedestals depends on the type of pedestal. Each manufacturer will have an instruction manual and supplemental instruction video for customers. The following are the tools needed and general steps for a typical pedestal.
General Tools Needed:
• Screws and Wrench (pedestals will typically come with their own screws and wrenches)
• Nut Driver
• Screwdriver/Drill
• Utility Knife and Scissors
• Measuring Tape
• Safety Gloves
• Level Bar
• Step 1 – Prepare the Area: Clear the area where the washing machine and the pedestal is to be installed. Remove cluttered furniture or items that may get in the way during installation.
• Step 2 – Remove the Washing Machine: Unplug the taps of the appliance. Use an air sled to easily move the it, which is useful, especially when working alone or if you have a tight space. Air sleds can be rented out from moving companies. Place the appliance in a larger area.
• Step 3 – Unpack the Pedestal Kit: Using the utility knife or scissors, carefully remove the pedestal from the packaging. Read the instruction manual before proceeding.
• Step 4 – Double-check the Height: Using your measuring tape, get the total height of your washing machine and pedestal. Also, check for the width and depth. The total height should fit into the allotted area as well as the width. It is best to be a few inches away from an overhead shelf or architectural feature. If the washing machine is also a new installer, double-check if its depth and pedestal allow ample clearance when doing laundry activities.
• Step – 5 Level Your Pedestal: With the appliance out of the way, place the pedestal on the spot. Then, using your level bar, check for the level. Levelness of your pedestal is important as it can cause vibration and noise as well as an unsafe base for your appliance. Most pedestals will have adjustable level legs that are easily adjusted with the wrench that comes with the appliance.
• Step – 6 Mounting: Move your pedestal to the larger area where the appliance is temporarily placed. A combination from the same company usually come with clips and a track. The clips are screwed into the underside of the washing machine, which will then slide through to a track integrated on top of the pedestal.
To further secure the two components, they are screwed together with the available screw slots between the components. Double-check the level of the combined washing machine and pedestal.
• Step 7 – Move in Place: Using the air sled, move the combined components to the final area where it is to be installed. Plug the taps into the appliance.
Safety Consideration Tips:
• Unplug the appliance before installation.
• Consider installing water leak sensors near your washing machine and pedestal to detect any leaks early and prevent water damage. For smart types, it is best to ask your questions and concerns to qualified personnel before doing any repairs.
• Since the built-in drawers are low, they can be reached by small children or pets; be sure not to store dangerous or toxic items.
• Over time, screws and other attachments can rust, or loose, or get damaged. Periodically check for any damages or issues with the level of the washing machine and pedestal.
• Misaligned or unleveled mountings can cause further damage to both the appliance and the pedestal. Always check for the level.
Common Issues With Pedestals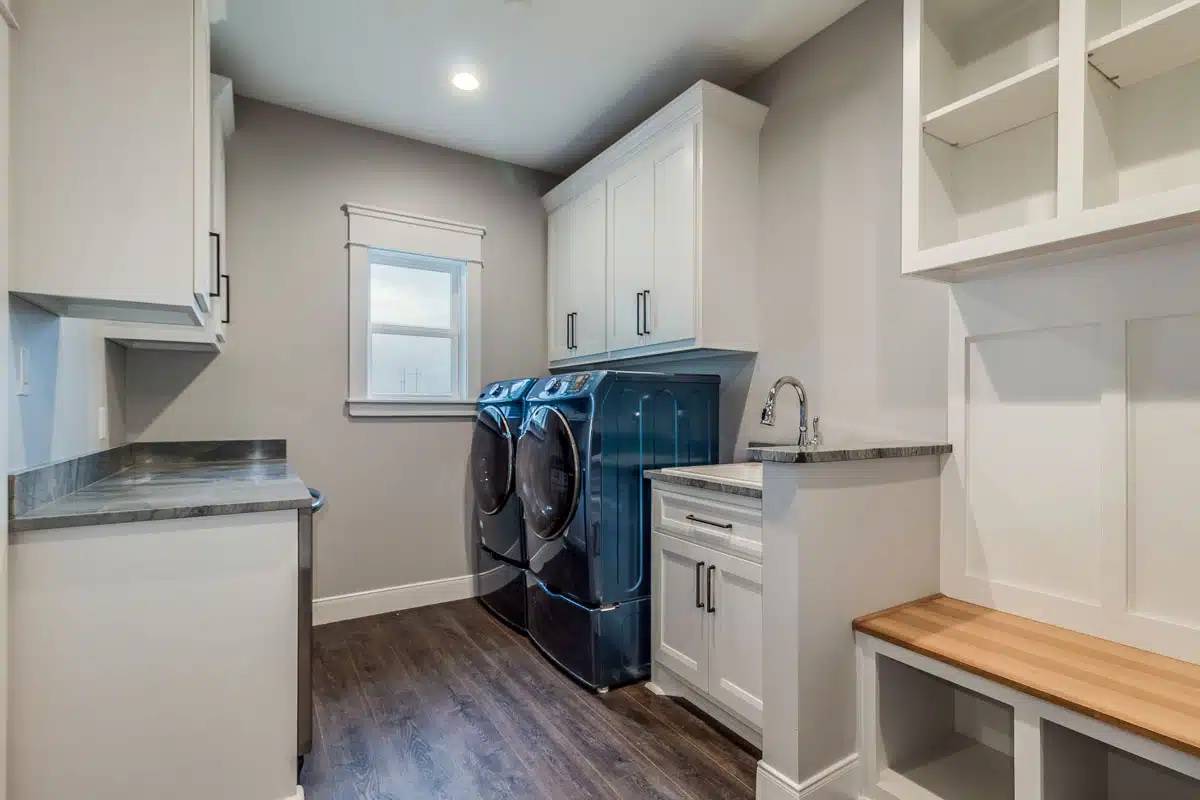 Stability Issues: Because there are two separate components and there are vibrations produced during use, there's a need to always check and keep the two components leveled and stable.
Bowing: When a washing machine pedestal selected cannot withstand the total weight, it can cause the pedestal to bow or sag over time.
Alignment Issues: There can be alignment issues when buying a separate pedestal for a washing machine. It may be best to get a customized pedestal to ensure that the pedestal aligns perfectly with the washing machine.
Installation Issues: Some people may encounter difficulties during installation, especially if the pedestal is incompatible with their appliances or if its height is not adjusted correctly.
Alternatives to Pedestals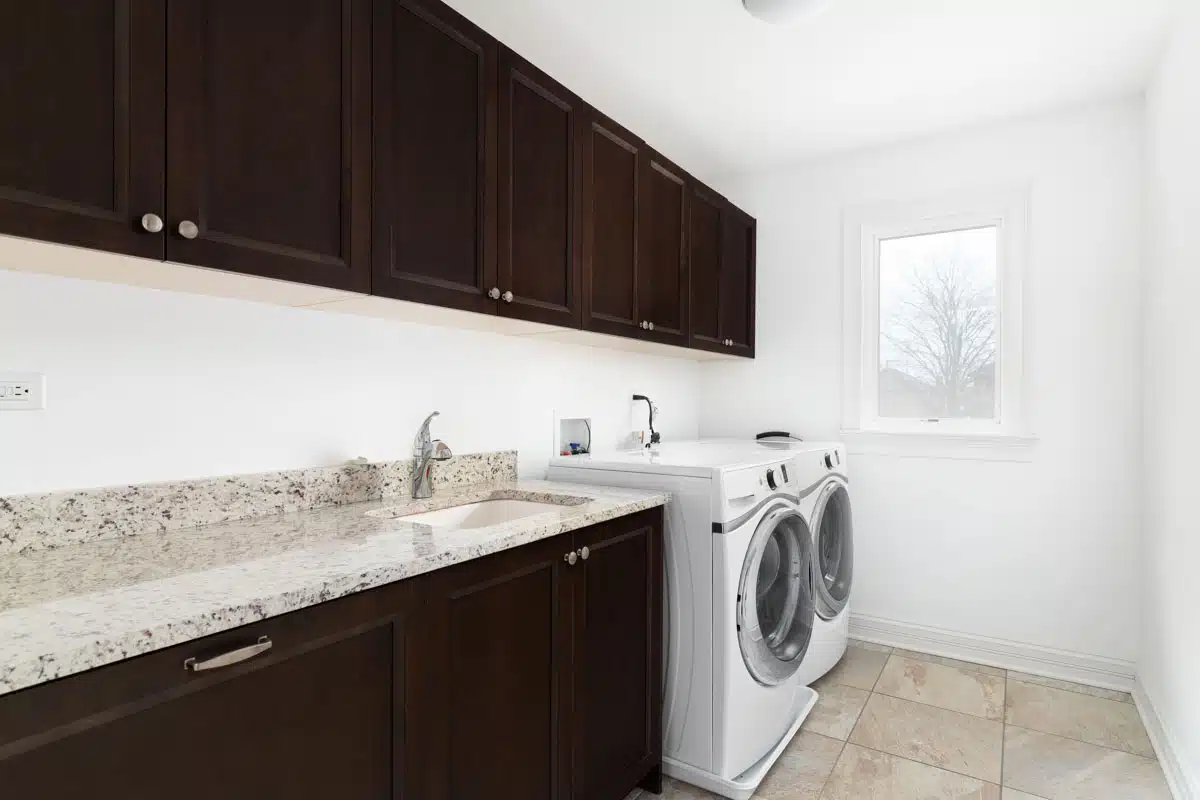 Built-in Closet: Instead of installing a platform that's within the perimeter of your washing machine, customize built-in full types of closets to raise the height of your washing machine. The added weight means a more stable platform. The washer and dryer closet can have added features such as added storage.
Palette Platform: Wooden crates are inexpensive and quick-to-install alternatives to washing machine pedestals. Simply cut off excess width or modify the height of the palette platform by adding extra planks as well as adding padding to prevent damage to the floor.
Furniture Risers: These padded furniture legs can be screwed onto the washing machine's foot pad or simply mounted on. However, be sure to get quality furniture risers that can accommodate the heavy weight of the washing machine. Furniture risers may not be high enough to reach the recommended working height.
See more related content in our article about the best laundry room island ideas on this page.