Below is our guide to composite marble including its benefits, features, cost and design ideas to give your kitchen and bathroom a whole new look.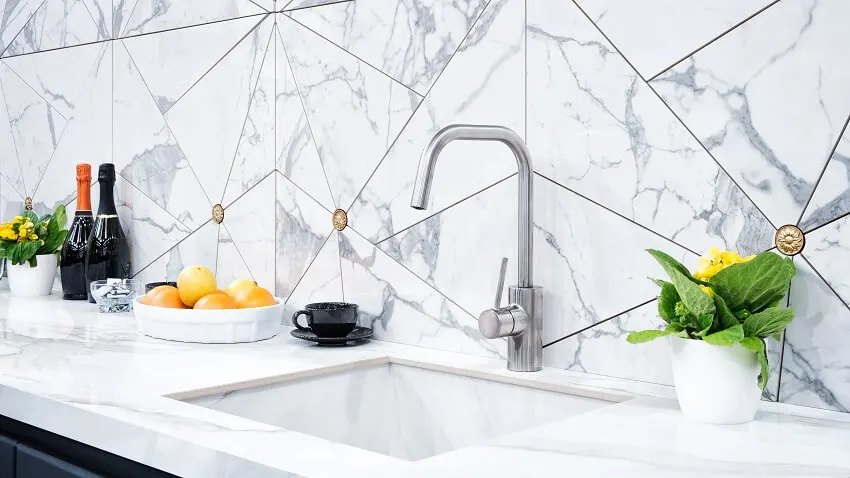 Have you heard of composite marble before? It's one of the great options you can choose for flooring, walls, and countertops.
And no, it's not real marble so yes, it will not be as expensive as you think. But the great thing is that it looks magnificent and despite not being fully authentic, possesses the inherent qualities of a real one.
Marble goes way back to the early centuries when it was more popular for temples and monuments, as well as buildings and museums. It is an excellent material to furnish your home but make sure that marble suits the room you're planning to work on in the first place. This material has many benefits which we will cover in detail below.
What Is Composite Marble?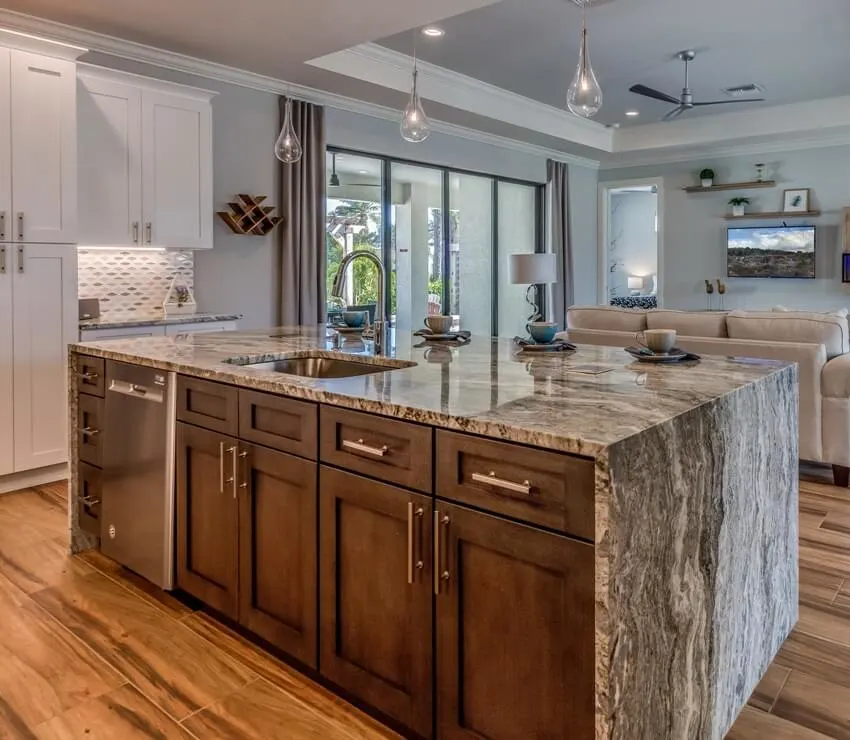 Composite marble is a man-made stone that you can use as an alternative to natural marble. It's also known as engineered marble. It is a beautiful but more affordable way to increase the value of your home or room.
Composite marble is/may be comprised of the following materials:
• Marble dust and chips
• Colored glass
• Shells
• Stone particles
• Metals
• Resin
• Pigment
This engineered marble is molded, refined, and polished. About 90% of natural marble chips are formulated together with the rest of the materials. It is then cast into molds and then develops a hard surface with the help of a mixture bond and unique gel coat.
Once laid down, the engineered marble is cut and polished as desired. Overall, this material is designed to have the look and feel of natural marble while being more durable and easier to maintain.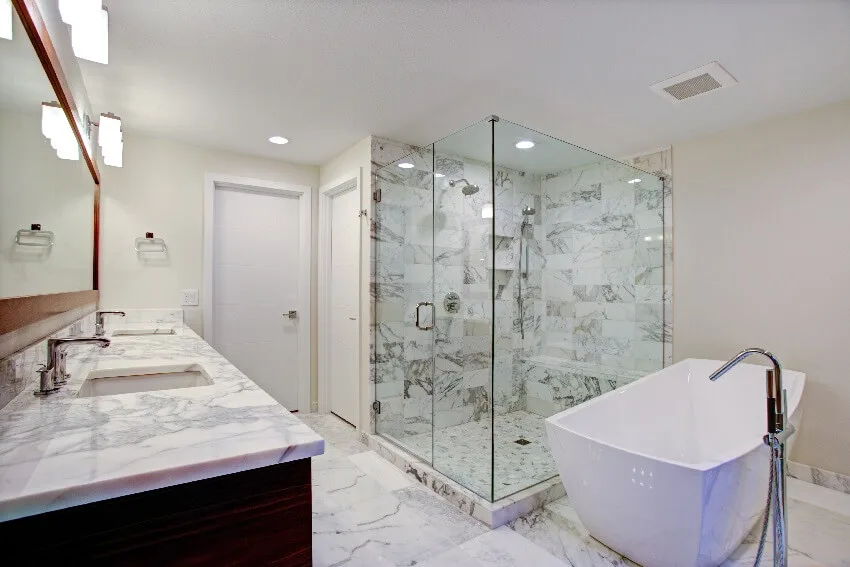 Uses
• Bathtubs
• Backsplashes
• Countertops
• Kitchenware
• Moldings
• Sanitary ware
• Sink
• Shower walls
Benefits of Composite Marble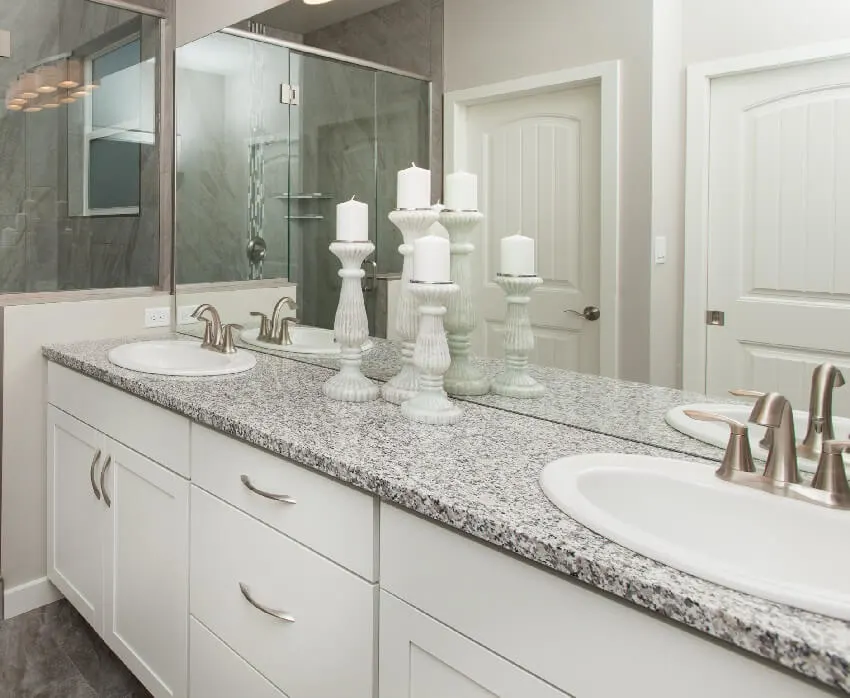 • Wide variety of selections- based on colors, patterns, sizes, and thickness
• Lightweight
• Hassle-free maintenance (Cleaned through non-abrasive products)
• Durable, tough, and non-porous – resistant to chipping, mildew, and stains
• Less expensive fabrication and installation
• Widely applicable – can be used for different rooms and sections of the home
Uses in the Kitchen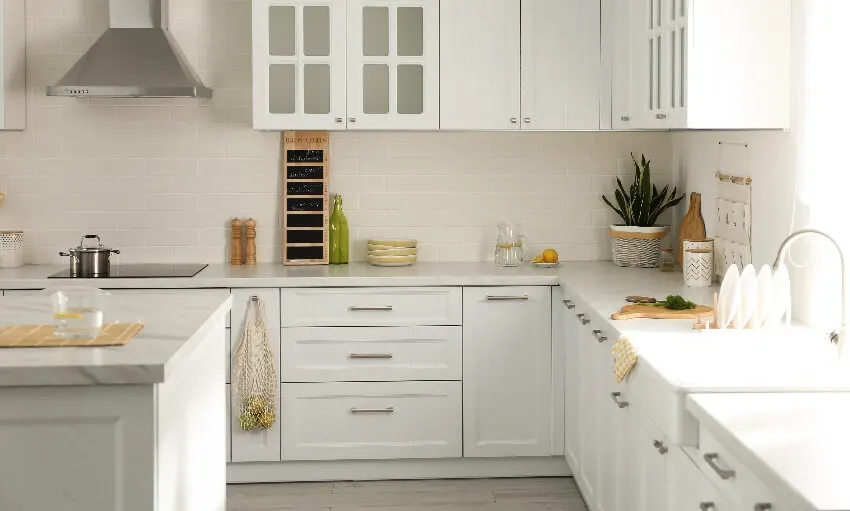 This material looks wonderful with its veins and a variety of designs and colors. It is also a more affordable material you can use for your kitchen.
Despite not being a natural stone, it is hard and tough, making it a great option for your kitchen, whether you install it for the flooring, walls, or countertops. It has realistic and gorgeous veining patterns with a wide selection of colors to choose from.
People prefer marble for kitchen flooring and countertops because of its elegant look and tough exterior. Another characteristic that makes it an excellent option for your kitchen is the fact that it's low maintenance and won't be an expensive endeavor to accomplish. It is also installed in hotels and offices.
Countertops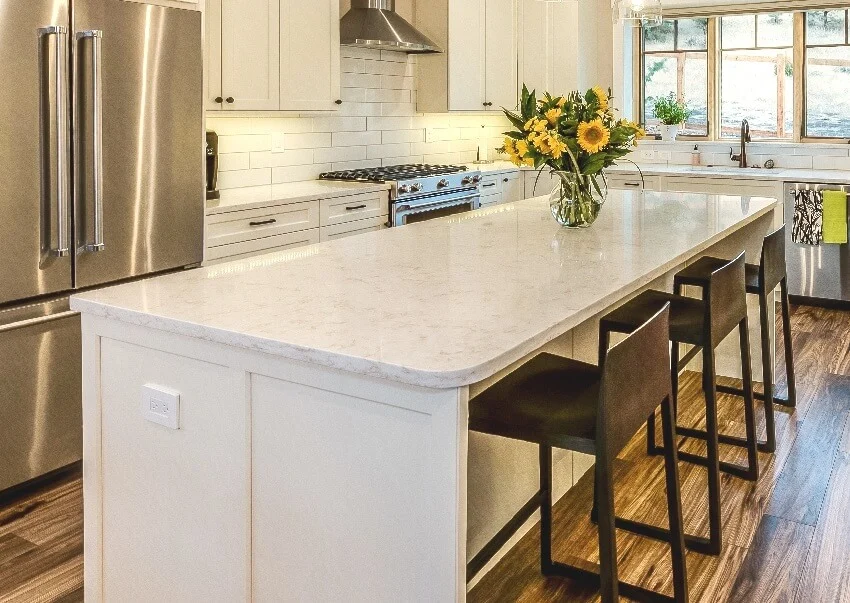 Installing composite marble for your countertops is an excellent option to consider. With the qualities of this type of marble, it is an excellent match.
Since this type of engineered marble is durable (because of the combination of marble minerals and polymer resin binders), these countertops have enough hardness that can tolerate scratches from your food preparation.
It also has an array of choices based on its bold veining and color selections. Its aesthetics is similar to that of natural marble with exquisite appearance and charm, which is a great value since it has a lower price than the authentic one.
And when it comes to its cleaning and maintenance it fits perfectly for a kitchen's countertops because of how straightforward and simple the resealing process is for the countertops.
And this is important for countertops since they have a high risk of getting stained due to food preparation and how frequently you would do this. Read more about Marble kitchen countertops here.
Shower Walls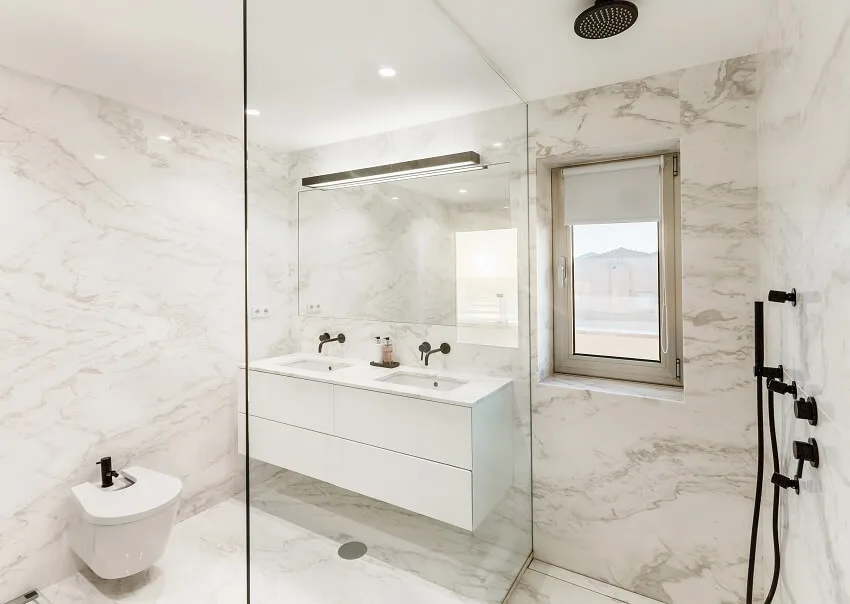 Composite marble shower walls are also popular, giving bathrooms a more elegant touch. Since these walls are more at risk of splashes and watermarks, engineered marble will be a good option to consider since it is low maintenance and easier to clean compared to natural marble.
If you choose engineered marble though, make sure that you match the style and design, particularly the veins and color, with the entire design of the bathroom. See our marble shower design guide here.
Panels
Marble composite panels are another option you can try out for your interior. These panels are cheap, durable, and lightweight. They can be a great addition to your interior decor, with a variety of designs and colors to choose from and increase value to your aesthetics.
Despite not being authentic, there is a natural and subtle appearance that marble composite panels showcase.
Here are some of the characteristics that these panels can offer you:
• Durable & Long-lasting Finish – formed through high-temperature baking
• Rich Color – a wide range of color options
• Very Smooth Flatness – diverse texture
• Shorter Installation Period
• Incredible Weather Resistance
Price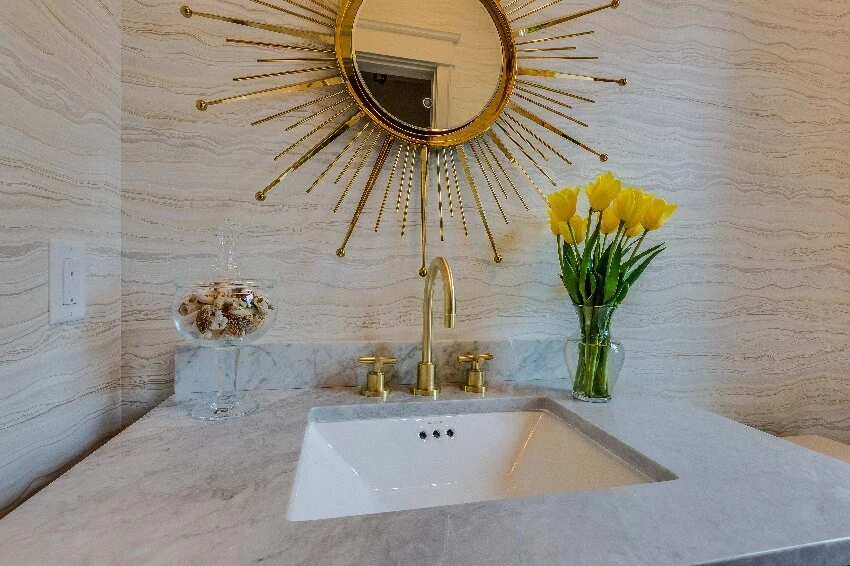 Once you've decided on using composite, one important factor to learn about is the price of the material. Since it's not authentic and not natural marble, it costs way less than the real one. Despite the lower cost though, it actually provides more functionality.
If you have a limited budget and your project has budget constraints, this might be the perfect choice for you. It is a good middle ground between expensive natural stones and cheap fake stones.
These types of factory created marble slabs cost around $349 to $759/square meter, depending on the designs and stones used.
Composite Vs Artificial Marble
Composite and artificial marble are closely alike in the sense that they are not authentic. Both are more lightweight than the natural stone and have a variety of colors, designs, and textures to choose from, which is the opposite of natural marble.
Both of these types of marbles are less expensive and require hassle-free maintenance. While they may not be as high-end as natural marble, they look gorgeous and add aesthetics to the room they're installed in.
They are made from marble dust and chips and the difference is that composite marble is made of 90% of marble materials while artificial marble is made of 75% marble materials.
For more related ideas, visit our guide to cultured marble shower pros and cons.