Get ideas for shiplap dimensions including the standard sizes, different board widths sizes, plank orientation, and how to measure shiplap for your project.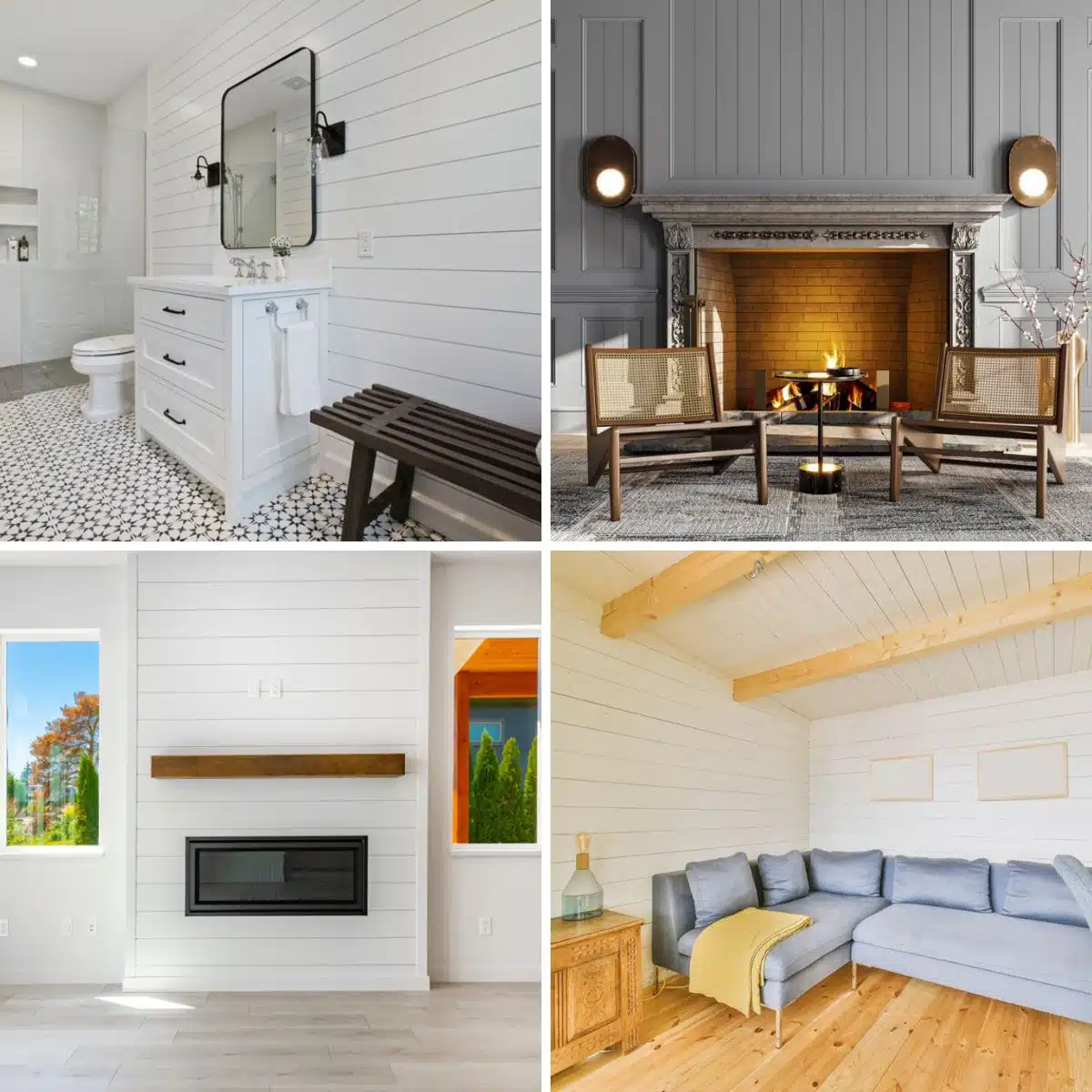 Despite advances in building materials and construction technologies, many DIYers still use wood in home improvement projects because of several distinct advantages. Wood is light, allowing homeowners to retain their property's structural integrity.
It is also more flexible and easier to manage to suit one's design preferences. Unfortunately, wood's natural enemy – water – can undermine these benefits unless one employs effective waterproofing.
Shiplapping might be inherently marine-related, but its usefulness extends beyond waterproofing ships, boats, and similar vessels. A well-constructed shiplap can prevent water ingress to a home's interior. It is a classic (read, old-school) technology that remains as relevant among ancient sailors (as early as 1700 years ago) as it does among 21st-century households.
Besides choosing the correct wood for the home improvement project, DIYers and homeowners must also determine the most appropriate size. This task is easy if one knows shiplap dimensions, enabling DIYers to plan their projects accordingly.
Standard Shiplap Sizes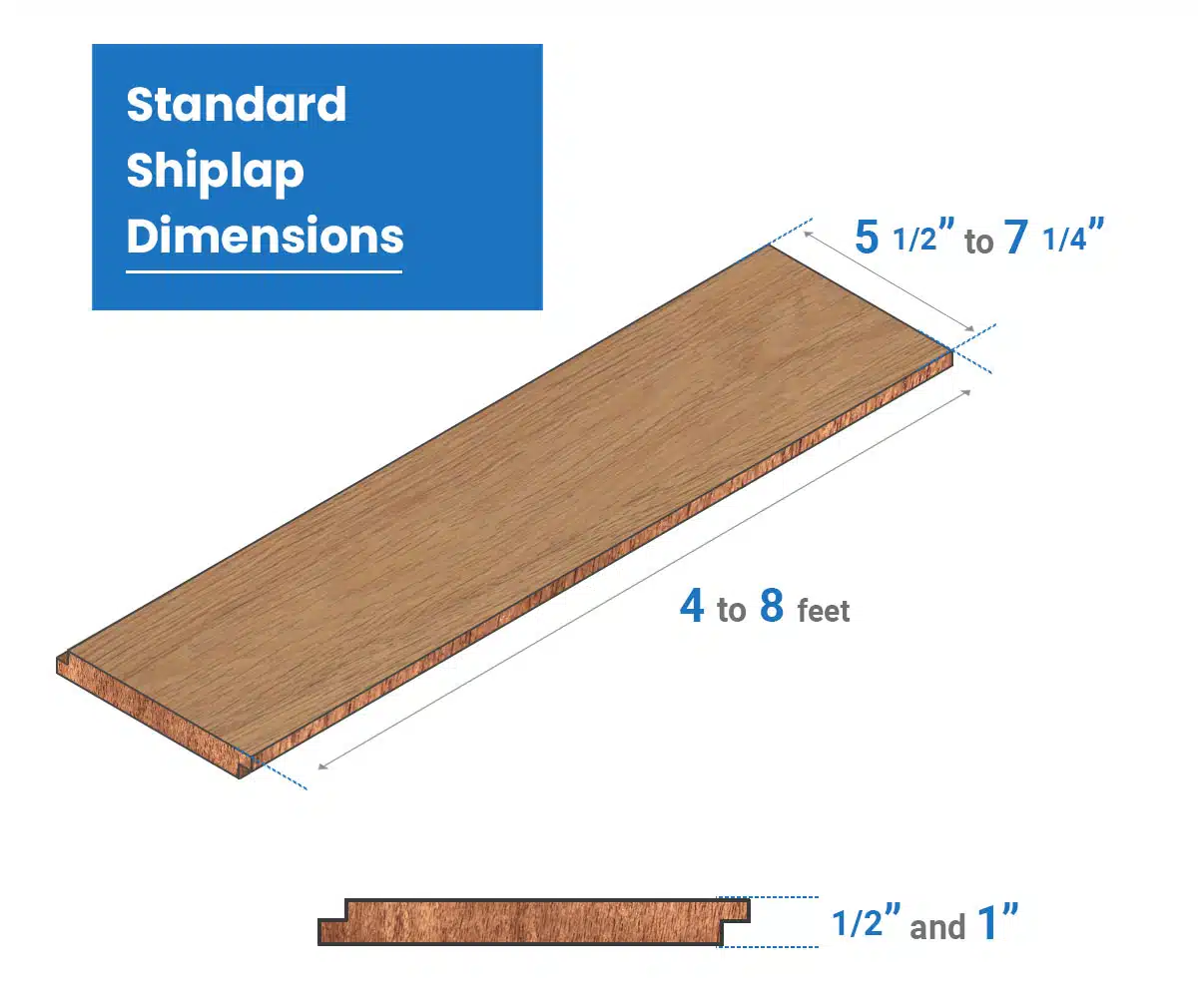 Homeowners embarking on a home improvement project have several options for standard shiplap dimensions. Like other wood construction materials, three parameters are crucial. One can look at these boards as a long and wide, but thin wood panel nearly similar to a plyboard or plywood, except it is narrower.
A shiplap board can extend from 4 to 8 feet (1.2 to 2.4 meters) in 2-foot increments (61 centimeters). Although this shiplap dimension is standard, homeowners must recognize that construction supply stores can customize the wood's length to fit the project.
Meanwhile, the average board has a side-to-side width of 5 ½ inches or 7 ¼ inches (14 or 18 centimeters). It is worth mentioning that some seasoned DIYers choose a relatively "narrower" board of 5 ¼ inches or 13 centimeters.
The key to good shiplap – as with most lap joints – is to ensure that adjoining parts, such as the mating tongue and rabbet, are of equal thickness. – Classic Joints with Power Tools, Yeung Chan
A homeowner's choice of shiplap width depends on the project. For example, some home improvement designs look more stunning with a 7 ¼-inch size than a 5 ¼- or 5 ½-inch version. Hence, families must consider collaborating with an interior designer to determine the best material width to achieve the desired feel and aesthetics for any given room (i.e., living room or bedroom).
As for the shiplap's thickness, two sizes are standard – half an inch (1.3 centimeters) and one inch (2.54 centimeters). As mentioned, some boards might have a different thickness (i.e., 5/8-inch or 1.6 centimeters). Choosing the correct thickness hinges on whether the homeowner wants to create more distinguishable lines between boards, producing depth of perception.
Interior Shiplap Board Widths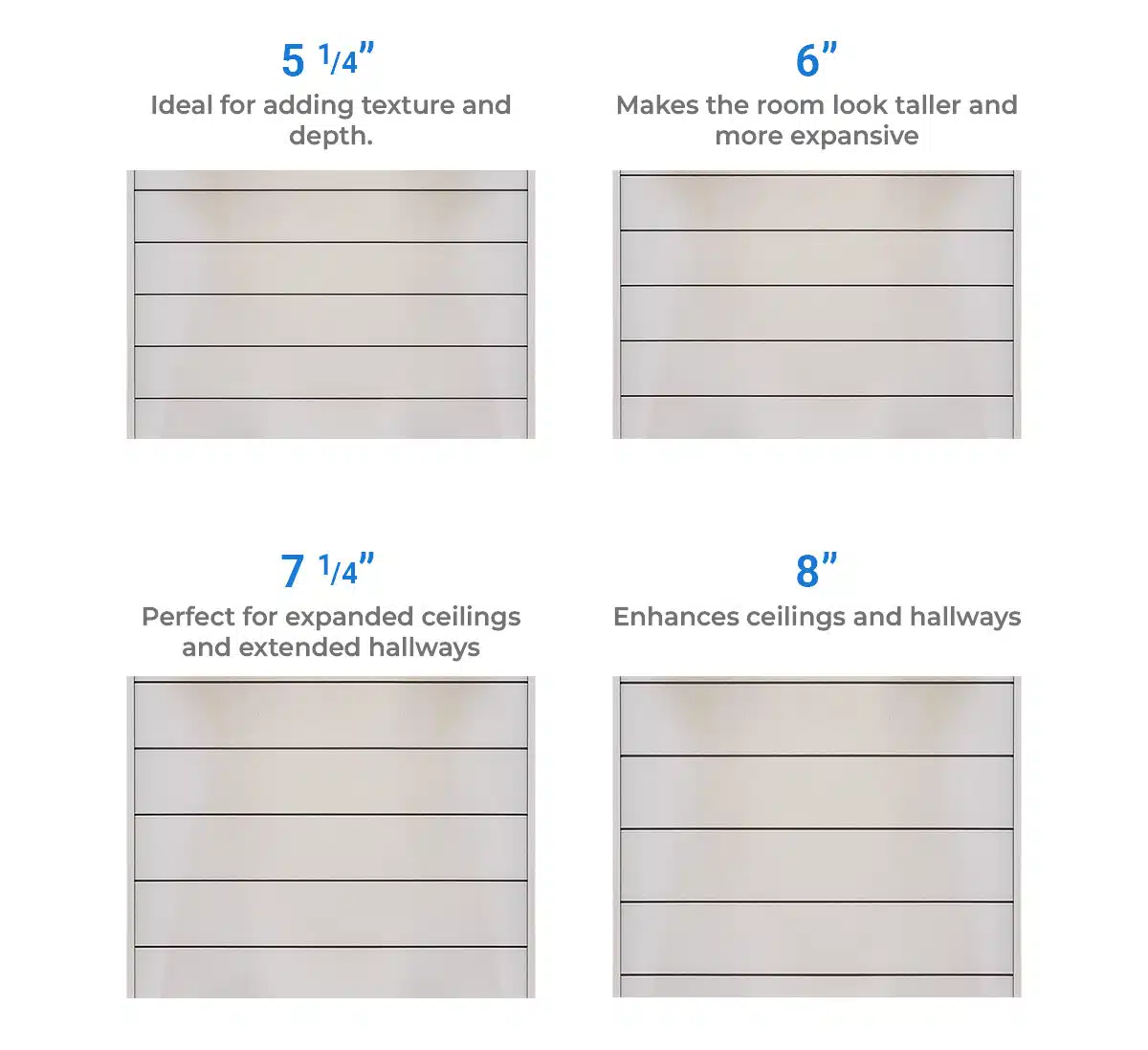 Shiplap boards for interior purposes have nearly identical dimensions to those in external applications. Most designers and DIYers recommend a 5 ½-inch plank, although homeowners can opt for a 7 ¼-inch for a more contemporary feel. Moreover, an 11 ½-inch board (29 centimeters) is not uncommon.
5 ¼"
A 5 ¼-inch (13 centimeters) wide piece is not too dissimilar to the more conventional 5 ½-inch (14 centimeters) board. This width is ideal for adding texture and depth to any wall, allowing homeowners to improve the room's aesthetics by introducing visual interest.
Transforming dull spaces is easy with this size. Homeowners can orient boards horizontally to create the illusion of an expansive room. It is the perfect solution for homes with limited spaces (i.e., studio apartments), allowing homeowners to make their properties look "less cramped."
Installing shiplap boards vertically is ideal for homes with low ceilings. The overlapping planks create lines that "lengthen" a room's visual appeal, making it look "taller" and feel "less claustrophobic."
This size is ideal for medium-sized rooms (i.e., bathrooms and foyers), especially those with existing wainscoting or wall accents.
1 x 6
Homeowners who want to create more stunning accent walls should consider a 1 x 6 size. This wood board spans 6 inches (15.2 centimeters) across, making it slightly "wider" than the typical 5 ½-inch (14-centimeter) or 5 ¼-inch (13-centimeter) piece. It is an inch thick, creating a distinct shadow between planks.
Like any style of accent wall, this wooden board adds visual interest to a dull living space. It can also produce an illusion, making the room look taller or more expansive than it is.
7 ¼"
Although most homeowners pick a 5 ¼-inch (13-centimeter) or 5 ½-inch (14-centimeter) width for most home improvement projects, these boards are impractical when covering a spacious room. Adding 2 inches (5 centimeters) to the width can reduce the number of boards necessary to complete a project.
For example, suppose a homeowner wants to install shiplap boards horizontally across a 9-foot-tall (2.74-meter) room. In that case, the project will require at least 20 5-1/5-inch (14-centimeter) boards. On the other hand, the same home improvement task only needs 15 7-1/4-inch (18-centimeter) units.
Most homeowners pick a 7 ¼-inch width for their home improvement projects to give a room a classic farmhouse style. It is also perfect for residences with expanded ceilings, extended hallways, narrow but large rooms, and accent walls.
1 x 8
If a 1×6 plank approximates 5 ½-inch (14-centimeter) overlapping boards, a 1 x 8 plank defines a 7 ¼-inch (18-centimeter) board.
This material dimension is perfect for improving a large room's aesthetics, giving it an appeal better than a 1×6 size. Most DIYers and interior designers use this size to enhance ceilings and hallways, especially more spacious ones. Living rooms can benefit from such choices, allowing homeowners to create a more enticing atmosphere for the family and guests.
Shiplap Thickness
Shiplap boards can be as thin as half an inch (1.3 centimeters) to as thick as an inch (2.5 centimeters). However, it is worth mentioning that manufacturers offer units in varying thicknesses or depths. Hence, homeowners and DIYers must determine their design requirements to consider the correct thickness.
For example, a 1-inch-thick piece offers better depth perception, creating a more distinguishable line between boards. It can deliver visual interest like no other, depending on the room's lighting. The thicker the plank is, the more pronounced the shadows it creates. This observation produces a 3D-like effect.
There are several useful tips to consider before hanging these boards. The correct size nail to use for this lumber is a 1 1/2″ to 2″ long brad finish nail in a 16 gauge. It's a good idea to get 1″ penetration of the nail into the wall studs.
When hanging the boards you can first use an adhesive or have a friend help you hold the board in place while using a brad nailer or hammer. Having a level handy will help when starting the alignment process so you get an even plank installation on the wall.
It's also a good idea to consider purchasing primed lumber with a tongue and groove attachment system. This way it's easier to get the right fit and apply paint to the finished product. If you're buying rough wood lumber you will need, sandpaper, saw horses, a roller, paintbrush, and primer.
In my experience it is generally not advisable to use a drill and screws for the interior shiplap surface as it can be challenging getting the pieces to come together properly.
Shiplap Ceiling Size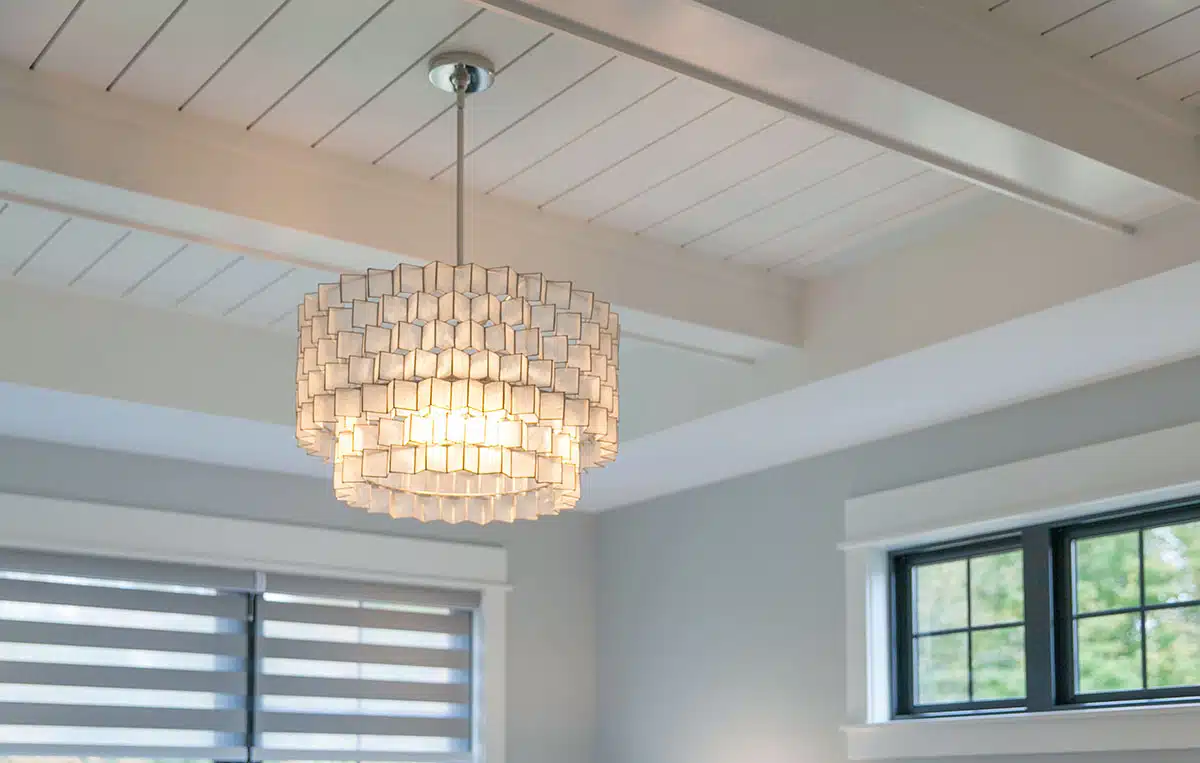 Shiplap sizes for ceiling applications are similar to wall accent projects. Most ceiling-installed boards are 5 ½-inch (14-centimeter) units. It is worth noting that spacious rooms and residential spaces (i.e., hallways, kitchens, and living rooms) can benefit more from 7 ¼-inch (18-centimeter) planks.
Adding cladding to the ceiling is perfect for homes with beautiful chandeliers and other ceiling-mounted works of art. The lines draw attention from the floor to the wall and ceiling, allowing guests to marvel at the fixture or item suspended from the ceiling. Visit our shiplap ceiling design guide here.
Nickel Gap Shiplap Plank Dimensions
Shiplap derives its name from the overlapping wood design. Although meant to waterproof ships and boats, its design forms a tiny gap between boards. This space is tight enough to form a watertight bond with adjacent planks and large enough to accommodate a "nickel" inserted into the gap (hence, "nickel gap").
Although boards range from as small as 1 x 4 to as large as 1 x 10 (perhaps even bigger), the nickel gap size remains fairly constant at 5/64 inches or about 2 millimeters (1.98 mm). Visit our Nickel gap shiplap design and materials guide here.
Shiplap Orientation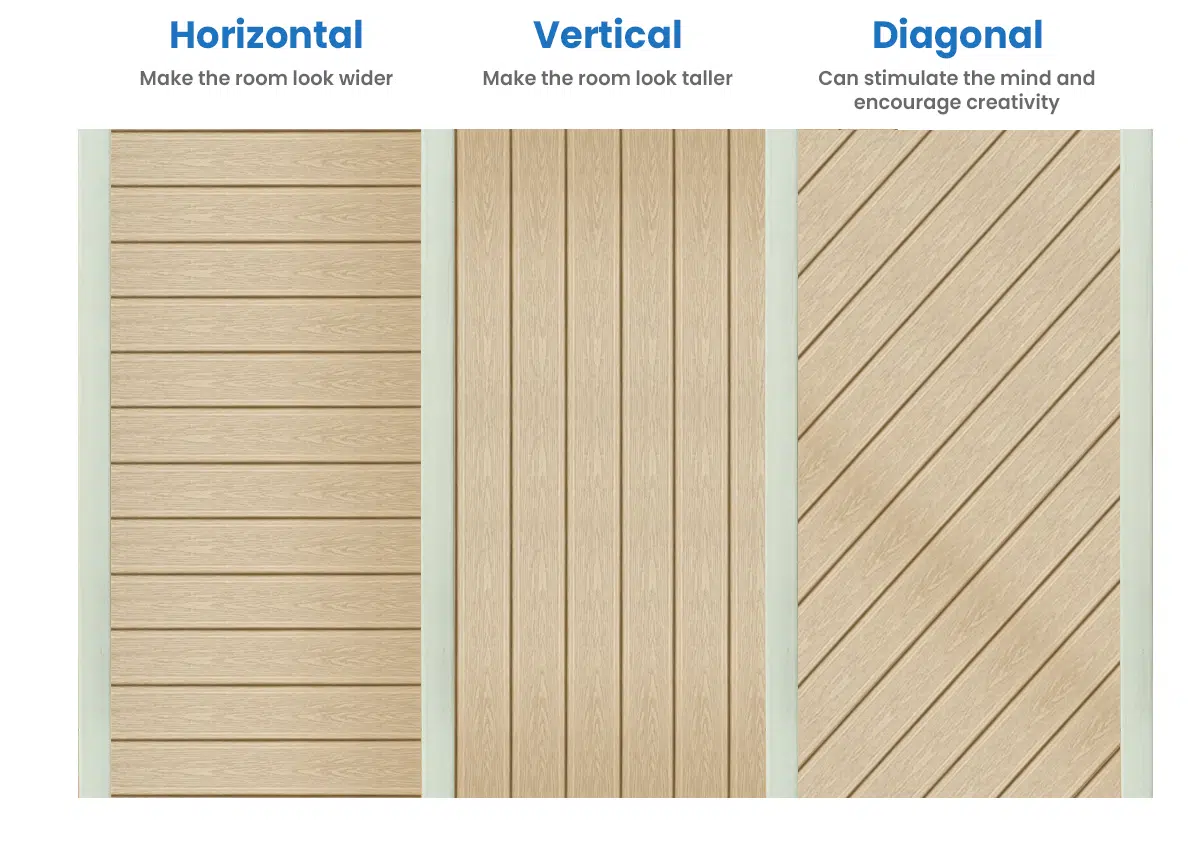 Homeowners can install shiplap planks in three ways: horizontal, vertical, and diagonal. Their choice reflects homeowners' understanding of room aesthetics.
• Horizontal – Mounting boards on walls to run parallel to the floor creates an interesting visual texture, making the room look like a classic yet elegant farmhouse. Horizontal shiplap planks draw the eye to the side, creating an illusion of a wider or more extensive room than in reality.
• Vertical – If horizontal boards draw attention to the sides, a vertically shiplap encourages the eyes to look up. It is the perfect solution for homes with low ceilings, allowing guests to think the room is taller.
• Diagonal – Diagonal lines convey movement, allowing the eyes to focus from one corner to the next, top to bottom, and vice versa. Some interior designers recommend diagonal shiplap planks to stimulate the mind, making them the ideal orientation for children's rooms. These boards can also be excellent tools for encouraging creativity and imagination in the play area.
How to Measure Shiplap for Your Project
Home improvement projects involving shiplap planks require measuring the wall, ceiling, or any section where one wants to install these wooden boards. The most straightforward method is to determine the project's area (length x height).
Suppose one wants to install these planks on the wall. In that case, homeowners must measure the wall's length and height. For example, a wall spans 16 feet side-to-side and reaches 8 feet top-to-bottom. This project has a square footage of 128 (16 x 8 = 128 square feet).
Homeowners can use the information to determine the most appropriate shiplap size for their job. For example, a 7-inch by 16-foot board is 9.33 square feet. Dividing 128 square feet by 9.33 square feet results in 13.7 planks. Rounding up the figure leads to 14 boards.
On the other hand, families who choose a 5-inch by 16-foot board will need about 20 boards (5 inches x 16 feet = 6.66 square feet; 128 square feet divided by 6.66 square feet equals 19.2 boards).
Did we answer all of your questions or do you have any product or installation tips to share? Leave your comments below to let us know. See more related content in our article about exterior shiplap siding here.