Here we share different design alternatives to shiplap like vertical fluted panels, board and batten, reclaimed wood planks, stone wall cladding, and more ideas to fit your home.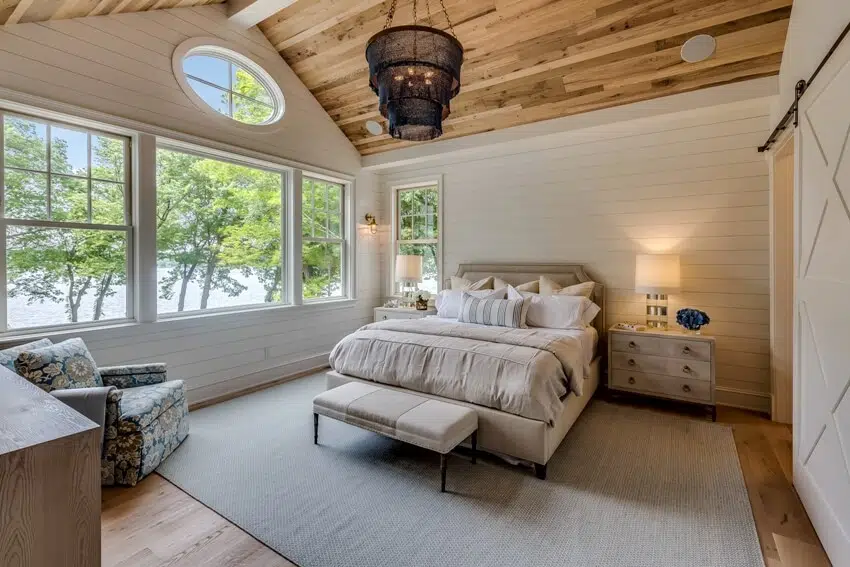 Shiplap is a term that refers to a wall treatment made up of long narrow panels positioned either horizontally or vertically. Thanks to the grooves in the wood in a shiplap design, the pieces fit together well in a tight pattern.
This design is most commonly seen on siding on houses but it's growing in popularity for indoor wall use and even ceilings as well, primarily available in white.
You have a few options if you want an alternative to shiplap too. These styles will give you a similar design effect as shiplap but a bit more room to explore different designs and find what fits your decor style best.
Vertical Fluted Panels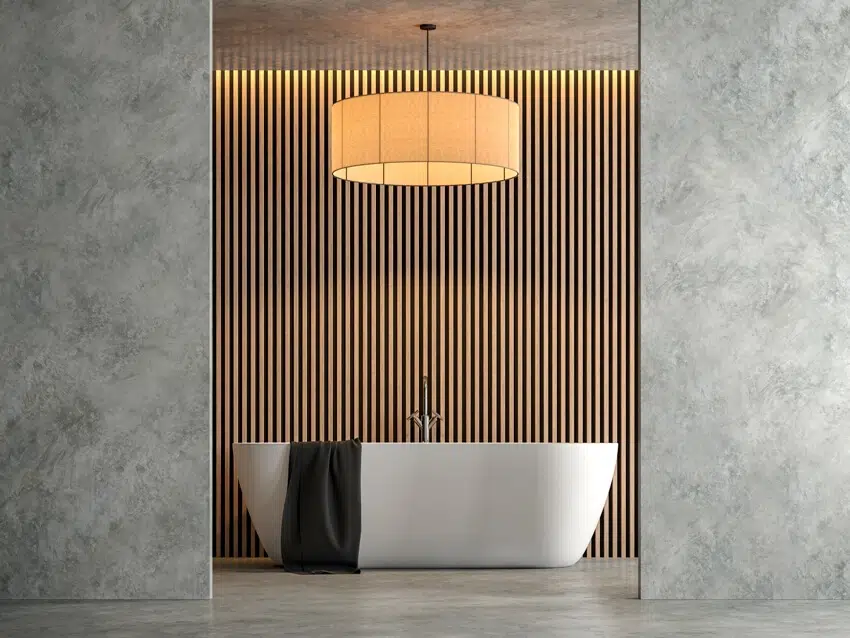 For a vertically-designed alternative to shiplap walls, vertical fluted panels are popular for good reason. Sometimes, vertical fluted panels are even used in combination with shiplap to add an accent. You might hear this design referred to as reeded panels as well as fluted panels.
If you look at vertical fluted panels, it looks like a board backing with thinner strips of material raising up from the base to create a textured finish for your wall. This wall treatment comes in a wide array of materials as well. Materials like wood, glass, and metal have all seen use in vertical fluted panels.
One major downside to this option as an alternative to shiplap, though, is durability. Vertical fluted panels usually don't have quite the lifespan of shiplap and you're likely to spend more time maintaining this alternative. On the other hand, vertical fluted panels are easier to install than their shiplap counterparts.
Horizontal Slat Wall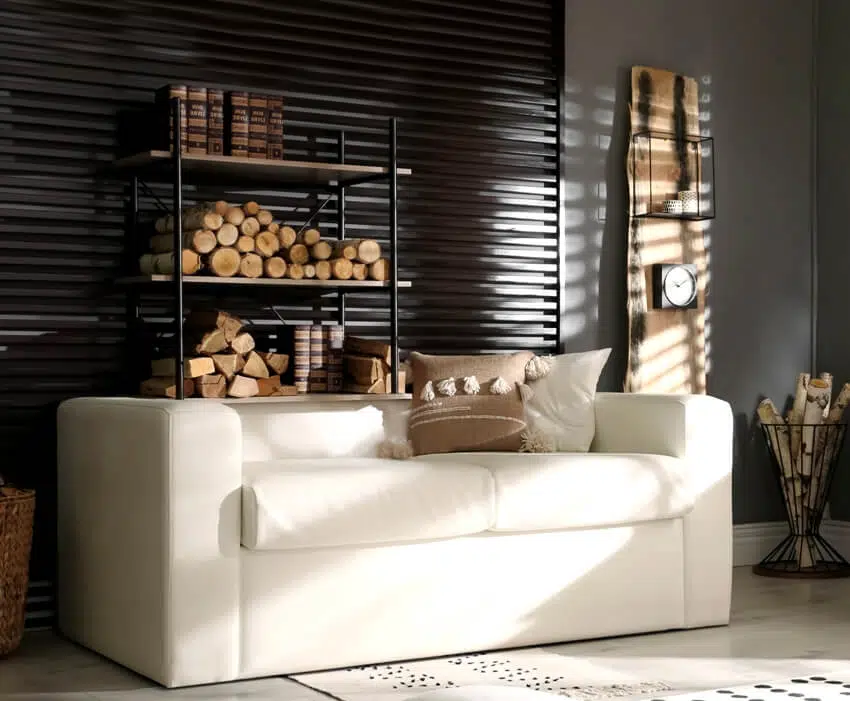 Shiplap is made up of – often horizontal – slats. So, it only makes sense that using another horizontally-based design such as a horizontal slat wall makes for a great alternative to shiplap. These are incredibly similar to shiplap but have a few key differences.
For one, a horizontal slat wall is typically made up of planks of wood that don't fit together as tightly as shiplap. Instead, horizontal wood slat walls are often installed with some space between the boards. While they can fit tightly together in some designs, they aren't usually designed to interlock as shiplap does.
While adding wooden planks to an accent wall may not sound like it comes with much variety, it does! Aside from the type of wood you choose, the way you choose to place and install a horizontal slat wall can offer a lot of variety. This style is an eye-catching choice when you're looking for a textured accent wall.
Board And Batten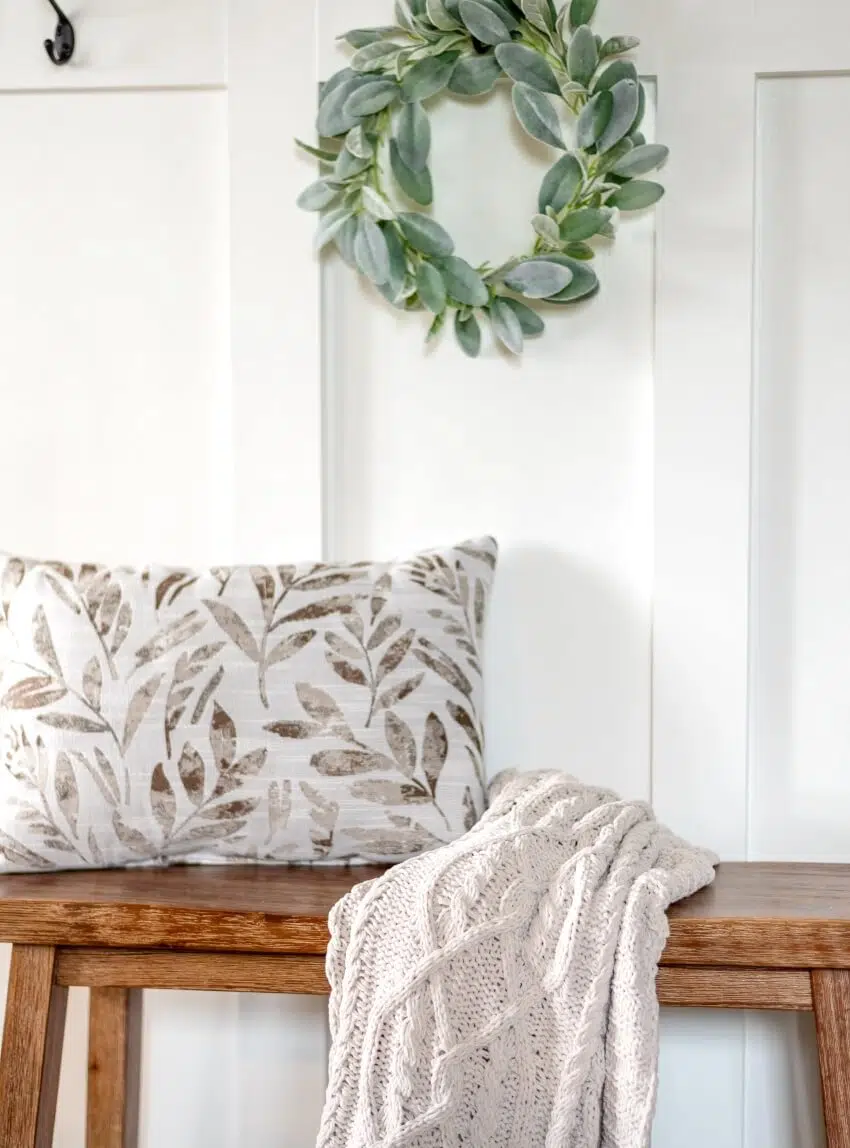 Much like shiplap, board and batten sees both indoor and outdoor use around the house. Technically, board and batten falls into the category of wainscoting. This means that the paneling is typically installed on the bottom half of your walls, leaving the upper half for paint or wallpaper.
The pattern of board and batten is made up of a repeating pattern of side-by-side rectangles or grids of squares. This makes it great for a number of different decor styles. You can find board and batten in a modern home or even in a more farmhouse or rural-style decor scheme.
You can also buy ready-made boards that you can install on your wall with ease to create board and batten paneling in your own home. Yet, while not technically complex, this installation can prove time-consuming.
It's important to note that board and batten isn't recommended for high-humidity and high-moisture areas. In your house, this means you might want to reconsider its use in places like the bathroom. It's easy for the gaps between the individual boards to trap moisture, leading to eventual damage.
Wood Look Tiles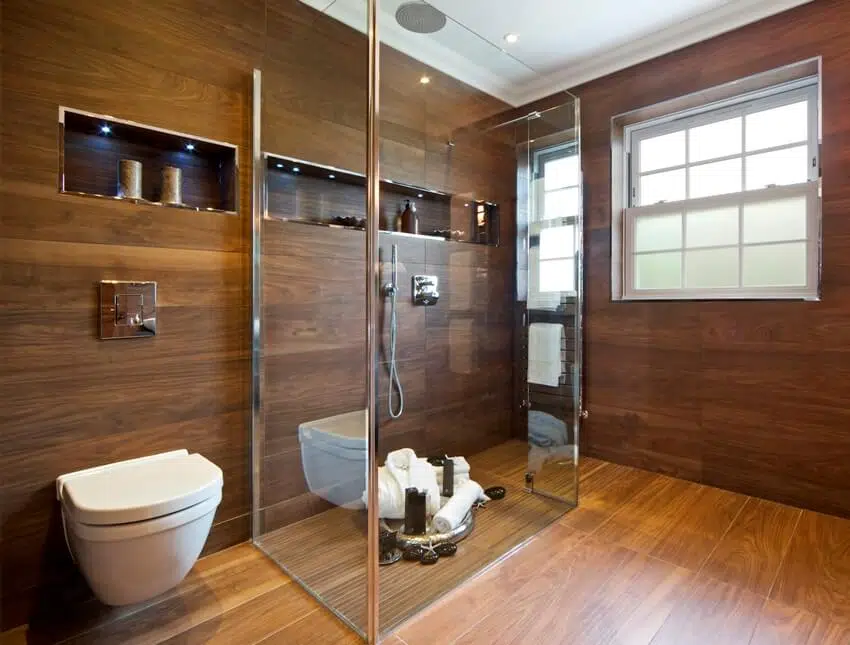 Tiles are a popular choice for floors and walls. However, you can take advantage of the ease of installing tiles but do away with the traditional look of tiles by opting for wood look tiles.
It's important to note that these types of tiles look like wood but they aren't actually made out of wood. They're still tile, typically made of ceramic or porcelain, but they look like wood.
This is a definite positive if you're interested in adding wood look tiles to a more moisture-heavy room like the bathroom or even areas of the kitchen like a backsplash wall. Unlike real wood, these tiles won't suffer ill effects from moisture over time.
Much like real wood, though, you can find an assortment of shades, and, while they're made of tile, they boast a variety of manufactured "grain" patterns. The material is also available in longer planks as well as more traditionally-sized tiles, offering even more design variety.
Reclaimed Wood Planks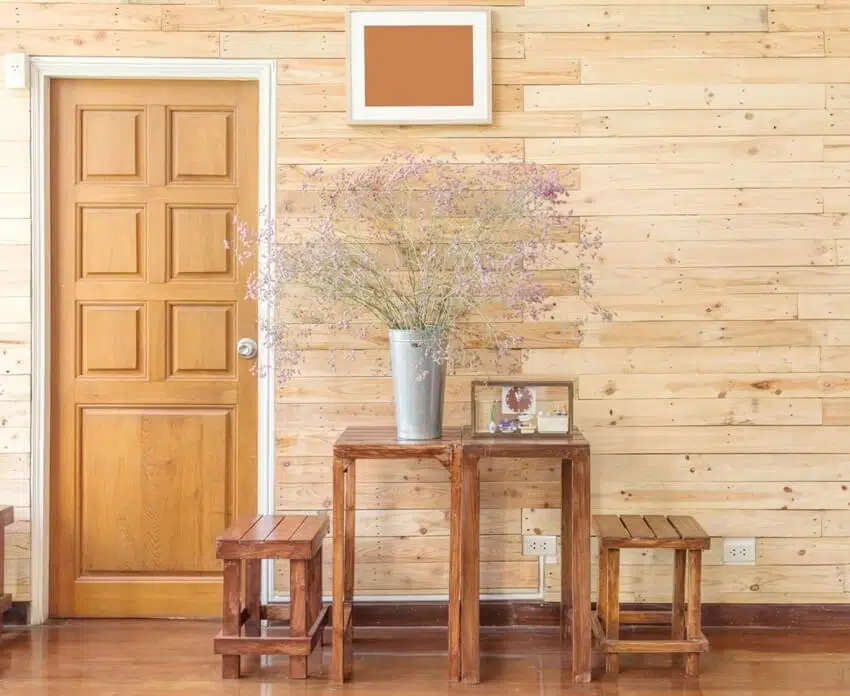 If you really want to go green when you add your new wall treatment, reclaimed wood is a unique choice that lends itself especially well to rustic and farmhouse styles or even industrial designs. Just as the name says, this wood is reclaimed, meaning it uses wood planks that have already been used.
By that definition, it's easy to see how the array of wood and variance in appearance would create a unique look. On the other hand, you can opt for reclaimed wood with a primarily uniform look, although it usually isn't as even as an option as patterned wood.
You might expect to pay less for reclaimed wood but it can actually come at a higher cost. While the wood doesn't need to be harvested and cut for the project specifically, it doesn't come straight from its last application to you.
It has to be treated to make sure it's safe and ready for use when you receive it. This process often comes at an additional cost to the consumer.
Patterned Wood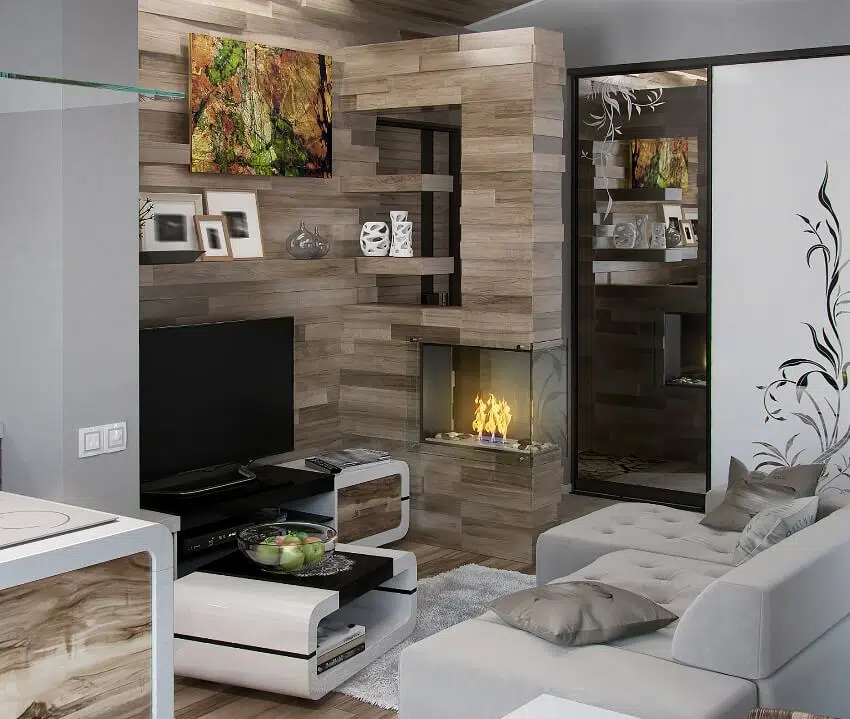 An accent wall is an excellent way to create a striking focal point that draws the eye as soon as you walk into a room. You can opt for a textured accent wall with an option like patterned wood which sees use in everything from accent walls to ceilings and even flooring.
Patterned wood, as the name suggests, simply refers to wood pieces with a pattern embossed on them. It comes in a variety of different colors and, of course, a variety of different designs. This is part of what makes it so great for an accent wall – you can keep it as simple or get as elaborate as your creativity takes you, giving you a one-of-a-kind look.
Another versatile point about patterned wood is that it's possible for both indoor and outdoor use. This means it can serve as a great alternative to shiplap no matter where you're interested in having it around your home. For more ideas, see pictures of wood ceilings here.

Nickel Gap Boards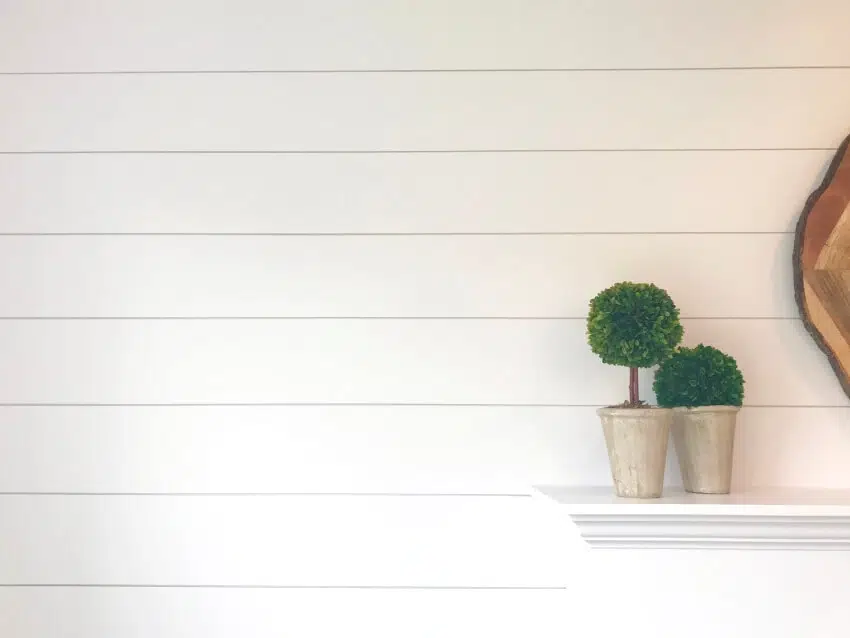 At first glance, you might not even notice the difference between nickel gap boards and shiplap. However, there are a few key differences that set the two apart. For one, the boards in a nickel gap wall design have wider gaps between each board, not fitting together in quite the same way as shiplap.
Without the rabbet joints shiplap relies on, nickel gap boards get their name because of the space between each board measures about the same as the width of a nickel. This means the boards are still a relatively close fit when you look over at your wall.
The design is often used in rustic or farmhouse decor but it has quite a bit of versatility. After all, you can install it on your wall or even your ceiling and rely on stain or paint to change up its look.
This way, you can seamlessly integrate it into almost any decor style. Plus, it comes with a depth of design that features an interesting visual appearance as well as adds texture to your wall.
Plaster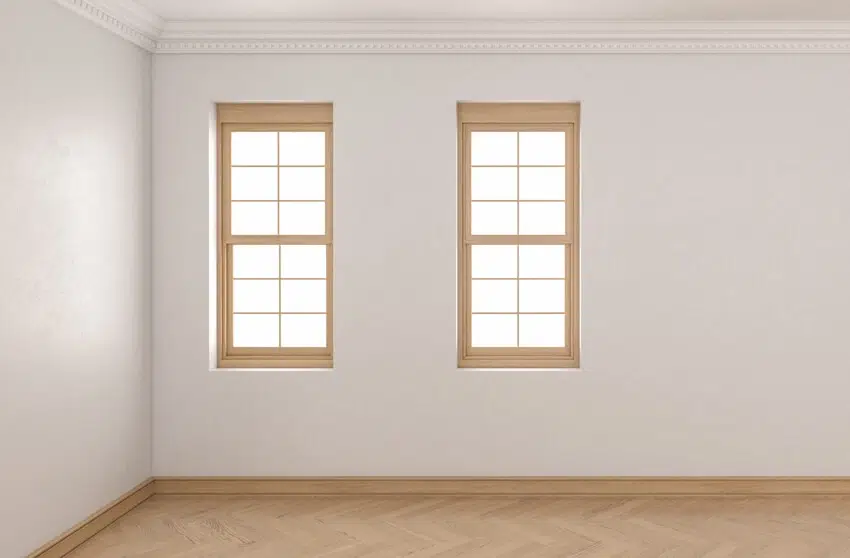 One alternative to shiplap isn't actually a textured wall at all. Plaster walls give you a flat surface with a lot of versatility to paint, wallpaper, and more to fit your personal style.
Plaster walls have been around for quite some time and they're a staple in many homes. The mixture that makes up a plaster wall is made up of three materials: water, lime, and sand. Then, it's either applied to its purpose by hand or with a machine.
Either way, the downside is that plaster usually isn't a DIY project, especially if you're not already familiar with the material. So, many homeowners will likely need to call in a professional installation to add a plaster wall to their homes. They can help with their expertise and handling such a heavy material.
The good news is that if anything happens to your plaster wall down the road, it's one of the easier options to repair. Plus, it's resistant to both fire and mold.
Textured Wallpaper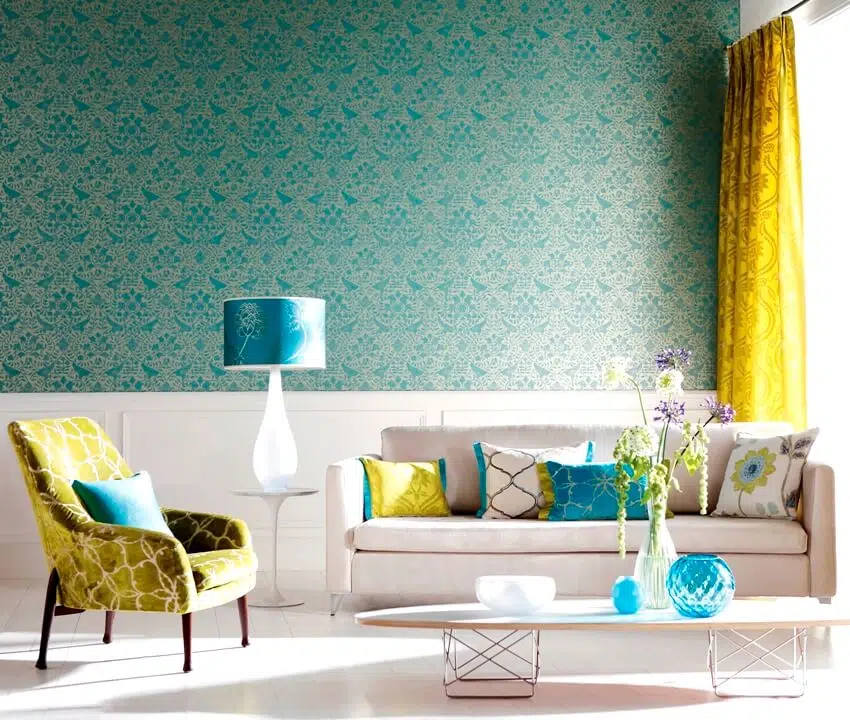 Textured wallpaper is a versatile choice if you're looking for something to use as a shiplap alternative. Like any type of wallpaper, you can take advantage of the fact that it comes in a variety of patterns and colors. This means that you can work it seamlessly into your decor no matter what design style you prefer in your home!
What sets this apart from standard wallpaper is the textured finish. When you touch textured wallpaper, you can feel the patterns. This makes the visual effect of textured wallpaper even more striking than standard wallpaper.
You'll notice it's thicker than traditional types of wallpaper too, to hold its structure. Mica is a common material for this type of wallpaper although other natural materials are common as well.
Some of these materials are heavier than others but heavier materials often give more obvious textures. Heavier textured wallpapers are often more well-suited to an accent wall than a general covering in a room but it's possible to generally implement it if you prefer a more maximalist style.
Applied Molding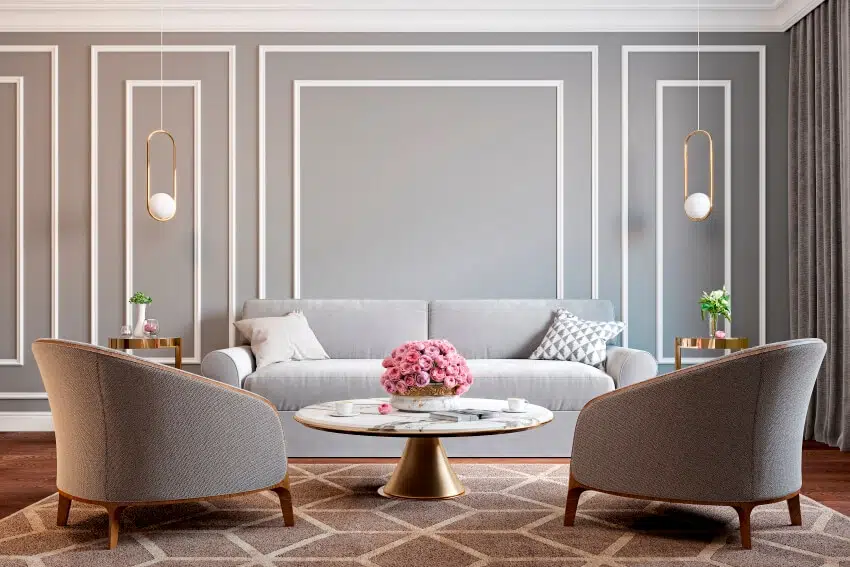 Applied molding, much like shiplap, will give your walls a texture although the pattern isn't quite as tight and layered as shiplap. In fact, applied molding offers a lot of variety, allowing you to experiment with styles to find something to suit your needs.
This type of wall treatment includes adding molding to a flat wall, giving it a patterned and textured appearance when the project is done. It can be made of a few different materials including wood, plastic, or even metal.
If you land on applied molding as a decor choice, it's not too complicated to install either. It usually just requires adhering the new molding to the wall with some sort of adhesive or by fixing them into place with screws or nails.
Once it's all finished, you can paint the molding but make sure to sand everything first if you're using wood molding! Adding clear acrylic caulk to any gaps can help reduce the appearance of seams and imperfections as well.
Another great benefit to applied molding is how durable it is. The style lasts quite a while allowing you to enjoy it for quite some time.
Beadboard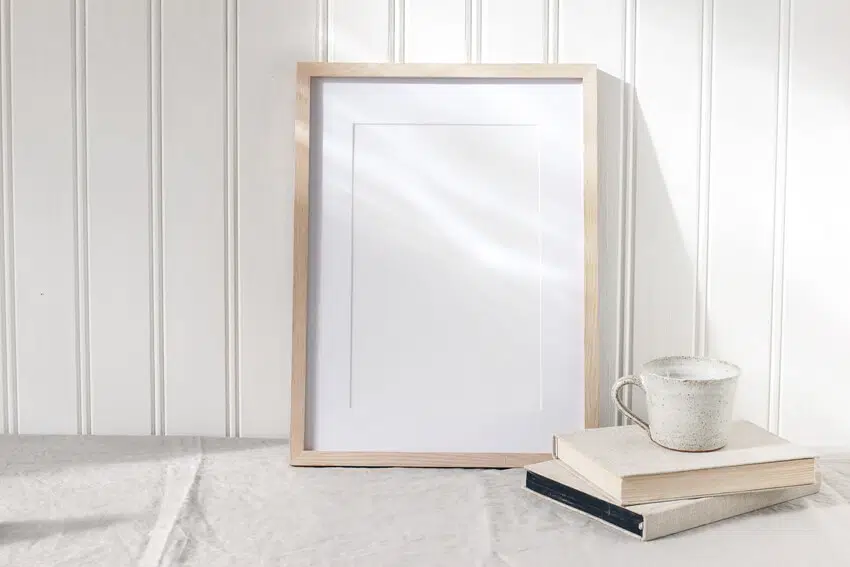 Beadboard is another type of wainscoting. It's a purely decorative choice of paneling that, at glance, looks similar to vertical paneling. However, when you look closer, you'll notice the design isn't quite as simple. They feature raised grooves between each panel, creating the beadboard pattern.
Beadboard is especially favored in rustic, country, or farmhouse aesthetics and you can install it partway up a wall or use it for the entire wall. It's easy to install and you can paint it to suit your decor tastes. You could leave it white or paint it for a pop of texture and color.
However, you'll want to clean the beadboard carefully. While it's easy enough to wipe down, pay particular mind to the grooves between the raised parts of the beadboard patterned panels. It's easy for grime, dirt, debris, and even mold to get into these grooves, causing a mess and larger problems down the line without the proper maintenance.
Cane Wall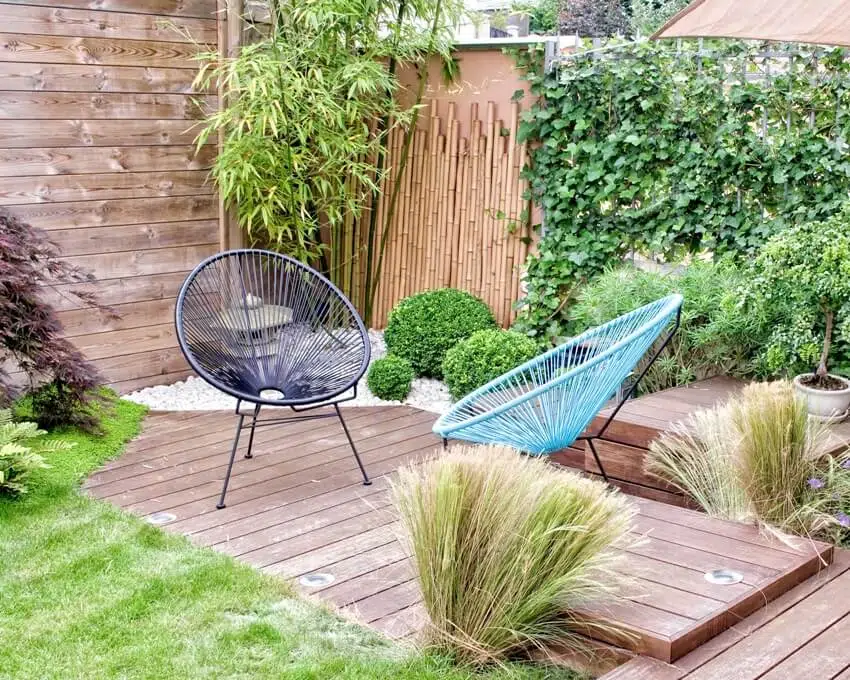 A cane wall is a great way to add a unique touch to your home. You can find this in a few different materials but the most popular are wicker, bamboo, and rattan. As those materials might suggest, caning features a woven pattern.
One thing that makes this such a popular choice is how accessible it is. As well as coming at a lower cost than shiplap, it's easy to find. If it's not at one of your local hardware stores, it's easy to find a variety of options online. The design is considered a rather eco-friendly option as well.
While the material isn't necessarily hard to work with, it does require fixing into a frame. So, you'll need to feel comfortable with a few basic carpentry techniques to complete the installation. If this isn't something you feel comfortable doing, don't be afraid to call in a professional team to help you out with the installation.
One downside to caning is that it's not always as durable for use outdoors. To get the most out of this material, you'll want to use it in indoor wall applications. See more bamboo wall designs on this page.

Geometric Design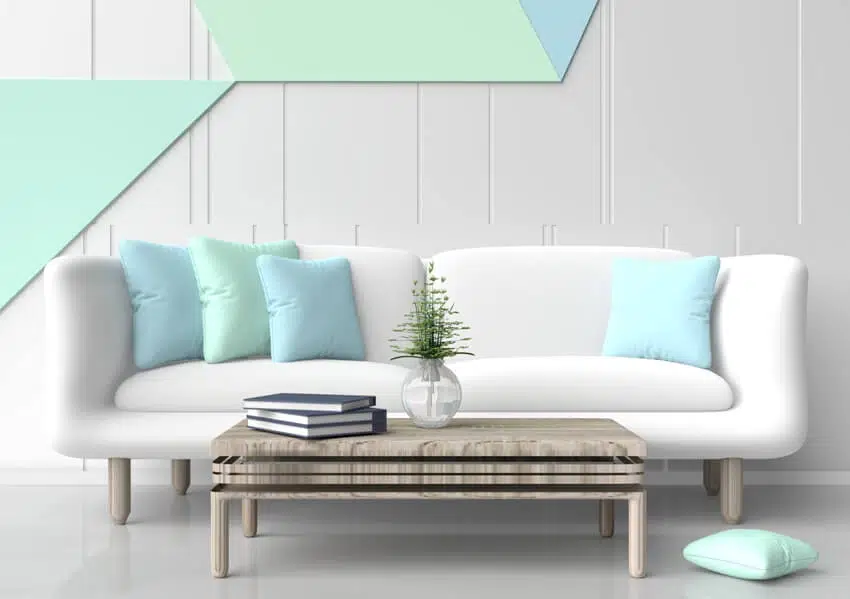 This concept is a bit more varied. After all, there are a few different ways you can design a geometrically designed accent wall in your room.
The main idea is this: using geometric patterns to draw the eye to one wall in the room. Using this design approach on all the walls in a room could quickly get overwhelming.
One way to do this is to rely on texture. This is often done by using raised pieces applied to the wall to create polygon shapes across the surface. To allow this to stand out even further, many homeowners rely on a striking, neutral color that allows the raised wall treatment to really shine when it catches people's eyes.
Alternatively, you can paint geometric designs on an accent wall as well. There's still a lot of versatility here depending on the colors you use and the exact pattern you choose. This is a particularly great option for a painted wall if you want to add the illusion of texture.
Best Colors to Paint Your Walls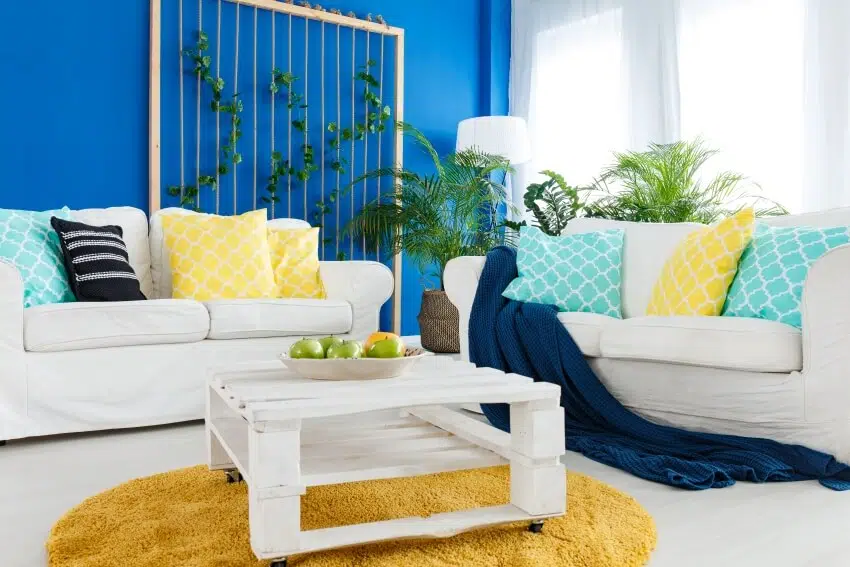 Speaking of painted geometric design walls, there are quite a few ways you can use paint as an alternative to shiplap. When you think of painted accent walls, you probably think of a solid-colored wall. This is a popular choice and often the easiest to execute.
You can opt for a variety of colors for your painted accent walls such as black, blue, and gray, or even more vibrant colors like red, green, yellow, orange, purple, and more.
On the other hand, what really makes this wall stand out is the shade of the other walls as well. For instance, a blue wall won't stand out much in a blue room. However, if you were to paint one wall blue and keep the other walls light and neutral with white or cream-colored paint, the blue wall would stand out and serve as a great focal point.
On the contrary, you could let your inner artist out and paint a patterned wall. This could be geometric, as looked at a few moments ago, or you could opt for something else.
Simple, repeating patterns can make for easy-to-execute and eye-catching colorful accent wall design just by using paint and a brush. If you're worried about keeping things even, don't be afraid to break out the painter's tape.
Wall Stenciling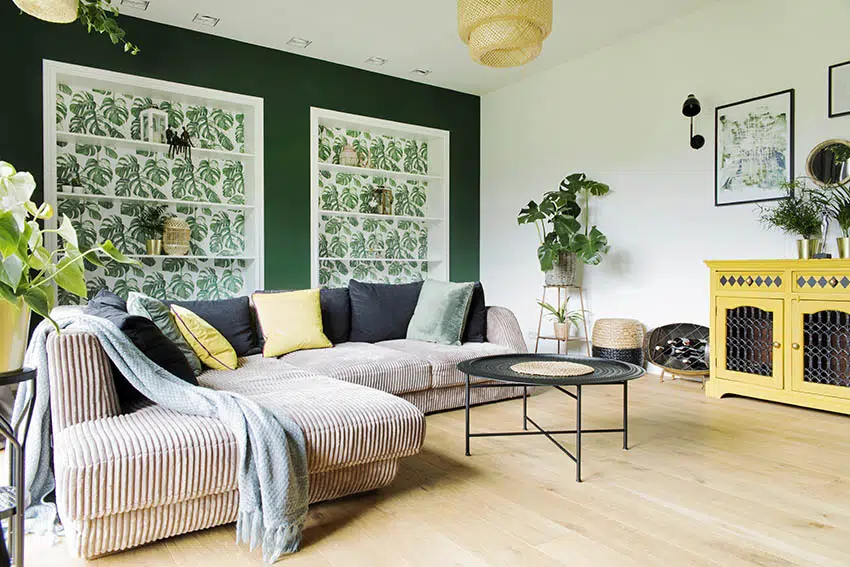 If you're intrigued by options like textured wallpaper as an alternative to shiplap but don't want to deal with the removal of wallpaper either, there's an option. Wall stenciling is similar in that it can give you both a texture and a pattern on your walls. However, it doesn't quite work the same way as wallpaper.
To use a wall stencil, you'll fix the stencil in place – painter's tape can help this. Then, just paint over the stencil with a roller brush and the paint color of your choice.
Once you're done, you pull the stencil away and the pattern is left painted on the wall. If this sounds a bit intimidating, don't worry! Since the stencil itself is often reusable, you'll have a chance to practice on paper first if you'd like.
Given that you can make almost anything with a stencil, there's no limit to what you can do with this alternative to shiplap. Plus, there's plenty of room to play around with what colors you'd like to use in your stenciled pattern as well.
Herringbone Designed Wall
Shiplap is known for its clean, straight lines running, typically, in uniform horizontal lines. If you want to keep things looking clean but aren't as interested in this horizontal pattern, a herringbone design accent wall can offer a creative alternative.
Rather than running straight across, the panels in a herringbone design are installed at an angle. The result is a dynamic almost zig-zig pattern. The pattern is popular too. You'll likely see it in applications like tile patterns for flooring as well as wall treatments.
While the pattern could easily get busy if overused, it makes for an eye-catching accent wall. If you want it to look starker, a white wall with a herringbone design can't fail. If you prefer a more toned-down appearance, you can stain the herringbone to a more neutral tone.
One benefit you can reap with herringbone is that the design does well to open up a space. While the installation process can be tricky, the end result will leave most rooms feeling bigger and more open. See our herringbone backsplash tile guide for more ideas.
Wainscoting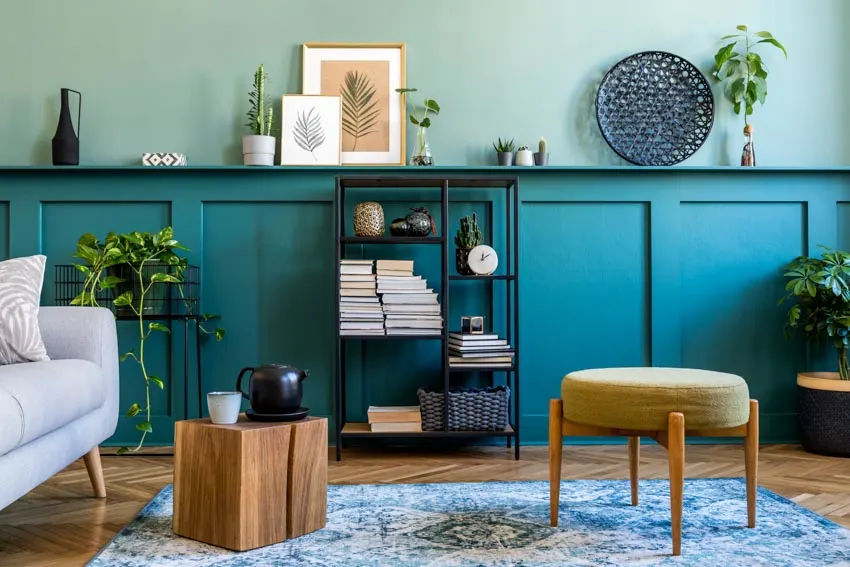 We've already looked at beadboard and board and batten – two different types of wainscoting. However, any wainscoting ideas can serve as a great alternative to shiplap no matter what type you choose from beadboard to flat panel or raised panel wainscoting.
Wainscoting is simply a term for wood paneling on a wall. This is usually between 36 and 42 inches high but it can go higher up or cover the whole wall, depending on the appearance you're aiming for.
The material isn't just there for decoration, though. When you add wainscoting, it's also meant to protect your wall. This is why it's usually installed on the lower half of the wall if not the whole wall.
The lower half of the wall is where your wall is most likely to get bumped and scuffed, potentially leaving you with marks on your wall if you aren't careful or don't have the wall protected with a wall treatment by wainscoting.
Stone Wall Cladding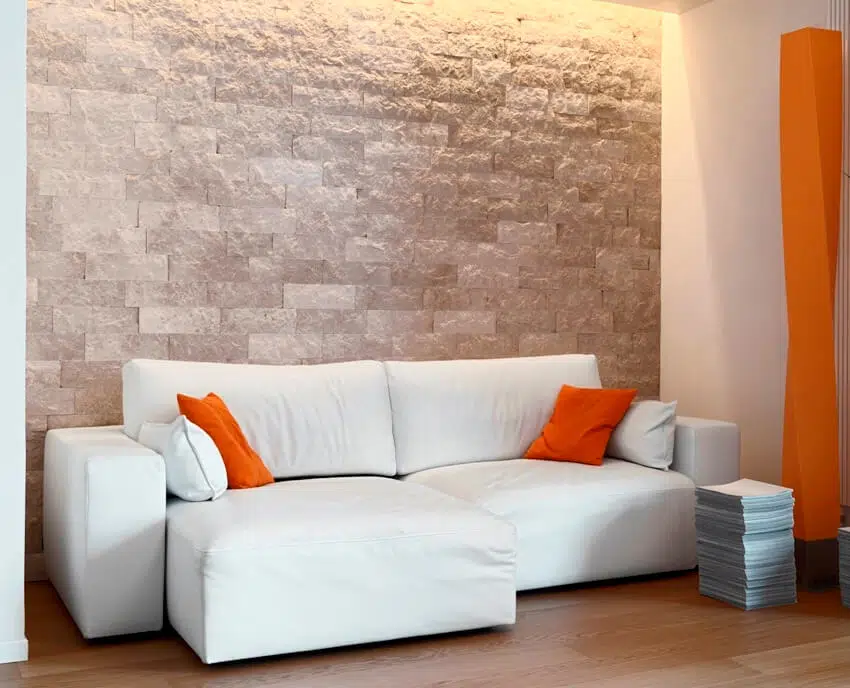 If you want a touch of something natural in your home, you might want to consider stone wall cladding. This is often used both indoors and out but in an indoor application, it's most popular as an accent wall.
You can quite a few options when it comes to stone cladding designs. You can opt for something smoother and more uniform, almost resembling tiles for a clean, modern look. If you want something a little bit more natural, you can choose stones that are a bit less uniform in size and give the wall a more textured finish with rougher stones instead of a smooth finish.
Most often, stone wall cladding is made up of a stone such as granite, slate, sandstone, or even travertine. These give you a lot of room to look for natural variance in the stone's appearance to find what fits your decor.
What Is The Cheapest Alternative To Shiplap?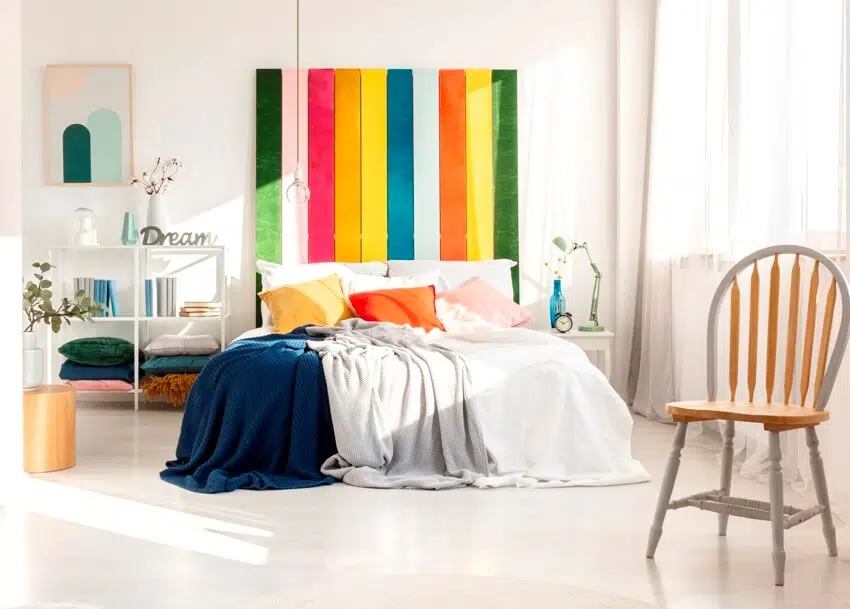 If you're trying to find an alternative to shiplap, you might want something that comes at a lower cost. For materials alone, you can expect to pay about $2.50 to $7 per square foot of shiplap. The type of wood you opt for will cause variance in this price.
Perhaps the cheapest option is to paint an accent wall to make the room really pop. Paint only costs an average of $1.50 to $3.50 per square foot. This makes it much cheaper to paint an accent wall in the room than to install a shiplap wall treatment, plus you can often skip the complicated installation process and start painting when you have all your supplies ready.
When you consider that you could paint a repeated pattern rather than painting the entire wall completely, paint offers a potentially even less costly investment compared even to completely painting a wall to create an accent wall.
How Do You Make Shiplap Look Modern?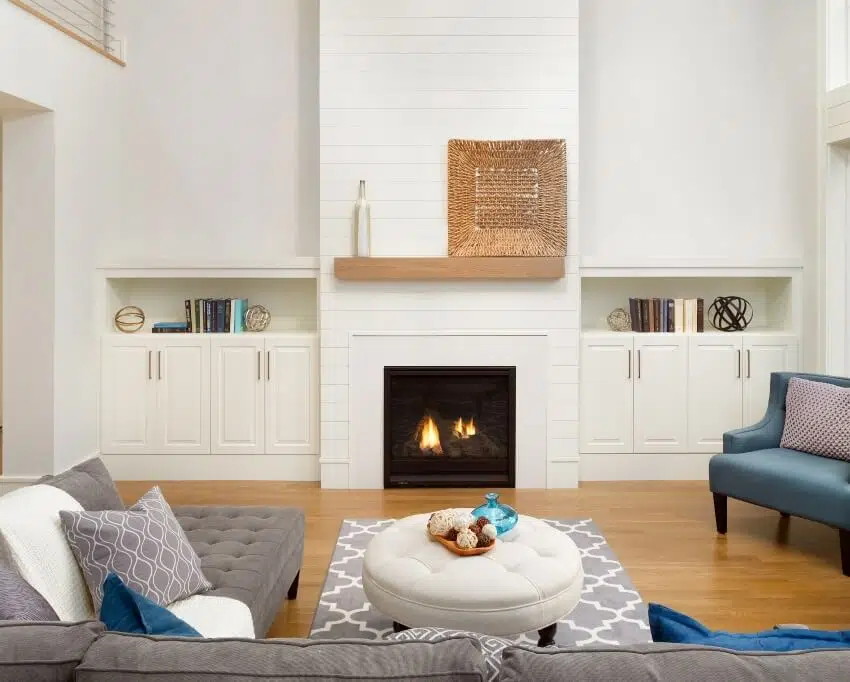 Shiplap is a classic choice but there are a few ways you can shake it up. For example, installing shiplap vertically is a great way to make the style look more modern. Plus, this makes your room look taller than a horizontal shiplap installment.
There are a few other measures you can take to modernize your shiplap. Opting for a brighter or darker color rather than stark white can help to shake up the appearance of traditional shiplap to modernize it. Alternatively, you can stain it for a new look.
Another great way to modernize shiplap is to carefully choose where you'll install it. Many find shiplap around a fireplace looks much more modern than a blank accent wall. Shorter shiplap installations that don't reach completely up the wall also often have a more modern appearance.
For more related content like this, visit our guide to shiplap kitchen designs on this page.