Here are the types of bedding including the different uses, types of bed covers, sheets & pillows, fabric options, bed accessories, and layers of bedding.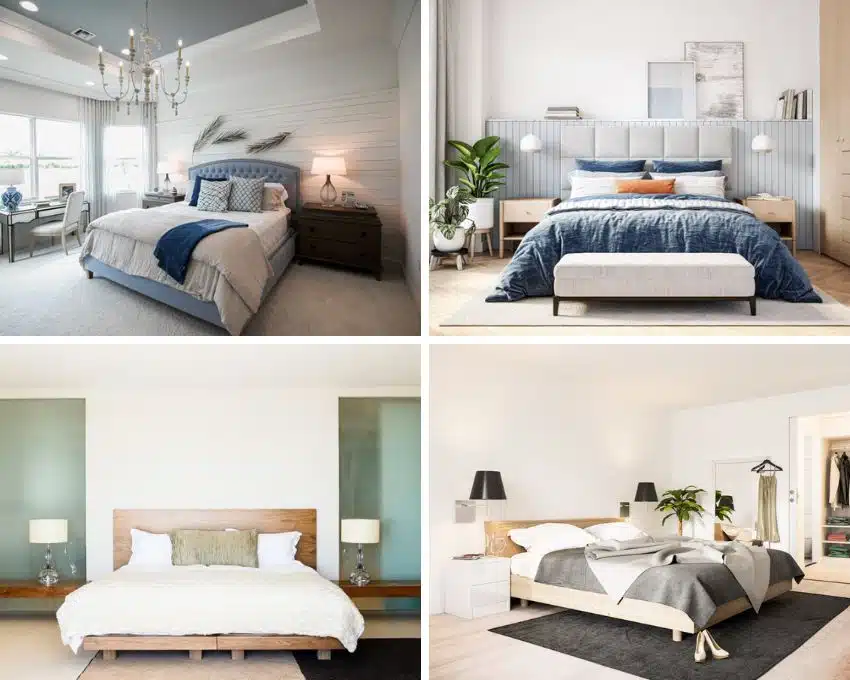 There is a clear explanation of why the department store's bedding section is so extensive. Yes, there are numerous varieties of bedding available. These items come in a wide range of sizes, colors, and patterns along with the diverse types that they can be found.
It can be overwhelming to understand all of the different types of bedding, but learning the descriptions of different types will assist you in selecting the right option for your beloved bed.
Bedding is one type of bedroom décor that contains a variety of selections with varying materials and styles. This article will provide you with a comprehensive overview of the different bedding types. Hopefully, after reading this, you will find it much easier to shop for bedding.
Quicklook: Different Bedding Types
• Fitted Sheet
• Flat Sheet
• Bedspread
• Coverlet
• Duvet
• Blanket
• Comforter
• Quilt
• Mattress Cover
• Bed Skirt
• Pillows
What Is Bedding?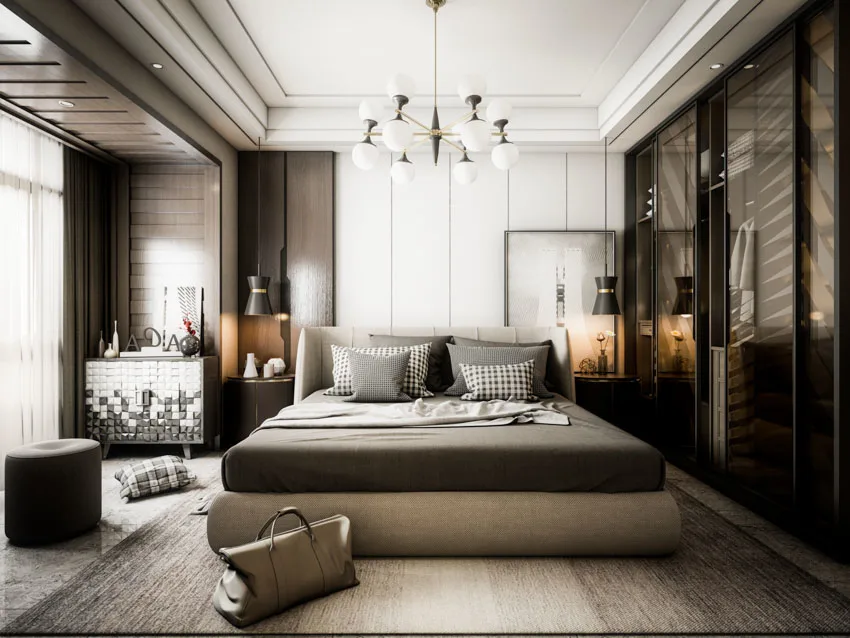 Bedding, often known as bed covers or bed linen, is the coverings that are placed atop a bed's mattress. Bedding is the changeable and washable component of every human's sleeping setting.
To increase sleep quality at variable room temperatures, different sets of bedding for each bed are routinely laundered in a cycle and changed regularly.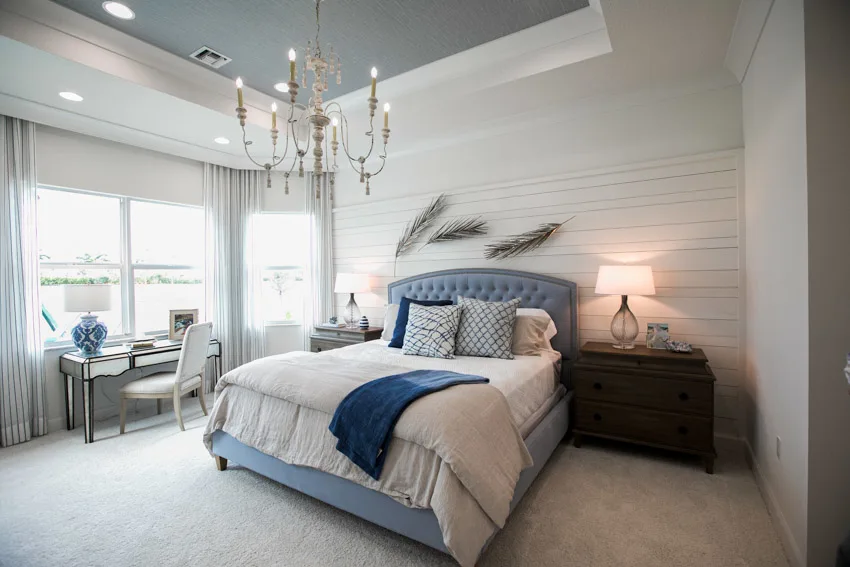 Bedding includes different types of comforters, pillowcases, blankets, bed sheets, and other bed accessories used to protect and cover mattresses. There are numerous bedding options, and we will go through each one in detail below.
What Are The Uses Of Bedding?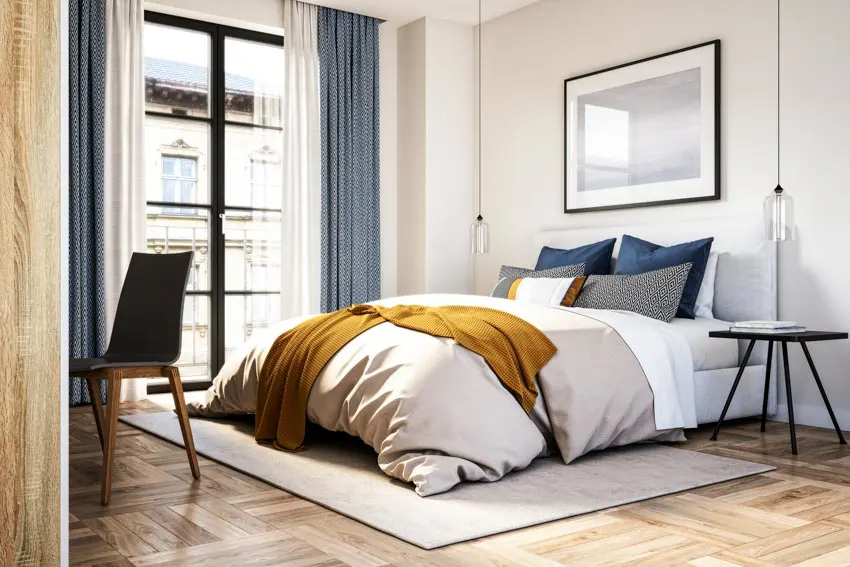 The main uses of bedding are for maximum comfort, warmth, mattress support, hygiene, and aesthetic appeal.
Comfort is the main purpose of adding bedding to your bed. Without bedding, you may not have a good night's sleep. However, you should ensure that the bedding you pick is soft and not coarse.
The warmth your bedding gives is also a significant use as it can give you that maximum relaxation you want every night and prevent you from getting cold.
Your mattress should also be protected from other elements, and you can do that by adding bedding. Truly, mattress support is essential to prolong the service and longevity of your bed.
Sleeping or resting on your mattress by itself will not be hygienic. Therefore, regularly changing your bedding on your bed will promote hygiene, making sure that you are always sleeping or resting on a clean bed.
Lastly, to enhance the overall appearance of your bedroom and its decor, adding decorative bedding can be quite beneficial. The right bedding can make your bedroom really aesthetically appealing.
Bedding Types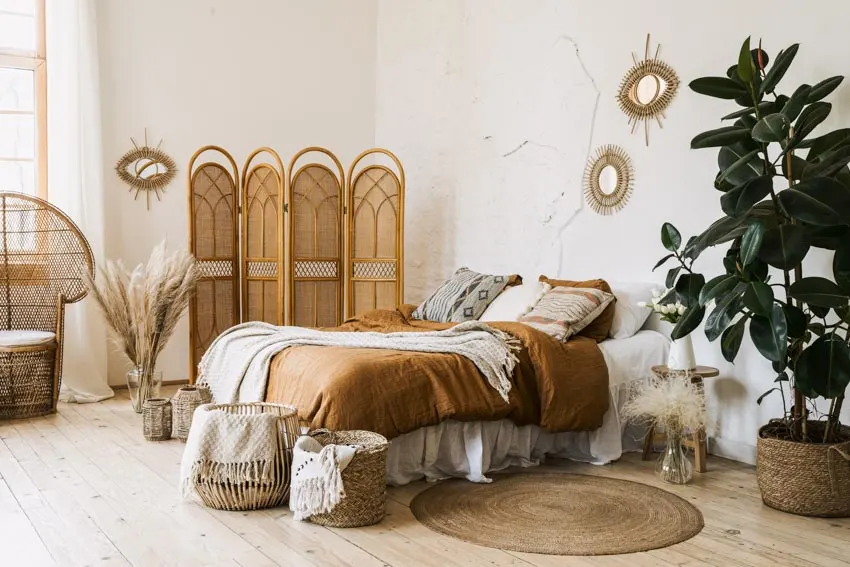 Here we share the different types of bedding.
Fitted Sheet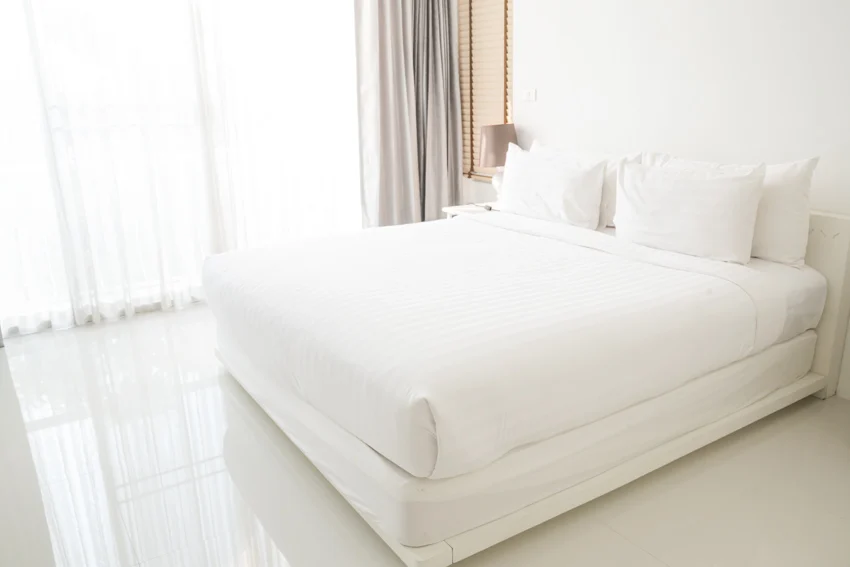 A fitted sheet, often known as a bottom sheet, is a type of bedding that fit tightly all around the mattress. They are often available in deep pocket variants for larger types of mattresses.
This sheet has four corners as well as a stretchable edge that wraps around your mattress. Because mattresses are significantly thicker nowadays, it is highly suggested that you get the measurements of your mattress first before buying a fitted sheet to ensure that it will properly fit.
The person using the bed is directly in contact with a fitted sheet. After all, a fitted sheet protects your mattress by acting as a barrier, and its soft and level surface adds an extra layer of warmth and comfort as you sleep every night. The elasticity prevents the sheet from sliding and completely protects the mattress from filth.
Flat Sheets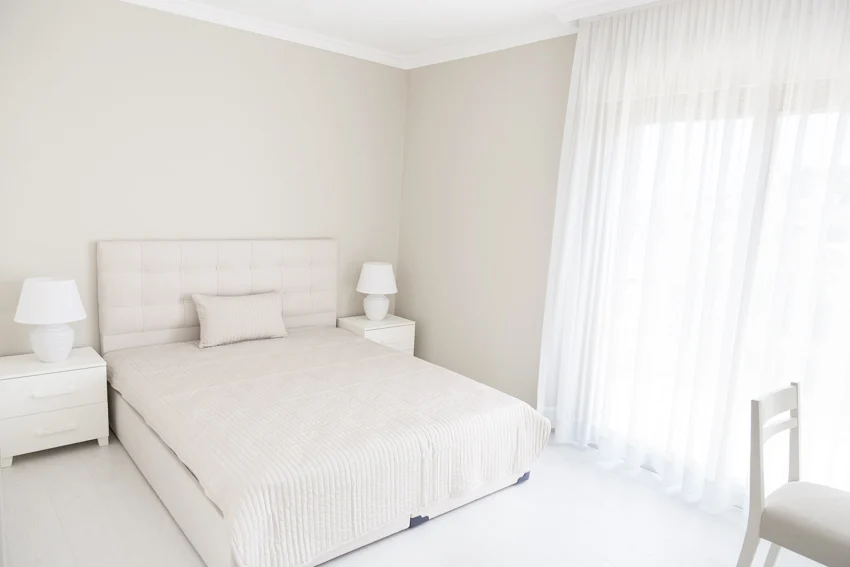 Flat sheets, as the name implies, rest flat on top of your mattress. This bedding, also known as top sheets, are laid over the fitted sheet, thereby leaving the top end uncovered. In warmer seasons, this lightweight sheet can also be used as a light blanket. This is the sheet that normally separates you from your blanket, comforter, or duvet.
Quilts, comforters, and blankets are placed above the flat sheet to avoid direct contact with the sleeper or bed user. A flat sheet lacks elastic sides and henceforth does not seamlessly wrap around the mattress. See more types of bed sheets and their materials here.

Bedspread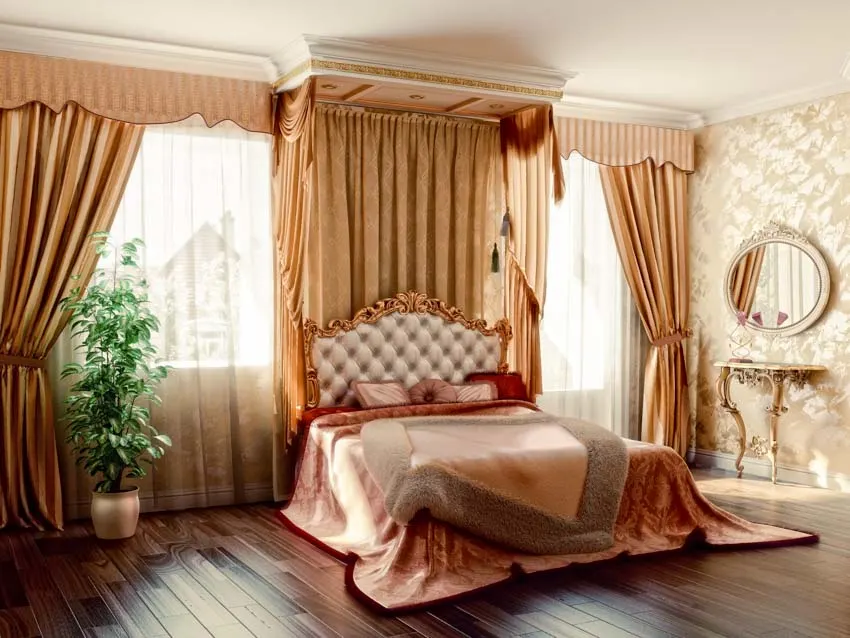 A bedspread is a thin, attractive covering that typically covers the entire mattress and extends all the way to the ground. Bedspreads are commonly made of cotton, silk, chenille, polyester, or wool.
Bedspreads are beneficial to individuals who want to shield their bedding from elements such as dust and odors. This bedding item is a traditional method of providing the bed with a beautiful design.
Coverlet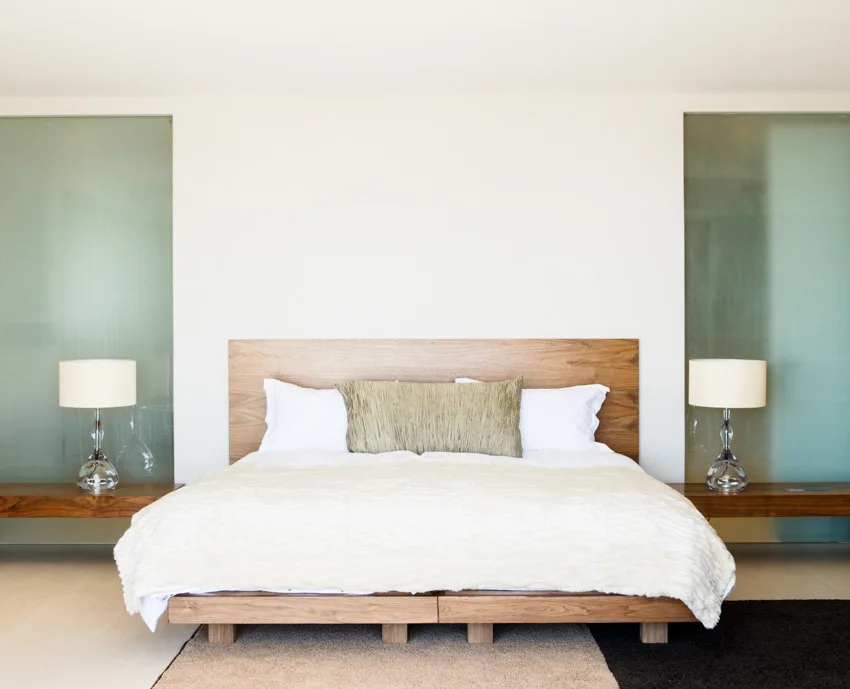 A coverlet is a stylish fabric cover that does not meet the ground and does not generally cover the pillows as well. This bedding category also includes woven coverlets and quilts. These are typically bed embellishments that can be placed on top of bedspreads.
When it comes to hotel bedding, they can also be seen at the bottom of the bed as foot runners. A coverlet does not normally cover the full bed, instead, it just hangs low enough to protect the bed's lower end.
Duvet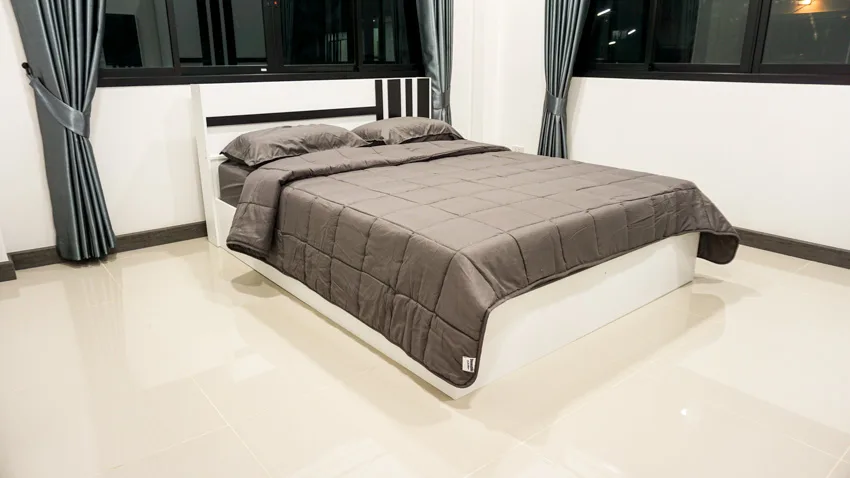 A duvet is comparable to a comforter, but unlike a comforter, it necessitates the usage of a duvet cover. A duvet is often plain white and filled with feathers or a down equivalent.
A duvet is a soft flat bag filled with fibers. It is covered by a detachable cover called a duvet cover, which is identical to a pillow and pillowcase.
Numerous individuals use them instead of sheets because they simplify the process of making a bed with layers of blankets, sheets, and quilts. Furthermore, duvet covers, like bottom sheets, can be readily removed and cleaned.
Blanket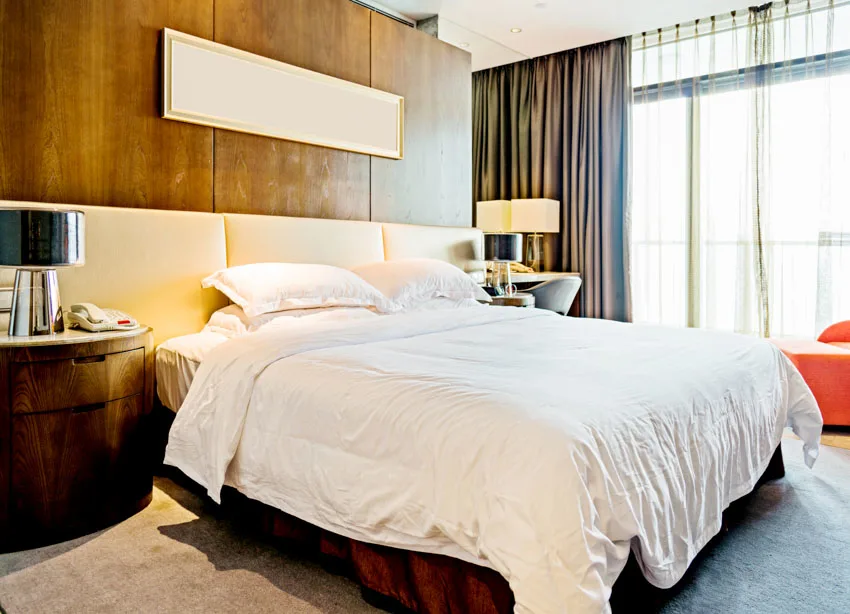 Blankets, the most common type of bedding, are intended to increase warmth. Although some people prefer using a blanket on its own, others may want to layer it with a more appealing quilt, comforter, or duvet. Blankets are typically constructed of fibers, cotton, wool, polyester, microfiber, or a fiber composite.
Blankets offer an advantage over duvets in that they can be removed or added to a bed as demanded by the temperature. – The Art of Good Housekeeping, Good Housekeeping Institute
A blanket is a long, large, rectangular, or square woolen cloth that is used to cover the occupant of a bed while they sleep. Whenever sleeping, napping, or resting, this bedding piece retains heat and keeps the bed user comfortable.
Comforter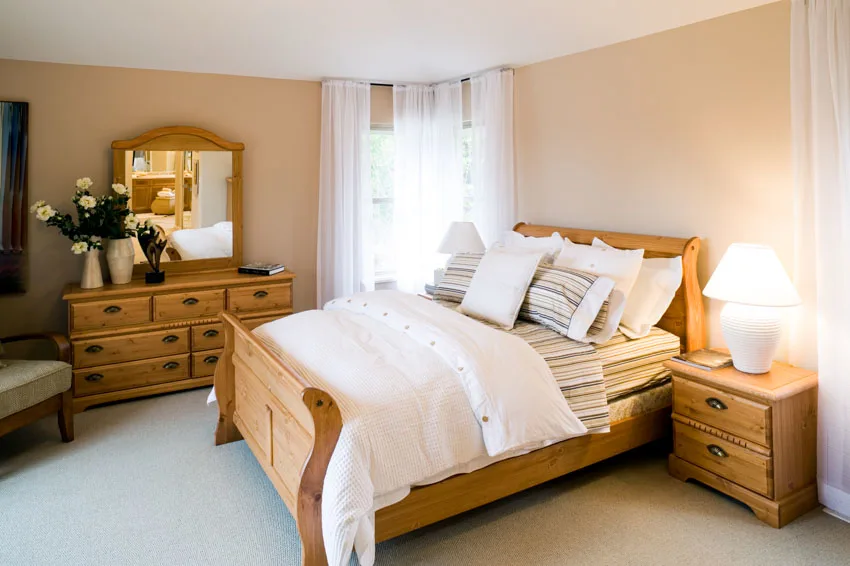 A comforter is a quilted blanket that is quite thick and fluffy. This is a bed covering that has been packed with fibers, feathers, or down for increased warmth and then sewn on all four corners.
Comforters are a prevalent ornamental feature in the bedroom and are perhaps the most widespread bed topper in certain countries. They are available in a virtually unlimited selection of patterns, colors, designs, and styles.
The majority of comforters are composed of polyester or cotton. Furthermore, a comforter is positioned on top of the sheets to enhance cushioning and provide your bed with a layered appearance.
Quilt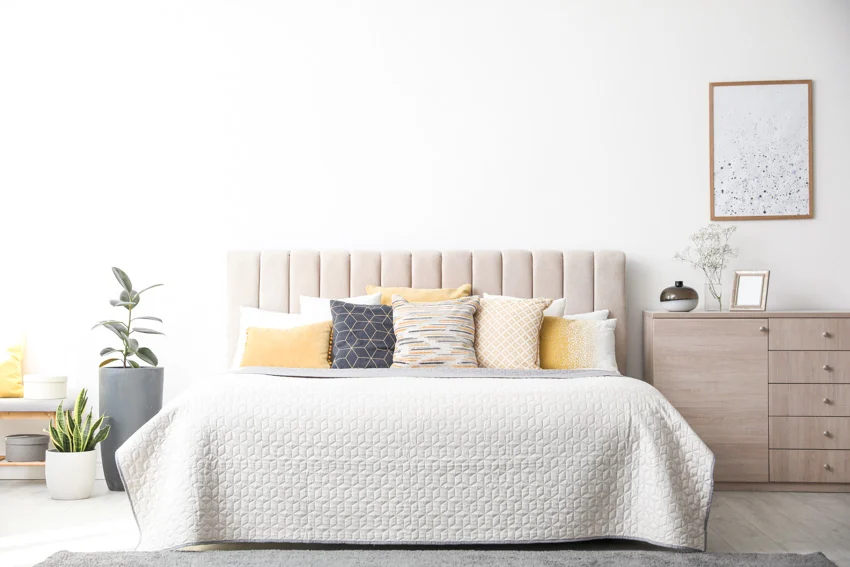 A quilt is a three-layered bed cover featuring a top, batting, as well as backing. The top layer is composed of numerous layers of fabric components that have been sewn together in artistic designs.
Quilting is a traditional form of art that involves stitching. The second layer, called batting, is stuffed with down feathers, wool, or cotton to form a thin innermost layer, while the backing is made of a single fabric piece.
In addition, a quilt is applied as a blanket topper mostly during the wintertime for added comfort and insulation. Individuals who wish to add a rustic accent to their bedroom love to get this bedding piece.
A quilt is also flatter compared to a comforter and sits snugly against the bed. A quilt can be alternatively used as the main blanket, but it is generally not as warm as its much fluffier and softer comforter counterparts.
Mattress Cover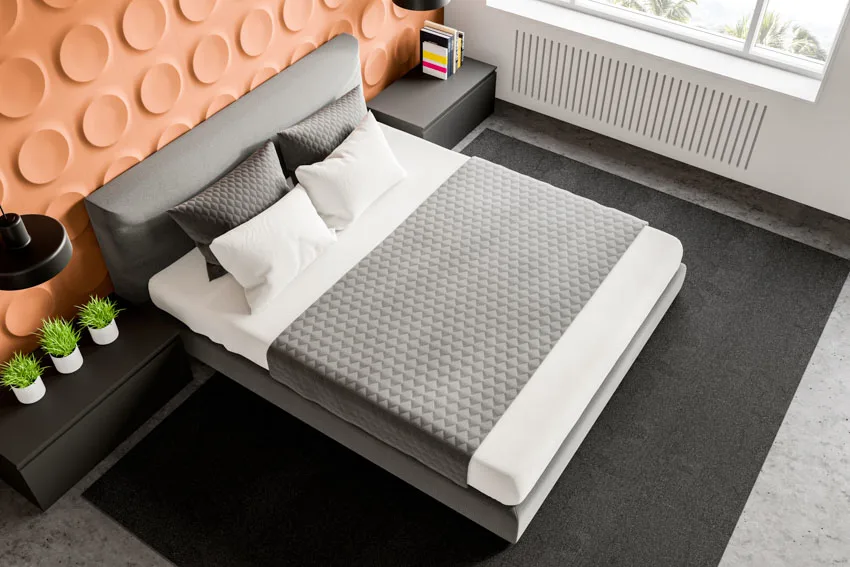 A mattress cover protects the mattress from mold spores, dust, spills, bed bugs, and mildew, and even helps to regulate temperature.
Choosing a hypoallergenic mattress protector or cover is ideal for allergy sufferers because it can help safeguard the bed user against allergens. Mattress covers also aid in the removal of extra body dirt and sweat from your bed.
If a recently purchased mattress is not protected by a mattress cover, it will become stained. This is simply a mattress enclosure made of fabrics that do not collect moisture and are readily cleaned. As a suggestion, to keep the color from appearing beneath your bedsheets, you can pick a light-colored mattress cover.
Bed Skirt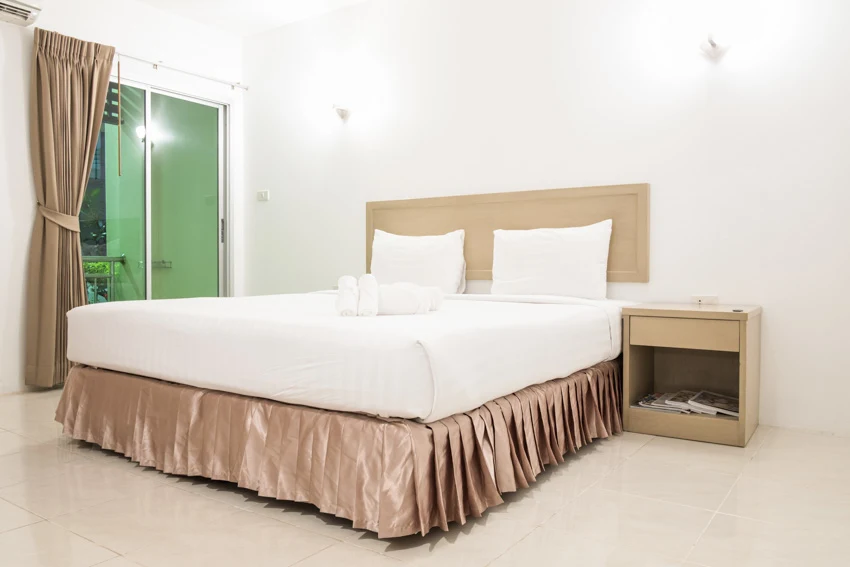 A bed skirt is a piece of ornamental fabric that is positioned between the mattress as well as box springs. It stretches from the edges and bottom of the mattress to the ground.
A bed skirts' primary role is to conceal the box spring, but they also provide sweetness, color, and beauty to the space.
Another function of a bed skirt is to make the bed look more fashionable. It is also a material that may be used to obscure storage space in a sophisticated manner.

Pillows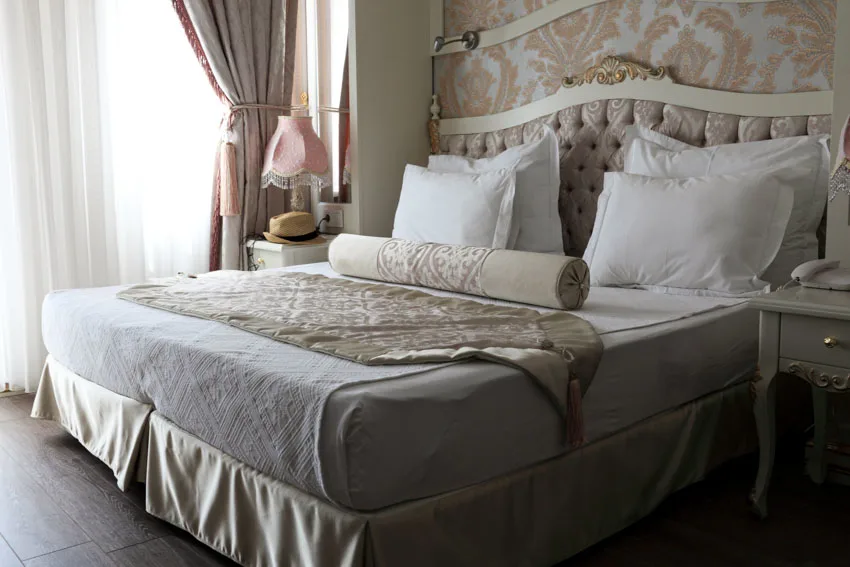 A pillow is an essential piece of bedding that is designed to thoroughly support the body of the bed occupant when sleeping. It is normally a rectangular fabric bag packed with soft elements to make sleeping more pleasant.
Some of the most widely utilized items are polyester fiberfill, downs, man-made fibers, feathers, memory foam, and many more. If you are allergic to manufactured types of pillows, you might take into account purchasing organic pillows for restful and sound sleep.
Nevertheless, it is not only the many kinds of pillow filling that you must be aware of; they also come in various types, forms, and pillow sizes.
The subcategories of pillows are as follows:
Sleeping Pillow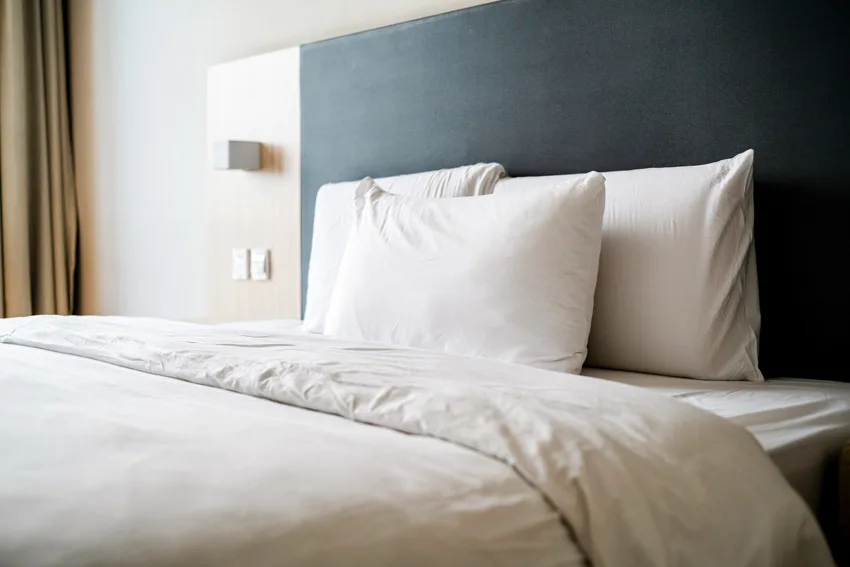 Commonly a rectangular pillow that you use to sleep on, the sleeping pillow is indeed the most important part in making the bed occupant extra comfortable.
To accommodate your bed or sleeping patterns, sleeping pillows are usually available in three sizes – standard, queen, and king. Sleeping pillows come in a variety of designs.
Decorative Pillow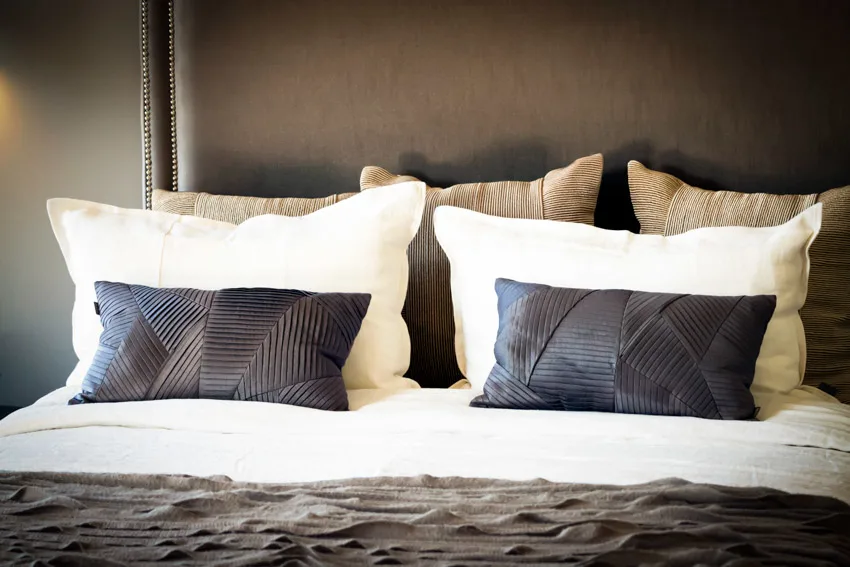 A decorative pillow, also known as an accent or throw pillow, is a compact pillow that is offered in a variety of styles, sizes, and colors and is used to decorate a bed.
Bolster Pillow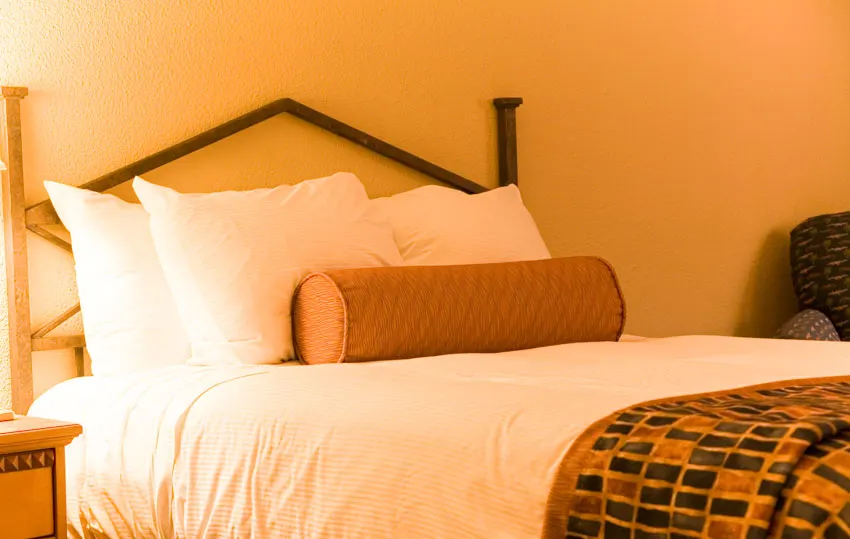 This type of pillow is a tube-like pillow that can be used for lumbar support while sitting in bed while reading, although it is most commonly used as an accent pillow. These pillows range in size from extremely little to very long, spanning the entire breadth of the bed.
Pillowcase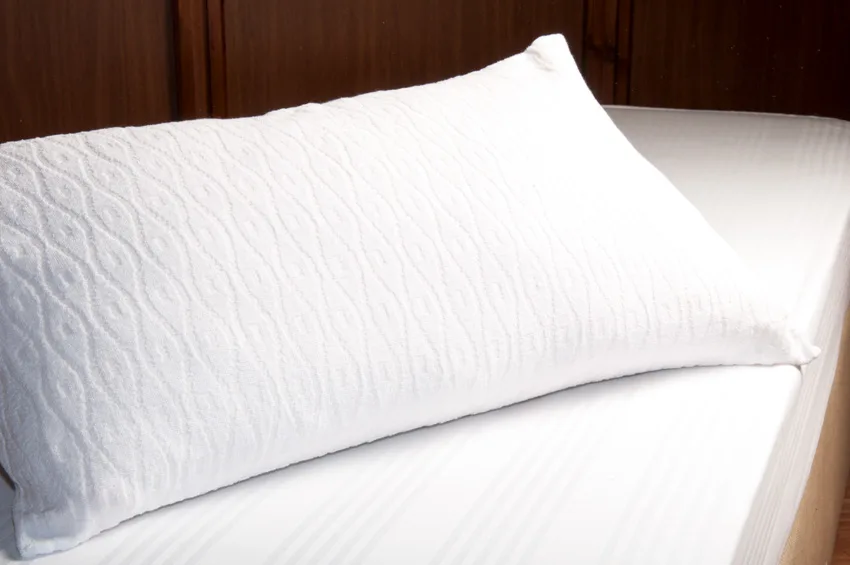 A pillowcase is a fabric that is used to cover a sleeping pillow as well as an accent or bolster pillow. It is typically rectangular in design, having an opening on one side through which the cushion is inserted.
To preserve your face from acne or skin irritation, it is suggested that you replace your pillowcase with a clean one at least once or twice a week.
Pillow Sham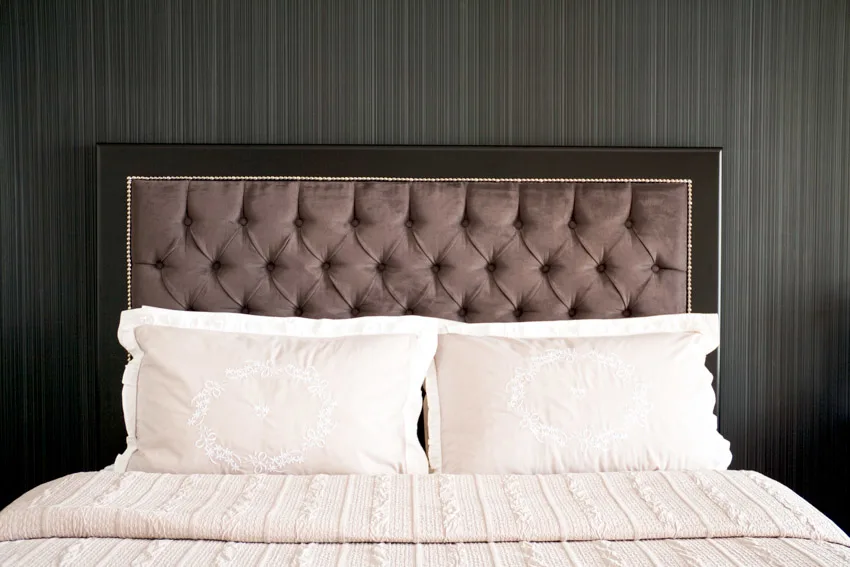 A pillow sham, like a pillowcase, is a stylish covering for a pillow. They do not, however, have an opening on one side. Alternatively, they have a tuck flap located on the backside and flanges or cording on all four corners. They are intended to add a panache to the mattress.
Types Of Bedding Fabric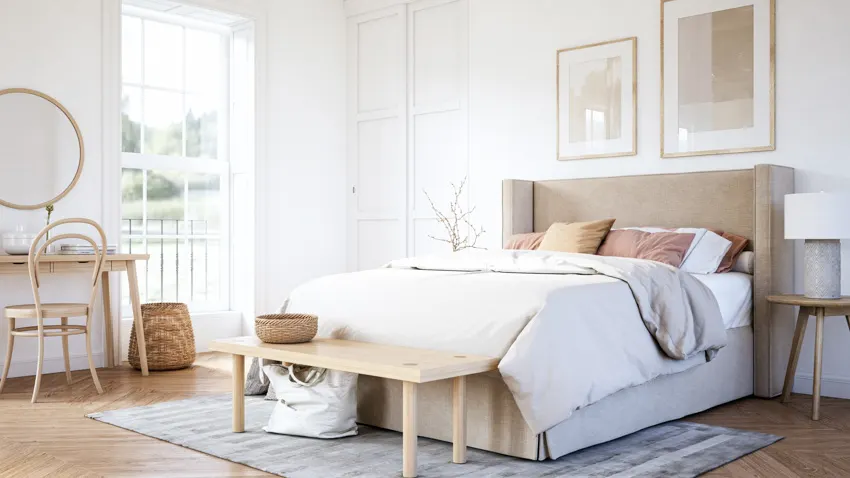 Here we share the different types of bedding fabric.
Cotton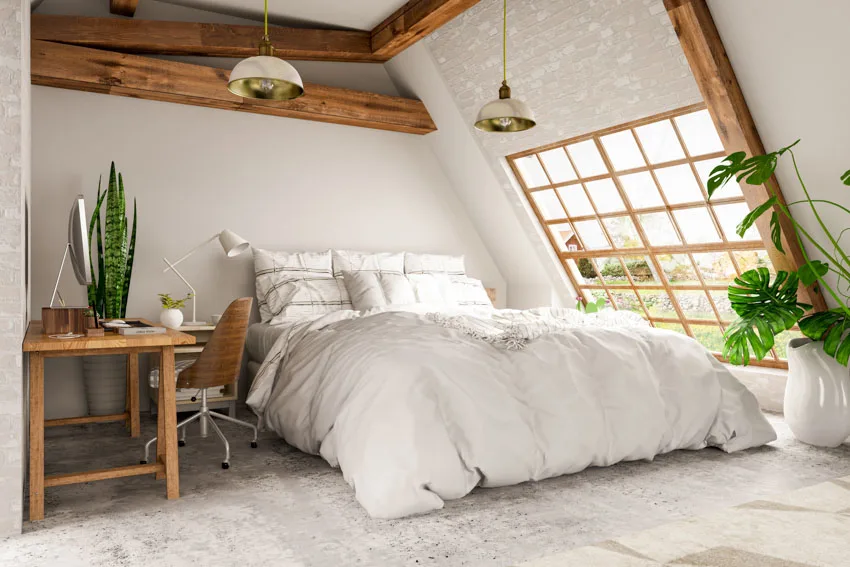 Cotton is the most commonly used material for bedding. It's breathable, easy to clean when stained, and keeps you cool. Cotton bed sheets get softer over time and with multiple washes while remaining durable.
However, when selecting these bedding fabrics, keep in mind that the type of cotton is essential since some perform better than others. Here are subtypes of cotton.
• Egyptian Cotton: Egyptian cotton is the best-quality cotton available, with its smooth texture, excellent resilience, and resistance to breaking. It is often constructed with an extra long staple. It is also the longest cotton fiber currently offered, although the actual item can be quite expensive.
• Pima Cotton: This cotton subtype comes in second to Egyptian cotton. This cotton is made using long-staple cotton and is robust, excellent quality, and delightfully soft without the substantial cost of Egyptian cotton.
• Upland Cotton: This short-staple cotton is among the most prevalent cotton varieties, with a slightly inferior quality compared to both Pima and Egyptian cotton. Beddings with descriptions that say they are 100% cotton are normally Upland cotton. They are still pretty durable, but they are not that soft like the other cotton subtypes in this list.
• Flannel Cotton: This bedding cotton has been cut up and the single threads have been shaved to loosen fibers for a richer, softer feel. The plain or twill pattern of flannel beddings renders them soft and pliable, making them ideal for usage in cold seasons.
• Jersey Cotton: This kind of cotton is stretchy and ready to use after being purchased. Although these sheets are simple to clean, they pill over time and are not that luxurious. However, because of their flexibility, they tend to overly expand over time and are less resilient than other varieties of cotton.
Visit this page to read about standard bed sheet sizes to help find the right one for your different bed sizes.
Polyester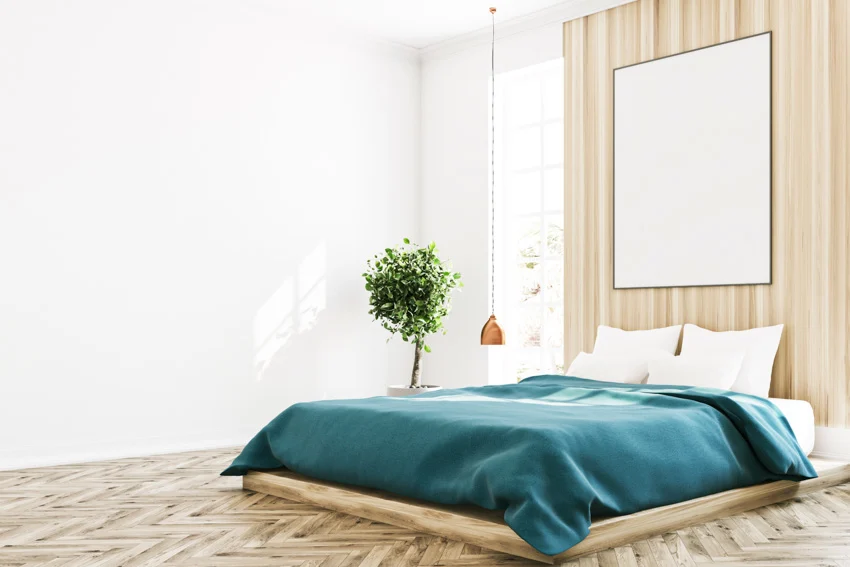 The majority of genuine polyester bedding sheets are coarse; however, polyester blends are significantly softer and more comfortable.
These sheets are simple to clean, wrinkle-resistant, and frequently inexpensive. Polyester will be your best friend if you do not want to steam or iron your bedding.
On the downside, polyester bedding material can trap heat which may make some sleepers feel too hot. They can also trap static electricity.
Linen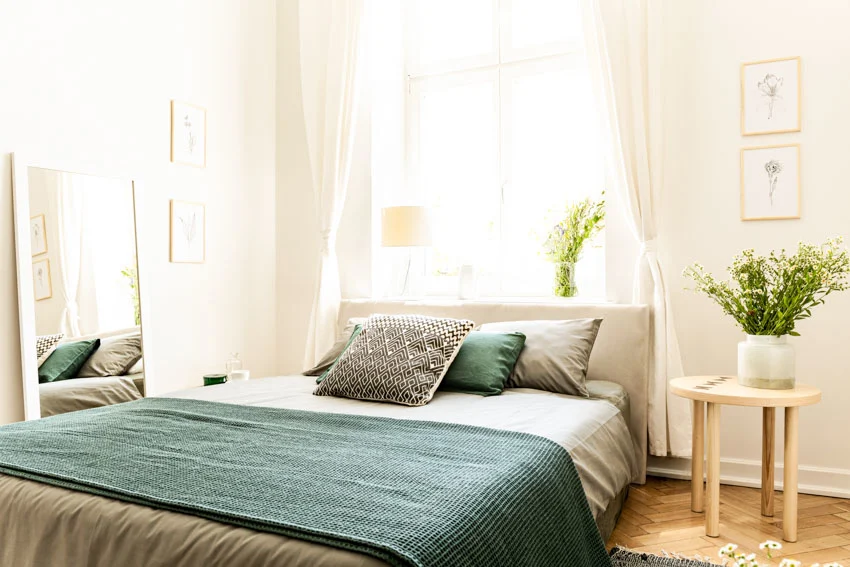 Linen sheets will instantly give your bedroom a rustic feel. Linen is an instinctively cooling, hypoallergenic fabric that is ideal for sweaty sleepers and allergy sufferers.
People often compare line sheets to cotton. They both share similar characteristics. Both linen and cotton have qualities that make them water absorbent.
Linen edges out cotton sheets when it comes to the weave strength as their fibers are more tightly wound. This results in a more durable bedding material. But, if you're going for softness, cotton may be better. However, over time linen fabric will soften a little with each wash.
Since linen has longer fibers with a longer weave they generally keep one cooler at night. Since air can pass through linen sheets more easily they are great for warmer summer nights.
Bamboo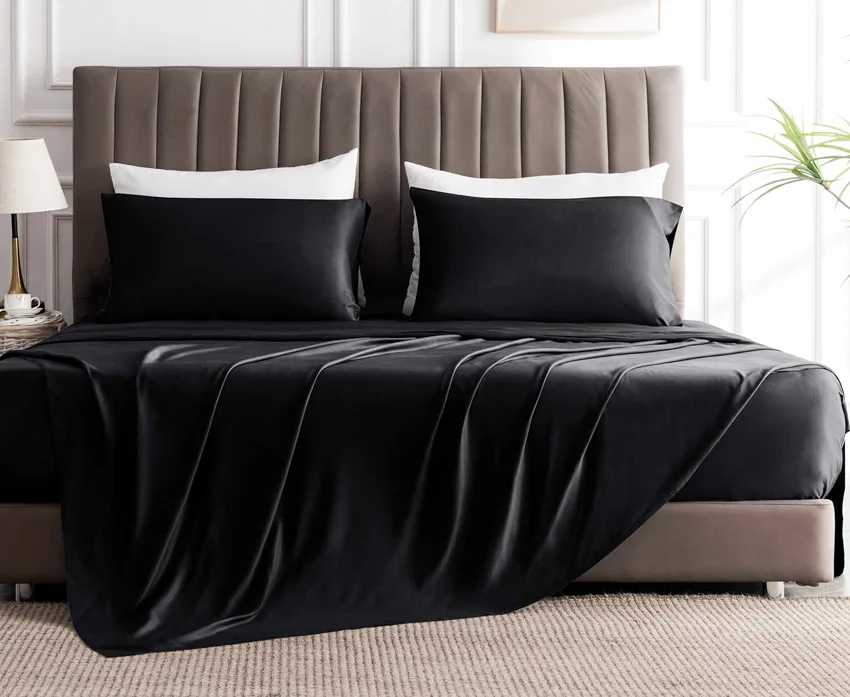 See this bamboo bedding set at Amazon [sponsored link]
Bamboo grows swiftly as an ecologically friendly bedding material and is often used to manufacture other household items besides bedding.
Bamboo sheets are wrinkle-resistant and normally softer than polyester or linen. In addition, bamboo bedding sheets are breathable, long-lasting, and hypoallergenic.
Silk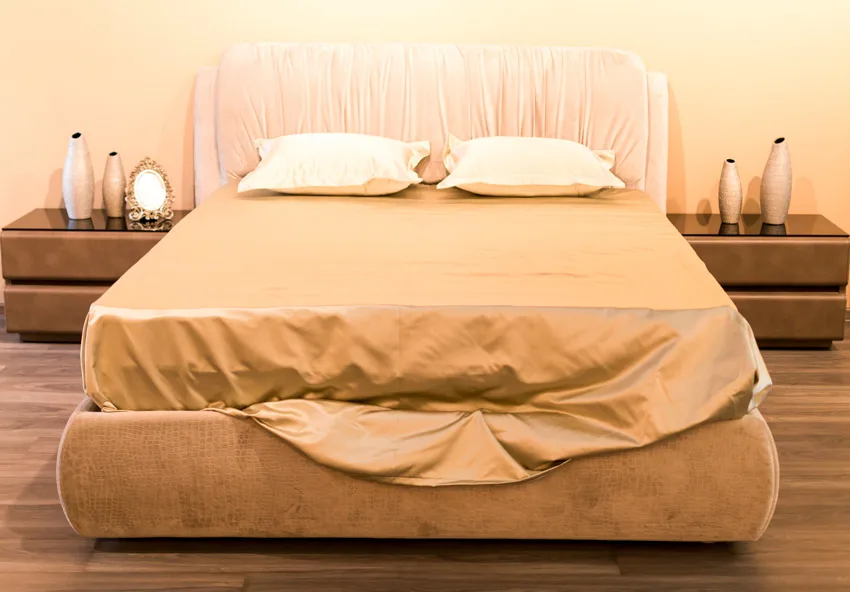 Silk is a natural material manufactured by silkworms, and since it requires extremely delicate handling during the manufacturing process, it is a more expensive option.
Aside from the cost, silk sheets are inherently hypoallergenic, but the upkeep and care can be time-consuming.
Microfiber
See this microfiber bedding set at Amazon [sponsored link]
Microfiber is just polyester that has been knitted in an incredibly delicate manner. Since microfiber does not stain, it is good for those who like breakfast in bed, and for people who sleep beside their pets.
Microfiber is far softer than polyester yet less breathable than cotton, which makes it ideal for cold seasons. They are easy to clean and have less adverse effects for those with allergies to many fabric types.

Since microfiber is made from plastic materials and manufactured with chemical processes, they may have unknown health consequences, and are not environmentally friendly.

Satin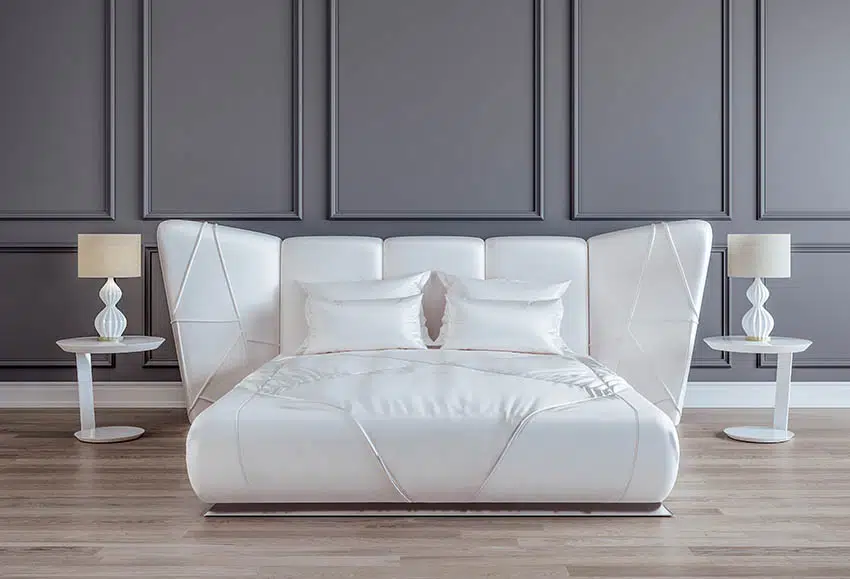 Satin bedding sheets have an enticing feel and are constructed of artificial fibers. Satin bedding sheets, the same as silk, are a fantastic way to add some romanticism to a space.
When shopping for satin sheets, you should check if the satin is knitted or woven. Satin is smoother when woven, but rougher when knitted.
Bed Accessories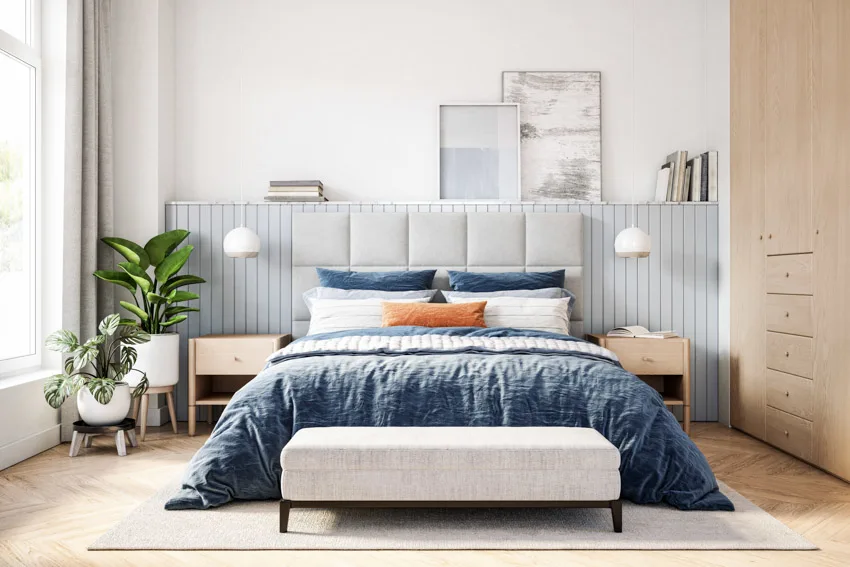 Here we share the different bed accessory options.
Mattress Topper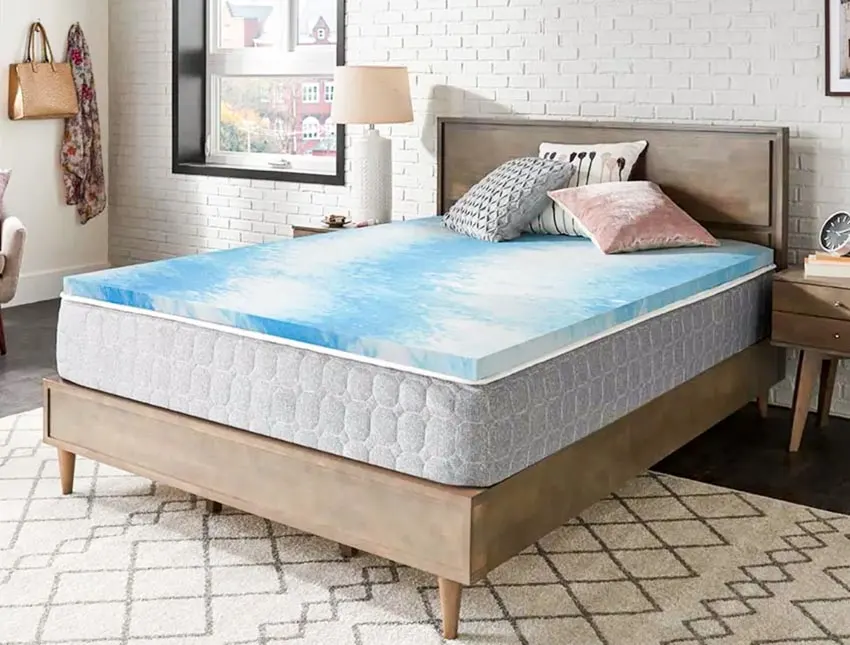 See this mattress topper at Home Depot [sponsored link]
This piece of cushioning, also known as a mattress pad or underpad, is used to offer warmth above the mattress and underneath a bottom sheet.
A mattress topper is a 2- to 4-inch layer of memory foam, padding, latex, or another substance that is placed on top of your mattress. Its objective is to enhance the quality of your bed by adding a layer of your preference.
You can choose a mattress topper that will make your bed seem cooler, warmer, firmer, or softer, depending on your sleeping habits. Furthermore, the additional layer might assist in preventing your mattress from staining and sagging.
Featherbed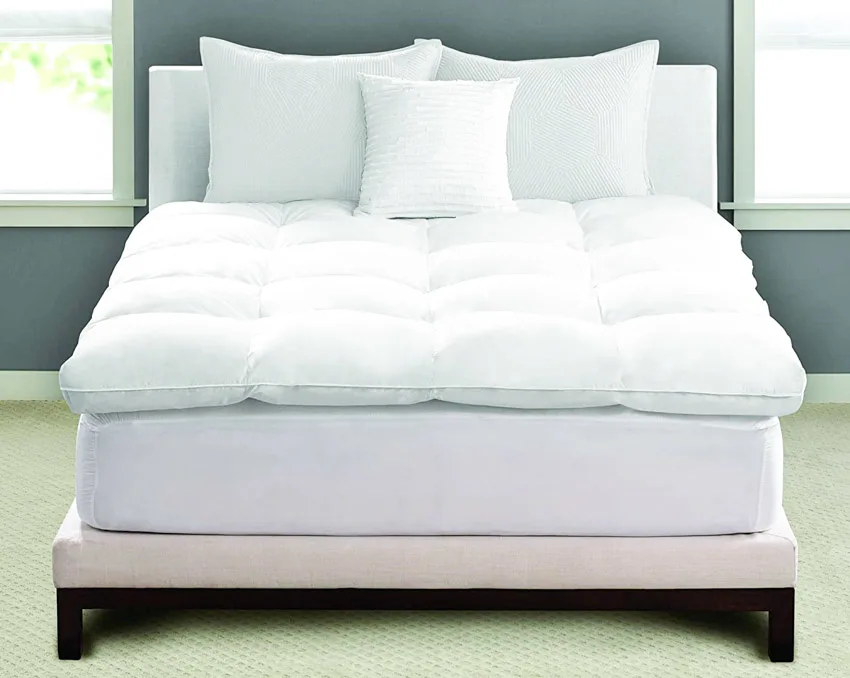 See this featherbed at Amazon [sponsored link]
A featherbed is a mattress padding that is made out of feathers enclosed within a fabric casing that sits on the upper end of a mattress. The featherbed is usually equipped with stretchy straps or even a fitted sheet to ensure that it fits over a mattress and remains firmly in position.
Throw Blankets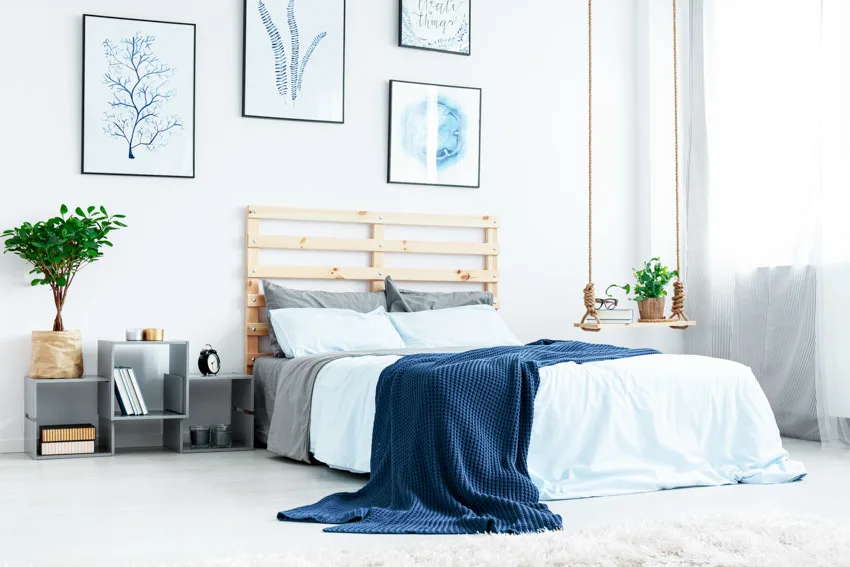 A throw blanket, which is smaller than a standard blanket, is used to offer additional warmth at the bottom of the bed or when placed around your shoulders. Adding throw blankets to your bed can add a pop of color to your bedroom.
Backrest Pillows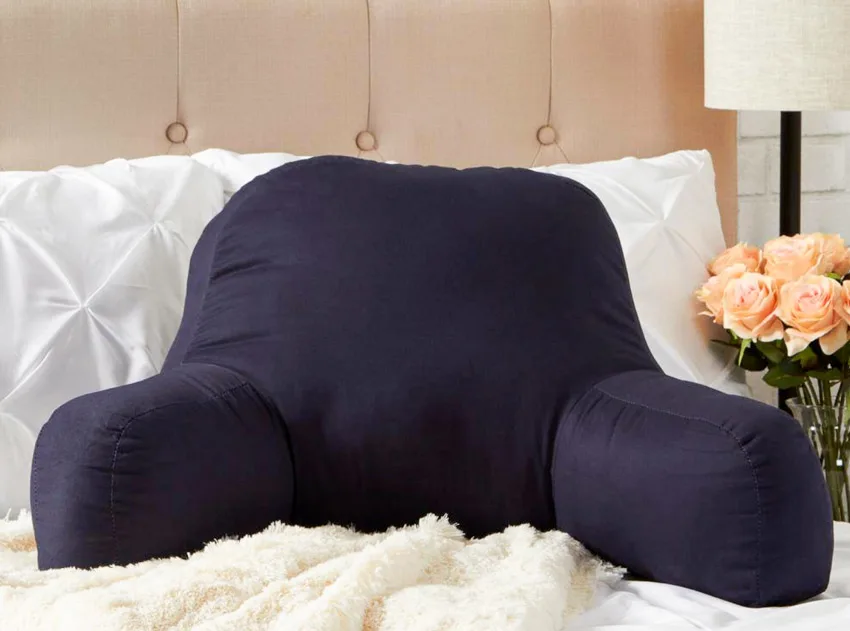 See this backrest pillow at Home Depot [sponsored link]
A backrest pillow is a form of molded pillow that is substantial and arched enough to provide support while sitting in bed. In actuality, this one-of-a-kind pillow was created specifically for use as a pillow in bed, and as such, it is also known as a sitting pillow.
The backrest sitting pillow's unique design is what renders it the ideal pillow for sitting. Numerous backrest pillows feature arms that are affixed for added support, allowing you to sit straight in bed and still have the same level of relaxation and support as if you were sitting in an office chair or lounge room recliner.
Backrest pillows are normally stuffed with a polyester or foam-filling insert and may feature a handle sewn onto the top of the cushion for easy movement around your bedroom.
Bed Canopies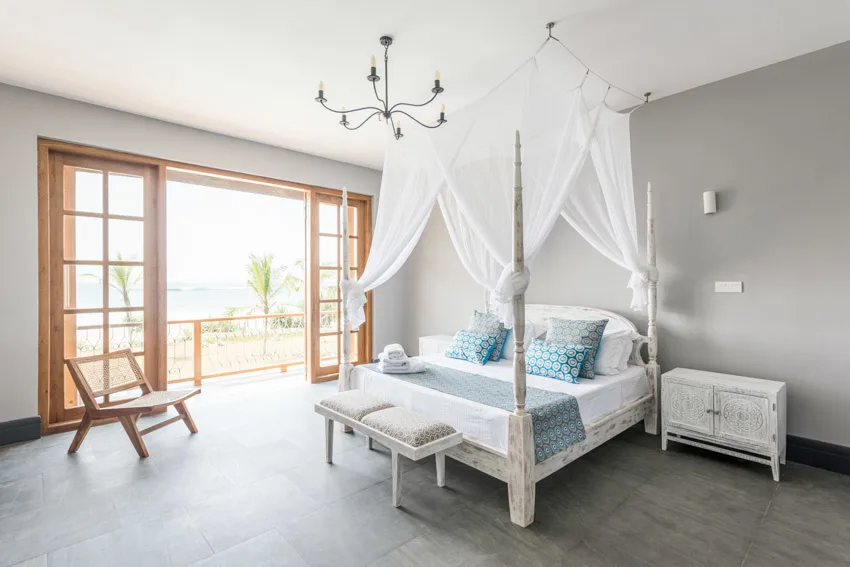 A bed canopy is just a bed with a canopy that is typically draped with bed drapes. The canopy and drapes serve two purposes: they keep the bed warm and shield it from light and being seen by others. They could also be intricately decorated on more expensive mattresses.
Fabric Headboard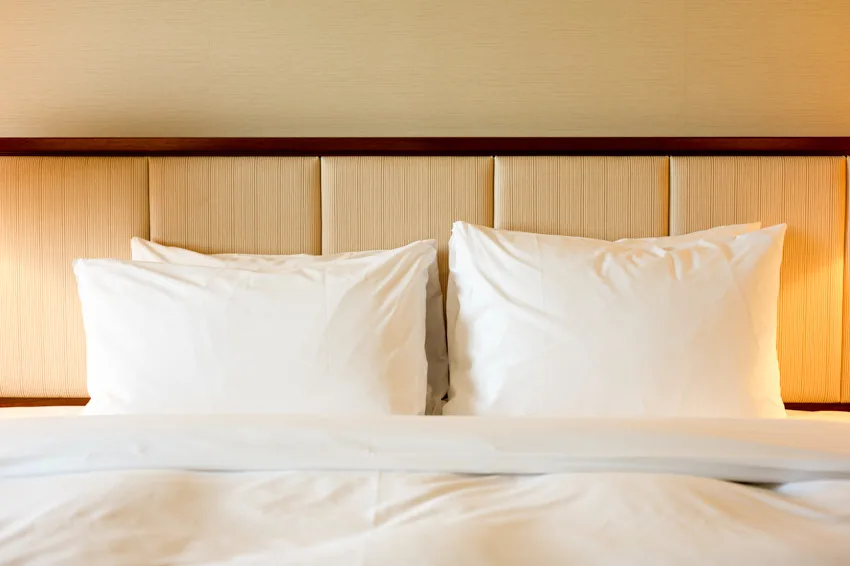 Fabric upholstery is comfortable and soft, making it ideal to be used as a spot to lay your head. Fabric headboards feature a warm, pleasant touch that transforms a bedroom into a cozy sanctuary.
Moreover, fabric headboards are very simple to clean and maintain. They are stain-resistant and may be swept or brushed to eliminate dust and grime.
Fabric types of headboards are also quite sturdy, lasting for many years. Furthermore, fabric headboards can be manufactured in any color or style to complement your bedroom's décor.
Bed Runner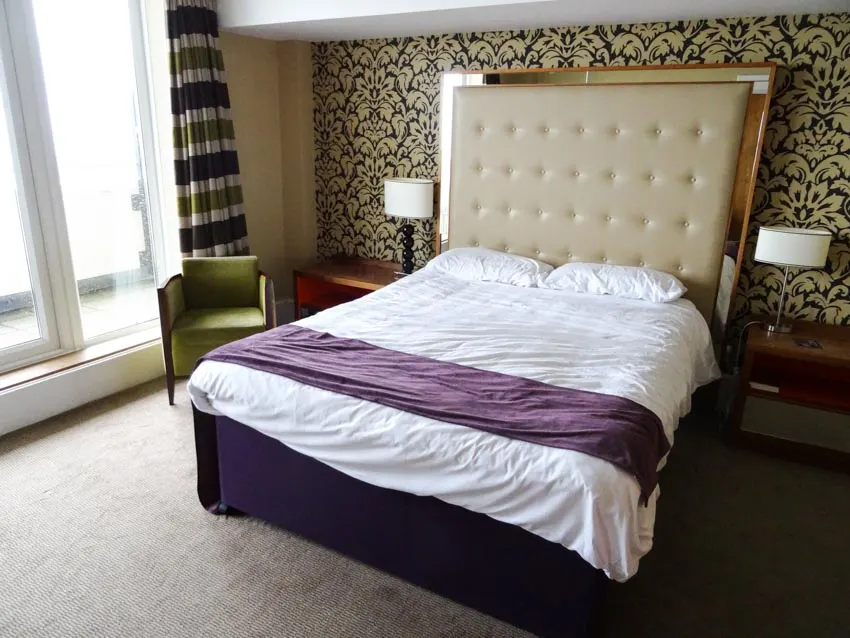 A bed runner is a long fabric piece that is used to embellish beds and sofas. Bed runners, which are smaller than standard sheets, enhance the appearance of your mattress.
Bed runners resemble a shawl or a rectangular sheet, and they are placed across the bottom of the bed, in the center, or wherever they appear better. They were first employed in hotels to assist with bed maintenance and housekeeping.
Nevertheless, bed runners garnered appeal as elegant décor pieces over time. These bed accessories provide much-needed beauty to your bedrooms when matched with matching pillow coverings. See more pictures of the types of bed styles here.

What Are Bed Covers?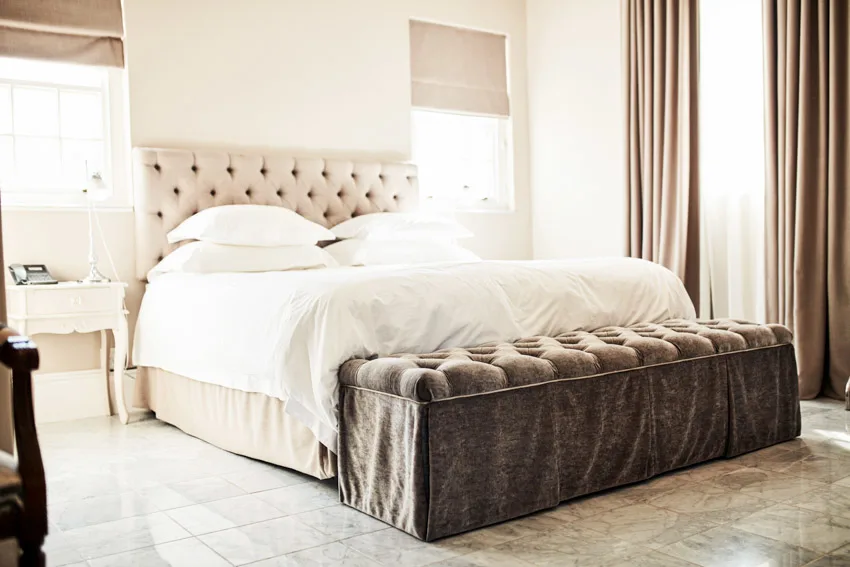 A bed cover is known by several distinct names. Duvets, comforters, and blankets are the most prevalent types of bed covers. It is a huge sheet of material that sits right on top of your bed sheets, or if your mattress has a padded mattress protector, it can be utilized without the necessity of a pair of bed sheets.
Whatever material you choose for your bed cover, it should be easy to clean and have stain-repelling features to guarantee longevity. Most users use a blend of beds heets as well as a bed cover to be warm and fresh, as well as an extra layer of protection for their mattress. Because the mattress is the most pricey component of your bed, you should avoid stains and tears.
Furthermore, the bed cover should be made of a material that is comforting to dry or sensitive skin. Individuals who have common skin problems may discover that using a bed cover rather than layers of sheets and blankets on their bed soothes their skin.
Various layers of bedding can produce an increase in body warmth, resulting in night sweats. Because night sweats can worsen skin issues, most people just use a heavier bed cover.
What Is Bed Linen?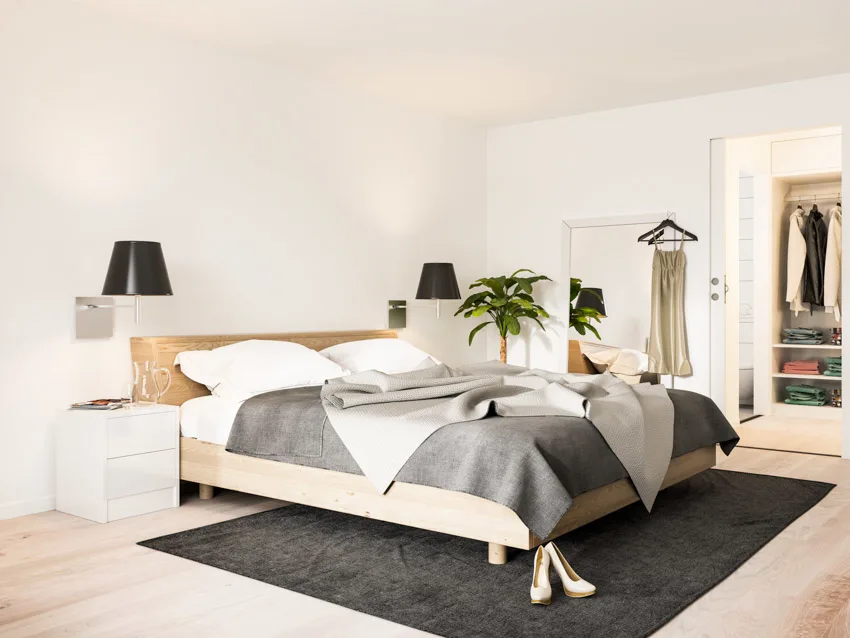 Bed linen, in its most basic form, refers to sheets including flat sheets and, on occasion, duvet and pillow coverings. They are intended to be both stylish and comfortable.
When we say 'bed linen,' we normally imply the sheets that are used to protect the mattress to ensure that the bed occupant is relaxed and the mattress is covered. When using blankets or coverings, a second sheet should be utilized to provide comfort between the bed occupant and the texture of the blankets.
When using a continental quilt, the top sheet is frequently removed. Bed linens are generally flat and must be tucked around the mattress's edges to maintain their position while sleeping or resting.
What Are The Layers Of Bedding?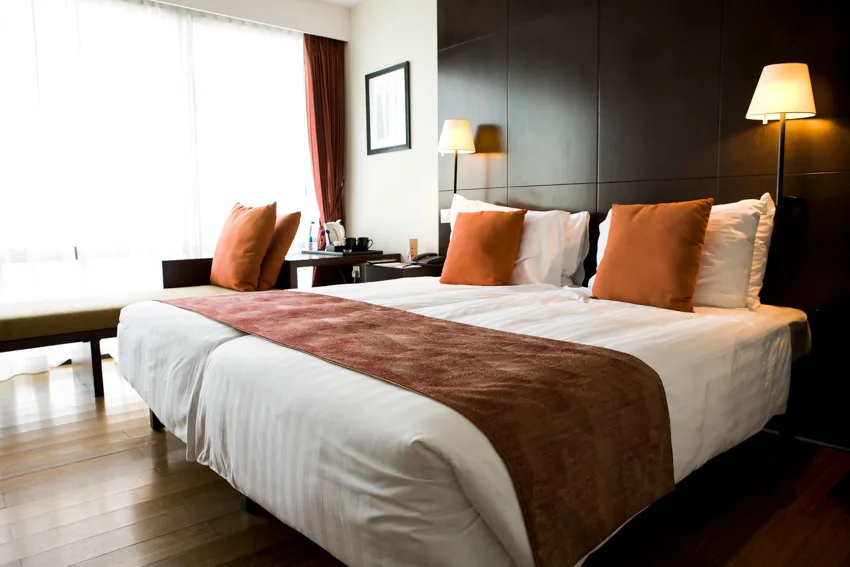 While there are many parts of a bed that make up the overall construction and design, most beds come with six layers of bedding. Here are the step-by-step bedding layers and their descriptions.
1. Mattress Protector: This casing protects your mattress from the elements as well as dust. The majority of these protectors are waterproof and defend against allergens and bed bugs, whereas others add an additional layer of warmth.
2. Mattress Topper: This detachable layer adds supplementary padding to the top of your mattress for added support and comfort. Depending on your preferences and budget, various materials are obtainable on the market, ranging from fibers to memory foam to feather stuffing. If you want a comfortable, fluffed-up bed, you can think about buying a four-inch-thick pad.
3. Fitted Sheet and Flat Sheet: The fitted sheet is the sheet that rests between the bed occupant and the mattress, usually with elastics sewn in. The flat sheet is usually a plain fabric that is normally placed underneath the duvet to lessen the frequency with which the duvet needs to be cleaned. The flat sheet, on the other hand, can be utilized as a bottom layer to cover the mattress.
4. Coverlet or Bedspread: This is a lightweight covering that sits on top of your duvet cover while the bed is not being used and serves mostly as an aesthetic accent.
5. Bed Skirt: This layer of fabric hides the bed's bottom and frame and is especially beneficial if you have storage systems underneath your bed. This is usually constructed to coordinate with the colors of your duvet cover or headboard. Valance is another term for it.
6. Bed Runner: If you want to go all out, you can add a bed runner in a color that matches your decorative pillows to the bottom part of your bed. A throw pillow can likewise be used for the same reason.
See more related content in our article about the different types of blankets on this page.