These are the bed skirt alternatives including why it's needed, the different fabric options, creative ideas, and the average length of bed skirts.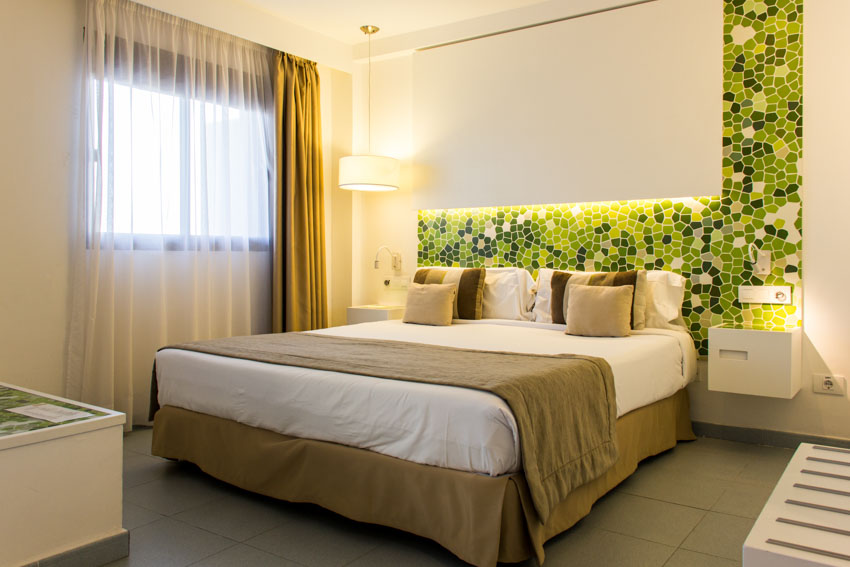 Bed skirts make your typical box spring bed look more seamless, cleaner, and a little more luxurious. Bed skirts can bring that "hotel feel" to your bedroom. However, they aren't always the easiest, nor the most convenient attachments to have.
What Is A Bed Skirt?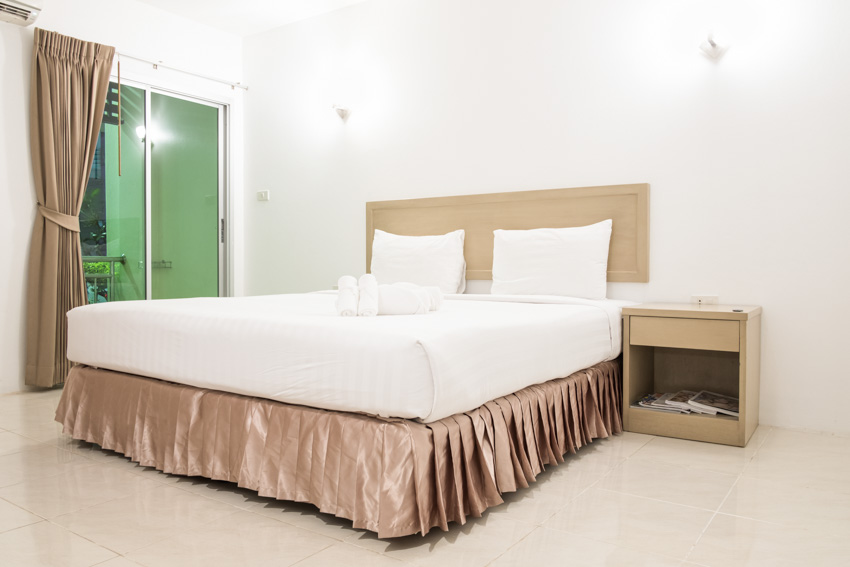 A bed skirt is a complementary piece of fabric that complements the design and style of the comforter or quilt that you're pairing up with your bed. Getting a bed skirt that matches creates a more cohesive bed style and design and something that plays in with the overall design of the bedroom as well.
It's usually right in between the box spring and the mattress and it usually goes all the way down to almost floor length. A bed skirt isn't really essential but if you want a more seamless-looking bed and a more attractive covering for your box spring and bed legs, then it will definitely come in handy.
It is also at times nicknamed or referred to as a dust ruffle. There is no significant distinction between the two. Not only is it designed to cover a box spring bed, it also helps you hide any items stowed right under the bed as well.
The reason for the name dust ruffle is because it also creates a barrier in between the outside floor and the floor right underneath the bed, preventing dust and other forms of debris to accumulate right under the bed space floor.
Why Do You Need A Bed Skirt?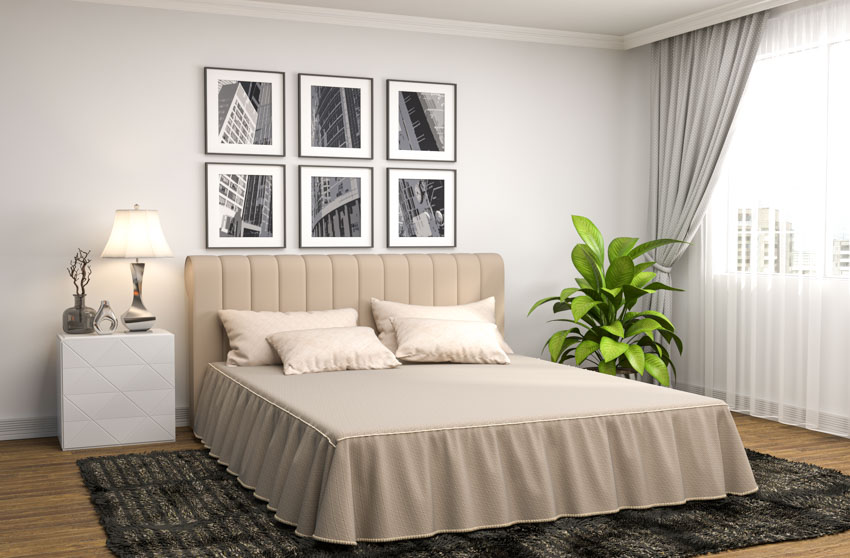 For the most part, although its main purpose is decorative; a bed skirt is also more hygienic. Since it hangs down far enough to almost touch the floor, it prevents the accumulation of most dust particles.
Dust buildup can oftentimes lead to dust mites and other gnarly byproducts. This obviously isn't the end-all be-all in keeping your bed clean but it sure is a pretty good place to start.
Putting a bed skirt in is also practical. In the case of having cold drafts or draft areas under the bed, a bed skirt can right that wrong almost immediately. Drafts can make your mattress undersides cooler which means that eventually, you might end up sleeping in an uncomfortable cold. A bed skirt can help out immensely when it comes to that.
And of course, they can make your bed look great. They're awesome when it comes up covering up unattractive box springs and bed frames that have legs that tend to look a little awkward and not design-friendly. They may also hide storage areas under the bed.
Why Do You Need Bed Skirt Alternatives?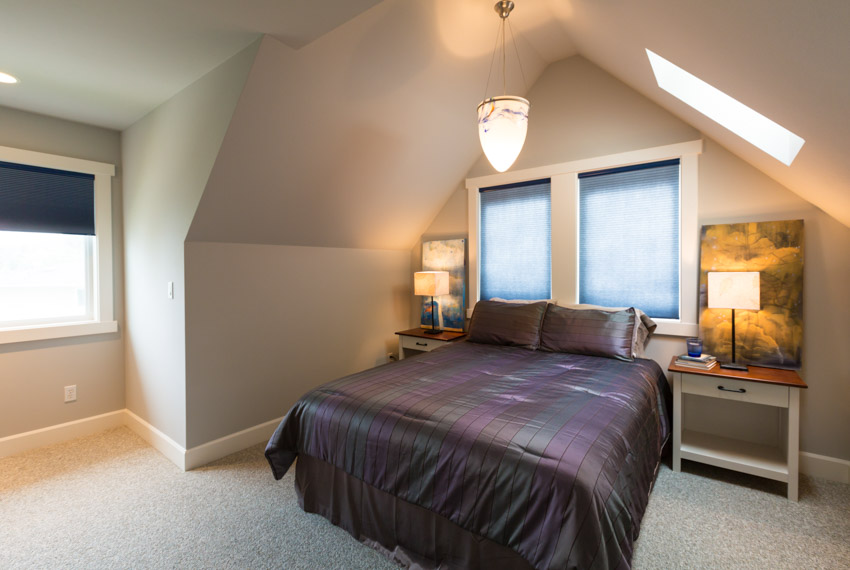 As great as bed skirts are, they do come with certain inconveniences. For starters, it has the tendency to constantly shift and slide off, especially when not installed in the right or proper way. This can be a real inconvenience especially if you just got home after a long and tiring day from work and don't have time for laborious domestic chores.
They also come in varying lengths and finding the perfect one that will fit your specific bed height can be a task. You need to know how to measure your bed accurately so that you can find the perfect bed skirt that will fit your particular bed frame.
Some bed skirt models are designed in a way wherein you will have to lift or remove the mattress first before you can install it. This can turn out to be a real hassle especially if you have a large and heavy king-sized mattress.
Bed Skirt Alternatives Worth Considering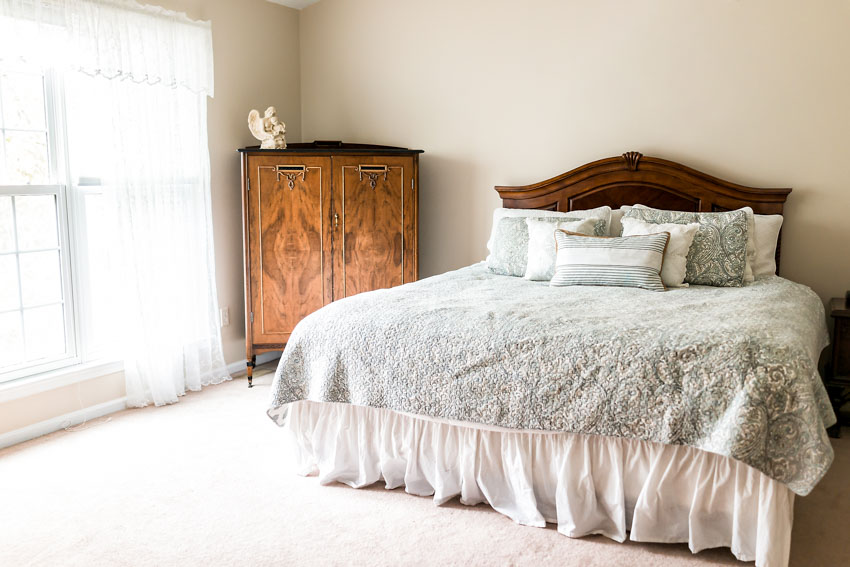 Here are some alternatives to bed skirts homeowners need to consider.
Fitted Sheets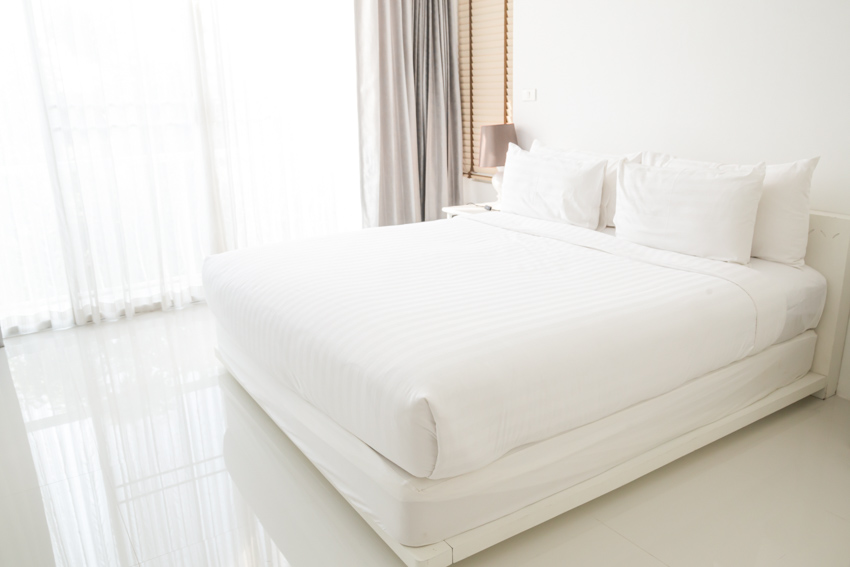 A nice fitted sheet doesn't technically offer all of the offerings of a proper bed skirt especially in terms of presentation and appearance but it does work as an awesome and practical substitute for it. It isn't perfect, for sure. It won't technically cover the bed frame nor the area under it but it does come with certain advantages.
For starters, you don't need to buy any extra items. There are no special tasks or tools required to attach it to most types of mattresses. And if you're opting for a bed that looks minimalist and modern, fitted sheets will be able to fit right in.
You can always go for a slightly larger fitted sheet size if you want to include covering up your box spring. You can easily match it with any color and design you may have in mind and the best part in all of this is that you can periodically change it and throw it in the washer to keep things clean and sanitary.
Flat Sheets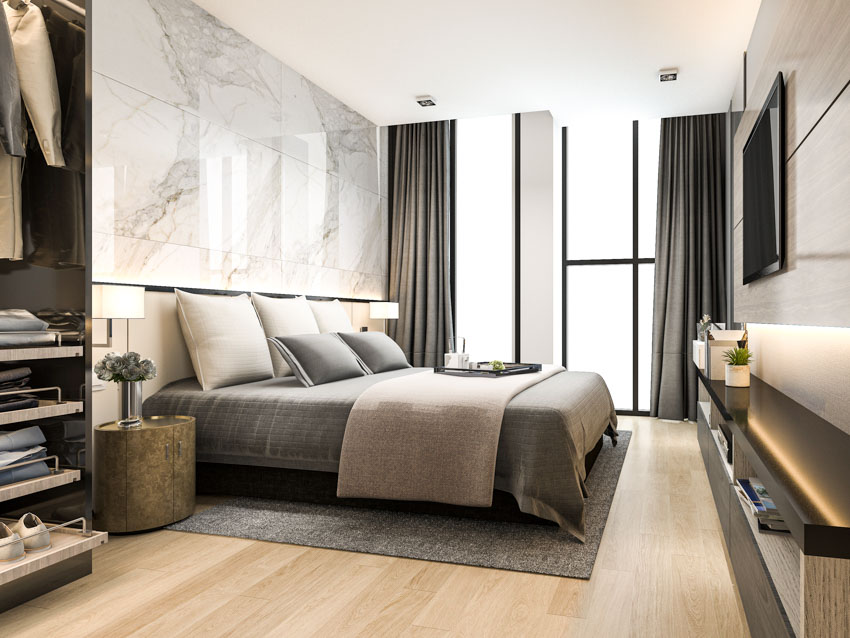 Flat sheets can be used as bed skirts granted that they're oversized or much larger in size compared to the actual mattress. All you need to do is make sure that they're placed right underneath the mattress, and then allowing the extra material to cascade down towards the floor.
Flat sheets are readily available and there's a pretty good chance that you have a wide selection of them in and around the house so there isn't any need for you to buy new ones. They come in all sorts of patterns, colors, materials, and even textures.
One thing to take note of though is that they can slip and shift which means that you will need to make adjustments every now and then. This can be a bit of a hassle. Still, it does serve its purpose quite well as a bed skirt alternative.
Window Curtains Or Valance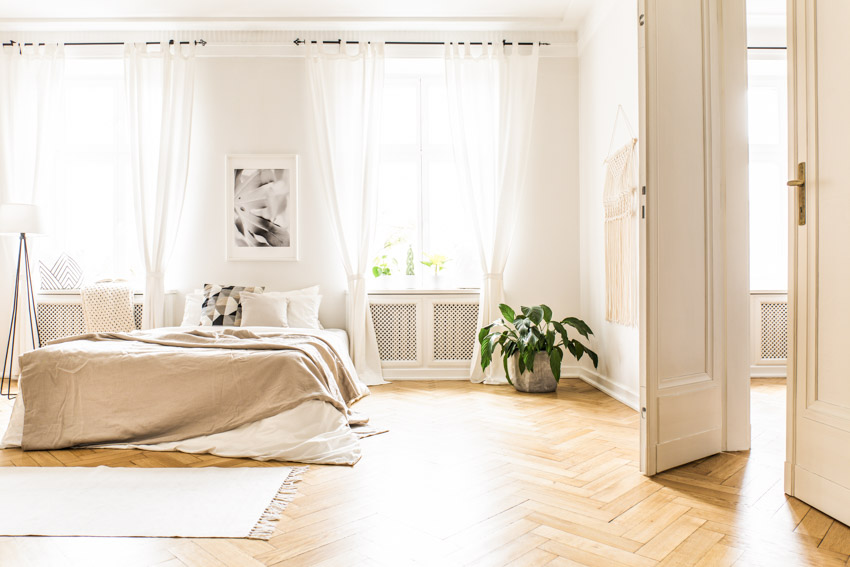 If you're a fan of upcycling, a window valance might work for you they're great when it comes to making bed skirts out of them and can work particularly well if you're fond of thin skirting or similar design styles.
They can be purchased very cheaply. All you really need are a couple of valances that are of the same length and make sure that you use them for both sides of the bed. Just make sure that you get a shorter material for the foot area of the bed and make sure that they're all pinned together once you're done.
Window valances are available in both physical stores and online and if you have the time for it, you can even make them fancier by adding in folds, ripples, and so much more. You just need to make sure that you measure them out and that they match your particular box spring size.
Take note though that window valances can be heavy so pay attention to the kind of fabric you're picking. Heavier fabrics tend to sag over time which means that you may need to reinforce them with more pins so that they stay upright when attached to your box spring.
Wrap-Around Bed Skirts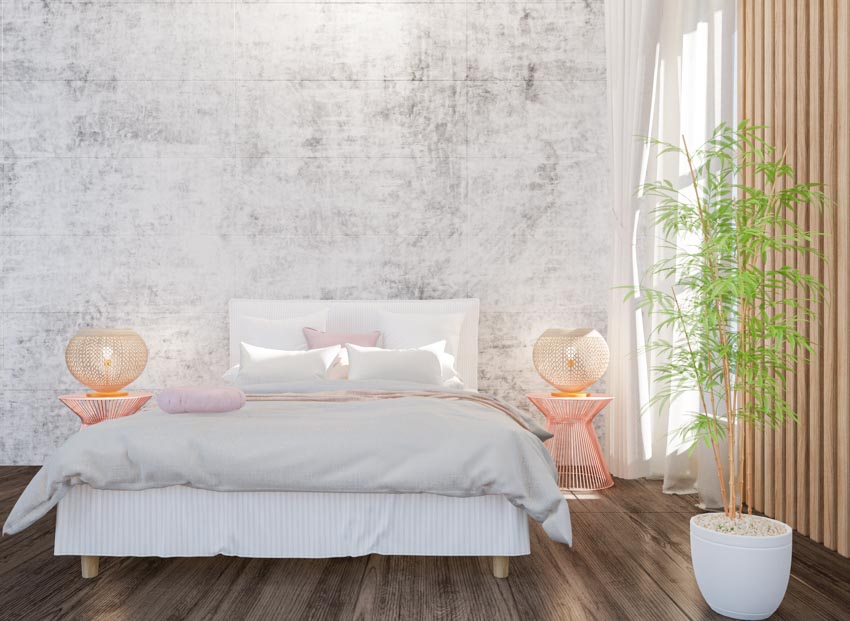 A wrap-around bed skirt is another easy substitute for a full-on traditional bed skirt. It's very convenient and is fairly easy to find. You can even opt to DIY your own with the use of a fitted sheet. But if you aren't that crafty, you can just opt to order one online or buy one from a home depot store.
They come quite cheap and they can also be quite easy to make so you won't be going through so much hassle in trying to acquire them. You can get them changed along with your bed sheet at the drop of a hat.
There isn't any need for you to lift the mattress to get it attached either. The only catch to wraparounds though is that they can shift and slide off. The elastic that they come with may also stretch out over time.
You need to be mindful of your box spring's size and the fact that they aren't split in the corners which means that they might also eventually tear out. Read more about bed sheet sizes here.

Velcro Bed Skirts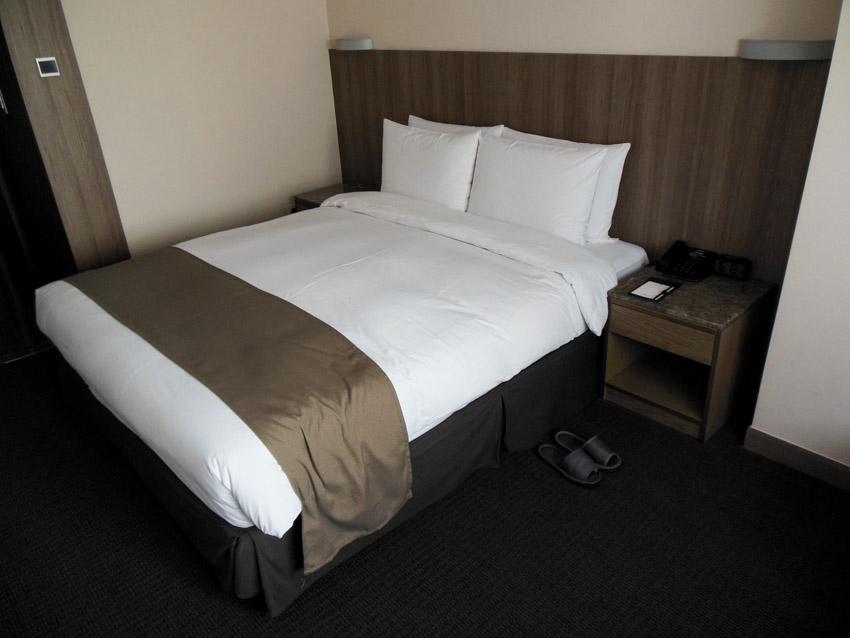 Velcro bed skirts are nifty and brilliant alternatives to traditional bed skirts. You can get them in place without ever lifting the mattress so that in itself is already a huge plus. You can also opt to get them in anti-shift fabrics or if you're a bit of a seamstress, you can opt to make one yourself.
You'll be able to save in the process while at the same time, making something that exactly matches your bed size, style preference, fabric type, and so on. You can make them in the same fabric that your bed sheets come in for a more cohesive bed design.
They can come in all sorts of materials from muslin to ruffles, to lace, to tassels, and so on. You can easily attach Velcro to any existing bed skirt as well. It can also be replaced any time you have a need for it.
The downside though is that the Velcro adhesive can show signs of wear and tear over time. You also need to make sure that you install the Velcro material carefully. This isn't necessarily hard but it does require that you pay some extra attention to it in the process.
Box Spring Wrap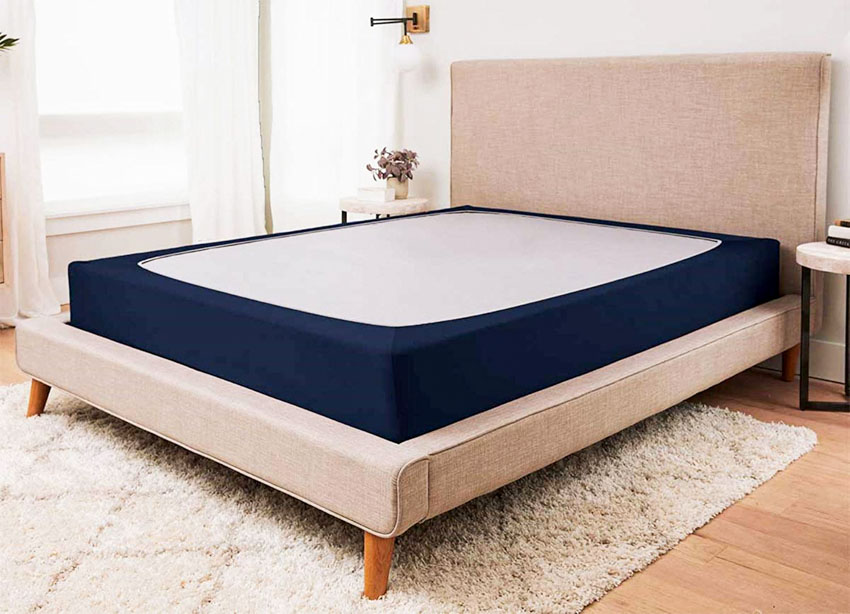 See this boxspring wrap at Amazon [sponsored link]
This is a really fun alternative to a traditional bed skirt but it's something that is unfortunately limited to the holidays. The idea is that your box spring bed can look like a wrapped-up gift. It can be pretty cool. It's like sleeping on an actual gift box.
Although limited, this also means that you will be able to make your holidays at home extra special. It might require a little bit of work but the end result is something that's unique and truly satisfying.
Once it's up, it requires little to no maintenance at all and the best in all of this is that you can just buy it online. You can even pick out different designs and colors.
The catch though is that it can be trickier to install compared to the Velcro bed skirts. It doesn't provide any under-bed coverage but that shouldn't be too much of an issue considering that its use is purely seasonal.
Under Bed Storage Drawers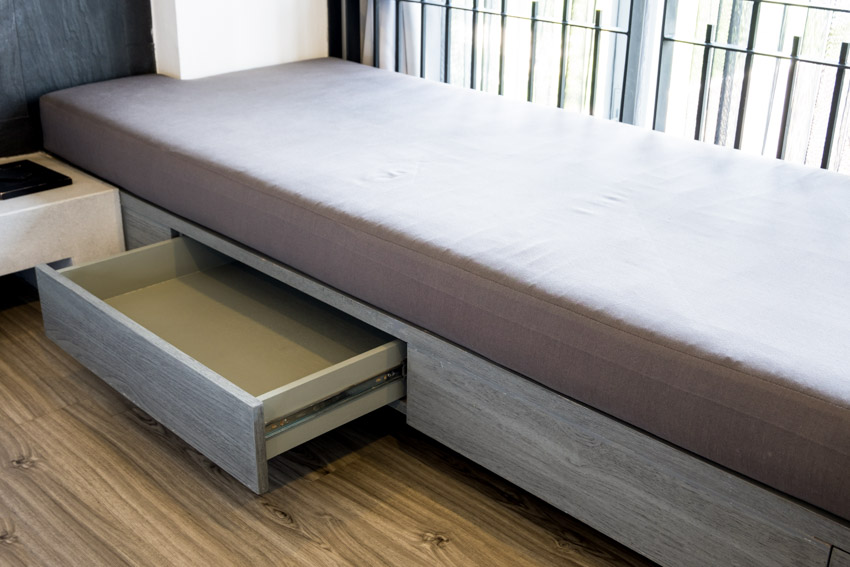 Bed drawers are a great alternative for bed skirts because not only are they aesthetic and serve the purpose of hiding the under-bed space quite well, but they also offer the added benefit of extra storage space.
They make good use of the vacant spaces under the bed which means you can easily get dozens of additional cubic feet of storage, allowing you to make good use of every single inch of your bedroom space while you're at it.
You also get to save time in cleaning because it means you don't have to worry about cleaning under the bed too much as the drawers keep them safe from dust and sanitary. Under bed storage drawers can also look quite lavish and can give your bedroom décor a bit of a high-end look.
Bed Ceiling Canopy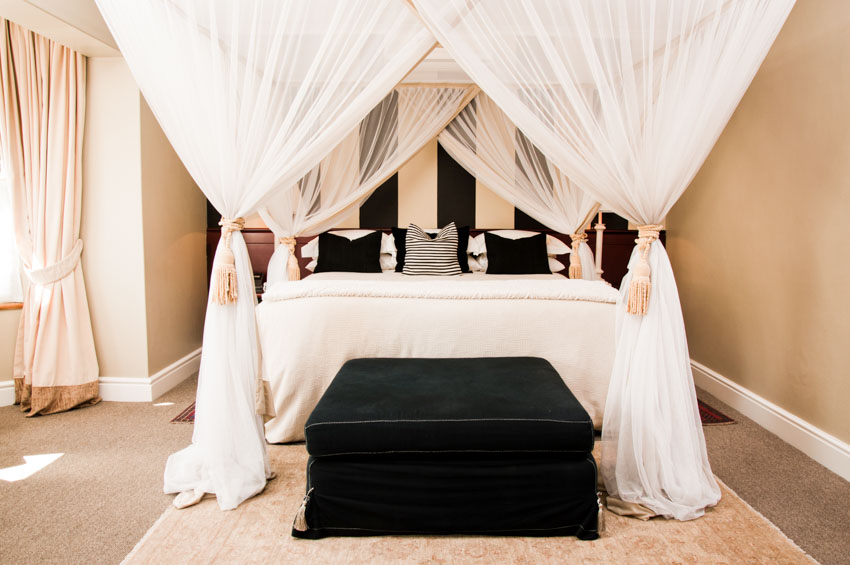 A bed ceiling canopy is usually an extra piece of fabric that you drape over the frames of a canopy bed. It makes sense that you can use this as an alternative to a bed skirt. The only thing is that instead of draping it on an actual canopy bed, you drape it over the actual box spring instead. It's easy and convenient.
Bed ceiling canopies can be purchased online or in physical local stores and they come in all sorts of fabric materials, colors, and designs. There are so many looks and textures to choose from when it comes to bed canopy materials.
They are meant to be decorative and aesthetic so your bed design will have an overall elevated and upgraded look at the end of the day.
DIY Bed Skirt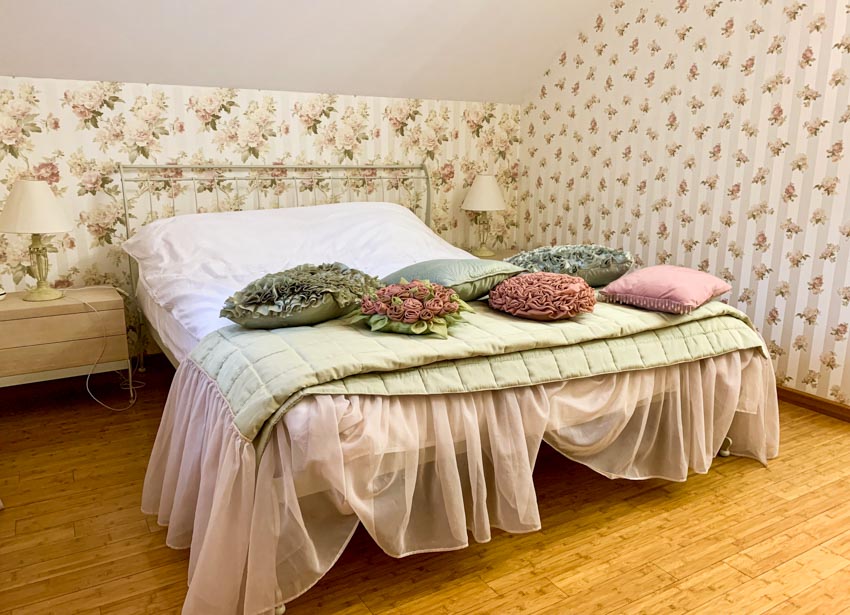 If you're a bit of a DIYer, a DIY bed skirt is definitely something interesting and exciting to take on. It just requires some amount of sewing but other than it, you can go a long way. It is best that you start off with a fabric that will really be able to take in a lot of daily wear and tear – and of course, something that's easily washable.
You can make bed skirts out of old sheets, old duvet covers, or even old types of curtains. Linens and other blankets can work just fine as well. However, if you want to work with new fabric, you can also opt to buy one by the yard.
Go with a fabric that speaks to you as well as to the design that you have for the room. Also, make sure that you go with a sewing style that's quite suitable for the fabrics you're working with. When it comes to DIY bed skirts, your restrictions are only dictated by your sewing skills, your budget, and of course, your imagination. Take your time with the measurements as much as possible.
Rug Material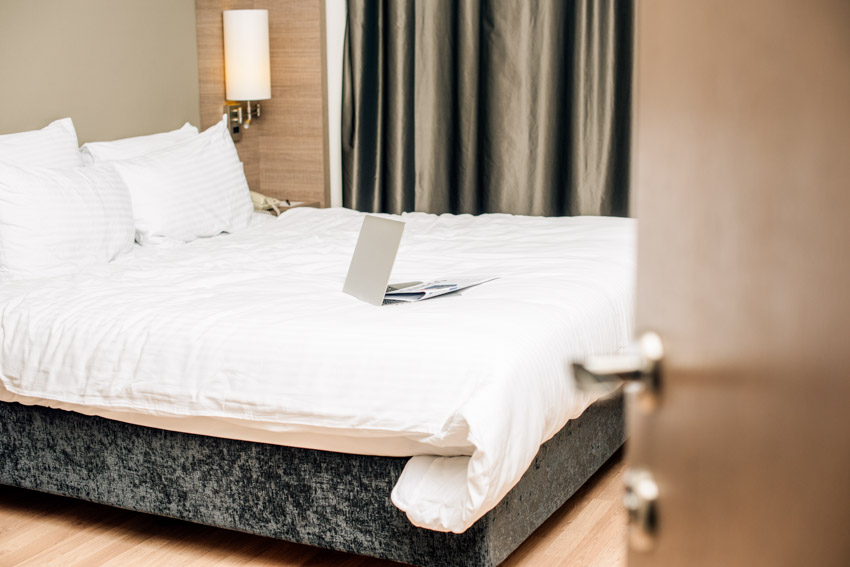 Most types of rugs can work as a bed skirt alternative if you happen to have a box spring that is placed directly on the floor. All you need to do is to put your box spring atop any rug of your choice and then use the same rug material on the sides of your box spring.
Staple these side materials to the side of your box spring with the use of a handy staple gun. It's best if you cut a slit in the corners of your rug to make it easier for you to staple it on the sides of the box spring.
Soft Fabric Material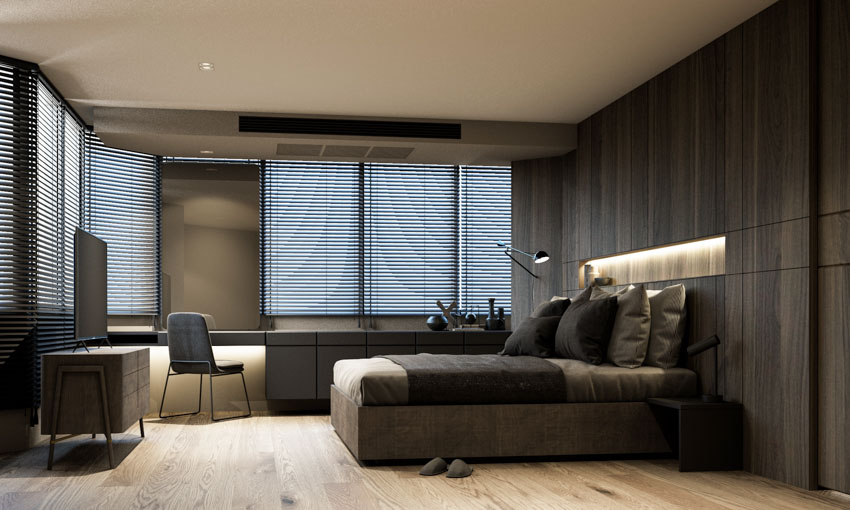 You can actually attach any soft fabric material or padded material of your choice to the side of your box spring. Pick out a color that will match the rest of your bedroom's décor. Your staple gun can come in handy with this task. Attach the fabric directly to the box.
If you want a padded material, some lightweight batting can give you the added effect of extra texture. It's easy and convenient enough to do and the end result is something that makes your bed look extra luxurious and expensive without the punishing price tag.
Wood Skirt Frame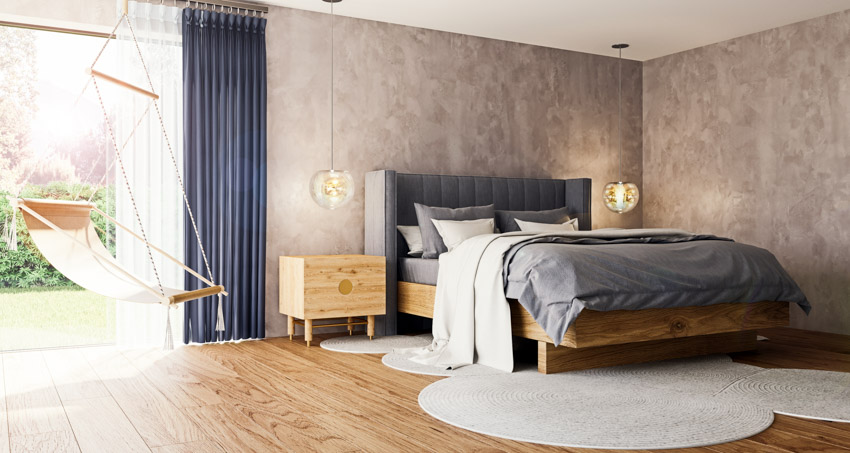 A wood skirt frame is basically a false frame wrapped around your bed. Your box spring may be level to the ground or it can come with metal brackets that serve as mini legs. Either way, you'll want a wood skirt frame that reaches up all the way to the top part of your box bed.
This is a really cheap alternative as opposed to buying a solid wood frame for your bed. They look exactly the same without the punishing cost of entirely new furniture. Even better, you can even opt to add in a nice headboard to jazz up your bed design even more.
Paint The Bed Frame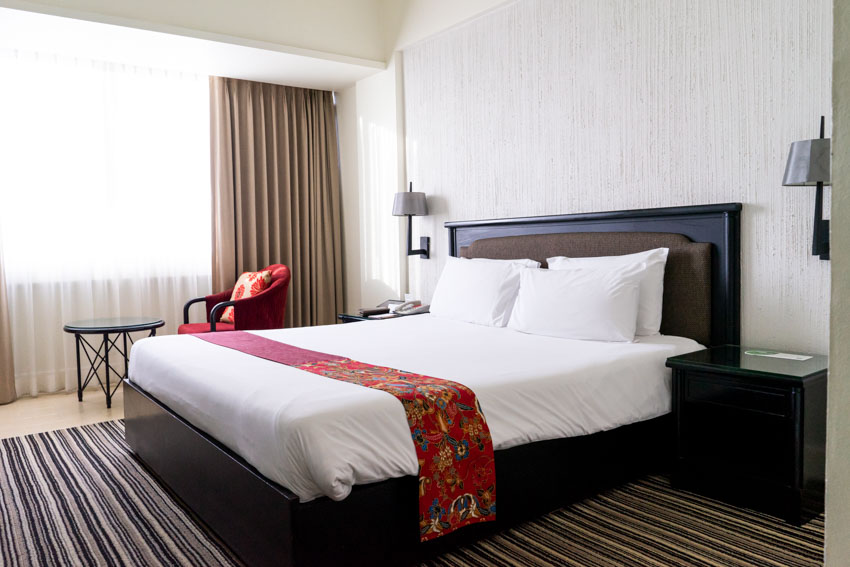 Of course, if you want to just take care of the unattractive box spring or bed frame appearance, you can just easily paint over it. It's practical and easy and more than that, if you're artistic enough, it can even turn out to be an additional design element for your bedroom space. You can keep it simple with solid colors, play around with patterns, or go the extra mile and use stencils.
Whatever you can think up or imagine, you can easily bring it to life for as long as you have the brushes and the paint colors for it. A word of advice though, this doesn't necessarily take care of the negative space under the bed. Still, it makes for a much attractive looking box spring altogether.
Peel And Stick Wallpaper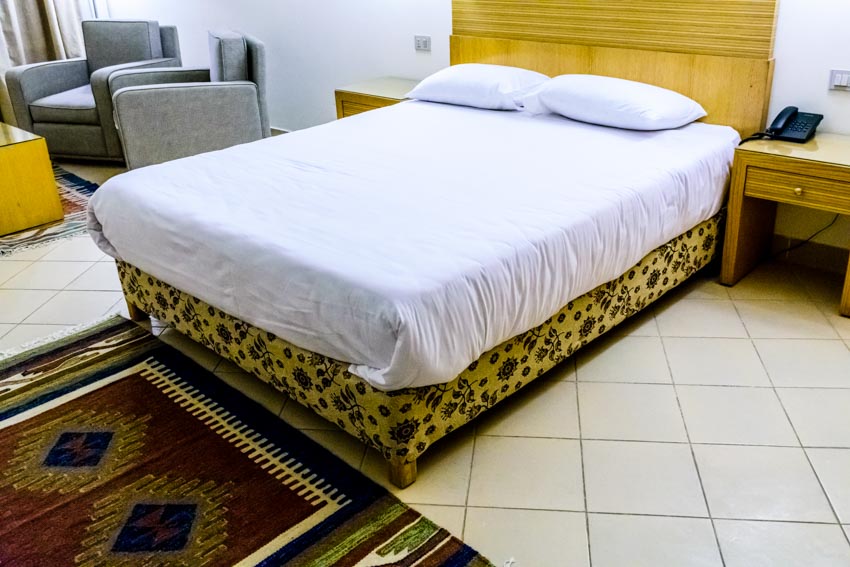 This is a really cheap and easy no-sew alternative to the traditional bed skirt. All you need to do is to just pick out a wallpaper material of your choice, measure it out so that it fits just right with your bed frame or box spring frame, and make sure that the surface area is clean and dust-free so that the adhesive sticks with no issues, and then peel it off and pat it on.
A peel and stick wallpaper has come a long way and these days, it isn't just a typical wallpaper anymore. They can mimic literally any surface area and any material you can possibly think of from linens, to wood, to painted materials, and even to textured walls, bricks, natural stone, and so on.
They're cheap and they're easy to use. And the best part in all of this is that it shouldn't take you more than an hour or two to get everything set up.
Use A Platform Bed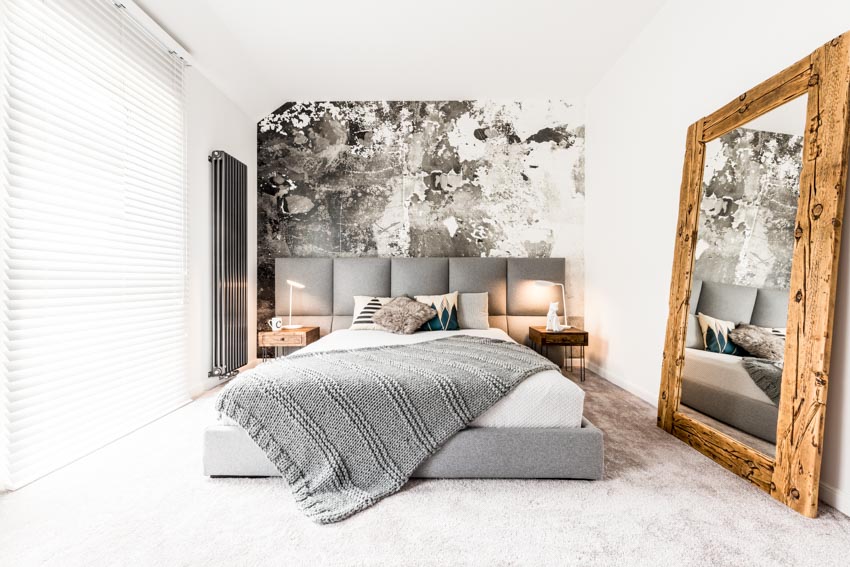 With a platform bed, there isn't really a need for a bed skirt anymore since it has its own foundation and it's already fairly close to the ground. This means that there isn't any need for a box spring to support the mattress in the first place.
This eliminates the need for an actual bed skirt. You can go with any height you like. Platform beds look natural and minimalist and they can be pretty adaptable to your budget as there are those that come with a low-range, mid-range, and high-range price tag.
They've very stable and they provide great support for your mattress. Some would even say that platform beds are highly recommended for people who have back pain.
What Is The Average Length Of A Bed Skirt?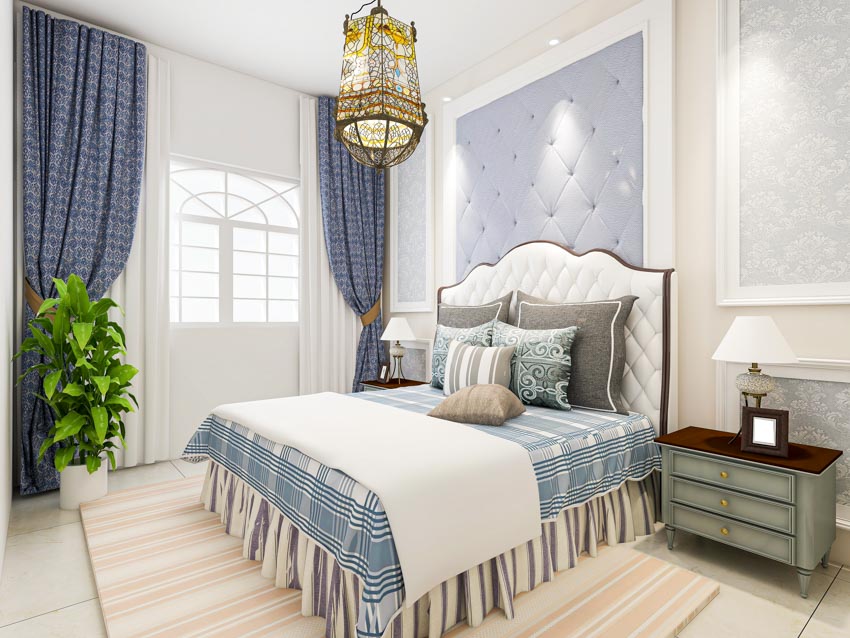 The length of an average bed skirt (usually refers to the "drop" or the fabric's distance from the bottom to the top of the bed) can be anywhere within the 14 inches to 18 inches range.
However, there are some that can go all the way up to 80 inches. This all depends on the bed height. The width can vary greatly depending on the size of the mattress you have. Here are the typical sizes per mattress size: (in inches)
Twin sized: 39 width X 75 length X 15 drop (height)
Queen sized: 60 width X 80 length X 15 drop
King sized: 78 width X 80 length X 15 drop
Although there are standardized bed sizes and corresponding bed skirts that match up to them, it is still important for you to make sure that you measure out the proper bed size to get the bed skirt that will best fit it.
Even the smallest variations from the standard sizes could affect the appearance and usability of your bed skirt at the end of the day. With the use of a tape measure, make sure that you measure the width of the mattress (horizontal or from side to side).
Then measure out its length (vertical or from top to bottom). Then measure out the drop. This is the distance from the top of the box spring to the floor level. Typically, it ranges from 14 to 18 inches but it's always best to be sure.
Should Your Bed Skirt Touch The Floor?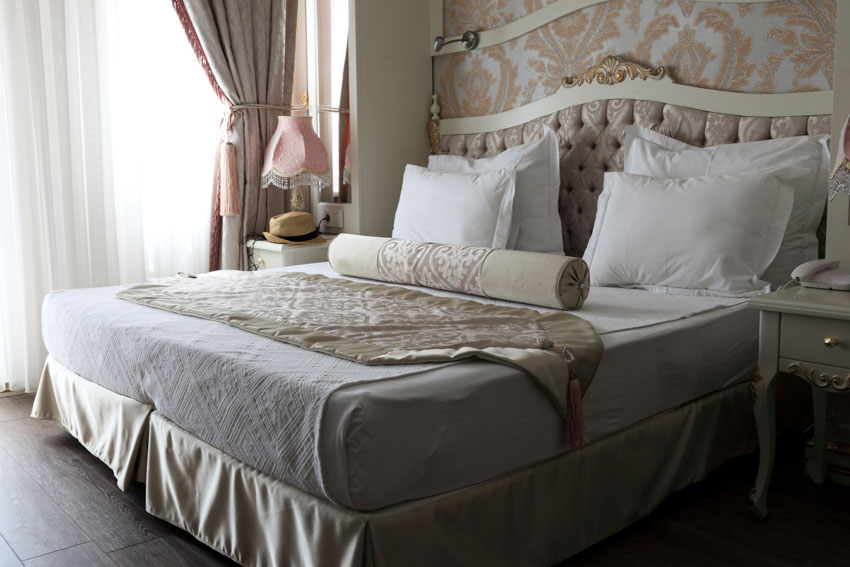 In the most general of requirements, yes it should. The reason why a bed skirt should touch the floor is so that it can effectively serve its purpose of concealing or hiding anything that's stowed right under the bed frames, as well as the actual sides of the bed.
Its main role is to make your bed design more cohesive with the rest of the bedroom while at the same time, concealing any possible flaws or imperfections. You can't really effectively do that when there happens to be a gap between the bed and the floor.
As a matter of fact, the really traditional way of getting bed frames done is that they're bunched up around the floor area so some of them are actually pooled around on the floor. This means that the drop is taller than the actual box spring's height.
See more related content in our article about platform bed vs. box spring on this page.