Here we share some of the best kids room paint colors to create a fun and inviting interior design.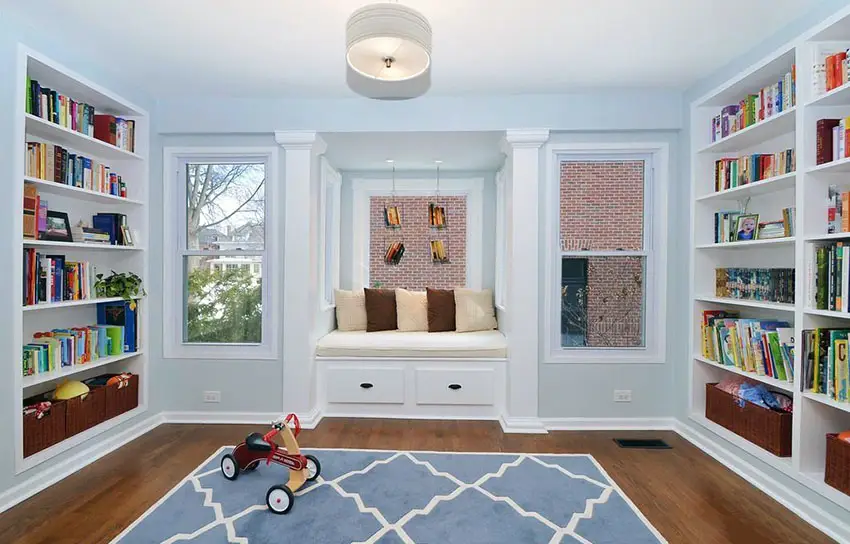 Kids rooms, those fun little spaces that kids seem to want to change every 6 months. How can you choose a color that will satisfy them, grow with them, and won't drive you crazy?
You could just allow them to choose the color and keep the door closed so you don't have to see the lime green and candy-corn orange stripes that they insisted on. Or, you could take a cue from design and give them a palette of on-trend, kid-pleasing, but timeless colors that will look good no matter what phase they are going through.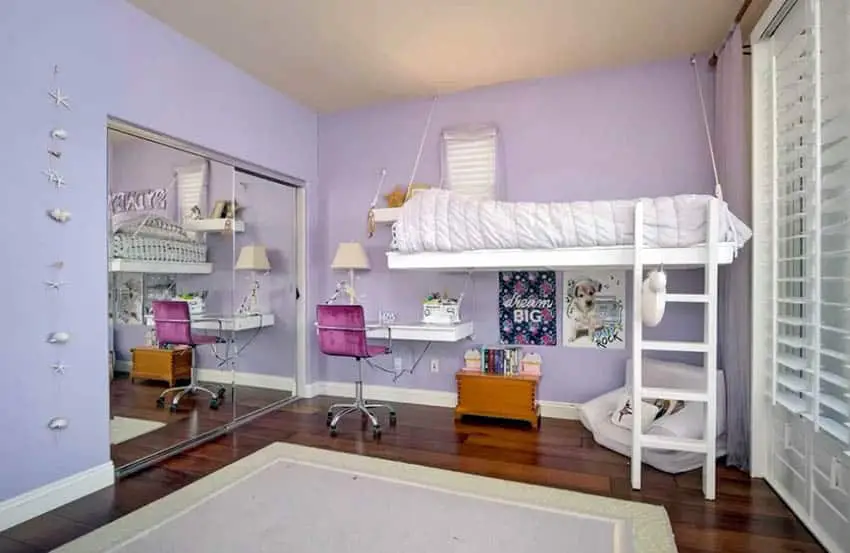 A purple bedroom paint color is a popular choice with equal amounts of blue and red to provide a nice balance. We share a few popular choices below.
Among the sky and sea, we find a myriad of blues, ranging from the pale, just a hint of blue in a bright white sky, to the bright cerulean of a tropical ocean, and the deep hues of the ocean deep.
Blue evokes a sense of wonder and adventure, it is timeless, it can go with many colors and themes, and it creates a calming and relaxing mood.
Benjamin Moore's Downpour Blue is a rich, deep color that is sure to please kids and adults alike. Combined with bright white furnishings and pops of bold yellow and vivid pink, you have a fun, modern palette.
If bold is too much, consider the gorgeous, light touch of Farrow and Ball's Borrowed Light. It is a soft, powdery, pale blue that fades into the backgrounds as a perfect neutral.
For a true sky at noon blue, look to Benjamin Moore's Northern Air. It is light enough to be used as a neutral, yet strong enough to stand on its own as an accent wall or on a dresser or nightstands. It's a timeless color that has been used and enjoyed for years.
Keeping in line with the pale colors, Benjamin Moore's Spring Lilac is a perfect pastel purple bedroom color without any muddy blue or grey undertones.
Spring Lilac is an understated, sophisticated color that grows up with a child. It can go from mild with other pastels to New York chic with pops of bright colors and modern furnishings.
For something a little bit more saturated, but still quite neutral, look to Valspar's Midsomer Twilight, a dusky purple that goes great with pale blues or buttery yellows.
Another great pastel for kids room bedroom ideas that isn't just for the nursery is Benjamin Moore's Atrium White. The color has a pale gray color that is great for rooms or trim.
This modern take on white has a pink tint that can be played up or down depending on what other colors you use.
Bring out the pink by creating accents with Farrow and Balls Calamine, a pale pink with grey undertones that looks smashing with white and grey furnishings, creating a soft, relaxing palette.
Since Atrium White is a not-quite-white neutral, it really goes well with any style and color palette.
For the bold and adventurous child with imagination to spare, consider Farrow and Ball's Citron. Full of energy, this fun yellow sets the stage for a carefree room. A citron accent wall with oversized white frames mounted directly on the wall makes a perfect gallery for a budding artist.
If bold yellow is too much, try Benjamin Moore's Buttercup. This yellow has leathery brown undertones and is simple and elegant, without being jarring. Pair it with a stormy grey and pale yellow-orange to create a classic, timeless palette that can transition from kid's room to yoga retreat when they go off to college.
Taking on a more neutral hue is Sherwin Williams Lily, a fresh pastel yellow that looks brilliant with just about any tone of blue.
Mint green is another popular color for kid's rooms. Because mint greens often have blue and green undertones, it is a remarkably flexible color. Pair mint green walls with black and white textiles and modern birch furniture to create a base that can be accessorized in a million different ways.
Black, white, and mint can go teen glam with pops of color inspired by their favorite make-up. Or layer in posters of their favorite video game and add throw pillows in the form of pixelated characters to make a gaming retreat that even you will want to escape to.
Of course, Mint Green, such as Benjamin Moore's Irish Mint is a shoo-in for the nursery. Mint walls are soothing and black and white accents create the high contrast that babies love to look at.
The taste for kids room paint colors change frequently but more often than not; their favorite colors remain the same even as they grow up. Take their tastes into consideration when choosing a paint color. Allow them to come to the store with you, hand them a selection of paint chips from which to choose and go from there.
If they insist on that crazy lime green, a good compromise is to paint a small piece of furniture, such as a stool or desk chair, in the crazy color and put a more reasonable color on the walls. As you can see, pastels make for perfect non-beige, anything but boring, neutrals.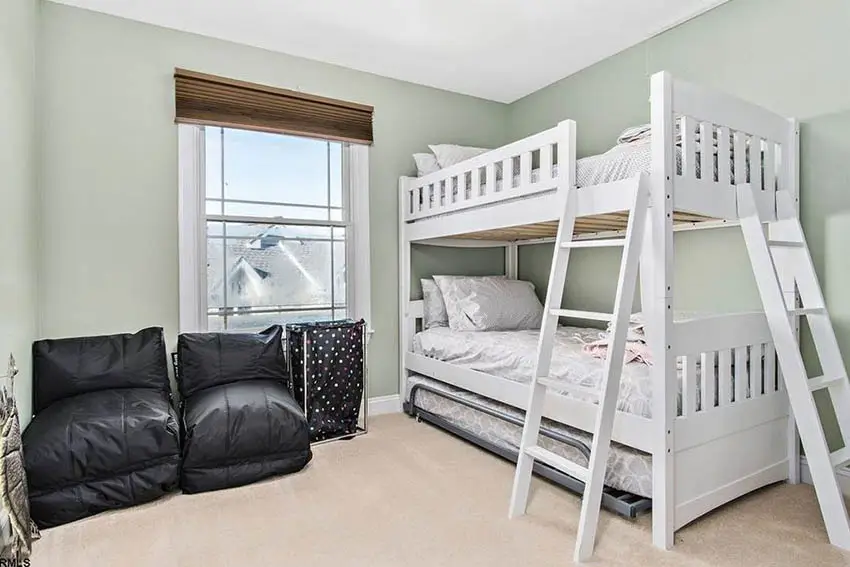 For more painting ideas for kids rooms visit this page.