In these small guest bedroom ideas on a budget you'll see the different accessories & decor needed, and practical guest bedroom design tips.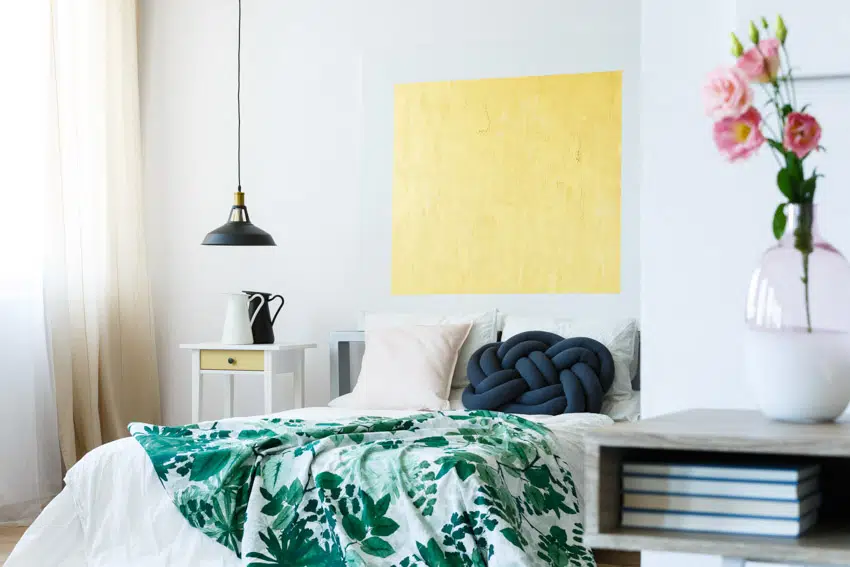 Designing a small guest bedroom can be challenging, especially when you're on a budget. While it may be difficult, it is not impossible and can be dealt with creatively. In fact, there are many creative ideas you can apply.
Small Guest Bedroom Design & Decor Elements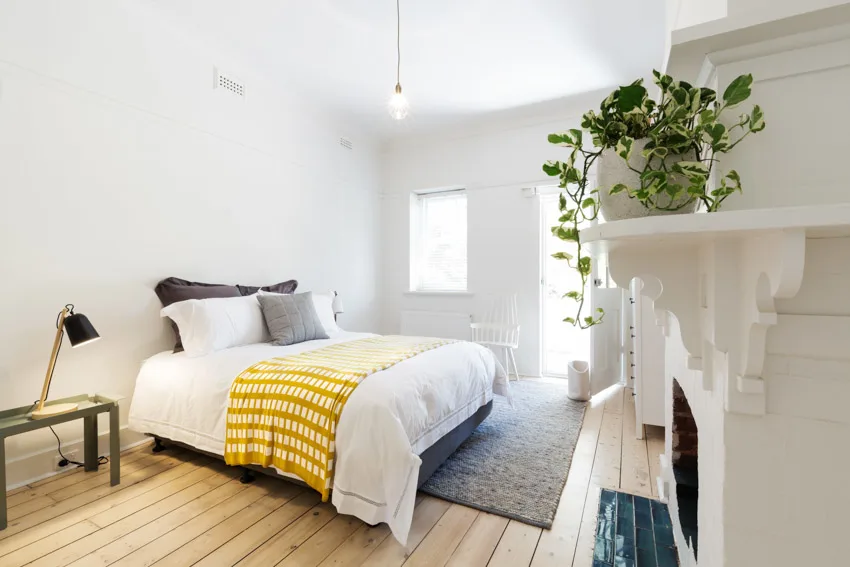 The first thing you can do is to figure out how to prioritize the furniture you need to include inside the small room. Here are the elements you can take into account:
Bed & Bedding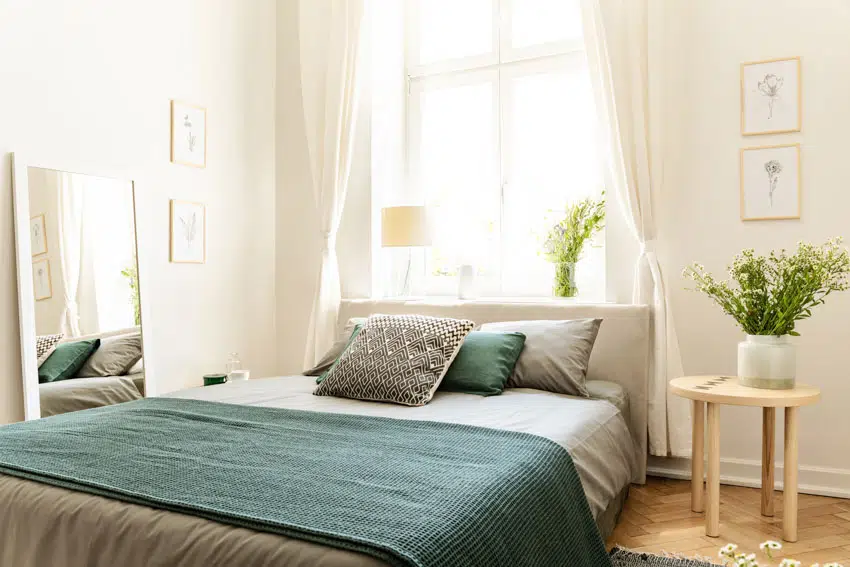 A bed will always be the priority in a bedroom and decor will come next to it, along with all the furniture and accessories you plan to use with it.
Choose a high-quality comfortable type of mattress for your bedroom to ensure that the guest you accommodate in the room is comfortable. You can check out hybrid mattresses for a type that provides excellent balance and support.
Linens are often overlooked but they're actually an important part of the bedroom. Find bedding that can welcome your guest and offer a comfortable and cozy ambiance. Pair it with a chic but homey blanket and throw pillows and use them to style your bed and to complete the look.
Another element you can add to your bed is a headboard. And yes, you can go for eye-catching types of headboards without having to pay for an expensive and fully upholstered bed frame.
Instead, you can build a fake headboard using a folding screen, tapestry, and a gorgeous piece of fabric and install it behind a metal bed frame.
Dresser & Nightstand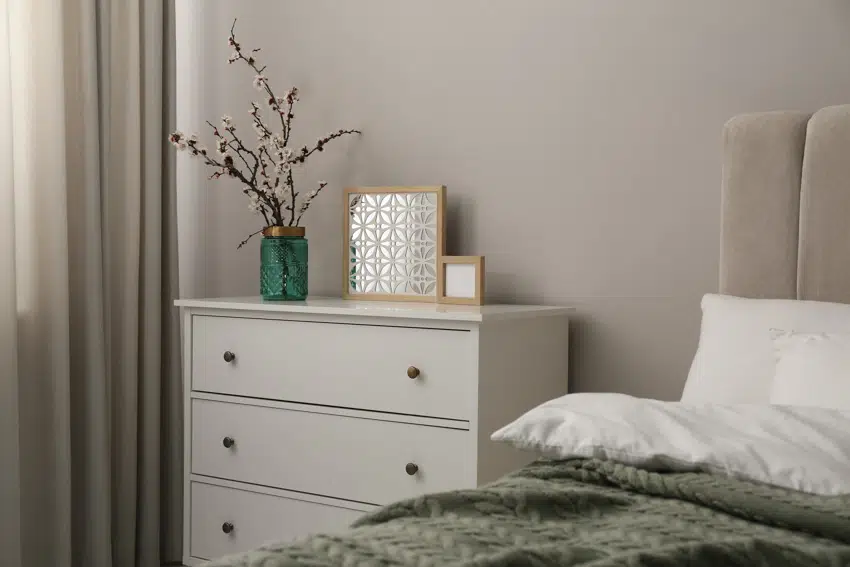 Another element considered a priority even for your small guest bedroom is a closet or a dresser. While your guest may be only be staying for a short period of time, he will prefer not to use his suitcase as a closet.
With the limited space you have, you can't really go for a large built-in closet. You can opt-out of a closet but a dresser is a necessity so make sure you have it in your small guest bedroom.
A dresser can act as storage and at the same time shelf that you can even place a television on top of it.
A nightstand also works excellently, for your guest's personal belongings to be within your reach. Adding the different nightstand essentials will also go a long way for your guest bedroom.
Decor & Accessories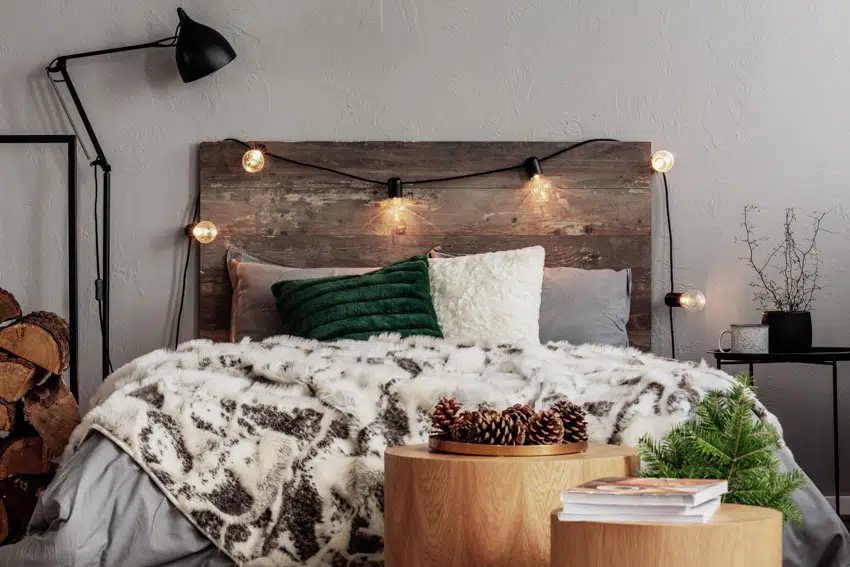 The decor is an essential part of any room of your home, even for a small guest bedroom. Paint is one of the easiest and most affordable ways to spruce up your small guest bedroom.
When it comes to a guest bedroom, going neutral in color is the way to go. If you want something refreshing though, a blue shade always completes the deal.
Choose refreshing bedroom paint colors that can make the room feel light and airy. You wouldn't want something that adds warmth to the room like orange and red when it comes to a small bedroom. You can go with pale pink instead if you want something close to that hue.
Lighting is always a consideration for a small bedroom and you can create an ambiance with it. You can use dim types of lighting fixtures through a bedside lamp that provides a warm glow in the room but is not too bright for the small space.
Since the space in the bedroom is limited, all the decor and accessories you can put inside are also limited. Make sure that whatever you install inside the room is important and space-saving yet can offer additional aesthetics at the same time.
Practical Tips For Designing Your Small Guest Bedroom On A Budget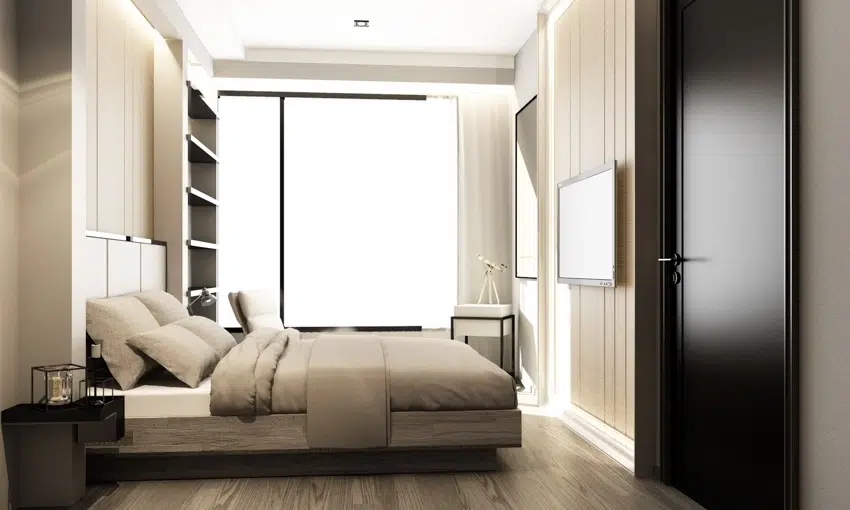 If you want practical tips to help you design your small guest bedroom while on a budget, here are things you can consider.
1. If you don't have an AC, choose a ceiling or portable fan so that it can save space and be an incredible white noise when sleeping.
2. Check out your garage or storage space if you have extra decor and accessories you can use for your small bedroom.
3. If you will install a TV, choose a smart TV and mount it on the wall to save space. See more bedroom TV mounting ideas here.

4. Choose a cozy vibe with drapery panels that are pre-made and more affordable than the standard drapes.
5. Try to look for bed tray tables that can be used for both eating and working.
6. Make sure that your guest can feel at home in your small guest bedroom by adding some homey items that they would need or at one point of their stay look for, including a glass of water, tissue, pen and paper, and even a charger.
7. Mount a mirror on the wall so that your guest can get ready in the morning if the bathroom is occupied (Tip: Bedroom mirrors also makes a room appear bigger than it really is, which can benefit your small guest bedroom.)
8. Add a rug on the floor to increase the comfort level and aesthetic of the room without having to spend a lot of money on floor renovations.
9. Make use of hooks so that your guests can hang their coats and purses.
10. Despite the focus on functionality and necessity, do not forget to accent the room with greenery, whether it is real or fake, to add a refreshing element to the room.
11. Install power outlets where they can be conveniently used (You can just imitate the position of outlets in hotels you've stayed in before if you don't know where to install them.).
12. If you want to go out of your way to provide more than just comfort to your guest staying in your small bedroom, you can infuse the room with a subtle and pleasing scent.
Make this possible by using candles, a diffuser, or a room spray, whichever is more convenient for you. Just make sure that the scent is not overwhelming.

13. Imitate the ambiance that hotels provide by printing out a small card with your Wi-Fi password on it to share your internet connection with the guest.
14. To address your tight budget, choose to shop at secondhand stores, especially when it comes to decor pieces that tend to be expensive.
See more related content in our article about the different guest bedroom essentials on this page.