Here's our guide to the types of ladders including different uses, materials, tips on safety, OHSA standards, cost, maintenance, and ladder sizes.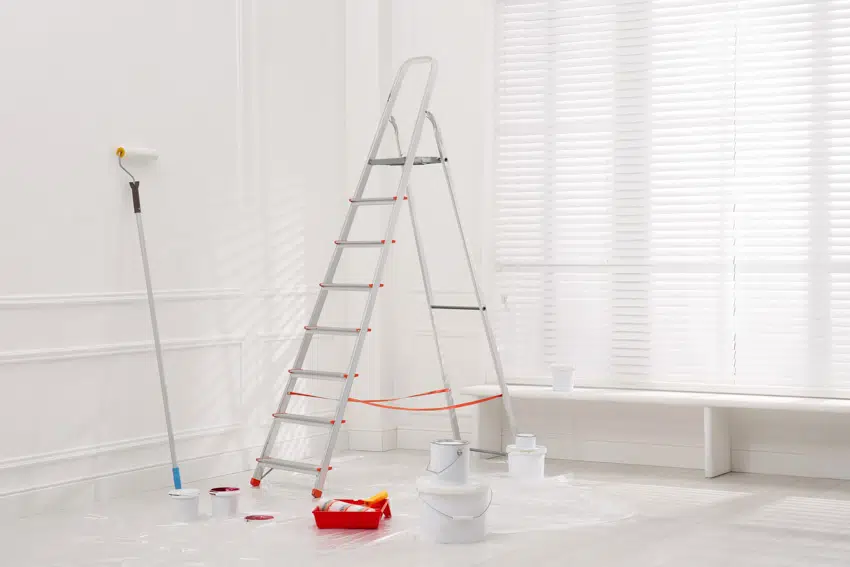 Each year there are hundred thousand injuries in the US caused by falling from a ladder and, in some cases, result in death. But despite these ladder injuries, a ladder is much safer than standing on some chair.
Ladders are incredibly helpful with so many around-the-house projects and tasks. Several types offer distinct functions, and it is essential to use the right kind of a ladder to get jobs done efficiently safe and give you greater flexibility while working.
Step Ladder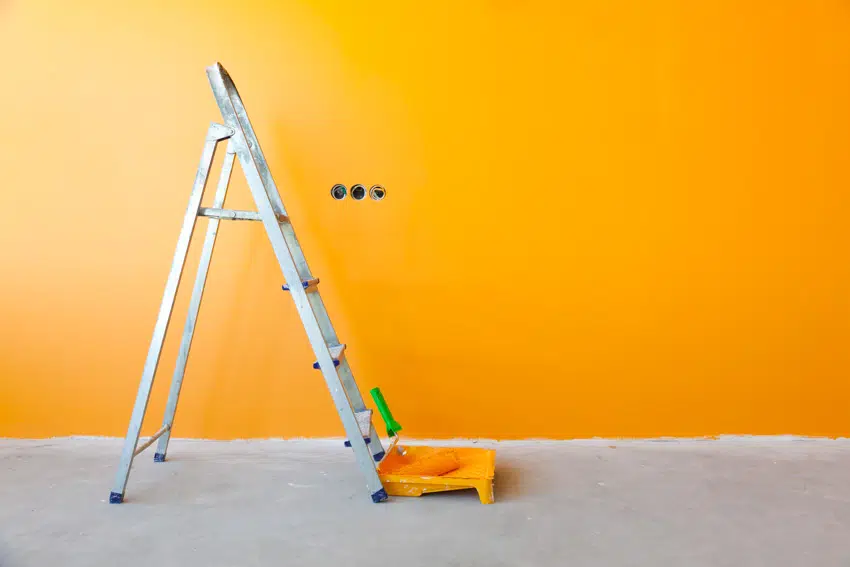 One of the most multi-used types of ladders available for primary and quick household tasks is the step ladder. This type of ladder is safe for anyone to use as they are very stable since it features an upside-down V-shaped self-supporting structure with a non-adjustable length that ranges from 4 feet to 20 feet.
Step ladders are hinged to fold together for easy storage and transportation. Although it is two-sided, only one side is climbable and has only a capacity for one person.
Step ladders can be set up anywhere but require level ground support for all four feet. It may be an excellent choice for painting, changing different types of ceiling lights, decorating, construction, and landscaping.
Stepladder Features:
Uses – Multi-use (changing light bulbs, painting, hanging decor, construction)
Height – Ranges from 4 to 20 feet in height with a non-adjustable design.
Capacity – Single person use
Support – Level surface area required for all four legs
Design – Upside down 'v' shape design with four legs and hinged for easier storage
Extension Ladder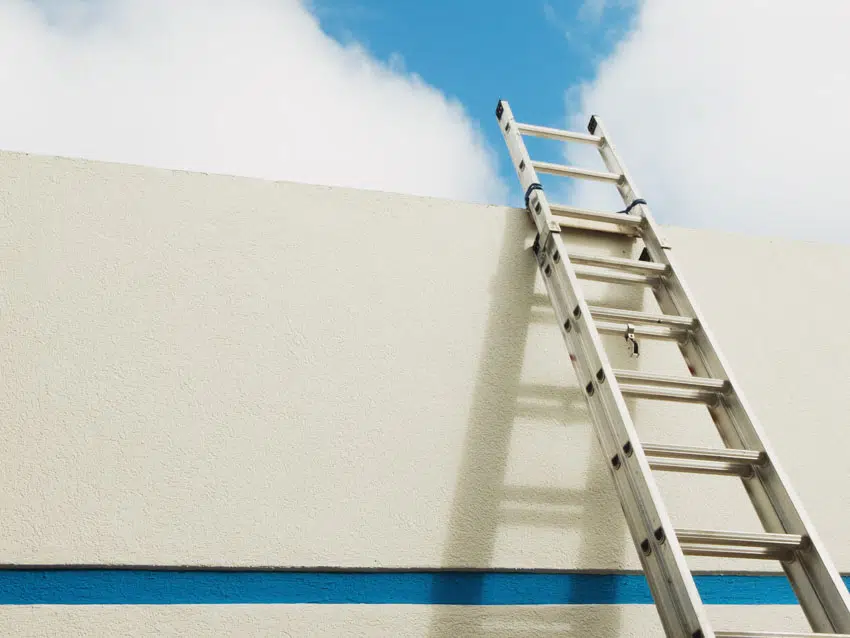 Extension ladders are also known as straight-type ladders, popular for domestic use, especially when carrying out work in high places and reaching towering heights.
To use these extension ladders, you need to place them against any support or some form of an anchor at their topmost section since it is a non-self-supporting ladder.
The extension ladder has two parts – the base part, which is the central part of the ladder, and the fly, which is the extendable part of the ladder. Extension ladders are also portable and have an adjustable length.
Two-section extension ladders are adjustable from 32 feet to 60 feet, while three-section ladders are adjustable from 60 feet to 72 feet. Its structural design comprises two side rails connected with evenly spaced rungs with two or three adjustable sections and is suitable for only one person.
Since extension ladders can be flexible, they allow you to get closer to that wall and work well for roofing, construction, and exterior maintenance projects like gutter cleaning.
Extension Ladder Features:
Uses – Multi-use (Construction, roofing, maintenance, roof gutter cleaning and other trades contractors)
Height – Two section adjustable ladders can range from 32 to 60 feet in length
Capacity – Single person use
Support – Level surface area required for two legs
Design – Is a straight ladder with two sides and two or three sections that can be adjusted based on the height needed.
Straight Ladder
A straight ladder is similar to an adjustable ladder except it does not extend out. This model is also called a single ladder and resembles one half of a step ladder. It is not self supporting and is used by positioning against a wall or roof and anchored in position for safety.
These types of ladders do not adjust or swing open. Their design allows one to get closer to walls than a step-ladder. This feature makes them widely used for exterior maintenance project on and around the exterior of the home.
Straight Ladder Features:
Uses – Multi-use (Painting, construction, cleaning roof gutters and exterior house repair)
Height – One section non-adjustable ladders often range from 4 to 30 feet in length
Capacity – Single person use
Support – Level ground area required for two legs
Design – Is a portable ladder with two sides
A-frame Ladder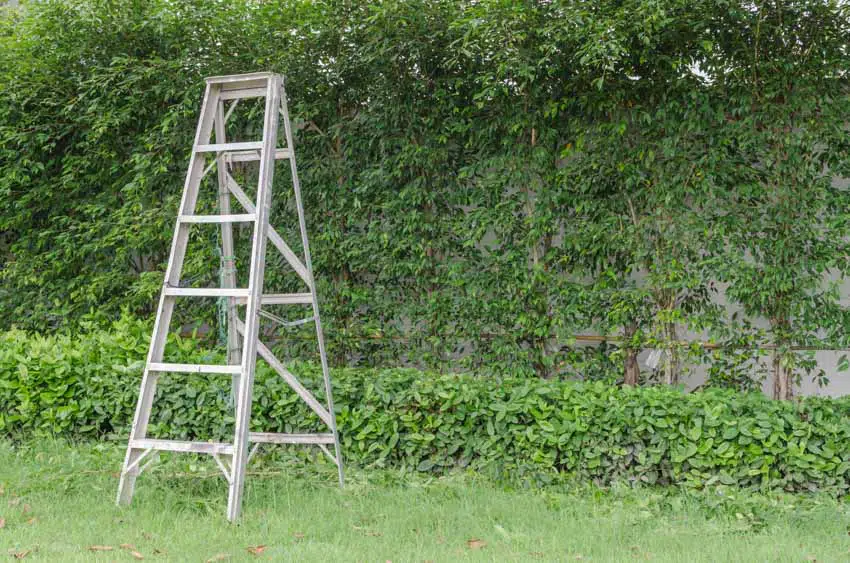 A-frame ladder got its name since it looks like the letter "A" from the side and is sturdier than their double-sided frame and braces, which locks, making them more stable.

The legs at the back and front equal in length help stabilize the whole unit and give balance while working. An A-frame ladder has one or both legs with rungs on which the user can climb to get to the top.
It is basically a non-adjustable step ladder that can have stepping rungs on one or both sides depending on the model.

Another type of A-frame ladder is the step stool is a simple and smaller ladder with wide treads, just a few feet high, providing enough elevation for everyday tasks around the house, and has only one climbable side.
There are also A-frame ladders designed to have the added feature of a built-in paint can shelf that is suitable for holding paint cans, brushes, and other painting tools.
A-Frame Ladder Features:
Uses – Multi-use (Construction, painting, hanging pictures and house maintenance)
Height – Non-adjustable ladder with sizes ranging from 4 to 20 feet in length
Capacity – Single person use
Support – Level ground area required for all four legs
Design – Is a portable ladder with two sides. One or both sides can be climbed depending on the model.
A-frame extension ladder: There is also an extendable version of the A-frame ladder available in the market; however, it will not go as high as the extension ladders, but it can be adjusted to make it smaller for easy storage.
It is perfect for use both indoors and outdoors. A-frame extension ladders are suitable for getting into hard-to-reach spaces, installing fans on different types of ceiling designs, and doing exterior work.
Folding Ladder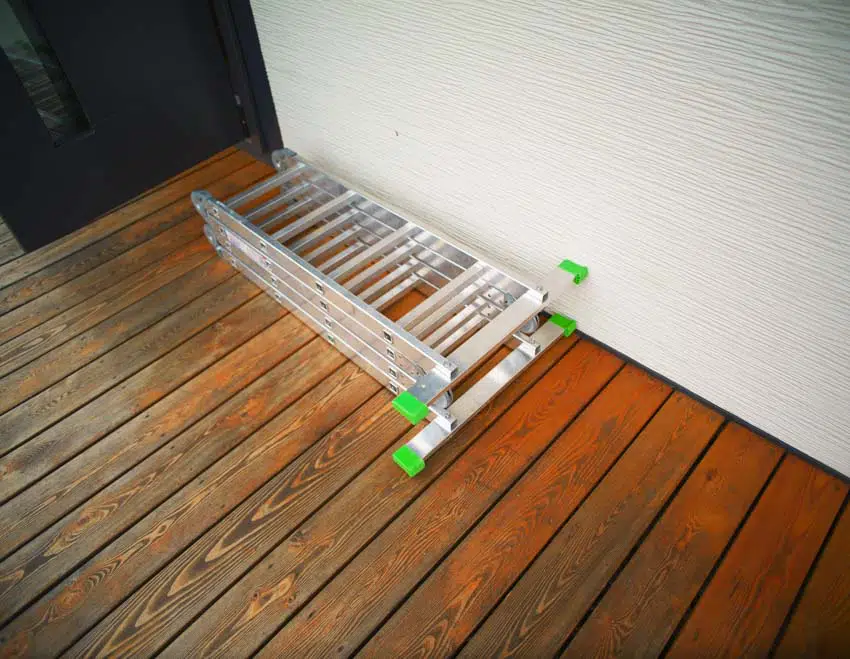 Folding ladder is a type of ladder that can fold quickly and acquire minimal storage space when not in use, making it highly convenient.
Another type of folding ladder is the folding scaffold ladder that features locking hinges that allow you to unlock the hinges any time and create multiple ladders.
The locking hinges can be used to devise both a ladder and a standing platform to walk across like scaffolding over an open space, work on a ceiling, and you can even change the height to fit the job. Folding ladders allows you to work comfortably on prolonged tasks.
Its flexible and highly innovative design will enable you to do simple DIY tasks at home, plus it occupies less space, is versatile, extremely portable, and easy to transport.
Folding Ladder Features:
Uses – Versatile multi-use (DIY house projects such as painting and decorating)
Height – Adjustable ladder with multiple sizes ranging from 4 feet folded to 12 feet in length
Capacity – Single person use
Support – Level ground area required for all legs
Design – Can be converted in to different sizes and shapes with its locks and hinges design.
Podium Ladder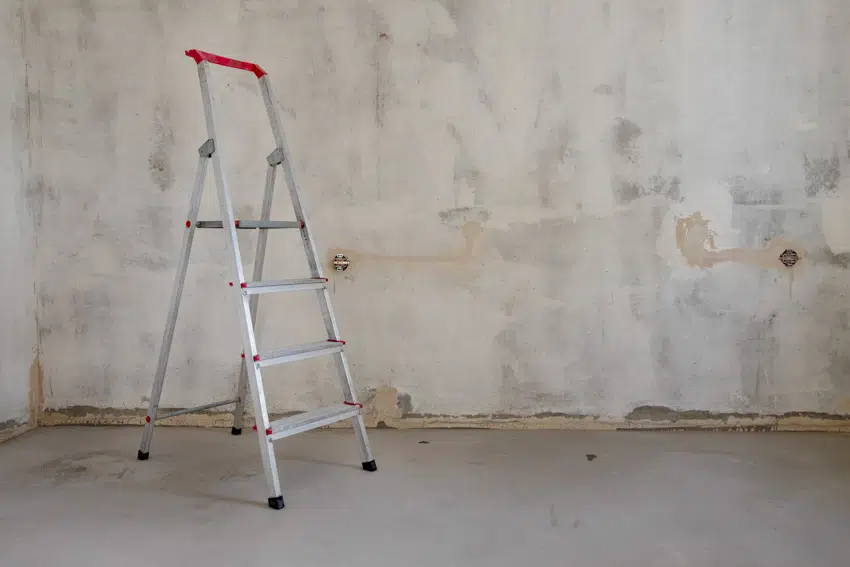 Podium ladders offer stability and safety with having a reasonable sturdy frame and come with a platform to rest tools or other items. These features will enable you to use it for a wide range of projects at greater heights, from painting to using nail guns to running cable without any hassle.
Podium ladders have enough space for you to stand comfortably and work for a long time. The concept of a podium ladder is remarkably like that of the platform ladder; however, the main difference is how the 'podium' on the ladder is designed. It has an a-frame style with a platform that is about two feet below the top of the ladder frame.

The whole frame of the ladder and the other legs on each end give you very safe and stable support for any required movements. A podium ladder makes the perfect option for you if you're thinking of painting somewhere high up or even running wiring.
Podium Ladder Features:
Uses – Multi-use (Good option for more time consuming projects such as painting, construction or electrical work)
Height – Non-adjustable ladder with multiple sizes ranging from 5 to 12 feet with about 3 to 10 feet of actual working height.
Capacity – Single person use
Support – Must have a level ground area
Design – A-frame step ladder style design with platform a few feet below the top.
Multi-Purpose Ladders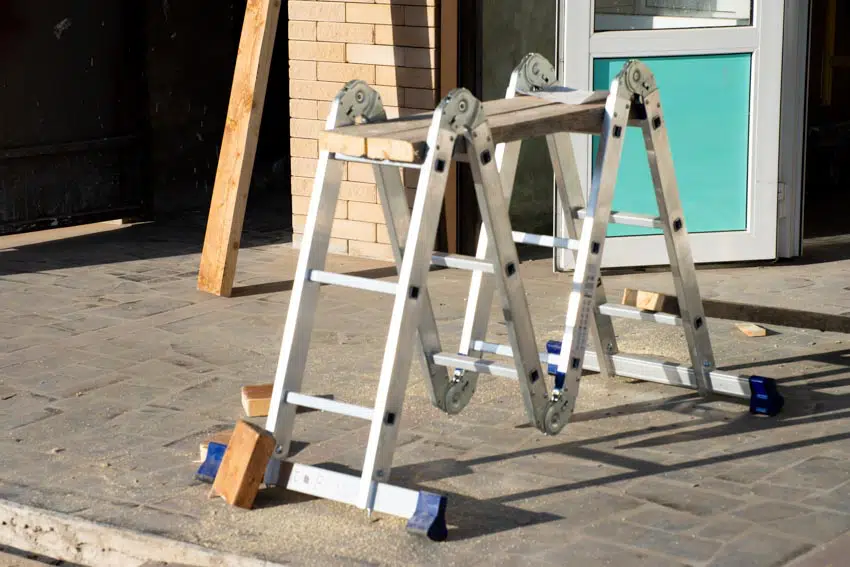 Multi-purpose ladders are single transformable ladders that come as a two-sided self-supporting ladder with hinges for easy storage that could function as a stepladder, extension ladder, trestle ladder, and more.
It has an adjustable height of 4 feet to 13 feet, has the capacity for one or two people, and requires level ground support for all four feet.
Multi-purpose ladders are the most convenient, functional, and economical choice because you do not have to use different ladders for multiple home renovations, maintenance needs, various interior or exterior cleaning projects, and more.
Multi-purpose ladders can also be used as a step ladder, extension ladder, workbench for keeping tools on while you are busy at work, and a low-level platform for decorating and basic maintenance jobs.
Multi-Purpose Ladder Features:
Uses – Multi-use (Can be used for a variety of tasks depending on the model.)
Height – Adjustable ladder with multiple sizes ranging from 4 to 13 feet
Capacity – One or two person use
Support – Must have level ground for all four feet
Design – Two sided ladder that is adjustable to create a step, extension or platform ladder
Telescopic Ladder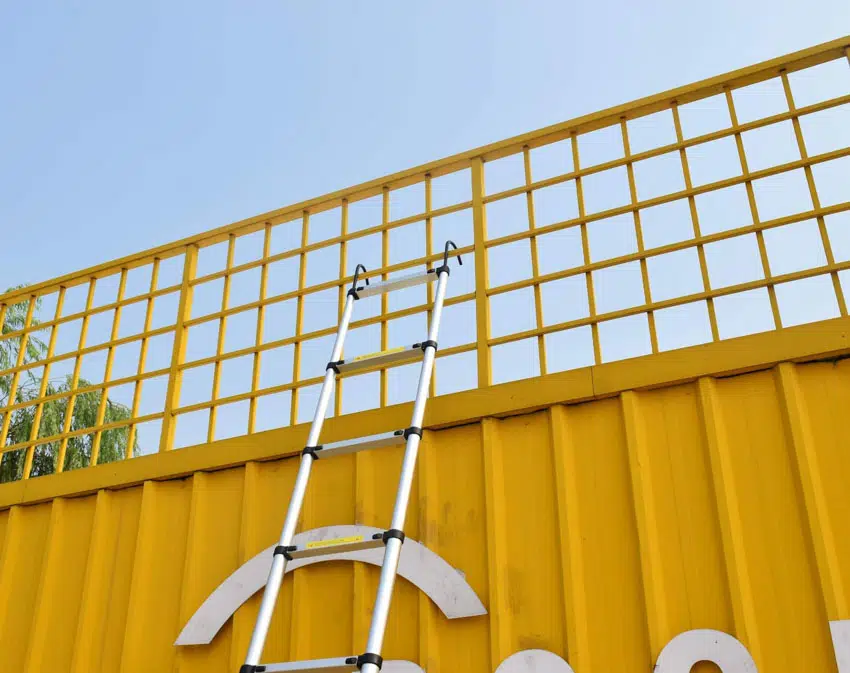 See this telescopic ladder at Amazon [sponsored link]
Telescopic ladders are made with aircraft-grade aluminum alloy. They are common for industrial use since they provide faster adjustments and setup, easily slide in/out by using sections, and fully extend to form an extension ladder.
However, telescopic ladders do not have a high rank for stability; you need to watch out how the rungs are locked into place and may require people to hold the ladder down for additional support. Telescopic ladders are stored efficiently by collapsing the ladder to a very compact size.
Telescopic ladder's feet are over-molded with tough synthetic rubber to maximize ground contact and grip. It has an ergonomically designed locking mechanism and releases an indicator to indicate when it is safe to climb the ladder.
When retracting the telescopic ladder, always remember to avoid placing your hands between the rungs and make sure you keep your hand on the outside of the ladder to prevent accidentally opening it and injuring the user or damaging the ladder.
Telescopic Ladder Features:
Uses – Multi-use (Household chores, painting and cleaning gutters)
Height – Adjustable ladder with multiple sizes ranging from 16 to 26 feet on average
Capacity – One person use
Support – Must have level ground for two feet
Design – Telescoping ladders have vertical tubes that have inner sections that extend upwards and out to create an adjustable ladder. They can be adjusted to a desired height and secured with a locking mechanism.
Platform Ladder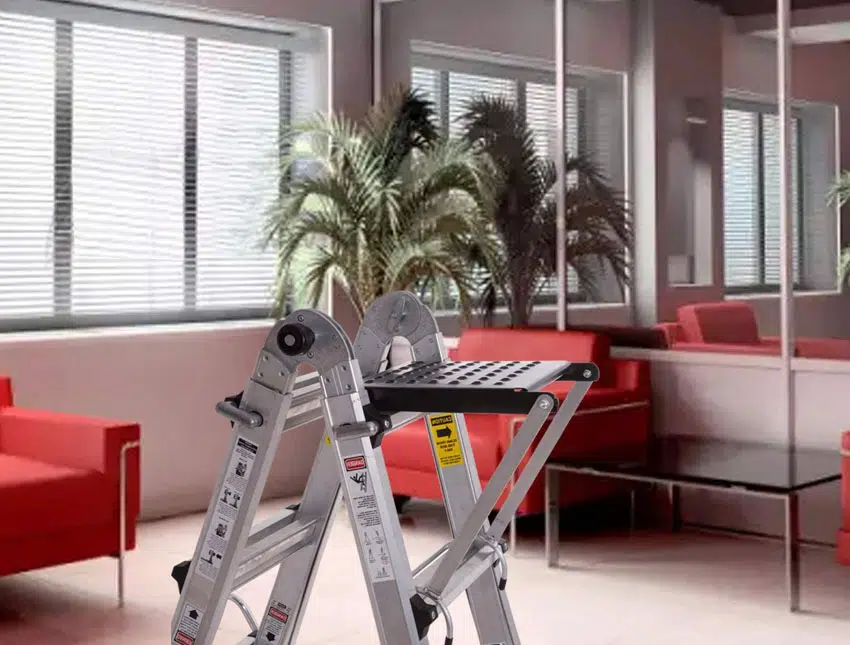 See this platform ladder at Amazon [sponsored link]
The platform ladder is designed to be a self-supporting ladder that enables the user to stand at its topmost point with the ladder's platform at the top, which allows your height to add to the platform ladder's length.
A platform ladder features a railing on three sides, with the side closest to the rungs open is hinged for easy storage. Platform ladders are non-adjustable and have a height that ranges from 2 feet to 18 feet, but only one side is climbable by only one person.
Platform ladders have a similar structure to a step ladder which has two-side and can be set up anywhere you have level ground.
These ladders are great for projects that require you to stand on a ladder safely for more extended periods, such as landscaping, painting, installing hardware in high places, arranging displays, construction, and more.
Platform Ladder Features:
Uses – Multi-use (Best for extended work at height such as painting, installations and construction)
Height – Non-adjustable ladder with multiple sizes ranging from 2 to 18 feet on average
Capacity – One person use
Support – Must have level ground
Design – Hinged design with a platform at the top to create a stable work surface.
Attic Ladder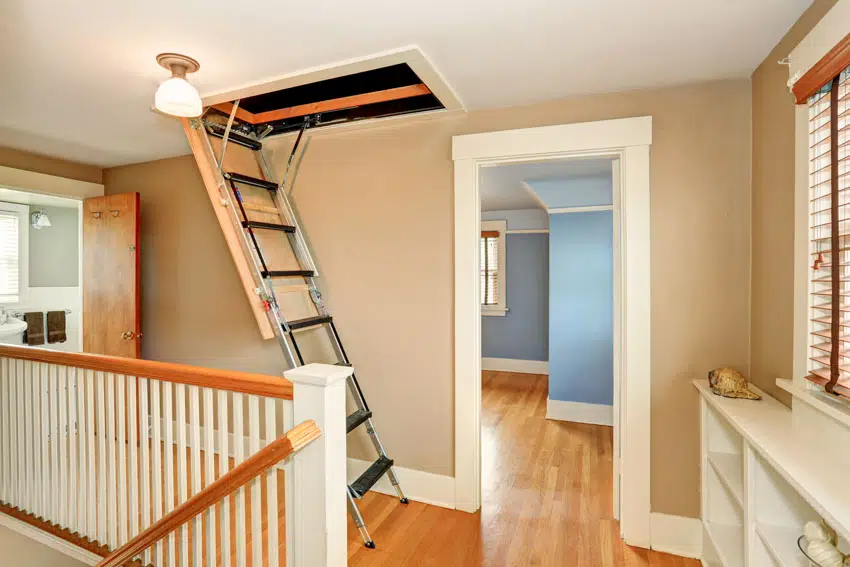 As the name suggests, attic ladders are fixed extension ladders that permit access to the attic and makes climbing up and down easy, safer, and faster.
Attic ladders are very convenient to use since they collapse into a smaller section for storage and are best for narrow spaces in your hallway or limited storage spaces. Attic ladders are attached on hinges that drop down when you need to enter the attic and make an angle to the floor.
Attic ladders provide strong, static support and a retractable stair that provides access to the attic, two-story barns, and garages if you do not have the room to accommodate a flight of stairs. It then folds up into a ceiling frame out of the way when it is not needed.
Most retractable attic ladders come as pre-assembled kits that are made to fit between existing framing in the ceiling or fit into an existing attic access hatch.
Attic Ladder Features:
Uses – Provides entry and exit to the attic space
Height – Non-adjustable ladder with popular sizes ranging from 7 to 10 feet
Capacity – One person use
Support – Attachments on the attic hatch
Design – Hinged design that is attached to the frame around the attic opening
Stair Ladder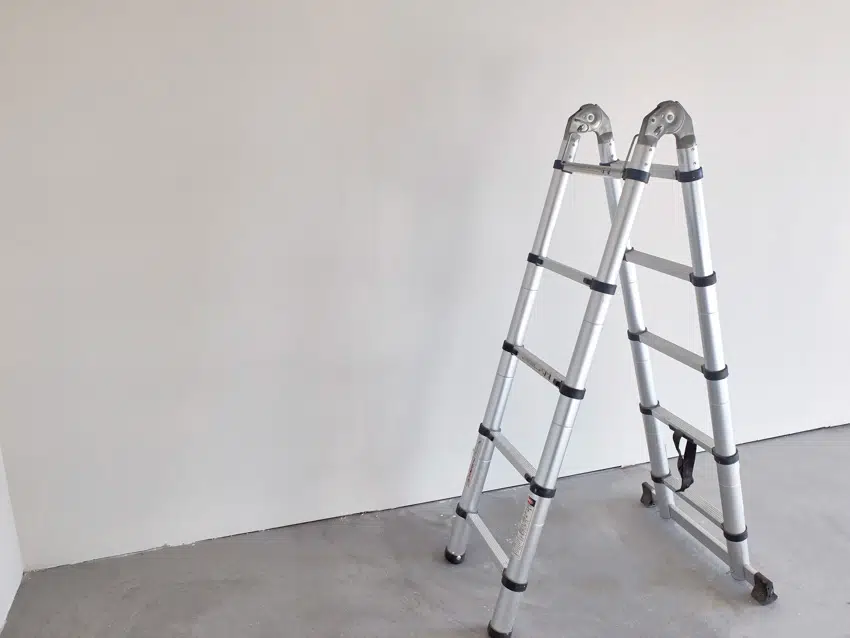 Stair ladders are, also known as a combination, multi-purpose, or stairwell ladder, are the most versatile ladder option. Stair ladders are designed to be used to access hard-to-reach places directly above your staircase or can also be used elsewhere around your home.
These ladders have extensions that help balance the ladder further on uneven surfaces such as the steps of the stairs. Stability is everything; this ladder has extra-wide rungs designed with treads to prevent slipping or skidding.
These features can ensure extra safety measures while working on your stairs and are adjustable between 5-8 feet depending on your use of staircases and any uneven surfaces.
Stair Ladder Features:
Uses -Multipurpose & hard to reach places (Lower interior or exterior home construction work)
Height – Adjustable ladder with popular sizes ranging from 5 to 8 feet
Capacity – One person use
Support – Can be used on uneven surfaces such as stairs
Design – Hinged design with extra wide rungs
Rope Ladder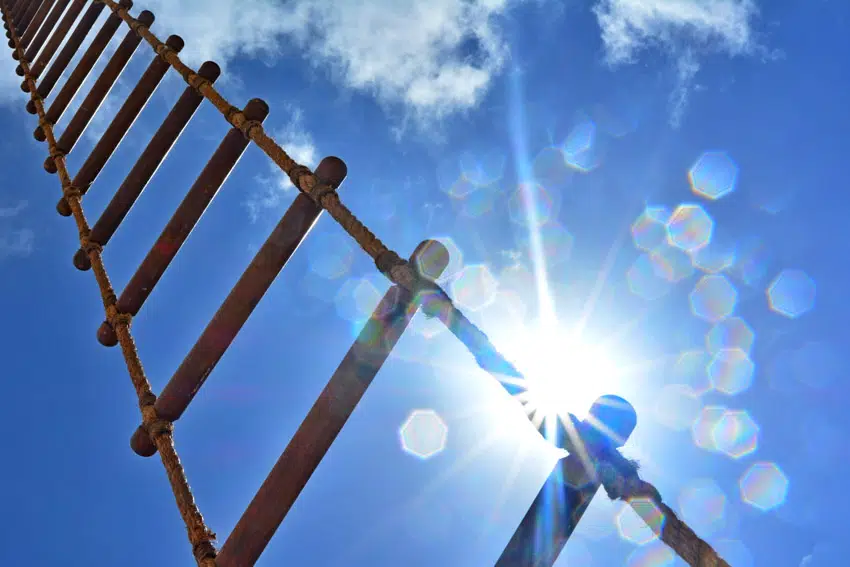 Rope ladders are great for emergency escape purposes if you need to get out of a second-story window or higher to get to a safe place. These ladders are a favorite of kids for their backyard playset and are best for providing easy access to a backyard tree house.
Rope ladders are also great for outdoor recreational purposes such as caving and rock climbing as part of their essential equipment.
Rope ladders are flexible ladders composed of strong rope for the side pieces; they are easy to store since they can be rolled up and come very handy in situations where a traditional ladder is not practical.
The primary and most straightforward design for a rope ladder is to create flexible rungs made from the same rope used for the side pieces. A rope ladder can be made using wood or metal sections to create the rigid rungs of the ladder.
Rope Ladder Features:
Uses – Portable recreational or emergency use ladder
Height – Non-adjustable ladder with popular sizes from 10 to 20 feet
Capacity – One person use
Support – Must be attached to a beam or platform
Design – Portable rope ladder with attached rungs that can be rolled up
Emergency Ladder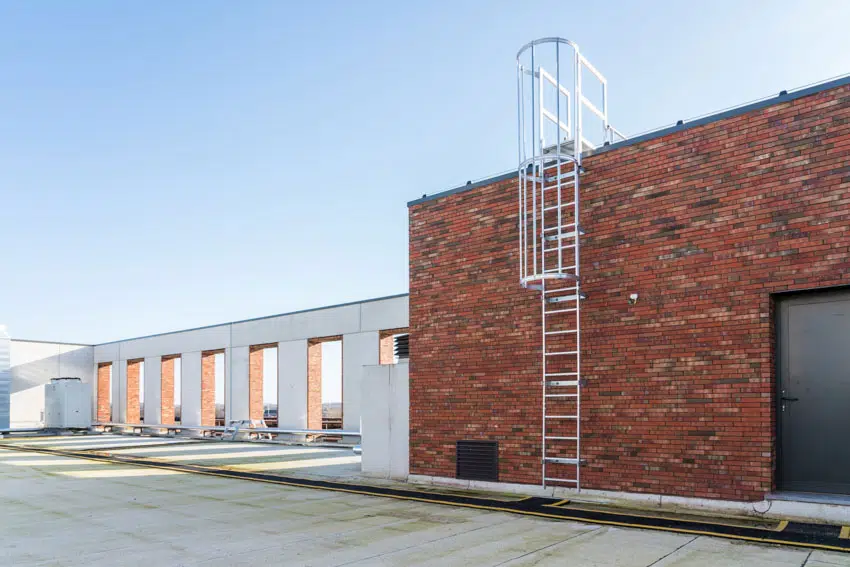 Escape or emergency ladders can be an alternative solution for fire escape, especially when there is insufficient space for an emergency staircase. Home fire escape ladders come in two types – the portable fire escape ladders and the permanent escape ladders that are built-in.
These types of ladders are made to accommodate two and three-story homes. For historic buildings, planning regulations do not always allow for the placement of an exterior staircase for aesthetic purposes, so an emergency escape ladder is the best solution.
Emergency ladders are also suitable for commercial buildings with a special containing box for the escape ladder. Another option is to have an inbuilt escape ladder on a window frame.
According to statistics, emergency ladders make up about 75% of all escape routes in existing buildings and make an emergency exit through a window if there is a fire.
Typically, these emergency ladders are made from metal wire, chain, or rope. Emergency escape ladders offer a much better and more efficient way to escape safely, mostly in private homes.
Emergency Ladder Features:
Uses – Emergency use ladder
Height – Non-adjustable ladder with popular sizes from 12 to 25 feet
Capacity – One person use
Support – Must be attached to a beam or platform
Design – Metal frame attached to a structure
Pool Ladder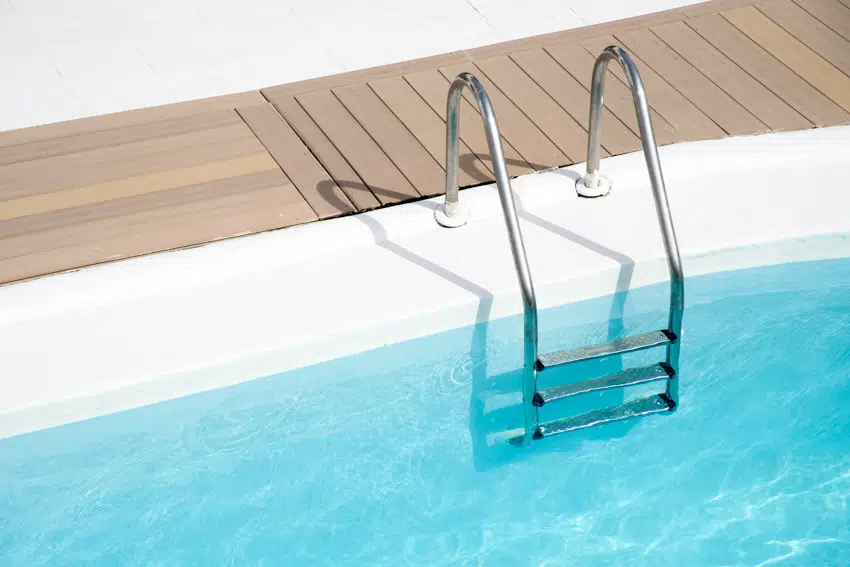 A pool ladder provides easier access for all who want to use a pool. A pool ladder is explicitly designed for outfitting either above-ground pools or in-ground pools to provide a safe way to access this type of swimming pool.
It can also be used for easy access for pool maintenance when the pool is empty. It is also essential to plan the installation of a pool ladder to determine where diving boards are installed and how it interacts with the supported pool wall.
Pool ladders are also used on the sides of boats to allow individuals to access various parts of the ship safely. Pool ladders are also found on cruise ships, large aquariums, and other complex entertainment environments.
Pool Ladder Features:
Uses – Entry and exit of the pool
Height – Non-adjustable ladder with an average size of 4 feet
Capacity – One person use
Support – Must be attached to the side of the pool
Design – Constructed from corrosion resistant steel, aluminum or resin and attached with flanges to pool deck
Roof Ladder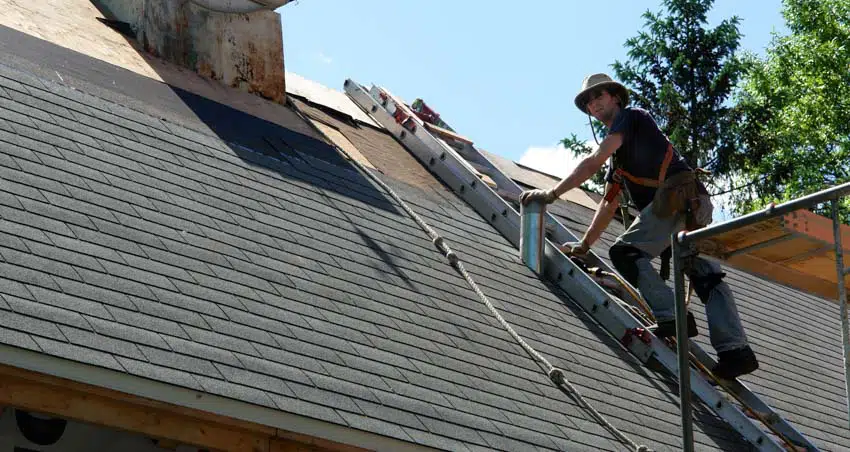 A roof ladder is also known as a cat ladder that usually comes as single or double section roof ladders that have two hooks attached on the end that allows it to connect to the peak of a roof, to secure the ladder and make it easy and safe to move up and down.
You must consider the total length of the ladder to ensure that they reach from the eaves to the roof ridge. This way, it allows you to work from an angle not more than 75 degrees on the roof. A folding roof ladder is becoming more popular as an alternative to sectional roof ladders.
Some roof ladders would usually need a regular extension ladder to climb up on the roof safely. Make sure that at least three rungs above the gutter and use the roof ladder link clamps to lock the extension ladder to the roof ladder, making them more secure and less likely to slide apart.
A universal roof hook kit is available in the market that can be clamped onto the top of any single section ladder or extension ladder.
There are also fixed roof ladders installed in commercial structures or buildings as a permanent or long-term fixture for when access to a roof is required year-round.
Roof Ladder Features:
Uses – Roof maintenance
Height – Non-adjustable ladder with an average size of 13 to 26 feet
Capacity – One person use
Support – Must be attached with a hook kit to the side of the roof
Design – Folding and non-folding models that are attached to a structure with hooks and designed to work at an angle
Ladder materials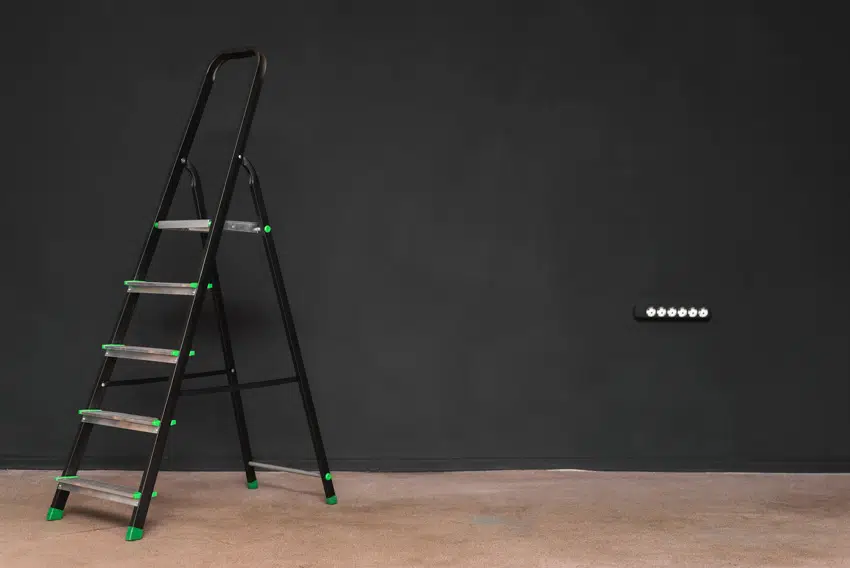 Ladders can be manufactured from varied materials; however, the main three includes:
• Wood
• Aluminum
• Fiberglass
Wooden ladders are still preferred for their durability, low cost, and non-conductivity; but are prone to damage from insects and weather exposure.
Aluminum ladders' strength will mostly depend on the grade of the material used and have high weather resistance. It is a cheaper option than fiberglass ladders and is more lightweight than fiberglass, weighing up to 20 pounds only, making them easier to transport.
Aluminum ladders are suitable for indoor usage as well as outdoor projects. Since aluminum is a type of metal, this material may pose some hazards when exposed to electrical sources and tends to bend easily under pressure.
On the other hand, fiberglass ladders are non-conductive, making them perfect for outdoor projects and roofing works. Unlike wood ladders, fiberglass is resistant to insect damage and exposure to weather elements.
Fiberglass is more durable and stronger than aluminum since it will not easily bend and do not weaken in the heat, making them more flame resistant than aluminum ladders. Fiberglass ladders are safe to use near electric poles since it does not conduct electricity and are resistant to electrical shocks.
Fiberglass is not a lightweight material, but it is often seen as a better investment despite being more expensive.
Ladder Safety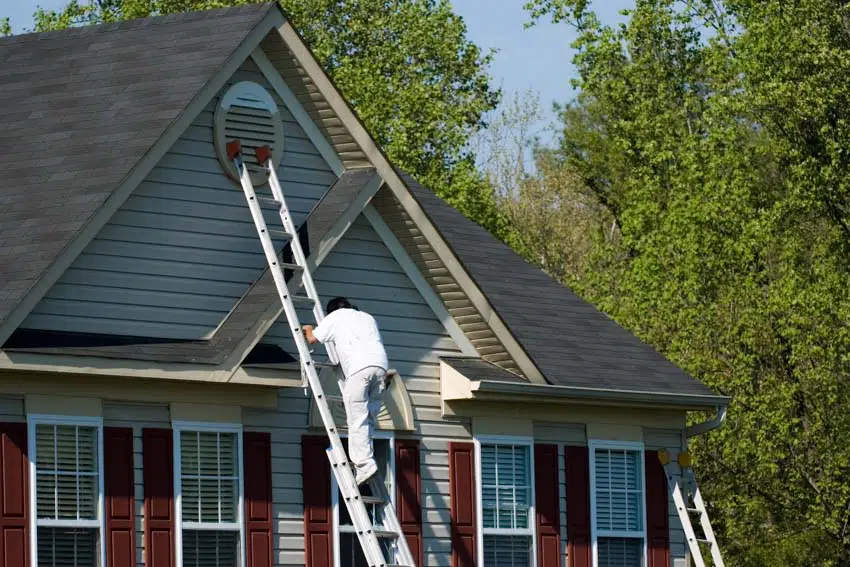 Statistics shows that there are thousands of people die each year from falls in and around the home, making it the leading cause of death.
Around 30,000 people are injured each year by falls involving ladders because the victims violate the basic rules of ladder safety.
General Ladder Safety rules:
• Make sure that when you set up your ladder, they are placed securely on a level surface and footing to prevent slipping or falling. Keep your body centered on the ladder.
• Use ladders when working on anything not safely performed from floor level. Avoid using boxes, chairs, desks, bookcases, radiators, or makeshift supports to stand on.
• When using a ladder, do not place it in front of doors or directly around any corner without proper warning signs, especially in each approaching walkway.
• Do not lean too far or overreach in either direction while standing on a ladder, as it might cause the ladder to fall off or pull the ladder over sideways.
• Climb and descend ladders cautiously and keep in mind to face the ladder during ascent, descent, and working.
At all times, have two hands and one foot, or two feet and one hand in contact with the ladder steps, rungs, and side rails. Always carry tools in a tool belt or use a hand line to raise or lower other heavy tools.
• Wear clean, slip-resistant shoes with heavy soles to prevent foot fatigue.
• The recommended maximum height a person should climb on the ladder is the third step from the top when using a straight ladder.
Make sure you do not climb higher than the second step from the top when using a step ladder.
• Always consider the weather, never use ladders in high winds or storms even if it may seem like you can manage the breeze – the risk of injury is much greater.
OHSA Ladder Standards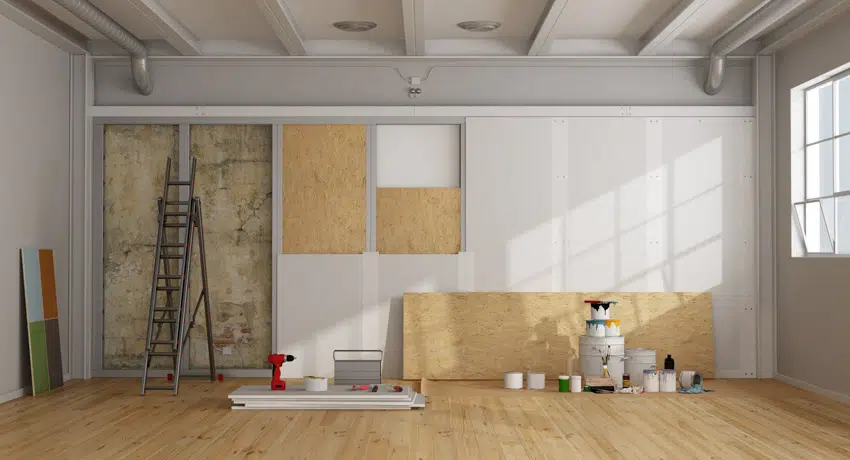 The following ladder standards are the OSHA 1910.26 specification: Source: OSHA

• The ladder rungs and steps need to be treated to avoid the possibility of slipping or should be made from corrugated, knurled, dimpled, coated with skid-resistant material.
• The bottom rails should be supplied with insulating, non-slip material for safety and security purposes.
• Always inspect ladders for side-rail dents or bends, as well as all runt-to-side rail connections, hardware connections, and rivets for shear. Read more about ladder inspection and portable ladder safety at DIR.

• Always clean ladders with solvent or steam cleaning, especially if there is an indication that it has been exposed to oil and grease or other slippery materials.
• All ladders need to pass yearly inspection following OSHA 1910.26.
• Wooden ladders should never be painted.
• Do not use metal ladders while working with electrical fixtures or devices.
• Avoid loading ladders more than their maximum intended load or their manufacturer's rated capacity.
• For portable and fixed ladder rungs, cleats and steps must be parallel, level, and uniformly spaced at least 10 inches apart and not more than 14 inches apart along the ladder's side rails.
• For step stool, ladders, rungs, cleats, and steps must not be less than 8 inches apart and not more than 12 inches apart between the center lines of the rungs, cleats, and steps.
• For extension, trestle ladders, rungs, cleats, and steps must not be less than 8 inches and not more than 18 inches apart between the center lines of the rungs, cleats, and steps. The rungs, cleats, and steps must not be less than 6 inches or more than 12 inches.
How To Safely Use A Ladder?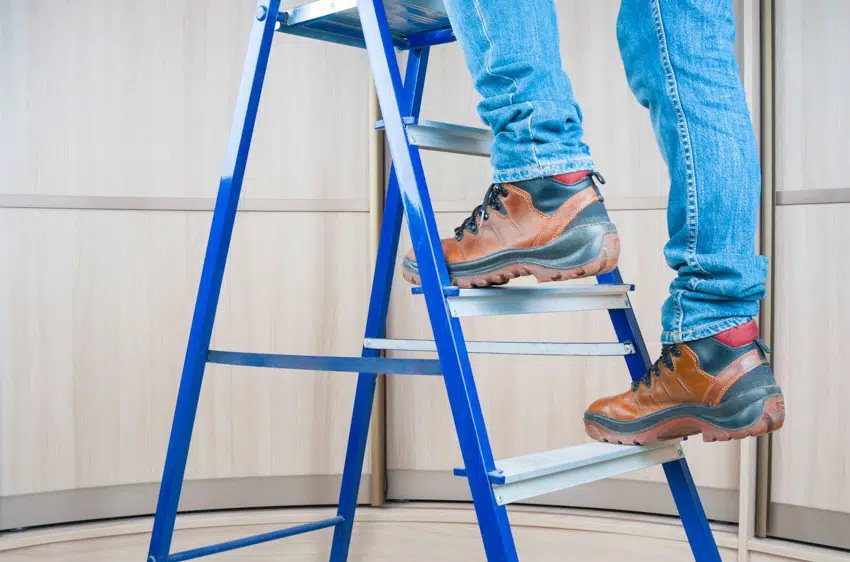 • Always inspect the ladder for loose or damaged rungs, steps, rails, or braces before using it. Check for loose screws, bolts, hinges, and other hardware.
• Use the ladder as it is designed to be used and should only be used by only one person at one time.
Choose a ladder with a greater load capacity than your weight combined with any items you may carry on the ladder.
• Do not join two ladders to form a longer one or use an ordinary ladder as scaffold platforms. Use the right ladder for the job.
• When placing ladders at an angle, avoid placing them to an extreme angle. Make sure that there should be approximately one-fourth of the ladder length distance between the bottom and the supporting point. Always manage to have three points of contact on the ladder.
• Do not move, shift, or extend ladders while in use.
• Use ladders with non-conductive side rails, especially if the worker or the ladder can get in contact with exposed energized electrical equipment.
Ladder Care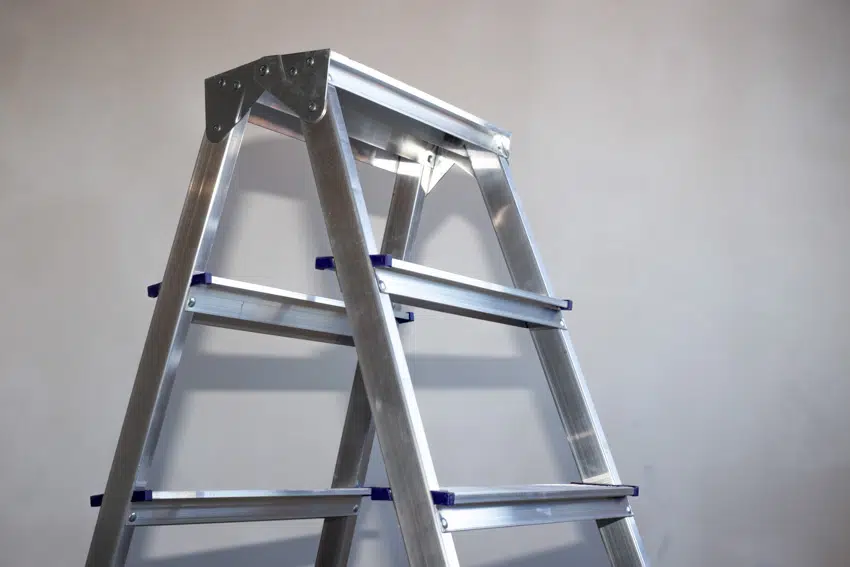 Homeowners tend to take things for granted because ladders are frequently seen and used. Make sure not to neglect ladder maintenance and avoid only provide care when obvious defects appear.
Failing to maintain ladders can do more harm than good since it can compromise their stability and can increase the risk of injury for users. It is essential to know how to care for your ladders. Regular and proper ladder care and maintenance are necessary to ladder safety.
In handling ladders, make sure that before and after every use, your ladders are clean and free of oil, mud, grease, or any slippery materials that may make the steps or rungs unsafe.
Avoid dropping your ladders because such a heavy blow may cause damage to the loosened steps or rungs and can even deform the ladder's stiles.
Inspect ladders before using them and ensure no missing or lost rungs, damaged feet, faulty spreaders, rot, or decay in wooden ladders. Also, check for twisted rails and splintered surfaces.
Ensure that all steps or rungs must be tight and secure to the side rails and all hardware and fittings are correctly attached to the structure. Make sure that the ladder base has a slip-resistant material. Test all movable parts to see that they operate without binding.
Ensure that ropes and pulleys are in good condition and extension locks move freely and lock correctly. Check and make sure that labels are intact and readable.
For a self-supporting step ladder, ensure that the two front legs should be of the same length, and the two legs at the back should also be of the same size. Check if the step ladders' spreaders are intact and lock correctly.
When storing ladders, always keep them in a horizontal position on racks or wall mount that is supported every 2 meters to prevent sagging; and do not hang them from their rungs or stiles.
For wooden ladders, make sure you store them in well-ventilated areas, away from dampness and not exposed to excessive heat. Keep fiberglass ladders in places not exposed to sunlight or other ultraviolet light sources. Do not expose fiberglass ladders to a temperature above 200°F.
Never paint wooden ladders because you may not be able to see cracks or other defects in doing so. However, you may use a clear sealer or wood preservative for protection.
Keep in mind that ladders that have been exposed to fire or strong chemicals should not be re-used and should be replaced.
If you must transport ladders, ensure that ladders are properly secured and cannot easily bump against any objects as this can damage the ladders. When securing your ladder down on a roof rack, use clamps to reduce any ladder movement on the roof rack.
If you are transporting a ladder that overhangs off your vehicle, be sure to attach a brightly colored marker to make sure that other road users see the end of the ladder.
Ladder Cost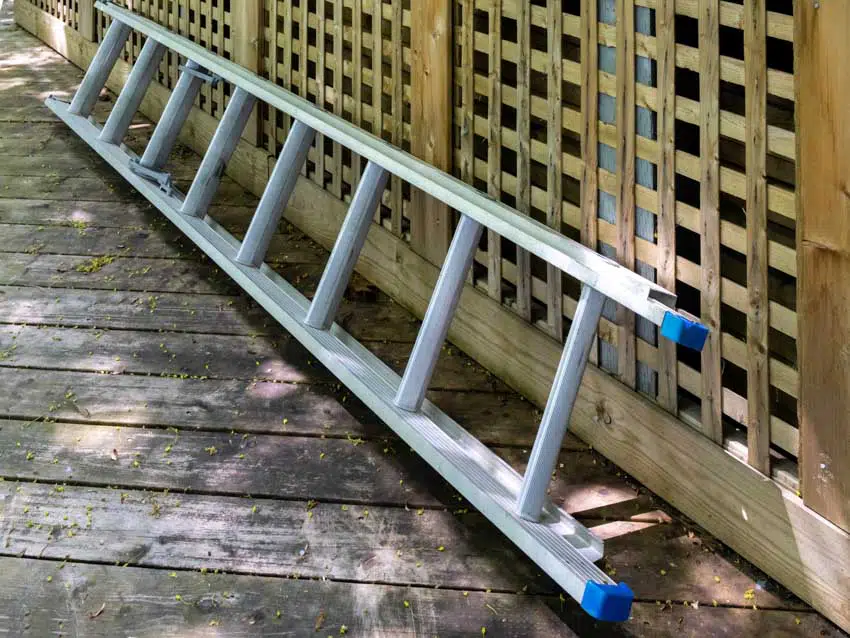 Ladders are priced differently since there are several types and sizes of ladders both in hardware stores and online.
It is essential to know the kind of ladder and its cost since you may buy a low-quality ladder for a lot of money. It is important not to focus on price but also emphasize the quality of ladders you are buying.
On average, a decent quality household ladder costs around $100 to $300. However, you need to consider the design, material, and type of ladder – this may cause the price to increase.
In these times, you can buy type II and type III ladders online. A 20-foot extension ladder online, such as telescope extension ladders or conventional extension ladders, costs about $200 to $400. These are usually ladders suitable for personal use and simple heavy-duty construction projects.
A 12 and 15 foot conventional and telescopic extension ladders are a bit cheaper online and mostly work well for projects that do not require heavy equipment cost between $100 to $300. More diverse pricing for ladders online is sold between $70 to $600.
Heavy-duty 40-foot extension ladders, which can be bought online or at any hardware store, have a minimum price of $700, and these are type I-A ladders suitable for lengthy heavy-duty construction projects.
Step ladders that feature rubber feet, joint locks, bucket or paint platform, and anti-slip steps are sold online for between $100 to $200. There are also cheaper step ladders made of durable plastic, aluminum, or wood which are sold between $50 to $100.
There are also more expensive step ladders online that you can buy for $250 to $650 and shorter step ladders have an average online price of $85 to $120.
Ladder Size Guide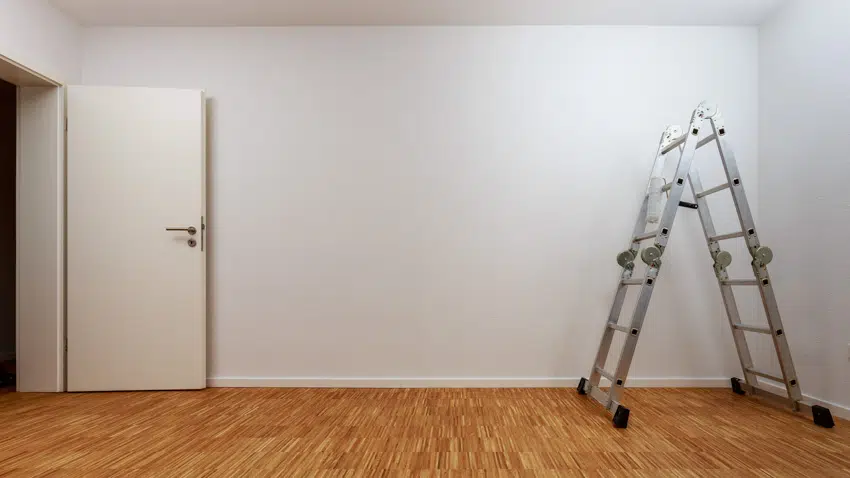 Safe ladder usage depends primarily on using the right type and size for the job. Using a ladder that is not of the proper size can get in the way of your safety and your work efficiency.
It is choosing the right size of an extension ladder to buy concerning the gutter's height or to the structure's support point. If the gutter has a maximum height of 9 feet, the best size to buy is a 16-foot ladder that includes a 3-foot extension above the roofline.
A 20-foot ladder is suitable for a support point height of 9 to 13 feet, while a 24-foot ladder is best for a 13 to 17 feet support point height.
With a gutter height of 17 to 21 feet, the suitable ladder to buy is a 28-foot size ladder that includes a 3-foot extension above the roofline; and a 21 to 25 feet height requires a 32-foot ladder size.
If a support point is 25 to 28 feet and a height of 28 to 31 feet, using a 36-foot and a 40-foot ladder accordingly is the best choice to get the work done.
When choosing the right size of stepladder that assumes a vertical 12-inch reach, the following are the best-recommended sizes: For a maximum reach height of 7 feet, 8 feet, 9 feet, and 10 feet, consequently, it is best to buy a 3-foot, 4-foot, 5-foot, and 6-foot size ladder.
While a height of 11 feet, 12 feet, 14 feet, 16 feet, 18 feet, and 20 feet maximum reach, it is best to use ladders with 7-foot, 8-foot, 10-foot, 12-foot, 14-foot, and 16-foot accordingly.
What Size Ladder To Buy?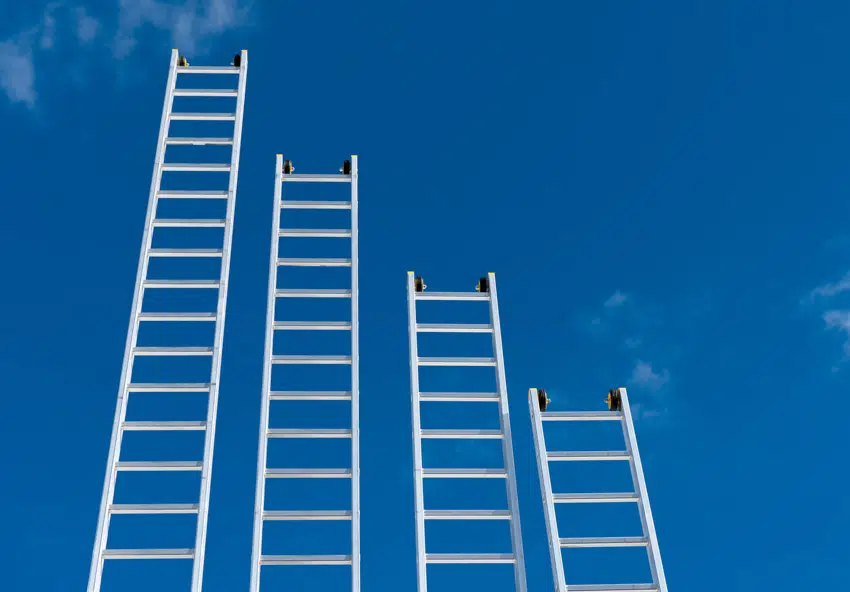 How to reach a 20-foot ceiling: Lofty ceilings are the most challenging place to reach in your home, and so you need the best ladder that would allow you access to your high ceiling.
Keep in mind that a person's safe reaching height is a maximum of 4′ more elevated than the ladder's height.
So, if you require reaching a 20-foot ceiling, a 16-foot ladder is the most suitable size to use, and make sure this ladder has a 9-foot horizontal support point.
How tall of a ladder do I need? Selecting the right ladder height is more than knowing the required vertical size.
Several aspects to bear in mind when choosing the right ladder length, include the ladder's angle determining the highest fixed point on the ladder at about four steps down from the top. Knowing the required overlap of ladder sections and their extension above the roofline is essential.
Remember that if you use the ladder to access the roof or if the ladder is to be leaned against a roofline, the ladder needs to extend three feet above the roofline.
What size roof ladder do I need? Since there are many ladders to choose from, it is vital to find and match your ladder size to the project or job at hand.
Always consider your maximum reach height when shopping for your ladder because using a ladder that is too short or tall will affect your safety in doing your work.
The safest standing level on a ladder is no higher than two steps down from the top of a step ladder or four rungs from the top of a conventional ladder. Make sure that your ladder is several feet taller than the height you need to reach.
Typically, a person has a vertical 1-foot reach; so, if your size is 5'1″, you can safely access a point 4 feet beyond the length of the ladder.
Keep in mind the sections in ladders up to 36 feet in length must overlap at least 3 feet and as much as 5 feet on longer ladders. When a ladder rests against any surface, it needs to extend 3 feet beyond the top support point.
When using an extension ladder, ensure that your ladder is 7 to 10 feet longer than the highest point.
Make sure that when setting up your ladder, it should be at the correct angle, with the base 1 foot out from the surface it rests against for every 4 feet of height to that point.
How To Secure A Ladder To A Roof?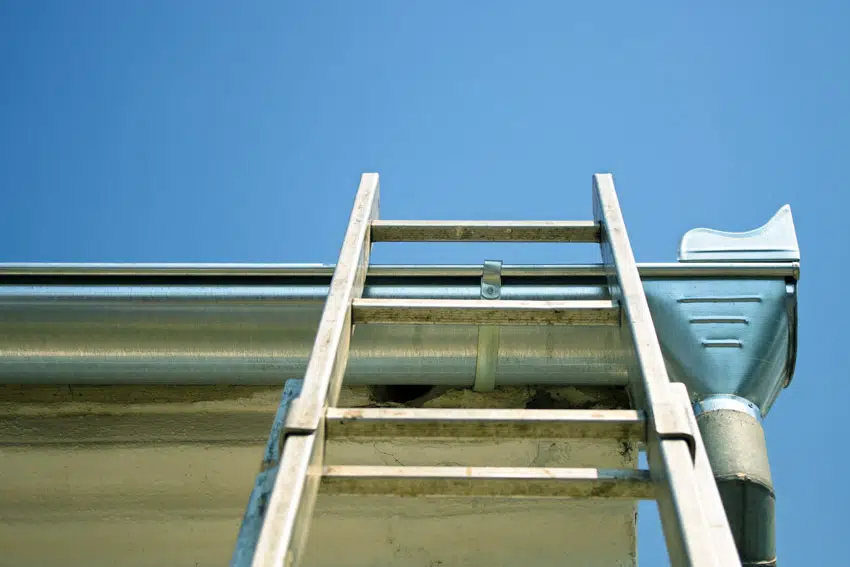 Although setting up a ladder may seem simple, doing roof work is often dangerous and terrifying to make certain everything is safe and secure when attaching a ladder to different roof types.
Begin by carefully checking the ladder for any damages.
To secure a ladder to a roof, make sure to find a fixed object near the roof edge and set the ladder on firm, solid ground and carefully incline it into position making sure that you allow one foot of distance for every four feet of height away from the house or structure.
Use a cord or a specialized device when securing ladders by the roofline with a gutter. You can also use any strong cord such as a bungee cord, sturdy rope, parachute cord, or a solid wire to fasten your ladder to the roof.
Securely tie one end of the line onto the ladder's top rung, then loop it around the top rung and the gutter.
If there is no gutter running along the roofline, using a ladder lockdown or hook is a perfect way to stabilize your ladder from the ground.
Make sure the roof hook is securely attached to the roof's peak, allowing you to create a surface to anchor your ladder that would help stop shifts and help prevent situations where your ladder slides out from underneath you once you put your weight on it.
On the ground, you can use 2×4 wood to level a big piece of plywood to form a platform for your ladder. Avoid using cinder blocks, bricks, rocks, or small pieces of wood to stabilize the base of a ladder.
What Is The Safest Type Of Ladder?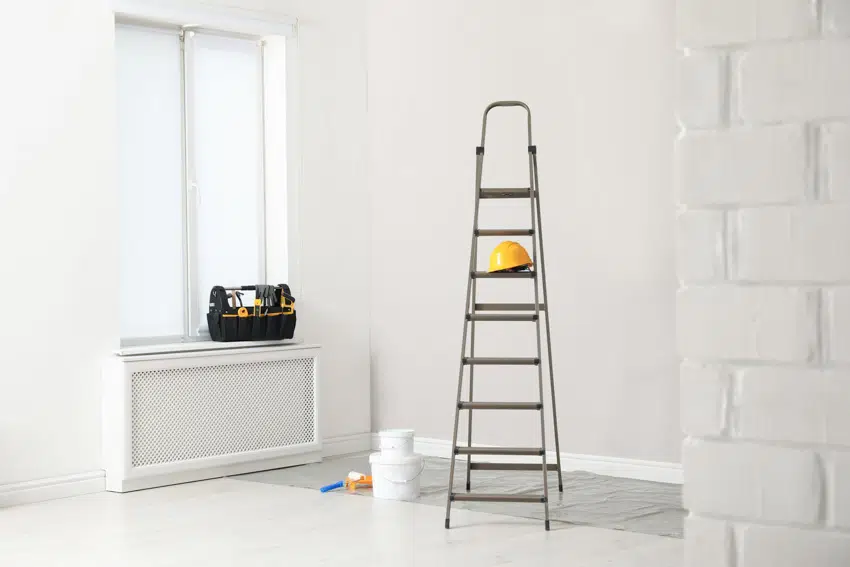 Nowadays, platform ladders are preferred instead of Step Ladders as these platform ladders are safer and less fatigue on the user.
Unlike step ladders where you could be standing on a thin 3″ ladder rung, a platform ladder allows the user to have both feet firmly standing on at least a 1'x1.5′ platform.
As mentioned, a user should never stand higher than the 2nd to the top rung; the platform ladder is designed to have its platform at the right height where the user should stand safely, adding the functionality of a whole platform.
Fiberglass ladders are also considered the safest material for a ladder since they are non-conductive, so it is safe to use them near power lines and electrical wiring.
These types of ladder material are also durable, weather-resistant, flame-resistant, and built to last many years.
We hope you found the ladder types you need in this guide. If you have any question about ladder selection please let us know in the comments. See more related content in our article about parts of a house exterior on this page.