In this shoe rack dimensions guide you'll find the different types of shoe rack sizes and how to choose the right one for your home and bedroom closet.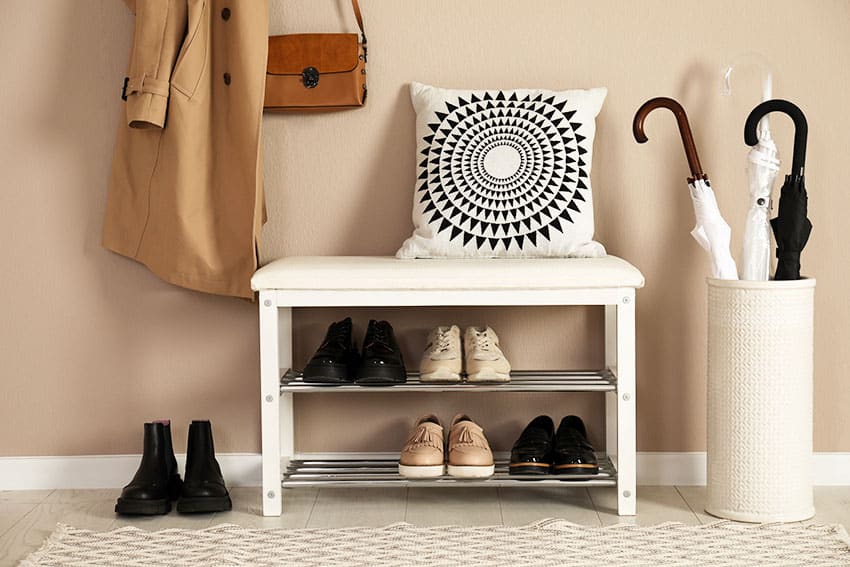 Installing a shoe rock near a house's entryway or closet could improve the overall tidiness and cleanliness of a home. It's pretty easy to know what you need once you know how many shoes you will be storing and how much space is available.
This article will talk about all the things you need to know in choosing one for your home from the different types, and it will also answer any questions you might need an answer for.
Standard Size of a Shoe Rack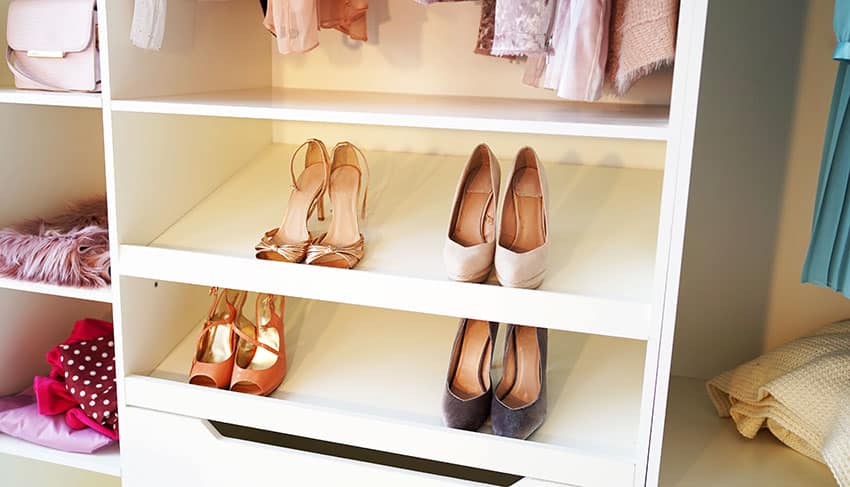 A shoe rack is a versatile piece of furniture either bought in one solid piece or units that are easy to assemble for yourself at home. They keep every shoe together to keep everything tidy and organized.
Shoe racks can be used anywhere you want them to, but they are often found in foyers, inside a closet, or in your home's vestibule. They are also readily available in a home's mudroom to dry wet shoes to keep everything inside your home tidy and dirt-free.
The standard size of a shoe rack is made to fit in spaces that are 18″, 24″ or 30″ wide.
Shoe Rack Height
Every shoe rack is unique to each other, meaning that one shoe rack can easily have different dimensions to the next. There are also various styles and types to choose from, making setting a standard size difficult across brands.
The height of your shoe rack will depend solely on how many shelves you want your shoe rack to stack. There are two-story shoe racks with a height of 17 inches or 43 centimeters, while three-story shoe racks made with a combination of wood bed and metal frames usually have heights of 33 inches or 84 centimeters.
Shoe Rack Depth
Ideally, a shoe rack's depth should consider and follow the size of a person's shoe. Although, if you are looking for standard ones, the typical shoe rack shelf depth of 13 inches or 33 centimeters will be enough for every user in the household, from kids to adults.
If you are looking to store shoe boxes on your shoe rack, this depth might work too, although you can always go for bigger sized ones.
Shoe Rack Spacing
Shoe spacing in your shoe rack will ultimately depend on the wideness or the width of the one you are looking to buy. Most shoe racks will come from the smallest 18 inches, or 46 centimeters, to some, can even have a width of 30 inches or 76 centimeters.
In a typical shoe rack shelf, the space that a single pair of adult shoes will occupy is 12 inches or 30 centimeters. Of course, this space will significantly be lowered when kids' shoes are considered.
Boot Shelf Height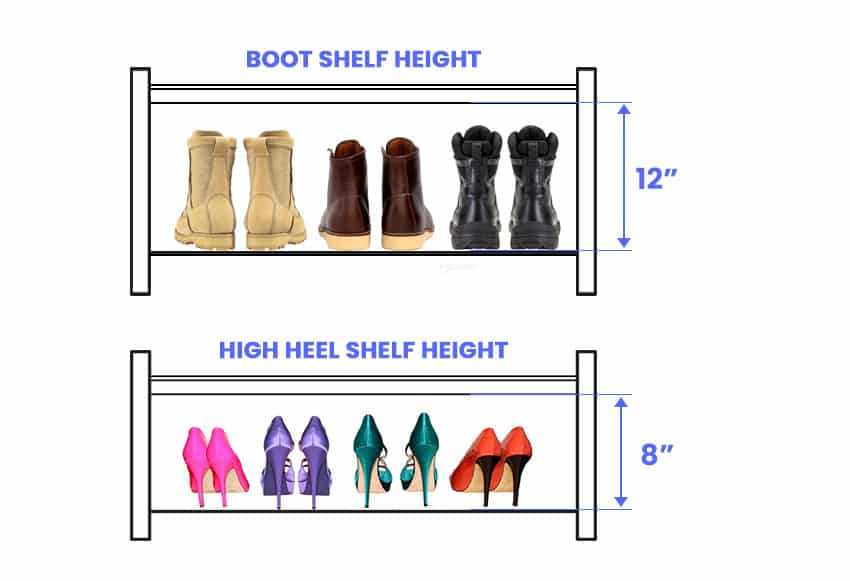 If you are searching for the perfect shoe rack that would fit your boots, it would depend on what boots you want to organize.
Are they tall boots that are knee or above the knee height, or are your boots simply ankle or rain boots? If they are the latter, traditional shoe racks with a shelve height of 12 inches or 30 centimeters or less will suffice.
For taller boots, however, you have the option of utilizing the top shelf or premade or look for shoe racks that have specialized 24 inches or 61 centimeters bottoms to be slotted easily in your closet designs.
High Heel Shoe Rack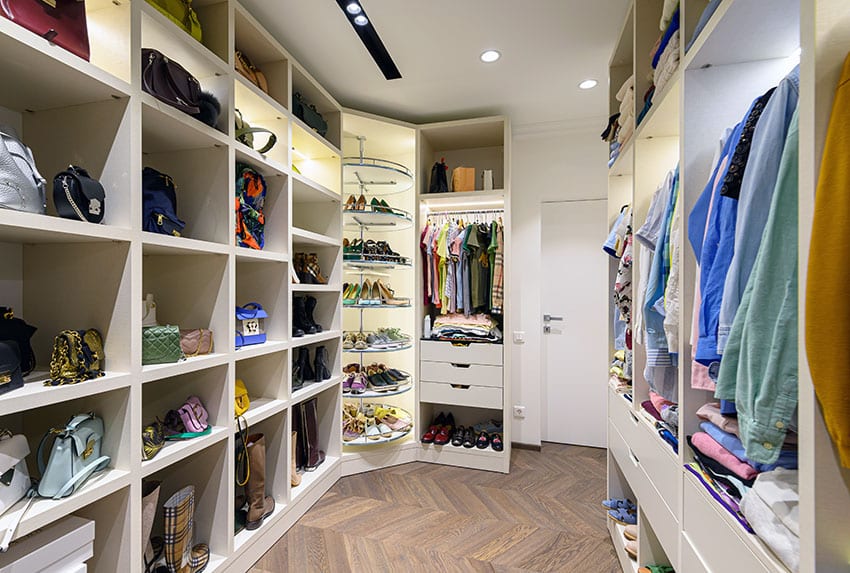 The most important thing about a shoe rack, especially if you are looking to store those gorgeous high heels of yours, is accessibility and visibility. There are stackable storage units that you could build from the floor up for maximum organization inside your closet.
For some of these units, the height of the shoe stacks is usually 8 inches or 20 centimeters. Enough to fit high heels with 6 inches heels. At the same time, their 30 square meters of space will be more than enough space to fit two of your high heels.
Shoe Cubby Size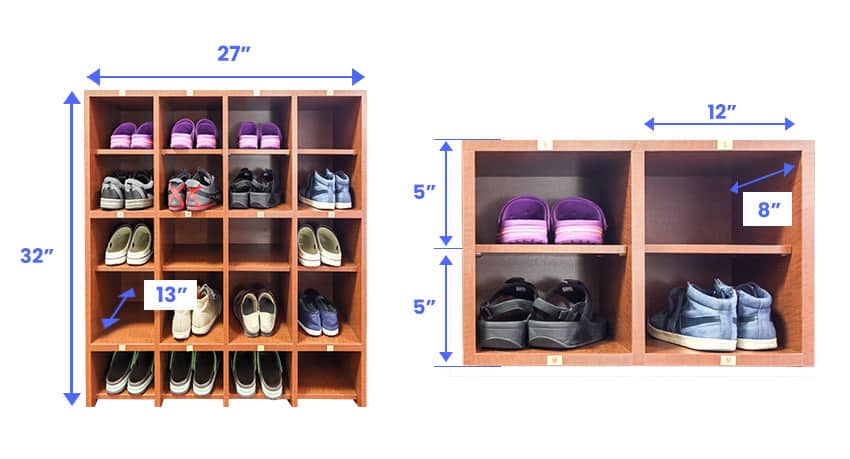 If shoe spacing is one of the problems you want to address in your shoe rack situation, the most effective way to store your shoes is to keep them in the individualized cube compartment, and a shoe cubby will allow that.
The overall average size of the cubby shoe rack has dimensions of 32 inches or 81 centimeters for the height, a width of 27 inches or 69 centimeters, and a depth of 13 inches or 33 centimeters.
In contrast, the individual cubes are 12 inches 30 centimeters wide, 8 inches or 20 centimeters in depth, and heights of 5 inches or 13 centimeters.
How Big Should a Shoe Shelf Be?
The size of the shoe rack you will need depends on the location where to install it. The first thing you need to do is measure the space available. If the shoe rack will be utilized on an entryway or a foyer, you do not want something big that would occupy the entire space available.
For a mudroom, there are multi-purpose shoe racks with a bench as a top to make it easier for someone to shrug off their outerwear and snow-covered boots during wintertime. These types of shelves are usually 2-story ones with one shelf covered to make the bench add-on possible.
How High Should a Shoe Shelf Be?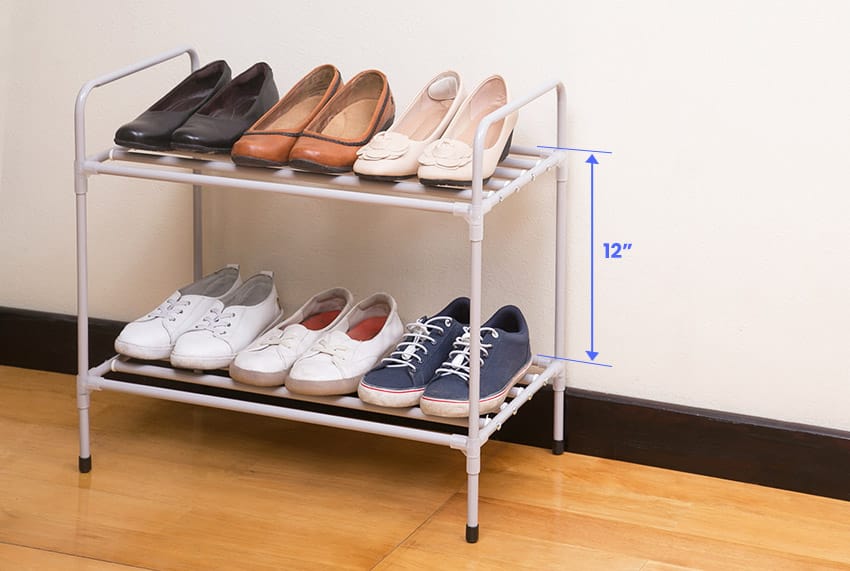 How high your shoe racks will be is dependent on your preference and the space available where you will be using them. A surefire to ensure that it will fit the said space is by measuring the area available. Do this by measuring both the height and the width of the room by the wall.
For closets, you would want the shoe racks to be as concealed as possible, with exceptions if you have a wall full of shoes and are willing to pay for a whole customized shelving unit for your shoes.
For mudrooms and shoe racks on your entryway, the more discreet, the better, so regular 12 or 24 inches shoe rack height would be ideal for these locations.
How Wide is a Pair of Shoes?
The width of one pair of shoes from side to side will depend on what type of shoes we are talking about. However, for women's shoes, the wideness is generally 8 inches or 20 centimeters, while that size will turn up a couple or an inch higher for men's shoes at 9 to 10 inches or 23 to 25 centimeters.
This would mean that for a shoe rack with a width of 24 to 32 inches or 61 to 81 centimeters, a single could fit roughly three to four pairs of women's shoes and 2 to 3 pairs of men's shoes.
How to Choose The Right Shoe Rack?
One of the consensus experts agree on is we probably have too many shoes we want to store in a single shoe rack. A great idea before buying one is sorting through your shoes and choosing to weed out the excess. Eventually, you might have fewer pairs of shoes to store.
The number of shoes is essential before buying a shoe rack. This will make you see the type of shoe storage that will hold all your available shoes easily.
The best shoe storage will hold more shoes but at the same time take less floor space available in the foyer or inside your closet. It will display all your shoes for easy accessibility and protect them from dust and pets at the same time.
Every household shoe rack will be different, but here are a few things to consider when you're beginning your shoe rack search.
Freestanding Racks
Freestanding shoe racks are probably the most portable and also highly customizable shoe racks since some models are easily stackable.
These are great for small floor spaces, making them a fit for most closet spaces and organizing shoes in mudrooms. Simply place them below hanging coats and jackets, and you're good to go.
Cubbies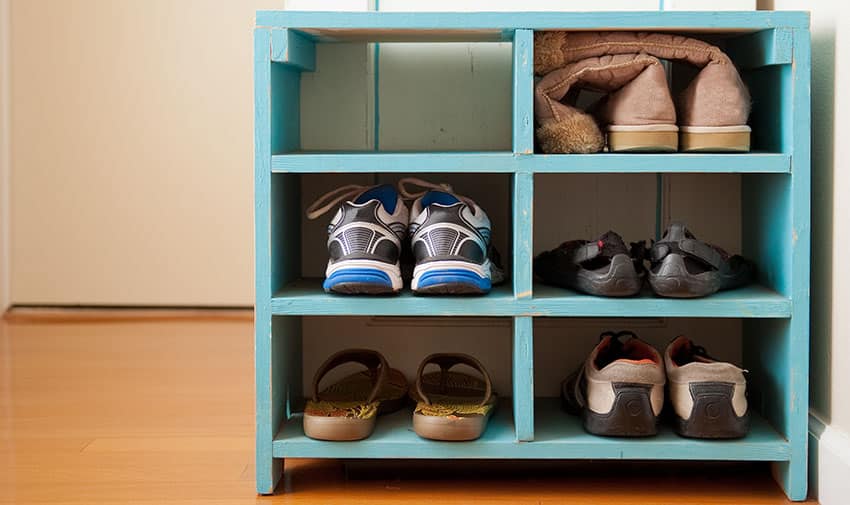 If you are looking for individual compartments for each of your shoes, a cubby type of shoe rack is the best choice for you. They are great for displaying your shoes, especially in a walk-in closet.
The only downside to a cubby is most of them having predetermined shelves making them less versatile for bigger shoes like boots or high-top sneakers. However, free space is available on top if the bigger shoes in your closet are limited. See our guide to walk-in closet dimensions here.

Shoe Cabinets
If you are not a fan of clutter, especially in open spaces like your foyer, the safest bet for shoe storage for your home is shoe cabinets. Shoe cabinets are built longer than they are wider. They are designed with deep drawers and will pivot open and close.
Over the Door Racks
A way to utilize wall space for shoe storage if you have little to no floor space is using over the door racks or hanging shoe racks. These are also great to keep your shoes away from dogs and kids, and another plus is they are also generally inexpensive.
Aside from the shoe racks listed above, there are also others such as rolling racks, shoe trees, and even under-bed pull-in storage.
For limited closet space, the last thing to do is split up storage for every shoe. Maybe your kid's shoes can be kept in their rooms while everyday pairs are kept in a rack by the foyer.
Visit our closet shoe storage ideas for more related content.