Here are the different types of cork flooring including design styles such as tiles, planks & sheets, benefits, colors, cost, and the best cork floor ideas for your home.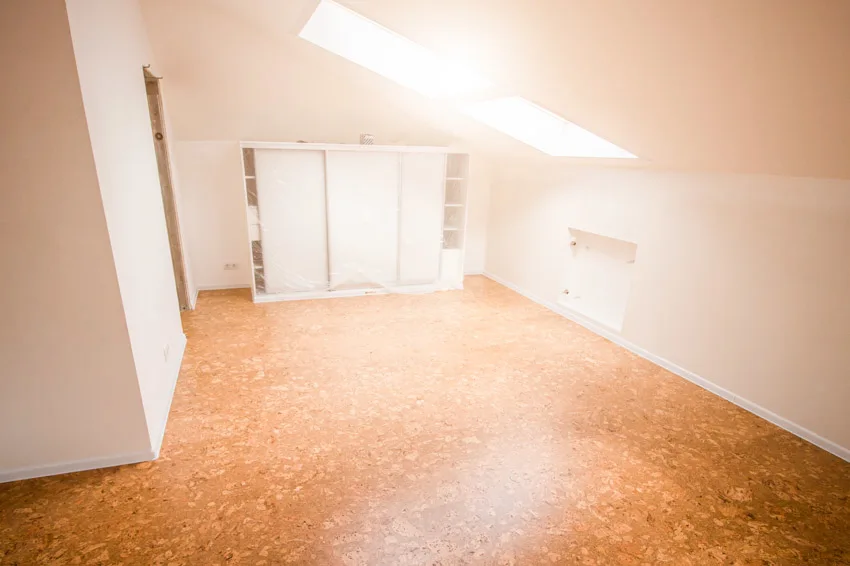 Choosing the type of flooring to install in your home involves exploring all the possible options out there in the market. You can go for something predictable like durable tile flooring or something unique and quirky like an interesting cork flooring.
Cork seems like an ordinary item that will be left in the trash once it's done its function, which is to seal champagne battles. You have this image of champagne corks piling in one corner and simply rotting away or small items used for DIY task board.
But do you know you can use them as materials for your flooring? While it might seem far-fetched, it's actually one of the trendy options for homeowners today. And if you're curious if this is the best option for your home, acquiring knowledge is always the first step.
What Is Corkwood Flooring?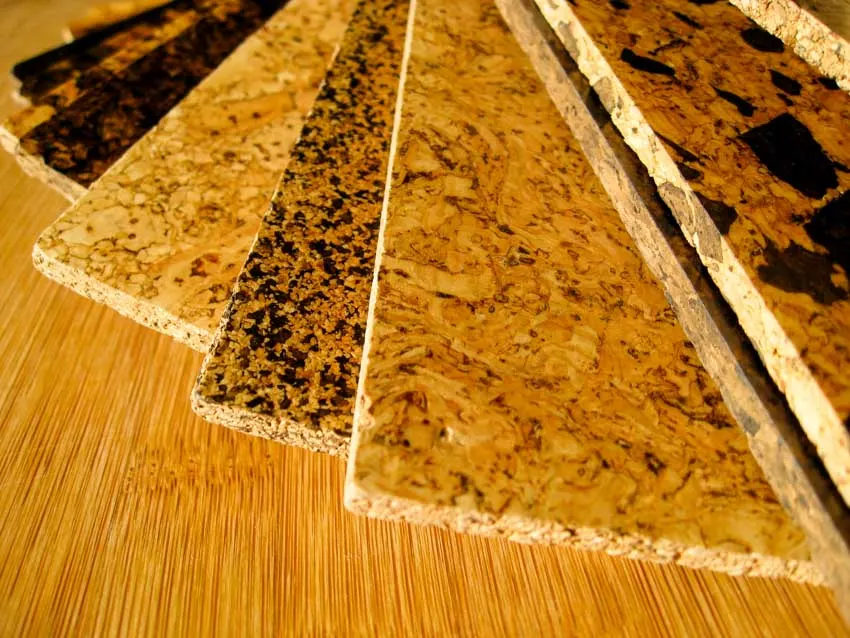 Cork is normally associated with wine and champagne and if you're into DIY projects, you've probably used it on message boards and similar DIY projects. The thing with cork though is that it's not limited to those small functions anymore.
It can now be used as an excellent material for flooring, which is made possible by forming granulated cork particles or sliced cork kept together by resin binders.
Cork is made from the cork oak tree bark, which is an evergreen native to Southern Europe and Northern Africa's Mediterranean region. This renewable material has many characteristics that can be incredible when applied to flooring. More than just holding warmth which will be perfect for winter, it is also a great sound insulator, making it a good option for the flooring on the second floor.
Champagne bottles and corks have a lasting connection that started in the 1600s and continues up to the present. Cork oak trees are grown with the purpose of harvesting the bark and being made into corks. The bark is carefully peeled off the evergreen tree.
Since the bark grows back in 9 to 10 years and trees are not cut down in the process, there are no harmful impacts on the environment when producing these corks, making this a sustainable option.
Corkboard flooring is an idea introduced in 1937 when it was installed in Fallingwater. And you can even see Frank Lloyd Wright's home today and its corkwood flooring standing durably even after all these years. So if you choose cork flooring, you can rest assured that it will last long and that you won't need to spend on its replacement only after a few years.
With cork flooring, you get something that's uniquely trendy yet comfortable because of its cushiony feel. It is among the versatile types of flooring materials for interior design, which is why you can install it in different areas of your home. And can still function wonderfully wherever it may be. It is also DIY-friendly, considering it has been hugely used in different DIY projects.
Many flooring manufacturers and suppliers offer different types of corkboard flooring as one of their products and services. And most of the time it will come with a warranty that ranges from 15 years to a lifetime, which means as long as your home and the cork flooring inside it is still standing. And if you're properly taking care of and maintaining your corkwood flooring, this can mean over 40 years!
Types of Flooring Styles
When considering the different cork flooring styles, you will need to take into account how they are produced. Since they have different forms and structures, they also have unique installation processes.
Usually, there are three types of cork flooring styles to consider, including cork tiles, planks, and sheets. But it is also worth noting that not all cork rollouts are sheets. They can be considered another type of their own to avoid confusion.
So, cork rolls are added to the list of corkwood flooring types to check out. Make sure to compare them to each other to choose the ideal type for your home and your preference.
Corkwood Tiles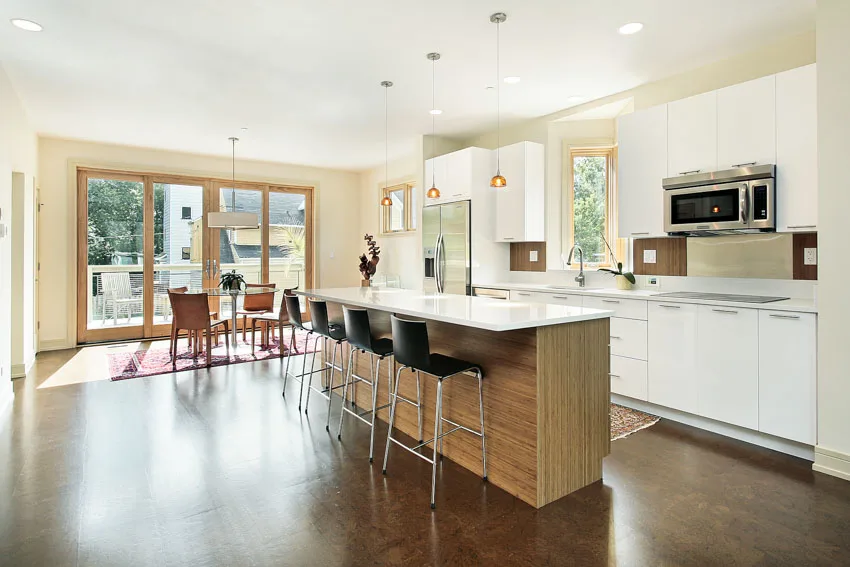 Cork types of floor tiles are one of the most common cork flooring styles offered by sellers and manufacturers. The standard cork tiles are glued on the subfloor and you will need to purchase the appropriate glue for the tiles.
The standard cork floor tiles have the dimension of 12 x 12 x 24 inches but the option is not limited to this. Some corkwood tiles are bigger in size and of course, bigger in price too.
These tiles are also difficult to install and would require more skills than your usual DIY corkwood projects so you will need to consider hiring professionals to install this type of flooring for you.
Here are some of the advantages you can get from choosing corkwood floor tiles:
• Versatile installation: You can install these cork tiles in any area in your home and they can either be installed on the concrete floor or a subfloor compatible with cork flooring, which is where you will need the recommendations of the manufacturers.
• A wide range of options: More than just different sizes, cork tiles also come in a wide array of patterns, colors, and styles. You have more flexibility to match and style the room you plan to install it on.
• Natural organic look: Despite the variety of colors and patterns, cork tiles still have this natural and organic appearance that will give your home a more refreshing look.
More than just the standard cork tiles that require glue and sealant, there are also cork floor tiles that can be installed without needing glue. Other types of these cork tiles are interlocking cork floor tiles and peel and stick cork floor tiles.
1. Interlocking Cork Floor Tiles: Interlocking cork floor tiles can be installed without the messy involvement of glue and sealant. Usually, with a foam base, these cork tiles have interlocking edges, which make them easier, cleaner, and more convenient to install.
Individual tiles have the dimension of 24 x 24 inches, which are designed in bigger dimensions so that installation is easier. Here are some notable advantages of interlocking cork floor tiles:
• Detachable straight edge pieces: These pieces will make it possible to have a perfectly clean and smooth finish in your flooring despite the interlocking capabilities of the tiles.
• Comfortable and safe to walk on: Interlocking cork floor tiles have non-skid and shock absorbent features, making the floor easier and safer.
• Flexible options: You can use these interlocking cork tiles either for temporary or permanent flooring.
• Does not require special tools for installation: Since each tile can simply interlock, you don't need any tool to install them.
2. Peel And Stick Cork Floor Tiles: Designed to provide more convenience compared to the standard cork floor tiles, the peel and stick cork tiles can simply be cleaned, peeled, and pressed on the concrete or subfloor just to install them.
While standard cork floor tiles are messy and more difficult to install and DIY, peel and stick cork gives you the chance to save from the installation by making it easier and DIY-friendly.
Corkwood Plank
Cork planks are the other popular option besides cork tiles and are offered as laminated products. Cork planks are comprised of the following layers:
• Bottom layer: Hardened and compressed cork
• Middle layer: Medium to high-density fiberboard
• Top layer: Beautiful decorative layer of cork
Cork planks are also easier to install because they have edges that easily click together, which is why this option is also known as click-together or snap-lock planks.
Its easy-to-install snap-lock design is the reason why it's relatively easy to install and that many homeowners prefer plank types to others.
Corky Rolls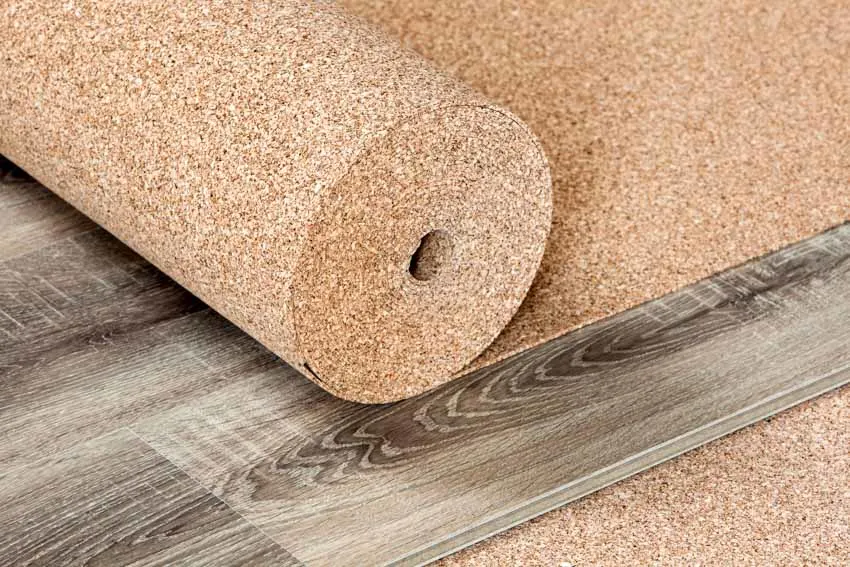 Cork boards can also come in rolls from which cork flooring typecan be constructed. Like most types of cork flooring options, cork rolls are natural shock absorbent and hypoallergenic.
These cork rolls are considered an excellent alternative to carpet pads and can even be used for ceilings and walls and not just for flooring.
Check out some of the advantages you can enjoy from cork flooring rolls:
• Sophisticated and trendy aesthetics: Featuring fresh and delightful decor, these cork rolls can be perfect for your home's interior but they can also be great for commercial settings like restaurants, cafes, and gyms.
• Easy and quick installation: Cork rolls are DIY-friendly and you can easily install them on your own.
• Eco-friendly: More than just their hypoallergenic feature, this option is environmentally friendly since the entire bark gathering and processing does not involve damaging the trees in any way.
Corky Sheet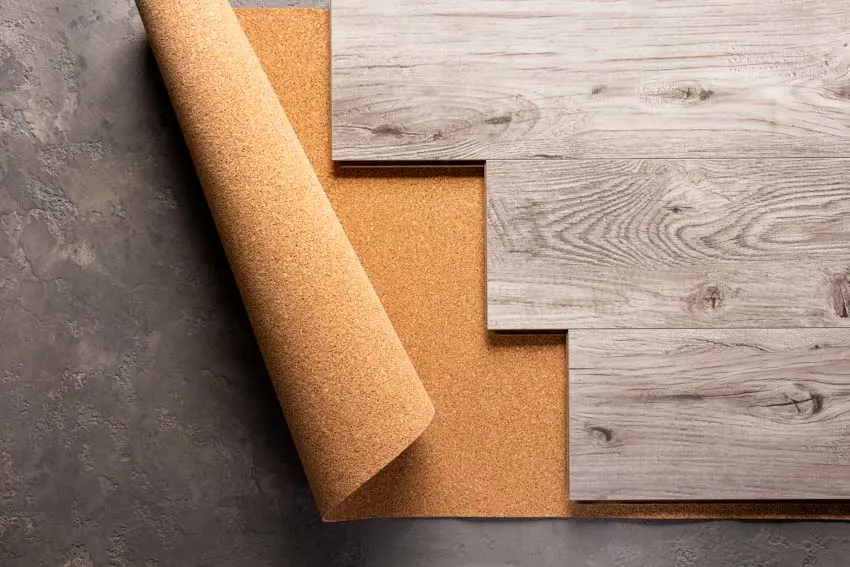 Besides getting them in rolls, cork flooring also comes in sheets and is frequently used as either one of the following:
• Commercial applications
• Underlayment
• Coasters
• Gaskets
• Crafting
• Mounting substrates: bulletin boards, plywood, wall boards
• Hot pads
• Table mats
If you feel like cork sheets will be perfect for your home, expect the following benefits:
• Easy to install
• Easy maintenance and can be stained and painted
• Renewable and environmentally friendly
• Reduces noise pollution and acts as an excellent sound barrier
• Delivers thermal benefits and insulation
• Affordable alternative to foams and felts
• Wide range of lengths and thickness
Flooring Designs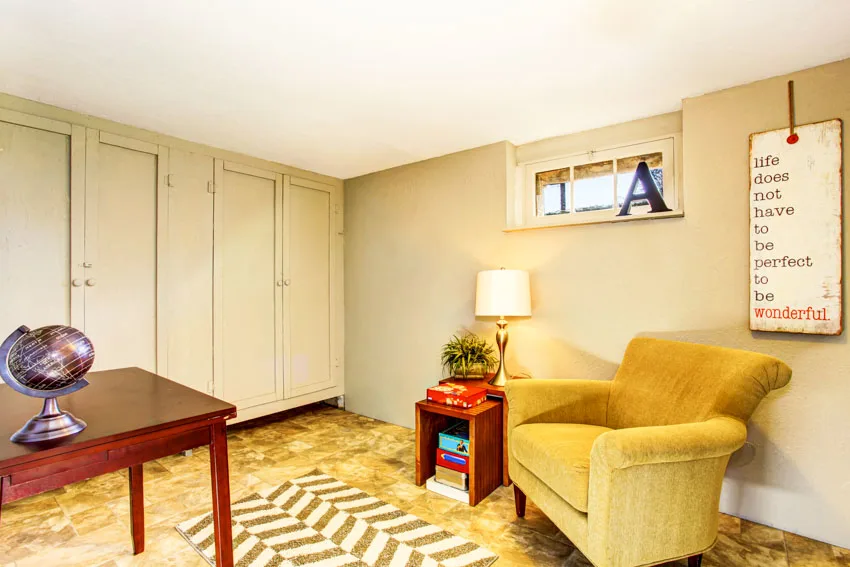 Besides the different corkboard flooring types offered by different manufacturers, there are also many flooring designs you can consider. Some flooring options have been structured to be innovative and more functional in their designs, besides being aesthetically pleasing.
Generally, corkwood have this nature vibe in them that's warm and inviting to look out. This is why the material is best installed in casual and informal settings, where you will be comfortable taking your shoes off.
With innovation in manufacturing and production, corkboard options can now imitate the look of hardwood or marble flooring, bringing elegance to the mix and making the material compatible even in formal and commercial settings. More than just imitating other materials, innovation also paved the way for the following corkwood flooring designs you can benefit from.
Waterproof Cork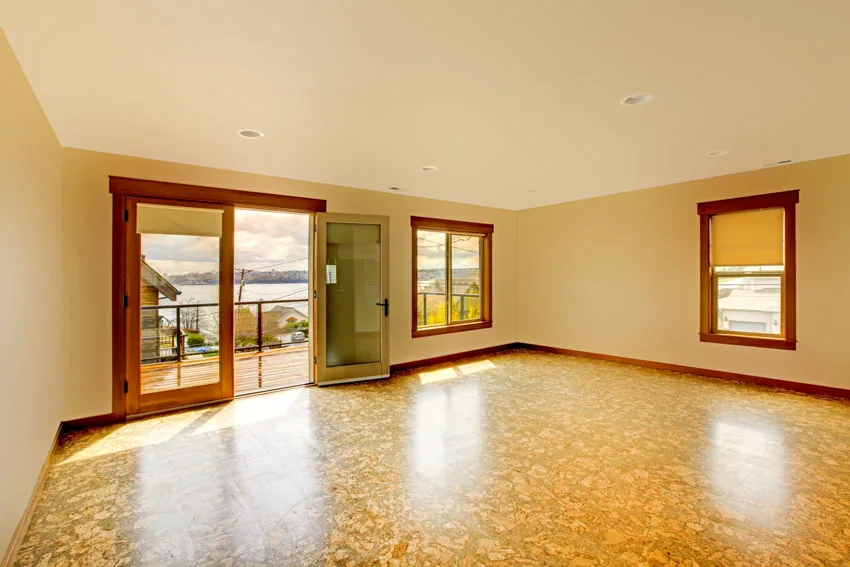 Waterproof corkwood planks were introduced into the market in 2019, making the material more versatile and expanding its reach to areas highly exposed to moisture like laundry rooms and bathrooms. This option is made with natural wax that allows the flooring to be water-resistant.
Click-together planks usually have the middle layer integrated with medium to high-density fiberboard (HDF) but with its waterproof version, high-density polyethylene (HDPE) plastic is installed instead.
HDPE makes it possible for the planks to be moisture-resistant compared to HDF which easily absorbs moisture between the seams of the planks. With the integration of HDPE into corkwood materials, it becomes a good option for laundry rooms and bathrooms.
Floating Corkboard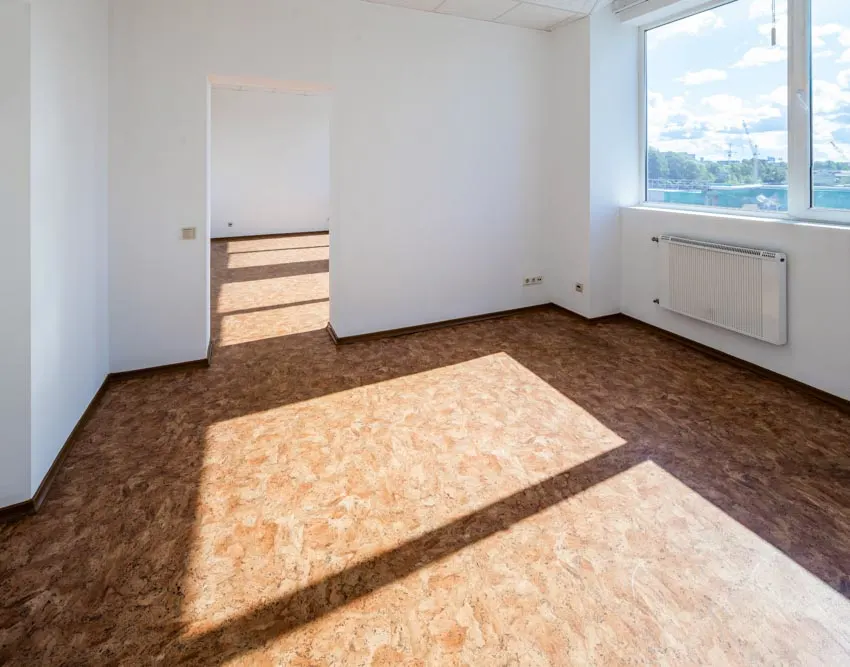 Another option to consider is floating corkwood flooring, which is installed and locked over tiles. And since it easily and conveniently clicks together, you won't have to deal with messy glue or adhesive.
You won't even have to be meticulous over the subfloor to install it even if you have the old flooring. A floating corkwood floating can easily be accommodated. Technically, floating corkboard is made of corkwood planks with special snap-together edges.
Here are some of the benefits of using this material:

• Easier and more convenient snap-on installation
• Varying colors, sizes, and patterns to choose from
• Can be customized (May dramatically increase cost)
• Eco-friendly with a low carbon footprint produced when processed and promotes environmental protection
• Non-skid, warm, and comfortable to step on
Engineered Corkboard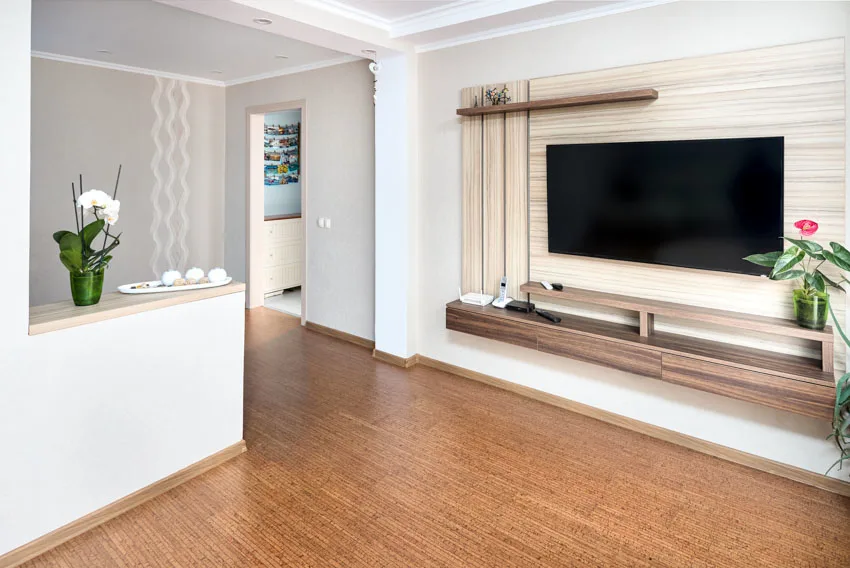 Engineered corkwood flooring is an option comprised of multilayered planks and a product of technological advancements and modern innovations when dealing with the cork's natural properties.
This corkwood flooring option is structured to be durable and mechanically strong, made from a mix of the following materials:
• Solid homogeneous corkwood face or backing (Can come with a cork veneer face)
• High-density fiberboard core
• Compressed corkwood granules under layer and backing
• Durable and protective finish
Here are the advantages you can check out get from engineered corkboard flooring:
• Suits both residential and commercial applications
• East and fast installation with click and lock functionality
• Can be made to be floated on a subfloor or glued down on the concrete
• Offers a huge selection of styles and colors
• Easily repaired and refinished (Can be lightly sanded and re-varnished)
Corkboard Colors Used in Flooring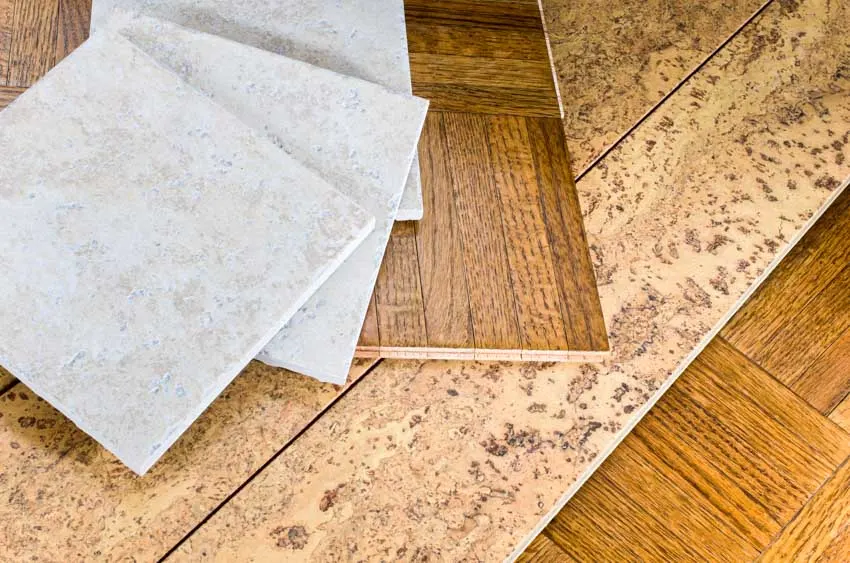 Naturally, corkwood comes in a pale tan shade if you're going for something that's basic and standard. The natural color of the cork oak wood offers warmth to the area it's installed in. You can stain the flooring but if you're not into that and you want to paint over the corkwood flooring.
Here are some corkwood colors to choose from:
• Brown shades (Cashew, chocolate, hazelnut, and sesame)
• Dark colors (Black and dark brown)
• Light colors (white and gray)
If you don't want to settle on one color, you can also go for two-toned flooring. You can mix and match interesting colors to have a corkboard floor that stands out. You also have different options to consider in terms of surface, including matte or low gloss.
Installation Costs for Corkwood Floors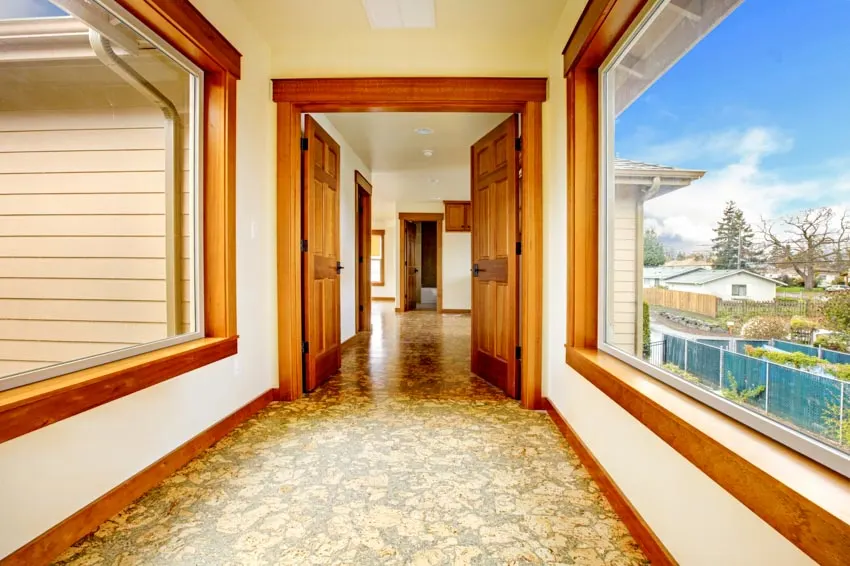 In determining if cork flooring is the ideal option for your home, the option needs to be within your budget. For a 100-square feet room, you will need to spend an average of $950. However, prices can go as low as $500 and as high as $1,400 depending on the specific types you use and the installation fees that come with it.
So in planning your cork floor installation and in order to be specific, here are some numbers and prices that you need to take note of:
• Cork flooring tiles or planks: $2 to $12/square foot
• Professional installation: $2/square foot
1. Installing floating cork flooring: $3/square foot
2. Installing glue-down corks: $6 to $10/square foot
3. Cork underlay: $0.50 to $1.30/square foot
Cork planks and tiles come in a variety of densities and thicknesses. More than just choosing these specific aspects, you also have to prep the subfloor before installing flooring.
Other vital factors to consider when planning your budget are the following:
• Size of the project: The bigger the area you need to work on, the bigger the budget you need for your cork flooring.
• Subfloor preparation: It is important to ready the site for the installation, especially if you want to avoid flaws and have a sound and smooth surface.
• Sealing requirements: Both cork planks and tiles need to be sealed. While cork planks are automatically sealed in the manufacturing process, cork tiles require a clear polyurethane finish sealant. But both need to be resealed after a few years.
What Rooms Are Suitable for Cork
Cork flooring is popular for its versatility and with many options under this type of flooring to choose from, you will have all the significant creative freedom you can use for this project.
Versatile cork flooring is an option you can take into account for all rooms you have at home. Yes, even in the kitchen and bathroom! It is the type of flooring you would choose if you value comfort and the environment at the same time.
If you want recommendations and ideas for different sections of the home, you've come to the right place!
Cork Bathroom Flooring: The bathroom is an area in the home that's frequently exposed to moisture and so you might think that the it is a bit mismatched. With waterproof corkbooard tiles, moisture is not an issue anymore.
Cork bathroom flooring needs to be properly sealed to ensure that moisture won't be a problem and damage the material. Make sure you reseal the corkboard tiles every few years.
Corkwood Flooring For Kitchens: The kitchen is one of the most popular areas where homeowners install cordwood tiles. Considering it is a space where you conduct meal preparation and cooking, spills and food splashes are normal.
It is more than just durable, it is a convenient option that's easy to clean with a simple wiping on the surface. This floor option is both anti-fungal and anti-microbial, making it an excellent option for your kitchen that needs to be clean and hygienic at all times.
And just like in the bathroom, it needs to be properly sealed to be impervious both to stains and moisture. See more types of kitchen floors here.

Cork Gym Flooring: It is an ideal option for the gym since while it is durable, it's also soft on the foot when you step on it. Since the gym is an exercise space that will require you positions to sit, kneel, and even crouch, having soft flooring to support you is a big advantage and will make the positions more tolerable and comfortable.
Since gyms are commercial areas, it is necessary to have their aesthetics up to par with other commercial infrastructures. And despite being affordable, corkboard tiles can bring elegance and warmth to any space it's installed in. It also brings a relaxing vibe to the area, which is what you need in gyms when you work out.
Corkwood Veneers for theBasement: Installing corkwood for your basement flooring will not just increase the value of the space but also improve its aesthetics, whatever you may be planning to do to the area. Corkboard tiling is popular for the comfort and softness you get to experience while walking on it, which is enough of a reason to have it installed in the basement.
Choosing the basement as a home for your corkwood floors is an excellent idea because it typically has less foot traffic. There is also less chance for the basement to be exposed to direct UV rays. And since this type of flooring is prone to fading, dents, and scratches, less foot traffic means less exposure to factors that can cause these issues.
In addition to that, if you have a limited budget, this is a good consideration to improve the aesthetics and value of your basement without spending a lot.
Corkwood Tiles for theBedroom: If you're planning to install corkwood for your bedroom flooring, it will be a beneficial addition to your room's interior decor. Despite the material seeming simple and affordable, it is actually a unique and interesting element that can bring in something different to your room.
With your bedroom being your space, you want an ambiance of comfort and peace. Corkwood veneers provides an inviting and warm vibe that's subtle and quiet compared to hardwood.
In addition to that, there are also many shades to choose from, whether you're going to stain the flooring or have it painted to get a more unique color.
Corkwood Tiles for Stairs: One characteristic that makes corkboard floors appealing to have in your home is that it reduces sound when you walk on it. This makes it a good option to be installed on the stairs since you won't need to hear steps going up and down all the time.
With less noise from the steps of your feet, you can be assured that there won't be calls from neighbors downstairs because of the thundering noise.
Benefits of Cork As Your Flooring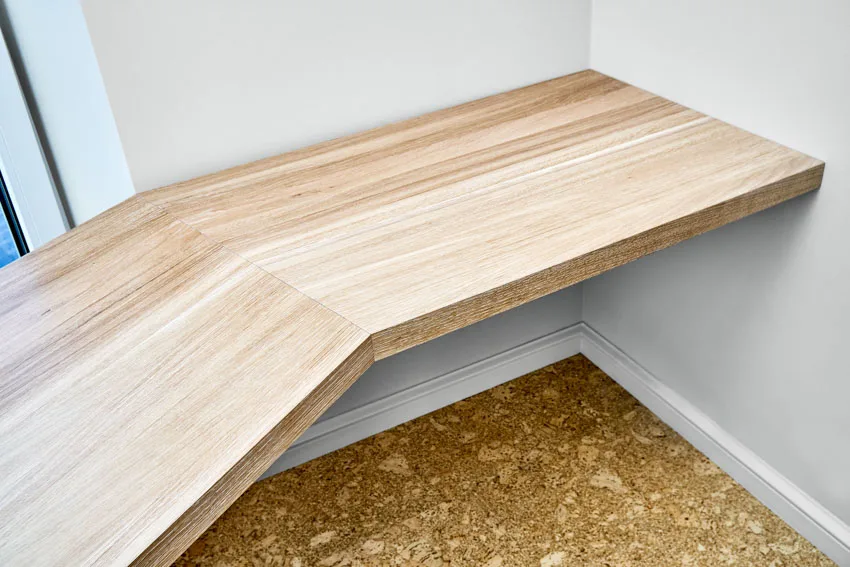 In considering if it is the ideal option for you, taking into account the benefits it can provide will help you solidify your decision. While it may not be a standard choice when compared to hardwood flooring, cork flooring is a legitimately good option.
Here are some of the best benefits of using corkboard floors:

Incredible Resilience: It is resilient and can take the wear and tear without having to worry about dents. Placing heavy objects on the floor also won't be an issue and won't create impressions on the surface. But this will have to depend on the thickness of the corkwood planks or tiles you use.
Quiet Underfoot: The material has a natural noise-dampening ability, making it so much quieter to walk on compared to other types of flooring. This means you won't have to worry about thundering and thumping steps while walking.
Features Warmth and Softness: Comfort is an element that you will always desire in your home and corkboard floors can bring that for you, capitalizing on ergonomic comfort that won't make you feel uncomfortable while you stand on it for a long time. With cork, there is ample cushioning for your foot that will make this possible.
Resistant to Fire, Insects, and Mold: It is also resistant to elements that can bring harm and damage to it, including fire, mold, and insects. The material contains suberin, an antimicrobial wax that repels bugs, mold, fire, and even moisture.
This makes it ideal if you have people with allergies living with you. And more than just being fire-resistant, the materials do not give off fumes when getting burned, taking out the possibility of inhaling toxins in the process.
Thermal and Acts As An Insulator: The millions of air cells in corkwood not only make the material soft but also turns the flooring thermal and a good insulator, perfect for homes in colder climates.
Showcases Non-slip Properties: It has non-slip properties that make it a lot safer to walk on. This is the reason why it's a good option for bathrooms since even if the floor is wet, you won't slip on it and your feet are guaranteed to be secured.
Easily Replaced Damaged Spots: Replacing damaged spots on the corkboard tiles is also easy and you won't have to destroy the entire flooring or even spend too much on it. You just need to remove the damaged pieces and replace them with new ones.
Renewable and Eco-friendly: It is an eco-friendly choice that assuredly won't have a negative impact on the environment. Since corkwood is made from the harvested bark of the cork oak tree, choosing this flooring means you're choosing to support the environment.
The process does not involve harming any tree, making it nature-friendly. Cork oak trees are also grown for this purpose with the tree capable of living over 200 years, making it resource-efficient.
Comes in A Variety of Selections: The standard color of corkboard is pale tan but there is now a wide range of colors to choose from so you won't be limited with your options and your creative freedom. Read more about the pros and cons of cork flooring here.

Installation Tips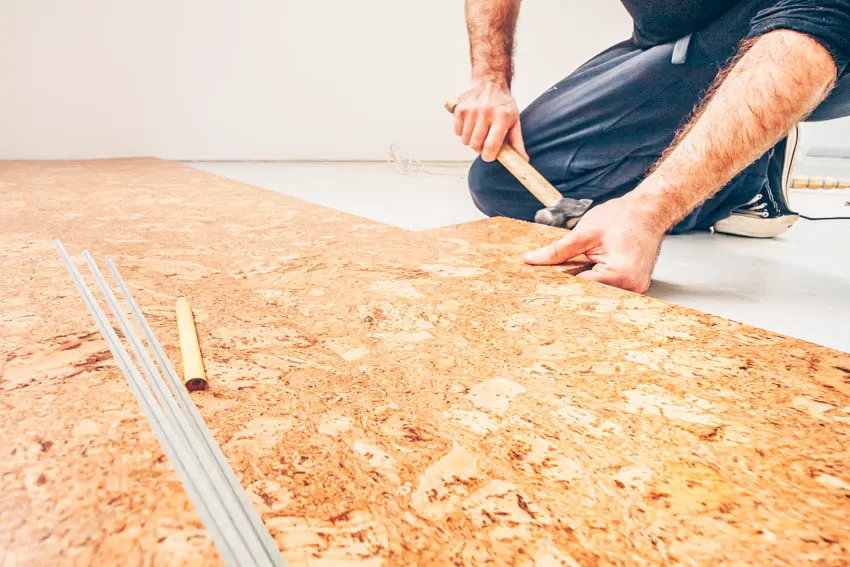 The installation process of your corkwood tiles will depend on what corkboard tile products and styles you chose. One thing you should always consider though is to follow the instructions of the manufacturers. Installing peel and stick and interlocking corkboard veneer floors is DIY-friendly and so you can schedule a time to do the project yourself.
Glue-down corkwood tiles on the other hand is an entirely different matter. The task is more difficult and can get incredibly messy that you might settle on hiring something to install the flooring for you.
To help you, here are simple installation tips to follow for both interlocking and glue-down corkwood tiles.
Interlocking Corkboard TileFloors
1. Install high-quality foam underlayment on the floor
2. Place the corkboard planks in the room and allow them to adjust to the environment
3. Install the planks and follow the instructions provided by the manufacturer regarding its installation process
4. Leave a ¼-inch or ½-inch gap for expansion in the perimeter (The material expands during humid months)
5. Cover the floor with a moisture barrier and moisture-resistant underlayment
Glue-down Corkwood Tiles
1. Make sure the surface is smooth and dry when applying glue-down corkboard tiles
2. Glue the tiles on a concrete floor or masonite/plywood if that's not an option
3. Do not install corkwood tiles over the radiant floor heating systems
4. Follow the manufacturer's recommendations on what adhesive to use
5. Securely weigh down every tile for the next 24 to 48 hours to ensure they're thoroughly glued in
6. Leave ¼-inch or ⅛-inch gap for expansion in the room's perimeter
7. Apply a protective finish to the corkwood tile surface and sealant on the seams
Do These Floors Need To Be Sealed?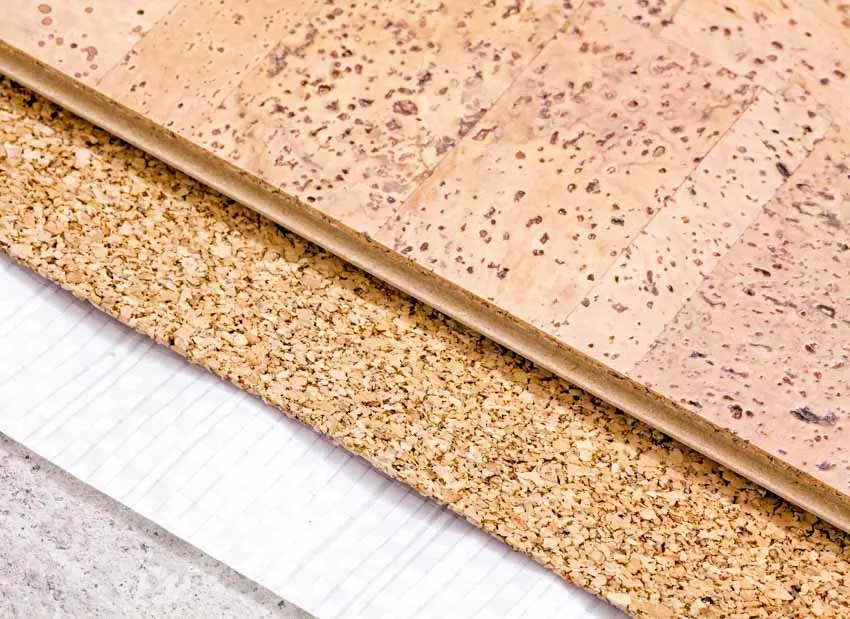 Cork is a porous material and so yes, it needs to be sealed if you want to protect it against stains and moisture. While many corkwood tile products now have a pre-applied sealant, you can add the element yourself using wax and polyurethane.
Corkboard Floor Maintenance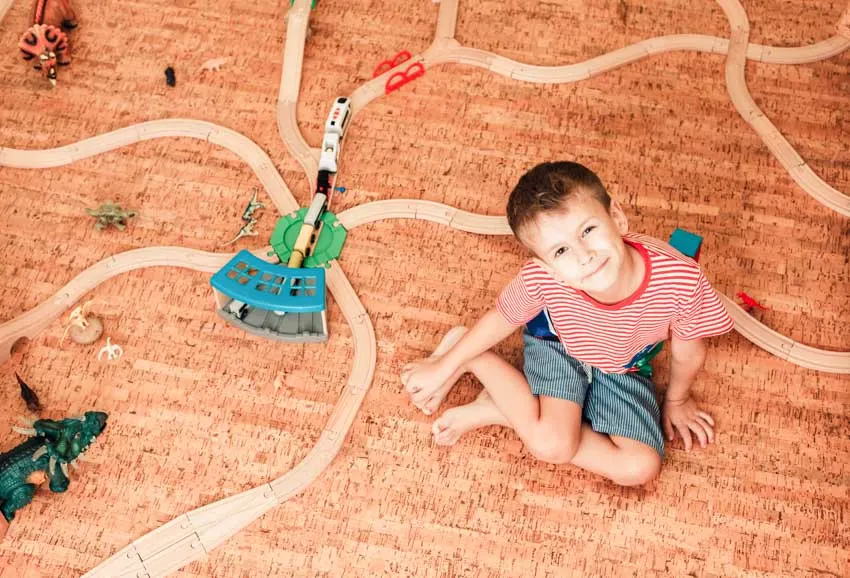 Cleaning your corkwood tiles is easy since you only need to vacuum and sweep it regularly to take out dirt particles and small grits. You can also mop the floor every now and then to have a more thorough cleaning.
For spills though, it is vital to wipe them immediately to avoid staining and possible water damage. While the sealant can protect the flooring from possible issues, it is still advisable to clean up spills as they happen just to be sure.
And finally, make sure to re-seal the flooring every few years. If you're using polyurethane, sealing it every 3 to 10 years is vital to maintain the flooring's quality.
Have you tried any of these types of corkwood tiles? If so please share your experiences in the comment section below. See more related content in our article about the types of wood floor patterns on this page.