Here are the types of comforters including the benefits of different fabrics, designs, fill materials, stitching options, thread count, sizes, and how to choose a comforter.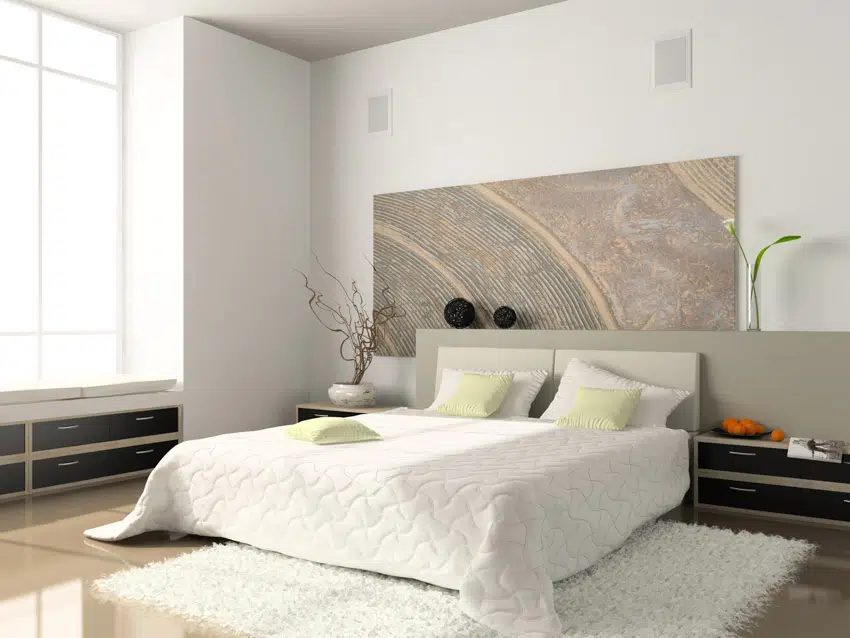 A comfortable bed requires a high-quality mattress, soft pillows, and a fluffy blanket, along with comfortable bedding you would lay your body on. And a thick comforter can accommodate your body like a warm welcoming hug that will help you have a good night's sleep. But, what's the ideal type of comforter, from fills to covers, that can best fit your needs and preferences?
Two of the simplest and easiest classifications for which you can identify a comforter are filling and shell. But they can also range in terms of thread counts, weights, and styles. While its primary function is to provide additional comfort to your bed, it can also add a visual accent and appeal to your bedroom.
Of course, the comfort and added aesthetic value will all depend on the type of comforter you choose to have. To help you decide which comforter can match your needs, here are the different types to consider.
Cotton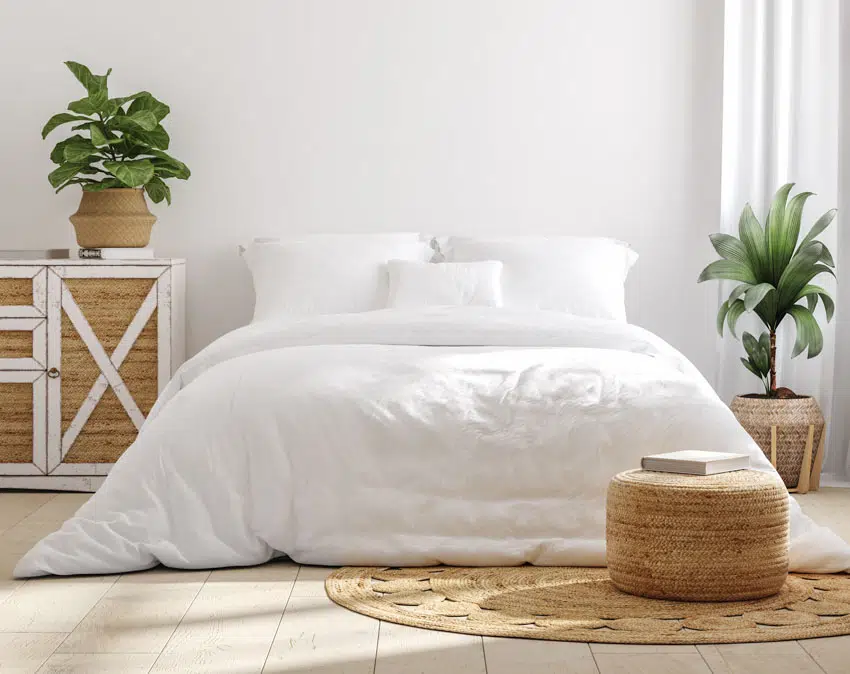 Cotton is one of the most common materials used for comforters. Popular for its softness that feels great on the skin, cotton comforters are direct in their functions which is focusing on comfort. Since cotton material is hypoallergenic, it will be a good option for people with allergy issues.
From the cheaper percale cotton with around 200 thread count that easily wrinkles and is rough on the edges to a high-end cotton comforter with over 600 thread count that may feel even more lavish than silk, you have a variety of choices to consider for your cotton comforter.
Flexible to be used both during warm and cold weather, you can choose a thinner cotton comforter for the former and a thicker-filled one for the latter. The fabric is also both durable and easy to wash.
You only need to throw it in your washing machine and choose the hardest cycle to complete the job. This is only possible though if your laundry room contains a washing machine size that is large enough to accommodate comforters.
Significant features to take note of:
• Wide options to choose from
• Breathable
• Versatile and flexible to be used during warm and cold seasons
• Easy-to-clean (Machine washable)
• Hypoallergenic
Bamboo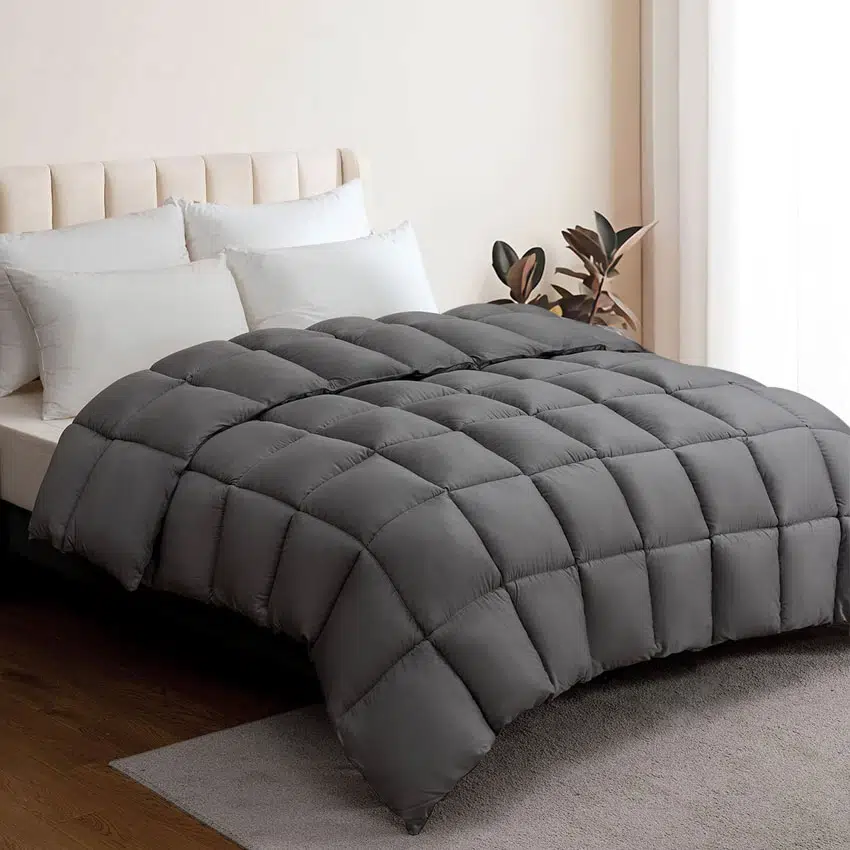 See this bamboo comforter at Amazon [sponsored link]
Bamboo is the material of modern comforters that is considered to have a more delicate composition compared to cotton. The comforter is filled with either down, cotton, or poly fiber, depending on your preference.
This material is considered desirable and popular not just because it's good for all seasons but also because of the other benefits it offers.
The material is lightweight and allows air to flow between the fibers. The fabric also naturally dispels moisture, which means that even if you are prone to sweating when sleeping then this is the comforter you can use to have a good night's sleep.
More than just being antibacterial, this material is comfortable to be used even by people with allergies. Bamboo comforters are also mostly made from recycled bamboo, which means that they are a sustainable alternative to other materials (especially synthetic ones) you can use.
It offers a softness that you typically have to pay more for but only costs mid-range despite its high-end quality. And for convenience, it can easily be washed through a washing machine either at a low temperature or by using cold water.
Significant features to take note of:
• Breathable
• With cooling properties
• Sustainable
• Cost-effective
• Hypoallergenic
• Machine Washable
Down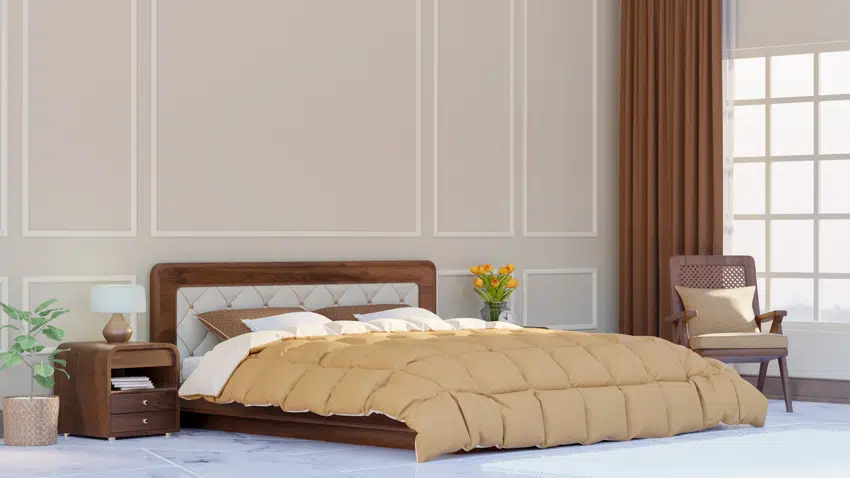 Considered the most traditional comforter style, down comforters can be filled with goose feathers, bamboo, polyester, or cotton. This comforter is known for its efficient insulation but also delivers comfort even on warm nights. Cheaper down comforters have a thread count that ranges from 300 to 600 while high-end ones can reach up to over 1,200.
Despite being known as an insulator, the material is lightweight in nature with airflow freely passing between fibers, improving the comfort that users may enjoy in the process during the warm days yet can provide enough warmth during the chilly nights. They are also hypoallergenic, making them an excellent option for people with allergies and sensitivity to dust mites.
Some down comforters are machine washable but with easy care and only on a delicate setting but some can only be dry cleaned. Since the down comforter is resilient, it can last for a long time given that you take care of it properly.
Significant features to take note of:
• A wide range of options based on the thread count
• Hypoallergenic
• Breathable
• Long-lasting lifespan
• Flexible cleaning
Flannel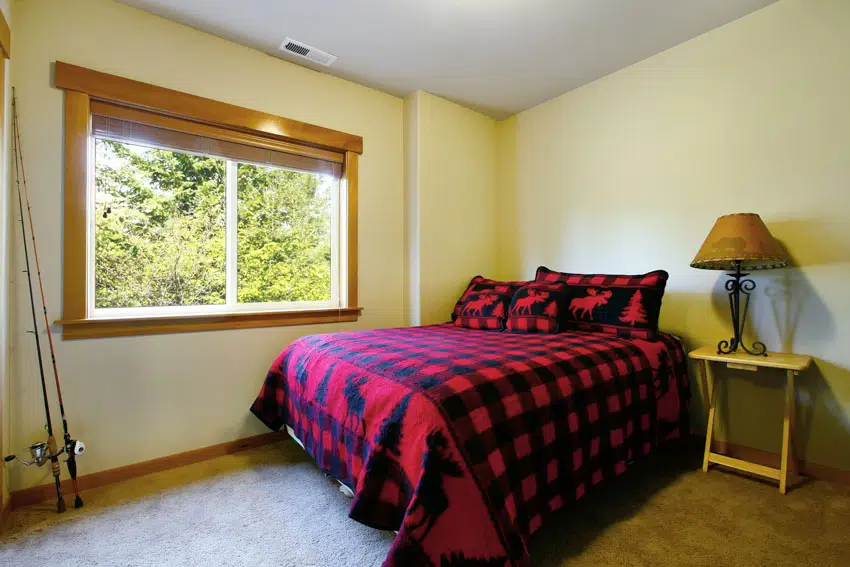 Flannel is the ideal choice if you're going for something rustic or a flair of a country-style ambiance. This stunning fabric may require a lint roller at hand so that you can take out fuzzies in the flannel.
The material has brushed fibers that offer welcoming comfort that feel like a warm hug at the end of a tiring day. It is a down comforter alternative that has an average thread count of 300, making it an excellent option for chilly nights and the cold season.
Always make sure that when you wash it in the machine you separate it from other items and once you dry it by using a low temperature when you do so.
Significant Features to Take Note of
• Machine washable
• Optimal warmth and coziness
• Ideal for cooler weather
Brocade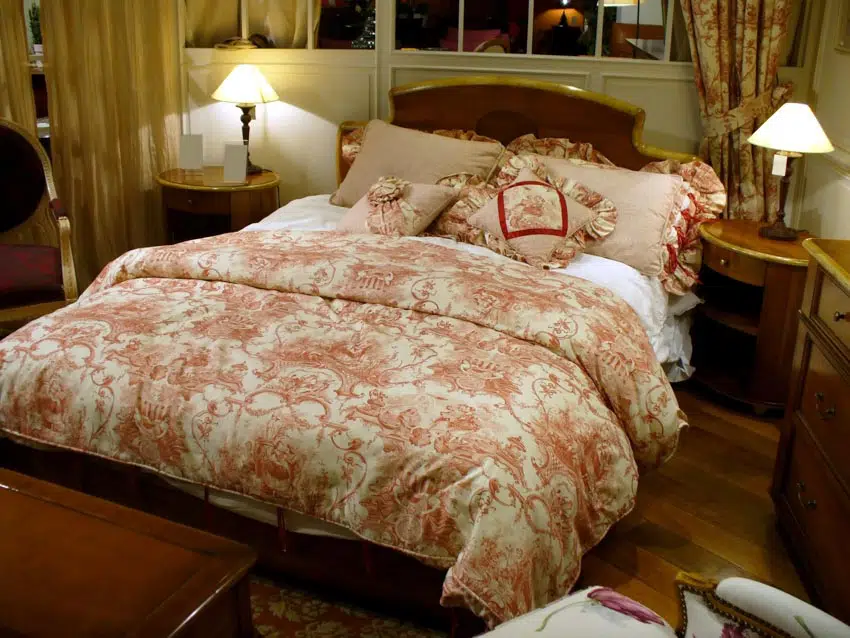 Part of the damask and jacquard family of fabrics, brocade is the go-to material for stunning table linens and elegant textiles. Brocade comforters can be filled with cotton, polyester, or down.
And cleaning and maintaining them depend on the care tags and the type of brocade comforter you have. Most brocade comforters have fabric that often shrinks with water, which is why dry cleaning is recommended. With faux brocade comforters though, you can machine wash it if needed.
While this is considered a heavy fabric comforter with at least a 300 thread count, it is actually a lightweight alternative compared to other traditional heavier fabrics.
And if the filling is made from down, it is then guaranteed to be hypoallergenic. Brocade is also known for patterns and motifs that stand out and are attention-seeking.
Significant features to take note of:
• Ideal for the cold season
• Hypoallergenic
• Elaborate and stunning designs
Fleece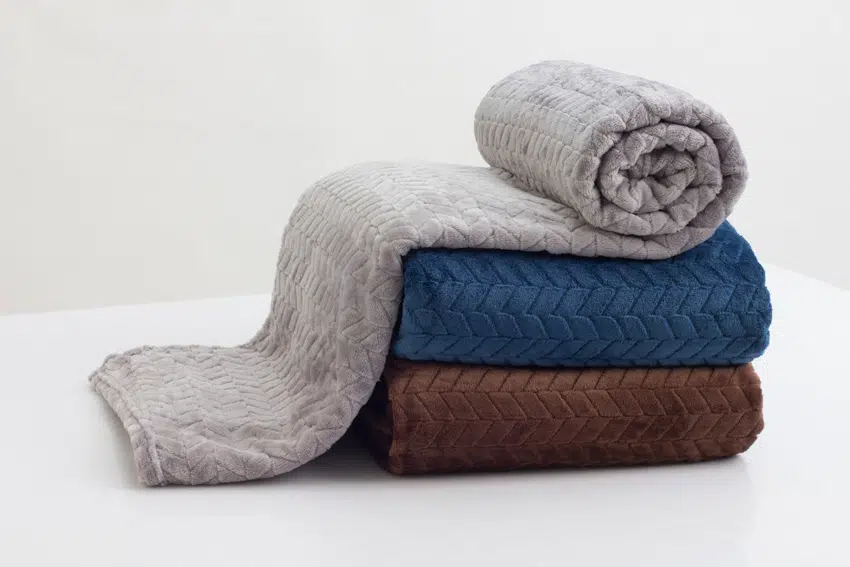 Fleece is a material popular for its textured fibers and soft fabric that can keep your body warm on cold nights. Ideal for moderate to cold weather, it is an excellent down comforter alternative.
Known for being as soft as wool, the material is also breathable, which enables enough airflow that will keep your body cool and regulate its temperature.
The material can be durable and is built to last, which is also why you can clean the comforter using the machine on a tumble dry and cool setting but make sure to treat the stain first before putting it on the machine.
Significant features to take note of:
• A better option than wool
• Long-lasting
• Machine washable
Microfiber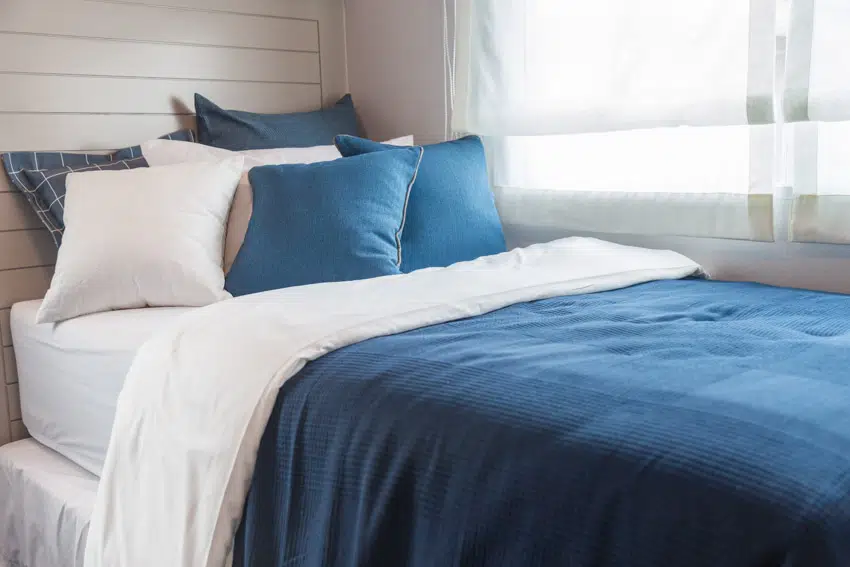 A popular material for cleaning, microfiber is an ideal material for persons that run cold, as well as the perfect fabric for summer temperatures. It is also created from very fine strands of polyester, which makes the fabric incredibly soft. The material is resistant to fading and durable enough that it is able to keep its shape even after multiple washing.
More than just a fabric that feels excellent on the skin, it is also non-irritating and resistant to dust mites making it an excellent consideration for persons who are sensitive and those with allergies. It also allows airflow in its fibers, the fabric is light and reduces moisture buildup.
Significant features to take note of:
• Hypoallergenic
• Breathable
• Long-lasting
Polyester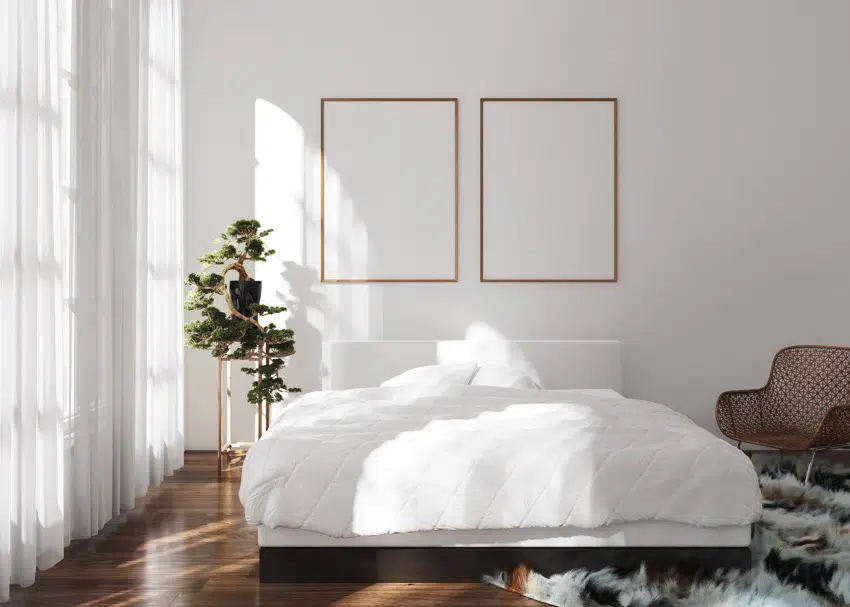 This synthetic material is considered to be an inexpensive alternative to costly natural fibers like wool and silk.
The fabric is lightweight yet durable at the same time but it is also less breathable when compared to cotton and it has an average thread count of 200, making it both durable and fluffy at the same time.
Polyester comforters are excellent at trapping heat but resistant to moisture, which means that you get to enjoy a sweat-free good night's sleep. And since this comforter is easy to find, you won't need to go store-to-store just to buy one.
Significant features to take note of:
• Soft and durable
• Ideal for cold weather
• Easily found in the market
Sateen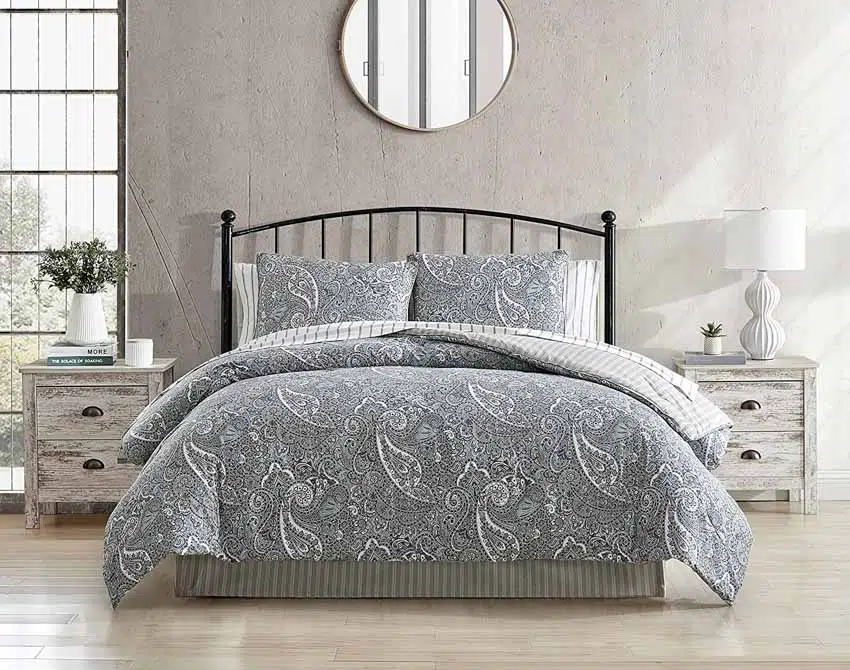 See this sateen comforter at Amazon [sponsored link]
Sateen is a fabric that feels soft and luxurious to touch, softer than weave cotton. Most sateen comforters come with a 300 to 400 thread count. The deal with this fabric though is that you won't enjoy its benefits that long due to its reduced lifespan.
You can expect this kind of softness and luxurious feel you'll experience using sateen comforters with high-priced fabrics but it's not the case. You can enjoy this fabric at an affordable price.
The material is also resistant to wrinkling, which means you won't have to worry about ironing seams and crumples out. And since it is resistant to wear and tear, you can easily wash the fabric with a machine but make sure to separate the comforter from other items and use a mild detergent with cold water.
And while the fabric may have less lifespan, the fabric becomes softer the longer you use it, improving its comfort and experience in general.
Significant features to take note of:
• Cost-effective
• Wrinkle-free
• Machine washable
• Softer over time
Jacquard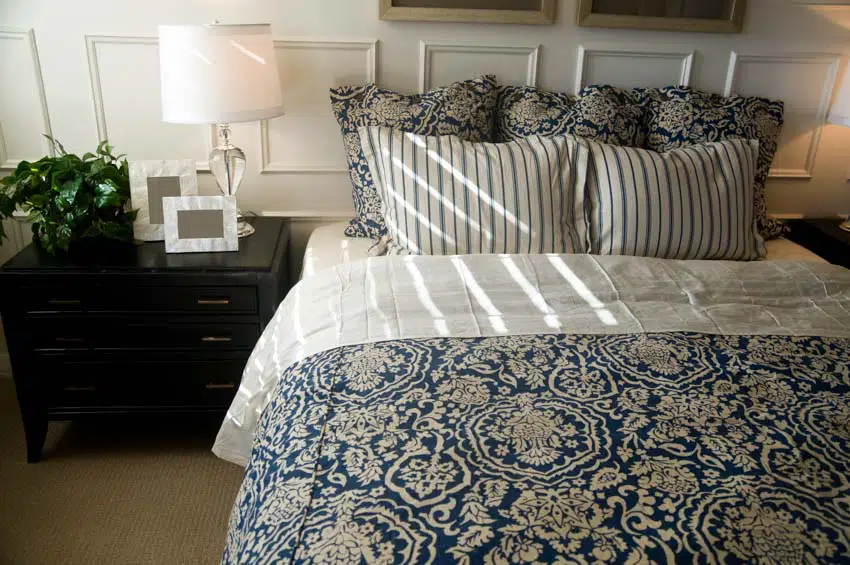 A hybrid of several fabrics in one, Jacquard is a stunning comforter that is perfect for the cold weather. In order to cater to the comforter's filling and support a longer lifespan, cleaning it can only be possible through dry cleaning.
Popular and desired for intricate and unique patterns and designs, Jacquard is a fabric that combines cotton, silk, and linen and weaves them all together.
This is how intricate patterns and designs are created, which is also why it is a good consideration if your bedroom uses Bohemian paint colors. But it will also work as a chic addition to your room if you want to.
If you live in a place where it's usually cold and you're in for warm cuddling in bed, it is a good option. Jacquard comforters are heavy and durable in nature so if you are looking for the same profile, this is the fabric you can check out.
Significant features to take note of:
• Visually appealing and stunning designs
• Heavy and durable
• Chic and bohemian style
Satin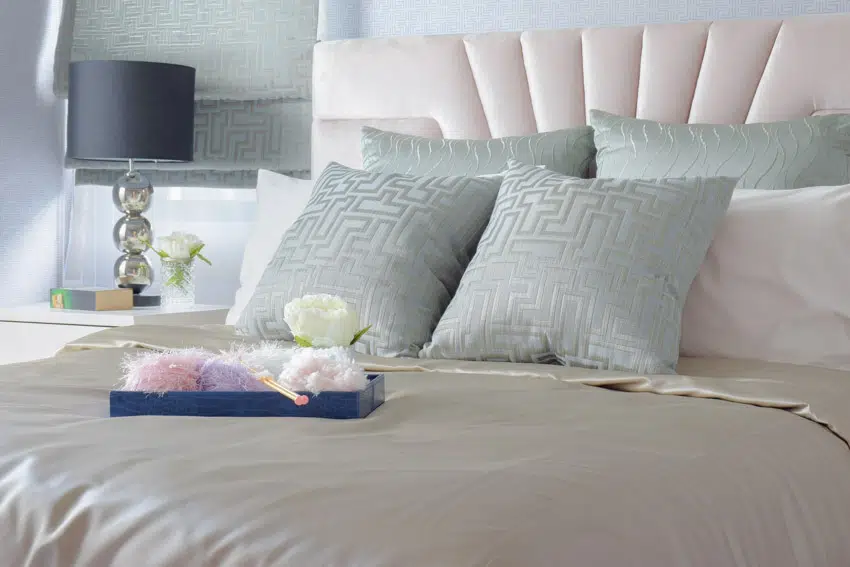 Popular for the luxury it offers, satin also comes with a heavy price tag and a list of benefits you can enjoy. Satin comforters feel soft and smooth to touch so the experience of the comfort of using this fabric is what you are paying for.
The fabric is also hypoallergenic, as well as resistant to dust mites, making it a good consideration for your health. Satin comforter is excellent for warm nights or in places where it's mostly warm since the fabric will help you stay cool all night.
Significant features to take note of:
• Non-irritating and soft-to-touch
• Hypoallergenic
• Ideal for warm nights
Silk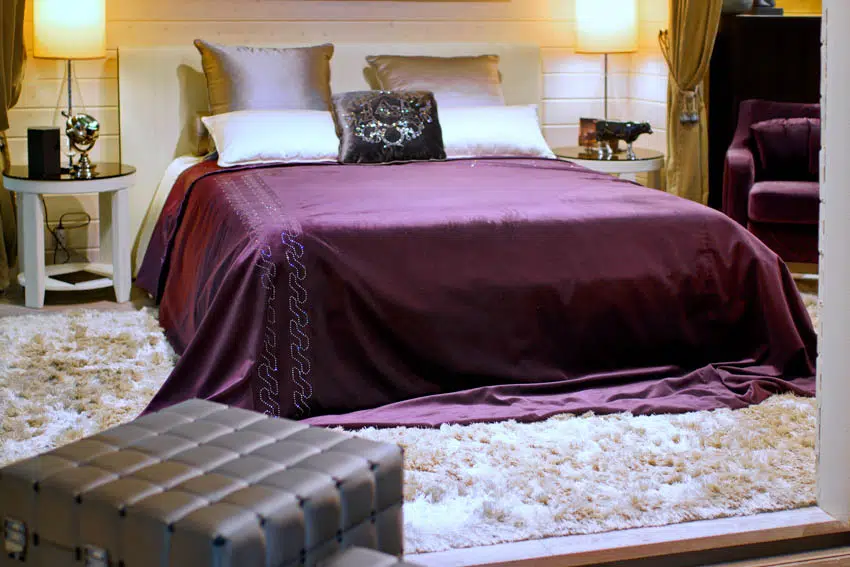 Blending well with lighter fillings, silk is a fabric that's similar to satin when it comes to elegance. Washing the fabric is not an easy feat since you need to hire a professional to do the job for you or a spot cleaning if it's necessary.
Silk is guaranteed to offer this elegant and luxurious aesthetic with a shimmering look and a variety of patterns and colors you can choose from. When you use this in your bedroom, it automatically adds a luxurious experience and aesthetic value to the room at the same time.
The fabric is breathable, which makes it a comfortable material perfect to be used for a comforter. This is also the reason why it is ideal for the summer.
Since they have cooling properties capable of resisting moisture, it is the optimal choice for the summer or for people who have the tendency to overheat and get sweaty when sleeping.
Significant features to take note of:
• Offers a luxurious aesthetic and appeal
• Naturally breathable
• Top comforter choice for the summer
Faux Suede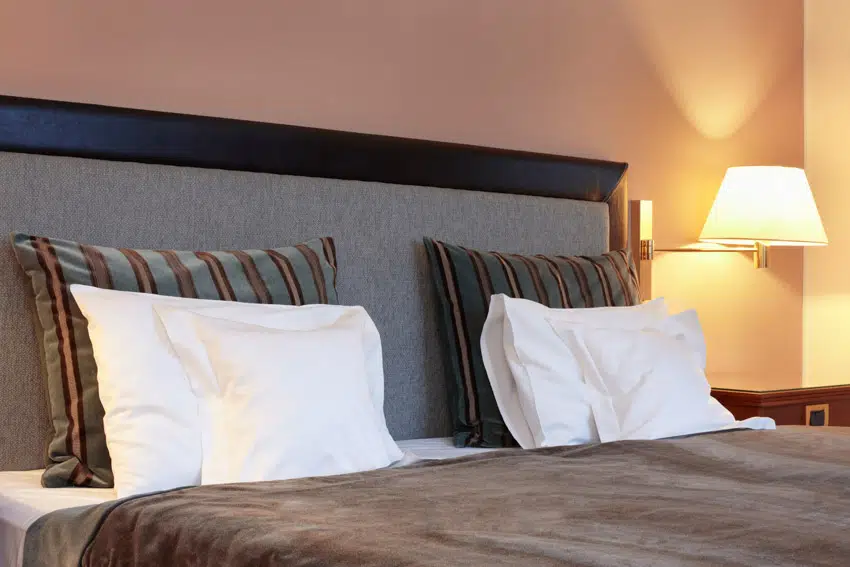 Made from synthetic fibers, faux suede is an animal-friendly comforter that has a smooth surface that's soft to touch. You can use this comforter all year round since it has a thinner profile but provide enough warmth to keep you comfortable.
Authentic animal-based suede is considered one of the softest materials used for comforters but faux suede is not that far in terms of softness and the comfort it provides. It offers this brush and smooth surface that's incredible to touch.
Faux suede typically uses a hypoallergenic filling, which means that it is a good option for people suffering from allergies and sensitivity issues.
Compared to authentic suede that requires dry cleaning, faux suede can be washed using a machine set on a gentle cycle and low temperature.
In addition, it is also way easier to maintain compared to suede since you won't need to make an effort to be too careful when handling the material yet get the same benefits of a rustic appeal when you use this material.
Significant features to take note of:
• Smooth and brushed surface
• Hypoallergenic
• Machine washable
• Easier to maintain
Faux Fur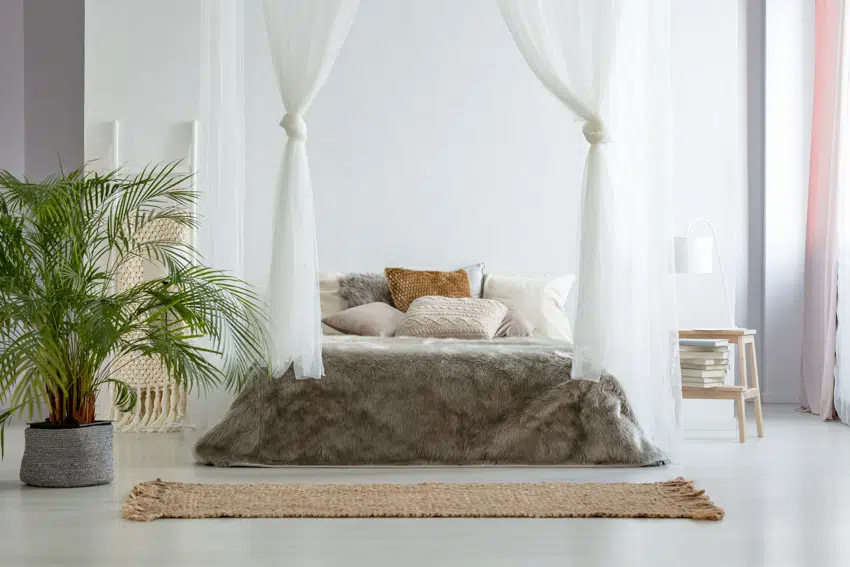 Faux fur comforters have similar characteristics to traditional animal fur but without the guilt and environmental impact of choosing the authentic one. It is known for its luxurious and plush feel that's soft and comfortable to use.
While faux fur may not be authentic, it provides the same function of providing warmth to get through a cold night. It offers a comfortable and warm sleeping experience during the winter.
This is not a good option when the weather is hot so you can put it away during the warm season and take it out when the weather gets cold.
Faux fur is durable enough to be machine washed but just make sure to use a mild detergent and set it on the gentle cycle so that the fabric can last longer.
Significant features to take note of:
• Ideal for the cold weather
• Machine washable
Wool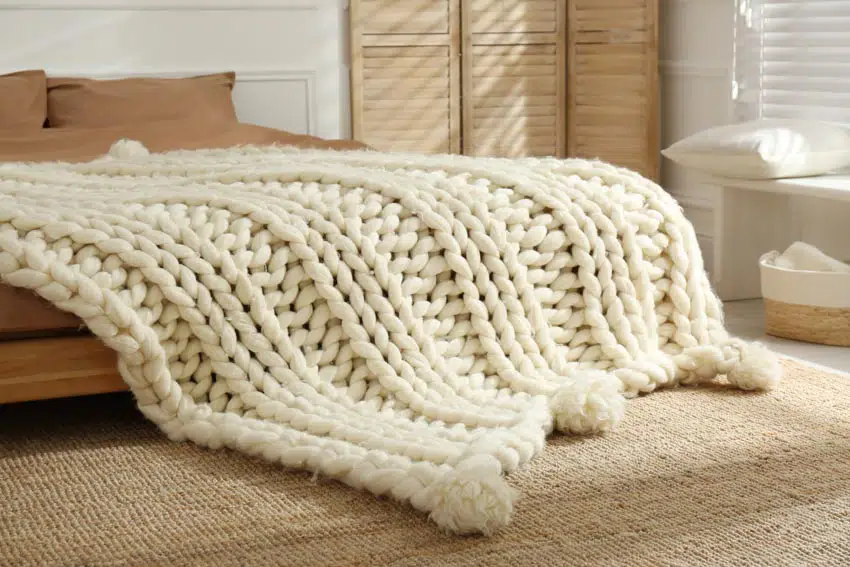 Wool comforters are popular during the winter and if you can enjoy rough and coarse texture then this is a good option for you. This fabric is excellent for cold weather because of its heavy fibers capable of regulating your body's temperature.
And they can also provide you with a night of restful sleep, not just because it's warm during the winter but also because of their cozy and comfortable texture.
Wool can come in a variety of designs and colors, making it a versatile material you can mix and match with the current aesthetics and style of your bedroom. This will be an excellent material to match with other elements you have in your bedroom.
Wool can either be hand washed or machine washed, depending on your preference. It is durable enough to take a few spins in the washing machine but make sure that you use a wool detergent and set it on the gentle cycle. One drawback of washing wool comforters is that they take a long time to dry.
Significant features to take note of:
• Ideal for the winter and cold weather
• Offer a wide variety of options
• Flexible washing (Hand-washed or Machine washed)
• Improves restful sleep
Linen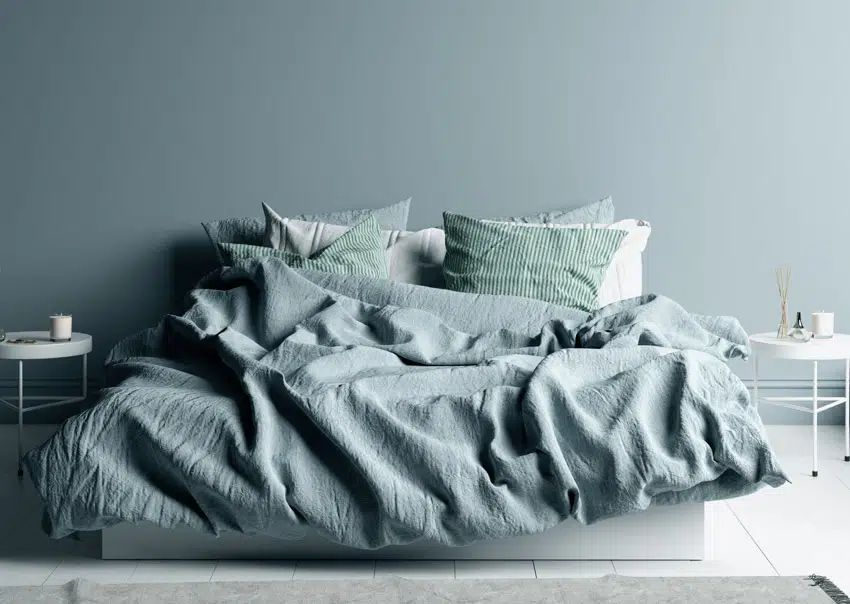 A linen comforter can use either a down filling or poly-fiber filling. It has thicker fibers when compared to cotton. Make sure you find a linen comforter with a thread count of 1000.
Linen naturally regulates body temperature, which is how the comforter is able to provide warmth in the winter yet keep you cool during the summer. Besides that, they also have both antibacterial and anti-static properties you can make the most of.
Linen is machine washable but in order to maintain its quality and preserve its life, use a mild liquid detergent with cold water. Avoid using a powdered detergent for best results.
Significant features to take note of:
• Usable for all seasons
• Antibacterial properties
• Machine washable
Popular Filling Options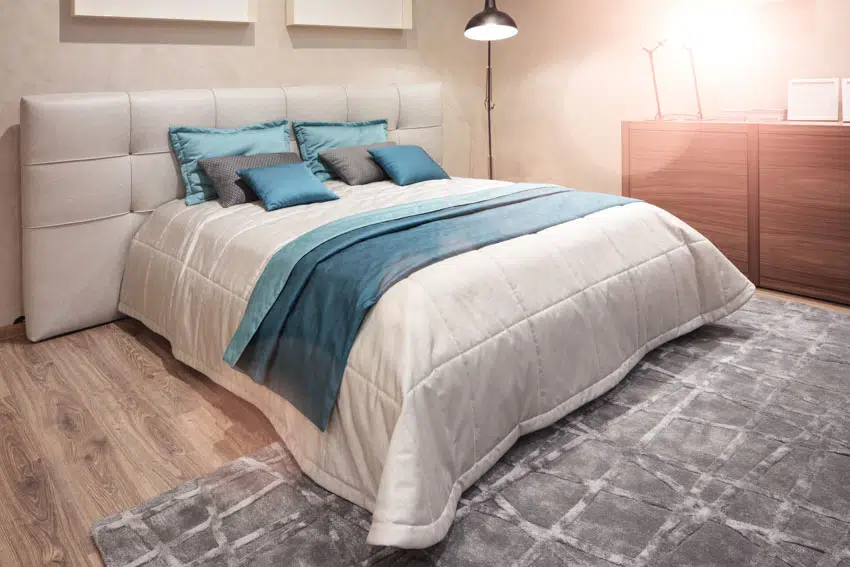 Normally, you use a comforter to keep you warm on a chilly night and one of the elements that will make this possible is the comforter's filling. A comforter fill material can either be a down or alternative down, and the choice will be up to your preference.
The down filling includes fluffy and lightweight clusters of underbellies and breasts of fowl, geese, and ducks. This filling is capable of trapping air into the pockets in order to provide warmth despite the comforter being light.
The alternative down filling can be made of cotton, wool, polyester, and other materials. It offers the same insulating characteristic as the other down filling. Since it uses synthetic fibers, the big advantage that the down alternative has against down is that it is hypoallergenic.
What Is Fill Weight for Comforters?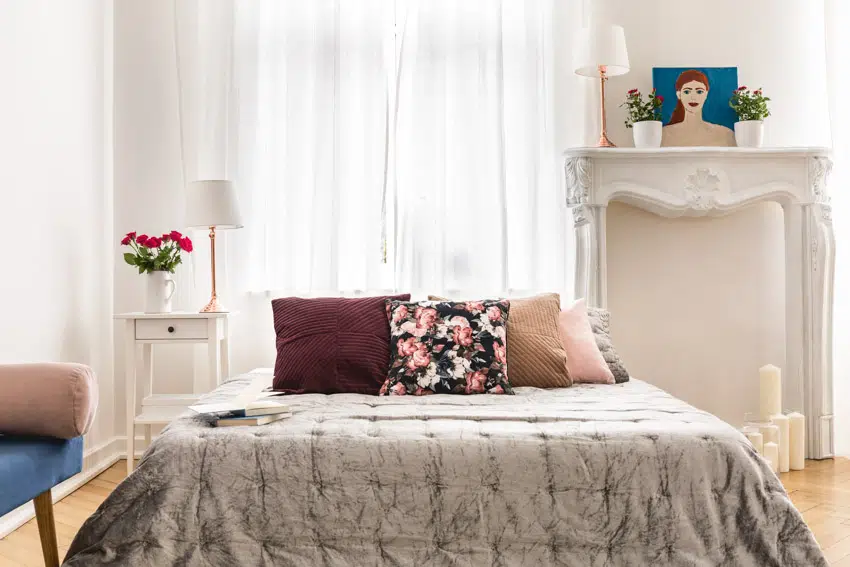 A comforter fill weight is the measurement of ounces of down that can fill a comforter. The comforter fill weight contributes to the warmth rating or the level of warmth that a comforter can offer when used, along with the fill power. The fill power is the space in cubic inches that down occupies and the air that is trapped. These are two different factors that contribute to the warmth that the comforter provides.
The most common weights are all-season weight, heavy weight, and summer weight. These identifications are normally assigned with numbers, which typically run from 200 to 1000.
How to Determine Filling Weight
The fill weight of comforters ranges from 200 to 1000, depending on the ounces of down used to fill the comforter.
| | |
| --- | --- |
| Comforter Filling | Fill Weight |
| Summer weight | Below 400 |
| All-season & year-round weight | 400 to 600 |
| Heavy weight | 600 to 900 |
| Extra heavy weight | Over 900 |
Summer weight comforters have a fill weight of below 400. They generally don't provide a lot of warmth, making them a good option on warm days. All-season weight comforters range from 400 to 600 fill weight, which is what most people prefer.
And finally, 600 to 900 is for heavy weight and can be used for cold conditions. And finding comforters with over 900 fill weight is rare and won't be comfortable to use even during winter.
Weight Chart for Down Fill Material
Down is the best insulator that nature has to offer and they can come from ducks or geese, depending on what you prefer. There are different types of down filling used as a comforter fill material, including goose feather, duck feather, and down and feather blend.
Goose down is the most common filling material for down comforters. White and gray goose feathers are the most common with the white ones the most used as comforter shells since you can't see through white. It is the filling material that's considered expensive because of the difficulty of acquiring the materials.
Duck down on the other hand uses duck feathers and offers less warmth compared to goose down. But this also makes the material more affordable than goose down.
The duck and feather blend combines both down and feathers, which consist of both the undercoat of the bird and the feathers. This mimics the softness of a pure feather comforter but is more affordable than one.
More than just fill weight, the insulating power of down is measured through fill power, which measures in ounces the volume that down takes up.
While fill weight can be used for alternative down filling, fill power is only limited to down filling. Comforters with higher fill power mean they have better insulation and offer more warmth.
| | |
| --- | --- |
| Fill Power | Description & Quality |
| Over 750 FP | Superior quality with incredible insulation |
| 600 to 750 FP | Good quality with high insulation |
| 450 to 600 FP | Medium quality with regular insulation |
| 350 to 450 FP | Low quality with low insulation |
| 200 to 350 FP | Very low quality with limited insulation |
Comforter Stitching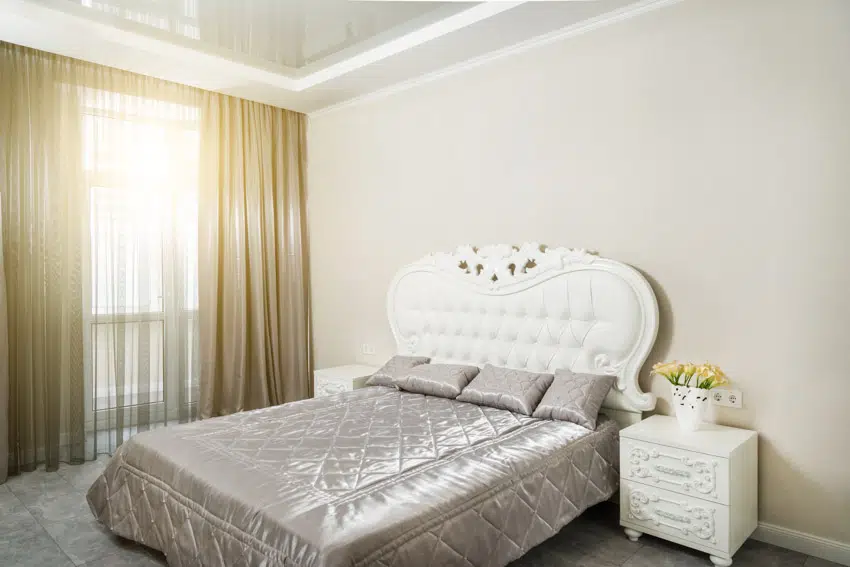 More than just the fabric and the filling of a comforter, it is also necessary to consider the stitching and how everything is put and held together. This is called the comforter construction, which typically pertains to the interior's extra stitching that helps avoid dead spaces and lumps.
This aspect of a comforter will influence your general experience and comfort when using the comforter.
Box Stitch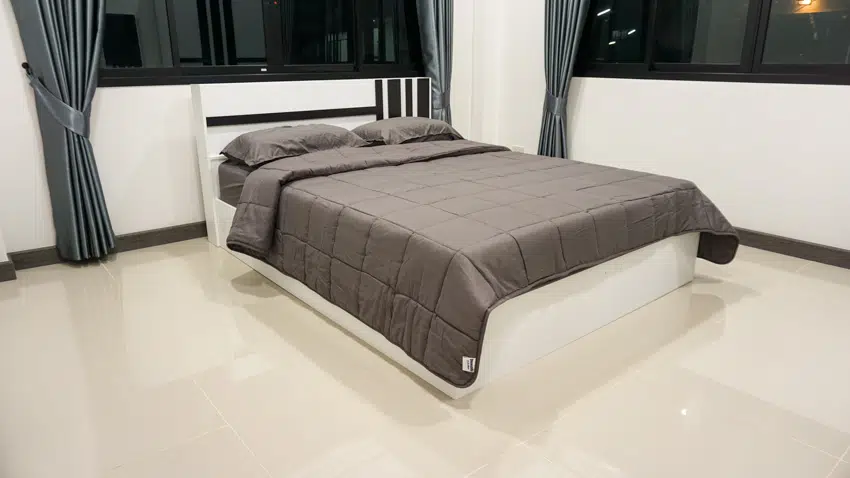 Box stitch refers to the construction of a comforter that involves two large sheets of fabric to be sewn around the comforter's outside perimeter and then filling the pocket with down. And then it is again sewn or quilted in a square pattern, which is where it got its name in the first place.
Considered better than the Baffle Box construction, this kind of stitching allows the comforter to have even warmth and is even offered at a more affordable price. The downside though is that the down filling is to its fullest capability when inside this construction.
Channel Stitch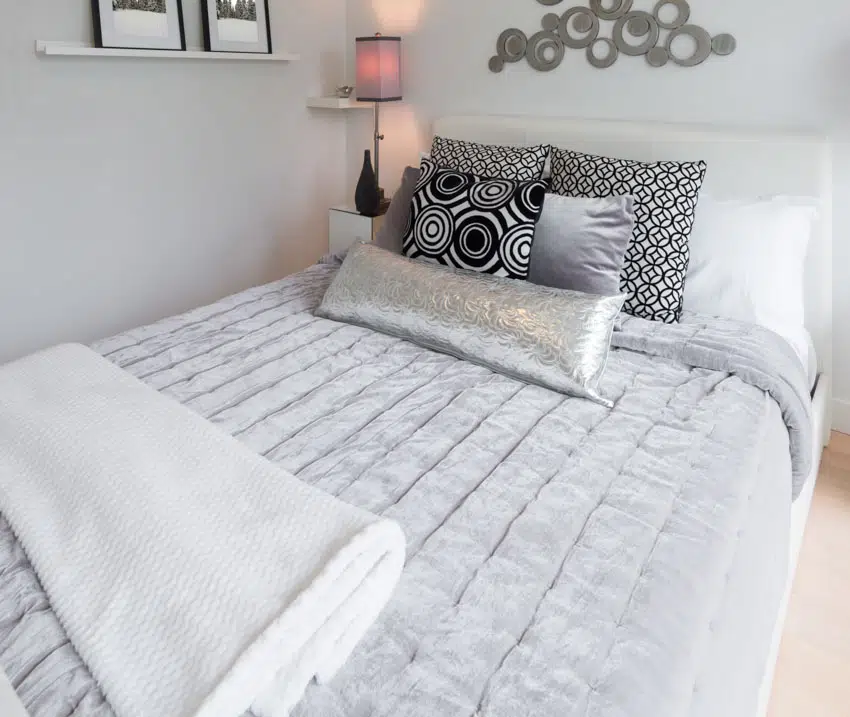 Channel stitch is a comforter construction that involves parallel stitched rows in contrasting colors across the comforter. These stitches also act as decorative details of the comforter, which can add value to your room's aesthetics if you choose this construction. This is also a good choice if you like stripes and love seeing things clean and more organized.
By using this stitch, the comforter has parallel channels filled with down, allowing the shifting of down from one side to another, depending on your preference.
The hassle that comes with this construction is that if you choose a lighter filling like cotton or synthetic fibers, the channels won't be able to keep them in place.
Baffle Box Construction
Baffle box is one of the most common comforter constructions used and this involves creating pockets where the down can be filled. The down materials in these pockets are divided by fabric inside the comforter that act as vertical walls to connect the top and bottom of the comforter. This allows the comforter to have a smooth top look and more height and maximum loft.
The baffle box construction can have a rhomboid pattern or something similar to honeycombs. This construction is the most expensive option among its types and it is the go-to option for expensive fabrics like silk.
It is the best construction that can guarantee to keep everything in place since it is capable of holding all fill weights. And since it evenly distributes fill material to the comforter, you will find minimal cold spots. It also offers a longer lifespan compared to other comforter constructions.
The downside that comes with a baffle box construction is that fill material may migrate from one box to another, which may then cause cold spots. It can be difficult to tend to, especially since they can get puffy and need camouflaging.
Sewn Through Construction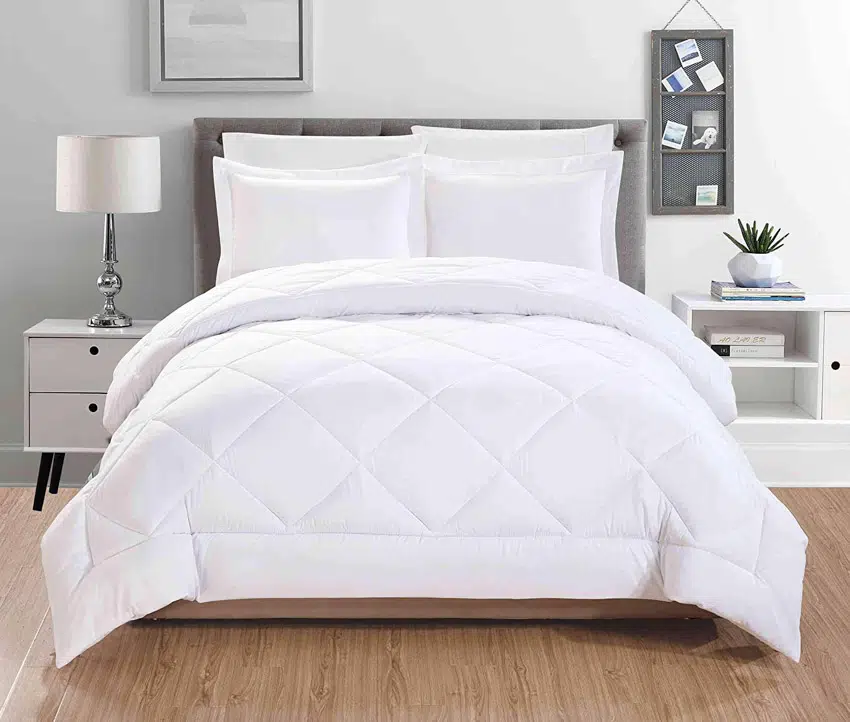 See this white geometrical comforter set at Amazon [sponsored link]
Sewn-through construction refers to when the stitching creates pockets that go through both the top and bottom layers of the comforter. These pockets will be filled with down and create fluffy and pillow-like aesthetics when looking at it from the top.
Compared to a baffle box, this construction creates individual pockets that keep the fill in and evenly. And since the layers are stitched together, the fill material won't be able to migrate from one pocket to another.
While laying flatter compared to a baffle box comforter, sewn-through offers more breathability that makes it a good option for warm nights and hot sleepers. A sewn-through comforter is lightweight and incredibly easy to layer with other types of blankets and bedding.
Sewn-through comforters hold lower fill powers though and can feel thin and too lightweight. The individual pockets avoid cold spots but they can form at the seams.
Quilt Stitched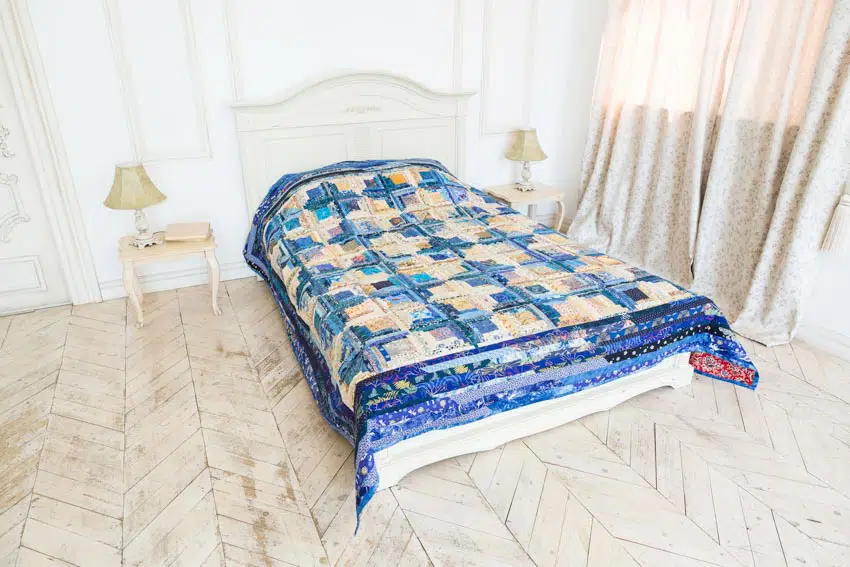 A quilt stitched comforter is considered a beautiful option for construction having a similar appearance to a baffle box comforter, with the same checkerboard stitching.
The big difference though is that it doesn't use fabric baffles inside to keep the fill material in check. It can also only accommodate lower fill power that won't need to be used for maximum warmth and loft.
Quilt-stitched comforters are the more affordable alternative to baffle box comforters. They have a variety of designs and patterns you will enjoy using but most may only be compatible with summer patterns and styles.
Ring Stitch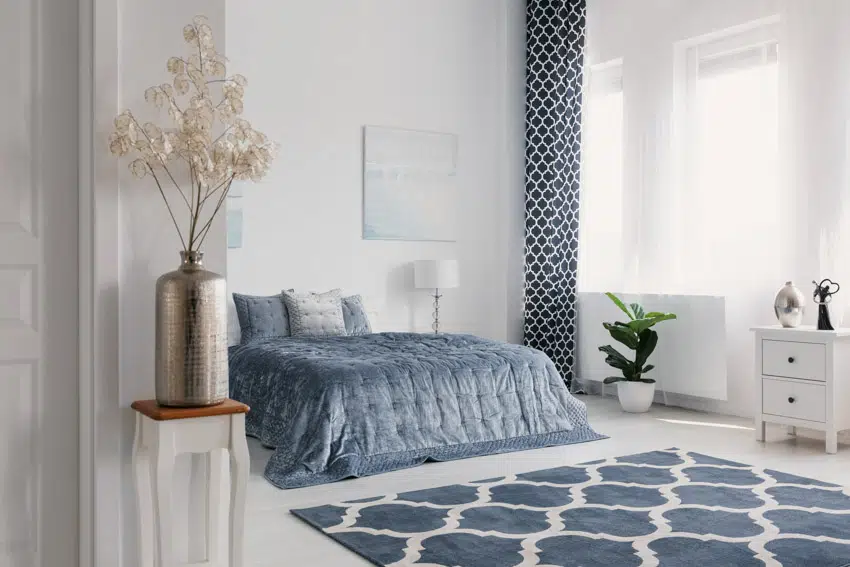 Ring stitch construction, unlike the rest of its kind, uses circles rather than squares. This construction is also known as "button-tufted" since the tacking and pockets are round, developing a uniform look.
The major downside of this construction is that the fill material may move around within the comforter and even reach the ends. This ends up with a comforter filled with cold spots and uneven spaces.
Thread Count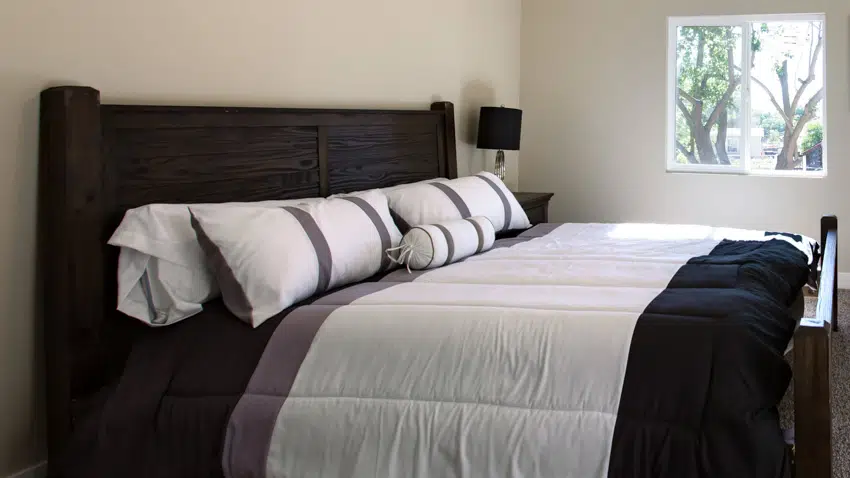 Thread count is a basis of a fabric's quality, not just when it comes to bedding but also for blankets and comforters. It refers to the number of threads woven together that a fabric literally has within a square inch.
Most of the time, a high thread count means that the fabric is woven more tightly and has fine threads and no spaces in between. This also means that the fabric is more durable and offers optimal comfort for sleeping.
But this would all be a moot point if the construction is poor and a high thread count may point towards heavier fabrics. The perfect middle ground with thread count is at 230 to 500 for a lightweight and luxurious balance.
Thread count is also a relevant consideration when choosing a down comforter. A fabric with a higher thread count will be able to keep down together better and more effectively.
This will then contribute to the softness of the comforter, improving the comfort and warmth it provides. For a comforter, the happy middle is at least 300 when it comes to thread count.
Comforter Sizes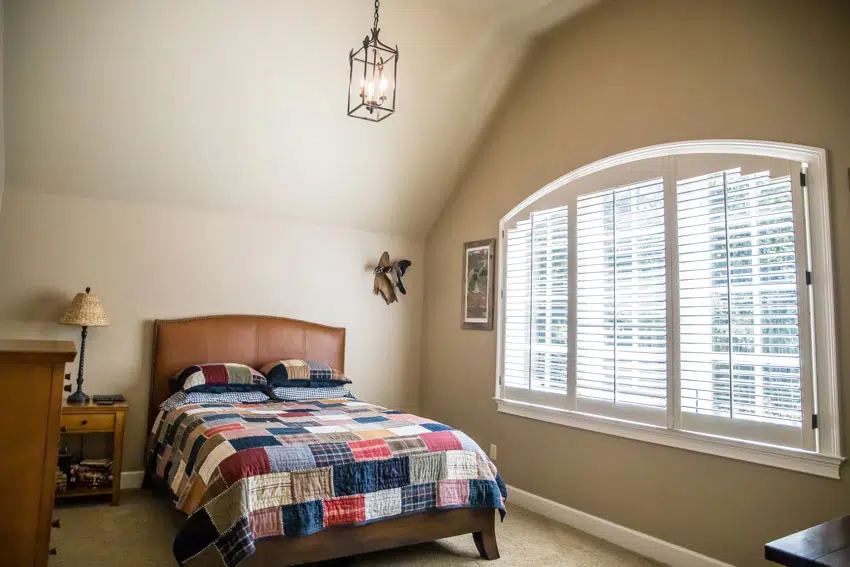 Besides fabrics, constructions, and thread count, comforters also come in a variety of sizes. It is important to match the size of your comforter to your bed and bedding.
While choosing a smaller comforter is a bad decision, some believe that going for a size bigger than your bed can create a more luxurious look since the comforter can drape elegantly over your bed.
Besides aesthetic appeal, draping the comforter over the sides of your bed will also trap your heat better so it would be a good option for winter nights. It is also an incredible option for cuddling and sharing.
Using similar terms and sizes with different types of mattresses and beds, here are the comforter sizes you can consider:
| | | |
| --- | --- | --- |
| Size Name | Widths (inches) | Lengths (inches) |
| Twin | 66 to 68 | 86 to 88 |
| Twin XL | 68 | 90 |
| Full (Double) | 81 to 84 | 86 to 88 |
| Queen | 86 to 88 | 96 to 100 |
| King (Eastern King) | 102 | 86 to 88 |
| California King (Western King) | 107 to 110 | 96 to 98 |
These are only the basic sizes you may encounter in the market but there are other sizes like Crib, Oversized Queen, and Oversized King. Read more about bed sizes here.

How to Choose a Comforter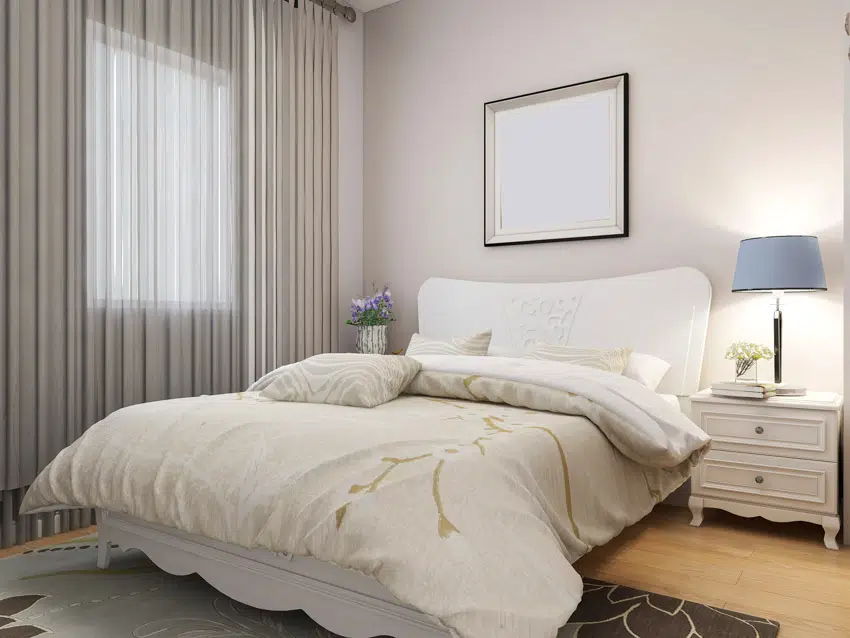 In choosing a comforter for your bed, going for the one that's has the most aesthetic appeal can be tempting but there are factors you have to consider to come up with a more informed decision.
These factors for choosing a bed comforter include but may not be limited to the following.
Fabric: Consider the material that the fabric of the comforter is made of, not just because of aesthetics but also for a functional reason. If you want to go all out and get a luxurious sleep, go for silk or Egyptian cotton.
While silk needs to be dry cleaned, Egyptian cotton is machine washable and both fabrics feel fantastic to touch. If you're still undecided though, weigh the pros and cons of each fabric.
Fill Material: When considering fill material, you can either go for the down or down alternative. Down refers to animal-based materials, including feathers and undersides of geese and ducks while down alternative refers to synthetic fibers as an alternative to the filling.
While down may be softer and provides better insulation, the down alternative is more affordable, easier to clean, and guaranteed to be hypoallergenic.
Fill weight and fill power are both under the category of fill materials so would also need to consider these two factors. Fill weight is the actual measurement of filling inside the comforter while fill power focuses on the air trapped in the comforter. Bear in mind that the higher the fill weight and fill power, the more insulation the comforter offers.
Construction: Construction is the way that the fabric and fill material are stitched and kept together. This will be an important factor to decide how long the comforter lasts and how even the fill material will be inside the fabric.
The two most popular and common constructions are baffle-box and sewn-through constructions but you can always check out other options if needed and preferred.
Thread Count: Thread count is an indicator of quality for comforters. If you choose a comforter with a higher thread count, this means you are choosing a softer and plusher comforter compared to one with a lower thread count.
When it comes to thread count, 300 is the number you should always remember when it comes to choosing a comforter. Don't choose anything less than 300.
Comforter Size: Size matters even with comforters and you should know the different sizes you can choose from. Along with choosing bed sizes, you should also go for the appropriate comforter size that will match. Make sure you don't choose a comforter that's smaller than your bed.
Washing Instructions: You will be responsible for the cleaning and maintenance of your comforter so, of course, this is an important consideration to take note of.
If you don't have the time and budget to have your comforter dry cleaned, make sure to read the care label for cleaning instructions and go for something that's machine washable.
Best Materials for Comforters
Deciding on the best type of comforter material lies on your needs and preferences. You will need to take into account the characteristics you want to prioritize in the process. Cotton, silk, and wool are the best comforter materials for fabrics while the best type of filling is a down alternative.
Down alternative filling is more animal-friendly since you won't need to rip feathers off of ducks and geese to ensure the softness of your comforter.
Best Fabric For a Comforter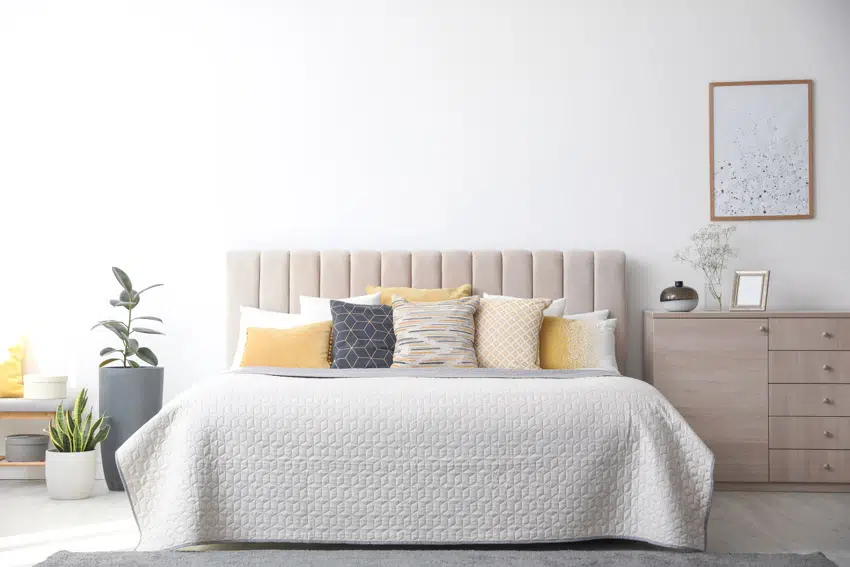 Deciding the best fabric that a comforter should have can be debatable. Preferences vary and so are your needs and comfort. But the most common fabrics that people prefer their comforters to have are the following:
• Wool is a fire-resistant natural fiber that's a perfect fabric to keep you warm during the winter nights and since it allows excess heat to escape, you won't feel wet and sweaty
• Silk is a fabric known for its luxury and smooth texture, which is what draws people to this fabric for a comforter, in addition to its lightweight, breathable, and hypoallergenic characteristics
• Cotton is considered the most used fiber and offers a soft and smooth feeling on your skin that also has a cooling effect on your body since the fabric is breathable and moisture-resistant
Choosing Comforter Warmth Levels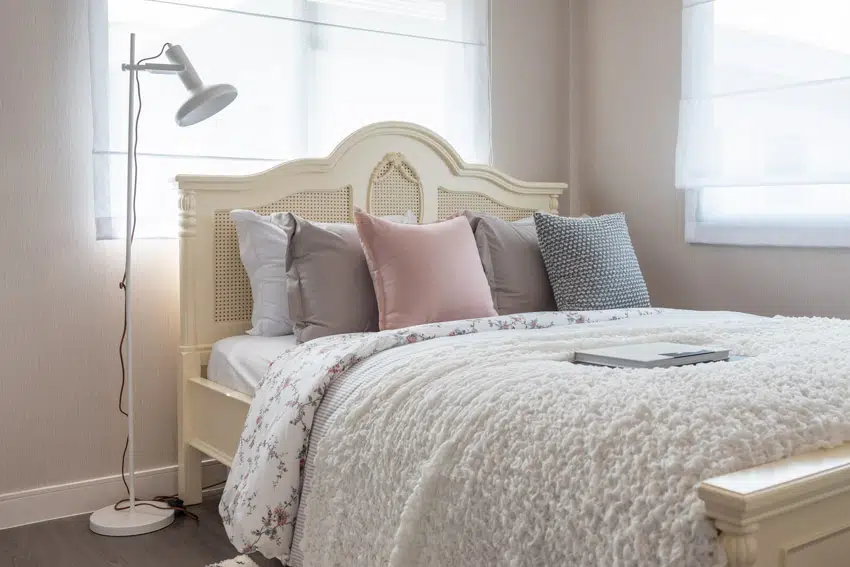 Choosing a comforter will include considering its warmth level and your decision will depend on where you are living and the climate you usually experience. Here are the warmth levels you need to take into account:
Warmth Levels
Descriptions

Super light

Usable in a room with a temperature of

74°F or above

Light

Usable in a room with a temperature of

69°F to 74°F

Medium

Year-round option and usable in a room with a temperature of

65°F to 69°F

Extra

Usable in a room with a temperature of

62°F to 65°F

Ultra Extra

Usable in a room with a temperature of

65°F and below
Best Breathable Comforters for Hot Sleepers

Comforters for hot sleepers need to be breathable in order to avoid sweaty and wet nights. For hot sleepers, overheating is a normal experience every night. Cuddling may be a herculean task, especially if you choose the wrong type of comforter to use.
But it's not too late and if you choose the right type of comforter, you can still enjoy a good night's sleep.
Here are the best types of comforters for hot sleepers:
• Cotton comforters
• Linen comforters
• Bamboo comforters
These comforters are made of materials that are breathable and while they retain body warmth, they allow air to pass and excess heat to escape. This allows even warmth without hot spots to worry about.
Best Type For Cold Climates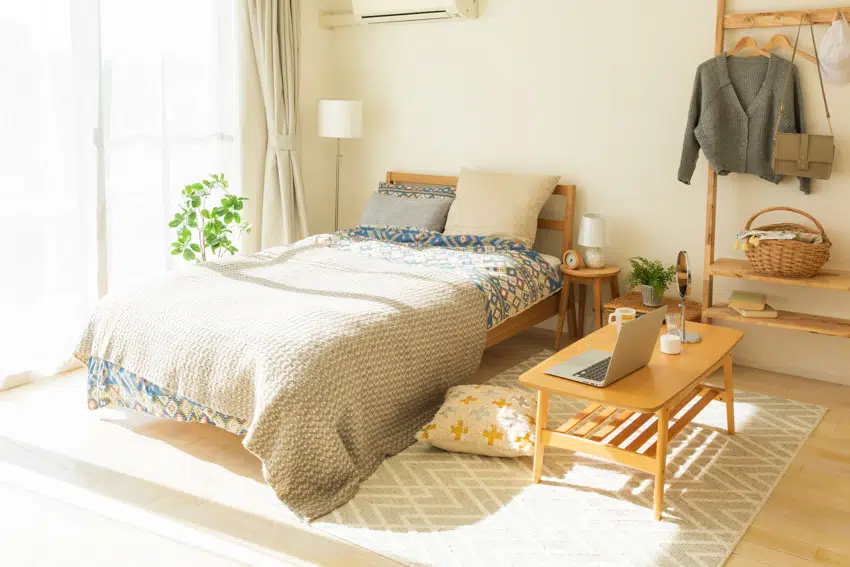 The best nights in winter are the night when you're cuddled in your bed with a comforter warming you up but are you using the best type of comforter for the cold weather?
• Sateen comforters
• Brushed cotton comforters
• Wool comforters
These comforters, while heavy and retaining heat, are still breathable. Another important factor is the down filling responsible for the warmth it provides. Make sure to check the warmth level and go for extra and ultra extra warmth if necessary.
What Type Of Comforter Do Hotels Use
Comfortable accommodation is the primary offer that hotels make sure to have. This can be shown through the room and bed they offer. And their comforter is known to deliver the best comfort that will make you want to stay longer. But what comforters do hotels use?
Cheap and mid-range hotels may only provide a blanket but for those that offer comforters, most will be affordable polyester fabric with down alternative fills. From some mid-range to luxury hotels though, they stick with 100% cotton covers with down fills.
When it comes to hotels, you have to pay for the comfort you think you deserve and more expensive accommodations demand more comfortable and luxurious comforters.
How To Clean A Comforter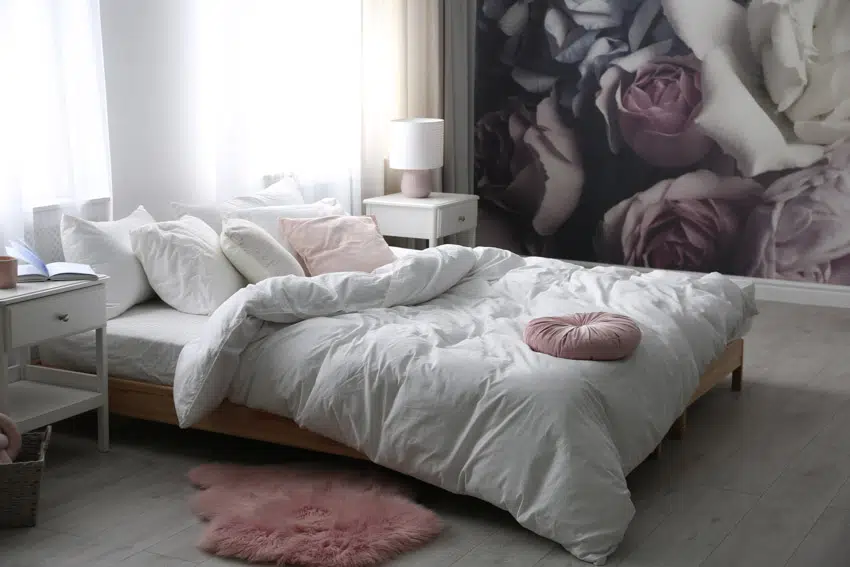 Cleaning your comforter will all depend on the type of comforter you are using. Make sure to check the care label for cleaning and maintenance instructions since while some are machine washable, there are fabrics that can only be dry cleaned.
To help you with this chore, here are basic tips on how you can clean your comforter.
1. Wash your comforter separately from other items and make sure that it fits your machine
2. For comforters labeled as delicate, use mild detergent and warm water
3. Never bleach or iron your comforter
4. Do not machine wash if the thread count is over 300 and if your comforter is sateen
5. Shake and fluff your comforter using the dryer and setting it on low
What Are The Thin Comforters Called?
Thin comforters or a flat version of a comforter is also known as a duvet. Duvets, while also filled with either down or down alternatives, are not stitched or quilted. While comforters have these pillow-formed shapes, duvets are smooth and straight.
Compared to comforters though, they provide less warmth but just enough to keep you cozy at night. Duvets have two parts, which are the interchangeable covers and quilted inserts. While comforters have everything stitched together.
See more related content in our article about the different bed sheet sizes on this page.