Gallery of different types of kitchen curtains including popular styles like cafe, valance, shades, panels, header types and how to measure curtains for the kitchen.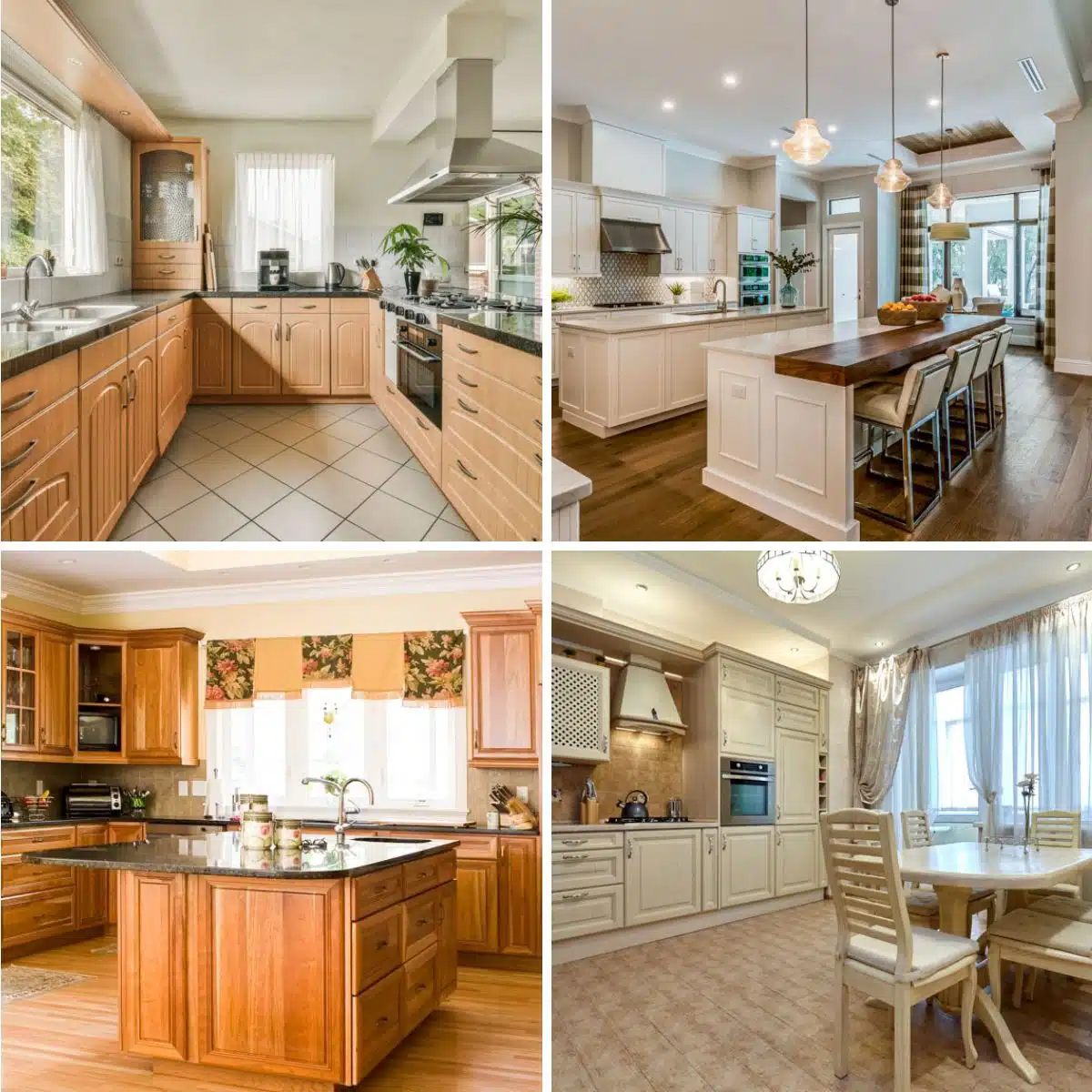 During kitchen renovations, one thing that homeowners tend to fixate on is the different furniture pieces and appliances included in the layout. Interestingly, very little thought is often given to the types of kitchen curtains to use for their interior design.
Kitchen curtains are essential, and identifying which type will fit into your specific design theme is even more so. Knowing your choices will help you better identify the remodeling options during your kitchen redesign or upgrade. When you know what colors, fabrics, and designs to consider, you'll be able to achieve a cohesive look with your design.
A great design decision isn't just about how great it looks, you also must consider the budget target you've set out for your kitchen renovations. We've gone ahead and done some research so you can quickly and easily see each kitchen curtain type to find the best one for your needs.
Quicklook: Different Kitchen Curtain Types
• Cafe
• Half Window
• Full Window
• Valance
• Shades
• Sheer
• Pull Down Shades
• Floor Length Curtain Panels
Cafe Curtains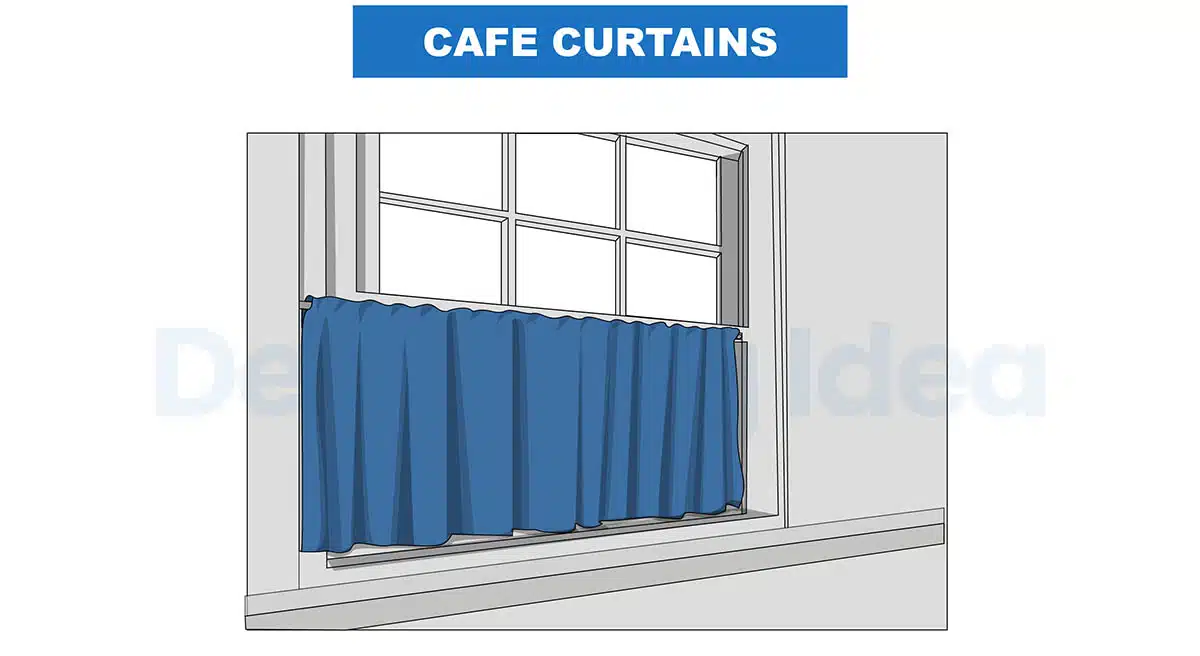 One of the most common types of kitchen curtains available is café curtains. They're usually made out of polyester, linen, or some type of sheer material. They're characterized by pleats that are usually at the top part.
Café curtains are lightweight and see-through. They're typically seen hung from big rings. The rods are also installed halfway down from the window, covering only its lower part. Café curtains were inspired from how roadside cafes back in the past would cover their windows; which is also where the name came from.
Half Window Curtains
Half window café curtains are the typical type of café curtains you usually see, only covering the bottom part of the window. This allows it to blend with the rest of the kitchen window easily and ultimately with the rest of your kitchen design.
They also come in a lot of different designs and colors that you can choose from. If you want to keep your window attachments as lightweight and bright as possible, then half window café curtains should be considered.
Full Window Curtains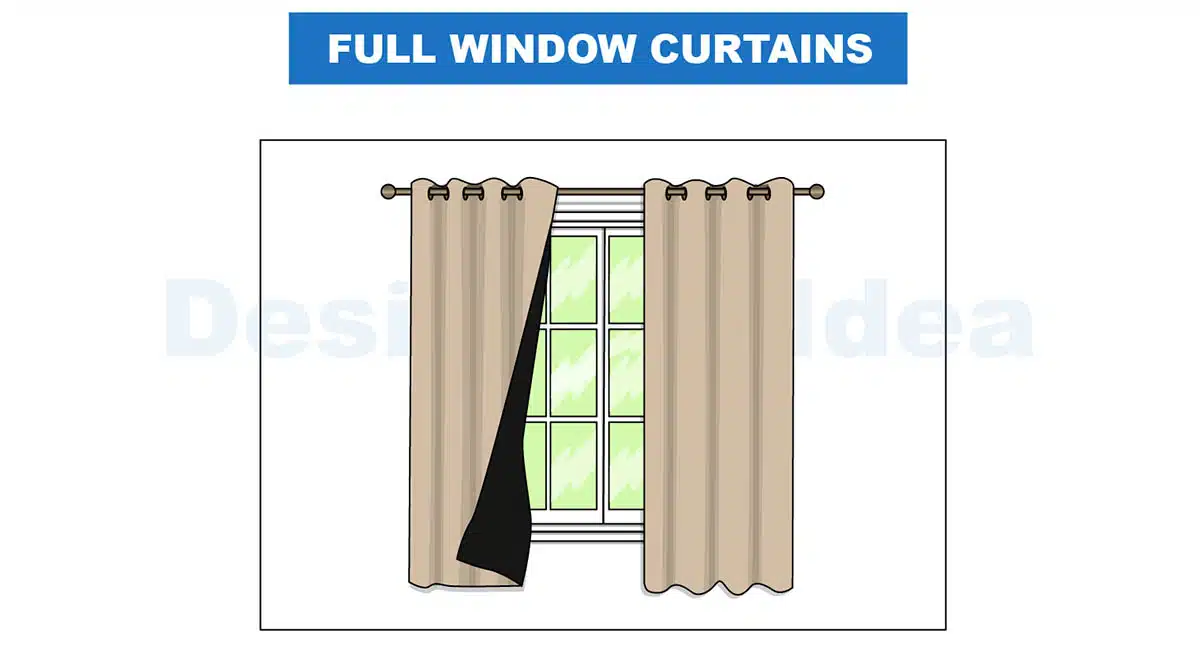 Full window café curtains are care curtains that are considered the lengthier variety. They're usually around 45 inches long.
They oftentimes cover the entire window space, so if you're the type who prefers privacy above all, then full window café curtains are definitely for you. They're also hung close to the top or right at the top because of their length and ability to cover an entire window span.
Valance Curtains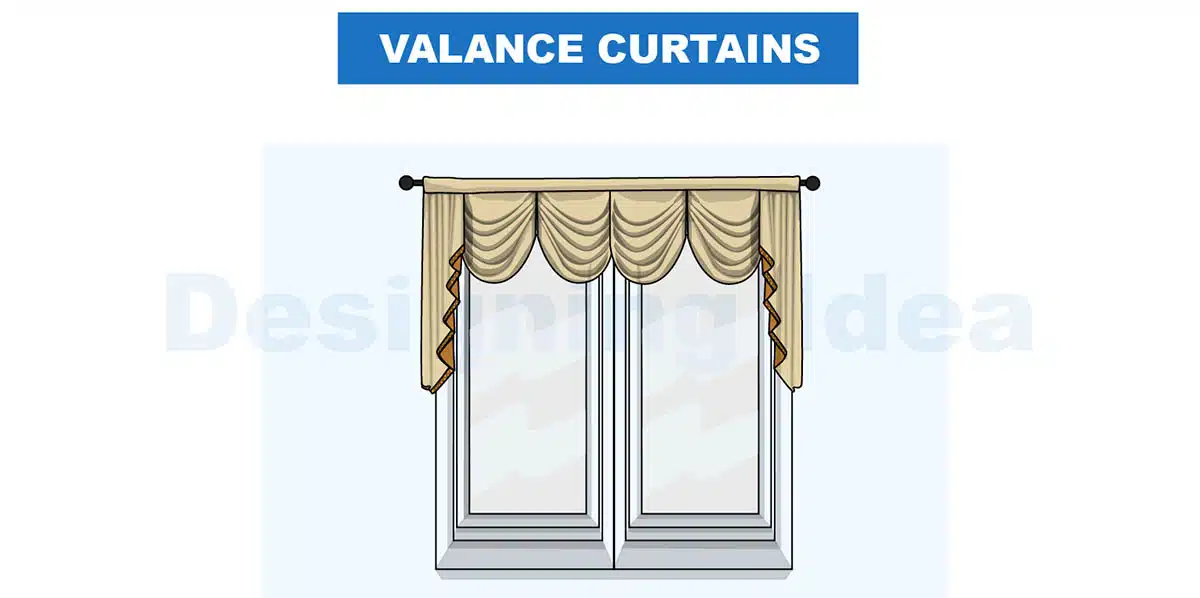 Valance curtains are the very opposite of what café curtains are. If café curtains covered the bottom half of your kitchen windows, valance curtains would cover the top half of them.
This type of design style is dated all the way back from the Renaissance era, but it really gained a lot of traction and popularity during the Victorian era.
Valance curtains are great for when you have a kitchen that doesn't really have the luxury of having a lot of floor space. They don't end up constricting the look and feel of the place and they bring in an illusion of extra space because of how high up they're installed.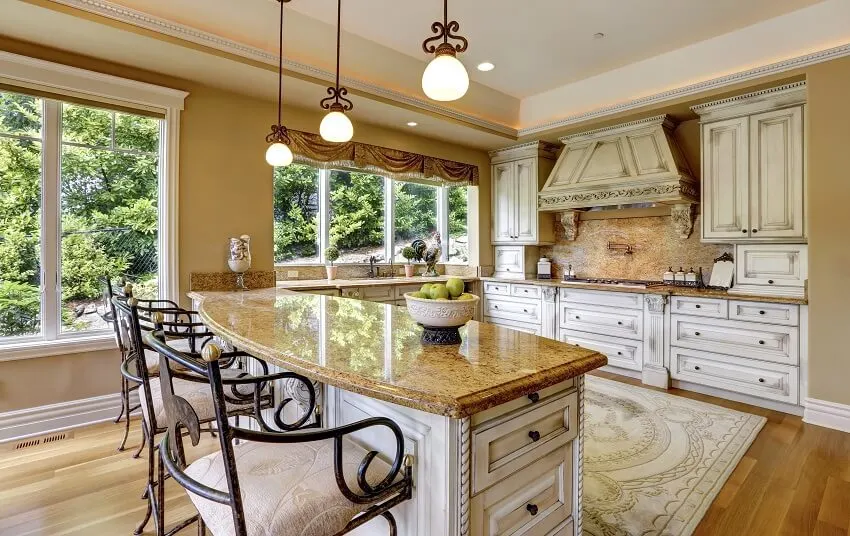 Picture of valance curtain in the kitchen.
Box Pleat Valance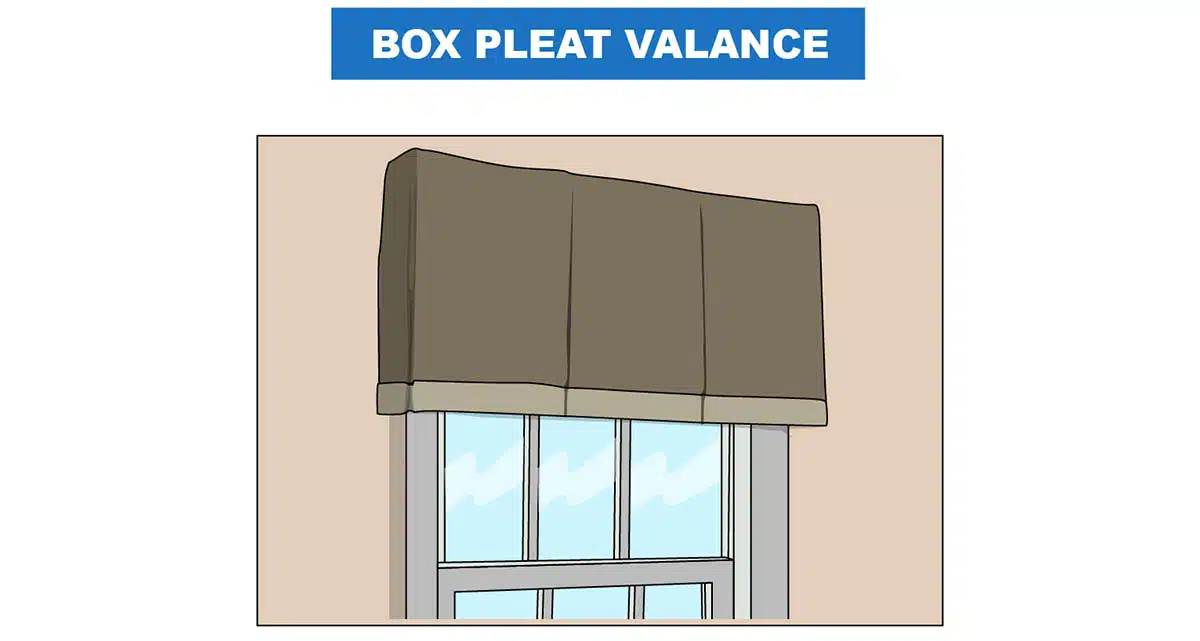 Box pleats valances are created when the bottom part of the valance is given a somewhat straight edge. The width is oftentimes divided by getting the sections in big pleats, hence, the name. These sections are considered boxes as they're equally spaced out.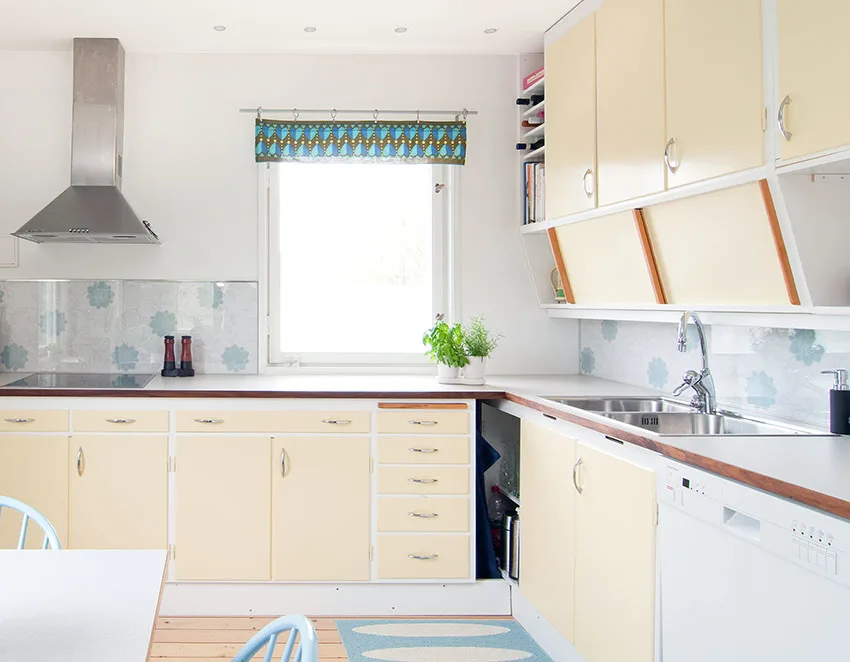 The uniformity of the design lends your kitchen window a very elegant and sophisticated look. This can really elevate the overall aesthetic value of not just your kitchen window but your kitchen as a whole. Very few types of curtains can stand out in the same way a box pleat valance could stand out in the kitchen scene.
Balloon Valance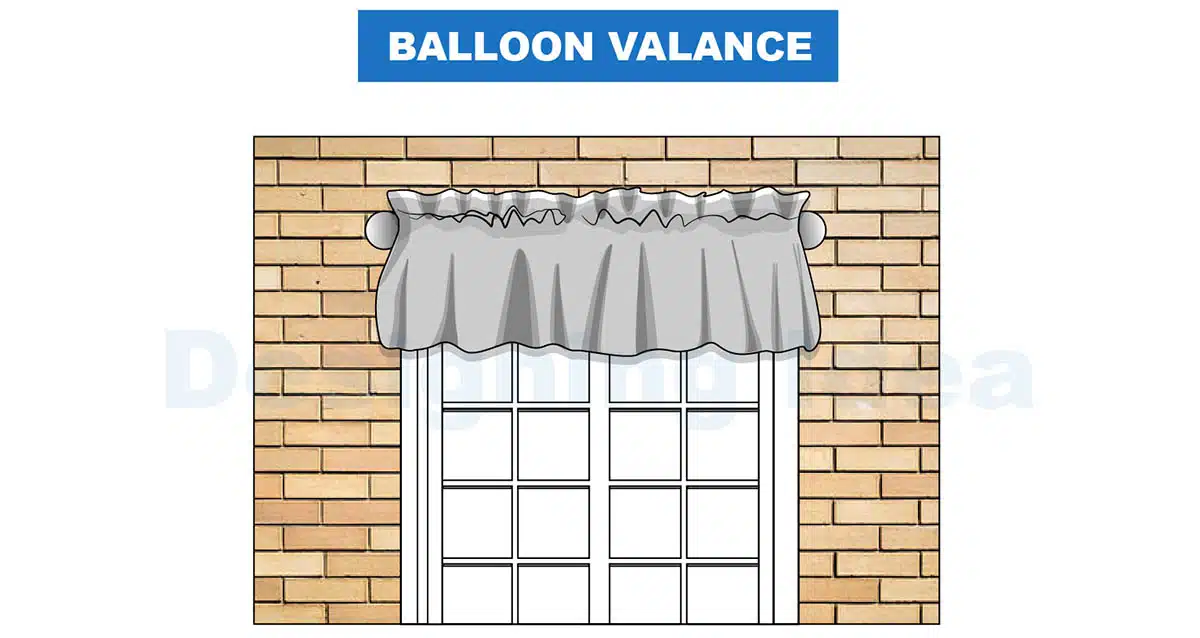 A balloon valance is also fondly nicknamed as a pouf valance or a cloud valance. This type of valance curtain, as the name suggests, is shaped like a balloon. This design effect is created by doubling the fabric over with the top hem being generously ruched.
Balloon valances usually pair really with café curtains as they cover the top part of the window whereas the café curtains cover the bottom part.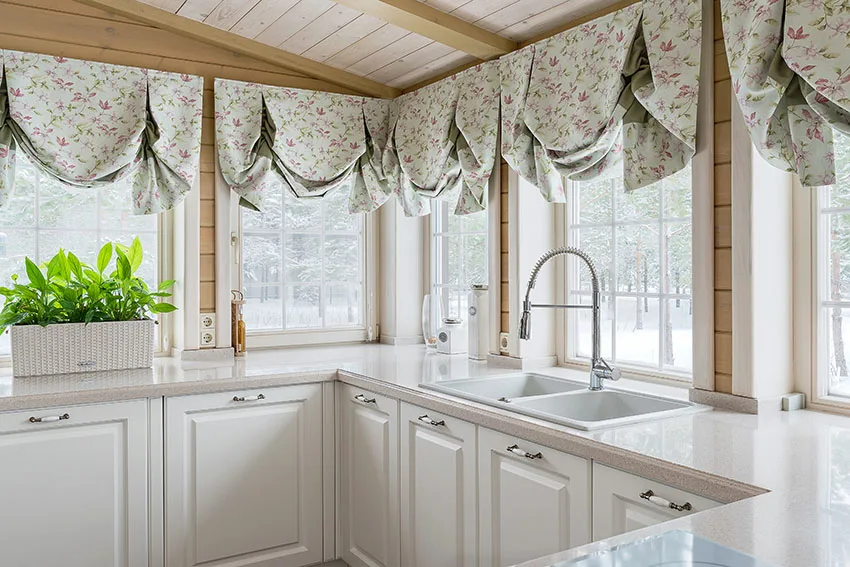 If you want to give your kitchen a soft look but also a somewhat exciting design element, then balloon shades and valances are definitely great to consider in your kitchen window design.
Swag Valance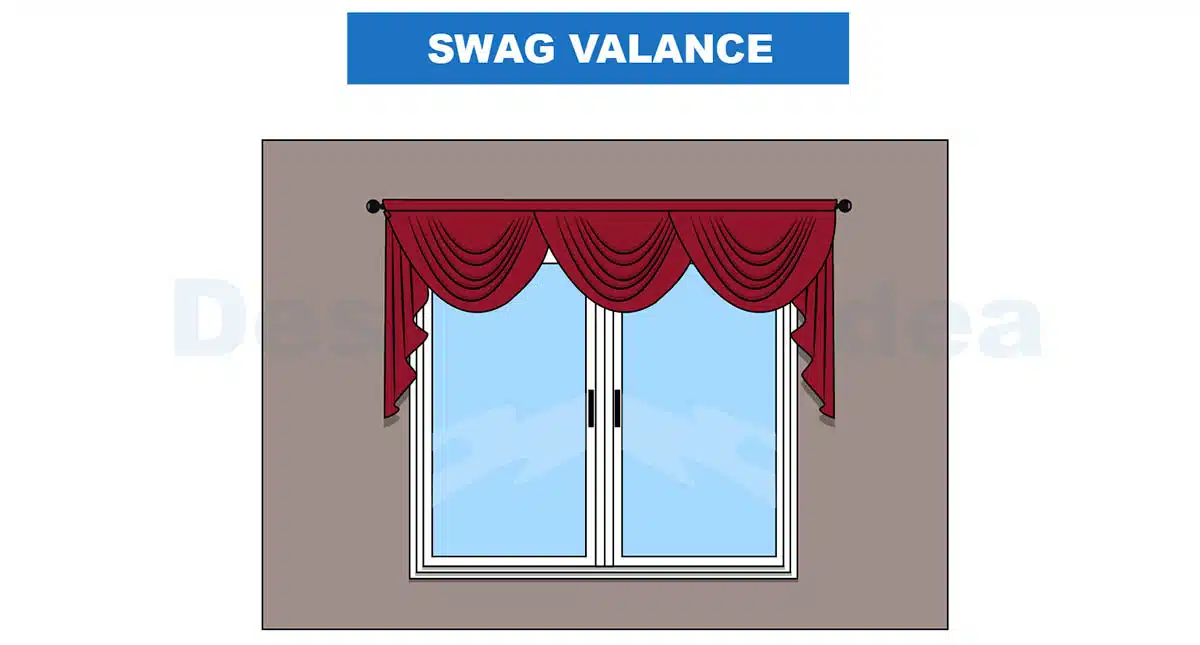 Swag valances look particularly classy and sophisticated. How this specific curtain look is created is that there are draped that are being dropped over the top of the window. This causes the tails of the drapes to kind of languish and hang down over both of the sides.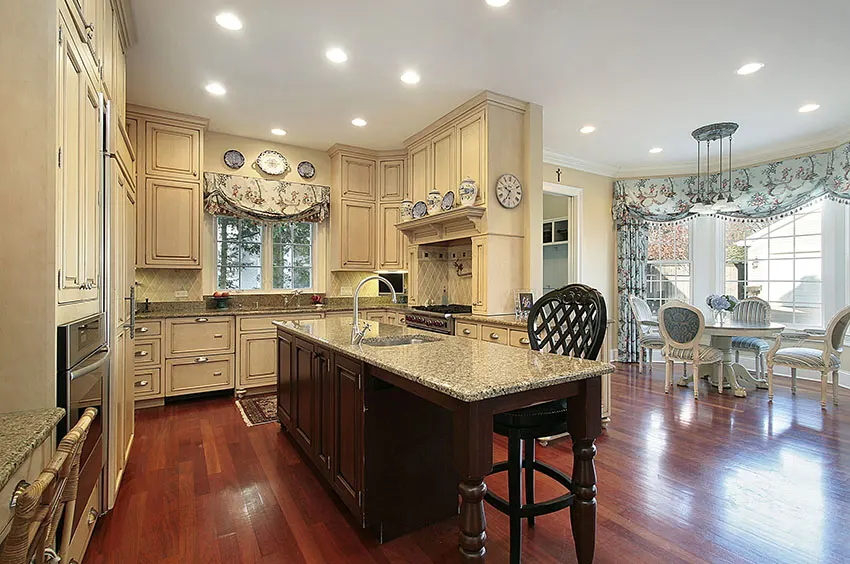 Swag valances are known for looking quite formal and posh in appearance. The designs they come along with are typically ornate and more decorative compared to the other valance curtains available out there. If you want to bring in a touch of class to your kitchen window, swag valances are a great option to consider.
Curtain Shades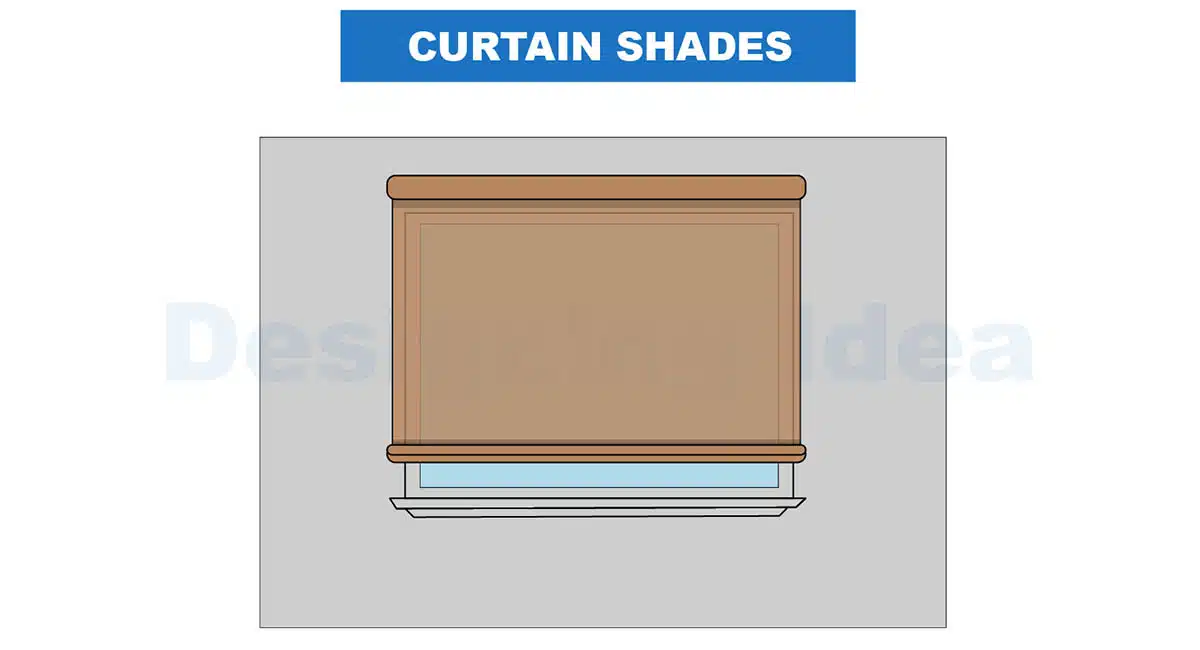 Curtain shades are oftentimes made out of materials that aren't that soft to the touch. Some of the common materials used are lace fabrics or rough polyethylene ones. The reason why this is the material type of choice is because curtain shades come in panels that need to be pulled up and down.
It wouldn't work with materials that are soft and flowy to the touch. You would need materials that have a certain sense of structure for it to work according to its function.
Curtain shades are pulled up and down with the use of a cord that's usually installed alongside it. They're a favorite in houses that are located where there happens to be a lot of extreme heat or coldness in the weather.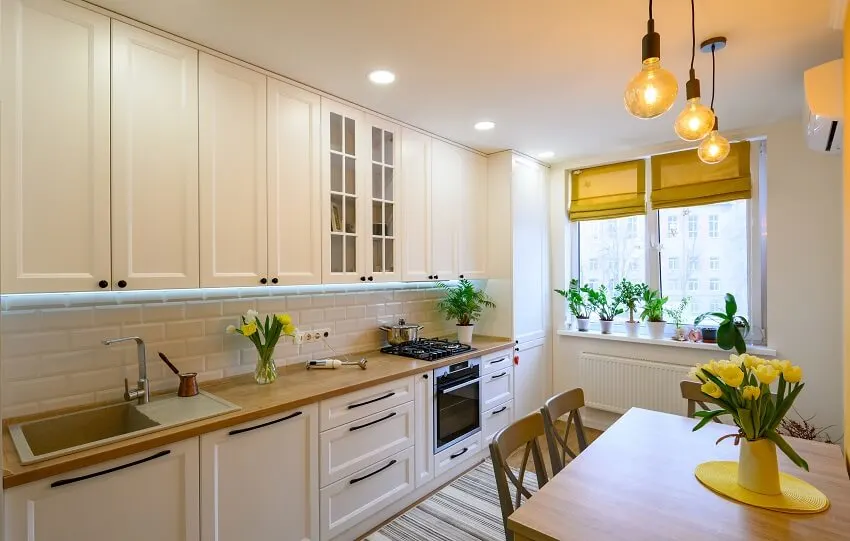 They can act as very good insulators. Here are the different types of curtain shades that you ought to be acquainted with.
Roman Shades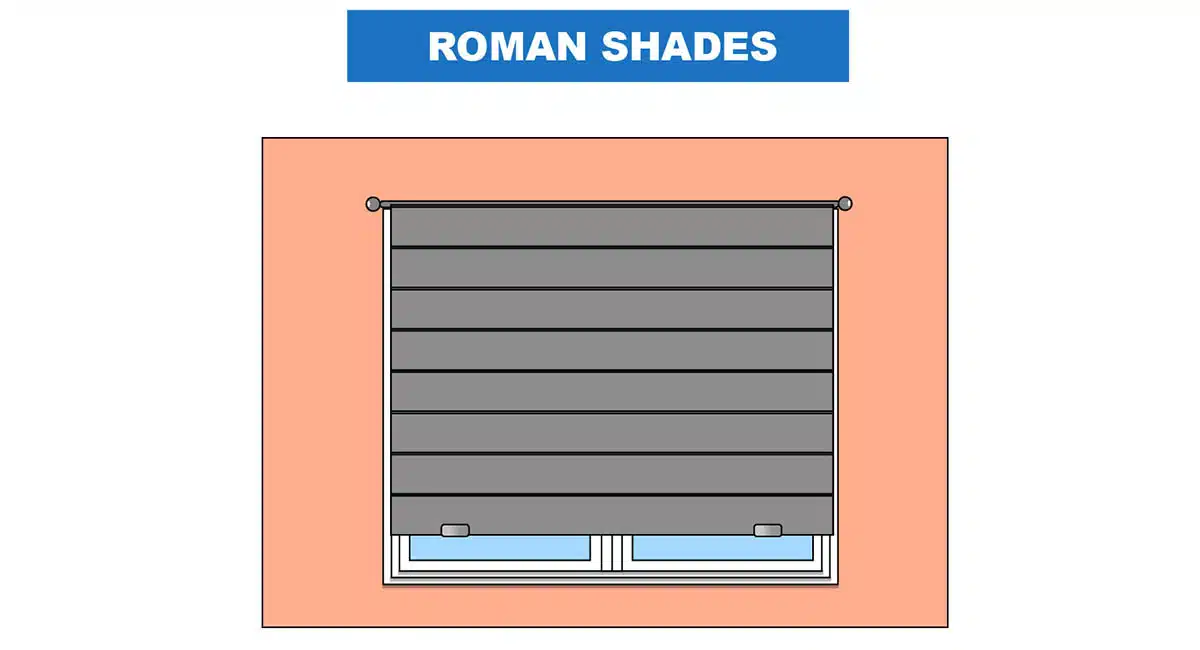 The Roman shades are curtain shades that are quite popular and can be commonly seen in households all over the country.
How they work is that they are evenly tacked up into pleats the moment that they're pulled up. This mechanism or design function is known to be very effective for when you want to keep light out of a room.
Roman shades are oftentimes made out of wood or something similarly hard. They can lend your kitchen a feeling of elegance and sophistication in the design especially when you match them properly along with your kitchen layout and décor.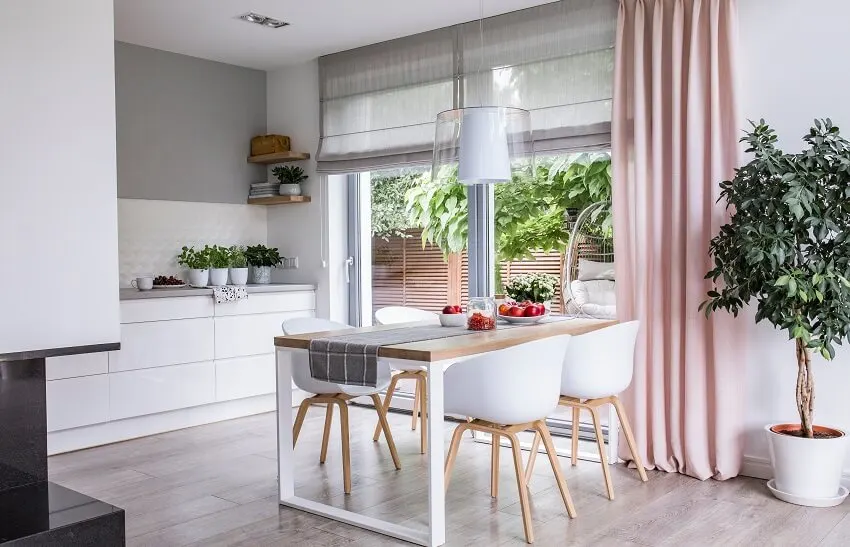 Kitchens are known to be particularly sunny, and in time, this can cause your kitchen furniture and appliance to erode. Roman shades can take care of that for you.
Woven Shades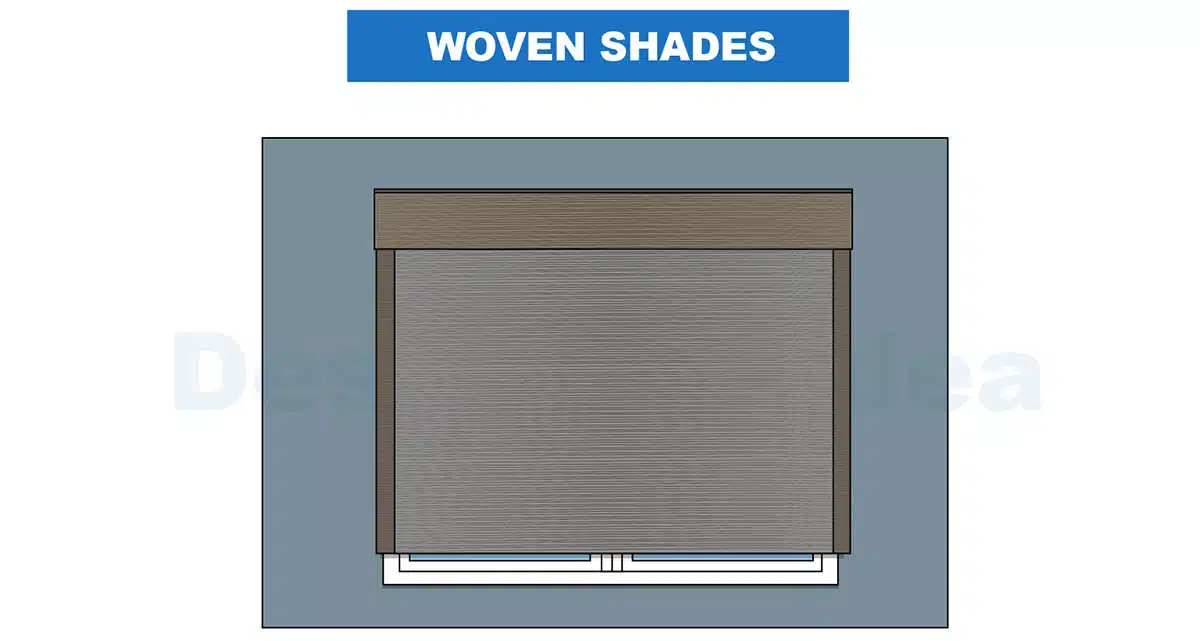 Woven shades are made from different materials such as jute, rattan, wild grasses, and bamboo. They are weaved together to create an appealing natural looking window covering in a variety of styles. Due to their textured and interwoven construction, they typically offer gentle light filtering and provide adequate amounts of privacy. The material is generally durable and easy to clean with regular dusting and maintenance.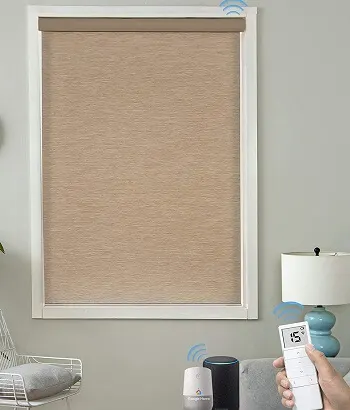 See this woven shade at Amazon [sponsored link]
Bamboo Shades
Bamboo shades are a little different from roman shades because as opposed to the roman shades, bamboo shades let light filter through them even when they are closed. The effect that this creates is something that looks like a tropical resort. This results to a very relaxed and rustic look in the kitchen space in your home.
Bamboo shades particularly appeal to homeowners who are environmentally conscious or aware. They're sustainable, easy to source, all-natural, and on top of all that, they're quite easy to maintain.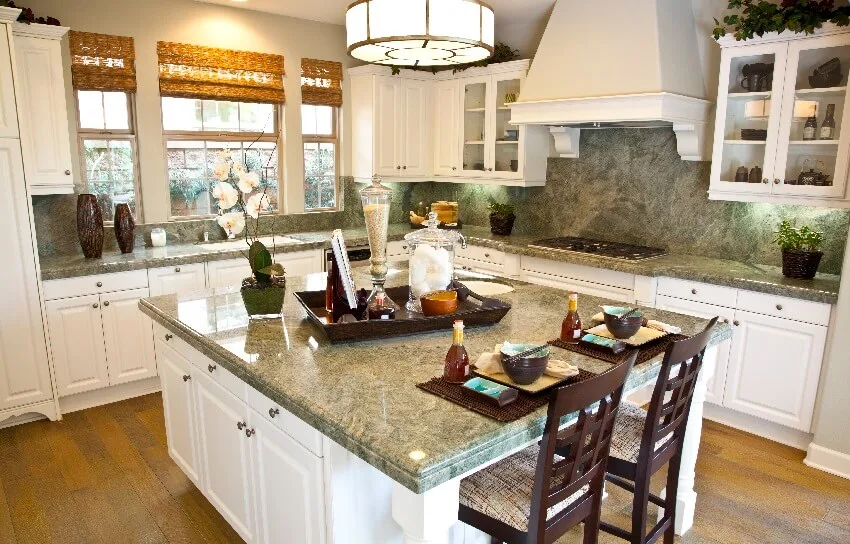 A major con to bamboo shades though is that they can also be fragile. They get easily damaged and can collect a lot of dust when not maintained properly.
Sheer Curtains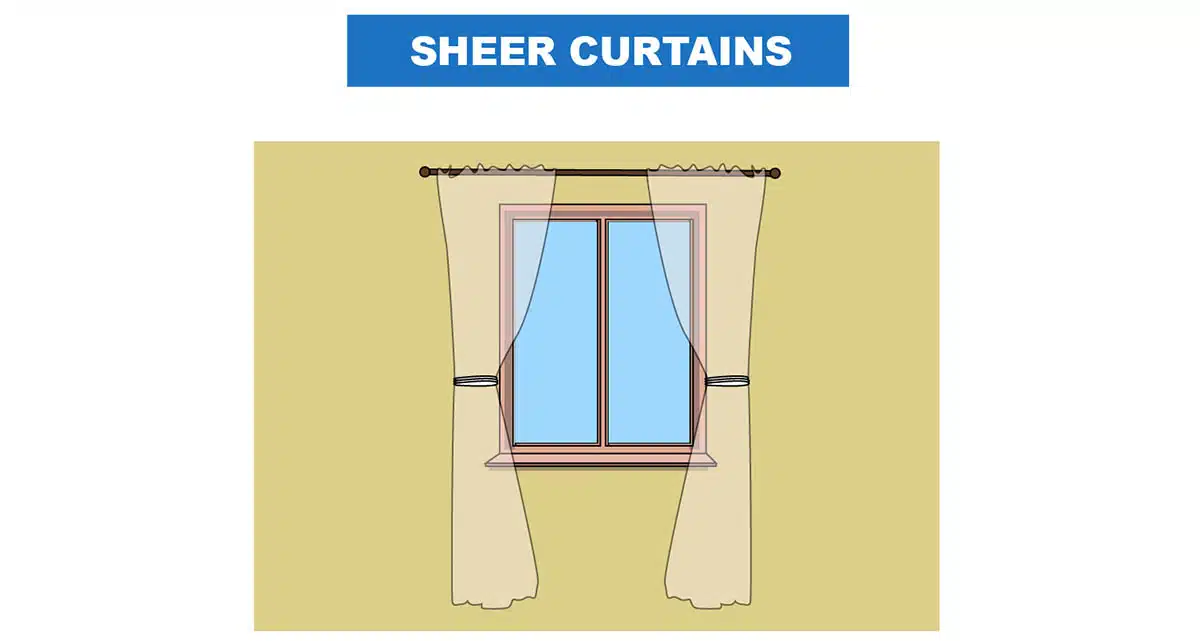 Sheer curtains are oftentimes see through and made out of very lightweight materials. They're transparent enough to really let the light into your kitchen space.
So this means that they can technically keep your kitchen looking airy and bright while at the same time still providing a certain level of privacy. The fabrics usually come in delicate and soft colors. This has a touch of subtlety in terms of the design and aesthetic that it can bring in.
One of the major advantages in using sheer curtains is that they're very easy to install, and they can work with relatively any window size in the kitchen. The disadvantage, on the other hand, is that because they're so sheer, they can turn out to be really bad insulators.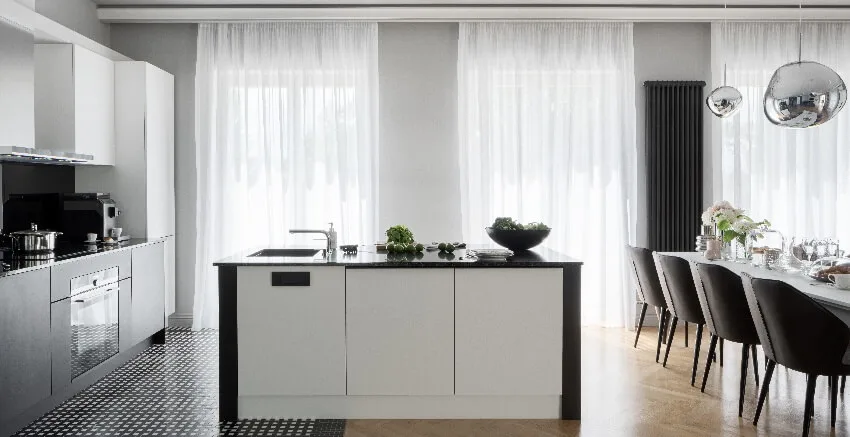 This means that your kitchen will also feel hot during the hot days and feel cold during the cold days. Read about different ways to hang sheer curtains guide here.
Pull Down Shades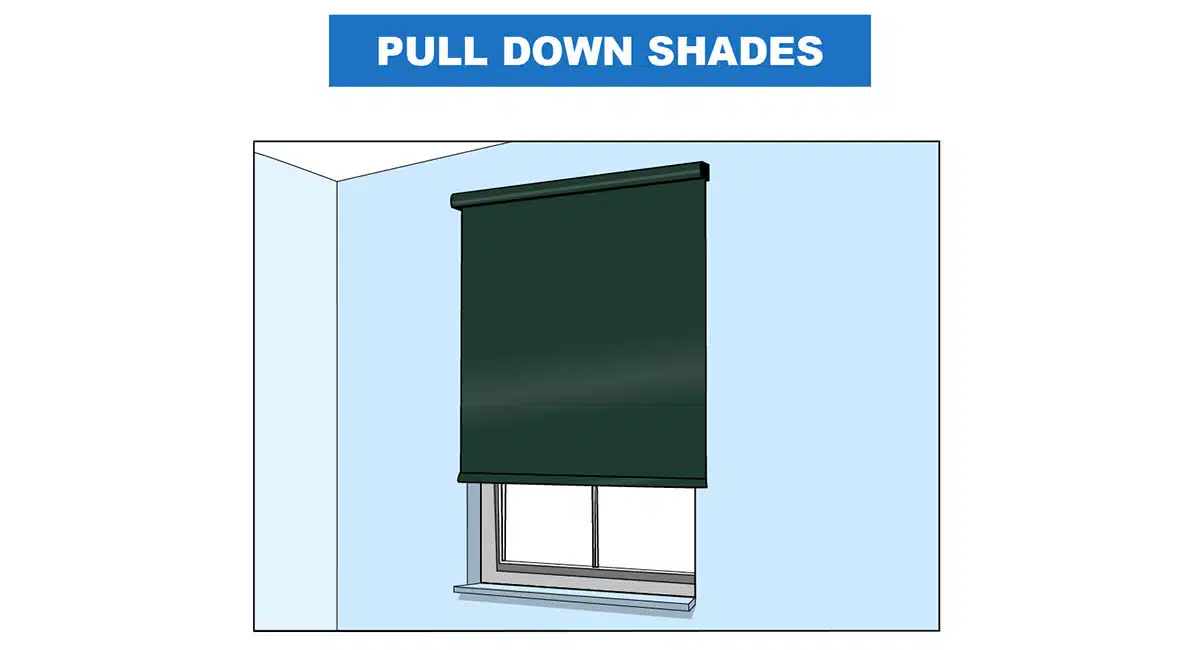 If you are looking for kitchen curtains that are simple in design but can give you all the privacy you want, then pull down shades might be the perfect candidate. They are popular because they're very easy to install.
They have the ability to blend in perfectly with most, if not all kitchen designs and colors as they're highly versatile and easy to pair with.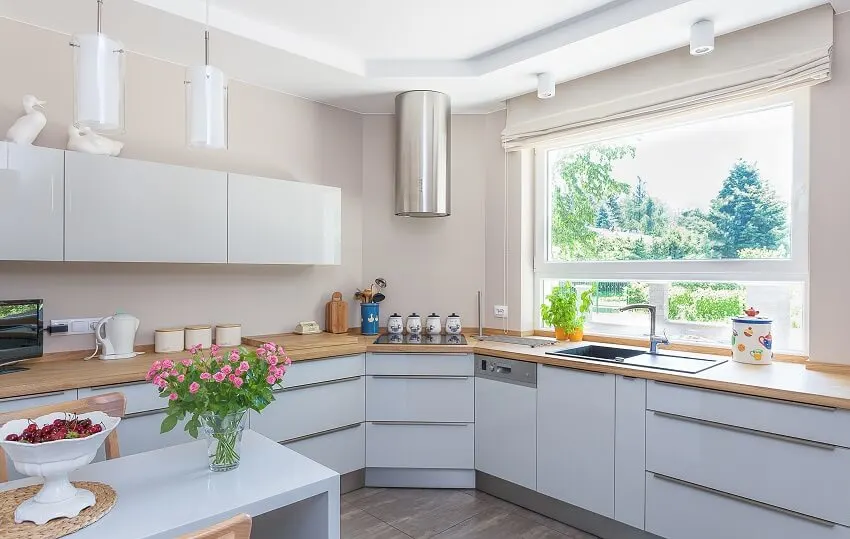 They also come with fabrics that are easy to clean and maintain. They can protect your kitchen appliance and furniture from the harmful UV rays of the sun coming into the kitchen. If you want to go for a serene and clean look, pull down shades are definitely for you.
Floor Length Curtain Panels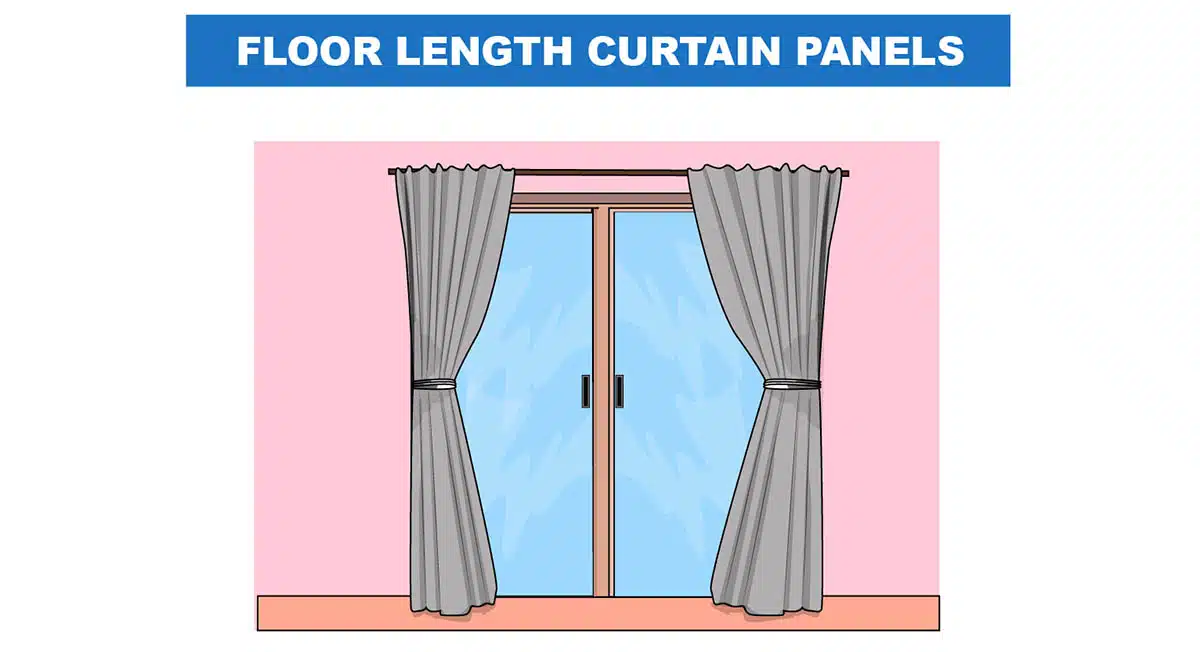 Floor length curtain panels have a lot of different designs, colors, and even fabric types. They are quite long, spanning all the way down to the floor, which is how they got their name.
Their lengths vary but they usually range from 63 to 144 inches. Floor length curtain panels are suitable for kitchens that happen to have a lot of floor space.
In order for you to get the right length for your specific kitchen window, you need to make sure that you map it and measure it out from the floor all the way to the top, where you plan to hang your curtain rod. You have the option to go ahead and add extra inches to the measurements you take. This process is called "puddling".
What this means is that you plan to leave some fabrics that you can pool on the floor level for styling and design purposes. A word of caution though, this requires regular cleaning and maintenance as dirt and dust can very quickly accumulate.
Floor length curtain panels can give you complete and total privacy. If this is something you hold particularly dear for kitchen window requirements, then this can work out extremely well for you.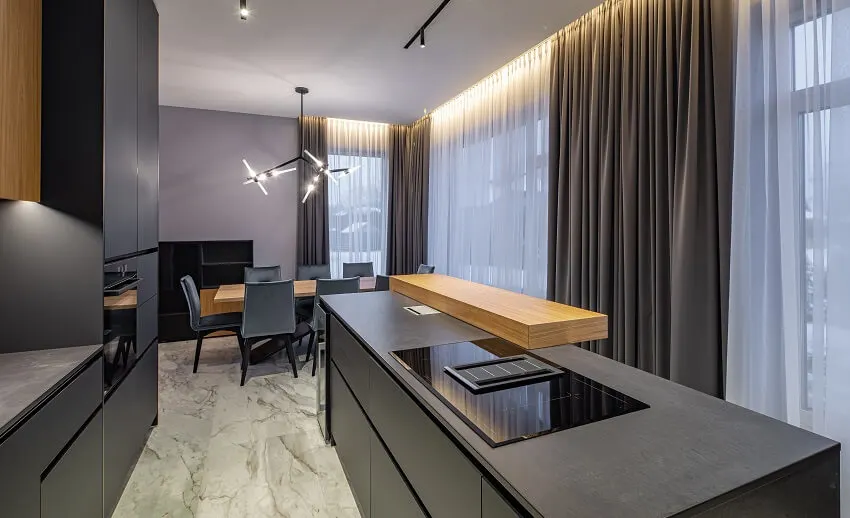 These types of curtains are also known to be great insulators so you get to keep the harsh weather out and save up on your utility bills during the hot and cold months. They can also give your kitchen a touch of elegance while you're at it.
Curtain Header Types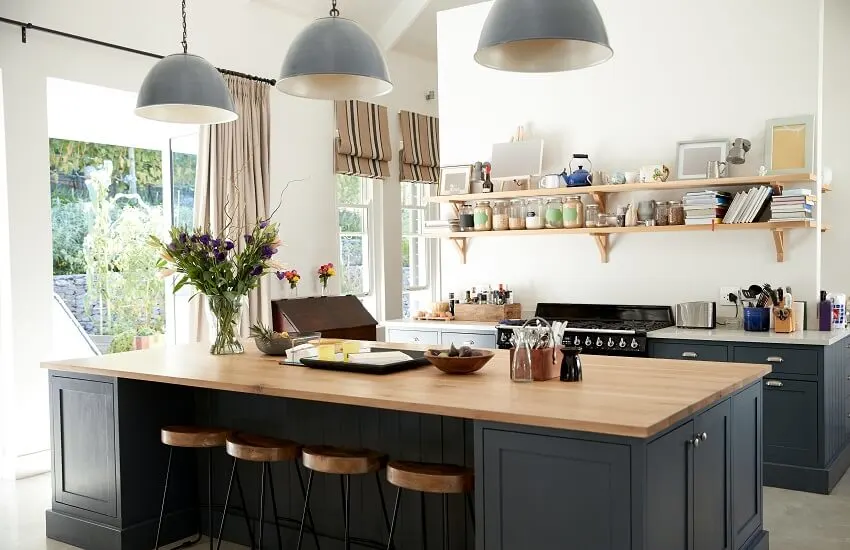 They say that windows are the eyes of the house. The curtains are the soul of every window treatment out there. This is why you should really take your window treatments seriously.
If you want to find a way to reduce the overall width of your curtain fabrics and still at some point have the full curtain effect, then it all boils down to your choice of curtain headers. They're a great way to supplement the design element of your kitchen curtains and adjust the mood, even.
Here are the different curtain header types for you to choose from if you're currently renovating your entire kitchen look, with the kitchen treatments included.
Rod Pocket or Pole Pocket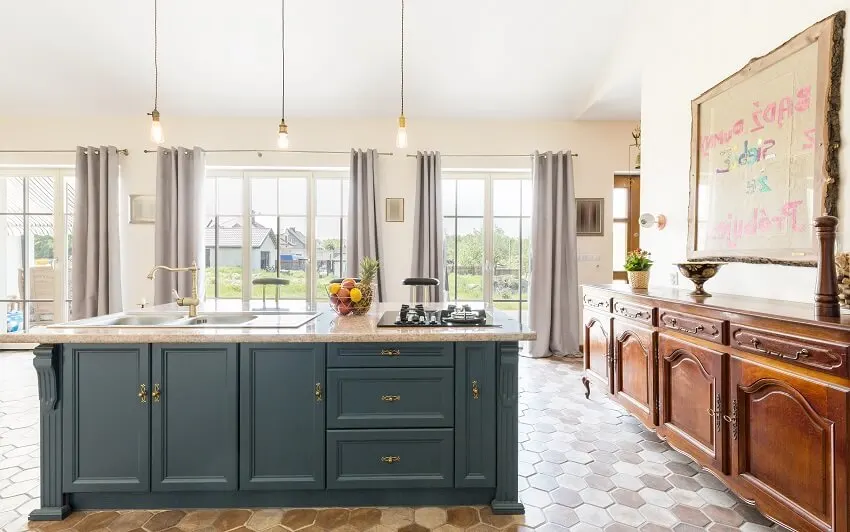 In this curtain header type, there's a pocket sewn across the top part of the curtain panel. Through this pocket is where the curtain rod is inserted. The typical measurement for this curtain pocket is at 3 inches.Read more about curtain rod sizes here.

This is also already a part of the main curtain length. The header can measure out to about 1 to 1 ½ inches above the pocket. If you want a fuller and heavier curtain look, it's recommended to double the fabric stitching over.
Pencil Pleat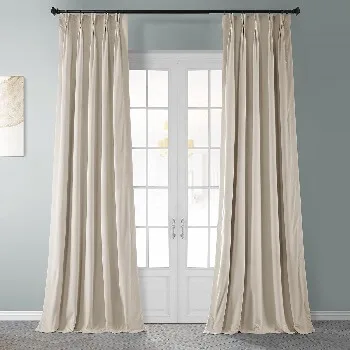 See this pencil pleat at Amazon [sponsored link]
This curtain header is one of the most common ones seen and creates a casual and simple look for your curtains. The pencil pleats work great with fabrics that aren't all that thick.
The pleats can be at around 3 inches deep and is twice the fullness of the original fabric in order to create a heavier and fuller look for the curtains.
Versatile Pleat
This curtain header is convenient and pretty simple. The curtain tape is just knitted at the top panel of the curtain. This is where the hooks are pinned and you have the versatility to pick what kind of curtain header type you would like to go for from there.
You have the option to detach the hooks easily and create new headings as you go along. If you want the flexibility to be able to change your design styles for the curtains every now and then, versatile pleats can work really well for you.
Tab Top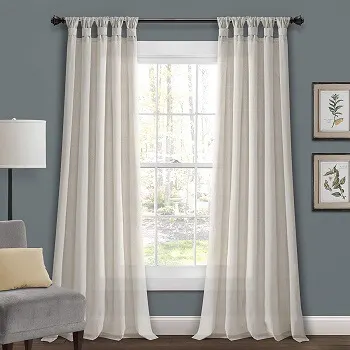 See this tab top at Amazon [sponsored link]
This curtain header is known for having a row of fabric tabs or loops stitched right at the top part of the curtain. They are uniform and regular in terms of intervals and the rods can be hung from these tabs or loops. This is where the name tab top came from.
This is a casual and modern take on curtain headers and if you want to go for a more relaxed and less formal look and feel, then they can work really great for you and for your kitchen windows.
The tabs on top usually measure at 2 inches in width and 4 inches in length. It provides enough space to place a rod inside it to hang the curtains from it.
Back Tab or Concealed Tab Top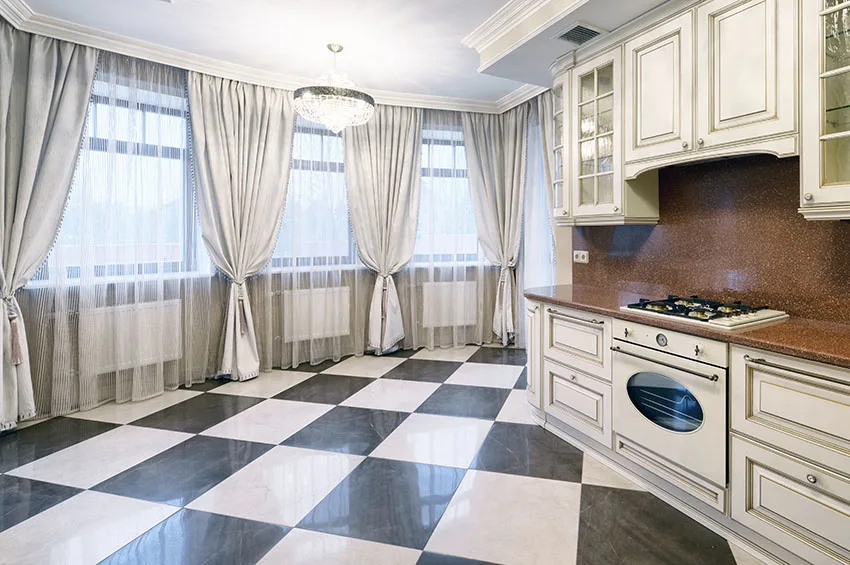 This curtain header is quite similar to the tab top header. The only difference is that the tabs or the loops are actually concealed or are not visible at the top of the curtain. These types of curtain header actually provides much better heat insulation and light absorption compared to the traditional tab top header.
Double Box

A double box pleat type of curtain header provides a much more formal overall look. A double box pleat has two folds facing opposite of each other and two folds underneath facing towards each other.

Its finished width is twice the size for a double box pleat curtain. In order to get this done right, you would have to take measurements of how much width you'd like coverage for.
The double box pleat has a measurement of 3 inches in depth and about 2.5 x the fullness of the main curtain to make it look more seamless and posh.
Triple Box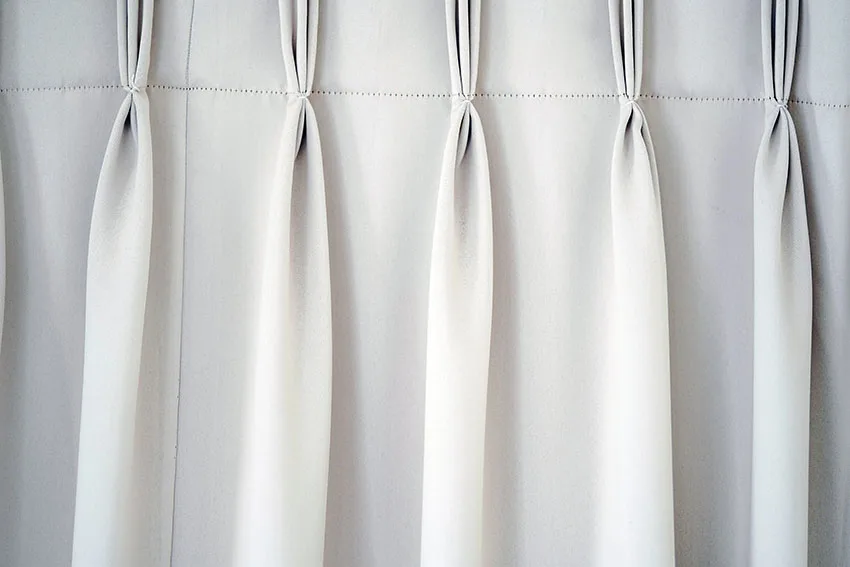 A triple box pleat design looks formal and well done. It has a finished width that measures around 3 inches deep and 3x the fullness of the main curtain body.
Single Pinch Pleat
This curtain header looks more relaxed and casual. It has a laid back design.
The pleats are around 4 inches deep and requires around 1.5x the fullness of the fabric sewn together to form its pleats.
Double Pinch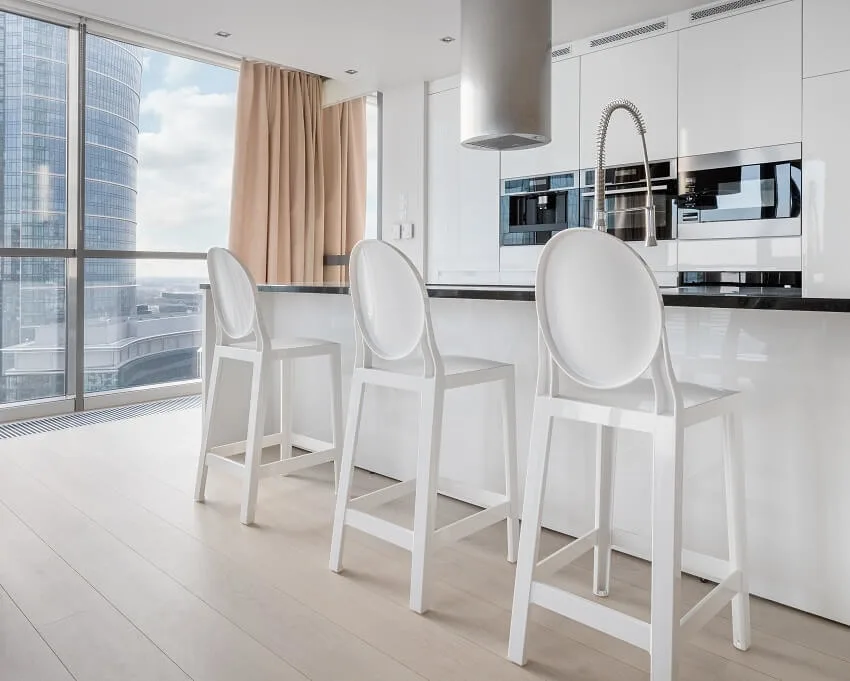 This curtain header is also fairly simple yet looks a tad bit smarter than its single pinch pleat counterpart. The pleats in it are about 4 inches deep and require twice the thickness of the fabric sewn together.
Triple Pinch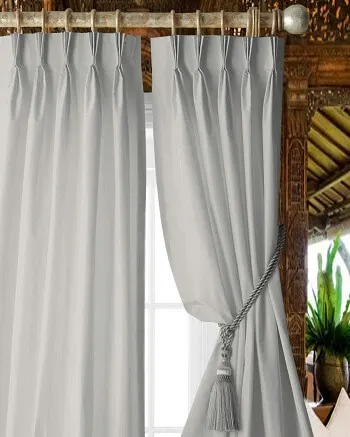 See this triple pinch pleat at Amazon [sponsored link]
This type of curtain header requires 2.5x the thickness of the fabric sewn together to form a pleat. The pleats are around 4 inches deep. They make for a formal and classic overall aesthetic and will do well in formal looking kitchen windows.
Grommet or Eyelet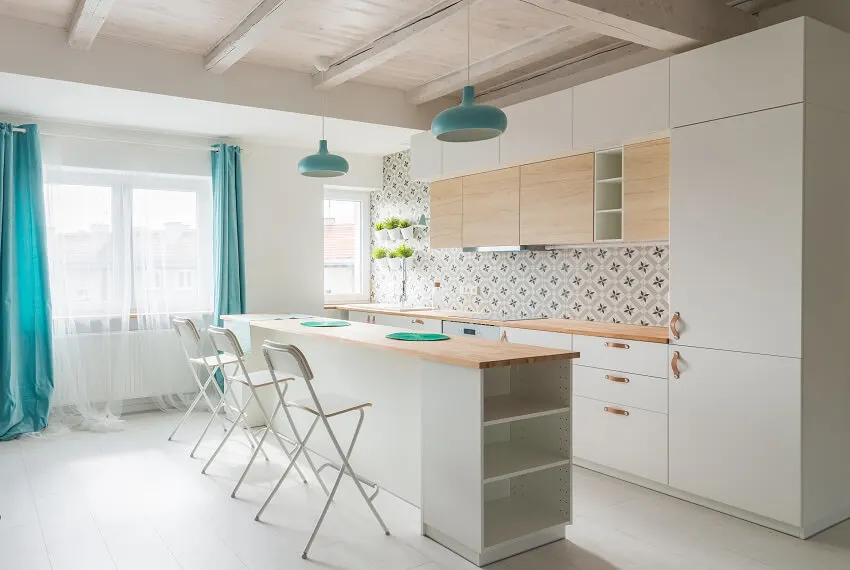 Grommet or eyelet curtain headers have a simple and casual design. They've been around for quite a while and they're here to stay because they're so practical and convenient. With this type of curtain header design, the width of the curtains can be adjusted easily.
Grommets that are made out of plastic are removable and slide on and off quietly and smoothly. They usually have a diameter of 1-5/8 of an inch. They're perfectly paired with curtain rods with diameters of less than 1-1/2 inches.
When you're measuring your grommet curtains, it's important to measure the top of the curtain rods where you'd like your curtains to hang from and then add 1-1/2 inches from there.
Goblet Pleat
In a goblet pleat curtain header, the top of the curtain is equipped with a single row of designs that are shaped like goblets, hence the name. They're typically set at regular intervals. Goblet pleats are suitable for curtains that have long drops.
They look formal and can be quite luxurious when installed correctly. You can usually see this type of curtain header for big buildings with formal functions.
Kitchen Curtain Styles

There are a variety of different styles of curtains to choose from. We've listed some of the most popular types below.
Patterns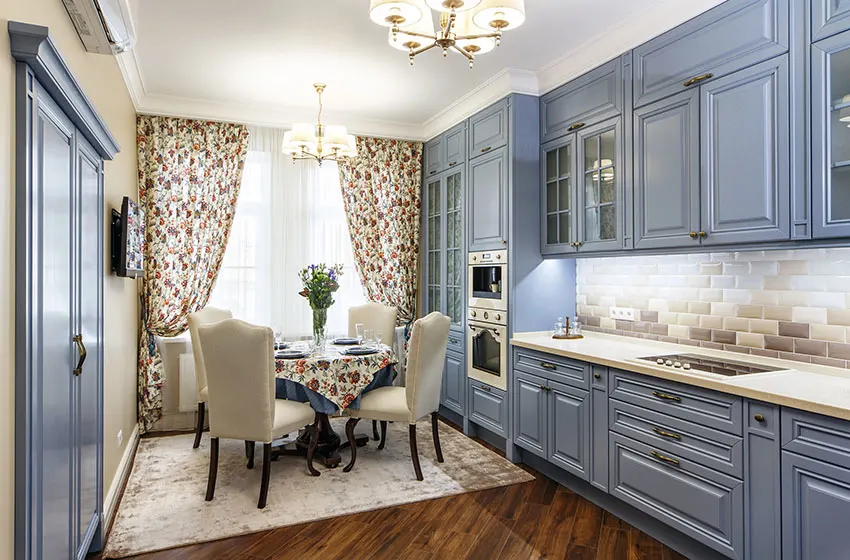 Patterns are great especially if you want your kitchen curtains to add an element of design to the kitchen space. There are a lot of prettily patterned curtain styles to choose from in the market.
Consider the color scheme when you're making your pick. Also, make it a point to go about it sparingly. Overly patterned curtains can make your kitchen look a little too busy.
When opting for patterns, consider the angles and spaces you have. You can play around with it and mix and match depending on what you're shooting for. There are stripes, florals, or even geometric ones to choose from.
Royal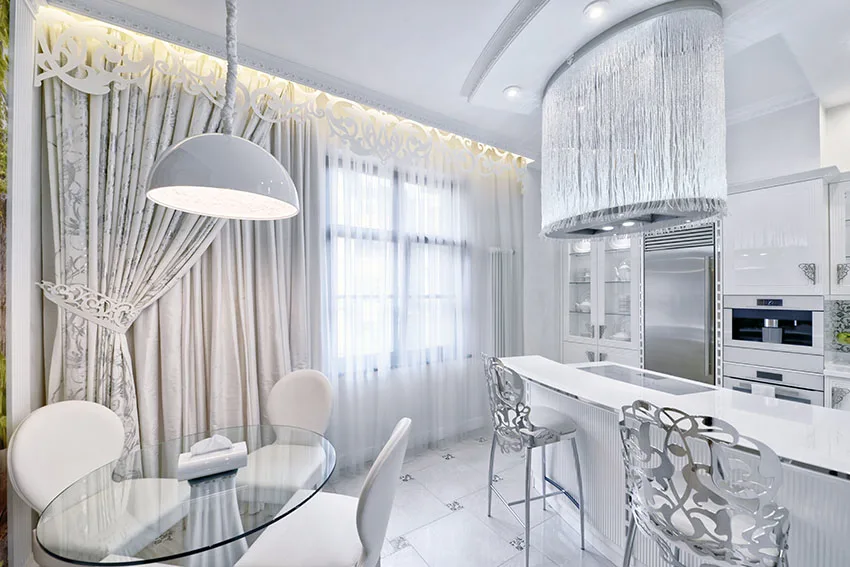 Royal curtain styles work well with either scalloped or balloon curtain designs. Drape your shapes with complementary colors to transform your kitchen into something a little more art deco and royal. This works great for kitchens that have large floor spaces but they don't work well for small kitchens.
Clasped
This curtain style is usually done on lightweight or sheer kitchen curtains. There's typically a decorative clamp bringing the curtain materials together. This is great if you're going for a light and airy or beachy ambiance in your kitchen.
Checkered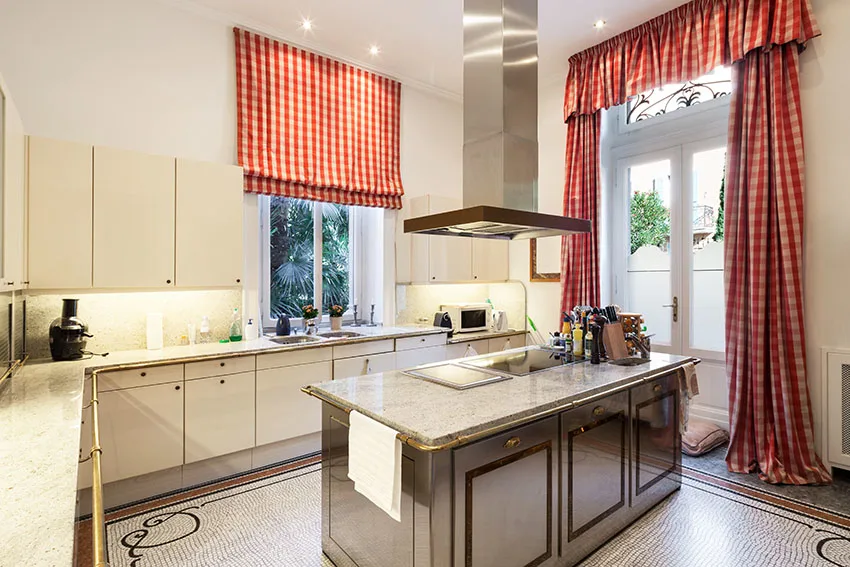 One of the most common kitchen curtain designs is the buffalo checkered pattern. It's perfect if you want to create a southern styled kitchen.
It provides a perfect balance of light distribution as well as privacy. There are also so many styles and colors to choose from that you're bound to find something that will perfectly fit into your specific kitchen design.
Buying Curtain Tips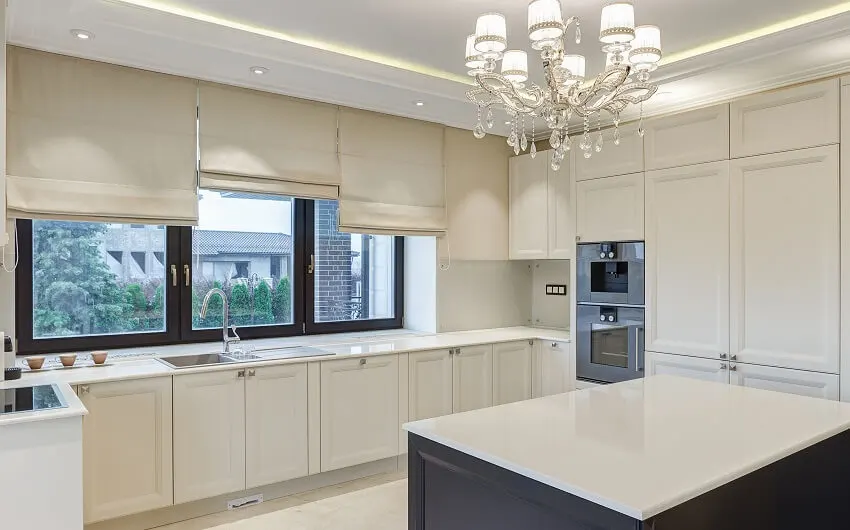 If there's one element in kitchen or home design that often gets overlooked but something that you also can't ignore, it would have to be curtains. They're crucial when it comes to the role they play in setting the design theme and the overall vibe of the space.
Curtains, whether full- or sill-length, are a good way of adding color, pattern, and texture to your room's scheme and, depending on the fabric and curtain heading you choose, can be used in both traditional and modern homes. – Step-by-Step Home Design and Decorating, Clare Steel
There are so many styles and designs to choose from that the choices can frankly be overwhelming. The possibilities are literally endless. You can choose from light and airy to something heavier and more ornamental. You can also go from solids to prints and so much more.
To help you easily narrow your search down, here are a few buying tips.
Length
Floor-length curtains are all the vogue but they might not work exactly well for your kitchen space. Remember that this is the area in the home that is the most exposed to foot traffic, daily activity, and food items or ingredients.
If you want to go for the full effect without the hassle or the mess, go for curtain lengths that are several inches away from the floor.
Kitchen windows also tend to be smaller and since it's recommended to keep it bright as it's also a workspace, you might opt for curtains that don't cover up the entire window.
Fabric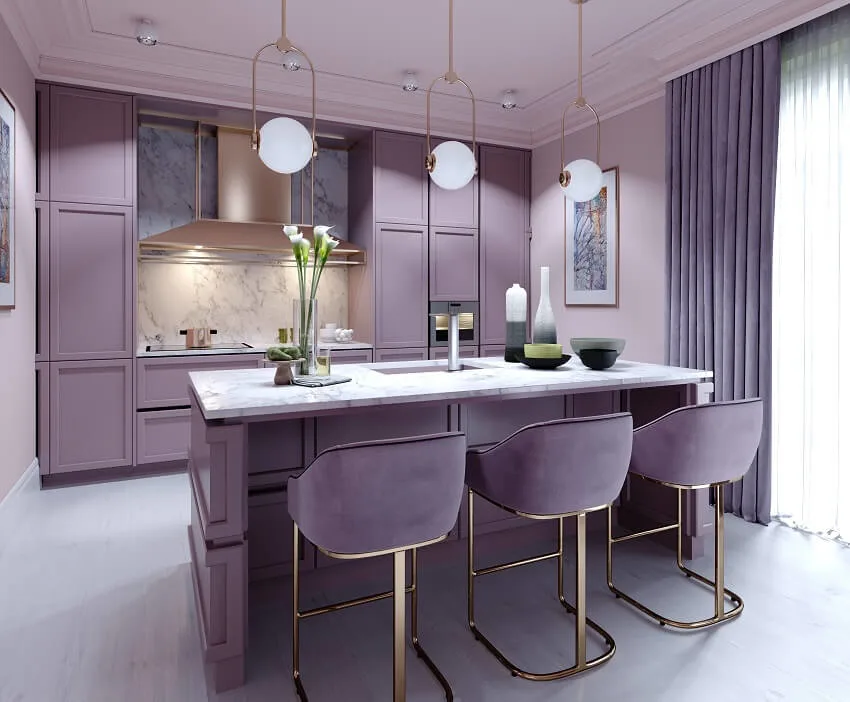 Material is everything in the world of curtains. You have choices to make from sheer to lightweight to medium and down right to the heavy fabrics choices. When caught at a crossroads, here are some things you ought to consider:
First, think about the amount of sunlight you would like to have in your kitchen space.
Second, think about the design of the room. Heavier fabrics are more suited for traditional rooms whereas spaces like kitchen could benefit more from something airy or sheer. Try to go for a minimalistic approach as your design options will be more versatile and easier to work with.
Every fabric has its strengths and weaknesses. They fall differently so you also have to consider the amount of elevation that you're planning to put in.
Privacy
Kitchen windows don't really require as much privacy as the other windows in the home so it would be best to go for sheer or light fabrics on this one.
Take note that extra lining can make our curtains look and feel heavier so tread carefully when you're opting for the heavier types of curtain materials.
Insulation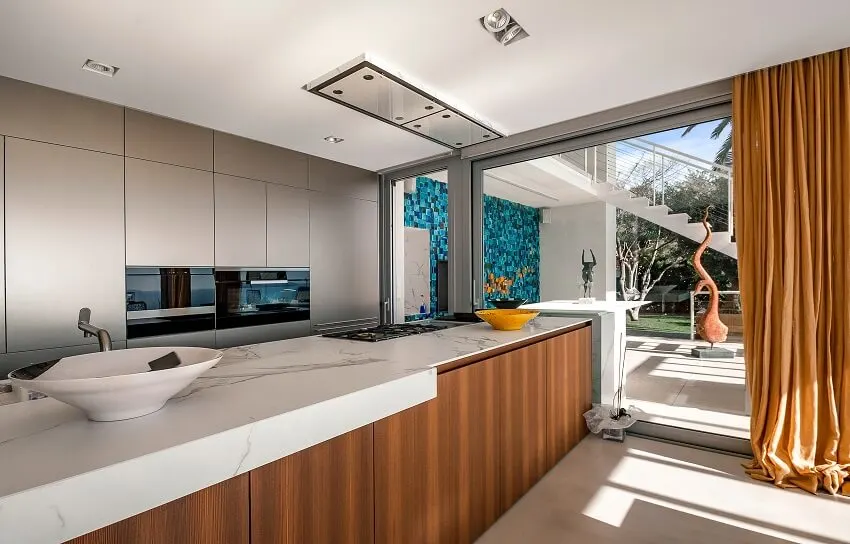 If you would like to ensure that your kitchen area is energy efficient, you might want to go for thicker fabrics. It all depends on the location you're in.
If the climate is mild or temperate, extra insulation isn't really necessary. However, if you live in an area that tends to have harsh winters and hot summers, some extra insulation from thicker curtains could certainly help in maintaining the interior temperature of the home during the hot or cold days.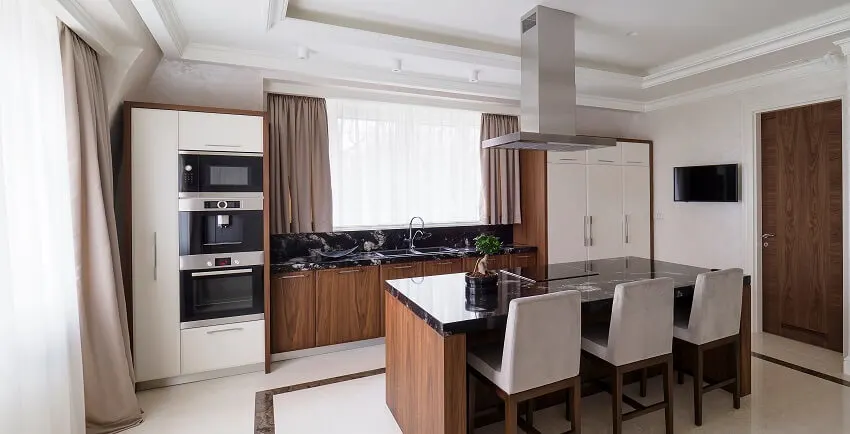 Lighting
Lighting is crucial in the kitchen as this is where the meals in the home are prepared. Make sure that although you have some sort of privacy screen coming from the curtains of your choice, that you still get ample enough lighting to not make it look too dark or somber.
Kitchens are also meant to be sunnier and more cheerful compared to the other rooms in the home so that's one thing to consider as well. Sheer or opaque fabrics let more light in whereas medium or heavy fabrics block light out more efficiently.
What Kind Of Curtains Go In The Kitchen?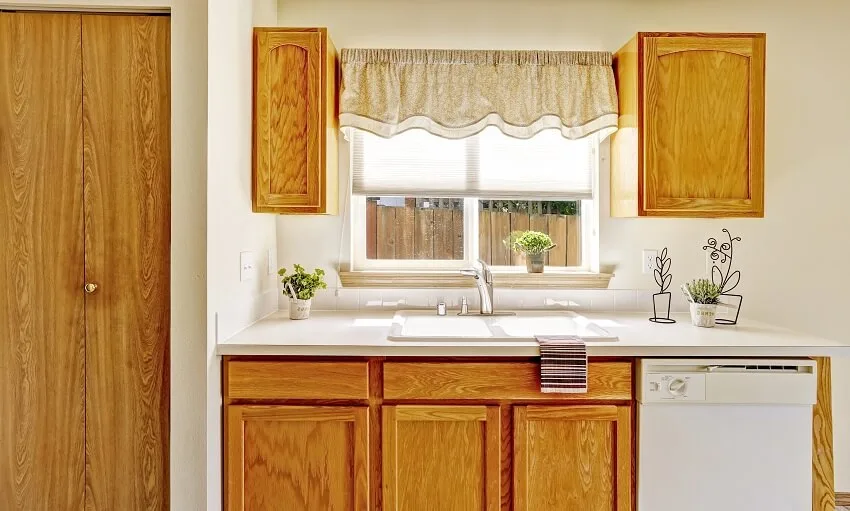 The first thing you need to consider when shopping around for kitchen window curtains is where the windows are actually located. Are they located in a "splash zone"? You need to consider if your window could come in contact with water or food splatter on a regular basis.
Think about windows near the stove, above the wink, and or areas where you tend to do heavy food prep. If you have kitchen windows that are near these areas, it would be best to go for window treatments that don't really require a lot of maintenance.
Low maintenance window coverings include PVC-based roman shades and the like. Go for materials that you can easily wipe up with some soap and water.
Here are some of the best kinds of curtains you should consider for your kitchen windows:
Roman Shades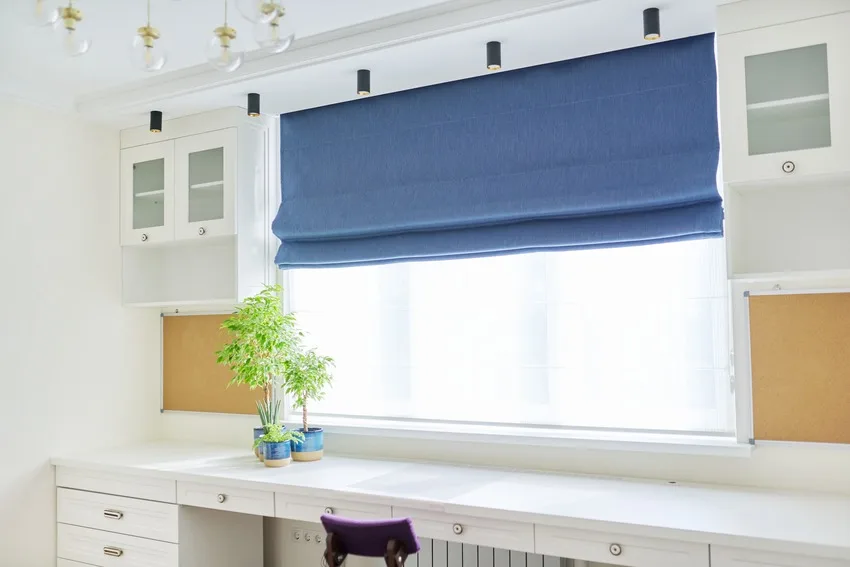 They can definitely make your windows pop so the design aspect is a plus. On top of that, roman shades look charming and soft. If you're going for a traditional or farmhouse design for your kitchen, they can definitely work.
Woven Wood Shades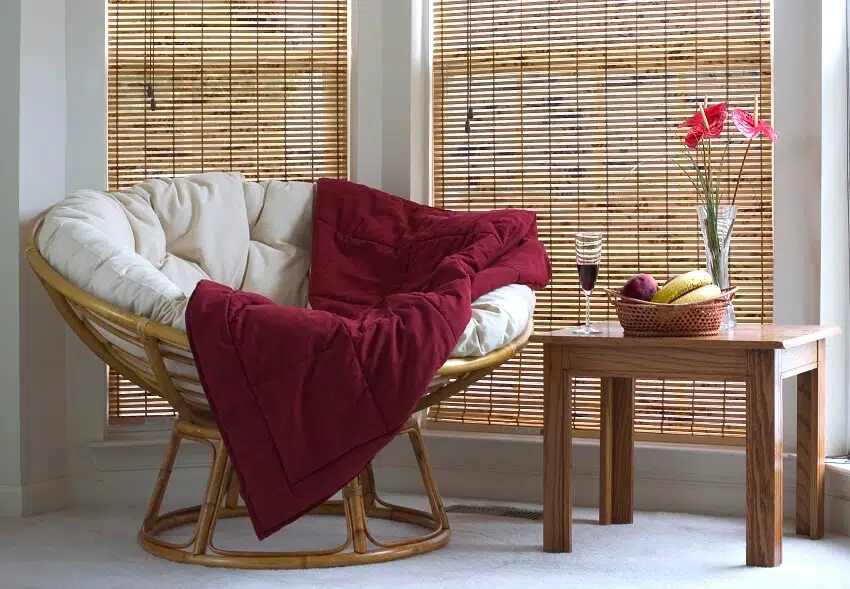 If you want to go for something a bit more eclectic, woven wood shades should be given a go. They have great visual interest because of their natural textures.
Go for an airy and woven material if you want something subdued or subtle. After all, you want your kitchen windows to complement your kitchen design, not be the focal point of it.
Roller Shades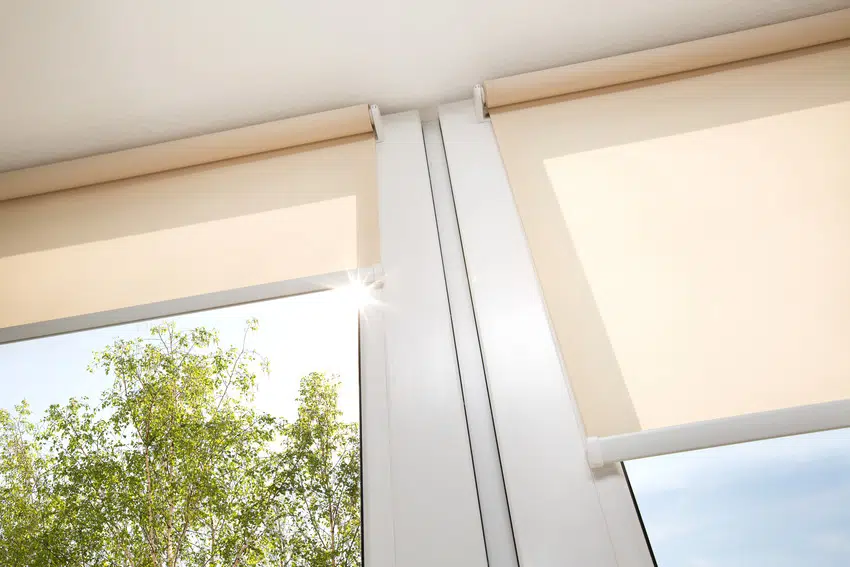 They look modern and offer distinct and clean lines. They're great for the kitchen as these are areas in the home that tend to have smaller windows. If you're worried about splatters, try to go for a vinyl material that's easy to maintain.

What Length Should Curtains Be?
Most of the kitchen windows you'll come across are situated above countertops, sinks, or stoves. This means that a majority of them will be sill-length.
Curtains that are too long can end up being fire hazards especially when there's a stove nearby or they can easily get wet when there happens to be an adjacent sink.
Most designers will recommend that your kitchen curtains be 1 inch or more above your window's height. When based on standard measurements, it means that kitchen curtains should be somewhere within the 18 to 24-inch length range.
How Long Should A Curtain Valance Be?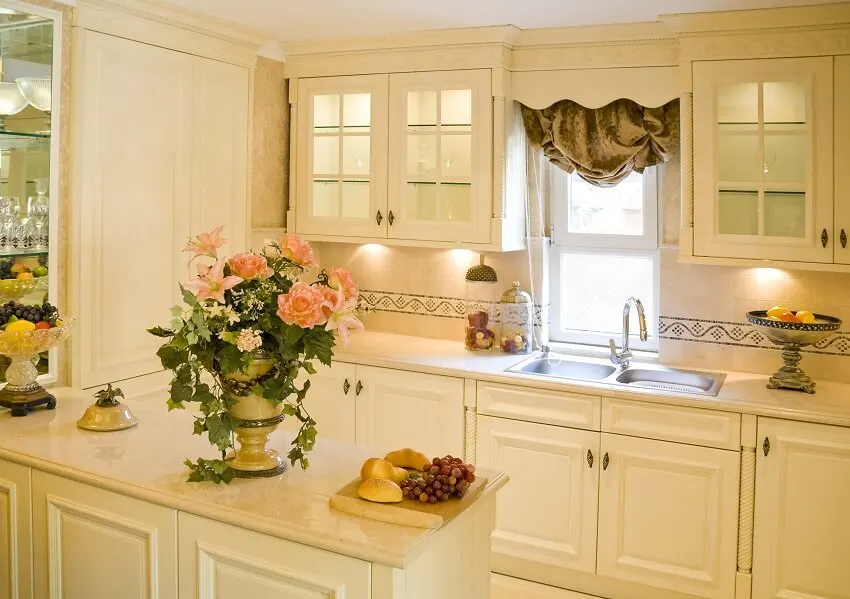 When you're trying to consider what length should your kitchen valance be, you first need to be acquainted with the difference between its drop and its actual length. The length of the valance is considered to be its longest point. This refers to the side tails.
The drop of the valance is the distance from the center from the top to the end of the fabric. Most valances have drops that are either scalloped or in a swag design.
In order to determine its length, you first need to include the trim and the hanging tool in the length calculation. Your drop needs to be between 18 to 24 inches long.
Your valance drop can be as short as 16 inches but anything shorter won't really work anymore unless you have a low ceiling or window and the valance is only there as an accent.
You can also go for valances that are up to 28 inches long but for functionality, you need to make sure that the lowest ends of the curtains will be at least 9 inches off the floor.
Another approach is to make sure that your valance length is about 1/6 or ¼ of your actual window's height. In the end of it all, it's really your choice or decision. Just go with whatever guideline works best for your kitchen.
How Do You Measure Curtains?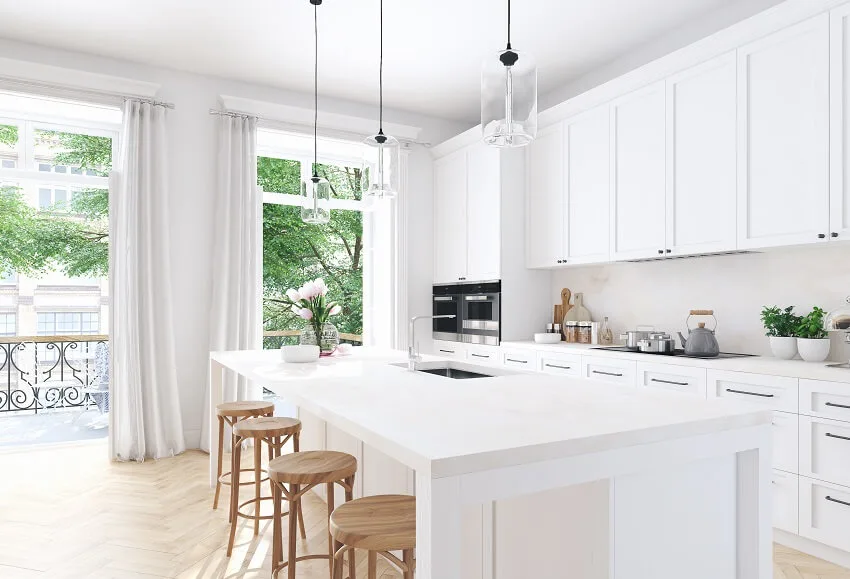 Measuring for your kitchen curtains is really easy, but it depends on the kind of curtains you're going for. A rule of thumb to remember is that the width of your rod pocket should not be the same as with your actual curtain width. This would result in your curtains being spread out flat.

If you're opting for curtains that are laid out flat, then you need to have a bit of an allowance. It will take around 2 to 3 times more material to provide proper coverage to your kitchen window once installed, unless your curtains are pleated.
This means that your curtain's width should be at least twice the width of your window. If you're opting for a sheer curtain, you might want to consider 3 time its length for better coverage.
For example, if your window measures 36 inches wide, it would be wise to go for 36 inches x 2 or curtains that are 72 inches wide as a general rule.
---
Choosing Curtains – Interior Designer Tips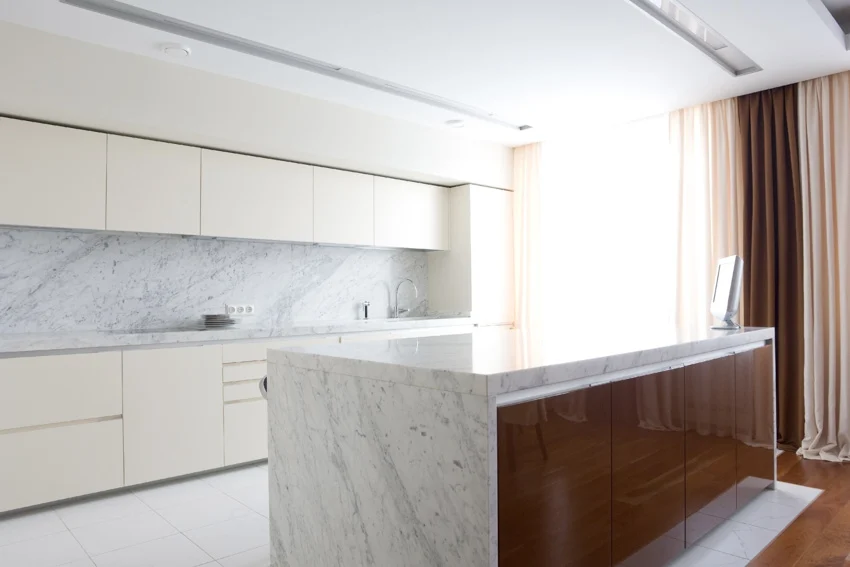 Here's what Rachel Razal Padilla, our in house interior design expert, has to say about the different types of kitchen curtains. There are several factors that need to be considered when choosing the right type of curtain for your kitchen, take a look at them below:
The purpose of the curtain – Although the primary role of a curtain is to maintain the privacy of your home, you can use it for other functions like adding insulation, filtering natural light and enhancing the look of the space. The first step to figuring out how to choose curtains for kitchens is to determine what your space requires.
According to Rachel, "Thinking of the function you intend to use your curtain for will help you decide which design and type of fabric you should go with.
For example, if your kitchen receives a lot of direct sun and you need a window covering to block sunlight from streaming into the space, do not use valances or cafe curtains because they only provide minimum coverage. Instead opt for a design which will cover the entire window."
The amount of sunlight you want – Know how much sunlight you want your kitchen to get. Oftentimes, homeowners prefer curtains, blinds and shades for kitchens because these types of window treatments provide privacy while allowing sufficient natural light to enter into the room when needed — unlike drapes which are much heavier and are primarily intended to block out sunlight.
"It is best to maximize the amount of natural light you can get in a kitchen. Natural light can make a space look more airy and can brighten up a space.
In addition, a kitchen can benefit from enormous natural lighting because of the huge amount of tasks and food prep that takes place in it. To ensure that your kitchen gets the right amount of sunlight, use light curtains instead of heavy fabrics.
Sheer and lightweight textiles like linen are good options because they will let more natural light into the room", Rachel added.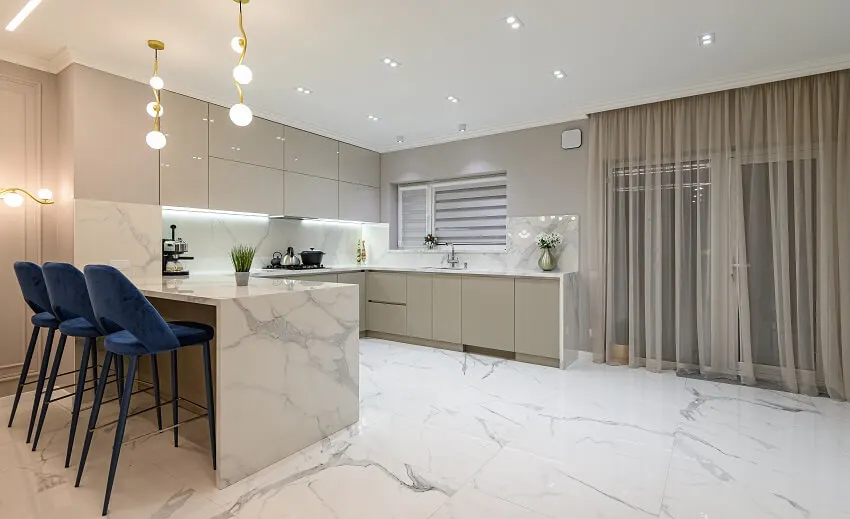 The style of your home – The mood, decor and style of your kitchen will also help dictate the type of curtain you need. Typically, traditional and classic interiors make use of curtains with elaborate details like swags and valances, while modern and contemporary interiors lean towards simpler and more minimalist designs such as those with grommets or pleats.
Traditional kitchens also favor curtain designs that have more flow and a lot of fluff. Whereas, in modern kitchens, the simpler curtain design, the better.
Additionally, blinds and shades are also more commonly found in modern and contemporary kitchens because of their streamlined form.
Vertical and horizontal blinds both have very simple designs and are unornamented and can be used as an alternative to contemporary style curtains.
Rachel also emphasized that the style of a space is one of the most significant factors to consider when picking out the right curtain fabric for a kitchen. " The fabric used for a window treatment can greatly impact and enhance the mood and tone of the room.
Heavy fabrics like brocades and velvets are more suited for traditional kitchens because of their elaborate and bold dramatic look.
Modern curtains will use sheer fabrics like lace, plain cotton and linens. These materials are ideal for modern kitchens because they offer a casual vibe and fits the clean aesthetic of the space."
Your kitchen's color palette – Make sure that the color and pattern of the curtain's fabric complements the overall color palette of your kitchen. You can either decide on whether you want to blend or contrast your curtains with the rest of the space.
According to Rachel, each interior design style has their own signature colors and this can be a very useful guide when choosing the color of your curtains.
"Dark colored curtains such as deep shades of green, purples and reds are often used for traditional interiors, while neutral colors like white, gray, beige, black and brown are ideal for modern and contemporary spaces.
Additional examples include earth toned colors featured in farmhouse style kitchens and hues reminiscent of the beach like blues, sand and white in coastal inspired kitchens."
Rachel added that the color of the curtain will not only affect the look of the space but can also have practical functions. For example, dark colored curtains can visually shrink a room so they are more suitable for large kitchens.
These are also perfect if you want to create drama and produce a warm, cozy atmosphere. In contrast, light colored curtains can help make a small kitchen look more spacious.
Opt for low maintenance fabrics – It is more ideal to use low maintenance fabric for kitchens because they won't fade easily.
Examples of which are synthetic fabrics like polyester and nylon. Alternatively, natural fabrics like linen and cotton offer the same benefits. These types of curtain fabrics can be machine washed at least every 6 months.
Rachel advises her clients to use polyester for kitchen curtains. According to her, polyester is one of the best fabrics to use for this purpose because it is not only easy to maintain but also highly durable and inexpensive.
In addition, polyester is widely available in a wide variety of colors, allowing you to customize your curtain to match your kitchen's overall decor and style. Window treatments made with polyester are also resistant to moisture, won't fade easily and will provide a lot of UV protection.
---
Visit our guide on how to choose curtain color for more related content.