Different ways to hang sheer curtains guide including installing curtain panels, a window scarf, string lights, and other window covering design styles.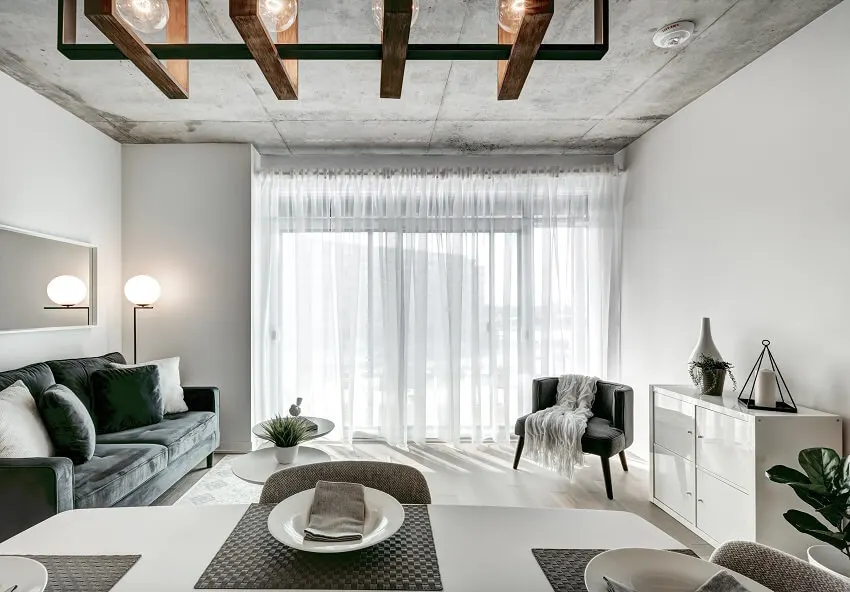 Sheer curtains are undoubtedly a trend that will continue into the year 2022. Sheer curtains have an exquisite appearance, are very appealing, and are helpful for people who want privacy. Sheer curtains, made of semi-translucent and flimsy fabrics like cotton lace or loosely woven polyester voile, allow for complete light transmission.
Because sheer curtains are transparent, they can dress a window while still allowing light to enter the room. Sheer curtains are ideal for living rooms, bedrooms, and kitchen windows because they look elegant and provide a light, airy feel.
Sheer fabric curtains can be used alone or behind heavier drapes to create a pleasing effect. Sheer curtains are a practical home decor option that is inexpensive and comes in various colors and styles. These curtains can be used in your bedroom or to create a room partition.
You have the option of using a single layer or multiple layers to create new and stylish window treatments. Layers of different colored curtains and textures will give your room a unique look.
How To Hang Sheer Curtains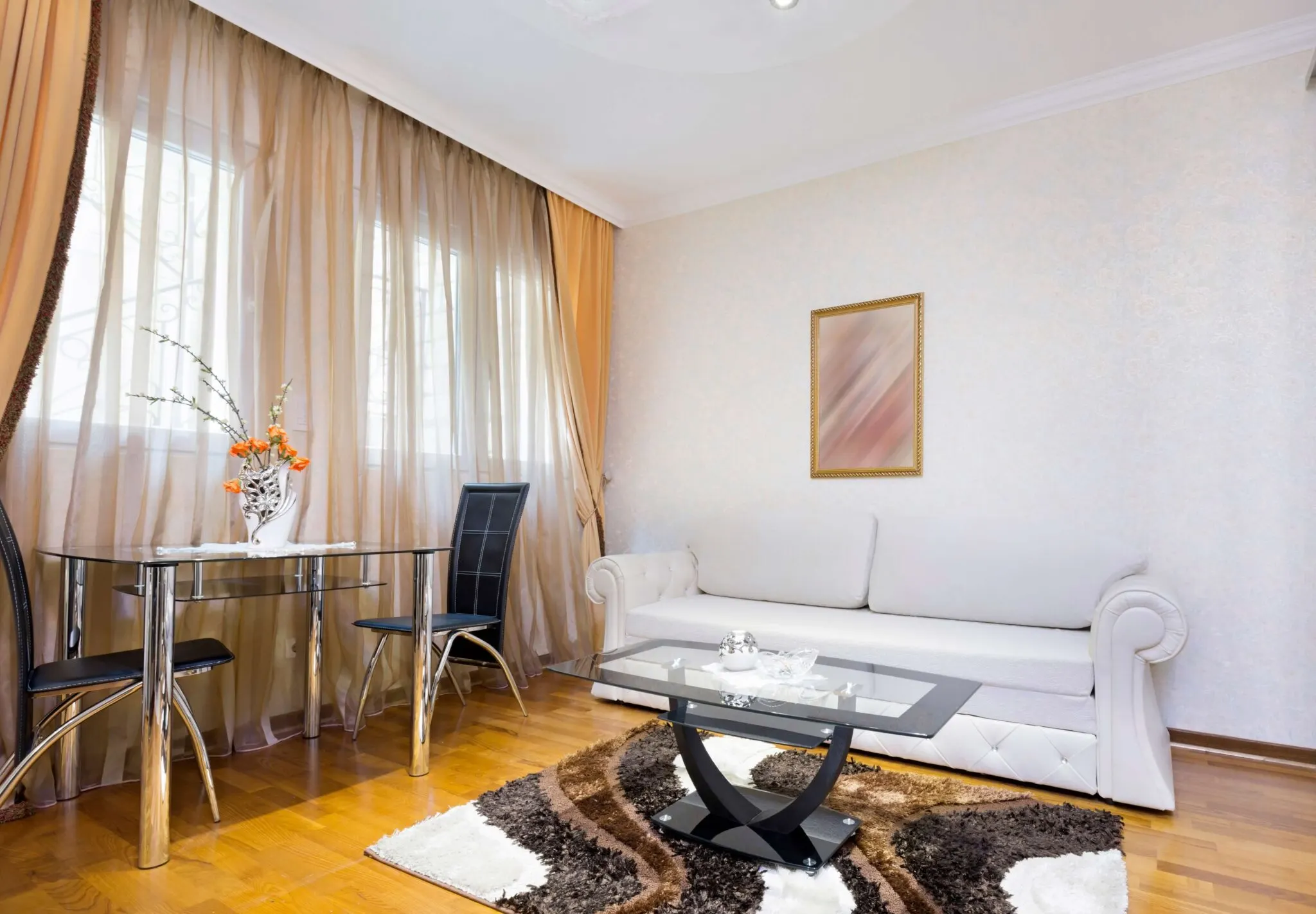 Sheer curtains are often overlooked as window furnishing, but they're rather versatile. Light and airy, they're highly functional with the ability to filter and diffuse light during the day while retaining privacy.
However, because sheer curtains can be made from several different kinds of curtain fabric and are available in various colors and patterns they can be used to achieve very different looks.

Layer Sheers with Blackout Curtains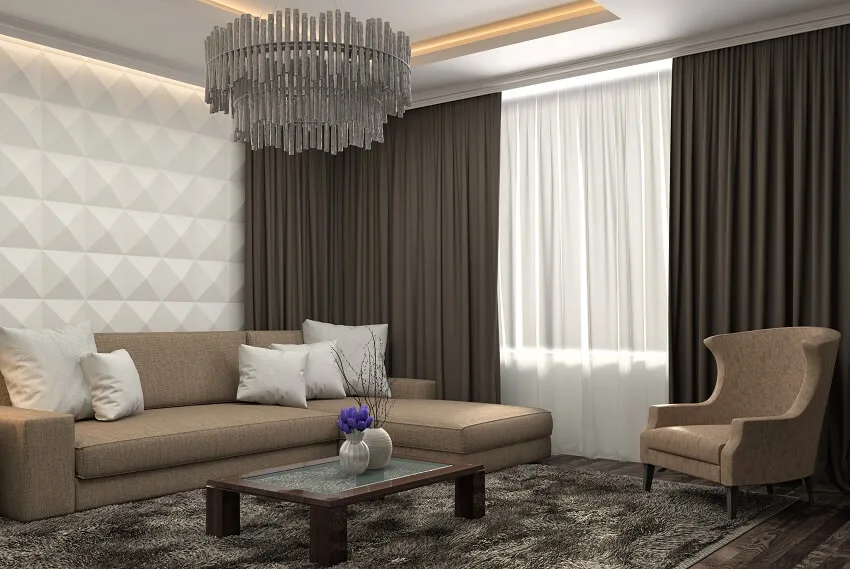 First off, while sheer curtains are made from thin, loosely woven materials that allow plenty of light in and provide a degree of privacy.
In contrast, blackout curtains are made from thicker, denser materials and are commonly laid in multiple panels for added opacity. These types of curtains are designed to block light and control privacy.
Combining the two types of curtains gives you versatility in adjusting your curtain blockage levels, depending on your needs.
How to layer sheers with blackout curtains:

• Double Curtain Rod
• Single Curtain Rod
• Hair Tie Trick
• Triple Curtain Rod
Hang Multiple Curtain Panels
Having a wide window can be a challenge to add window treatments but at the same time an opportunity to add visual impact in a room through hanging multiple curtain panels.
The key is to create an illusion of continuity. You can also make a double window look exciting and visually more expansive with various curtain panels.
To create the illusion of continuity, hang curtain panels at each window break or equidistantly across your windows. Your windows will appear larger and more inviting as a result.
Take note that you won't be able to completely cover your windows with this method, and it is not advisable if you prefer complete privacy in your room.
Use Sheers and Swags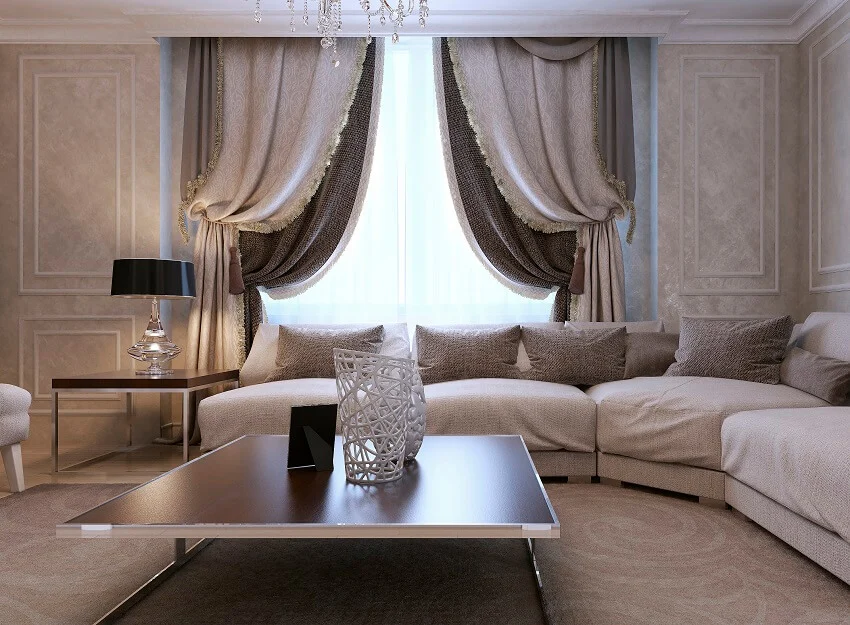 The sheer and swag method is perfect for oddly shaped and wide windows and give a room an opulent look.
A sheer swag is a plumy vapor or a filmy color that hangs from a window. It looks best in a soft, romantic room with light, flowing curtains or drapes.
Since both sides are visible in the light, pastel voile, chiffon, or another sheer fabric or net material that doesn't have a "right" or "wrong" side is suitable for sheer swag.
A swag can be styled in various ways, from a simple drape over a curtain rod to a more elaborate rosette-gathered treatment. The key is to adjust and arrange the folds so that they fall correctly.
The sheer and swag design, though, is not advisable for bedroom areas but looks grand in living, great rooms, and other formal areas.
Sideswept Sheers (use tiebacks). When carefully executed it can look equally gorgeous as your classic swag or upbeat chic. The point is not to make it cheap-looking. It is a great way to secure your sheer curtains, especially when you're in a windy location.
Tieback materials you can include:
Knotted Rope. Try using a thicker rope that is loosely knotted to hold back the curtains for an easy DIY curtain tieback. You can add a tassel or some bells to the rope to make it more interesting.
Beaded Rope. Prevent curtains from blowing by keeping them positioned against the wall with a little sheen on your sheer curtain ensemble. Curtain Tie Backs are available in beaded nickel, beaded plastic, or fabric with velcro.
Fabric Bow. When you have sheer curtains overlaid with heavier curtains, use the sheer layer as a tieback by tying it to the outer layer.
Alternatively, because sheer curtains are inexpensive, buy an extra pair in the same color and make a flower out of some of the fabric to use as a tieback.
Organic Bows. The natural texture gives that homey feel and can gather your curtains effectively. Use the classic jute rope for that Nordic or traditional look for continuity.
Gold or Silver Colored Chain. The industrial look of a metal chain is the perfect complement to a contemporary home. The glam touch is useful in holding back airy white curtains and sturdy in holding block-out curtains.
Bring in Centerpiece Décor
Sheer curtains can effectively add an atmosphere or look to a room, making it a gorgeous focal point in any room or occasion.
You can use the sheer curtain for a table for two dining backdrops or canopy. The sheer curtains can be laid out to frame artwork or décor on your wall as well.
Hang a Window Scarf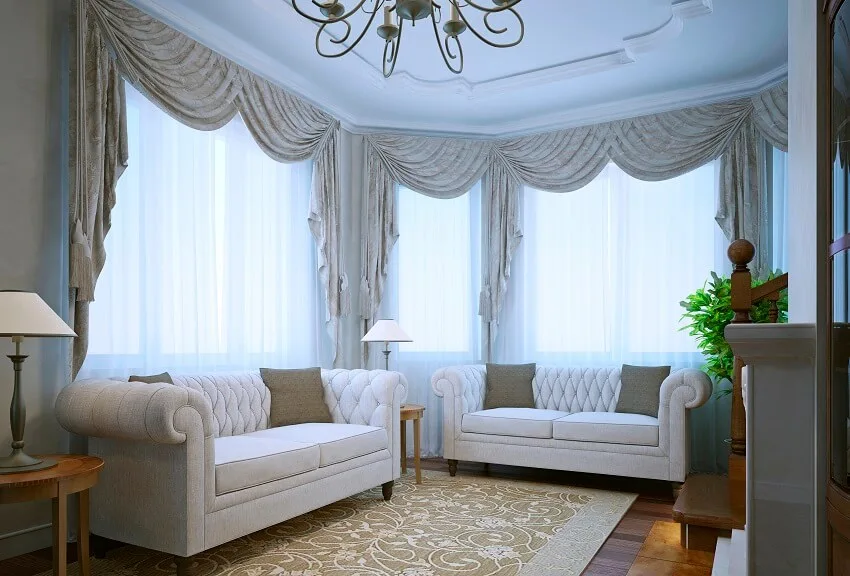 A strategically placed window scarf can draw attention to a room as a whole. It's like the finishing touch that brings the whole look together.
Install scarf hooks to hang a window scarf and accentuate a window, or cover a curtain rod with a window scarf. You can add extra details by layering scarves or tying on accessories like bows and ropes.
How to hang a window scarf?
Use both hands to hold the scarf in a horizontal position. Allow both the left and right ends of the fabric to hang vertically from your hands.
Mount the scarf to the rod while in this position. Allow the fabric's middle section to fall in an elegant u-shape while the ends hang along the window's sides.
Roll one of the hanging sides over the rod once to secure it in place. Carry on with the other hanging side in the same manner.
Alternatively, place pins in the corners of the scarf to keep it in place. By layering different scarves or tying on accessories like bows and ropes, you can add extra details.
Decorative hooks can be used to make a window scarf without the use of rods. It may take a little elbow grease to hang the hooks on the wall.
Remove any existing treatments, such as window blinds, before installing hooks to hang your valances.
Hang Sheers on Interior or Exterior Doors
With their translucent nature, sheers are a perfect curtain material to cover interior or exterior doors, especially for a front door or a patio door. This adds privacy while you are able to see if a person is behind a door.
Covering your patio or French doors with a sheer curtain can also minimize glare from the pool or sheen of your patio tiles outdoors from entering your indoor space.
Hang String Lights
For a soft twinkle or fairy-like effect, hang string lights under sheer curtains. This is great for your kids' room or if you're simply into the boho and chic vibe for your personal space. Learn more on how to hang string lights here.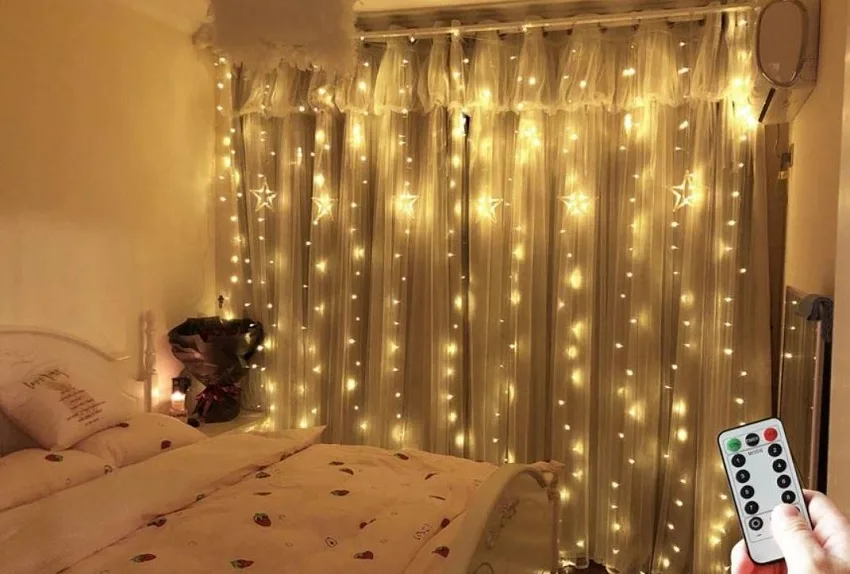 See this AMARS Curtain Lights at Amazon [sponsored links]
Choosing your string lights
String lights are the most popular and widely used lights for holiday decorating, but they can also be used behind curtains in your home's rooms to provide soft lighting.
You can also hang these lights from the ceiling behind curtains to give your space a unique look while brightening it up.
String lights can be used behind your curtains in a variety of patterns, including a simple outline, zig-zag, or the traditional wall design. Once you've finished hanging string lights behind your curtains, you can't help but feel cozy.
Hang Sheers from a Four Post Bed
The four-poster, also known as the king of beds or the bed of kings, is frequently associated with romance and fairy tales. The four-poster bed was initially designed for nobility in the 13th century, hence the kingly reference.
From massive ornately carved oak and tapestries to sumptuous velvets, shimmery silks, and embroidery, its shape and materials have evolved over time.
From traditional drapery to breezy swags and even how to look stunningly undressed, we've got you covered. A four-poster bed is still coveted by many people today.
Four Post Bed Design Style Options
Loose sheer drapes. The simplest and least expensive Way to dress a four-post bed was to drape a sheer curtain fabric over the bed frame. This look is laid-back and features a wispy, reversible fabric like sheer, gauzy cotton.
Double swag. Have two draped swags instead of a single swag for balance. If you think this style is for you, decide whether you want your side panels to puddle or pool a little on the floor, just hit the floor, or be slightly raised off the floor.
Lit à la Polonaise. A lit à la Polonaise is a four-poster bed with an overhead crown created by bending the frame. The phrase means "Polish bed" in French, and this style has a frilly, romantic feel. Fabric can be wrapped in swirling swaths around the supports by attaching it to the crown with ties or a pocket, as shown here.
Hanging Window Sheers Tip: High And Wide Is The Way To Go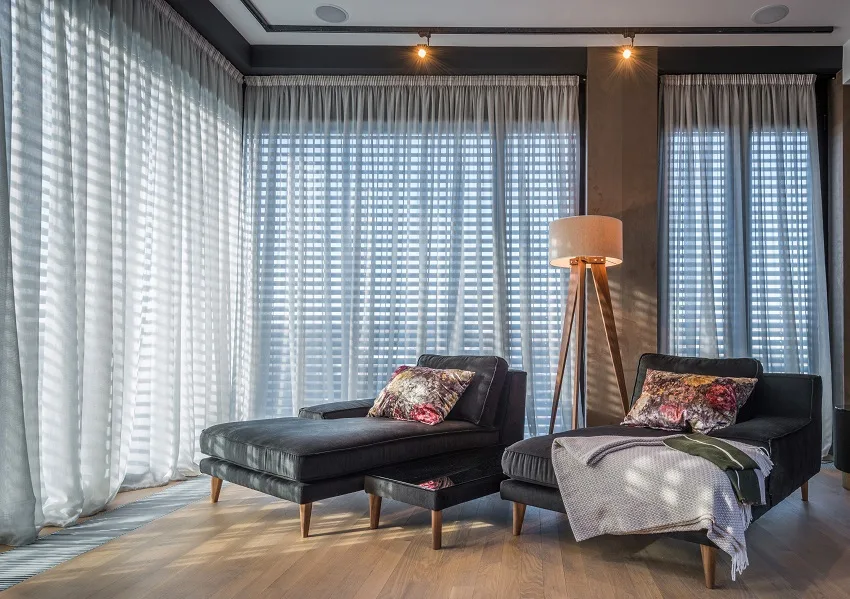 Window sheer curtains that are hung high and wide will enhance your windows and allow more natural light to enter.
While 84-inch curtains are commonly used, 96-inch curtains allow you to go higher and wider.
Your curtains should reach the floor and not be too short; if you prefer, they can even "puddle" on the floor (which means they're one or two inches too long).
It's best to hang the curtain rod two to six inches from the ceiling and at least a foot outside the window on both sides when hanging it. This maximizes your space by making your windows appear larger.
For more related content, read more on our guide on how high to hang curtains here.