Here we share decorating ideas for the space above kitchen cabinets.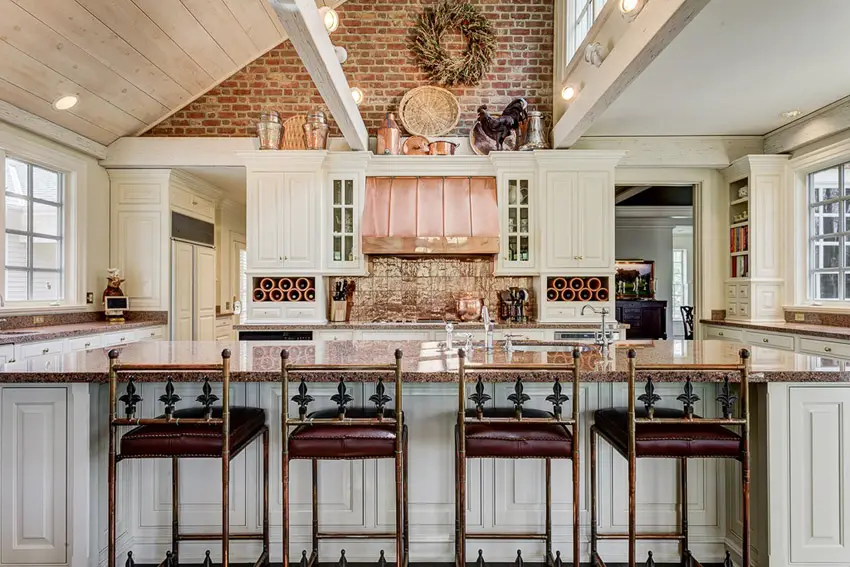 We like our homes to be perfected in every way. We usually take care of the larger things that decorate our home like the furniture pieces, the upholstery and the walls, but what surprisingly also makes a lot of difference is the detailing. In a lot of places at our homes, especially kitchens, there are some awkward spaces that we do not use regularly. The space above the kitchen cabinet is one such 'awkward' space which ends up gathering dust.
A lot of people leave the space empty, which is fine if the space available is lesser than 2'. However, if its more than that you might want to consider some good addition to the space. The idea of decorating the space above the cabinet is not to clutter but to add to the aesthetics of the kitchen décor. And so, the addition of decorative elements above the kitchen cabinet needs to subtle and aesthetic. Here are some amazing creative ideas to make the space above the kitchen cabinet useful and visually appealing.
What to Do with the Space Above Kitchen Cabinets
Here is a collection of decorating ideas for the space above your kitchen cabinets including a variety of design styles for inspiration.
Layer the Vases & Jars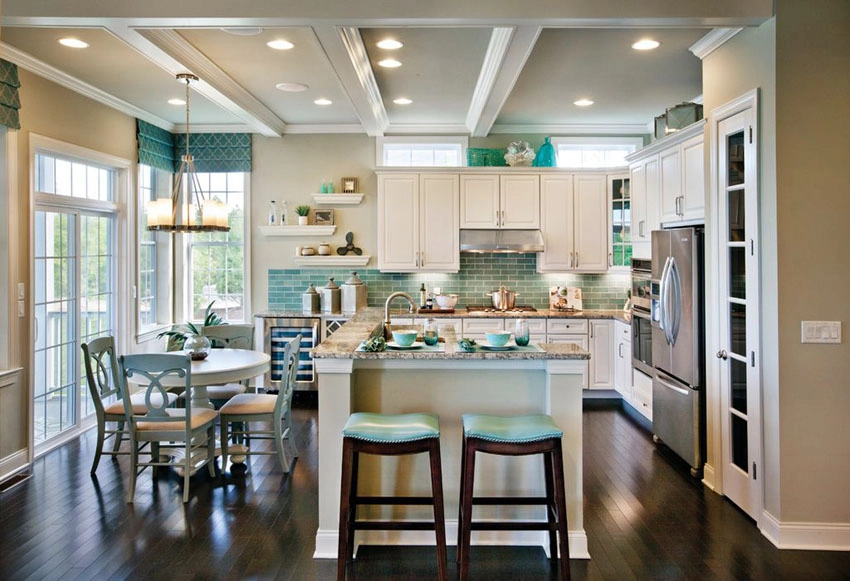 Vases & jars can be so much more than just decorative pieces on your console table. They come in a lot of sizes and shapes making it one of the popular choices for the space above the kitchen. Arrange the vases above the kitchen cabinet. Do not line them up, instead place them in groups of varied heights and shapes to add some visual appeal. For a rustic charm, plain mud vases would be perfect.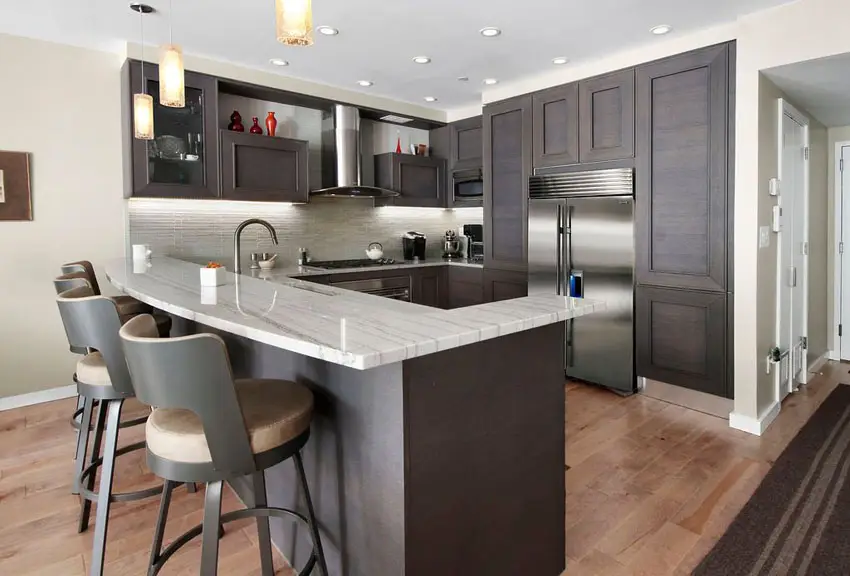 This contemporary kitchen with peninsula layers the space above the cabinets with an assortment of red glass vases to give the space a touch of color.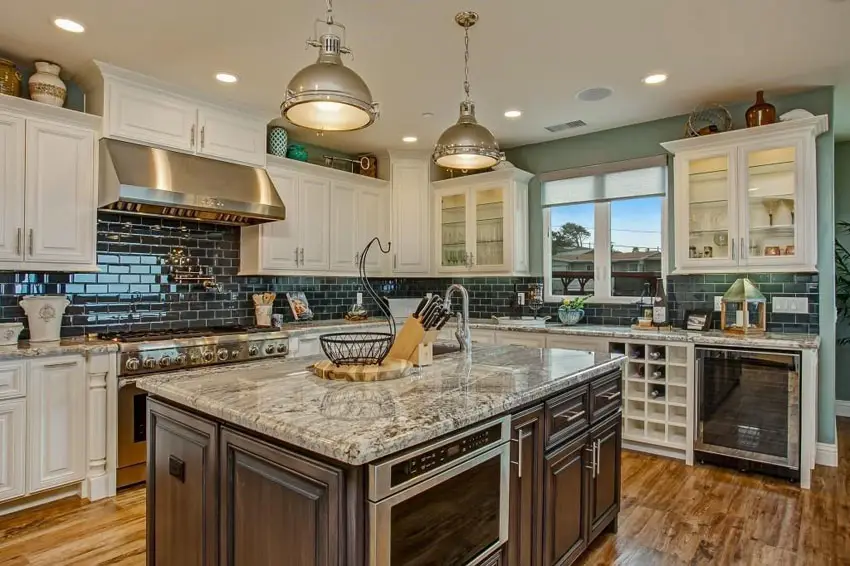 A collection of glass jugs and ceramic pottery can be positioned above your cabinets to show off you favorite decorative pieces.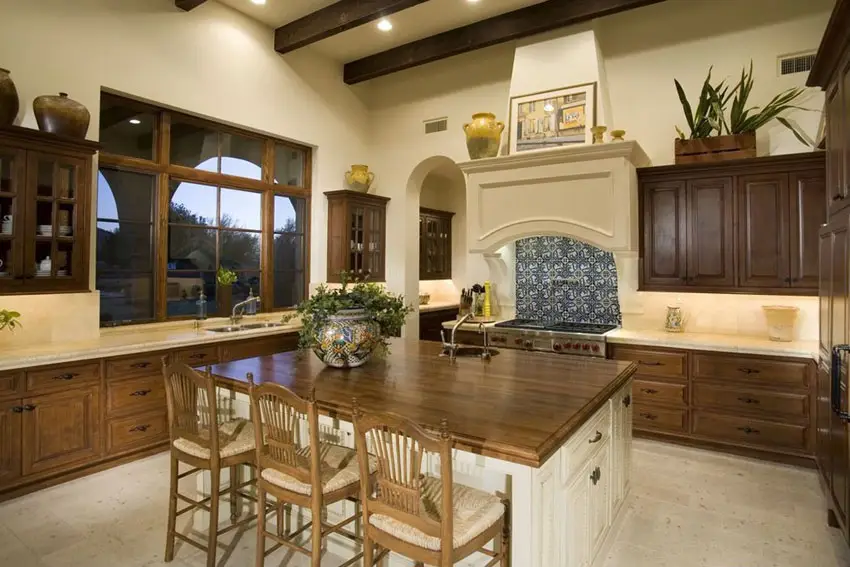 This kitchen has a variety of different sized glazed jugs to create visual interest. They also bring a small print and plant in to the kitchen design to give additional contrast.
Utility Baskets For Your Extras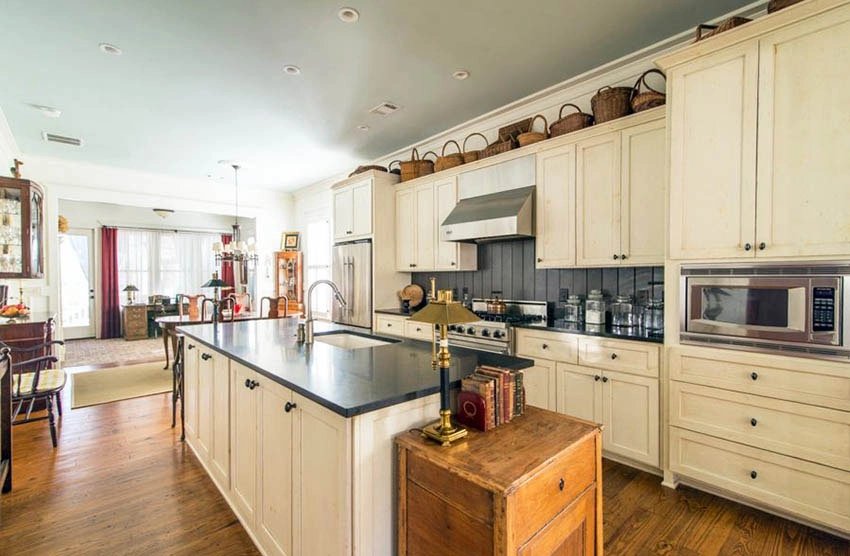 You never get enough of the utility baskets. They blend well into any kind of décor while being functional all the time. To make use of the extra space about the kitchen cabinets place a few baskets there to store some of your extra items. This not just keeps the kitchen area clean but also fills in the space above the kitchen cabinet smartly.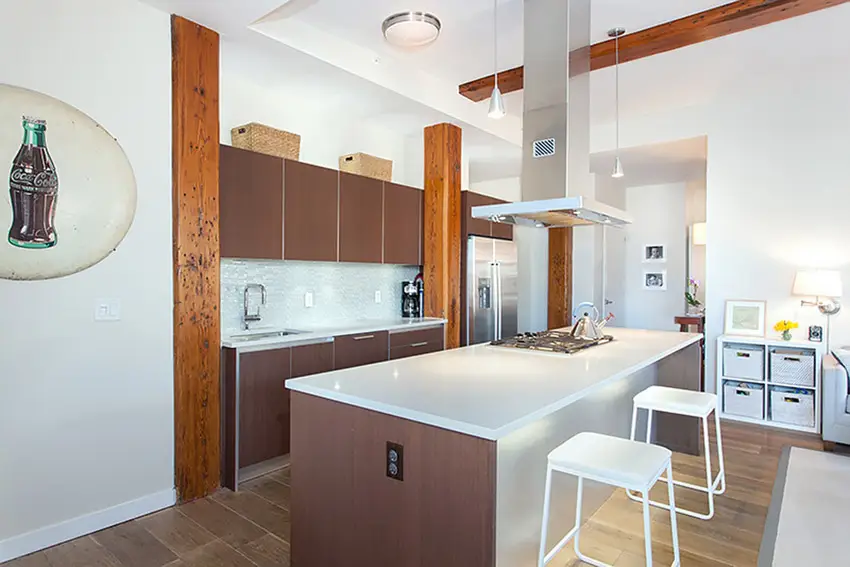 Two wicker baskets set atop the cabinets creates a space for extra storage and looks attractive as complimentary tones to the wood finishes.
Make Use of Wallpaper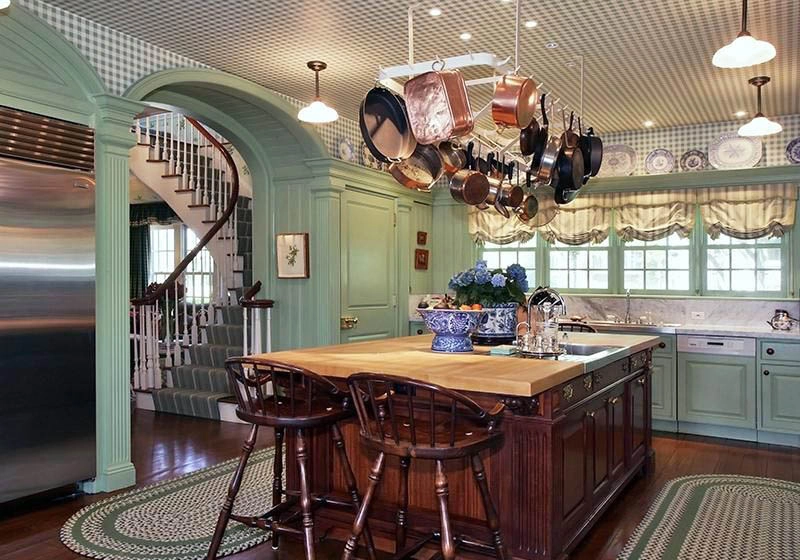 Wallpapers never go out of style. And when it comes to decorating the awkward space above the kitchen cabinet, wallpapers are an ideal choice. You can layer the space further with ceramics to the add the right bit of visual interest in your kitchen décor.
Add Some Green Plants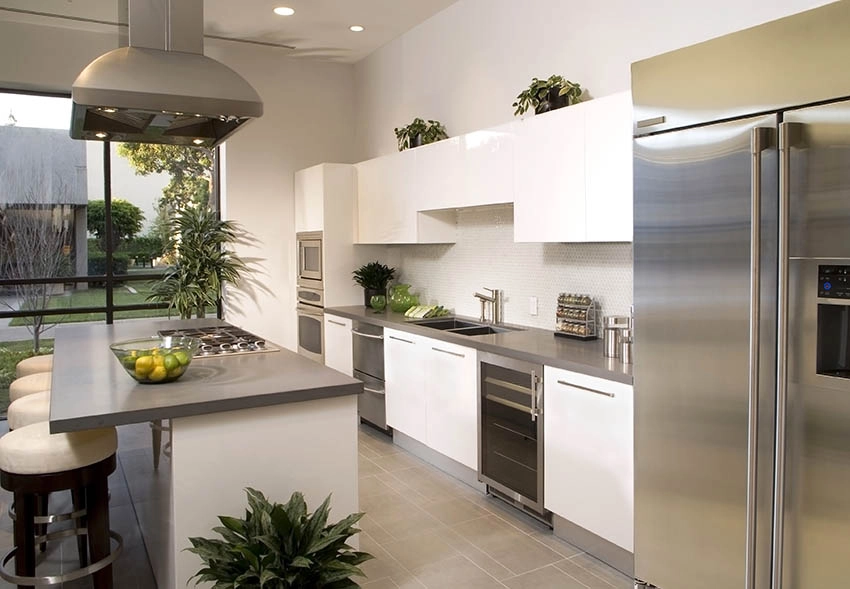 If you are in for some greenery lined up above the kitchen cabinet then this decorating idea is for you. We all love plants, don't we? They bring a bit of nature within your home and adds some freshness to the space.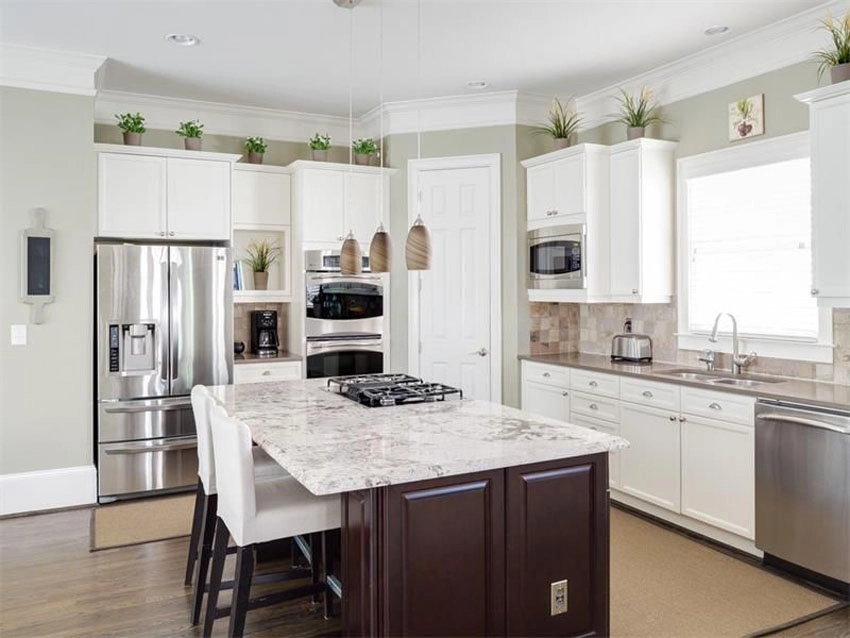 A collection of small plants above these kitchen cabinets brings a pop of color and helps freshen the air.
Show Off Some Art
If you like it bold and beautiful, then showing off some art work over the kitchen cabinet is something you would love to decorate that 'awkward' kitchen space with. From your favorite quote to a painting you love, your kitchen could use some artsy stuff to get decorated.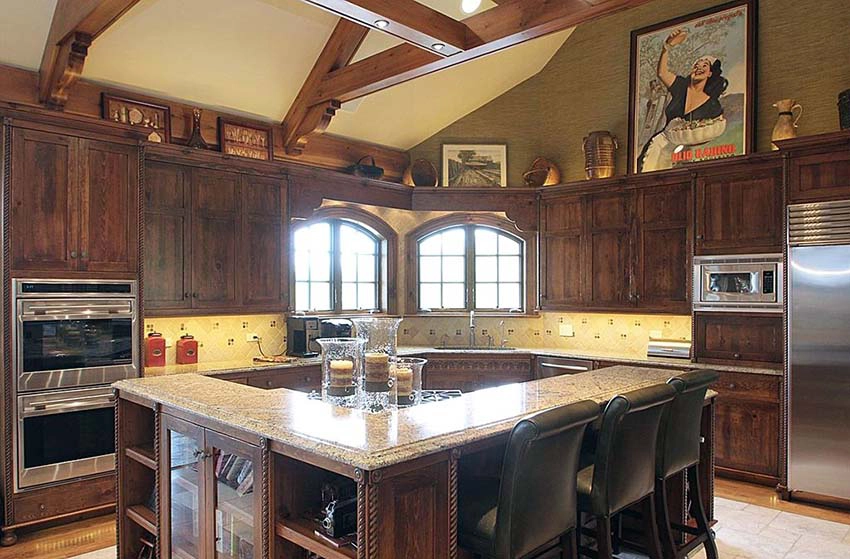 This kitchen uses a classic Italian style print above their cabinets to liven up the space.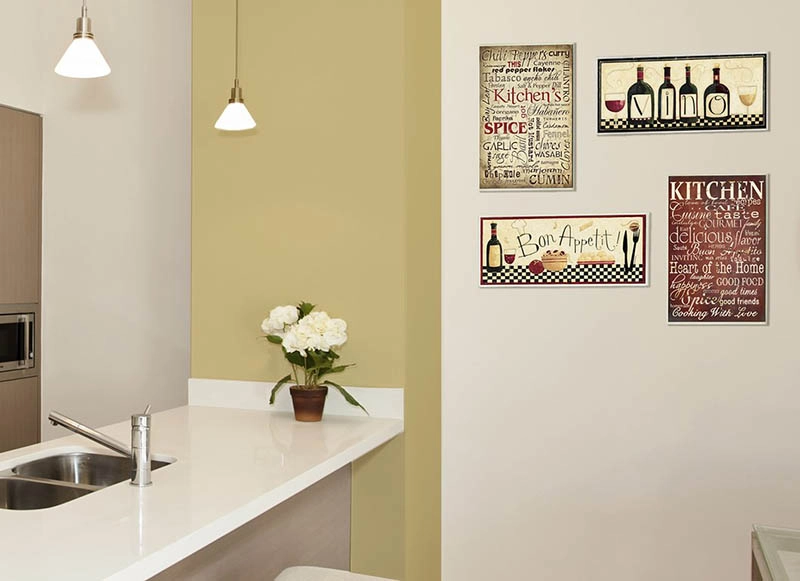 (See these art prints on wood at Wayfair)
Art prints on wood are an inexpensive way to bring some sense of style to the space above your kitchen cabinets.
Line Up Your Cook Books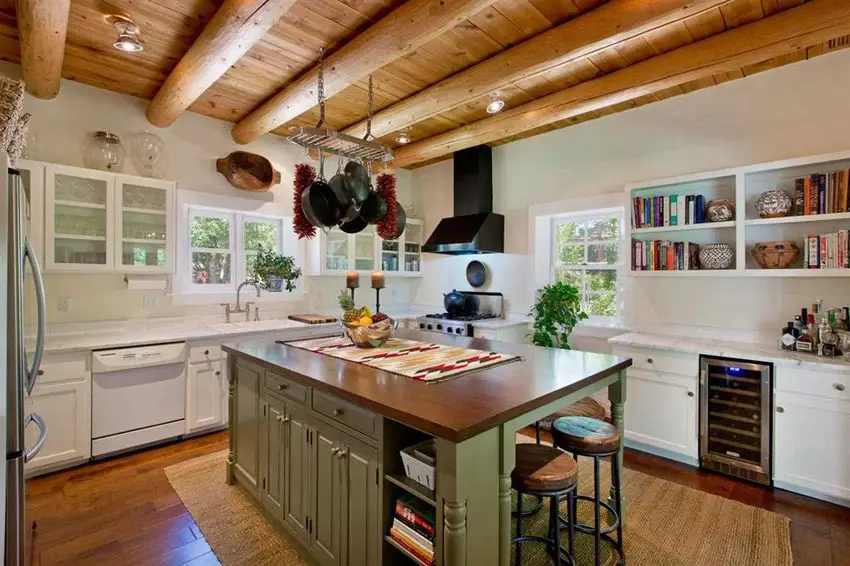 If you are one of those who loves to buy cook books and try out new recipes, then you would probably love to have all your collection kept right where you can see them. Line up your cook books over the kitchen cabinet and make you use of a space that would otherwise just gather dust. Arrange them in varied sizes to create some interesting appeal.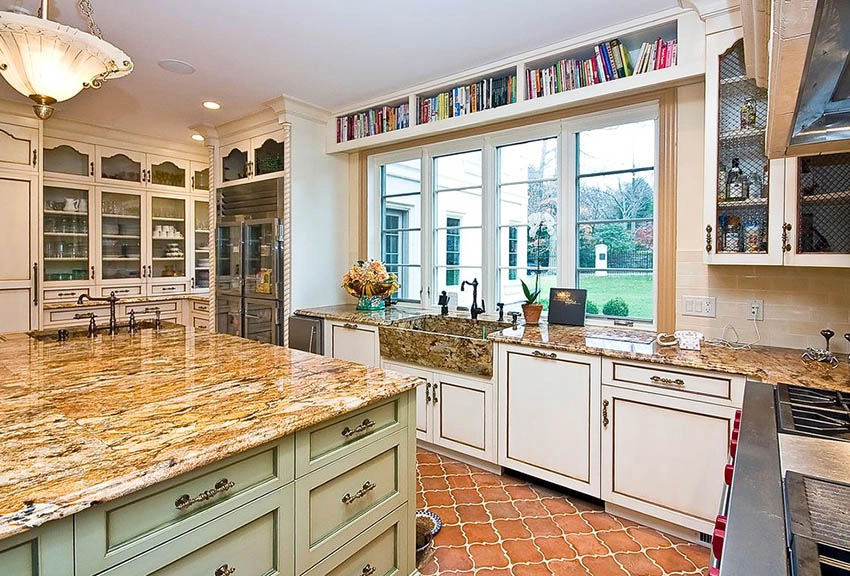 This kitchen features a built-in bookshelf to store a variety of cookbooks where they can be accessed without too much trouble.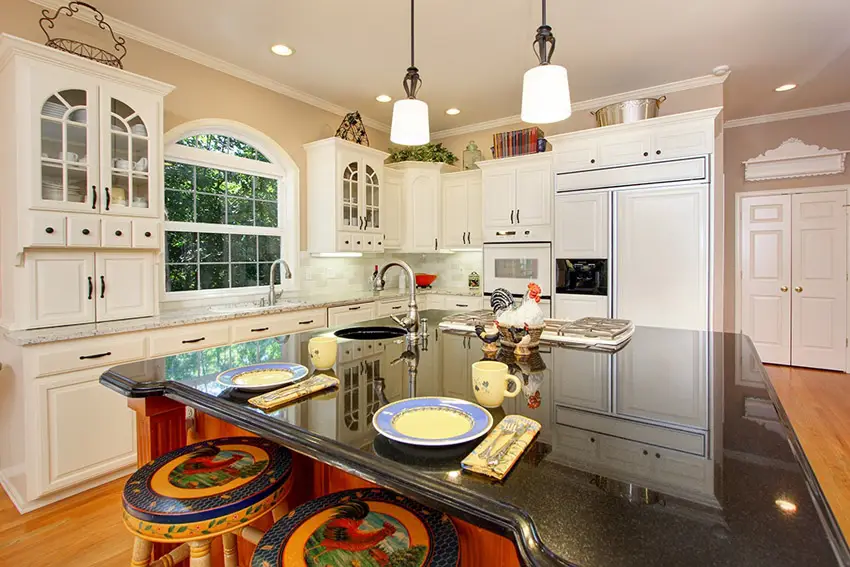 A small stack of cookbooks above the kitchen cabinets makes for an easy storage solution.
Paint above your kitchen cabinets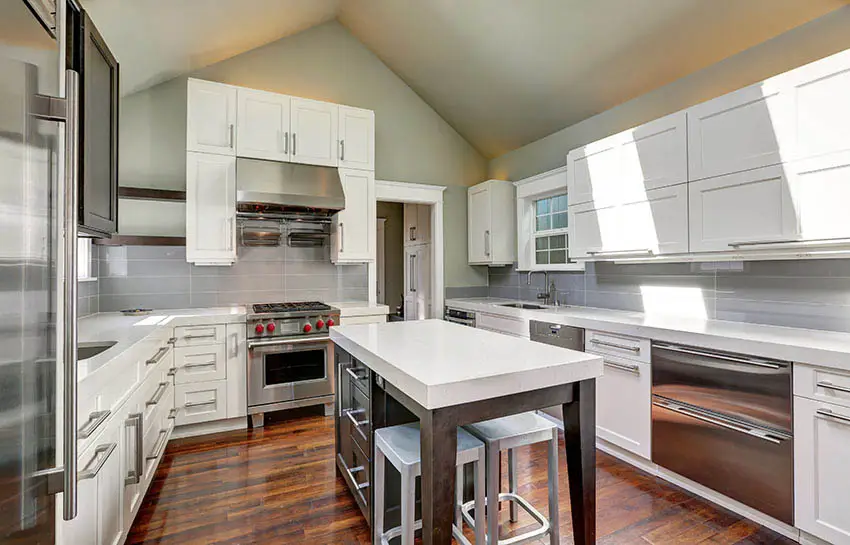 Painting above your kitchen cabinets is a great way to add some color and bring your own personal taste in to the space without worrying about extra decor collecting dust.
Above Cabinet Lighting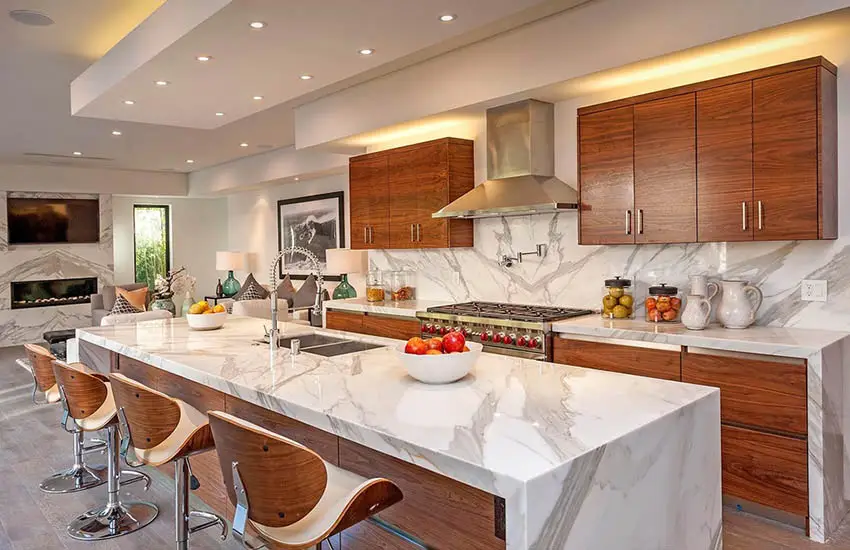 Above cabinet lighting can be used to highlight your cabinets and bring some extra drama to the space.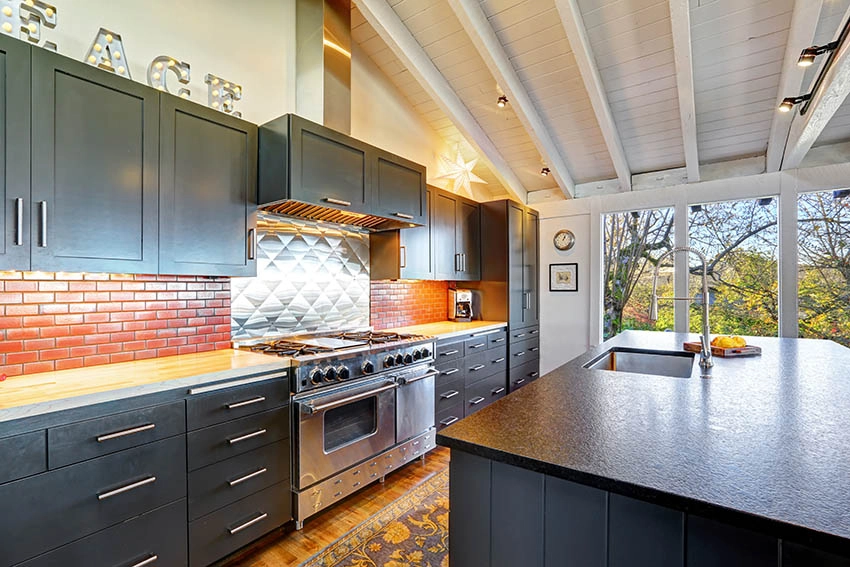 This kitchen has an illuminated star as well a large peace sign with each letter individually lit above its cabinets to create an interesting effect.
Wine Racks Above the Cabinets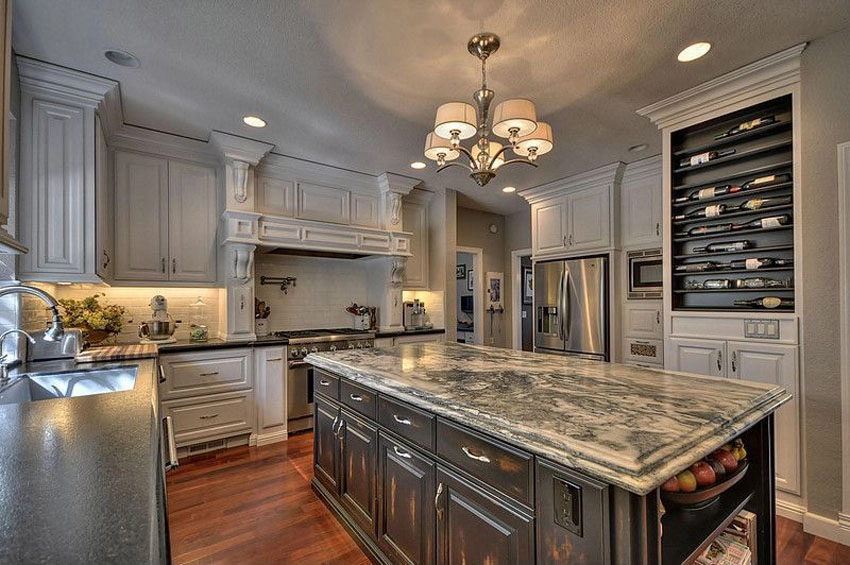 This kitchen uses a custom built wine rack above the base cabinets. This easily accessible bottle storage location looks attractive while properly storing your wine.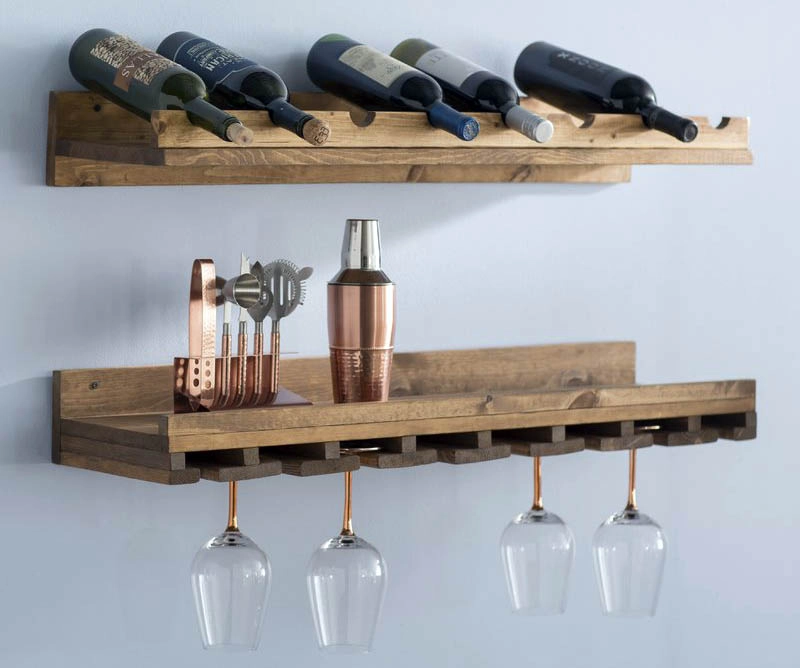 (See this two piece wall mounted wood wine rack at Wayfair)
This wood wine rack provides both bottle and glass storage as well a shelf to store your opener or other drink accessories.
Add a Custom Design Piece Above Your Kitchen Cabinets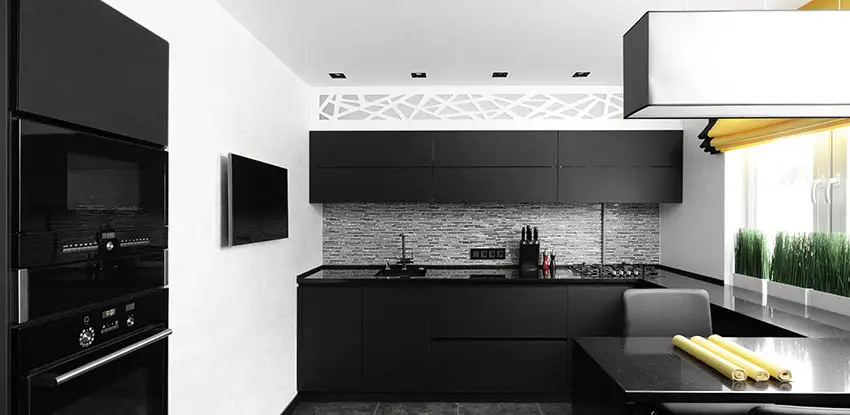 This modern kitchen features a creative custom design piece above the cabinets that's reminiscent of geometrical modern art.
Add Additional Cabinets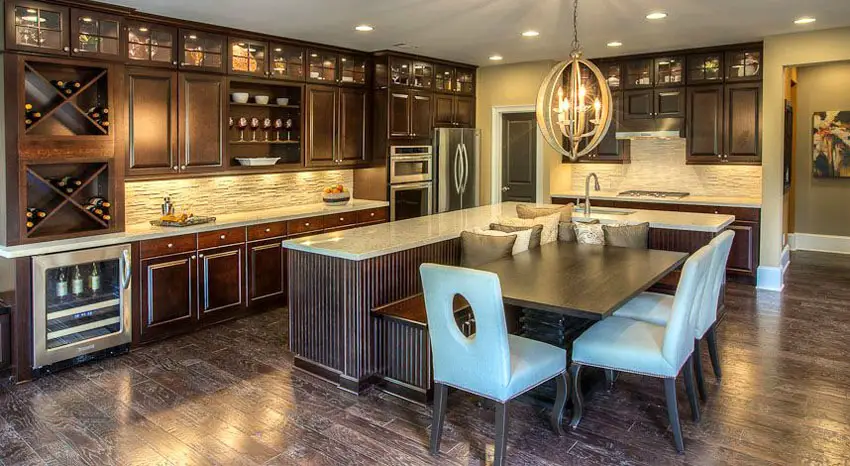 Adding additional cabinets above your existing cabinetry is an effective way to get more storage space and effectively use every inch of your kitchen real estate. This kitchen uses glass door cabinets to display a variety of decorative accessories and glassware out of the way but where you can easily see them.
Copper Kitchen Accessories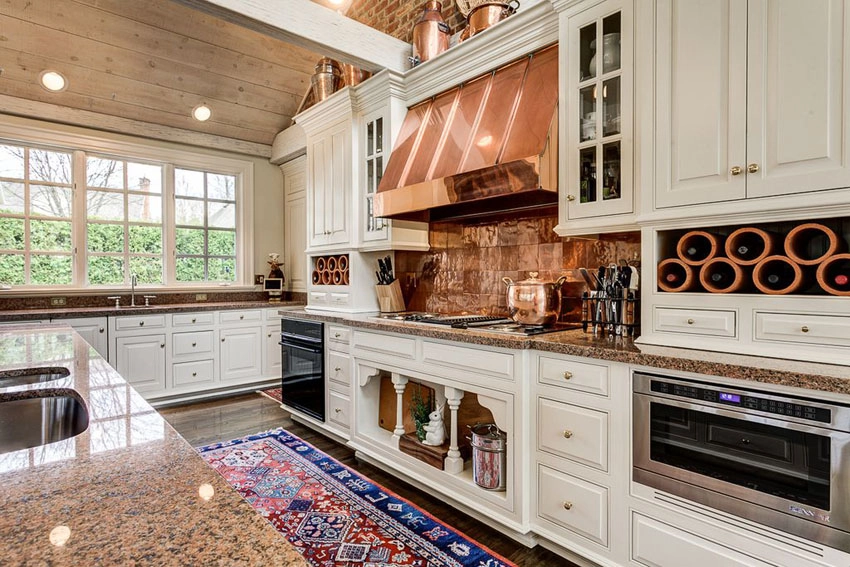 Storing your decorative copper kitchen accessories above your cabinets is a great way to show them off and match other finishes such as a copper range hood, cabinet hardware, sink or countertop.
DIY Personal Message Sign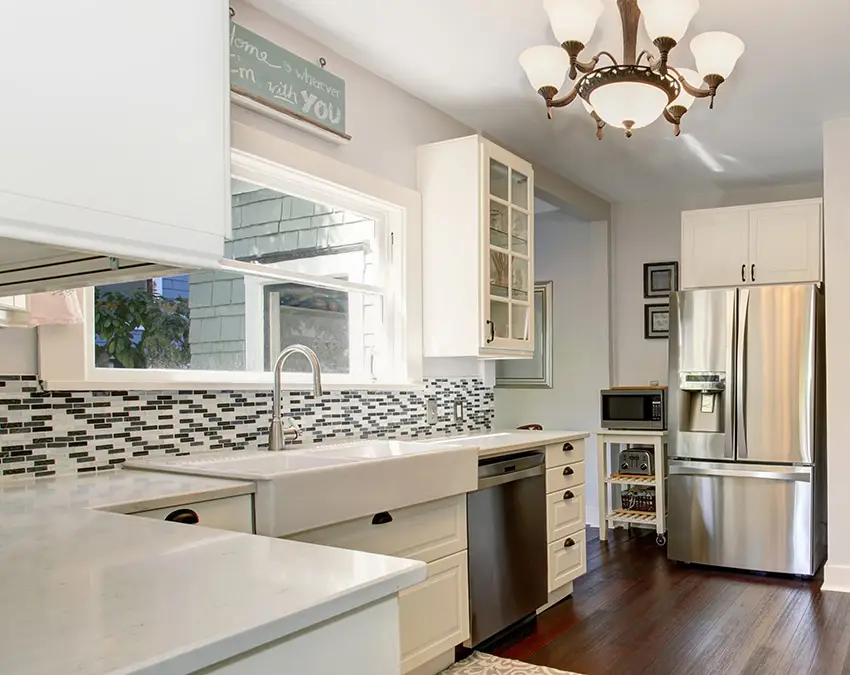 Creating your own DIY hand made sign and positioning it on the wall above your kitchen cabinets is an attractive way to add your personal touch to your home and even share affirmations of love with your significant other or family.
Kitchen Signs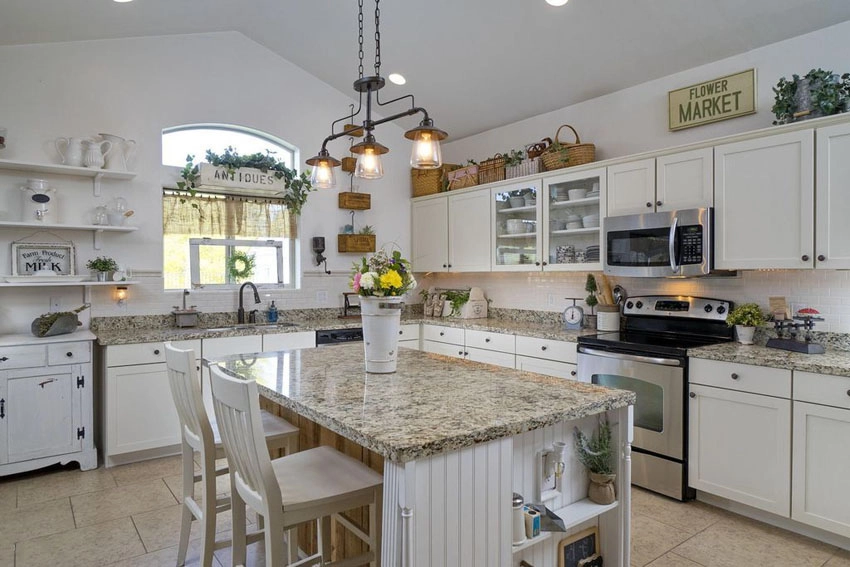 There are many different kitchen signs available and they are a nice way to reinforce your favorite guilty pleasures such as wine, ice cream, chocolate, or coffee. You can also find regional or country style signs like Paris, antiques, cafe, or flower market.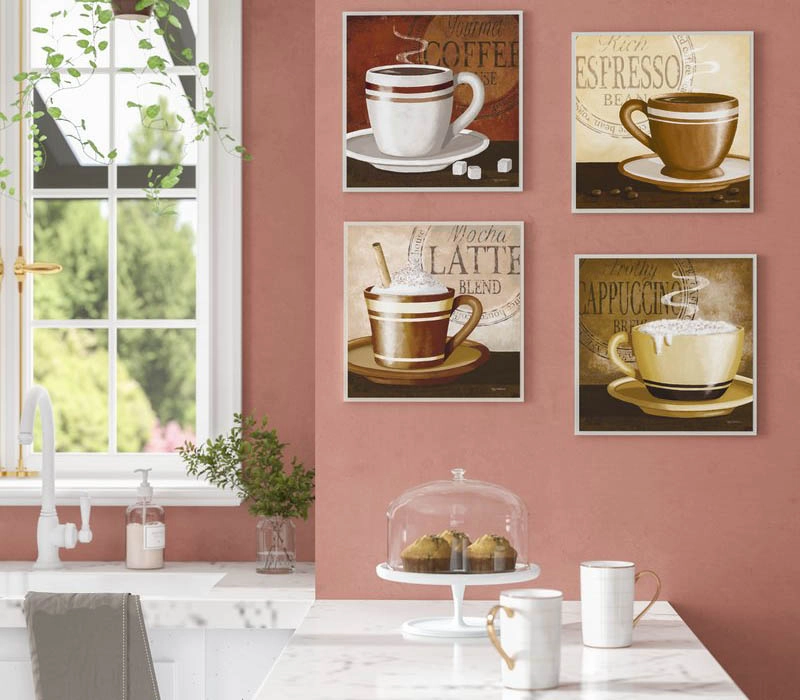 (See these coffee signs for the kitchen at Wayfair)
Chalkboard Paint Wall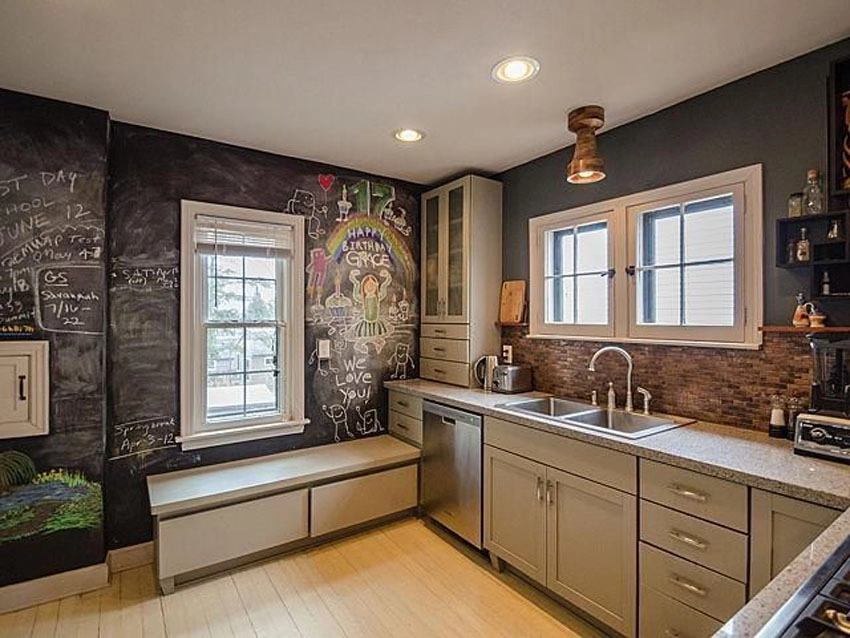 A really fun way to bring your own style to the kitchen is by using chalkboard wall paint. You can create personal messages to family members, create shopping lists, leave important messages, or if you have an artists flair draw some colorful wall art.
Hanging Pots and Pans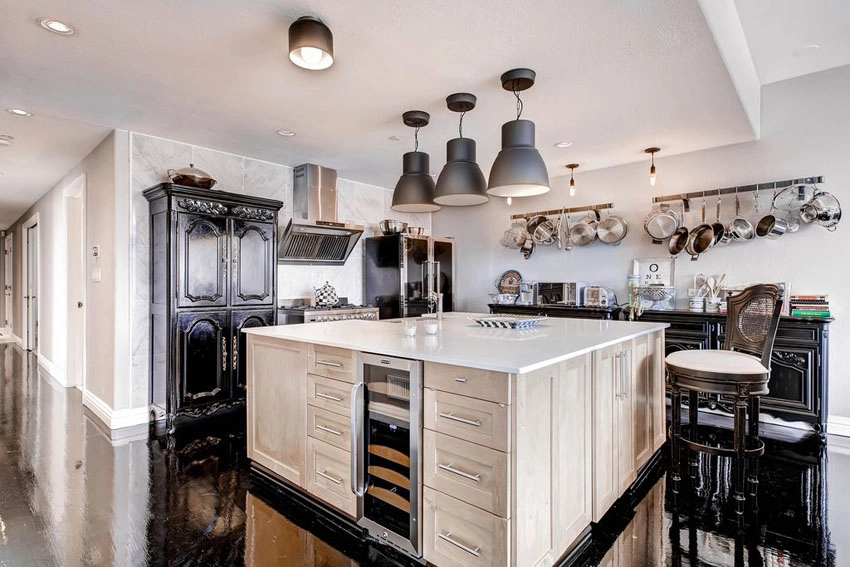 Create a chefs style kitchen by hanging your pots and pans above your cabinetry within easy reach.
Decorative Plates
For an old fashioned country style kitchen design you can display collectibles such as hanging plates, fine china or your silver collection above the cabinets.
Nautical Theme Decor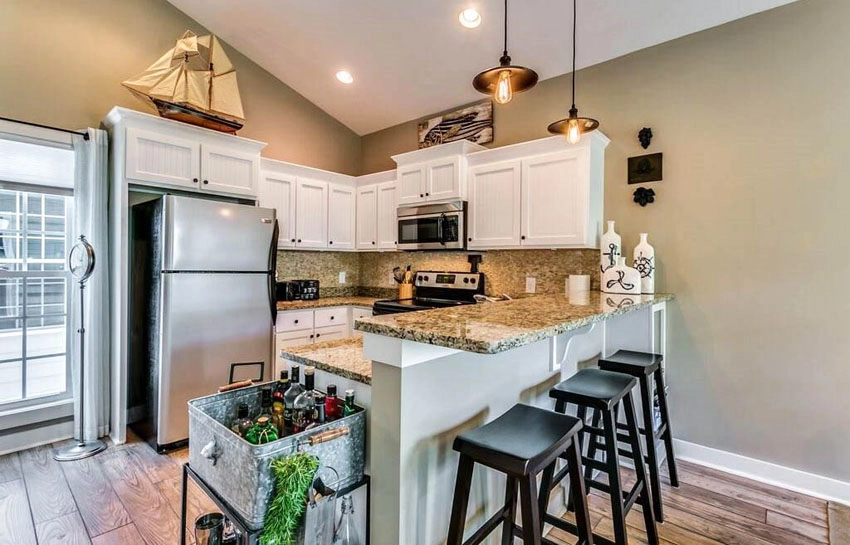 For ocean lover's a nautical themed kitchen can be arranged with the selection of some nautical or fishing related decor items.
Antique Bicycle Decor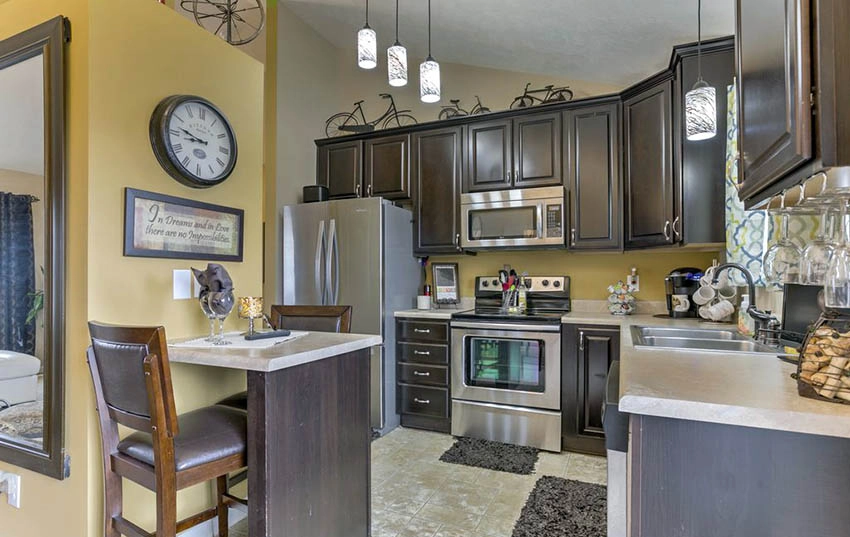 This kitchen showcases a whimsical selection of antique bicycles situated atop the cabinetry and providing a rustic ambience.
Rooster Decor for a Country Style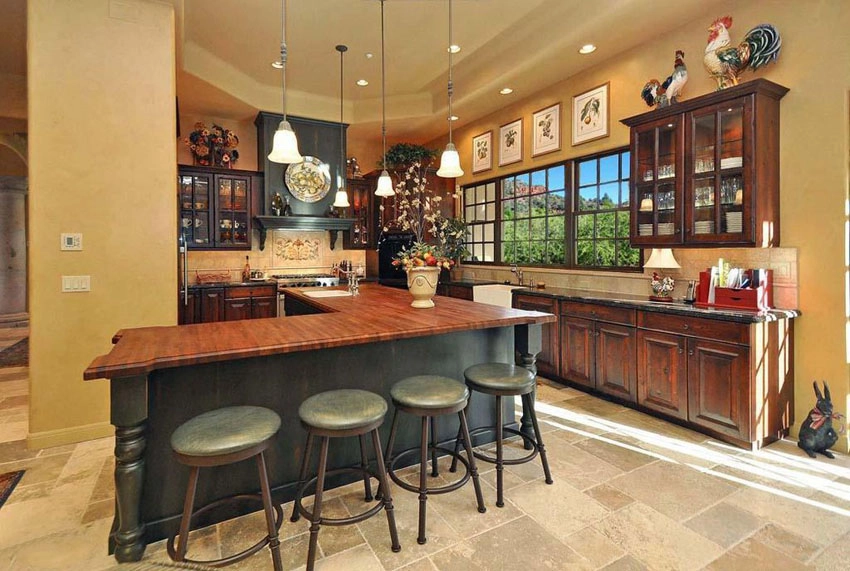 Rooster decor is a popular choice for above country kitchen cabinets. This kitchen features an assortment of decorative items to give it a unique personality and style.
This kitchen with antique white cabinets offers an assortment of rooster decor to give it a decidedly county feel.
Full Wall Tile Backsplash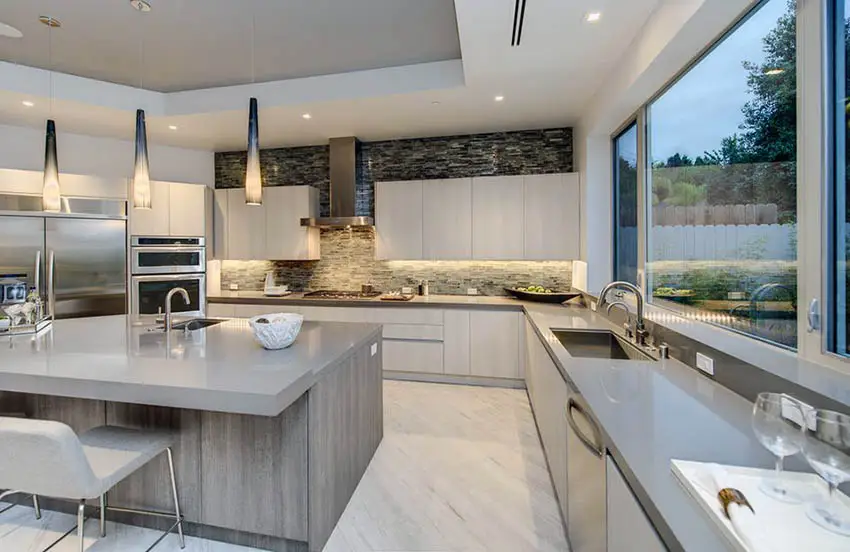 A full wall of tile backsplash can be an interesting way to utilize the bare space above your kitchen cabinets. A full wall of tile can act as an accent wall design and bring a lot of character in to the space.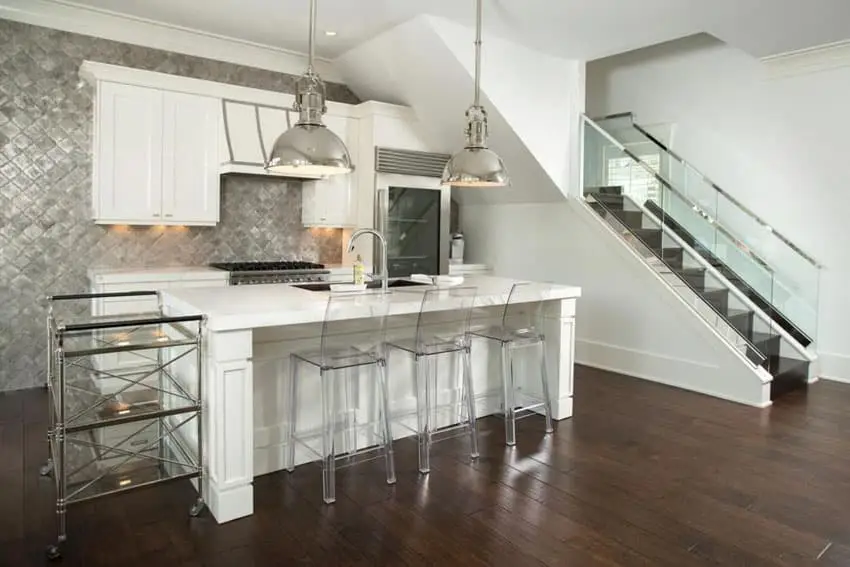 This kitchen creates an alluring design with its recessed panel shaker cabinets and an entire wall of stainless steel backsplash.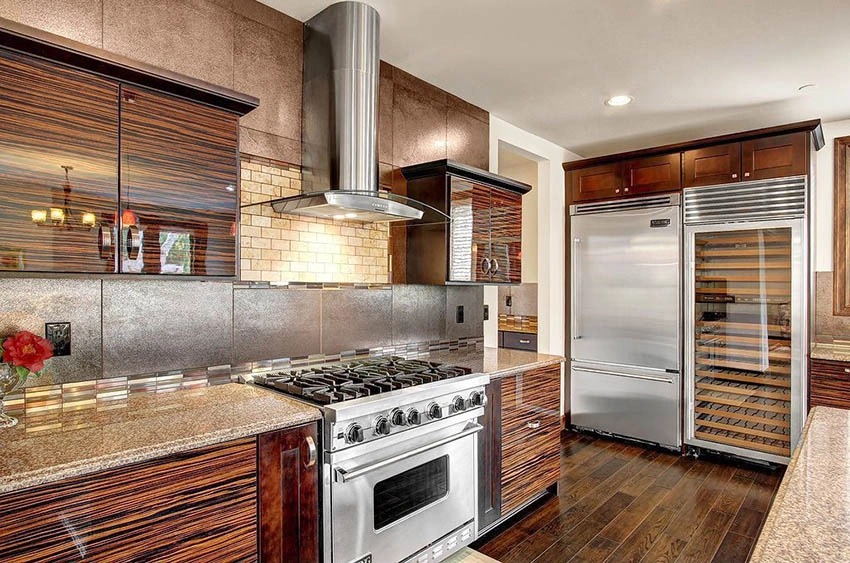 This contemporary kitchen showcases a wall of hammered copper backsplash that offers a dramatic and alluring style.
Collection of Baskets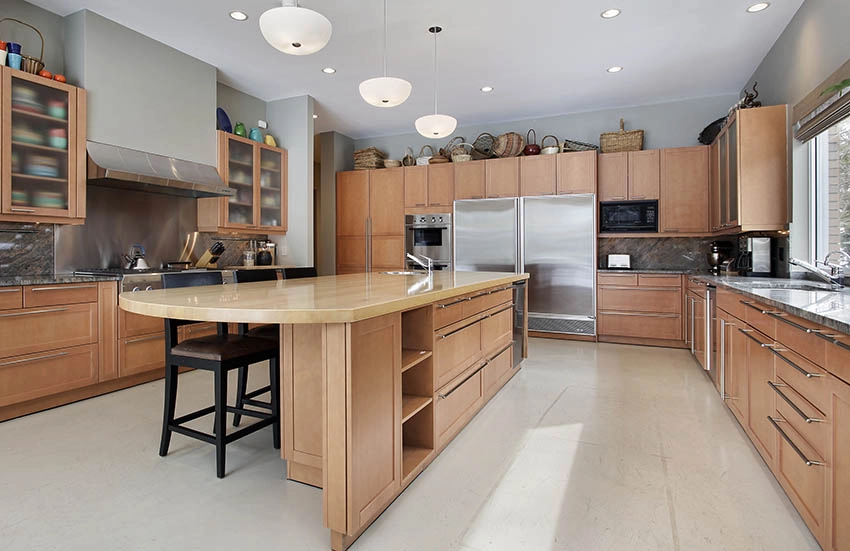 Who said you can have too many baskets? This kitchen aligns all of their baskets as well as a few colorful pottery pieces to bring together quite a large collection.
The space above kitchen cabinets can be utilized in a lot of fun and interesting ways. We hope you enjoyed this article and encourage you to share us on social media to let us know which designs are your favorites.