In this white kitchen cabinets with black hardware guide you'll see popular hardware designs and the best types of black knobs and pulls that go with white cabinets.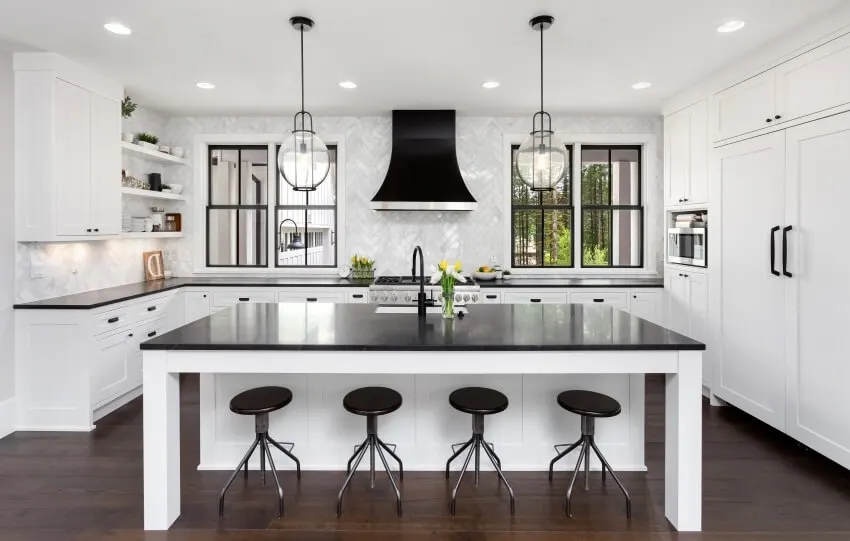 The good thing about white cabinetry is you have a wide range of color options to mix and match with it. Thanks to its universality, you won't find any difficulty looking for the right hardware and color for your white cabinets.
Although rubbed bronze and gold are popular with white cabinetry, pairing your white kitchen cabinets with black hardware presents its own charm.
White Kitchen Cabinets With Black Hardware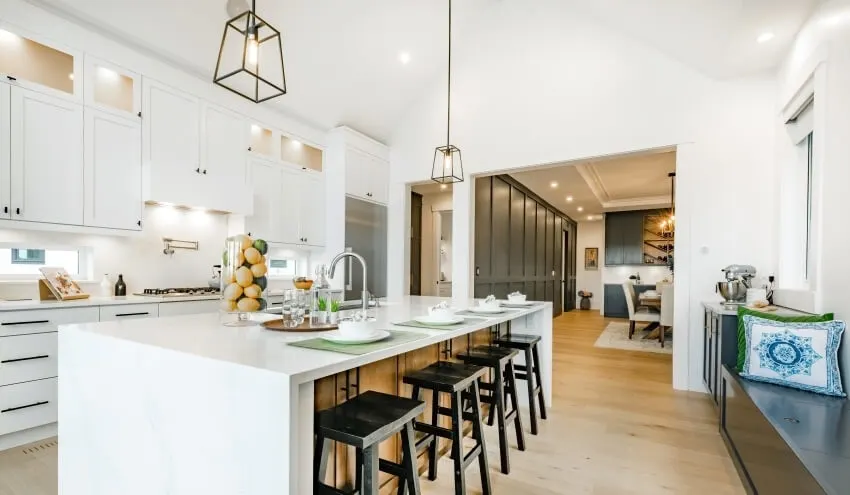 It's not hard to imagine using black knobs, handles, and other hardware with your white cabinets. After all, black and white complement each other perfectly. Just like the Beatles song says, "Ebony and Ivory work together in perfect harmony.
What's good with this combination is that you can also use the same color — which is black — for your kitchen furnishings, like your faucet. But if you choose to use a different color, that's still okay.
You can definitely mix and match the finish for a contrasting look. What's important here is not only about the aesthetics of your kitchen but its functionality as well.
Does Black Hardware Go With White Cabinets?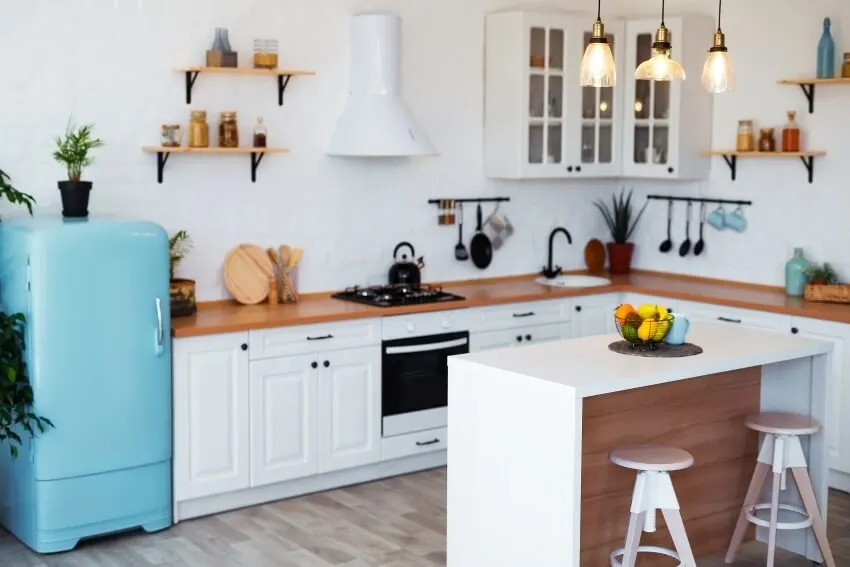 Black is similar to stainless steel when it comes to versatility. It can go with any color and you'll still get an amazing overall design.
More so, black is the opposite of white; thus, pairing your white cabinets with black hardware creates a clean and calming contrast in your kitchen. The contrast also provides a coherent look to the overall design of your kitchen.
Aside from the hardware, you can also choose black appliances. The combination of white cabinets and black appliances gives your kitchen a minimalist feel. Whether you choose a metallic or matte black finish, you'll give your kitchen a wonderful ambiance.
Is Black Hardware Timeless?
Have you ever wondered by women always have that little black dress in their closet? Black is not only timeless but modern, fresh, and edgy as well. You can do anything with it and will always have the same fabulous effect.
The same goes true with using black hardware in your kitchen. Back is rebellious, charming, and stylish. Trends come and go but black never fades away. You can always see a kitchen with black hardware, appliances, trims, walls, and doors. In fact, black adds a level of sophistication in a room.
White Kitchen With Black Hardware Designs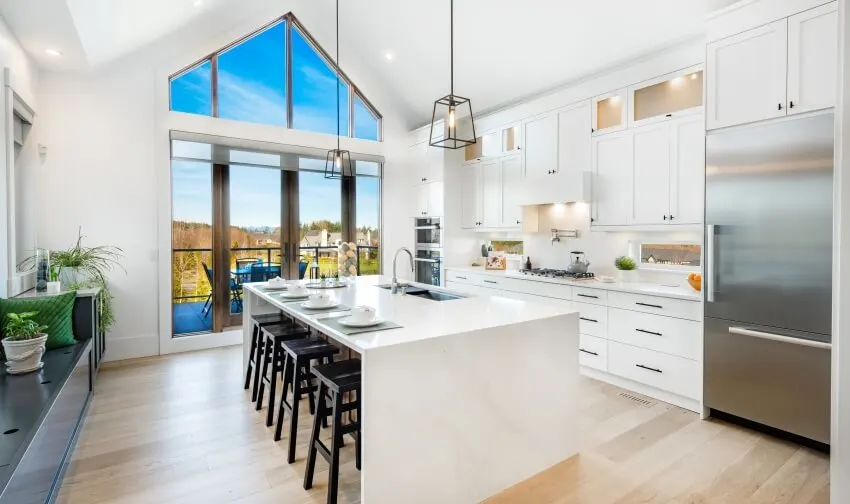 Aside from using black handles and knobs, here are other design ideas for using black if you have a white kitchen.
• Accent white grid cabinets and white drawers with long matte black pulls
• Pair together oak cabinets accented with black hardware and white quartz countertop. Then, place a black and white rug runner in front of the cabinets to complete the design.
• Make the room even more sophisticated by adding a soapstone backsplash and matte black pull out faucet to your white cabinets with black hardware
• Add black pegboard doors and matte black handles to your white cabinets is a must-have if you want this color combo.
• A black and white kitchen that features a white kitchen island with black hardware and matte black countertop is a classic. See more kitchens with white cabinets and dark countertops here.

• Create an edgy design by putting a door with black chevron patterns to your white kitchen cabinets.
• If you have white cabinets with black knobs and handles, complete the look by adding a red vintage runner in front.
White Kitchen Cabinets With Black Handles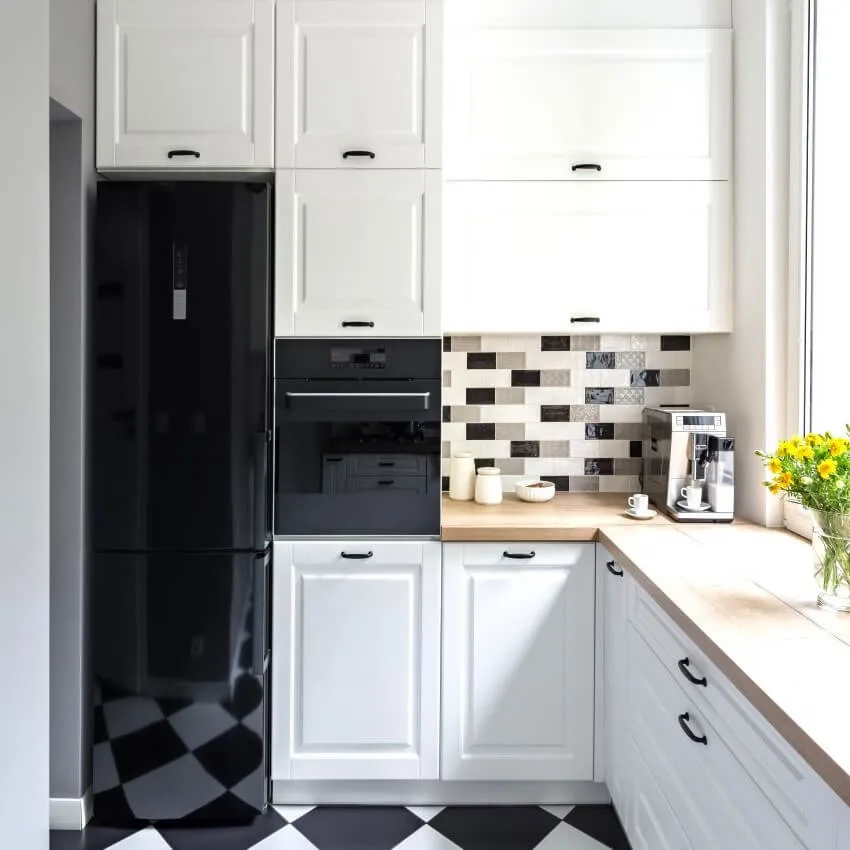 White cabinets serve as a canvas for different types of hardware. And when it comes to color, black is on the top list along with brass, chrome, nickel, and iron.
But black hardware is not limited to white cabinets alone. It gives your white cabinet an edgy yet classic look. It's also bold but not overwhelming. It is most popular in farmhouse-style kitchens.
So, what type of black kitchen cabinet hardware looks good with your white cabinets?
Oversized Pulls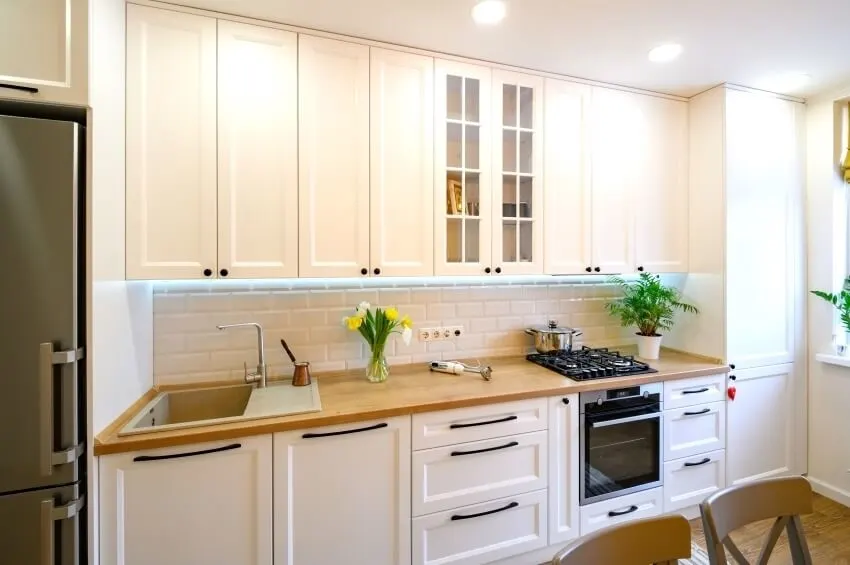 Oversized pulls have been popular since 2020. And black oversized pulls give your white cabinets a classic look. There are different pull shapes and designs to choose from.
• Curved pulls – perfect for kitchens that want softer, curved lines in their design.
• Straight pulls – suitable for traditional and contemporary kitchens
• Concave pulls – ideal for traditional and industrial kitchens
• Drop pulls – best with traditional kitchens
Latches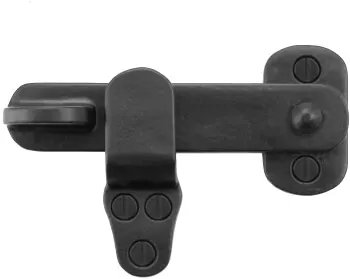 See this latch at Amazon [sponsored link]
Black latches are the in thing in kitchen cabinet hardware these days. They add character to your white kitchen cabinets. It's also a good choice if you have small children in the house.
Knobs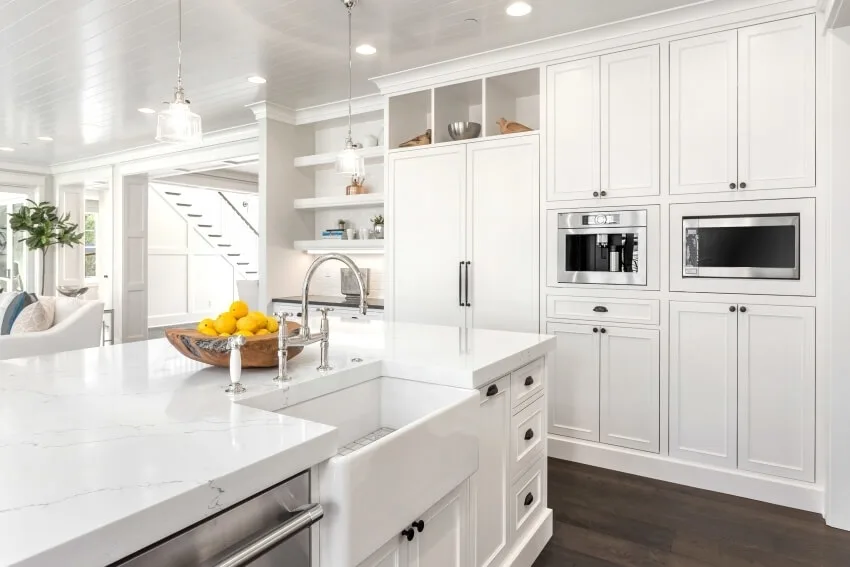 When it comes to kitchen cabinet hardware, it's always knobs versus pulls. If you decide to go with a black knob for your white kitchen cabinet, here are some of the knob shapes to choose from.
• Round knobs – perfect for cabinets and drawers. It comes in a wide range of designs from plain-looking to decorative knobs.
• Square knobs – slightly less traditional than the round ones, they give your kitchen cabinets a contemporary feel.
• Oval pulls – works well with both drawers and doors. It's also the right choice if you have a traditional or contemporary kitchen design.
• T knobs – designed for people who have difficulty gripping a knob. It makes opening cabinets easier.
• Ornate knobs – these are for you if you like intricate designs
• Novelty knobs – it channels your personality into your kitchen cabinets
White Cabinets with Black Pulls
Black pulls on white cabinets are trendy these days. Here are a few ideas of different pull designs for your kitchen cabinets:
• Contemporary pull – it's a metallic pull with black matte finish that features clean lines. Choose this if you want to make a bold statement.
• Transitional pull – it's a crossover between traditional and contemporary. It's simple and less ornate.
• Traditional pull – features designs that is reminiscent to different eras of history. It's classic and elegant.
White Shaker Cabinets With Black Handles
Shaker cabinets with black handles are versatile and timeless. A lot of interior designers choose this style because it can flexibility adapt to your changing tastes. If you decide in the future that you don't want black hardware, you can easily replace it without changing your cabinetry; thus, it's a winning situation.
Visit our guide to knobs or pulls on cabinets for more related content.