Here's our solid surface countertops design guide including kitchen & bathroom ideas, cost, materials, colors, top brands and pros & cons.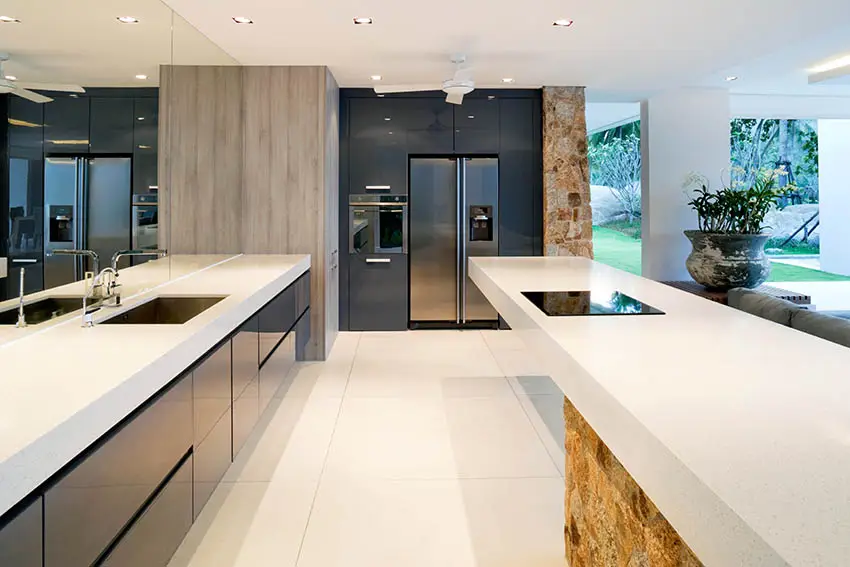 Solid Surface is a great choice of countertop for a variety of locations in the home, especially the bathroom and kitchen.
Solid surface countertops are a financially friendly way to get beautiful countertops, with a great deal of color and pattern choices.
There are a few different types of solid surface countertops, each having different pros and cons that can be decided on, the options can be found below.
What is a Solid Surface Countertop?
Solid surface is a material commonly used for countertops. Solid surface is a non porous material, making it great for counters that may be near water or could get liquid spilled on it.
Solid surface countertops are known for its lookalike qualities to natural materials. It is a material that is known for its long lasting and easily repairable qualities.
Solid Surface Material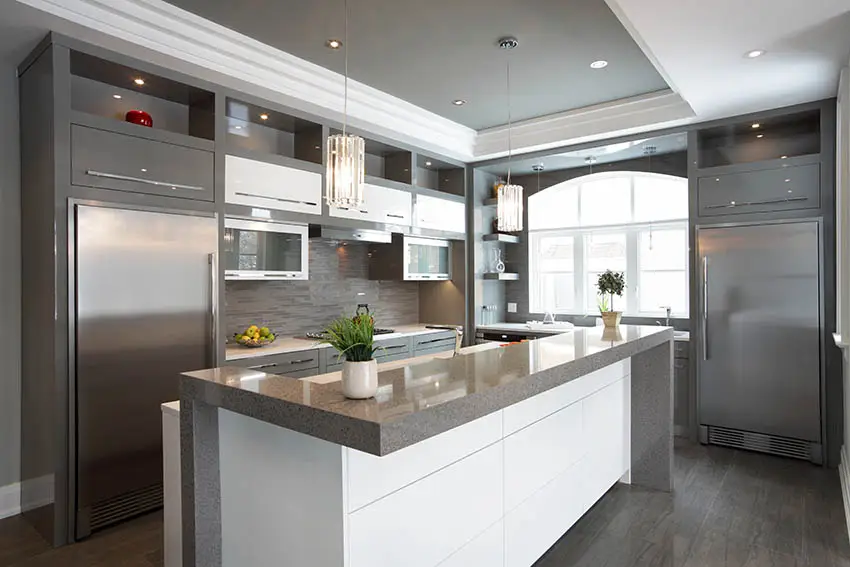 The material that is made into solid surface is made with a few different ingredients, specifically 33 percent as binders and 66 as minerals or fillers.
Some of the materials include: alumina trihydrate (ATH) or bauxite derivative as a filler, acrylic or polyester base resins, and pigments. Other items can also be thrown into the mix to add a different aesthetic to the solid surface.
Types of Solid Surface Countertops
There are of few different methods of making solid surface, and those create a few different types of solid surfaces. These types of solid surface have slightly varying qualities, features, and prices.
Acrylic Based Solid Surface
Acrylic Solid Surface is a lower gloss, but stronger form of solid surface. The seams of acrylic solid surface are virtually invisible as well as very unlikely to fail on the user.
Acrylic solid surface can be bent into tighter angles and curves, which is good for counters with sinks in them.
While acrylic is usually less bright colors, it is less susceptible to UV damage and fading than the next mentioned polyester surfaces. Acrylic is the newer product that most manufacturers are switching to offering.
Polyester Based Solid Surface
Polyester Solid surface is the cheaper of the options, but they are considered the lower quality of the solid surface products.
Polyester solid surface give a high gloss finish with bright color options. Polyester tends to be a little bit more brittle when it comes to manufacturing and could have seams that fail.
Solid Surface Countertops Pros & Cons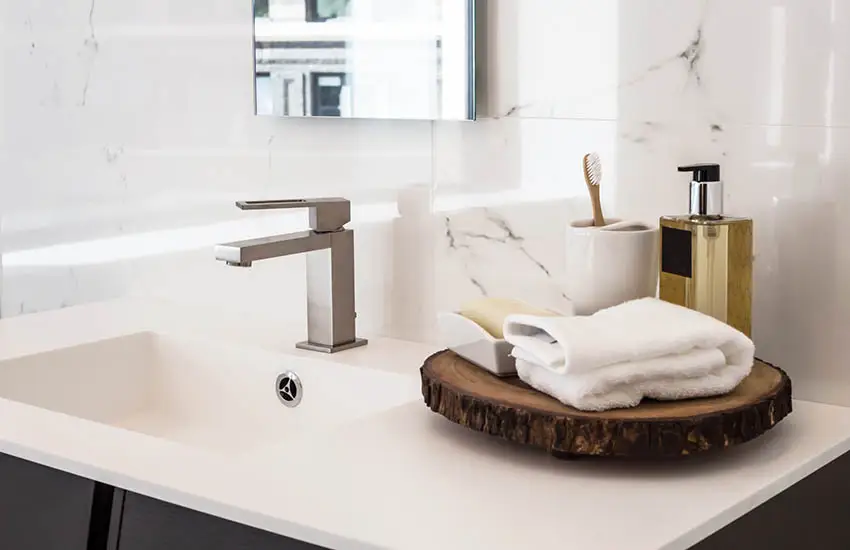 Solid surfaces is a great choice for countertops and the pros really show it, the main ones are as follows.
Nonporous: Solid surface has a great resistance to water, staining, and bacteria, leaving an extremely sanitary surface. Solid surface leaves a good material for bathroom and kitchen counters due to this non porous quality.
Long lasting: Thanks to the homogeneous nature of solid surface the materials goes all the way through the piece. This leads to a long life because any changes that may be made, or wearing over time cannot be seen because the material comes all the way through.
Easy to repair: A cracked solid surface countertop can be repaired using one of the seaming kits found on the market as a DIY project. Repair of small hairline cracks can be as easy using items you may already have at home. Or one could hire a professional to repair the countertop.
Unfortunately with all those good things, there are a few downsides when it comes to solid surfaces. Some of the cons are as follows.
Susceptible to damage: Solid surface is a pretty weak and soft surface, therefore can collect scratches and scrapes if you are not careful. Be sure to use cutting boards and other protections to avoid damages. If you do get a damaged surface, it is a relatively easy fix.
Not heat resistant: When placing things on a solid surface it is important to make sure they are not piping hot. Extreme heat can deform a solid surface countertop, and while they are easy to repair from most damage, melted solid surface is not under that category.
Solid Surface Colors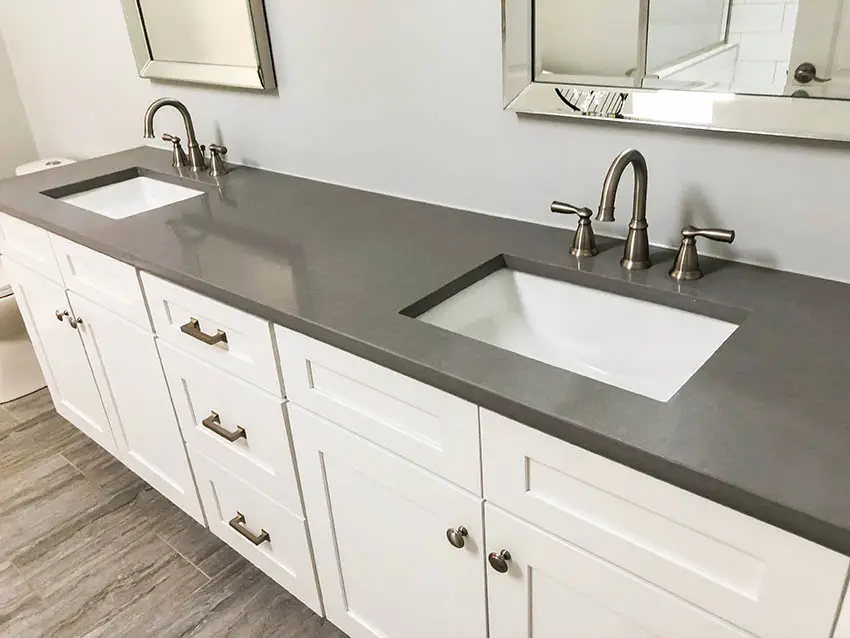 Solid surface is available in a wide variety of colors and patterns.
Wood tones: Wood look solid surface is available in varies tones based on manufacturer.
Solids: Solid colors come in any color on the spectrum. Each manufacturer has different availability, but most items are customizable.
Stone look: Getting solid surface to look like marble, quartz, granite, slate, etc is achievable when using solid surface. Though the textures and appearances will not be exactly the same, it is a close replica at half the cost.
Patterned: There are a ton of different patterns that can be selected based on the manufacturers inventory, some are speckled, striped, marbled, etc.
Solid Surface Countertops Cost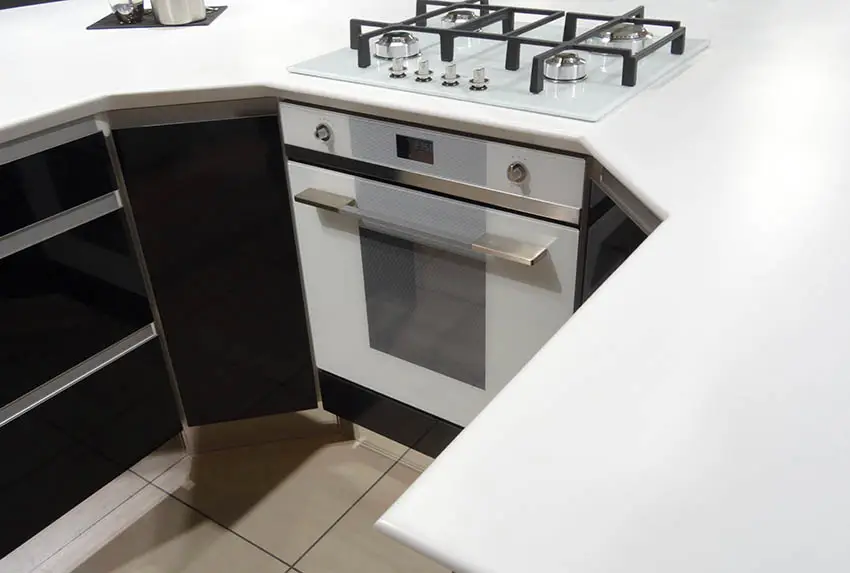 Solid Surface countertops are one of the best ways to keep costs down while still getting to have a quality aesthetic. Typically the best things come with large price tag, but solid surface is a lower cost than natural stone while having similar features, including its durability and long lasting abilities.
Solid Surface costs about $52 to $120 per square foot installed. There are some factors that can raise or lower the price.
Size can be a big factor when it comes to the price of a solid surface countertop, the more material needed, the higher the price, and the higher the installation cost.
With larger sizes there may be needs for seams, and more edges, both of which can add to the overall cost. Another contributing factor can be location and any other kinds of customization that may be part of the design.
Solid surface countertops are right in the middle when it comes to aesthetics as well as price wise, being an extremely common choice when one is weighing pros and cons of the higher versus lower spectrum of finishes.
Solid Surface is a great happy medium, while getting everything you need for your countertops.
Solid Surface Kitchen Countertops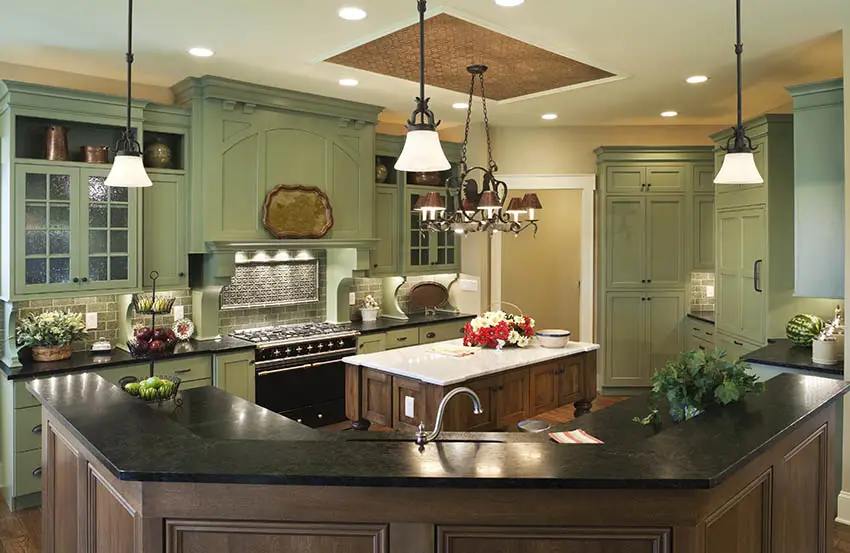 Using solid surface countertops in the kitchen is a great use, especially when sinks are involved. An acrylic based solid surface counter will provide the right shape, with non porous and durable qualities.
Kitchen often take to a lot of spilling or water which can make these qualities extremely important. It is important to beware of placing any extremely hot pots or pans on the solid surface because that can burn the surface, and that is not easily repaired.
Minor scratches and scrapes can be repaired which makes solid surface a good choice for a high use area such as a kitchen.
Solid Surface Bathroom Countertops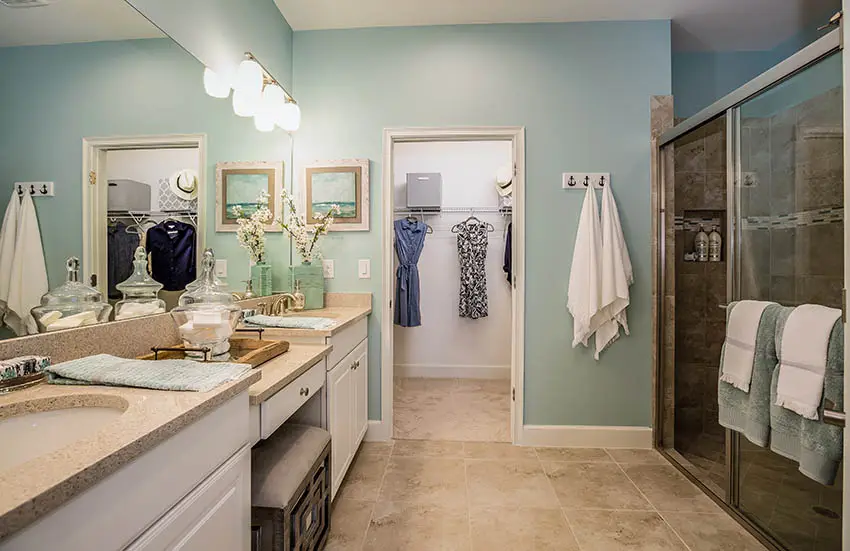 Solid surface countertops being placed in bathrooms throughout the house is a good from a functional as well as price standpoint.
As mentioned before acrylic countertops offer a great shape for a sink to be placed into. Like kitchens, bathrooms are susceptible to a lot of water and spills of both liquids and solids, which makes the non porous quality important here as well.
The bathroom is a high use space, making the features of durability and ease of repairs extremely helpful.
Solid Surface Countertop Brands
Solid surface can be found at a ton of places, from a ton of different brands. These can be purchased either directly from the manufacturer or at local home improvement stores and home design places.
Some of the best and most common brands are below, this is just a small list barely touching on the surface of the available products.
Corian solid surface: Corian is often the first brand thought of when one thinks of solid surface, this is because this is one of the first companies to make solid surface, after their patent on the item ran out, it became open for other companies to begin making it.. Corian is made of natural materials blended with acrylic.
Wilsonart solid surface: Wilsonart is typically known for its plastic laminate finishes, but also came out with solid surfaces to pair with their plastic laminates. Wilsonart uses an acrylic base for their solid surface countertops. Wilsonart creates a great line of finishes that replicate wood as well as stone materials.
Formica solid surface: Formica is another brand that started as plastic laminate and took up solid surface. Formica also uses an acrylic base to make their solid surface countertops.
How to Clean Solid Surface Countertops
Cleaning solid surface is relatively easy, similar to cleaning glass or metal, in most cases all the countertops need are a wipe down with warm soap water. This type of maintenance can be done on an everyday basis.
Though solid surface is a non porous material if water sits on it for too long it can develop a film that gives the finish of the a dingier look, wiping up spills when they happen is the best way to avoid this type of countertop condition.
For a deeper clean there are ammonia based cleaners or countertop specific cleaners that can be used. This can help remove any films or build up that can occur over time.
Using a circular motion when cleaning the counters it best for everyday cleaning, this need only be done with a washcloth, there is no need for anything harsher than that.
Darker solid surface countertops tend to need to be cleaned a little more frequently than the lighter colored solid surface countertops. Countertops with sinks in them need to be cleaned heavier duty every few weeks, this can require household bleach.
What do you think of solid surface countertop materials. Share your experience or tips with our readers in the comments. For another related article check out our cultured marble countertops gallery here.