Welcome to our gallery of masculine living room ideas showcasing a variety of design styles, decor and furniture.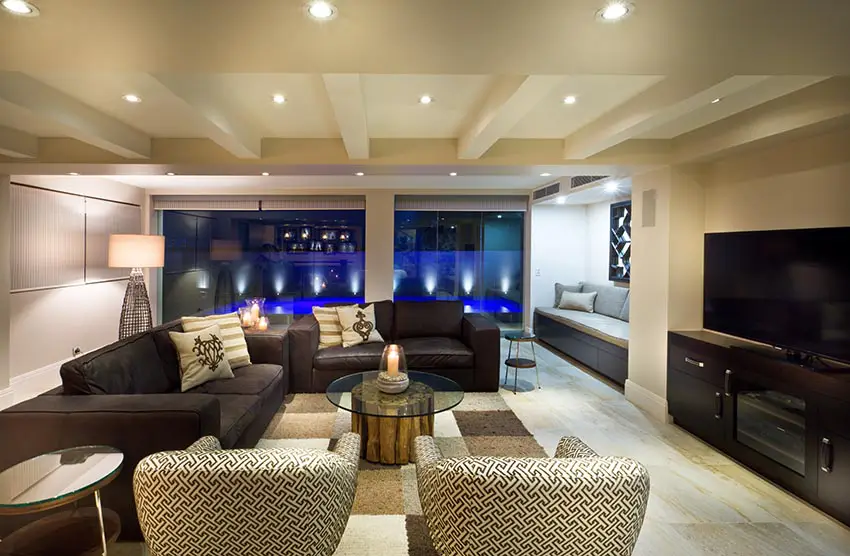 Each of us may have different takes on what a "masculine" space looks like. For some it may be a stereotypical dark, gloomy man cave with deep colored walls, carpeted flooring, movie posters on walls, an extensive collection of memorabilia, bulky comfy leather couches, complete with state of the art entertainment systems, gaming consoles and a pool table. We may even picture a bachelor's pad, that is clumsily organized and full of scattered details.
For the refined gentleman, a masculine space is all about all things classic – chesterfield sofas, rich wooden finishes, a massive library and some tasteful art pieces. While for the minimalist, a masculine space may be an ultramodern setup with streamlined mid century furniture, chrome fixtures, polished tile floors and open glazed windows.
However, the design elements that render a "masculine feel" to a space are less restricted to the cliched 'mantuary", but instead it is much more versatile, sophisticated and refined. It is more geared towards creating a space that has a strong character, a sturdy build, a classy aesthetic and a warm, understated atmosphere.
Nowadays, the term "masculine" has become a whole new design aesthetic that exudes sophistication and puts emphasis on clean lines, minimalist details and modern furniture. And to achieve the perfect masculine look for an area of your home, or a living room in this case, there are certain design elements that can be manipulated to render that strong, manly character
Below we give you a complete guide on the essential design details of creating a manly space, along with some useful tips on how to achieve that perfect, sophisticated masculine living room.
Masculine Interior Design for a Living Room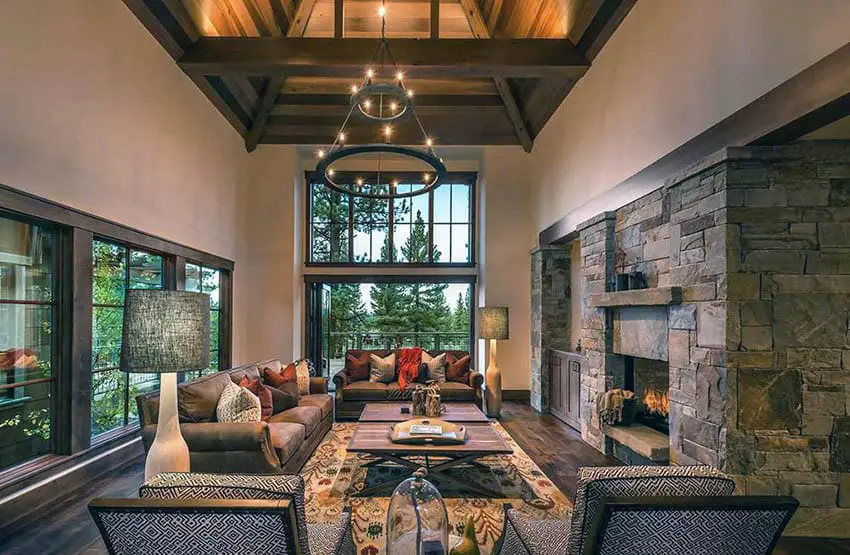 When designing a masculine living room, or any room in general, its purpose must always be threefold. It's not enough to just make your living quarters attractive, and allow it to accomplish no goal at all.There are three key points that one must keep in mind when designing a masculine living room namely aesthetics, comfort and function. A successful combination of these three elements create a well organized masculine living room.
Design and aesthetics go hand in hand with each other, and to put it simply, one of the main goals of design is to produce a visually pleasing aesthetic for the home. Although men are sometimes regarded to be not that concern at all with the composition of a space, producing a livable and aesthetically pleasing living room is for sure a must have for most of us, regardless of gender.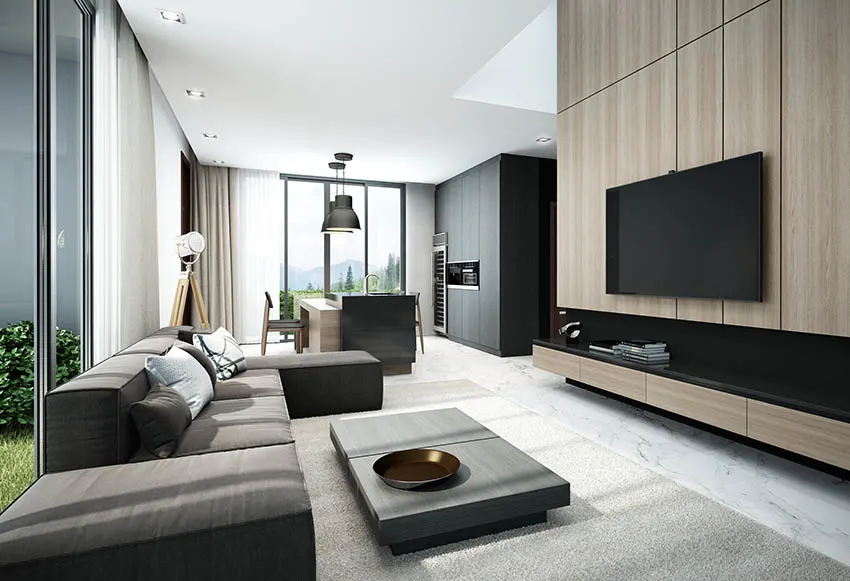 When designing a masculine living room, think about the composition of the space and how it will look like as a whole. Keep in mind that each specific visual element starting from the walls, floor, ceiling, furniture, down to the furnishings and accessories will all make up the overall look and feel of your living room. Consequently these design elements will also help determine if your space has a "feminine" or "masculine" feel depending on form, structure, pattern and color.
Next, your masculine living room must be functional. It doesn't matter how great something looks if does not do anything. Your masculine living room must be able to cater to all of your specific needs, whether personally or for entertaining friends or bonding with family. When choosing your finishes for masculine living room, do not only think about how good it will look but also keep in mind practicality and use.
Lastly, your masculine living room must be a place of comfort. As mentioned, the living room is a multipurpose place where we relax and enjoy some quality personal time or bond with friends, so essentially it must be inviting, welcoming, cozy and relaxing. A living room must be a place where you, your family and your guests want to be in.
Whether you are living alone or have a spouse and children, there will always be an instance were people will spend time with you in your living room. In addition, we all have different notions of comfort – for some men, comfort may mean minimalism, while for other it can mean a well curated home with personal details such as mementos, reminders of travels, events or reflections of hobbies.
Design Elements of a Masculine Living Room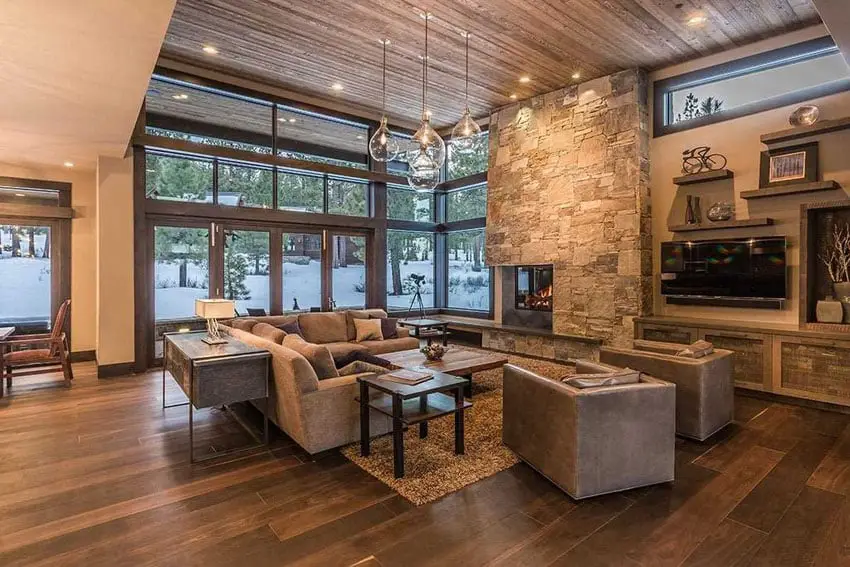 Here are some common design elements of masculine living rooms
Angular forms and straight lines – There are certain shapes that we associate with masculinity and femininity as both form and weight greatly determines visual character. Objects which are curvy look feminine while those that have straight lines, square corners and prominent edges look more masculine. In the same way, delicate objects look more feminine while those that are bulky, heavy and sturdy looking are more masculine.
In addition, masculine living rooms also tend to be more streamlined, minimalist and sleek so more often they are free of frills. Generally speaking, they are clean lined and geometric. Although it is safe to say that there may be soft edges present in a masculine living room, it is best to keep these curved forms at a minimum
This principle can be applied when choosing the furniture and furnishings for masculine living room. To create a masculine room, use furniture, fabrics, upholstery, soft furnishings and patterns that feature straight edges or simple geometric forms. To add more interest, include variety and diversity such as a rectangular upholstered sofa, a padded armchair with a boxy form, an oval wooden coffee table or structured book shelves.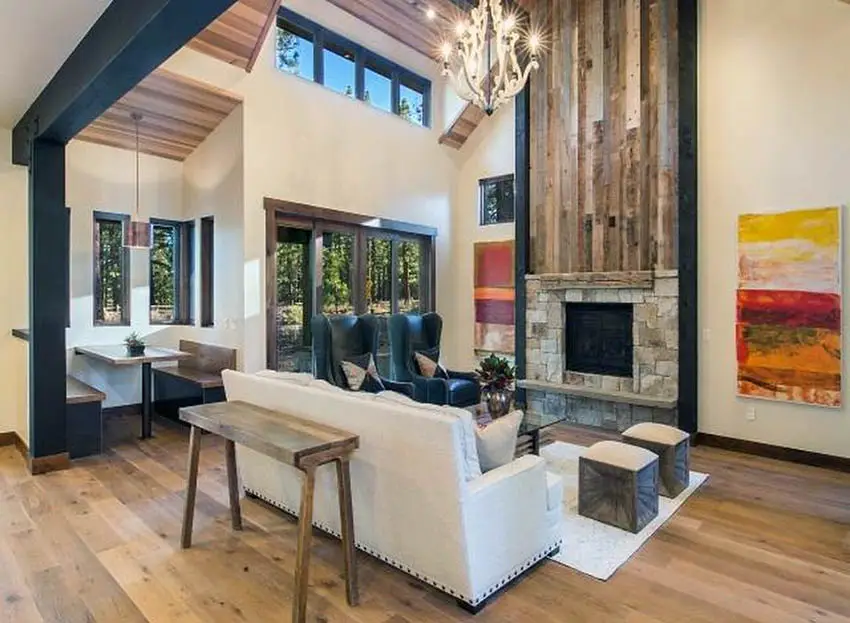 Geometric shape patterns – Masculine living rooms do not always need to be minimalist or too plain. Unless aiming for a modern minimalist look, it is best to incorporate patterns into your design to give it an extra character and to prevent it from looking too dull or boring.
It's generally hard to determine whether a pattern is masculine or feminine, unless you are dealing with bright florals or dainty butterfly prints. Although florals, brocades, damasks and paisleys may sometimes be used sparingly as part of a "classic themed" masculine living room, there are some other more string prints and patterns which one can explore to produce a more masculine feel. In order to give a room a stronger sense of masculinity, it is best to stick with a strong geometric pattern such as plaids, checks, herringbone, and stripes.
As mentioned, the masculine design is all about sharp edges, clean lines and prominent forms, and incorporating geometric patterns whether for soft or hard finishes, allow you to integrate this design aesthetic all through the overall look of your living room.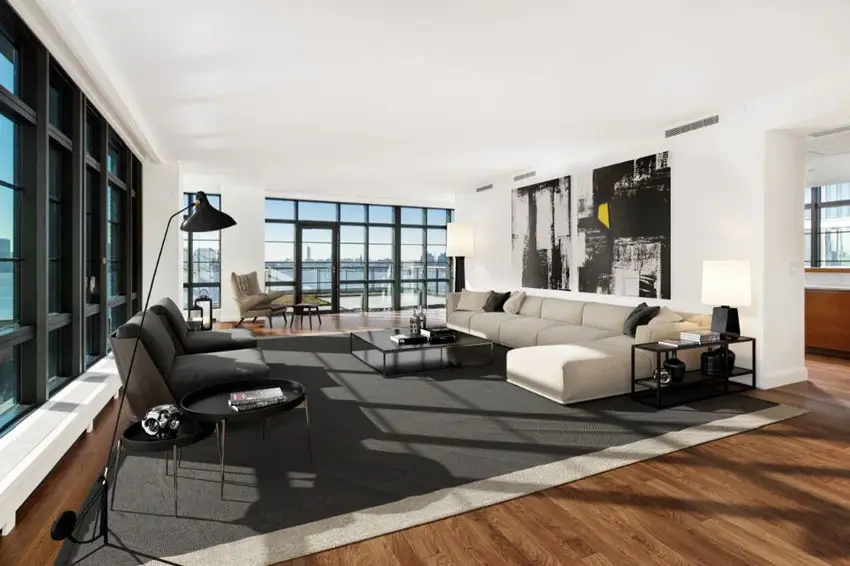 Geometric patterns and prints may be introduced in a masculine living room through the use of an area rug, accessories, textiles, window treatments or wallpaper. One great way to introduce geometric patterns is through the use of an area rug. Many suppliers offer neutral colored rugs in classic beige colors or strong black palettes with geometric patterns which are a perfect choice for masculine spaces.
Depending on the size of the are rug, the scale of its pattern can contribute a significant amount of visual interest to an entire living room. Also, the right type of geometric patterned area rug can anchor a masculine living room, while also lessening the need to add in more accessories or patterned textiles into the space.
Opt for diamond or square patterned rugs as they are ideally fitting for neutral spaces and they help brighten up the decor of a "heavy " masculine room. Alternatively, you can also incorporate these patterns in furniture pieces
What patterns do you need to avoid? Well for starters, avoid those that are overly ornate, decorative and "sweet". As mentioned, try to stay away from florals or any other patterns that seem dainty or overly pretty. The simpler the pattern is and the more straightforward its design is, the better.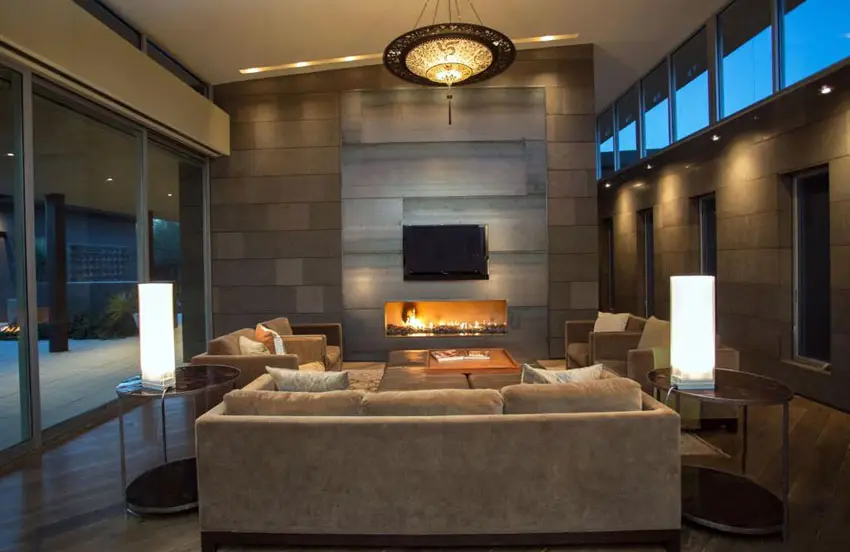 Neutrals and dark saturated colors – Regardless of the type of room you are designing, choosing the right color palette makes a big impact not only on the visual aesthetics of the space but also in its mood and atmosphere. And to produce a masculine looking living room, it is important to combine the right colors which will enhance its beauty and manly character
Naturally, a masculine living room is not one where you will find hot shades of pink, sunny yellows or bright purples. However, there is always an exception to the rule as some of the tints and tones of the aforementioned colors will work for masculine living room settings provided that they have the right intensity and that they are matched correctly with the proper decor in the space.
Living rooms that are geared towards a more masculine side tend to be finished in more neutral tones and they usually range from darker saturated colors, moody shades or warm neutrals. Think of classic colors like grays, shades of browns, black and charcoals.
White is also another safe choice as it proves to be one of the most versatile color choices. Using beige is also another option to prevent your masculine living room from feeling too heavy or oppressively dark.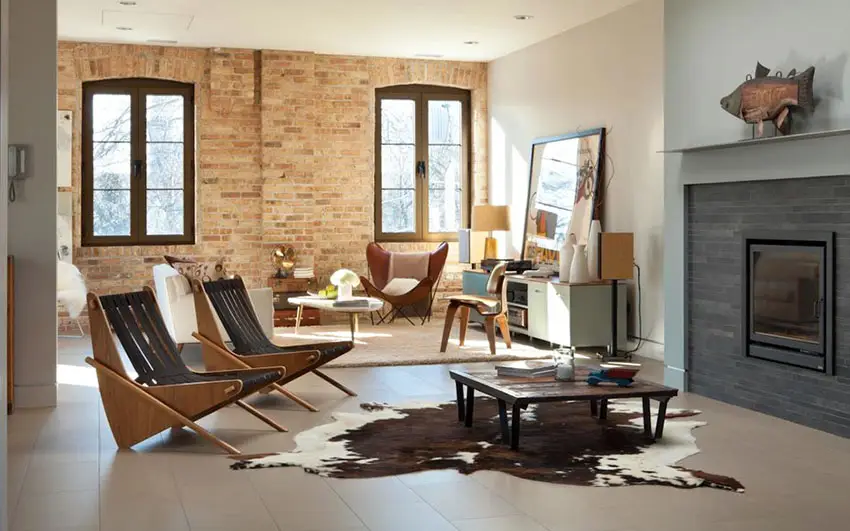 That does not mean that your masculine living room always has to be dark and gloomy. You can also introduce pops of color to break up the monotony of a masculine living rooms color scheme. Other than neutrals, some other popular masculine colors include blues, dark greens, and reds. Like bulky, heavy pieces of furniture, these colors also render a strong and substantial feel to a space.
Typically, these colors are developed into darker, more saturated hues to add a strong presence in a room, or alternatively they can be muted and mixed with a hint of gray to create a more subtle effect. Rich solid hues and bold jewel tones like burgundy, forest greens and navy also give a masculine impression and work well as accent colors, without having to commit to intense vibrant shades.
Metallics also give a strong masculine feel, and offer a great way to break the palette of a living room. Opt for warm metallics like gold or brass for your accessories, furniture accent or decor. Also, try to avoid using pale and glossy colors are pastels and other light, shimmery hues evoke a inherent feminine feel.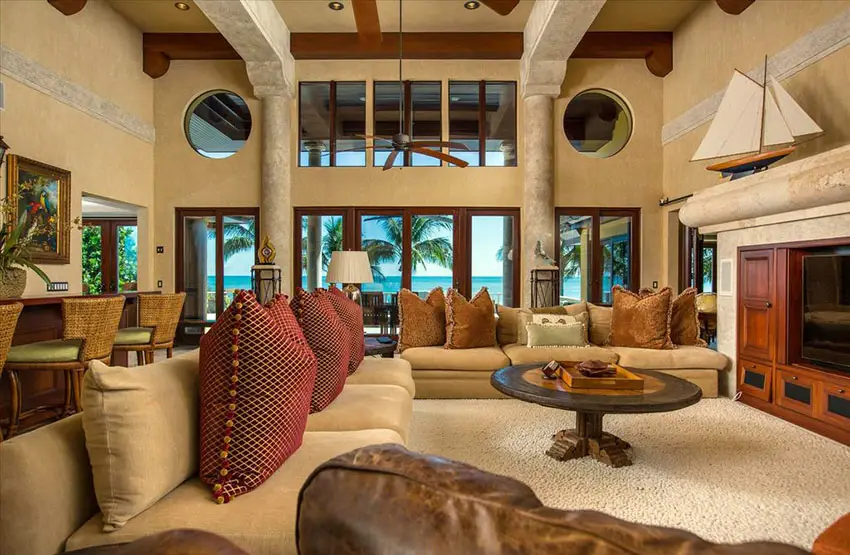 Materials – Materials are very important in designing masculine living rooms because the finishes that are used in the space – from the biggest feature like the walls, down to the smallest accessories, convey the overall character of a home interior.
There are several specific materials which. Despite the ability to appeal to both sexes and work with both styles, greatly convey the idea of a masculine incline living room interior. Some materials that are associated with a masculine feel are generally dark, sturdy and heavy.
When it comes to choosing materials for masculine living rooms, think about using polished dark wood like mahogany, strong concrete, polished metals and glass. Combined with the right masculine design elements, these materials give off a strong character and may be used to produce either a refined or rugged aesthetic, depending on the inspiration of your masculine living room.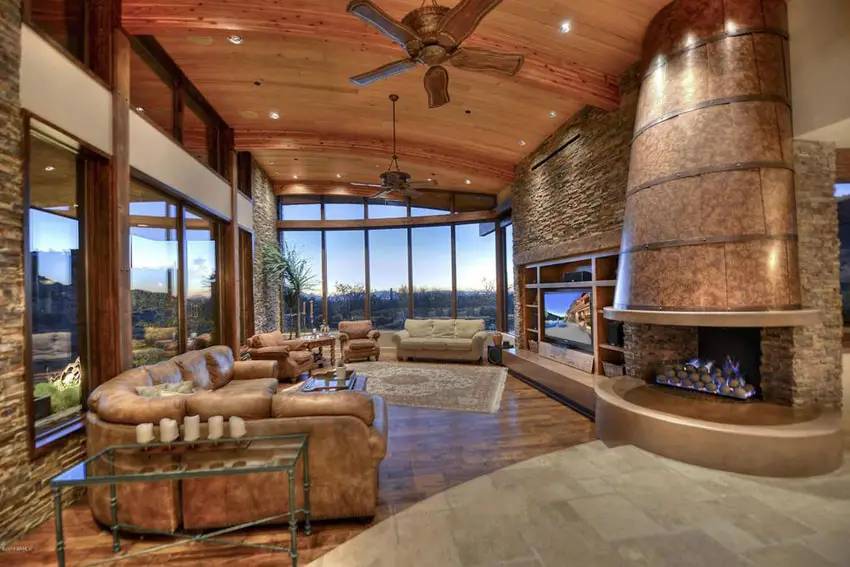 There are two most distinct materials which are tantamount to masculine living rooms namely leather and dark wood. Leather was and will always be a consistent material featured in just about any space that is inclined to a manly aesthetic. The durability and quintessential beauty of leather make it a highly fitting material whether for furniture, furnishing or accessory in masculine living rooms. Often times, we regard this material as something classic, refined and stately.
Leather is typically incorporated on masculine living rooms through furniture. Large leather pieces, like chesterfield sofas, side chairs and arm chairs are statement pieces which can help anchor a space. They bring in a timeless, classic feel while also offering the perfect opportunity for pairing with different types of textures and decor.
As an upholstery material, leather is highly durable and long lasting. In addition to its distinct beauty, leather ages gracefully, rendering a different appearance throughout its lifespan. Best of all, leather is also available in a wide variety of colors which range from light neutrals, dark blacks, warm browns and deep reds.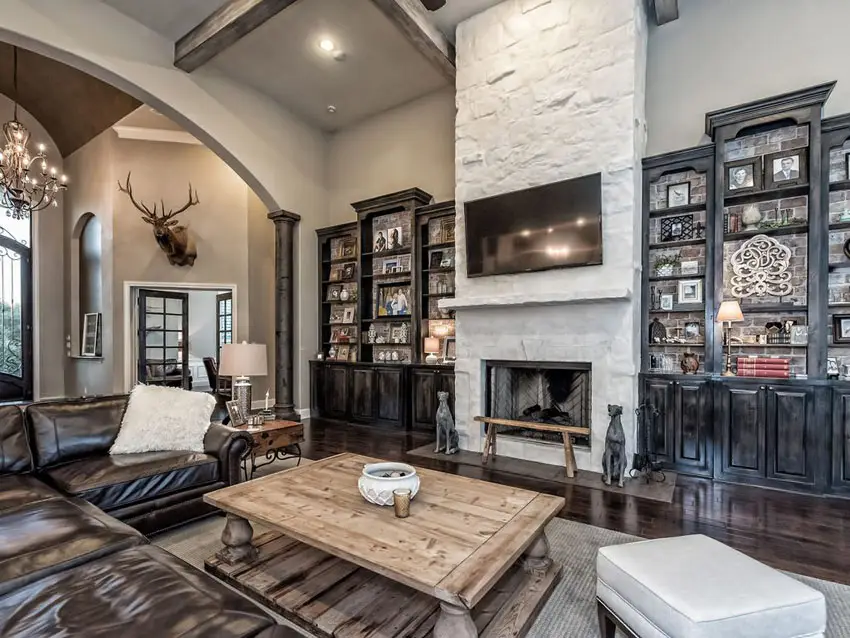 So no matter what the prevailing style of your masculine living room is, there is surely a type of leather which can fit well in its color palette, and however you decide to incorporate it in your living room, leather will surely have a big impact to the overall look and masculine character of your space.
However, leather is not the sofa upholstery material that can be used in masculine living rooms. Fabric is also another alternative, as it can easily soften the hard edges and sharp aesthetics of a man inclined space. A room that does not have any form of fabric would just seem to hard and uninviting.
Another way to incorporate fabrics and other textiles in a masculine living room is through the use of drapery, curtains and window treatments. If in case you choose to go with a different type of window covering like shades or blinds, you can balance off the look of your masculine living room with another form of soft furnishing which is a carpet or area rug.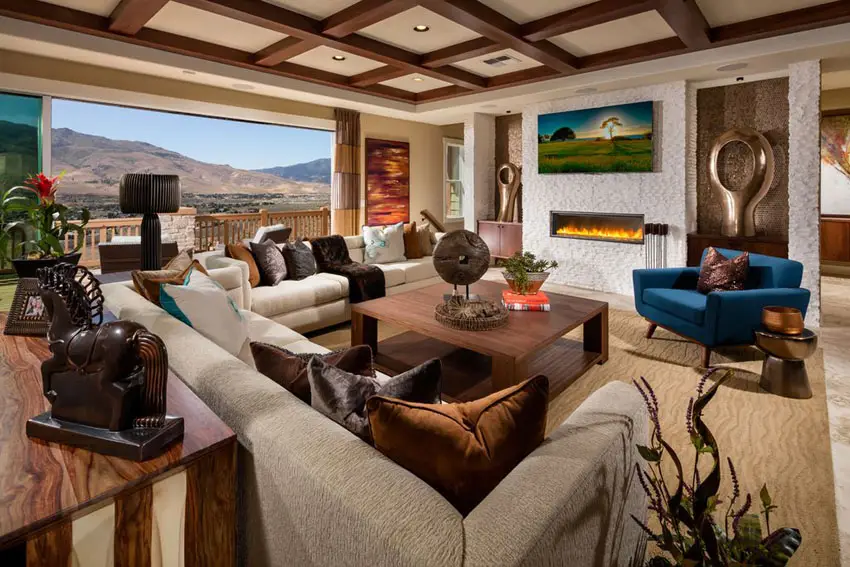 Wood , in general, is a well known favorite not only for living room finishes but for most homes. But for masculine living rooms, the popular finishing material used are rich, dark woods.
Dark woods have solidarity, strength and solidarity which makes them exude with a masculine character. It brings in a strong natural warmth and coziness to a space, making it feel more inviting. When used well, dark wood finishes can help a living room acquire different forms of ambiance whether it may be homey, laid back, classic, rugged or country comfort.
Dark wood finishes can be applied in so many ways for a masculine living room. It can be used as paneled wainscoting on the walls, rugged hardwood planks on the floor, exposed beams on the ceiling, trims on windows, ceiling and baseboards or as thick solid furniture. It can also be used to add contrast and depth to a space, especially when paired with light colored walls
If using dark wood finishes abundantly in a masculine living room, opt to balance it with other textures so as not to make the space too heavy on the eyes. Also, if using wood with detailing, choose subtle and geometric patterns or carvings and skip anything that is too frilly and elaborate.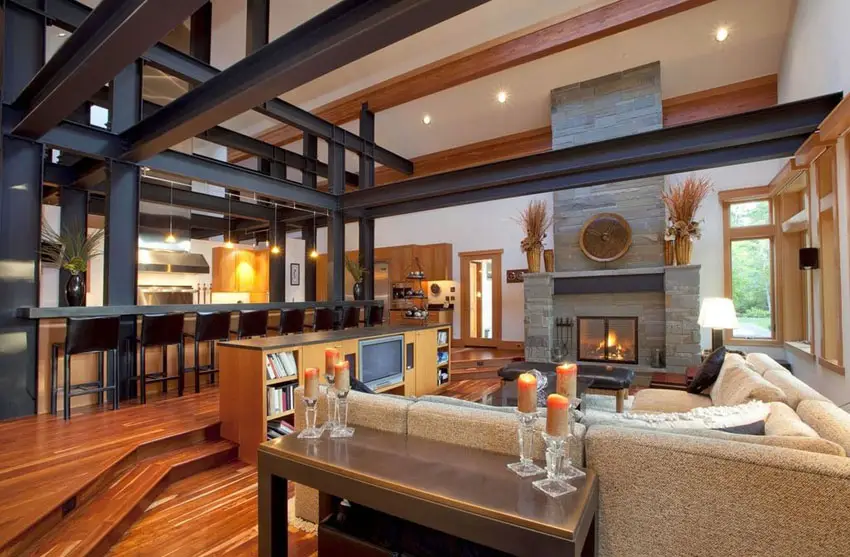 Hard, rough textures – Textures and the way that they are used can either make or break the overall look of a room. And just like any type of room in the home, the layering of textures is very important in providing visual interest to a space.
Masculine living rooms typically incorporate a mix of textures, but puts emphasis on hard, rough, rugged and weathered surfaces. Rough hewn textures are typically achieved through the use of different natural materials and finishes like natural stone, unfinished wood. Other top materials which are used to add texture to a masculine space are brick walls, accent stones, concrete and rough plaster.
Synthetic materials may also be used to add texture and color as well in masculine living rooms. Metallics such as stainless steel, aluminum are classic favorites especially for modern inspired masculine living rooms. While for those geared towards a more traditional look, antique , weathered metals in dark finishes are always a preferred texture.
However, this does not mean that you can not incorporate polished and shiny surfaces throughout the design of your masculine living room. As mentioned, layering and mixing of textures is important in terms of adding depth and dimension to a room. To add variety, combine hard with soft items, smooth with coarse textures and shiny with matte finishes.
Contrary to popular belief, shimmer or anything shiny is not just for the ladies. Reflective surfaces like glass, mirrors and metallic accents like polished metals or golds are not entirely feminine. These materials can be used to add diversity and contrast to a space.
Along with the proper form, weight and color, shimmery and metallic objects can easily shift from being feminine concepts to a more masculine aesthetic.
Soft textures from fabrics, textiles, window treatments and carpets also help balance a strong masculine living room. When it comes to masculine inclined living rooms, opt to use leather, suede, tweed and flannel. These fabrics can also be mixed with small doses of velvets and silks to create a more interesting look and mixture of textures.
Furniture also offers a good way to introduce a mix if textures to a masculine living room. Opt for upholstered seats with wooden frames or dark wooden tables with metallic legs. Alternatively, you can also layer texture through accent walls by mixing bricks with wood or smooth and rough finished stone. To heighten the level of interest use small doses of metallic finishes through lighting fixtures and accessories.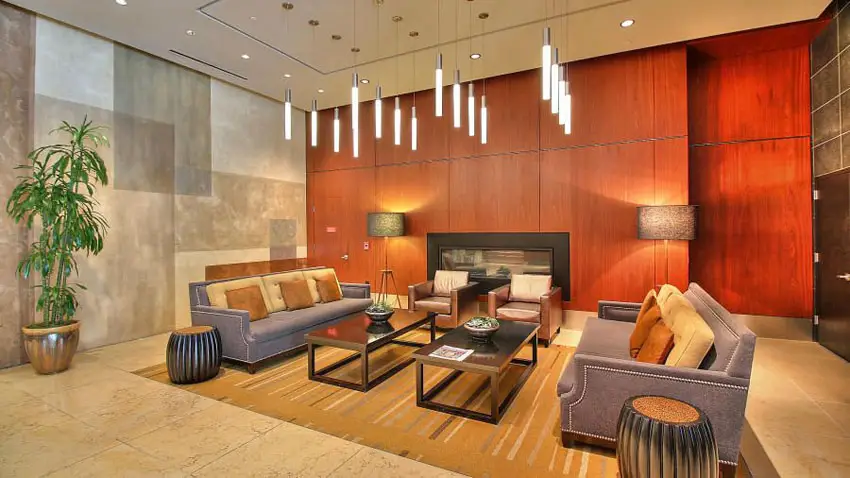 Furniture in large sizes and straightforward designs – Furniture is also another important consideration in producing a masculine feel for living rooms. In general, masculine furniture are more bigger in scale than feminine furniture. They have sturdy forms and a more solid look compared to feminine furniture which are usually daint and delicate.
For most people, the first thing that they include in their shopping lists when renovating a living room is the sofa. This pretty much makes sense because the sofa is one of the most dominant features in a living room – they are easily noticeable, anchors a space, takes up a substantial amount of your remodeling budget and influences the general character of your living room. So consequently, they also have a great impact on setting the masculine tone of your space.
Whether you prefer a modern sectional sofa, a trusty rugged leather sofa or a classic settee, there are so many options for seating that has the right masculine character. Sofas which have a masculine feel are generally bulky, unornamented and have a strong, sturdy build. You can learn more about sofas that have a masculine feel as we go on with this article.
The setup of a masculine living does not also need to always be limited to a single piece of chair or a couch. You can incorporate several types of furniture to add more visual interest and coziness in order to prevent the space from looking stale.
Another form of furniture common in masculine living rooms are recliners and arm chairs. For most men, having a "bad ass comfy chair" is a must.
Recliners and arm chairs are typically tagged as "exclusive spots" where one can take immense pleasure in their hobbies, in lounging, taking a nap, enjoying a book or just simply hanging out.
To incorporate a masculine feel for your living room, consider large, leather recliners and soft cushioned arm chairs with straightforward designs. It has to be comfortable enough for you to stretch out , sit on and even lounge.Read more about different types of recliners here.

Furniture is also not limited to seating. Some other items which can be added to a masculine living room set up are dark solid wood book cases, oversized desks, streamlined side tables and wooden coffee tables with thick legs. Club chairs are also masculine options, Common materials used in furniture pieces that have a masculine feel are black and brown leather, fine grained wood or dark woods, taupe canvas.
Aside form aesthetics, also remember that comfort must always be one of your priorities in choosing your furniture. Furniture is not just for the sake of filling up a space, also needs to be fully functional, durable and sturdy. So find the right balance of beauty, character and practicality to carry out a masculine feel for your furniture.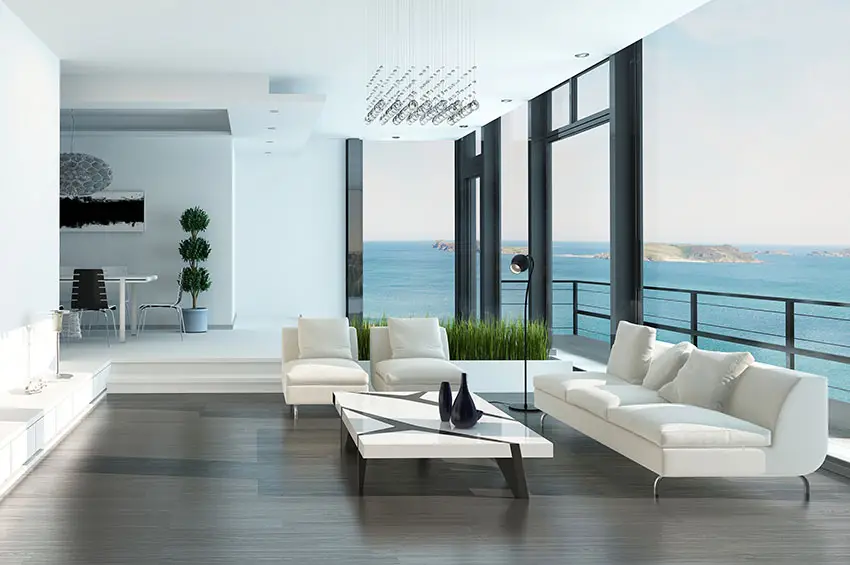 Flooring – Flooring is another design element that gives a big impact on creating a masculine living room. This is primarily because floors comprise a big amount of the area of a space, secondary to the walls.
There are certain types of flooring materials which fit well in crating manly aesthetic for a living room. If we go back to the attributes of color and texture, these flooring materials are typically dark in color and hard.
Some of the most commonly used flooring materials that render a strong, masculine feel to a space are solid wood floors and carpets.
As mentioned, wood has as tong masculine feel because of its solidarity and sturdiness. Typically, solid wood floors in rich, dark colors help make a space feel more manly and stable. Hardwood floors do not only make ideal additions to living room spaces because of their distinct beauty and natural warmth but also because of their durability.
Solid wood floors also offer flexibility in terms of design as it can be incorporated in a masculine living room that is rugged, refined or modern. When choosing species of woods for your masculine living room, opt for red mahogany, ebony, walnut and wenge. Alternatively, you can also have light colored woods and have them stained in an espresso, black or coffee colored stain.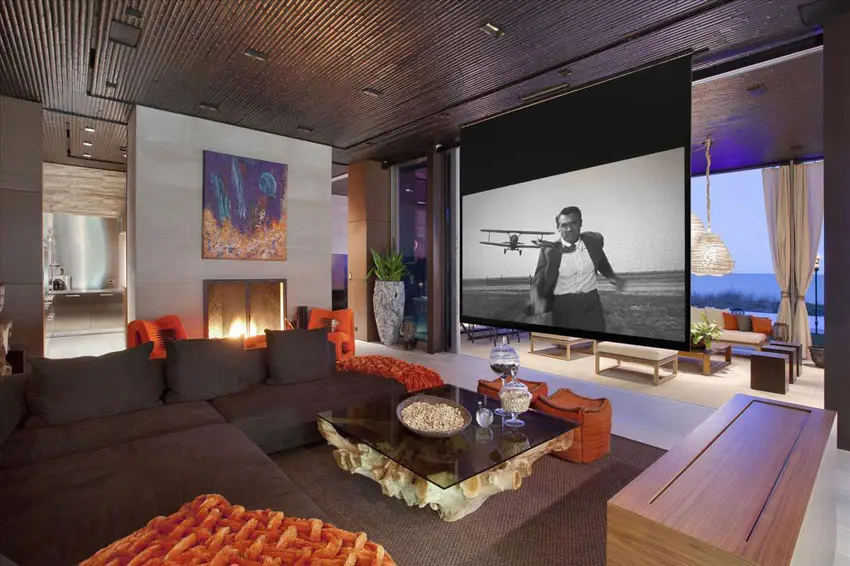 Carpet flooring is also widely used for most masculine living rooms. In terms of aesthetic, they provide variation of texture, as they are soft to the touch, but their appearance is not that delicate. In addition to the visual interest that they refer to a space, carpet flooring is also practical since it is durable, affordable and comfortable to walk or even sit on for long hours.
Carpet flooring is best suited for all masculine living room design styles whether it may be traditional, contemporary or modern. When choosing carpet flooring for your masculine living room, opt for neutral colors such as beige, gray, brown and black. However, if you want to add a splash of color to your palette, consider deep reds and navy blue.
However, flooring materials for masculine living rooms are not limited to carpet flooring and solid wood planks. You can still explore other options like natural stone, ceramic tiles and concrete depending on your personal preference and style.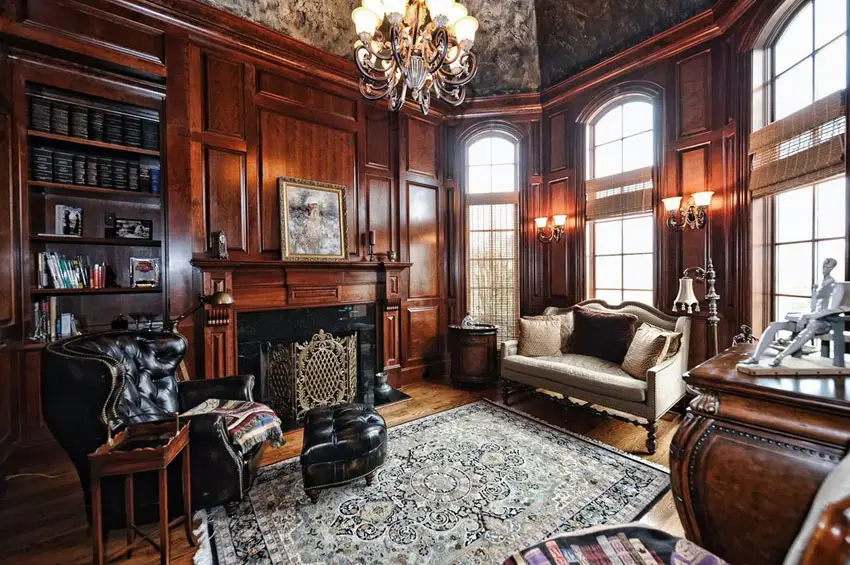 Lighting – Lighting is integral to producing a well balanced and stunning design for a living room.Lighting renders a big impact not only on creating a visually appealing aesthetic but also in enhancing the mood, ambiance, atmosphere and experience in a space.
No matter how complete the furniture, furnishings and decor of your masculine living room is, its overall look cannot be enjoyed without proper lighting.
When deciding on lighting for your masculine living room, it is important to consider not only beauty but functionality as well. Keep in mind that the light needs to be adequate enough to provide general illumination in the space, and soft enough to create an atmosphere. There should be a right balance of warm and cool light, and the right intensity and brightness.
One ideal way to produce a good lighting design for a masculine living room is to incorporate a mix of ambient and accent lighting in the space. Consider varied light sources, such as ceiling mounted lighting fixtures, floor lamps or table lamps, directional lights or track lights and plan their layout.
Light layering can also be achieved through the use of a central lighting fixture and a combination of recessed lighting fixtures on corners of the ceiling, or low voltage LED strip lights which run through the perimeter of a cove or inside tray ceilings.
Dimmable lights such as halogens may also be used to set a dramatic mood in a masculine living room space. Alternatively, halogens may be utilized for a for a warm, glowing atmosphere, while energy efficient LED's and CFL's may be used to provide a bright white light. Directional lights may also be used to highlight displayed art on walls and to give your masculine living room a more dramatic and cozy environment.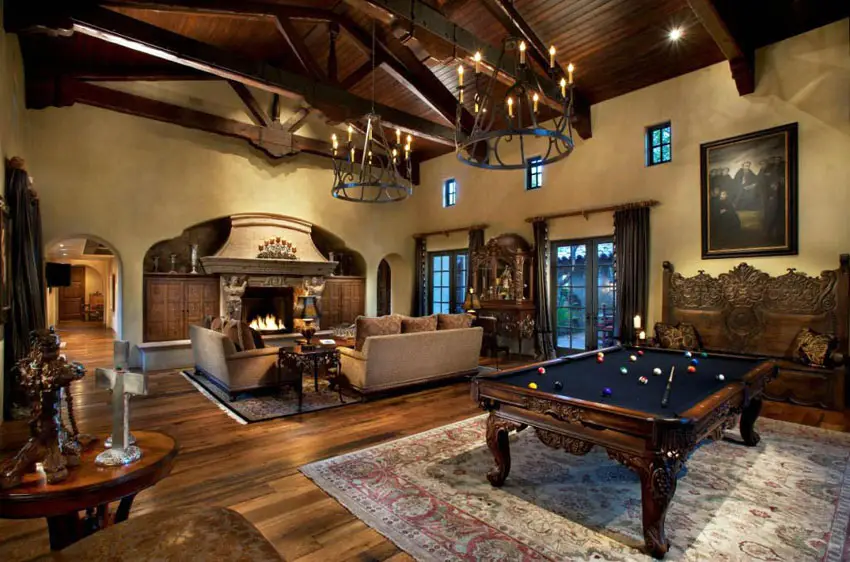 As far as style goes, the easiest way to create a masculine and tasteful lighting design is to choose fixtures which have neutral colors, strong forms and minimalist aesthetics. Generally, masculine lighting fixtures lean towards fixtures that have an industrial feel.
Black modern contemporary lighting fixtures also offer a bold, masculine touch to a living room. Black lighting fixtures add mystery and an elegant charm to space. You can purchase this in different forms such as lamps, wall sconces, ceiling pendants and semi flush and flush ceiling mounted lights.
Chandeliers aren't also always a feminine concept. There are several chandelier designs which are geared toward a strong form and does not have the typically ornate appearance. Look for designs which are simple and have a dark color. Avoid chandeliers that are made up of crystals and have excessive intricate detailing as they look too feminine and delicate.
Putting a table lamp on a side table also gives a stable decor to a masculine living room space. Opt for table lamps which have metal, black or solid wood bases and dark colored shades and consider those that have clean structures.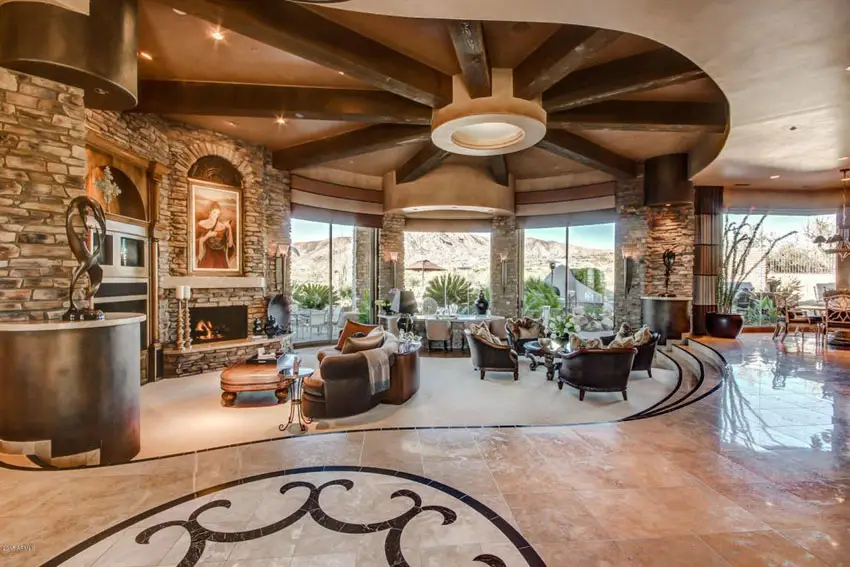 Additional features – Specialty features may also be added if you want to add a more masculine feel to a space. Special features may be a form of architectural detail like a fireplace, specialty furniture pieces or a form of entertainment.
Some masculine living rooms may include a fireplace. Fireplaces do not only improve the aesthetics and masculine appeal of a living room because of their grand character and rough hewn appearance, but they also serve practical benefits for houses situated in regions with cold temperatures.
A fireplace can and warmth and visual attraction, while also functioning as a fine main attraction or focal point in a masculine living room.
To create a manly appeal using a fireplace in a living room, opt for natural stone finishes or bricks as they give off a strong natural color and inherent coarse texture. If leaning towards a more contemporary and modern look, choose a gas fireplace with a simple design that has prominent lines and neutral finishes.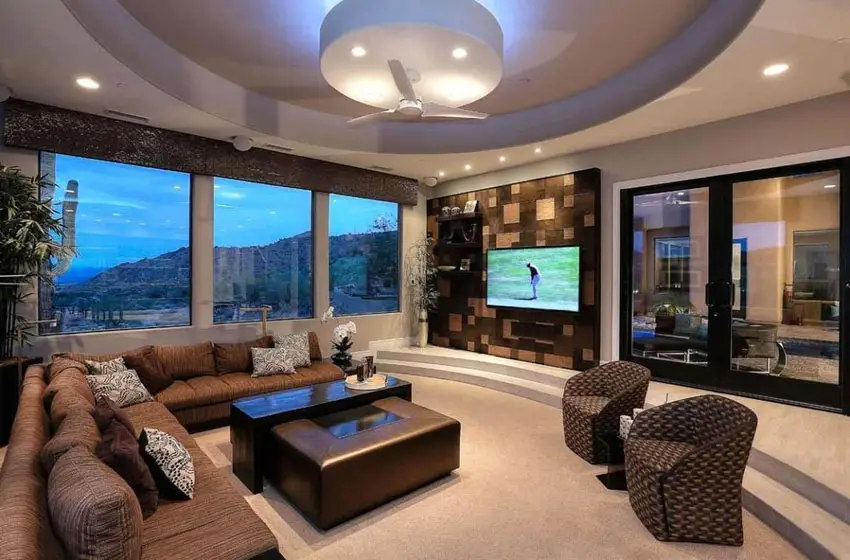 Other masculine man cave designs may also include some form of entertainment such as a media center or flat screen TV. There are two ways to incorporate equipment and electronic into a space, one is to conceal them inside smart media furniture or second, is to showcase them as a part of the design.
Some people opt to wall mount flat screen TV's and place other electronic gadgets such as DVD players, sound systems or computers on media cabinets or entertainment consoles. Others opt to conceal them behind an armoire or a roll top desk.
But nowadays, people prefer the former and let their attractive entertainment centers dominate a whole entire wall in a living room. Flat screen TVs may also be placed on top of built in units where they can be easily accessed.
Masculine Decor Ideas
A manly living room design often features minimal details and simple decor. However, it is a common misconception that details and decor are the least of your worries if your want to evoke a masculine feel for a room, since most men do not really pay that much attention to accessories.
But in reality, every space, regardless of their style, size and design (or gender for this matter) in order to pull the look together. The details that your put into a space matters just as much as its furniture since they help complete the overall character and look of your masculine living room.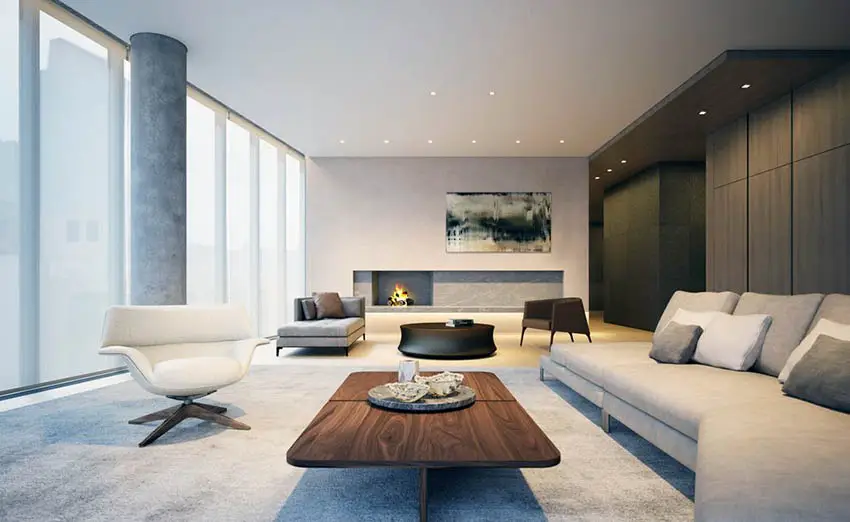 The key rule to choosing decor and details for a masculine living room is to stick to the essentials. Feminine spaces tend to have an abundant use of accessories, furnishing, decor and other details.
Whereas, a more masculine inclined space is geared towards minimalism ,focusing on larger design elements like the walls or furniture and the use of a few, tasteful accessories like artworks, sculptures and bust. Also try to keep your decor to a minimum. Simple and uncluttered spaces are always the best.
When accessorizing a masculine living room, consider symmetry and straight lines. Also try to incorporate the visual elements that were discussed earlier like geometric prints, layering of textures.
Opt for accessories which have straight edges like frames, wall arts as curvy lines feel more feminine. Look for pieces that add texture to the room like statues, metal sculptures, pottery, stoneware or glassware.
Fabrics and other forms of textiles also function well as accessories without being too overdone. Throw pillows may also be used to add visual interest and to soften bulky furniture but only if they have the right type of fabric, have neutral solid colors and subtle prints. Dramatic and substantial textiles like wool, tweed, plaid also help add a masculine character as they are typically associated with men's wear.
Also try to accessorize sparingly and try to keep in mind function so that you can get an idea on where you can place these accessories inside your living room. A wall is a good place to hang a clock or a valuable piece of framed artwork, shelves can be used for storing books, coffee table can be utilized for setting up a few pieces of magazines, reading materials and newspapers.
A side table is a good place to incorporate a structured table lamp, while the floor can be furnished with a solid colored textured area rug. Hardbound books can also be used as decor and can be color coordinated to the prevailing palette of your masculine living room. While if aiming to achieve a more personalized look, incorporate personal mementos such as photographs or collections.
Art is also another perfect finishing touch to masculine living rooms. Choose bold artwork in strong colors to promote a masculine feel for your living room. Hanging artworks in a wall is one of the easiest ways to add color to a moody, dark colored masculine living room.
Multiple pieces of art arranged in a gallery wall can create an eye catching statement to a masculine living room. While non traditional wall art in geometric patterns are the best accessories for modern inspired masculine living rooms. If you want a more subdued decor, opt for black and white photography as it offers a more contemplative feel to living rooms.
Art and art works can also be used to tie together the look a space. By choosing art pieces which picks up the patterns and colors reflected in your other masculine living room accessories, you can create a more cohesive overall look while also providing an interesting layering of textures and depth to the space
Masculine Furniture Ideas
The sofa or the couch is one of the most dominant elements in a living room, not only because of its size but also because of its function. For most men, the sofa is the center of the room, while for most homeowners it is the center of the entire home. It is one of the most used furniture pieces of the house as it is where most of us congregate with family, entertain friends or simply lounge and hangout for a relaxing personal time.
And since the sofa is also considered to be the centerpiece of most living rooms, they also play a key role in establishing whether your space looks masculine or feminine. But how do you know when a sofa exhibits masculinity in terms of its appearance? As mentioned, form and weight are key determinants of a masculine design aesthetic.
Sofas and arm chairs should be selected that have a masculine feel. It's obvious that things like excessive ornamentation, frills and floral patterns are to be avoided. In general, masculine sofas are regarded to be more bulky, straight edged and rugged.
Here we have compiled our very own list of "masculine sofas" which can help you create a masculine living room for your home. Majority of these designs were from the modern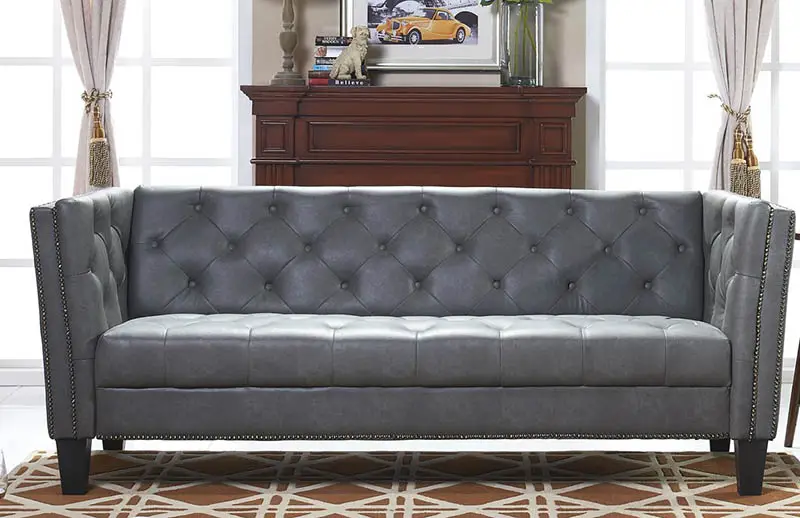 (gray Chesterfield sofa)
Chesterfield sofa – The word "Chesterfield" traces back its origin to the 1800's in England, where it was used to describe a form of a leather couch. It was believed that Lord Philip Stanhope, the 4th Earl of Chesterfield, commissioned the first Chesterfield sofa and requested a local craftsman to construct a piece of furniture that was specifically fit for a gentleman. The original intent of the Chesterfield sofa was to allow a man to sit upright with utmost comfort and without wrinkling the garments of their suits.
The Chesterfield sofa's iconic look is best known for its a distinctive deep buttoned quilted leather, usually in brown color. This detailed tufting is found at the backrest of the sofa. Structurally, it has a low seat base, with equal back and arm height. It is then adorned with a nail head trim and a form of decorative foot, which was typically either cabriolet, padded or bun and rolled arms. It seats two to four persons comfortably.
Made with utmost attention to detailing to a refined structure, a stately aesthetic and luxurious comfort, the Chesterfield sofa became popular over the centuries to be a part of every home. It was a prominent feature in most traditional style houses, where it is usually used not only in living rooms but also in offices, libraries or studies.
Up to this day, it has become one of the primary features for masculine living rooms as it brings a strong manly presence and a bold statement to a space. The Chesterfield sofa has continued to be a refined and mannerly example of seating.
Over years, the design of the Chesterfield sofa has developed several variations, but only with little difference to its genuine, signature look. Chesterfield sofas are typically made up of leather, which is known not only for being a durable upholstery material but also for its sharp aesthetics.
However, most suppliers nowadays tend to create it with other forms upholstery, like leatherette or sometimes sturdy fabrics. Aside from its trademark dark brown color, the Chesterfield sofa is also now available in other neutral hues such as gray, black, light brown, white or in some cases even bold colors like blue, red or yellow, making them fit for more modern living room settings.
When using a Chesterfield sofa to furnish your masculine living room, make sure to pair it with wooden side tables in dark finishes and some tasteful art pieces to stick with a refined character. To soften its strong look, incorporate a light neutral colored area rug just below your Chesterfield sofa.
"LC 2" Grand Confort, Petit Modèle armchair and sofa– Designed in 1928 by the world renown pioneer of modern architecture – Swiss French designer, architect , planner Charles- Edouard Jeanneret or "Le Corbusier", the LC 2 Grand Confort, Petit Modèle became one of the most architecturally imposing chairs of all time. Also known as the "Le Corbusier chair", the LC2 chair came in much larger versions which were then called as the "The LC3 Le Corbusier sofa and chair".
The iconic modernist style of the LC2 and LC3 Chairs were characterized by an external, tubular steel "corset" which is topped by a cushion that is filled with goose down, upholstered with fine black leather, all resting on an L shaped steel frame. There is so much comfort that goes with this chair, that even Le Corbusier himself referred to it as a "basket of cushions".
Its distinct cube shape wa taken from the classic club arm chair design but is considered to be a more simplified version that only the fundamental parts remain. The distinct clean, sharp lines of this industrial style arm chair exudes simplicity and minimalism as it directly reflects Le Corbusier's own design philosophy that became central to the modernist movement – 'That a useful object's composition must be informed clearly and directly by its intended function.'
Throughout the years, the LC2 chair has become an inspiration for many designers to create unique modern furniture collections for the home. It became one of the most common features of contemporary and modern houses, mostly serving as centerpieces for living rooms or accent chairs for other areas such as library=ies, studies, home offices and even bedrooms.
The sharp lines, simplicity and industrial aesthetic of the LC2 and LC3 chairs make it a highly fitting choice of furniture for masculine living rooms. Its distinct black color and leather upholstery is also tantamount to a manly style. In addition, the LC2 and LC3 chairs also do not look as bulky as other leather sofas, so it lessens the "heaviness" of a space. This also means that it can work well not only with a light color palette but also with a dark color scheme.
So if you want to create a handsome retro inspired, modern or industrial style masculine living room, the LC2 and LC2 chairs are one of your best bets.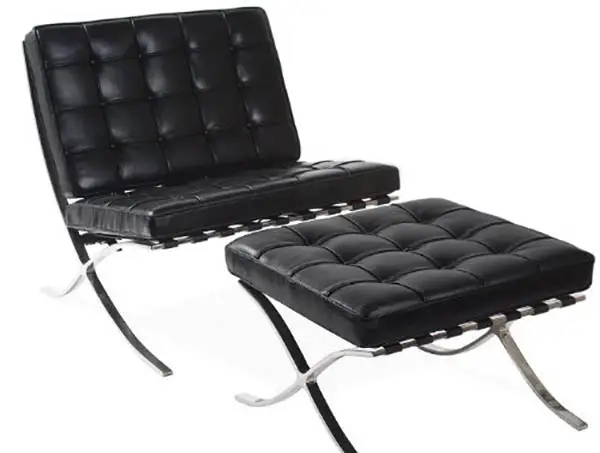 (See this black leather Barcelona chair with ottoman at Amazon [sponsored link])
Barcelona chair – The Barcelona chair is another iconic furniture of the modernist era. Designed by German designer Ludwig Mies van der Rohe and LIlly Reich for the International Exposition of 1929 in Barcelona, Catalonia, Spain, the Barcelona chair was intended for the Spanish Royal Family King Alfonso XIII and his wife Ena.
The inspiration of the design for the Barcelona chair came from an egyptian folding chair and a Roman folding stool, and was intended to elevate their designs into a "throne that is worthy of royalty".
The Barcelona chair was patented in Spain, Germany and the United States during the 1930's and was then manufactured kuntedly in the US til the 1950's. But later on, the rights on the name and the design of the Barcelona chair was ceded to Knoll. Up to this day, Knoll continues to be the licensed manufacturer and the holder of trademark rights to the Barcelona chair design.
The seamless frame of the Barcelona chair is made up of steel which gives it a smooth appearance. Originally, this was made up of bolted pieces of metal, but this was later on changed to two types of metal configurations which is chrome and stainless steel.
Bovine leather was then used as upholstery and this was typically in a black color. But nowadays, it is available in a different neutrals such as white, brown and gray, making it versatile enough to be paired with most living room color palettes.
Despite the industrial appearance of the Barcelona chair, it still requires much hand labour and craftsmanship. It is widely available in the market worldwide and is produced by different manufacturers under varying marketing names.
The perfect marriage of exceptional craftsmanship, functionality and minimalist aesthetic of the Barcelona chair is a true epitome of Mies van der Rohe's most famous aphorism "Less is More". Its simplistic and "no frills" design make it a fitting choice as a centerpiece for masculine living rooms, especially for those who have a knack for refined, elegant things.
The Barcelona chair is best used for retro and modern inspired masculine living rooms. To produce a clean, sleek atmosphere, pair Barcelona chairs with crisp white walls and polished porcelain tile floors, whereas if aiming for a more industrial feel, complement it with grungy textured walls, cool gray flooring, an exposed ceiling and polished metal accessories.
(See this Florence style mid century modern sofa at Amazon)
Florence Knoll sofa – Best known as the director of the Knoll furniture company, Florence Knoll is an American architect and furniture designer who studied under Mies van der Rohe. Knoll, as a company, became a manufacturer for top tier designers at that time which included Eero Saarinen and the aforementioned Mies Van der Rohe, creator of the Barcelona chair. Her contribution was that shea was considered to be the creative director for the entire Knoll furniture industry.
Florence Knoll designed almost half of the furniture pieces in the Knoll collection, and her designs included tables, desks, benches, chairs, stools and sofas, all of which became a major inspiration into shaping the aesthetics of home and office furniture during the 1950's and 1960's.
Her design ideology was to create furniture that was not only functional in itself but also helped shaped the function of the overall space, in relation to the architecture and overall composition.
One of her most famous works was the Florence Knoll sofa, which was named after her. The distinctive features of the Florence Knoll sofa were the sleek silhouettes, square geometries, the use of mixed materials like fabric and steel. Its clean forms give these pieces of furniture a "fresh look" and a modern vibe which makes them suited for most modern homes.
The Florence Knoll sofa is manufactured in different colors namely neutrals like white, gray, black and white and it is also available in more bold versions such as red, blue and green. It is also produced in different kinds of upholstery materials like leather and fabric.
The wide variety of options it provides enables homeowners to work it into different living room palettes and interior styles. It can be used whether for retro inspired masculine living rooms, minimalist masculine living rooms, modern masculine living room or bold artsy living rooms.
The Florence Knoll chair is one of the best furniture options that can be explored when designing masculine living rooms. If you are aiming to achieve that strong mid century vibe, which kind of reminds you of "Mad Men", opt to use a Florence Knoll sofa as your centerpiece. Its clean lines and simple aesthetics offer a subtle focal point in the room without becoming too overwhelming.
Compared to other masculine sofas, the Florence Knoll sofa is also less bulky and offers a more refined overall look. When using the Florence Knoll sofa to set up a masculine living room, pair it with dark walls or flooring and a strong color palette, a geometric print area rug and some modern art. You can also go for a more unique take by choosing an unconventional color for your sofa, such as dark navy and pair it with gray and white accents.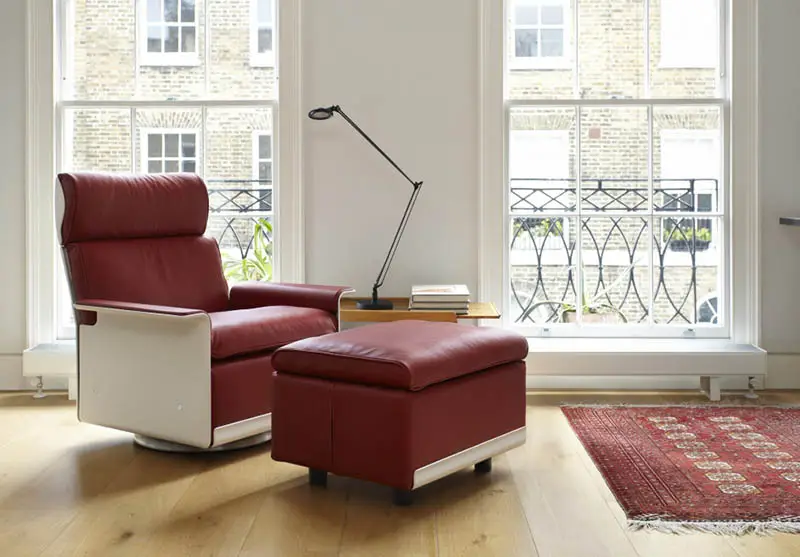 (See this chair at Vitsœ)
620 Chair Programme – Designed by Dieter Rams for Vitsœ in 1962, the 620 Chair Programme was the epitome of his famous motto "less but better". The minimal, precise design of the 620 Chair Programme is completely modular and was intended to be a "kit of parts, not just a chair". It is described to be adaptable to one's ever changing life since it can be used to create a sofa using as many units of individual by just simply releasing its bolts and removing its side panels. So with that, you can easily make separate chairs into one big furniture or vice versa at any time in the future.
The 620 Chair Programme is designed with components that gets better with age. Instead of deteriorating from the wear and tear of daily use, the 620 Chair Programme matures and improves the more it is utilized. It is made with high quality materials that achieves the perfect balance of comfort and longevity.
The outer shell of the 620 Chair Programme is made up of a hot pressed sheet molding compound which is stronger than fiberglass, while it's chair base is made up of a traditional traditional coil-sprung structure overlaid with a rubberised-coir pad, which is a mixture of torn coconut husks and natural rubber. Its upholstery, on the other hand is made up of full grain uncoated leather.
Over time this material develops patina, scratch, natural scars and wrinkles making its upholstery truly unique over the years. Not only do you get a chair that completely embives modernity but also one that is proven to last a lifetime.
The 620 Chair Programme is available in six different colours of leather upholstery namely deep red, midnight, chocolate brown, cinnamon (which is kind of tan brown) and olive brown. While it shell has two different versions, namely off white and black. From these options, you can create different color combinations which can help you achieve the right look for your living room. These colors are strongly masculine too, and can fit perfectly in most color palettes.
If you are dealing with a limited space for your masculine living room, the 620 Chair Programme should be your top choice as it can be customized to fit. Its simple form offers a classic look and despite this subtlety it gives an eye catching focal point for any masculine living room.
It can be used as a single accent chair or as a group to create more seating space for your guests. If using the 620 Chair Programme to furnish a masculine living room, you can either pair it with white walls or a dark colored geometric wallpaper.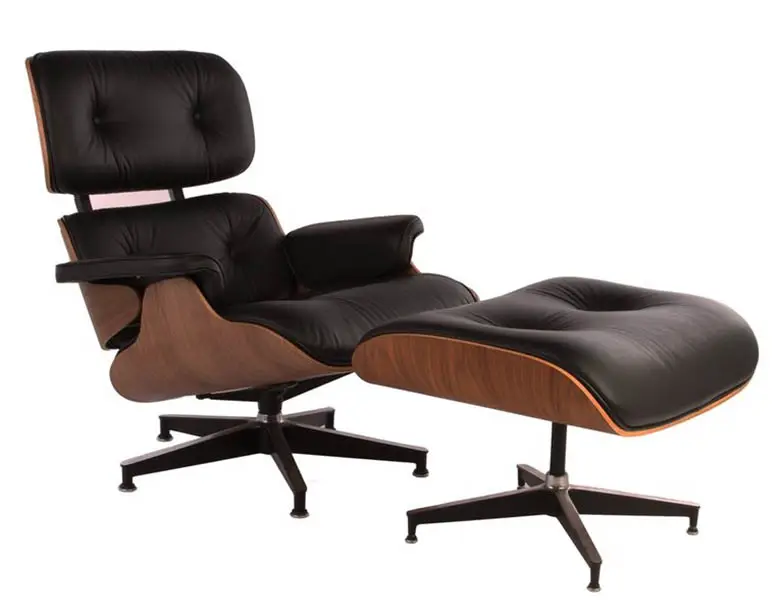 (Mid century modern Eames style lounge chair)
Eames lounge chair – The iconic Eames lounge chair was created by husband and wife team design team Charles and Ray Eames in the year 1956 and was officially titled as Eames Lounge (670) and Ottoman (671). Its design was inspired by the traditional English Club Chair and was produced out of the desire to improve the lounge chairs commonly seen in many American basements.
Remarked as "comfortable and undesigny" , the Eames chair was highly characterized by its distinctive warm, receptive look. The design of the Eames chair became one of the most widely recognizable pieces from the 20th century and up to this day, it still looks just as fresh and captivating as the day it was released.
In terms of structure, the Eames chair is made up of three curved plywood shells namely the seat, the headrest and the backseat. The shells were made up of five thin layers of plywood which were covered in a veneer of Brazilian rosewood.
However, this was later on changes as this Brazilian rosewood veneers were discontinued, instead they were replaced with seven layers of plywood covered in finishing veneers of walnut, cherry, and Palisander rosewood. These layers were glues together and processed under pressure and heat treatment. The shell of the Eames chair is topped with a soft cushion that is upholstered with leather. Its trademark look was in black.
The Eames chair does not only provide a stunning accent chair for living rooms but it also provides comfort. It has a low seat which is permanently fixed at a recline, providing maximum pleasure in lounging. Its strong appeal and sharp aesthetic give it a distinct male like character making it the perfect feature for a masculine living room.
For masculine living rooms, the Eames chair can be set up as a lounge chair which one can use for personal relaxation, but at the same time it can also function as a statement piece for the space. If you're feeling a little extra, try matching an Eames chair with a dark brown or black Chesterfield sofa, some sturdy dark wood bookshelves and a wooden coffee table. Top it off with tasteful classic accessories and neutral colored walls.
Modern Masculine Designs for Living Spaces
A rustic living room design isn't the only way to showcase a masculine theme. Here are a few stylish modern masculine living room designs for more ideas.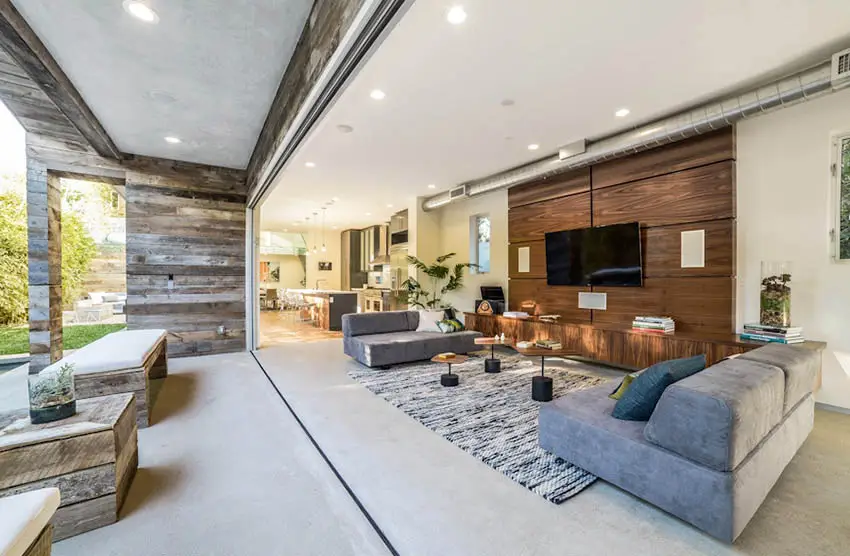 This indoor outdoor living room features an abundance of weathered wood finishes with duct work to provide an industrial feel. Large sliding door enable one to fully experience an outdoor living room and better enjoy the outdoor areas of your home throughout more of the year.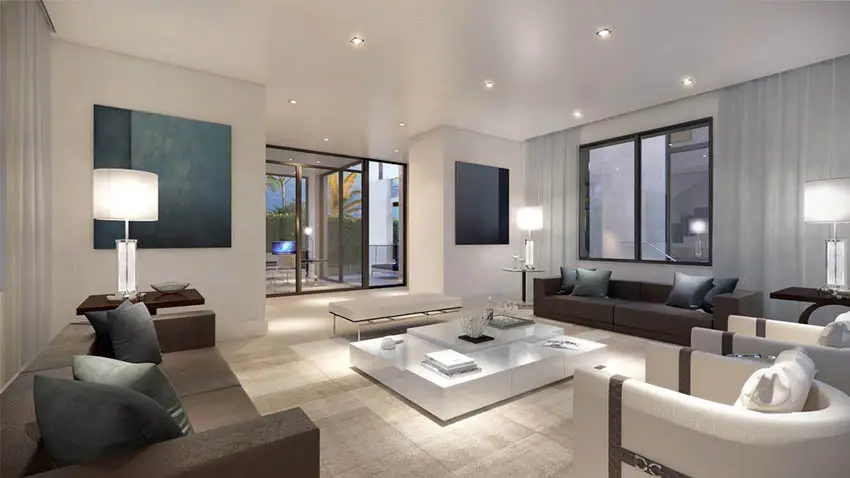 This contemporary living room design uses contrasting furniture colors of white and brown to create visual interest. Dark gray artwork, gray curtains and pillows bring a diversity of textures to the space.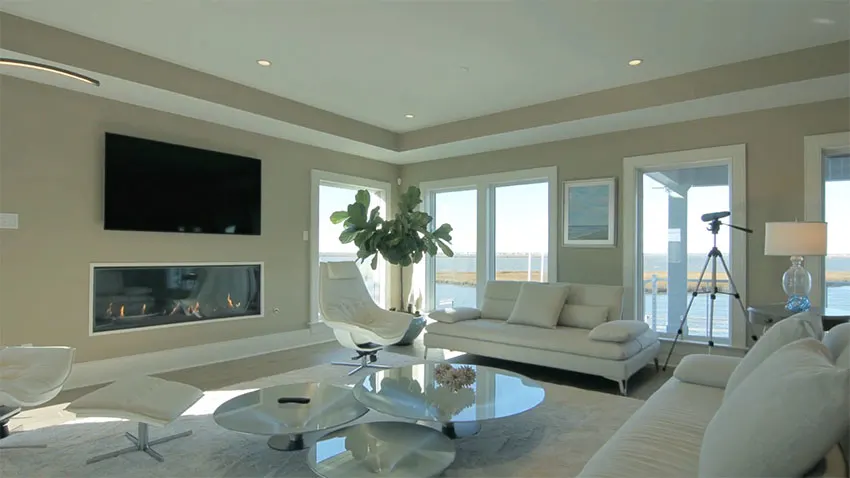 This white modern living room showcases a commanding view of the waterfront. As is popular with the modern style decor and finishes are left to a minimum.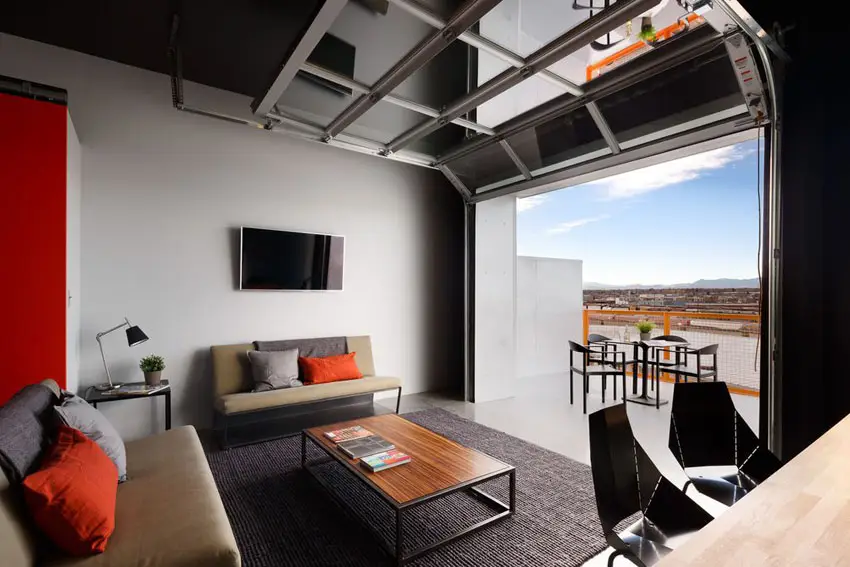 This industrial living room's standout feature is its large roll up garage door that open to a large terrace area. Two futons make up the living area furniture that is framed by a gray area rug and wood and metal coffee table.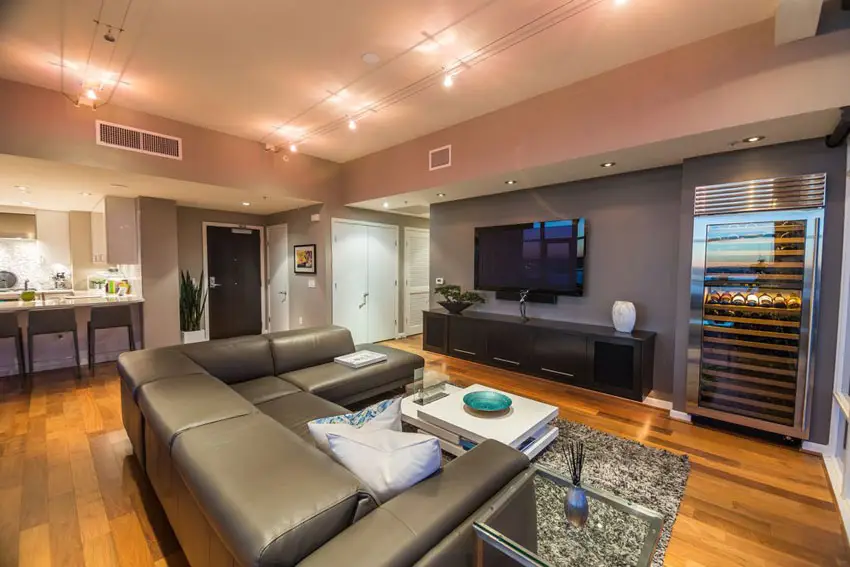 This living room gets its manly character from its large leather sectional couch. A large built-in wine fridge is just steps away providing plenty of opportunity to display ones favorite vintage.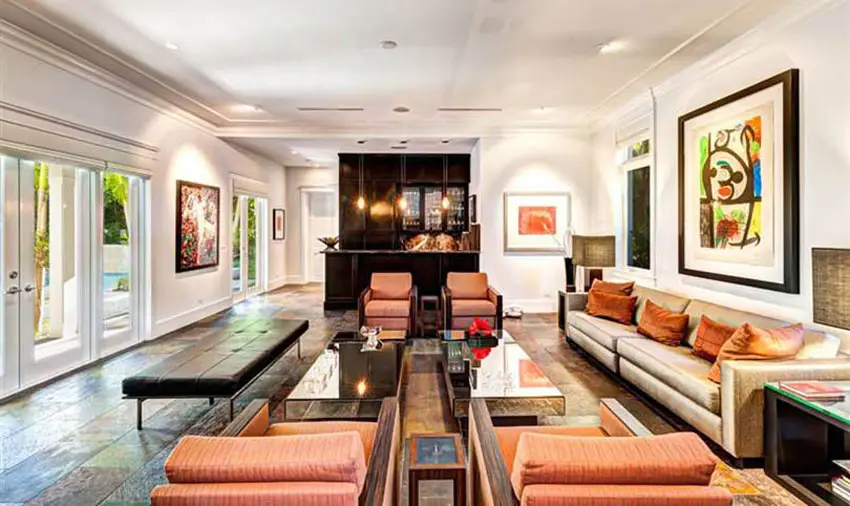 This bright living room space is a great place for entertaining with an abundance of seating and a large home bar fully stocked with a variety of drink options.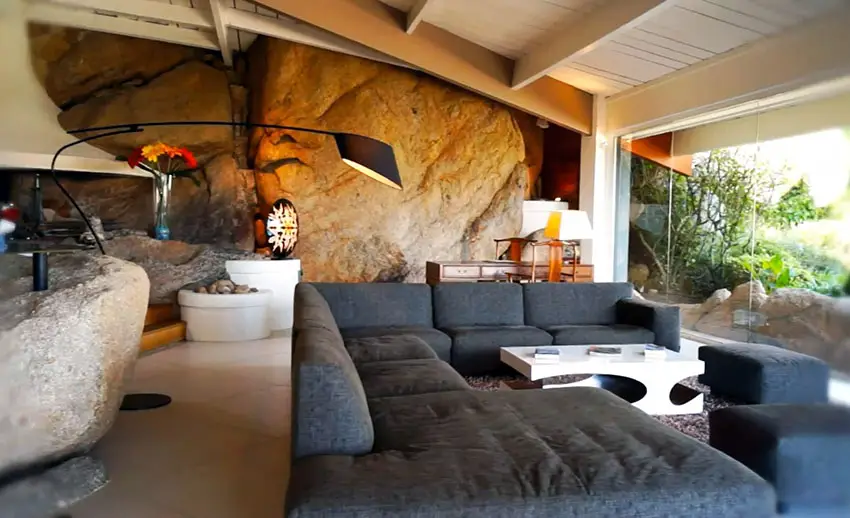 A literal man cave this living room is built in to the hillside with rock interior and plate glass window views to the outdoor landscape. A large gray sectional couch offers ample space to stretch out and enjoy the views.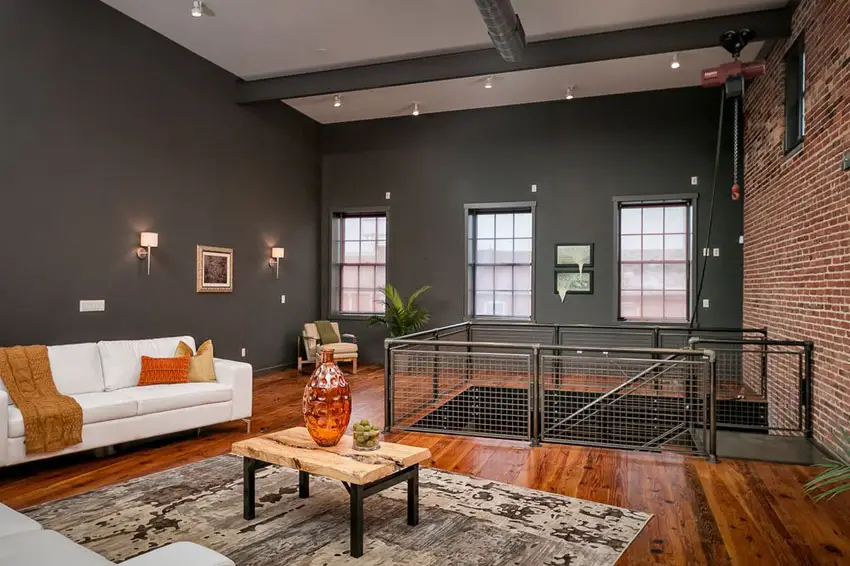 Dark gray paint can overwhelming. However the gray color is offset in this space by an assortment of lighting, white couches, wood floors, several picture windows and a large raw brick wall.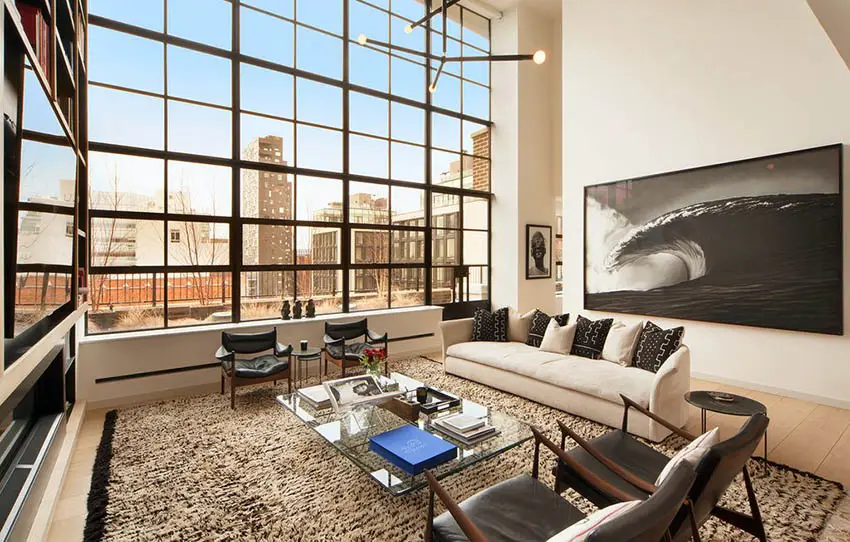 This impressive masculine living room design showcases high ceilings with a large media center and contemporary chandelier above several mid century modern leather arm chairs and a cream sofa.
For more related content visit our page on living room layouts with a TV.