Here's a gorgeous Florida house plan with 4 bedrooms and 4 bathrooms including the floor plan for the 1st and 2nd floors.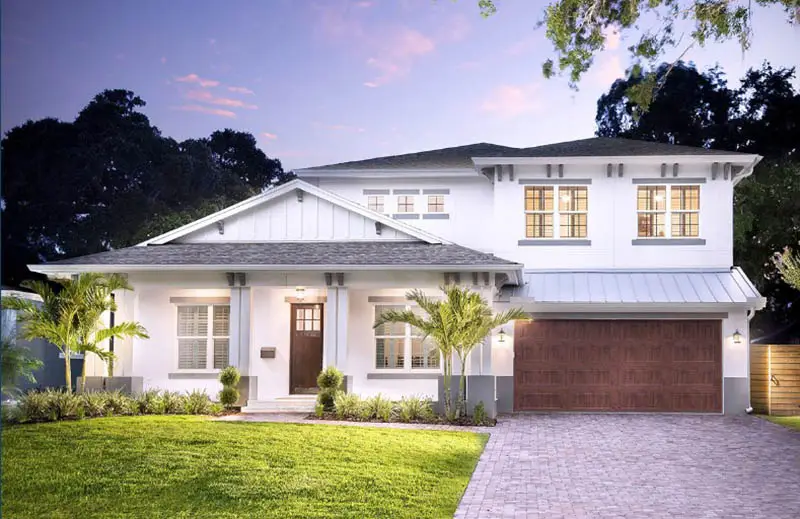 From trend to realization to relevance, sustainable and eco-friendly homes are truly the modern and future of living. Boasting 3,582 of energy-efficient square footage this home provides a healthy built-environment for its occupants.
Florida Style House Design
A picturesque home that includes 4 bedrooms with a provision for one more if you want to convert the den into a bedroom. The owner's suite has its own full bath with a walk-in closet that can conveniently give access to the utility or laundry room. The rest of the three common full-baths are strategically placed beside each bedroom, easily accessible to public areas.
Aside from an expansive great room that opens up to the covered lanai, the open plan also includes the spacious kitchen just beside the nook. Going up to the second floor, you'll have a good view of the great room below from the loft area.
For a home theater, or if you're looking for a music and playroom for your kids, the media room from the loft area is a perfect private space to have. The energy-efficient 4-5 Bedroom Florida House plan also accommodates a 2-car garage.
See this energy efficient 4-Bed Florida house plan #33205ZR at this link.
Florida House Floor Plan
Florida House Plan Exterior Front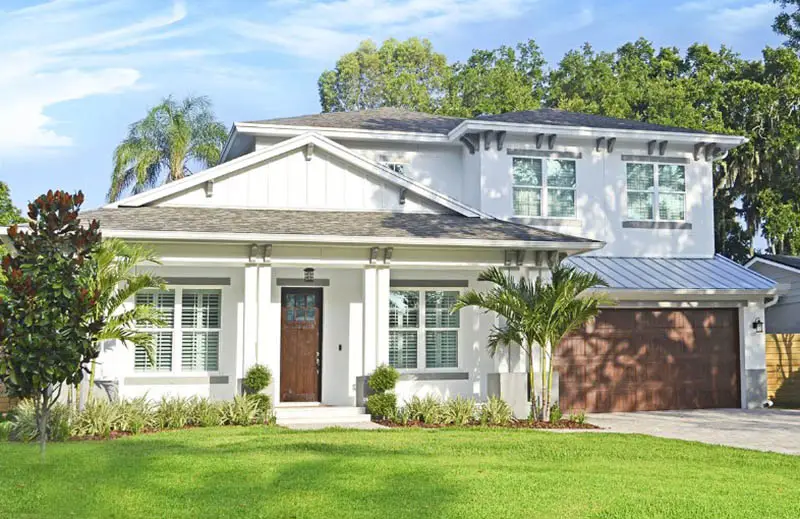 The home's exterior is a lovely showcase of elements in balance. The white-washed walls give that simplistic touch of the modern, clean-cut style but are not left unadorned, as you can see the grooved outlines plus board and batten siding that adds character to its façade.
Adding a hint of the traditional architecture is the exposed rafter-tails combined with gray slate tiles, giving richness to the whole exterior. Though, you can opt for a different tile material that suites your taste.
This energy-efficient home offers a compact, minimal footprint but equipped with an efficient layout. As you step on the wide porch, you'll notice the simple yet admirable double columns that frame up the entryway and porch. For added privacy, the owner's suite has its own entry point straight from the garage.
Florida House Plan Interior Layout

Inside, notice how surprisingly airy and welcoming the space is, thanks to the dramatic change of ceiling heights as you walk from the foyer to the great room.
From the fairly-sized foyer and formal dining area, you are greeted with the openness of the great room with a height that stretches up to the coffered ceiling above almost 22' feet high.
With a loft-type plan and clerestory windows, the expansive great room allows natural light and ventilation to circulate through the entire house. There's also a fireplace in between the built-in cabinets is the perfect spot for the family to stay-by during the cold months.
Probably a favorite spot-to-be is the spacious kitchen and nook area that includes a large kitchen island that includes a large counter and cabinet space. You'll also have an additional pantry closet cleverly placed in a part where's is easily reached from the garage and foyer area.
The owner's suite is fully-equipped with all the needed amenities, plus it has its own access to the laundry room. This private entry also allows the owner to discretely reach the garage area without the need to go through the house.
The second-floor house two bedrooms, a bathroom, a media room, and a loft that can be turned into a family area or nursery room.
As all bedrooms come with a spacious built-in closet. The plan also provides a dedicated closet for your AHU Air Handling Unit for easy maintenance and a storage closet for media devices as well.
Speaking of the home's HVAC systems, this energy-efficient home plan comes with the roof plan soffit or chase layout plan. It's basically a plan where it shows where the best location and size of your dropped soffits so it can house your duct system.
The ducts are strategically placed into the space so they can be efficient and save you more energy and costs. Installing ducts in conditioned space can help you cut energy costs by 8% to 15% in hot/dry climate zones.
With the home's low sloped roofs, you can even add solar panels to have a free source of energy.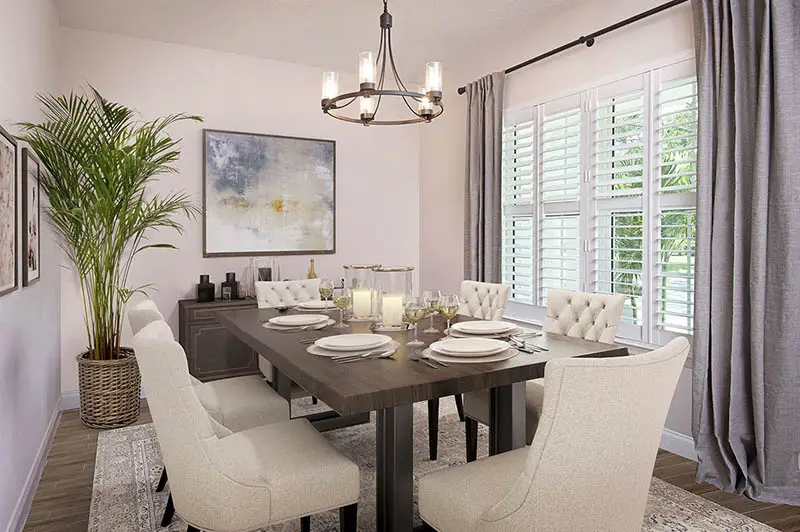 The Plan 33205ZR Energy Efficient Plan allows you to save as much as 50% percent more compared to newer homes and 60 to 70% more savings compared to older homes.
Dining rooms are places to have great conversations and enjoy a home-cooked meal, and that's what this design has intended to focus on.
The formal dining room is located just right from the foyer as you enter and away from the kitchen area. It may be an unusual layout, but locating the formal dining away from the busiest spaces in the house, provides fewer distractions, privacy, and accessibility. This means you can have guests come over without the need to go through the house.
The great room is truly a modern space with its clean and simple architecture without losing its homely charm. The living space also opens up through the outdoors so you can entertain a good number of guests at the same time.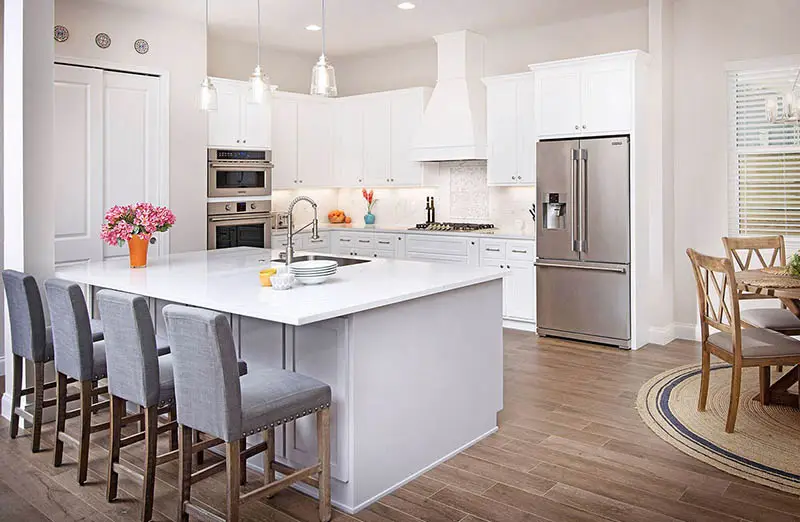 What better way to make your guests feel at home than by serving them with a home-cooked on a large eat-at-island meal right from your kitchen.
The kitchen is built for efficiency with its L-shaped layout where built-in cabinets and provisions for appliances are strategically placed for easier movement during food prep.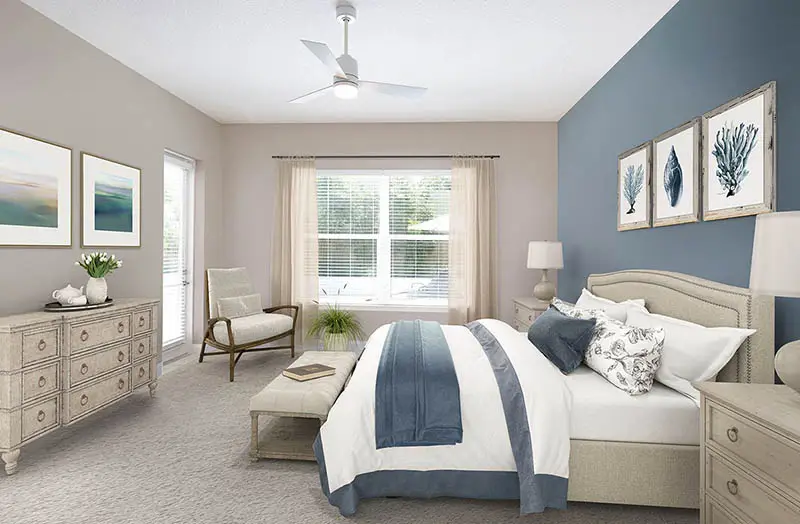 Every bedroom has that cozy appeal, not too large nor small, laid out to accommodate most of your furniture. You can add a tray ceiling to add character or leave it as is, clean and simple. Either way, you get uninterrupted and great views of the rear.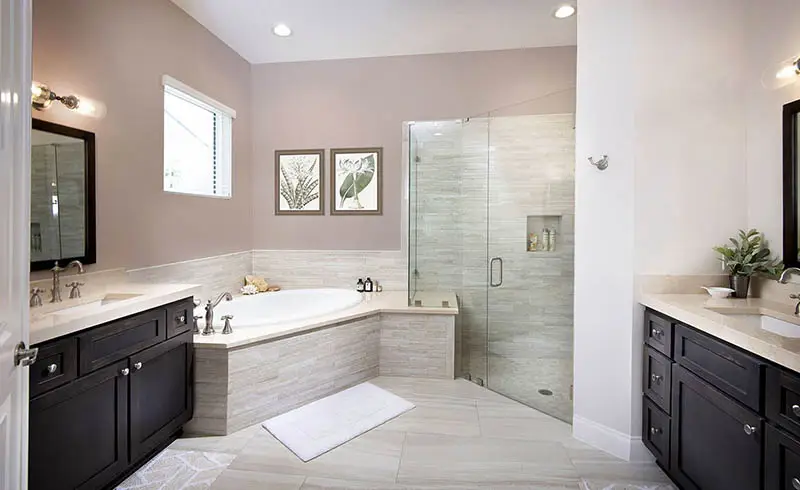 For shared bathrooms, having a privy is definitely a convenience add the double vanity, and this en-suite bathroom makes it more desirable. You also get an enclosed shower for added privacy.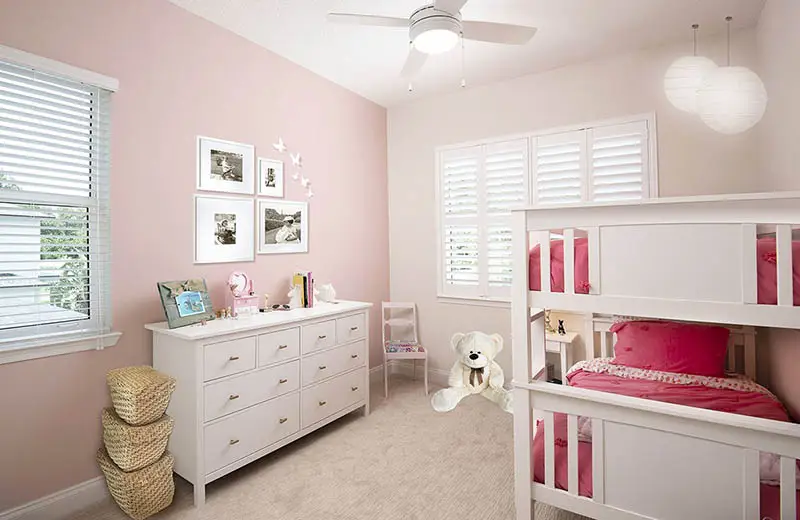 This cute girl's bedroom is decorated with pink and off-white wall paint, a white dresser and bunk beds. A beige carpet is used to create a comfy play zone.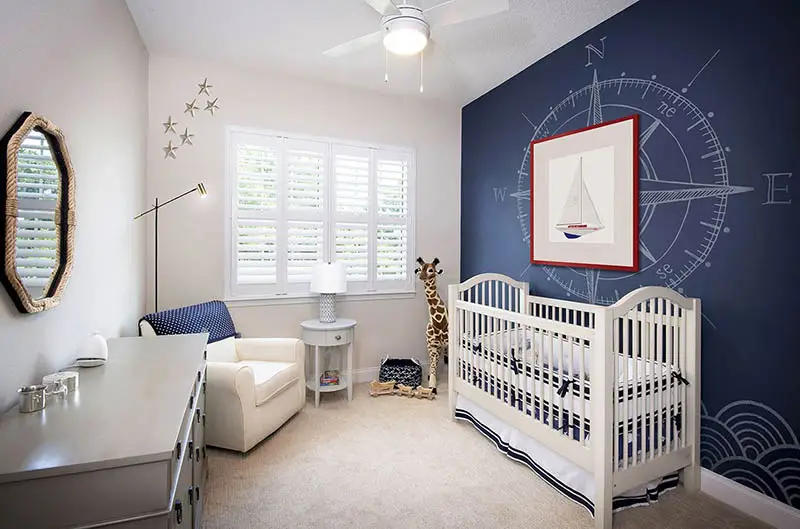 This baby nursery is designed with a nautical theme. The large blue accent wall provides a pleasant contrast to the rest of the off-white-painted walls.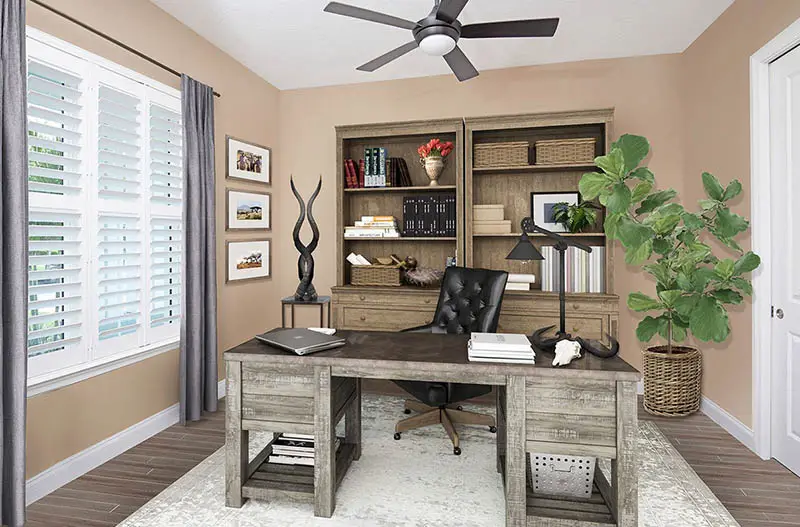 Here one of the spare bedrooms is used as a home office. This layout leaves plenty of room for a large desk and storage bookcase. A sliding pocket door leads to a guest bathroom.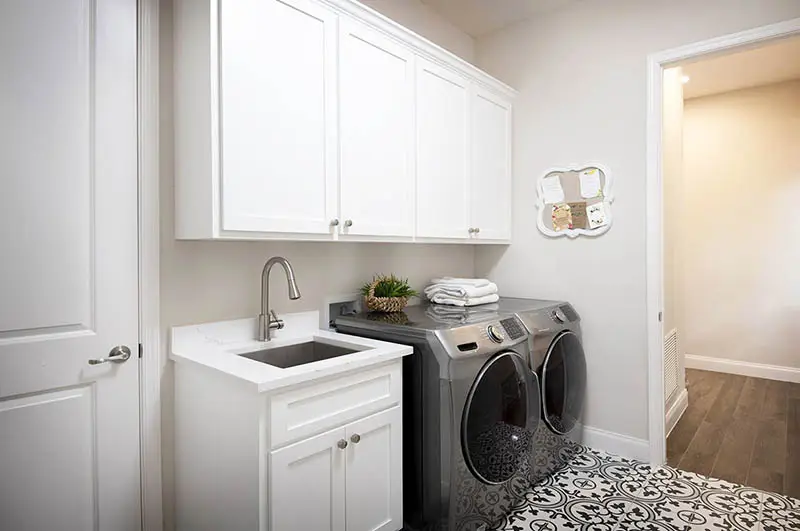 Every home needs a good-sized laundry area and the utility room is designed to accommodate all your clothing needs such as wash, dry, ironing as well as storage space to keep your linens.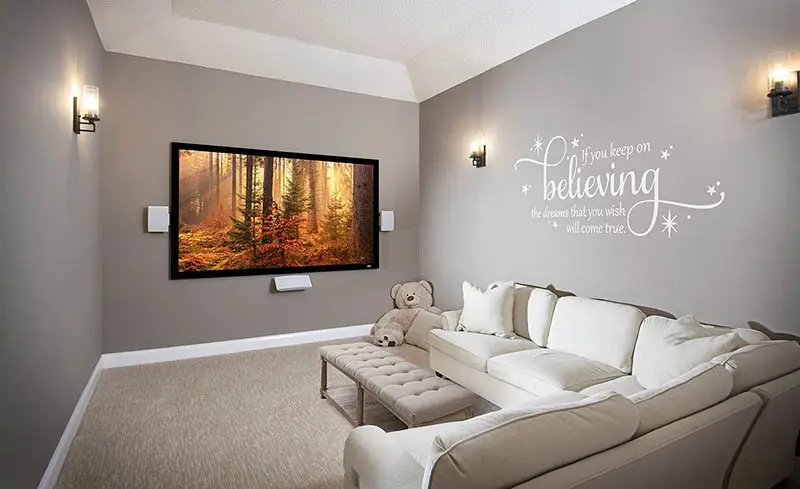 Upstairs there is a dedicated media room that can be the perfect hangout for watching movies with friends or family.
Backyard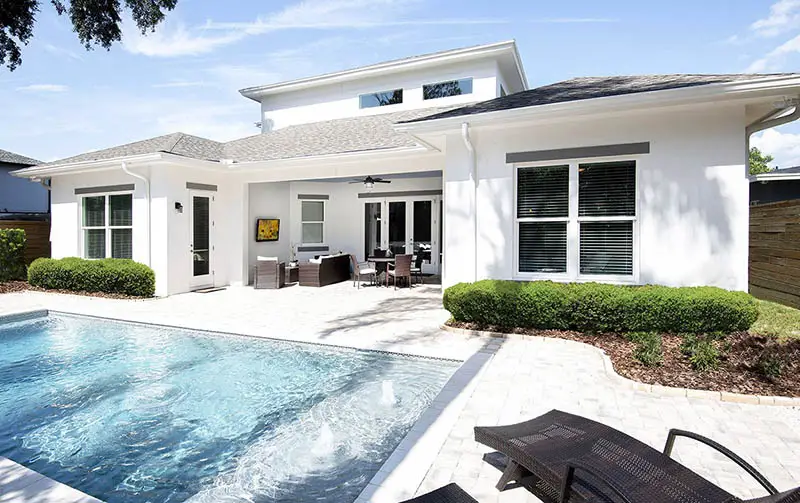 Buy this Florida house plan #33205ZR at this link.
The rear side continues to showcase the simple and well-balanced architecture. Adding a pool just across your covered outdoor space can add a dramatic ambiance while providing a passive way to control the heat during the summer months.