Here we share our guide to acrylic kitchen countertops including their pros and cons, designs, prices, and tips on how to clean and make your acrylic countertops shine.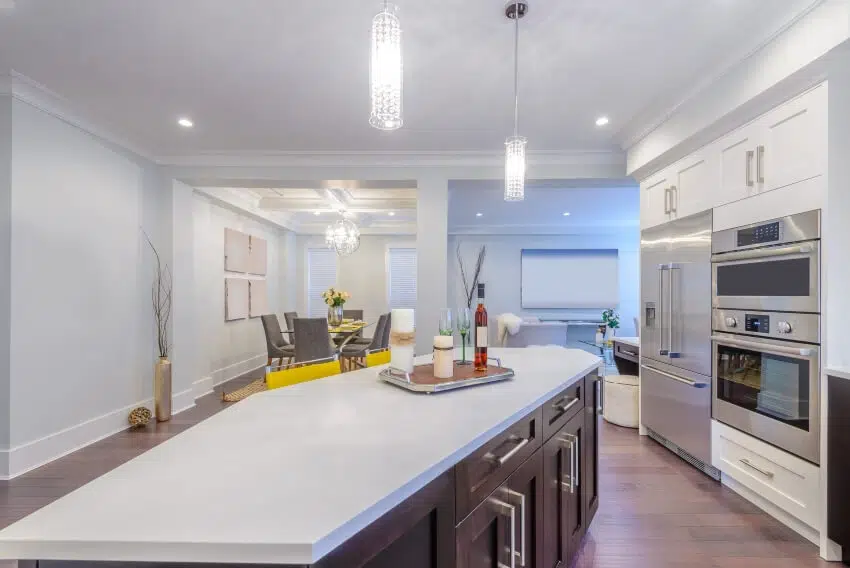 Choosing your countertops is an important decision to make, especially since they can set the mood of your entire kitchen. And one of the most important decisions you will make is the material of the countertops you choose.
With a wide range of options to consider, from natural stone countertops like quartz and marble to butcher block wooden countertops, it can be a challenge to choose one.
If you're going for something more affordable but looks like a genuine natural stone countertop, acrylic kitchen countertops may be the way to go for a contemporary design.
What Are Acrylic Kitchen Countertops?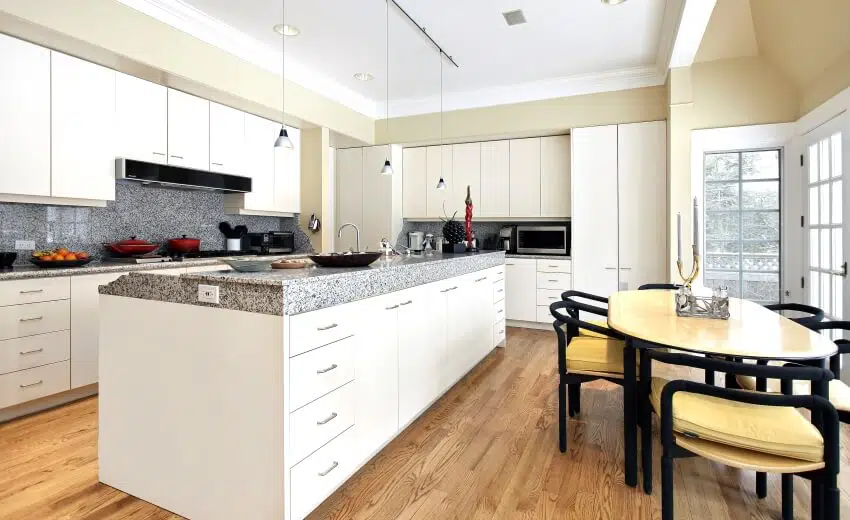 An acrylic kitchen countertop is a popular man-made option known to be highly durable and affordable at the same time. This kitchen countertop is non-porous, which means that the material does not stain.
You also won't have to worry about bacteria and mold buildup, making it an excellent addition to the kitchen where cleanliness and hygiene are relevant to meal preparation and cooking.
Acrylic kitchen countertops are comprised of ⅓ resin and the rest are mineral components. Despite this ratio, the engineered material gets lowered to the label of "plastic" and many hesitate to consider the material for their countertops.
With advancements in technology though, the development of acrylic countertops has been significantly improved, affecting both their quality and aesthetic appeal.
Also referred to as solid surface countertops, acrylic countertops are hard solid with a beautiful matte finish. The material is considered thermoformable, which means that it can easily be formed in whatever shape you prefer.
Types Of Acrylic Kitchen Countertops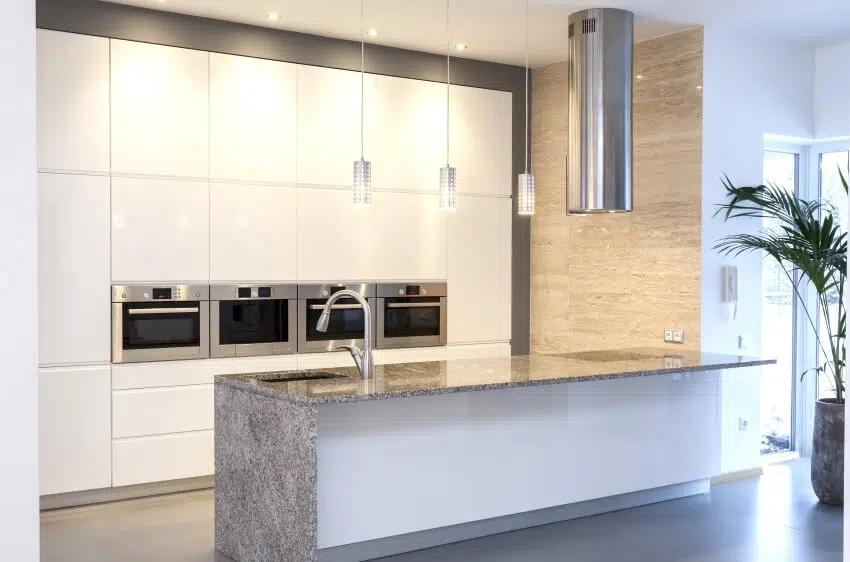 An acrylic kitchen countertop is a type of solid-surface countertop, offering incredible durability and pattern options with low maintenance requirements and at low cost.
Besides acrylic though, solid-surface countertops also feature a polyester version and finally, a blend of both materials.
These engineered kitchen countertops are popular for being scratch and stain-resistant, as well as easily customizable that can be sanded out, with seams easily fused together and their deep gouges easily filled too.
Pros And Cons Of Acrylic Kitchen Countertops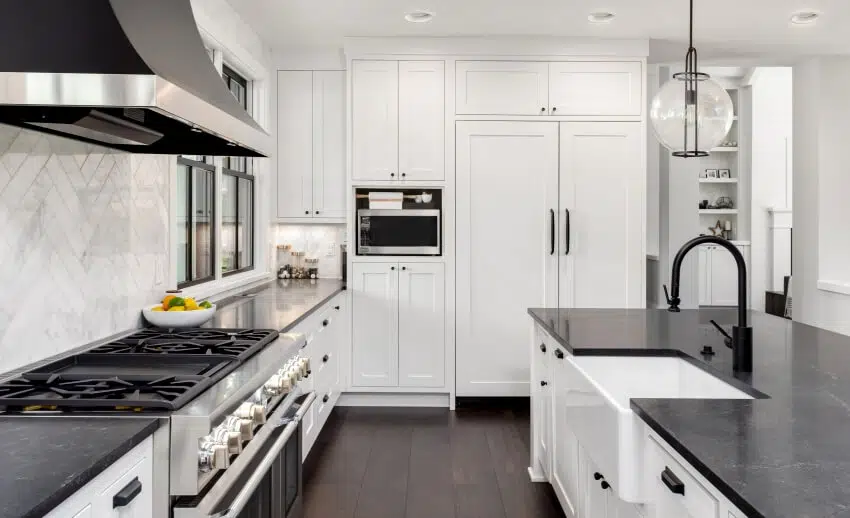 If you're thinking about installing acrylic countertops in your kitchen, it is necessary to weigh the benefits and downsides you will experience with it. Check out if the features of the pros outweigh the cons to finally make a decision.
Pros of Acrylic Kitchen Countertops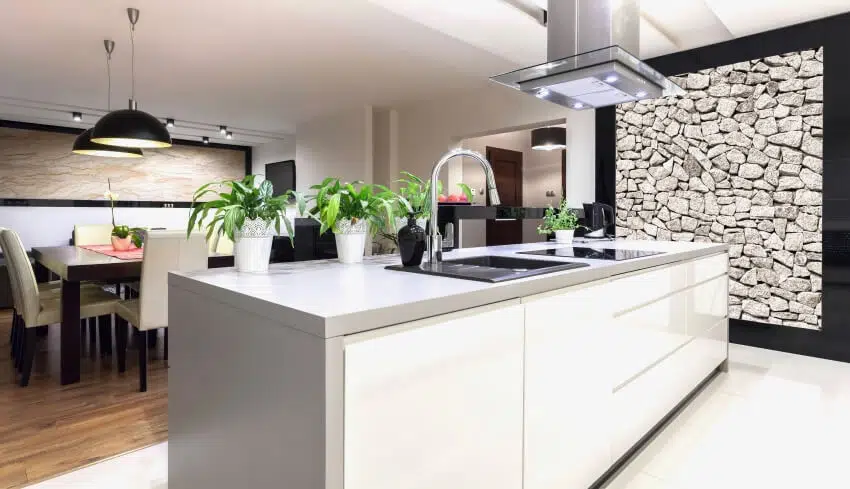 Acrylic kitchen countertops are man-made, which means that they have been designed as such in order to cater to people's specific needs. And in this case, it is the need for a durable yet attractive countertop at a low price. More than that though, you also get to enjoy these advantages.
Highly Durable – Acrylic kitchen countertops are known to be highly durable and do not easily break or chip. They are strong hard solid and resilient primarily because they were structured to be that way. Read our article on the most durable kitchen countertops for more related information.
Easily Repairable – Acrylic countertops are easily repairable so if damages are seen, you can easily sand the bumps or fill the holes. Even burns on the countertops can be professionally repaired and if your countertop comes with a warranty, this is something you don't have to worry about at all!
Does Not Require Sealing – Since the acrylic countertops are non-porous this means that you don't need to seal them. Despite that though, they can still be damaged and deformed so don't use the countertop as a cutting board or something similar to that.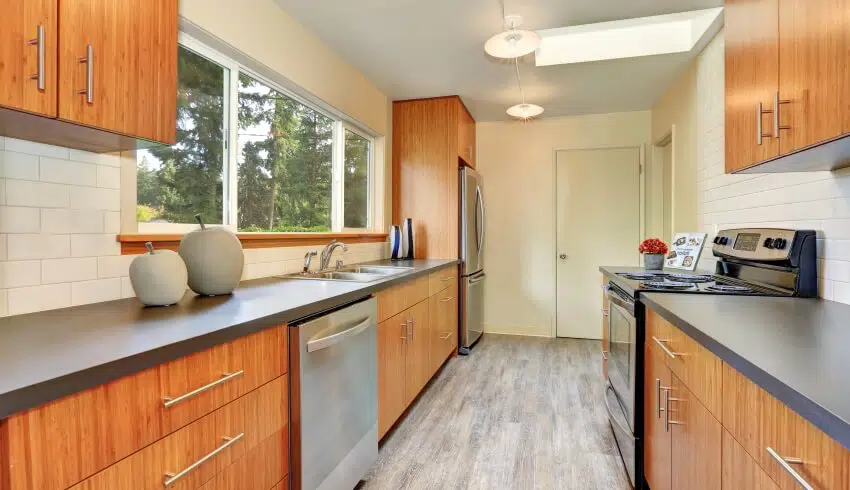 Seamless – Joining acrylic countertops can seamlessly be accomplished without anyone noticing that they've only just been pieced together. The seam will be visually difficult to detect and even feel in some cases. You are guaranteed the illusion of a solid single piece of countertop.
Bacteria and Mold Resistant – Considered to be non-porous, acrylic kitchen countertops don't have crevices and holes that can allow mold and bacteria to build up and fester in. This is why it is considered excellent in terms of hygiene, which is really important in the kitchen setup.
Wide Selection of Designs – Acrylic kitchen countertops have endless design options since the material can easily imitate the looks of other countertops, including marble and granite countertops. Colors such as blue, yellow, green, gray, brown and orange are just a few of the most popular selections.

Extremely Safe – With a Class Fire 1 Rating, this makes the countertop very safe to use in the kitchen. Acrylic kitchen cabinets are another choice to consider as many brands are also resistant to high heat.

More Affordable – Acrylic kitchen countertops are more affordable compared to other types of countertops. You get to enjoy a countertop with similar aesthetics as natural stone countertops without paying the high price that usually comes with them. They are also cost-effective since they're low maintenance, do not require sealing, and are easy to clean.
Cons Of Acrylic Kitchen Countertops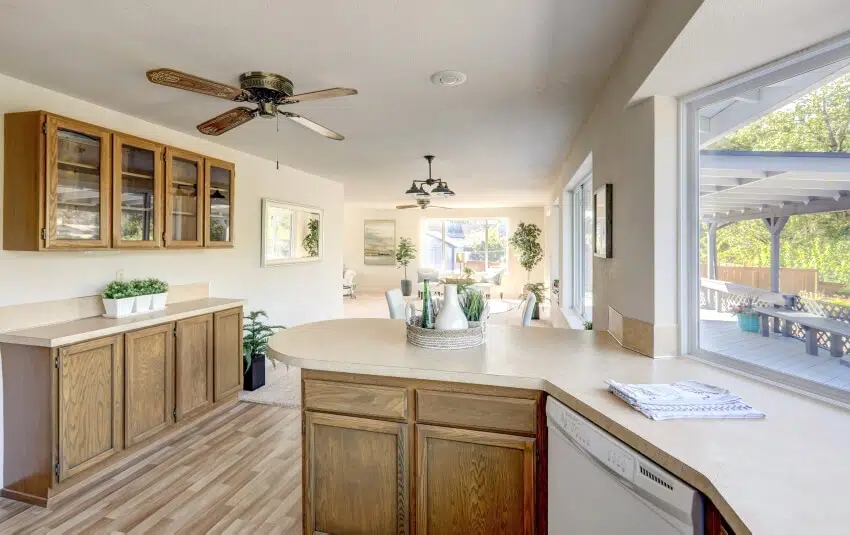 Besides the benefits you can enjoy, you also need to consider the downsides that come with using acrylic kitchen countertops.
Not DIY-friendly – Acrylic kitchen countertops are best created and installed by professionals with their own brand certification. You can't DIY it smoothly and can even frustrate you so you might trust the professionals to do the job for you. These professionally installed countertops come with excellent warranties you can take advantage of.
Susceptible to Heat Damage – Acrylic kitchen countertops are susceptible to heat damage and cannot withstand excessive heat exposure. This means that you can't set your hot pan down the countertop or it will create discolored patches on the surface.
Susceptible to Chemical Damage – Acrylic countertops are also susceptible to chemical damage that harsh chemicals like nail polish remover and over cleaner can damage the surface of the countertops. Make sure to wipe down any chemical that spills to minimize possible damage.
Acrylic Kitchen Countertops Prices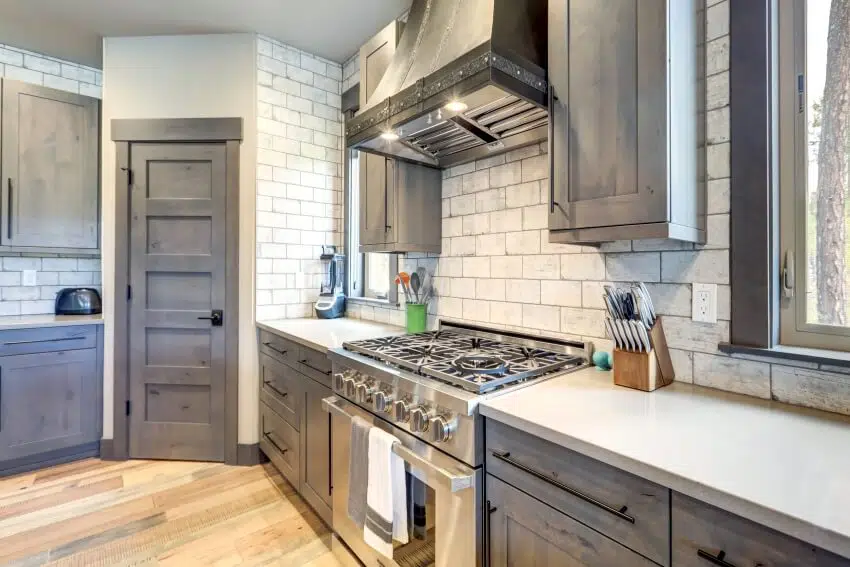 The average cost of acrylic kitchen countertops falls on $3,200, ranging from $1,900 to $4,500 depending on the manufacturer, color, patterns, and edge styles.
The price breaks down to the range of $52 to $120 per square foot so make sure to consider your budget well.
How Do You Clean Acrylic Countertops?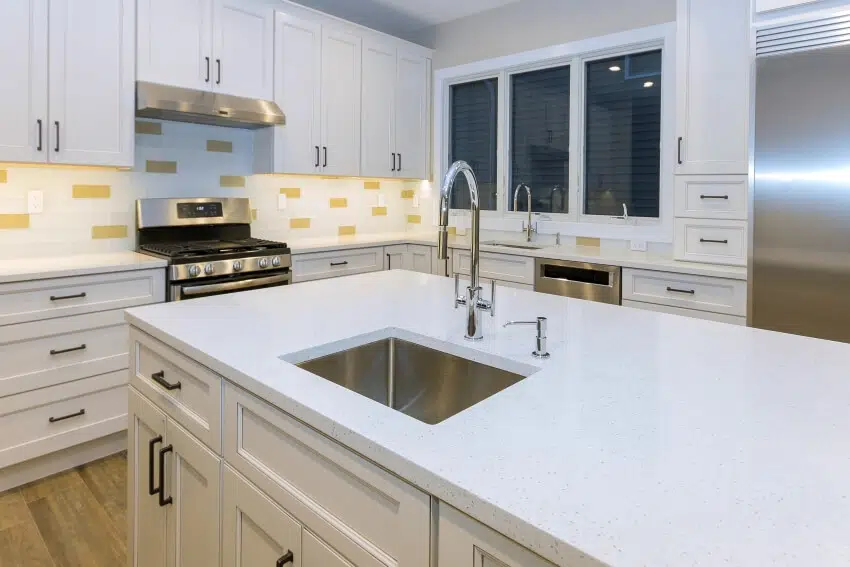 Acrylic kitchen countertops are non-porous, which makes them bacteria and mold resistant. Stains and odors won't also be a problem since they can't penetrate the surface of the countertops.
And when it comes to cleaning up, you only need cotton rags and towels, water, and store-bought detergent and bleach. You can also use hard-water remover and acrylic resin cleaner if you choose to.
Here are the acrylic cleaning steps to follow:
• Step 1: Use a cotton rag to wipe the surface of the countertop with clean water and dry it using a cotton towel.
• Step 2: Spray the surface with your store-bought detergent (or ammonia-based cleaner), wipe it down using a cotton towel, and then rinse it down with clean water then wipe dry with another cotton towel.
While these 2 steps can work, you can go beyond that using a hard-water remover for water stains and then an acrylic resin cleaner for deeper cleaning.
These two cleaners can serve as steps 3 and 4 if you prefer to do them. Rinse the cleaners with water and dry them with a cotton towel.
How Can I Make My Acrylic Countertops Shine?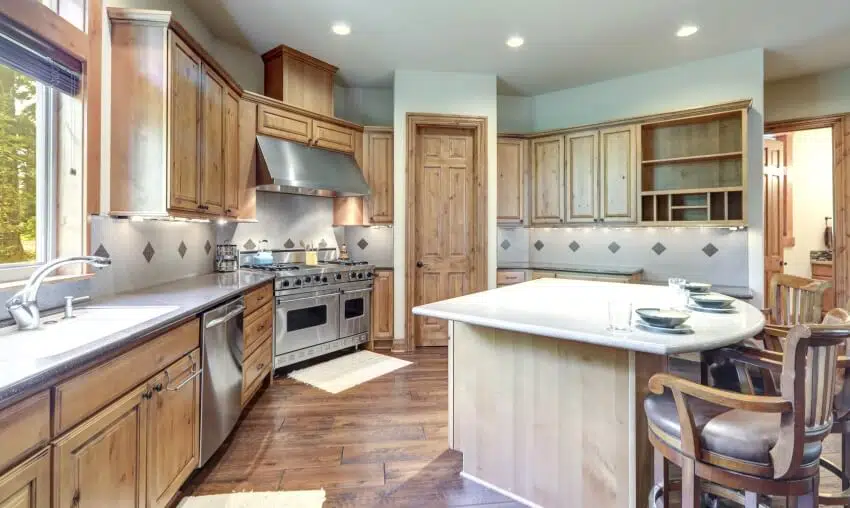 Depending on the finish of the acrylic countertops, polishing the surface is possible, and making the countertops shine can be accomplished. After your regular cleaning, here are the steps to follow to make your countertops shine.
• Step 1: Apply a mildly abrasive scouring gel and spread it evenly on the surface of the countertops using a dampened sponge
• Step 2: Create small circles overlapping each other and rub the surface with the sponge
• Step 3: Apply more gel using the sponge when needed
• Step 4: Wipe the countertop starting on one side to the other
• Step 5: Rinse the gel using clean water
• Step 6: Wipe the surface dry using a cotton towel
Visit our guide to Corian kitchen countertops for more related content.