Here's our gallery of high gloss black kitchen cabinets with the types of finish, cleaning tips, and why kitchen cabinets with a high gloss black finish is a good choice for your design.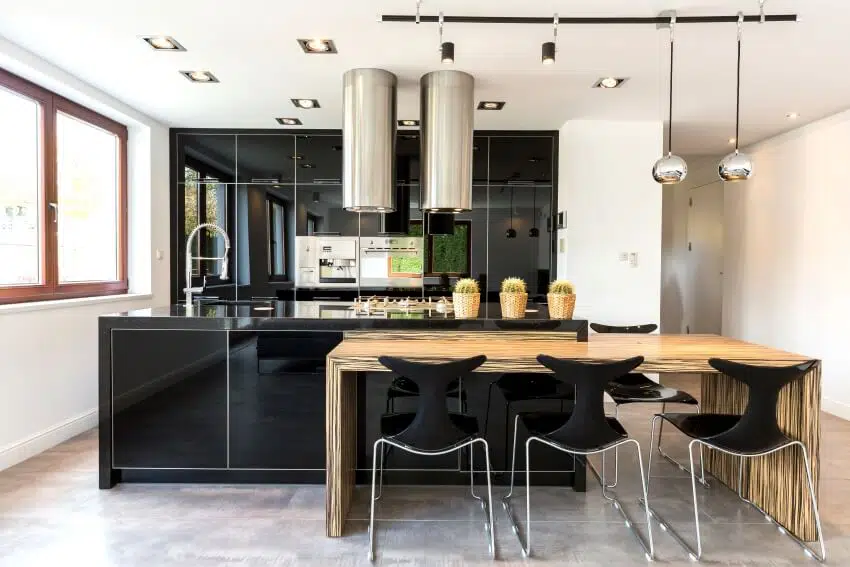 High gloss kitchen cabinets are a go to finish for modern, European style and minimalist kitchens. Its mirror like doors and ultra polished surface perfectly fits a clean, seamless design aesthetic. Because they reflect a great deal of light, high gloss cabinets are very shiny and can also help open up a space.
Below, we answer some of the most commonly asked questions about black gloss kitchen cabinet doors. Find out why they make a worthy investment and discover if they are the perfect fit for your home.
Black Gloss Kitchen Cabinet Doors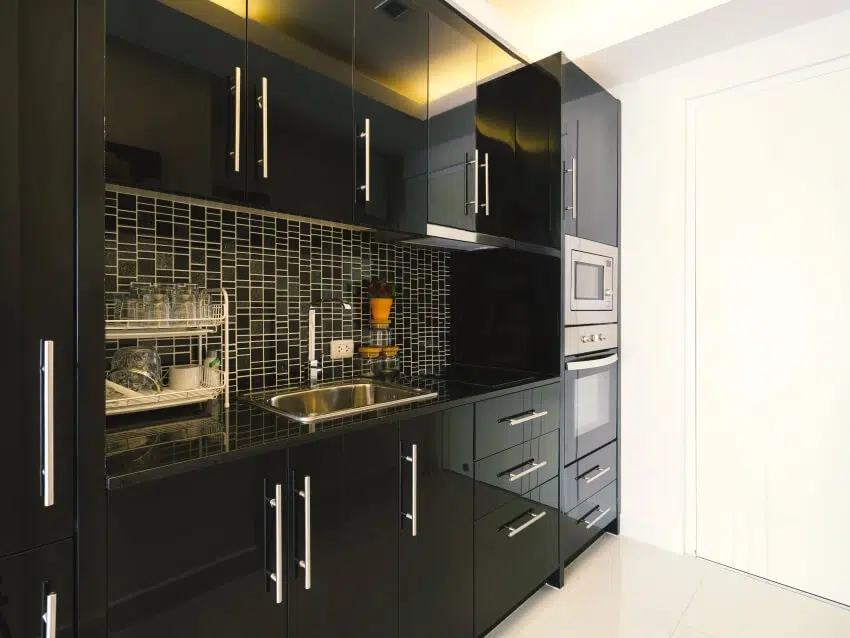 While white kitchen cabinets may be a classic favorite in different kitchen styles, black is also one of the best neutral colors to paint high gloss kitchen cabinets.
Black gloss kitchen cabinet doors are extremely popular in modern, minimalist and contemporary kitchen settings. Because it is neutral, it offers versatility and pairs with countertops, walls and floors in lighter shades. In fact, it is the best kitchen cabinet color you can use if you want to create contrast in your space.
Black gloss kitchen cabinet doors look best when paired with shades of gray and white. It can also be used as a dominant element in a monochromatic color scheme. Alternatively, black high gloss cabinet doors can be paired with vibrant colors like red and oranges for a more retro and mid century modern feel.
Types Of High Gloss Kitchen Cabinet Finish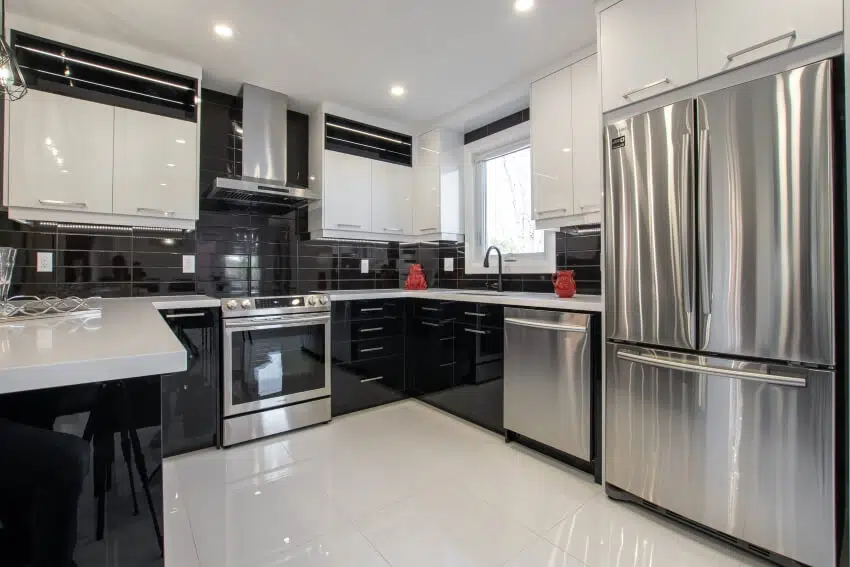 In general, high gloss kitchen cabinets come in three different types namely acrylic gloss, gloss pvc and gloss lacquer. They vary in terms of durability, quality and price.
Here are some types of gloss finishes which you can try for high gloss black kitchen cabinets:
Acrylic Gloss
Acrylic is a type of synthetic, non toxic finish that comes in sheet form. Considered as a premium kitchen cabinet finish, acrylic has a reflective, high gloss surface and a super smooth texture.
Acrylic is not only known for its high end look but also for its durability. It is 17 times stronger than glass and this impressive resilience comes from hard plastic resins.
Acrylic sheets are available in a wide range of colors and sizes. For kitchen cabinet doors, acrylic gloss comes in two forms — namely (1) solid acrylic doors and (2) acrylic faced doors.
Solid acrylic doors are made of acrylic through and through, giving the cabinets a sublime evenness and vibrance in color. Acrylic faced doors are the opposite and are made up of acrylic sheets attached to an MDF board and then coated with a protective layer to seal all of its edges.
Although durable, shatterproof and extremely elegant, acrylic gloss is sensitive to scratching.
Gloss PVC
Gloss PVC or Polyvinyl Chloride (PVC) is the most affordable option for high gloss kitchen cabinet finish. To create high gloss kitchen cabinet doors, gloss pvc is bound to an MDF core using a process called vacuum forming. Compared to other high gloss finishes, PVC comes in more limited colors, majority of which are light shades because they don't highlight irregularities as much as dark colors.

Gloss Lacquer
In terms of aesthetics, gloss lacquer has the most depth and intensity among the three types of high gloss kitchen cabinet finish. Similar to gloss PVC, gloss lacquer also uses an MDF core , however the core is coated with a primer and several layers of lacquer, resulting in an incredibly even and super shiny surface. Gloss lacquer is hard wearing but also the most expensive of all types of high gloss finish.

Polyurethane
Polyurethane is a type of paint that is commonly used for cars, however it is also considered a durable high gloss finish for kitchen cabinets and furniture. Polyurethane kitchen cabinet doors combine paint and a hardener to create an ultra smooth surface. This type of finish is designed to last and can withstand wear and tear.
Are High Gloss Black Kitchen Cabinets Expensive?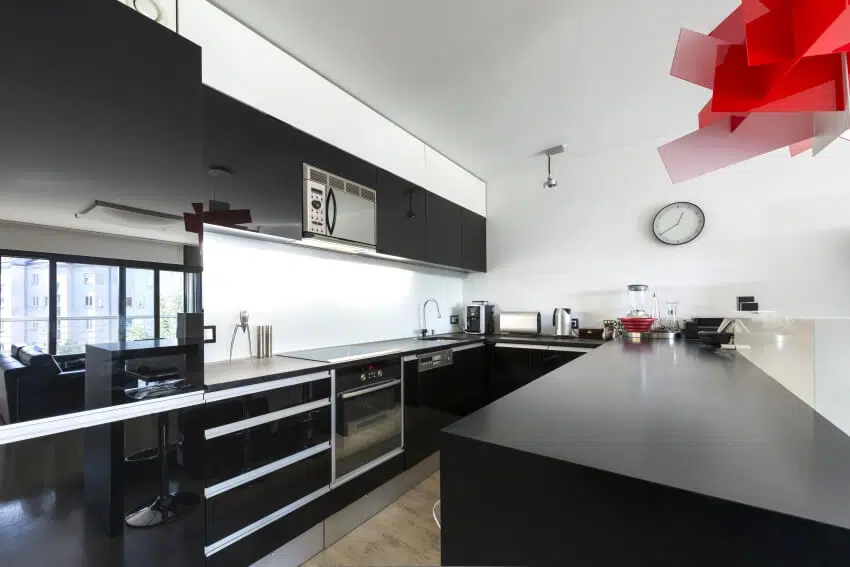 High gloss is a premium finish for kitchen cabinet doors, so in general they are considered to be more expensive than other finishes like wood veneers, laminate and regular paint. In fact, the clean, sleek look of high gloss kitchen cabinets cost 15% more than stained kitchen cabinets.
High gloss black kitchen cabinets run anywhere between $100 to $800 per square meter, depending on the type of material and color. On the average, a midsized kitchen would cost around $1200.
Acrylic finish is the most expensive type of high gloss finish for kitchen cabinets. Expect to pay more if you opt for this material for your high gloss black cabinets. Read our guide to acrylic kitchen cabinets for more related information.
Depending on several factors like the size, location and base material, acrylic black high gloss cabinets have a price range of $5000 to $20000 since they are more durable than regular paint, stain or laminates and are also more visually appealing and luxurious.
Should Kitchen Cabinets Be High Gloss?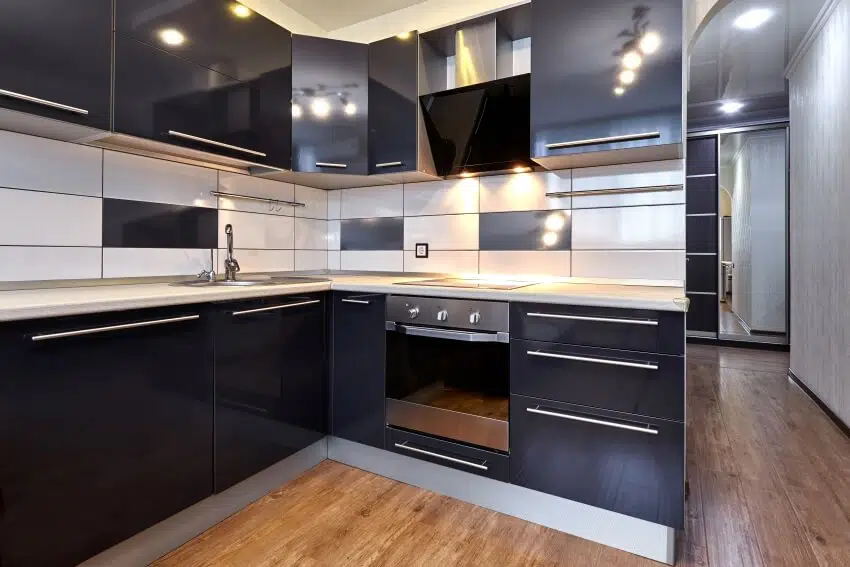 Although the style of your kitchen and the design of your kitchen cabinets play a significant role in choosing the right type of finish for your kitchen cabinets, practical factors like strength, durability and longevity are also equally important.
For kitchen cabinets, high gloss finish is more recommended than matte or satin finish because of its high durability. Kitchen cabinets are more likely to wear and tear compared to other surfaces and to ensure that they last long, it is important to choose a finish that can withstand different factors.
Is High Gloss Good For Kitchen Cabinets?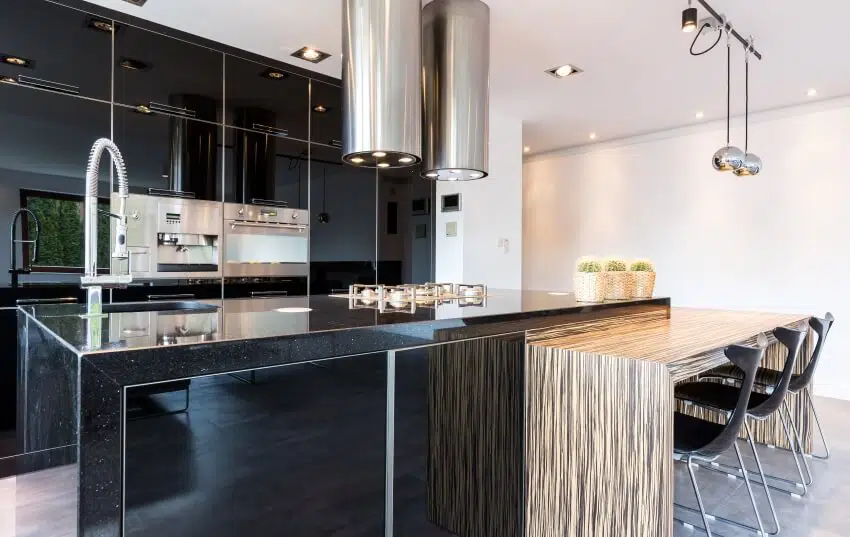 High gloss finish is one of the best finishes for kitchen cabinets. Not only does it increase the aesthetics of your space, but it also comes with several other benefits that make it worth every penny.
Here are some of the reasons why a high gloss finish is good for kitchen cabinets :
• Sleek , stylish look – The clean, seamless surface of high gloss kitchen cabinets make it perfect for ultra modern, contemporary and transitional style kitchens.
• Makes a space brighter, feel more open – High gloss kitchen cabinets reflect light more, thus making it more illuminated and look brighter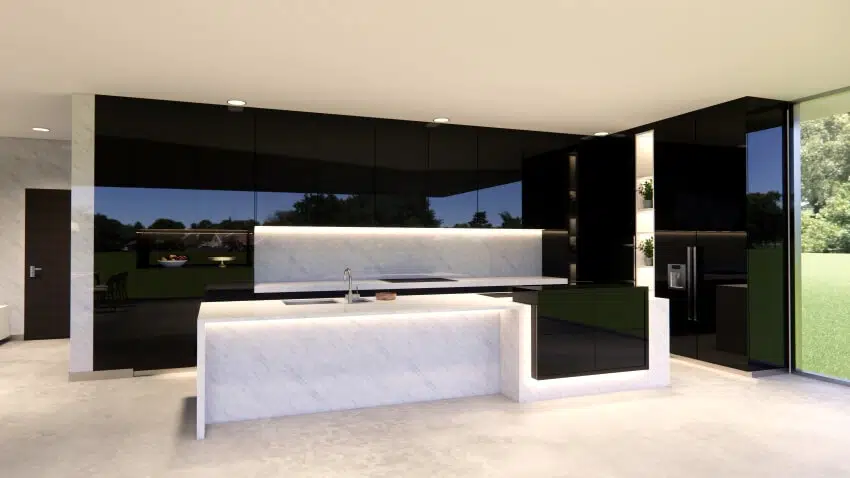 • Can make small kitchens look and feel bigger – As mentioned, the polished, mirror-like surface of high gloss cabinets reflect light more and creates an illusion of a bigger space.
• Easy to clean – Dirt and splashes do not stick easily to the smooth, shiny surface of high gloss cabinets. Regular cleaning can be done by wiping the surface with a clean, soft cloth.
Do High Gloss Kitchens Scratch Easily?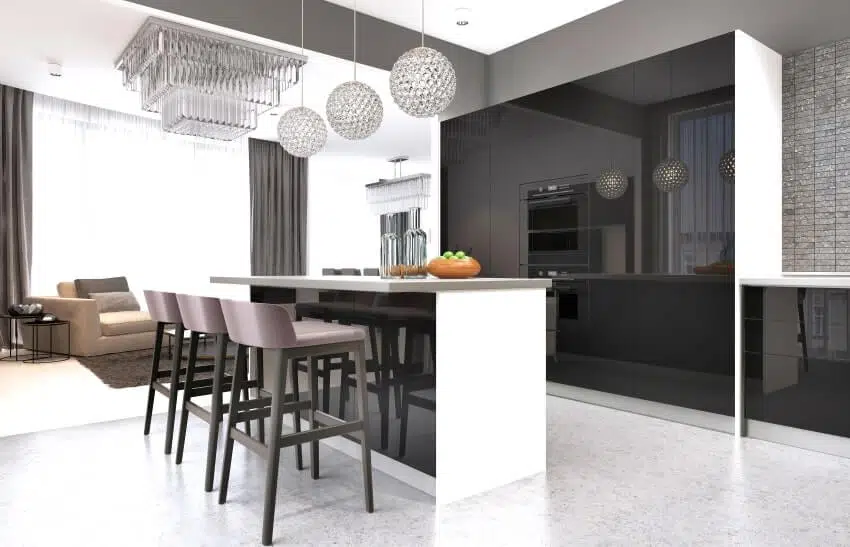 High gloss kitchen , particularly acrylic gloss finish tends to scratch more easily compared to other finishes like laminates , veneers, paint or stain.
Although they are durable, any mark, scratch or fingerprints will show up more easily in its ultra polished surface. Scratches can be buffed out, but it will take time and effort to restore it. While high gloss kitchen cabinets are easier to clean, they also need to be cleaned more often.
How To Clean Black Gloss Kitchen Cabinets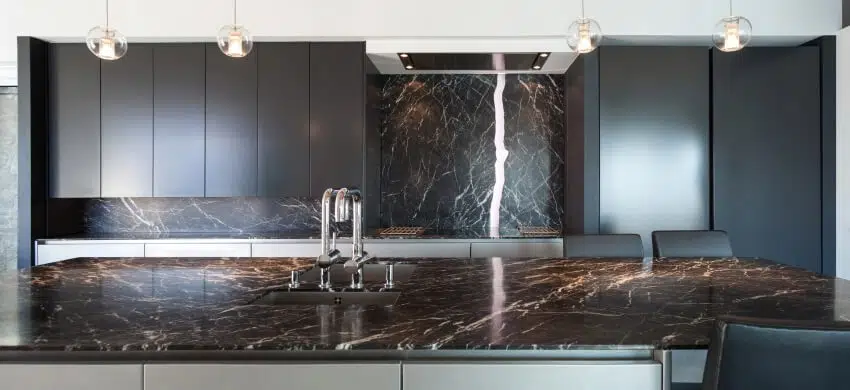 High gloss black kitchen cabinets are fairly easy to clean, however, they need to be cleaned more often because they tend to show marks and fingerprints more easily.
Here is a complete guide on how to clean black high gloss kitchen cabinets, along with some tips and practices to avoid, to keep them in their pristine condition.
What to Use
• Mild soap, gentle detergent or dishwashing liquid
• Soft cloth-like microfiber or e-cloth
• Feather duster
• Spray bottle with water and mild soap solution
Day to Day/ Regular Cleaning
• Use a feather duster to remove any dust particles that may have accumulated on the surface
• Wipe with a microfiber cloth until the surface of your high gloss cabinet shines
For Deeper Cleaning
• For cleaning and maintaining the shine, mix a tablespoon of mild soap with a gallon of warm water
• For caked on grease and sauce splatters, add a cup of vinegar to the mild soap and water solution
• Wipe cabinets using a soft cloth and the solution
• Start from the top down and work in small areas to avoid streaks
• Use microfiber cloth to dry and buff the cabinet door until it becomes shiny
High Gloss Black Cabinets Maintenance Tips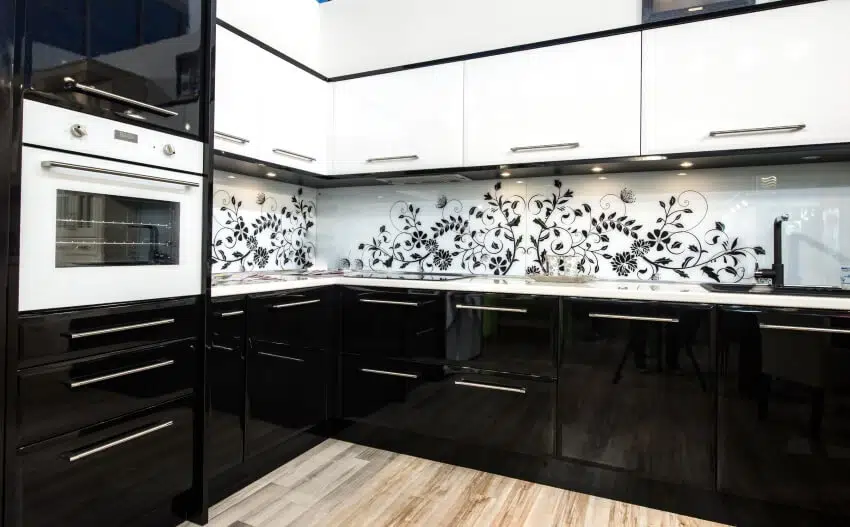 • Avoid using steel wool and scouring pads because they can scratch your cabinet's surface
• Do not use abrasive learners, solvent based cleaners and other harsh chemicals because it may cause discoloration
• Avoid furniture sprays, furniture polish or glass cleaners because they are too corrosive
• Avoid silicone based cleaners because they tend to leave a greasy film over the surface of high gloss cabinets.
• If you are not sure about a cleaner like bleach, check the cabinet's manufacturer to make sure that it won't damage your high gloss cabinet's exterior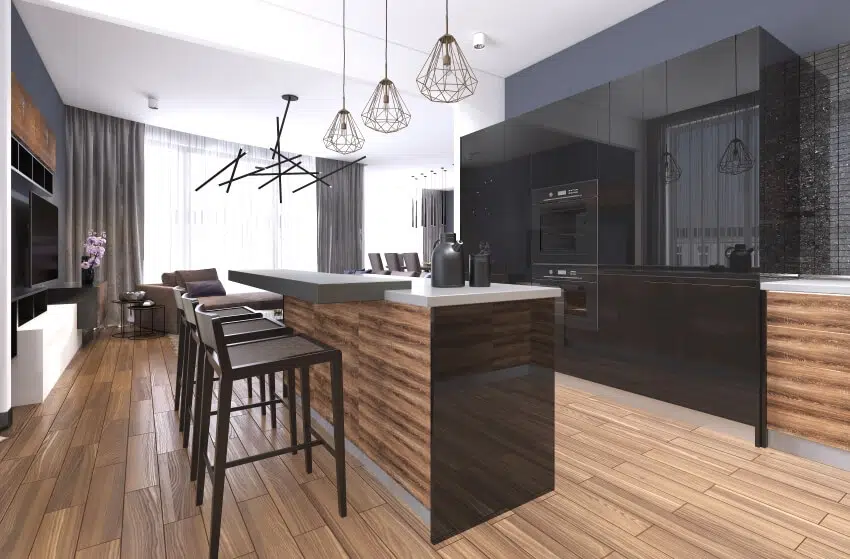 • Brushes, scrapers, paper towels and other rough objects must not be in contact with your cabinet's exterior because it can also scratch the surface
• Avoid too much moisture when wiping with a cloth because it can damage your cabinet's base material especially if it is made up of wood.
• Do not leave wet and damp towels over a high gloss cabinet's door because excess moisture can cause warping.
• Do not leave splatters, grease, spills, whether solid or liquid to sit too long on high gloss cabinet doors. Once they dry, they'll be harder to remove.
• Do not forget to clean the interiors too. Give the insides of your high gloss cabinet a quick clean at least once a month. Wipe down the bottom, sides, and back wall for a thorough clean.
Visit our guide to the pros and cons of black kitchen cabinets for more related content.