Here's our guide to kitchen cabinet wallpaper including removable, peel and stick, and tips on choosing the best kitchen cabinet wallpaper for your interior designs.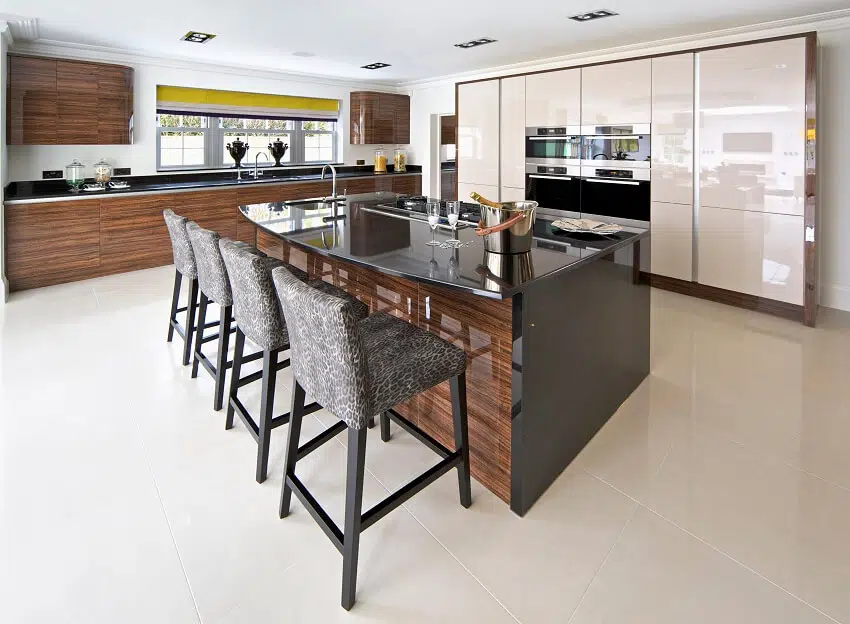 Your kitchen cabinets can have a huge impact on what your kitchen looks like. Not to mention, you probably want every part of your kitchen to reflect your personal style.
Before you go in for an extensive or expensive remodel, though, you might want to consider another option: kitchen cabinet wallpaper.
If you haven't heard of kitchen cabinet wallpaper before, though, don't worry! In this guide, we'll break down everything you need to know.
What Is Kitchen Cabinet Wallpaper?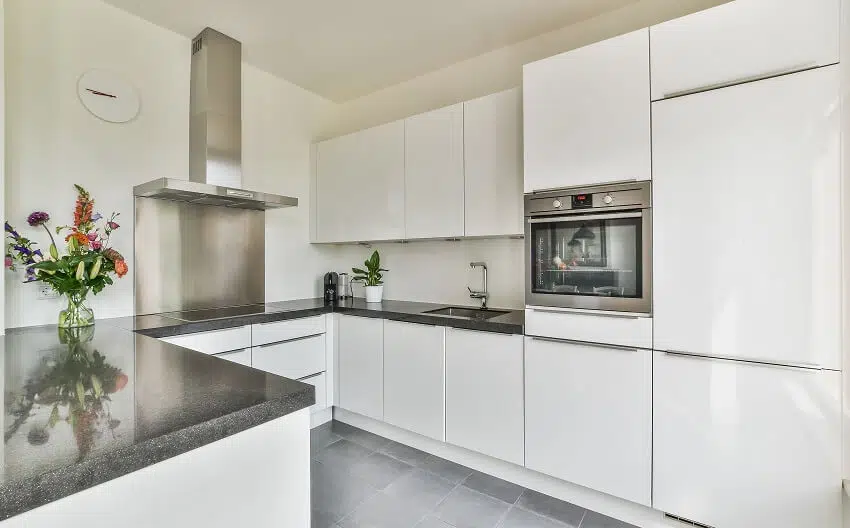 Wallpaper has been in use in home design for a long time. You've probably mostly seen it used, well, on the walls. However, despite the name, wallpaper is a handy tool on a variety of surfaces. Many people use it on their shelves, appliances, and, most importantly for this guide, cabinets.
Just like the wallpaper you might use on your walls, kitchen cabinet wallpaper comes in a variety of choices. This includes a variety of patterns and colors, ensuring that everyone can find something that suits their tastes and fits their kitchen design scheme. See more kitchen cabinet styles and ideas here.
Even better, there are a variety of different types of wallpaper to choose from as well. This includes options such as wallpaper that you can simply peel and stick into place and even removable options that you can put up for a temporary change of pace.
Wallpaper For Wood Cabinets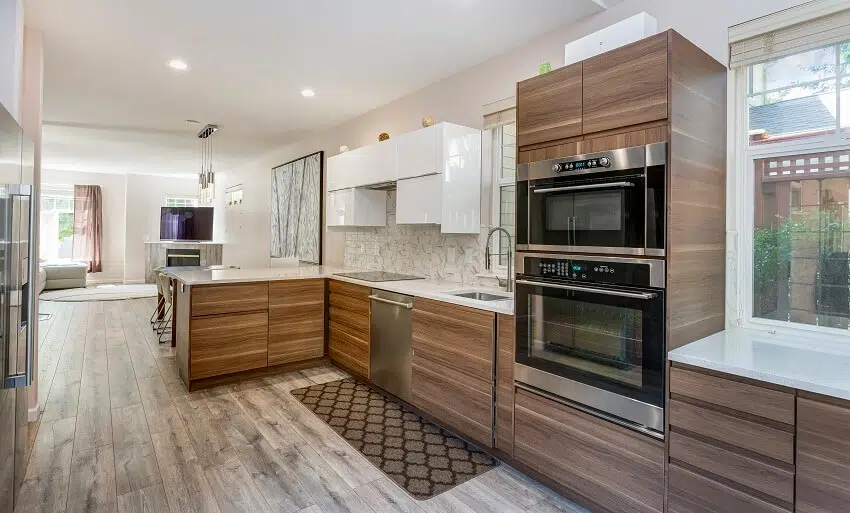 You can use a variety of materials for cabinets. However, the most commonly used option is wood cabinets. As such, when you're choosing a wallpaper for your kitchen cabinets, you'll want to make sure that you're using something suitable for the material that you're going to adhere it to.
Luckily, because of the common nature of wooden kitchen cabinets, many kitchen cabinet wallpapers are suited for use on wood. Similarly, you can find kitchen cabinet wallpaper that mimics the look of different types of wood, complementing other wood products in your kitchen.
Removable Wallpaper For Kitchen Cabinets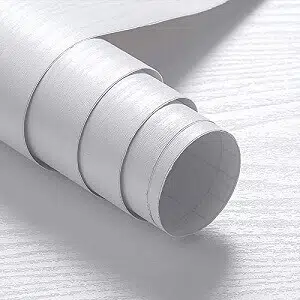 See this removable wallpaper at Amazon [sponsored link]
In some cases, you can't make permanent changes like renting or even painting your cabinets. So, if you find yourself in this situation, are you just stuck with cabinets as they are?
Actually, you don't have to resign yourself to plain cabinets! While not all kitchen cabinet wallpaper is easy to remove, you can spruce up a rental with some removable wallpaper.
This type of wallpaper is made to allow you to stick it up, creating the same visual effect as any other type of wallpaper. The catch is that when you're done with it, you can peel it back off without leaving a sticky residue or tearing and sticking to the cabinet.
Still, it's worth noting that there are some drawbacks to removable wallpaper. For one, it doesn't always have a smooth surface, making it hard to apply in an even layer without air bubbles. On top of that, since its made to remove later on, it's not always quite as durable as its more permanent counterparts. Read more about wallpaper vs paint here.
Peel And Stick Wallpaper For Cabinets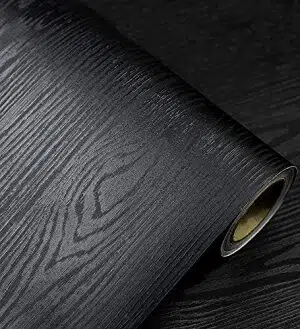 See this peel and stick wallpaper at Amazon [sponsored link]
As we mentioned earlier, there are a lot of choices revolving around the wallpaper you choose. Aside from choices like pattern, though, you'll want to consider what type of wallpaper you want. There are a few different options here and some of them definitely have certain benefits over others.
When it comes to peel and stick wallpaper for your cabinets or peel and stick wallpaper in general, the goal is to simplify the installation process. Just like anything else peel and stick, all you have to do is peel off the back covering to reveal an adhesive that is ready to stick where you need it to go.
Of course, you still need to apply the wallpaper correctly to get the best results. We'll take a closer look at exactly how you apply peel and stick wallpaper later on.
Kitchen Cabinet Wallpaper Ideas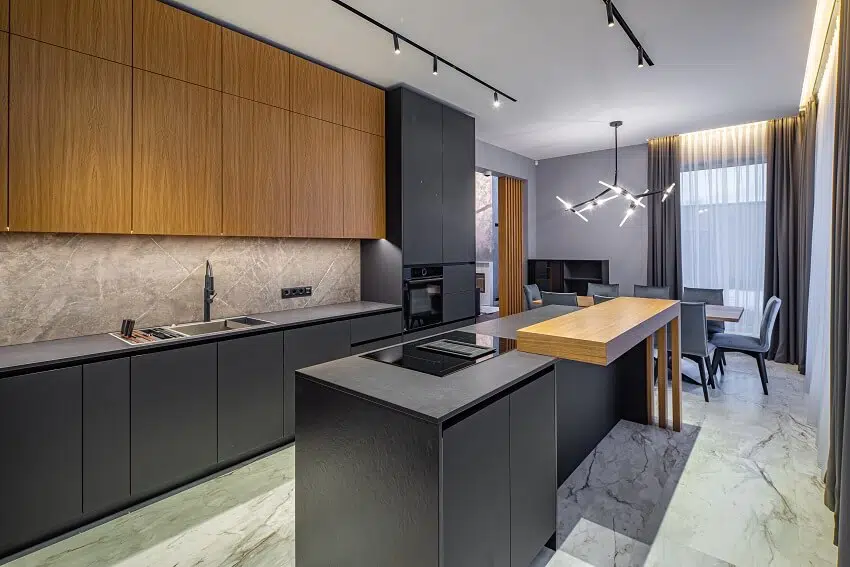 Now that we've established what kitchen cabinet wallpaper is, you might be wondering how you can use kitchen cabinet wallpaper and make the most of it.
There are actually a variety of ways that you can employ kitchen cabinet wallpaper to your advantage.
Wallpaper behind shelving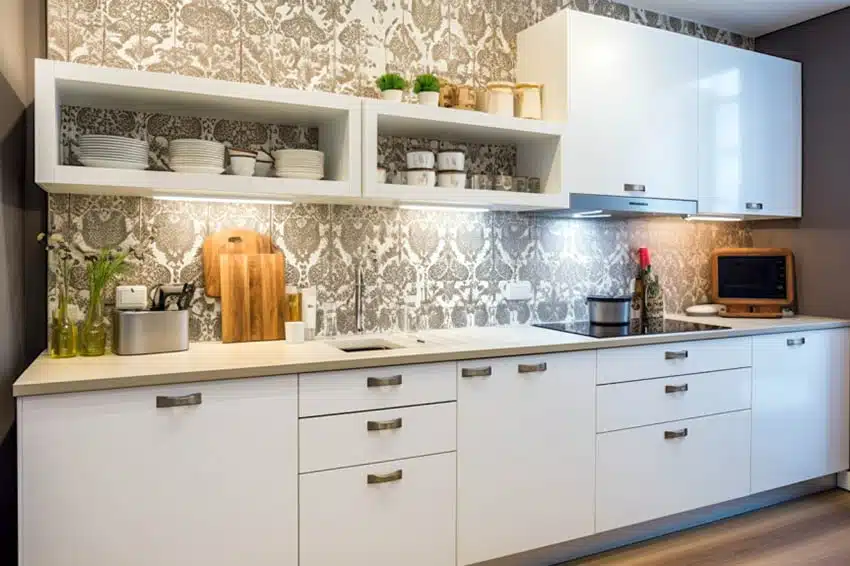 If you want to add a pop of color, you can step away from the cabinets and place the wallpaper behind your shelving. This can help neutral-toned cabinets stand out from a contrasting background, as well as liven up the spaces between your fridge, oven, microwave, and dishwasher.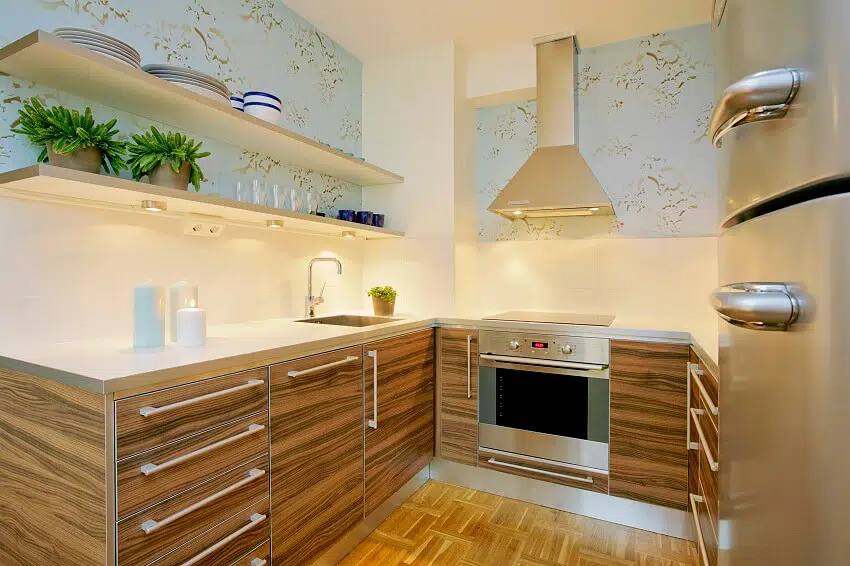 Wallpaper kitchen drawers
Alternatively, you can add cabinet wallpaper to your cabinets as a choice to enhance your kitchen décor. If you put the wallpaper inside the drawers at the bottom, it's an easy way to spruce up the interior of your cabinets and make them more visually appealing.
The price and information on various wallpapers can be found at your local home décor store.

Wallpaper sides of kitchen island cabinets
A kitchen island is a great way to add a little extra countertop space to your kitchen but it can serve as an excellent focal point too. You can add some kitchen cabinet wallpaper to make it stand out further. See the types of kitchen islands here.
Wallpaper cabinet doors
One tried-and-true way to use kitchen cabinet wallpaper is on your cabinet doors. If you do this externally, it'll add to the overall appeal of your kitchen but some like to use an interior wallpaper to brighten up the inside.
Apply wallpaper to appliances
Another aspect of utilizing wallpaper in your kitchen is to add it to your appliances! This can add a fresh look and you can even coordinate them to go with your cabinets.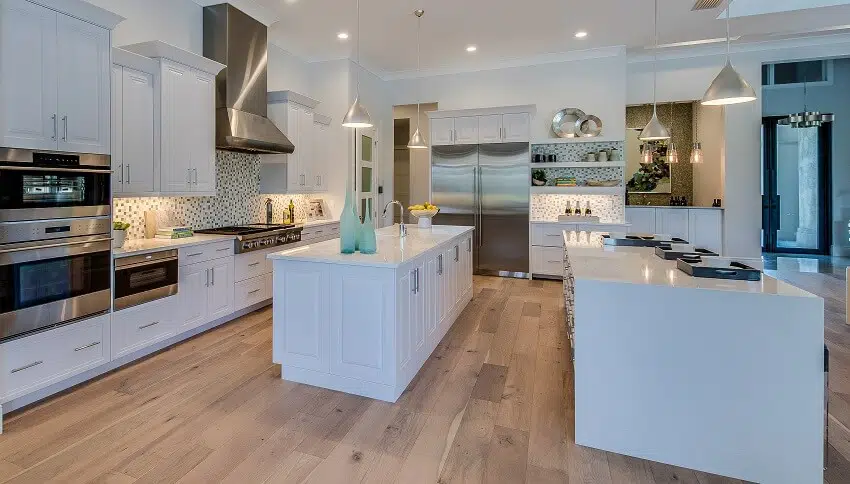 Create a wallpaper feature wall – A feature wall is another reliable way to showcase a kitchen. To create a feature wall, you'll want to use wallpaper to create a focal point on one wall in your kitchen – perhaps behind your cabinets! Get more accent wall ideas on this page.

How To Wallpaper Kitchen Cabinet Doors
There are a few different types of wallpaper that you can use on your kitchen cabinets. In this section, we'll take a look at water-activated wallpaper.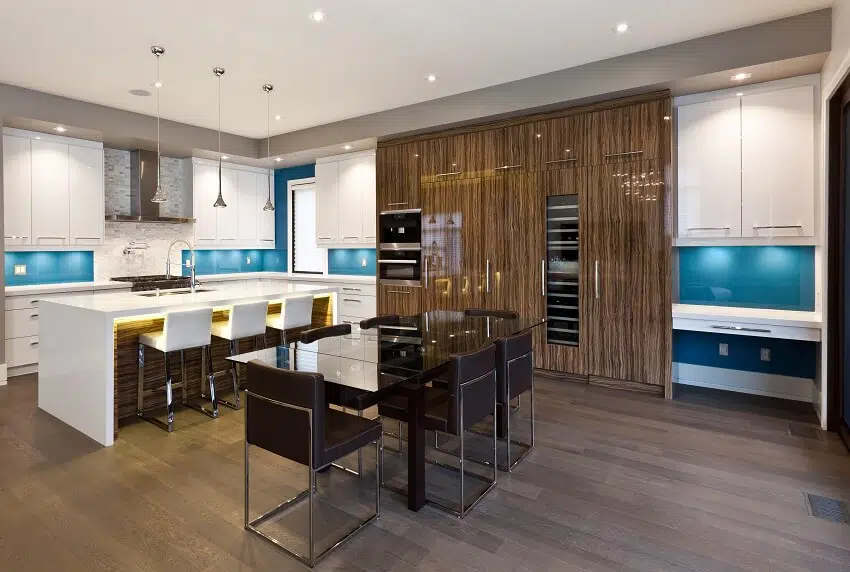 In the next section, we'll cover peel-and-stick wallpaper in the next section. This process is much easier if you start by removing your cabinets from their hinges as well as take off any hardware.
Of course, the first thing you should do is measure your cabinets. If you have cabinets with an indent or an odd shape, you may need to section off pieces to fit to cover the entire door smoothly. Once you have these measurements, you can start cutting the pieces you need out of the wallpaper sheet.
Before you start adding the wallpaper to your cabinets, make sure that you clean them. If you see any major damage, it's best to repair this now as well.
When you're ready to start applying the pieces of wallpaper, use a sponge or a paint roller to dampen the back of the paper.
Then, you'll want to set aside the wallpaper to allow the adhesive to start to work for about five minutes. It's worth noting that the exact instructions for this step can vary and its best to check any instructions that come with your wallpaper.
Now, carefully lay the paper on your cabinets. You should make sure that you work out any air bubbles out of wallpaper with a sponge so you have a clean finish. From there, let the wallpaper dry for a few hours before trimming any excess material and reinstall the cabinet doors and hardware.
Using Peel And Stick Wallpaper On Cabinets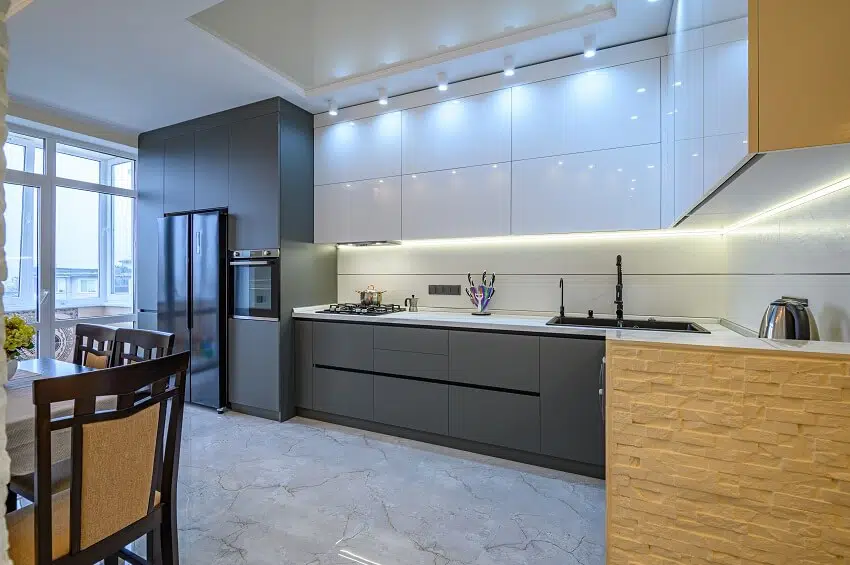 If you want something that offers you reliable results without quite as much work, you can turn to peel and stick wallpaper. This is made to give you the same results as any other wallpaper but the good news is that it offers that without as much prep work on your behalf.
Generally, you're going to follow all of the steps from above. However, you'll want to skip the steps on activating the adhesive on the wallpaper.
This means that you won't need to wet the back and set the wallpaper to the side to sit for a moment. Since this is peel and stick wallpaper, the adhesive is already there. All you have to do, quite literally, is to peel the cover off the back of the wallpaper and stick it where you want it to go like a giant sticker.
You'll want to be careful, though, and do any cutting before you peel off the backing. Otherwise, you risk getting the wallpaper stuck to itself or other things. This is particularly relevant when dealing with essential kitchen appliances such as a sink, stove, oven, microwave, dishwasher, and fridge, which might need careful planning.

How To Choose Wallpaper For Cabinets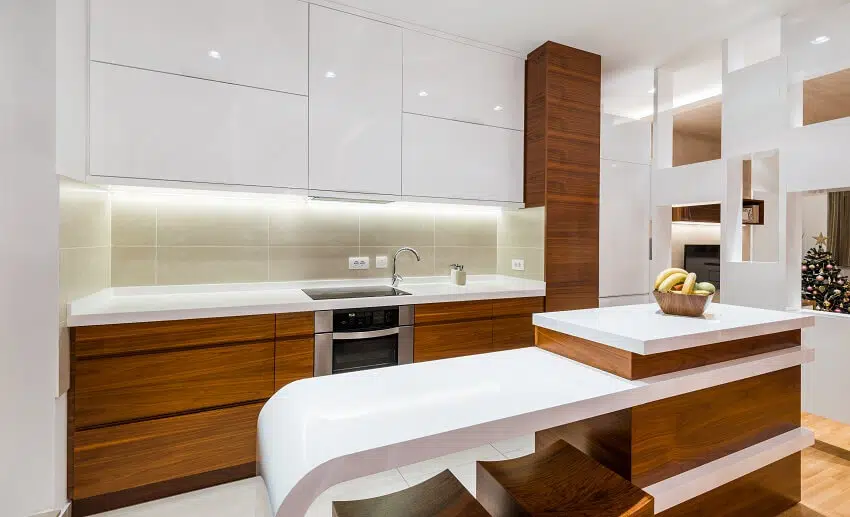 When it comes down to it, one of the more challenging parts of choosing a wallpaper is choosing exactly which color, pattern, or style that you like the most. At the end of the day, how do you choose?
First, start by taking a look around your kitchen. If you're just adding wallpaper to your cabinets, you'll want to consider what will go with your current decor scheme. It won't help anything if you choose wallpaper that's beautiful independently but completely clashing with the rest of the decor in your kitchen.
This leads into another point: think about your own personal tastes. While you should keep tips like these in mind, it's also important to consider what you like. These are your cabinets after all and your interior design should be a reflection of your tastes and preferences.
Then, consider the pattern. If the rest of your kitchen is rather neutral, a bright or patterned wallpaper could act as a great focal point. On the other hand, you can opt for something more neutral if you want other aspects of your kitchen to shine.
Other practical considerations include its level of water resistance, especially around the kitchen faucet and sink. In addition, the material you select should be easy to clean if its positioned near to a stove top which could splatter grease.
Visit our guide on peel and stick laminate for cabinets for more related content.