Below is our oyster shell countertops design guide including what they are, different types, and how to effectively clean this type of kitchen countertop.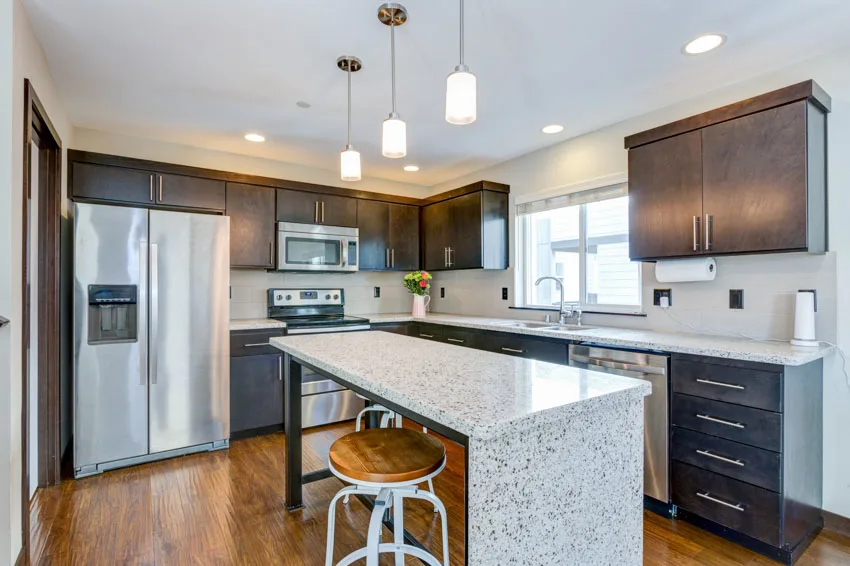 The kitchen remains the top favorite place for homeowners to upgrade. If this is a project that you're planning to take on, you're actually on to something there.
The kitchen is one of the easiest spaces to redecorate or upgrade in the home. It's also the most frequented space, at times even overtaking the living and dining rooms. This is because kitchens are a great place for the family and everybody else in the house to congregate.
Perhaps you just want to fix yourself up with a quick snack and drink and don't really feel like settling down in the formal confines of the dining room. The kitchen is a great place to hang out in especially when you don't really have a set task or plan in motion, which happens all too often at home.
An easy way to upgrade your kitchen and give it vacation coastal vibes is to upgrade your old and tired countertop with oyster shell material.

Why Choose Oyster Shell Countertops
Oyster shell surfaces are opulent, a real conversation starter, and interestingly; it won't cost you as much money as you would actually think. This means that you can have a great kitchen upgrade without necessarily breaking the bank while you're at it. Let's delve more into what your options are with oyster shell countertops.
Oyster shell countertops can be embedded, showcasing the rich natural irregular shapes of oysters, or they can be crushed and used as an eco-friendly binding material alongside other materials such as glass, granite, marble, or high-grade cement.
Another important material that crushed oyster shells, in particular, can supply is sodium bicarbonate. Normally, this is taken from mined limestone; which isn't very sustainable and is actually harmful to the environment.
Oyster shells are more natural and they don't put a toll on underground minerals and don't have the typical byproducts of mining.

What Are Countertops Made With Oyster Shells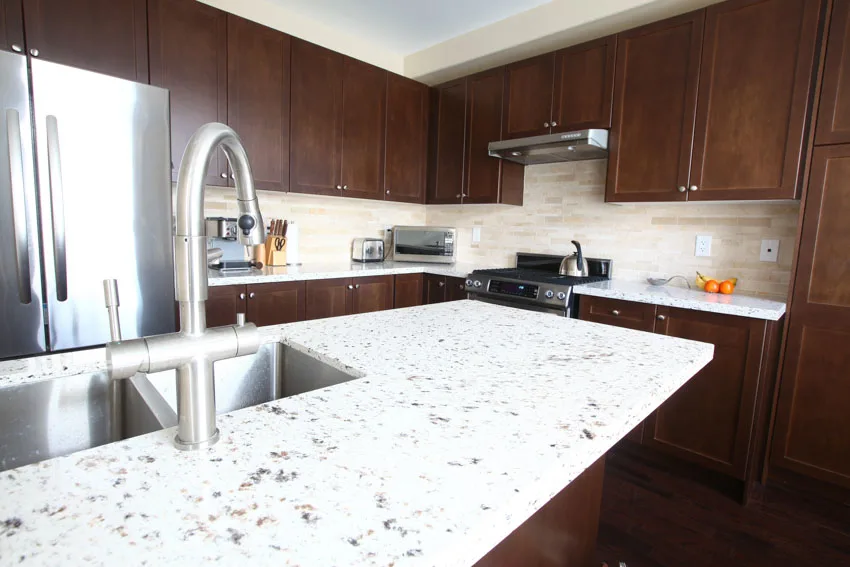 Oyster shell countertops are made out of repurposed materials. It's usually a mixture of glass and eco-friendly processed oyster shells.
These countertops are made out of predominantly recycled materials but what sets them apart is that they are aesthetic at the same time. Updating your kitchen with an oyster shell countertop could completely transform your kitchen space at home.
If you're shooting for a beach home design, the oyster shell countertop just may be your style. It makes great use of the natural iridescence of oyster shells mixed with shards of glass, crushed marble, or concrete, depending on the manufacturer.
To complete the beach look, oyster shells are sometimes paired with bits and pieces of sea glass when they are manufactured into countertops. See more examples of glass kitchen countertops here.

Interestingly, if you have the means, you can also opt to DIY your oyster shell countertops. Some manufacturers also provide the option of handpicking the materials, their sizes, and colors that would go along with the countertop slap that you're trying to get them to make.
Crushed Oyster Shell Countertops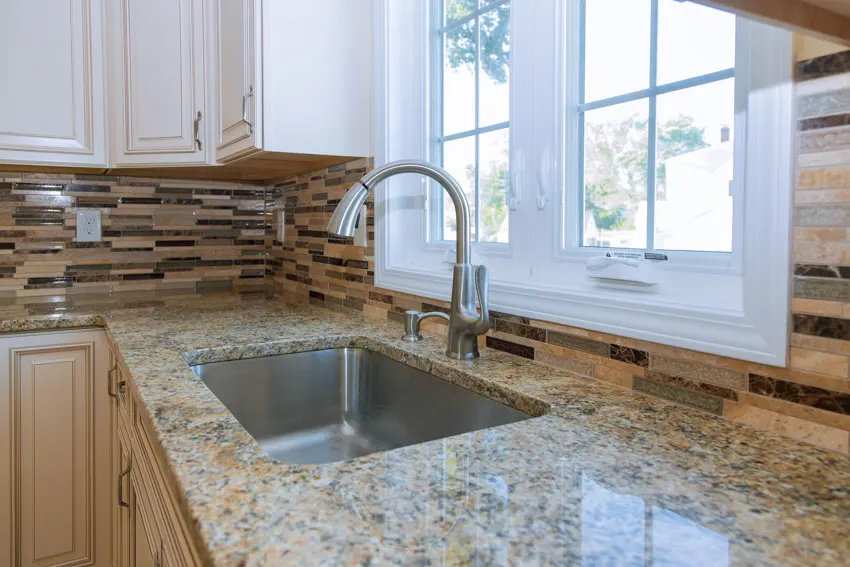 Crushed oyster shell countertops aren't really solely just out of crushed oyster shells. They're usually paired with other more visible elements such as quartz or granite types of kitchen countertops.
The crushed or powdered oyster shells are used as a binding agent, making it a more environmentally sustainable source of calcium bicarbonate as opposed to limestone which is oftentimes mined.
Oyster Shell Quartz Countertop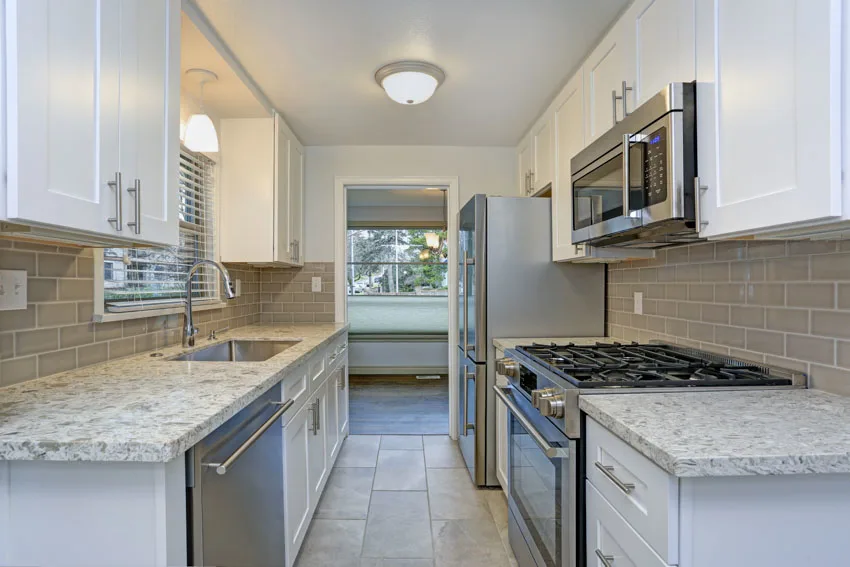 Choosing oyster shell quartz kitchen countertops is like getting a really high end look for your kitchen while at the same time, knowing for sure that underneath that scratch-proof, non-porous, heat and stain-resistant surface; is also something that is environmentally friendly.
It has the subtlety of the oyster shell iridescent colors infused artfully with quartz. The color is typically soft to deep gray and it veins all throughout the surface of the countertop.
It's interesting because of the occasional light particles that bounce off of the surface, brought on by the oyster shell particles.
How Do You Clean Oyster Shell Counter Tops?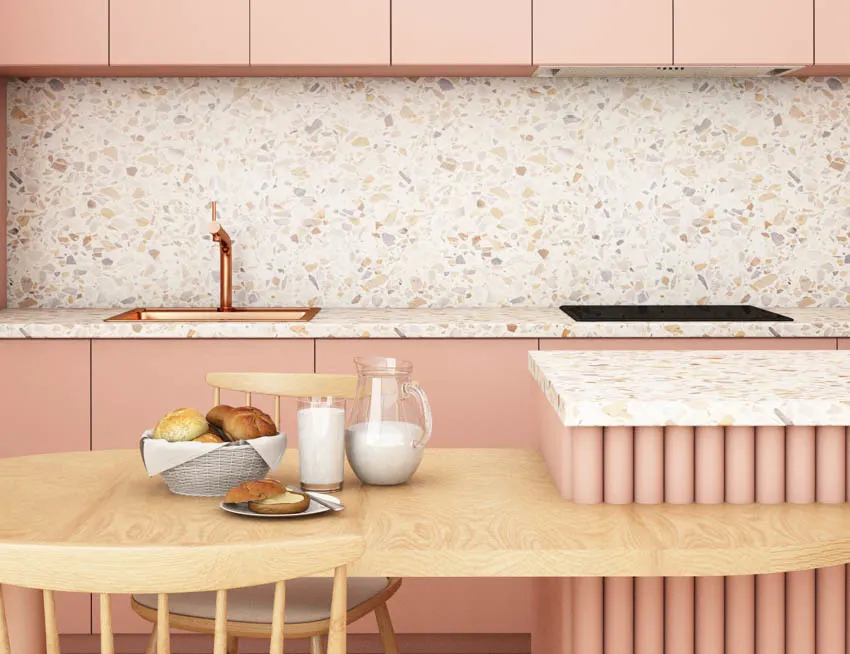 Oyster shell countertops are pretty durable and low maintenance. They're scratch proof, heat resistant, and stain resistant as well apart from the occasional wipe-down with some soap and water, it doesn't really require much nor does it need any special materials or substances.
Every now and then, perhaps once or twice a year, some grease and other kitchen gunk might accumulate on the countertop. You might need some extra help from a degreaser but usually nothing more than that.
Oyster shell countertops have been known to last for years, giving them the best value for your money, giving the best aesthetics for your kitchen countertop, and while taking care of the environment the whole time.
It's the perfect balance to cost-efficient, aesthetic, and eco-friendly solutions for design elements in the kitchen.
See more related content in our article about white quartz countertops on this page.