Discover copper kitchen backsplash ideas including what it is, the different designs, if it's a good option, cost, and matching kitchen colors with a copper backsplash.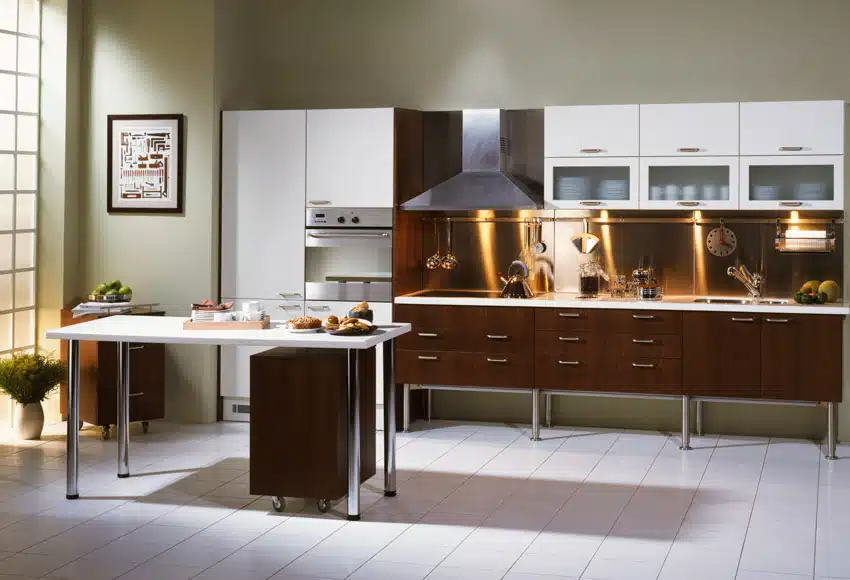 Metallics, specifically, copper is now becoming more popular and trendy as a construction material for your home. Compared to stainless steel, copper has a warmer allure to the material, which can a welcoming feel to your home. And one of the popular applications of this material is through a kitchen backsplash.
Copper kitchen backsplash has become famous with designers and homeowners in revitalizing the home's kitchen space. The addition of the metallic element copper in the mix introduces a warmer, glitter-filled, and inviting ambiance to the kitchen.
This means that you get to enjoy the glam allure most metals offer on top of the warm and welcoming feel to it. If you're considering installing your own copper kitchen backsplash, explore all of your options to settle on the one ideal for your kitchen and home.
What Is Copper Backsplash?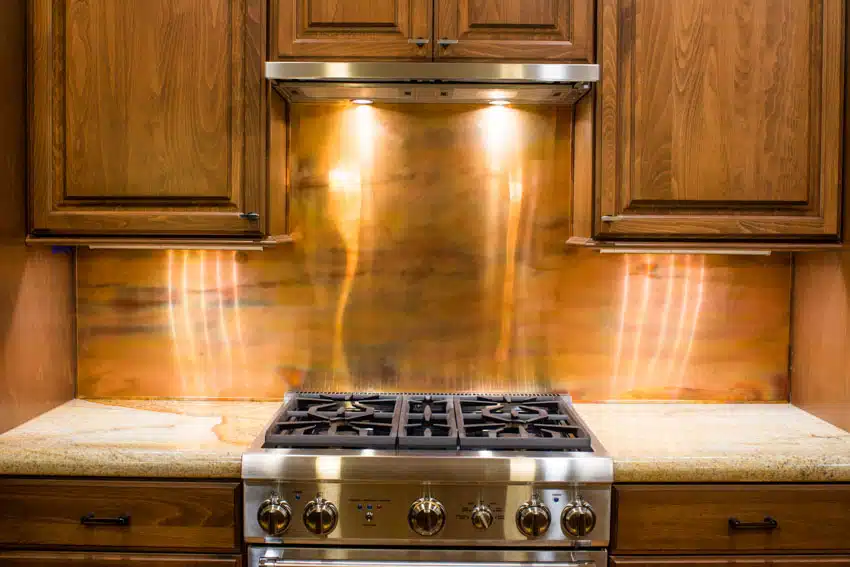 Featuring unique and at the same time high-end aesthetics, a copper backsplash is a metallic option you can choose for your kitchen. It has a warm appeal to it, contributing to the current ambiance of your kitchen. This warm surface also comes in different tone variations, offering several options even with using the same material.
A copper backsplash is significantly durable despite being one of the softer metals. The material is naturally anti-microbial and so you won't have to deal with micro-organism buildup on the surface of the backsplash.
This makes it perfect for areas that are highly exposed to moisture, including the kitchen and most especially when close to the sink. It is also highly workable, which means that you can easily manipulate the material into shapes and patterns. But this also means that it is vulnerable to scratching, denting, and scarring.
Its aesthetics also evolves through time due to the exposure to moisture and air, turning the color into a deeper shade and creating patterns and waves within the metal.
Here are some of the other popular features of copper backsplash:

• Sizes and Shapes: You can go for the large convenient sheets a standard diamond or a square tile backsplash made of copper. Solid copper sheet tends to be more expensive than the ones in smaller pieces but they are also easier to install and features a clean and seamless look.
• Finishes: Copper is a flexible material and you can integrate its surface with different finishes, including textures, hammered, brushed, and embossed (With different shapes and patterns).
• Hues and Shades: Copper backsplash can come in different hues, from light brown to dark brown. This range offers you more room for the different shades you can explore.
Copper kitchen backsplash can be an inexpensive option, providing you with a low-profile backsplash with incredible visual value. And this is on top of the standard protective function that comes with it.
If you're planning to install a copper backsplash, hiring a contractor may be a needed to get a precise fit. If you're a DIY enthusiast and would love to have a go at this project, here are some practical tips for the cedar backsplash installation.
• Use copper liquid nails or an adhesive to stick copper pieces together
• Plywood may be used as a strong base to reinforce its hardness and prevent denting
• Rely on experts if you plan to use more complex copper patterns and designs that would require precise measuring, sizing, and cutting
Copper kitchen backsplashes are elegant and stunning, and they have this organic rustic appeal that will make you feel comfortable looking at them.
But in order to do so, you need to choose the ideal type of copper backsplash that can operate well depending on what you want to do with it. And it should also match the ambiance you're kitchen has.
Copper Tile Backsplash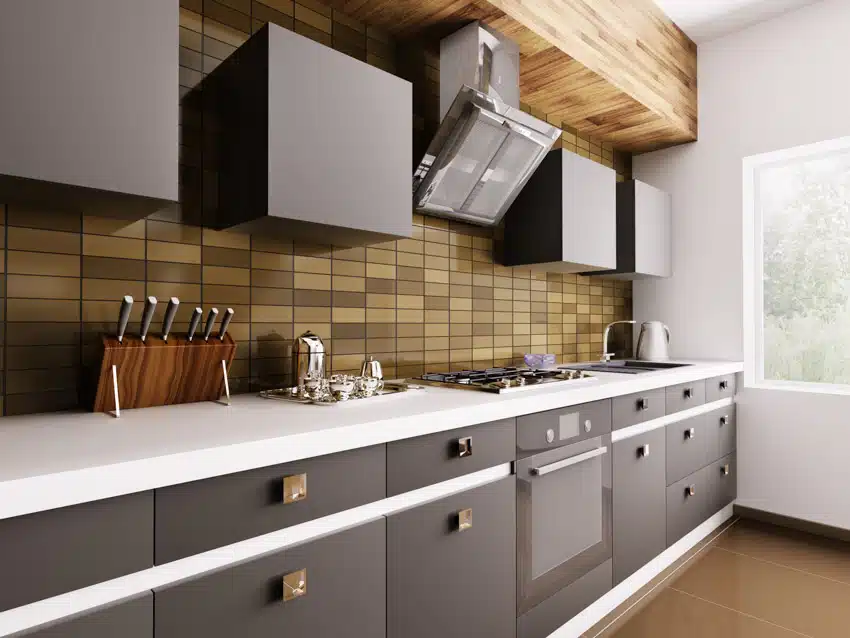 Copper tiles are the most common form you can use for your backsplash, with their flat, smooth, and straightforward surface. And they are very popular for a reason and that's because the standard size of the tiles makes them easier to work with. This means they would make an incredible copper tile backsplash.
The copper tile backsplash looks a bit posh and lasts for a long time and while this is the most common form of material, it is not the most popular for copper.
You can easily keep the tiles together by using an adhesive. If you doubt the quality of the glue though, you can go for copper liquid nails instead for a better and stronger hold.
Copper tiles come in a variety of sizes and you can arrange them in particular patterns that can suit your preference. Some great copper tile patterns for the backsplash include the following.
Copper Subway Tile Wall Backsplash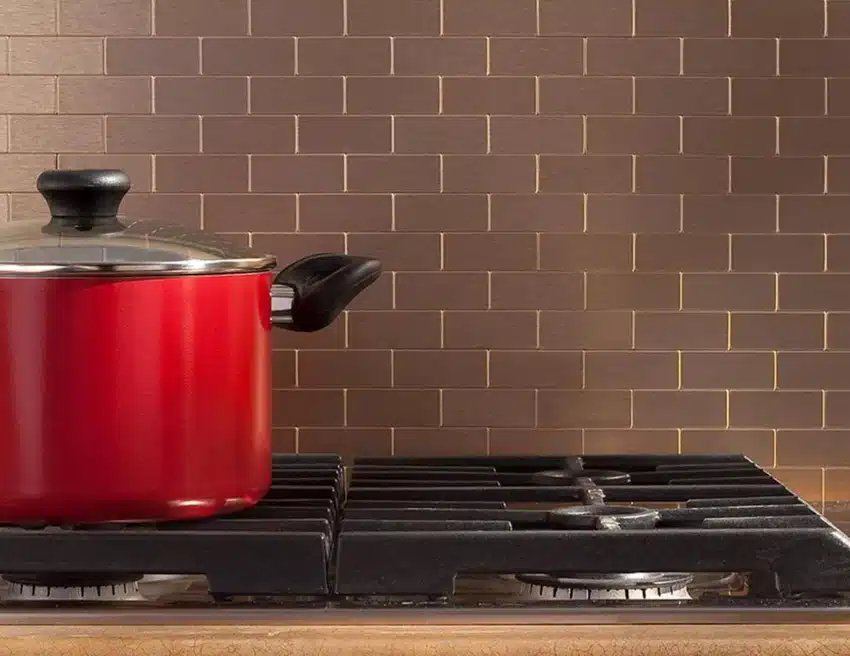 See this copper tile backsplash at Home Depot [sponsored link]
A popular pattern for the kitchen, a copper subway tile backsplash offers traditional and interesting aesthetic that gives your kitchen design a unique flair.

Compared to pennies and mosaics, copper subway tiles are easier to clean, which is a major advantage when it comes to a backsplash that's often exposed to oil splashes and food splatters.
Versatile in style and considered to be timeless, copper subway tile backsplash will always be trendy, whatever ambiance you're going for. The patterns are also not difficult to do since you're basically just dealing with straight lines so it won't be difficult to do if you're building it on your own.
Copper Penny Tile Accent Backsplash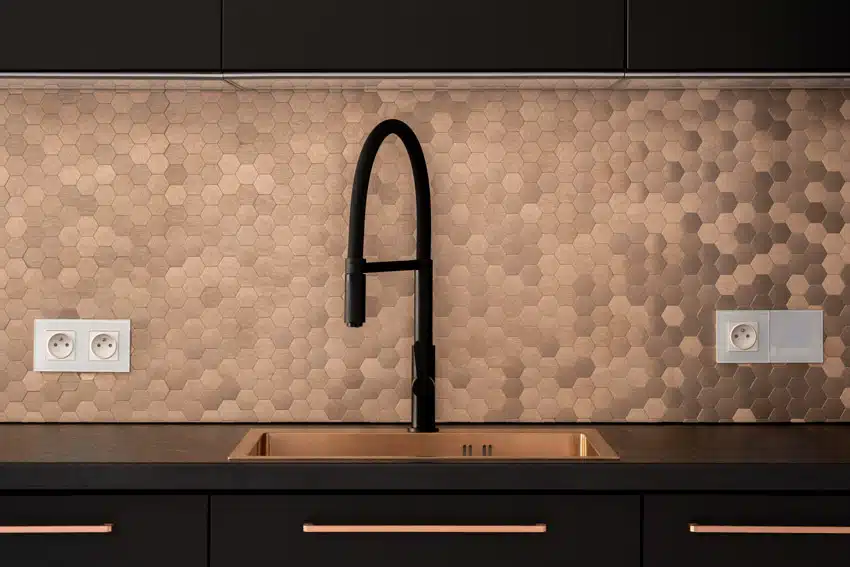 The most popular pattern often used for a copper kitchen backsplash is penny tiles. Why the pattern is also often used for glass, it is famous and ideal for copper tiles. With a copper penny tile backsplash, you get the combined and luxurious feel of the penny tiles and the pattern they're arranged in and the unique and warm vibe of copper tiles.
And to create texture from every penny tile, you can have them in different copper shades, elevating the aesthetics of the backsplash so that the look will not appear too flat. The textured appearance of the backsplash will result in vintage aesthetics with an undeniable charm.
Similar to mosaic tiles, the textural look of copper penny tiles in your backsplash offers a unique and vintage feel to your kitchen. Despite the classic feel to them, they also appear elegant and chic to add to the space.
Copper Mosaic Tile Style Backsplash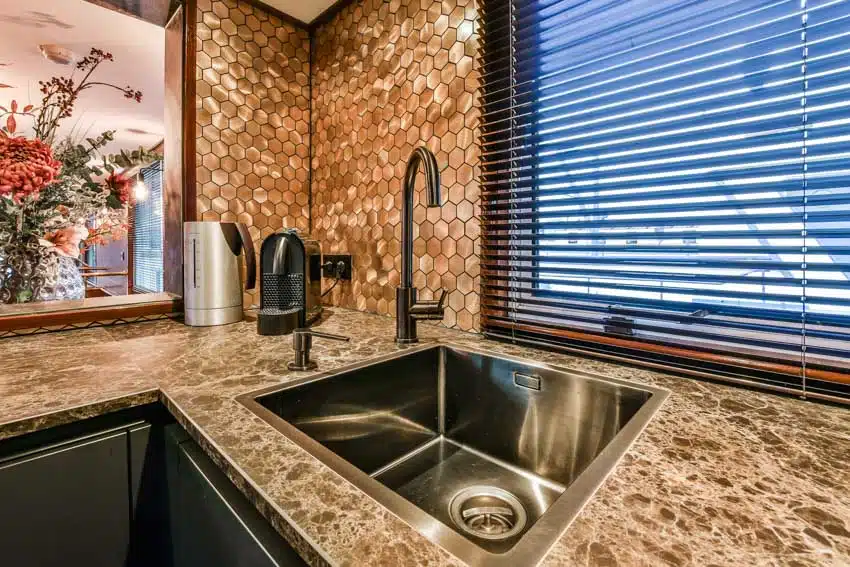 If you choose a copper mosaic tile backsplash, you get to enjoy the textural look in your kitchen. The copper will offer the luster and transparency that most materials do not offer. And since copper tiles also come in a variety of colors, you will have more artistic freedom to create the pattern you're envisioning for your backsplash.
The standard color of copper looks close to the wood, which can be a great background for your pattern. And this could be an incredible accent to your kitchen and your home in general.
When it comes to mosaics, you can go for small rectangular or square tiles, depending on what can be used better on your pattern. Combine copper with the colors white and gray to produce a more elegant and luxurious feel to your kitchen.
Coppery Backsplash Sheet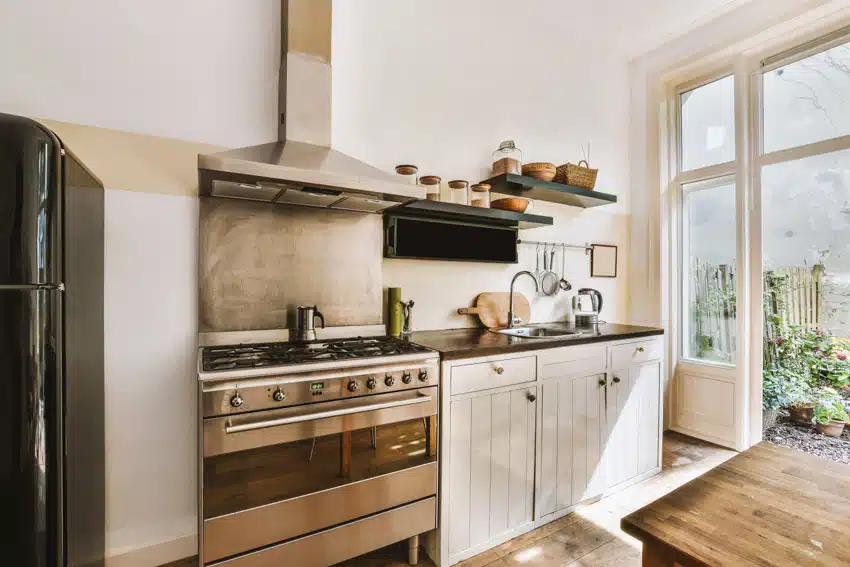 Besides tiles, you can also use copper sheets for your backsplash. Copper sheets are way bigger compared to tiles, which means that if you want them to cover your kitchen walls, they have better area coverage compared to tiles and are very easy to work with.
A sheet backsplash will take less time to install compared to tiles with more complicated patterns like penny tiles and mosaic tiles.
While you can always go for a plain and simple copper sheet, you can also choose a large sheet embossed with a carefully crafted pattern. The simple version can produce a seamless, minimalist, and contemporary ambiance while the more complicated patterned sheet can deliver a unique, eye-catchy, and trendy look.
Copper Peel And Stick Backsplash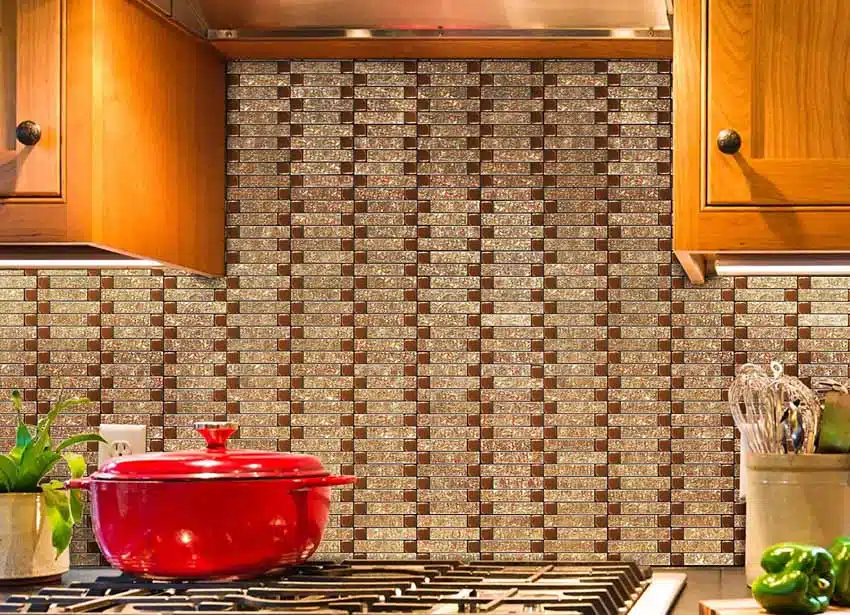 See this copper peel and stick backsplash at Amazon [sponsored link]
If you want to create your copper backsplash by hand but you're a beginner and quite scared to do the hard labor, you can choose a copper peel-and-stick backsplash to start with. This material is way easier to work with since you won't have to deal with heavy materials and power tools.
You just have to peel off the adhesive tape at the back of the plastic or vinyl mimicking the look of copper and then glue them one at a time to your kitchen walls. These are very simple to install and you won't have to face messy substances.
The misconception about copper peel and stick backsplash though is that it can easily fall from the wall not just from the lack of adhesive but also due to natural gravity, especially with its constant exposure to moisture. The truth though is that if you get quality copper peel-and-stick tiles and install them right then you don't have to worry about anything.
Copper Glass Backsplash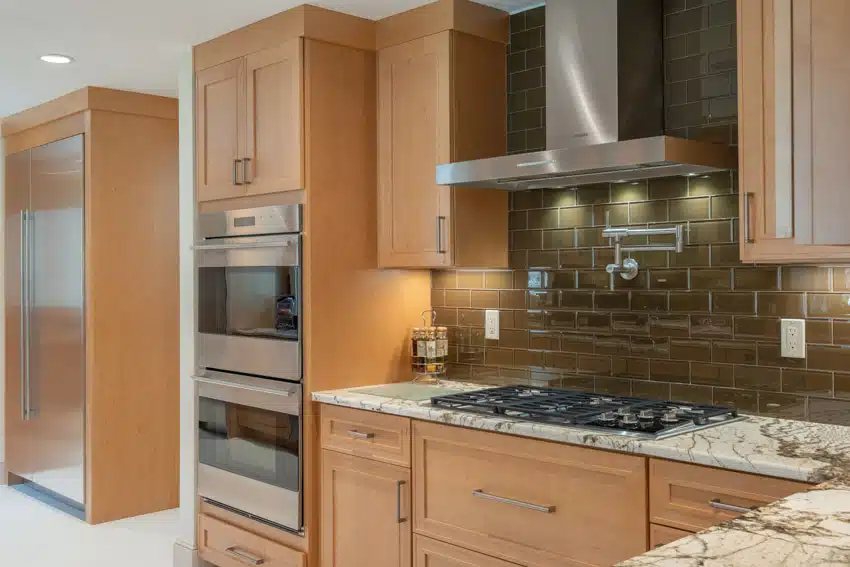 If you want something different and unique, you can choose to have a copper glass backsplash in your kitchen. With copper glass tiles, you get to have a combination of warm colors that include deep red tones and rich browns to shiny icy pearl tones.
There are times when copper is associated with something cheap due to how close the color can be to rust. When paired with glass though, it adds a touch of elegance and luxury that can elevate your copper backsplash.
This means from a plain-looking metallic backsplash, you can use an eye-catch and show-stopping backsplash with a distinctive design that can serve as interior decor.
Copper Finish Backsplash Ideas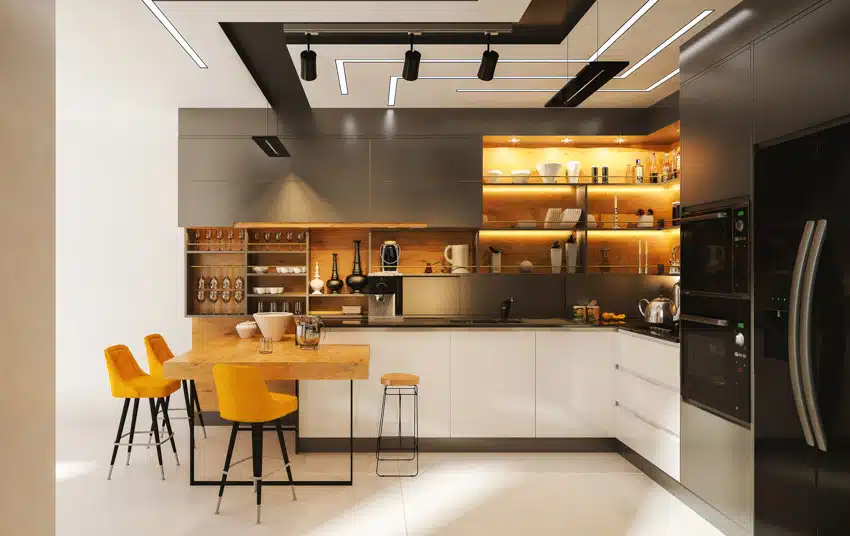 In choosing copper types of kitchen backsplash, you get the freedom to integrate the material into the kitchen however you want. Besides using copper in different forms, including sheets, tiles, and peel-and-stick vinyl, there are also different combinations and ideas you can explore.
Copper backsplashes are more than just the functions they operate on. They are durable and may be resistant to moisture and organism buildup.
More than that, they easily elevate the aesthetics of your kitchen and add visual interest. If you are up for the challenge, here are some designs and ideas you can take into account and explore further.
Backsplash With Copper Accents: If you want to integrate copper in your backsplash but don't want to fully use the material for your entire backsplash, you can just use copper accents with it.
A backsplash with copper accents can come in the form of a combination of copper with other materials, including stone tiles or glass tiles. If you want to use copper as an accent, you can just use the material as a decorative metallic border.
Using copper as an accent can add a sophisticated and elegant touch to your backsplash, just like most metallics do. With this option, you get to use something new and trendy at the same time and not the typical backsplash in most homes.
Hammered Copper Backsplash: Another idea you can go for as an addition to your kitchen is a hammered copper backsplash. In this option, you get a metal backsplash with an interesting texture to pair it with. If you're tired of the standard smooth backsplash you see in many kitchens, this is a unique and fresh alternative to consider.
Metallics like copper are some of the few materials that can make use of this specific texture and that's because they are durable and at the same time workable enough to create dents on the surface without actually destroying the material. In fact, you can use these dents as a decorative element, much like what happens in a hammered copper backsplash.
Patina Copper Backsplash: Copper is one of the materials that turn into a different color when exposed to a specific atmosphere or environment for some time, forming its patina. In the case of copper, the metal slowly oxidizes after a long period of time, turning the copper's usual reddish-brown color to blue-green.
This wonderful chemical change in copper is worth taking advantage of, and yes you can actually use it for your backsplash. Besides the less effort, you are required to exert just to achieve copper's patina, you also get to enjoy the unique blue-green color you won't easily get elsewhere (without having to paint anything).
Copper Backsplash Behind Stove: One of the most common placements of backsplash is not just near the countertop but also the stove. And this plays an important factor in deciding the type of backsplash to install in your kitchen.
The copper backsplash you chose to install behind the stove needs to be the most durable one. Installed behind the stove, this means that the backsplash is more than just exposed to moisture, oil splashes, and food splatters.
This also means that it is exposed to high temperatures and that's not something you have to worry about copper since the material is not just a good conductor of heat but also resistant to corrosion.
Modern Copper Backsplash Kitchen: If you're going for a modern copper backsplash in your kitchen, choose the straightforward copper sheet. This gives your backsplash a smooth and seamless look and with its striking metallic glint, it also offers an elegant touch at the same time. Besides copper sheets, you can also choose larger copper tiles if you are used to using these tiles.
More than just copper sheets and larger copper tiles, you can also use specific finishes to achieve a mother look. Some of the finishes that match the modern style are oxidized finish and hammered copper tiles.
Rustic Copper Kitchen Backsplash: Besides the modern style, one of the popular styles that your copper kitchen backsplash can fit well is the rustic look. The color of a copper kitchen backsplash is rich reddish brown, which is naturally rustic to look at. The vibe offers a feeling of history and old antiques embedded into the material.
With a rustic copper kitchen backsplash, it is best to go for classic and timeless designs in order to produce the ambiance of nostalgia. You can consider types like copper subway tile backsplash, copper penny tile backsplash, or copper mosaic tile backsplash.
Is Copper A Good Backsplash?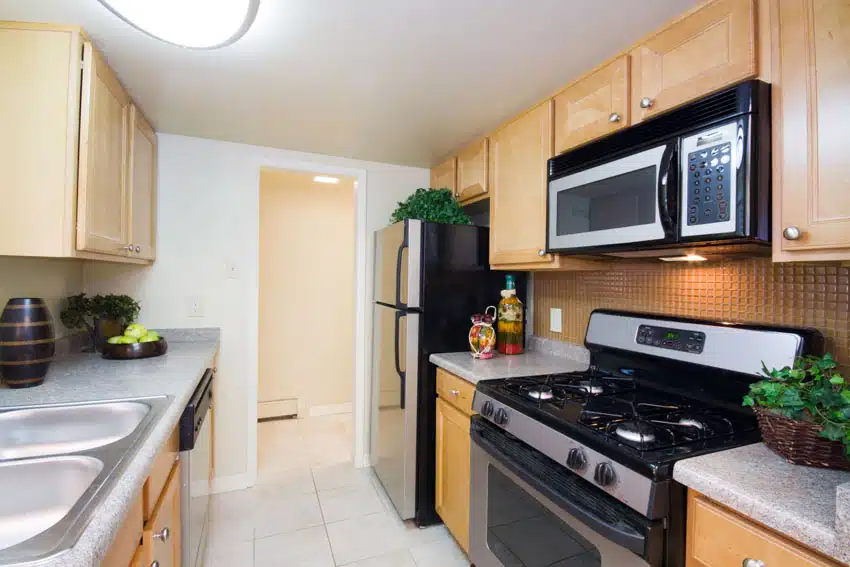 The copper backsplash is becoming more popular and that's for a reason. This can only mean that it is doing its function well, on top of just being an additional aesthetic and interior decor. It is durable in its own right on top of being highly workable and customizable.
Copper can be a good backsplash depending on the factors that you consider. Yes, it can be a good DIY backsplash option since the material is highly workable and can be dented and embossed with patterns that you want the backsplash to have.
You have many options to consider, from shapes and forms to colors and finishes. It is also a good option for people who love the development of natural patina and what it does to the aesthetics of a material.
How Much Does a Copper Metal Backsplash Cost?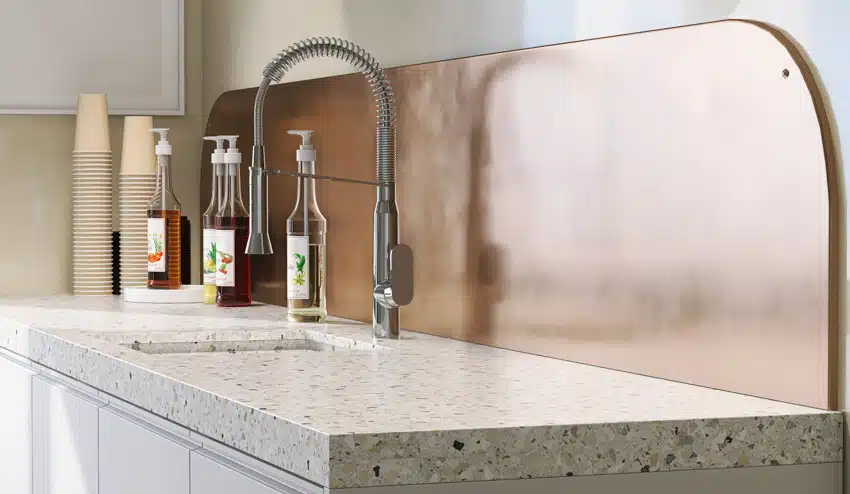 Having your own copper backsplash in the kitchen can set you back around $20 to $25 per square foot but this can be more expensive given that the installation fee is not yet added to the mix.
Some of the factors that can affect the increase in the cost of your copper backsplash include the following factors:
• Manufacturer
• Purity of the metal content
• The complexity of the design or pattern chosen
• Finishes and added textures (brushed metals can be expensive)
• Size and thickness of the copper sheet (if you're using a copper sheet)
• Size of the copper. Copper sheets are more expensive than copper in smaller tiles
What Colors Go With Copper Kitchen Wall Cladding?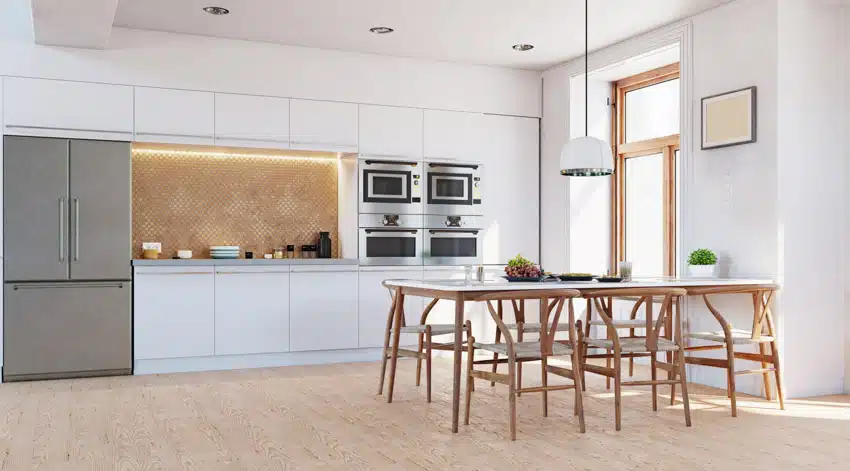 Copper is metallic that can go nicely with any other color, adding a luxurious feel to them. Some of the elements in the kitchen you can pair your copper countertops with include the kitchen walls and countertops.
Some of the popular colors that easily match your copper countertop are the following:
• White
• Black
• Navy blue
• Emerald green
• Red and Pink
• Turquoise
• Yellow and Gold
The colors red and yellow help ground the warmth of the comforting color and help blend your countertop seamlessly into your chosen palette. When paired with cool and neutral colors, like navy blue and emerald green, copper can easily stand out.
How To Get An Antique Copper Shield Backsplash?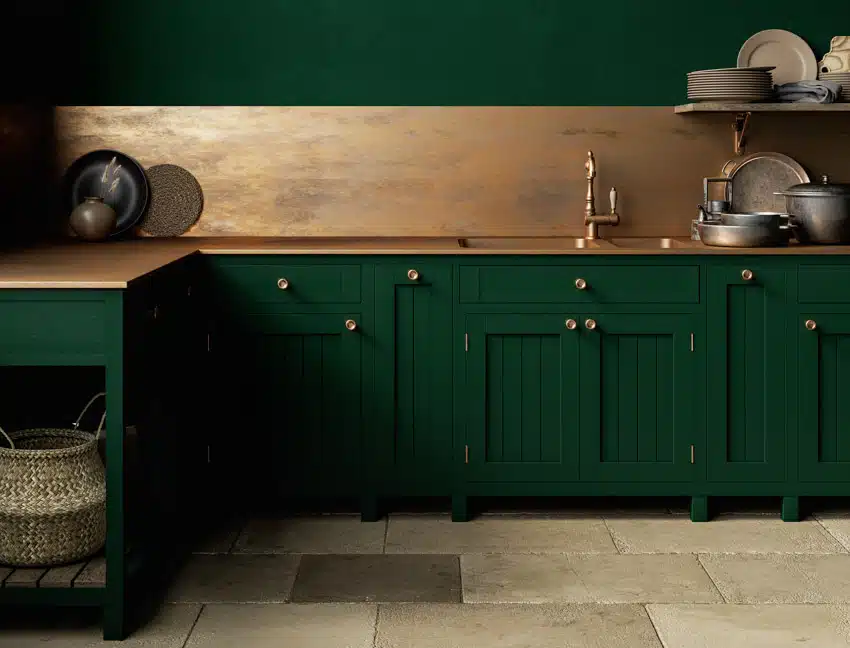 If you're searching for an antique copper backsplash then you're looking for something classy in aesthetics. It needs to produce an authentic rustic charm and many of these antique elements are meticulously handcrafted backsplashes.
If they are really antique, check for signs of the copper's patina and this is easy to see considering blue-green will easily stand out from the reddish brown color of the copper.
Is a Backsplash Made of Copper Easy To Clean?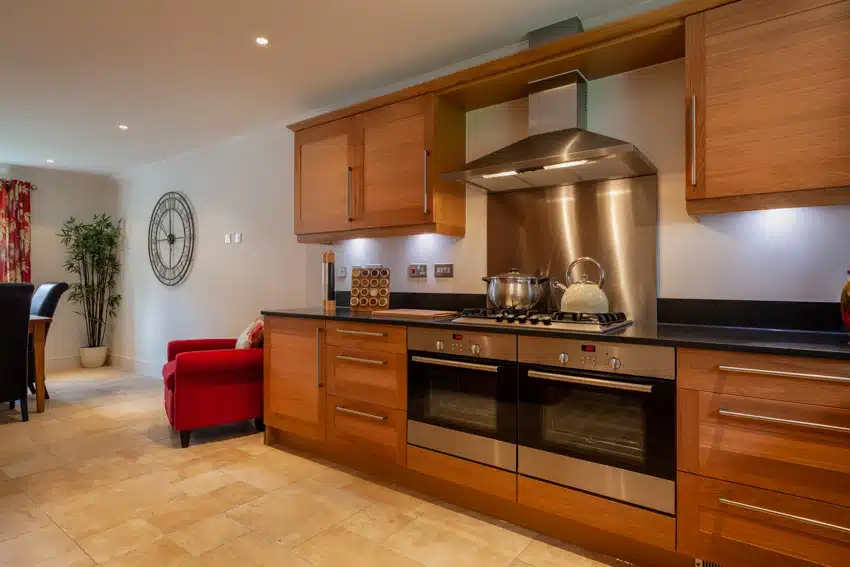 Cleaning your copper backsplash is an easy task to do and this goes both for the seal and unsealed copper tiles. You just need a soft cloth and water to start getting rid of dust from the surface.
You can also use soap for better cleaning but make sure to avoid harsh chemicals that might strip your backsplash with its polish. And if you want to avoid building its patina, use a copper cleaning cream to maintain its reddish-brown color.
See more related content in our article about matte backsplash tile on this page.