Here's our gallery of tin ceiling kitchen ideas, including white, copper, tile & corrugated designs in various styles.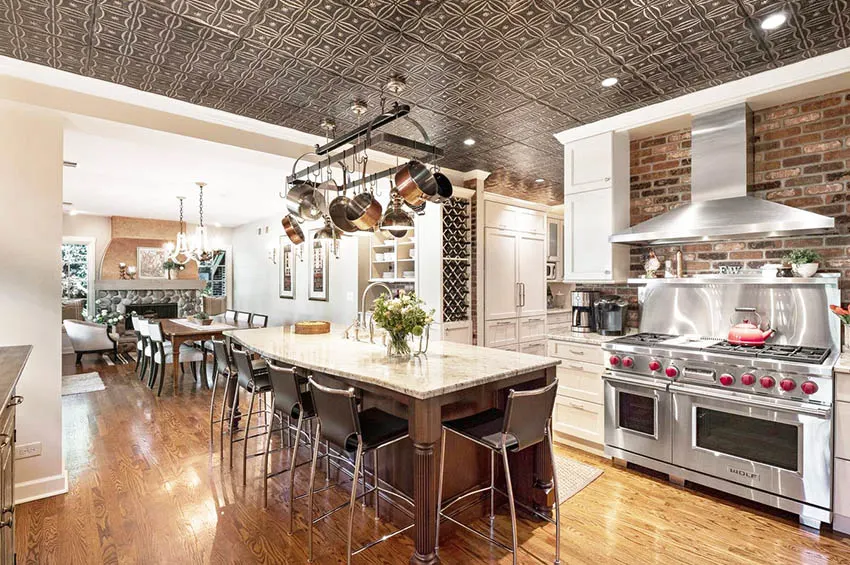 Tin ceilings were a popular design element in Victorian buildings in North America during the 19th up to the early 20th century, when plated steel became readily available in the USA. This architectural element is made from a piece of tin with embossed/pressed patterns.
Kitchen Tin Ceiling Tiles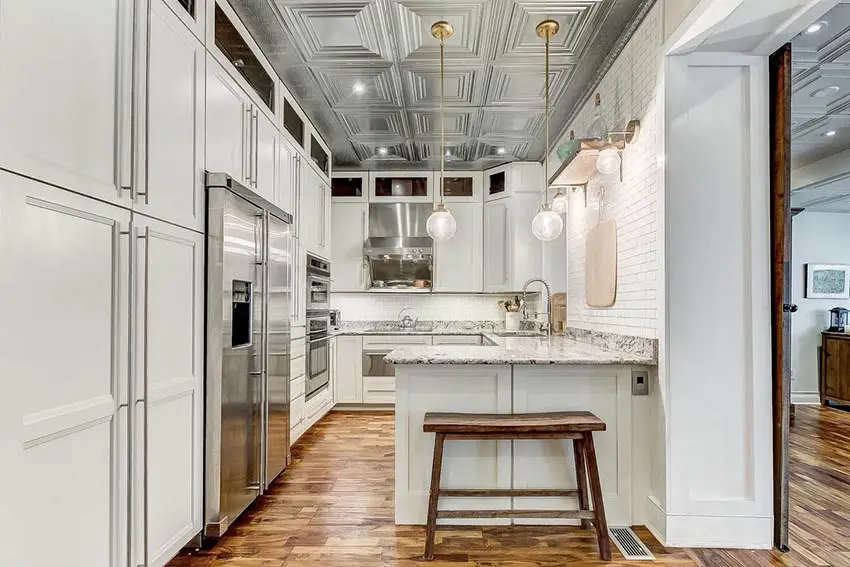 Modern tin ceilings come in thinner metal sheets (around 1/100 inch, 30-gauge steel), and are usually easier to install. Nowadays, tin ceilings cost is around $2 per square feet for basic designs, up to $10~$20 per square feet for more ornate designs. The total cost will depend on your material specification, finish, and the installation cost in your area.
Common materials used for tin ceiling kitchen ideas are:
Steel – most common; needs a clear coat finish
Aluminum – lightest option; needs a clear coat finish
Stainless Steel – no need for coating
Copper – if left without coating, it can develop natural patina
Non-Metal Alternatives:

PVC – super light, but unsuitable for high heat areas
Mineral Fiber – made from recycled materials & can be painted to resemble metal
The default color is silver/chrome, but they can also be bought in other colors like copper, gunmetal gray, gold, rose gold, etc. You can also purchase these tin ceiling tiles pre-painted, or even brass-plated. There are numerous patterns you can choose from that area available for purchase.
You can go for the simpler options, but you can find classic styles in the market, if you'd like to match it with the current motifs of your kitchen.
Tin ceilings can be installed in any area of your home, just make sure the ceiling is properly insulated, as metal conducts heat easily and might affect your HVAC and energy consumption.
Kitchen Tin Ceiling Designs
Here are some great kitchen tin ceiling design applications you can get inspiration from: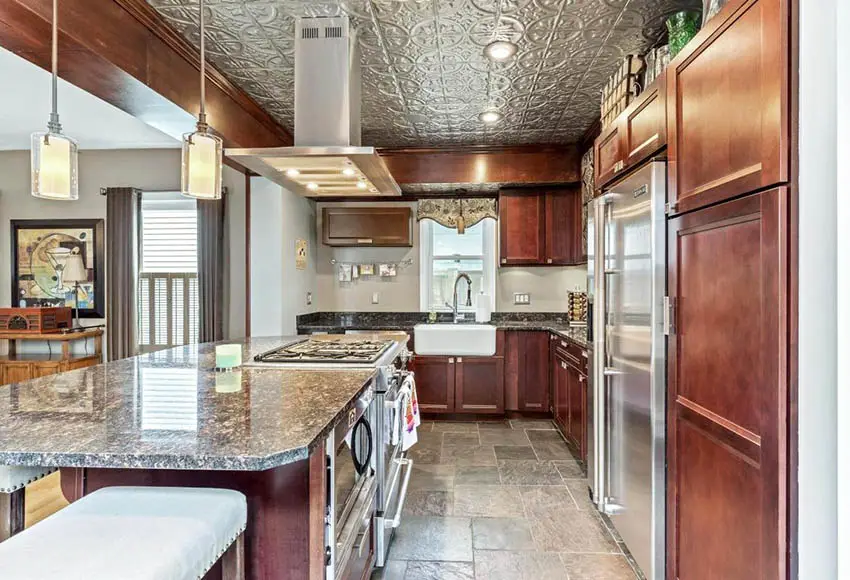 For this simple all-walnut kitchen, the addition of the silver Queen Anne tin ceiling tiles adds a chic and elegant feature to the fairly simple design of the space.
The silver color helps brighten up the dark wood finishes, and also matches the metal finishes of the kitchen appliances.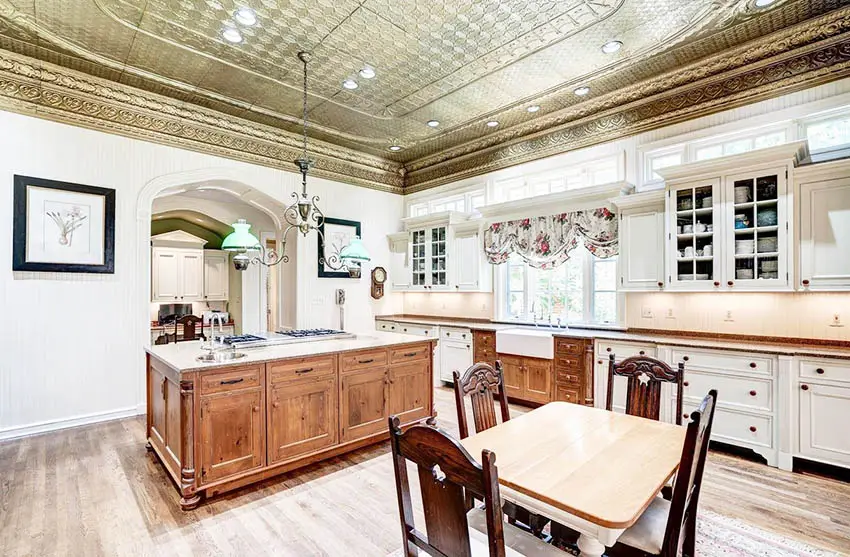 For this classic French style kitchen, they really went all-out with their gold tin ceiling, as it covers the whole ceiling area of the kitchen.
It uses multiple combinations of patterns, borders and moldings to create this Victorian style look. Because the main kitchen has a simple white and walnut color scheme, and the gold ceiling finish is not too reflective, it does not feel too overwhelming or out-of-place.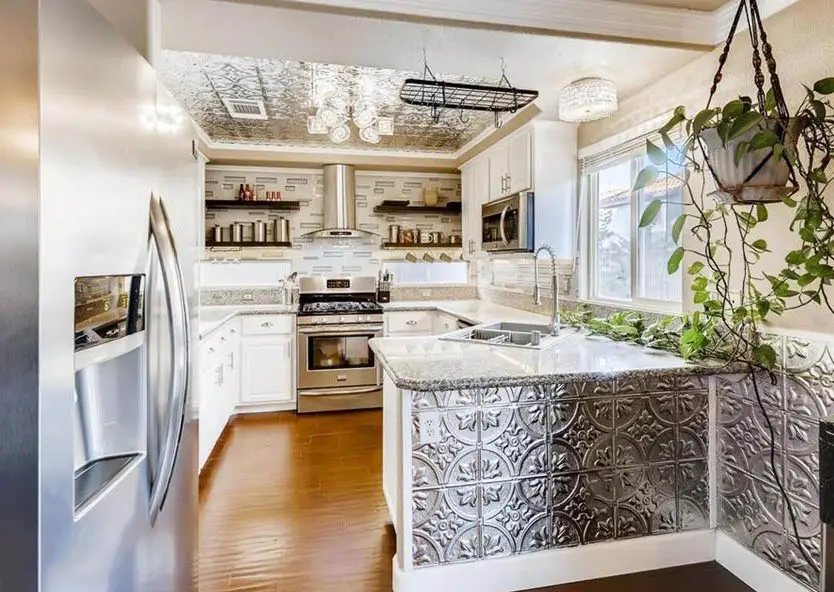 This traditional kitchen design utilizes tin for its tray ceiling, peninsula and walls. Featuring a decorative motif the tin siding gives this space a classical look that blends well with the white cabinetry and light color bamboo flooring. Tin ceiling kitchen ideas work well with traditional designs to bring in the feel of old world charm.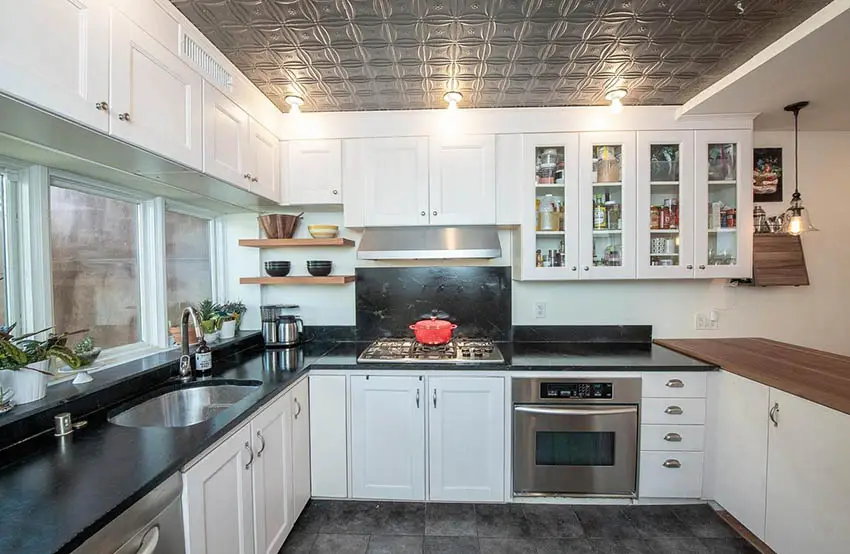 If you like the effect of the texture and patterns of tin ceilings but prefer a more modern look to match your kitchen's current style, consider pre-painted tin tiles for a more contemporary look. In this kitchen, the tin ceiling tiles have a dark-gray paint that matches the current color scheme of the kitchen.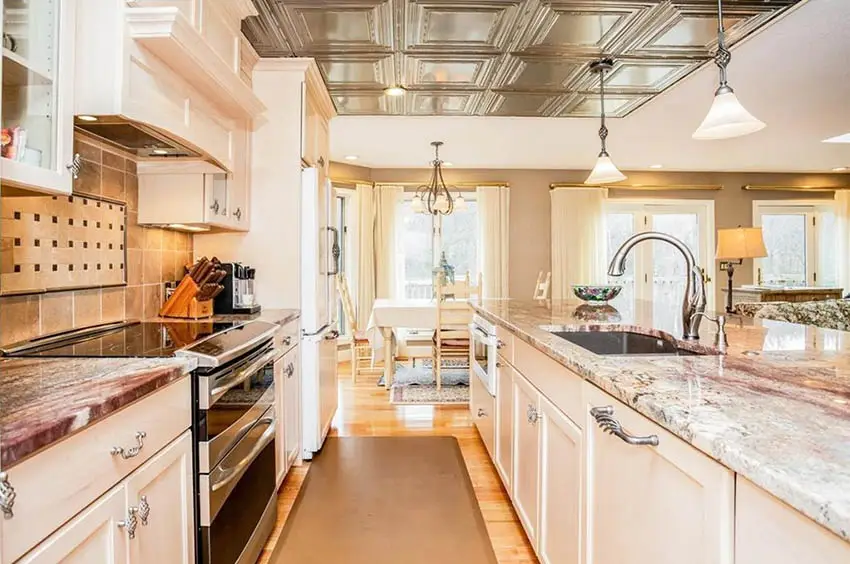 Greek revival style tin ceiling panels in copper were used for this classic style kitchen. The kitchen is placed in an open plan area, and the use of tin ceiling tiles to frame the kitchen area gives it more definition and emphasis that helps you visually separate it from other areas of the house.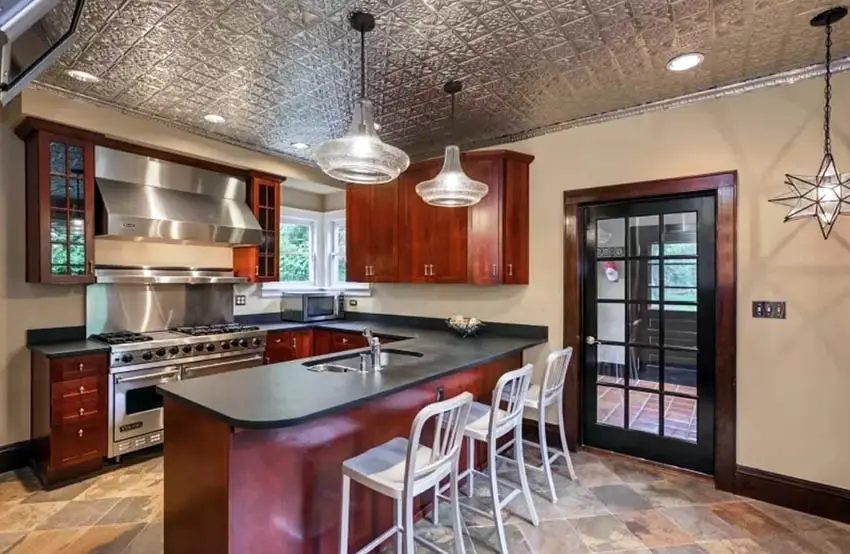 Tudor style silver tin ceiling tiles spices up this contemporary kitchen that uses redwood and black solid surface combination.
The addition of the glossy silver ceiling tiles with intricate Tudor style floral patterns gives it another layer of dimension and texture, and also helps make the space feel more lively.
White Tin Ceiling Kitchen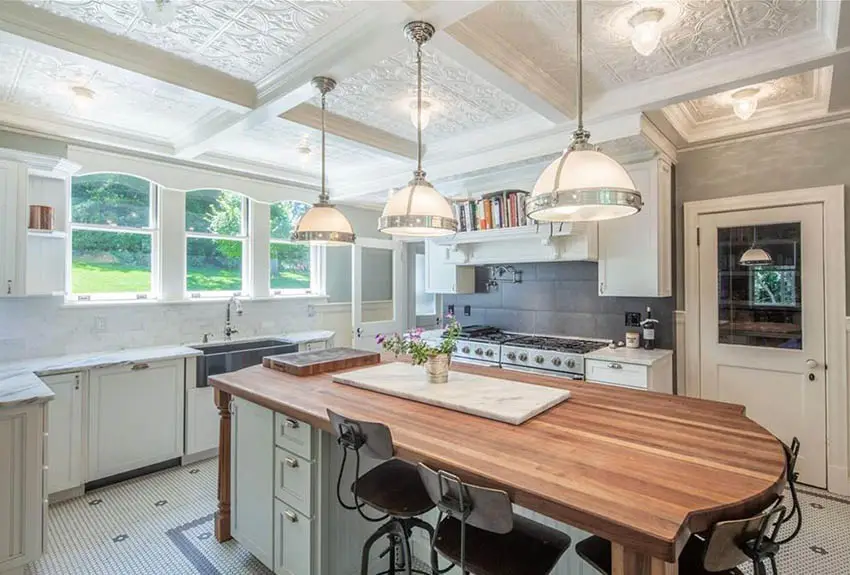 White tin coffered ceilings are very low-key and elegant. In this example, the white tin ceiling tiles adds a nice texture to the coffer ceiling. Because the tiles used are white, it looks bright and refreshing, and definitely upgrade the over-all appeal of the kitchen.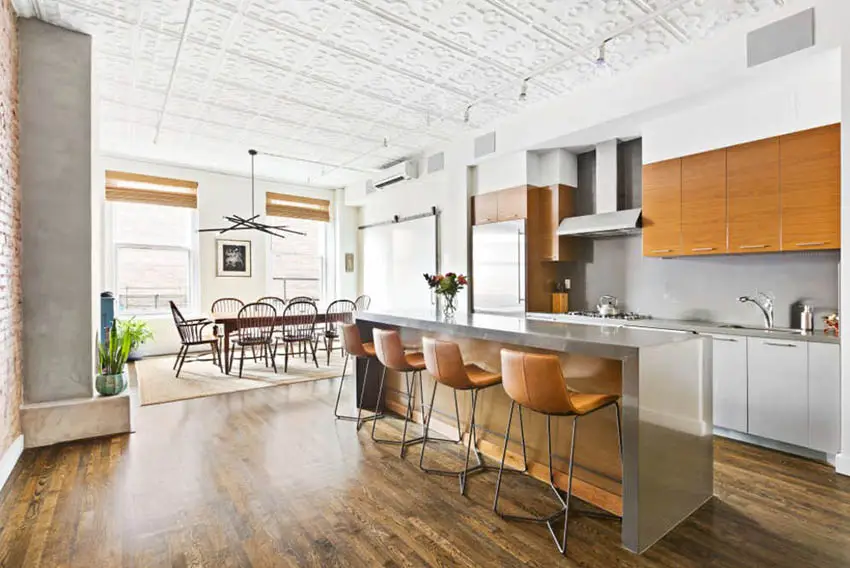 This modern kitchen features a spacious open concept design with two tone cabinets and polished concrete countertops with a waterfall island.
The white tin ceiling provides visual interest to the ceiling and offers contrast to the gray concrete elements, brick wall and wood flooring.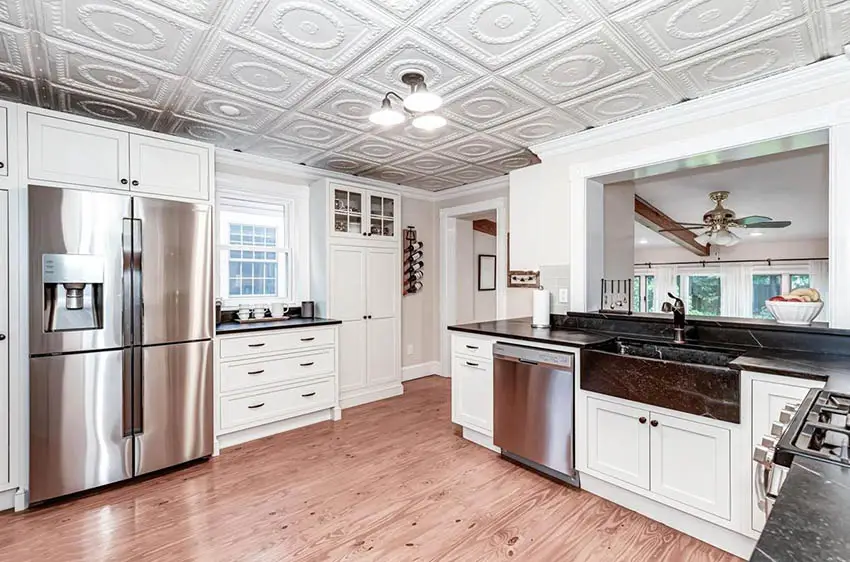 Colonial style white tin ceiling adds a classic American vibe to the this kitchen space. The white color helps keep the ceiling low-key, despite the intricate patterns on its surface.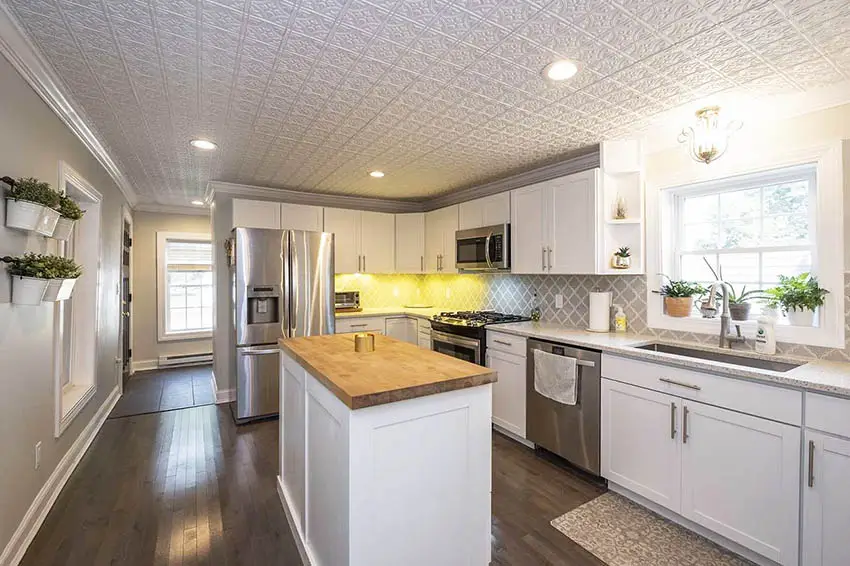 This farmhouse kitchen showcases beautiful white cabinets that are harmoniously matched to the white tin ceiling, window frames and backsplash grout.
A light greige paint color and recessed lighting helps to keep the space bright to offset the dark wood flooring. A center island with butcher block countertop makes a great space for meal preparation.
White tin ceiling kitchen ideas can be used in low light or dark flooring designs to help brighten the overall look and add a warm reflective glow.
Farmhouse Tin Ceiling Kitchen
Farmhouse style kitchens would also find benefit in adding tin ceiling accents. The rough texture of the tin ceiling tiles gives an extra rustic grit to the space.
In this kitchen, because the cabinets are all clean white topped with a light Ash butcher's block countertop, the accent tin tray ceiling used at the center of the kitchen adds just the right amount of accent.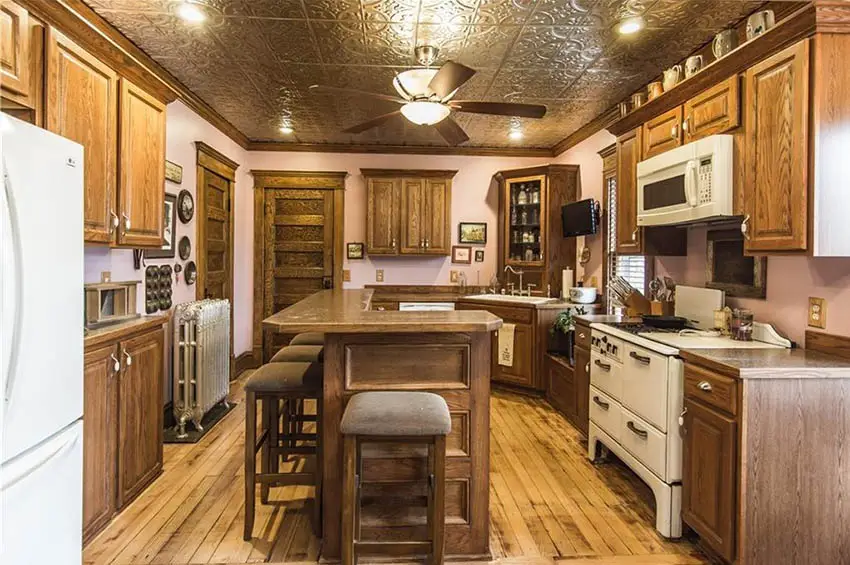 Since the wood finishes used throughout this kitchen uses the same walnut color, the addition of tin ceiling tiles adds a layer of contrasting color and texture to the very simple farmhouse style kitchen design.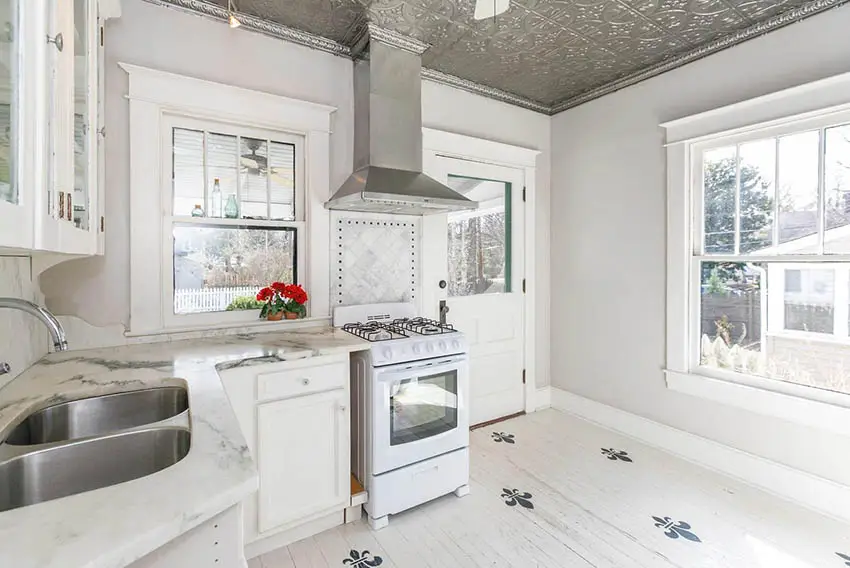 For this French farmhouse all white kitchen, the silver tin ceiling and matching cornices helps tone-down the brightness of the space, and keep it looking balanced. With a small space with little room for kitchen decor a pressed tin feature ceiling can draw the eye up and enlarge the design.
Corrugated Tin Ceiling in Kitchen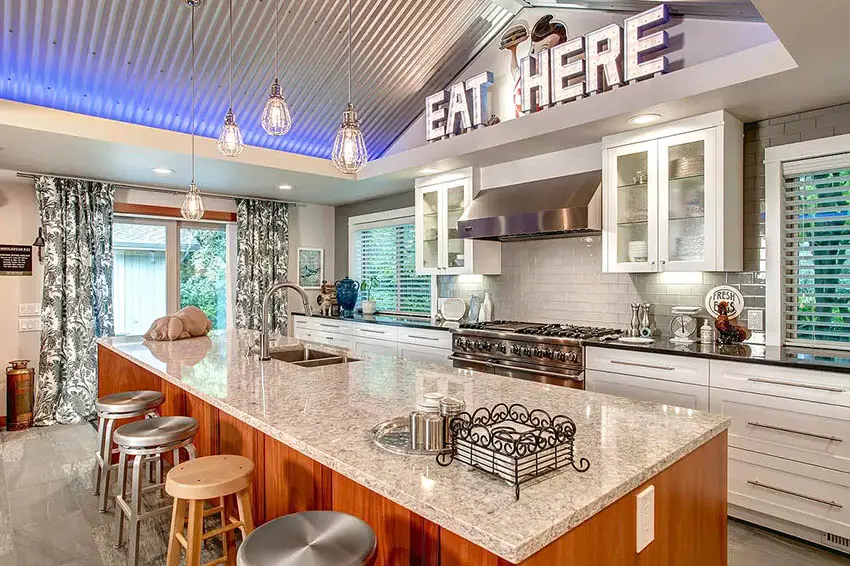 If you're not a fan of classic styles and want to keep your motifs modern, you can use corrugated tin ceiling sheets on your ceiling to give it a touch of industrial aesthetic.
These reclaimed corrugated metal panels are perfect for vaulted ceilings, as it helps further emphasize the height of the ceiling.
In this example, the angled part of the kitchen ceiling was clad with GI corrugated metal sheets, and combined with with cove ceilings on the sides to attach multi-colored LED cove lights.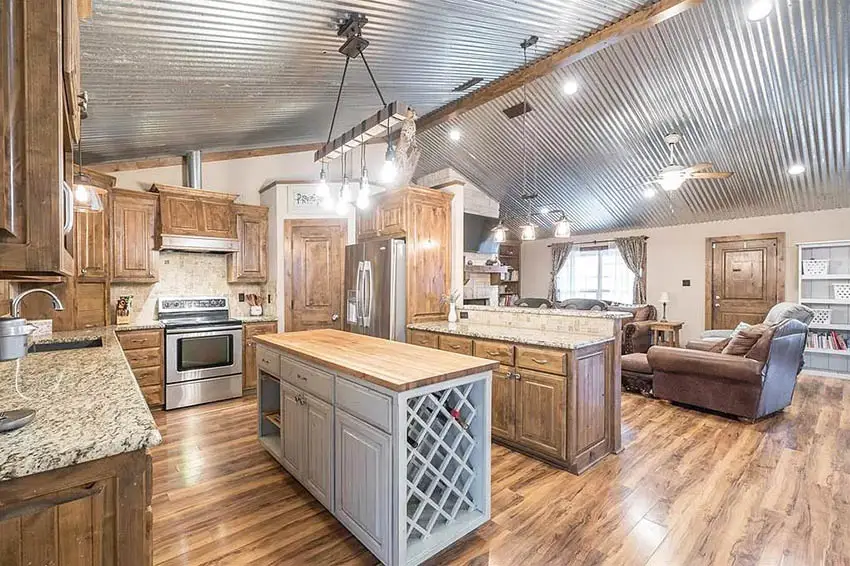 The combination of natural wood finishes and the steel corrugated ceiling sheets runs this farmhouse style kitchen & living area into a chic rustic-industrial space.
Raw steel finish and warm wood finishes is a hit combination that rarely goes wrong. See more kitchens with corrugated metal here.
Rustic Tin Ceiling Kitchen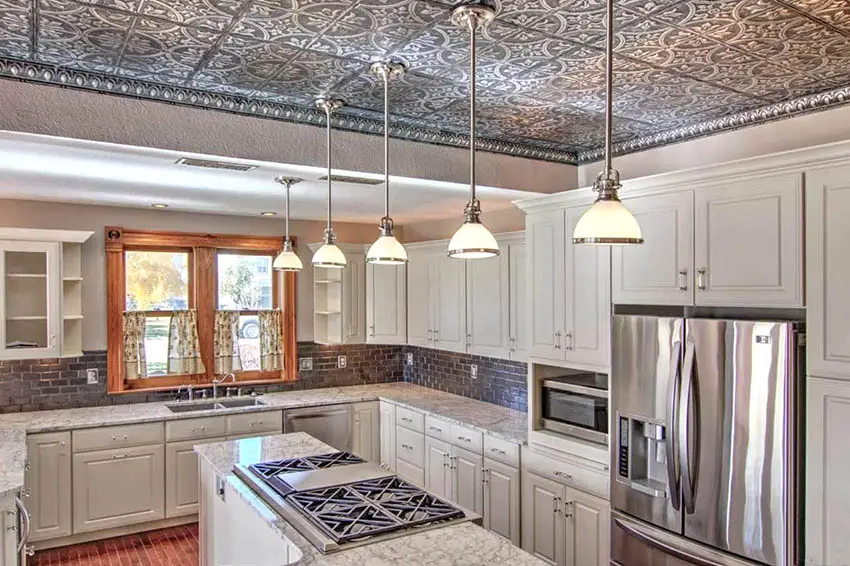 Going for a more rustic finish, this contemporary kitchen used pre-painted tin ceiling tiles. What makes it unique is its matte finish, and the lighter paint color used on the embossed patterns of the tiles.
The gray tones used on the tin tiles next to the drop ceiling gives it a rustic feel that complements the other finishes in the kitchen design.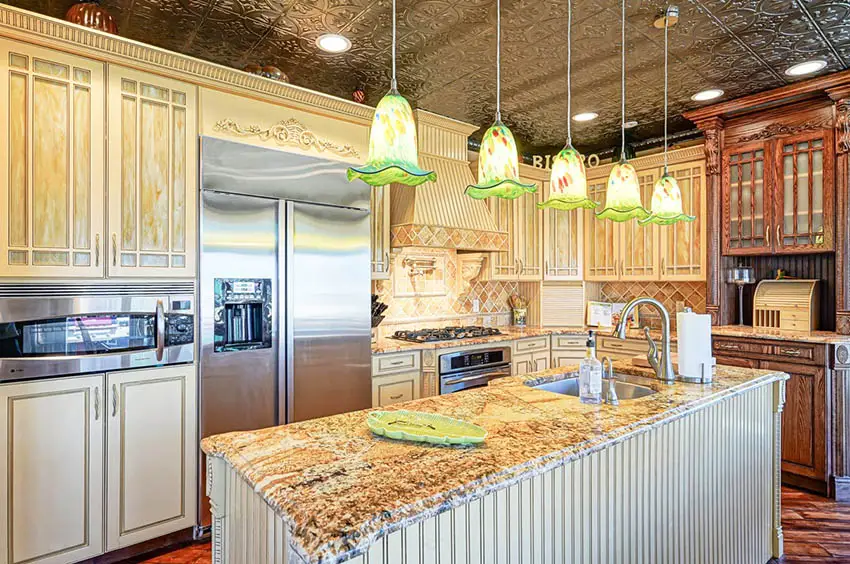 The combination of classic style kitchen cabinets, classic motifs, blown glass lamps and the dark tin ceiling – this whole combination of colors, textures, and finishes – gives this small kitchen a very authentic old-world feel.
The beadboard kitchen island topped with mottled brown granite countertops matches with elements such as the wood cabinets and tile backsplash.
Copper Tin Ceiling Kitchen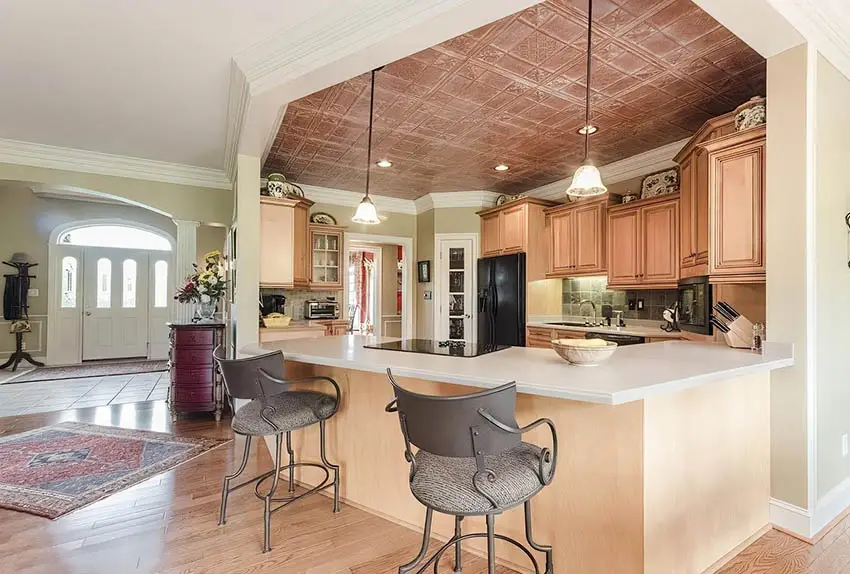 Copper tin ceilings, especially this in matte finish, adds a more antiqued vibe to any space. For this small kitchen area, the copper tin ceiling helps the whole area stand-out from the rest of the spaces in the open plan house.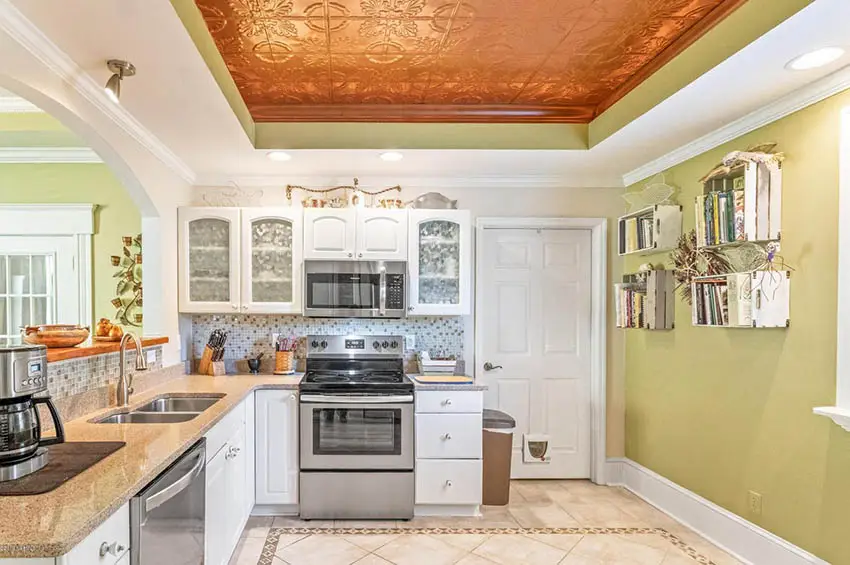 You can also use copper tin ceilings on contemporary kitchen styles. In this example, the accent copper ceiling adds a warmer vibe to the kitchen, helping balance out the cool green painted walls.
For more related ideas visit our gallery of types of ceiling designs.