Here we share our guide to kitchen peel and stick backsplash pros & cons including different types, materials and cost.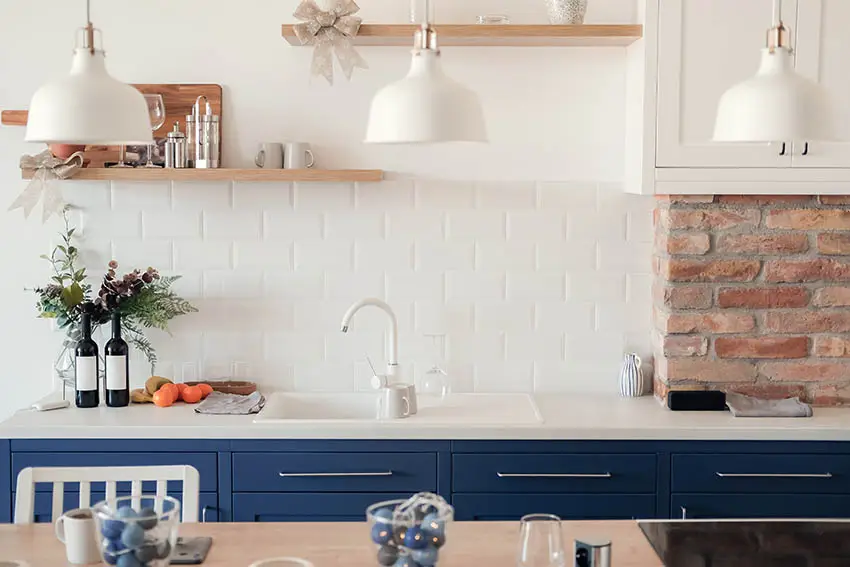 Traditional tile, brick, and stone backsplash add a finished look to kitchens and bathrooms and tie the room design together. Backsplash also prevents water and food drippings from splashing on the wall, making clean up easier.
Although backsplash made with durable materials looks great, it's not easy to install and is a costly undertaking. Instead, homeowners can choose peel-and-stick backsplash to keep their costs down and they can install it themselves.
In this article, we'll discuss peel-and-stick backsplash pros and cons, what this product is made from, and design choices and types of peel-and-stick backsplash.
What is a Peel-and-Stick Backsplash?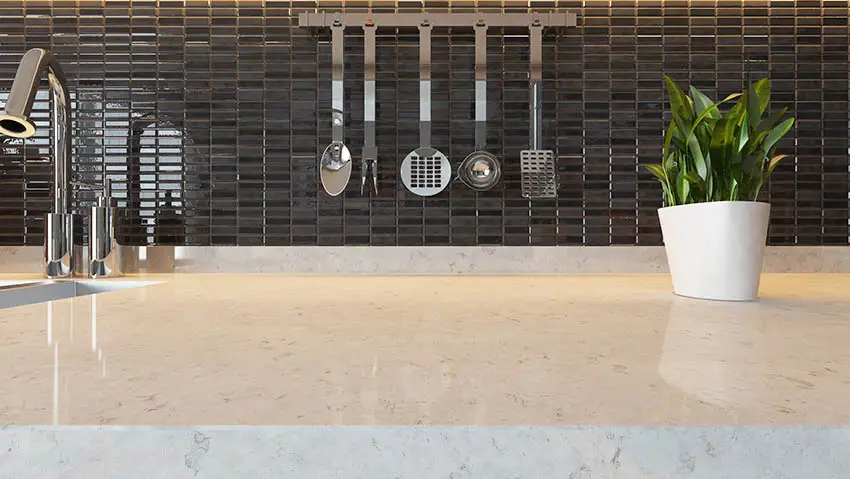 Peel-and-stick backsplash is made of numerous materials and like the name; homeowners can just peel the backing off and stick it to a surface.
While that sounds primitive, peel-and-stick backsplash is an inexpensive and simple way to create a beautiful wall accent in kitchens, bathrooms, and utility rooms that also protects the wall.
It's easy to maintain; simply wipe with a damp rag. Designers turn to peel-and-stick backsplash when they need an easy answer to spruce up a room in a home.
Because of the strong adhesive on the back and by using water-resistant materials, peel-and-stick backsplash is a durable alternative to the typical ceramic tile backsplash. It mimics the look of real tile and does not require mortar, grout, or messy products needed to install traditional backsplash.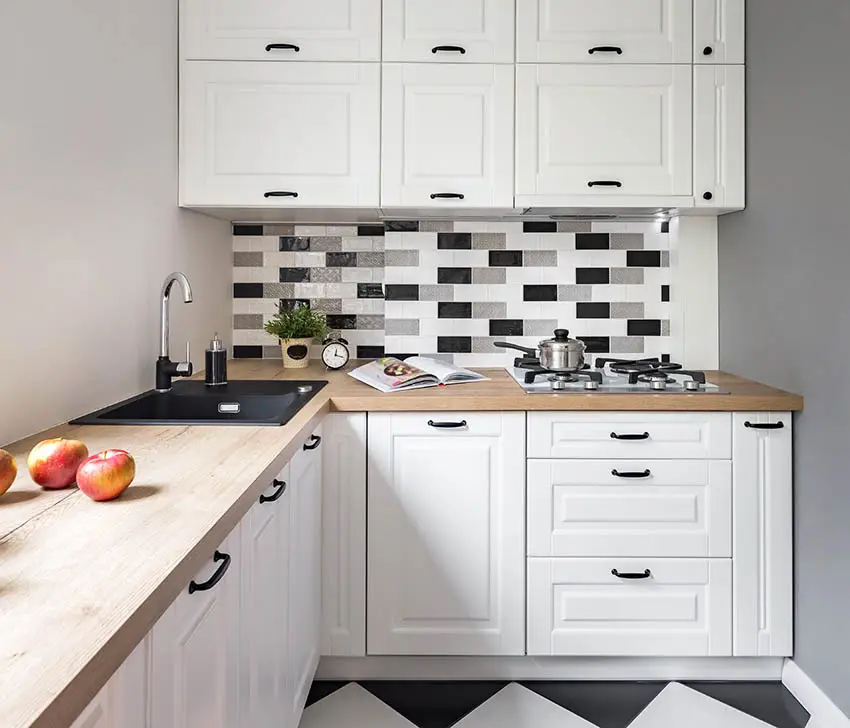 Peel and Stick Backsplash Pros
• Water-resistant and some types are heat resistant
• Low maintenance
• Less expensive than traditional backsplash options
• No messy installation; measure, cut, peel, and stick
• Offers countless styles, colors, textures, and designs
• Protects walls from water and food splashes
• Some types and brands can withstand moisture or heat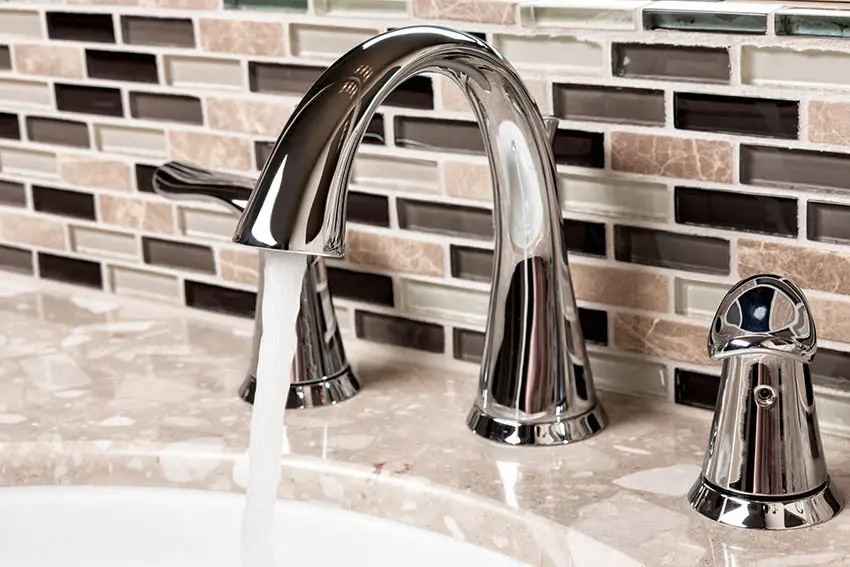 Peel and Stick Backsplash Cons
• Difficult to line up seams and edges for outlets and other wall fixtures
• Does not provide the depth real materials do
• Higher quality peel-and-stick may cost as much as real tile
• Does not come off easy, possibly damaged the wall or surface underneath
• Cannot be used in a shower or bathtub
• Will not work on walls without a flat surface
• The glue on the back can deteriorate from moisture, causing peeling
• Vinyl products tend to discolor over time
For homeowners who need an easy way to add a backsplash to bathrooms, utility rooms, or kitchens, peel-and-stick backsplash products provide the same design choices as conventional backsplash without the messy installation and high cost.
This do-it-yourself backsplash offers an abundance of colors, patterns, and materials to work with any décor.
Although peel-and-stick backsplash seems like a cheap answer to home improvement, the benefits outweigh the hassle of traditional backsplash options.
Peel and Stick Backsplash Cost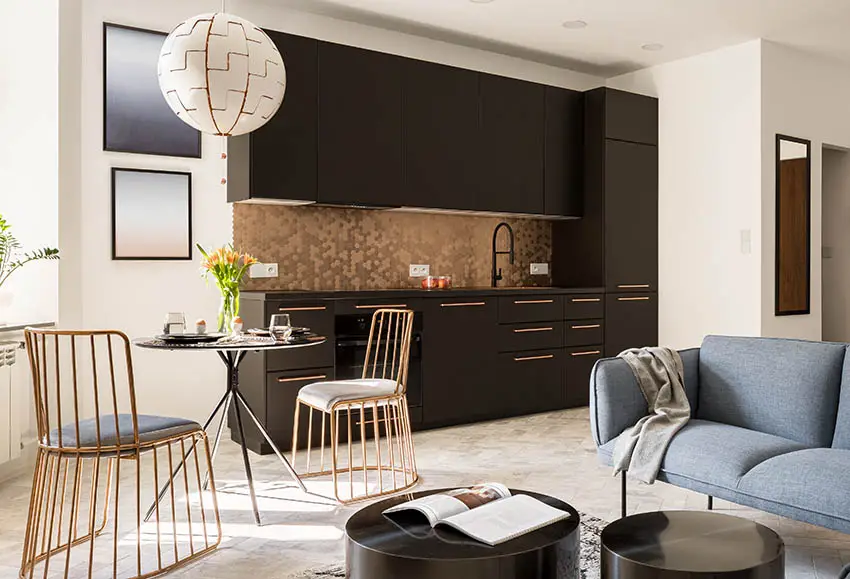 Do-it-yourselfers welcome the easy installation of peel-and-stick backsplash and the cost savings make this an economical project.
A set of six vinyl peel-and-stick squares covers approximately 6 to 8 linear feet of a surface and costs from $8 to $12.
Three-dimensional peel-and-stick tiles made from materials such as glass or metal cost more, running as high as $10 for one panel. Some products come as individual tiles while others are manufactured in sheets or rolls.
Types of Peel and Stick Backsplash
The materials used to create peel-and-stick backsplash range from vinyl, hardened silica gel, and thin pieces of natural materials such as mother of pearl and glass.
Vinyl
Vinyl peel-and-stick backsplash has a foam or plastic backing and comes in many colors, patterns, or 3D realistic photos of natural materials such as slate, brick, stone, or wood.
This type of peel-and-stick works great when needing to create a brick wall surrounding a fireplace and the homeowner does not have the time or money for such a large project.
They are a good value for a quick project to transform the look of the space. Installation can be a relatively easy DIY process.
PVC
PVC peel-and-stick backsplash is made of actual PVC and the tiles match seamlessly. The surface has a texture to resemble real tile and the panels are heat and water-resistant for use in the kitchen or the bathroom.
They also have advantages like being anti-mold and anti-bacterial. Although seamless, use in a shower or bath may still be too much direct moisture. Check with the individual manufacturer to see if it is waterproof for your needs.
Natural Materials
Several types of peel-and-stick backsplash are made with real materials; thin strips or blocks of the material are cut and include a layer of strong glue on the backside.
Natural materials resist discoloration over time with regular cleaning, but vinyl and gel, depending on the quality, tend to fade.
The other benefit of natural materials is the depth and dimension offered. Natural materials provide realistic texture over both gel and vinyl. Gel peel and stick backsplash has some height but vinyl is completely flat, making it, at times, look cheap or fake.
One potential drawback is the durability of some natural materials like wood may not be as resistant to water easy to clean if in contact with grease or other splashes of debris.
Natural materials also risk needing to complete the work with grout. The spaces between the real materials are bare. Without grout, it'll look unfinished. Ready-made grout makes the job easier, but grout is still messy.
Mother of Pearl
A beautiful bathroom peel-and-stick backsplash is made with blocks of real mother-of-pearl shell tiles. Each block is 1" x 1" and mounted on 12-inch square sections.
A bit more care is needed to cut and apply this peel-and-stick backsplash, but the results are worth it. Additionally, once applied they can be difficult to remove.
If using these for a countertop surface it is recommended that you seal the shell mosaic them using a professional sealer such as DuPont StoneTech or 511 Impregnator.
Metal
Metal is another easy to use material for peel-and-stick backsplash.
1-square-foot sections are made from light and thin metal, typically aluminum, with adhesive on the back.
Metal runs more expensive than other types of peel-and-stick backsplash.
Faux Glass
Hardened silica gel has a textured surface resembling real tile or a smooth surface resembling glass.
The gel is a 3D product and accurately depicts subway tile backsplash, wavy glass in a variety of colors, and stone tile.
Areas must be flat, dry and clean for installation of these types of backsplash.
Mirrored Glass
Still more costly is the glamorous look of antique mirrored glass. These panels run approximately $25 per square foot.
Other types of glass peel-and-stick backsplash are available and are less expensive.
To ensure the tiles stay put they are often installed with 'Thin-set' or 'Insta-set' to help them stay put.
Stone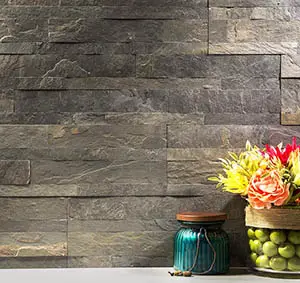 You can find premium peel and stick stone backsplash that is made from real stone. Aspect stone peel-and-stick backsplash is a medium-priced option averaging $15 per square foot.
You can usually find stone in earth-tones that can blend well with rustic or traditional kitchen styles. Since aspect stones are made from a real stone veneer they have the unique characteristics or real stone giving each panel a slightly different variation.
There are also less expensive faux stone options available that will cost much less. However,they also have less visual depth or look cheaper than the real thing.
Faux Copper
Another natural peel-and-stick backsplash is a product made with aluminum and a propriety lightweight vinyl material that resembles copper.
These mosaic tiles are cut easily with a utility knife and provide durable, long-lasting use. Most manufacturers offer a 20-year warranty.
This backsplash is moisture, steam, chip, and heat resistant up to 190 degrees.
Have you had any experiences using peel and stick backsplash tile? Let us know how if went. For more related content visit our gallery of the types of bathroom tiles here.