Welcome to our ultimate design guide to the different types of curtains including popular styles, materials, construction and patterns.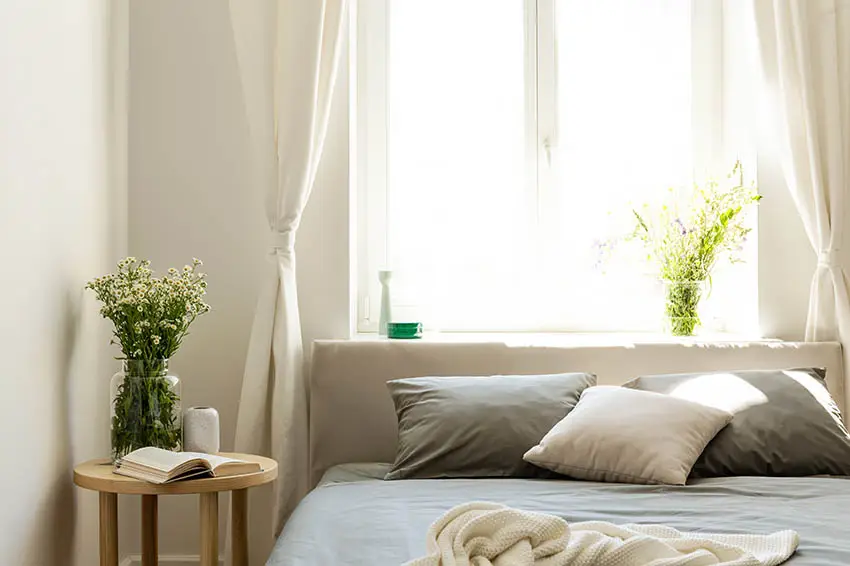 Curtains not only provide privacy, room-darkening properties, or help to keep cold or hot air at bay; They can make or break a room's decor.
Hanging this piece of cloth of fabric adds color, style, depth, and an aesthetic statement to any room in your home and the options are unlimited. They include numerous choices from types of configurations, fabric thickness, luminosity, hardware, top dressings, colors, patterns, and more.
Adding or updating this item is a great way to transform the inside of your home but can prove to be an overwhelming process.
In this guide, we will talk about the many choices and styles of curtains and how you can successfully pick the best colors, styles, and configurations to highlight the décor of your home's interior.
Curtain Designs
What type of curtain you choose is the first step. This depends on the room, how many windows are involved, the color schemes, and room's function.
A bathroom may have one small window while a living room may have multiple windows highlighting the outside landscape.
A bedroom may call for room darkening while a kitchen beckons for flowing, sheer panels. Below are the types to consider.
Single Panel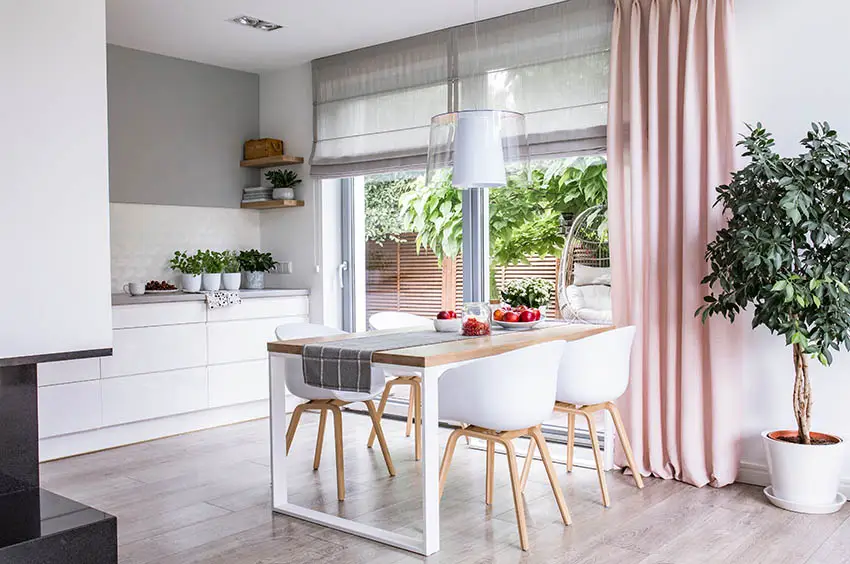 A single panel is just that; one panel that spans the entire window, French doors, or glass sliders.
The panel typically has the option to pull it open from either side and tie it back for a geometrical, modern look. Single panel types work well in modern and contemporary rooms.
Panel Pair
Panel pair consist of two panels and are commonly found used with classic décor.
Panels pull open to each side and several kinds of ties; cloth, metal, or tapestry can pull each panel back to create a symmetrical look.
Panel pair allow for daytime lighting and nighttime privacy.
Window Curtain Set
Window curtain sets come packaged together and typically come with everything you need for a complete window treatment.
They include two panels, a valance, tiebacks, and a rod. This makes it easy for a homeowner to install the curtains with color-matched components.
Source: Amazon
Valance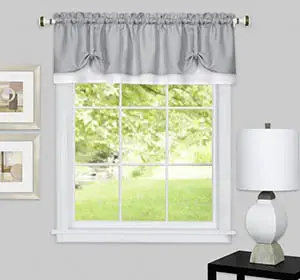 Valances enhance curtains or blinds and are installed on the top of a window.
These curtain headings are short duplicates of the fabric, a solid color, or a pattern and made from wood, vinyl, or other materials.
Valances are decorative and create a simple statement when used alone or enhance the look of curtain panels or blinds.
A valance also creates a border at the top of the frame for visual interest, and can add a little bit of insulation to the window.
Source: Amazon
Window Scarf
Similar to a valance, a window scarf hangs from the top of a window rod but is a thin, long piece of fabric such as sheer (voile), silk, or polyester material.
These simple window treatments create a dramatic, artsy statement.
They can be hung straight across or with one side hanging down lower than the other side.
Curtain Liner
Liners are add-ons used to create levels of functionality and design.
Liners are often paired with sheer panels to adjust privacy and light levels. Some liners add features such as temperature regulation and noise canceling.
Curtain Thickness & Opacity
Curtains may be used in a breezy sunroom with sheer panels to give an ethereal glow or as thick blackout panels for the person who works nights and sleeps during daylight hours. Below are three thicknesses of the panels.
Semi-Opaque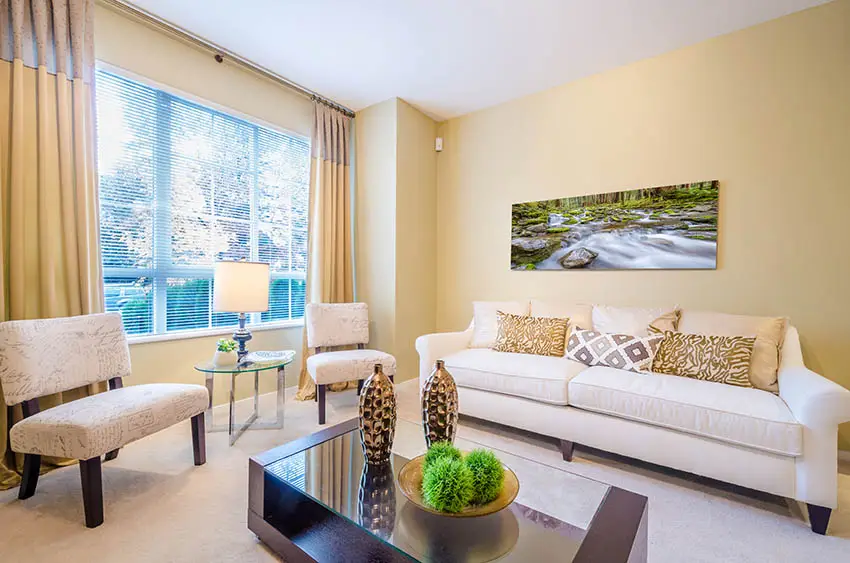 A semi-opaque curtain panel is made from fabric blends that are midway between full privacy materials and sheer fabrics. They allow for more privacy with some light penetration.
Sheers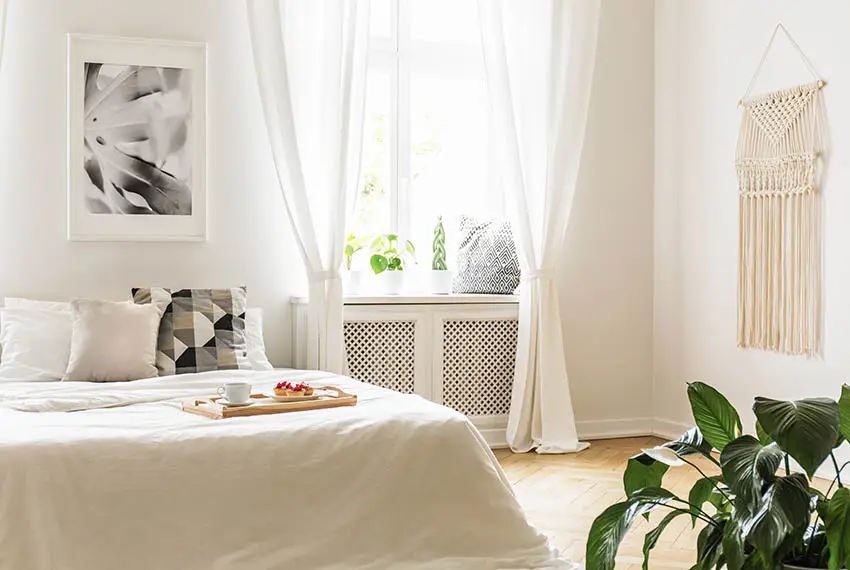 Sheer fabrics are semi-transparent and provide daylight in any room but still provide some privacy depending on the fabric and inside lighting.
Sheer types of material with another layer of thicker fabric panels create an adjustable amount of light and work well in dining rooms, living rooms, and kitchens.
Most sheers are sized so they are about 1/4″ from the floor. However, whether you pool them on the floor is up to personal preference.
Blackout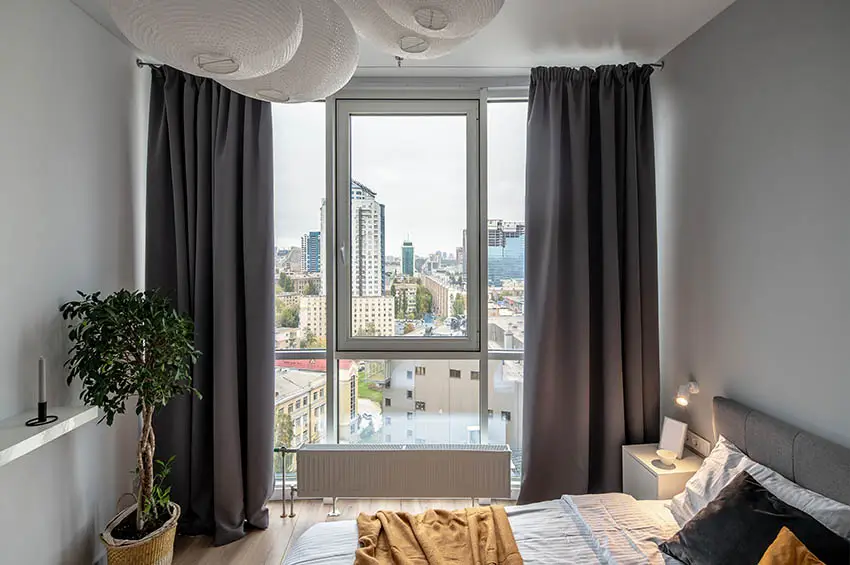 Using heavy weight fabrics with light-blocking liners, blackout types provide the highest amount of blackout levels.
Blackout types pair well with sheer panels and work for bedrooms, home theaters, or any room where natural light is unwanted.
Types of Curtain Tops
Curtain panels include choices of how they attach at the top depending on the look and style the homeowner wants to achieve. The type is even more important if there will not be a valance installed to hide unsightly hardware.
Grommet & Eyelet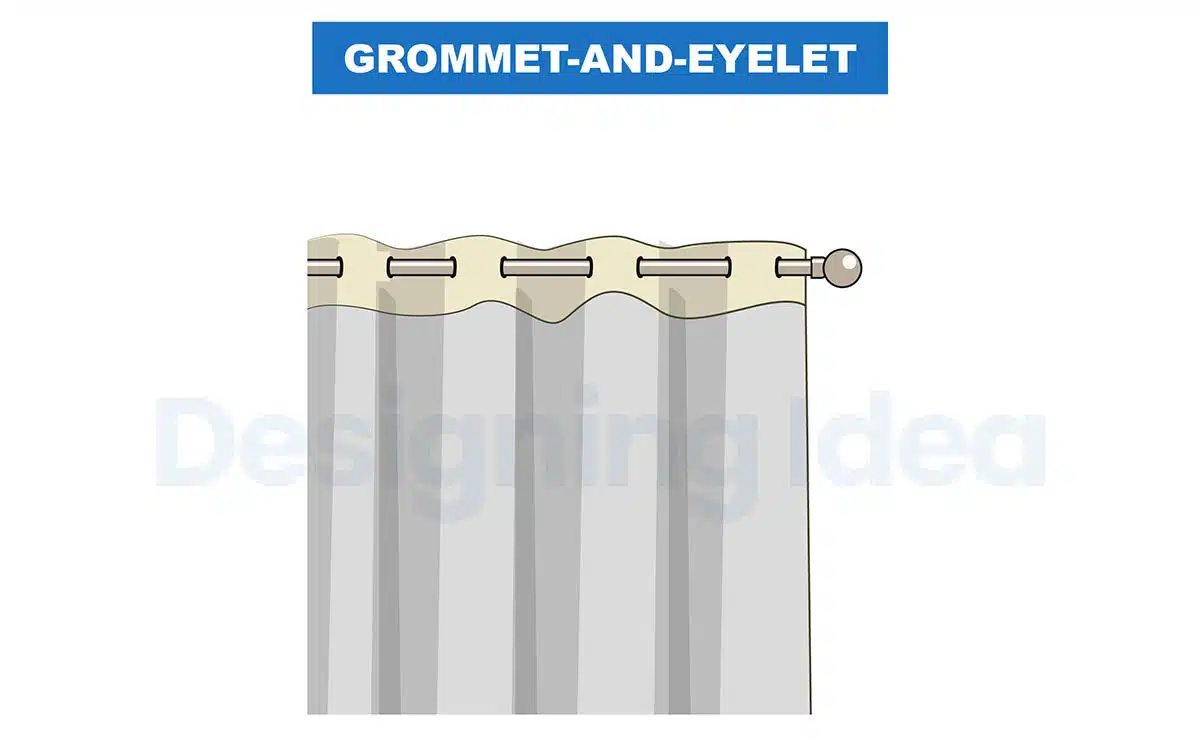 Curtains with eyelets built-in to the top fabric and enforced with grommets are popular in contemporary and modern décor styles.
Rods are threaded through the eyelets for hanging.
Grommet and eyelets provide an element of fashion and a finished look for the window treatment. The grommets are typically made of metal.
Tab Top
A tab top offers a similar finished look to a grommet and eyelet top but has loops of fabric sewn into the top to thread the rod through.
Some designs use velcro loops to make them easier to remove for cleaning.

The loops may include embellishments such as buttons or embroidery. Tab top panels give off a casual look and are found in country home styles and traditional.
Rod Pocket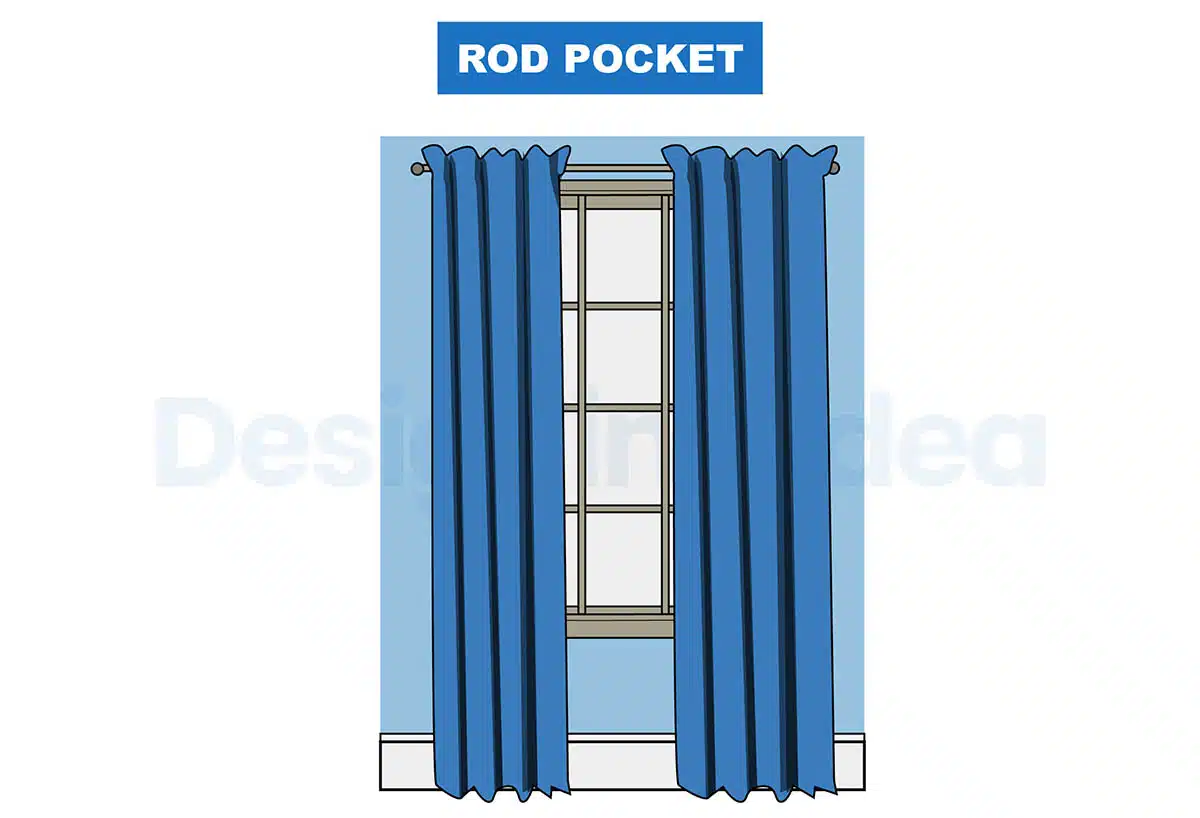 The most common top is the rod pocket. The top few inches of the fabric is folded over and sewn to create a pocket the length of the panel.
The rod is threaded through the pocket, its ends sticking out beyond the curtain width, and rests on brackets secured to the wall.

The pocket may be decorated with embroidery or other embellishments.
Hidden Tab
The top of a tab pocket curtain panel has tabs the rod is threaded through much like a rod pocket and tab curtains, but an additional piece of fabric keeps the actual tabs hidden.
The fabric used to hide the tabs is pinch pleated to create texture. This style is also referred to as the concealed tab design.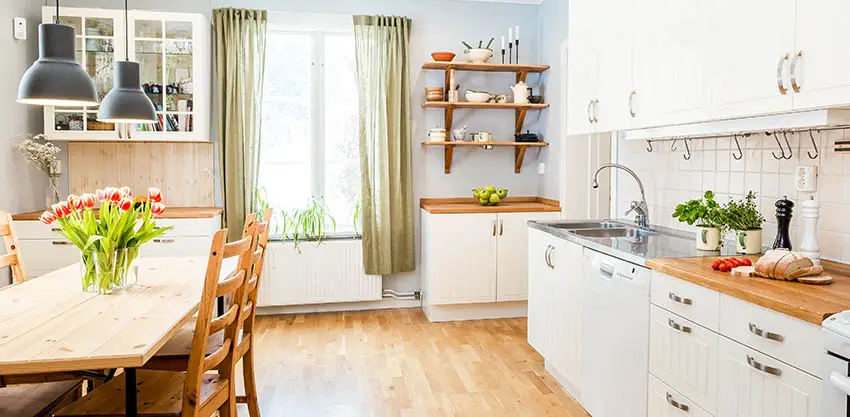 Room styles such as traditional décor, country home, and contemporary often contain window treatments with hidden tab panels
Curtain Styles
Depending on what room you need curtains for, the style will fall into one of the categories listed below. Stark design contrast may spice up a room with a modern décor theme and traditional curtains or traditional room designs look good with a pop of contemporary types.
Traditional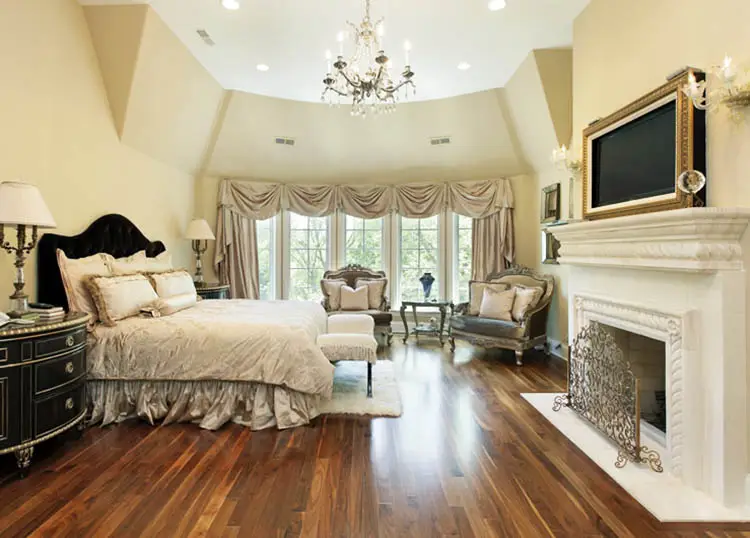 Almost any room in a home can benefit from traditional or classic types. These time-honored styles are often finished with a valance and accessories creating complete window treatments.
Design styles that include traditional and classic types are classic, country, and bohemian interior design themes.
Casual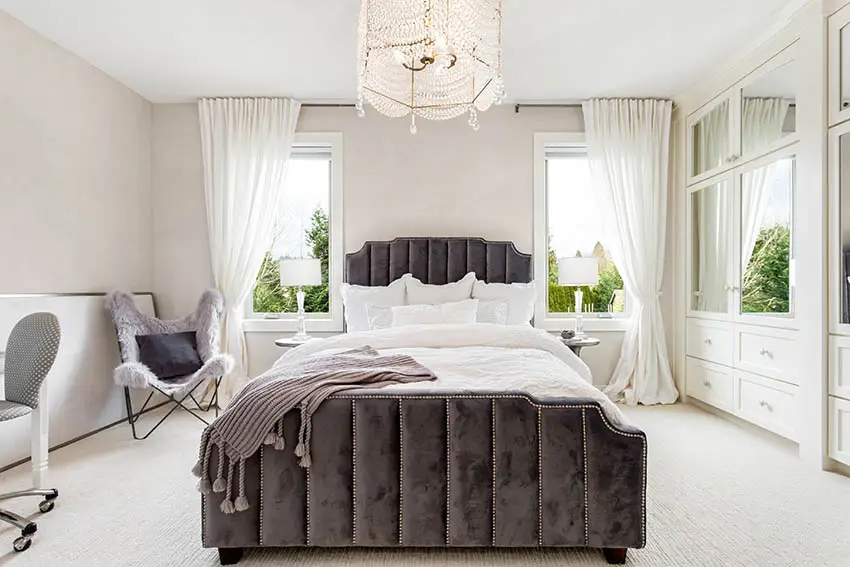 Casual curtains often display a plain or toned-down look to blend with the décor in bathrooms, bedrooms, a home office, and kitchens. Top finishes include grommet and eyelet or tab top and rarely include a valance.
Contemporary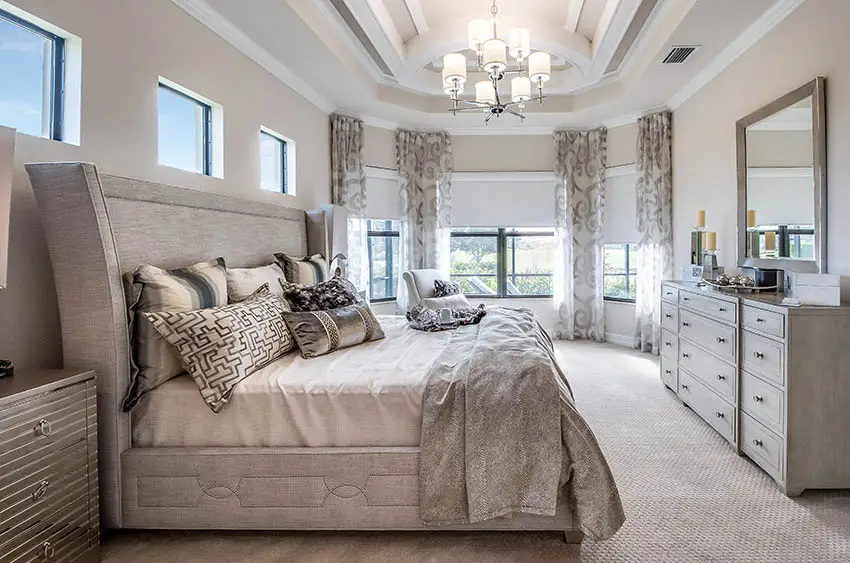 For an energized take on classic curtain styles, choose contemporary styled offerings. Contemporary types come in subdued colors such as grey and earthy solids and patterns, or brighter, bold colors to add refreshing color to a neutral room.
Although contemporary types often include rich textures and designs, they're not mean to be gaudy or pretentious.
Modern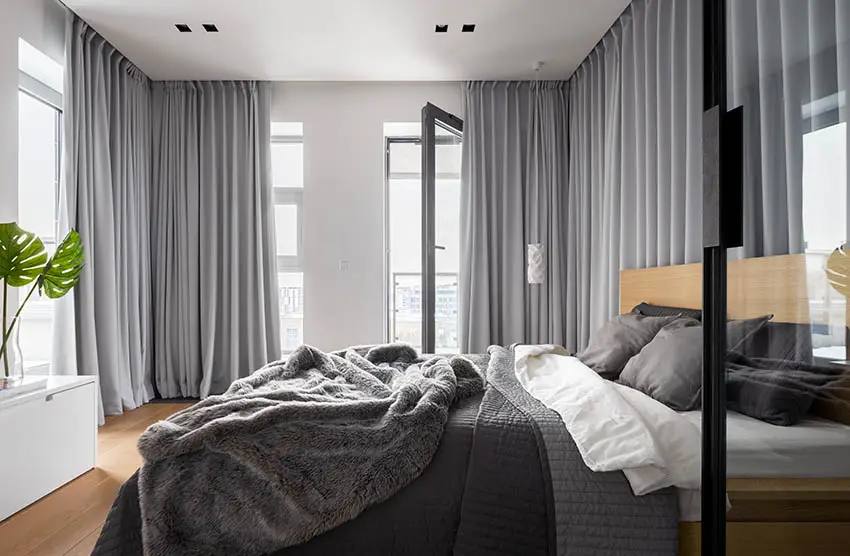 Modern designed curtains reflect a minimal, clean style and often include solid colors, metallic accents, clean lines, and abstract elements.
Modern types may create a bold statement or create a cohesive look to match the room. Many modern offerings utilize eco-friendly, recycled, and natural fabrics.
Tone-on-Tone Layering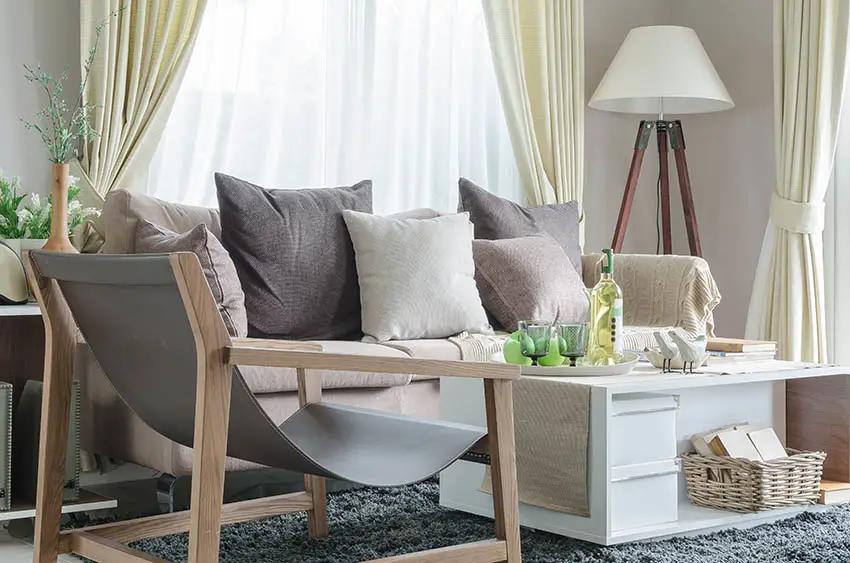 Layering is a technique of creating layers of curtain panels and tone-on-tone layering matches or pairs two layers of curtains.
This style includes samples such as layering a white sheer panel with a thick, light-filtering, dark blue curtain.
This renders a tone-on-tone layer that provides light when needed and darkness for sleep or a theater room. This type creates a formal look for a dining room or study.
Curtain Materials
Curtains include styles, hardware, valances, pulls, tiebacks, and other options, but the main decision lies with the type of material. Material choices affect how curtains hang and gather.
Material choices are endless and include what the fabric is made from. Below are the most common fabrics used for creating panels.
Cotton
Cotton is a natural choice for material and is a semi-sheer fabric. Cotton allows light in a room with a moderate amount of privacy and it's a versatile fabric.
Often, cotton panels in different colors or patterns are layered to create a complete window treatment and add the flexibility of different configurations.
Cotton curtains are easy to wash but always check the manufacturer's label for instructions to avoid shrinkage. If using cotton to create your own curtains, wash and dry the fabric before measuring and sewing.
Linen
Linen panels tend to be heavier than cotton depending on the thickness of the fabric. Linen is made from the fibers of flax plants making it a durable and breathable fabric. Because of the fiber-like weave, linen let's in plenty of light but allows more privacy than cotton.
The fibrous texture of linen creates a dust magnet making it tougher to keep clean. Linen could be a problem for homeowners with environmental allergies.
Polyester
Durable, sturdy, and affordable, polyester is easier to keep clean versus other materials. Polyester is resistant to wrinkles and stretching and panels made with polyester are easily gathered and pleated due to the yield of the material.
Curtains made from polyester are great for living rooms, bedrooms, and family rooms but avoid using them in kitchens. Polyester material is flammable and absorbs odors.
Acrylic
For a fabric that drapes beautifully, acrylic is hard to beat. Acrylic material for curtains is similar to wool, yet lightweight and provides excellent insulation against hot and cold air from outside.
Another bonus is for homeowners with allergies; acrylic is naturally hypoallergenic and resistant to mold and mildew.
Velvet
Velvet material provides a royal and luxurious look to any room in your home. Velvet fabric is thick, heavy, and works well for noise reduction and light blocking in rooms such as bedrooms, home theaters, and family rooms. Being difficult to clean, velvet panels require professional cleaning services.
Silk
For a curtain material with a flowing, light appearance, silk makes a great choice. Silk curtains are semi-sheer and popular with classic and contemporary décor. The amount of light silk material lets into a room depends on the thickness of the fabric.
Curtains made from silk hang gently and silk is often used for draping over window tops as a window scarf. Silk types require professional cleaning.
Lace
For a sheer and airy curtain material, lace material provides the most amount of outside light in a room but does not provide much privacy. Lace is used in kitchens, bathrooms layered with blinds or heavier materials, or living rooms.
Lace fabric often comes embroidered with intricate patterns and designs to add interest to window treatments.
Curtain Patterns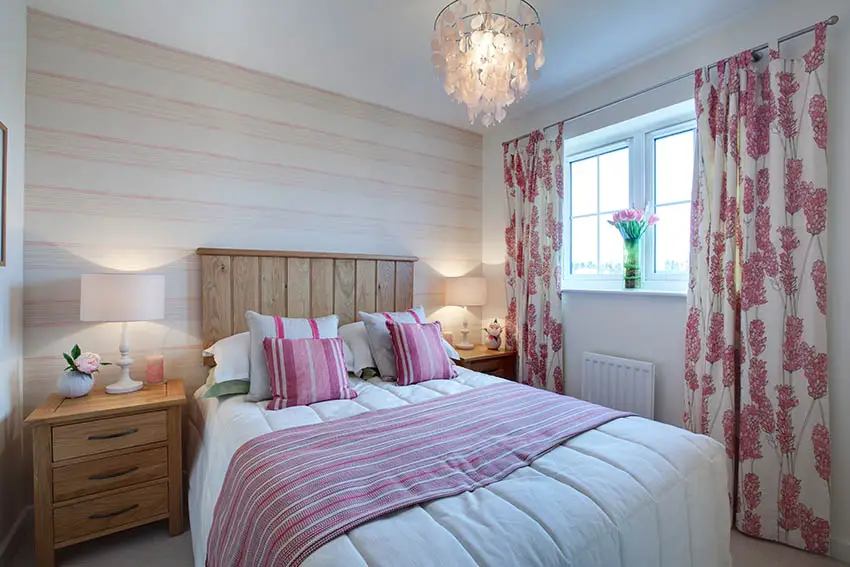 Looking around the room you're choosing curtain material for, consider the design elements, carpeting, windows, wall décor, and color scheme. The material either is a solid color or printed with a pattern.
If the room already contains a lot of décor, artwork, or patterns on furniture or carpeting, a solid type may be the better choice.
Too much busyness creates a stressful theme and may make the room appear smaller. If the room has solid colored furniture, carpets, minimal wall art and décor, and few embellishments, the curtains can act as the decorative element in the room.
How many windows the room has needs to be considered so the window treatments do not overwhelm the room's design. You can intermix patterned fabric types with solid color curtain fabric to balance the room.
Solid
Curtains made from solid colored materials create a clean and simple look great for rooms with a modern and contemporary style.
They also accent other more ornate design elements in the room. Solid colors allow for pairing the curtains with blinds, shutters, or other window covering layers.
Patterned
Patterned types are made with fabric printed or woven with patterns or theme-related designs. Classic and country décor make a perfect backdrop for patterned types with flowers, paisley designs, forestry, and seashore scenery.
Modern and contemporary décor fits well with simpler patterns including chevrons, dots, and geometric shapes, while casual room design looks finished with patterns such as swirls and rounded designs.
Curtain Length & Width
Curtain length and width is determined by considering many factors. To frame a window by size top to bottom and side to side, the length and width of the curtains would match the proper measurements of the actual window, plus any additional space needed to finish the ensemble.
(See the Q and A at the end of this guide for measurement tips.)
Taking panels outside of the window's actual length and width achieves numerous design looks.
A silk or sheer curtain cut for the top of the window molding to the floor with a small amount of additional length allows the panels to sit at the floor creating a gentle gathered look called a puddle length.
Panels cut much wider than the window width creates a wall piece that allows a dramatic affect and brings a main design element to a room.
Curtain widths that are cut to wrap around a corner create a continuous look alluding to a room being larger and allow it to appear more interesting.
Below are some of the more common curtain length and width styles.
Floor Length
Floor or float length curtains hang just above the floor by less than an inch and allow the panels to hang straight. This length works great for tall, floor to ceiling windows, French doors, and sliding glass doors.
Floor length curtains are popular for shorter windows that typically aren't opened. This allows a full look in a room where the walls have little décor or artwork. Tall windows with floor length curtains are often paired with valances.
Sill Length
Sill length types work for windows that get a lot of use and are opened often or needed to let outside light in the room.
They are cut to allow the panel to hang at the bottom of the window molding for an outside mount, or at the bottom of the sill for an inside mount.
Sill length curtains are found in bathrooms, kitchens, laundry rooms, and on smaller windows.
Apron Length
For smaller windows that need to appear longer, an apron length set of curtains allows the panels to hang a few inches or more below the sill or window molding.
This is often used on smaller windows in kitchens, bathrooms, and smaller bedrooms or offices.
The top hardware is usually hung several inches or more above the window molding to allow the window to appear larger when the curtains are closed.
Puddle Length
Allowing curtains to hang longer than the floor, a puddle length, appears as the look of a wedding gown trail.
Puddle length types are often highlighted with a valance or other embellishments, and they create a dramatic, amorous look.
Types of Curtain Pleats
Pleats fit with traditional or formal room design styles, and are made with thicker fabrics such as velvet, drapery fabrics, lined materials, and thick linens.
Pleated types have gathered fabric at the top creating a stately tone for formal dining rooms, living rooms, and auxiliary rooms such as a library or a large entertaining room.
They hang on a traverse rod so the panels can be moved with a cord or curtain pull. Decorative rods with ornate ends and matching decorative rings add additional artistic flair to pleated curtains.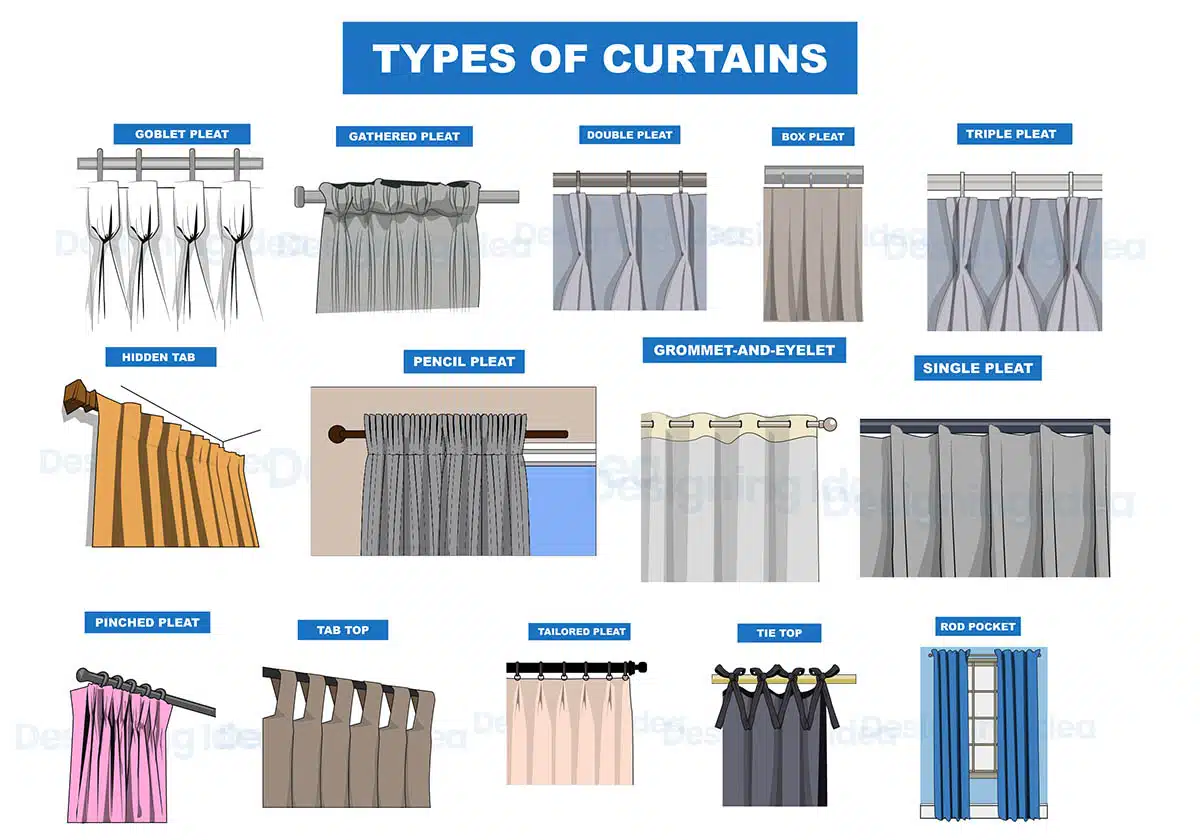 Select from the types of curtain pleats below to create the style you're looking to achieve in your room.
Pinched Pleat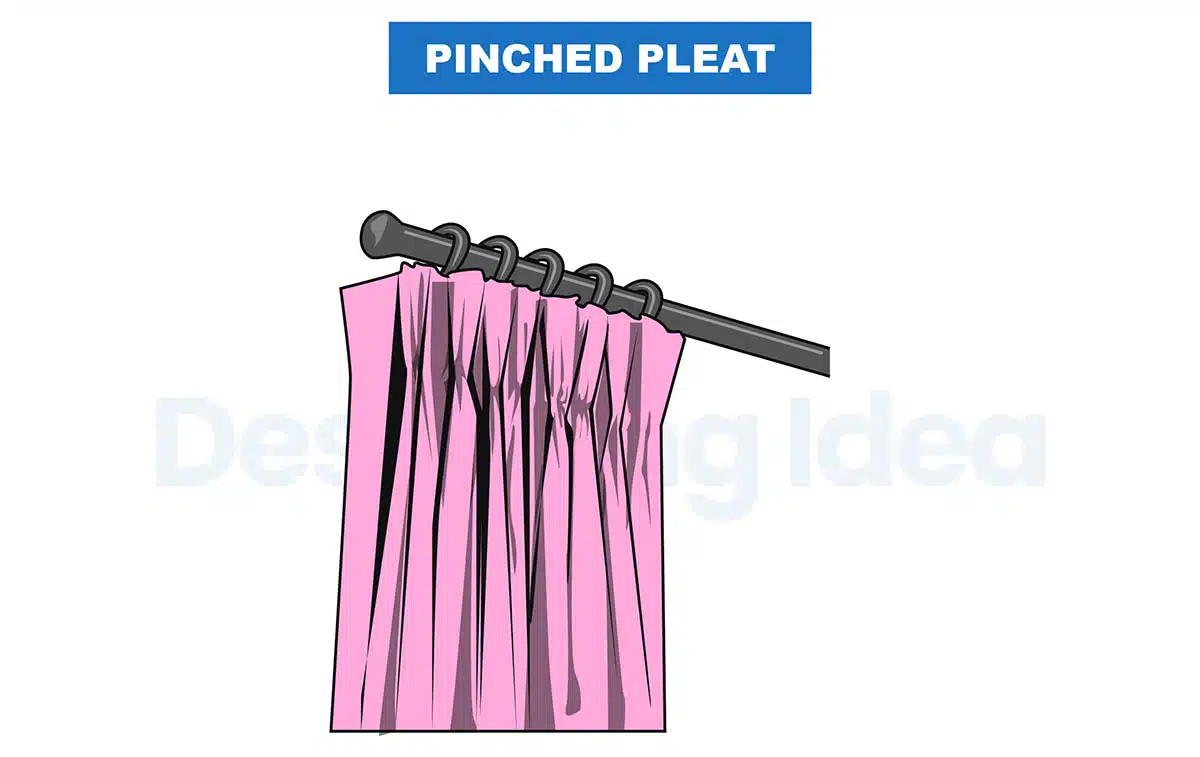 A curtain with pinched pleats creates a full top header with pleats that extend down the length of the curtains. They are also referred to as French pleat or double pleat curtain tops depending on the amount of pleats that are pinched together.
These relaxed pleats are hung with either a pocket top or rings. Use decorative rings or simple rings to match your décor, as the rings are visible.

Pinched pleats are the most common type of pleats.
Single Pleat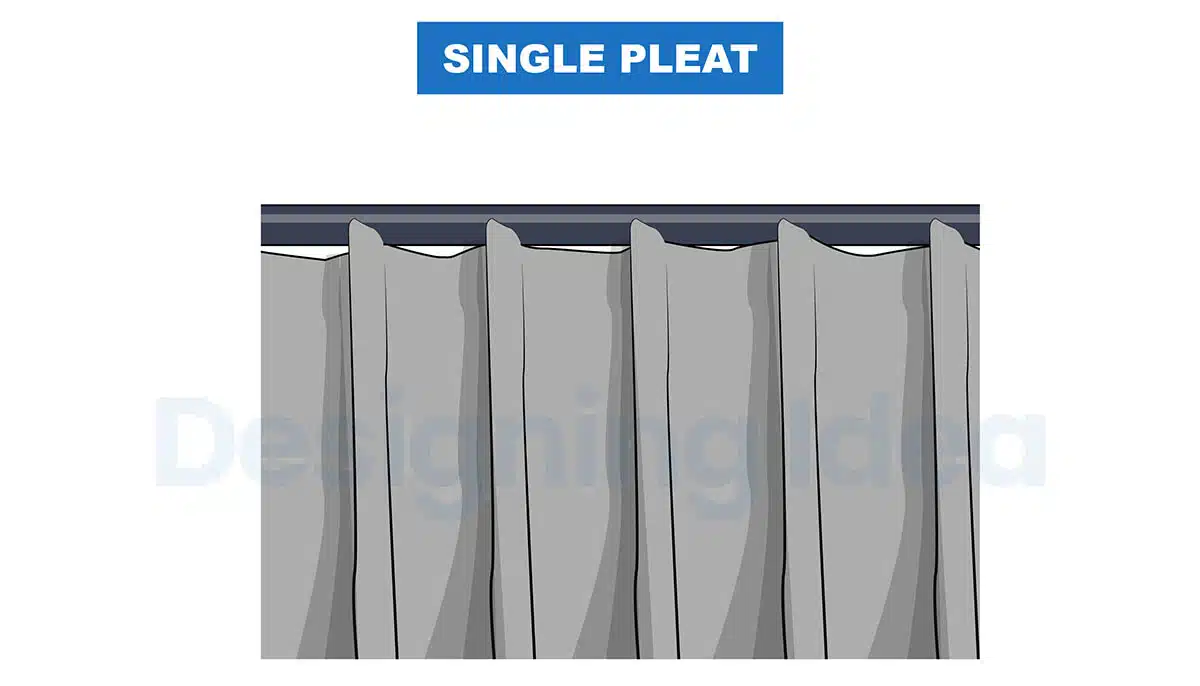 A single pleat has a single fold evenly spaced across the width of the curtain panel. This style doesn't use as much material as other pleat designs as the folds are widely spaced and loosely bunched.
They can use light weight to medium weight fabrics and offer a more relaxed look compared to the double pleat.
Double Pleat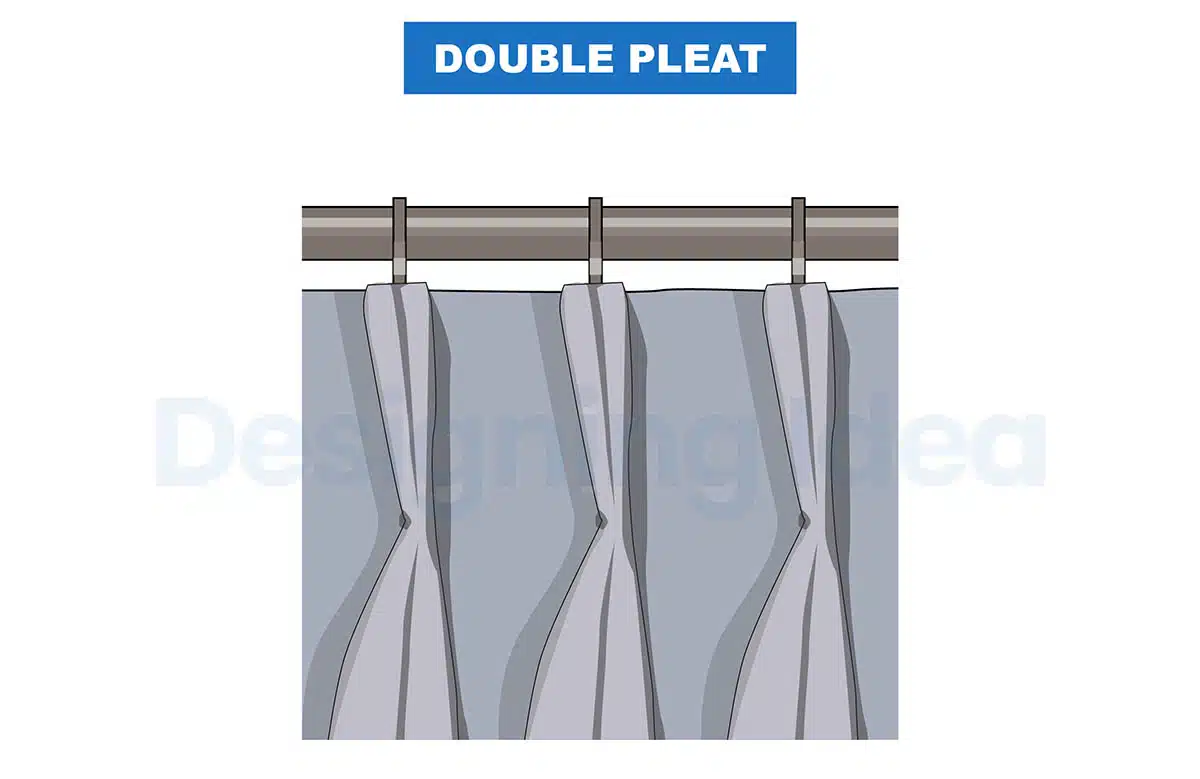 A double pleat provides a classic look that works well in traditional design rooms. The pleat top is created by sewing two parts together to get its shape. The pleats are spaced evenly along the entire panel to create a formal style.
Triple Pleat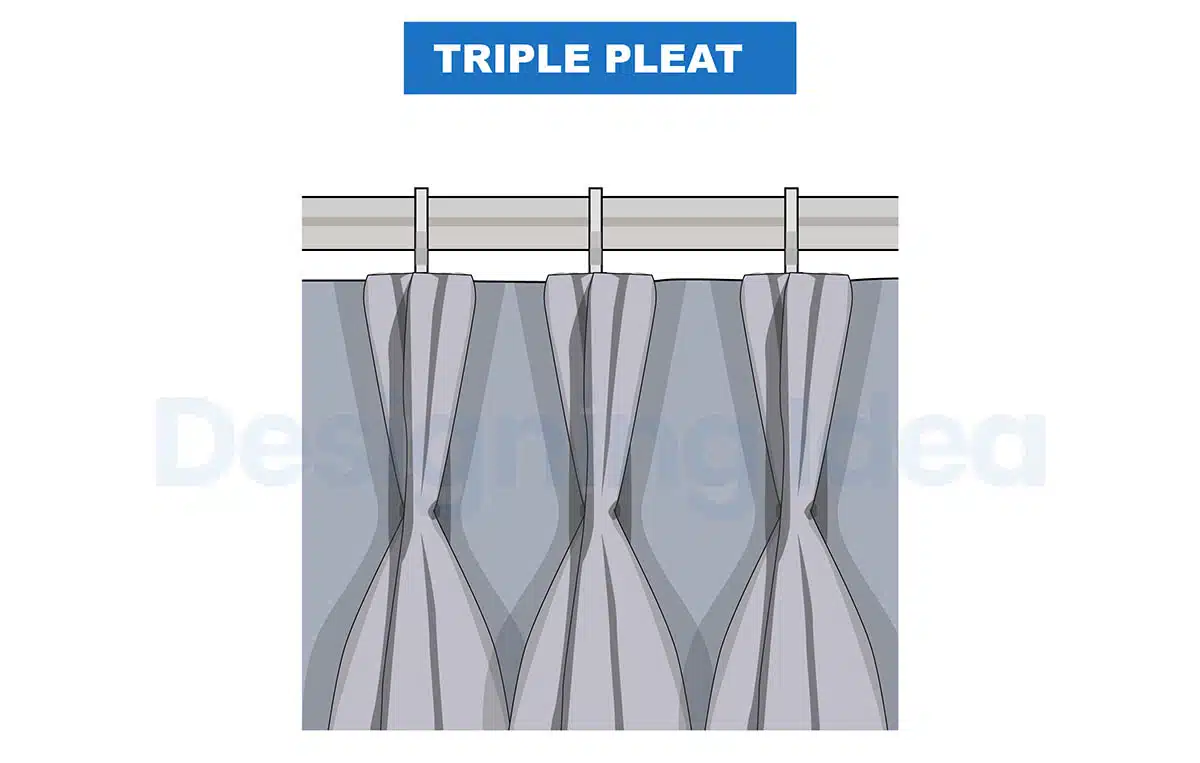 A triple pleat is an intricate design with fabric is pinched and folded three times. The three folds are spaced closely together throughout each panel. The look it creates is luxurious and formal. Some other names for this method is the French triple pleat or the three finger pleat.
Tailored Pleat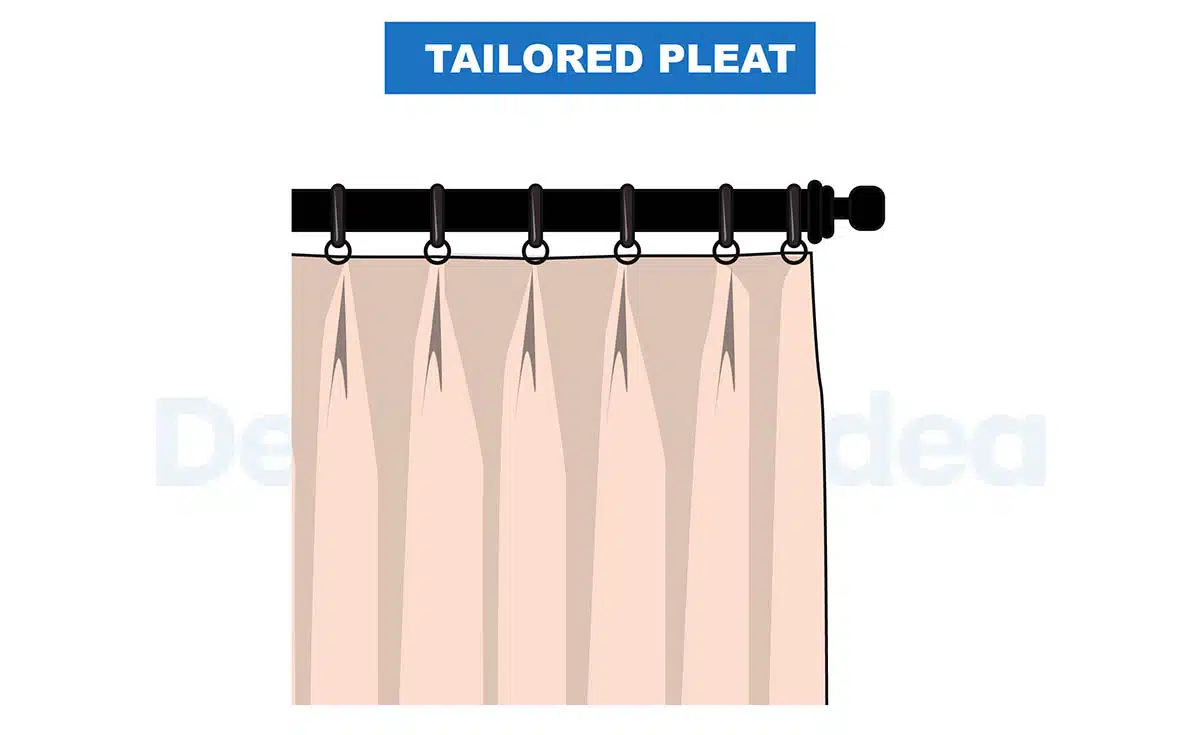 Tailored pleat types are curtain panels with small pleats at the top created by gathering a small amount of fabric and pinning it into place. The pin is attached to rings or hooks to hang the curtains.
Tailored pleats are clean, neat, and use less fabric. These pleats are understated for windows that enhance a room instead of highlighting with curtains.
Box Pleat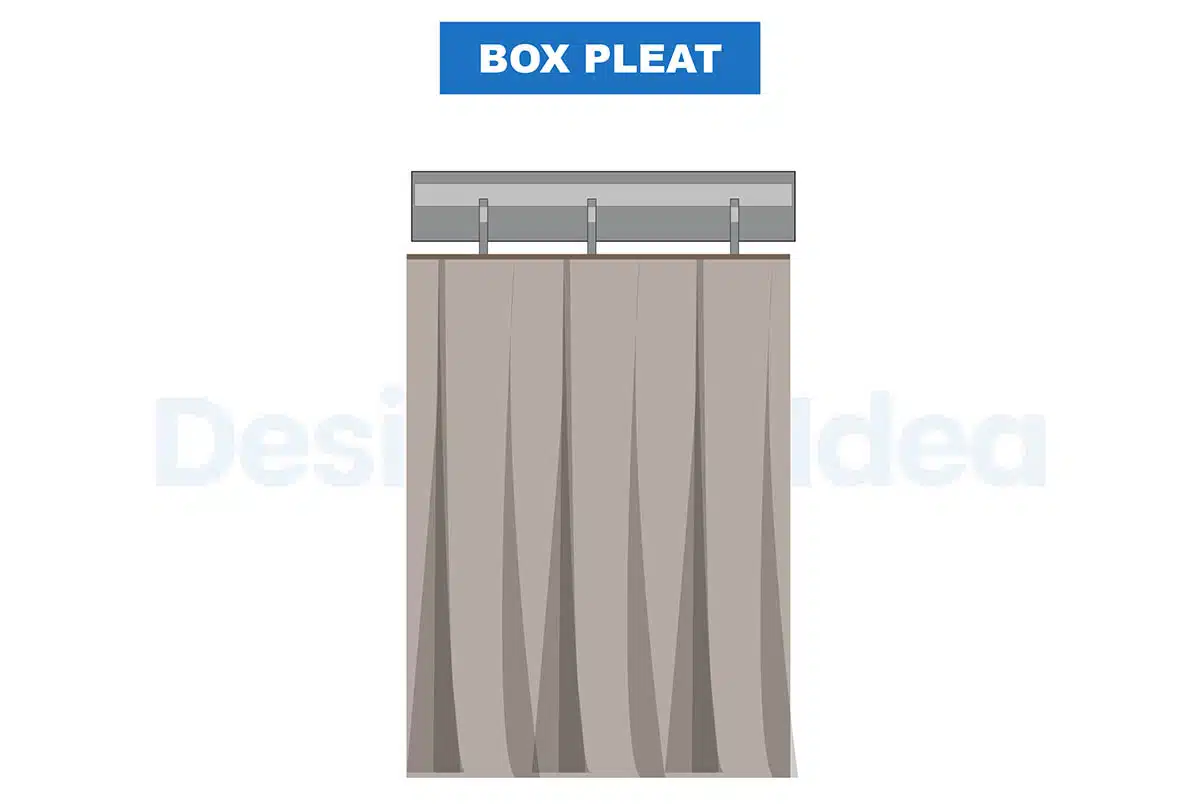 Curtains with box pleats also give off a clean, neat appearance and are pleats made with folds of fabric several inches across.
Instead of being gathered, the fabric is more of a square section that carries down the length of the curtain. This understated pleat works well in bedrooms and home offices.
Pencil Pleat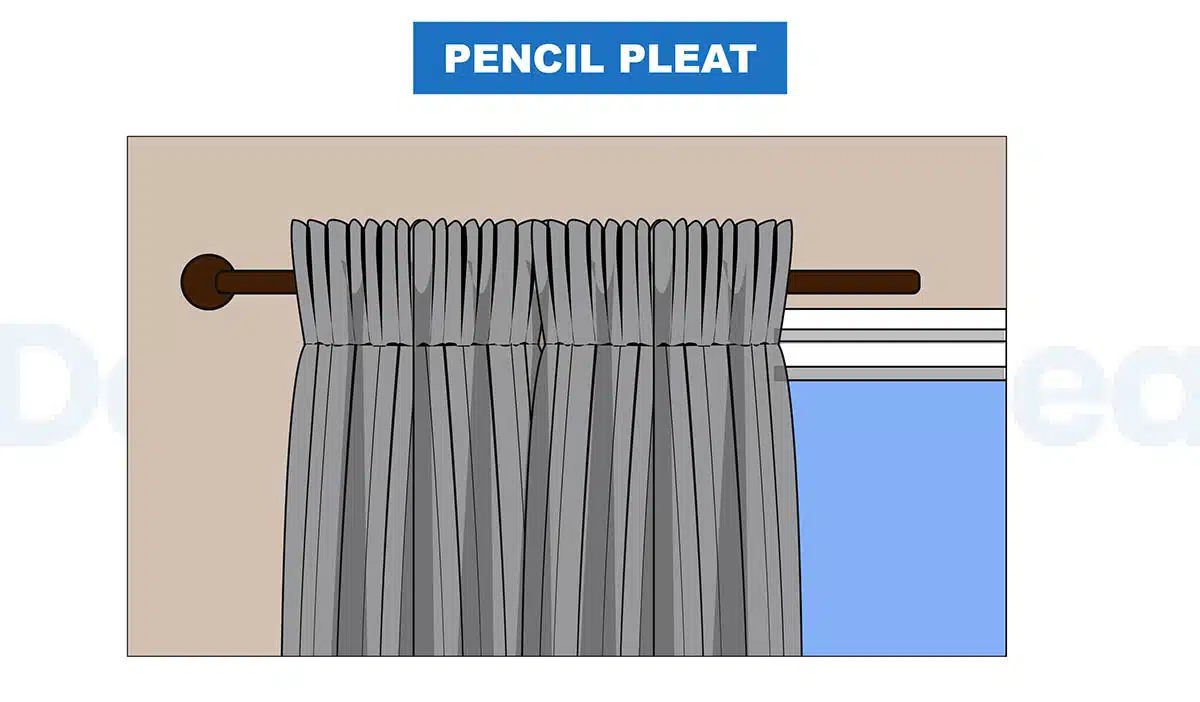 Pencil pleats are long, tightly gathered folds that create a tidy, sleek pleat with a contemporary look. The folds are close and resemble a pencil from where it gets its name.
Those with pencil pleats have drapery hooks attached to the back of the pleat that are hooked onto the rod, keeping them out of sight.
Gathered Pleat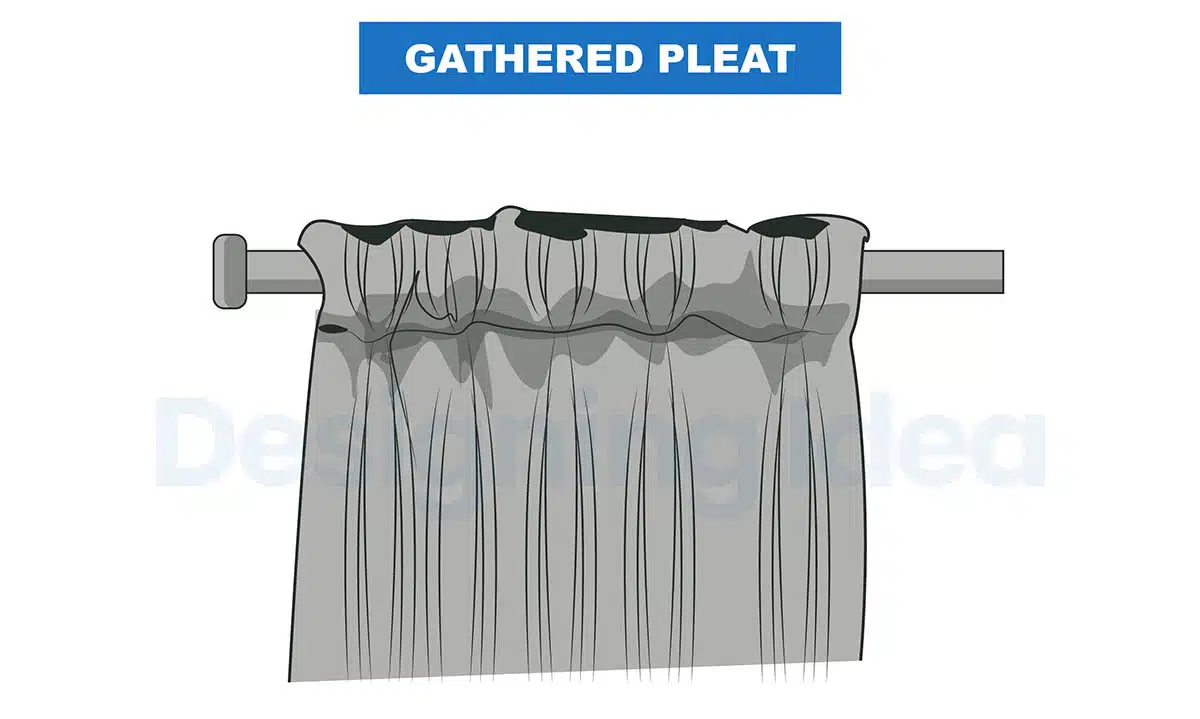 Using the techniques of a pinch pleat and a pencil pleat, a gathered pleat curtain is achieved by sewing a strip of pleating tape to the very top edge of the panel and then pulling the built in cords in the tape to gather the fabric.
A gathered pleat has a free flowing top that almost appears as a frill on the bottom of a skirt. The ruffled look is customized by how tight the cords are pulled. A gathered pleat can create a fun look in a country or nautical room or a whimsical look in a child's room.
Goblet Pleat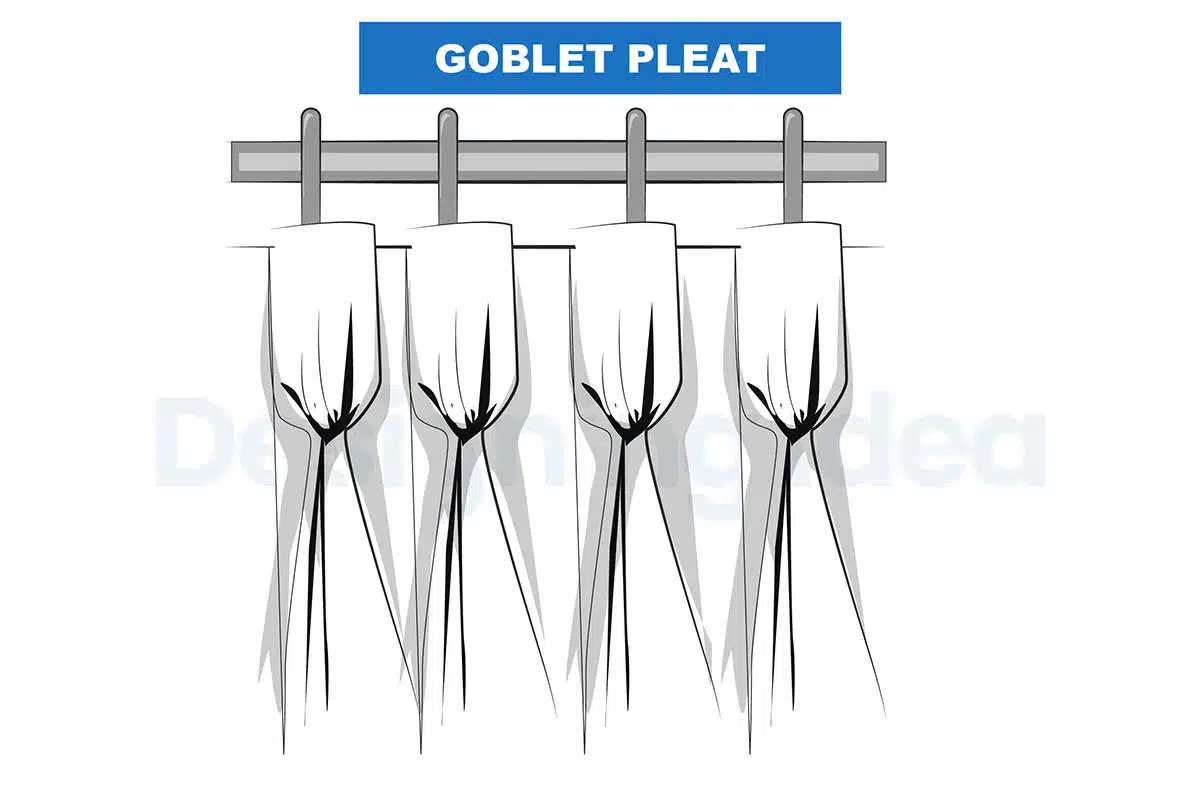 The most royal of curtain pleats is a goblet pleat. For Victorian or Georgian inspired rooms, a goblet pleat is a traditional and formal pleat great for rooms with high ceilings.
Curtains with a goblet pleat have a pleat filled with wadding or an inner lining for depth and hang on a half-circle rod that resembles a wine glass. They protrude from the wall creating a separate space for the window.
Goblet pleats hung from the ceiling above a long window, paired with crown molding create a stunning, captivating style.
Curtain Features
Curtains, depending on the fabric used and style, include additional features that provide extra benefits. Depending on the room, location in a home, décor, and theme, features function to alleviate issues with the window or location of the window.
Insulating
Fabrics such as velvet, acrylics, burlap, and thick, drapery materials insulate a window from cold weather drafts or intense damaging sun. Insulating curtains work for room darkening in bedrooms especially for people who work nights and sleep during the day.
Thermal insulating types can actually save up to 25% off a heating or cooling bill. Other insulating types use a beautiful decorative fabric for the surface and a thermal layer often made with foam or Mylar to line the backside. This insulating layer traps cold or warm air depending on the season.
Noise Reduction
Curtains that provide noise reduction or noise canceling properties are useful for night workers who sleep during the day, a home theater, a home recording studio, or even just to reduce the outside noises of a city residence.
Noise reduction types are surprisingly effective with newer fabrics being manufactured that are able to reduce outside noise by almost 80%.
Noise is greatly reduced by inhibiting sound waves with acoustically dampening fabrics to inhibit vibration and sound waves from freely traveling through the window. They also provide insulation room darkening due to the thick fabric.
Outdoor
Curtains manufactured for outdoor use are heavy materials that are water resistant to prevent mold and weather resistant to increase durability. For outdoor patio types, the fabric may be sheer, yet strong to keep out bugs and let light and air through.
If outdoor curtains are needed to block damaging UV sunrays, the curtain is made from a thicker light-blocking material usually with an SPF factor for UV protection.
Cost of Curtains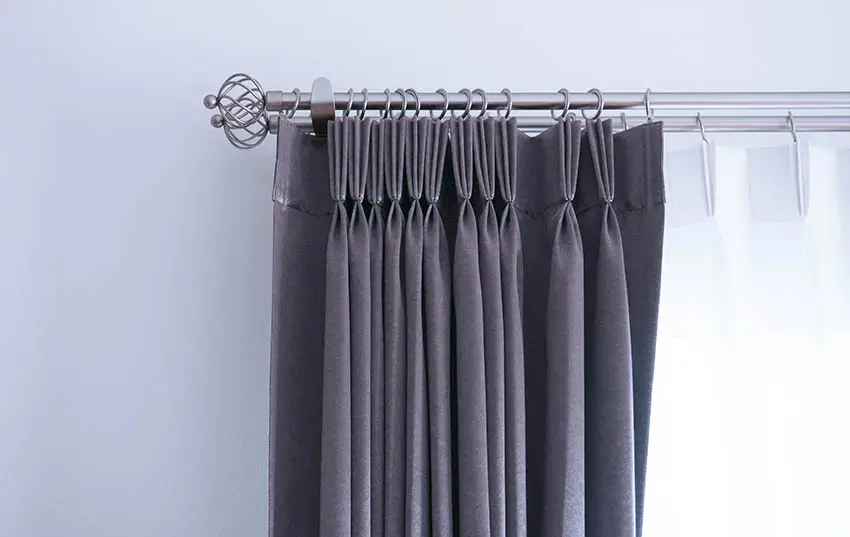 The cost of curtains as well as blinds vary based on the quality, materials, and the way these window covers are made – whether ready-to-hang or custom fit.
Custom made types cost between $250 and $2,500 depending on the materials to be used, style, and the size of the window.
Average cost of curtain per window for different materials
Nylon – $10 to $50
Acrylic and Polyester – $10 to $75
Voile – $20 to $100
Cotton, Chiffon and Chenille – $20 to $150
Lace – $20 to $300
Bamboo and Linen – $25 to $300
Wool – $30 to $500
Velvet – $50 to $750
Silk – $100 to $1,500
Average cost of curtain per window for different types
Pencil pleats – $10 to $750
Pinch pleats and Eyelet – $10 to $1,000
Wave Header – $20 to $1,500
Anti-Ligature – $50 to $500
Flat and Hobbled Roman – $50 to $1,500
Average cost of curtain per window for different type of rod
Swing arm, Continental and Tension rod – $5 to $150
Single rod – $5 to $300
Double rod – $10 to $350
Traverse – $25 to $300
Labor cost for installation usually costs $15 to $150 per window when installed by professionals while other installers charge $35 to $100 per hour.
How to Measure Curtains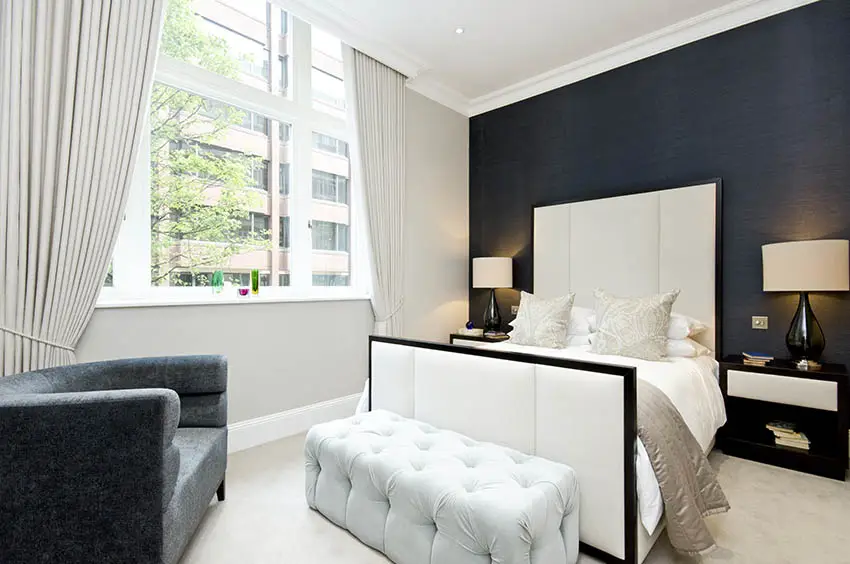 If you have a decorator or an interior design company to measure and install custom curtains, you can rest easy not having to measure curtains.
If you are the one responsible for measuring, you'll want to be sure you figure out exact measurement to avoid receiving curtains that do not fit and can't be easily modified. Below are the tools you need to measure your windows for your new curtains:
• Measuring tape (Metal is best.)
• Pencil (Not a pen. You will erase often.)
• Pad
• Safe step ladder or stool to reach the top of the window
Now that we've gone over all the styles, types, and configurations, the first step to measure properly is to determine what style and hardware you're going to use.
There are different calculations depending on the width of the curtain, length, fabric, and hardware. This is the first and most important decision. Below are steps to determine how to measure each window.
1. Measure the exact outside length and width of the window molding: Not the inside, unless you're installing an inside curtain. Measure carefully and note the inches on the printable worksheet provided. This is your starting point.
2. Determine the length based on the style you chose.
a. For floor length, measure from the top of the window adding several inches for the hardware to sit above the window molding and leave up to one inch before the floor. Choose the length on the printable worksheet provided and write in the length of material needed.
b. Sill length means measuring from the top of the window adding several inches for the hardware to sit above the molding, to the bottom outside of the window molding, or an inch or so below it.
Be careful to allow for the hem and top attachment style so you don't end up with a curtain shorter than the molding.
Again, be sure to include the space needed for the top attachment. Choose the length on the printable worksheet provided and write in the length.
c. Apron length means allowing for extra fabric beyond the bottom of the window molding to allow a smaller window to appear larger. Figure out how much longer you want the curtains to hang and add that to the sill length measurement. Choose the length on the printable worksheet provided and write in the length.
d. Puddle length measurements depend on the amount of fabric you want to gather to achieve the desired look. It helps to have a pillowcase you can run a broom handle in to hold above the floor and let it drag until you like the way the fabric gathers.
Hold the pillowcase against the wall and mark the top of the pillowcase's side on the wall with a pencil. Then, measure from that mark to a few inched above the top of the window molding or once again, the height needed to fit the top attachment for the curtains.
3. Determine the width based on the type you chose.
a. For the width of the window from molding edge to molding edge, take the width you calculated for the actual window molding above and add six to eight inches on each side to allow the curtain panels to gather.
This also avoids panels too small to cover the window molding. Panels that are not wide enough will not close at the middle. Write the width on the worksheet provided.
b. If you want to create a larger looking window, measure as above but add equal amounts of extra fabric for each side. Keep in mind that rods with decorative ends will extend past the edges of the fabric width.
This wider curtain is useful when the pattern or style is a main element in the room and makes a focal point.
c. For curtains that will wrap around a corner, measure carefully from the right side molding of the window on the right and the left side molding of the window on the left side.
It's advised to add at least 12 inches on each side to be sure the fabric, when it wraps around the corner of the wall, leaves enough room to fit properly.
If you're purchasing prepackaged types, the sizes will determine the length unless you're able to shorten them yourself. A good dry cleaner also provides services for curtains that need adjustments made to their length.
Prepackaged panels generally come in lengths of 63, 84, 95, 108, and 120 inches and are commonly 45 inches wide. Ordering custom types allows for custom measurements and styles.
Curtain Measurements Worksheet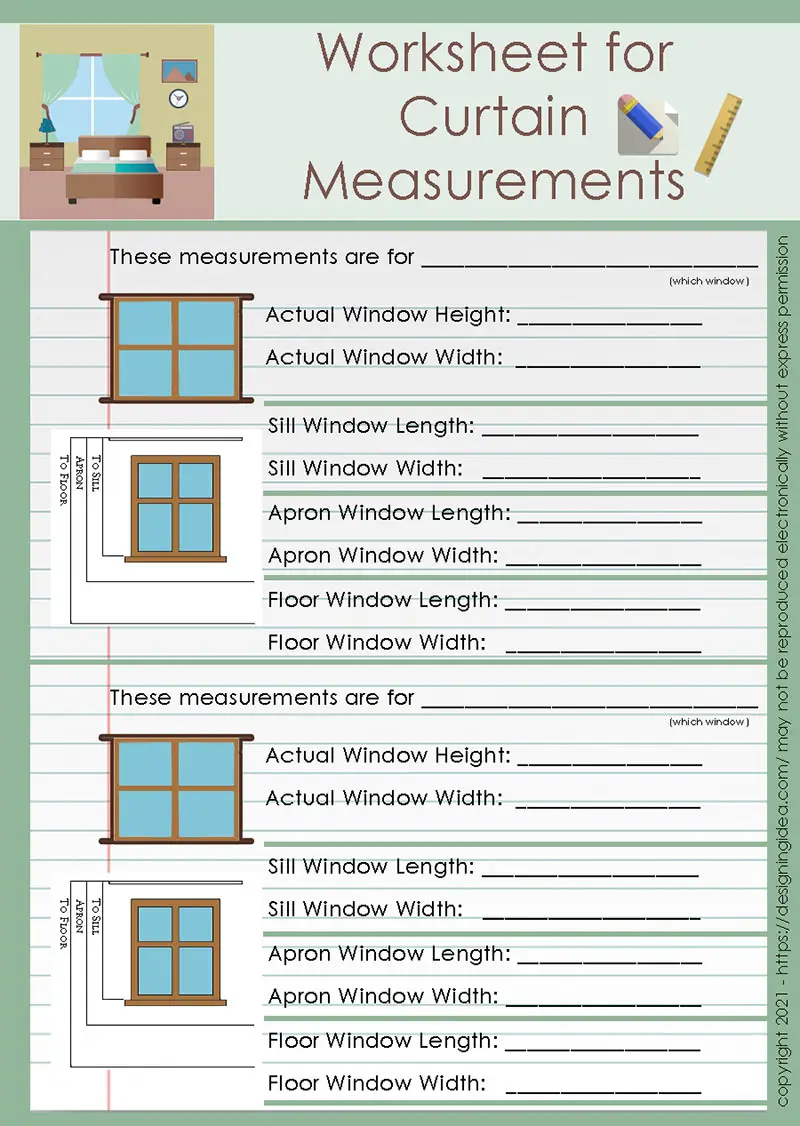 Print out this measurement worksheet to help you record your window dimensions which will help you accurately record the sizes needed for your curtains.
We also have a downloadable pdf version of this curtain measurement worksheet here.
Curtains Q and A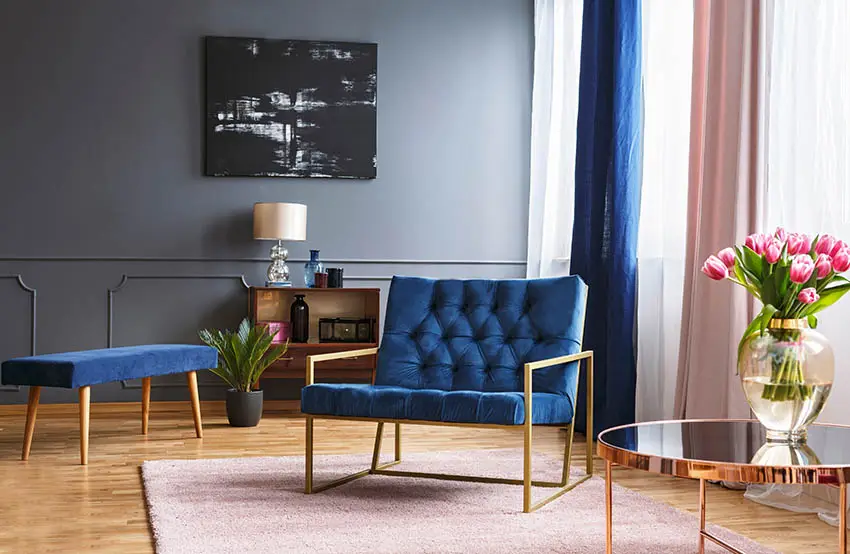 What Color Curtain Rod Should You Use?
Curtain rods aren't typically the highlight of window treatments. If hanging curtains that are Victorian or ornate, a metal rod with ornate ends would blend nicely.
For a bit of contrast, the rod color should resemble the darkest piece of furniture and not blend with the material colors. To blend in the rod and minimize its visibility, choose a color that closely matches the panels and the color of the wall.
If the wall color contrasts with the curtain colors, use a rod that's a neutral color such as grey, beige, sandy, or off white.
How Do I Choose a Curtain Rod Diameter?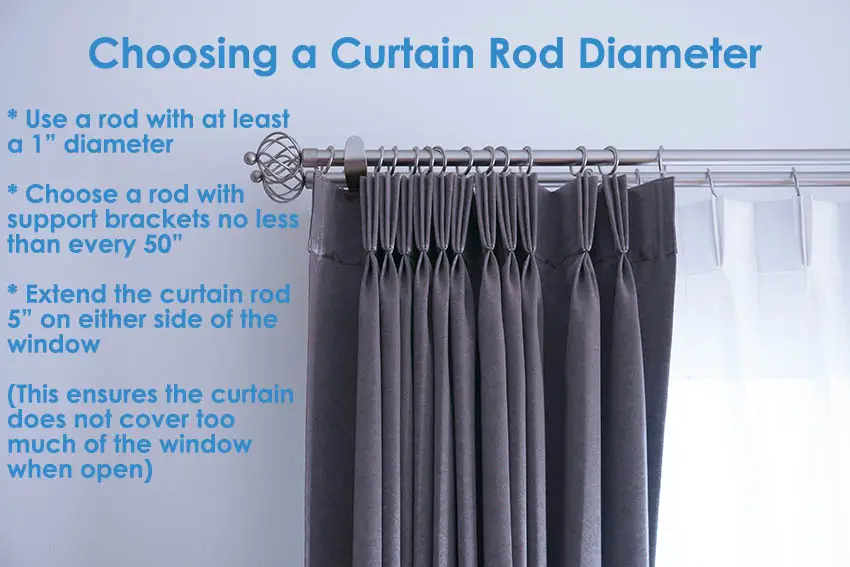 A curtain rod for a rod pocket top should be no wider than and inch less than the height of the pocket and at least an inch in diameter depending on what the rod is made of.
Choose a rod with support brackets no less than every 50″. Hanging heavy curtains on a plastic rod only an inch wide may cause sagging or the rod may break.
It's safer to go with a thicker rod. A metal rod can handle more weight and a wooden rod is less durable than metal. If using a grommet and eyelet top, the rod needs to fit through the eyelet opening.
Extend the rod 5″ on either side of the window. This will ensure that when the curtains are opened they will not block too much of the window.
A tab top type provides more flexibility as the tabs are different sizes and typically larger than grommet and eyelets.
Curtain tops that are pleated and have pins to hang over a rod, require specialized rods or tracks that fit the particular pin.
What Type Of Curtains Keep Cold Out
Curtains to prevent cold air from drafts in the winter include thermal insulating curtains, noise-reduction curtains, and room darkening curtains. All these types of curtains are made with thick fabrics that include linings.
Good window curtains will help you save money, and help keep your home warm and comfortable, too. They reflect heat back into the house and keep warm air away from the cold windows. – Energy Conservation: A Service-learning Resource Package, 1980
The U.S. Department of Energy has stated that curtains can reduce heat loss up to 25% if installed correctly. Tone on tone curtains that include layers of fabric also help curtail cold air from drafts.
Another heat retaining tip is to hang curtains wider than your window frame, as close to the window as possible and let them fall all the way to the floor. This way the areas around the window can be better sealed to prevent drafts.
Where Is The Best Place to Buy Curtains?
The best place to buy curtains depends on your budget, what type of curtains you want, and how handy you are with installing them yourself.
If you're shopping for prepackaged types that won't need modifications, general retail stores typically available for shopping in person such as Target, Wal-Mart, and Bed, Bath, and Beyond, offer affordable options, some packaged with the curtain rod and hardware included.
Many of these retail stores provide a wide range of styles and patterns and if you can't find what you're looking for, they each have websites to choose from additional offerings delivered through mail-order.
If you need custom options designed and created, specialty stores such as Home Depot, Lowes, and other home improvement stores offer in person custom curtain ordering with an associate who walks you through the choices.
These home improvement stores also offer online ordering for store pickup or home delivery. These stores offer moderately priced curtains and expensive window treatment choices.
If you have a wider budget for custom curtains, Macy's and JC Penney offer numerous custom curtain designs you can order in the store with an associate or online for store pickup or home delivery.
Higher-end, custom curtains that are available for online ordering are offered by outstanding companies such as Smith & Noble, Regal Drapes, and Pottery Barn.
Should Curtains Touch the Floor Or Window Sill?
If you hang curtains inside the window frame, they need to be at least 3/8" from the sill to allow them to flow easily and avoid bunching.
Curtains that hang to the floor should be an inch above the floor line unless you're creating a puddle length.
Read more about how high to hang curtains on this page.
What Window Treatments are in Style?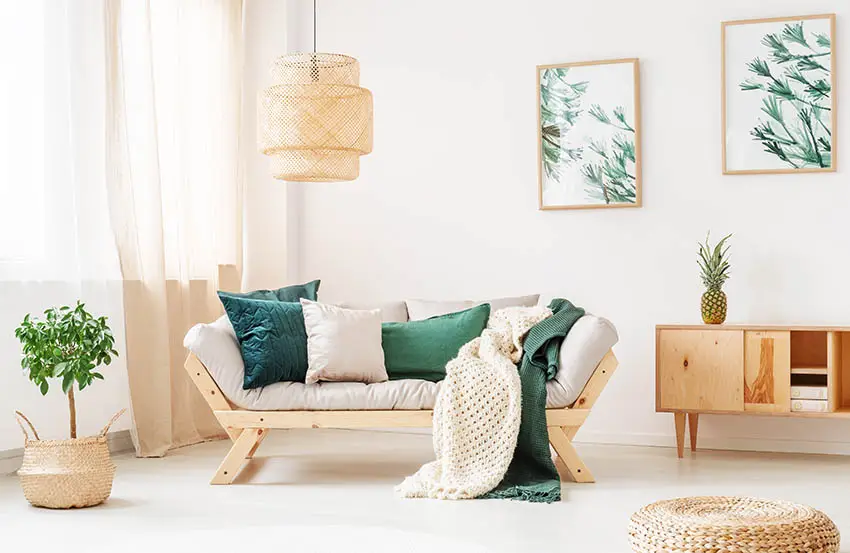 Many home elements include stress-reducing elements to help offset the stress of today's fast-paced world.
While looking for ways to integrate nature in everyday life, homes without a window view of outside gardens benefit from window curtain patterns of floral and fauna against a pastel color background to bring the outside enjoyment inside.
It's calming and relaxing to stare into reminders of the simplicity of nature. Curtain fabrics and shades with these gentle patterns are good for kitchens, bedrooms, and bathrooms.
Nautical designs are also good for relaxation and windows with wooden slatted blinds and sheer beach-themed curtains make for a peaceful den or living room.
Fittings and curtain rods aren't meant to be the star of the show, use decorative and artsy curtain rods complement the curtain fabrics and style.
Shiny metals are popular including mixing two different metal tones such as silver and bronze. These stylish hardware choices complete many window treatments.
For a modern and simplistic look, designers are directing homeowners to different types of blinds and shutters with large slats and bold colors. Shutters offer simple operation for window coverings and come made with wood materials that resist moisture.
Modern blinds often run from floor to ceiling or reach only ¾ of the way up a window from the floor, leaving permanent natural light at the top while still allowing for privacy. Gone are the days of white and brown.
The color trends are colors such as dusty blue, peach pink, subdued yellow, and rich silvers. Many blinds and shutters are going the way of eco-friendliness made with bamboo, reclaimed wood, and recycled materials.
The agreed climate for window treatments includes go with what you like, think different and interesting, and promote green practices that improve and protect the world's ecosystem.
Are Valances out of Style?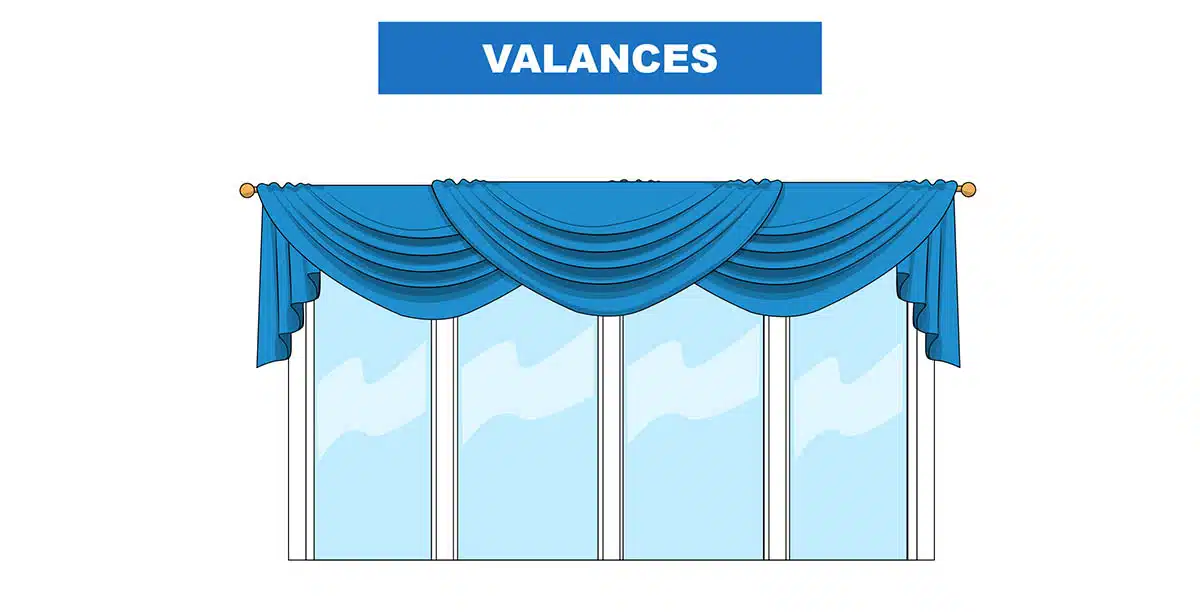 Just the word valance causes visions of puffy, white, outcrops on the tops of windows that resemble a rotund chef's hat. Valances are often made from cheap materials and gaudy fabrics.
The short answer? Yes, valances are out of style.
However, if you still want to use valances on your windows, consider the advice of many interior designers: spruce up the look of the valance you choose.
Valances, reinvented, are making a difference and beginning to erase their dated connotation. Layered fabrics, simple designs, and classy hardware along with the proper choice of fabric allow valances a place.
Should Curtains be Darker or Lighter Than Walls?
Depending on the room style, curtains can be darker or lighter based on the wall color and look you're wanting to create. Contrasting colors may mean dark blue walls with light yellow curtains for an eclectic, modern look.
Complementing colors such as sandy-colored walls and sheer curtains donned with beach scenes create a soft, peaceful style. The dark or light tone of your curtains depend on the design style you choose.
What is the Best Length for Bedroom Curtains?
Floor length curtains are a classy way to go for bedroom windows. They provide the most privacy and a comfortable, cozy feeling.
Be sure to leave a bit of space, maybe an inch or less, before the curtain hits the floor to protect the material from dirt and dust. If there's a radiator under the window, do not hang the curtain below the top line of the unit. This creates a fire danger.
Letting the curtain hang a few inches above the radiator won't look awkward. If you hang curtains higher than an inch or so from the floor, without an obstruction on the wall below the window, the curtains will look like they were measured incorrectly.
Floor length curtains may not be good for a toddler or small child. They tend to scatter items easily and could become tangled in the curtain posing a hazard.