See different styles of side panel curtains including what they are, where to use them, benefits for doors, different types, sizes, rods, & measurement tips.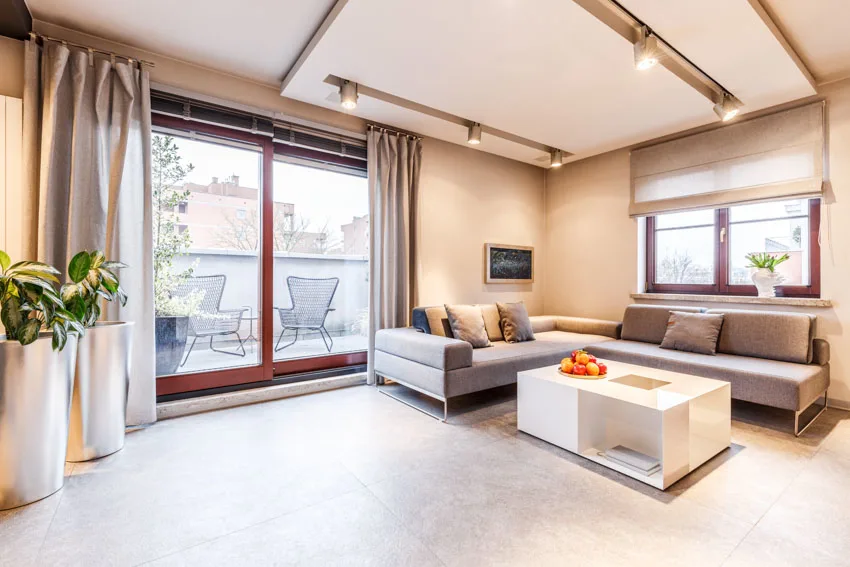 One way to really dress up any room in the home would have to be through the use of curtains or drapes. You get to control the amount of light that's coming in, how much privacy certain rooms in the home will have, and even elements of design that it can inject into a room.
Side panel curtains come in two variations: as is, and an extra layer to full on curtains. Some side panels do close though, for added privacy; and then tied to the sides when you want the windows framed open.
When looking around or shopping around for side panel curtains, it can be confusing as there come in a myriad of varieties. Even the names they come with can even be confusing.
They are at times called side panel curtains but they also come with different nicknames such as theater curtains, stage curtains, and so on, but the concept is all the same.
Side panel curtains are designed to open and close from the side, making light control and privacy completely adjustable depending on your preferences at a certain time.
What Are Side Panel Curtains?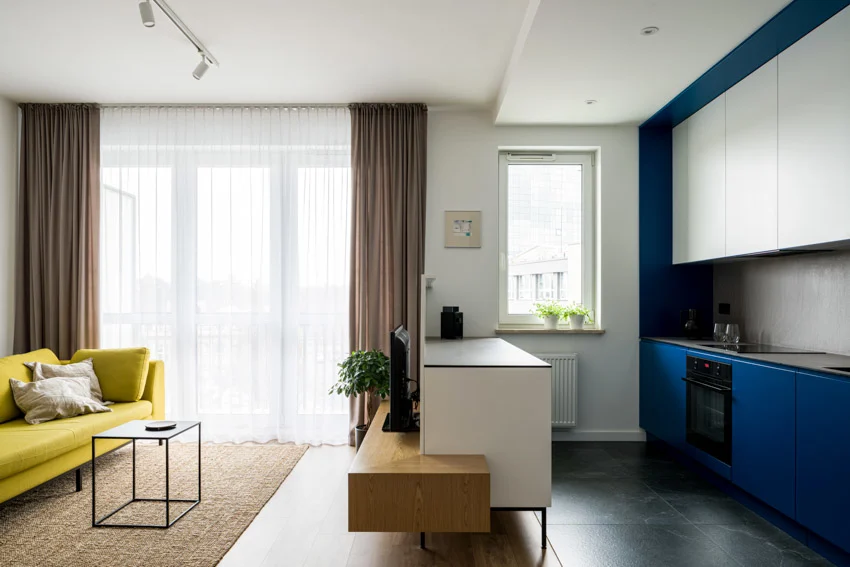 Side panel curtains are usually heavy types of fabrics that are primarily decorative but they can also quite easily be functional. It's easy to loosely interchange full on curtains and side panel curtains. But they do have differences.
These types of curtains are interchangeably called rear setting curtains or back curtains as well. They are usually paired along with main drapes.
Side panel curtains are theater-style curtains that open up and close from the sides. They can have a wide range of variety. Some come in layers of fabrics, some can have legs, borders, or even backdrops.
They can come in widths ranging from 50 inches to 58 inches. Some can come in double the width, some up to as much as 108 inches. But still, the mainstay standard is at 54 inches wide.
Regular-sized windows are at 30 to 36 inches wide. It would make sense and look elegant to have side panel curtains that are at 54 inches or at least something so much wider than that.
They can also be considered as drapes. They can usually be moved with a baton or some sort of traverse. They may come in stationary panels that can simply frame a window. They can also come with a pleated top attached to a drapery rod or a curtain rod.
Where To Use Side Panel Curtains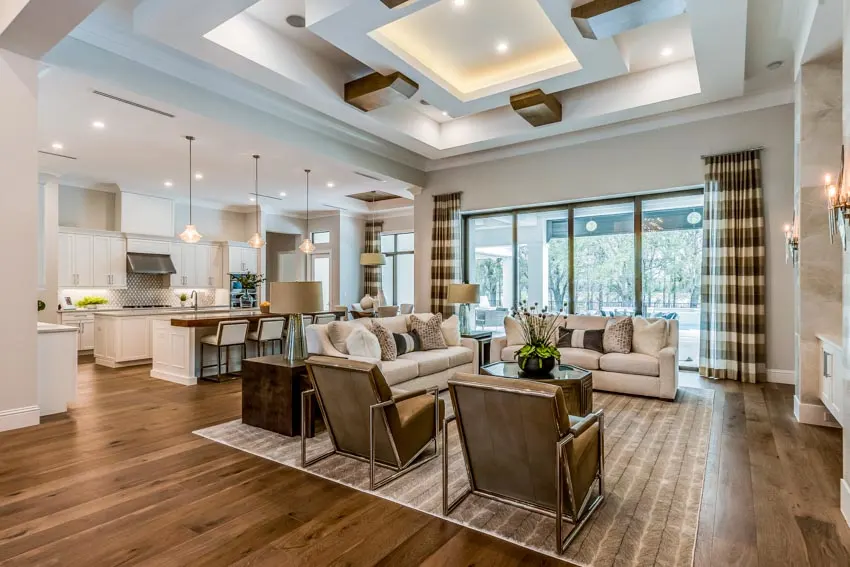 As per the standard, side panel curtains usually hang on both sides of the window. The typical height from where this is hung is usually halfway between the ceiling and the top of a window casing.
This, however, is only applicable if the distance between the ceiling and the said window casing is at 12 inches or more. Read more about how high to hang curtains here.
Side Panel Curtains For Room Windows
As mentioned you normally mount side panel curtains on both sides of the window.They can be used in any room in the house, and work beautifully for large or small windows alike.

If your choice is to go the nontraditional way, you can choose to have your curtains on just one side of the window. This is a great way to put in a contemporary flair or design to your window treatments. It makes it look more modern or more current.
Another option is for you to hang these curtains directly from the ceiling or right under it above your window. It can completely transform the look and feel of the room that you happen to be redecorating.

This placement can make the room appear taller and with the illusion of having more space. Although, this isn't recommended if you happen to have pets and children at home as they might end up getting caught up in the long side panel curtains.
The excess fabric could result in accidental strangulation and these are accidents that you might want to avoid. If your purpose is to create the illusion of space, don't tie your side panel curtains to the side. Instead, allow it to hang vertically so it may serve its purpose.
Front Door Side Panel Curtains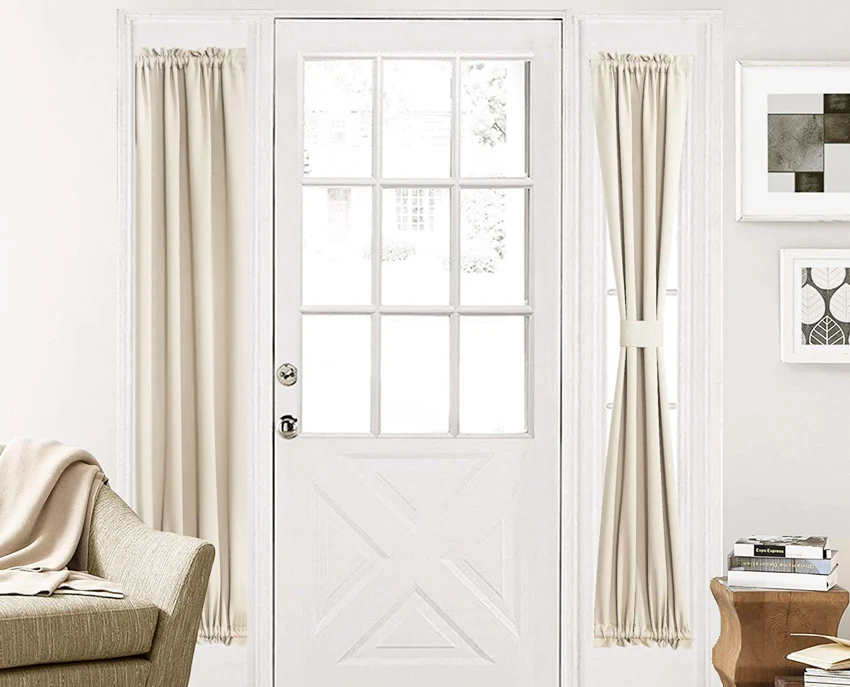 See this side panel curtains for front doors at Amazon [sponsored link]
Hanging front door side panel curtains is a great way for you to enhance your entryway in the home. There are a lot of other ways for you to do this from painting the door a fresh coat of paint, to having some sort of decorative glass fitted, and so on.
However, adding side panels to your front door side windows (sidelights) can bring your entryway design to a whole new level. There are lots of benefits that you can get out of this.
More privacy: One of the top benefits of getting front door side panel curtains is the added amount of privacy it can provide you with. This is particularly fitting is half of the door is fitted with some sort of glass.
Even if you have glass that's frosted or has some level of obscurity, people from the outside can still make out shapes and colors that are coming from the inside. Hanging these curtains up by the front door can help take care of this.
Draught management: Draughty doors can lower your home's energy efficiency and it can impact temperature control from inside the home especially during the cold or hot months.
Curtains made from heavy fabrics can take care of that. The heavy weight of the material can stop air from coming in and out of your home. An additional benefit to this is that you match it with your entryway's décor.
Visual appearance: This always comes into play for as long as there are curtains involved and this is something that you can use as leverage for when you're trying to treat your front door with these curtains.
Side Door Panel Curtains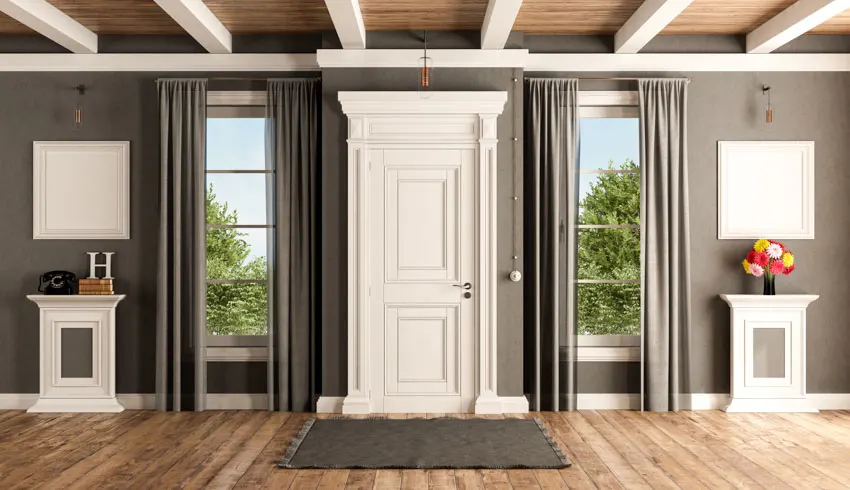 Side doors provide entrance into the home other than the front door. A side door is critical for when you're trying to ensure that your home has ease of access other than the main one.
This is great especially in the case of emergencies or for when you're trying to bring groceries into the home without ever having to pass through the main entrance of the house.
If you have a side door, this means that your home will turn out to be easily accessible. Putting up panel curtains in your side doors will ensure that you have added privacy, you get to control the temperature inside the home a bit better, and you're also able to improve the overall visual appearance of your side door.
Types Of Side Panel Window Curtains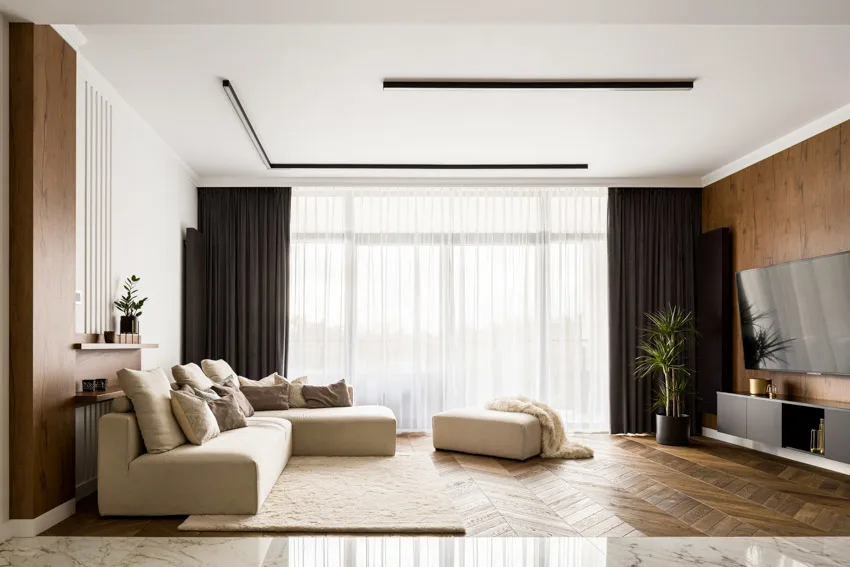 Here we share the different side panel types of curtains for windows.
Sheer Side Panel Curtains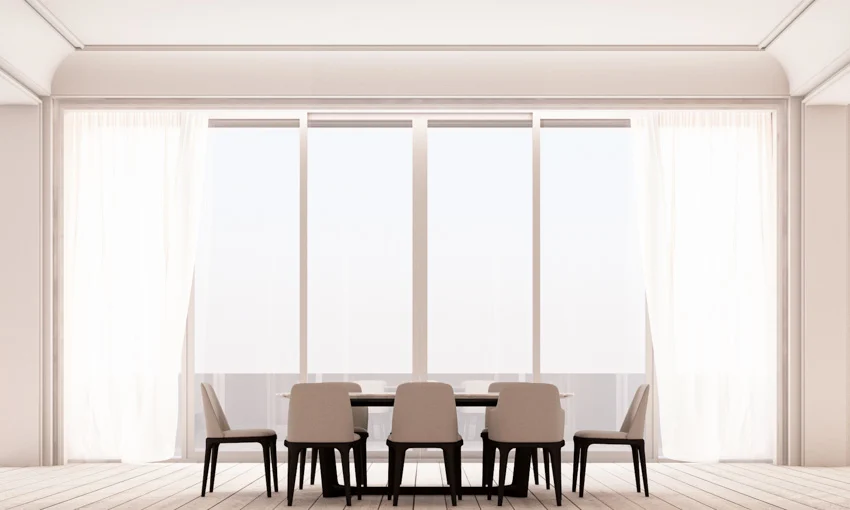 Sheer side panel curtains are great for when you want to take advantage of the natural light coming from your windows. The look they create is something soft, bright, and outdoorsy.
At the same time, you still get to have a certain level of privacy that provides a sense of protection not just from outsiders but from dust and insects coming from the outside as well.
Most of the sheer curtains are made out of polyester. This is a fabric that's very cost-effective and environmentally friendly. They're not only budget-friendly, they also offer a certain amount of light filtering, but also a certain versatility with the design.
Blackout Side Panel Curtains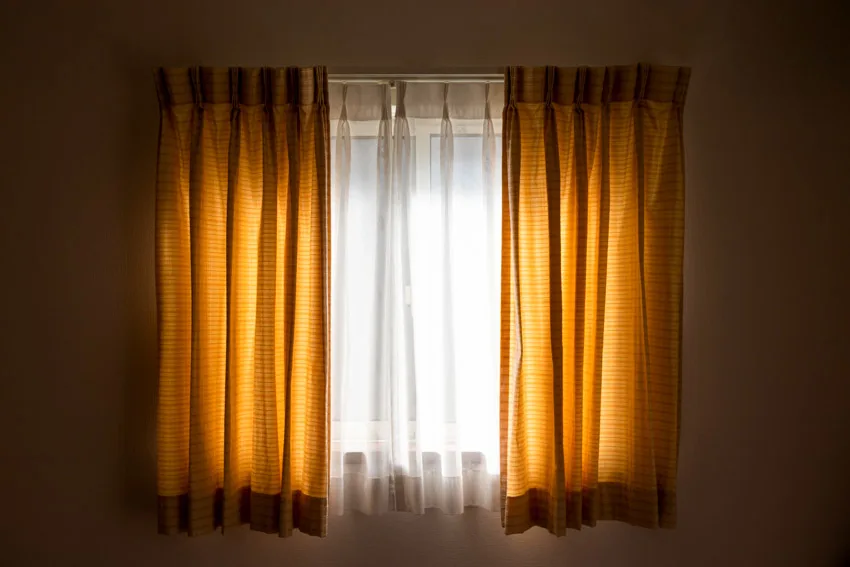 The main benefit of blackout side panel curtains is that as the name suggests, they block light out from entering a room. Even during the cold winter months, the glare coming from both natural and artificial lights outside can permeate inside a room.
This is something that your blackout curtains can take care of. They're helpful in inducing sleep because of their excellent light control, and interestingly, they can also be great for noise control. If you happen to be living in a busy city area, they can work immensely well for you.
You can layer sheer and blackout curtains to give you light and privacy, and darkness when you need it.
Decorative Side Panel Curtains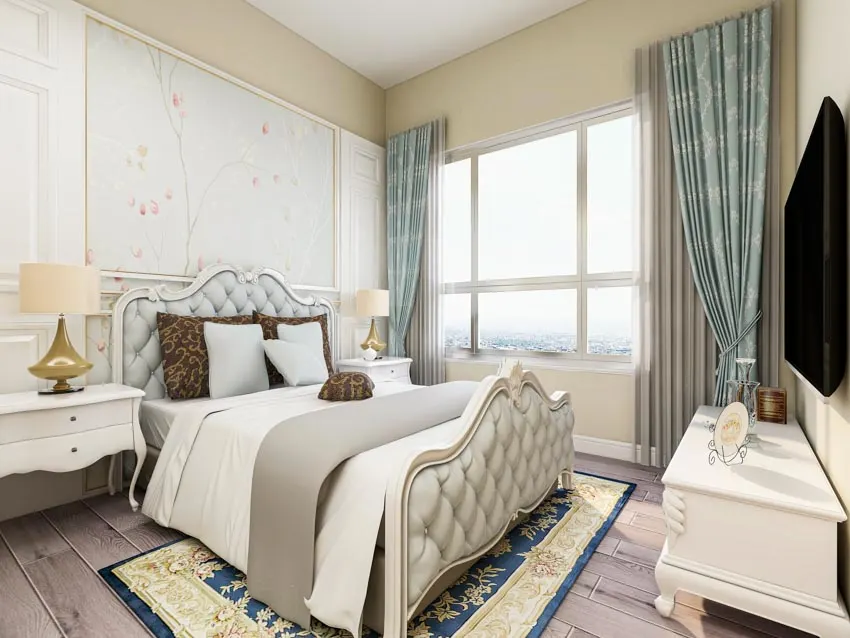 This type of curtain's main goal is to improve the overall design and appearance of the room that you're redoing or redecorating. You can easily add flair, or even make the design cohesive by using whatever fabrics will match your existing furniture and other elements in the room best.
These curtains are great for adding layers to your existing main curtains as well. This can really make all of the difference in the world for when you're doing the room up.
Double Sided Curtain Panels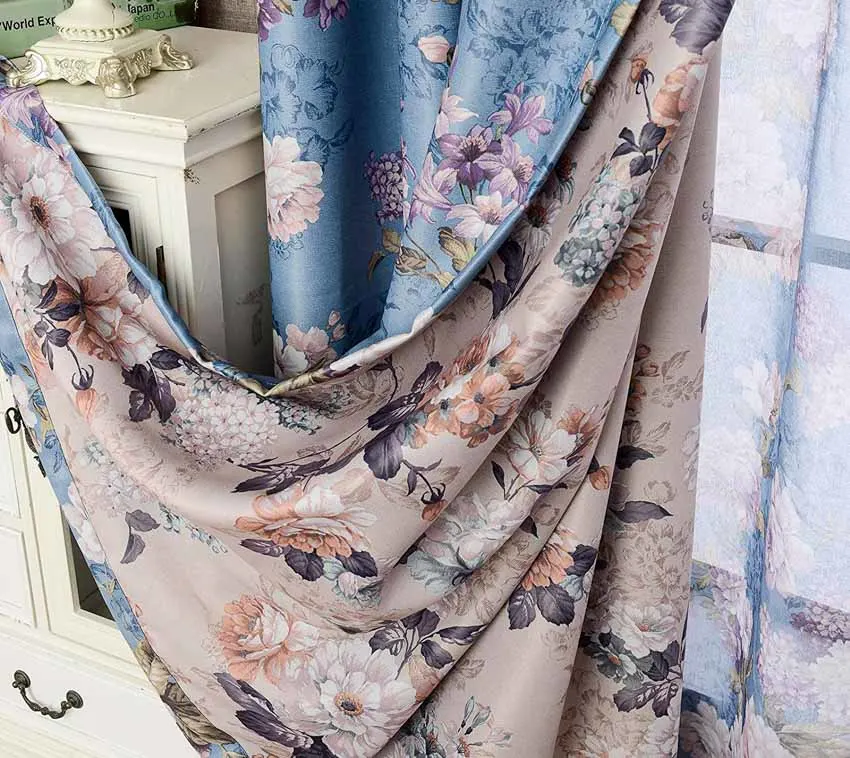 See this double sided, side panel curtain set at Amazon [sponsored link]
Double sided curtain panels add an unexpected flair to your windows and your existing main curtains. You can play around with the design as much as you'd like. You can go with contrasting curtain colors, or even play around with patterns, and varying types of fabrics.
They can offer up a modern and versatile look without trying too hard or without ever having to crowd up the look and feel of a certain room or space in your home.
Side Panel Curtain Sizes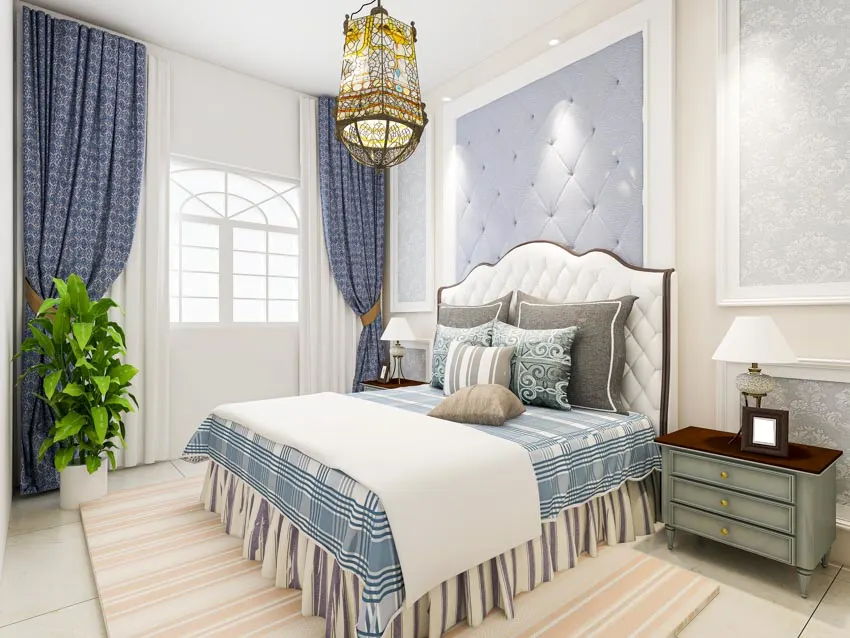 All draperies and curtains come in standard sizes. Side panel curtain sizes are the same. Just like with different types of windows, there's a standard measurement for the length of these curtains. This is a measurement standard that's being followed by all interior designers and architects.
The most common sizes recognized are at 63, 84, 95, 108, ranging all the way up to 120. The widths can vary as all window measurements vary but the most standard ones come in 54" widths.
One curtain panel couldn't cover up the entire window in most cases and this is why you would usually need two or more per window to get the proper coverage.
Most standard-sized side panel curtains come premade. This means that these are side panel curtains that you can get from the malls or most home stores. They can come in a wide variety of designs and styles from the sheet ones to the blackout ones, and even to the double sided ones.
If the room that you're designing comes with low ceilings, you should never go for side panel curtain sizes ranging from 84 and above. In most cases wherein ceilings aren't low but are instead of standard height, the most recommended sizes would be at 96 and 108 sizes.
Side Panel Curtain Rods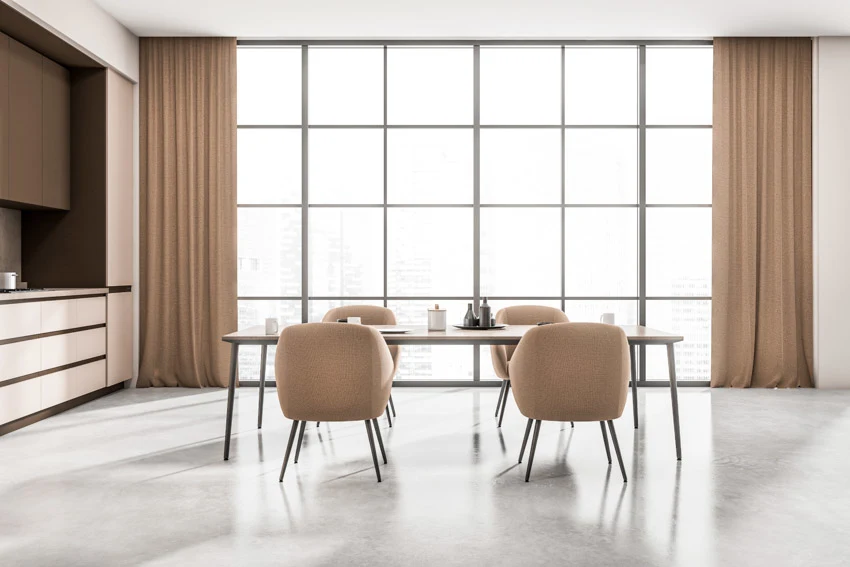 The general rule of thumb for the length of curtain rods to be paired up with side panel curtains is that they must be wider than the actual width of your window frames.
This will ensure that you will be able to efficiently pull these curtains over to the sides which can help make it look bigger and appear wider and airier.
As a standard, your side panel curtain rod sizes should be around 8 to 12 inches longer or wider than the width of your window frame from one edge to the other. This will give you an allowance of 4 to 6 inches per side.
How Do You Measure A Side Panel For Curtains?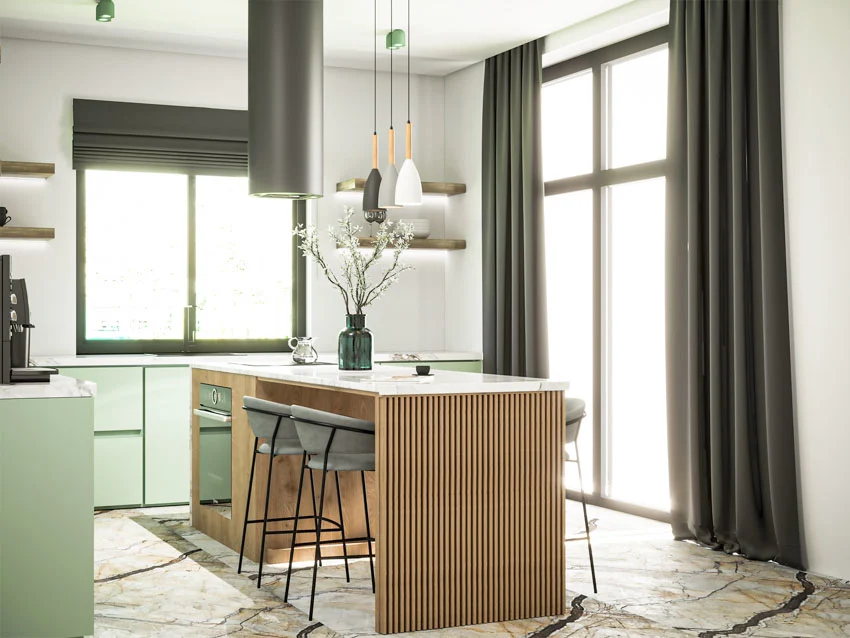 Measuring a side panel to get curtains fitted isn't as complicated it sounds. It's actually something that you can even opt to do yourself, should you so choose it.
Here are some basic steps that you can take on in getting this done:
• Measure the width of your window frame from one edge to the other. Make sure that you don't include the casing in your measurements while you're at it.
• Add an allowance of 6 inches per side. This totals to a measurement of an extra 12 inches for the width.
• Lastly, you need to make sure that the total number you've calculated (the width you've measured with the extra 12 inches you added to them) is divided by the number of side panel curtains you would like to be made for your side panels.
This will ensure that should the side panel curtains be left to hang vertically; they will cover the entirety of your side panel windows.
See more related content in our article about the different types of kitchen curtains on this page.