Welcome to our gallery of tile shapes, including interior design ideas for flooring, kitchen backsplash, and bathroom showers.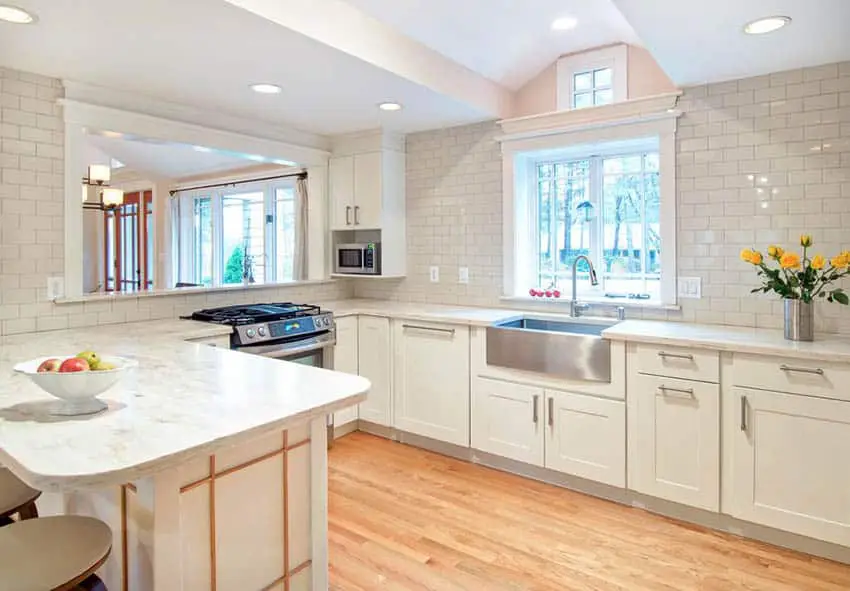 When selecting tiles there are many different decisions you will need to make. Some of these includes tile shapes, sizes, colors, patterns, and materials to name a few. Here is your guide to tile shapes to help you select the right one for your design project.
Tile shapes are important because they will change which patterns you can and cannot use based on the shape of the tile and you own personal preferences.
Some of the most common shapes are listed below, but keep in mind if there is a custom organic or geometric shape that you wish to have, there are custom options at a premium price. Visit our page about tile patterns and layouts for more details on ways to get the exact design you desire.
Square Tiles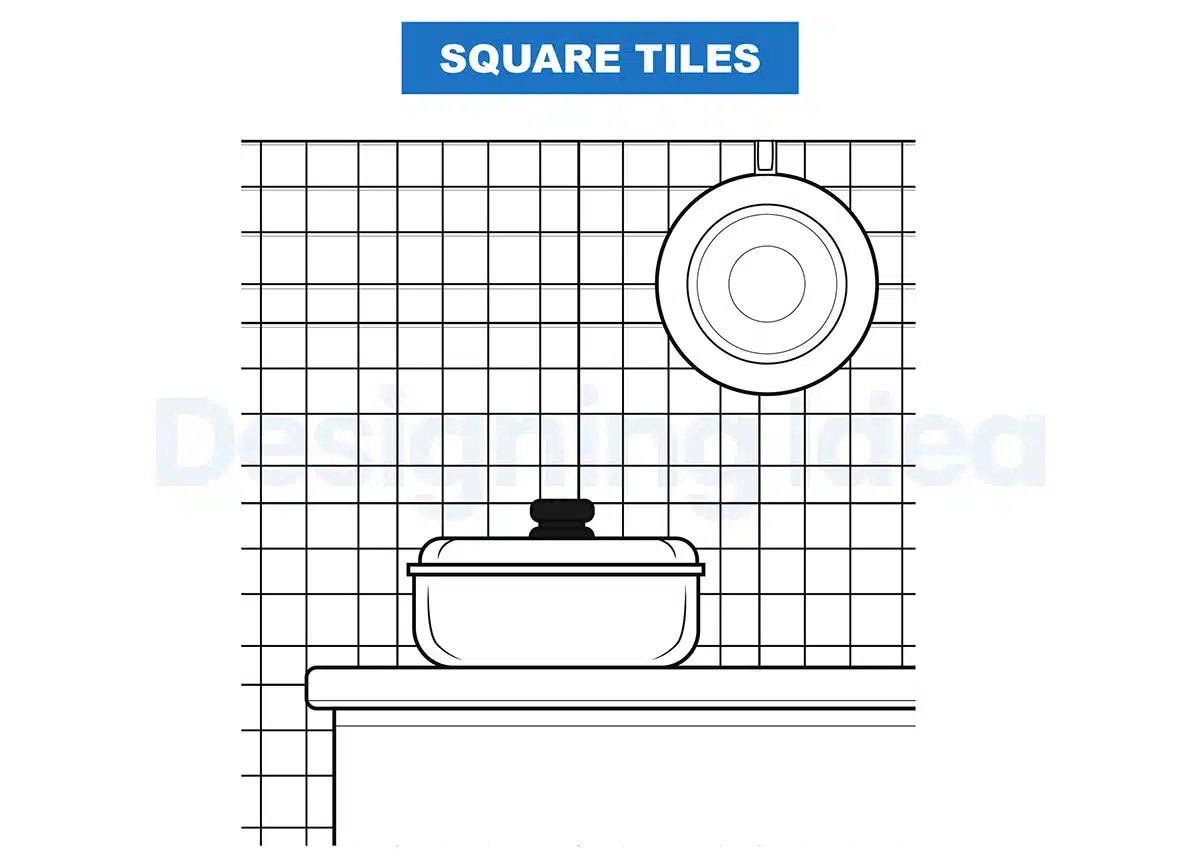 Square tiles are simply that, a shape with four equal sides and angles. In this case that simplicity it a good thing because it allows for monumental amounts of complex features and customization to enhance the tile and make it uniquely its own.
Sizes will significantly vary with square tiles. Some of the common sizes will range from 12" by 12", 18" by 18" and even a larger 24" by 24" pieces.
They can even more uniquely be oversized or shrunken. 4" by 4" and 6" by 6" tiles are also commonly used when seeking accents, borders, or other decorative inlays.
Mosaics are also used with the square tiles, these being even smaller than the decorative pieces ranging from 1" by 1" to 2" by 2".
To make the mounting and styling simpler these pieces are often mounted with a mesh backing for easier installation. In addition to the vast array of size that are available, the same goes for the materials that can be used.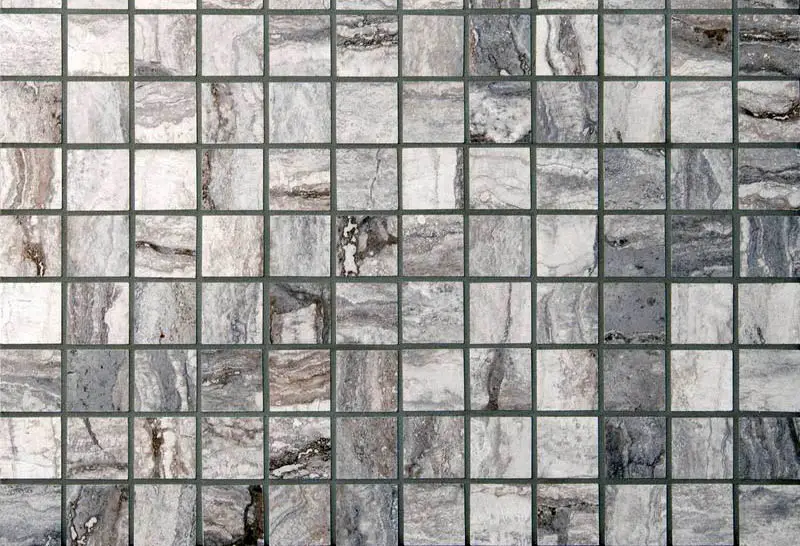 Tiles can come in anything form ceramic, porcelain, glass to marble. There are differences between ceramic and porcelain tile such as durability and cost which can impact your buying decision.
Choosing a material is where it may be tricky, and things may need to be a custom order due the in stock options only being certain combinations of sizes, colors and materials.
Rectangular Tiles
The rectangular tiles will follow suit very similarly to the previously mentioned square tiles. The shape is pretty simple, therefore, will allow for a variety of sizes, colors and materials.
Some of the most popular sizes will be the 3" by 6" which are typically referred to as subway tiles and the 12" by 24" commonly referred to as the field tile.
In addition to those, there will be options such as the plank, which is typically 6" by 24", a longer variation of the subway tile at 6" by 12", and there is also different mosaic styles available as the square ones were, on a mesh to make for an easier installation.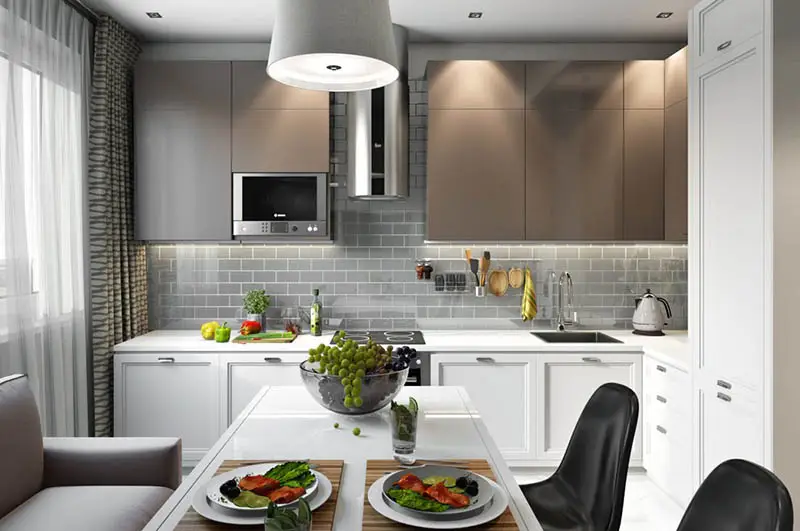 When it comes to rectangle tiles, there are multiple subcategories telling a little more detail about each particular size and layout of the tile.
Subway Tile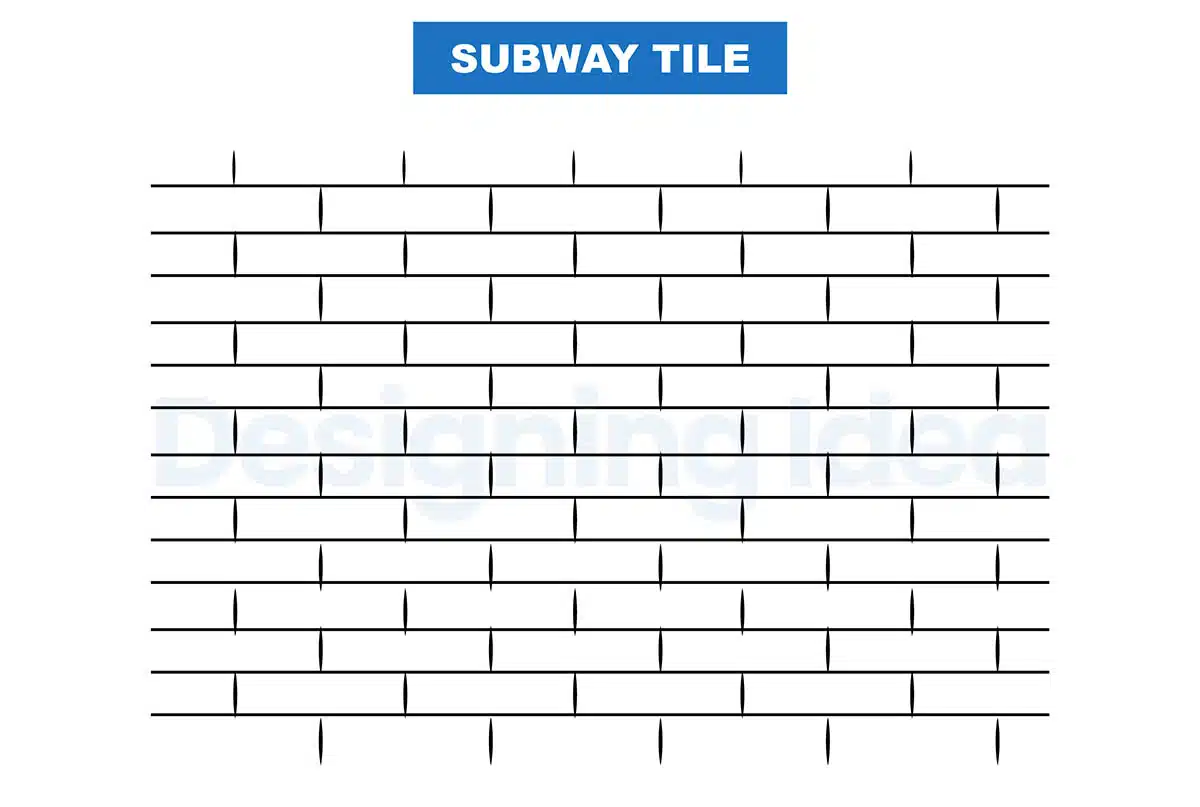 Mentioned above is the rectangular subway tile kitchen backsplash. The name originated from the vast installations of these tiles in the New York Subway stations. With many people traveling in and out of New York Subways stations daily, the association and name stuck instantly.
While thinking about a subway station doesn't ring with ideas of elegance and sophistication these tiles, when placed in homes, can add just that. Their versatility and ability to be used for many different design styles is one of their main advantages.
As mentioned, this subway tile is in the rectangle family and will have widths of anywhere from 1" to 4" and the length in 4", 6", 8" and 12". These will give a variety of different looks while still reigning true to the subway tile itself.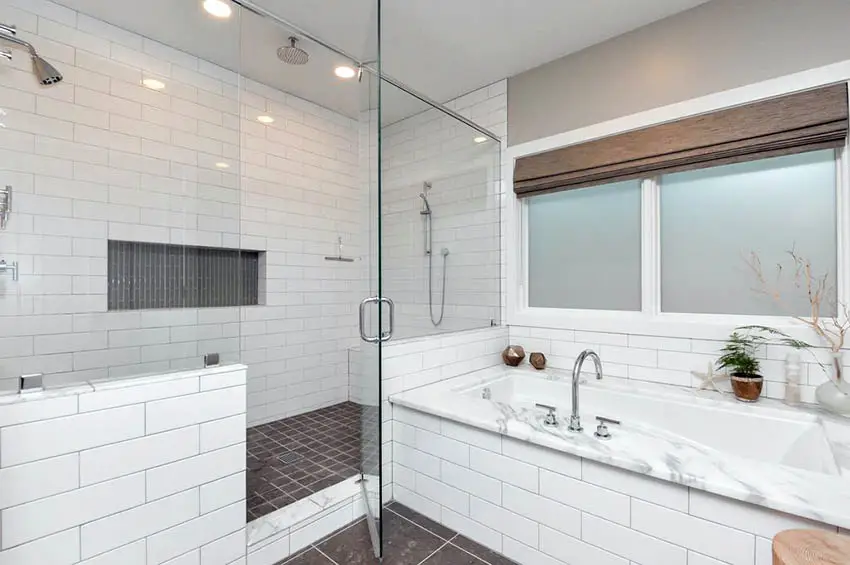 Due to the shape these are often used on walls versus instead of flooring, and make great backsplashes in kitchens or bathrooms and can be put in many different patterns.
Mosaic Tile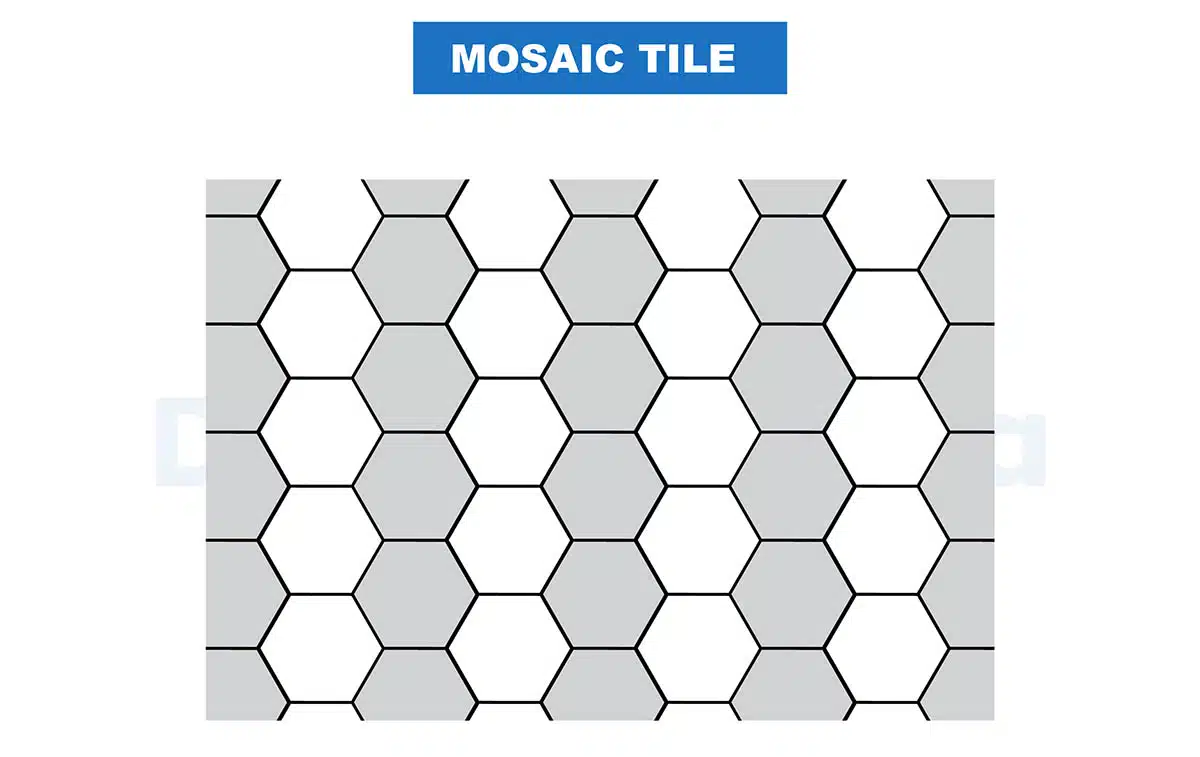 Mosaic tiles will be a subcategory of almost any shape of tile. These types of tiles have been around since ancient days and have withstood the tests of time to stay popular in home design to this day.
Mosaic tiles will be determined by their small sizes, usually around 2" to as low as ½". Due to the small sizes mentioned and the availability in almost any color and shape imaginable, mosaics are timeless and can be used in a large array of different spaces.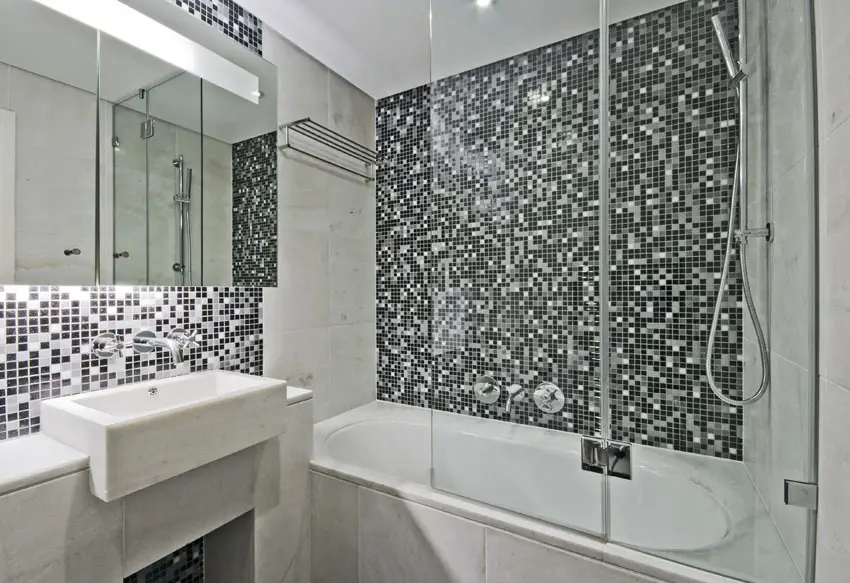 Whether it is an entire bathroom or just a small border or inlay a mosaic will add a huge impact on the space.
Penny Tile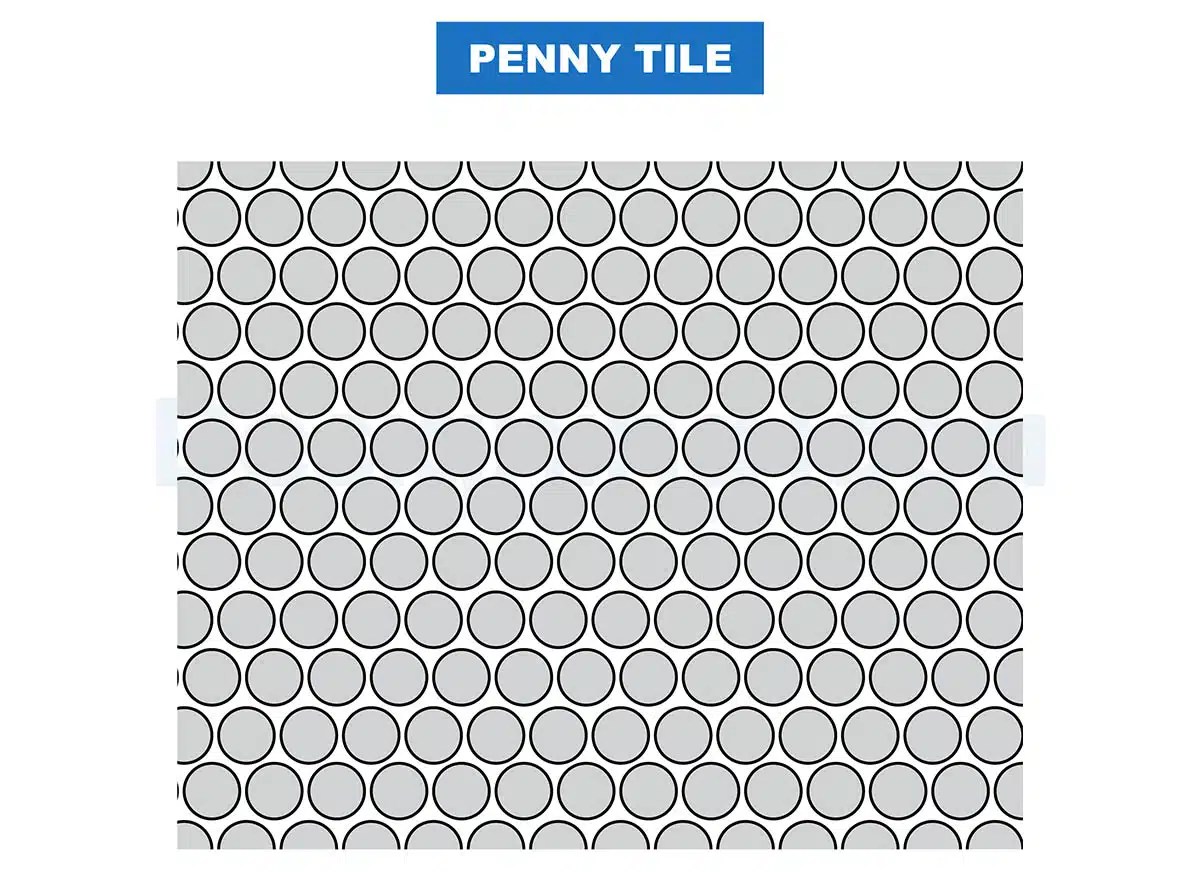 The penny tile will be easier to identify by its name since it takes the appearance of what its named after, a penny. These tiles will be small circles about the size of your loose change.
This circle style is gaining popularity, starting in just neutral black-and-white combinations now opening up to large range of colors as well as finishes and materials.
The downside to using a circle tile instead of an edged piece is that it will require more mortar. This can be used as an upside though if you take in the added slip resistance and the look that will be added with more mortar.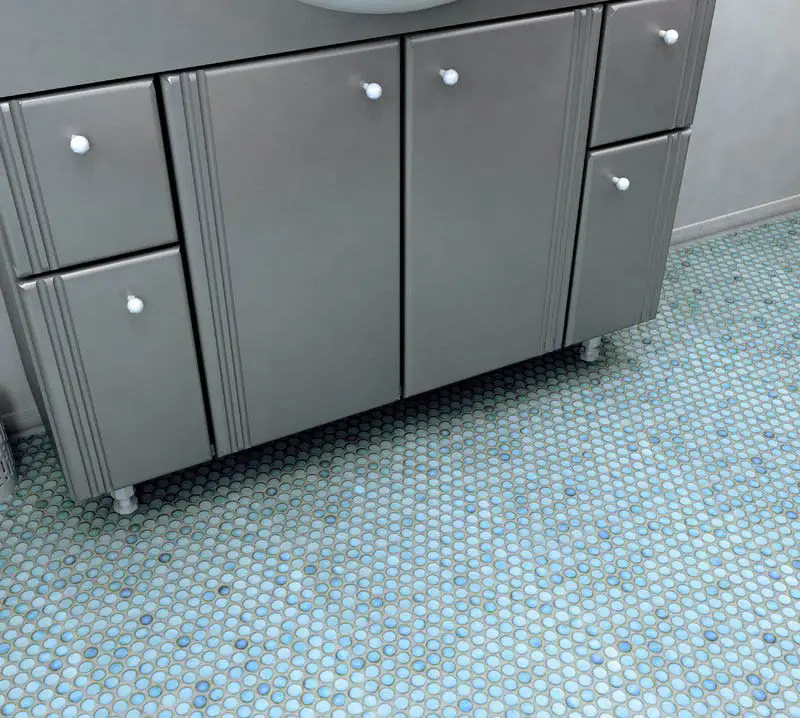 Selecting the proper color mortar will be an extremely important part in situations such as this. Due to the size, these are often placed on a mesh back or other sheet, similar to mosaic pieces, to make for an easy installation.
Octagon Tile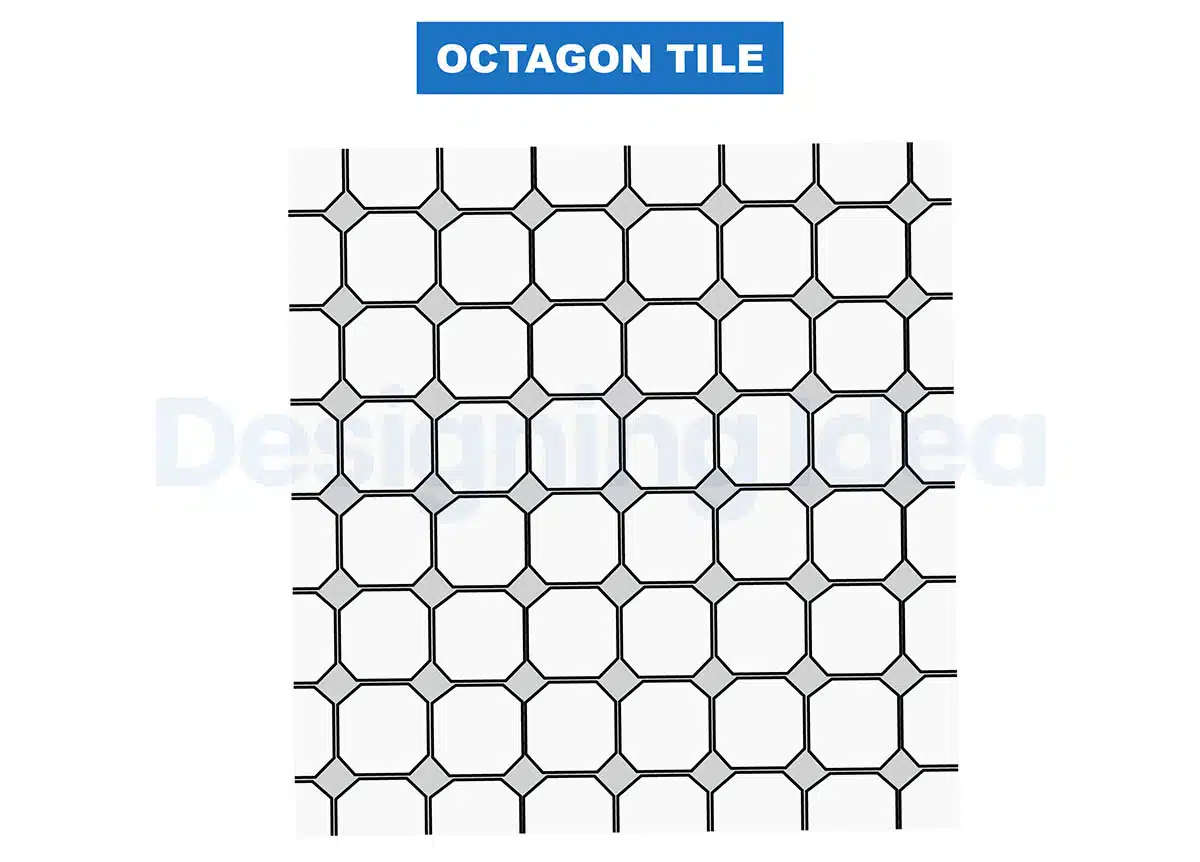 The octagon tiles are a timeless classic option with eight sides. The pattern most often used is a color octagon with contrasting colored squares/diamonds on the corners.
This is commonly referred to as the "octagon dot" because the octagons were usually white while the squares/diamonds were black, resembling dots.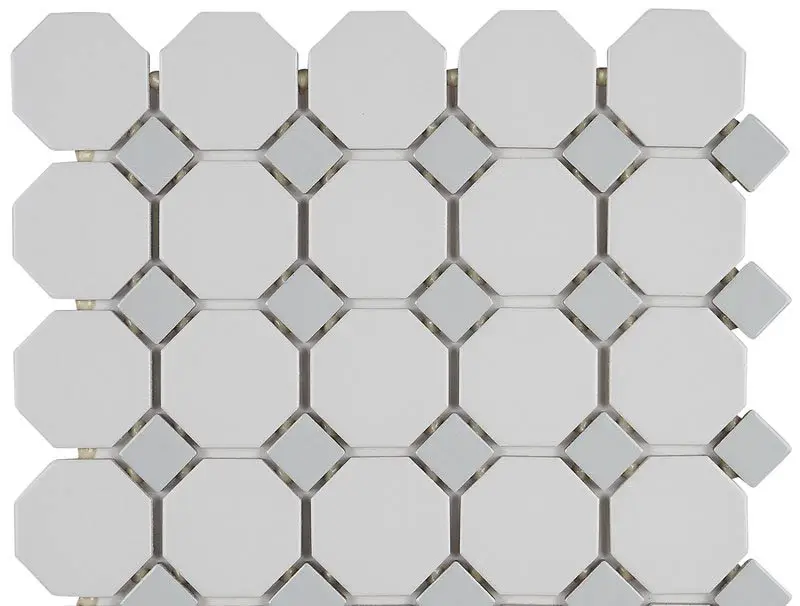 This can be used as bathroom floor tiles, or backsplashes for a classic look or even bringing a popular, modern flair to it. These tiles can be found in various colors, sizes, shapes and materials to fit any style.
Hexagon Tile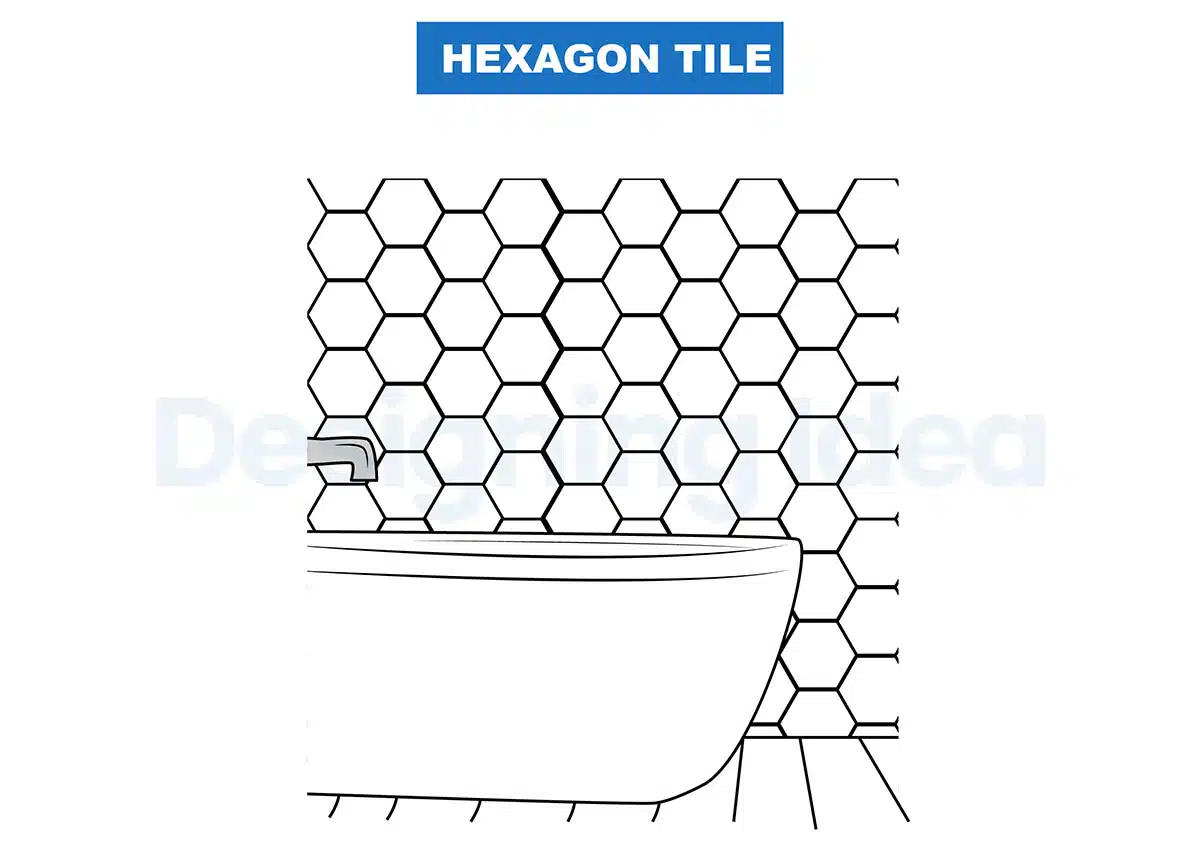 The hexagon shape with six sides has become quite popular for construction and remodeling projects, especially in residential home design.
These hexagons can come in a variety of colors and sizes. The tiles can be glazed or have a matte finish. Typically, these tiles will be about 2" each, keeping things small, and are often used mosaic style.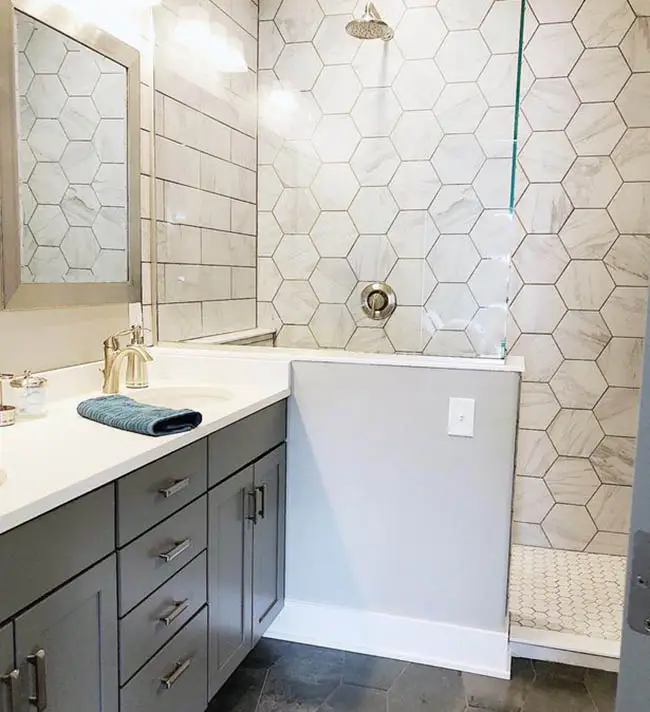 When put together, these tiles can create breathtaking flooring or backsplash. These tiles are available in various materials, finishes, colors, and sizes.
Large Hexagon Tiles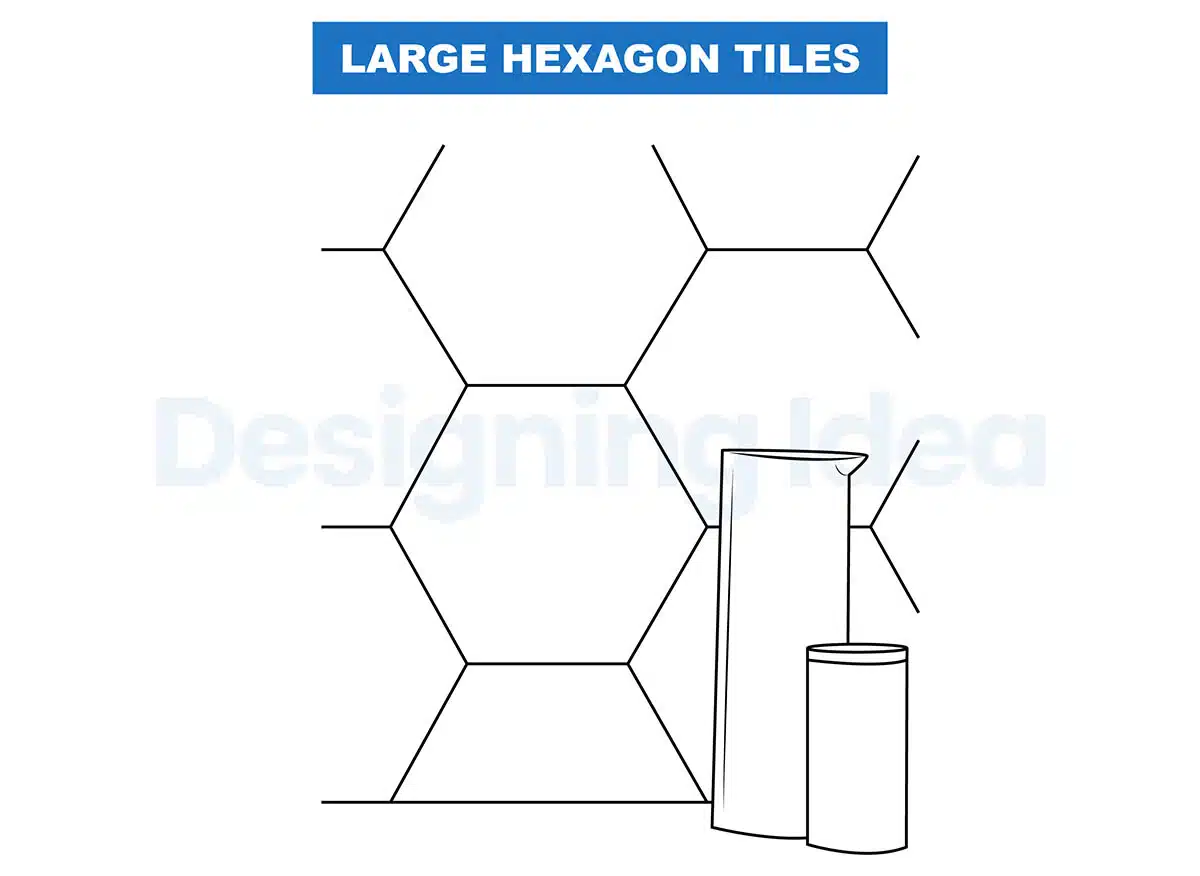 As previously mentioned, hexagon tiles are available in a range of sizes. One of those sizes will be larger than the more common 2" tiles.
These larger tiles can reach up to 12". They will often be used for flooring or other larger installations that would be extremely time-consuming with smaller pieces.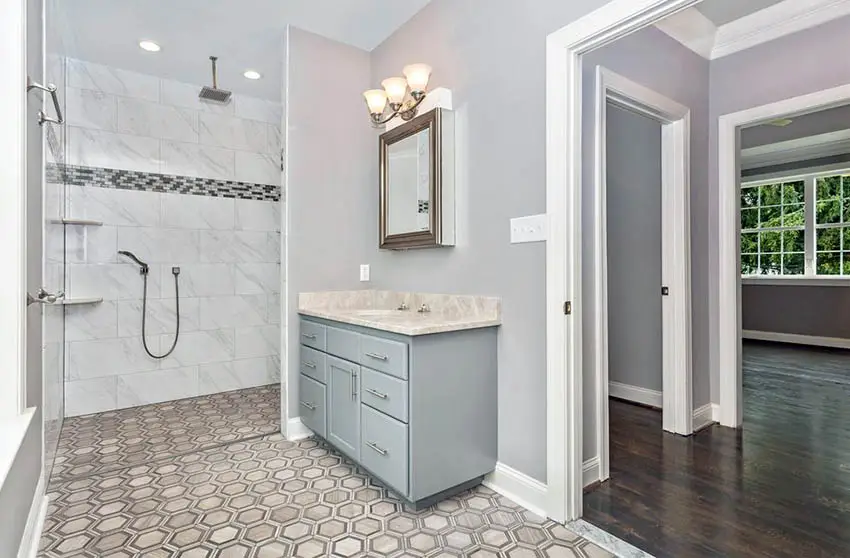 These hexagon tiles will often stand out on flooring for a lower cost.
Elongated Hexagon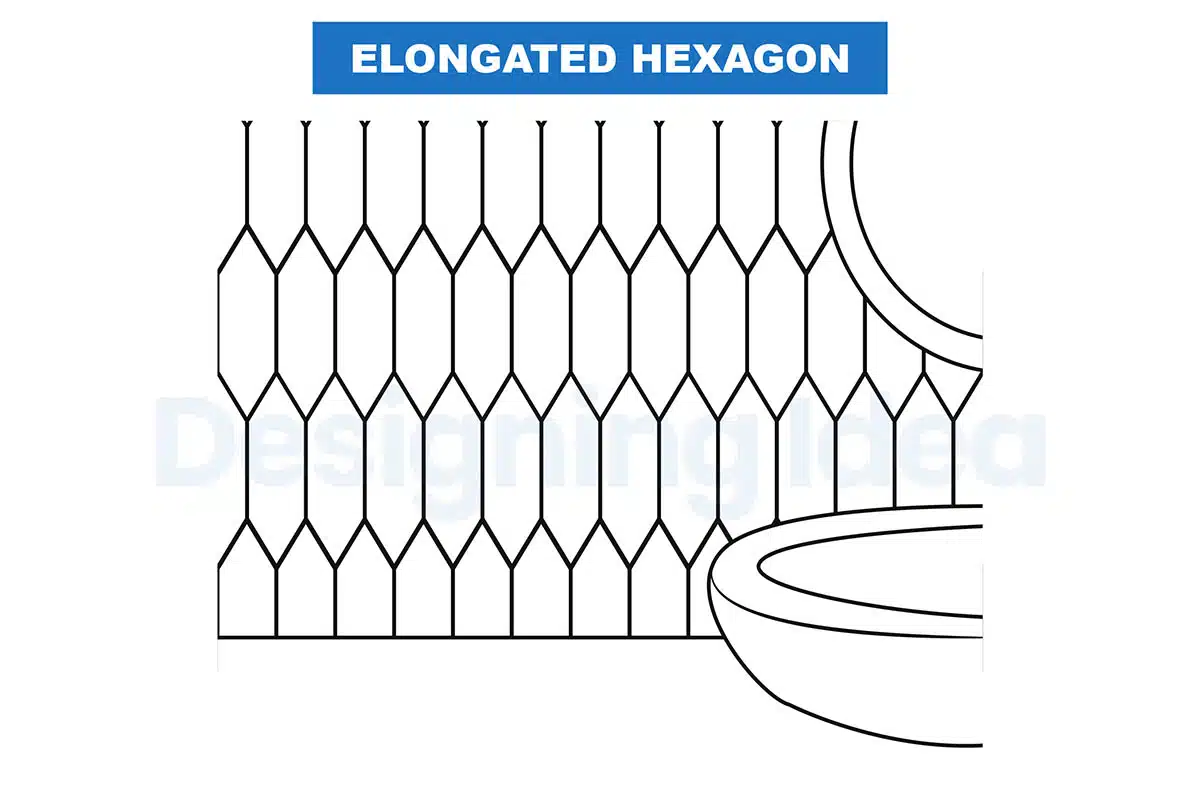 Another variation of the hexagon will be the elongated version. It takes the basic hexagon shape and stretches it, and those pieces are used in the pattern or mosaic. This will add unique and contemporary qualities to the space at hand.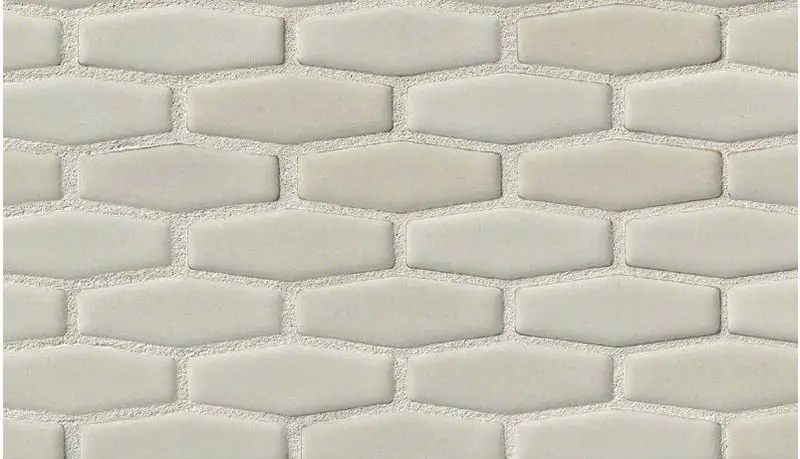 This is a tile often used in kitchen or bathrooms in contemporary homes. These tiles will be available in many colors and materials.
Rhomboid Tile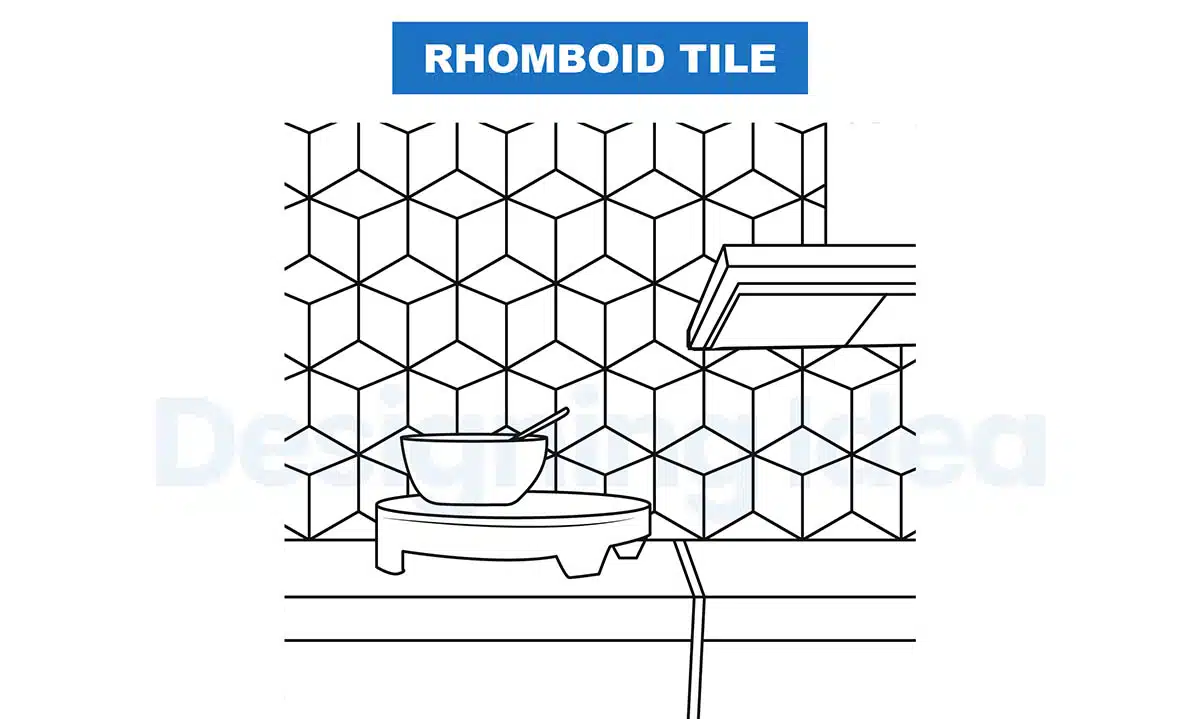 The rhomboid tile will be a series of diamond or square shaped tiles on sort of a sheet typically in a mosaic pattern.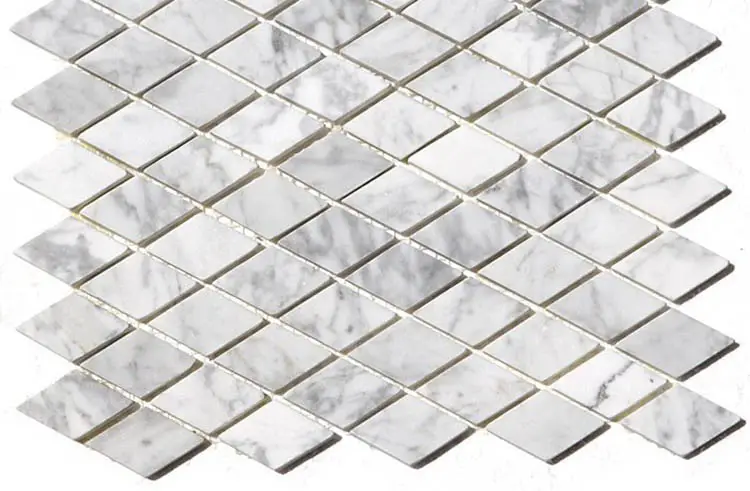 Usually they will not be place individually due to the small sizes that they come in. The rhomboid tiles will be most often used as backsplashes or for kitchens or showers.
Triangle Tile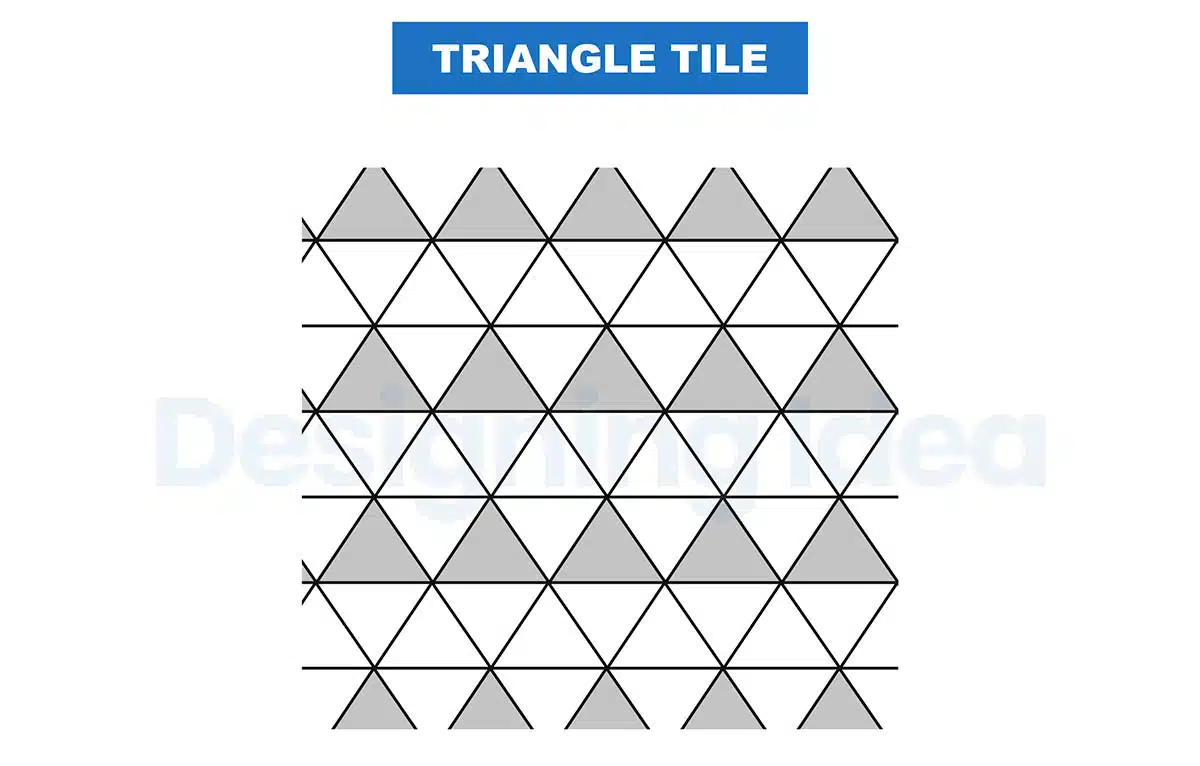 The triangle tiles, though seemingly simple can create a vast variety of appearances and styles for the desired location.
Triangles can easily be placed together to make other geometric shapes including squares and diamonds. The triangle pieces will typically come in a few different options including but not limited too: traditional square shaped, rectangular, and smaller sizes of each.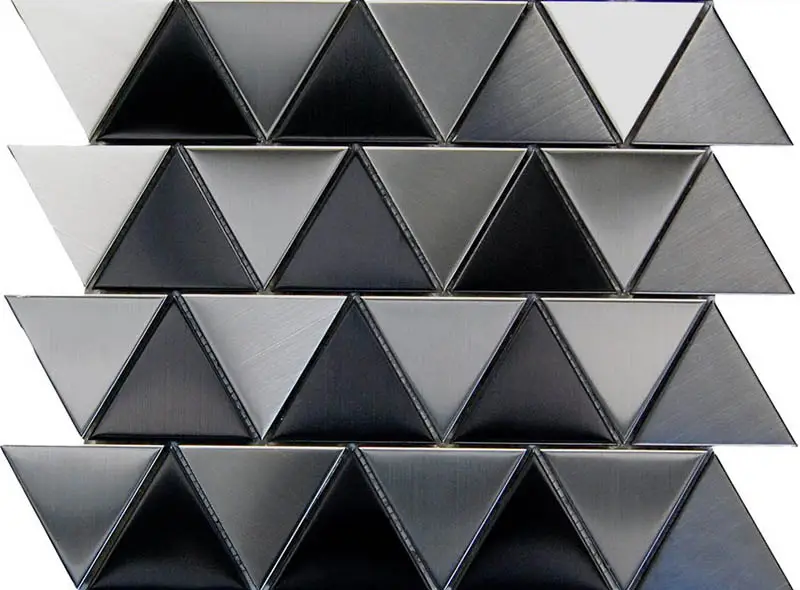 These pieces can be made in almost any size or color imaginable, allowing for custom looks to complete a space.
Diamond Tile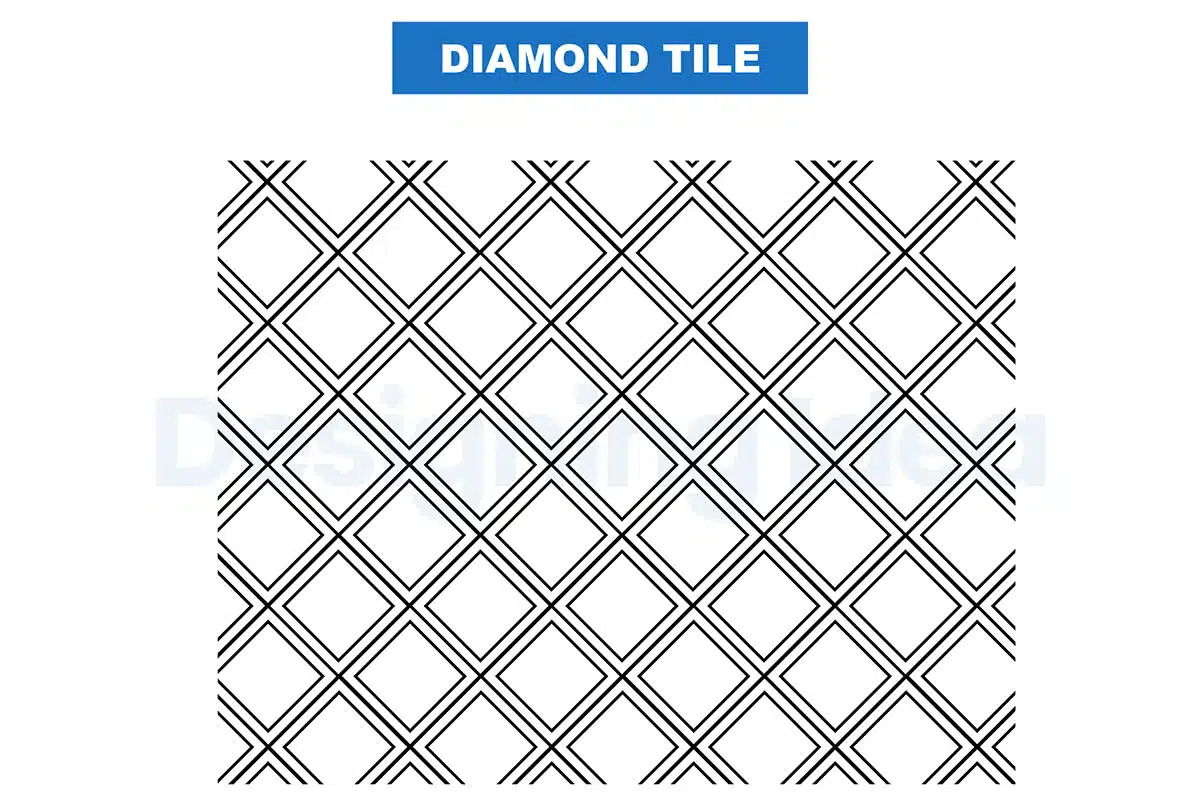 Diamonds are a great shape to use for tiles. These shapes will allow for great mosaics and are often chosen as a more advance version to a square mosaic or tile pattern.
The most common shaped diamonds will be one that can easily be stacked next to each other. This will make for the design to cover any amount of space.
While creating a diamond shape out of a square tile can be done, diamond tiles in particular, will have a different, unique shape than a square turned on its side.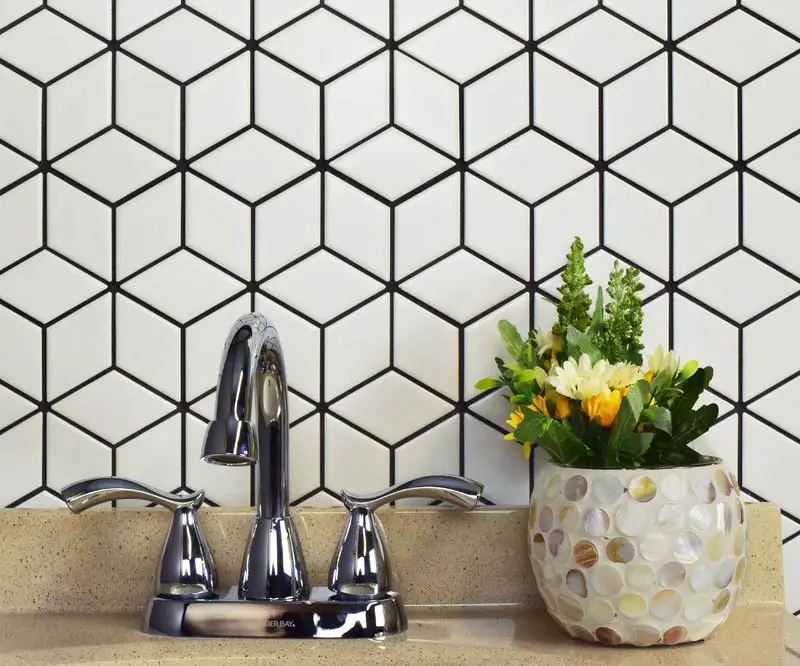 Diamond tiles are most commonly used in bathrooms and as backsplashes and can come in various materials and finishes.
Pentagon Tiles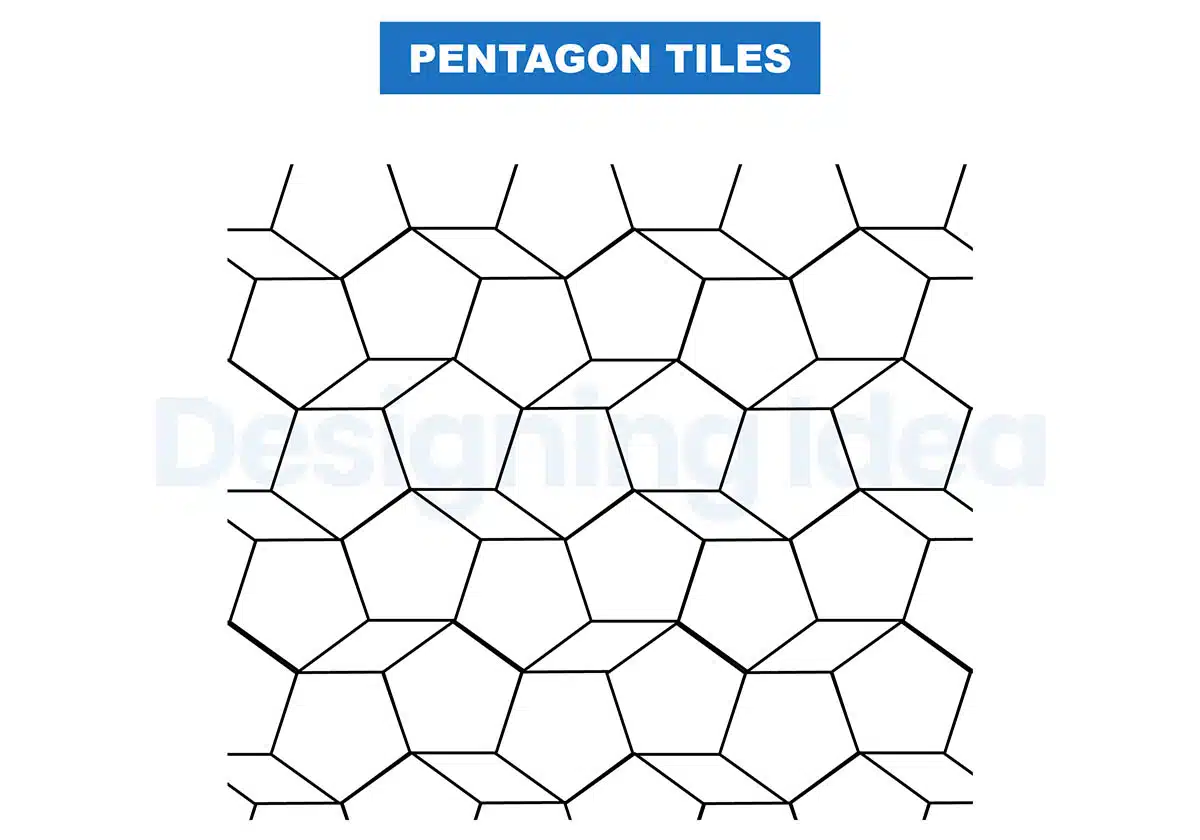 The five sided pentagon shape has become popular recently, especially in home design. These pentagons can come in a variety of colors and sizes based on the company.
The tiles can be glazed or have a matte finish. Commonly pentagon tiles will be used for backsplashes, mosaics, exterior flooring, borders or other inlays.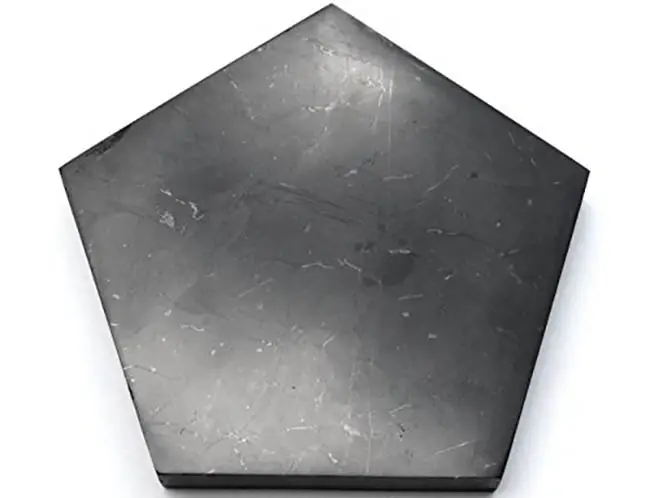 These tiles are available in various materials, finishes, colors and sizes.
Specialty Tiles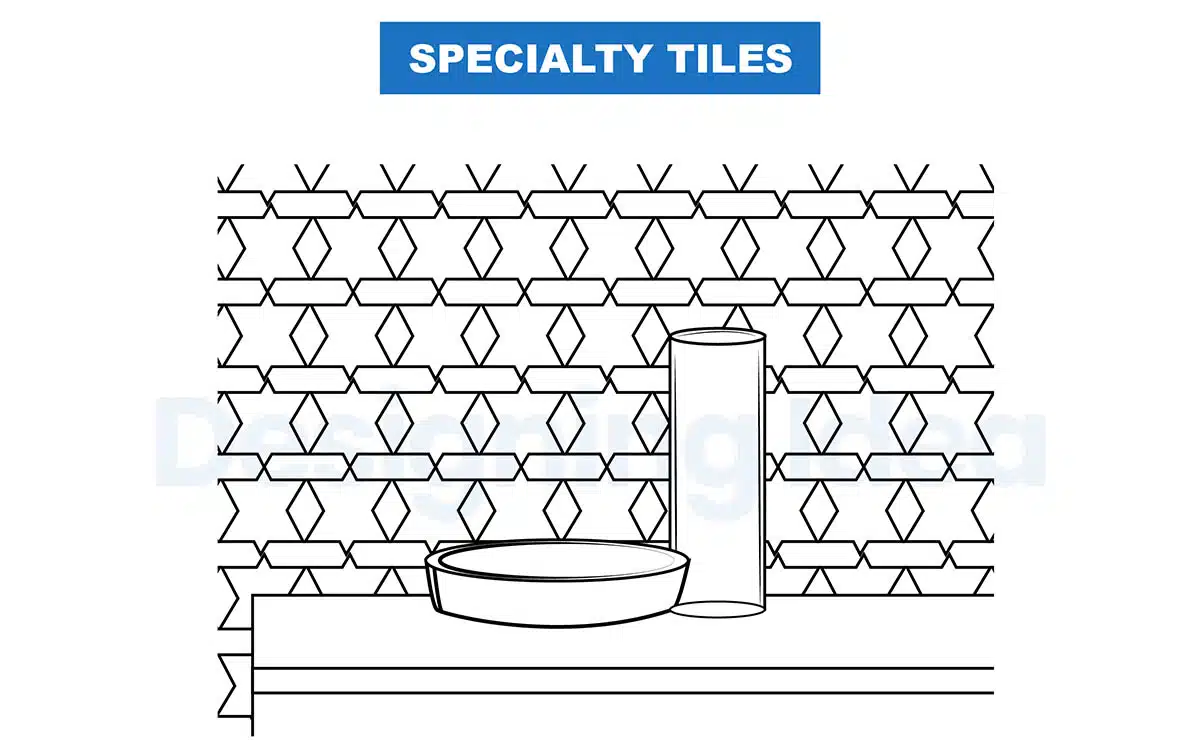 There are groups of specialty tiles that includes variations of curves to create shapes. These allow for some outside the box thinking to make a custom look that will stun.
These pieces will often become the focal points of the bathroom or kitchen. It is also common to pair these with some of the more basic designs to not overwhelm a space with too much ornamentation and unique qualities. Some of those shapes are as follows.
Arabesque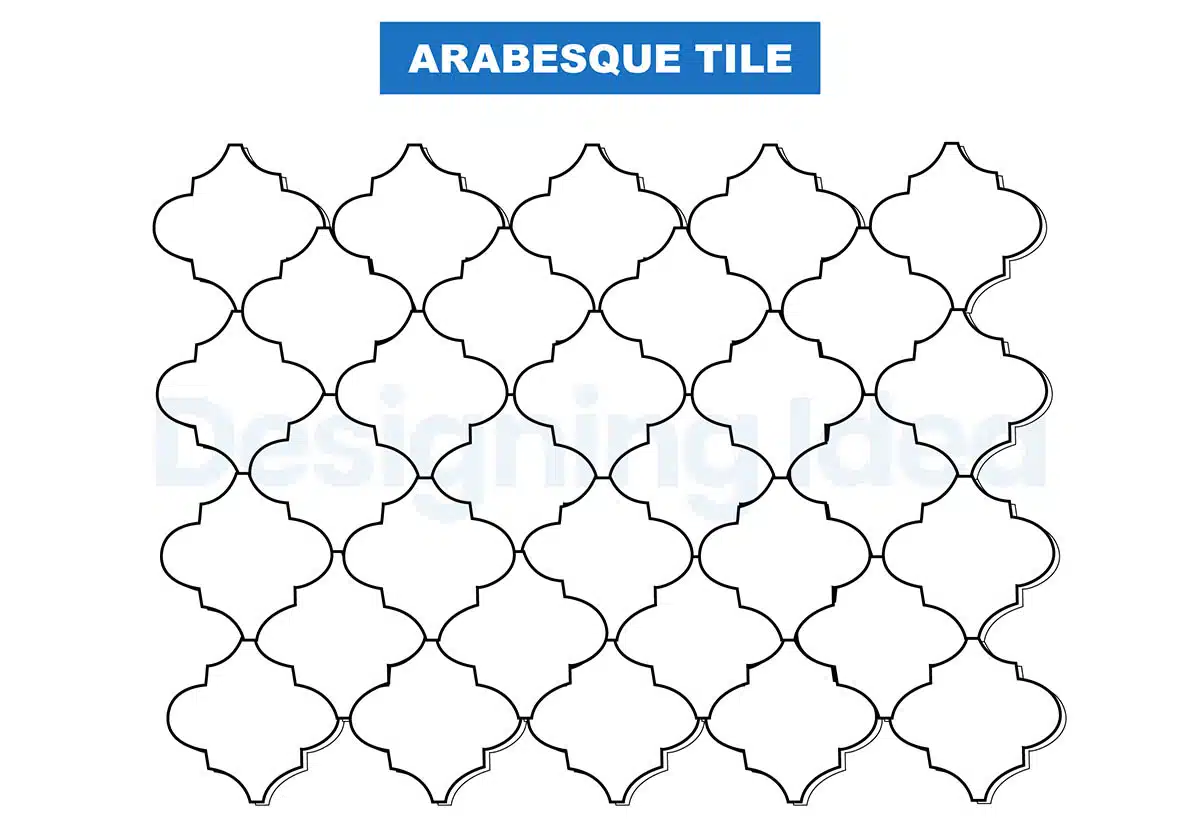 Arabesque tiles have gained some popularity, adding beauty and art back into the modern minimalist world. These tiles are more ornate and offer multiple different variations.
The arabesque tiles can come as mosaic tiles and beveled tiles. Mosaic arabesque tiles will come in sheets and will be polished in on of many materials or color options.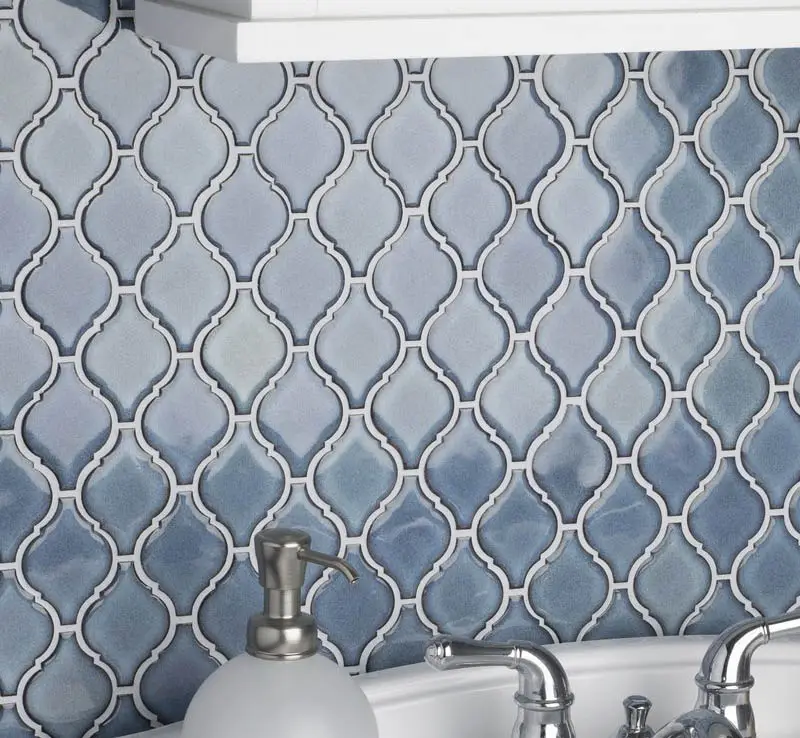 The beveled edge option will give some texture and dimension to the desired location without having to do anything too extreme!
Ogee Tile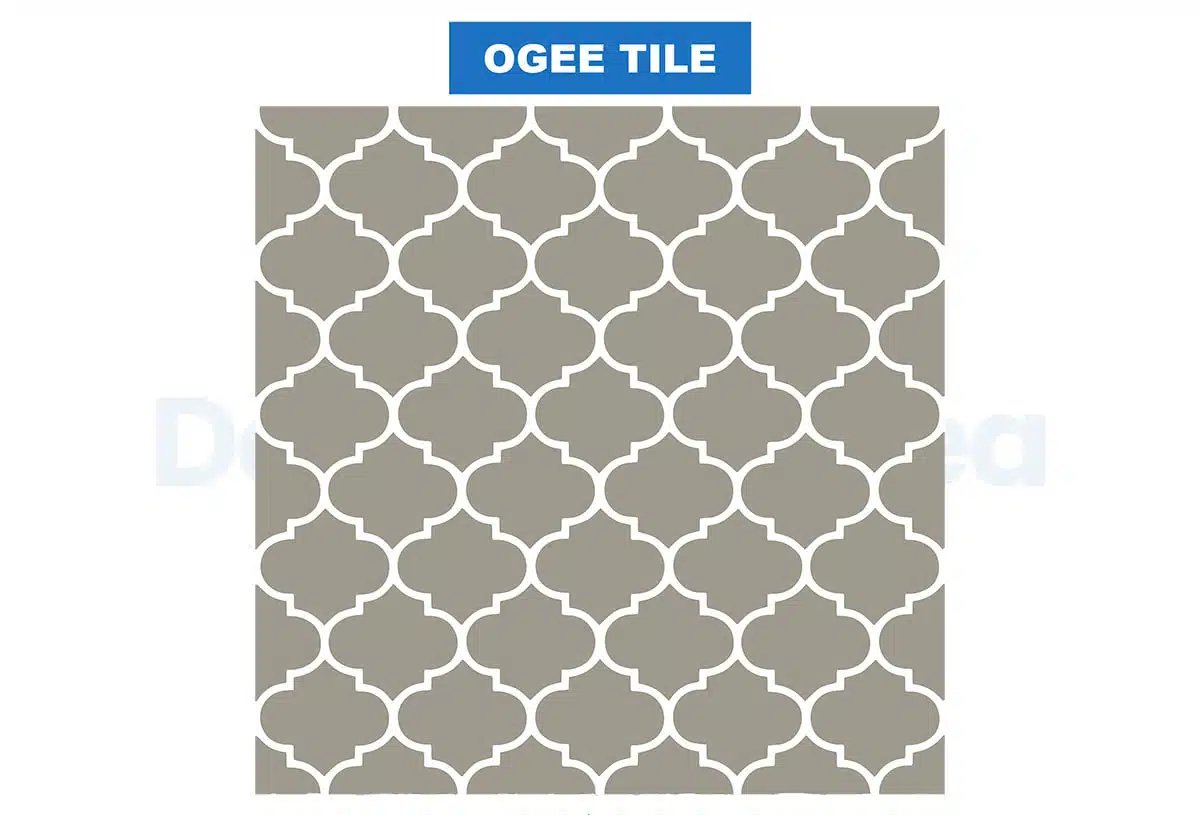 Also known as the fish scale tile or ogee drop the ogee tile will be most often used in bathrooms and as backsplashes. The shape has and "s- like" curve that resembles a fish scale (hence the nickname).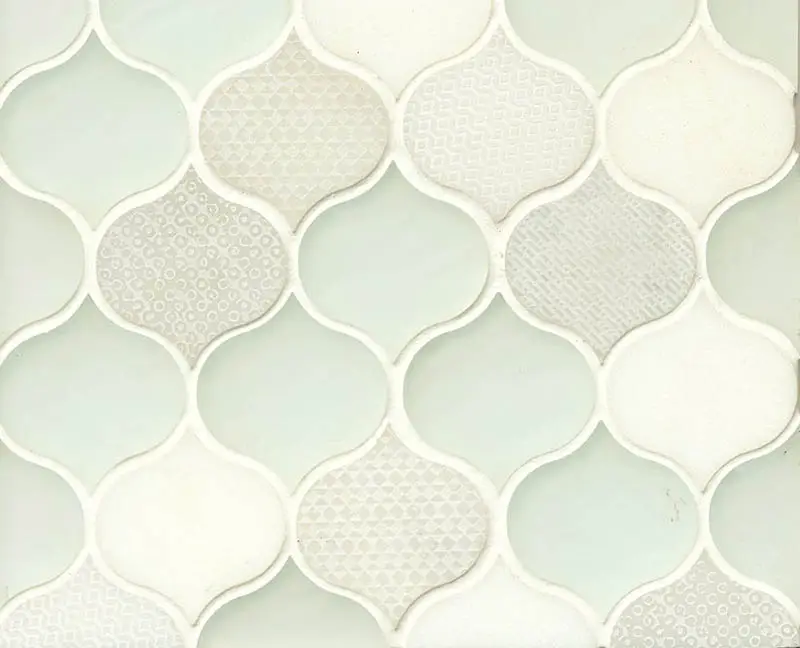 The pieces can be place in a variety of patterns, each creating a new look. The scale-looking tiles can be placed side by side to create rows.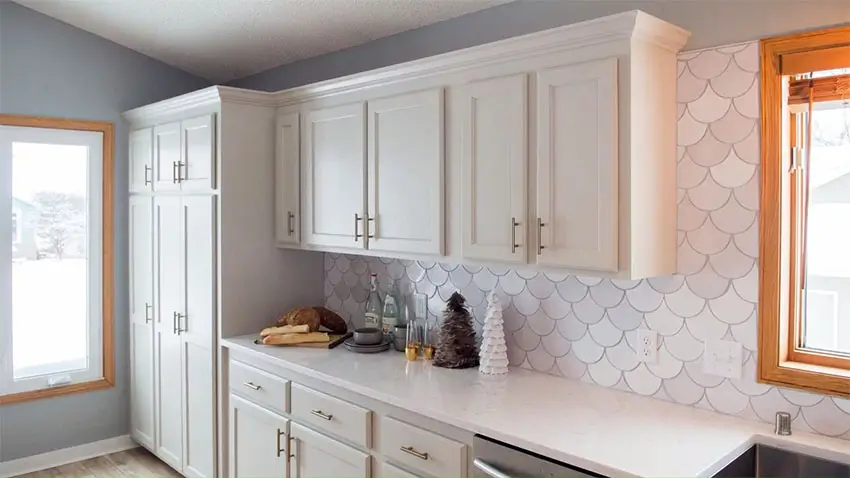 Ogee style tiles can also be mismatched and connect on the flat ends. Depending on the shape of the space you are trying to fill you could even fan them out or create a circular pattern.
Picket Tile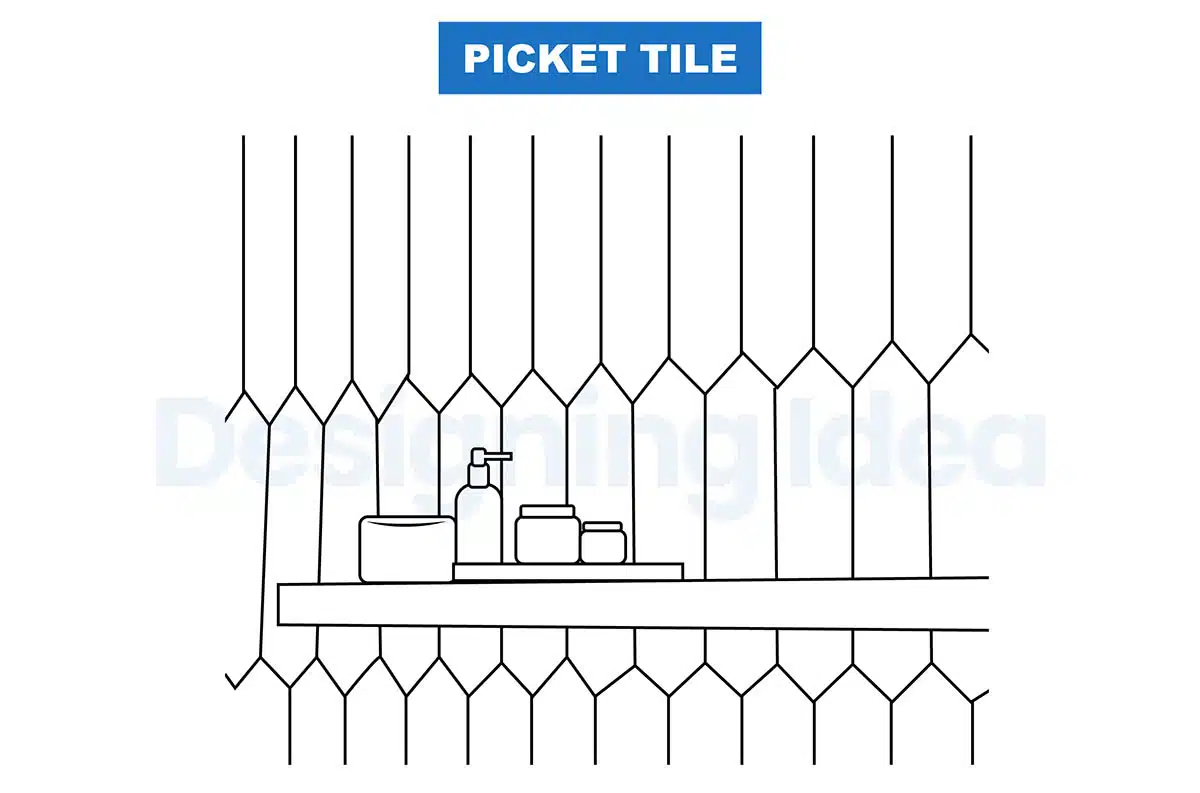 The picket tile is another shape of tile that can add to the uniqueness of a design. It is a six-sided shape that appears as two equal trapezoids placed together. This shape can add for quite a bit of creativity.
They can be paired with diamond pieces to make a pattern with mixed shapes or can be used on its own. The nice thing about the picket is that it has a flat bottom and even sides to make laying out a pattern easy.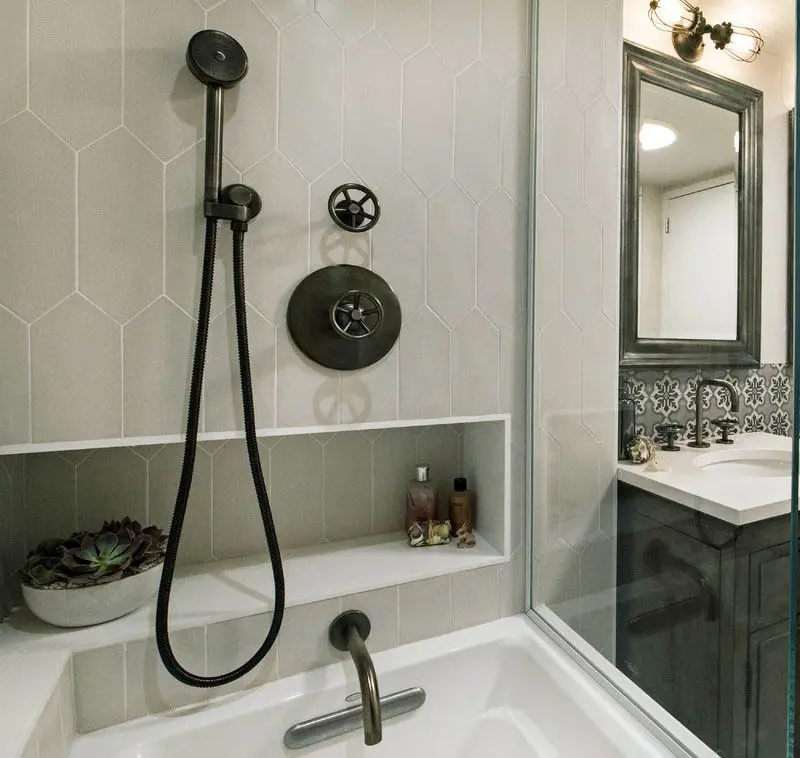 This picture features a custom shower wall niche with beige picket tiles and white grout. Custom tiling requires and intricate cutting process requiring experience or the use of skilled contractors or tiling professionals to get high quality results.
Lantern Shaped Tile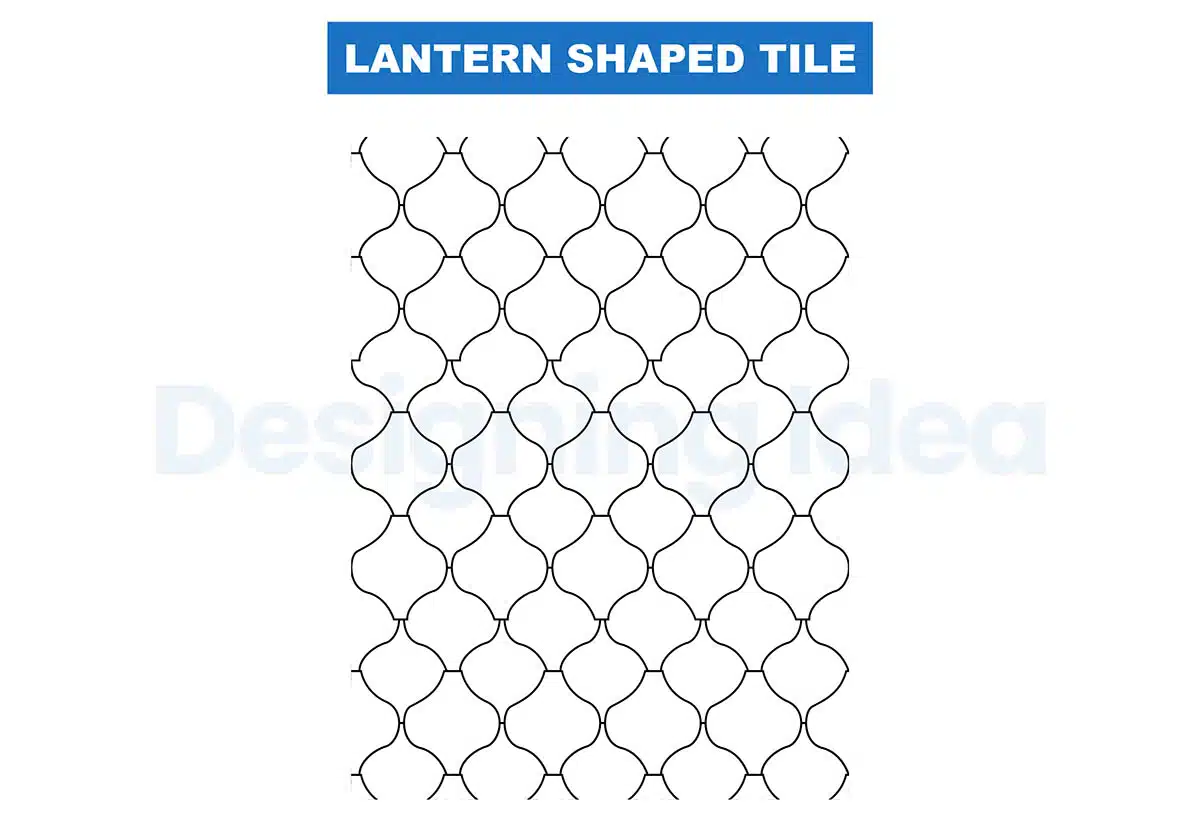 As the name suggests, the lantern-shaped tile strongly resembles a lantern. This shape is commonly confused with the arabesque due to its similarities in shapes.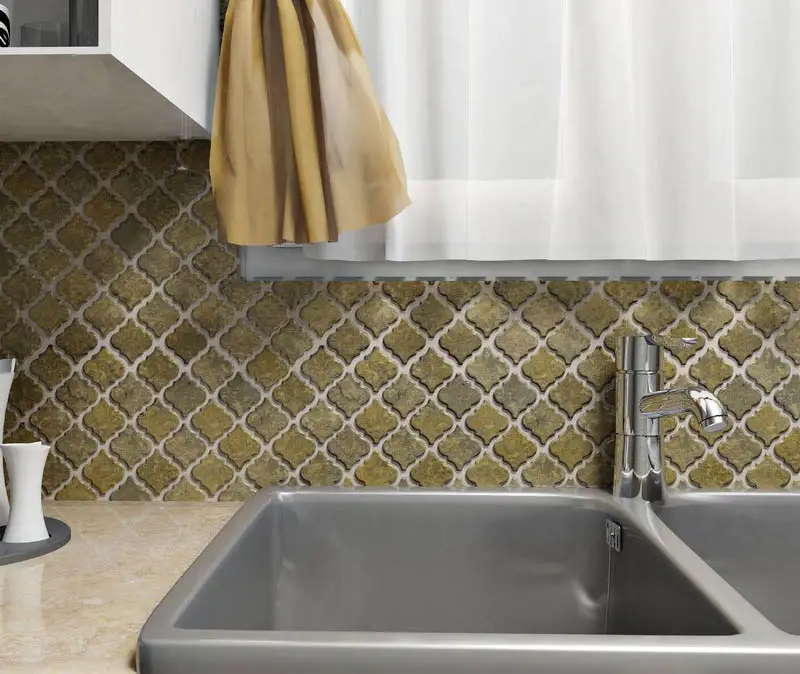 These tiles will also have most of the same options and qualities the arabesque has, including the options for beveled and mosaic tiles and the variety of materials and colors.
Wave Tile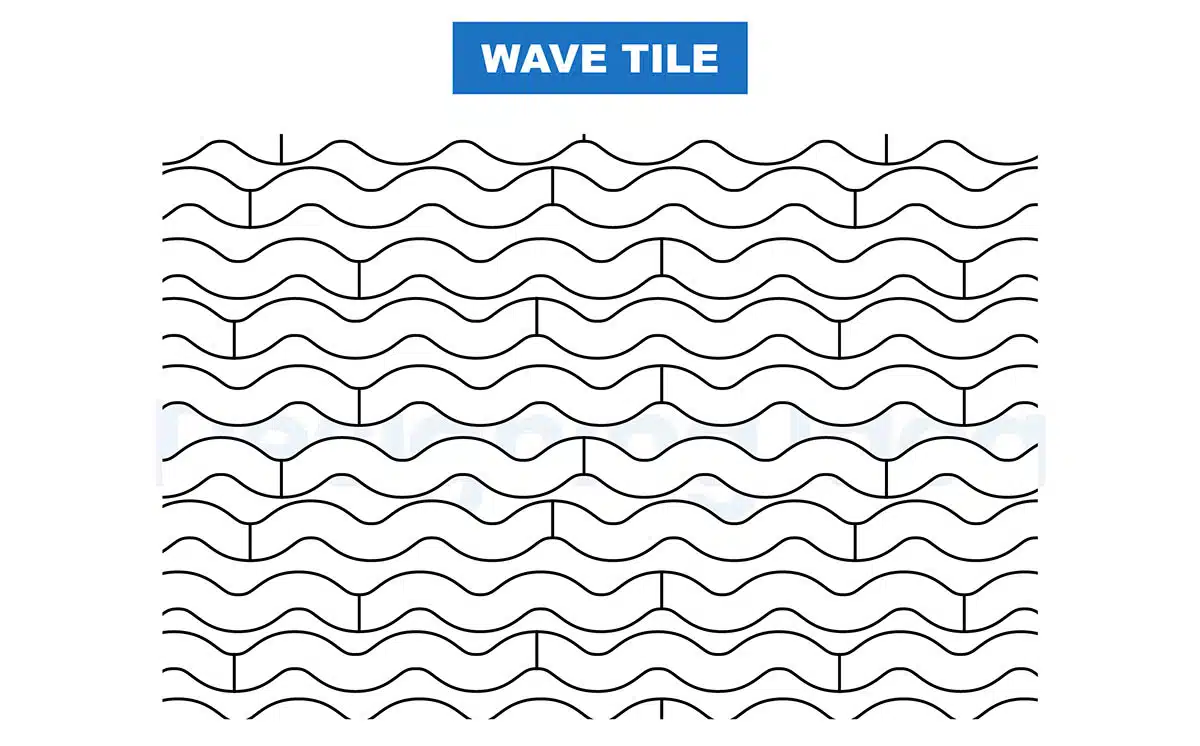 The wave tile will be a focal point in any interior design project. It has a unique natural look that resembles, as the name suggests, waves of an ocean.
The wave tile appears similar to a subway tile, but the middles are curved out a bit, giving movement to tiles. These tiles will be difficult to place since they will not but right up to one another.
The use of skilled contractors or tile professionals may be advised. They can also provide answers to your questions and offer information regarding, price, placement and maintenance.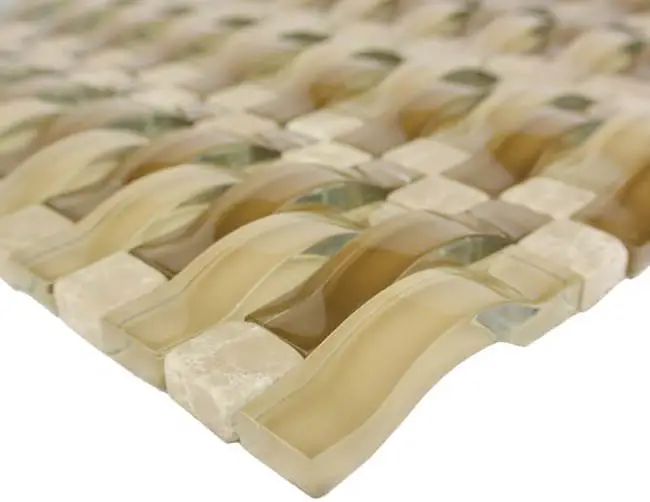 Surface layout placement is usually considered before deciding to use the wave piece and they are often used in more creative spaces versus something that needs functionality.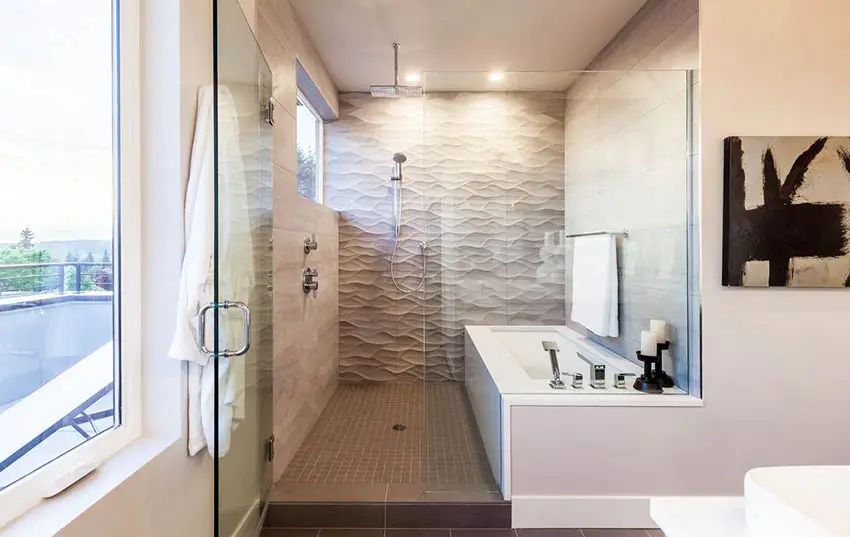 Like most of the rest of the tiles mentioned, wave tiles are available in a wide variety of materials, colors, finishes, sizes, and shapes.
It's important to note that 4″x 4″ tile is rarely 4″ square. Size and consistency vary widely from the manufacturer. That's why you should always have your tile on hand when designing a layout. – Rick Peters – Home How-To Handbook, Tile
For help creating a tiling design and visualizing different elements such as tile, a variety of software programs can help. There is room-specific bathroom remodel software as well as kitchen design software for seeing floor, wall or backsplash tile in a 3-dimensional view.