Here we share our gallery of arabesque tiles including kitchen backsplash, bathroom shower and flooring designs.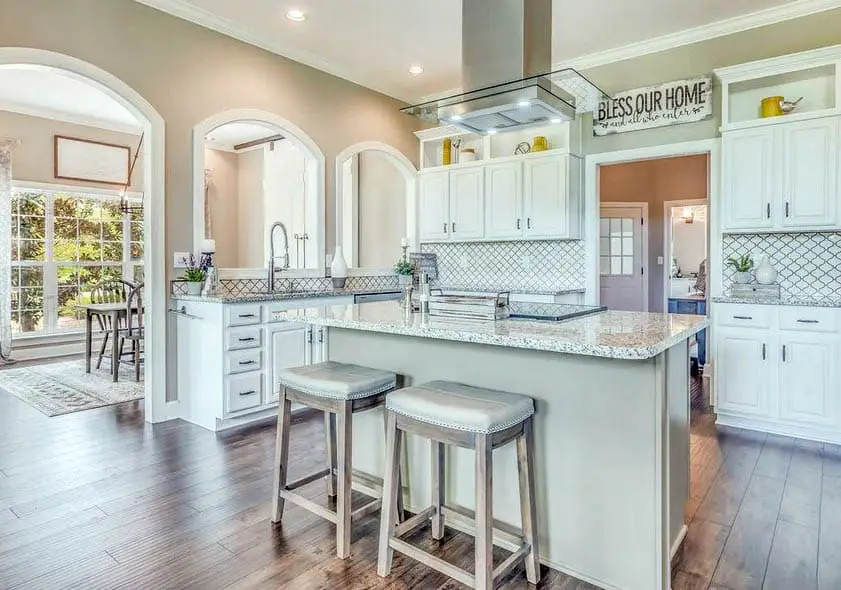 Arabesque is the tiles' design; it is a highly ornamental design containing flowing lines intertwined with each other. Arabesque originates from Arabic and Moorish design, often being a part of scrolls. This design looks organic and has rhythm in its patterns of foliage as well as plain lines.
Now, arabesque tiles take from that idea and style and create tile shapes that can be used as flooring, wall covering, and backsplash. These shapes are distinctive and get that from the Middle East and the arabesque design itself. These tiles are quite ornamental, radiating movement and rhythm with their delicate curved pattern.
Since arabesque tiles are more determined by their shape than anything else, they come in various amount of materials. Glass, ceramic, and porcelain mosaic tiles are commonly used when making arabesque tiles.
Arabesque Tile Backsplash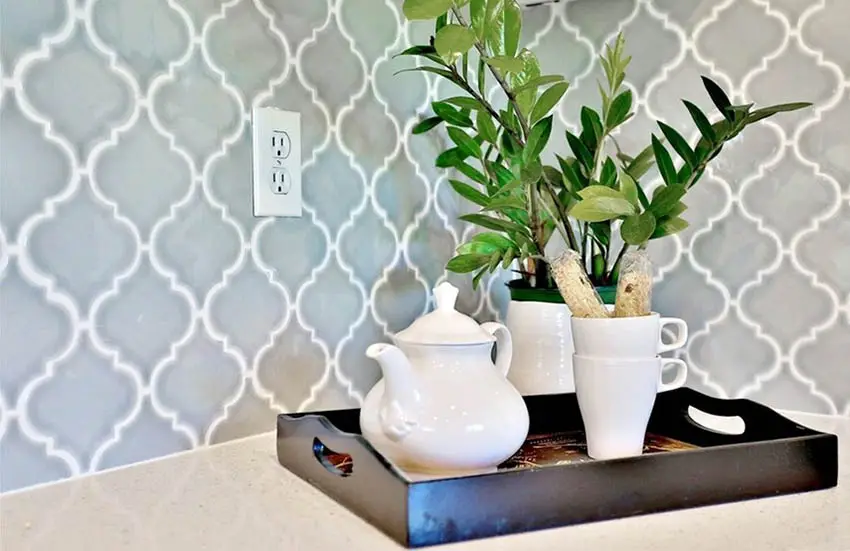 A backsplash is the focal point in most of the kitchens and can be the make or break point for aesthetics. Often it is the best place to add accents and unique colors and patterns to catch the eye without overwhelming the space.
Not only is it aesthetically pleasing, but it is also a functional piece to the kitchen. The backsplash protects the walls in the most used kitchen area, offering a cleaner area.
Backsplashes are most commonly done with mosaic tiles. These can be glass, ceramic, porcelain, etc. Typically ceramic or porcelain tiles will need professional installation – and with flooring, it is recommended – but for something small like backsplashes, you can save a few bucks and complete the project yourself if you have the time and capabilities.
This is because thicker tiles will be heavy, but the mosaic tiles will often be small and lighter weight; some even come with a netting on the back for an easy installation.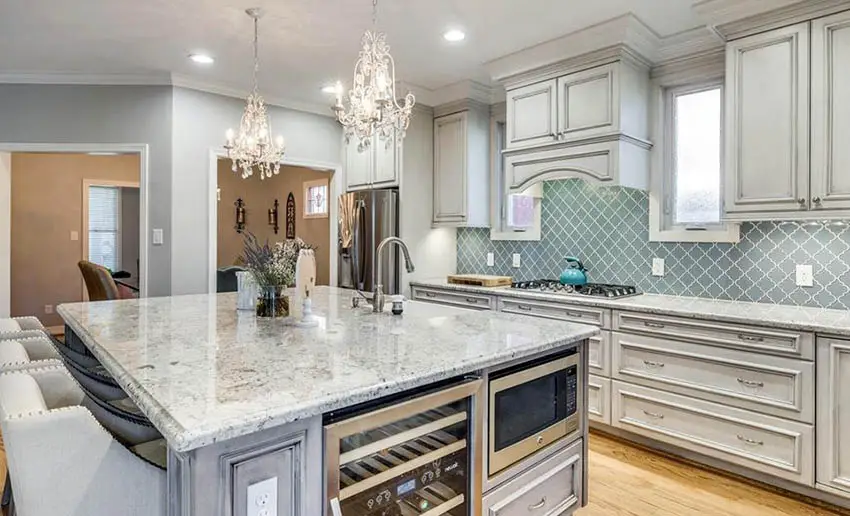 Arabesque tile backsplash can range from $10 to $20 per square foot due to its decorative qualities. Prices vary with the sizes and materials. Installation can also be an added price, whether it is professional or buying the supplies needed to install it yourself.
There is a rise in the use of arabesque tile patterns in recent years for kitchen backsplash. This is because the desire for texture and movement calls to the consumers.
While this is trendy now, it is good to beware of the changing styles and keep in mind your chosen colors so the backsplash can speak through the pattern and last for years to come.
Lucky with backsplashes, though, they are relatively easy to swap out if vibrant is on the consumers' wish list right now.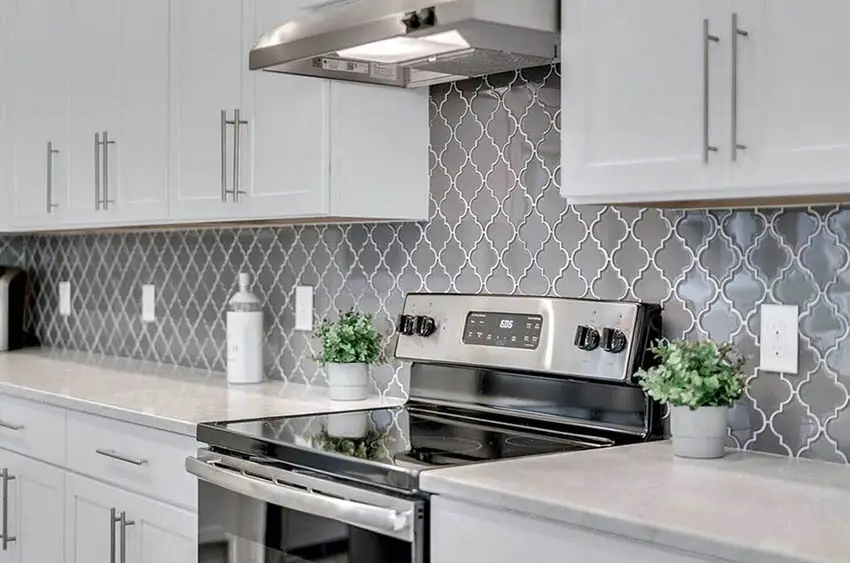 This kitchen uses a gray backsplash to add contrast to its white Shaker-style cabinets.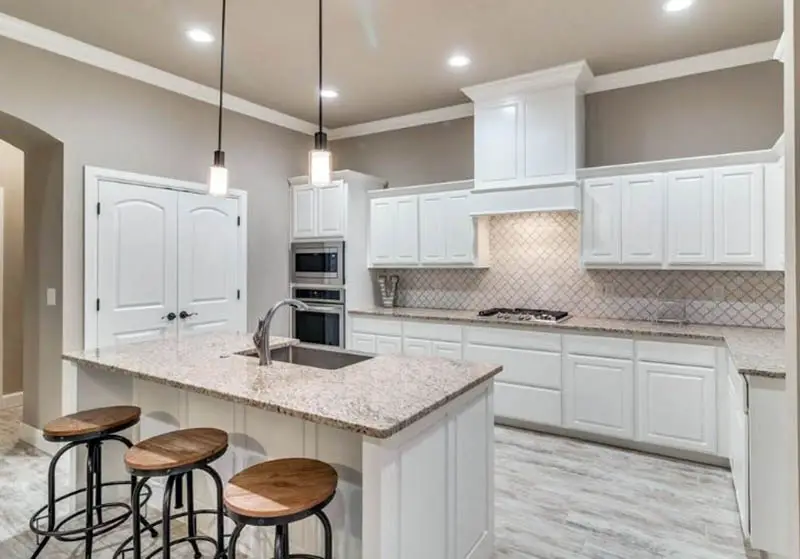 This white kitchen cabinet design is offset by the use of beige granite countertops, beige wall paint and light color Arabesque tile backsplash.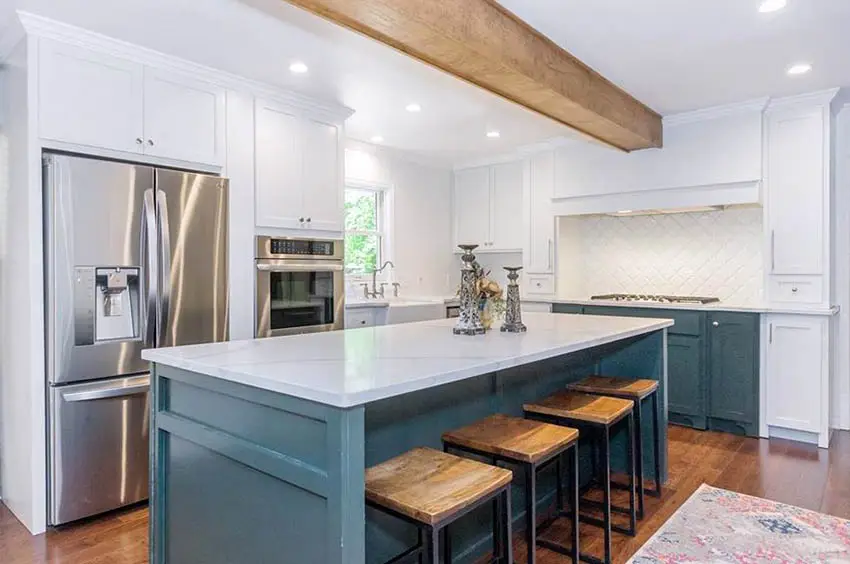 This kitchen has a white tile Arabesque backsplash above the stove top that matches the cabinetry and marble countertops.
Arabesque Tile Shower
You can also use Arabesque tiles in the bathroom shower with appealing results. This tile has a large variety of color options, making it easy to match other finishes and decor.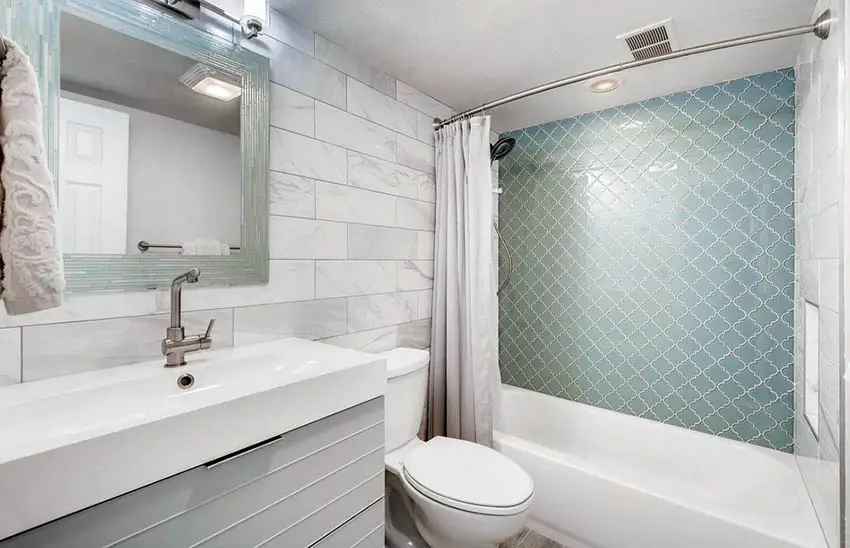 Arabesque tile used in the guest bathroom with matching mosaic tile mirror.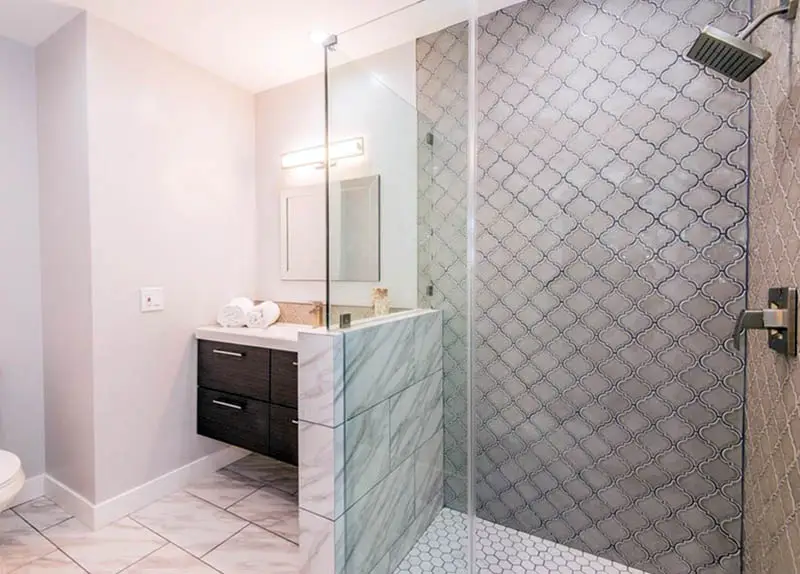 This bathroom shower features floor to ceiling Arabesque tile with a white octagon floor tile and faux marble tile for contrast.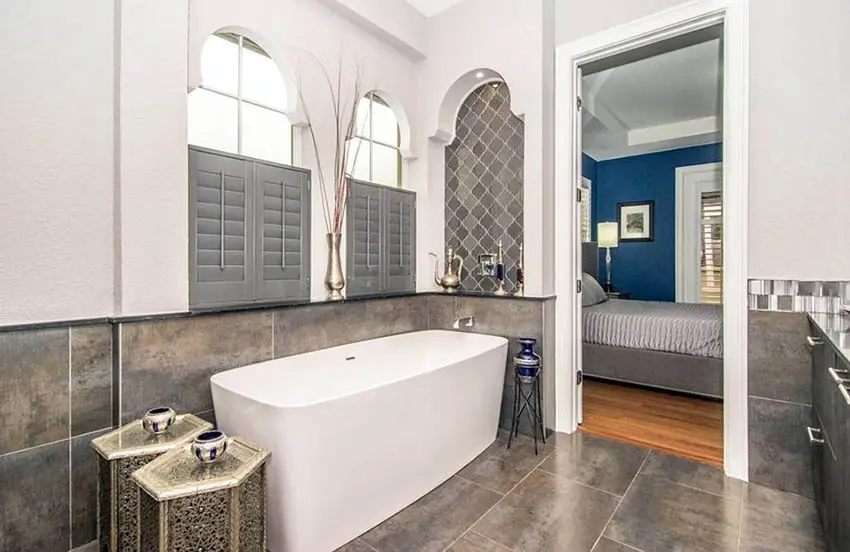 This ensuite bathroom features an interesting wall alcove with Arabesque tile and a Moroccan inspired theme for its design.
Arabesque Floor Tile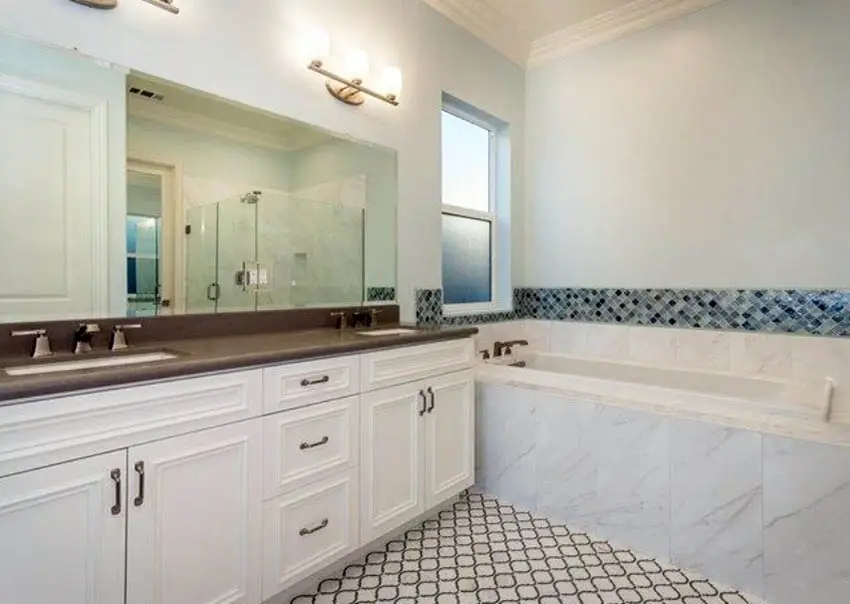 Flooring is an integral part of every design and can significantly impact the space's aesthetic. Flooring can either stand out and be the focal point in the design or blend into a cohesive look within the space. Adding an arabesque pattern can do either of these two things.
Being a focal point with an ornamental design like this is a piece of cake, taking the beautifully shaped tiles and putting them in a unique pattern or choosing vibrant colors; there are even painted tiles that can make for a beautiful floor design.
If there is already another focal point (commonly the backsplash) the arabesque-shaped tiles can be selected in a calm neutral stone finish to correlate with the other finishes in the space, grays and beige (and a mix of the two being greige) will be a great addition while not overwhelming the space with pattern, color, and texture. Instead, it uses its natural beauty and simply is.
Flooring like this is most commonly done with ceramic or porcelain tiles. Typically ceramic or porcelain tiles will need professional installation – and with flooring, it is recommended due to the weight and intricacy. This is because thicker tiles are needed for flooring than backsplash applications.
These pieces also all come separately, requiring proper spacing and cutting of each tile to get the desired look for the flooring.
These can range from $15 to $30 per square foot due to their decorative qualities, weight, and size needed for flooring. Prices vary with the sizes and materials, but porcelain or ceramic is commonly used.
Installation can also be an added price, whether it is professional, or buying the supplies needed to install it yourself; it is highly recommended to use a professional when installing stone flooring, especially with a tricky pattern such as arabesque.
For more bathroom floor tile ideas visit our gallery page.