Here's our hand tufted vs hand knotted rugs guide including what they are, how they are made, pros & cons and some factors in choosing between types of rugs.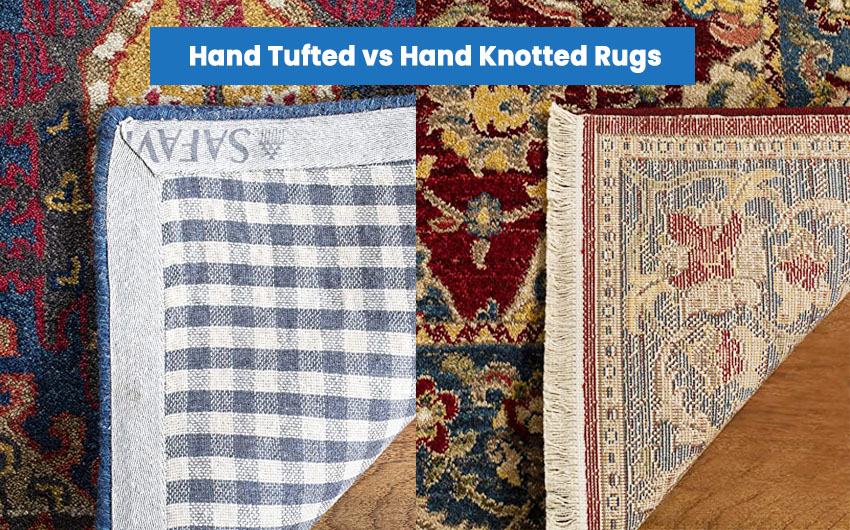 Adding and displaying hand-made rugs at home, whether it's in common areas like the living room and dining area to bedrooms, deliver a certain appeal to the room. These masterpieces are products of using ancestral practice and art that have been passed down through time and generations, making these rugs even more valuable to have at home.
These hand-made rugs seem to be a testament to the people's culture and way of life, delivering the aesthetics and elegance of centuries of workmanship and art. The downside with these works of art though is that they are hard to come by and there are many fake pieces on the market today.
Hand-made rugs can be hand-tufted or hand-knotted, depending on the weaving technique used by the makers. With different techniques used, these hand-made rugs end with different appearances and textures, along with the amount of time it takes for the rugs to be completed.
While both are made by hand, a hand-tufted rug is different from a hand-knotted rug and if you plan to have one at home, learning more about them and how different they are from each other is the best way to go.
What Is A Hand Tufted Rug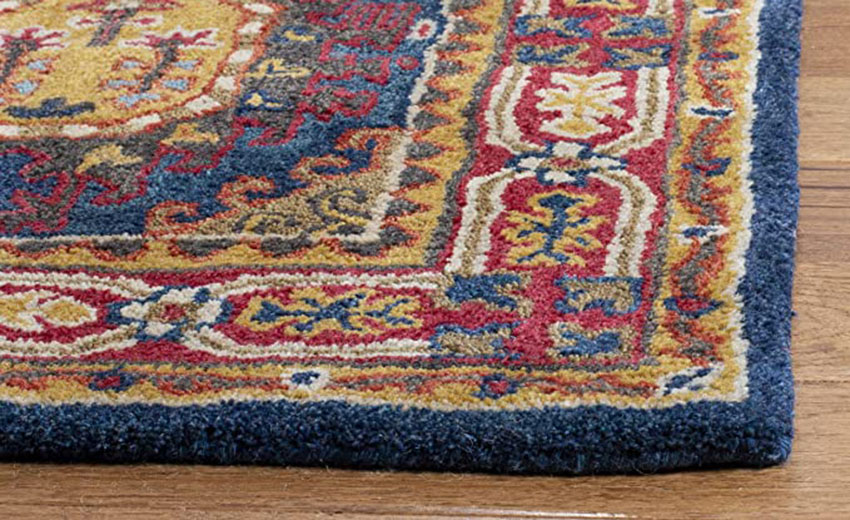 See this rug at Amazon [sponsored link]
Quality higher than machine-made, a hand-tufted rug is not fully hand-made since it makes use of a mechanized tool to complete it. Made of wool, the creation of these type of rugs starts with a stretched-out canvas and a hand-operated tufting tool.
Strands of wool are placed on the canvas and then the hand-operated machine punches these strands into the canvas to create the traced pattern on it.
The rug is then removed away from the frame. With its backing, the tufts are held in place with a scrim fabric glued at the back. The rug would then be completed when a fringe is glued or sewn on it.
What Is A Hand Knotted Rug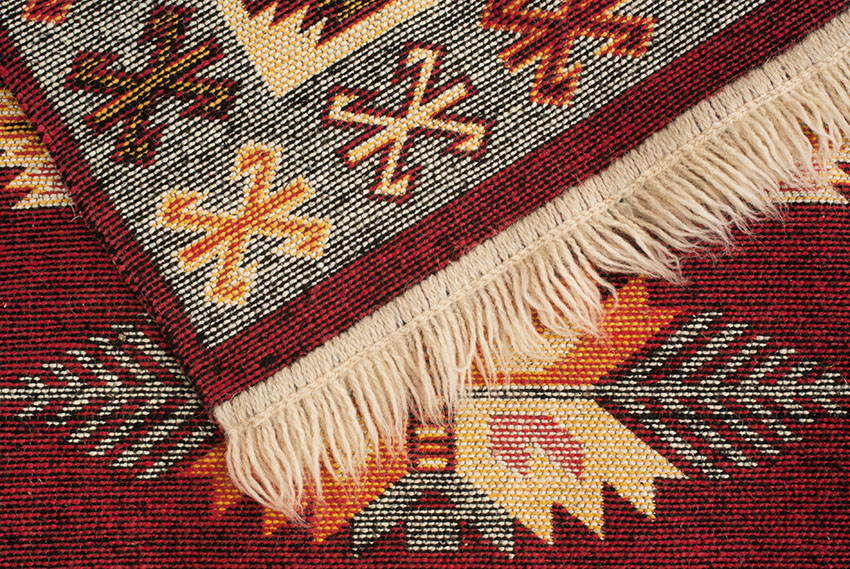 A hand-knotted rug is a unique masterpiece that takes pride in the ancient art and intricate designs embedded in every strand of the fabric.
Compared to hand-tufted rugs, hand-knotted rugs are completely created by hand and can be made from cotton, silk, and wool, depending on the special loom used. The most popular hand-knotted rugs are Persian and Oriental rugs.
With hand-knotted rugs, a lot of time is needed to be spent completing this one-of-a-kind rug. Knots are counted per square inch on the rug and the cost will also be dependent on these knots. The higher number of knots in the rug delivers higher density resulting in a better quality rug, which makes it more expensive.
The design and pattern for a hand-knotted rug are the same on both sides since it doesn't have backing compared to a hand-tufted rug.
Hand Tufted Rugs Pros And Cons
Hand-tufted rugs can be an excellent accessory for your home but of course, you should know what you're dealing with before making any purchases. Here are the pros and cons of hand-tufted rugs.
| | |
| --- | --- |
| Pros | Cons |
| Not as time-consuming | Less durable: vulnerable to sunlight, footsteps, and spills |
| Takes relatively less skill to make | Less valuable than a hand-knotted rug (not heirloom quality) |
| A higher quality than machine-made rug | Patterns not that unique |
| Can last up to 20 years | Only partially hand-made |
| Easy cleaning and maintenance | |
Since hand-tufted rugs are only partially hand-made and make use of a mechanical tool, creating them is not as time-consuming as hand-knotted rugs and won't take too much time. But since it takes less skill to make them, it is less durable and can is even vulnerable to spills, footsteps, and sunlight exposure. Since the rug cost less, it is also less valuable and won't be considered heirloom quality.
The patterns and designs of these hand-tufted rugs are not unique but you can enjoy common patterns from colorful geometric shapes to flowers and stripes. This is the ideal rug option if you have pets and children at home that would put the rug's condition at risk.
Cleaning and maintenance of hand-tufted rugs are easier. Vacuum the rug weekly and turn the rug regularly to regulate sunlight and footstep exposure. Make sure not to beat or shake the rug so as to avoid damaging the fibers.
Hand Knotted Rugs Pros And Cons
Creating a hand-knotted rug can take months, depending on how complex the pattern is, as well as the number of knots needed to complete it. Here are the pros and cons you can enjoy when you use hand-knotted rugs.
| | |
| --- | --- |
| Pros | Cons |
| Fully handmade | Takes a long time to produce |
| Heirloom quality: Retains value | Expensive |
| Better quality and more durable | Takes incredible skill to make |
Hand-knotted types of rug weaves are fully hand-make and takes someone with incredible skill to make. This is also the reason why it takes a long time to produce and is offered at a higher price.
It can actually take months since an average weaver can only work around 10,000 knots a day. But the best thing about it is that it has heirloom quality and is able to retain its value over time. And it also features a unique pattern you are sure to appreciate proudly displaying at home.
How To Choose Between Hand-tufted vs Hand-knotted?
Learning all about hand-tufted and hand-knotted rugs is the first step to take when choosing between them. Here are the different factors you can weigh in and compare when it comes to hand-tufted and hand-knotted rugs:

• Budget – Hand-knotted rugs can be expensive and so if you have a limited budget for it, choose hand-tufted rugs for a more affordable option.
• Durability – Hand-knotted rugs are just like their artistry and can last for a long time that they can be passed down from one generation to the next so this is the best option if you want something that can last for a lifetime and more.
• Value – With superior value, hand-knotted rugs retain their value well so to add real value to your home, choose these rugs.
• Damage-risk – Because of their value, it can be risky to display hand-knotted rugs especially if you have kids and pets so you might as well choose hand-tufted rugs.
How Can You Tell If A Rug Is Hand Tufted?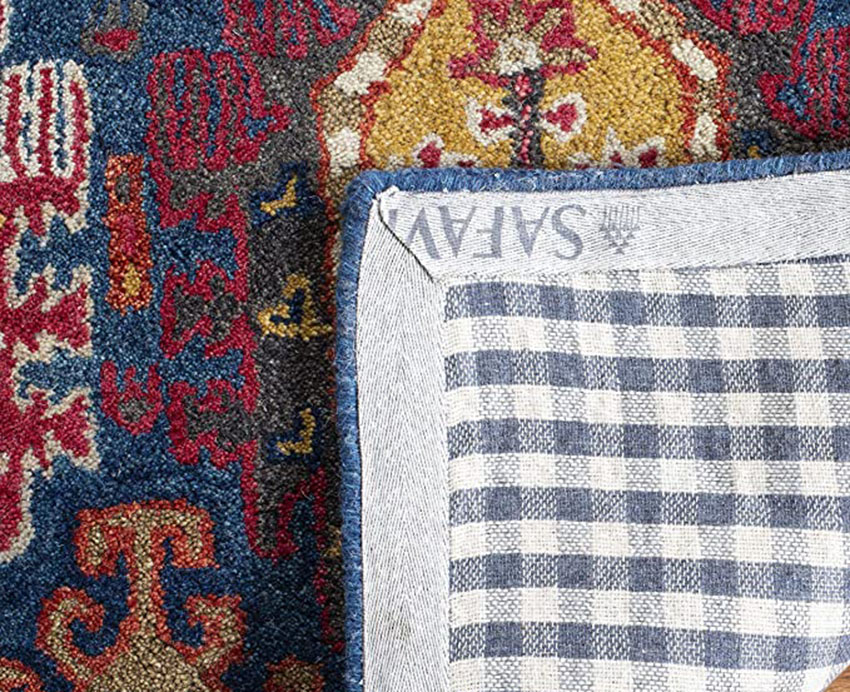 You can easily tell if a rug is hand-tufted by turning it over by looking at its back. There is guaranteed to be scrim backing or applied coating at the back that secures the tufts by covering it with a canvas or similar material. If it does not have a backing and has the same design as the front part of the rug then it's a hand-knotted rug.
Is Hand Tufted The Same As Hand-woven?
A hand-tufted rug is only partially hand-woven compared to a fully hand-knotted rug. While a hand-tufted rug may be considered hand-woven, it is not full-fledged though since a mechanical tool is used to create the rug.
Visit our how to pick rugs sizes guide for more related content.