These cute bedroom ideas for girls offer a wide range of designs to create endless possibilities. Below you'll find plenty of pink bedroom designs with frilly beds and princess curtains. In addition, you'll find a wide range of bright colors, cute design motifs, rooms with art murals, and fun furniture. From young girls rooms, to preteens and even young teens, these bedroom designs offer something for every stage of a girl's childhood.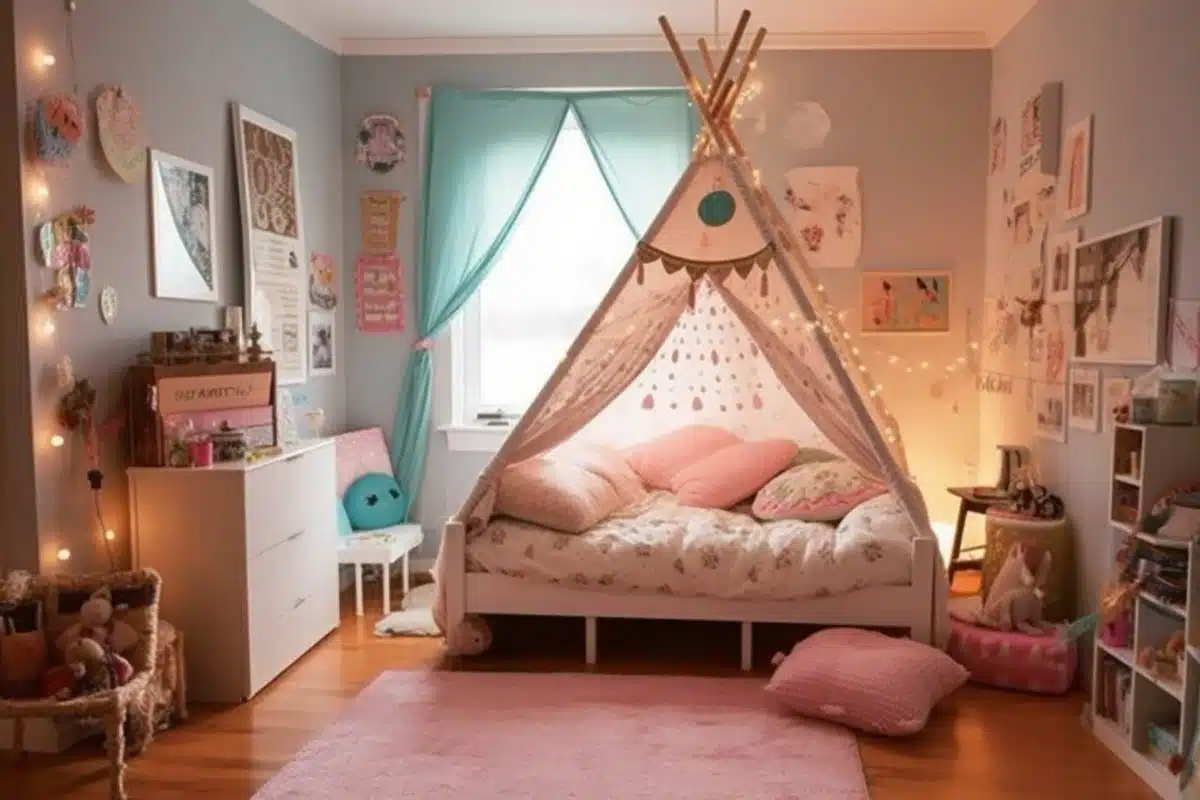 The bedroom shown in the picture above is a lovely transitional style girl's bedroom which will surely appeal to young teenage girls. Uses a very bold red color for its walls and pairs with traditional style furniture in white, creating a nice contrast and a lovely feminine appeal to the space.
Girls Bedroom Ideas
With information and images easily accessible, children nowadays tend to have more understanding of design and aesthetics and a better idea of what they want their bedroom to look like. The typical bright solid colors, cartoon characters, and kiddie patterns nowadays are not as popular as they once were.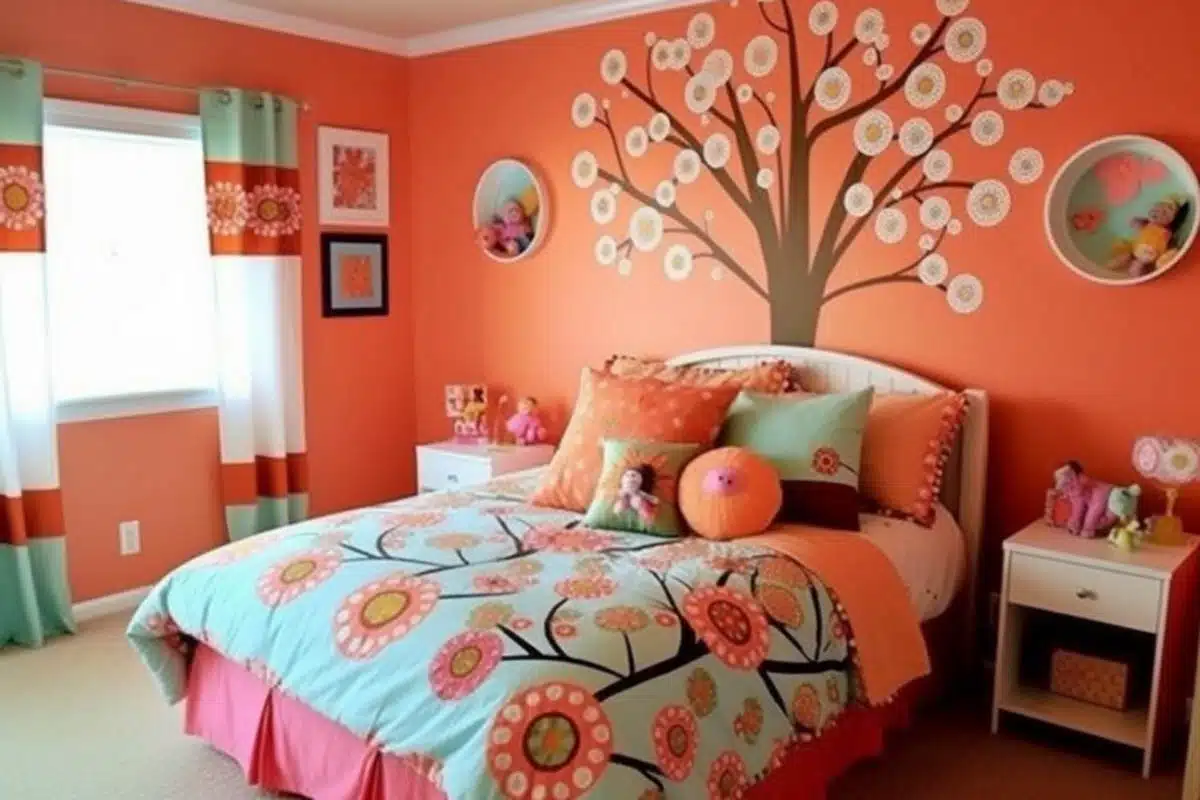 However, girls especially love to express themselves and would love their room to reflect their unique personality or the things they like the most. Modern materials and finishes have made it easier to achieve different looks for rooms, allowing you to decorate rooms in every way possible – your imagination is your limit!
For little girls' bedrooms, color schemes could be based on any color imaginable – from bright colorsto pastels, and even neutrals. The stigma of associating gender with colors has been removed, so colors that used to be associated with the male gender are now often seen in girls' bedrooms, and vice versa. This also allowed more creativity and variety in the possibilities of designing children's rooms.
The design of a girls' bedroom would highly depend on the room size, the age of the user, the intended length of use of the room, as well as the personality & hobbies of the user. Typically, the most important elements in a girl's bedroom would be the following:
The bed – the bed size & height should be appropriate to the user and should anticipate the growth of the child. The size of the bed could simply be standard and dependent on the room size, but the height of the bed should be given more thought, especially for younger kids.
A bed too high could be a little difficult for smaller children or a bit dangerous for kids who tend to fall down the bed, so such factors should be considered.
Storage – As kids tend to have lots of toys and other items, there should be enough storage areas to help organize such items. It would also be beneficial as it could teach the child early on how to organize and keep things in their proper place.
Work area/activity area – Young girls are into a variety of hobbies and interests, and it would be good to encourage their interests by providing them with a space appropriate for such activities. A reading chair and bookshelves for those who love reading, a nice drawing desk for those into art, a large work table for those who love to build things, etc.
Remember that the best design for any room – be it an adult's or a child's – is one that meets the needs and reflects the tastes and personality of its user.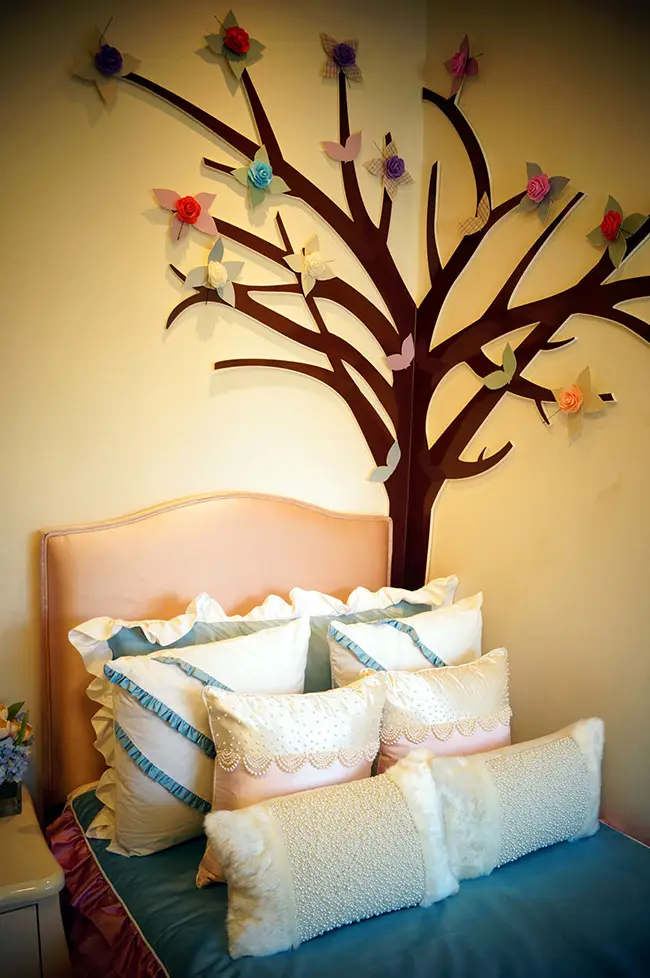 One simple way to decorate a girls' bedroom is through the use of creative wall decals or stickers. In this bedroom, a tree decal was used to give a fun vibe to the space. As it is just a decal, you can easily remove it or replace it once they grow older. The bed is also a nice single bed with a peach upholstered headboard and a combination of cute pillows with frills and pearl details.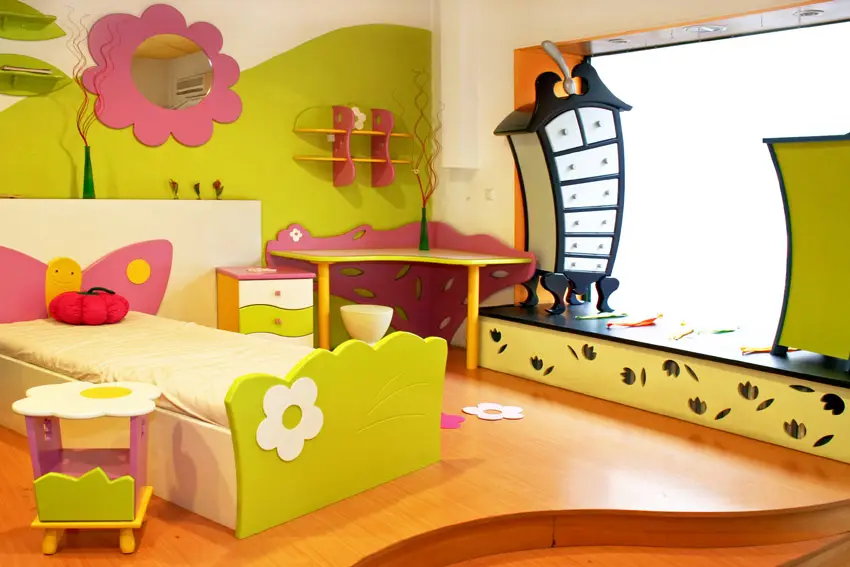 This is a fun themed girls bedroom that uses bright and cheerful colors. You can see that the modern bedroom fits the feminine theme – customized furniture pieces in pink, green, and white which is both refreshing and girly. The use of fun and bold colors encourages creativity and confidence.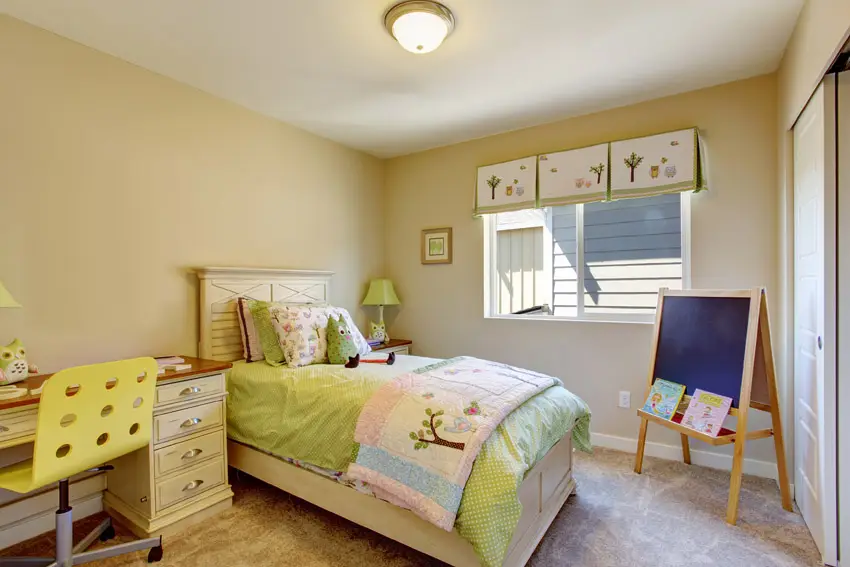 A great idea to redecorate a traditional style bedroom to fit a girls' bedroom theme. Instead of replacing the furniture pieces and repainting the walls to fit a little girl's tastes, this bedroom keeps its neutral color scheme and classic furniture pieces, but instead just adds accents that will give the space a younger appeal like the green and pink bed sheets, the fabric covering the valence board and the fun yellow desk chair.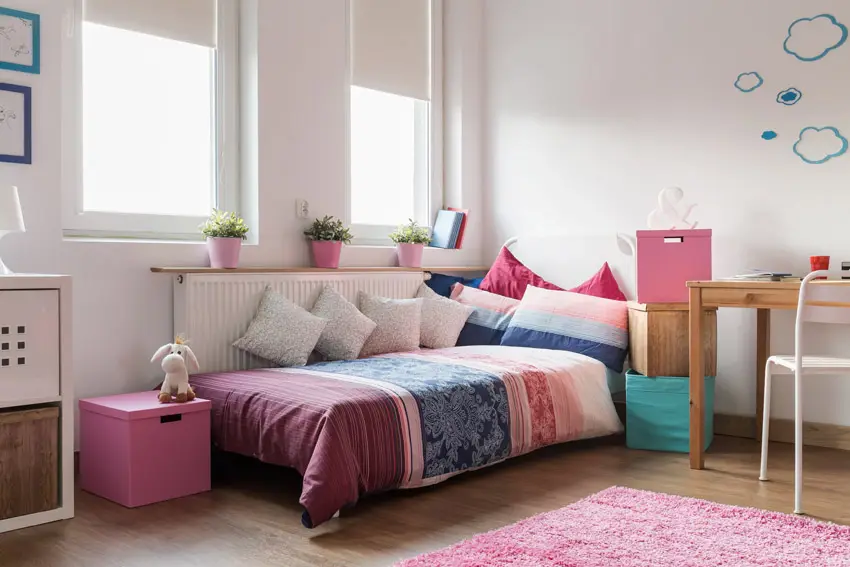 This is a very simple modern girls' bedroom that doesn't overdo the theme. Since the room uses very simple clean white walls paired with natural oak floors, it allows flexibility, making it easy to redecorate when the child grows older. To make it more fit to the age of its user, however, it uses accessories with bright colors, matching the user's age.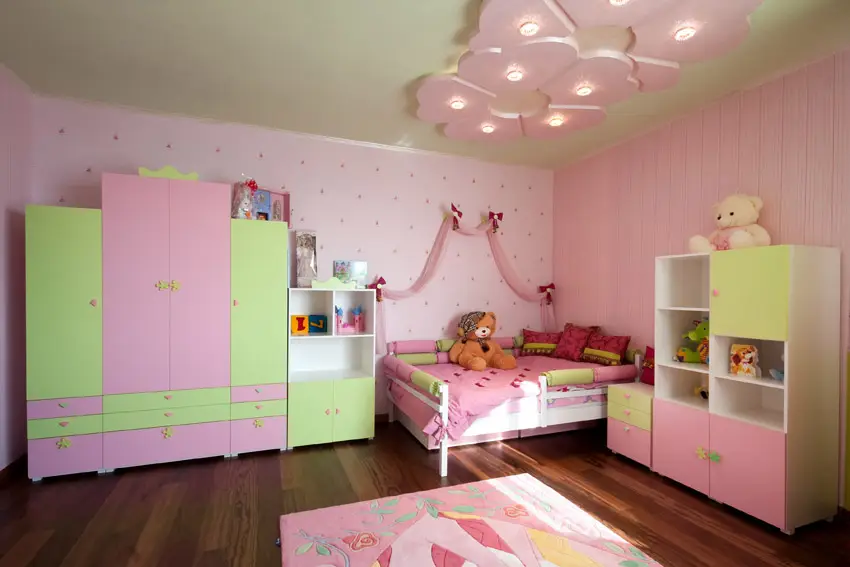 A cute themed girl's bedroom which uses green, yellow, and pink color scheme, creating a very feminine and girly vibe. The walls were painted in a soft pastel pink color while the ceiling was painted in a light yellow color.
There's a unique custom flower-shaped drop ceiling lights installed, giving a unique feel to this modern bedroom. The color-blocking of pink, yellow, and white also gives a fun feel to the space.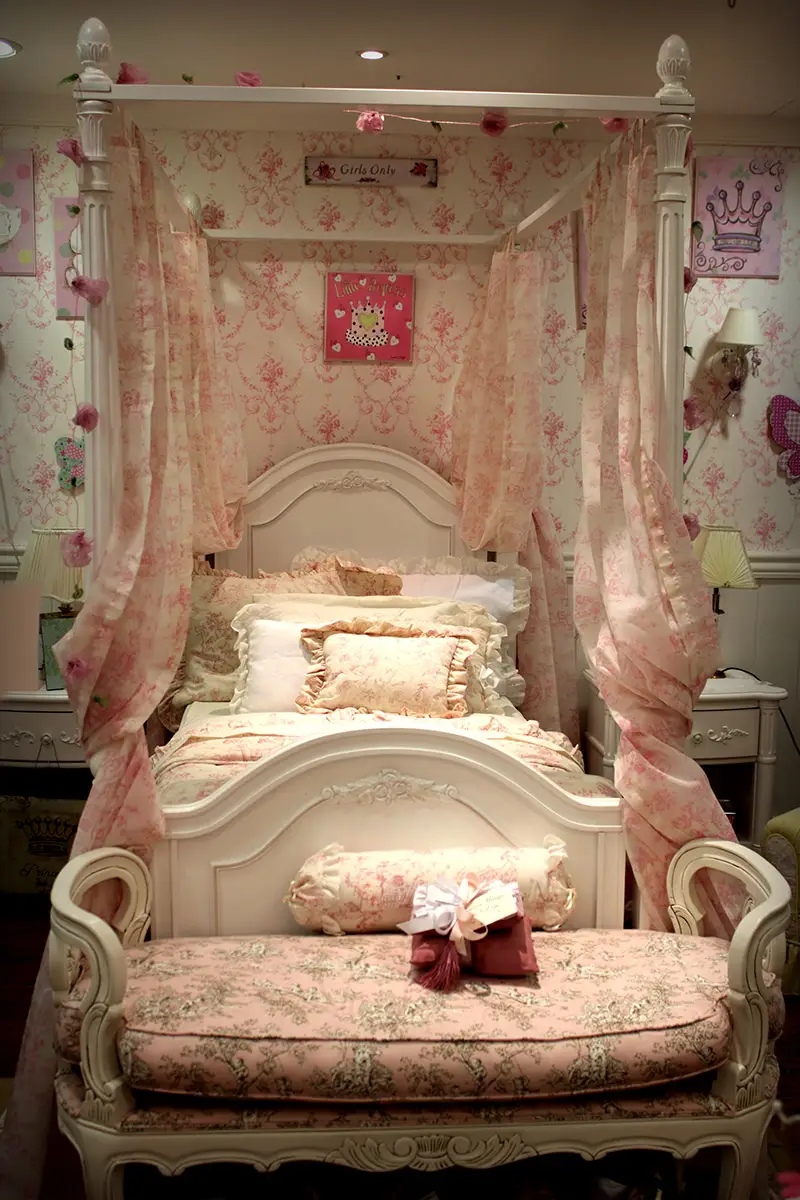 This bedroom features a very lovely twist to a traditional style bedroom. making it look feminine, but not overly young. This style can easily transition and match the taste of a young girl up to a teenage girl.
The room has white wall panels with white and pink brocade wallpaper, and the furniture is all in classic rococo style painted in white. The bed is a four-poster single bed, and the fabrics used have classic style floral patterns on a rose/pale pink background.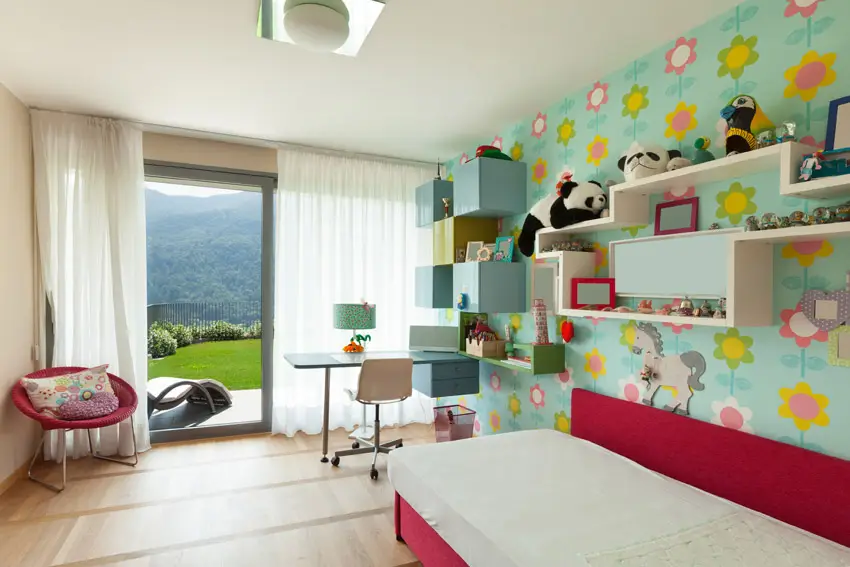 Another modern themed bedroom has a very fun and young vibe. The cream walls and pale maple floors give a nice light and clean feel, allowing the use of a very bold blue wallpaper with sunflower patterns.
The bed used is a low fully upholstered daybed in red, and there are also fun modern modular cabinets attached to the walls used to display toys and other accessories.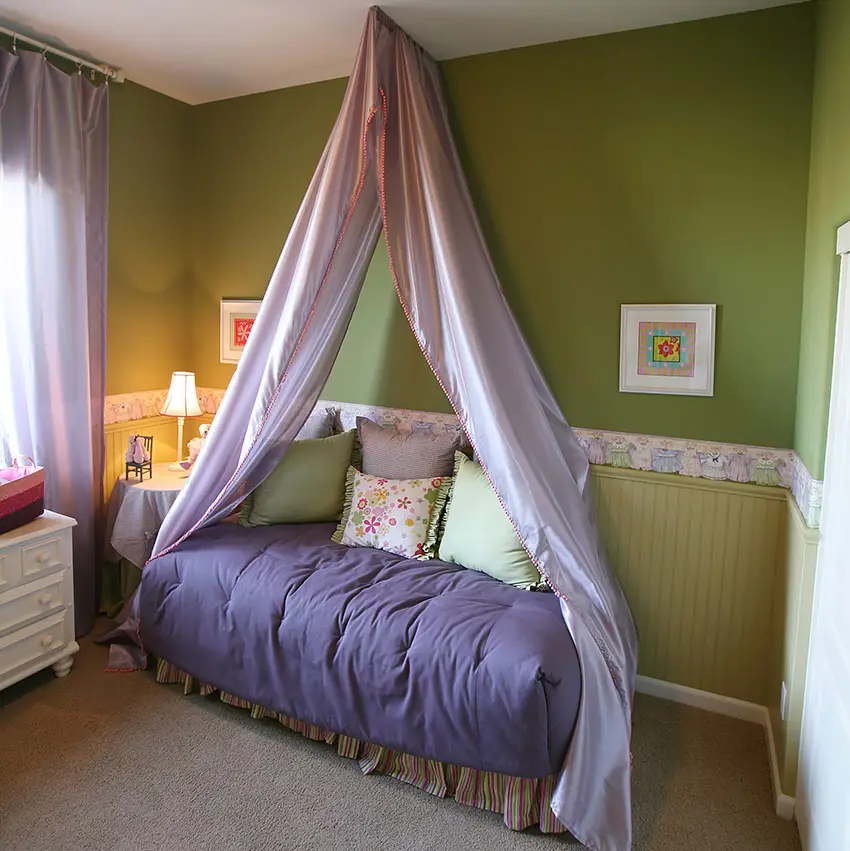 A lovely transitional style bedroom with a quaint size with a theme fit for a little girl. The walls were painted in a lovely combination of avocado green and lime green.
This color complements the purple covers and curtain used on the daybed. As the side of the daybed is placed against the wall, it can also serve as a small sofa when not used for sleeping, while the carpet floors give a safe cushion in case the child falls out of bed.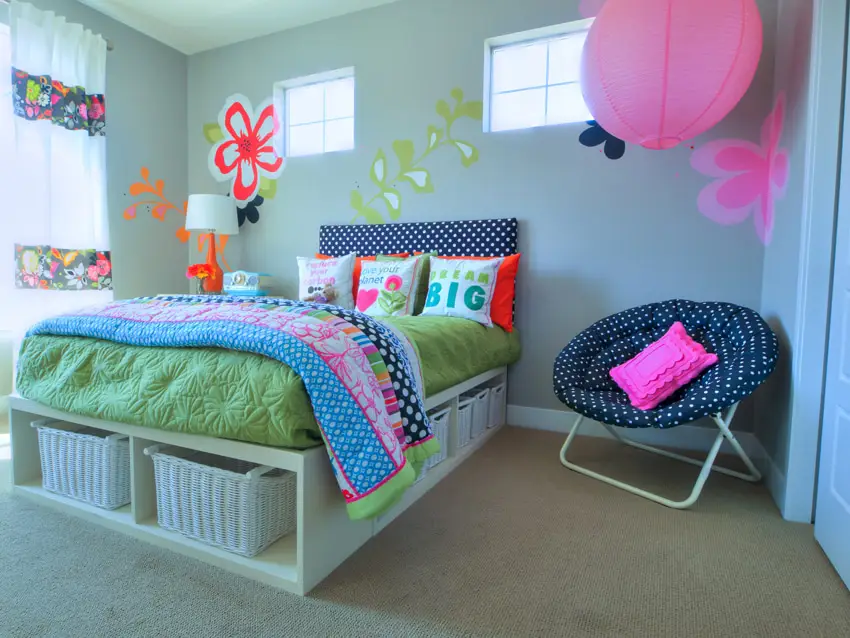 This modern bedroom is perfect for a young teenage girl. It has that fun and young appeal, without being overly girly since it has a more mature summer concept. The walls are neutral gray, making them flexible for redecoration, but were decorated with large floral decals to complete the summer look.
For the bed, lime green covers were used and p[paired with a navy blue polka dot headboard and accent chair, giving it a refreshing feel. Some neon color was also added to the room, creating a very bold and dramatic look, but not looking overly childish.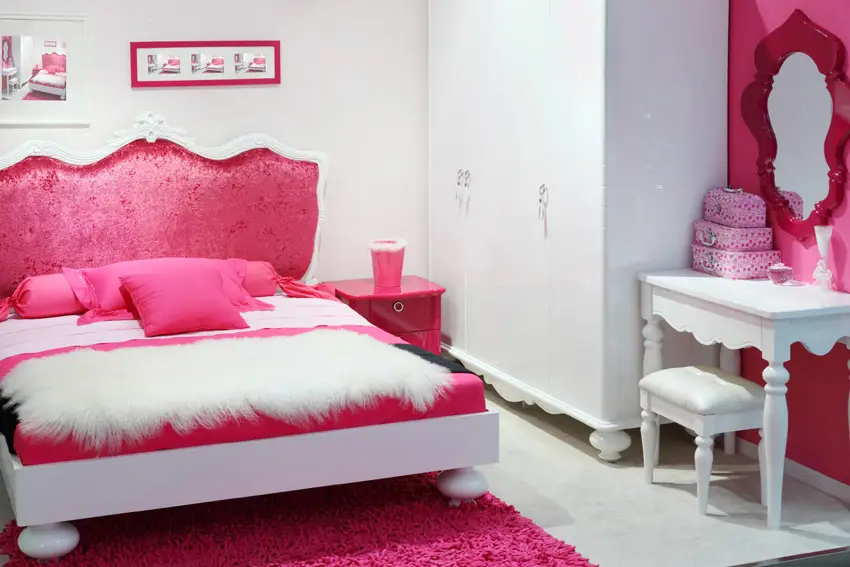 This transitional style bedroom plays with proportions, creating a Baroque style feel. For the color scheme, it combines a bold fuchsia color with whites, giving nice contrasting colors to the space.
The bold fuchsia colors give a fierce feminine feel to the space. As the furniture used is in a basic white color, this room can be easily converted into a more mature theme/color scheme when its user grows older.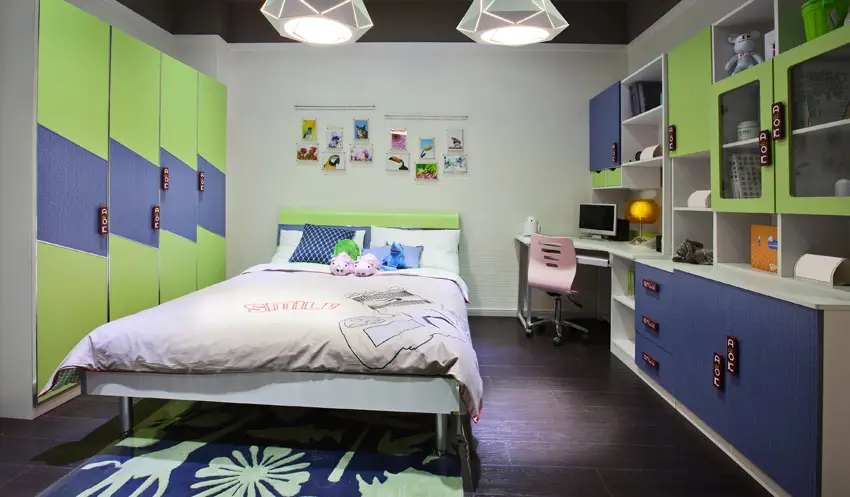 This modern bedroom is a non-stereotypical girls bedroom. Instead of using colors stereotypically aimed at females, this bedroom uses a combination of dark indigo and green. The combination, however, still looks fun and young, encouraging creativity and individuality. It also has a nice neutral background, allowing flexibility in case of remodeling when its user gets older.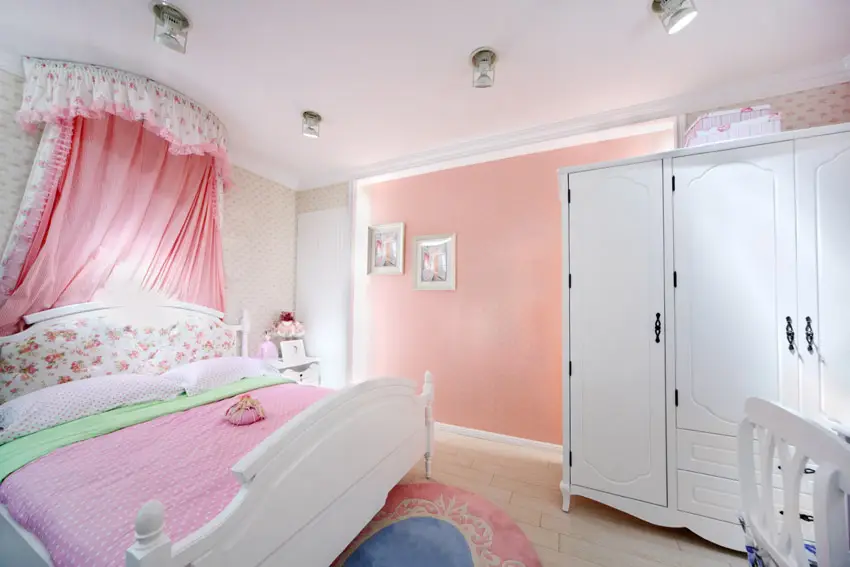 A traditional style bedroom with a very feminine concept and color scheme. It uses a combination of cream wallpaper with floral patterns and peach colored wallpaper.
These were paired with white traditional style furniture, and feminine fabrics in pink, green, and floral patterns. The use of all-white furniture pieces makes it easy to convert this room to a more mature style eventually.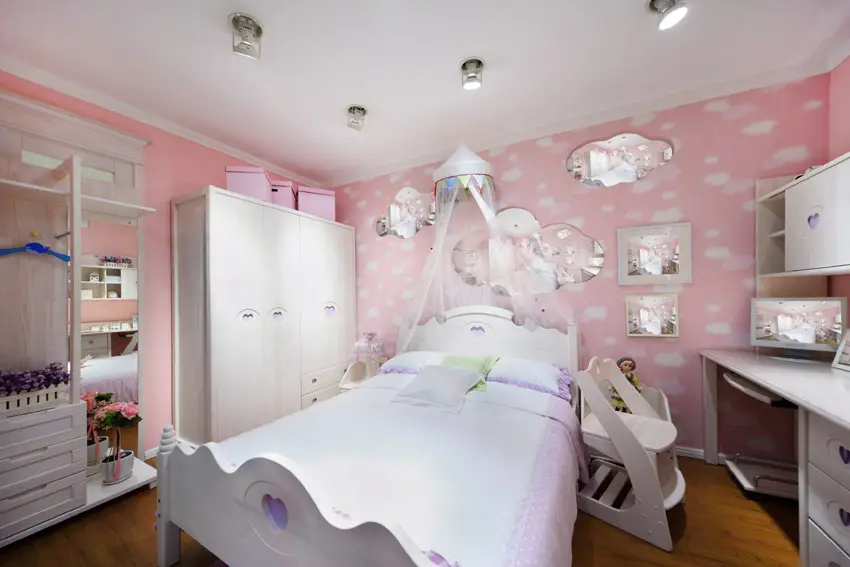 This modern girl's bedroom has a really young and cute feminine vibe to it. All the walls were painted in pink, with an accent wall painted with a small white cloud mural and combined with customized light beech wood furniture pieces.
The custom furniture pieces really match the girly feel of the room with heart-shaped accent cut-outs you can see all throughout the room. The unique aspect of the room would be the cloud-shaped mirrors on the accent walls, adding a fun personal touch to the space.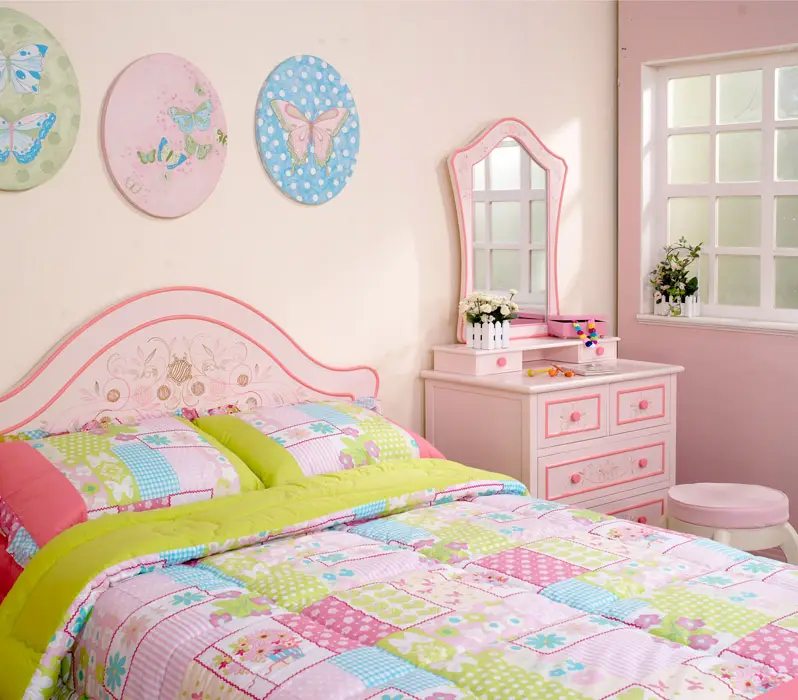 This is a very colorful bedroom design. It uses classic-inspired furniture pieces, updated and given more modern girly details to it. The bed and vanity are both matching, painted in a pale pink color, with bright pink accents and floral painted designs.
The peach and pale pink painted walls give a soft background to the space, allowing the use of bright & bold bed sheets and wall accents.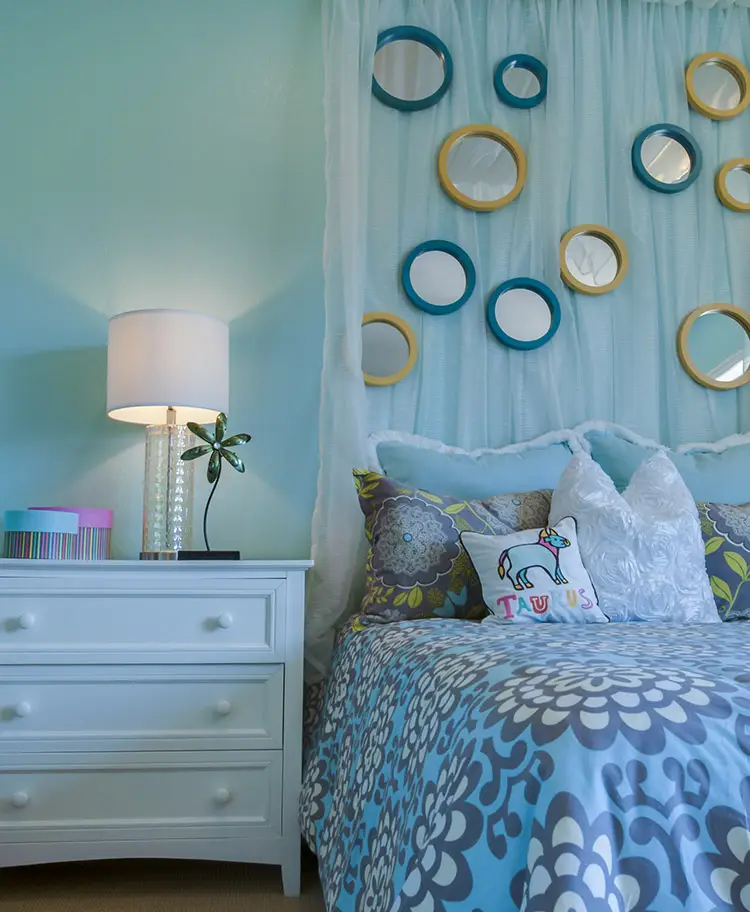 Using a blue and white color scheme, this transitional style bedroom has a light and relaxing feel to it. Walls were painted in a soft light blue color, perfect for all ages, while the bed covers and pillow covers used have a really girly look to them, matching the age of its user.
Keeping the furniture pieces white and basic makes it more flexible as its user matures. See more painting ideas for kids rooms here.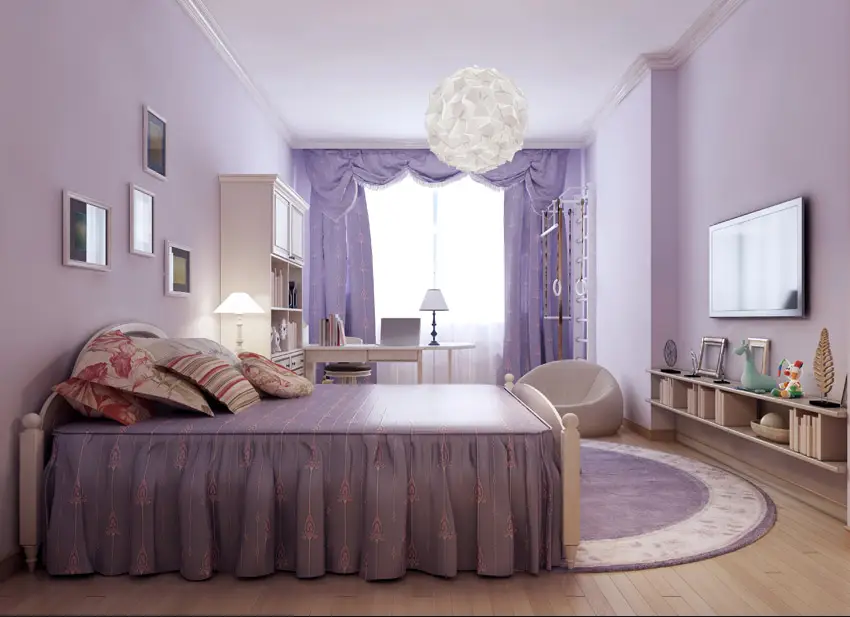 With a purple and white color scheme, this bedroom exudes a young feminine aura, without looking overly young. In fact, this space can easily pass for an adult's bedroom with very few tweaks.
Furniture pieces are painted in a light cream color, making them look classic and timeless, and for the walls, a nice pale lavender color was used. The fabrics used are in matching purple, creating an overall unified look to the space.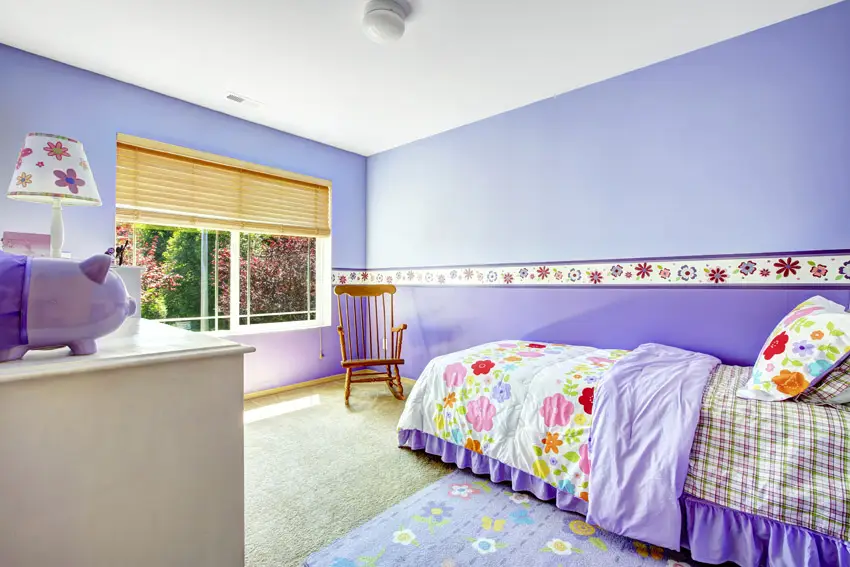 A cheerful modern girls' bedroom decorated with floral motifs and bright indigo and blue walls. The walls are decorated with a strip of floral design stickers, and the bed covers also use cartoon floral patterns to match the color scheme of the room.
There is also a classic furniture piece in the room like the wooden rocking chair at the side, adding a classic touch to the modern space.
A lovely girl's bedroom with a fun Tropical theme. The theme used is actually also appealing to girls in their late teens as well. The bed is a classic iron framed bed in white, walls are in a very light yellow color which matches the yellow orchid patterns on the bed sheets and the yellow curtains.
The space is not overly decorated which makes it easy to change its style eventually.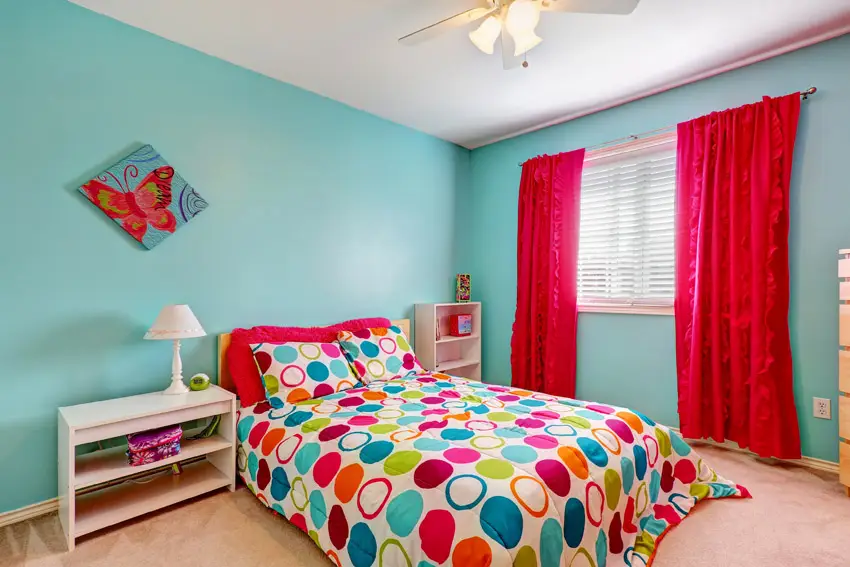 This modern bedroom is all about bold and fun colors. As you can see, the bed used is a low platform bed that uses bed sheets with fun colorful patterns. The walls are a bright turquoise color paired with bold red curtains creating a truly fun bedroom design.
Many bedroom ideas for girls start with determining their favorite color and finding decor and paint to get the look just right.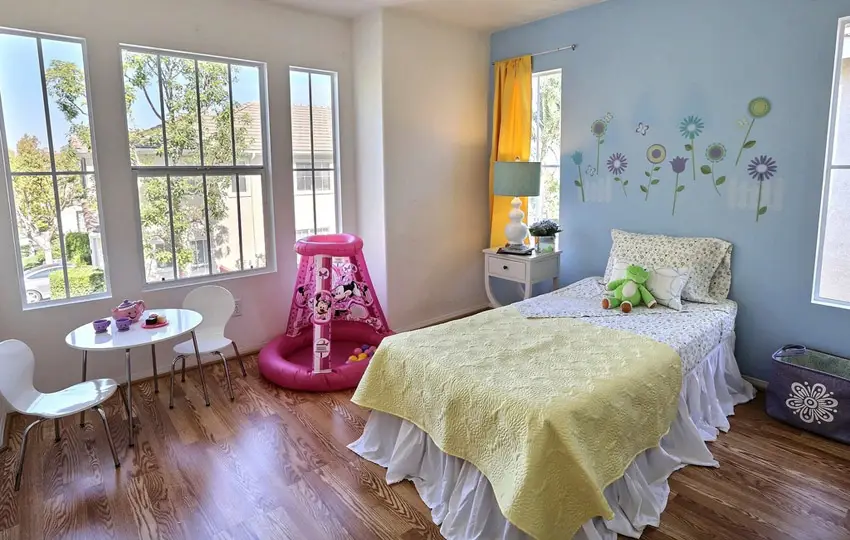 This girl's bedroom features a soft pastel color scheme which has a calming and relaxing feel. The walls are a combination of white and powder blue decorated with floral decals.
There is a single bed in the middle with yellow sheets and frilly bed skirting, emphasizing the feminine image of the bedroom.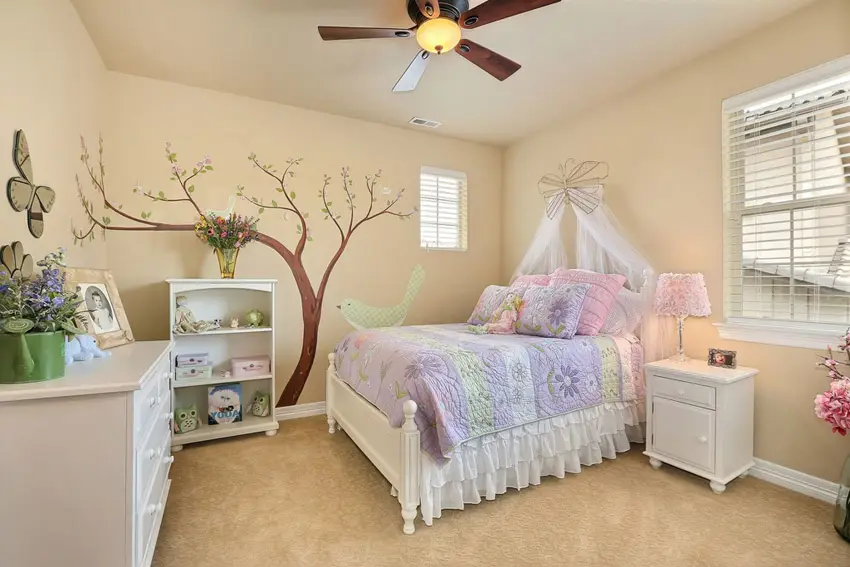 Using traditional style furniture pieces, this girl's bedroom surely has a lovely princess-like feel to it without going overboard. The floors and walls uses a neutral oatmeal color, creating a soft background to work on which will match even as its user matures.
Furniture pieces are all white with classic style/design and are all matching. The frilly bed skirting and the tulle accent on the headboard gives a dreamy feel to the room and is paired with pastel colored sheets. The walls have tree mural design, creating a fun accent on the wall without looking overly young.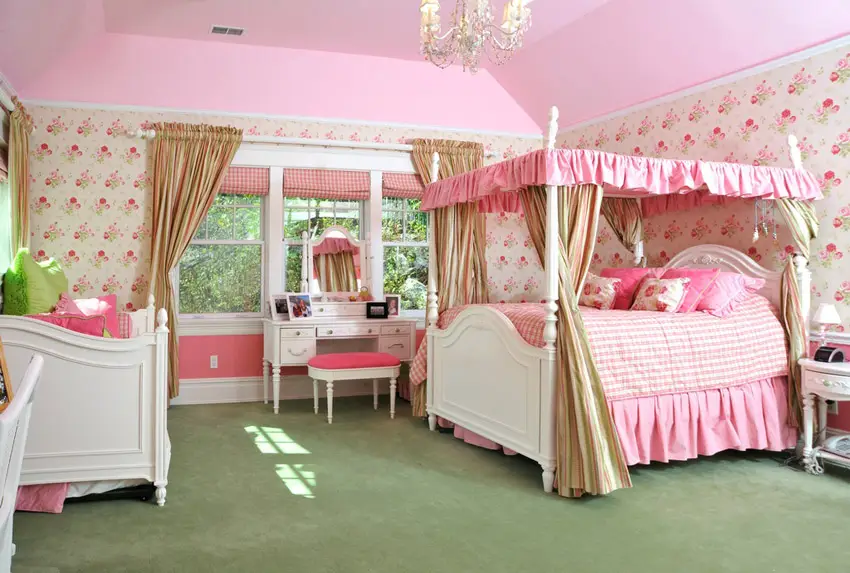 This bedroom is truly any girl's dream bedroom. With a white and pink theme and transitional style white furniture pieces, it really gives that dreamy princess feel. Walls uses pink floral wallpaper, green carpet floors, and a combination of prints and different shades of pink for the fabrics.
The bed is a four poster with pink and green curtains matching the window curtains and shades, and the room also has a desk, a vanity dresser, and a daybed with a combination of green and pink pillows.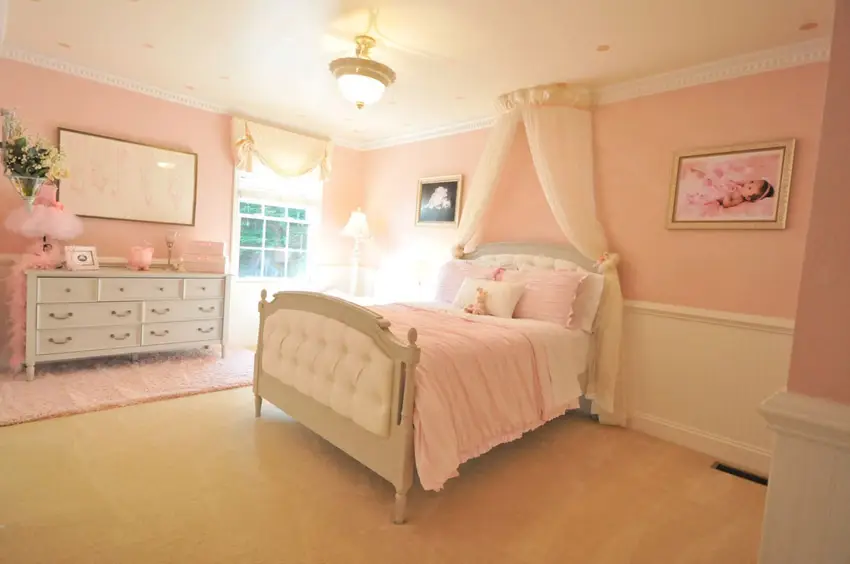 Previous examples feature bright pinks, but this girl's bedroom goes for softer pastel shades, making it look more relaxing. The walls have white wooden lower panels and pastel pink upper walls. Floors are neutral cream carpet, and furniture pieces are classic pieces painted in a light gray color.
The bed has white upholstered tufted headboard and footboard, giving a nice soft look to it. Bed sheets are in pale pink, as well as the area rug and other accessories.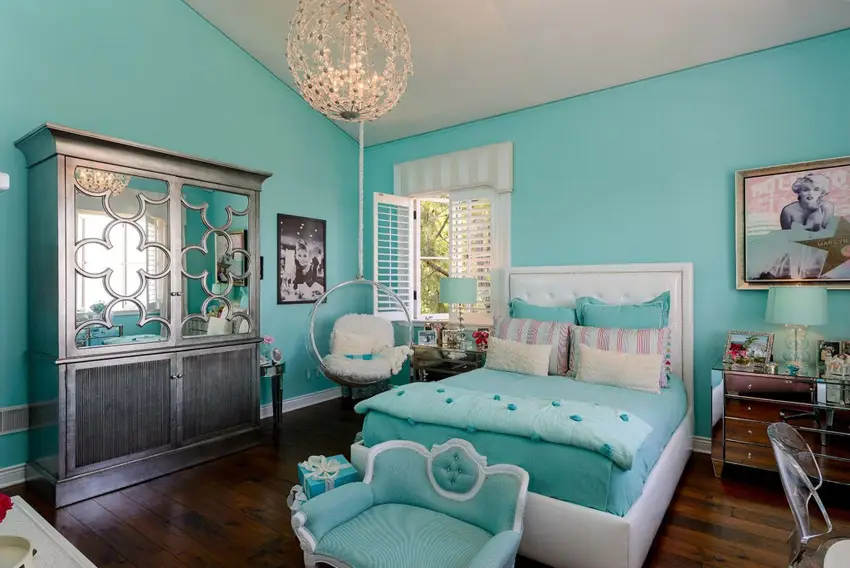 This bedroom goes for a fun and bold color, using turquoise and combining it with modern transitional style furniture pieces that will fit the taste of more mature users. The walls were all painted in a light turquoise color, and the room itself is well furnished.
A white fully upholstered double bed with turquoise sheets, a small seat at the foot of the bed, a silvered cabinet with mirrors, a desk and a desk chair, a pair of mirrored night tables, a hanging bubble chair and other accessories that emphasize its glam modern look.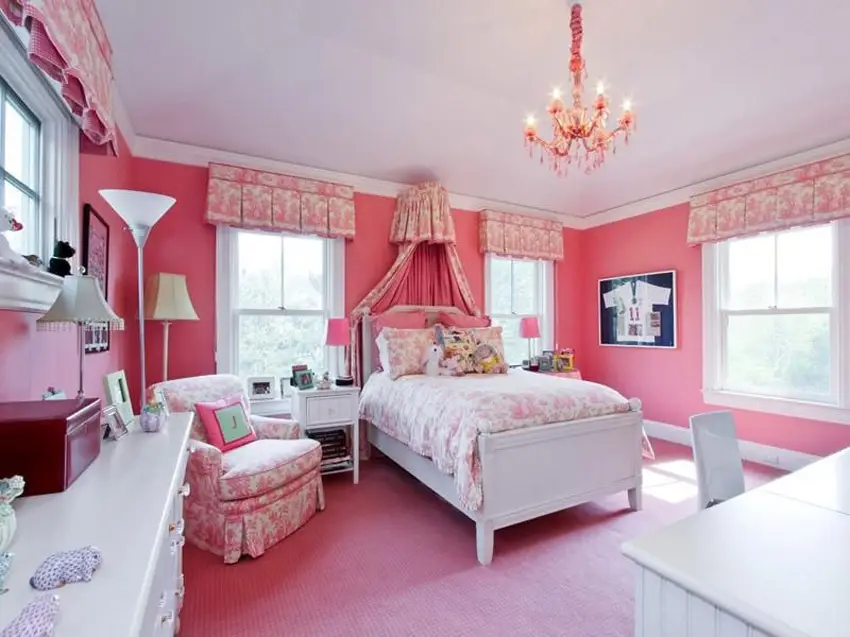 Another all pink themed bedroom using traditional style furniture pieces which creates a very feminine room any pink-loving kids would appreciate. Walls and floors are all in pink and are offset by the white furniture pieces and moldings.
Fabrics used on the bed and the armchair are in matching floral patterns, which also match the fabric on the valence board and the overhead drapery. The room even has a pink glass chandelier to complete the look.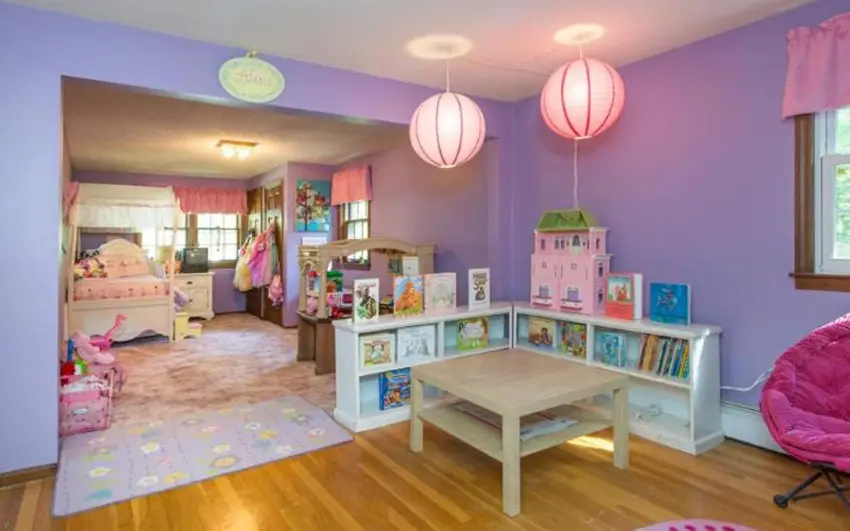 This bedroom is very large and has an interconnected play area. The walls were painted in purple and has pink fabric accents. Furniture used also has classic forms and were painted in white. The play area has a low bookshelf for toys and books and a low table for reading and other activities.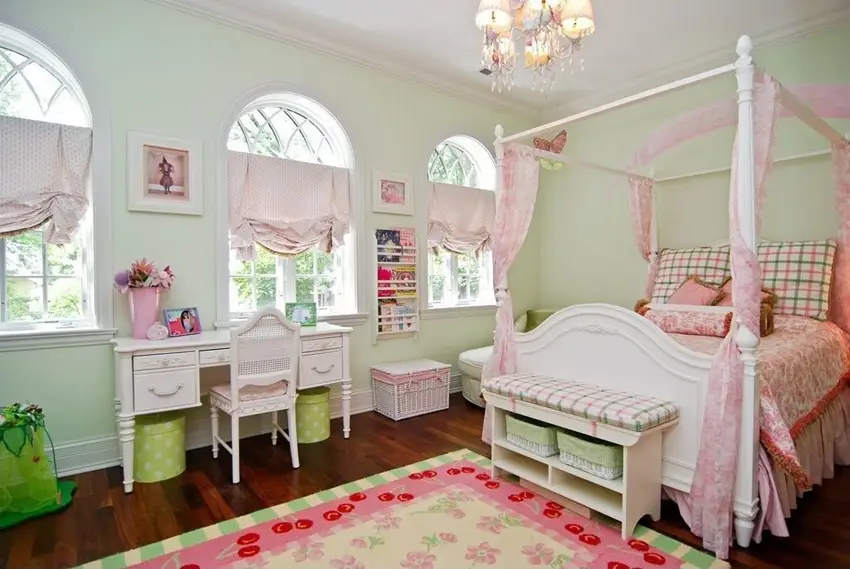 The high ceiling of this bedroom helps make it look airy and spacious. The use of pale mint green wall paint also helps create a relaxing feel to this transitional style girl's bedroom. The bed used is a white four-poster with pale pink sheets and drapes, matching the white desk & desk chair.
All throughout the bedroom, you will see different patterns and combinations of green and pale pink, creating a soft palette that is both relaxing and pleasing to the eyes.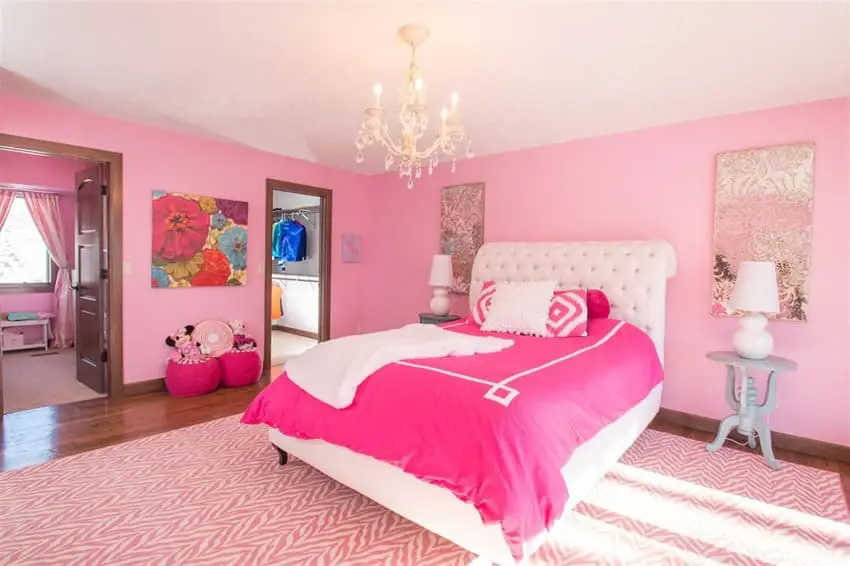 This large modern girl's bedroom goes for a bolder combination of pinks. Walls were painted in a pink color, while the large fully upholstered white leather bed uses hot pink bed sheets creating a really bold impression.
Framing the bed is a very large zebra pattern area rug in pink, while for the accessories, etched glass and crystal chandelier were used, giving the space a glamorous feel.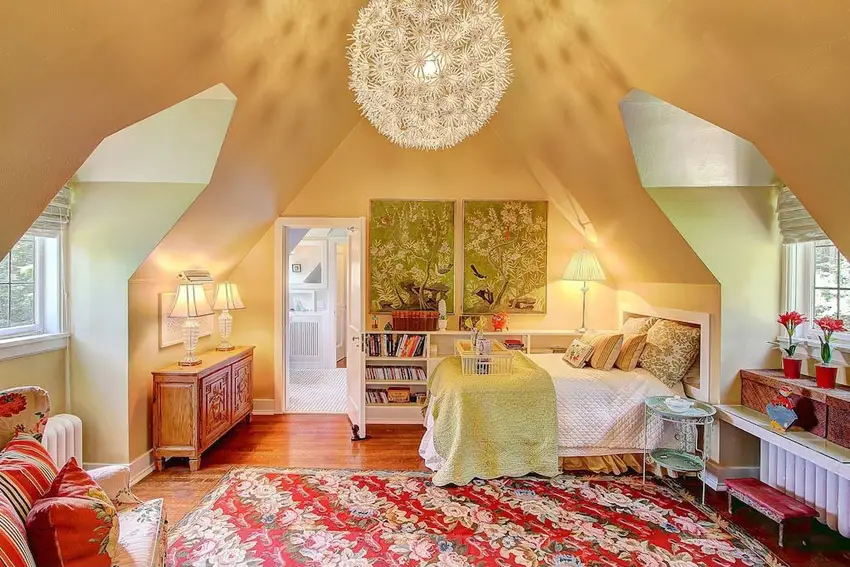 The main feature of this girl's bedroom would probably be its large dandelion chandelier and its unique ceiling shape. Walls were painted in a very pale green color which gives an almost white to yellow look, paired with classic solid wood floors.
Classic white furniture pieces were used, creating a timeless romantic feel to the space, and making the space look appealing to young girls and at the same time, appeal to more mature tastes, a combination of greens and reds was used in the bedroom, opting for more mature floral designs over cartoon-like designs.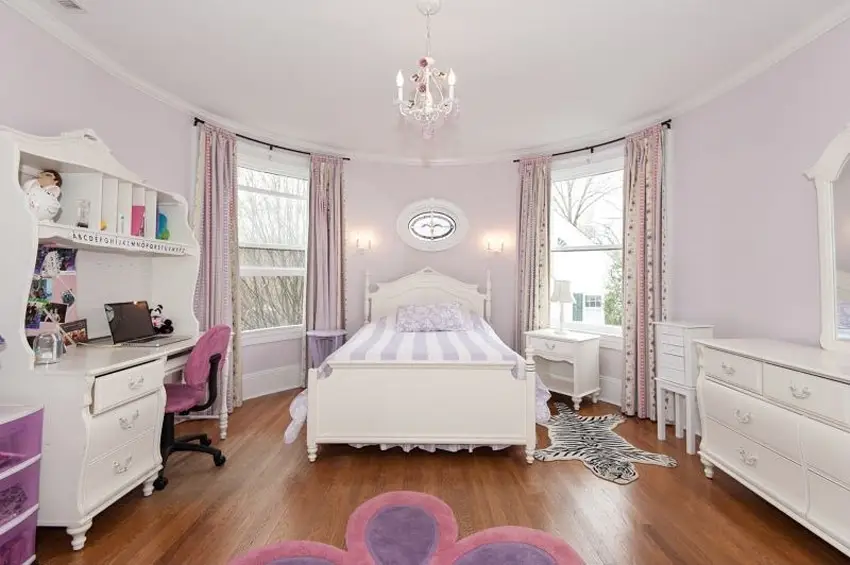 This room has a unique elliptical shape, creating a unique perspective of the room. All furniture pieces are classic white and is a pleasing combination against the pale lavender painted walls and sheets. Classic furniture pieces help make this girl's bedroom look elegant, fun and timeless.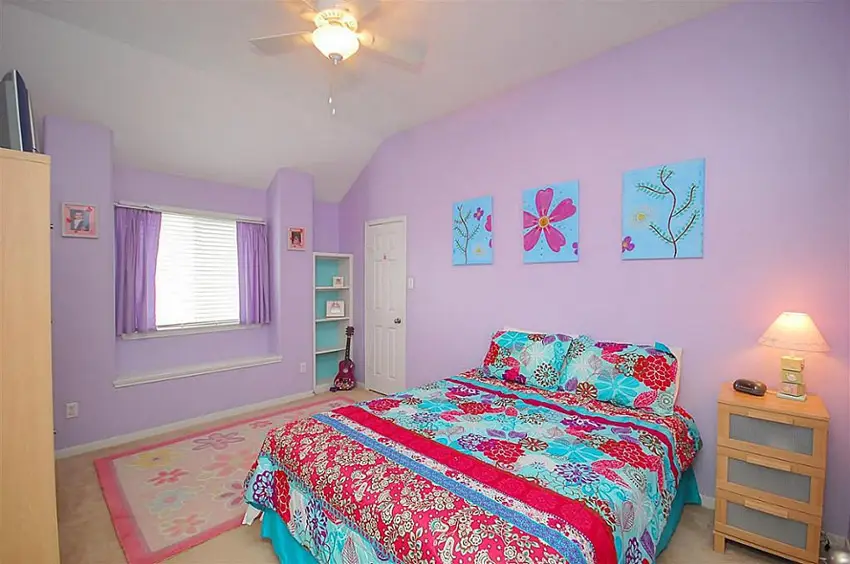 Another tropical themed modern bedroom using a combination of purple and turquoise creating a really fun and bright color scheme. As you can see, walls were painted in purple all throughout, the bed is a simple platform/bed box covered with turquoise and red sheets which matches the 3 pieces wall art.
The floral patterns have a tropical vibe, creating a fun atmosphere that reminds us of summer vacation.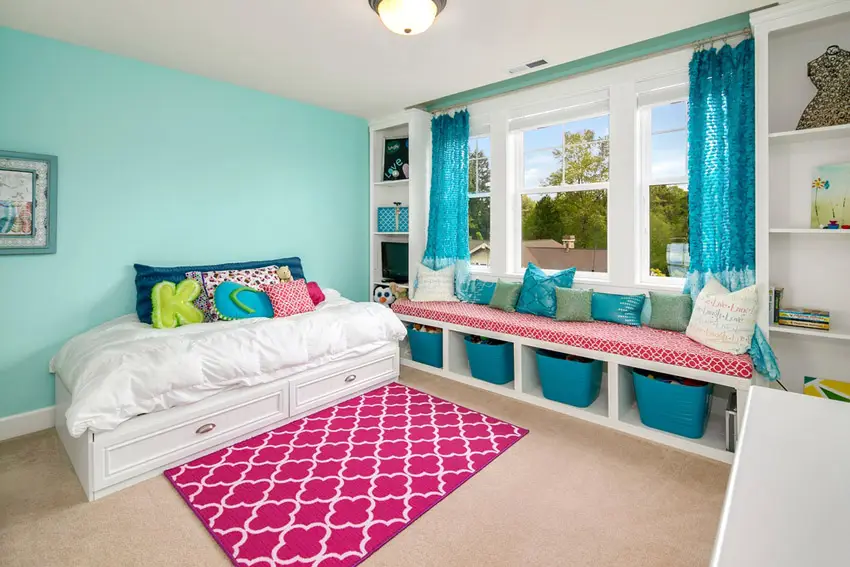 This transitional style bedroom goes easy on furnishing the space, but instead focuses on creating a larger floor space for playing and other activities. The bed is a simple daybed with drawer storage in white, and there is also a sitting area by the bay window.
The storage is definitely maximized in this bedroom – shelves were placed on both sides of the windows and there's also storage available underneath the bench. As for the color, a light teal paint was used on the walls and bolder turquoise was used on the fabrics with some accents of hot pink.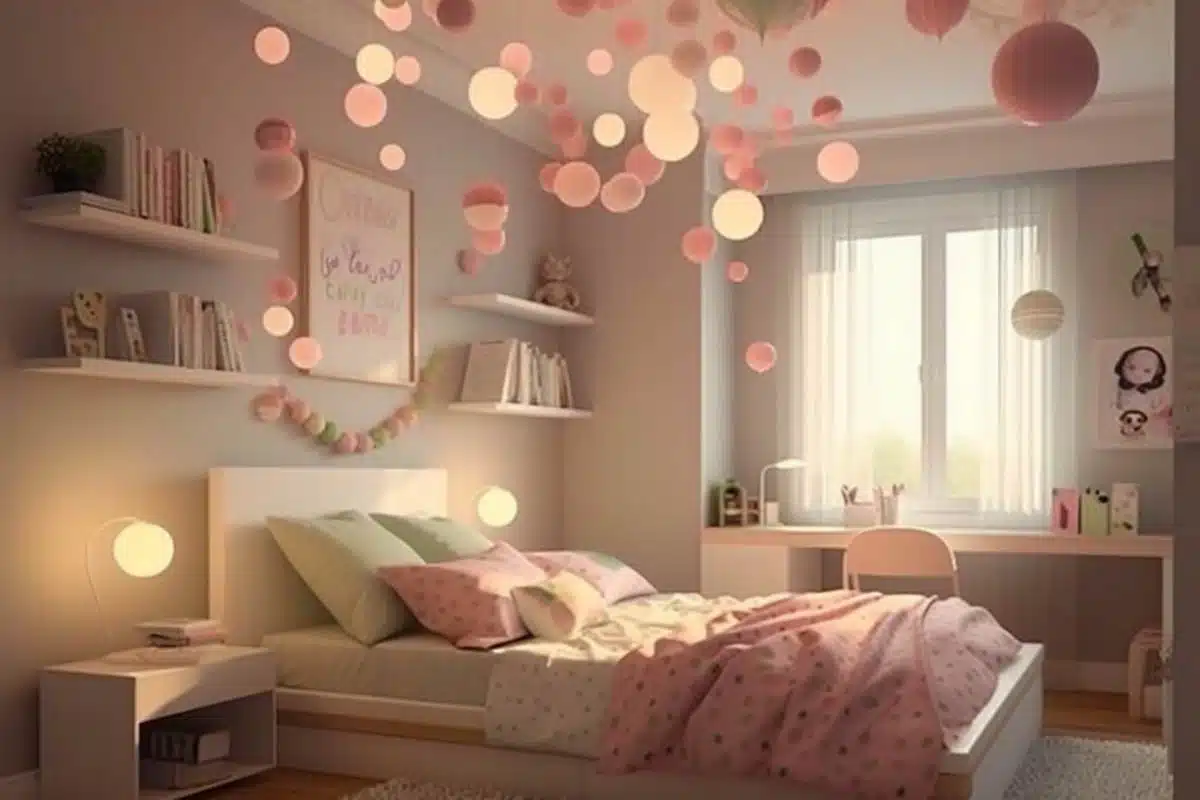 This whimsical design offers a magical feel with the abundance of multi-color orbs hanging from the ceiling. A large platform bed with matching bedding and dots helps reinforce the theme creating a light and airy feel.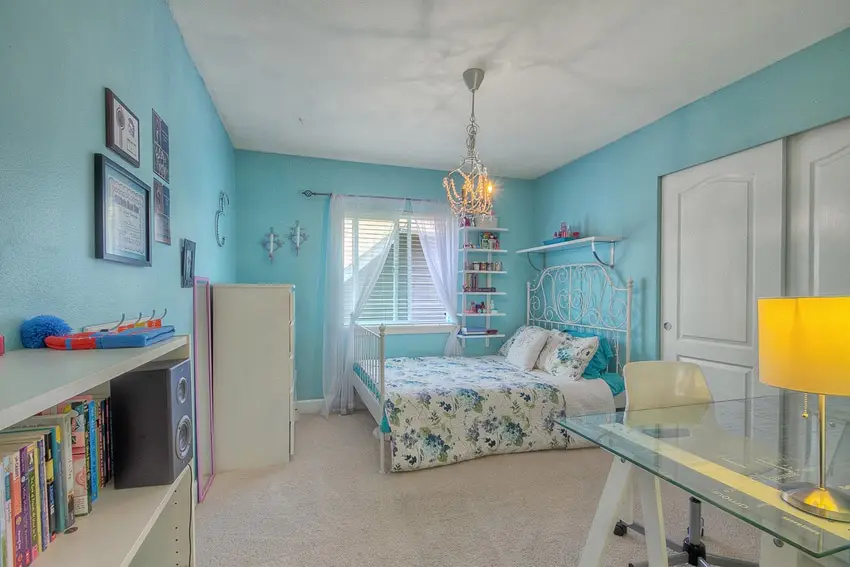 A simple girl's bedroom with a combination of both classic and modern furniture pieces. You will see a large iron-framed bed in white set against sky blue walls which is paired with more modern forms of shelves, storage and even a modern trestle table with glass top for desk and a molded plastic computer chair.
The room also features wall shelving units for additional storage and classic floral bed sheet patterns.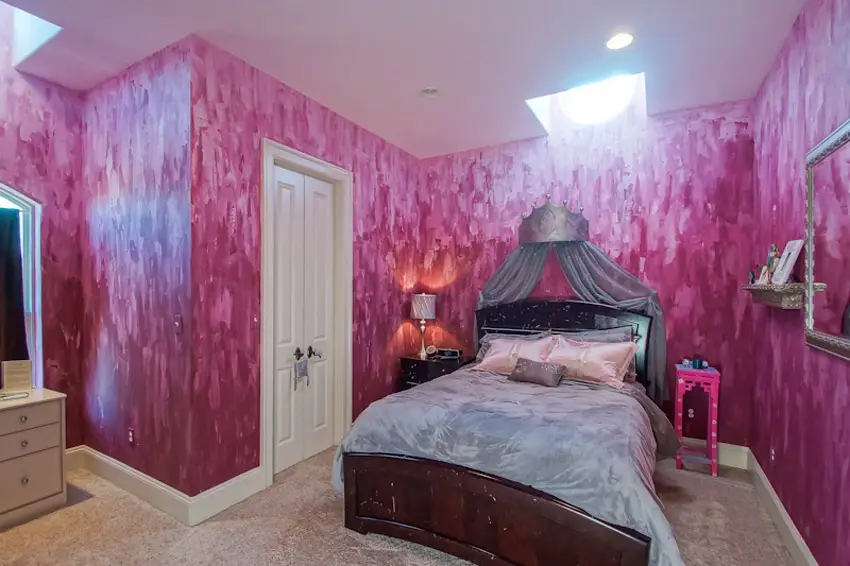 This bedroom has a really unique theme. It goes for a grungy princess look, applying a very unique application technique for the pink and violet wall paint, creating a rough grungy feel to the bedroom. The bed itself is a classic wooden bed with gray velvet sheets combined with pale pink satin pillows and gray crown and tulle fabric for the drapery.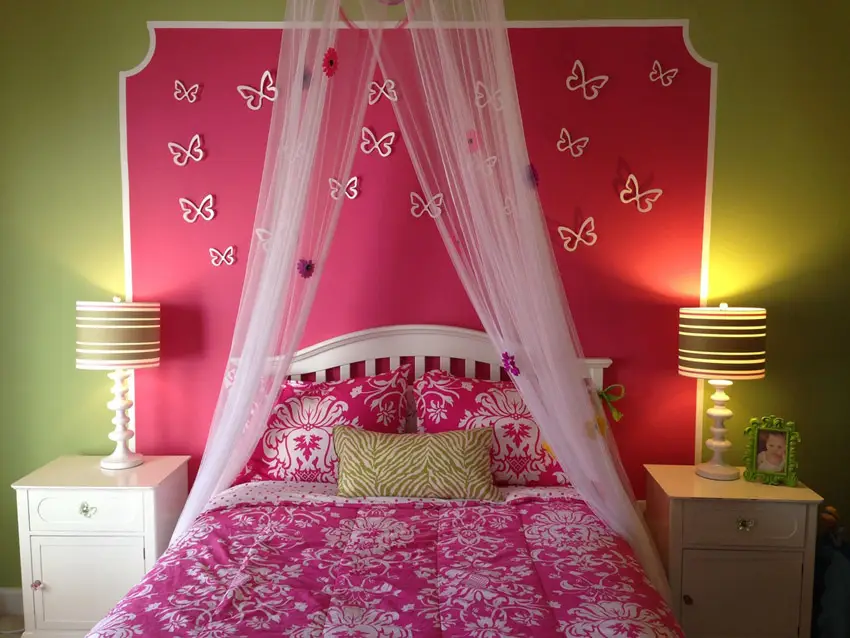 When coming up with bedroom ideas for girls its good to start with a whimsical design such as this traditional style bedroom with modern accessories. It uses classic white furniture pieces set against a combination of lime green and hot pink accent wall.
This is accentuated with sheer white overhead drapers and white 3d butterfly appliques on the walls. Bed sheets and pillow covers used also perfectly matches the age of the user, but goes for a more classic brocade pattern in pink and white.
Related Bedroom Galleries You May Like:
25 Purple Bedroom Designs – Luxury Master Bedroom Ideas – Beautiful Girl's Bedroom Ideas