See the types of bunk bed accessories including the different rail attachments, caddies, trays, shelves, top bunk decorating ideas, and accessories for dorm bunk beds.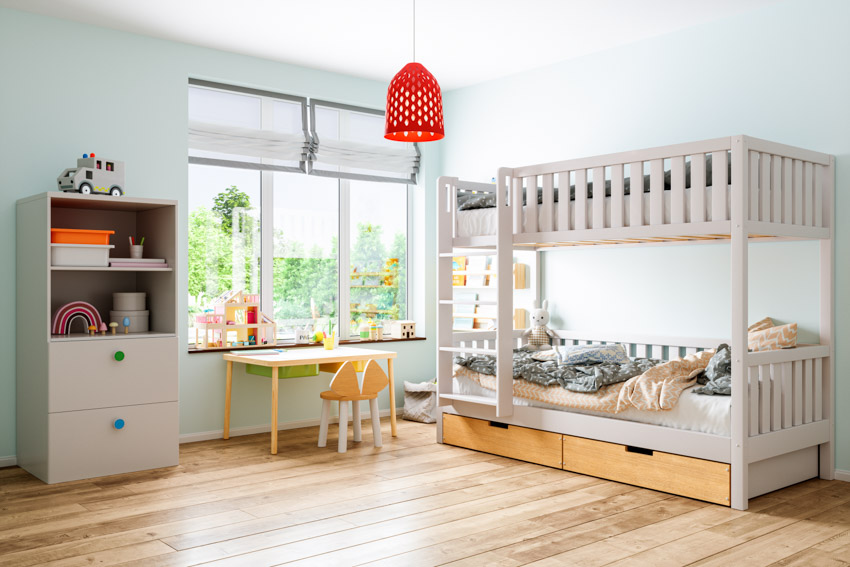 Bunk beds have long been considered essential for small and cramped spaces, whether for children's bedrooms, dormitories, or anything with a shared space function. Bunk beds have been relatively popular over the years, but the accessories that come along with them aren't so much so.
These accessories are helpful for people who find it difficult to climb into or get on top of them and can also be useful for storage.
They can also be quite fun and can help with style and design options for bedrooms. The list of bunk bed accessories and attachments can be quite long, and we'll attempt to go over them in this article.
Bunk Bed Attachments
There are many different types of bunk beds to choose with different attachments you can add to to enhance its functionality and style. They can help with storage, ease of access, comfort, or even for other less functional purposes such as decoration.
Here are some of the most common bunk bed attachments to consider.
Bunk Bed Safety Rails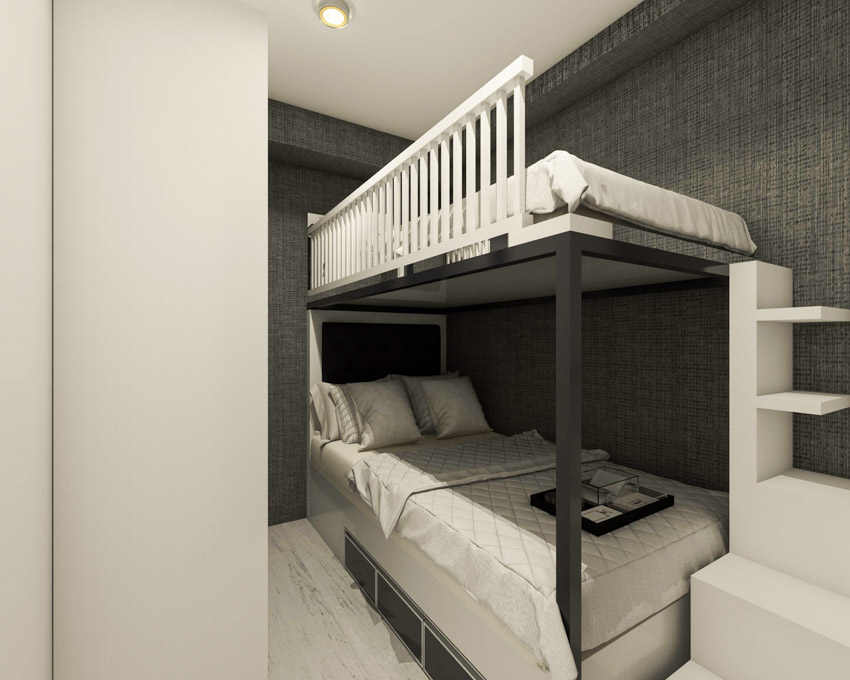 These safety rails are often also regarded as guardrails. They're great for children's rooms as they provide extra security not just for children and babies but for adults and the elderly.
Usually, you can find bunk bed safety rails in baby cribs, hotel beds, and bunk beds. Bunk bed rails are typically attached to the top bunk beds. They help reduce people falling out of the beds, providing extra security and safety.
They work as barriers that serve as handles for getting on top of the bed and preventing people from rolling out of the beds. Safety rails can be especially helpful for people who have difficulty with basic movements.
Bunk Bed Caddy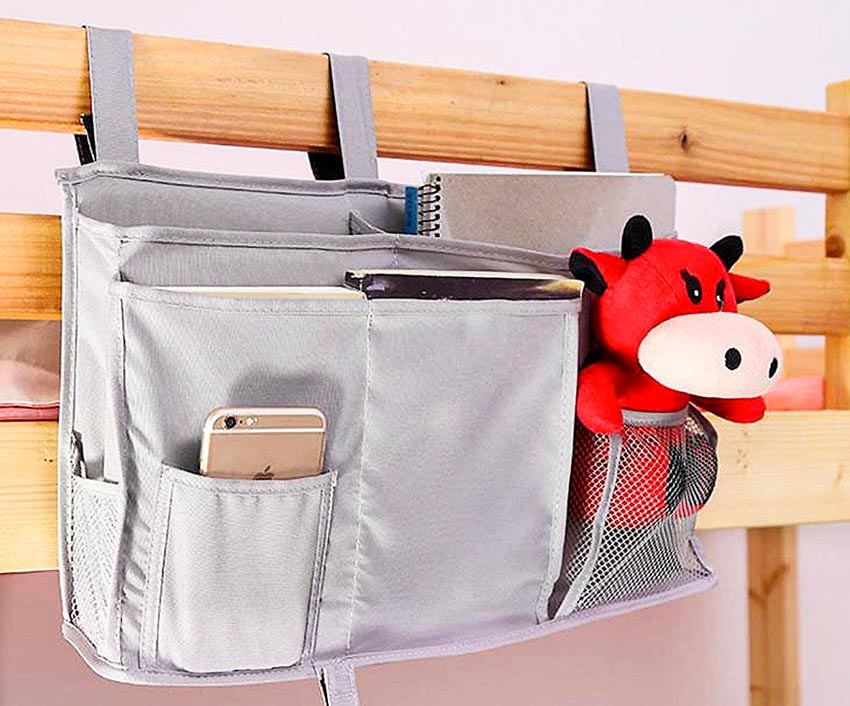 See this bunk bed caddy at Amazon [sponsored link]
A bunk bed caddy is a storage organizer that can conveniently hang over the top bunk's guardrails or safety rails. It's attached via Velcro straps or some type of safety hook.
They are great when it comes to saving space. They can be helpful when you want to gather small essentials that you would like to keep within arm's reach while you're in bed.
A bunk bed caddy can be shared by occupants of both the top and bottom bunk beds because they are usually a short distance away from both. Some of the items that bunk bed caddies can hold up can be phones, books, tissues, remote controls, tablets, journals, and so much more.
Bunk Bed Tray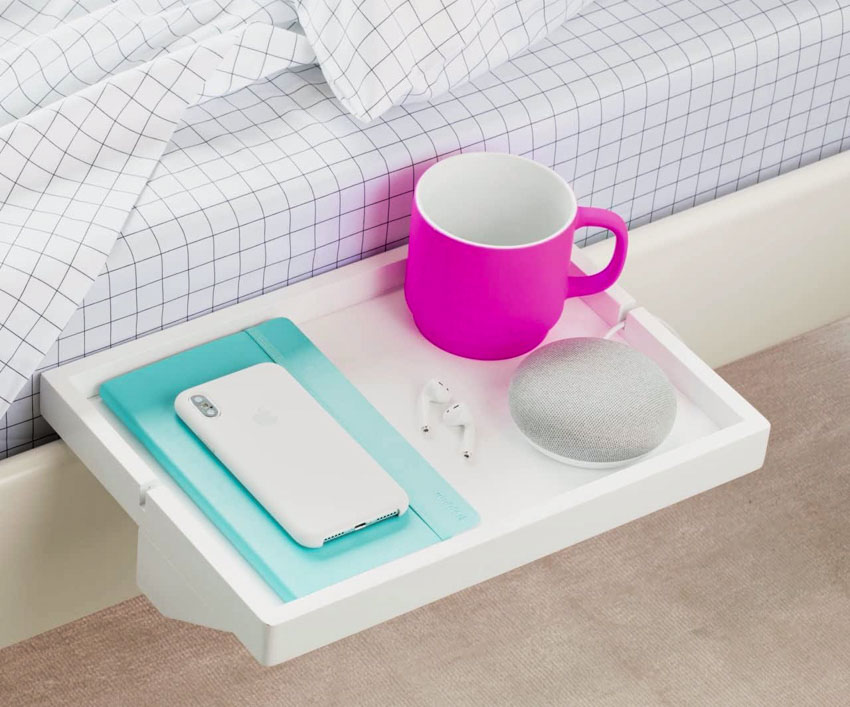 See this bunk bed tray at Amazon [sponsored link]
A bunk bed tray can be detachable, or it can be a permanent fixture that's built into the bunk bed. It is installed at the top bunk, where there isn't any other option or space for a nightstand or bedside types of tables.
The design is usually foldable so that it doesn't get in the way of a typical bed placement, or it can be hooked and unhooked as the user sees fit.
Bunk Bed Shelf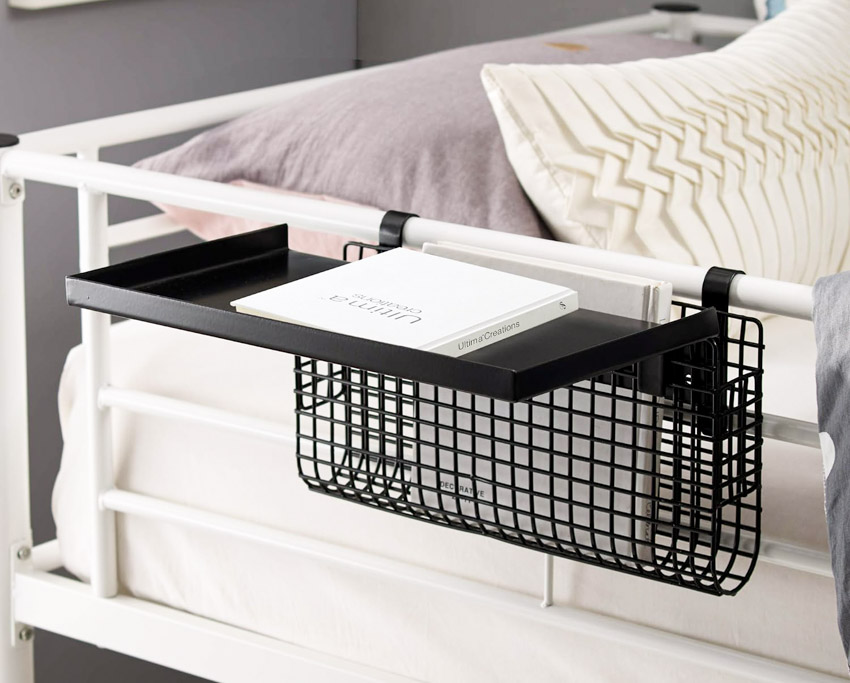 See this bunk bed shelf at Amazon [sponsored link]
A bunk bed shelf can provide extra storage. They can be beneficial when you want to keep certain items easily accessible while you're in bed.
If you have someone sleeping on the top bunk bed, for example, having shelves installed will save them the type and effort of having to get out of bed every time just so they could gain access to items they could otherwise just keep there on the shelf.
Moreover, a bunk bed shelf can also work as a decorative element. You could put up string lights, an ambiance lamp, and other items that the person occupying the bunk bed might possibly like.
Bunk bed types of shelves can be built into your bunk bed's headboard, usually right at the top part. Some headboards come with shelving built right into the unit. They can also be installed against the wall or conveniently hung from the top frame of the bunk bed, saving even more floor space in the process.
Bunk Bed Book Holder
See this bunk bed book holder at Amazon [sponsored link]
A bunk bed book holder is often a small satchel with different pouches with hooks that hangs over the bed's rail. Not just for books they can hold anything you want to have close by, such as an electronic device, notepad, or toy. They are inexpensive and slip right on.
Bunk Bed Headboard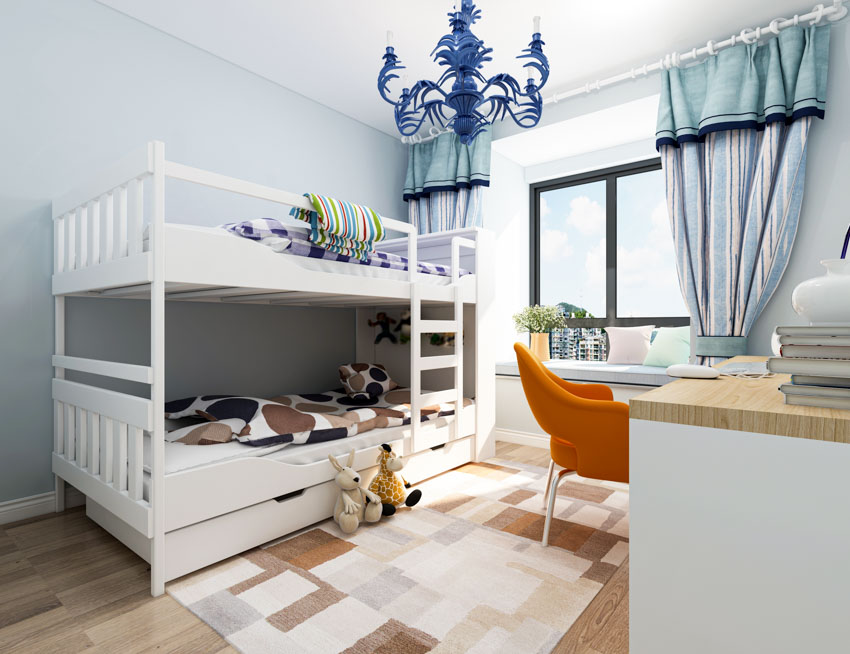 A bunk bed headboard can be installed at whatever end of the bunk bed you choose or prefer. They are great for pillow support and at the end of the day, that really is their main purpose in the first place.
Whenever you want to go ahead and sit up in bed, your bunk bed headboard can help you out immensely with that as well. A headboard can typically extend out for a few inches above your bunk bed's mattress. This prevents your pillow from falling off the bed.
They can also be made of various materials from wood, upholstered fabrics wrapped in MDF boards, metal, etc. They can be solid panels or come with other less solid designs, such as slats. These slats can be as close as half an inch apart from each other. This is still functional enough to allow your charger cable or other wires to go through so you can access it easily while in bed.
Some bunk bed headboards may also come equipped with storage functions where you can store essential items you would typically put up on a regular bedside table such as water, books, tablets, and so on.
Laptop Trays For Bunk Beds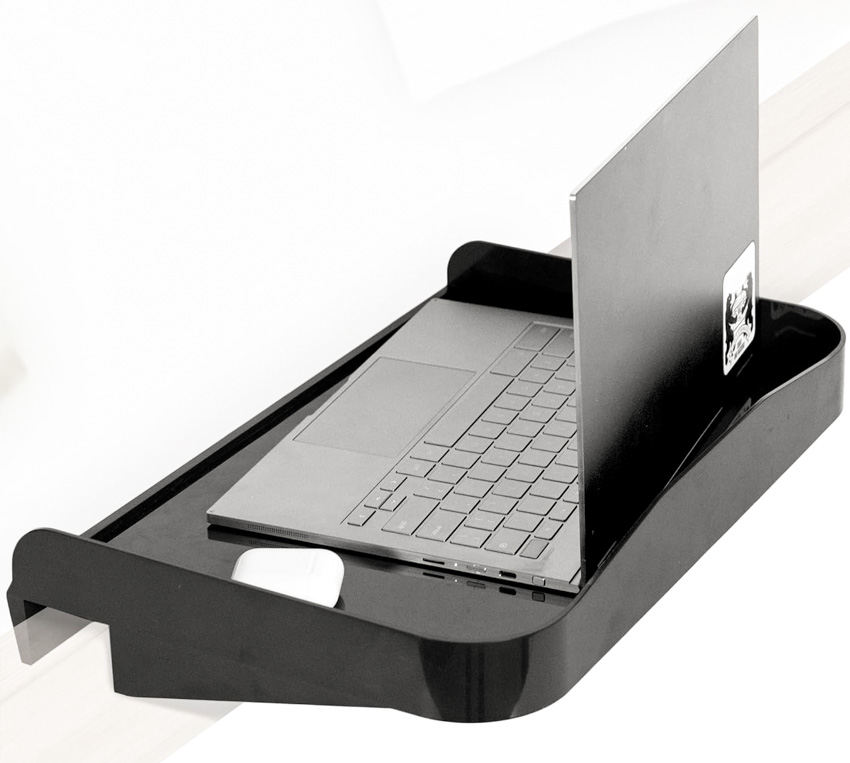 See this bunk bed laptop tray at Amazon [sponsored link]
Another attachment that can really come in handy for a bunk bed is a laptop tray. It can serve as an attachable shelf. One of the major downsides of the top bunk is that it doesn't have any access to a bedside table or nightstand. This is where a laptop tray can come in. It is impressively convenient.
It can keep your most essential items close by and easily within reach. This means that you wouldn't have to constantly get down from the bed just so you can gain access to them.
These laptop trays are designed with clamps built right into them. This makes for safe and easy installation over your safety rails or the bed frame without ever needing to use any special tools such as drilling them in place.
They are temporary, so make sure that you pay attention to the weight. Laptop trays can usually support up to 10 pounds or so. You need to take note of the manufacturer's instructions.
Bunk Bed Ladder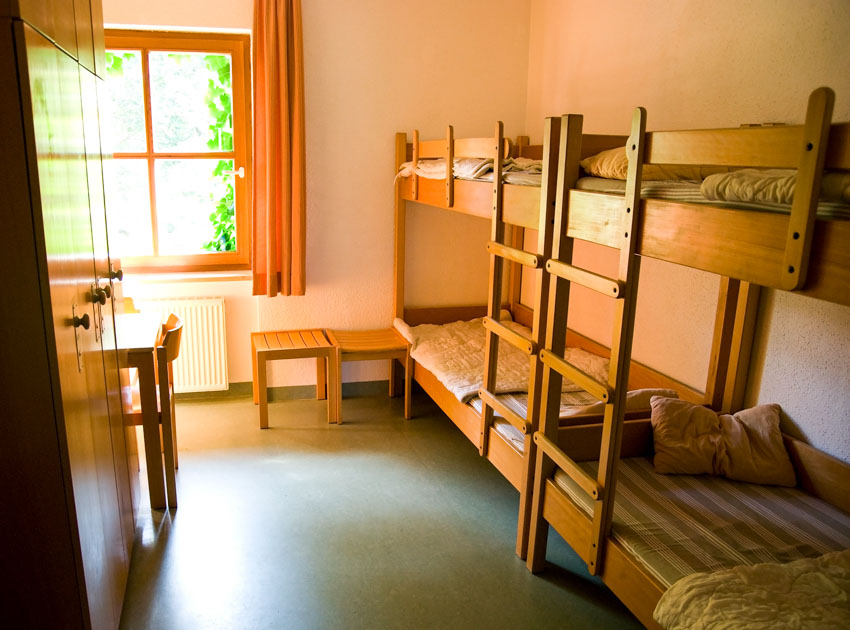 Of course, a bunk bed ladder is one of the mandatory attachments or accessories for your bunk bed. After all, you wouldn't gain access to the top bunk bed without it.
It is mainly used to climb up and down your top bunk area. There are several ways for your bunk bed to have a ladder attached. It can be built in. Built-in ladders are typically vertical. Another option is that it can be freestanding.
Freestanding ones are a little more angled. They can be at the front area of the bed or at the short side of it. If your top bunk bed has both a headboard and footboard, you might need to resort to an angled side ladder as both ends aren't accessible.
All bunk bed ladders usually come with widths of 18 inches or so. They also usually come with mounting brackets that allow you to easily and securely attach or remove them from the bed at any point in time.
Bunk Bed Handles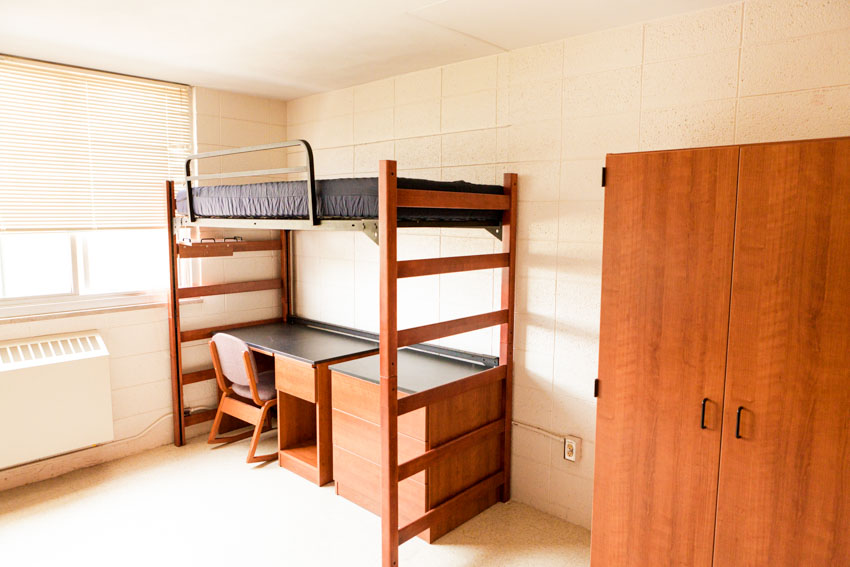 Bunk bed handles double over as side rails, but bunk bed handles are typically shorter. For kid bunk beds, these handles can take on a weight limit of up to 220 pounds per bed for kids' bunk beds.
Adult bunk beds, on the other hand, can take on up to as much as 800 pounds, depending on their material. Metal ones can generally take on more weight compared to wooden ones.
Among the available forms of bunk bed handles are those that are installed vertically. They can help as additional things to hold onto or grip beside the bunk bed ladder when climbing on and off the top bunk bed.
Bunk Bed Staircases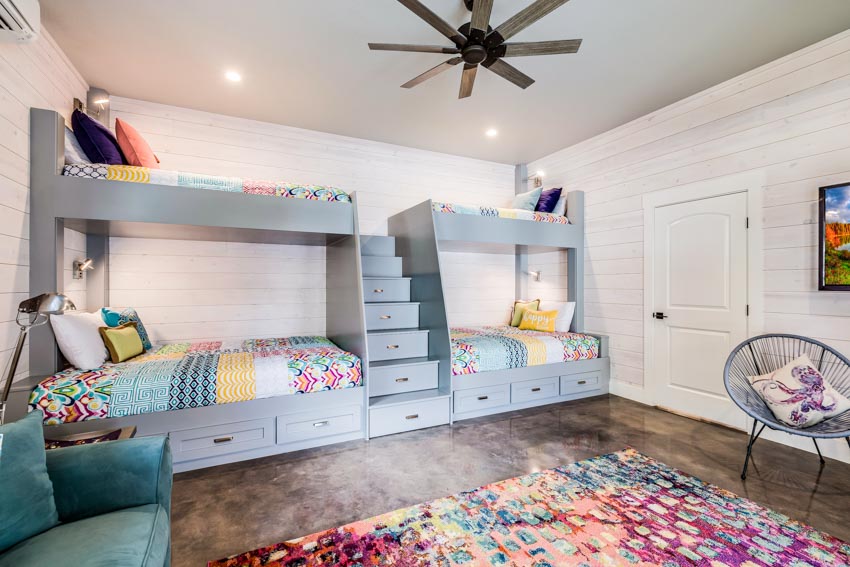 Staircase units can be great alternatives for bunk bed ladders. They're great for when you want to put in additional style, safety, and more importantly, storage.
They're great because they allow you to easily climb on and off the top bunk area of the bed. They can be made from either metal or wood and are usually designed to match the aesthetic and color of the main bunk bed.
They are also freestanding, which means you can choose which side of the bed you would like to put them in. The best part about freestanding staircases is that they are built in with ample enough storage places. This can help store books, clothes, toys, and anything else you may have in the bedroom.
They function as cubbies or can also be open shelves, depending on the design. They can also be closed storage shelves that can open and close via drawers. They can typically withstand up to 300 pounds in weight and be generally nice additional furniture for the bedroom design.
Top Bunk Organizer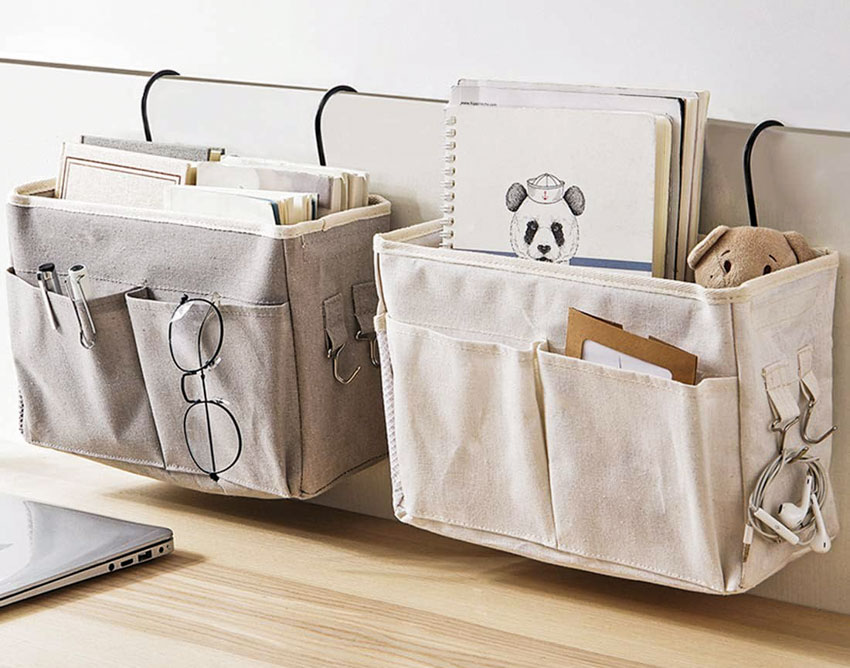 See this top bunk organizer at Amazon [sponsored link]
A top bunk organizer is typically a shelf attached to either the headboard, the footboard, or the wall adjacent to the bed. Its purpose is to provide extra storage.
It can be for extra small amounts of clothes, books, water, or gadgets such as phones, tablets, or even laptops. You can have this custom made or you can buy these organizers premade from the home store or online.
Bunk Bed Basket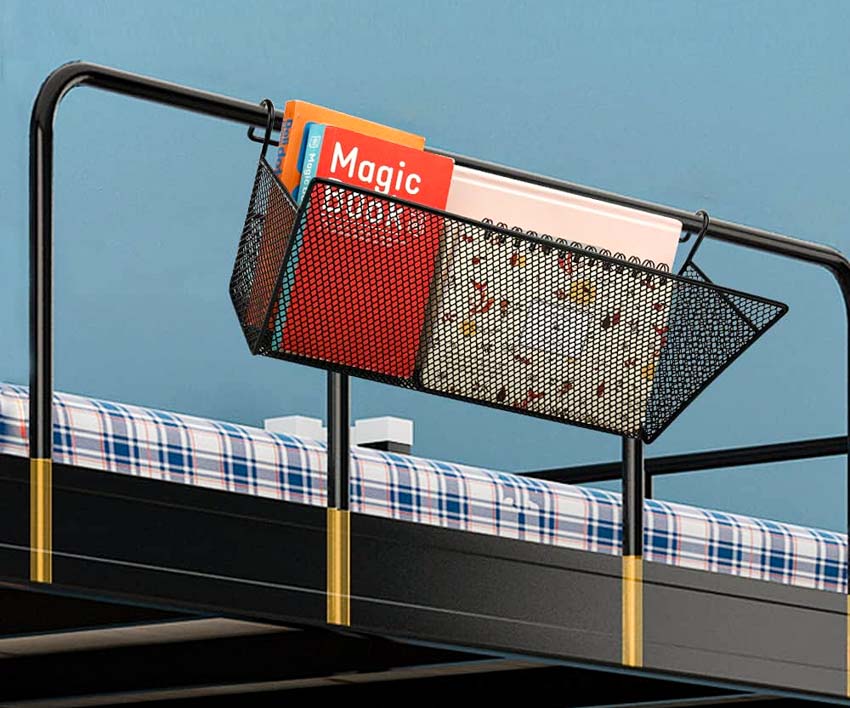 See this bunk bed basket at Amazon [sponsored link]
A bunk bed basket is an easy and convenient additional storage option for bunk beds. It can be used to organize small items such as keys, jewelry, snacks, tissues, reading materials, chargers, or even small toys for kits.
These are usually made out of metal and come with hooks or handles that can latch onto the sides of the bed. It can come in all sorts of shapes and sizes. Bunk bed baskets also come in other materials such as jute grass and plastic.
Top Bunk Bed Decorating Ideas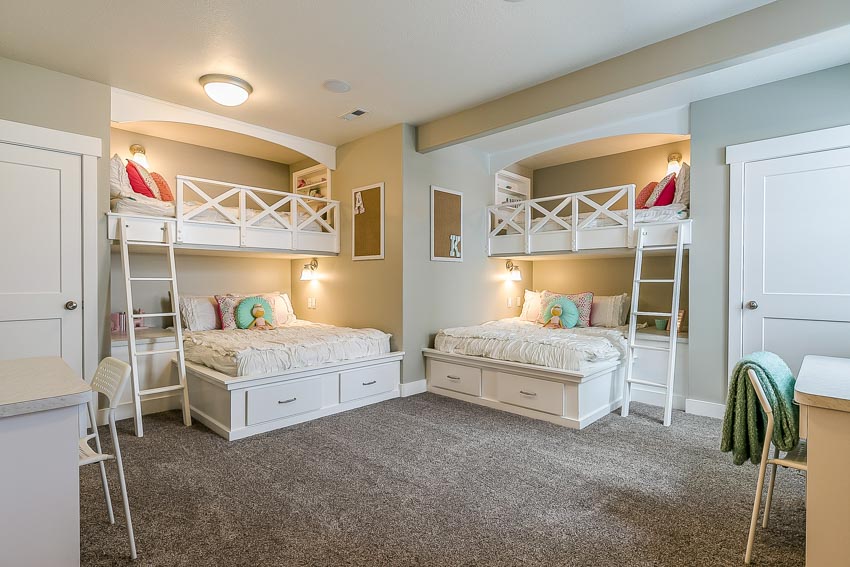 Having bunk beds are an excellent space-saving option that can transform your space into something more functional and efficient in terms of usage. It isn't just based on function alone, though, as there are many ways to convert it into something with style and design in mind.
Here are some top bunk bed decorating ideas you can check out.
Bunk Bed Light: Overhead types of lighting fixtures for the room can sometimes be a bit harsh, especially if you are occupying the top space of the bunk bed. Opt for bunk bed lighting is a way to make it friendlier on the eyes.
It can be in the form of attachable lamps, mood lamps, or even adhesive wall lights. It's great for when the top bunk occupant wants to use some lighting without ever having to disturb the occupant of the bottom bunk.
Alarm Clock For Top Bunk: You can also add an alarm clock for the top bunk of your bunk bed. Since the top bunk doesn't have access to a traditional table or nightstand, these alarm clocks are usually attachable to the wall, the headboard, or the footboard of the top bunk.
You can get them in analog and digital variants. There are also alarm clocks that come with adhesives that allow you the flexibility of putting it up anywhere you might possibly like.
Bunk Bed Canopy: If you would like some added privacy, you can get a bunk bed canopy hung over the top or bottom bunk of the bunk bed. This can be suspended from stainless hooks or cables, even.
A canopy can work in a myriad of ways. It can serve as a dust and light blocker or a mosquito net, depending on the material of your choice. You can also bring in other decorative accessories such as string lights, and other décor items that you might want to put on display to help embellish the style and décor of the room.
You can pick out fabrics that mix and match with the bedding and even with the rest of the colors in the room if you so choose. For kids, they can serve as enclosed play areas. Canopies should be breathable and easy to clean. See more creative bunk bed ideas here.

Dorm Bunk Bed Accessories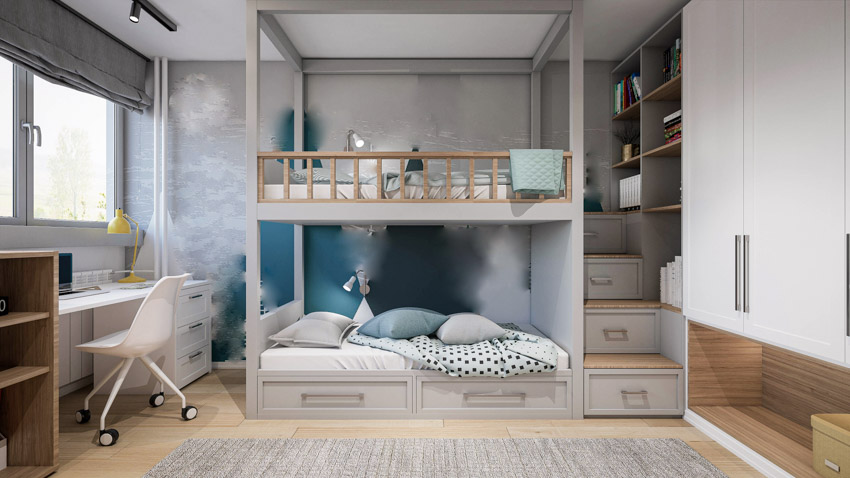 Here are some of the dorm bunk bed accessories you can use or add in. Some of these items have already been mentioned above.
• Privacy curtains or canopy
• Bed risers
• Bedside caddy
• Clip lamp
• Bed post shelf (attachable via a clamp or an adhesive)
• Headboard shelving for the top bunk and bottom bunk
• Footboard shelving for the top and bottom bunk
Bottom Bunk Bed Accessories
Underbed Drawers: This is for the bottom bunk and is great as added closet space considering dorms are generally stingy with storage spaces.
This is a creative way to add more space without renovating the place. This can be made from wood, metal, plastic, or even boarded fabrics.
Bed Risers: Bed risers can elevate the height of the bed, which means that the under-bed space can be increased to give way for added elements.
You can have room for under-bed drawers, baskets, and other things that the occupant might want to store under it without taking up any more floor space from the rest of the room.
• Privacy curtains or canopy
• Headboard shelving
• Bottom bed shelving
Under Bunk Bed Storage Ideas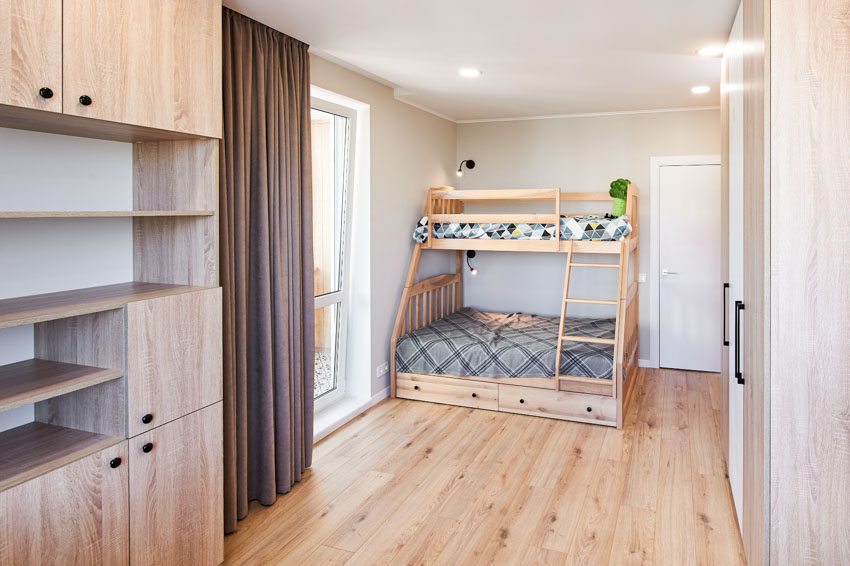 Wheeled Boxes: These boxes are specially designed for under-bed storage and are meant to keep clothes and other belongings well out of sight but easily within reach if you need anything.
The sizes for these boxes are usually generous. This can come in handy if you need extra storage for books, clothing that's out of season, hobby items, linens, and other stuff that you don't want to see daily out in the open.
It also has a lid that will protect your belongings from dust, pests, and other elements that might contaminate them. They can be made from plastic or structured linen and can be bought from stores or ordered online.
Drawers: This makes for easy-access storage. You can purchase premade wheeled drawers, or you can repurpose your old drawers by adding wheels or casters to their bottoms. They're handy for toys, clothes, linens, shoes, and anything else you might have storage needs for in the bedroom.
Locked boxes equipped with wheels: You can also keep a safe under the bed via locked boxes with casters or wheels on them. You can fill it with items that you want to keep safe and secure and don't really use frequently, such as personal documents, valuables, and the like.
In the event of an emergency, it helps that you have all your valuable things safely in one place so that you can quickly pull them out and take them with you.
Shoe organizers: Underbed space is the perfect place for you to store your shoes in, especially if you happen to have a large shoe collection. If you don't really have a lot of closet space to accommodate all of them it's a good solution. They can go from wheeled racks to metal-divided boxes depending on the design of your choice.
Bed risers: They elevate the space under the bed, allowing you more access to more under-bed space to be used for storage.
See more related content in our article about bunk bed dimensions on this page.