Welcome to our gallery sharing the best bunk beds including fun & creative designs and models with double, triple and quadruple mattresses.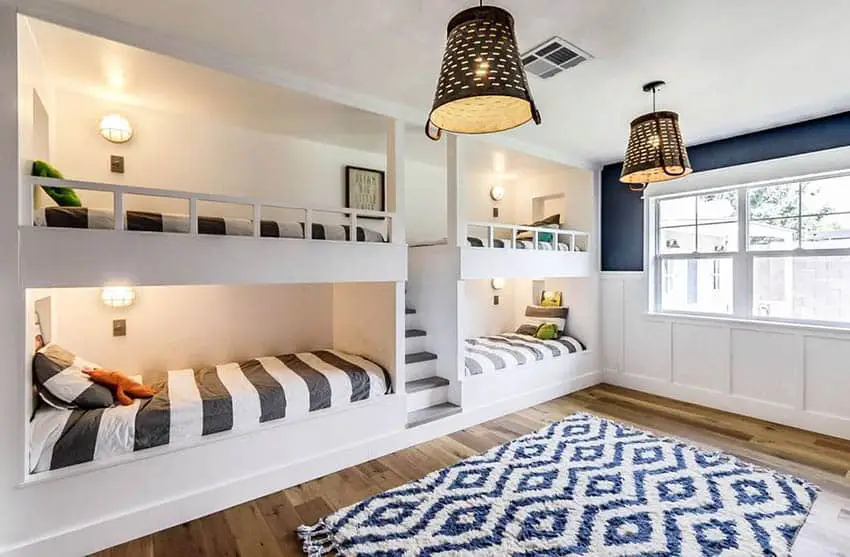 While beds are a necessity in the home, they can be bulky. This becomes especially true in cases that you need more than one bed in a room. The solution to this problem can often be bunk beds.
Bunk beds are perfect for space because they stack beds on top of one another. They aren't just a single bed on top of a single bed anymore, though. Instead, there are a variety of designs that you can choose between to find the perfect fit for your home.
Whether you want a twin, full, queen of king sized mattress there are bunk beds to fit any need. Below we share pictures of boys & girls bunk beds in a variety of sizes and styles.
Bunk Bed Ideas
Below we share a variety of bunk bed ideas for a variety of design styles. Whether you want to create a DIY custom built-in bunk bed, or purchase a premade model we've got you covered. For more types of bunk beds visit our gallery page here.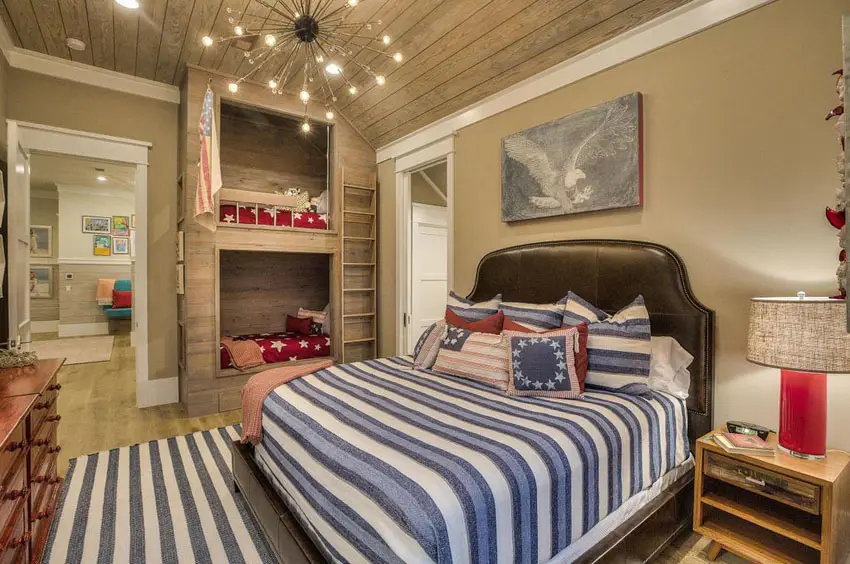 This large bedroom makes good use by sharing its space with a king sized bed and a built-in double bunk bed with solid wood construction. To see more types of beds visit our gallery page.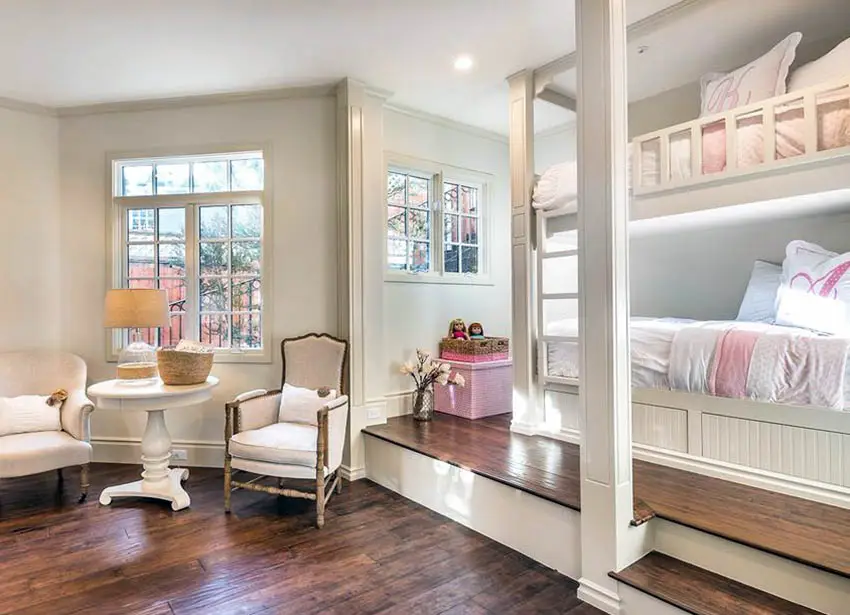 Making the best of an unusual room layout this interesting custom white bunk bed has bead board paneling with decorative pillars and rails. With a design more like a living room bedroom combo this room is actually perfect for two girls who are sharing a bedroom.
Fun Bunk Beds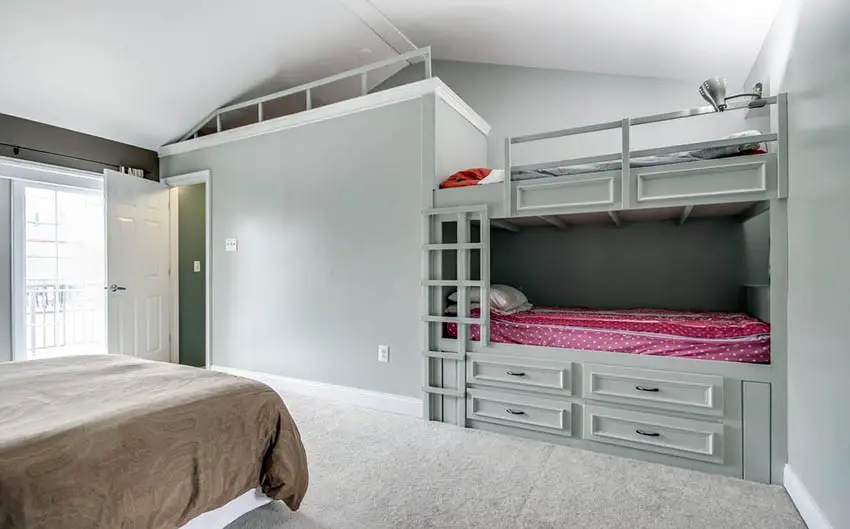 The first thing to know about bunk beds is that they aren't always just one bed positioned on top of another. While they can be simply functional, they don't have to be. Don't be afraid to look around for bunk beds that get a little more creative or fun in their design.
The bunk beds in this bedroom also feature a loft space with room for an additional sleeping spot. Kids love to play in loft areas and when not in use can make an effective place for extra storage.
Bunk Bed with Slide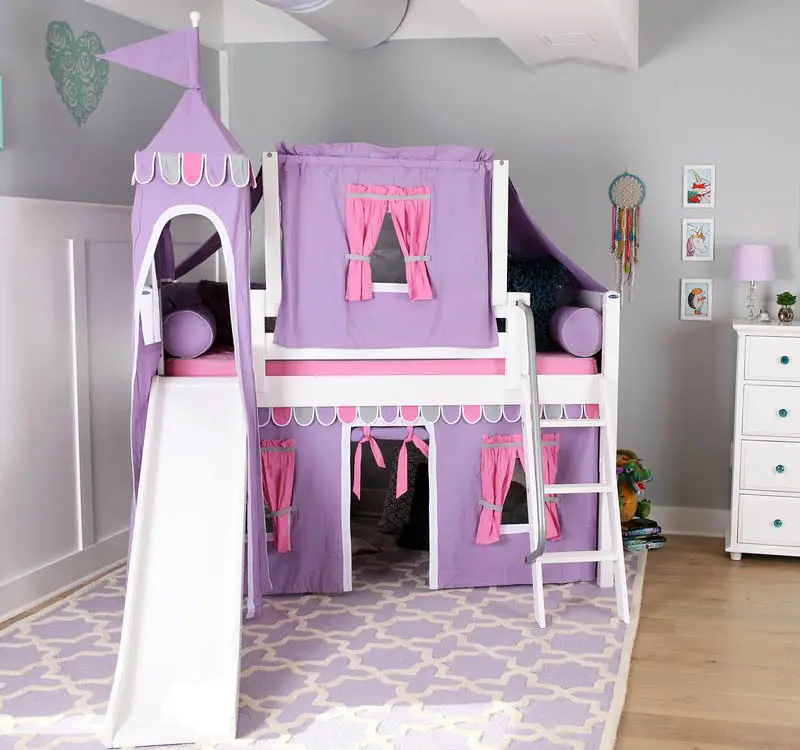 Princess bunk bed with slide
One such fun bunk bed is a bunk bed with a slide. This way, a child that uses the bunk bed can climb up at night and slide down in the morning, making getting up a little more fun.
The best part about these beds is that they don't have to be simply one bed stacked on another. Instead, they can be a loft bed with room underneath for playing.
Princess Bunk Bed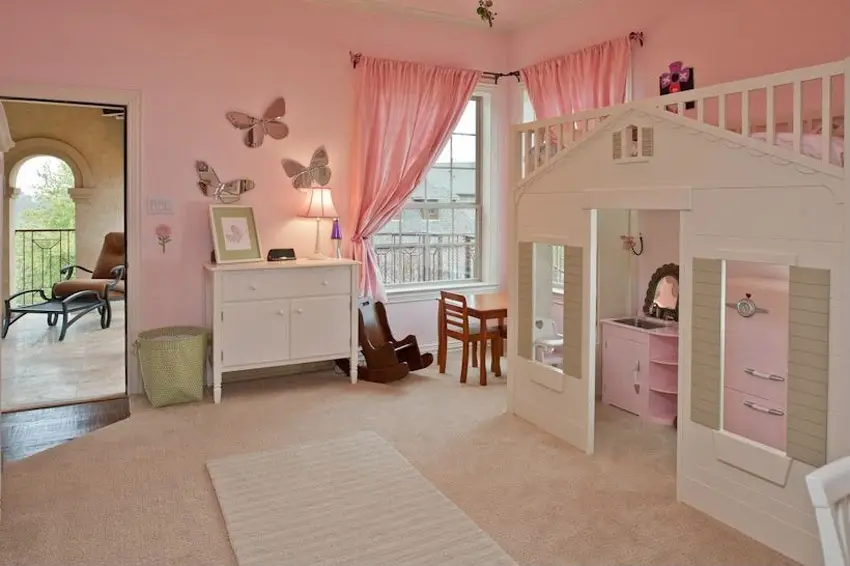 This white house shaped bunk bed is suited for a princess. It's got an upper level with rails and lower level that can opt as a playhouse or as a spot for a twin bed.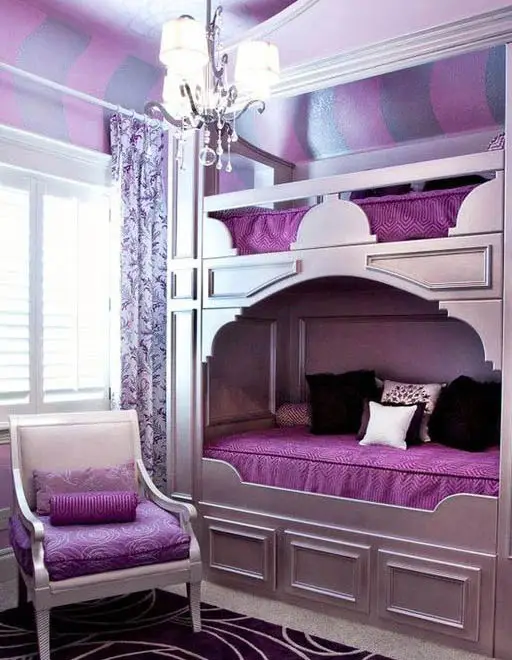 This elegant princess bunk bed features purple upholstery and decorative molding to create a fun a whimsical design. The matching purple bedroom decor and glass chandelier give it extra pizazz. See more fun girls bedroom ideas here.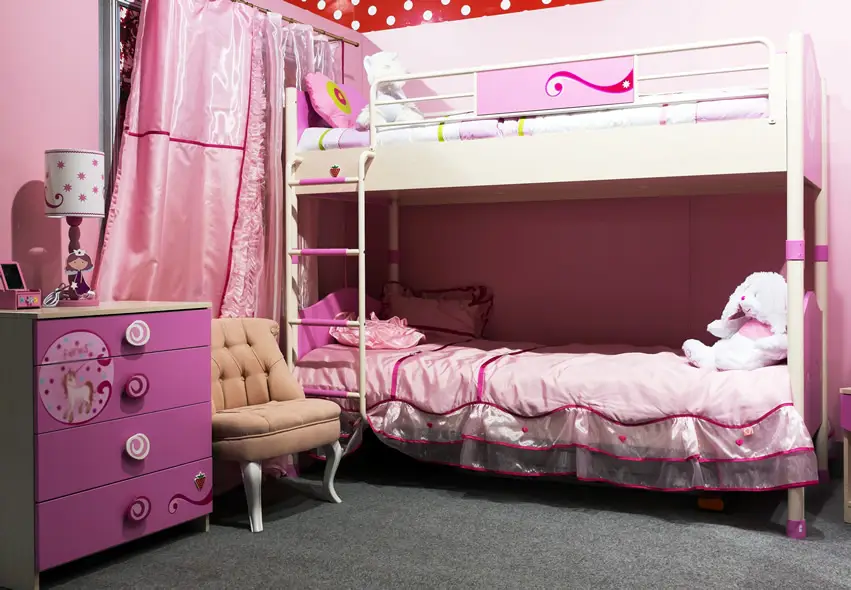 With plenty of pink decor and fabric this cute girl's bedroom bunk beds are inviting and fun. Little decor touches such as frilly curtains and candy striped dresser pulls gives this room its fantasy ambiance.
Interesting Frames
When looking at bunk beds, the sky is the limit when choosing the design of its frame. You can find or create bunk bed frames that are unique, creative, fun and whimsical. For instance, using shapes with arches, interesting materials or bright colors in a frame can give the room an entirely unique look.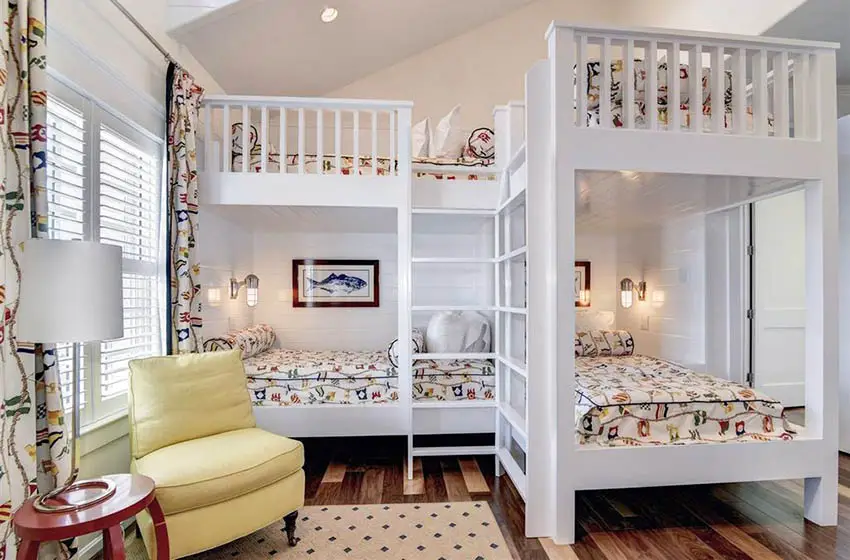 This 4 mattress bunk bed fits a lot of sleeping room in to a small space. With a l-shaped design the bed's design maximizes the rooms floor plan. This type of bed is perfect for a vacation or rental home.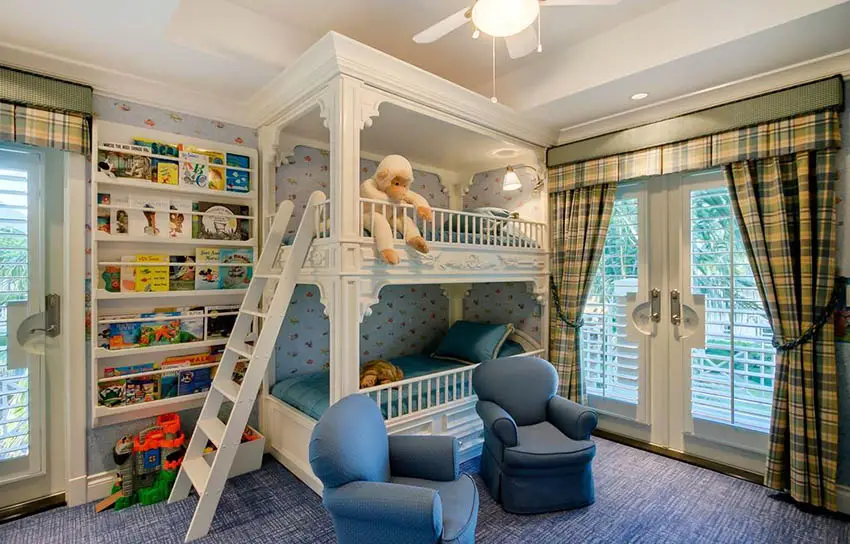 This decorative bunk bed has gobs of details with intricate raised panel design and trim. Not only a place to sleep but a real focal point of the room. This bed is sure to be a prime attraction for sleep over parties, playing games or just curling up with a good book.
Built-In Bunk Bed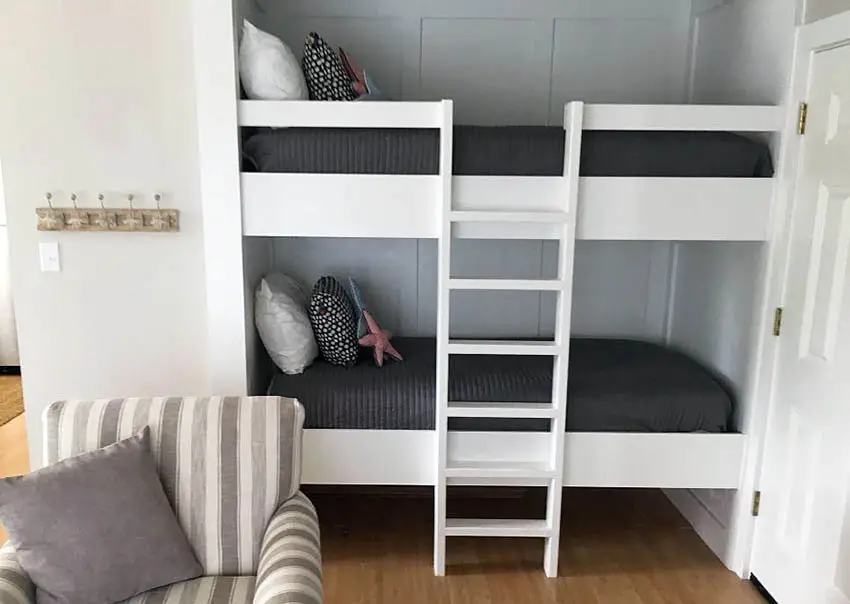 While bunk beds are already a compact choice, they can be manipulated to save even more space. Built-in bunk beds are, as the name suggests, typically built into the wall of a room. This way, they don't stick out into the room like a traditional bed or bunk bed would.
Unfortunately, if you don't already have a built-in bunk bed in your house but want one, it can cost quite a bit of time and money to install compared to just buying a standalone bed frame.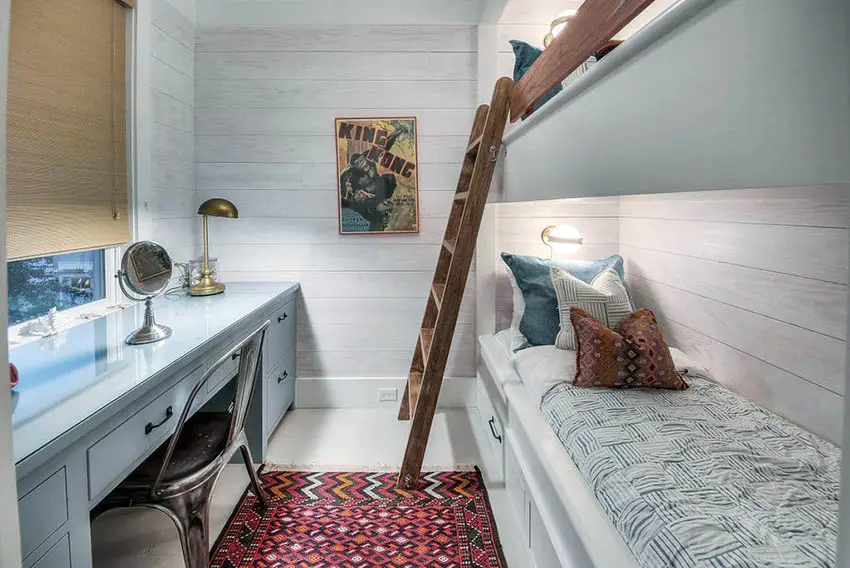 This custom built-in bunk bed shares its space with a home office desk that is being used as a makeup vanity. Using an office as a spare guest room is an effective way to accommodate guests while still maintaining an at home work space.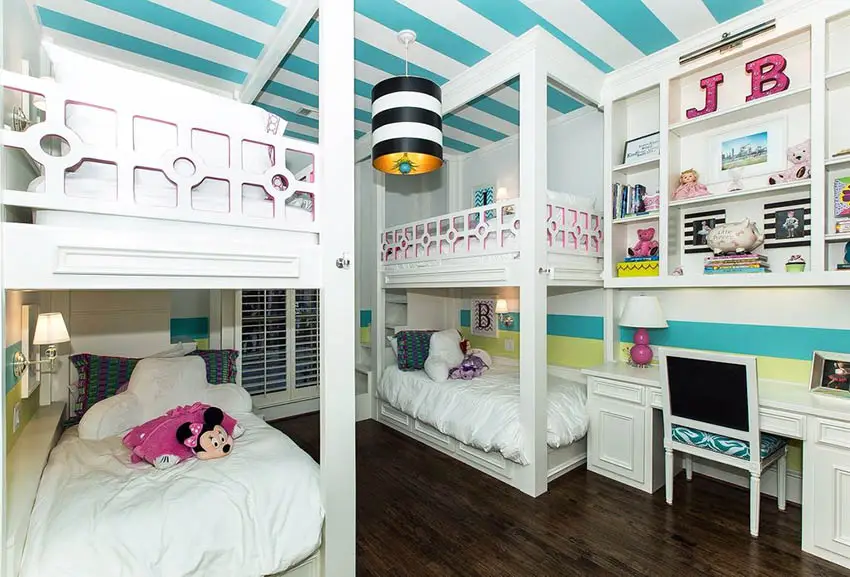 This fun and creative built-in bunk bed design with four mattresses is decorated in white with pink accents. The bedroom design itself has an interesting ceiling pattern of aqua blue and white giving the space a playful feel. A striped drum light , table lamps and wall sconces provide plenty of illumination for each of the bedroom's guests.
Three Bed Bunk Bed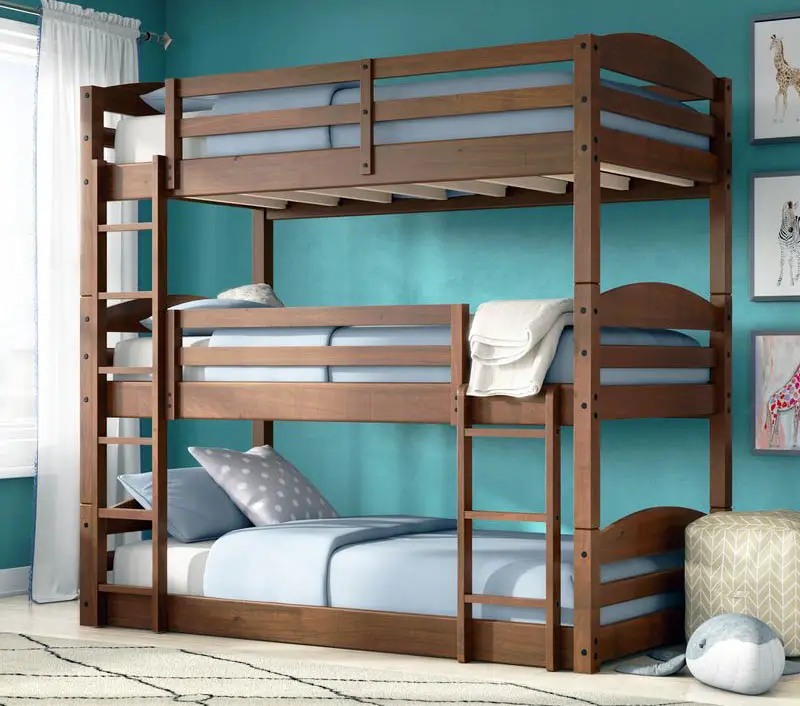 See this triple bunk bed at Amazon
Sometimes, two beds isn't quite enough. This doesn't mean, though, that you have to settle for a bunk bed and a standard bed in a room. Actually, a bunk bed with three bunks can do the trick just fine.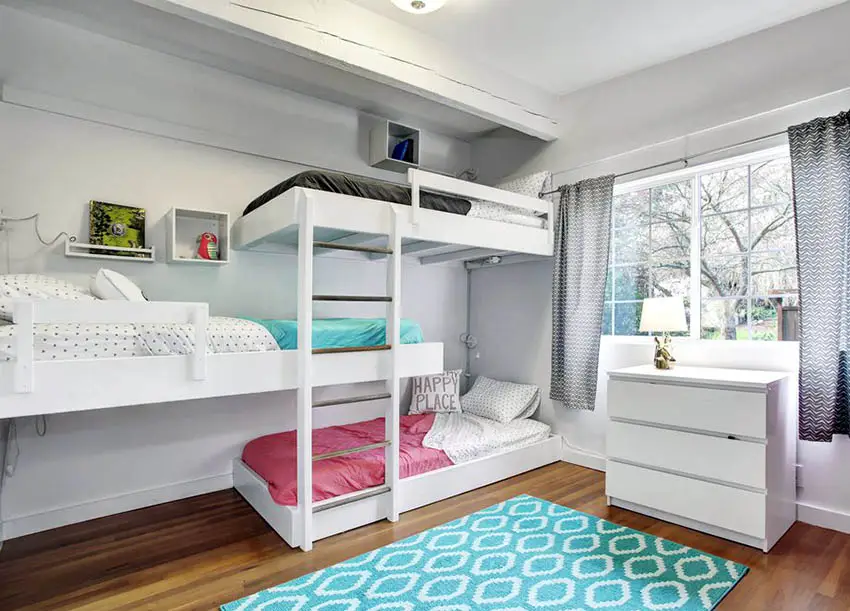 Typically, these bunks are stacked one on top of the other with ladders in place to help occupants reach each bunk. The only downside to this design is that the bed is rather tall. So, if you are looking for a bunk bed that will work in a room with a low ceiling, a triple bed bunk bed might prove difficult.
Quadruple Bunk Bed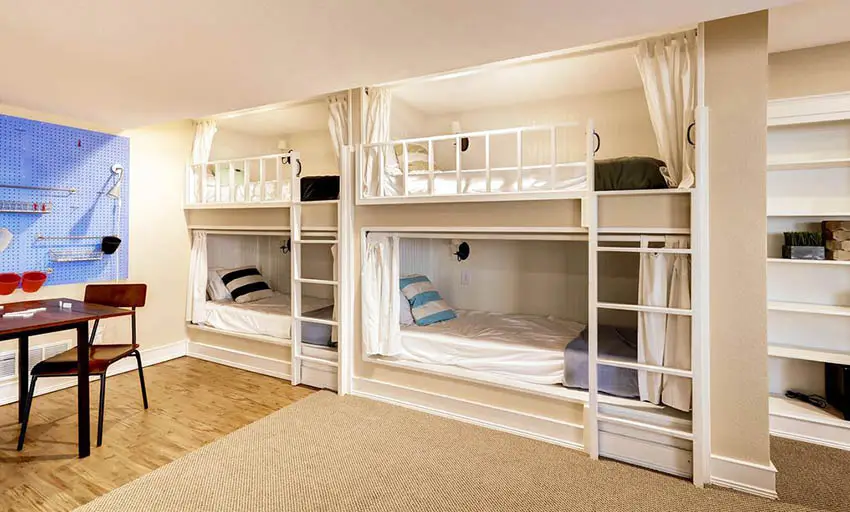 Even a three bed bunk bed isn't enough sometimes. In these cases, sometimes homeowners opt for two separate bunk beds.
Another option, though, is to invest in a quadruple bunk bed. Don't worry about height because these typically aren't stacked four beds on top of one another. There are a couple options you have as to how these quadruple bunk beds are designed.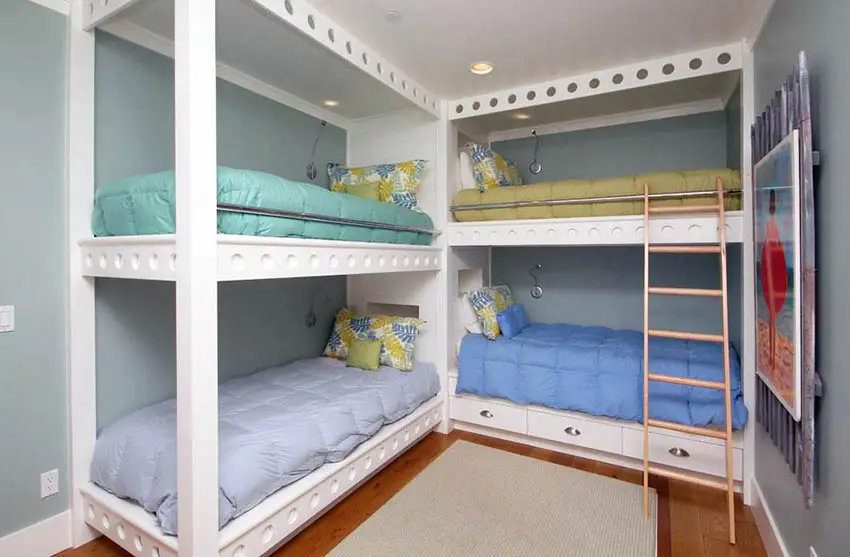 The first option is an L-shaped bunk bed. These bunk beds typically have two bunks stacked on one another attached to another pair of bunks at a 90-degree angle to the side. Beds like this fit nicely into the corner of a room.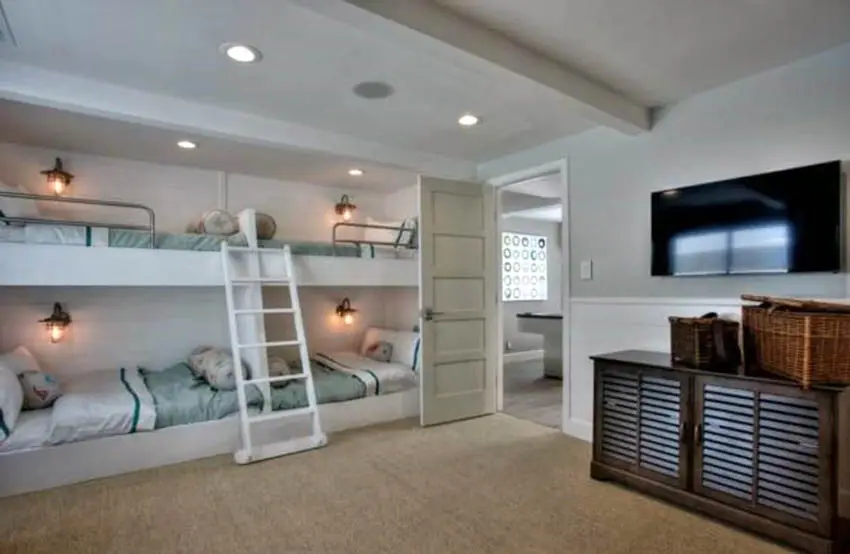 Other quadruple bunk beds look just like two standard bunk beds side by side. The only difference is that there is typically a connection between the two bunk beds such as a bridge or shelf.
The biggest drawback to quadruple bunk beds would be that they are rather bulky compared to other bunk beds. On the other hand, it is a space saving option when compared to having four beds in a single room.
DIY Bunk Bed
If you are a handy homeowner, you can make a bunk bed into a DIY instead of a shopping trip.
In the simplest option, you will want to start with simple wood panels. If you aren't going to paint the bunk bed when you are done, take some time to pick out panels whose grains work well with one another. Typically, these panels are bought that 1 ½" thick but are shaved down to 1 ⅛" thick with a planer.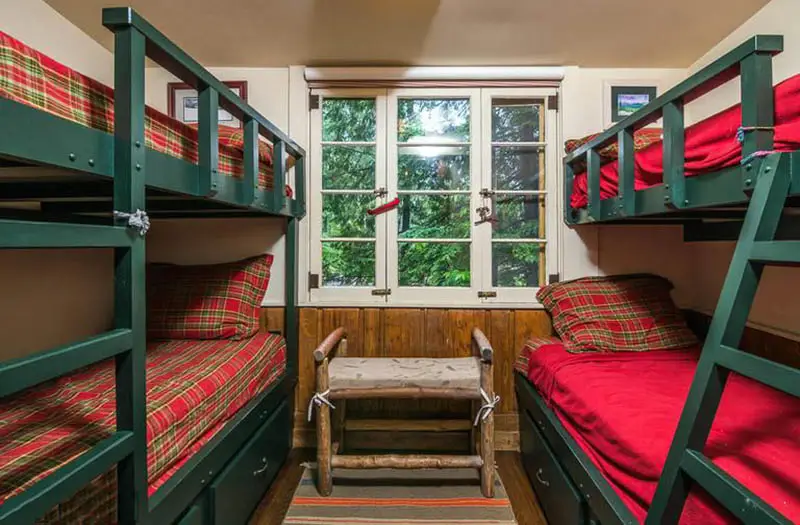 It's important to pay close attention to the legs of the bunk bed. These legs are more complicated than a standard bed because the run up from the floor to the top bunk. It's best to use about 3 layers of about 1 ¼" planks to create the bunk bed legs. The worst thing that you can do is to make these legs weak because they are the foundation of the whole bed.
Another important part of the bed to look at is the slats below each mattress. Remember, these need to be strong enough to not only to hold a mattress but to how an occupant each night as well.
As you work through a bunk bed DIY, make sure to pay attention to joining the pieces together securely. The last thing you want is to climb into the top bunk only for something to fall apart. If you keep this in mind, any DIYer with a little experience can handle bunk bed construction.
Kids Bunk Bed with Desk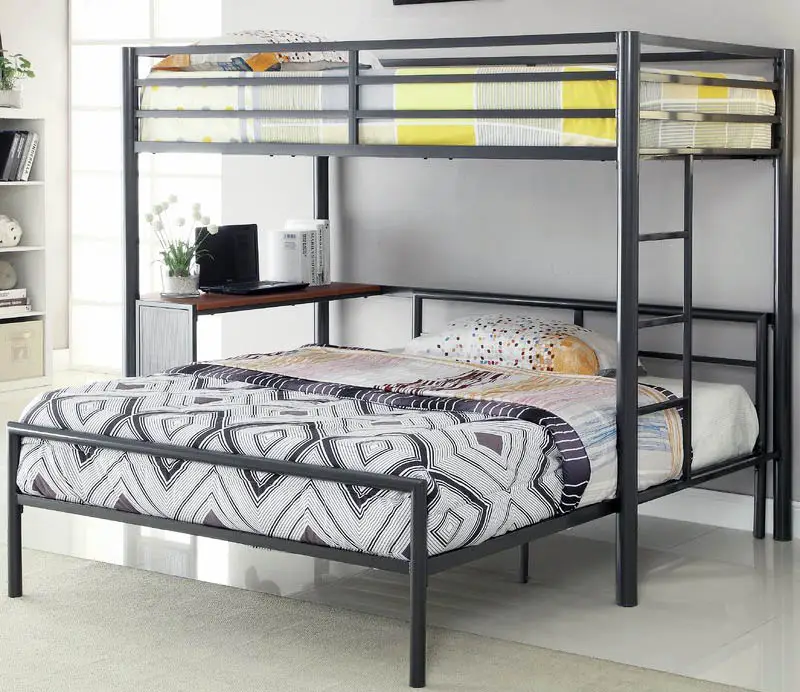 Kids bunk bed with desk – See at Wayfair
Bunk beds, as we noted when looking at the bunk bed with a slide, aren't always made just to provide comfort for sleeping individuals. Sometimes, they serve a secondary purpose as well.
One way that bunk beds can provide a secondary function is to provide space below the bed. More often than not, these are referred to as loft beds. With a kids loft bed, there is space below and an attached desk makes for the perfect study space.
This is especially useful because it provides a consolidated version of a bed next to a desk. This helps make the most of smaller rooms by clearing floor space. In fact, loft beds like the one we are looking at here sometimes even allow room for a second bed underneath. This way, you don't have to sacrifice the benefits of a traditional bunk bed in favor of a desk.
Bunk Beds With Stairs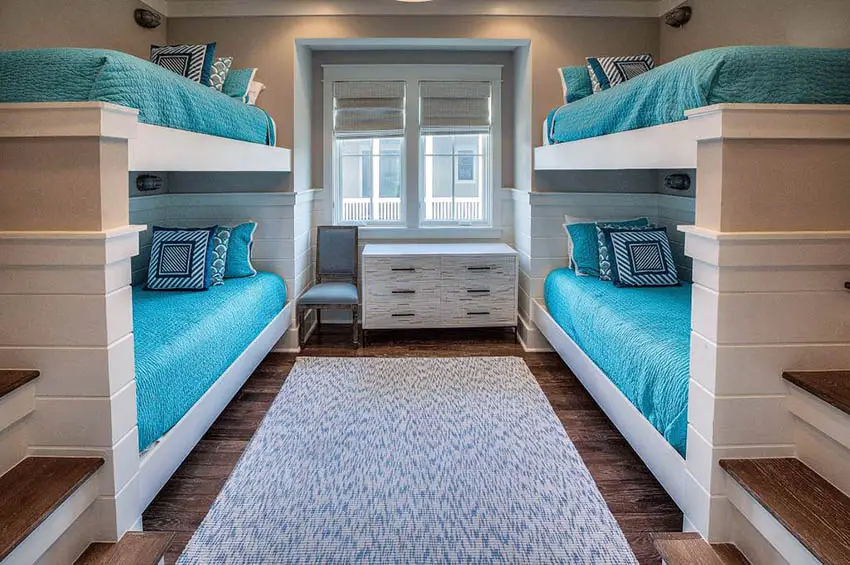 This custom built-in quadruple bunk bed has room for the whole family. Stairs lead up to access the beds on either side as a safer alternative to using a ladder.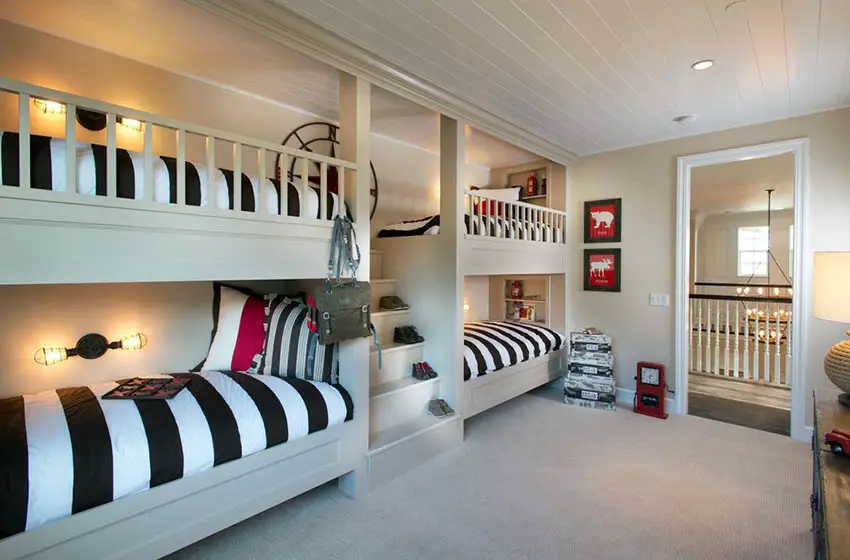 This cottage style bedroom's prime feature is its built-in quadruple bunk beds with stairs. Stylish wall mounted Edison lamps give the room a retro coastal vibe when paired striped bedding and wood furniture.
Bunk Beds with Steps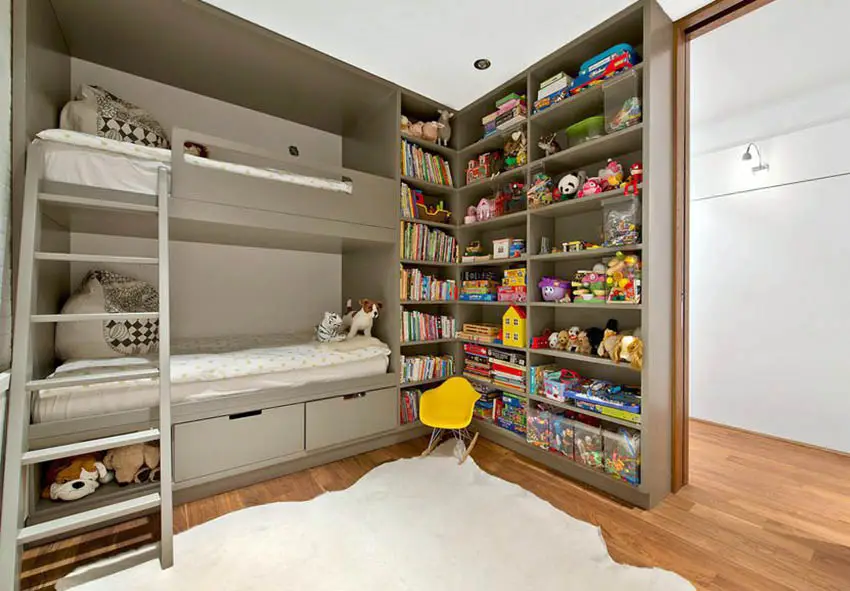 Safer than using a ladder a bunk bed with steps is a good approach for those who don't have the space for stairs leading up to the bed. This built-in bunk bed design has under mattress storage as well as cubbies which can be used for storing toys or as bookshelves.
Bunk Bed with Storage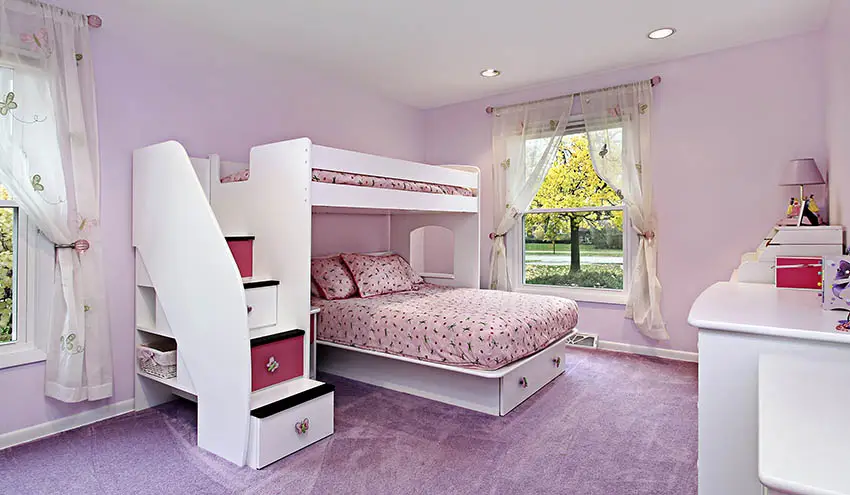 This bunk bed offers a lot of storage space with drawers underneath each of the steps as well as behind the staircase and under the lower platform bed.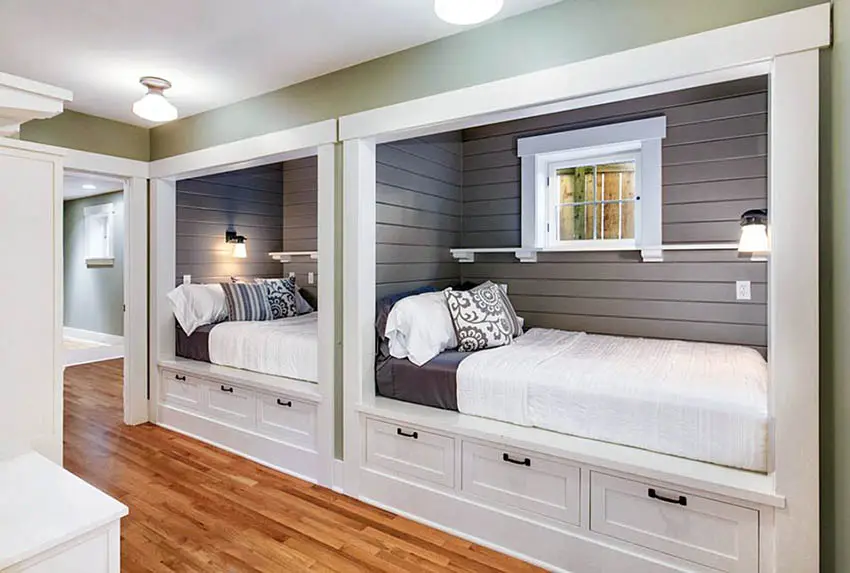 Although not quite bunk beds, this built-in design definitely makes good use of a small space. These unique custom twin beds feature paneled walls with a quaint cottage design style. Shaker style cabinets underneath provides extra storage and white trim around the windows and bed's frame gives this room an attractive look.
Bunk Beds with Drawers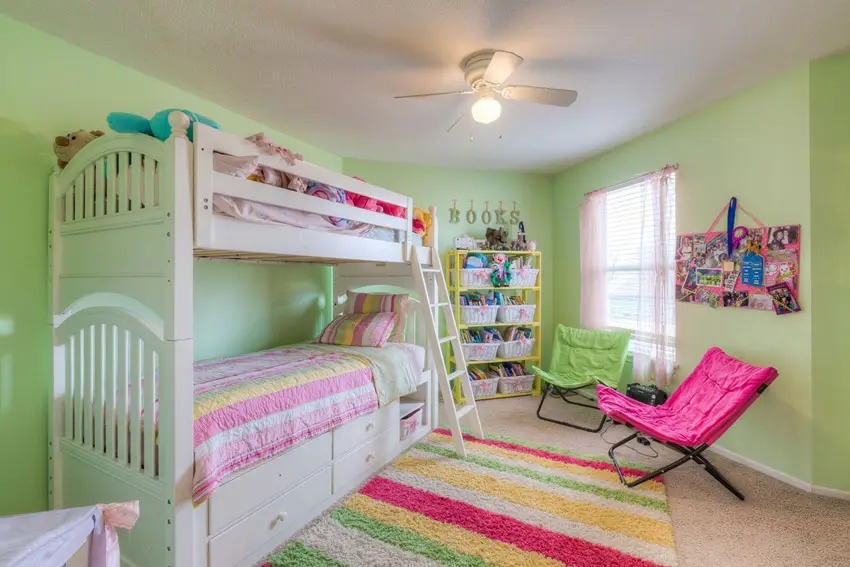 Drawers underneath a bunk bed can take the place of a dresser and are effective for bedrooms that don't have a designated closet space.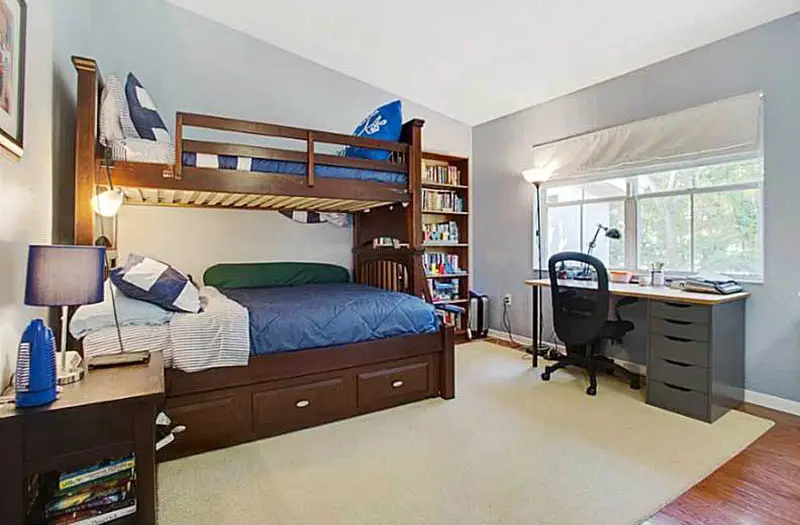 Daybed with Trundle Bed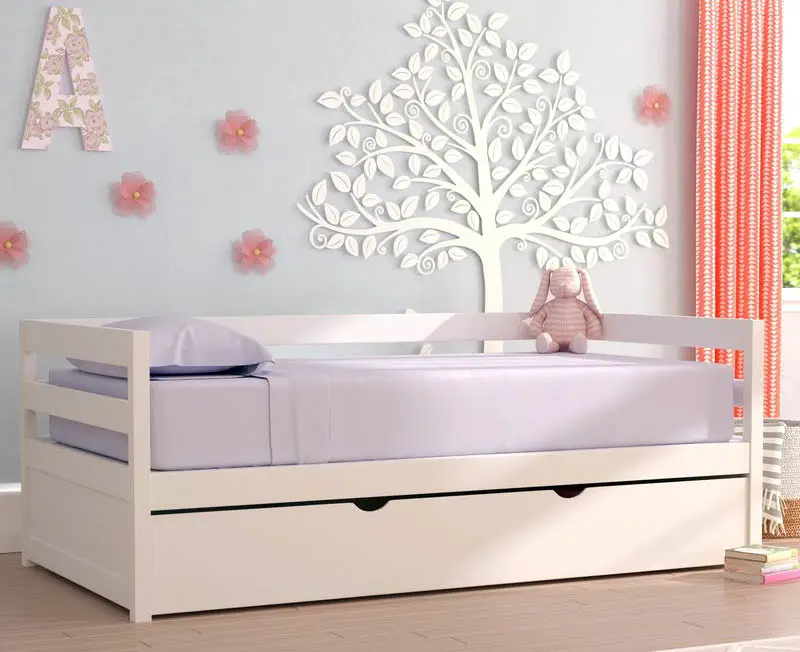 Daybed with trundle bed – See at Wayfair
Another option is a built-in daybed with trundle bed. A daybed is a bed that looks like a couch or seat during the day then, when it's time to sleep, it is converted back to a bed. To make this a good substitute for a bunk bed, though, the daybed will have to be rather long to accommodate two mattresses.
Daybeds are also a great option because they often offer storage space in the form of drawers underneath the bed itself. This type of bed is perfect for those who don't want the high profile design of a bunk style.
End to End Beds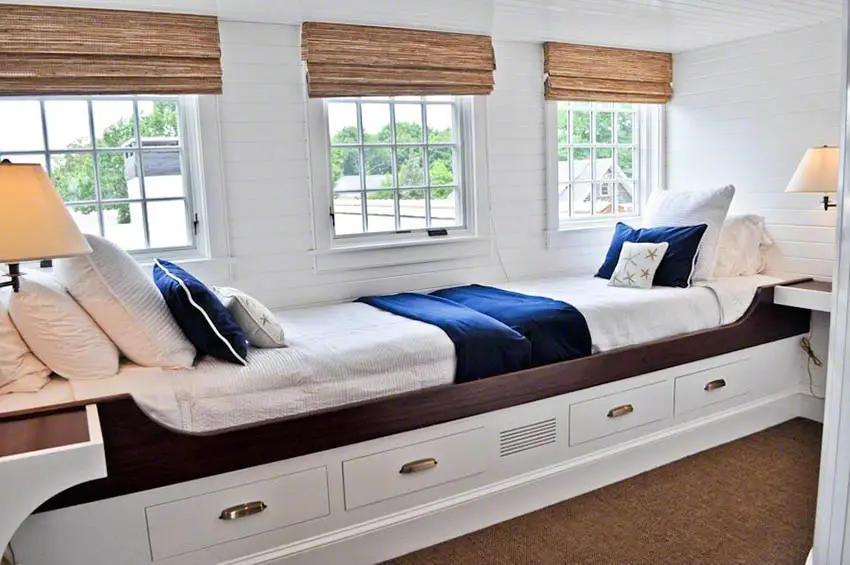 A creative way to build another sleeping spot is by creating an end to end bed out of a window seat. By using comfortable cushions and abedding one can create a comfortable spot for small children to sleep.
Bunk Beds With Curtains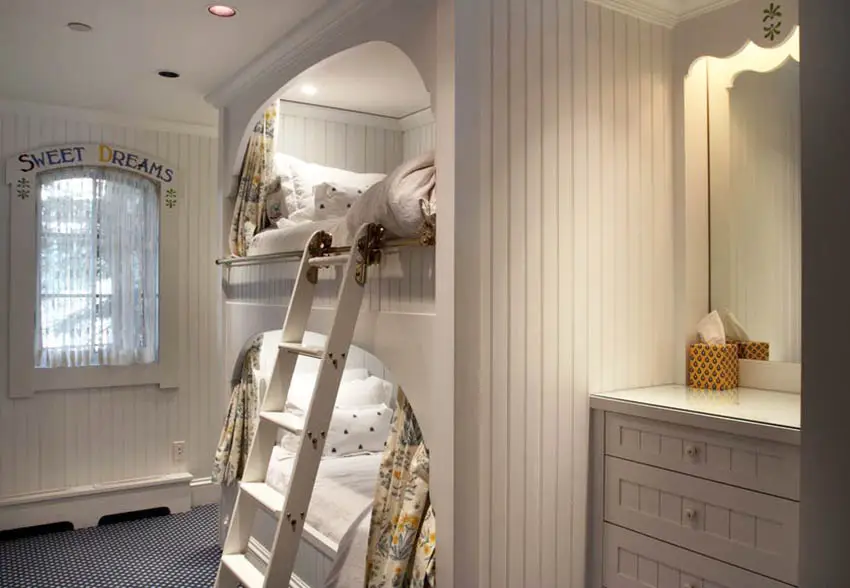 This cozy double bunk bed design features decorative beadboard wood paneling and an arched entry. Interior lighting is a nice touch for reading in bed while curtains provide privacy when needed.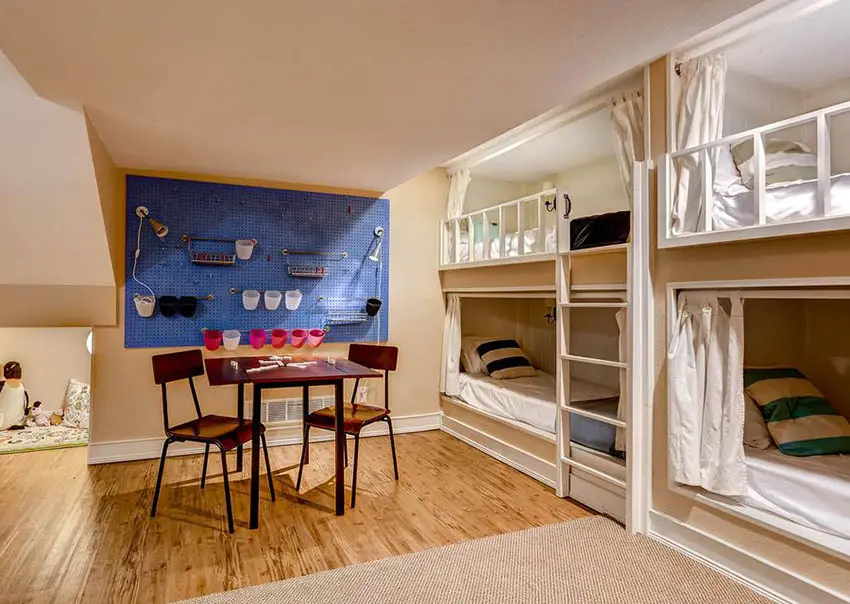 This quadruple bunk bed with curtains offers privacy for those who want it. Interior lights are great for night time readers who by closing the curtains can not bother other sleepers in the room.
Twin Over Full Bunk Bed with Trundle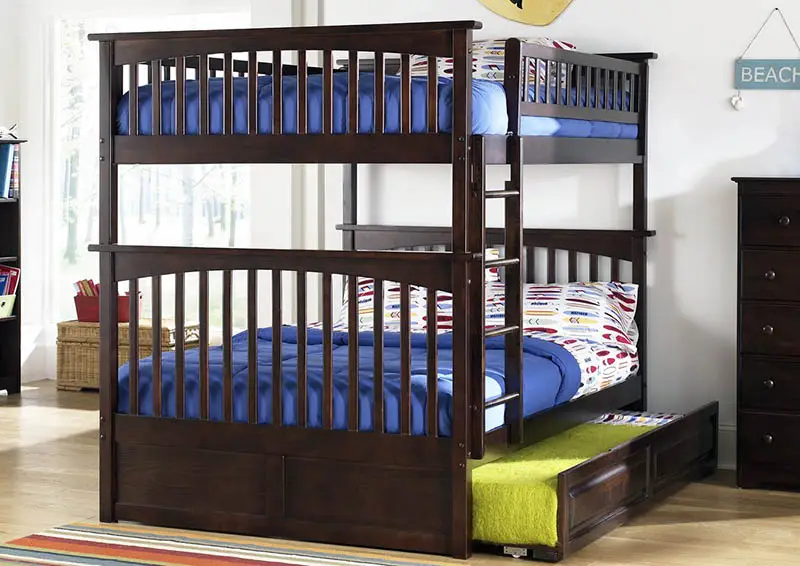 Twin over full bunk bed with trundle – See at Wayfair
Packing a lot of sleeping space in to a compact design, this bunk bed features a twin bed on top, a full bed on the bottom with a pull out twin trundle bed below. This design allows to sleep a total of three in one room and has an attractive solid wood appearance.
Treehouse Bunk Beds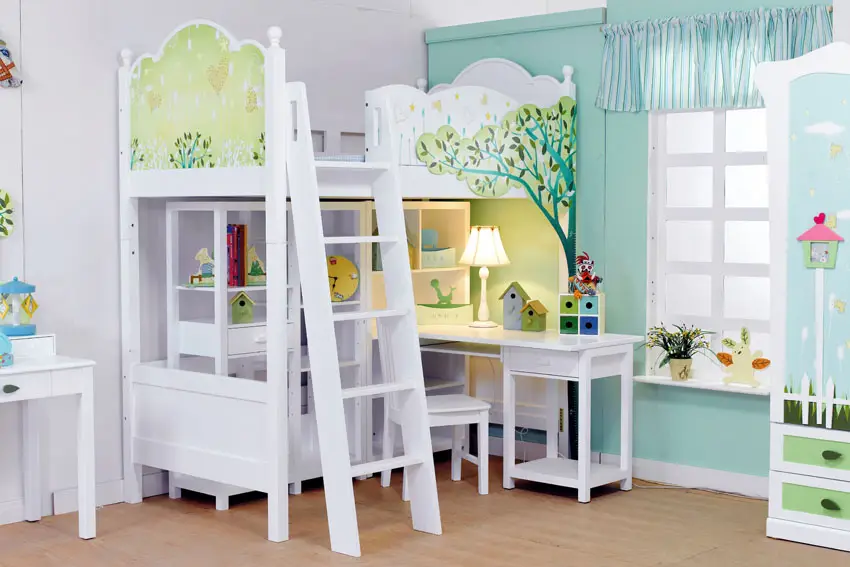 This treehouse bunk bed has a cute painted mural of the outdoors. The bottom level is currently being used as a storage and work station rather than a second bed. It has storage racks as well as a desk for school work.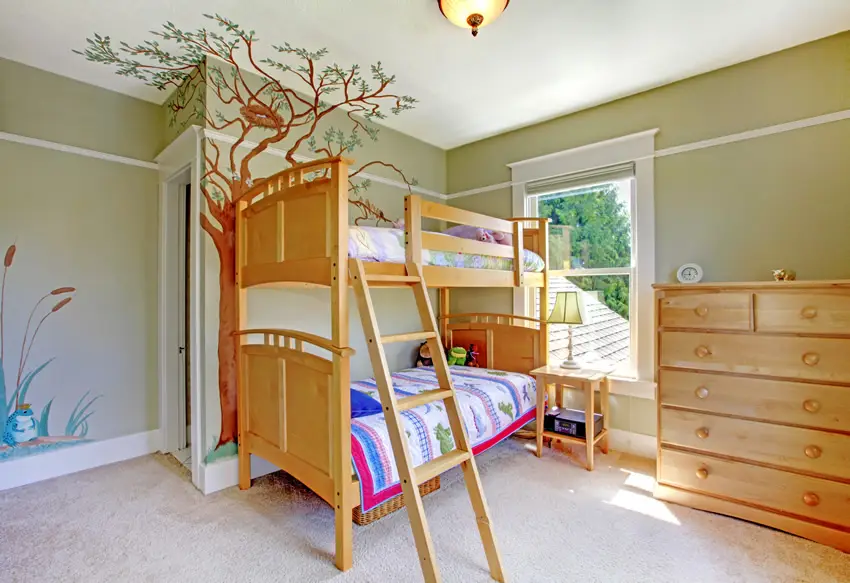 This fun tree-house themed bunk bed features a wall mural painting with a wood bed frame giving the feel of being out in nature. The light green paint and wood furnishings help complete the design.
Bunk Bed Dimensions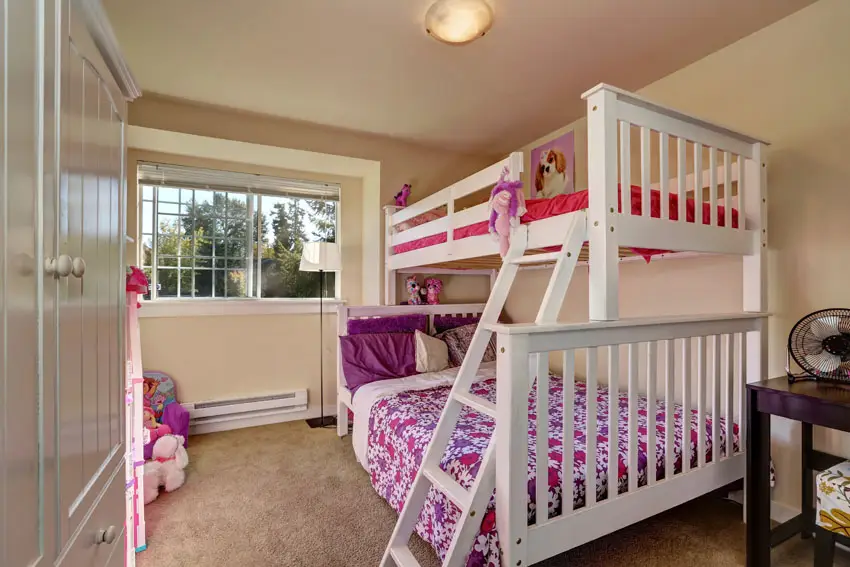 The dimensions for a bunk bed depend greatly on the mattress size used. About 90% of the bunk beds used in the United States are twin-over-twin mattresses. There are additional options, though. For example, twin-over-full bunk beds also exist to offer more space on the bottom bunk.
Another, less common option is to use a bunk bed sized for twin XL mattresses. These mattresses have the same width as twin mattresses but offer a little extra length. We will look further at these mattress sizes in a moment.
One other thought to consider is the size of the frame. While the mattress is a big influence, you still have to contend with the extra bulk of the bunk bed frame itself when considering dimensions. Usually, this will only add a few extra inches depending on how the bed is designed.
Finally, it's important to consider height. For the average bunk bed, the height varies between 5 ½' and 6' tall. To prevent bumps on the ceiling when waking up in the morning, it's best to leave about 2 feet of space between the top mattress and the ceiling.
Bunk beds are made to save space. That doesn't mean, however, that they don't take up space.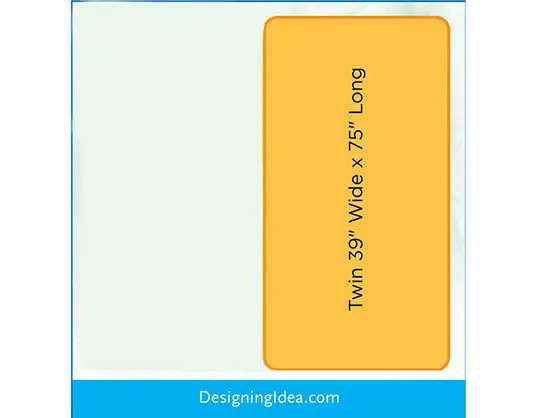 The truth is, there's no single answer to the dimensions of a bunk bed – this is left down to the design. For instance, a standard bunk bed would have a lower height than a three bed bunk bed. However, this doesn't mean that dimensions don't matter. You should still match up the dimensions of the room you want the bunk bed in to the dimensions of the bunk bed you are looking at.
A few things to note would be the size of the room and how much bedroom floor space you want to give up. Another consideration is the height of the room. After all, you don't want the occupant on the top bunk to hit their head when they wake up each morning.
Bunk Bed Mattress Sizes
As noted before, a large part of the dimensions of a bunk bed depends on the mattress sizes. For most bunk beds, a twin-sized bed is used. These mattresses are often chosen because they compliment the compact design idea of a bunk bed.
Twin-size mattresses are typically 75 inches long and 39 inches wide. They are usually about 7.5 and 12 inches thick. Once again, the top bunk needs to be tailored to have enough space, so you should lean towards thinner mattresses to save space – no more than 7 inches. This also helps to keep the mattress below the guardrail on standard bunk beds.
Twin XL mattresses carry almost the same proportions as a standard twin mattress. The only major difference is the length which is about 5 inches longer, giving the mattress dimensions of 39" by 80".
Full-size mattresses are 54" by 75". The thickness of a full-size mattress is much different from twin-size ones at anywhere from 5" to 20". Since these are usually used on the bottom bunk, you should make sure you don't invest in a mattress too tall to comfortably sit up on under the top bunk.
A second option is a twin-over-full bunk bed. This is a design in which, as the name suggests, the top bunk uses a twin-sized mattress and the bottom bunk uses a full-size mattress. These are less common and you typically won't find a bunk bed that uses a full-size mattress on both bunks. You can read more details about bed sizes on this page.
For more help designing your space check out a bedroom layout planner from this list. Using one of these tools will enable you to set the dimensions of your room and visualize it using different furniture to see what works best for your home.