Here we share what wall color goes with black furniture including curated colors that goes well with black furniture to give your home a chic, classic and modern look.
Black is trending nowadays, and we will be seeing a lot more black furniture in the future. Black furniture has a dramatic, modern, and easy to match character.
Almost every wall paint color can ideally go with black furniture. Yet there are also some colors that do not look amazing with black such as earth, muddy, muted tones, or really dark colors.
Colors That Go With Black Furniture
We did a little research to find out what colors work best with black furniture. If you have black furniture in your room, here are some of the best paint colors to keep in mind:
White
The most popular combination for black is white, it is always fashionable. If a room in your home contains black furniture, and you want a contrasting accent color, then using white is just the fitting combination.
If you wish to make your black furniture, the room's focal point, we strongly suggest painting the walls white or slightly off-white in order to really make a statement. By adding both contrasting colors as accessories in the room ties up the design scheme perfectly.
Incorporate white vases, a white fur area rug and white and black art in black frames as accents for more dramatic and eye-catching design elements.
Top Benjamin Moore Whites
Chantilly Lace OC-65

Cloud White CC-40

Simply White OC-117

Dove Wing OC-18

White Dove OC-17

Decorators White CC-20

Oxford White CC-30

Intense White OC-51

Paper White OC-55

Pure White OC-64

Top Sherwin Williams Whites
Neutral Tones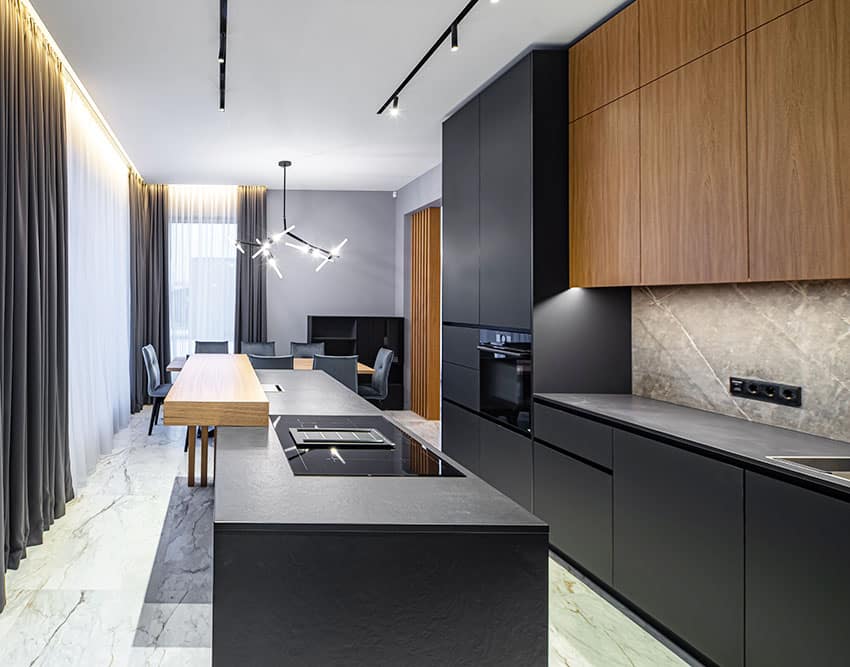 Neutral wall tones like beige, cream, taupe, or khaki works best for black furniture color. These neutral tones offer a nice contrast and warmth with black furniture makes the room more inviting.
These neutral colors or earthly tones work well with both black furniture. Neutral colors and earthly tones will help create a warm ambiance and at the same time goes well with black furniture.
Benjamin Moore Neutral
Light Pewter 1464

Sterling 1591

Gray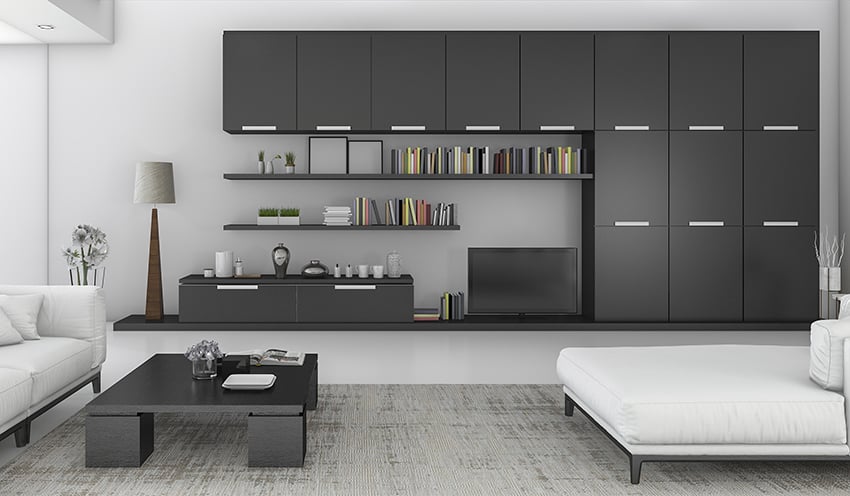 Choosing the right gray will pair well with black furniture and often is incorporated as fabric colors for curtains with strands of silver or printed gray upholstery would add life to the room.
A gray area rug, accent pillows, even vases and other types of decorations would give a room drama to what can otherwise be a dull, dark room.
Sherwin Williams Neutral and Grey
Accent Wall Color For Black Furniture
Here are some of our best picks for the right accent wall color for black furniture that would help bring together the look of your home and can add a mood to a room:
Red
Red works well to contrast the darkness of black furniture since it is a bright, cheery color that works well in nearly every room in your home. As an accent wall color, red will add vibrancy to the room and can be a striking, exotic, and elegant combination that would pair suitably with black furniture.
Incorporating accessories such as pillows in a rich shade of red for a black bed or a red tablecloth, red napkins or even red plates are perfect accent pieces for black dining furniture.
Best Benjamin Moore Red
Blue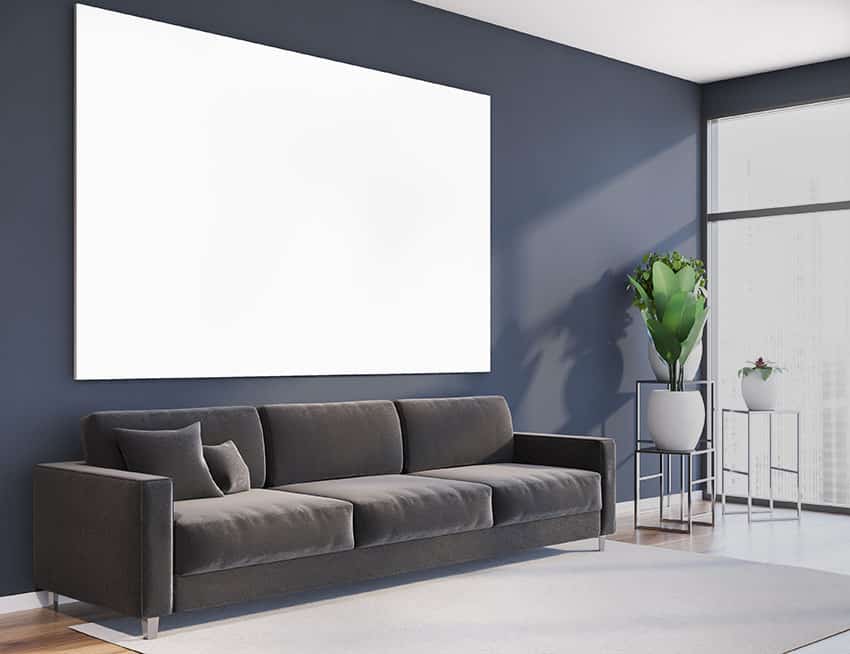 When used as accent walls, darker shades of blue such as navy, indigo and cobalt are the best choice for most designers since these color combinations are chic and very nautical classic when paired with black furniture.
On the other hand, walls colors with light blues and teals can have the same oceanic feel effect that brings soothing calmness to the room.
Best Sherwin Williams Blue
Atmospheric SW 6505

Windy Blue SW 6240

Poolhouse SW 7603

Waterloo SW 9141

Indigo Batik SW 7602

Gale Force SW 7605

Naval SW 6244

Bold Yellows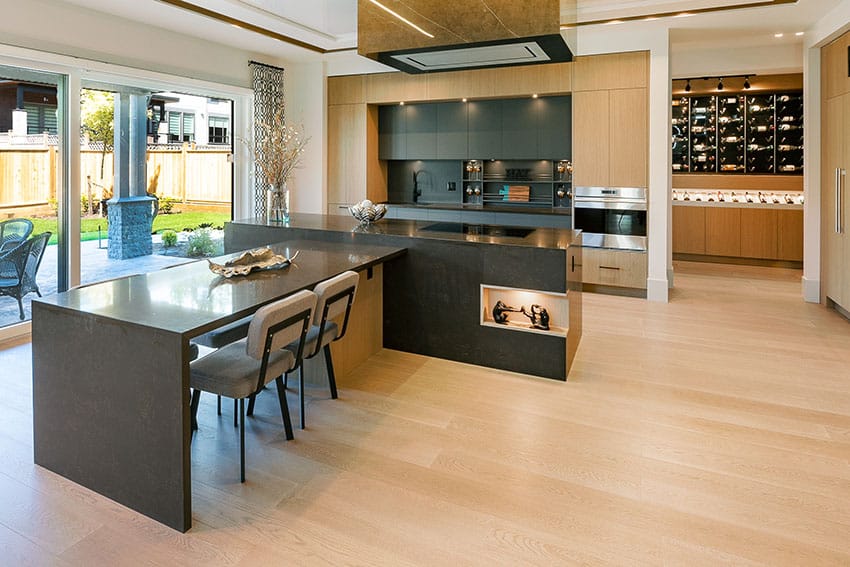 Another pretty bold combination that is both daring and inviting is pairing black furniture with a bright yellow accent wall; it gives the room a sophisticated look. Yellow is also an excellent choice for a more Mediterranean twist to your room.
Bright and bold yellows create a beautiful contrast in combination with black and livens up a room.
Best Sherwin Williams Bold Yellow
Forsythia SW 6907

Butter Up SW 6681

Banana Cream SW 6673

Honey Bees SW 9018

Brick & Rusty Red
You really cannot go wrong with black and brick red color combination, that is why it is no secret that black furniture goes remarkably well with brick walls especially in industrial interior design style. But you do not need to have brick walls to get that industrial vibe, by choosing the right shade of rusty red can give you the same look and feel.
This color combination also works for more Mediterranean looks, too.
Best Benjamin Moore Brick & Rusty Red
Million Dollar Red 2003-10

Smouldering Red 2007-10

Raspberry Truffle 2080-10

Caliente AF-290

Brick Red 2084-10

Iron Ore Red 2089-10

Merlot Red 2006-10

Black
Black accent wall with black furniture…. that cannot be right! Look again, black on black can help make a larger room more intimate and can have a unique and stunning visual effect when done the right way especially for those who love the industrial interior design style.
Gold
Having a gold wall or adding gold paint accent to a black wall with black furniture makes a serious design statement since gold is a luxurious color especially when it is metallic paint and black is a color associated with elegance.
It is not surprising that this can be a perfect color combination for your home when you want that luxurious and elegant drama in your room.
Bedroom Paint Colors With Black Furniture

White
Considered as a classic color combination for black furniture, these strong neutral colors serve as a solid and clean backdrop for a bedroom.
These two-color combinations, when layered and accessorized will give your bedroom a cozy feeling. The black variety of furniture styles unifies and offers the room a feeling of serenity.
Ivory White
Off-white color such as ivory is one of the most elegant color options for a wall paint since it is softer than cream, warmer than bone white and has just the right touch darker than eggshell. Ivory white is a timeless, sophisticated, and versatile color that is perfect in adding warmth to the bedroom.
Gray / Light Gray
Gray is an elegant neutral color that has a special way of transforming a space such as the bedroom. It is a versatile color with a great deal of hues that can match well with black bedroom furniture.
Light gray color has a soothing effect which makes it a perfect bedroom paint choice. Textured accent wall combined with light gray or gray walls offers a visual element and brings together black furniture into the design scheme.
Steel Blue
Blue tones offer a feeling of clarity, pureness, and increased intuition; it is both calming and welcoming. Steel blue pairs well with black furniture giving your bedroom a sophisticated touch. This color can easily highlight the black furniture and other accessories in the bedroom.
Charcoal
Charcoal works best with contrasting colors and is one of the best backgrounds for black furniture. In order to avoid a monotonous look in your bedroom, you have to carefully consider the proportion of this color and choose where to best emphasize it.
What Wall Color Goes Best With Black Furniture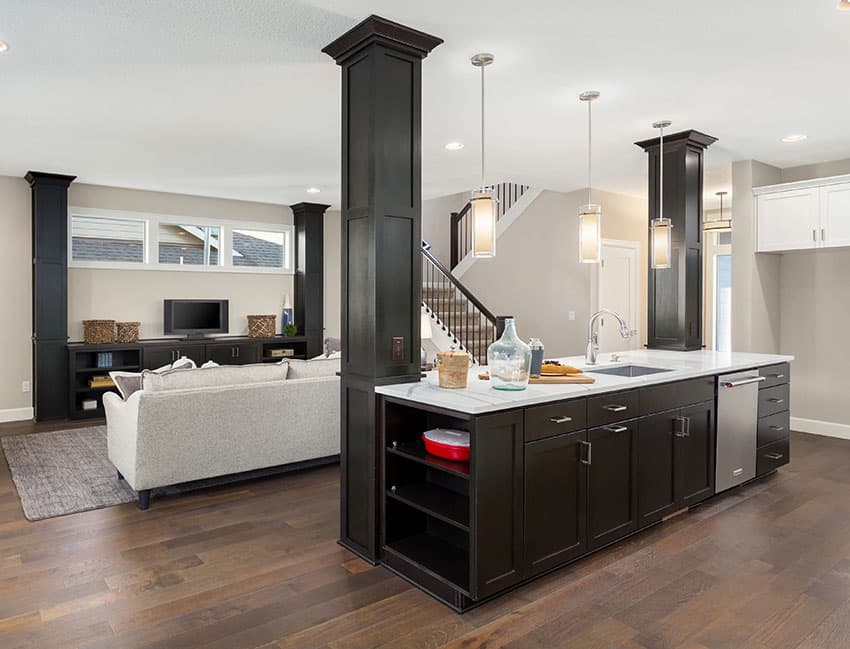 Black furniture gives a room a chic, classic and modern edge to the design scheme. The challenge may lie on deciding what color goes best with your black furniture.
Since black is a neutral color, there are varieties of colors and shades that will work well with your black furniture.
The important thing to consider is determining how bold or subtle you want the room to look for you to be able to choose the paint color that would go perfectly with your black furniture.
Light Colored Paints
Since your black furniture already offers a heavy and masculine look and appeal, you might want to soften the look of your room by choosing a pale color for the walls. Light shades of paint such as soft ivory or cream will be an ideal wall color that allows you to showcase your black furniture.
A more saturated color, like a light blue gray or sage can give the room a serene, tranquil and casual feel. Warm shades like butter yellow or peach make the space more welcoming, engaging and appealing.
Neutral Shades
Keep it neutral and paint your walls in a deeper neutral tone. Opt for a mid-tone gray shade paint as it provides some contrast and works elegantly in a room with black furniture.
Tan is another neutral color option for the walls that would go absolutely well with black furniture. Tan offers an earthy tone that makes the room cozy and provides a relaxing feel.
Bright & Bold
Painting your walls with bright shades of yellow makes the room look larger and vibrant. Red can be a bold color and can warm up the room.
For a contemporary vibe try painting your walls with shades of turquoise, lime or magenta. These bright color walls combined with your black furniture will definitely give any room a more modern look.
Rich and Elegant
Having black furniture, it is preferable to paint the room in a saturated color so it can give the space an elegant and sophisticated look and feel. These rich and elegant colors include jewel tones like sapphire, emerald, ruby and amethyst work especially well with sleek black furniture.
Rich color gold, burnt orange or eggplant shade also pairs well with black furniture. Keep in mind that painting your room with deep shade color walls, always make sure you incorporate some light neutrals like cream, beige or ivory to help balance and soften the room.
For more related content about the best paint finishes visit this page.