See the differences between an end table vs side table including what they are, comparisons and how they differ from sideboards and console tables.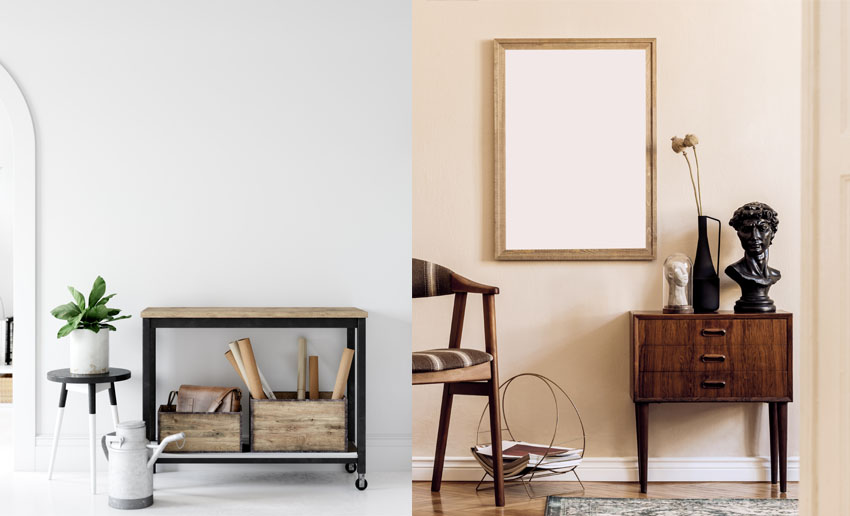 Do you have a side table at home, or is it an end table? It can undoubtedly get confusing especially since many use these two terms interchangeably while meaning the same thing. Do these two types of tables mean the same thing or are they constantly wrongly used by people?
What Is An End Table?
True to its name, an end table is a table that's installed at the end of a piece of furniture. Typically small in size with height as tall as the arm of a chair, it is meant to fit in corners and free spaces. You will usually see it at the end of a sofa.
An end table functions both as shelf or storage space and as an added décor to the room. Function-wise, you can place small things like books, cups, and remote controls on top of it. Choose things that you often use and need to be within reach at all times.
As an aesthetic addition, an end table can be styled in a way that's compatible to a classic-looking room or a modern one, depending on your preference and the style and ambiance you have going in the groom you wish to install it in.
What Is A Side Table?
A side table is a table that's placed in the sides of the room against a wall (Yes, even in open space since you have the control on where you want to place them). Going back in history, side tables were used by servants to prepare and give guests tea. Today though, it serves more than just one function.
Side tables are versatile in a way that it can function as a lot of things, including the following:
TV stand

Small bookshelf

Bedside table

Toiletries storage

Mini bar table
Side tables as bedside tables are both functional and decorative. The function part is when you use them as storage for important intimate belongings and the decorative part is when you use two side tables on both sides of the bed for symmetry. They are considered very visible and can have a major effect on the room's aesthetics and style.
Difference Between Side Table And End Table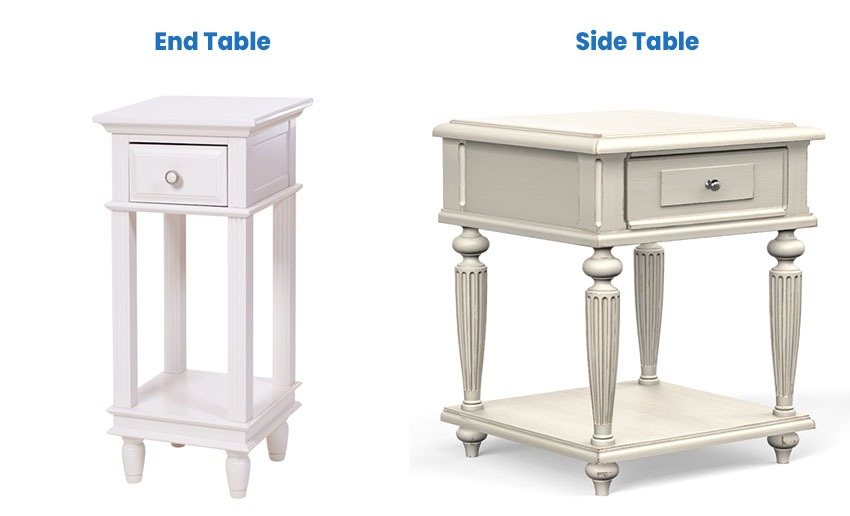 Side table and end table are used interchangeably by many despite a glaring difference. While both tables merit the description of being placed next to another piece of furniture, a side table is a more prominent addition to the room while an end table is like a pretty afterthought. Needless to say, both pieces of furniture can be both functional and decorative.
Side tables have a larger surface area, making them more noticeable and impactful when added to the room. End tables, on the other hand, are smaller and fill extra spaces that will be wasted when not used.
Are Side Tables And Sideboards The Same?
Originated in England, a sideboard is a piece of furniture that offers additional storage and is mostly seen in the dining room or the hallway. It has a look that is similar to a kitchen cabinet.
While both side tables and sideboards have similar origin and function (which is to serve as extra storage space), they are two different pieces of furniture.
Side tables have smooth top surfaces since they are essentially tables while sideboards are leaning more on the cabinet side. Some may have open tops though for display.
Sideboards are not just limited to the dining room and are versatile enough that they can also be seen in the living room and hallways. They also offer unique styles and designs, from short legs to no legs cabinets.
What Is Another Name For A Sideboard?
Sideboard that is installed and located in the living room is called a buffet table. This is one of the conditions to call a sideboard a buffet table. It is a piece of furniture that generally displays and serves food but they can also act as extra storage space.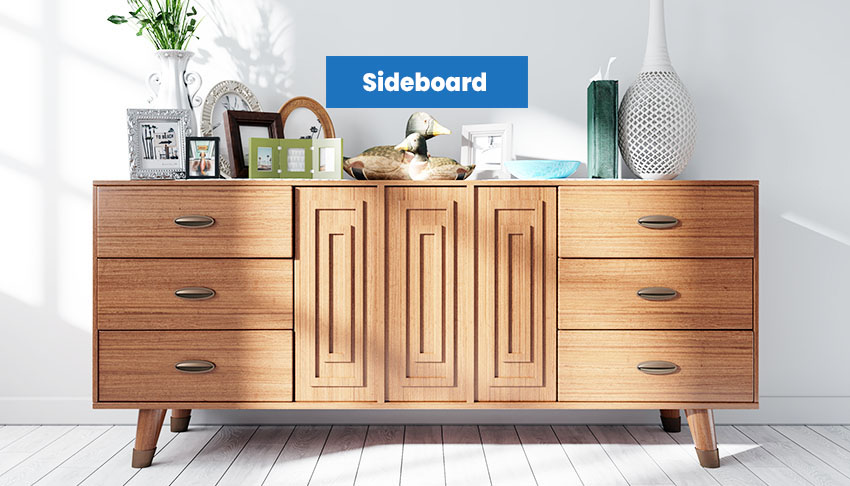 Sideboards function as buffet tables when the furniture is used for serving food. It is a standalone piece of furniture that can be called a buffet table when in the living room and known as sideboards in the rest of the home. This is why there is no distinction between sideboards and buffet tables except where they are located.
While a buffet table is located in the living room, a sideboard is traditionally located in the entryway of the dining room as an extra storage space. And nowadays, they can be made from glass and metal rather than the traditional wooden sideboards.
Are End Tables And Console Tables The Same?
End tables and console tables are not the same thing. End tables are small storage additions you can use in the extra space you have at home while console tables are wide and shallow.
Console tables are normally placed against the wall. If they are placed at the back of the sofa, they are then called sofa tables. This is very different to the end tables that's normally connected at the end of and on the arm of the couch.
Console tables are more structured and stylish than a coffee table or end tables. With their sleek design, console tables are structured thin and long to fit the back of the sofa when there's limited space.
What Is Another Name For End Table?
End table is often interchanged with the side table because of having similar functions and locations. An end table is also known as a side table because you can locate it beside another piece of furniture. And they both function as extra storage space and tables for small things you need frequent access to.
With the sofa, end tables are installed beside the sofa's arms, which is also where you would normally see a side table. They only differ in size since side tables tend to be bigger than end tables.
When you ask homeowners, there won't be any difference between these two pieces of furniture. But you will have a different answer and reaction when you ask sellers of the said pieces of furniture.
Visit our ottoman vs coffee table pros and cons guide for more related content.