This design gallery shares green bedroom walls including the different shades of light & dark green, how to use them, recommended green paint colors, and bedroom decorating tips.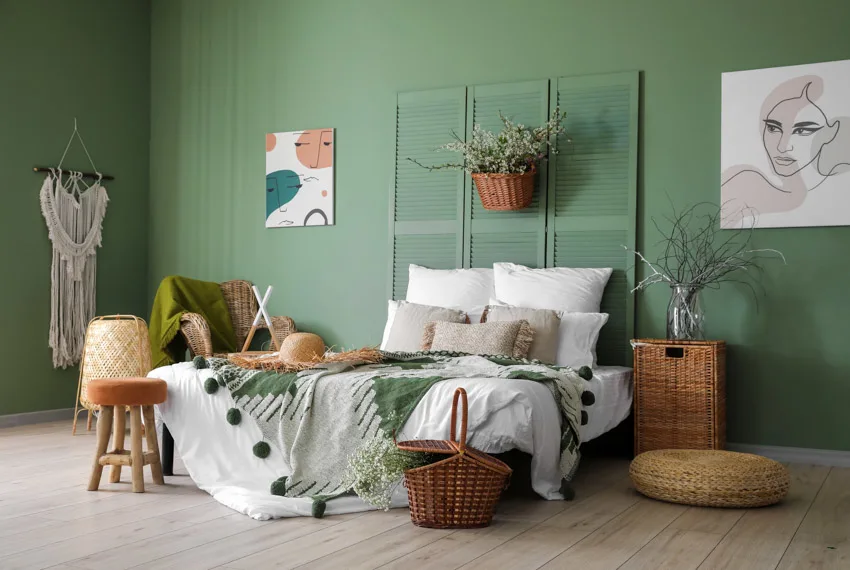 Green is the color of nature and if you want to bring it inside the four walls of your home, going for green walls is one of the best options to consider. The color offers a refreshing look and feel to your room, bringing outdoors inside your home.
Besides the feel of nature, green is actually a flexible and versatile color. There are many shades to choose from, and you can match them with the specific style you want to have. You can choose the soft sage or the bold emerald, depending on the look you want to achieve.
For traditional and farmhouse styles, the color brings your back to nature. For modern and contemporary, it offers a clean and bold look that you can pair with geometric shades. Green is also neither too childish nor too adult that it can be used both for a nursery and a home office. It can also be used in a romantic-style bedroom and add a soothing feel to it.
Green Paint Colors for Bedrooms
The color green can affect one's mood differently based on the amount of yellow or blue added. For instance, yellow-based greens that appear citrusy help brighten the mood and add a sense of cheerfulness and playfulness. This color is best suited for a kid's bedroom to boost positivity and reduce gloominess without being overwhelming.
Bright green or true green should only be used to accent a bedroom since this color is too much for a whole room. In design psychology, this color represents urgency and positive notions like green traffic lights. Used as an accent in a bedroom, this color can grab your attention and bring energy to the space.
When green is combined with white or gray to dull the color, it gives the room a fresh and contemporary feel. It can also bring tranquility to the space, which lends itself to a very soothing bedroom.
On the other hand, Emerald Green or Forest Green adds drama and elegance to a room. These rich colors are still suitable for a bedroom and give the bedroom a moody, lazy vibe that is perfect for sleeping.
Colors such as sage or moss green remind us most of nature and, according to color psychology, elicit a feeling of peace and relaxation, just like the addition of plants and greenery. Right after the color blue, green is the second best color for having a restful sleep thanks to its relaxing effects on one's mental state.
Dark Green Walls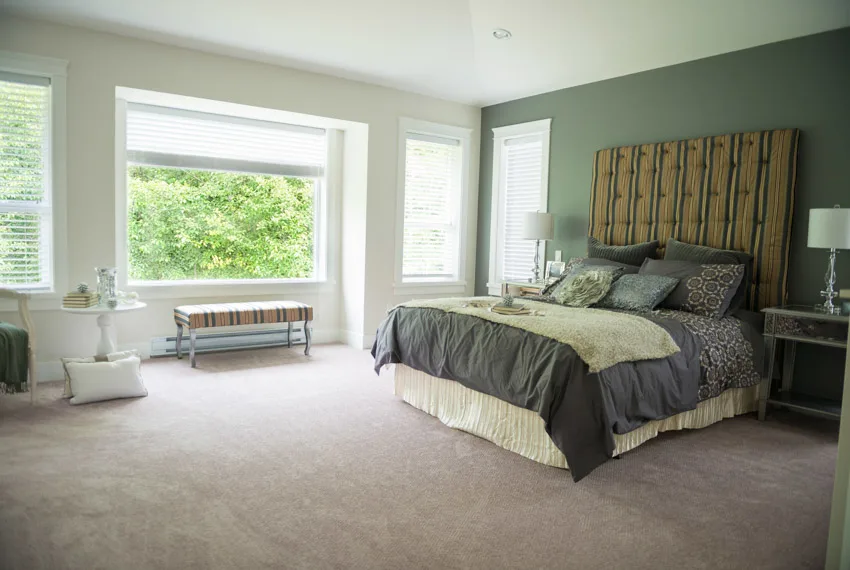 If you're opting for a moody feel for your bedroom, dark green is an excellent consideration. The color is timeless and sophisticated and while it may be a dark color, it doesn't make a room feel darker. The trick is to learn how you can work with this color and even play with tons of contrast and depth.
When choosing and working with dark green bedroom walls, here are some practical tips you can follow.
• Make use of natural light: Since the color has a dark shade, it is better to add some brightness to the mix and nothing beats natural light when it comes to this job.
It can turn your moody bedroom into a vibrant one, balancing the protection of your privacy while at the same time keeping the room welcoming and fresh.
• Use neutral colors: Dark green walls can be balanced by neutral colors, helping brighten the room. You can add these colors to your room through tan throw pillows and creamy white types of comforters.
• Spruce and turn them into textured walls: If you want to add class and sophistication to your room, you can add texture to your walls by using spare lumber and creating patterns from it.
• Add greens and flowers: Incorporating fresh greens and flowers can bring a pop of color to the room and contribute to the natural element and style that it showcases. This is the most inexpensive way to spruce up your bedrooms with dark green walls.
Some of the dark green colors to consider include olive green, emerald green, forest green, army green, and hunter green.
Olive Green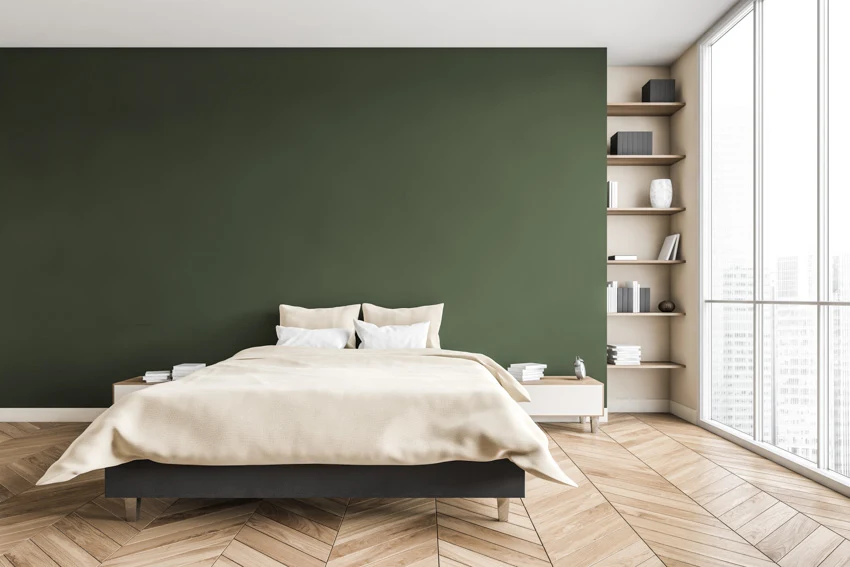 One of the dark green shades you can consider for your bedroom walls includes a combination of dark yellow and green with the color hex code #BAB86C. The term olive green came out between 1150 and 1500 in Middle English to describe the color of green olives.
The color of green olives was even favored by the U.S. armed forces and was used during the Vietnam War and World War II to help soldiers blend well into the background. The color "olive" may also be used to refer to a dark yellowish or golden shade of skin.
Olive green is a mix of three parts yellow, one part blue, and a touch of red, creating this specific green shade. This dark green color adds a serious and formal feel to a room and can make you feel attentive.
Here are some olive green color paints you can consider.

Sherwin-Williams Olive Grove (SW 7734)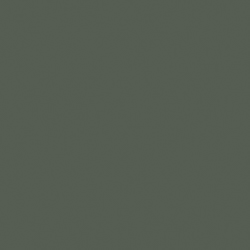 Benjamin Moore Vintage Vogue (462)

Behr Secret Meadow (S360-6) Farrow & Ball Bancha (No.298)

Benjamin Moore Oregano (2147-10)
Emerald Green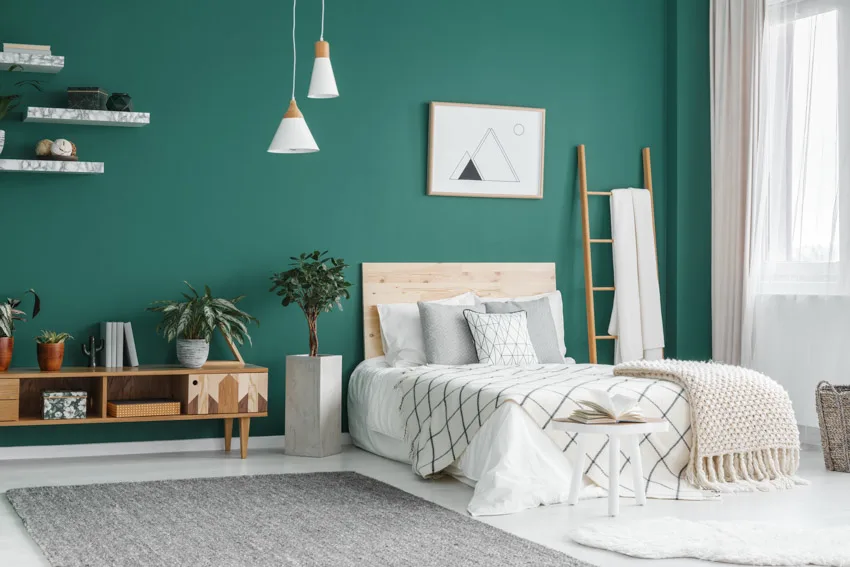 Another dark green consideration for your bedroom walls is the color emerald green. If you're going to believe folktales and superstitions, this color might be something to be wary about.
But if that's not a factor to consider, emerald is a stunning color option that showcases elegance and luxury. Psychologically, it symbolizes harmony and balance and is seen as a color of renewal and luck. If you want all of these positive elements inside your room, emerald green is the color to go to.
Emerald green can easily be paired with other colors and either contrast or complement the color. You can pair emerald green with neutral colors like off-white, beige, and even charcoal gray. If you want a color that's near the shade of emerald green, lime green and yellow-green can create the texture and contrast for your room.
There are several shades of emerald green to consider with varying saturation of blue hues. For some paint color options to consider, here are some you can explore.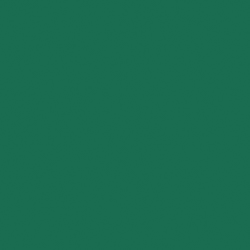 Behr Precious Emerald (S-H-470)

PPG Evening Emerald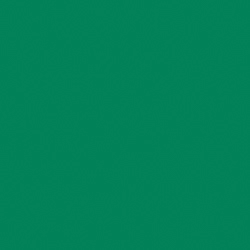 Benjamin Moore Emerald Isle (2039-29)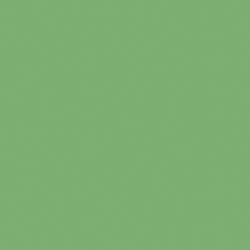 Farrow & Ball Emerald Green (No.W53)

Dunn-Edwards Earhart Emerald (DET537)
Forest Green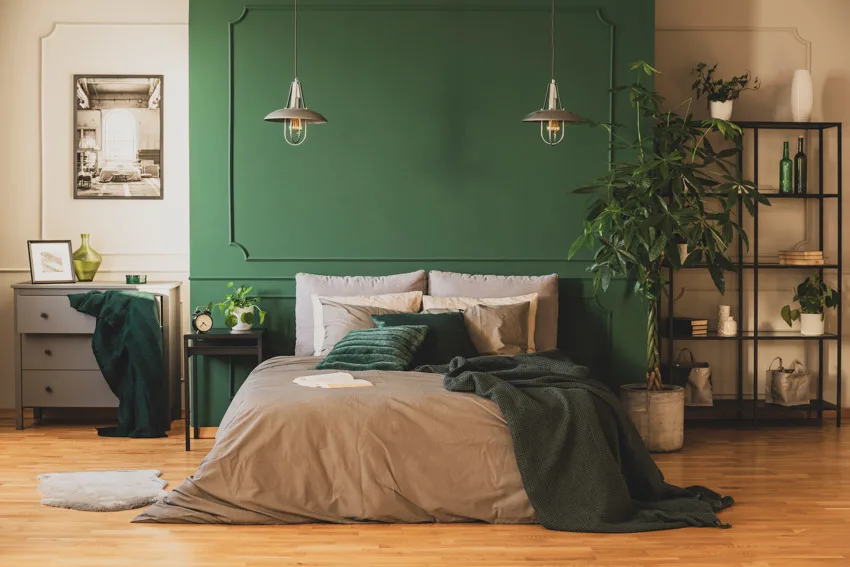 Forest green is also a color option you can apply to your wall bedroom. Its name itself suggests how the color will make you feel and that involves the vision of tall trees and thick bushes in the middle of the forest. With the hex code #228B22, this dark green color features a shade that's often found in nature and the environment.
When it comes to pairing forest green with other colors, bright red is one of the direct choices. This combination will give you a Christmas vibe and feels. If you don't like your room feeling like it has Christmas overload, you can just pair your forest green walls with blue accents.
Neutral colors can also be used for accessories. You can also include the colors black and white if you prefer something safe. For the forest green colors you can paint on your wall bedroom, here are some great options to take note of.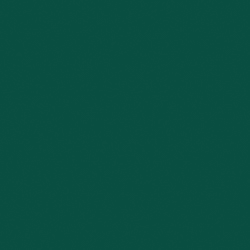 Benjamin Moore Forest Green (2047-10)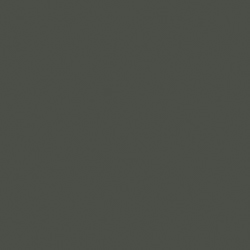 PPG Enchanted Forest Green

Dunn-Edwards Evergreen Forest (DET534)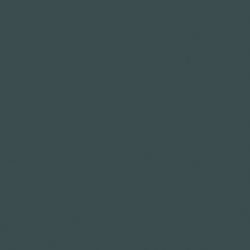 Sherwin-Williams Cascades (SW 7623)

Behr Vine Leaf (N400-7)
Army Green
Army green is not the first color to be used by U.S. armed forces because they first preferred olive to help blend in the background. It was in 1981 when they shifted to the "camouflage" pattern that includes brown, black, sand, and green. This green is what's currently known as army green.
If you choose army green for your bedroom walls, your room can definitely look impressive. Of course, you will need to match the decor of your room with the interior's style. Green is noted to be soothing and welcoming so you won't have to worry about
One thing you can do is pair it with other shades of green to create texture in the colors and soften or add a popping element to the mix. For a darker green like army green, you can might them with brighter shades like celadon, pistachio, or mint. Here are some of the army green color paints you can explore.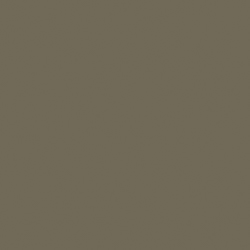 Benjamin Moore Army Green (2141-30)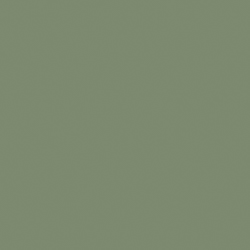 PPG Army Fatigue Green Dunn-Edwards Military Green (DE5530)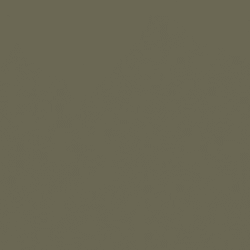 Ferguson Brothers Paint & Supply Army Green (2141-30)
Hunter Green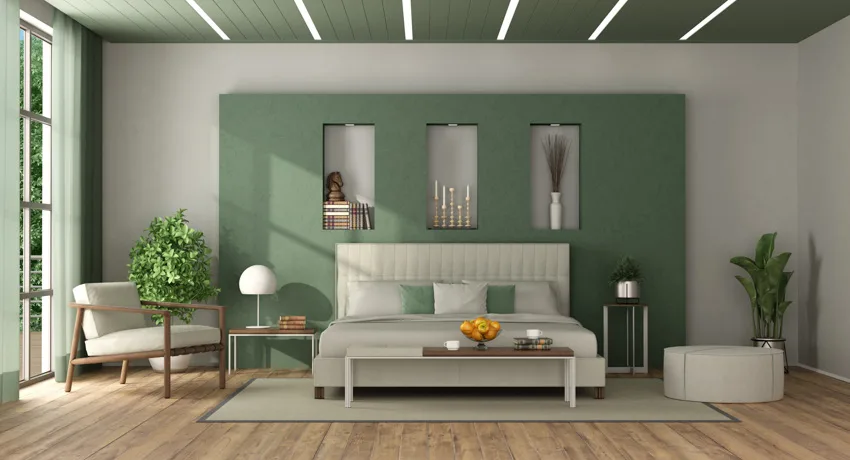 Close to forest green, hunter green is another dark green option you can apply to your bedroom walls. This color can easily add life to your room, turning a dreary space into a pleasant sanctuary where you would prefer to stay.
This is a good option to check out if you want a comforting and relaxing color, on top of an outdoor feel. They can easily be paired with neutral colors gray, brown, and tan.
And if you want something bolder, you can opt for a muted red or muted blue to allow the hunter-green walls to stand out. Hunter green can induce inspiration and creativity, which makes it an ideal option for home offices and playrooms. Explore the following hunter-green paint colors: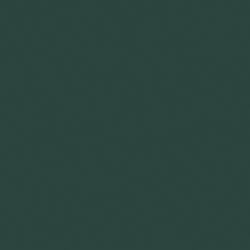 Benjamin Moore Hunter Green (2041-10)
Sherwin-Williams Dard Hunter Green (SW 0041) PPG Royal Hunter Green The Home Depot Hunter Green

Dulux Hunter Green (6-068)
Light Green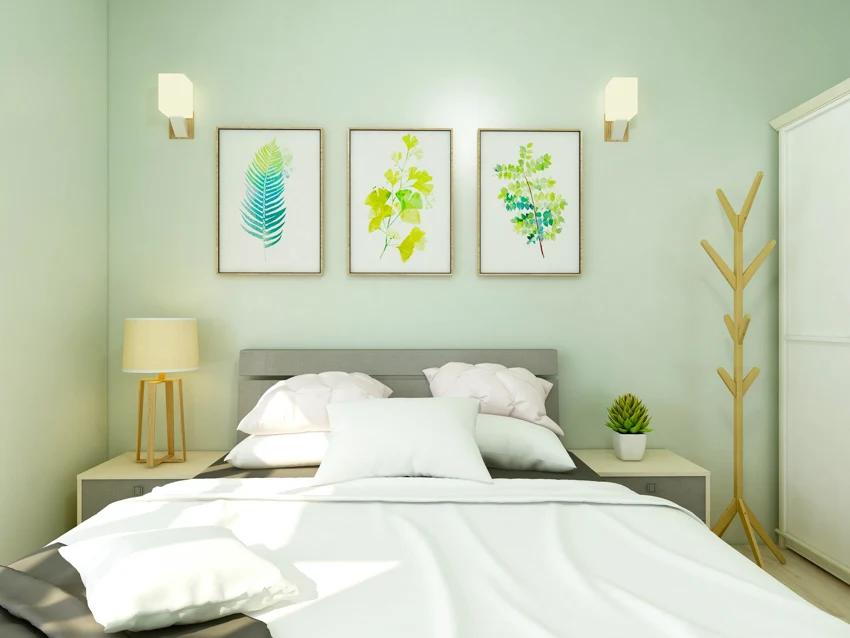 If you want something brighter for your bedroom walls, go for light green instead of dark green. This color option can be a calming addition to your room but it would still depend on the colors you pair your light green bedroom walls with.
Some of the ideal colors to match them with include navy blue, pastel cyan, light gray, dusty pink, lemon yellow, creamy light brown, and white. In contrast, you can also use brown or black for a bolder and more solid look.
Light green is the perfect wall color for your child's bedroom because first, it is a safe option since it's not a cliche pink or blue for kids. Light green walls keep the bedroom gender-neutral and at the same time fun and interesting to look at. The color also promotes learning, which will be very helpful in the kid's development and growth.
If you need some suggestions on working with light green bedroom walls, here are several ideas you can keep in mind.
• For a relaxing ambiance, pair your light green bedroom walls with white: Light green is a calming color, and pairing it with white creates a sanctuary of relaxation.
You can pair your walls with a clean white ceiling, white furniture, or white types of bedding and curtains. These can make your room appear bigger than it actually is.
• Go for a nature-inspired style with light green walls and wood tones: Adding natural materials like wood and potted flowers can turn your room into a refreshing and cozy nature-inspired space. Complete this look with wooden furniture, vinyl floors with wood grain patterns, and other wooden elements.
• Nurture a sleepy ambiance with pastel colors: If you often find it difficult to have a well-rested sleep, adding pastel colors to your light green bedroom walls can help complete that perfect vibe for rest and sleep. You can use and add dusty pink, pastel yellow, and creamy light brown.
• Go for an intimate ambiance by adding a dark shade: For an intimate ambiance, you can add a dark shade like black to your light green bedroom walls. The two colors will balance each other, where light green offers brightness and calm while black offers a solid and bold look.
If you're planning on using light green for your bedroom walls, there are several options to consider, including sage green, mint, seafoam green, pastel green, lime, apple green, aqua green, and avocado green.
Sage Green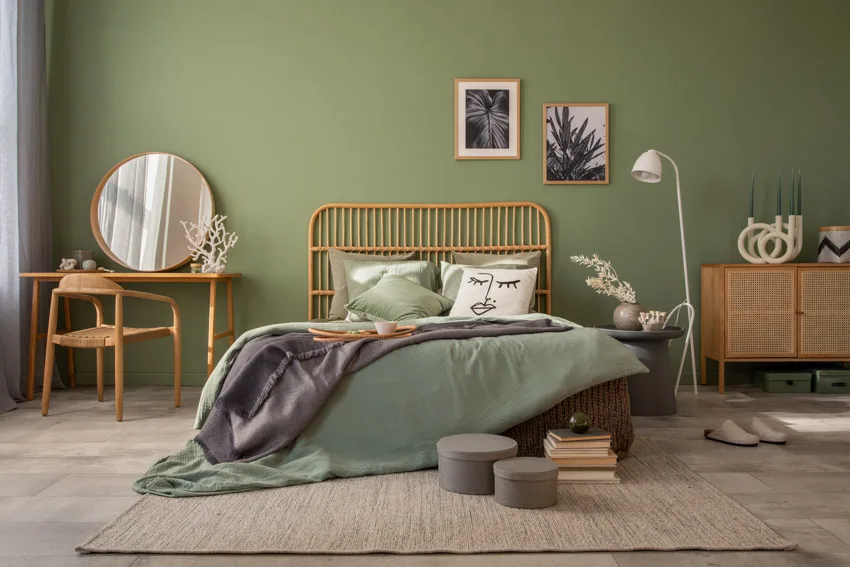 Sage green offers a cozy and airy ambiance that you would want to add to your bedroom walls. Despite a soothing feel to it, it also offers a certain warmth that you won't be able to get from other shades of green.
Besides your bedroom walls, coordinate your blankets, bedding, and pillows to be in sage green. You can also add a different shade of green with your sage green, adding texture and accent to the room.
Pairing sage green colors with white will reinforce the color's vibe of calm and elegance. This will be a great option if you want to create a minimalist-style bedroom.
Check out these wonderful sage green paint colors and discover if one of them will be ideal for you. Farrow & Ball French Gray (No.18)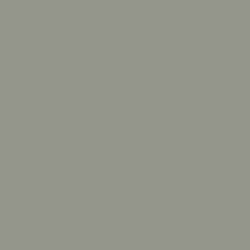 Sherwin-Williams Evergreen Fog (SW 9130)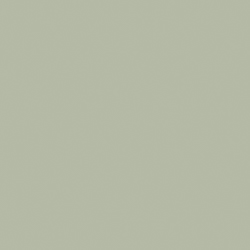 Benjamin Moore Saybrook Sage (HC-114)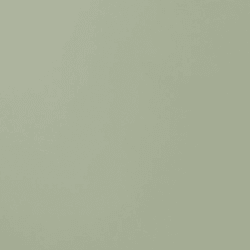 Clare Money Moves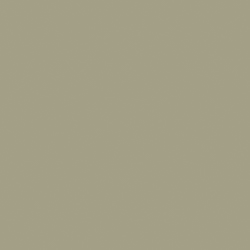 Benjamin Moore Texas Sage (1503)
Mint Green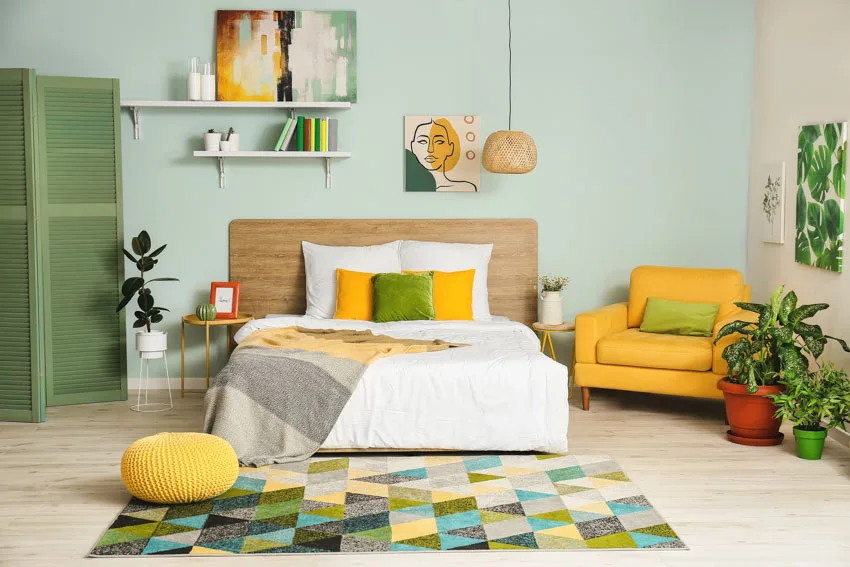 If you are after the coolness and refreshing feel of light green, mint green is the best choice for you. It is one of the exceptional colors that are rising in fame.
Considered part of the bright pastel color palettes, mint green is a mixture of blue, green, and white, depending on the proportion of the colors.
It is often confused with other green colors including green cyan, celadon, and light aquamarine. If you want samples of mint, here are some of the top mint green paint colors to consider. Valspar Signature Satin Icy Mint (6001-7a)

Sherwin-Williams Aloe (SW 6464)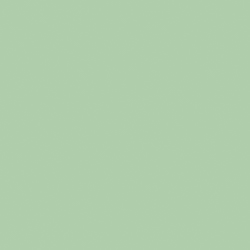 Behr Garden Room (450D-4) Valspar 2000 Flat Mint Whisper (5008-7a)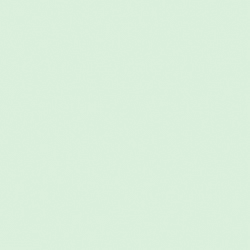 PPG New Mint Green
Mint green can be used for different styles, from laid-back boho-style to the more glamorous Scandinavian style. You can add neutral colors beige and gray for the former and then luxurious gold and silver for the latter.
Seafoam Green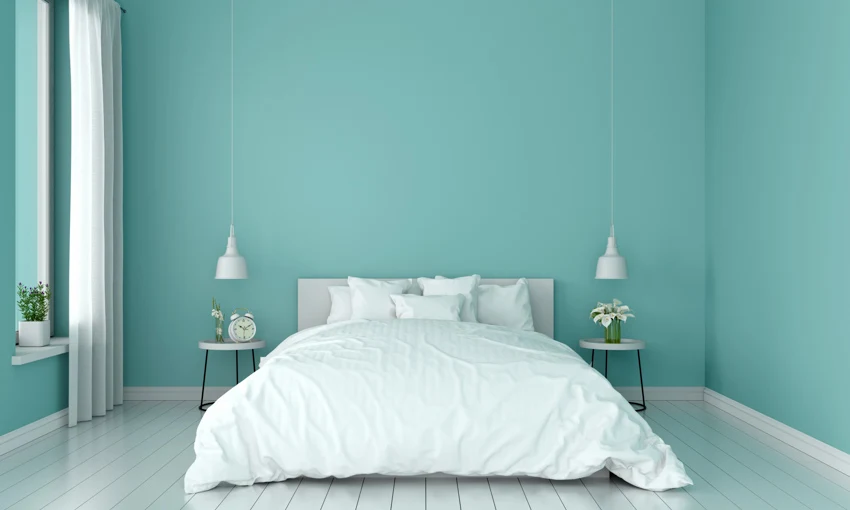 Seafoam green is a favorite color for many, especially since you can easily incorporate them into the existing style and design of your bedroom.
This shade of green is ideal for a coastal-inspired room and you can improve upon the style by adding "beach" elements to the mix, from pairing it with sky blue and white decor and using shiplap in some areas of the room.
You can also add other wooden elements, from the bed frame to different furniture. If you're still in the process of choosing seafoam green paint, here are some of the best options you can look into.

Benjamin Moore Seafoam Green (2039-60)

Dunn-Edwards Seafoam (DE5695) PPG Pale Seafoam Behr Seafoam Pearl (470A-2)

Valspar Seafoam Storm (5002-1C)
Pastel Green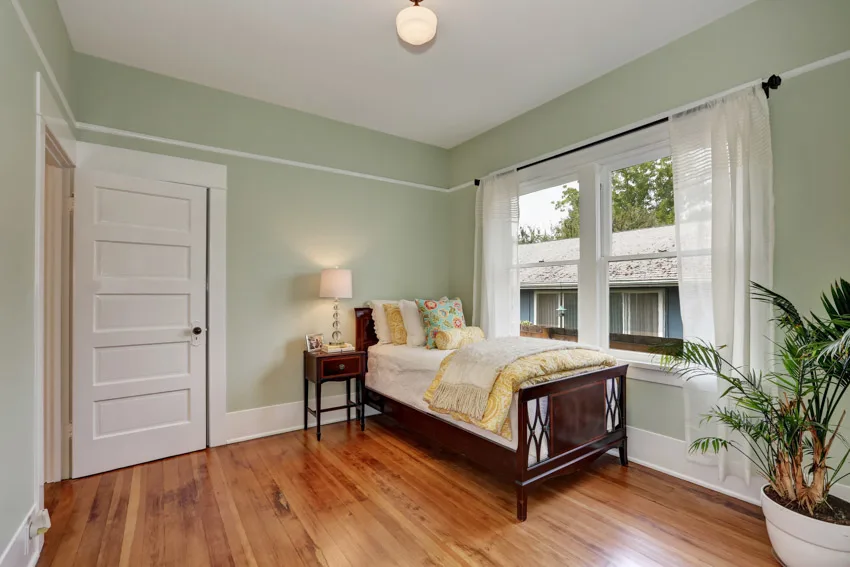 Pastel green, more than just an example of light green, is a soft green shade you can add to your bedroom walls. This color induces rest and better sleep, so it will be an excellent option for kiddie rooms and for your bedroom if you're having a difficult time sleeping.
You can stick with all pastel colors or you can stick with all green. Pastel bedrooms will look wonderful in a nursery so you can mix pastel green with your favorite pastel colors.
If you want to structure your bedroom to have a minimalist look yet at the same time improve your productivity in the process, you can mix pastel green and white. Pair your pastel green walls with a white ceiling and furniture.
Here are some of the pastel green paint colors to explore.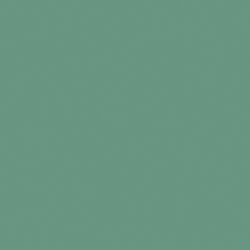 Sherwin-Williams Grandview (SW 6466)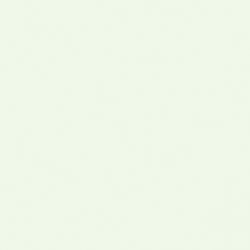 Behr Pastel Green (PPH-45)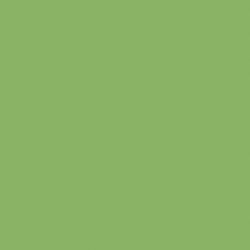 Valspar Lucky Clover (6005-8B)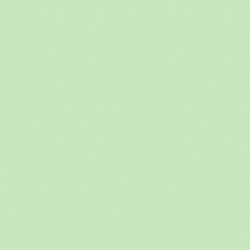 Ferguson Brothers Paint & Supply Pastel Green (548)
Sherwin-Williams Restful (SW 6458)
Lime Green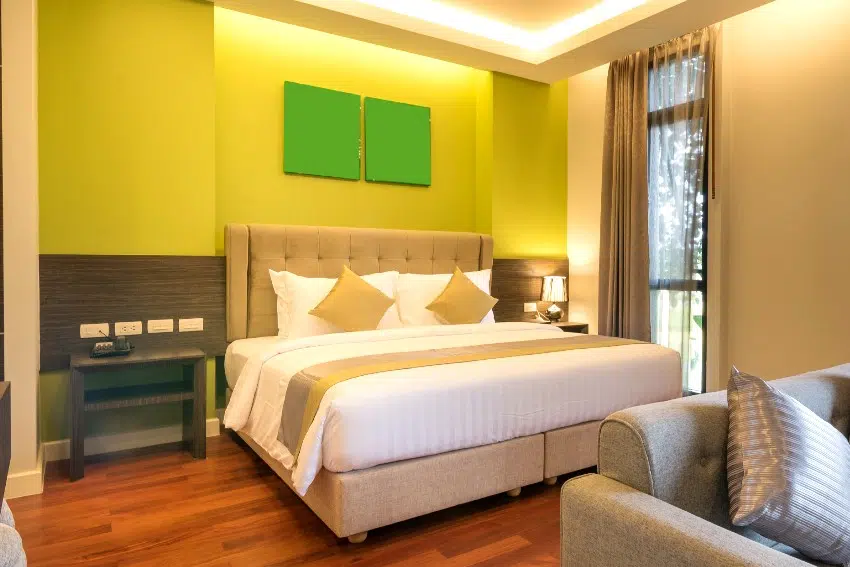 If you want something to brighten your room, going for lime-green bedroom walls may be recommended. Named as such before the color resembles the skin of citrus fruits like lime, this color is associated with high energy and confidence.
With the hex code #32CD32, lime brings freshness and liveliness to any room it's painted on. It can also be a good option for home offices to promote feelings of creativity and productivity.
Check out these lime green paint colors if you want to incorporate the color into your room.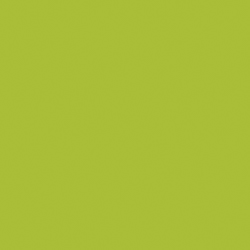 Benjamin Moore Lime Green (2026-10)

Sherwin-Williams Center Stage (SW 6920) Farrow & Ball Acid Drop (No.9908) PPG Lime Green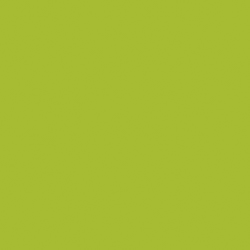 Benjamin Moore Tequila Lime (2028-30)
Apple Green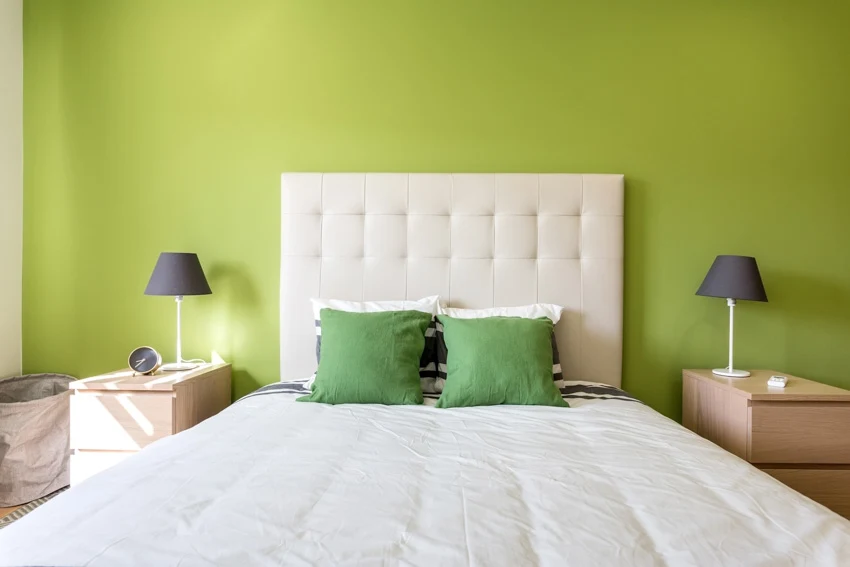 Green apples have this light green color that's simply pleasing to the eye and this is where this specific color is based on. Combining the calming feel of the blue and the brightness of yellow, apple green centers more on earth and life balance, nature, and fertility.
Symbolizing harmony and self-respect, the color also has different shades based on which particular color is patronized more.
If you're into muted shades and pastel colors, apple green may be a good option for you. You can settle for more subtle colors or integrate several pops of bright colors, including red and blue.
Here are some of the green apple paint colors you can pair other colors with.

Benjamin Moore Apple Green (2026-40)
Kelly Moore Paints Apple Green (KM5149)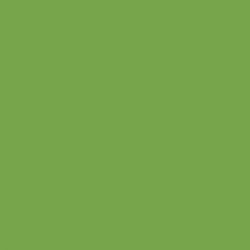 PPG Green Apple Peel (6123-74)

Sherwin-Williams Apple Slice (SW 7127)
Aqua Green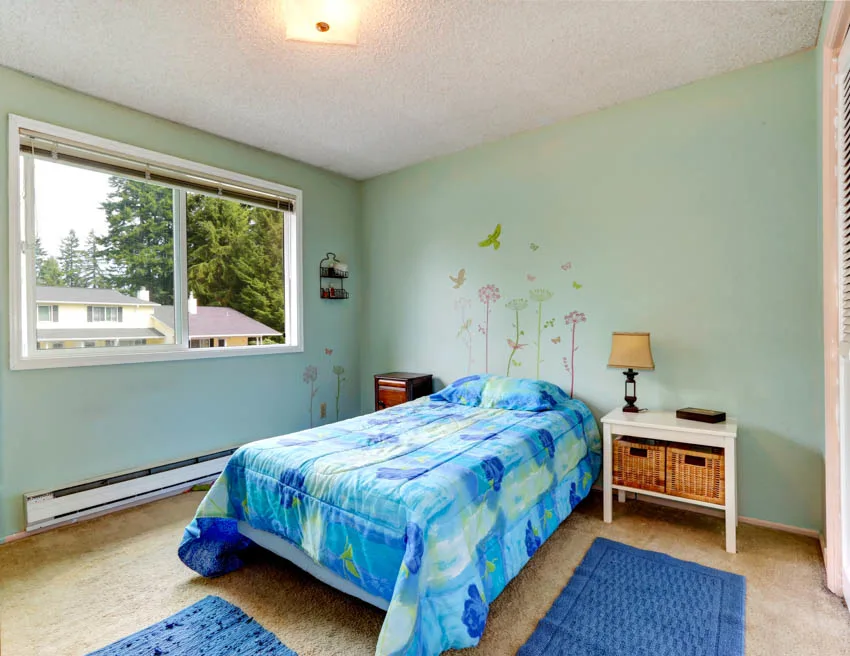 Aqua green is a combination of green and blue with the green shade overpowering the blue, unlike aqua blue which is the opposite. A bit similar and often interchanged with teal and if you feel the same way, here are some aqua color paint options to help you along the way.

Behr Marine Isle (480E-3)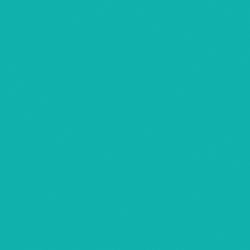 Valspar Turquoise Tint (5006-10B) Sherwin-Williams Waterscape (SW 6470)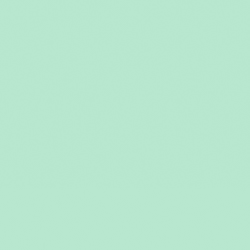 Valspar Beach Blanket (6002-9B)
Avocado Green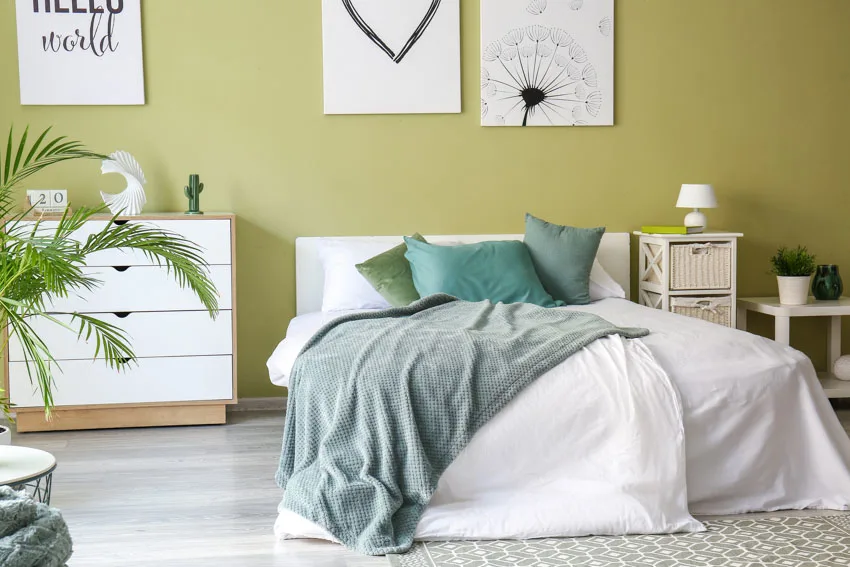 Just as how it is named, avocado green is based on the inside color of the fruit. This color offers a freshness that you would want to incorporate into your room and home.
If you want to add a refreshing and more natural look to your bedroom walls, here are some paint colors to consider.

Benjamin Moore Avocado (2145-10)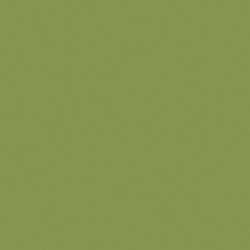 Behr Bold Avocado (M360-6)

Dulux Avocado Cream (S19) Sherwin-Williams Avocado (SW 2861)

Behr Classic Avocado (M340-7)
Bedroom Accent Green Wall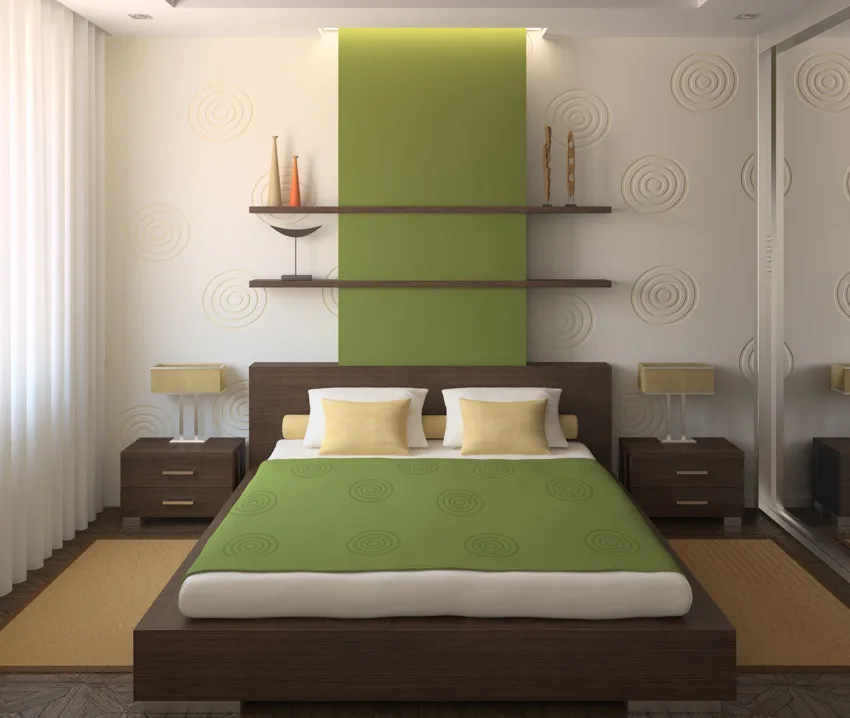 Besides painting your entire bedroom wall green, you can also create a green accent wall instead. This is a good consideration if you are not ready to see your entire bedroom green. You can start with an accent wall and decide from there if you want more green or to settle with the accent wall.
An accent wall needs to easily stand out and catch the attention of guests and anyone that enters the room. But you always have the option of going for a dark green accent wall colors or something lighter in shade.
Dark Green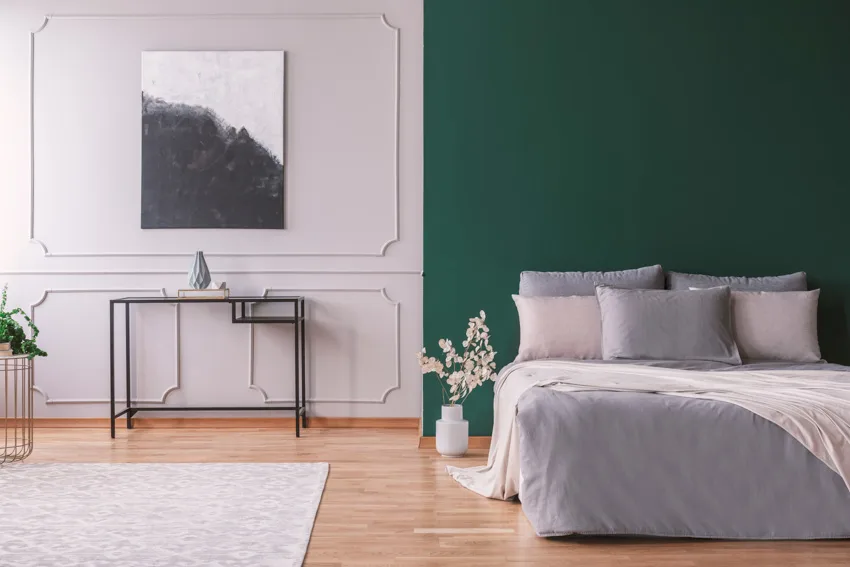 Adding a dark green accent wall will be perfect on the wall where your bed is. This position helps frame your room and add drama to your bedroom.
And to brighten the room and at the same time include a bit of sophistication, you can position unique sconces on each side of the bed, which will be great lighting for your night reading.
Light Green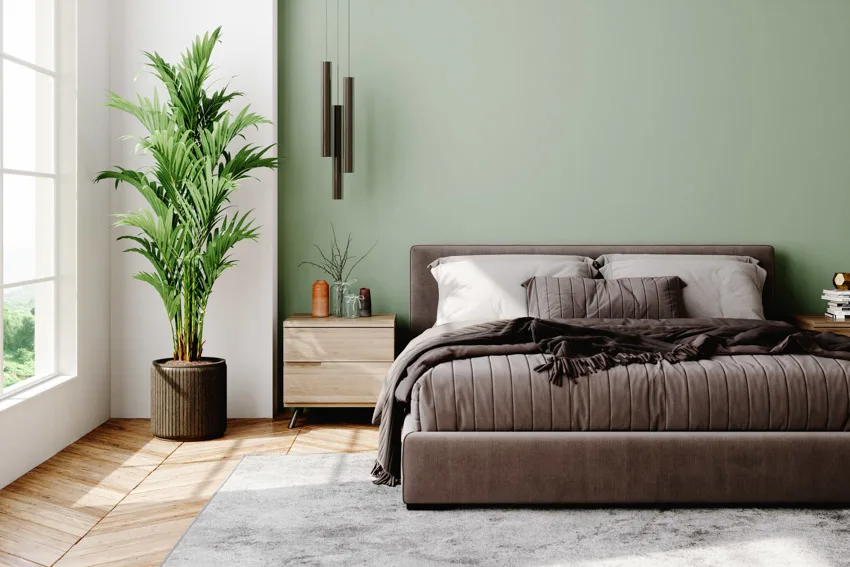 You can also go for a light green accent wall if you don't want anything to do with something that can darken your room. With a light accent wall, you get to add some color to your room and at the same time brighten it.
Plus, this shade of green makes the room a bit bigger than it really is. The great thing about a light green accent wall is that you can use it as a canvas for a much more intricate pattern and design.
Half Green Wall Bedroom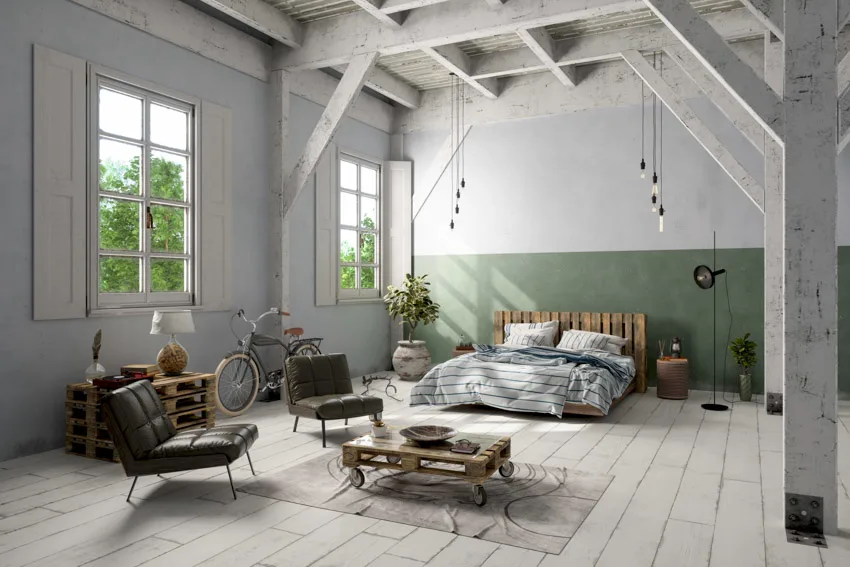 To have something different than the usual paint or wallpaper, using a half-green wall can be considered for your bedroom. You have the freedom to match it with another color and how you want to divide the wall (vertically, horizontally, or even diagonally).
This option will add something new and unique to your bedroom, as well as something interesting to try out.
Green Panel Wall Bedroom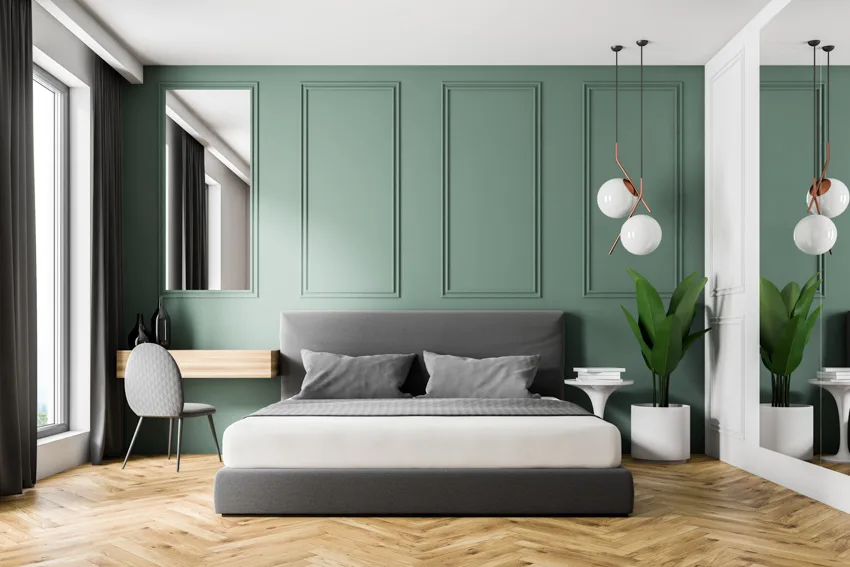 If you're looking for more texture for your bedroom walls, a green panel wall may be chosen to try. You can integrate wooden panels and install them on your walls to add width and texture to the walls. And then you can have these panels painted in the green shade you chose.
Green Color Schemes for Bedrooms
A successful green color scheme can include white, gray, off-white, brown, red, pink, or blue. Sticking with neutral colors like white and gray, and toned-down green such as sage or olive, creates a relaxing, natural atmosphere.
White, gray, and off-white can also be paired with more saturated colors like lime green or true green for a bright and stimulating environment.
Brown can be incorporated into a green color scheme through wood furniture, ceiling beams, wood flooring, or natural fiber area rugs. Adding brown makes the space feel natural and tranquil, giving the sense of being in the forest.
You can create an analogous color scheme using colors side by side on the color wheel, like blue and green. Pair emerald green and sky blue to create a bright yet calm atmosphere. Or, mix seafoam green and medium-toned blue for a restful, ocean-inspired color scheme.
Manipulate soft, pale green and dusty pink to create a feminine and serene complementary color scheme.
How to Decorate a Bedroom with Green Walls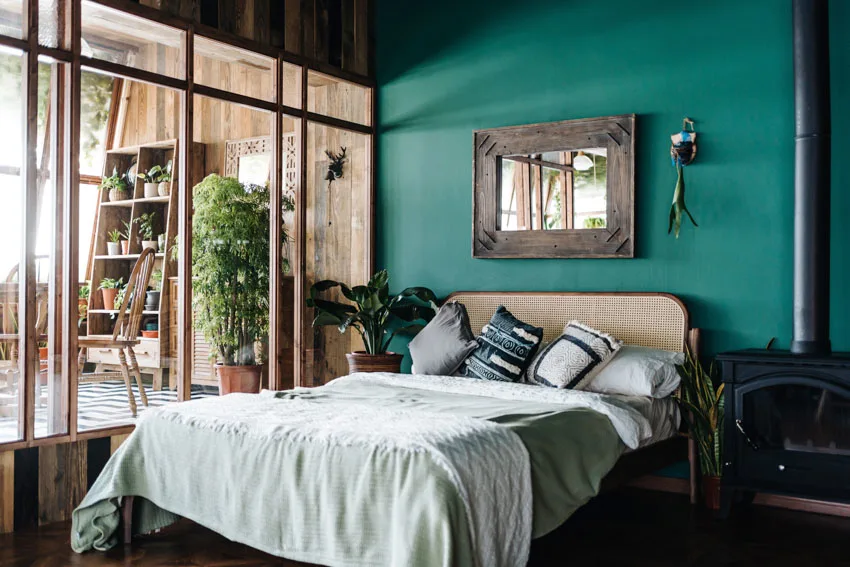 Decorating your bedroom with green walls will add a certain vibe to your room, depending on the shade you choose. Darker green shades offer a more elegant and dramatic look to your bedroom while going for something lighter can help add a soothing ambiance and refreshing vibe you might need when you take a rest.
To help you with this mission though, here are some ideas on how you can decorate your room with green walls.
1. Focus on nature-inspired elements: Green is a color of nature and the easier and simplest way you can use green walls is to integrate all other elements with nature in mind. You can add a wooden frame, rattan baskets, and even jute rugs for a more natural feel.
2. Use the green walls to set a scene: Whether you're going for a cottage-like room or a refreshing coastal one, you can use the green walls to set the scene you want to see every time you enter the room. Corroborate all elements to the style you want your room to have.
3. Pair your green walls with pink: To soften your room and your green walls, add different elements in pink, whether it's a dusty pink pillow or a bright fuchsia rug.
See more related content in our article about the best colors that go with green on this page.